Genshin Impact is a game I have admired from afar for a while now. I've looked into the lore and wanted to play it, but had been holding out for a version to come to Nintendo Switch since it was announced. Previously, I didn't have the consoles it was on or a PC good enough for gaming.
However, the Genshin Impact soundtrack and the plushies inspired by the game have me thinking of changing my game plan.
I recently got a PS4, so I'm about to take the dive and start the game since I've been admiring it – and its plushes – for far too long not to seriously consider shortening the wait. If someone ever wants me to get into something new, the best way to do it is with some plushes.
Regarding working and gaming, I always have at least one plush companion nearby, if not several. Some are gaming-specific (i.e. Pokemon), others are from movies I love (lots of Disney plushes), and a few are just random acquires from over the years (plenty of dinosaurs).
Plushies are one of the most fun – and easy – ways to bring the magic of fandom into your everyday workspace and living area. For Genshin Impact fans, many options are available on the market, though many of the best ones are from Genshin Impact's flagship store. With limited offerings, however, it's sometimes necessary to go to third-party sellers.
Bottom Line Up Front
Genshin Impact plushies are not nearly as common as Pokemon plushies, so you likely won't be running into them during your trips to a nearby store.
These specialty market items require a bit more searching, depending on your preference. Since the game has various characters, many offerings of humanoid and fantastical creatures exist. Whether you love collecting anime-style plush figures or love cuddling up with a fluffy critter, there are options for any plush lover.
Selection Criteria
Uniqueness – Does the plush stand out from other plushies? What makes this special to Genshin Impact specifically that a plush from another brand or franchise can't offer?
Size – Plushies come in all shapes and sizes, from keychain adventure buddies to cuddle-size friends and jumbo giants. There need to be options to fit those different preferences and needs.
Price – Affordability and specialty need to work hand-in-hand.
Material – Plushies for display and plushies for cuddling require different materials!
Best Mini Plushies for Daily Adventures
You will want to keep these plushes in or on your purse, backpack, or pocket for your everyday travels, for far trips, or to just walk down the street.
I know many plushes are bought purely for kids' and their comfort and that many plush fans keep their buddies at home. However, I love to always carry a friend with me for random toy photo ops or when I need to fiddle with something so I can think more clearly.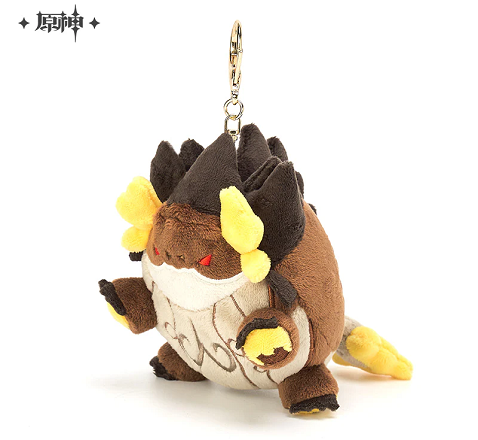 There are two versions of the Azhdaha keychain: Confused Azhdaha and Angry Azhdaha. While I wouldn't want to see this Earth Dragon when he's angry, I prefer the Angry Azhdaha (Smooth) plush.
Azhdaha has very earthy, rocky features, so I find the smooth fur closer to his actual design than the furry – which reminds me more of Star Wars' Wookies in its texture! Plus, Azhdaha tends to look very fierce in the game, making the Angry Azhdaha more fitting of his base features.
Pros
Smooth design is very detailed and similar to the game's iteration.
Portable size, easy for travel and daily companionship
Multiple options
Cons
The price is $19.99, making it a bit higher for a keychain relative to Squishmallows, but its size and specialty will outweigh this con for the right buyer.
The Confused Azdhaha design doesn't mirror his appearance – this element will be based purely on buyer preference.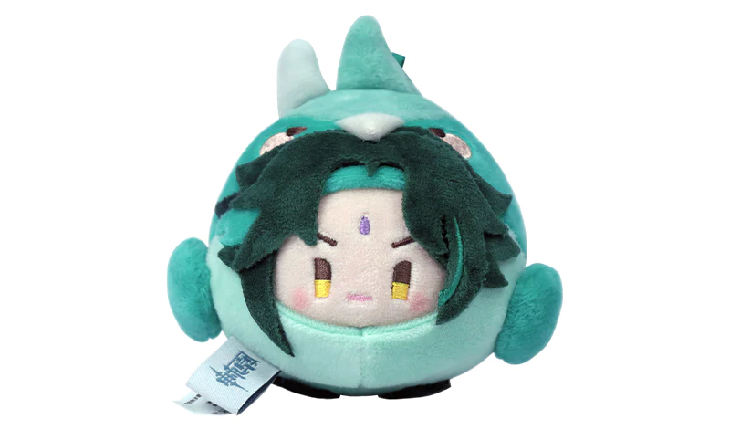 The Teyvat Zoo Dango Dumplings line of keychains is a definite must-see for fellow plush-keychain lovers. The line features numerous characters matched with fabulous creatures, bringing together the best of Genshin Impact.
The line offers Diona, Ke Qing, Amber, Diluc, Childe, Gan Yu, Xiao, Yae Miko, Itto, Jean, Zhong Li, Thoma, Xiang Ling, and Fischl. One of my biggest favorites in this line is Xiao. I love his character design in general, but this keychain blends him perfectly with his illuminated beast form as an adeptus. He's adorable and perfect.
Pros
Size – Larger than a TsumTsum, making it above average for keychain sizing
Design – The human form and illuminated beast blend is too cute!
Offerings – Lots of available characters to choose from.
Cons
Price – At a glance, it's a bit high, but the size makes up for it!
Only available as a keychain for the blended version, not larger.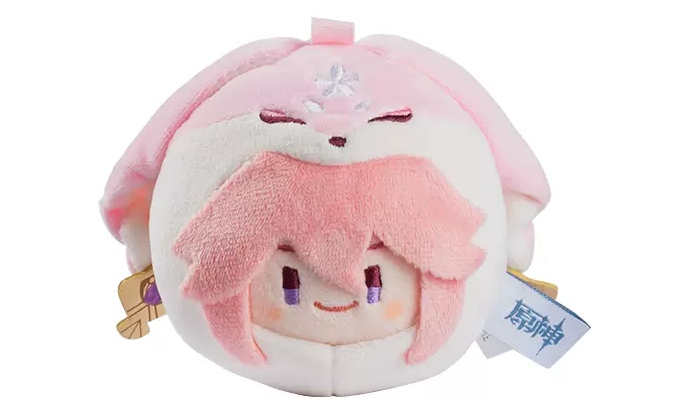 Yae Miko is a kitsune, making this another adorable keychain offering in the Teyvat Zoo Dango Dumplings line. Her human form and kitsune characteristics are blended perfectly, just like with Xiao.
These keychains are bigger than other pocket plushes fans may be familiar with, such as Tsum Tsums or Kawaii Cubes (mini sizes). It's somewhere in-between the Kawaii Cubes mini and medium sizes. These are great to take on the go without being overly tiny.
Pros
Great size, same as Xiao plush above.
Kitsune design is adorable!
Lots of other character options.
Cons
Price can initially appear high, but specialty and size can make up for it.
Design is only available as a keychain.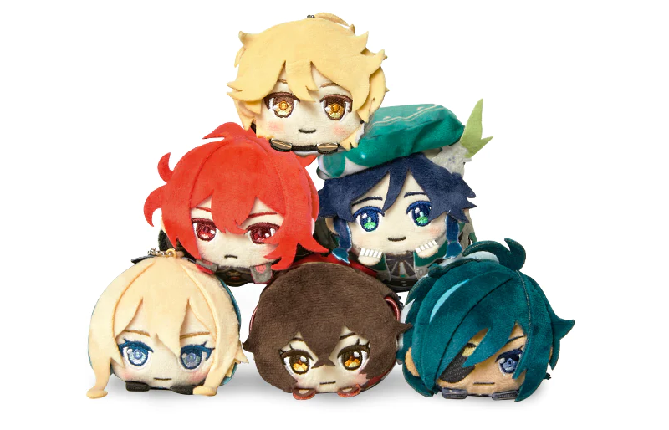 Genshin Impact is known for its use of a gacha system. It counts on players wanting good luck with their rolls. These blind box plushies are a great way to bring that element to reality, as it won't be known which plush has been received until the box is opened!
For those who just want them all, this Genshin shop does offer the option of buying them all as a collective set, though it'll definitely cost a lot more than a single box. For anyone who wants to try their luck, these plushes are a good mini size, while also allowing that element of surprise to come home.
Pros
Variety of characters available.
The price for one isn't too bad, considering the specialty.
Brings a bit of a gacha element into fans' Genshin Impact collections
Cons
The price of a full set goes over $100.
No additional portability, similar to Tsum Tsums and Kawaii Cubes.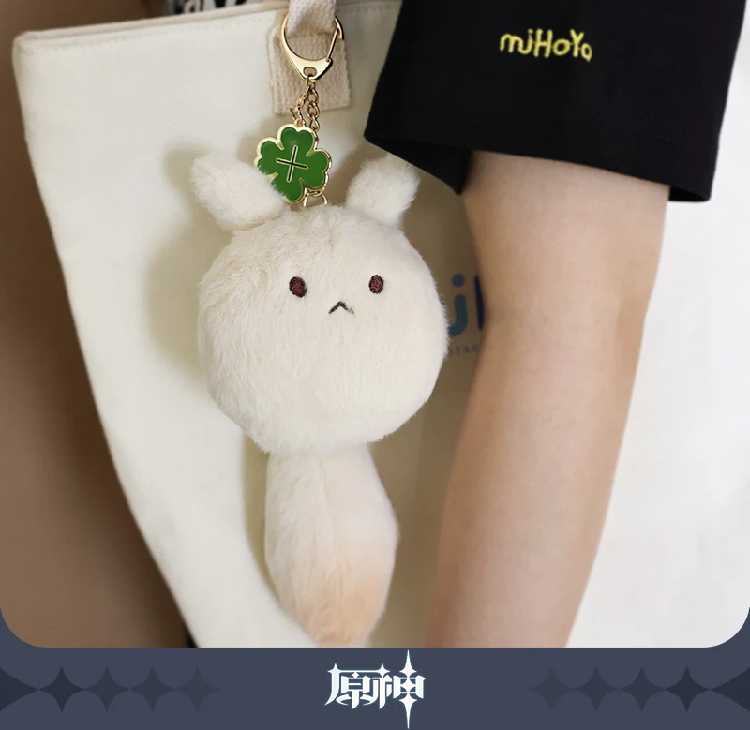 Genshin Impact fans can be like Klee, Alice's daughter, carrying Dodoco on their pack. This is a very large keychain, bigger than the previous entries, and it features a clover embellishment as part of the chained design. It is a short-furred plush with a Mink wool exterior. Its polyester filling makes it a soft companion for regular outings.
Pros
Size – This is a large keychain, making it very noticeable and cute.
Uniqueness – This keychain fits Genshin Impact perfectly, letting fans be like one of the game's characters.
Cons
Size – Since this one is large, it may not be the perfect option for every bag type or belt loop clipping.
Price – Since it is a larger plush, it has a higher price than the previous entries in this guide.
Best Display & Cuddle Plushies for Home
These plushes are perfect for cuddle time or for displaying on shelves with Nendoroids and other kawaii collectibles. They are either soft for being held, or they have details that make them look great. Their home is on a bed, shelf, or chair, ready to be squeezed and admired.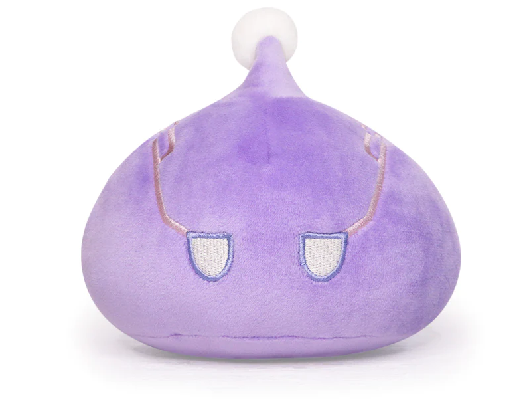 These slime plushies are perfect for squishing and squeezing. They're bigger than a hand, despite their rotund shape. They're perfect for keeping around a bed for decoration or for lining up on a shelf.
There are also numerous options, providing fans with lots of variety to choose from. Plushies offered in this line include: Electro Slime, Hydro Slime, Cryo Slime, Pyro Slime, Geo Slime, Dendro Slime, and Anemo Slime. Picking a favorite element has never been so hard!
Pros
Decent size for the design.
Adorable designs that distinctly capture each element.
Price is in the mid-range between the smaller keychains and larger keychains.
Cons
Cute designs will make fans want all of them.
Still a bit on the small side in terms of nighttime cuddling.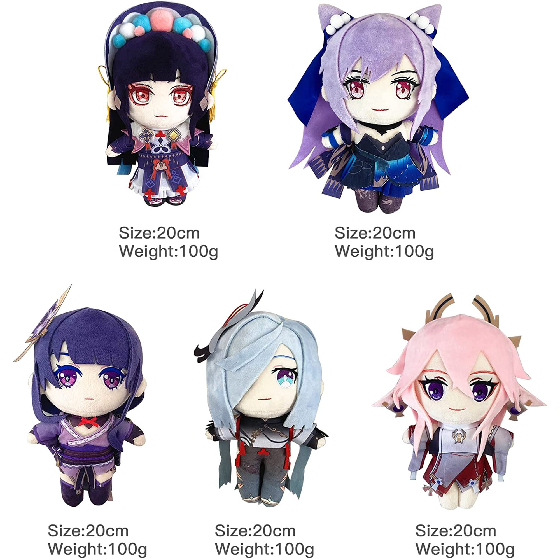 These dolls are perfect for shelf displays. They are 8 inches tall, making them three inches taller than Itty Bitty plushies and three inches shorter than an average Barbie doll for the frame of reference. These dolls can be found from numerous sellers and range in price from $15 – $48 depending on who they're purchased from.
The quality can vary from doll to doll based on the seller, so definitely look into your items when purchasing. Buying them from the official Genshin store will run a higher price, but the quality will be the best.
Going lower might not be a bad choice if you're simply looking for a good doll that can sit on a shelf and that's about it. If you want longevity and potential cuddles, waiting for more offerings from the official site will be the best bet.
Pros
Larger than mini plushes.
Variety of characters.
Lots of sellers for this particular style.
Great for display.
Cons
Quality varies based on the seller; be sure to look into the seller before purchasing.
The price can run a little higher depending on desired quality.
Not the best style for cuddling.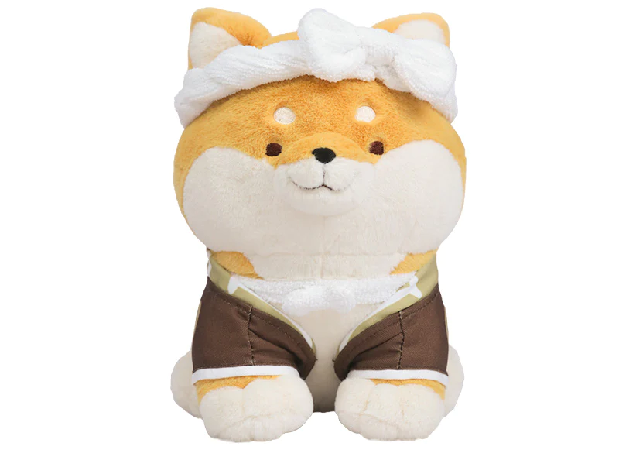 Taroumaru is one of the cutest Genshin Impact plushies. This teahouse owning Shiba Inu is a fan-favorite, but that makes him a little harder to get.
He is frequently sold out, though alternate suppliers can be found. As usual, be sure to research sellers to get the best quality product possible. Being a larger size, he can run upwards of $69.99, but he's a great size and shape for cuddling!
Pros
Adorable and soft design!
A great option for cuddling.
Cons
The price can be a bit high for some buyers.
Low availability at times makes it a tougher acquisition.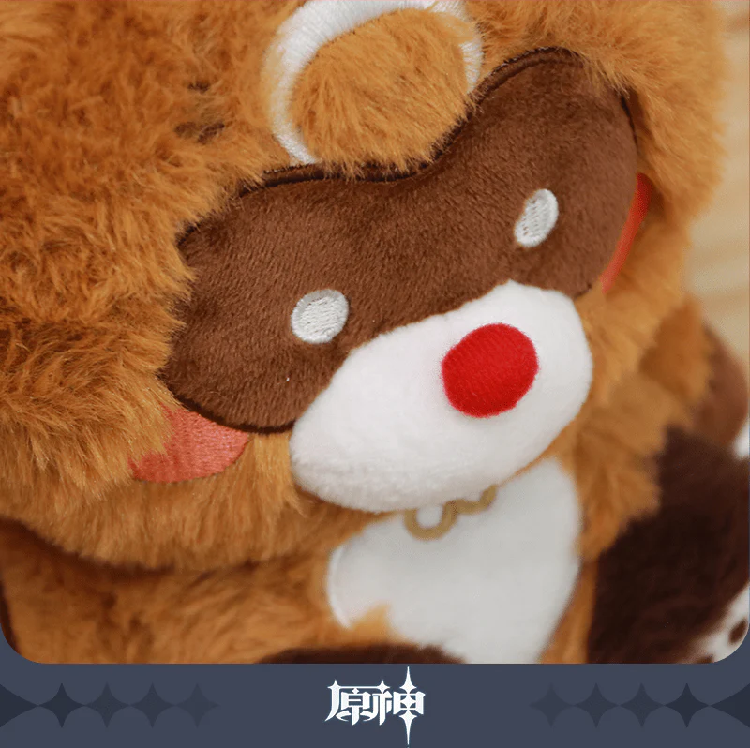 Like Taroumaru, Guoba can be hard to come by! However, this former god-turned-companion is very cuddly and cute in plush form. While smaller than some of the other options in this section, he's a great cuddle size, tucking right under an arm without being too thick.
Alternative sellers will offer him, but always be sure to check reviews if going away from the official Genshin shop for purchase.
Pros
Cuddly and very fluffy design.
Great mid-size option.
Cons
Varied availability can make finding a quality plush of Guoba difficult due to his popularity.
Smaller than many other mid-sized plushes for the official shop price.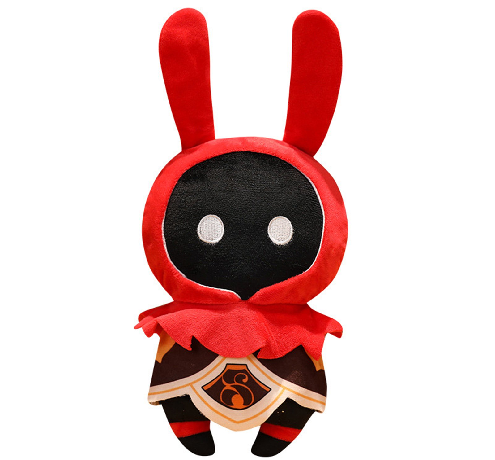 These elemental enemies would look fantastic on a shelf. However, they may not be exceptional for cuddling. Nonetheless, they'd be a great addition to any Genshin Impact fan's collection, adding some foes to their sets of heroes.
They're around the height of a standard Barbie doll, so they'd make a great display item. The designs aren't nearly as cute or detailed as some of the other offerings here, but fans who love these magic wielders will definitely consider them a must-have.
Pros
Great for display!
Provide a varied option for a Genshin Impact collection.
Very affordable from third-party sellers.
Cons
Not necessarily the best cuddle option.
Not presently available from Genshin.shop so a separate third-party seller will be needed. Research seller.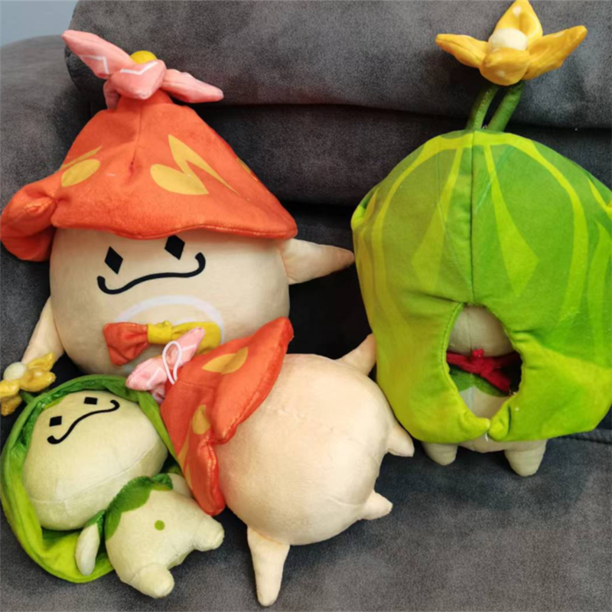 Like the Abyss Mages, Aranara plushies are unavailable at Genshin.shop, making them a little harder to find. However, they appear very soft and could be great for cuddle time. They would also make great display pieces, as these botanical forest spirits are incredibly cute.
This provides an alternative option to the humanoid creature and typical fantastic creatures that may be found in plush fans' collections already.
Pros
Super cute design.
Add a different type of plush and character design style for Genshin Impact fans.
Affordable with third-party sellers.
Various colors add a user preference element to purchase.
Cons
Not presently available at Genship.shop. Research sellers before buying.
Rarer Genshin Impact character.
Best Giant Genshin Impact Plushies
These are the jumbo plushies that are big splurges for the biggest fans of Genshin Impact. They will cost a great deal, but the quality is good, and their designs are great. These are definitely not for the faint of heart or casual fan. They can also occasionally be sold out, but are generally popular, so be sure to check availability.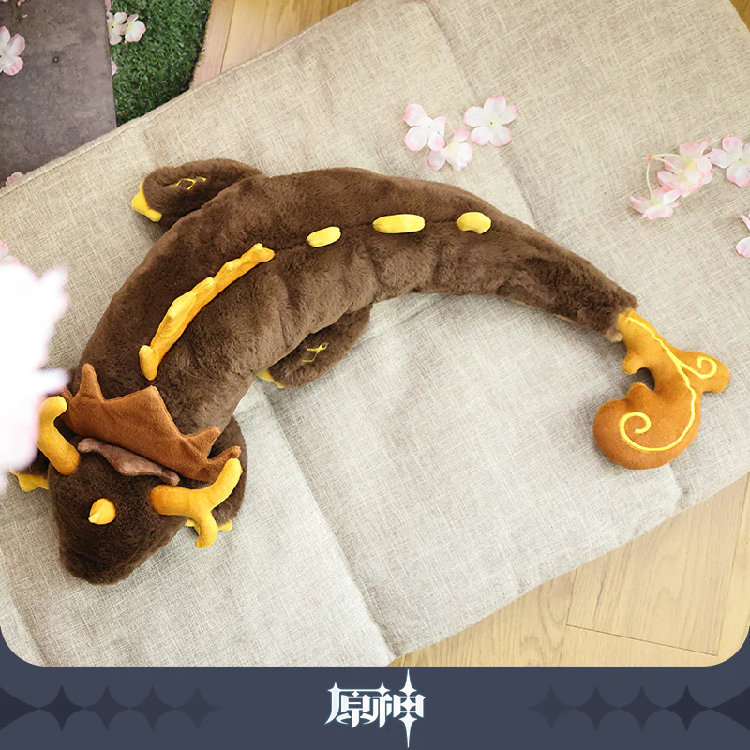 This version of Zhong-Li will always make a best-of-plushie list for Genshin Impact. While expensive, the quality and detail are second to none.
For the biggest fans, this is the must-have plush. He is the perfect lap-dragon and will take up his own seat on a couch if left to his own devices. It has been recommended by Genshin Impact fans and is considered rather durable. While the price will run upwards of $119.99 – 129.00, this 67 x 24 x 17cm dragon is definitely worth it for the right fan.
Pros
Large size
Very cuddly
Exquisite design
Cons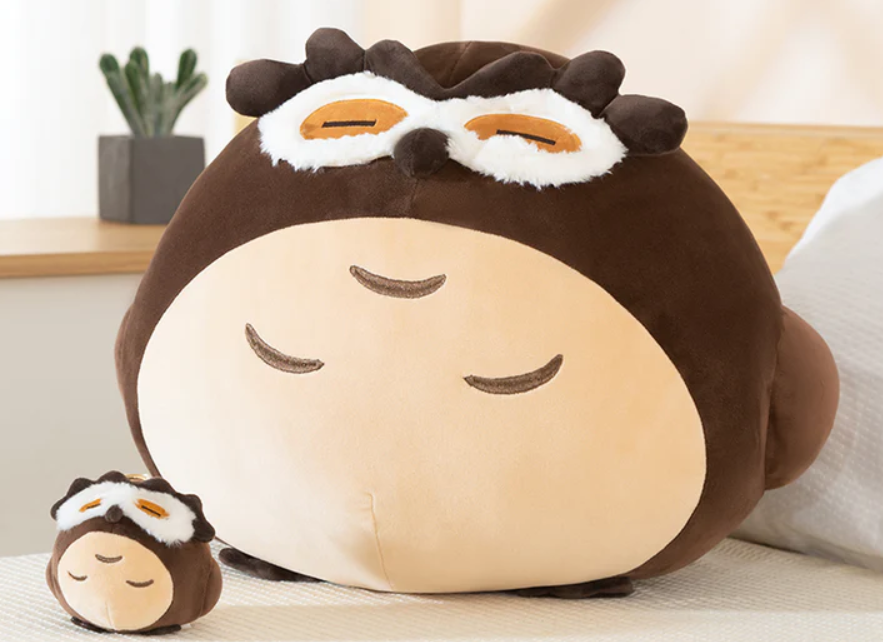 Standing approximately 15 inches (40cm), this large plushie is another in the running for a best jumbo companion.
This plush will take up quite a bit of space, but the design is so cute that it'll be worth it. While carrying a hefty price tag, Diluc Noctua also comes in a mini keychain form. However, the large iteration will easily capture the hearts of Genshin Impact's biggest fans.
Pros
Size
Design is varied from other plushie offerings.
Will blend in nicely with other non-Genshin Impact plushies, particularly birds.
Cons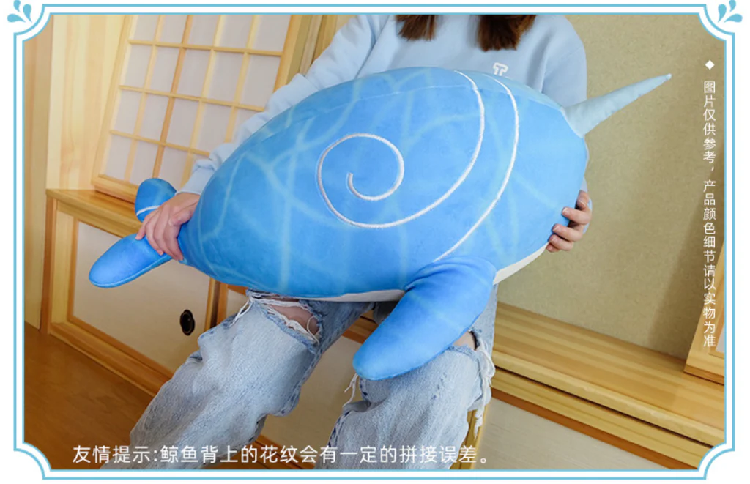 This Narwhal is another fan-favorite forerunner when it comes to jumbo plushies. It is thicker than the Zhong-Li XL dragon plush. While it may appear to be another lap creature, this one is much rounder and will be harder to balance by itself. It will take up quite a bit of space, but it will look amazing. This is another must-have for long-time Genshin Impact fans.
Pros
Size
Differs from other plushies in shape and species-type.
Cons
Size – could be too big for some consumers
Price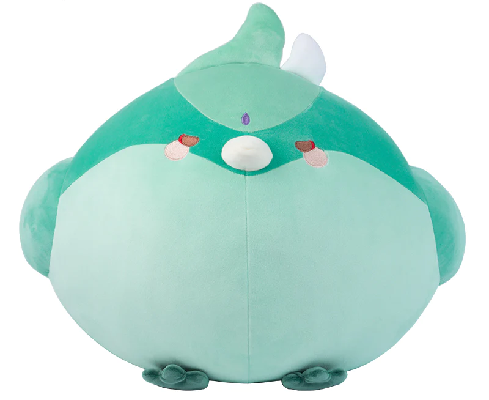 This plush is similar to Diluc Noctua, although it is Xiao in his Adeptus form. This adorable bird will be taking up much space with his round stature.
The plush will also add a bright color pop to any room, making it fun to consider as not just a cuddly companion but also a design centerpiece for a gaming-themed area. While his large size and big price tag won't be for all fans, it will be worth it to those who choose to make the expenditure.
Pros
Size
Bright color
Smooth exterior
Cons
FAQs
Question: What is Genshin Impact? 
Answer: Genshin Impact is an RPG developed by miHoYo and released in 2020 for various systems. It is free-to-play with some gacha system elements players can choose to pay for. It has a variety of interesting characters and creatures.
Question: Where can I buy Genshin Impact plushies?
Answer: While Genshin Impact plushies can be found many places online from a variety of sellers, I generally recommend using Genshin.shop since it is very reputable and has several offerings. As with any purchase, always be sure to check that sellers are reputable so you get a quality product.
Question: Why are these Genshin Impact plushies so expensive?
Answer: Some are expensive due to their size and the fact that they are specialty merchandise exported from Asia.
Therefore, the shipping costs can be higher than domestic shipping in many countries. This puts them at a bit of a premium. Only spend what you're comfortable with! It's always possible to make plushies or buy from creative artists to share your fandom while saving up for more expensive and official merchandise.
Best Genshin Impact Plush: Conclusion
Plushie shopping can always become a dangerous mission, as so many offerings are cute, cuddly, and demanding adoption. Hopefully, this guide to Genshin Impact plushies will help you find the price point and size you are most comfortable with to suit your preferences, budget, and current fan level.
Numerous options are available for every purpose, from collecting and displaying to cuddling and traveling with.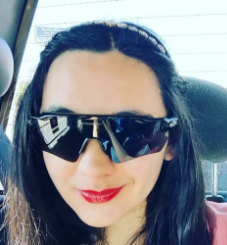 Latest posts by Samantha Valencia
(see all)