Did you know Squishmallows have over 50 dragon squad members available? I'll expose one of the most extensive squishy plush toy ranges in the Best Dragon Squishmallows Guide so you can source the right one for your kids or yourself. I'm a Squishmallow fan like my kids, and I collect numerous squads.
I find the rarest and most unique Squishmallows to share, ranging from tie-dye pink dragons to sleeping dragons. My passion bubbles over if I don't share the excitement. Sometimes, my kids wonder if I'm one of them. Anyway, let's get right to the center of my excitement.
Bottom Line Up Front
I've searched high and low for the wide variety of Squishmallow dragons available. I realized there were 16 types of squishy dragons. Sure, Miles, Dexter, Devin, Keith, Baiden, Dominic, and Tatiana are some of the 47 incredible dragons available. Well, my kids helped me find a few unique choices.
You'll be able to pick your favorites from any range. There are a few special editions and unusual squishy plush beyond the regular dragons. My top picks will focus on the extraordinary Squishmallows in each of the ranges. Hop into my top-picks glance to find the winning squishable dragons.
My Top Dragon Squishmallows at a Glance
Countless marshmallow-inspired dragons exist. You'll find many of the basic dragon squad members as alternatives to my best choices. First, here's a peek at my top picks from the impressive dragon Squishmallow ranges:
Best Dragon Squishmallow: Devra the Dragon Squishmallow
Best Dragon Hugmee: Cazden the Dragon Squishmallow
Best Dragon Super Hugmee: Miles the Dragon Hugmallow
Best Dragon Cross-Mallow: Baiden the Dragon With Boba Tea Squishmallow
Best Dragon Squeezemallow: Gray the Dragon Squeezemallow
Best Dragon Squishmallow Edition: Palasha the Valentines Dragon Squishmallow
Best Dragon Squishmallow Clip-On: Joey the Dragon Clip-On Squishmallow
Best Dragon Squishmallow Backpack: Shantira the Dragon Backpack Squishmallow
Best Dragon Squishmallow Stackable: Dominic the Dragon Stackable Squishmallow
Best Dragon Squishmallow Fuzz-A-Mallow: Tatiana the Dragon Fuzzy Squishmallow
Best Monogrammed Squishmallow: Monogrammed N Green Squishmallow Dragon
Best Dragon Squishmallow Costume: Desmund the Dragon Costume Squishmallow
Best Dragon Squishmallow Messenger: Joey the Dragon Inspiration Message Squishmallow
Best Dragon Squishmallow Easter Egg: Desmund the Dragon Easter Egg Squishmallow
Best Dragon Squishmallow Dreamer: Emrys the Sleeping Dragon Squishmallow
Best Dragon Color-Splash Squishmallow: Keanu the Camo Dragon Squishmallow
You'll have to read more to learn about each range, and you'll understand why each winner achieved the spot when you hop into the details.
Best Dragon Squishmallows: Expert Guidelines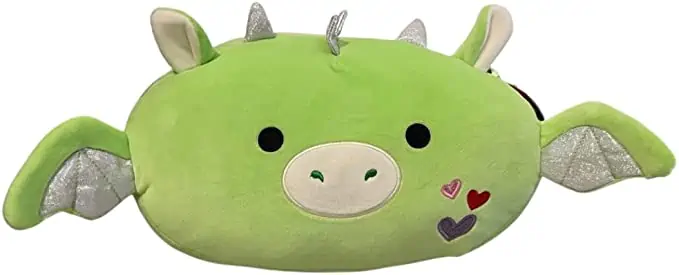 The best squishy dragons include a range of gorgeously distinctive choices when there are too many from which you can choose. I'll show you the types, advise you, and share my method to pick the best ones.
The Many Types of Dragon Squishmallows
Dragon Squishmallows have one of the most expansive ranges. You'll find the regular squad members in various sizes, but there are also some unique choices. Some popular dragon Squishmallow types include:
Dragon Squishmallows: The standard types in multiple sizes
Dragon Hugmallows or Hugmees: They look more like regular plush with arms and legs
Dragon Super Hugmees: They look similar to Hugmallows but are typically larger
Dragon Cross-Mallows: The Squishmallows hold items from other squads
Dragon Squeezemallows: These dragons are much squishier than others
Dragon Squishmallow Editions: They include Valentine's or custom editions
Dragon Squishmallow Clip-Ons: Kids can attach them to school bags
Dragon Squishmallow Backpacks: Some dragon squad members come in backpacks
Dragon Squishmallow Stackables: They come in various sizes and work as pillows
Dragon Squishmallow Fuzz-A-Mallow: They have fuzzy fur
Dragon Monogrammed Squishmallows: Each member has a letter on its belly
Dragon Squishmallow Costumes: Dragons are in costume, or other squads are in dragon costumes
Dragon Squishmallow Messengers: The dragons carry messages on their bellies
Dragon Squishmallow Easter Eggs: Some dragons come in eggs
Dragon Squishmallow Dreamers: Some dragons sleep
Dragon Color-Splash Squishmallows: These dragons have unusual colors
It seems pretty straightforward, right? Dragon Squishmallows are vast. Have a peek at how I pick the best dragons from each range. There are 47 basic dragon Squishmallows, but the various ranges introduce new dragons and unusual types.
Tips for Dragon Squishmallow Fans
I'm sure your head's spinning after the list of dragon Squishmallows ranges. There will be new launches and exclusives. I checked Walmart, Amazon, and Target for the current content. My first tip is to collect each size and squad member if you're a die-hard fan of Squishmallow dragons.
I list a few alternatives for the basic dragon squad members under my top beauty. Alternatively, you can also collect one of each squad member while closely matching the sizes. However, I have a more exciting Squishmallow dragon collection in mind for kids and die-hard fans.
There are countless unique dragons, leading to my advice on picking the best ones. You don't have to collect every squishable dragon, either. My selection will give you a range of potential suitors for you or your kids.
How to Pick the Best Dragon Squishmallows
The dragon squad has too many members, and I selected the most special dragons. The best dragon Squishmallows have unusual fur, come from different Squishmallow types, or might have strange colors. My best picks will have a distinctive trait, and some will fit two squads. I'll pick the most unusual one in each range.
Best Dragon Squishmallows Guide: The Unusual Finds
I bet you can't wait anymore, or maybe your kids are hopping all over the place to see the best dragon Squishmallows. Let's get to what makes each dragon the best pick for the range. I'll include the size, unique trait, and relevant squads. I'll even add some bonuses if there are more of the best dragon type.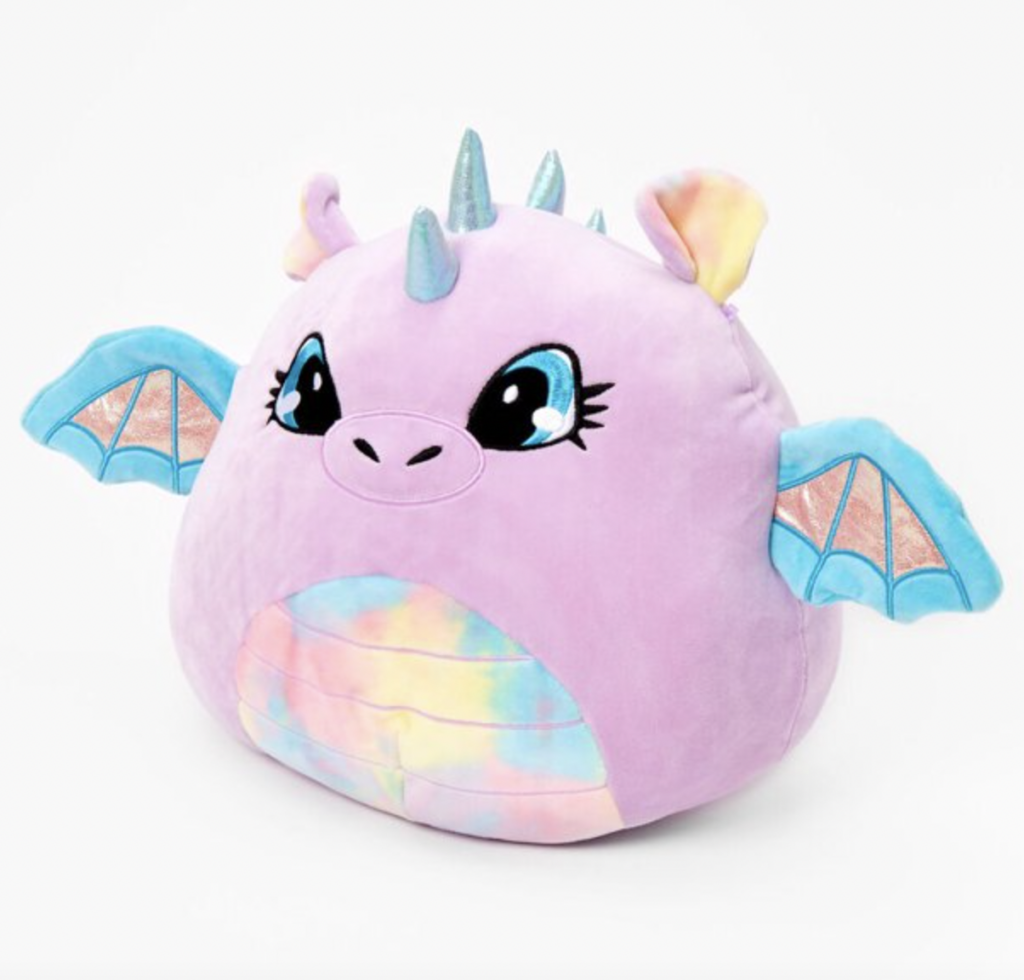 Honestly, Devra is the most adorable dragon squishy you can find. She has fantastic wings, a rainbow tummy, and effects that make her eyes look real. My daughter picked this beauty because she loves rainbows, colorful dragons, and everything cute. The details on the Devra Squishmallow are also beyond what you'd expect.
Features
Size: 5″
Uniqueness: Her colors and details are extraordinary
Squads: Fantasy squad
Pros
Devra's eyes tell a tale like no other dragon squishy, and she's small enough to carry everywhere
My daughter calls her a punk-rock dragon spruced by a splash of girliness
Cons
She's exclusive to Walmart and not available anywhere else
More Choices
Best Dragon Hugmee: Cazden the Dragon Squishmallow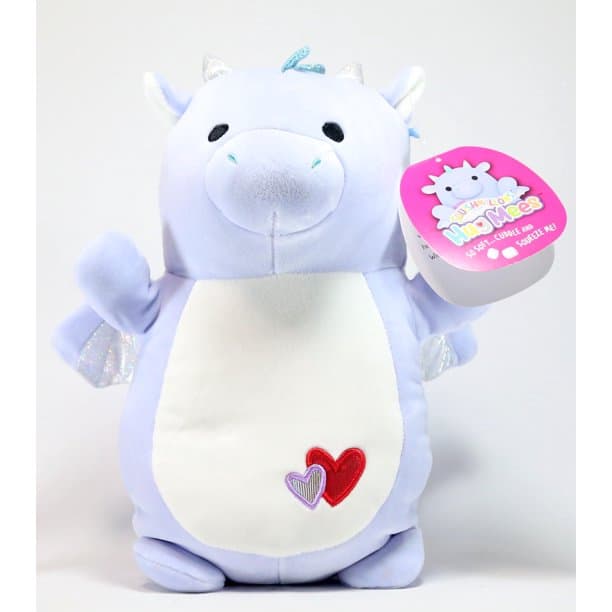 Cazden is a beautiful sight for dragons. I love white dragons because there's an essence of purity in them. Cazden has big arms for extra cuddliness when kids need that best friend's hug. Combining the white dragon with Hugmee plush is a sure-fire way to calm a child's busy mind before bedtime.
Features
Dragon: Cazden White Dragon Squishmallow
Size: 12″
Uniqueness: It's a white dragon with arms and legs
Squads: Fantasy and Valentine's squad
Pros
Cazden's design is the most inviting dragon you can find for kids who want cuddle buddies
I love Cazden's personality because it's ironic that he struggles to calm down when he creates calmness with his white fur
Cons
White plush toys are a nightmare for parents who have to wash them
More Choices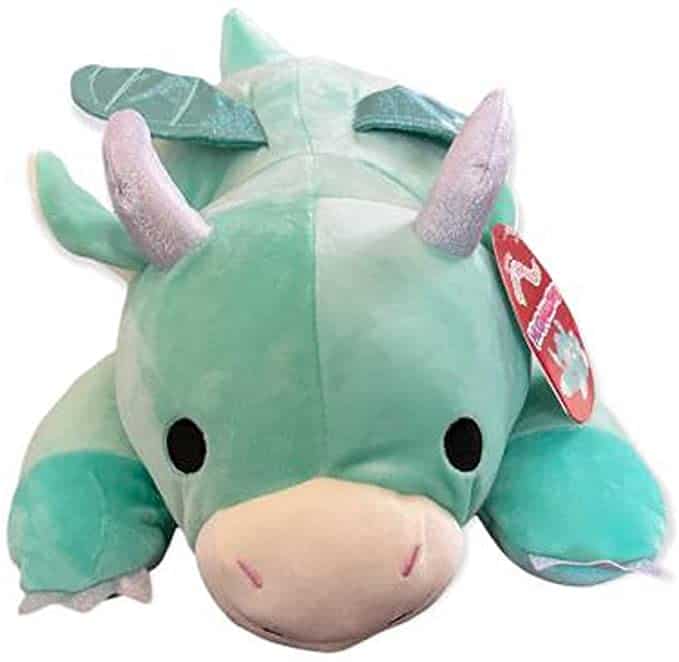 Super Hugmee Squishmallows are like gigantic marshmallow pillows for children. Miles makes the most adorable Super Hugmee dragon. He even looks like he's about to sleep in the warm sun. His face is cuter in the Humallow version than any other Miles dragon squishy. He also looks like a puppy ready to play.
Features
Dragon: Miles Teal Dragon Hugmallow
Size: 22″
Uniqueness: Miles has arms, legs, wings, and giant horns
Squads: Fantasy and Valentine's squad
Pros
Mile's design is impeccably soft and welcoming for anyone to have a nap on their best friend
My son saw this Miles Squishmallow and says it looks like the most huggable squishy around
Cons
Mile's claws are flimsy and could come off with time
More Choices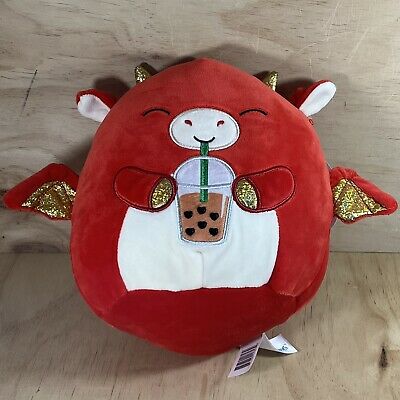 Baiden is the ideal cross-over Squishmallow because she holds a Boba Tea. She's also the only blood-red dragon from Squishmallows, making her unique in another way. Boba Tea is pretty healthy, so I love how she sips her drink with utter joy on her face. She can teach kids a lesson about more nutritious beverages.
Features
Pros
Baiden's face is adorable with her sipping expression as she enjoys her tea
I love how Baiden's drink also looks like a Starbucks coffee, suiting older Squishmallow fans a bit more
Cons
Baiden's unusual expression puts her in a single mood when she has so much more to share
Sadly, there aren't more dragon Squishmallows from the limited range yet.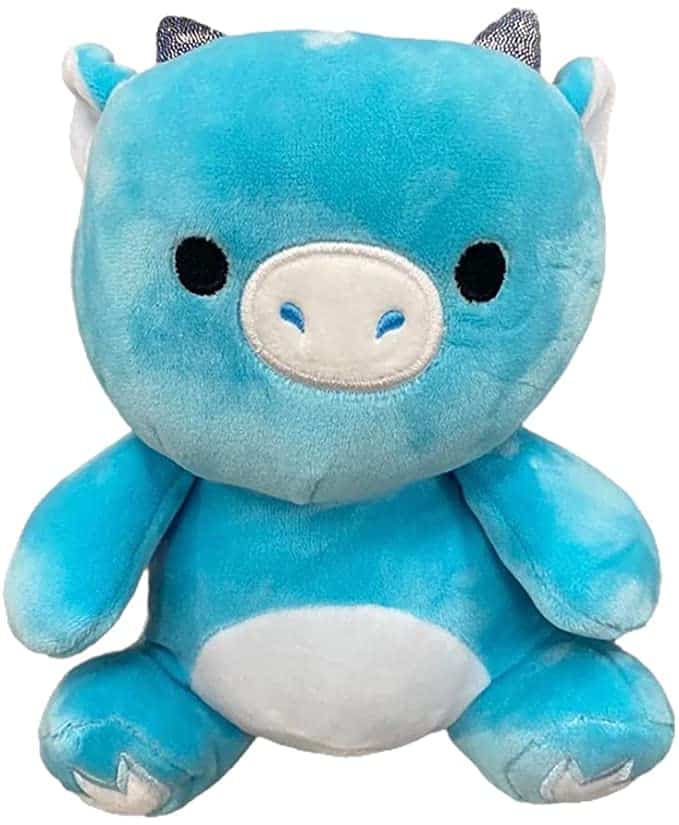 Gray has the oddest name I've ever seen from Squishmallows, considering he's blue. The blue dragon with a mismatched name makes him another quirky squishy. I think of myself as an eccentric mismatch to society, relating to poor Gray's dilemma. Anyway, he's still a cutie waiting for a good squeeze.
Features
Pros
Gray's face looks fantastic because he has a chibi-style design
Gray also has flames under his feet and long arms and legs for excellent cuddles with kids
Cons
Gray's nose looks more like a pig's snout than a dragon's
Unfortunately, Gray is the only Squeezemallow from the dragon squad. I'm sure he'll be a massive hit with friends to follow.
Best Dragon Squishmallow Edition: Palasha the Valentines Dragon Squishmallow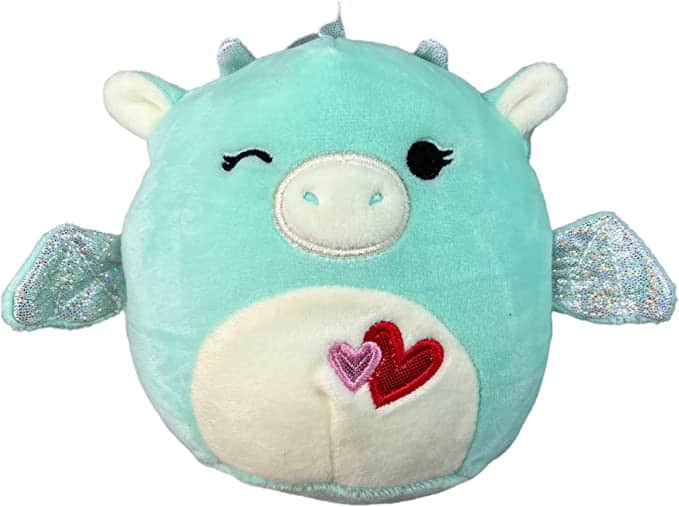 Palasha doesn't come from the original range of dragon Squishmallows, making her my unique selection for the edition range. She still becomes one of the dragons, even though she didn't join the original members. Palasha has a sweet but spicy design. She winks at you with an innocent deception.
Features
Dragon: Palasha Blue Dragon Squishmallow
Size: 5″
Uniqueness: She belongs to the Valentine edition with no roots in the original dragon squad
Squads: Fantasy and Valentine's squad
Pros
I like Palasha's naughty but nice vibes, making her perfect for Valentine's gifts
Palasha has a girly glitter effect around her snout and on the inside of her wings
Cons
Palasha is better suited for Valentine's gifting than a child's bedroom
More Choices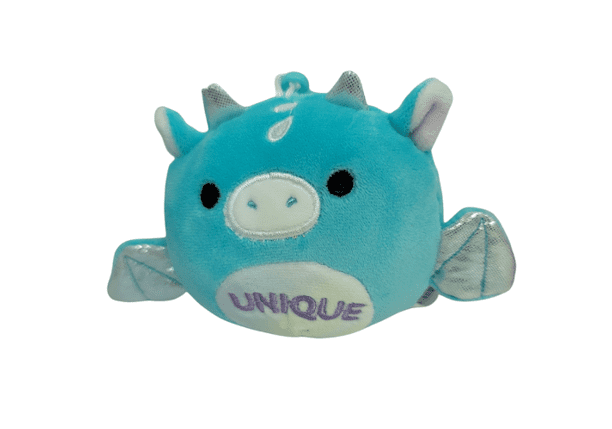 Joey is a tiny dragon with a mighty roar. Well, that's what he looks like to me. I chose the Joey version for my favorite clip-on because it says unique on the belly. There's nothing more unexpected than the word sprawled over Joey's belly. Admittedly, all the dragon clip-on are beyond cute, and it's hard to pick one.
Features
Pros
Joey looks like a confident Squishmallow dragon with his message loud and clear
I love the water drops coming down Joey's face, and he makes an ideal backpack clip-on for kids
Cons
Clip-on dragons are smaller than the rest, which doesn't matter if you want the range
More Choices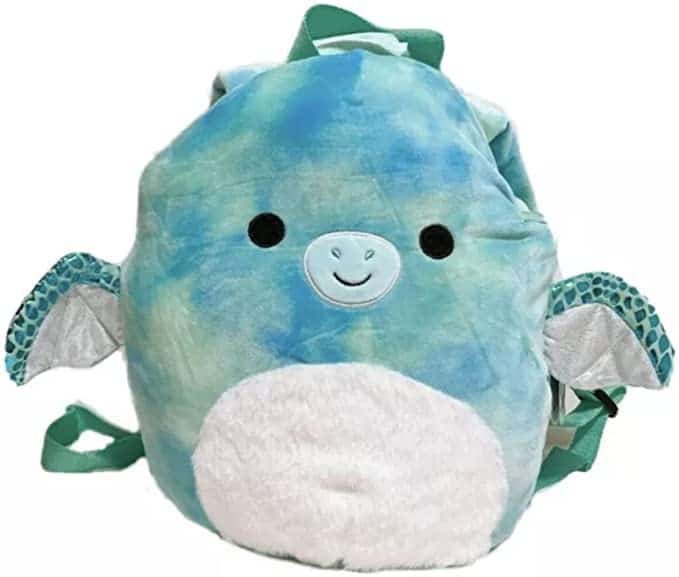 Shantira might have as much sass as Shakira. Who knows? I know that Squishmallow backpacks are a raging madness with kids now. Every child wants their favorite squishy backpack. I like the Shantira option because it has a tie-dye effect. Shantira also has scaled effects on her wings, doubling her awesomeness.
Features
Size: 12″
Uniqueness: Children can carry their best squishy dragon to school
Squads: Fantasy and backpack squad
Pros
Shantira has a glimmering shine to her wings that makes her tie-dye coloration stand out more
The squishy dragon backpack also has a furry belly, which lands Shantira in another range
Cons
The backpack's shape isn't super sturdy, and kids might struggle to fit everything they want inside
More Choices
Best Dragon Squishmallow Stackable: Dominic the Dragon Stackable Squishmallow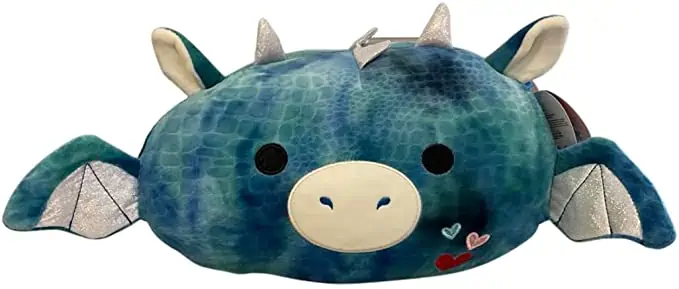 Dominic wins the round over Klaus because of the tie-dye effect again. I'm looking for unusual Squishmallows, so I'll pick the most unique one each time. Stackable Squishmallows are flatter to enable stacking. Do you want to know what the most brilliant thing about them is? They work excellent as squishy dragon pillows.
Features
Dragon: Dominic Tie-Dye Blue Dragon Backpack Squishmallow
Size: 12″
Uniqueness: Dominic is a tie-dye blue pillow soft enough for marshmallow dreams
Squads: Fantasy and Valentine's squad
Pros
Dominic's design is ideal for kids who want to use their best Squishmallow dragons for slumber
The tie-dye Squishmallow color also has a scale effect to enhance the plush's beauty
Cons
Stackable Squishmallow dragons look a little flat and aren't as adorable as others
More Choices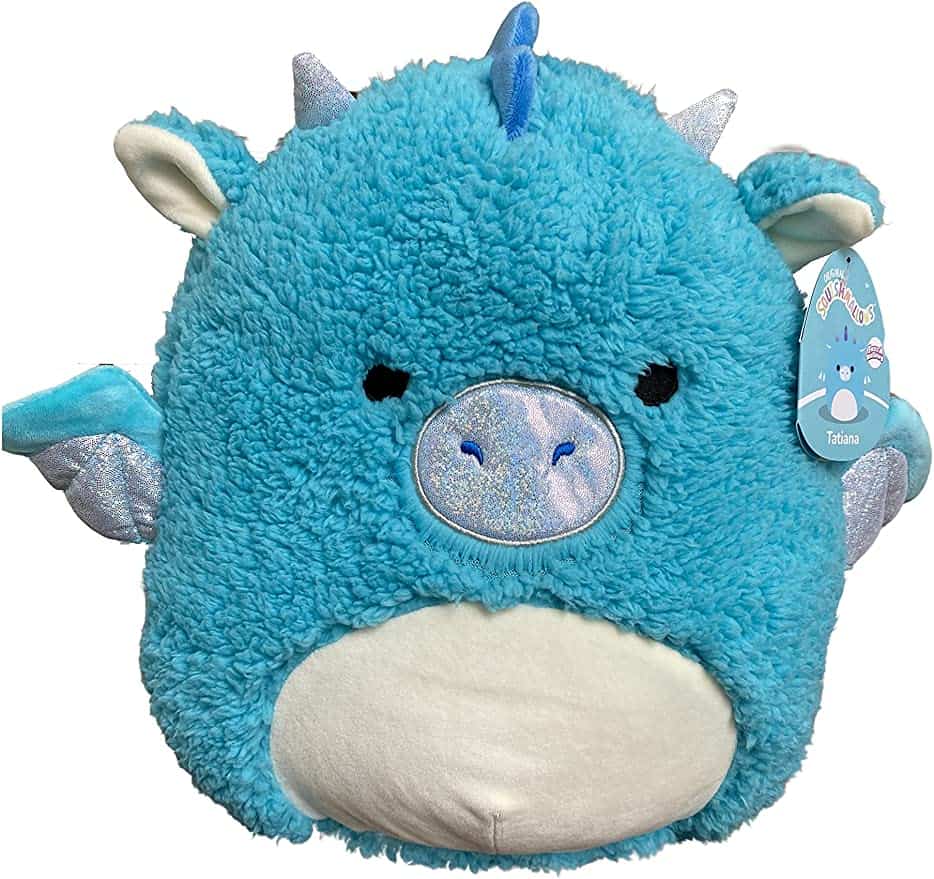 Tatiana is an extraordinary girl because she's the only dragon squishy from the Fuzz-A-Mallow range. Nothing screams unusual more than being the only Squishmallow dragon with a fuzzy body. Sure, the Shantira backpack has a furry tummy, but Tatiana is a true Fuzz-A-Mallow. She looks as cuddly as she feels.
Features
Size: 12″
Uniqueness: She's one of a kind
Squads: Fantasy squad
Pros
Tatiana is a famous dragon Squishmallow from the basic range, and she looks fabulous with extra fuzz
Tatiana is the softest, cuddliest, and squishiest member of the dragon squad
Cons
Her face looks hidden, and her details aren't excellent because Squishmallows focused on the fuzz
Keep looking for more fuzzy Squishmallow dragons because you never know if Tatiana gets a friend.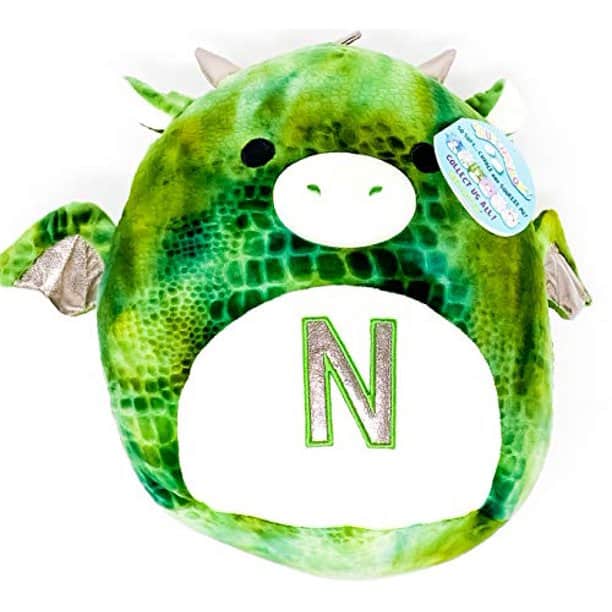 Everyone only knows the N Green Monogrammed Dragon by its letter. It doesn't have a name, but it looks like Marty Squishmallow. It has the same color effects and scales on its body. It's also super adorable and has a bright white belly. I suppose you guessed why I picked the letter N over the other monogrammed options.
Features
Size: 8″
Uniqueness: It has beautiful colors for an extraordinary finish
Squads: Fantasy squad
Pros
You can buy this monogrammed dragon Squishmallow for someone whose name starts with N
The design is undoubtedly the best of the monogram range of squishy dragon plush
Cons
The bright white belly won't last too long with sticky hands
More Choices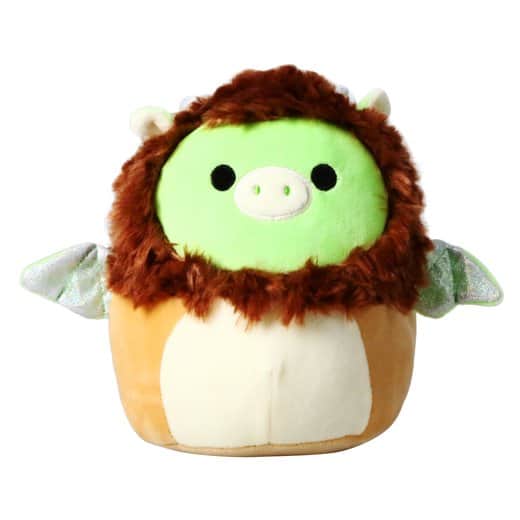 I love it when Squishmallows bring new characters to the costume squad. A mashup between two teams is perfect for an unusual dragon squishy. Desmund Squishmallow has the honors of dressing up in a lion costume. His mane is as furry as his horns are spiky. Desmund looks fantastic in the lion costume.
Features
Size: 7.5″
Uniqueness: Desmund changes into a lion costume for a new look
Squads: Fantasy, costume, and jungle squad
Pros
Desmund flaunts Leonard the Lion Squishmallow's mane like a beast from the skies coming to the jungle
Desmund looks confident and ready for anything, the same way lions act
Cons
The green face against the lion costume is the weirdest part of the mix
More Choices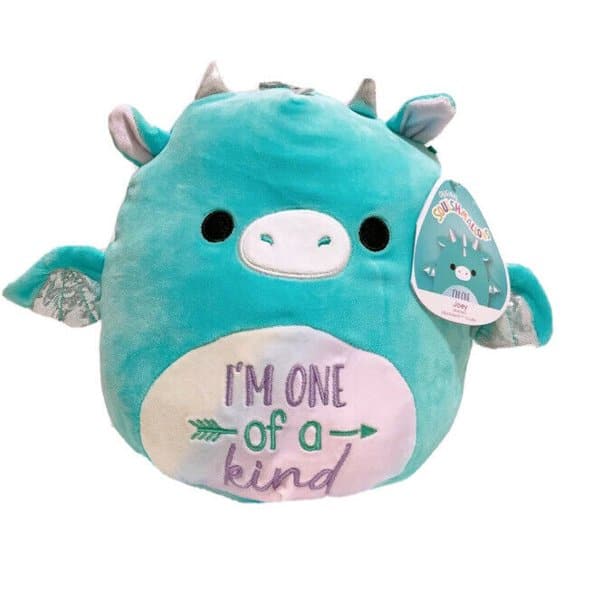 Some squishy dragon plush carries inspirational messages on their bellies, and Joey is my winning choice. I love Joey's message again because it's as confident as his unique tummy word. His message says, "I'm one of a kind." Joey is weird and adorable in many forms. He keeps stealing my heart when I see his versions.
Features
Size: 16″
Uniqueness: Joey is an oversized Squishmallow with a straightforward message that says it all
Squads: Fantasy squad
Pros
I can't get enough of Joey's bold nature with the in-your-face messages that show his determination
The arrow through the message emphasizes it more
Cons
It's a massive Squishmallow for a messenger dragon
Best Dragon Squishmallow Easter Egg: Desmund the Dragon Easter Egg Squishmallow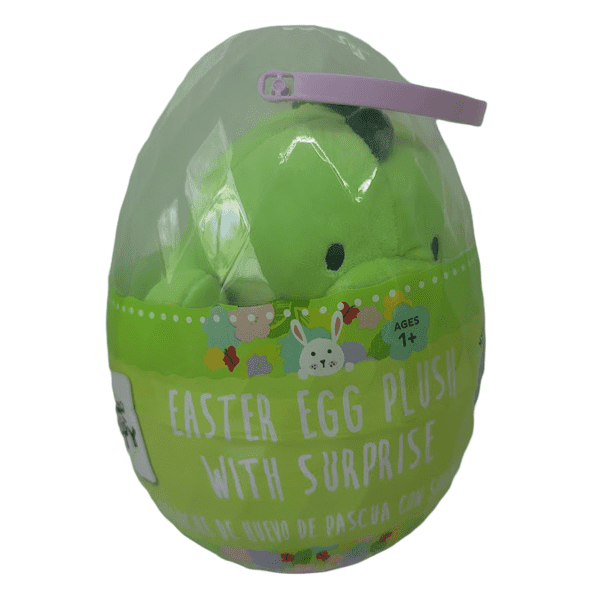 Desmund comes in one super rare form, an Easter egg. You'd think Easter egg Squishmallows are small to cater to the hunt children love. You're wrong, in that case. You get a large Desmund in this egg-shaped capsule. There's nothing unique about Desmund's appearance, but he comes as a surprise in a massive egg.
Features
Dragon: Desmund Easter Egg Squishmallow
Size: 16″
Uniqueness: Desmund is the only dragon Squishmallow in an egg
Squads: Fantasy and Easter squad
Pros
I like how Squishmallows appeal to kids throughout the Easter holidays with this Desmund squishy
The egg has a handle for kids to carry around easily
Cons
There's nothing special about Desmund's appearance once he comes out of the egg
Desmund is the first dragon from this range but watch for more versions from 2023.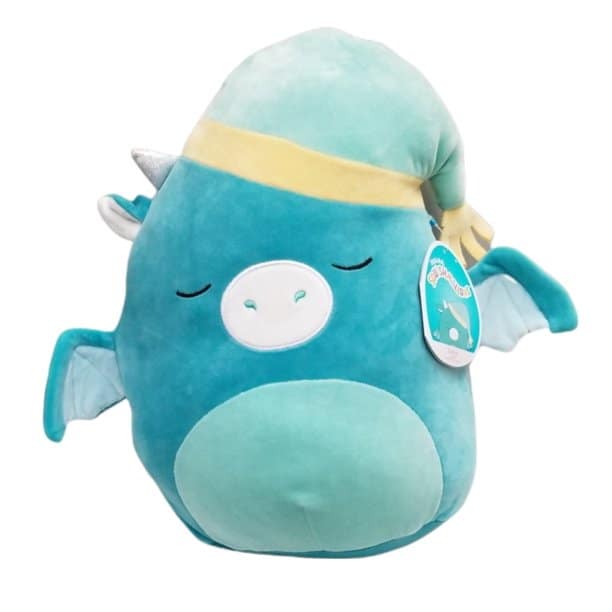 Emrys is one of a kind in his range. There are no other dragon Squishmallows with a hat accessory and fast asleep. I wish I had a sleeping Squishmallow dragon to help my little girl fall asleep when she went through a challenging toddler phase. She didn't want to sleep, and I can see how Emrys would've encouraged her to nap.
Features
Size: 14″
Uniqueness: Emrys is the only sleeping dragon
Squads: Fantasy squad
Pros
Emrys looks like he's taking the longest, most refreshing nap you can imagine (how parents would love to enjoy the same nap)
The hat looks like the one you'd imagine the sandman would wear
Cons
The sleeping Squishmallow feels limited in a collection
Keep watching dragon Squishmallows to find another potential dreamer soon.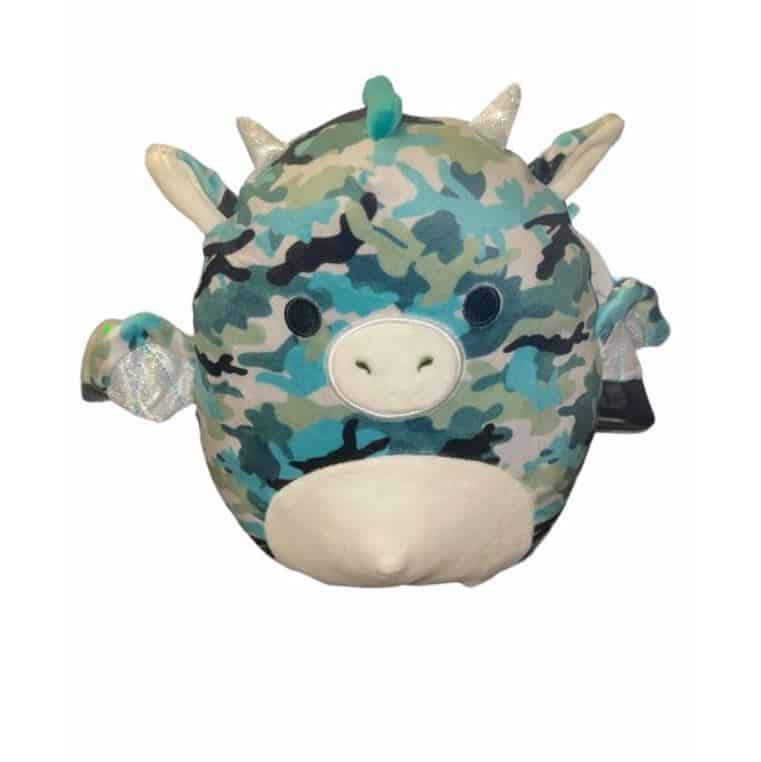 Keanu is the best color-smash, squishy dragon because the others have a rainbow or tie-dye effect. Keanu stands out from the usual colorations found on Squishmallows, let alone squishy dragons. He's so popular that he keeps selling out everywhere. However, he'll be back in stock soon enough.
Features
Pros
Keanu looks like he can hide among the bushes in the deepest parts of the forest
He still has fantastic shimmering effects on his horns and inner wings
Cons
He sells out often, and you might have to wait for new stock
Keanu is another one-of-a-kind dragon Squishmallow. He's a must-own for collectors.
Top Q&A
Question: Which Dragon Squishmallow is the Most Popular?
Answer: You have to look at how many variants of dragon members exist to know which ones are the most popular. Miles the Teal Dragon comes in 5″, 8″, 12″, 14″, and 24″ plush, making him the most famous one of all. Miles also comes in a Super Hugmallow and monogrammed versions, impressive Squishmallow ranges.
Question: Which Dragon Squishmallow is the Cutest?
Answer: The most adorable Squishmallow dragon is the hardest to pick. However, there's one cutie I can't stop gasping about and want badly. Devra the Dragon Squishmallow is pink, rainbow-colored, and has detailed eyes. She even has a punk-rock style and comes in a size ideal for cute Squishmallows.
Question: Which Dragon Squishmallows are Rare?
Best Dragon Squishmallows Guide: Final Squish
You'd think I've shown you the top 15 dragon Squishmallows. You're wrong. I showed you every version of every available squishy dragon in 2022. I merely picked one best dragon from the 15 ranges that exist. I know it's hard to choose one when I throw the world at you but start with an unusual find.
Buy Devra the Dragon Squishmallow if you want an adorable squishy from the basic range. Opt for Cazden the Dragon Squishmallow if you want something unusual and huggable. Baiden the Dragon With Boba Tea Squishmallow is an attractive option if you want your kids to be interested in tea.
Buy Palasha the Valentine's Dragon Squishmallow for that someone special when Valentine's Day comes around. Spoil your child to Shantira the Dragon Backpack Squishmallow if they want to be the talk of the playground. Suppose you want to remind someone about their unique personality.
Joey the Dragon Inspiration Message Squishmallow will do the trick. You can't say there isn't a dragon Squishmallow for you, your child, or your best friend. Squishy dragons are vast enough to appeal to every fan you can imagine.
For more Squishmallows:
Pineapple Squishmallow Guide for Fruit Squad Fans – Avid Plush
All About Ronnie the White and Brown Cow Squishmallow – Avid Plush
Squishmallow Duck Guide – Avid Plush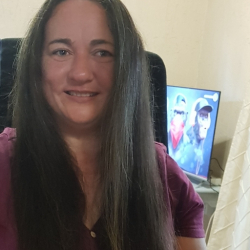 Latest posts by Caroline Lambert
(see all)