Are you ready to enter a realm of magic, cuteness, and cuddly companionship by reading the best Beanie Boo plush guide?
Can you handle the sparkling personalities of these cute plush toys? Then, take it from someone who enthusiastically collects Squishmallows and Pokémon plush. These plushes are beyond the realm of adorability, friendship, collectibility, and cuddliness.
Something about Beanie Boo plushies will rip the glasses of reality from your face before transcending you into a realm of the most profound desire to collect them all. However, I'm slightly objective about which plushes my family collects.
So, I won't simply show you every Beanie Boo available because that's impossible. Instead, I'll share only the most magical Beanie Boo plushes.
Best Beanie Boo Plush Bottom Line Up Front
I collected Beanie Babies as a kid. My kids enjoy the new Beanie Boo plushies with sparkling eyes and personalities to match. However, this collectible brand has incredible roots and offers 12 collections, not counting the licensed Marvel and Disney Beanie Boo plushies. So, I'll share expert tips on collecting Beanie Boo plushies without drowning in a house full of them.
My best Beanie Boo plush toys are beyond magical and make excellent plush companions for kids and adults. They have a hint of magic about them, and nothing's more unique than that. In addition, I'll follow strict rules to only pick the best of each collection to ensure you feel inspired. But first, let me share my ultimate Beanie Boo in stores today.
The Beanie Boo Wishful Unicorn Plush is my favorite because it's the kind of animal that appeals to most plush fans. It has a different mane to make it unique among the many unicorns. In addition, it has exquisite colors, patterns, and shimmering effects to brighten any child's day. This plush companion from Beanie Boos will make you fall in love repeatedly.
However, let's quickly go through the Beanie Boo must-know facts to collect these gorgeously cuddly plush friends before seeing more of my favorites.
Best Beanie Boo Plush: A Huggable Trend Taking the World by Storm!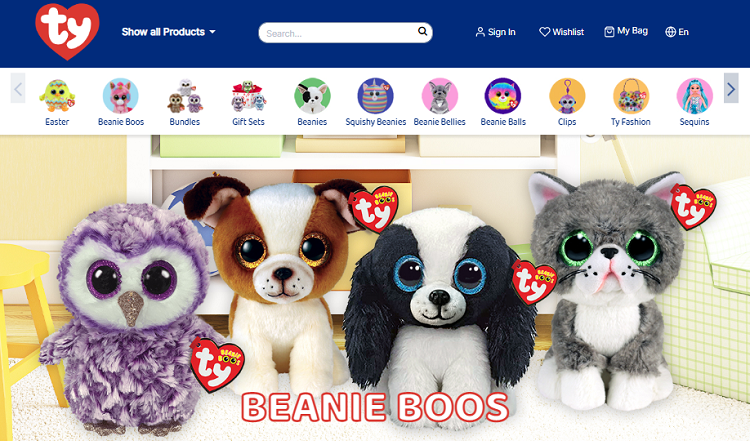 Beanie Boo plush looks like they come from a magical place where everything's possible, and plush friends are the norm.
So, let's discover what makes these plushies magical, collectible, and adorable. Then, you'll discover secrets about the Beanie Boo plush range to unlock your collectible potential. Then, I'll share how I picked the perfect magical plush friends.
From the Magic Closet to Your Arms: Where Beanie Boo Plush Originate
Beanie Boos are fun, but the parent brand is Beanie Babies. Ty Warner first introduced Beanie Babies at a Toy Fair in New York in 1993, which were meant to be simple plush toys. Warner never expected his beanie-stuffed animals to spark such excitement, becoming one of the most collectible plush brands globally by 1994.
Beanie Boos came in 2009 when Warner realized how phenomenal his plushies were among fans and how the fandom couldn't stop collecting them. Beanie Babies were plain beanie-stuffed animals that looked like their regular counterparts. However, Beanie Boos appealed better to the noughties, with sparkling eyes that carried magical stories.
Beanie Boos began with only seven plushies, but you'll find countless stuffed animals with giant eyes today. Each Beanie Boo also came with a name and personality, and entire family fans could collect. So, let's hop into expert buying tips for Beanie Boos.
Unlock the Secrets of Beanie Boo Plush With Expert Tips
Beanie Boo plushies caused such a craze that TY Warner had to create more for collectible plush companion fans. So, my expert tip is to know where to start with Beanie Boos before buying the best plush companions. Beanie Boos can drop into multiple families, similar to Squishmallow squads. Understanding the existing families can help narrow your collection of Beanie Boos plushies.
But first, let's discover the Beanie Boo plush types:
TY Beanie Balls Plush has adorable animals in a ball shape with massive eyes and soft fur (aka TY Puffies).
TY Beanie Bellies Plush comes in baby shapes with arms and legs and includes various animals.
TY Beanie Boo Flippables are reversible plushies for various animals.
TY Beanie Boo Plush Clips are clip-on plushies for backpacks and include various animals.
TY Beanie Squishies or Squish-A-Boos look similar to Squishmallows and include various animals.
TY Beanie Traditional Plushes have enormous sparkling eyes with ultra-soft fur and look like various classical animal shapes.
Furthermore, look out for these 12 collections or families from the brand:
TY Beanie Boo Airborne Plush includes owls, bats, toucans, and parrots.
TY Beanie Boo Bug Plush includes spiders, caterpillars, bumblebees, snails, and ladybugs.
TY Beanie Boo Exotic Plush includes koalas, camels, sloths, flamingos, and kiwis.
TY Beanie Boo Fantasia Plush includes unicorns, caticorns, lion unicorns, puppy unicorns, slothcorns, and unicorn owls.
TY Beanie Boo Farmhouse Plush includes chicks, ostriches, llamas, pigs, and horses.
TY Beanie Boo Holiday Plush includes Christmas, Easter, Valentine's Day, and Halloween options.
TY Beanie Boo Mystical Plush includes dragons, ghosts, mummies, and dinosaurs.
TY Beanie Boo Ocean Plush includes octopuses, turtles, narwhals, fish, seals, sea lions, and orcas.
TY Beanie Boo Pets Plush includes puppies, kittens, hamsters, and all other pets.
TY Beanie Boo Safari Plush includes tigers, leopards, giraffes, lions, elephants, and zebras.
Ty Beanie Boo Woodland Plush includes bunnies, foxes, squirrels, hedgehogs, mice, bush babies, deer, raccoons, and otters.
TY Beanie Boo Zoo Plush includes pandas, monkeys, penguins, lemurs, polar bears, and gorillas.
Finally, TY Beanie Boos also have licensed plush that won't have the famous sparkling eyes. These plushes appeal better to Disney, NHL, and Marvel fandom collectors. Here is a fraction of the licensed TY Beanie Boos include:
TY Beanie Boo Disney Plush with Simba, Dumbo, and Olaf plushies.
TY Beanie Boo Marvel Plush with Hulk, Groot, Spiderman, and Iron Man plushies.
TY Beanie Boo Minions Plush with Stuart, Dave, and Kevin plushies.
TY Beanie Boo My Little Pony Plush with the famous ponies from the franchise.
TY Beanie Boo NHL Plush with Chicago Blackhawks, Dallas Stars, and Los Angeles Kings plushies.
TY Beanie Boo TMNT Plush with the Teenage Mutant Ninja Turtles (discontinued).
The three Beanie Boo collections, types, or licensed fandoms help you buy what you want to collect.
How I Found the Perfect Beanie Boo Plush
So, you can see countless Beanie Boo plushies exist. Therefore, I'll select the perfect starter from each of the 12 collections. Otherwise, you'll drown in Beanie Boos. Furthermore, the best Beanie Boo plush from each group must:
Be an original Beanie Boo from Walmart, Barnes & Noble, or the official TY Beanies US store
Come in a traditional shape and not balls, flippable, or keychains
Has to be the most eccentric design among the choices, meaning it must be colorful, bold, and unique
It must be six inches, the ideal size to collect many Beanie Boos
Finally, I'll narrow the last options by sticking to my favorite animal under each collection
Best Beanie Boo Plush Guide: Get Ready to Fall in Love
Each collection's best Beanie Boo plush toy must immediately make you fall head over heels. The colors must strike your heart, and the unique patterns, designs, or features must make you crumble with a desire to own it. So, let's spark your magical journey to another realm to find your cutest companion by checking out the most adorable and beautiful Beanie Boo plush toys.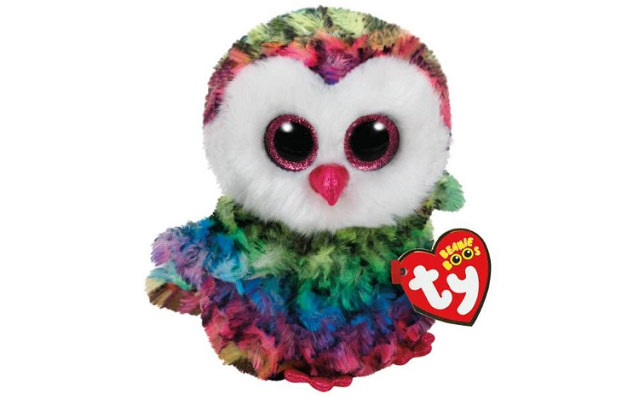 I thought the toucans and parrots would be more colorful, but Owen, the Owl Beanie Boo, surprised me. Admittedly, owls make excellent plush companions in beautiful designs and colors.
So, it shouldn't surprise me that much that Owen stole my attention more than other airborne Beanie Babies. He's the ideal size and has exquisite details, colors, and features.
Pros
The rainbow owl Beanie Boo plush has magical colors
Beanie Boo Owen's ultra-soft fur hides a squishy bean-stuffed interior
Owen's beak and claws have a beautiful shimmering design
This Beanie Boo owl also has glitter effects in its eyes
Cons
Owen's wings are slightly awkward and will lose their shape
Owen would be more adorable with a longer beak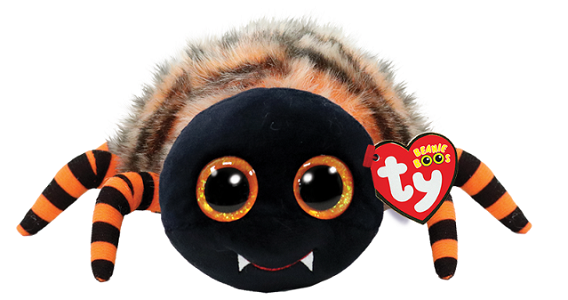 Beanie Boo's little Ingrum spider is my favorite animal from the bug world. Surprisingly, not many bug-type Beanie Boos come in beautiful colors. So, I had to choose one that included a pattern. Ingrum reminds me of my family's now-12 tarantulas we keep as pets.
Indeed, tarantulas can become incredible pets with friendly demeanors if you pick the right breed to tame them.
Pros
The Beanie Boo spider plush has a pretty striped pattern
Ingrum has gorgeously sparkling eyes with glitter and pizazz
Ingrum's body has an ultra-soft touch with bean stuffing
The legs are adorable, and Ingrum's expression is spot-on
Cons
The excessive fur on Ingrum's body changes with time
I'd only remove Ingrum's fangs because they might frighten kids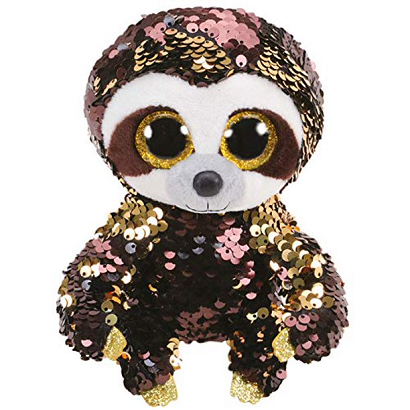 Sloths are incredible animals from down under. Beanie Boo sloths are common, but most current versions don't have unique features.
So, Dangler grabbed my attention with his fantastic sequin design. It isn't rainbow-colored or bright, but it has a gorgeous shimmering effect over his entire body. Meanwhile, the coloration makes Dangler look like a genuine sloth.
Pros
The Beanie Boo Dangler plush has a gorgeous sequin design
You see shimmering effects over Dangler's entire body
Dangler has matching glitter claws and the famously enormous eyes
Dangler's personality shines through his bright and shiny exterior
Cons
The sequin plush from Beanie Boo isn't as soft as others
Dangler's colors might be too bland for some fans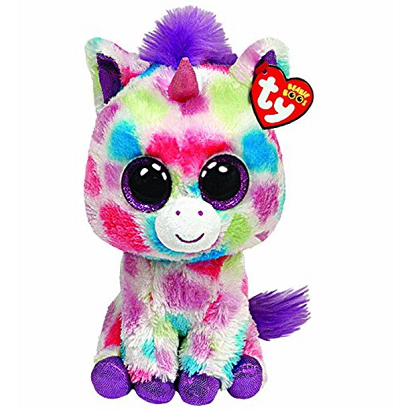 I want to share an original Fantasia Beanie Boo instead of a collaboration. So, I'll stick to an original unicorn plush because every child loves them.
My daughter would give her right hand to own as many unicorn plushies as possible. Meanwhile, Wishful is a beautiful unicorn that instantly became my ultimate pick for fans of all ages.
Pros
The Beanie Boo Wishful unicorn plush is beyond beautiful in color and design
Wishful's pretty trotters have a shimmering glow and a bright purple color
This Beanie Boo unicorn has unique fur that doubles as a sensory experience
Wishful has glitter eyes and a matching horn that doesn't shadow her face
Cons
The Beanie Boo unicorn plush has a white background to challenge cleaning
The pattern almost looks like a giraffe's spots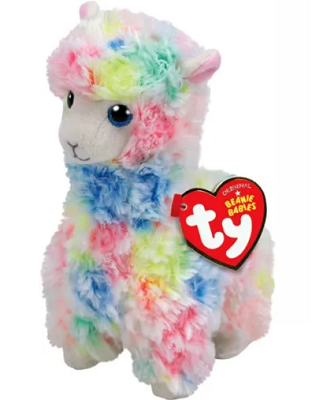 The farmhouse collection of plush toys from Beanie Boo will blow you away, but I couldn't find a single cow or sheep.
The brand will likely start making them because they always introduce new animals. However, I settled for a llama. Horses are my ultimate farm animals, but the horsey had nothing unique and was too enormous. So, Lola stole my attention as a cute plush.
Pros
The Beanie Boo Lola plush has gorgeous rainbow colors
Her ultra-soft fur would resemble real-life llamas on the farm
Lola's eyes have the glitter effect but seem more petite than others
Lola, the llama plush's fur has curly bits like a real-life animal
Cons
Lola's eyes should be much bigger than on this plush
Her legs are short enough to make you think she doesn't have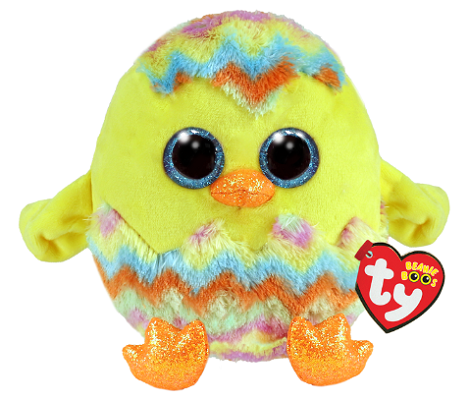 The holidays make for excellent plushies from Beanie Boo because Christmas costumes and decorations, Easter patterns, and Valentine's Day hearts make each beautiful plush unique. However, Corwin is a chick with attitude, and he sits inside an Easter egg. He still maintains a traditional body shape because chicks look round. So, this adorable Beanie Boo plush toy wins my attention.
Pros
The Beanie Boo Corwin plush has fabulous Easter patterns
The colors pop loudly, and the little chick flaunts them nicely
Corwin's egg outfit has an ultra-soft touch for sensory joy
His beak and feet match the glittery eyes of Beanie Boo plushies
Cons
Beanie Boos challenges you to open Corwin for a surprise
Corwin has too much black in his bold eyes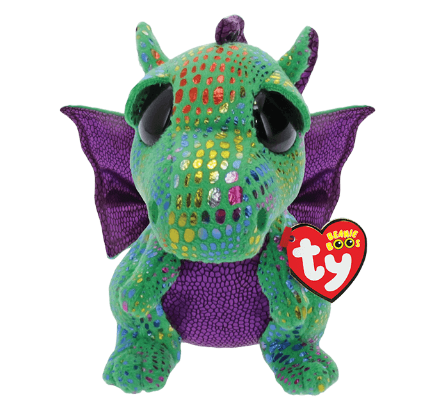 The Beanie Boo mystical collection also has ghosts, mummies, and dinosaurs. However, the dragons stand out more, and picking one beautiful Beanie Boo dragon plush was challenging. Fortunately, Beanie Boo has a Cinder dragon plush with distinctive colors and features. Meanwhile, you can change Cinder's size on the website if you want an enormous Beanie Boo for younger kids.
Pros
The Beanie Boo Cinder plush has a sequin design for added uniqueness
Cinder's beautiful colors and shimmering features make her stand out
Cinder has a matching belly and wings for a glittery display
Most fans of all ages love Beanie Boo dragon plushies
Cons
Unfortunately, Cinder doesn't have detailed or glitter eyes
She doesn't have rainbow colors or patterns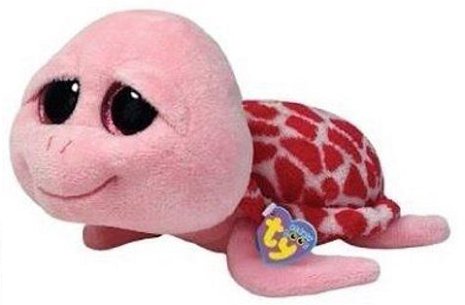 TY Beanie Boo's ocean collection didn't have many plushies in colorful designs or traditional shapes. So, Shellby was my top pick because it challenges the colors regular turtle plushies use. Meanwhile, many kids love turtles as one of the best sea creatures. In addition, Shellby's design, shape, and color make him a unique boy that looks different in a collection.
Pros
The Beanie Boo Shellby plush has a pretty color for unusual turtles
Shellby's eyes have those gorgeous glitter effects
Shellby's oversized head matches his adorable pink eyes
Even the turtle's shell has hot pink spots to make it unique
Cons
Shellby doesn't have unusual patterns for a sea turtle
The oversized head may put some collectors off of this plush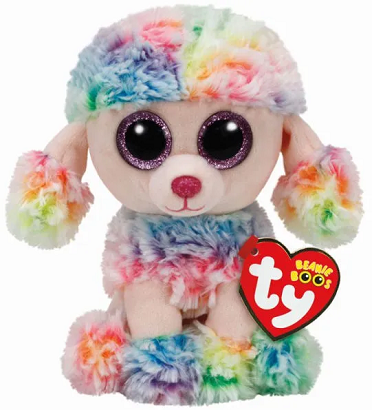 Beanie Boos don't always name their pet plushies well. Rainbow is the pup's name and color arrangement. It works, but it doesn't seem clear. However, Rainbow, the poodle plush, has a beautiful coloration and ultra-soft fur to touch. Her exquisite pom-pom features are ideal for puppy lovers who enjoy French poodles. She's an adorable puppy for a plush companion.
Pros
The Beanie Boo poodle plush has a gorgeous design with a pom-pom groom
Rainbow has colors to match her name, and her pink body adds more depth
Rainbow's glitter eyes are perfect for fans who enjoy the Beanie Boo eyes
Rainbow has a touch of glitter on her nose to make her unique
Cons
Poodles aren't my favorite dog type, but Rainbow won with colors
Rainbow's long ears are ultra-floppy and might lose their shape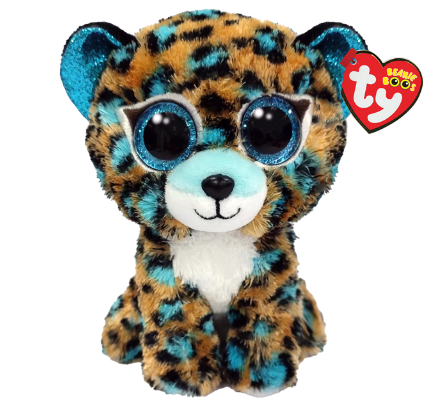 Beanie Boo plush names aren't always the most authentic, but they tell you what you'll get. So, Cobalt is as blue as you'd expect. He has beautiful bright blue colors in his spots.
In addition, Cobalt's bright blue inner ears and light blue muzzle line make him unique. Cobalt is the most colorful and shimmering design among the Beanie Boo safari collection of plush toys.
Pros
The Beanie Boo Cobalt plush has unique colors and styles
The shimmering inner ears and muzzle stripe make him more unusual
Cobalt's glitter eyes somehow make the blue colors pop louder
Cobalt has an ultra-soft fur patch on his chest for a sensory pleasure
Cons
Cobalt's blue eyes might be too much and should change to rusty colors
Cobalt's little paws are super flimsy, and he won't stand nicely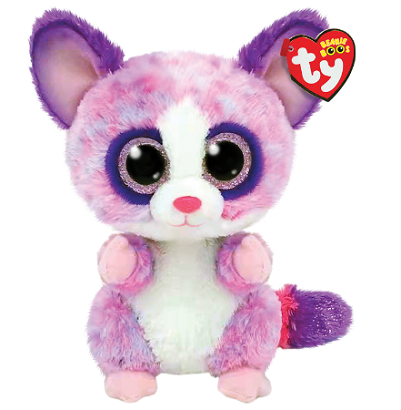 I couldn't choose a favorite bunny from the woodlands collection. Indeed, bunnies are my favorite woodland animals.
However, I went in a different direction because of my challenge to pick one of many colorful Beanie Boo bunnies. Instead, I selected a bush baby because they're nearly as adorable. Becca has everything going her way as a cuteness overload and plush companion.
Pros
The Beanie Boo Becca plush has a gorgeous pink and purple design
Becca also has a tie-dye pattern with shimmering details
Her eyes include the fabulous and famous glitter effect
Becca has assorted fabrics to make her another sensory experience
Cons
Becca's arms are ridiculously short for a bush baby
Becca's eyes would stand out more if they were pink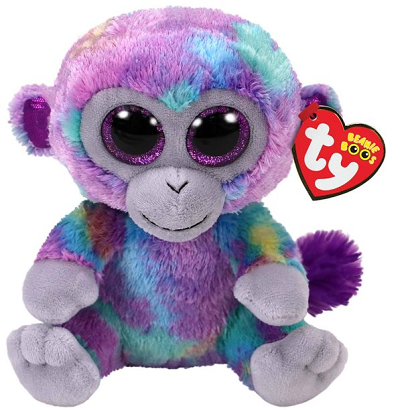 A zoo collection is another challenge in which I only settle for one plush. However, the Beanie Boo Zuri plush did the trick. Admittedly, I enjoy purple and tie-dye patterns.
They stand out slightly better than the typical pink or blue plushies. Meanwhile, Zuri is a popular zoo animal children love visiting. My kids spend way too much time among the monkeys at the zoo.
Pros
The Beanie Boo Zuri plush has brilliant purple colors and a tie-dye pattern
Zuri's eyes have that exceptional touch of glitter with sparkling effects
Zuri's entire body is an ultra-soft fabric to make you fall in love with it
The monkey's face, ears, snout, and head are ideal for the real-life animal
Cons
Zuri doesn't blend many colors like the rainbow options
Zuri's tail doesn't match his tie-dye body
FAQs
Question: Which Beanie Baby Plushes Are Rare and Valuable?
Question: What Is the Most Valuable Beanie Baby Plush?
Answer: TY Beanie Babies have long had a highly collectible plush brand, which now introduced the Beanie Boo range in 2009. However, the most collectible and valuable Beanie plush comes from the original brand: Beanie Babies. The Beanie Baby Princess Diana Plush with a memorial fund ribbon will sell for $2,500 to half a million! It's the rarest Beanie plush.
Question: Which Beanie Boo Plush Is the Rarest?
Best Beanie Boo Plush Guide: Conclusion
The best Beanie Boo plushes have a unique edge above others in their 12 collections, and I only considered the traditional-styled plushies.
Meanwhile, you can narrow your Beanie Boo collection by type, family, and fandom. Hundreds of Beanie Boo plushies exist. So, use my expert tips to choose your Beanie Boos wisely. Then, I recommend the Beanie Boo Wishful Unicorn Plush.
Unicorn plushes are already magical. Adding glitter eyes, patterns, and mystical colors can make them more desirable. In addition, the ultra-soft texture of Beanie Boo plush will ignite your passions like no other brand.
So, pick your favorite collection and buy your first Beanie Boo. It will start something phenomenal and never-ending with such a well-known brand.
For more cute plushies: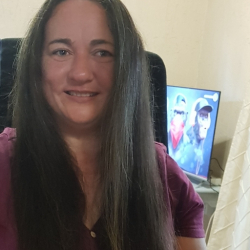 Latest posts by Caroline Lambert
(see all)