Pandas are beyond cute, from Kung Fu Panda to Squishmallows. My family loves panda bears and plush toys. Also, we love targeting specific animals to find every Squishmallow available for our collections. So, our panda Squishmallows guide will rock your passions for the bamboo-eating zoo squad member.
I ensured that you'd find a panda Squishmallow for all fans, young and old. More importantly, I'll help you find ways to rekindle the discontinued panda Squishmallows you wouldn't think are easy to find. So, let's find out which panda Squishmallows come as quick purchases and which ones you should see by hunting online.
Panda Squishmallows: Bottom Line Up Front
My family isn't only obsessed with Squishmallows and the vast collections that bring joy and endless opportunities. Instead, we're also in love with panda bears, even if they're bamboo freaks. So, it's a pleasure to find every panda Squishmallow that exists and a superb option for each one in stores.
Unfortunately, I can't promise you'll find every panda, but over 20 cutie-pies frequent stores and online hotspots. However, I'll also introduce the discontinued and out-of-stock panda plush to ensure you can find all of them. In addition, I'll share tips and examples to find them.
But first, let me share my most incredible panda Squishmallow. Jemima, the Panda Squishmallow, is the most beautiful panda bear you'll ever encounter. Her bright and glorious colors will blind you with passion, and she's an incredible best friend for kids who enjoy bedtime snuggles. So, she's my winning panda Squishmallow.
However, Kirsten, the Panda Squishmallow, comes in at a close second for being a pretty choice that excites my daughter. Furthermore, let's first learn about the panda Squishmallows before diving into the attractive options available.
A Complete Guide to Panda Squishmallows
Pandas are incredible animals with natural two-tone colors and seemingly friendly natures. However, let's see who the panda Squishmallows are and how they look before learning tricks to find the most unusual ones. Then, I'll share how I picked the panda Squishmallows for each primary and famous squad member.
Meet Some of the Adorable Panda Squishmallows
Panda bears are insanely cute and act like goofballs in TikTok videos. I follow one TikTok page with overwhelming cuteness. Meanwhile, Panda Squishmallows are another way to enjoy the bamboo-eating bears with an affinity for breaking hearts. Also, many panda Squishmallows are a part of the zoo and wildlife squads.
I love Squishmallow families with various members. Adding pandas to squishy plush is like eating marshmallows on a cloud. Sadly, not all pandas are still available in stores. So, let's briefly see the panda Squishmallow family and their appearances to ensure you can snag anyone you love and find.
However, here are a few names and appearance signs to look for in discontinued or out-of-stock pandas:
Felicia, the Panda Squishmallow, is a pandacorn with a unicorn horn and a teal and white design.
Joxtine, the Panda Squishmallow, is a pink and white cat in a black and white panda costume.
Kayce, the Panda Squishmallow, is a black and white pandacorn with shimmering wings and a horn.
Lander, the Panda Squishmallow, is another pandacorn with shimmering wings and tie-dye colors.
Pei, the Panda Squishmallow, is one more pandacorn with a blue horn and yellow eye borders.
Penny, the Panda Squishmallow, is white with pastel blue accents.
Persafanie, the Panda Squishmallow, is dark gray and white with detailed feminine eyes.
PJ, the Panda Squishmallow, is white with two shades of gray accents and solid black eyes.
Scout, the Panda Squishmallow, has a white body with navy blue accents.
Sinead, the Panda Squishmallow, is gray and white with tired eyes and a pool tube around her waist.
Sissy, the Panda Squishmallow, is pastel blue and white with golden-framed glasses.
Over 20 primary panda Squishmallows exist, and you'll meet the rest of these cutie-pies soon. But first, you had to meet the squad members no longer for sale in stores. Some are out-of-stock, while others are discontinued. However, knowing how they look will help you find them as rare collectibles.
Psst! I'll share some rare examples of panda Squishmallow later to help you find them.
How to Find More Exciting Panda Squishmallows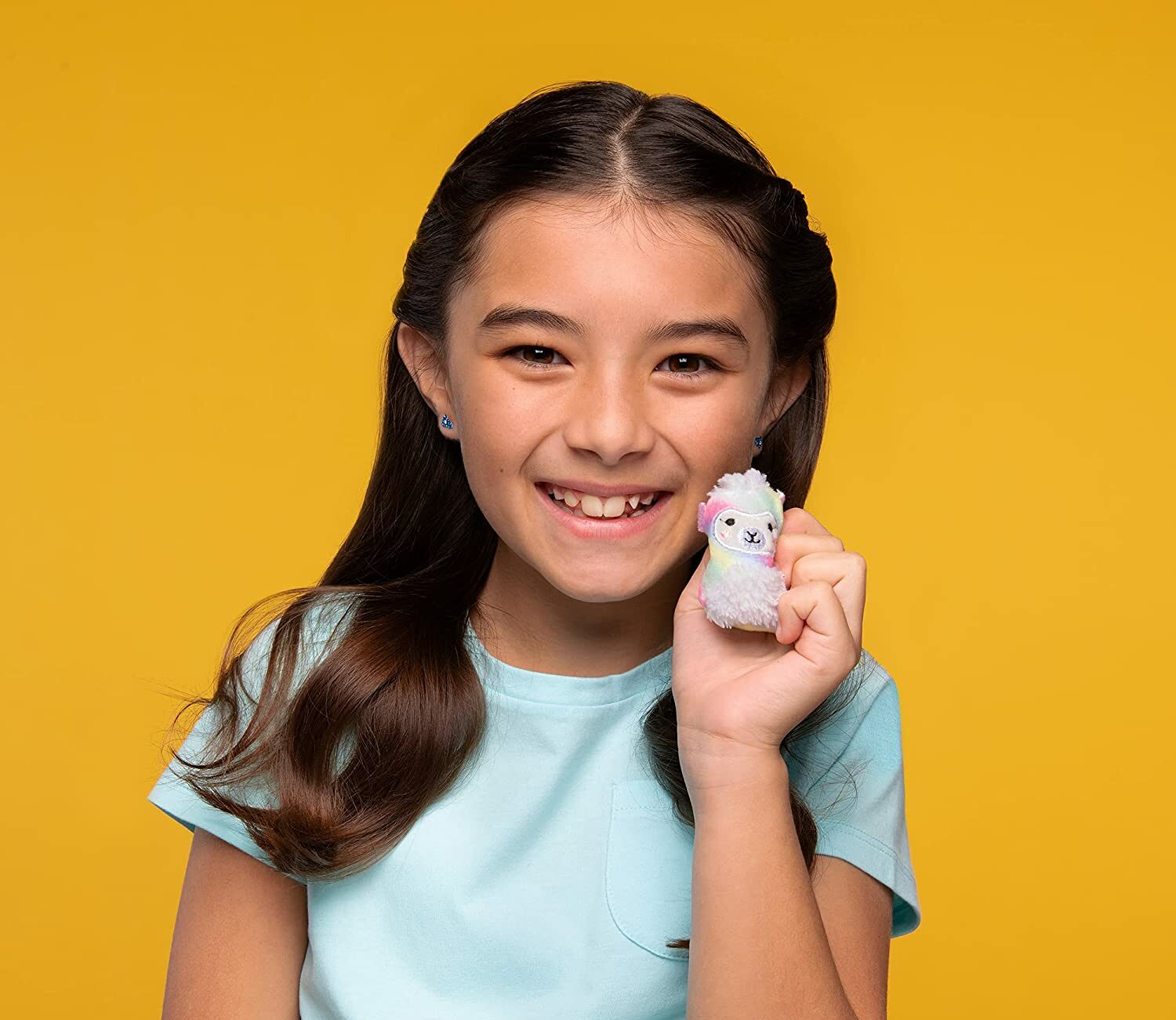 It's challenging to collect panda Squishmallows until you meet the entire team. Firstly, I'll share every panda Squishmallow I haven't shown soon. I didn't want to double down on how they look by introducing the ones I'll share soon. In addition, every panda Squishmallow has the potential to come in various sizes and styles.
For example, Paedra, the Rainbow Panda Squishville Squishmallow, has a miniature version you only find in the rainbow Squishville collection. Meanwhile, Inez, the Panda Squishmallow, also comes as a Squishville vehicle. However, most panda Squishmallow merely have size differences or color changes.
In addition, some panda bears come in weird and beautiful styles, including HugMee Squishmallows or plush with insane hairstyles, like the Squish Doos. Various panda Squishmallow land in multiple squads, visiting other teams while rocking colorful hairstyles or looking slightly different.
So, you'll have to know how each squad member looks on the foundation to find every unusual option. Meanwhile, you can use the convenient personal shopper, Squish Alert, to help you find more pandas. Set your in-search-of (ISO) notifications to the stores and pandas you wish to see, and voila!
How I Selected Adorable Panda Squishmallows
Fortunately, 15 out of 25 panda Squishmallows are still easy to find. So, I'll share one incredible example of each panda. I'll choose the most unusual plush for each panda Squishmallow or share the one that appeals better to my preferences as a collector and mother. Also, note that not all pandas have multiple variants.
Panda Squishmallows Guide: Overwhelming Cuties
Panda Squishmallows don't offer an extensive range at any given time. However, this year will see these insanely adorable panda Squishmallow on the shelves. So, let's see which pandas rocked my collector's mind and turned my children into panda fanatics. I'll also share the good and undesirable details for each.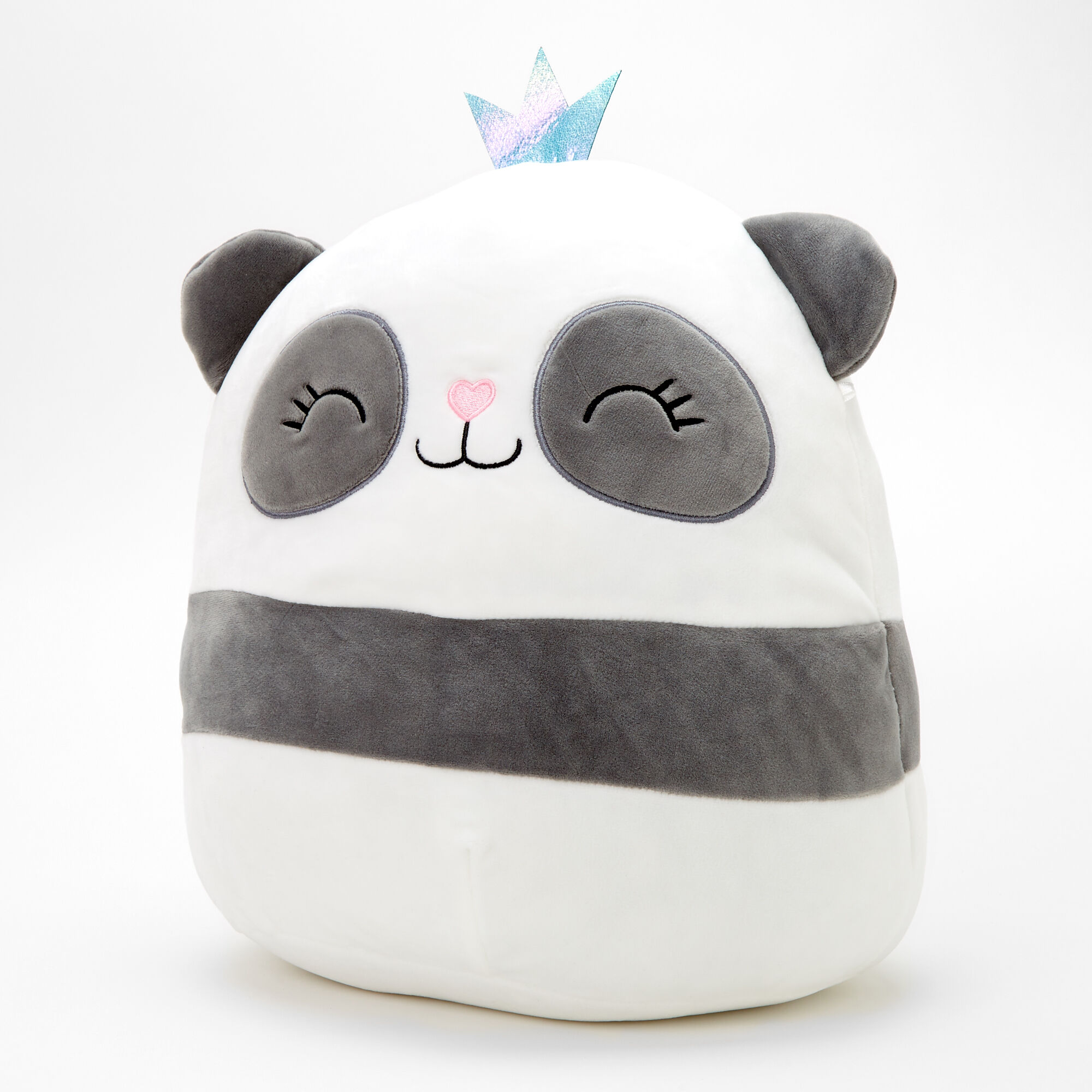 Bonnie Squishmallow is a princess panda with a crown and tired eyes. Bonnie Squishmallow's personality shines bright enough to bring more color to her plush design. She has a gray-and-white color scheme with gorgeously feminine touches to match her sassy attitude. Her tired eyes look more like laughing stripes.
Size: 12″
Family: Wildlife, Zoo, Sleepy, and Sassy Squads
Type: Normal
Bonnie Panda Squishmallow Pros:
Bonnie, the panda Squishmallow, is pretty and girly plush for girls
Bonnie's nature feels placid, and she looks friendly
Her eyes are massive, and I can only imagine how cute they'd be
Bonnie is an adorable panda Squishmallow friend for kids
Bonnie Panda Squishmallow Cons:
Bonnie's sleepy squad membership isn't my favorite
She has a lot of white, which isn't easy to keep clean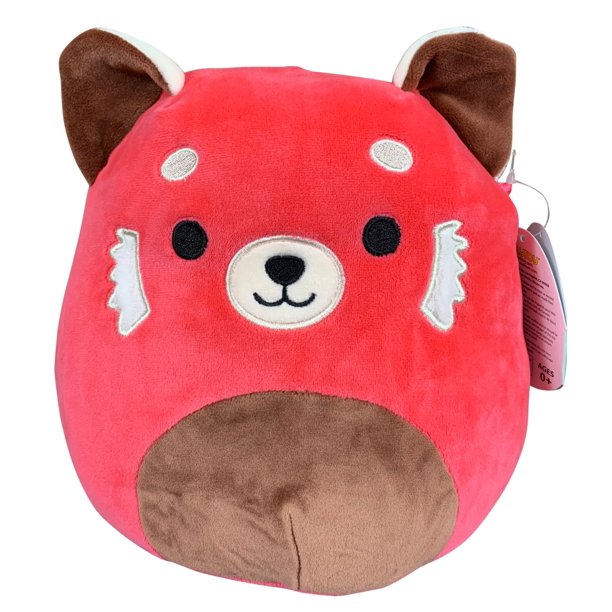 Cici Squishmallow is well-known as a red panda but looks more like a fox. The facial features, white accents, and long, raccoon-like tail make her look like a fox more than a panda. However, she's undoubtedly a family member of Bonnie and other pandas. Meanwhile, her colors make her unique in the panda realm.
Size: 8″
Family: Zoo and Wildlife Squads
Type: Normal
Cici Panda Squishmallow Pros:
Cici, the panda Squishmallow, is a red beauty that stands out
Cici's face has more features and white accents than most
She also has an adorable tail and looks cute as a buddy for kids
The dark brown belly, inner ears, and tail are unusual
Cici Panda Squishmallow Cons:
Cici Squishmallow still looks like a fox and not a panda bear
The white whiskers don't help Cici's case in trying to become a panda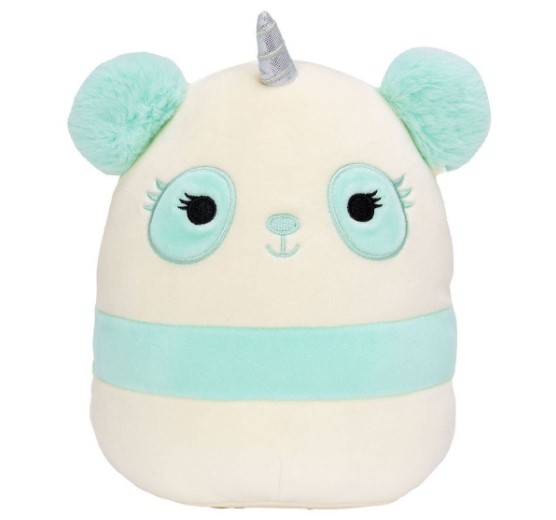 Inez Squishmallow has an adorable version with a Squishville vehicle. However, I prefer the standard-type plush because she looks better as a pandacorn, making little girls' dreams come true. My daughter would blend any animal with unicorns if she could. Squishmallows already combines multiple hybrid animals for her imagination.
Size: 5″
Family: Wildlife, Zoo, and Fantasy Squads
Type: Hybrid and Normal
Inez Panda Squishmallow Pros:
Inez, the pandacorn Squishmallow, has adorable colors for young girls
Inez is a pandacorn, blending two cute animals for fantasy squad fans
She has a pretty unicorn horn without going overboard on shimmering effects
I love her pom-pom ears and the details around the long eyelashes
Inez Panda Squishmallow Cons:
Inez Squishmallow appears to appeal to girls more than boys
Inez has various light colors that get dirty quickly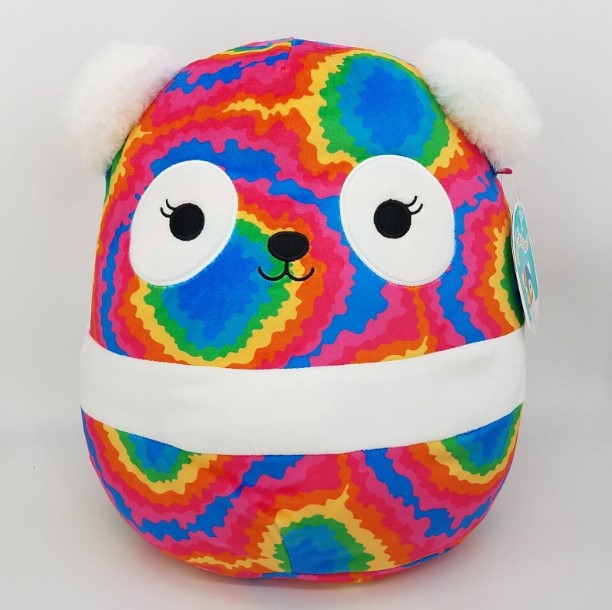 Jemima Squishmallow's colors are unique and gloriously bright. The panda's entire body is hot pink and blue tie-dye patterns with exquisite white accents that fit perfectly. Her pom-pom ears are also snow-white, and her eyes have a beautiful border surrounding extra-long eyelashes. Jemima is the most beautiful girl panda.
Size: 12″
Family: Zoo, Wildlife, and Fantasy Squads
Type: Normal
Jemima Panda Squishmallow Pros:
Jemima, the panda Squishmallow, is brighter than any other panda
Jemima's color contrasts make her pop with bold and gorgeous details
Her eyes are ultra-feminine, making her ideal as a little girl's best friend
Jemima's size is also ideal for kids who want cuddle buddies for bedtime
Jemima Panda Squishmallow Cons:
Jemima's colors are too bright to sit among some Squishmallow collections
She undoubtedly suits children better because of her unique style
Kaldette Squishmallow looks like another beautiful friend for young fans. In addition, she's a Squeeze Mallow designed to improve cuddles with children before sleeping. The more traditional style of Squishmallow also looks more like a real panda than other types. So, Kaldette earns my approval for various reasons.
Size: 7″
Family: Wildlife, Zoo, and Squeeze Mallow Squads
Type: Squeeze Mallow
Kaldette Panda Squishmallow Pros:
Kaldette, the panda Squeeze Mallow, is a pastel pink color for little girls
Kaldette has fuzzy pom-pom ears and paw prints under her feet
Kaldette Squishmallow's body is more accurate for the panda bear
She's a good size for younger fans who hold their plush while sleeping
Kaldette Panda Squishmallow Cons:
I don't recommend plush toys in cribs before children turn three
Kaldette's colors are light and awful to keep clean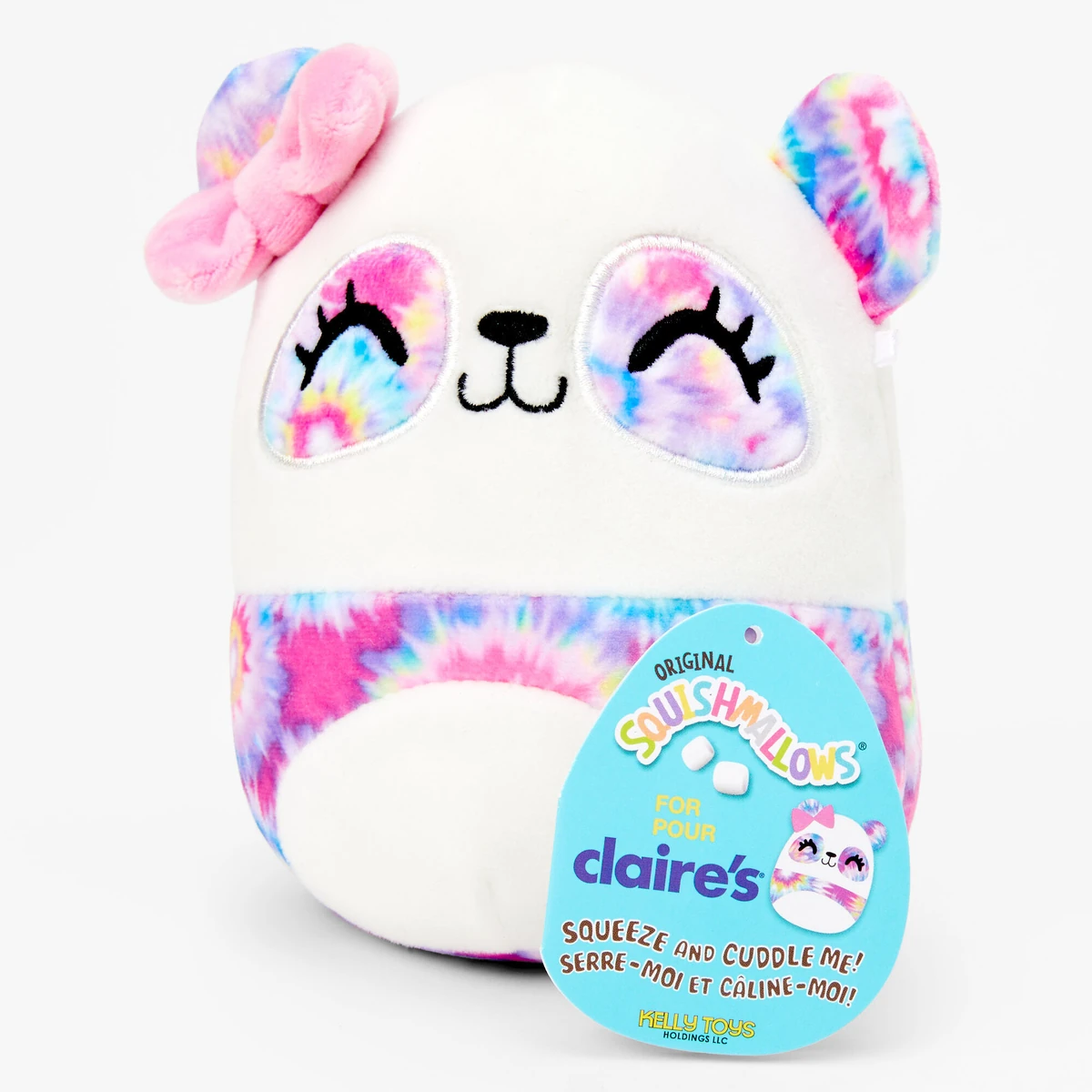 Kirsten Squishmallow is my second choice if I consider what my daughter loves. She enjoys pandacorns, but the colors and girly bow on Kirsten will excite her Squishmallow heart. Kirsten's design also pops with bright colors from the fantasy squad. Meanwhile, I can't say I'm amped about her tired eyes from the sleepy team.
Size: 5″
Family: Zoo, Wildlife, Fantasy, and Sleepy Squads
Type: Normal
Kirsten Panda Squishmallow Pros:
Kirsten, the panda Squishmallow, is another beautifully colorful girl
Kirsten's tie-dye rainbow accents add so much personality to the plush
Her massive eyelashes and pink bow make her ideal for young girls
The size works well for collectors who want some color but nothing overwhelming
Kirsten Panda Squishmallow Cons:
Kirsten Squishmallow has sleepy eyes that put me off buying her
Kirsten's size doesn't work well for kids who enjoy cuddling plush toys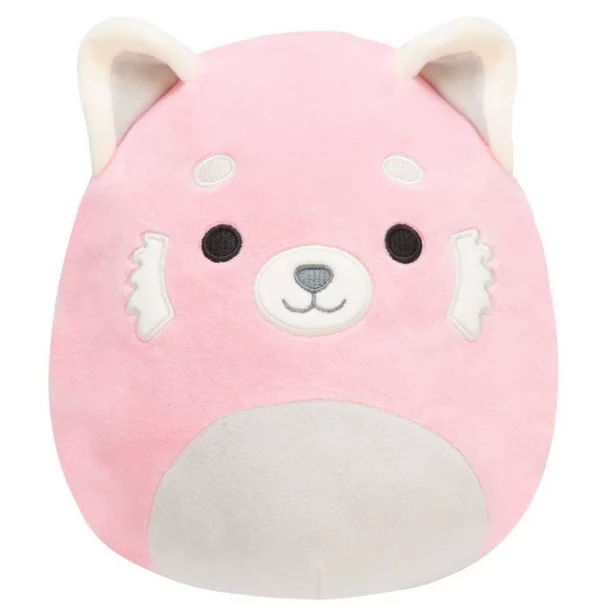 Any plush that gives children two options is better than a single Squishmallow. Mischa Squishmallow has a few versions, but I enjoy Flip-A-Mallows the most. Xiomara Squishmallow joins the pastel pink panda Squishmallow to bring two plushies in one. Both are adorable choices and fall into similar families.
Size: 8″
Family: Wildlife, Zoo, and Flip-A-Mallow Squads
Type: Flip-A-Mallow
Mischa Panda Squishmallow Pros:
Mischa, the panda Squishmallow, is an unusual pastel pink color
Children love getting two Squishmallow friends in one package
Mischa's colors are so pale that her black eyes pop nicely
It's an excellent size for Squishmallow collectors and a double-whammy
Mischa Panda Squishmallow Cons:
Mischa's colors are light and hard to clean, and she suits girls better than boys
Her design is similar to the fox and doesn't look much like a panda bear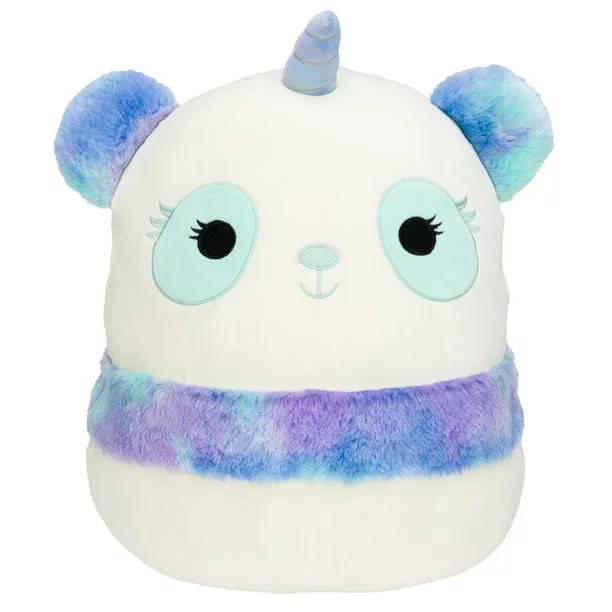 Admittedly, I expected Paedra Squishmallow to be among the fiesta squad members. However, her name doesn't put her on the team. Instead, her pandacorn features, rainbow colors, and fuzzy belly place her in the fantasy family. In addition, her larger size makes her suitable for kids who enjoy enormous pandacorns.
Size: 16″
Family: Zoo, Wildlife, and Fantasy Squads
Type: Normal
Paedra Panda Squishmallow Pros:
Paedra, the pandacorn Squishmallow, is a unique fantasy blend
Paedra's unicorn horn and belly ring don't overwhelm you with colors
The blue shades on Paedra make her ideal for boys who love unicorn hybrids
Paedra Squishmallow is a large plush with cuddle opportunities
Paedra Panda Squishmallow Cons:
Paedra Squishmallow's vast white background makes her hard to wash
She has a fuzzy texture but doesn't fit into the Fuzz-A-Mallow squad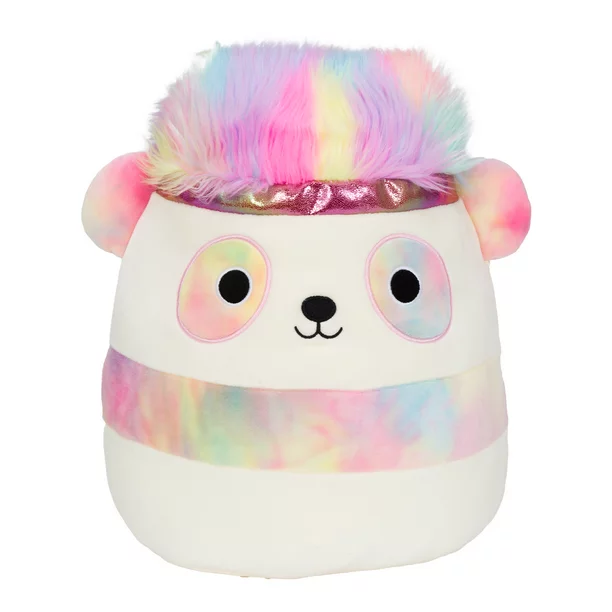 Squish Doos are some of my ultimate favorites from the plush toy brand. The hairstyles always get a giggle from me. Pearson Squishmallow's punk-rocker, rainbow-colored tie-dye hairstyle is adorable and catchy. In addition, it adds so much character to the panda Squishmallow by turning him into a rockstar.
Size: 8″
Family: Wildlife, Zoo, Fantasy, and Squish Doo Squads
Type: Squish Doo and Normal
Pearson Panda Squishmallow Pros:
Pearson, the panda Squish Doo, is a rocking and colorful choice
Pearson's punk-rocker hairstyle impresses most collectors and fans
Pearson also has beautiful tie-dye patterns in the accents
The shimmering headband adds a touch of a sassy dancer to the mix
Pearson Panda Squishmallow Cons:
Pearson is a boy that seems better suited to young girls
His extensive white background is genuinely a nightmare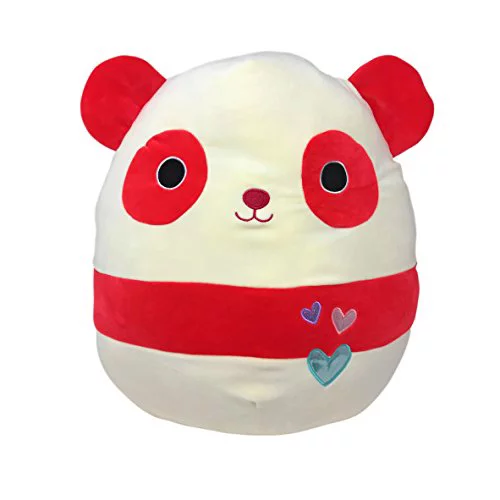 Penelope Squishmallow is unique as a standalone plush because of her red-and-white colors. She's the only panda bear with a red-and-white scheme. In addition, the colors pop beautifully with Penelope's Valentine's features and hearts. As a result, Penelope is a much-desired plush for my collection.
Size: 9″
Family: Zoo, Wildlife, and Valentine's Squads
Type: Normal
Penelope Panda Squishmallow Pros:
Penelope, the panda Squishmallow, is a salute to Valentine's Day
No other panda bear Squishmallow has Penelope's colors
Her big, black eyes pop beautifully from the red borders
Penelope's bright red body takes a break with blue hearts
Penelope Panda Squishmallow Cons:
Penelope Squishmallow has a nightmare color scheme for washing
She has no embroidery details around her eyes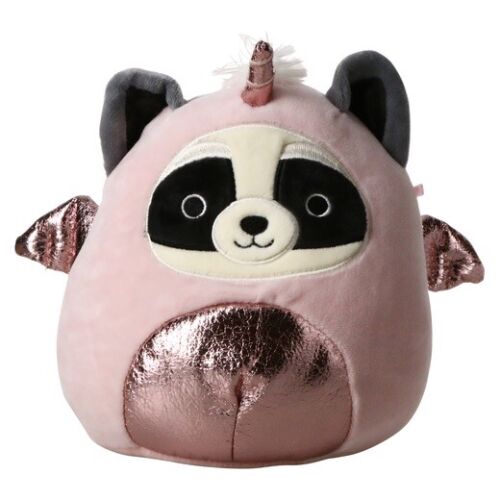 Rocky Squishmallow is a special boy with an outfit to match. Rocky is an adorable panda in a unicorn costume, spreading him into four Squishmallow squads. The panda under the costume looks more like a raccoon. Still, this version is only available for Rocky Squishmallow until new variants come to stores.
Size: 8″
Family: Wildlife, Fantasy, Zoo, and Costume Squads
Type: Hybrid and Normal
Rocky Panda Squishmallow Pros:
Rocky, the panda Squishmallow, wears an exciting unicorn costume
The unicorn outfit has incredible features, shimmering accents, and a lace effect
Rocky's massive ears and eyes protrude nicely from the costume
He fits into four squads to appeal to children and older fans from various fandoms
Rocky Panda Squishmallow Cons:
Rocky Squishmallow undoubtedly has raccoon ears but is a panda bear
Rocky's size isn't ideal for kids who enjoy plush cuddles before bed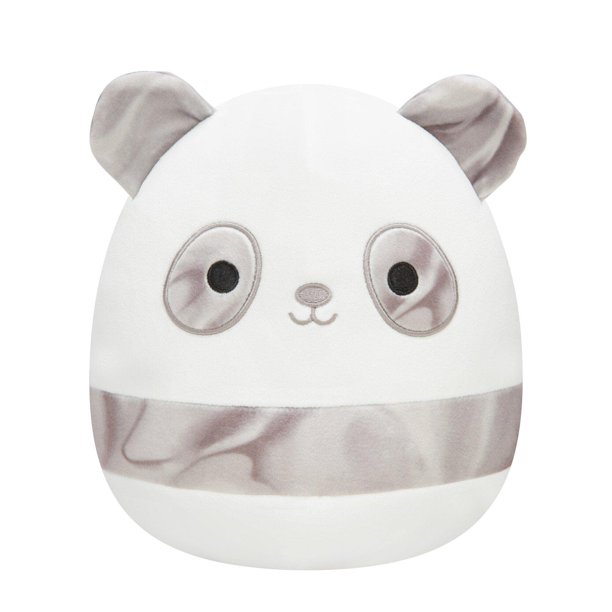 Marbled Squishmallows aren't that old, and the squad is making waves with many magnificent animal additions. Rolland Squishmallow is unique for being the only panda with a marbled design. Rocky Squishmallow looks adorable yet not overwhelmingly colorful. Instead, the marbled effect has classy touches.
Size: 8″
Family: Wildlife, Zoo, and Marbled Squads
Type: Normal
Rolland Panda Squishmallow Pros:
Rolland, the panda Squishmallow, is the only marbled panda bear
Rolland's design looks beautiful and sophisticated for older plush fans
The embroidery around Rolland's eyes takes him to a new depth
Rolland's tail also has the marbled effect, and he's a fantastic collectible
Rolland Panda Squishmallow Cons:
Rolland Squishmallow is too pale and hard to clean
Rolland's size is better suited to collectors, and his style is suitable for older fans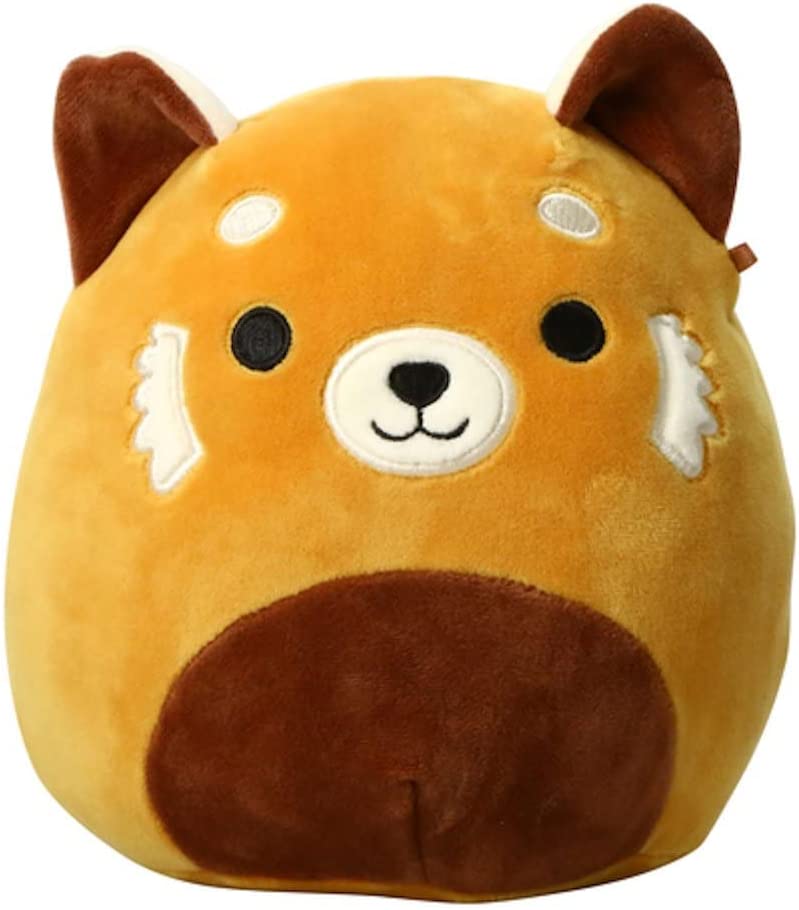 Unfortunately, Seth Squishmallow is another family member without the simple panda design. He also has white whiskers that make him look like a fox or raccoon. However, Seth Squishmallow is a model of a red panda bear, which looks slightly different from regular ones. So, he belongs among his famous zoo squad.
Size: 8″
Family: Wildlife and Zoo Squads
Type: Normal
Seth Panda Squishmallow Pros:
Seth, the panda Squishmallow, is an adorable alternative for zoo squad fans
Seth's colors look off but are accurate for the specific panda
He has beautiful facial features with additional accents for more color
Seth is an ideal collector's piece and has a cheeky nature
Seth Panda Squishmallow Cons:
Seth Squishmallow doesn't look like a traditional panda children see in zoos
Seth's inverted color doesn't accurately portray the species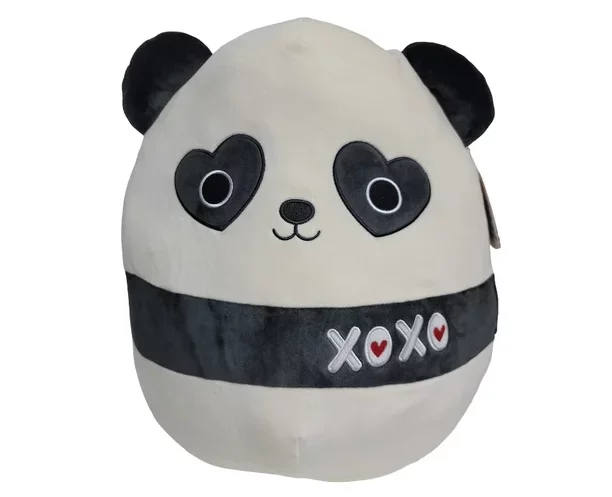 Stanley Squishmallow is one of the most common panda bear plushies. So, you'll find a few variants for Stanley, but they aren't all available at once. For example, this Valentine's panda Squishmallow is one of my favorite versions of Stanley. You'll find the large panda plush in stores. He looks adorable but not too wild.
Size: 16″
Family: Wildlife, Zoo, and Valentine's Squads
Type: Normal
Stanley Panda Squishmallow Pros:
Stanley, the panda Squishmallow, has the original colors everyone knows
Stanley's design is simple, snuggly, cute, and not over-the-top
His heart-shaped eyes and message don't overwhelm his design
The size is incredible for younger fans who enjoy bedtime plushies
Stanley Panda Squishmallow Cons:
Black-and-white plushies are challenging to wash without mixing the colors
Stanley's Squishmallow is too standard for panda bears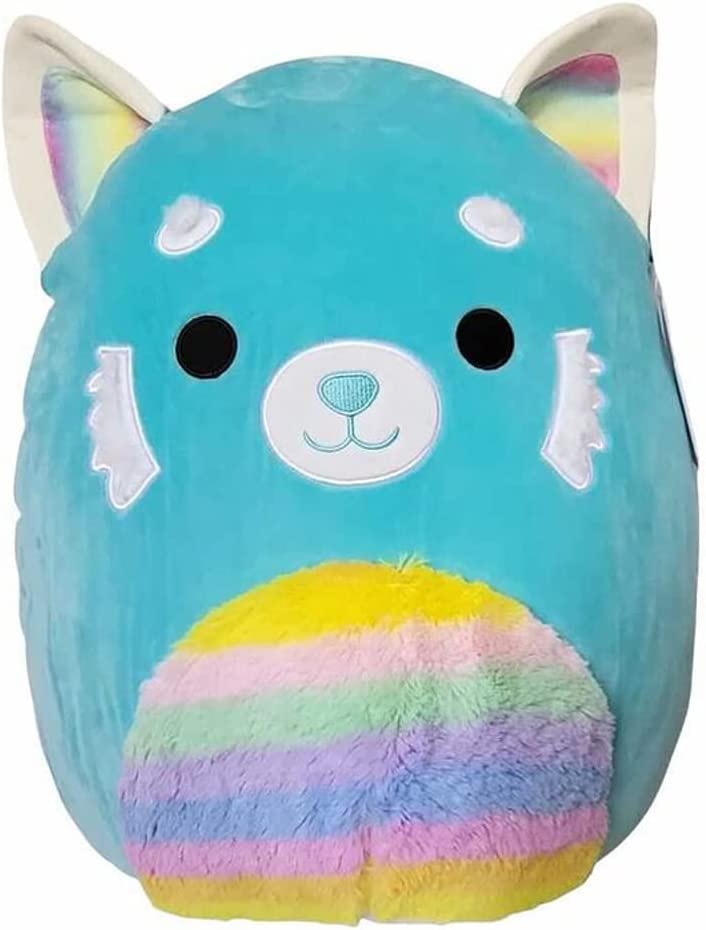 Vanessa Squishmallow is the same panda species as Seth, except that Vanessa is a fantasy hybrid with rainbow colors and a fuzzy stomach. Admittedly, Vanessa would've made my ultimate picks if she didn't look like another animal. However, she has beautiful features and details that make her stand out from the pandas.
Size: 8″
Family: Zoo, Wildlife, and Fantasy Squads
Type: Normal
Vanessa Panda Squishmallow Pros:
Vanessa, the panda Squishmallow, is a brilliant blue panda bear
Vanessa's ultra-soft and fuzzy belly has beautiful rainbow colors
She has incredible features and two different inner ear colors
Vanessa is an adorable collectible and makes a cute plush friend
Vanessa Panda Squishmallow Cons:
Vanessa Squishmallow's design looks too similar to a fox again
Her insane contrasts make her challenging to machine-wash with anything else
FAQs
Question: Where Do I Find Discontinued Panda Squishmallows?
Answer: The Squishmallow plush toy brand is vast, meaning every squad member comes and goes. Unfortunately, some panda bear Squishmallows are discontinued. However, some might come back to stores. Fortunately, eBay is a platform for finding lost panda bears. So, here are ten of my favorite examples:
• 2-Inch Penelope, the Tutu Panda Squishville Mini
• 5-Inch Inez, the Alternative Pandacorn Squishmallow
• 8-Inch Mom and Baby Panda Squishmallow Set
• 10-Inch Scout, the Blue Panda HugMee
• 14-Inch Penelope, the Panda Squishmallow With Detailed Eyes
• 16-Inch PJ, the Panda Squishmallow
• 16-Inch Scout, the Blue Panda Squishmallow
• 18-Inch Kayce, the Pandacorn Squishmallow
• 20-Inch Scout, the Jumbo Panda Squishmallow
• 22-Inch Penny, the Giant Panda Hug Mallow
Question: Which Panda Squishmallows Are Rare?
Answer: Many panda Squishmallows are gone from stores. However, you still find them from resellers on eBay. Unfortunately, some names aren't there, including Sinead, Sissy, Joxtine, and Persefanie. Meanwhile, eBay has two ultra-rare options, including Lander, the Pandacorn Squishmallow, and Pei, the Pandacorn Squishmallow.
Question: Which Panda Squishmallow Is the Most Famous?
Panda Squishmallows Guide: Conclusion
Panda Squishmallows bring a world of joy and variety to fans. Many panda Squishmallows are still in stores, and I've shown you where to find the lost ones. In addition, keep your notifications open for restocked pandas with Squish Alert, and watch out for special editions that launch around the holidays.
Meanwhile, the 15 panda Squishmallows in stores offer loads of opportunities for young and old fans. However, I recommend buying Jemima, the Panda Squishmallow, if you're looking for the most colorful and beautiful panda. Besides, Jemima is so bold that she might become a lost panda bear in the coming months.
So, act before Jemima's gone, and buy your first panda Squishmallow today.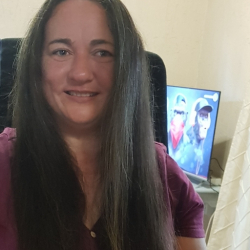 Latest posts by Caroline Lambert
(see all)