A plush toy could be your child's first friend and so much more, which you'll learn about in this Ultimate Guide to Plush. Stuffed toys are classics among children, with everyone still having their childhood favorites, and the best plush toys bring so many joys and benefits
I grew up in a home where the walls were plastered with stuffed toys, and my bed felt like a cloud as the plushies formed a mountain. I know today that I grew up in a haven for kids, even though my mom never knew when to stop. She created a never-ending playground.
I wouldn't change my childhood, and I try to give my kids a similar experience without the wallpaper being made of plushies, though. Nothing brings more joy to children than a cuddly friend who becomes their everything, and my kids adopted their favorites.
With the plush toy market being so vast, let's see if I can help you find the best stuffed toys in 2022. There are many options, but I promise you won't have to plaster your walls.
Plush Beginnings
Besides fond childhood memories, plush toys became an iconic must-have for kids, and no one said adults couldn't collect them. Hello Kitty, Alaska Moose Beanie, Squishmallows, Beanie Babies, Floofies Fluffy, Furby, and Baby Yoda are serious collector's items.
The first idea for a plush toy came from Germany when Margarete Steiff made a pin cushion in the shape of an elephant. The Steiff Company didn't make a toy from its concept until 1903, but another stuffed toy came to life in America.
As many people think, the teddy bear wasn't the first plush toy. Even I was surprised to learn that it was a cat, and no, it wasn't Hello Kitty. Ithaca Kitty was the first home-sewn plush toy to hit American shelves in 1892, selling more than 200,000 plushies over Christmas.
The artwork was something else, and the kitty looked like a real tabby cat, even going on display at the World's Fair in Chicago the same year. Ithaca Kitty sold millions worldwide, and it inspired songs, movies, poems, and children's books.
Once the plush toy entered the world of childhood smiles, everything became possible. Teddy bears, stuffed animals, and anything soft and cuddly became a trend.
Best Plush Toy Types and Features
With so many imaginations colliding in the toy manufacturing world, you have numerous options for plushies. The term "plush toys" refers to a wide range of soft, fluffy, and safe toys for kids and collectors alike. The various plush toy types are:

Every plush toy fits into one of these categories, and each one is unique, suitable for different ages, and comes in various sizes. The chart below shows the significant differences you can expect between the plush toys available.
Differences Between Plush Toy Types

Advantages of Plush Toys
Plush toys are something adults and kids can hold dear. Some people even hold onto their favorites well into adulthood, much like me. I remember life was simpler when I looked at my Snugglebums or Pound Puppies. They still bring me a smile and that inner warmth.
I try not to overwhelm my kids' bedroom with plushies, but they have a few of the favorites that will become legends like mine, and the reason is that plush toys have many benefits for children beyond the fact that they find their first friend.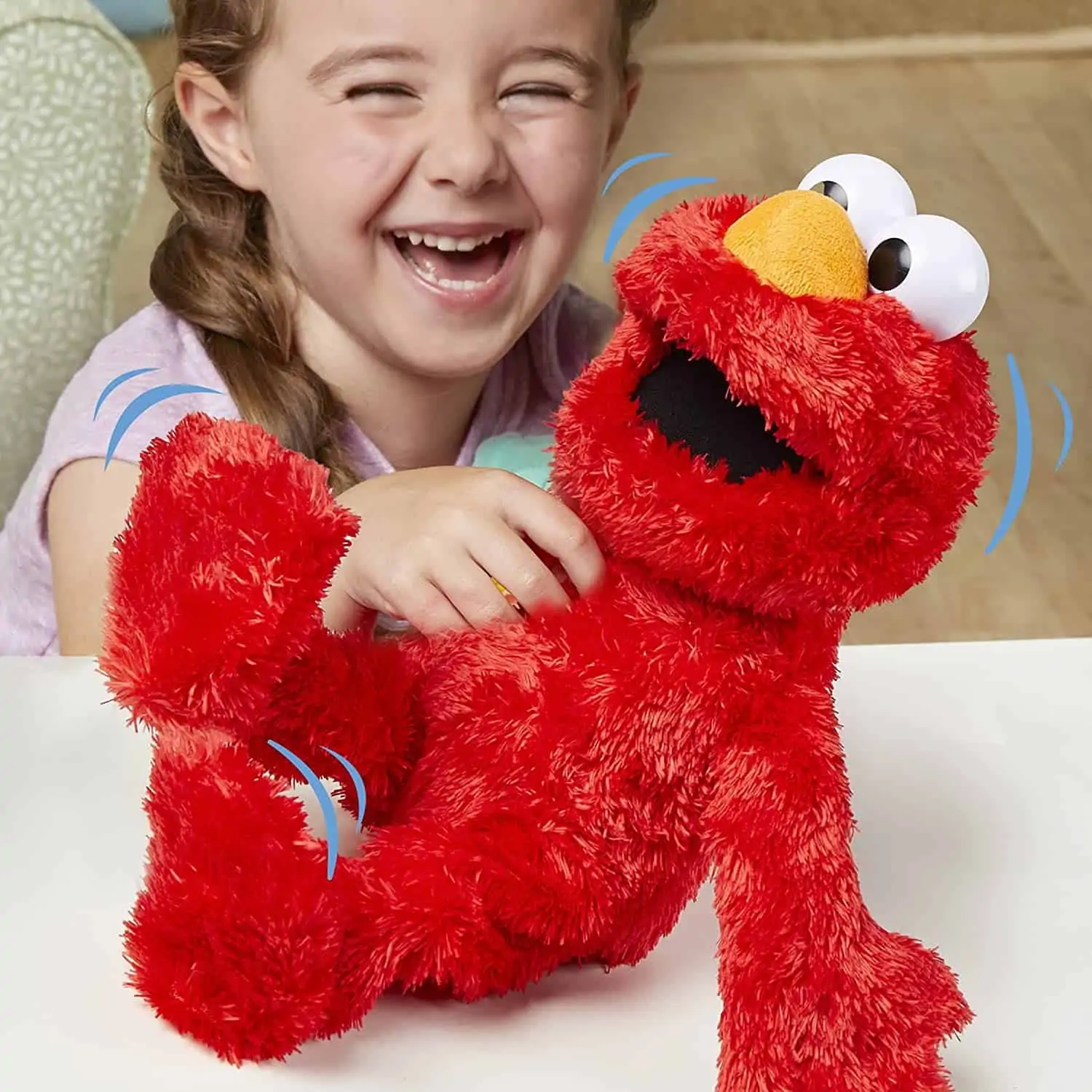 I see my little one dragging her Elmo Tickle Me Plushy everywhere, and her laughter lights up my world when she tickles his belly. There are proven benefits to giving your children plush toys. An article on Psychology Today shares how it eases separation anxiety and teaches kids social skills.
I don't need to tell you how separation anxiety can cripple children, so allowing them to adopt social skills with a pretend play partner in the form of a plush toy is priceless. You don't need plushies that make noises and respond to your kids.
You need a plushy they get attached to, and they'll learn through play. Plush toys come with sensory play or simple animal themes that comfort your child, allowing them to be more open to enjoying the company of others and expressing their little yet big emotions.
Adults also love plushies, whether you collect them or find it comforting to sleep with your favorite childhood teddy after a hard day at work. Heck, what happens in your bedroom stays in your room. Admit it; stuffed toys make everyone sleep better.
The most crucial benefit of plush toys for adults and kids is that they can help your brain release oxytocin, the love hormone. That explains why cuddling a plushy is so satisfying.
Disadvantages of Plush Toys
Everything with an advantage has disadvantages; however, I can tell you the worst part of plushies is that they can become a metaphorical limb to your child, making it hard to clean them. Children get so attached to their plushies.
I've had instances where I had to plan to wash my little one's plushy carefully. She slept, ate, and bathed with it. You know slobber is a big problem with plushies if you're a parent. Kids put everything in their mouths, and plushies are no exception.
Babies suck the ears, and toddlers drool all over their favorite teddies. The germs alone are enough to make you cringe, and washing them is essential. Have you tried prying a plushy out a child's hand?
Besides planning the washing without a child thinking you're about to drown their best friend, it would help if you also considered the safety. Plushies seem safe, but some of them have small parts, especially the interactive options for babies and toddlers.
Otherwise, there's nothing to worry about with plushies. My kids already have too many, and I find ways to keep them clean, even if they chase me down the passage growling to get their plushies back.
Plushy Advice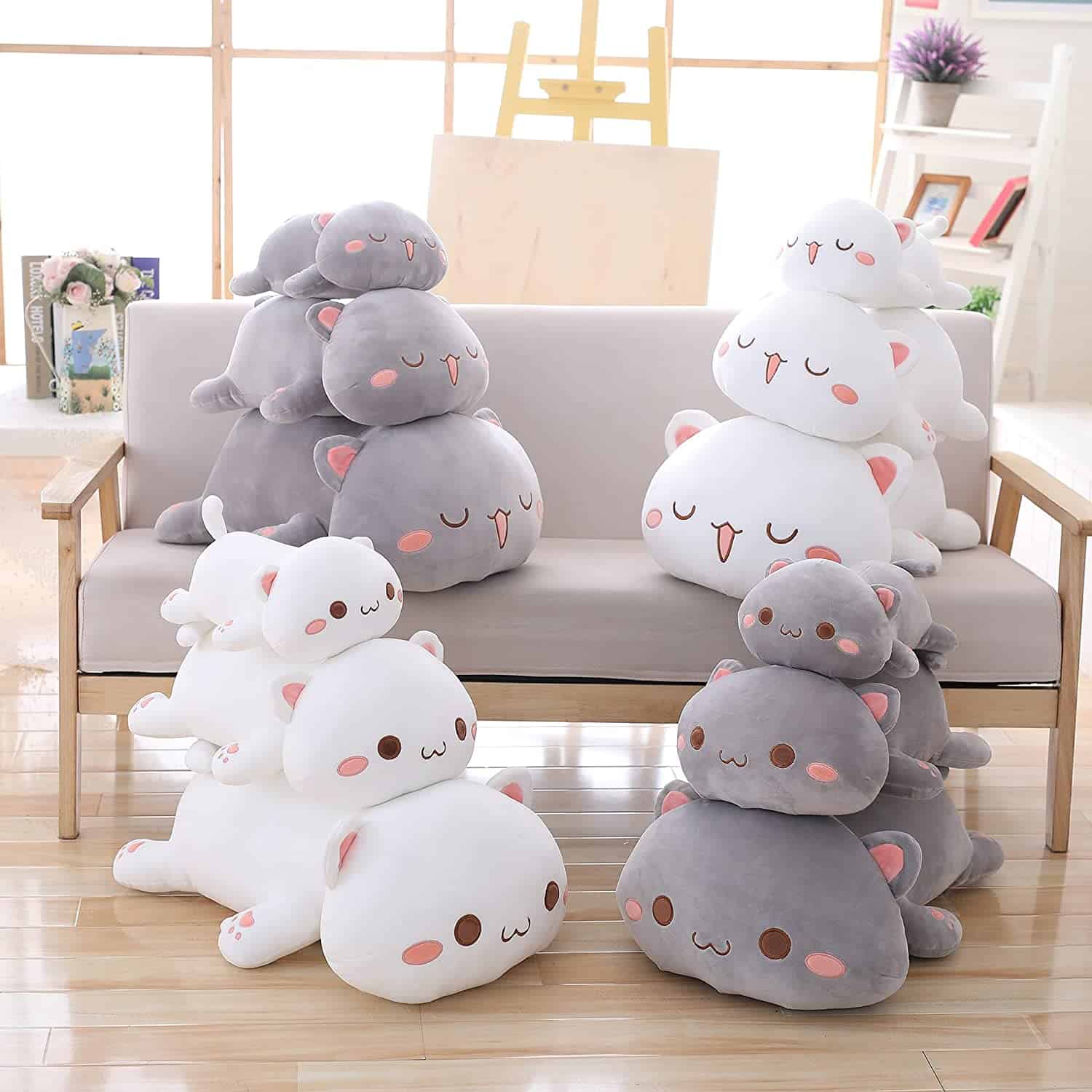 Take it from someone who owns too many plushies; some tips can help you, especially when washing the stuffed animals. I use the same washing method for my childhood favorites and my kids' plush toys to keep them clean, germ-free, and as fluffy as the first day I bought them.
Additionally, I teach my kids another valuable lesson while washing their plushies, the value of bathing. Kids hate bathing, and they think their plushy friends hate it, too. Treating their plush toys with kindness like real people can prevent growling.
Plush toys, collectible or new friends in the home, need to remain clean, and keeping them fluffy is another priority. These steps do both:
Speak to your child about their plush toy taking a bath in a basin if you're caring for children's plushies. Allow them to sit with you, watch you be gentle, and partake in the process. You don't need to worry about this if you're washing collectibles.
Fill the basin with lukewarm water and a gentle detergent (baby detergents work well).
Use a pumping motion to wash the plush toy, careful not to put its head under the water if your child is watching. Instead, use circular motions to gently massage detergent into the face with child-like eyes watching you. Allow your kid to help with the pumping wash.
Leave the plush toy soak in the water for 30 to 60 minutes. You can tell your child that it's enjoying the water like a swimming pool. Let it float around on its back, and supervise your little one when they check on their toy.
Let the water run out before gently rinsing the plush toy under the lukewarm faucet until all suds are gone. Be careful of the eyes and face if your kid watches again. Use gentle circular motions to rub sud away from the face.
Now comes the hard part. You'll need to squeeze out the water. It's easy if you're alone but pretend to massage the plush toy if your child lurks around. They might've lost interest by now anyway.
Leave the plush toy to dry on a towel, using a hairdryer at a low temperature to fluff it up again. If it's low enough, you can blow some air onto your child's arm to reassure them the plushy is fine. Get excited with the hairdryer if you're alone.
Either way, you've cleaned your plush toys without making a child scream or damaging your collectibles. Don't use fabric softeners. You merely use the hairdryer to achieve fluff again. Fabric softeners reduce the fluffiness over time.
Pro Tip: Plush toys have colors that mix if you're not careful. Don't leave a bright red Elmo with a Baby Yoda to soak in lukewarm water. The colors will blend, and you'll lose your plushies.
Bonus Tip: Check your plush toys regularly after washing them because kids put everything in their mouths. Harsh washing can cause small parts to come off plush toys, and make sure your kids haven't teethed all over the ear, loosening it enough to become a choking hazard.
Ultimate Guide to Plush: My Top Nine Recommendations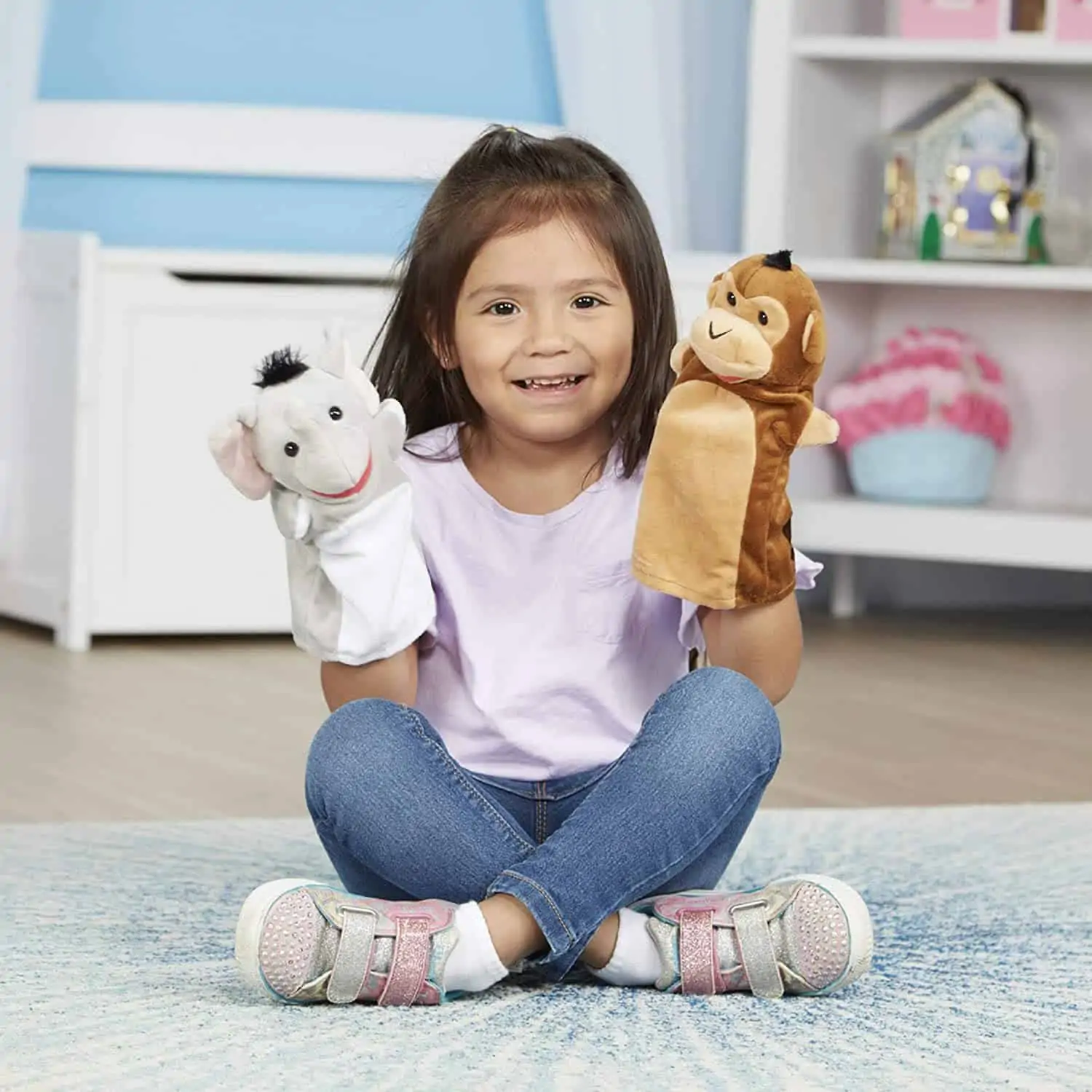 Now that you're an expert with all things plush, collectible or child-like, it's time I show you the most incredible choices available in 2022. I consider myself a plushy snob because I own enough to have a party at an orphanage, and who knows, maybe I have in the past.
I'm recommending plush toys that meet two standards. Firstly, they must be popular enough to have accumulated over 1,000 reviews on Amazon, which gives me an accurate idea of safety, quality, and cuteness. Secondly, I like approval ratings over 80% to know they're good options.
The problem is that there are too many plush toys to choose only a few top choices, and I have to be a bit picky. I think there's nothing more valuable than customer feedback, and I rely heavily on it as a parent. Collectible plush toys are somewhat easier, depending on your fan enthusiasm.
Let's see which plush toys meet my strict standards, covering different ages and purposes.
Classic Winner: Melissa & Doug Burrow Bunny Rabbit Stuffed Animal
Call me a sucker for classical soft toys, but the Burrow Bunny Rabbit grabbed my heart and melted my cuteness odometer. Every child loves bunnies as they're adorable, cuddly, and inviting. I'm already imagining my little one hugging the bunny tight enough to lose the stuffing.
The long, floppy ears, soft and furry fabric, and realistic features make the Burrow Bunny a timeless classic for children and adults. Melissa & Doug is a 30-year-old brand that even won the Gold Standard Award for early childhood play from NBC News.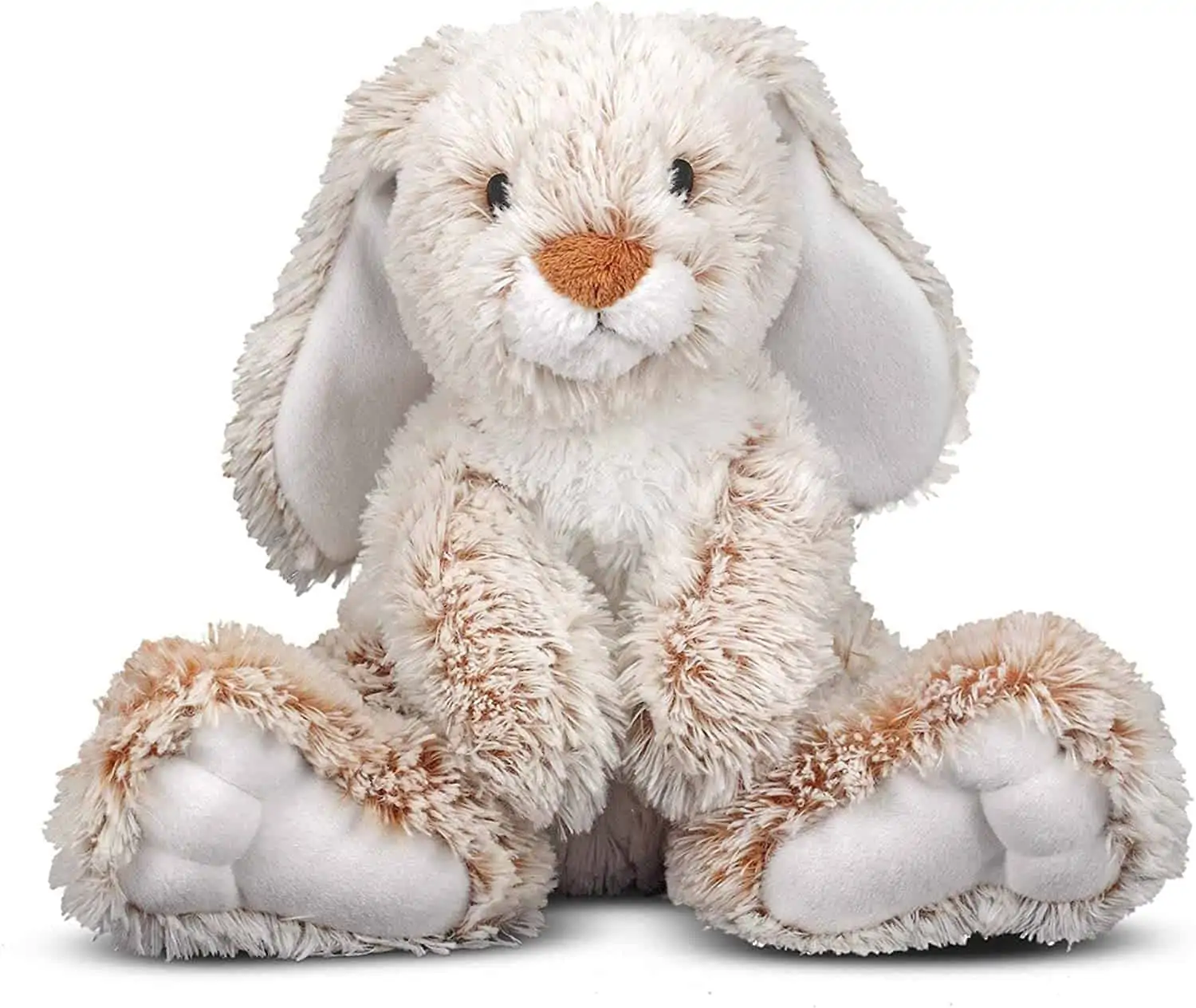 Size: 10″ x 9″ x 6″
Recommended Age: Ages three and older
Purpose: Snuggling during storytime, feeling safer while sleeping, best friend experience, and teachable moments for kids
Fabric: Polyester (machine-washable)
Approval Rating: 86% (7,800+ reviews)
Caution: I don't recommend it for children younger than three because the eyes, as cute as they look, can become choking hazards if sharp nails pick them off. The faux fur exterior might also be less breathable for babies, but you shouldn't have plush toys in a sleeping baby's crib anyway.
Magical Stuffed Animal Winner: Ontel Star Belly Dream Lights Unicorn
You might want to close your daughter's eyes before seeing the Star Belly Unicorn because she will want it. The plush unicorn toy is bright pink with a belly that lights the room up with stars, making sleep an experience like no other for your little girl.
The safety level of the Star Belly plush is also next-level because it doesn't have small parts. Even the eyes are fabric, and the lighting belly is housed safely in an embroidered patch, which takes kids some serious effort to break. Ontel is another famous toy brand, and the quality is fantastic.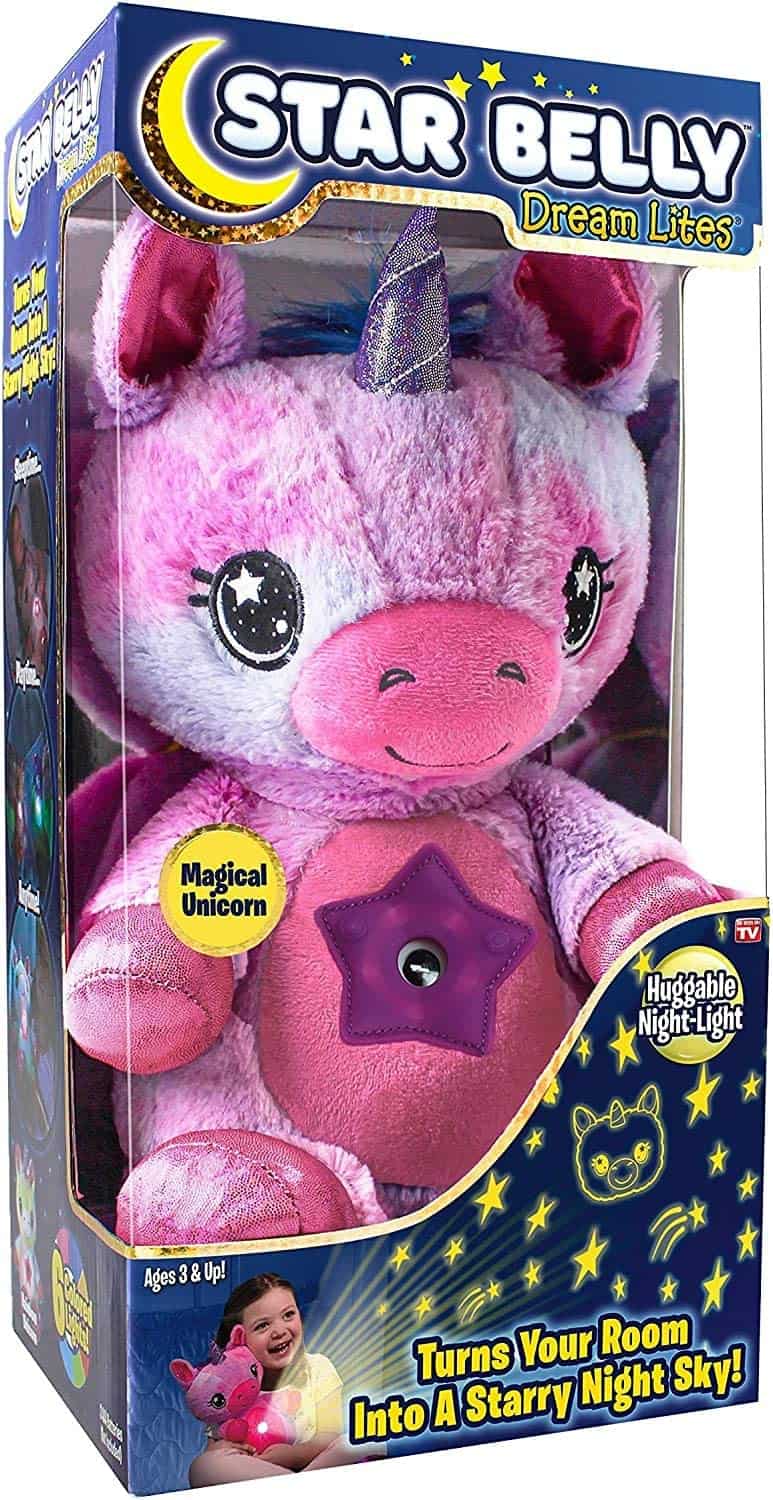 Size: 7.28″ x 14.61″ x 5.6″
Recommended Age: Ages three to eight
Purpose: Cuddling comfort for kids, a nightlight that provides entertaining displays, an imagination enhancer that looks like a unicorn, and the perfect fit for a girl's bedroom
Fabric: Polyester and faux fur (not machine-washable)
Approval Rating: 81% (13,400+ reviews)
Caution: It might be the toy you can't get away from your little girl's grasp without some teeth, and it's not something you can wash easily.
Sensory Winner: TeeTurtle Reversible Octopus Mood Plushy
The Reversible Octopus Plushy is one of the most incredible soft toys made for kids, even gaining popularity on Tik Tok for teens and young adults who want healthier ways to express their emotions. It comes in many colors and designs, each one reversing to show a different mood.
My favorite color option is blue because it allows my kids to express sadness or joy by turning the plushy inside out. It's a safe toy that encourages children to show parents how they feel before they explode into a tantrum, and it's soft enough to comfort a child or adult.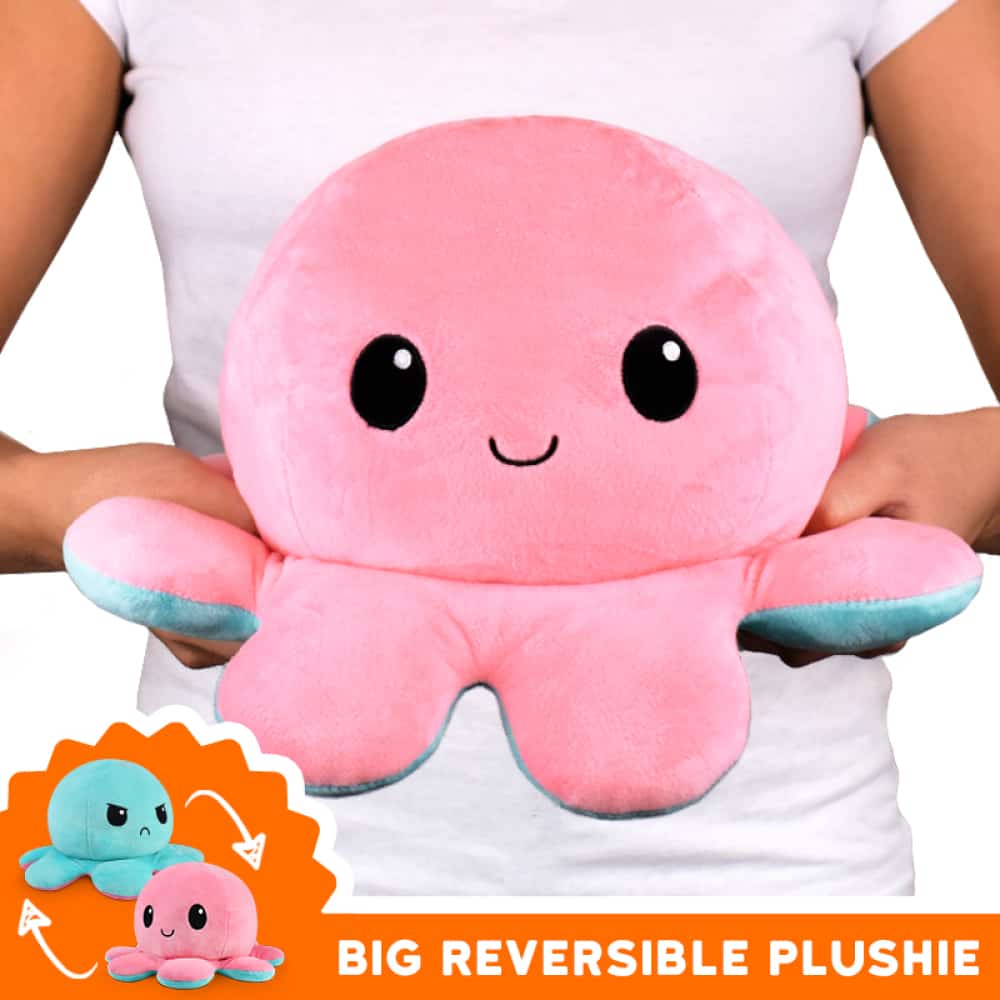 Size: 7″ x 5″ x 7″
Recommended Age: Ages three and older
Purpose: Helping kids express emotions, offering support during emotional meltdowns, and providing comfort to sleep better
Fabric: Polyester (machine-washable)
Approval Rating: 88% (48,600+ reviews)
Caution: It's great to teach kids how to express emotions, but you also don't want them relying on the Tik Tok fad plushy to tell people how they feel all the time.
Teddy Bear Winner: Gund Philbin Teddy Bear
Choosing the best teddy bear is a challenge of note, but the Gund Teddy Bear is ranked as one of Amazon's top sellers right now, and I can see why. It's the softest, cuddliest, and friendliest-looking bear available, and it's the perfect size for even the smallest of hands.
Gund is another famous toy brand, and you're guaranteed to have exceptional quality when your bear arrives. Gund is one of the few brands specializing in cuddly toys, and the winning bear comes in four colors: two shades of beige and two shades of chocolate.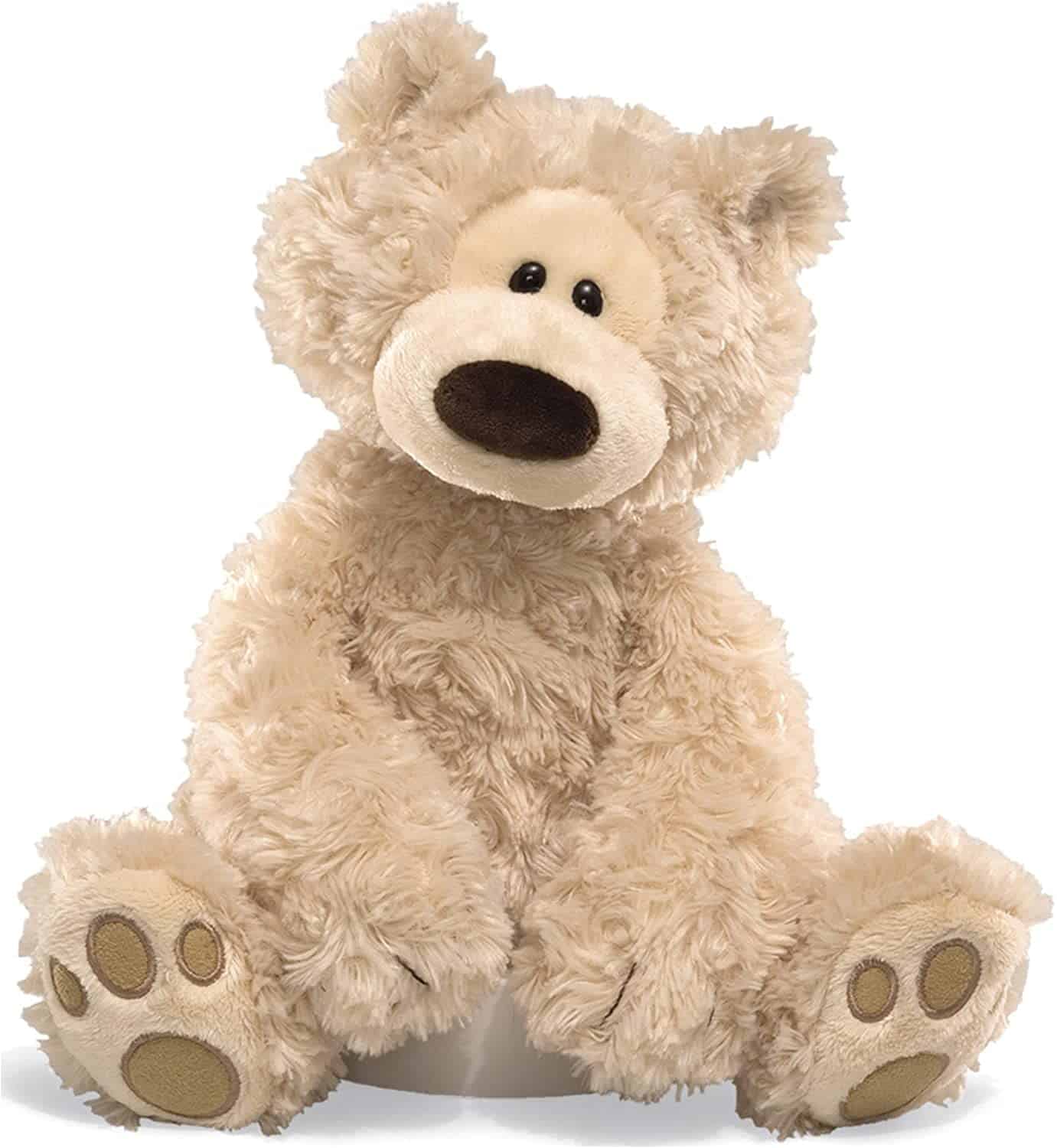 Size: 5.91″ x 9.45″ x 6.89″
Recommended Age: Ages one and older
Purpose: Snuggling with a storybook, comforting a child, sleeping with a friend in the arms, and collecting teddy bears that look classical
Fabric: Polyester and faux fur (machine-washable)
Approval Rating: 89% (10,200+ reviews)
Caution: The only hazard on the Gund teddy is the eyes if a small child picks at them. Keep an eye on the eyes, pun intended. Otherwise, don't allow a child younger than a year to sleep with the teddy bear.
Plush Sleep Aid Winner: Franco Kids Pillow Cuddle Buddy
Kids love Animal Crossing, and the Cuddle Buddy Pillow Plush falls right into the plushies taking the world by storm right now. Inspired by the Tom Nook character, this plushy is cute while being capable of helping a child sleep with a safety-approved soft toy.
Never allow a baby younger than a year to sleep with plush toys in the crib, but you can turn your toddler's bedtime tantrums into a fun storytime that leads to tired eyes with the Animal Crossing favorite. It's also the bestselling plush pillow of 2021.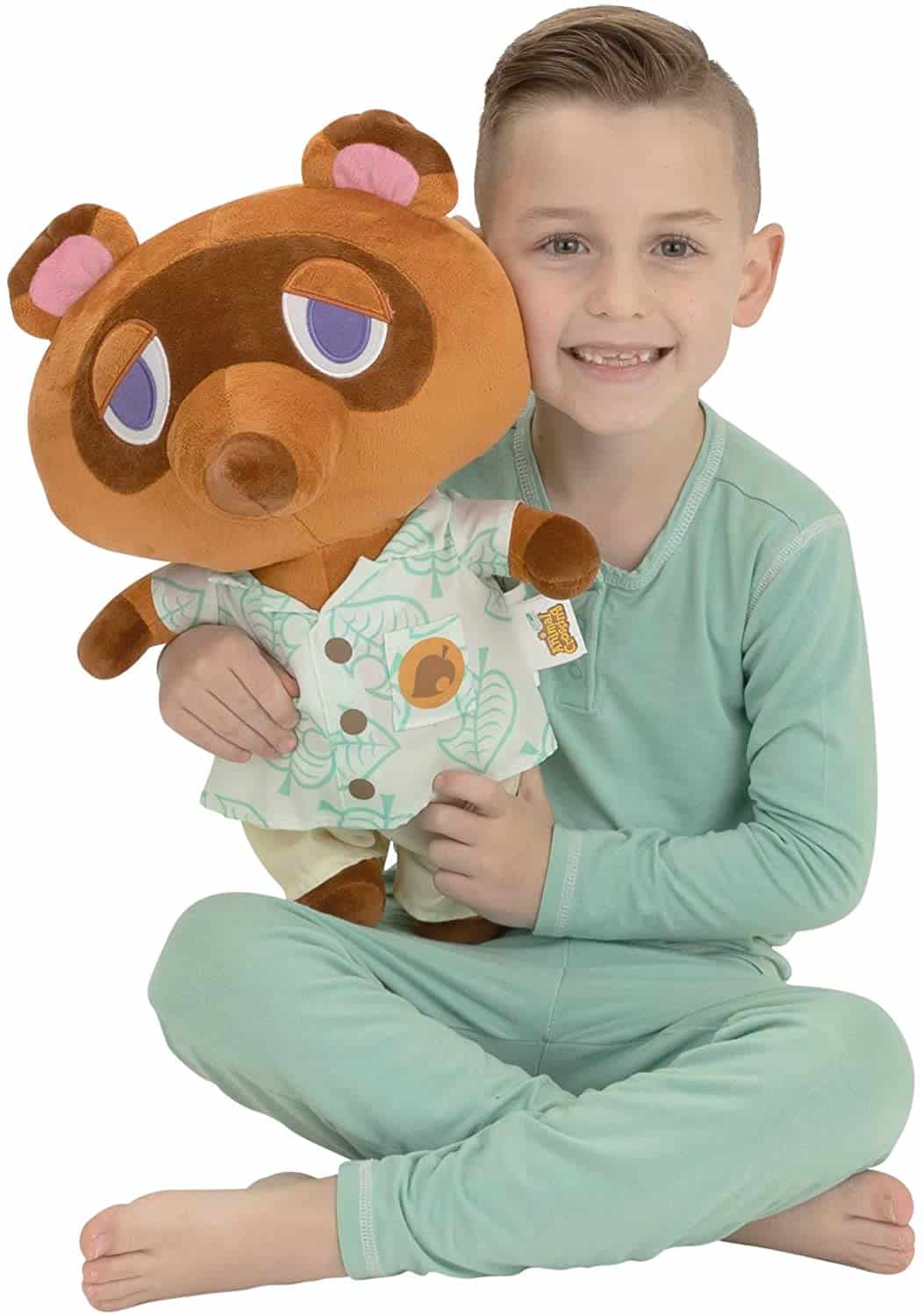 Size: 7″ x 19″ x 5″
Recommended Age: Ages one to four
Purpose: Helping children fall asleep in comfort, providing a friendly face in the morning, and adding that soothing softness kids love from plushies
Fabric: Polyester (machine-washable)
Approval Rating: 87% (10,900+ reviews)
Caution: The plush toy is perfectly safe with no small parts, but keep it away from babies younger than a year.
Ragdoll Winner: Blippi Bendable Plush Doll
Who said ragdolls must be female? The Blippi Plush Doll is a male friend for your little girl or boy. Ragdolls are the most incredible plush friends because children relate them to how kids look. I love the flexibility of the Blippi ragdoll, and it doubles as an educational toy.
The ragdoll comes with glasses and a hat that helps kids learn to be more tolerant of specific ways other children dress and wear glasses. He also has 15 phrases and sounds that might help your child learn new words and communication.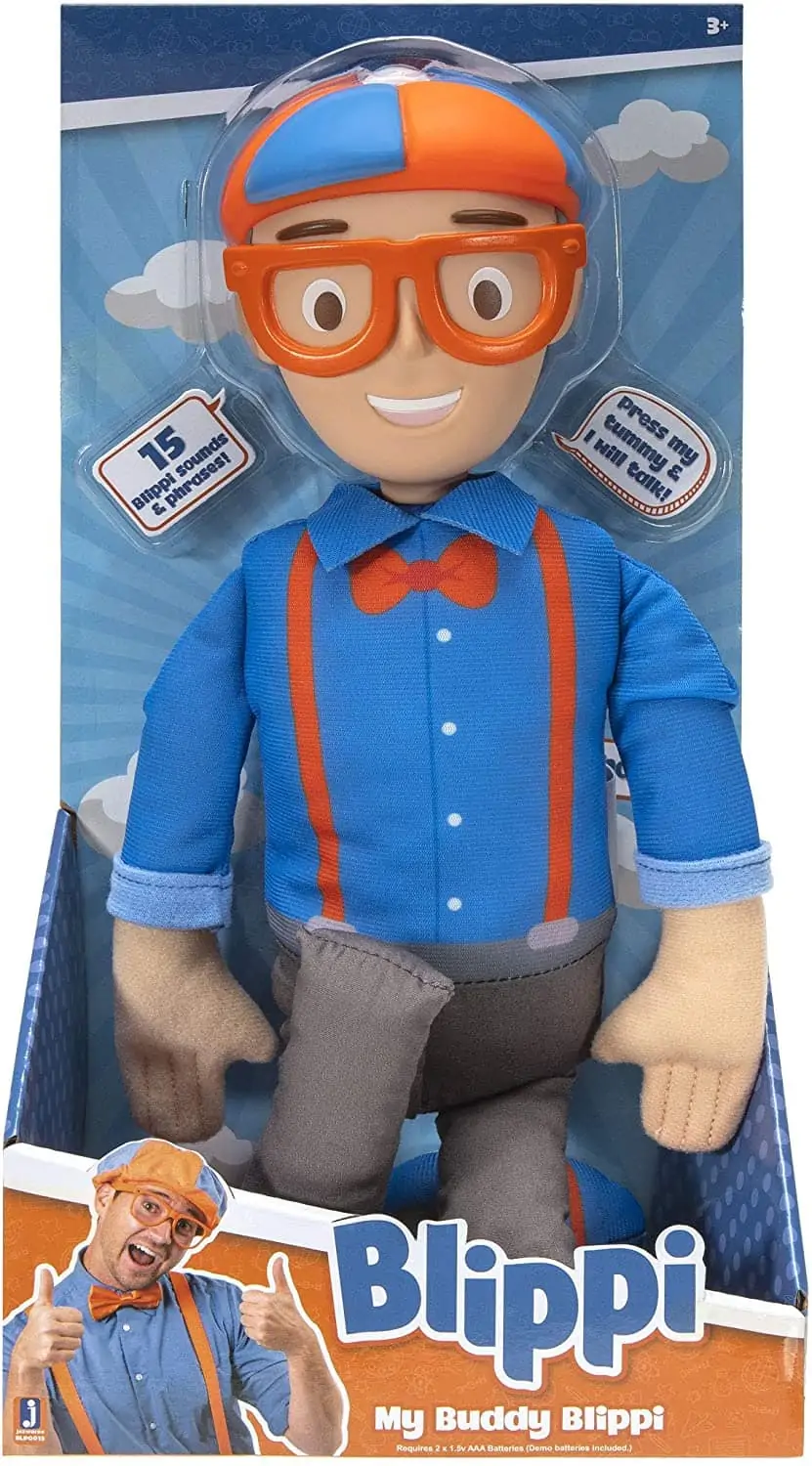 Size: 3″ x 16″ x 6″
Recommended Age: Ages two and older
Purpose: Educational purposes include speech, language, and communication, and the plush toy looks like a real friend for your kid
Fabric: Polyester (not machine-washable)
Approval Rating: 83% (9,300+ reviews)
Caution: It can become a true friend for your child, meaning you should still encourage other social behavior away from the ragdoll, and it isn't the easiest option to wash.
Finger Puppet Winner: Melissa & Doug Safari Buddies Finger Puppets Set
The Safari Buddies Finger Puppet Set is the pinnacle of storytime, and it has adorable animals with African roots. It has a classical elephant, tiger, zebra, monkey, giraffe, and parrot for bright colors and imaginative story-telling. Imagine the voices you can use with the puppets.
I love that the puppets also fit childrens' and adults' hands, making them enjoyable for you and your kids. You can almost say this plush toy doubles as a stuffed animal, too. Have some fun with high-quality toys from Melissa & Doug while playing some animal soundtracks.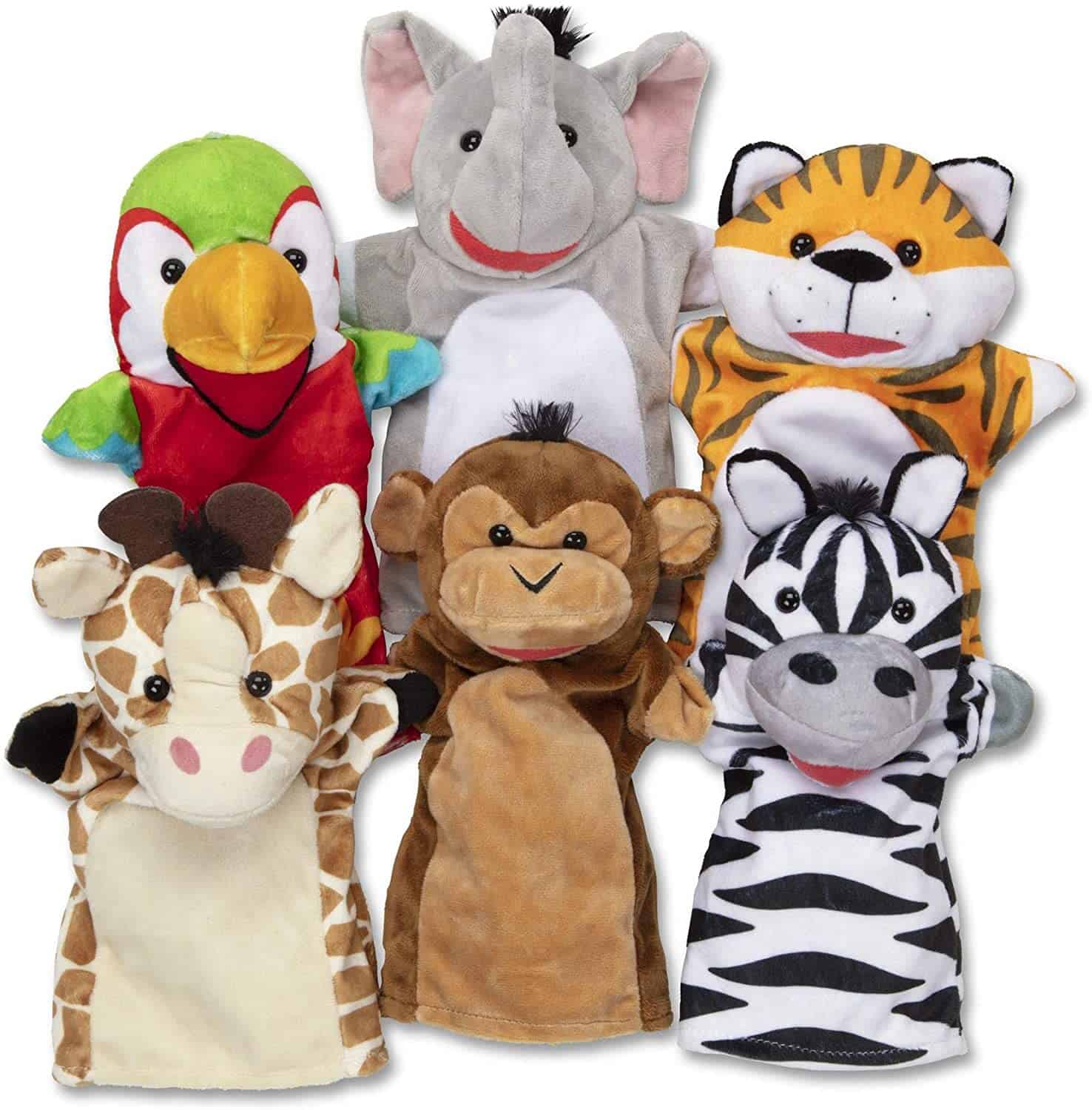 Size: 5.95″ x 8.9″ x 3.95″
Recommended Age: Ages one and older
Purpose: Family time, story-telling, group play, and imagination inspiring for kids and adults
Fabric: Polyester (machine-washable)
Approval Rating: 80% (2,400+ reviews)
Caution: The hand puppets can encourage tears if you lose one of the animals. Keeping a set together with kids is challenging, but avoid losing one of their friends.
Classic Stuffed Animal Winner: Basic Fun Pounds Puppies Reproduction Plushy
It's challenging to find original Pound Puppies, but the Basic Fun Reproduction is a gorgeous and enjoyable puppy for your kids. It also comes with an adoption certificate, as the originals did. It won't have the same value as originals, but it's a beautiful addition nonetheless.
Show me a child who doesn't love puppies, and I'll quit collecting plush toys. Okay, that's a stretch, but puppies are sure winners, and the Pound Puppies reproduction is inspired by a slobbery, fluffy, and large-eared dog. My kids love the collection, even if it's not original.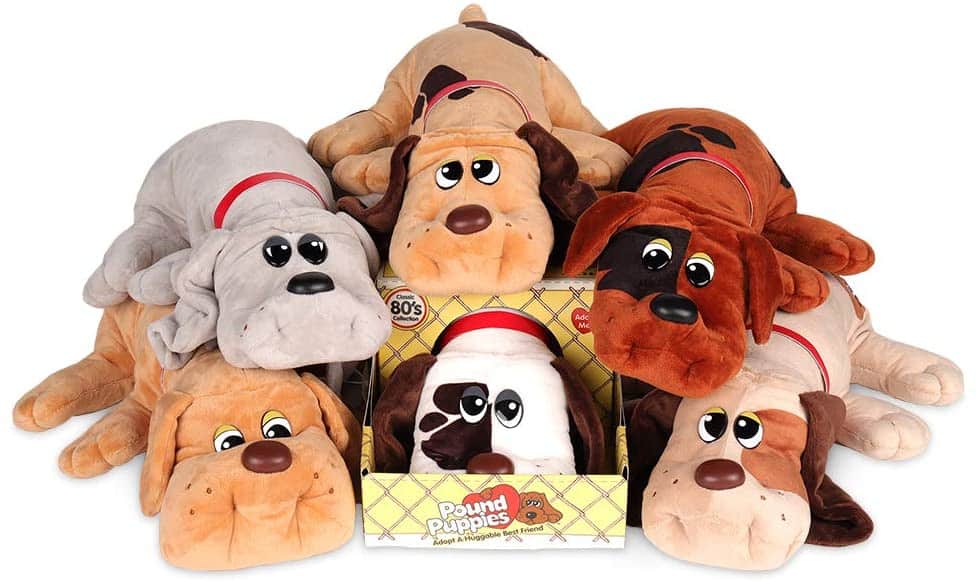 Size: 12″ x 17″ x 4.5″
Recommended Age: Ages one and older
Purpose: Snuggling with a best friend, collecting cute puppies, sleeping with soft toys, and having a best friend plushy that looks like a dog
Fabric: Polyester (machine-washable)
Approval Rating: 92% (5,900+ reviews)
Caution: Your child might fall so deeply in love with their cuddle buddy that they may ignore the actual dog, which is fine if you're worried about drool all over their faces.
Fan Enthusiast Winner: Star Wars Grogu Plush Toy
I'm told I have too many hobbies, and collecting plush toys is one of them, the other being Star Wars. Who doesn't love the franchise? The Star Wars Grogu plushy is also a winner for collectors. It's inspired by "The Child" on the Disney+ show, making it suitable for kids and adults.
It has a plush, cuddly body with a bean interior, and it comes with a stunning box for collectors. Mattel is another famous toy brand known for Hot Wheels and Barbie, meaning you have quality under your belt, too. The Baby Yoda toy is also insanely cute with its massive eyes.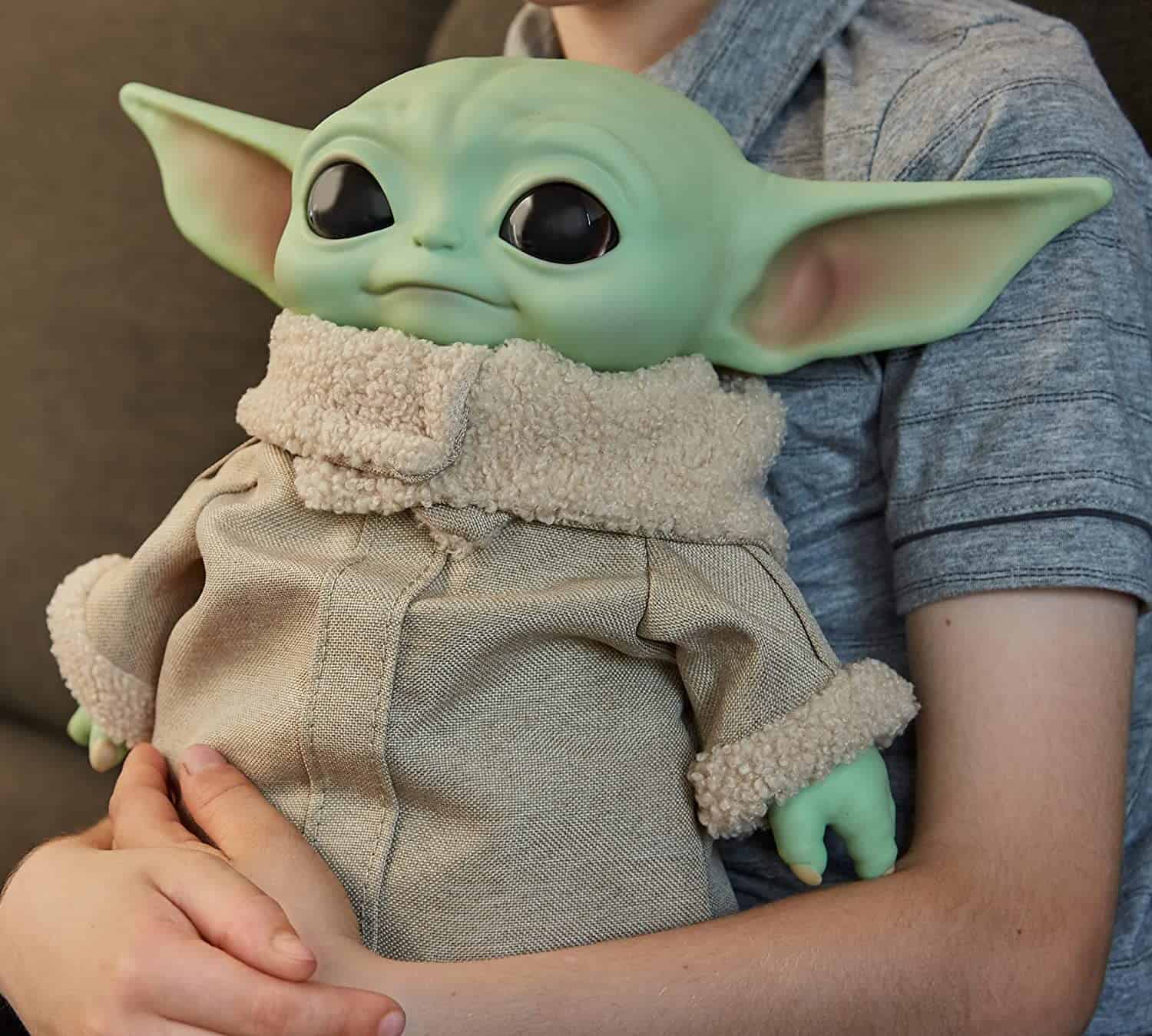 Size: 7.99″ x 5.98″ x 11.02″
Recommended Age: Ages eight and older
Purpose: Collectible for Star Wars enthusiasts, movie buffs, Disney+ Mandalorian fans, and pop culture fans
Fabric: Polyester body with beans (not machine-washable)
Approval Rating: 90% (22,800+ reviews)
Caution: The Baby Yoda plushy isn't for babies or toddlers as it has a bean interior with small parts that become choking hazards. It might also break your heart to watch a baby chew on the ears of a collector's piece.
Collectible Winner: Funko Pop Five Nights at Freddy's Freddy Fazbear Plush
Funko Five Night at Freddy's is a newcomer range to the collectible plush world, but the Freddy Fazbear Plush has turned the heat up among fans. The brand is an excellent collector's range for plushies, action figures, and anything to do with the 2014 survival horror game.
If you're a fan of Five Nights at Freddy's, the Fazbear is a must-have for your plushy collection. Even though Fazbear looks harmless as a plushy, the videogame is well-known for violence and horror beyond the normal realms, making this a poor choice for kids, but collectors are welcome.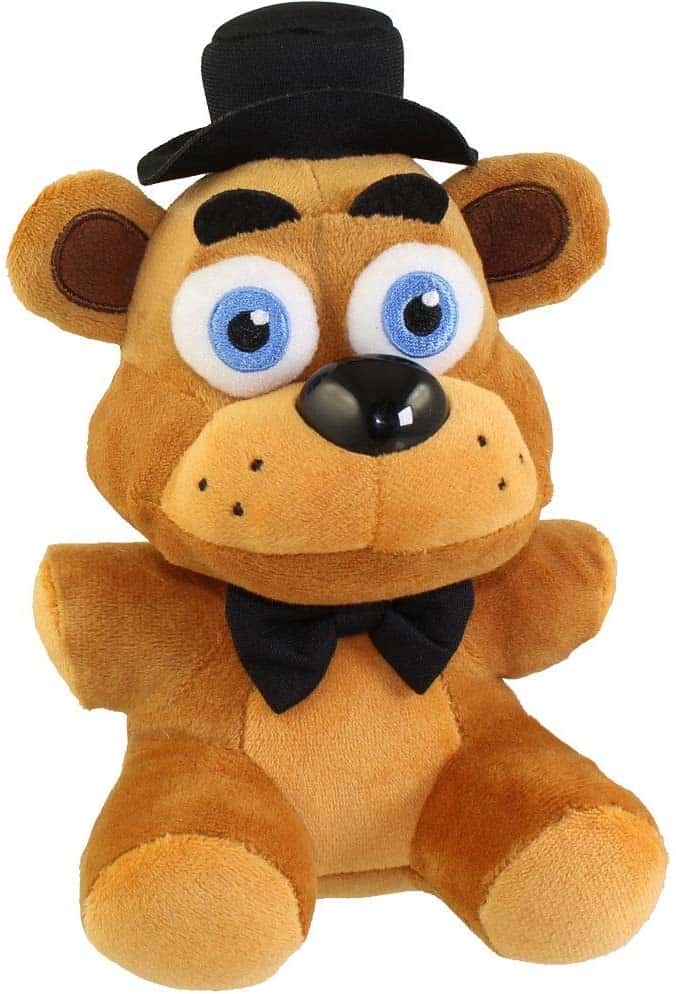 Size: 6″ x 4″ x 4″
Recommended Age: Ages 12 and older (with caution)
Purpose: Best for collector's who enjoy the videogame franchise or love collecting pop culture plushies
Fabric: Polyester (machine-washable)
Approval Rating: 87% (4,500+ reviews)
Caution: Please, I don't recommend this plushy for children, only due to the videogame that inspired it, but it looks like a regular plushy if children don't know the game. The tag might still feel scary for kids, though.
How to Choose One
With an ocean of options, you should consider the essential factors before getting a new plushy. Run through the list to see what you end with before picking your cuddle buddy or collector's item:
Which category best suits what you need? Are you buying one for a child or yourself? Choose a category based on the characters, type, and age ranges suitable to your needs.
Do you want your plushy to be cute and relational, or do you also need something with sensory stimuli for a child? You might be brave enough to choose one that makes endless noise. Good luck.
Do you want your plushy to be machine-washable or easy to clean? If not, avoid plushies with sensory stimuli or mechanical voices.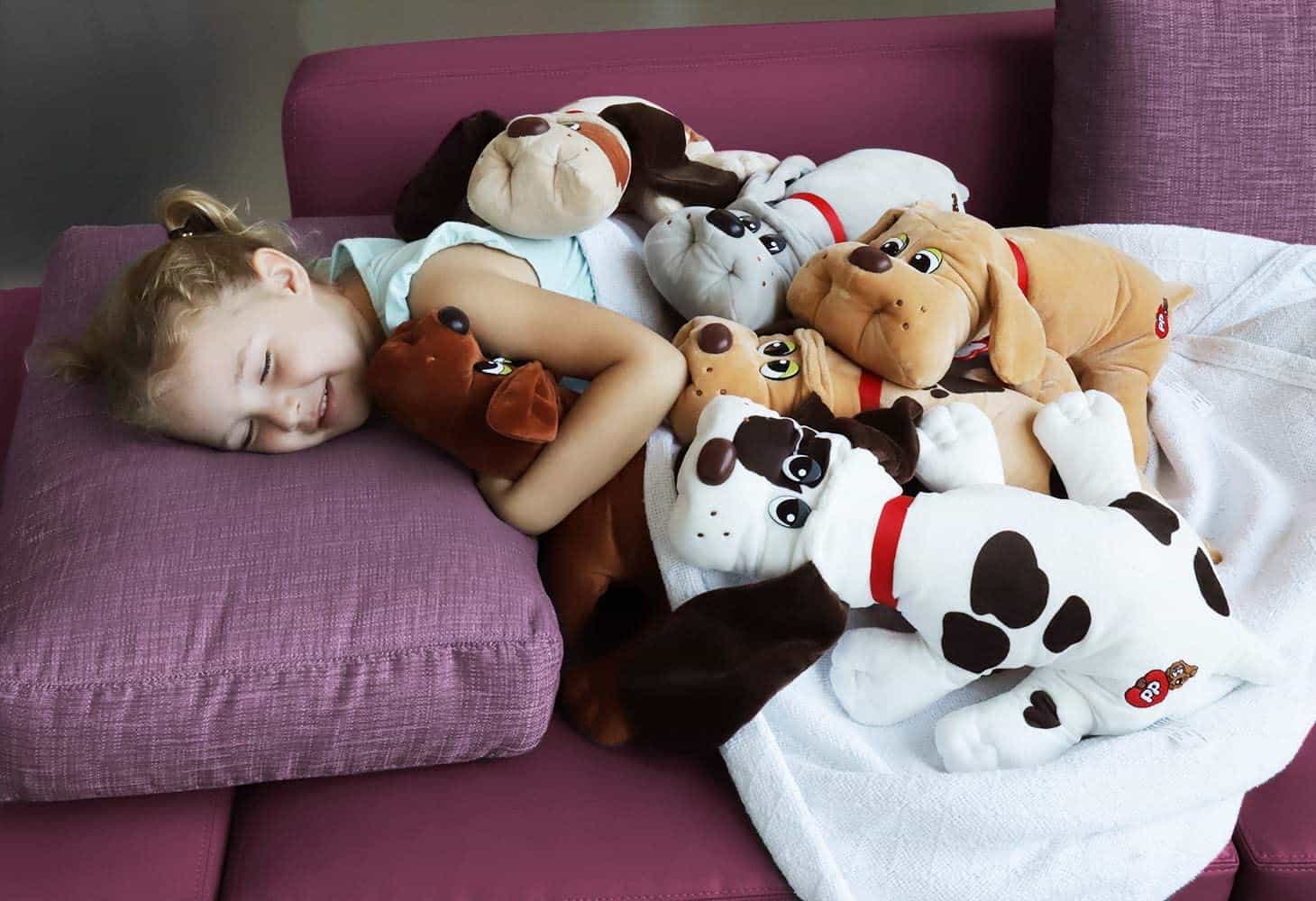 Beyond these steps, I'm sure you've already spotted a favorite plushy.
Top Q&A
Question: What is the Number One Selling Plush Toy in 2022?
Answer: Thanks to Tik Tok trends, the TeeTurtle Reversible Plushy ranks number one on Amazon, and I think it earned the spot without the social media platform. Any parent knows the challenge behind emotional education regarding toddlers, and the mood plushy is incredible.
Question: Which are the Rarest Plushies Collectibles in the World?
Answer: The rarest plush in 2022 is the Steiff and Louis Vuitton Bear. The two companies partnered in 2000 to create a designer teddy bear, and it sure emphasizes the brand's exceptional quality. The bear is worth $2.1 million and resides in the Teddy Bear Museum in Jeju, Korea.
Question: Which Plush Toy Type Remains Popular in 2022?
Answer: Plush toys flood the market with teddies, character designs, stuffed animals, and pillows, but classic remains a fashionable search among collectors and parents. Teddy bears remain a popular choice for plush toy enthusiasts and parents who want a friendly toy.
Ultimate Guide to Plush: Final Thoughts
A child feels like they've entered Charlie's Chocolate Factory, except it's filled with soft toys. Imagine yourself swimming in plushies as though you're navigating the ball pit. Enough plush toys have surrounded me to do just that, and I promise it's like surfing clouds.
Don't worry; you don't need to buy a truck of plushies, and you don't have to swim through them. However, every child needs a plush toy. They need a best friend who helps them learn new skills, communicate, and socialize with someone who doesn't frighten them like strangers.
Moreover, no one's too old for a plushy. Collectors like me have a gorgeous range of old-school and memorable plush toys. Children of any age enjoy plushies, especially when Tik Tok promotes the Reversible Octopus. Even teenagers want them.
I certainly love the mood plushy because it has benefits that extend to all age groups, and it's adorable as they come. If your kid doesn't have a plush toy yet, I highly recommend that you don't allow the memorable habit to end with you.
If you're a collector, no collection is ridiculous. Some plushies will remain collectible for many years, so get yourself one favorite on my list, or visit the pages where all the plushies come to life.
Continue reading more related plush toy guides by checking these links below: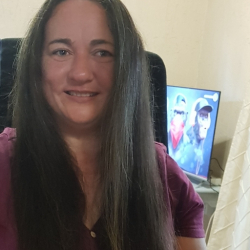 Latest posts by Caroline Lambert
(see all)