My kids climbed on the minion-obsessed banana train like most, replaying the remix of the banana song repeatedly until I felt like pulling my hair out. However, we also avidly collect plush, including Squishmallows and Pokémon plush. So, the best Minion plush guide diverted our attention from the song.
My relief was indescribable when plush toys allowed me a break from the crazy banana song and fad. However, you'll understand well enough as a parent with young Minions at home. Despicable Me began a trend so loud and insane that parents wanted to stick their heads in the mud. Meanwhile, it started a plush craze.
Fortunately, a suitable Minion plush can ease your child's banana mind enough to have peace at home. So, let me share the sanity-saving plushes.
Best Minion Plush: Bottom Line Up Front
The Minions are a rage with kids and older fans, and the plush is plentiful. So, you'll need guidance on how many Minions plush exist, including the other characters from the Despicable Me movies. In addition, each Minions plush comes in various types that suit different purposes, including children and fan collections.
So, let me share everything you need to know about the Minions, including how you can maximize a fan's passion for any Minion character. Then, I'll use strict criteria to pick only the best Minion plush suitable for various fans. But first, let me share a hint of my ultimate Minions plush.
The Best Minion Otto Plush is my best choice because I'm a biker chick while being a mom. The Minion Biker Otto Plush is adorable and would suit my lifestyle perfectly. I always pick bikers above other designs. In addition, Otto is one of my favorite Minions, making it a perfect storm of passion for this little guy.
Meanwhile, my kids also love Otto and Bob. So, they'd pick the second-best plush to be the Best Minion Bob Plush. However, let's follow the complete guide to knowing which Minions plush is the best before seeing more of the adorable yet annoying character plushes.
A Complete Guide to the Best Minion Plush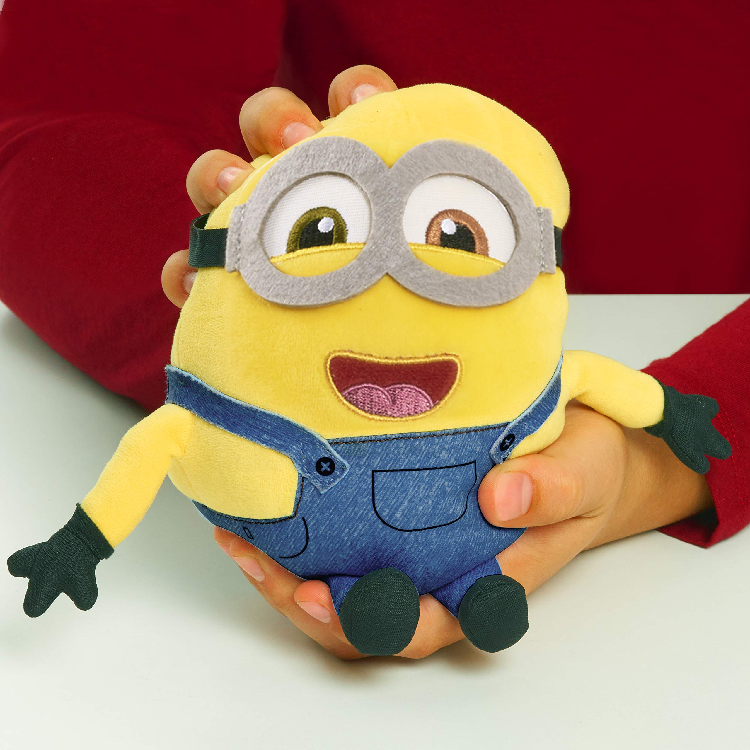 Buying kids a new Minions plush requires more than picking one at random. So, let me share the top 11 Minions, the seven lesser-known plush characters, and how to choose the right one for your child or your collection. Then, I'll share how I selected the best Minions plush that suits most fans.
A Quick Look at Children's Favorite Minions
I've watched the movies, including the Minion edition. The Minions might be despicably annoying to parents, but kids love them. Therefore, you must consider buying a child a Minion plush to give them something new to enjoy the banana song with instead of driving their parents crazy.
There's confusion between Jerry and Phil because one showed in two movies. In contrast, the other character plays in the second film. Also, the Minions have other characters besides tiny despicable sidekicks, and some kids might enjoy adding the other character's plushes to the Minions.
Seven movie character plush for Minions fans to find include:
How I Chose the Best Minion Plush
The Minions fandom is too extensive to use sub-par criteria for the best picks. So, I'll choose the best Minions plush for each famous Minion. I won't include the best selections for Despicable Me plush because they don't have many options. In addition, my top choices must meet strict requirements:
Versatility: The best Minions plush must appeal to children and older fans who collect them. I'll stick to traditional plush and leave out the keychains and stackable toys.
Alternative Designs: The best picks will come from the Alternative Minions Plush category to make things more exciting. I don't want dull selections from the Traditional Minions Plush type. Alternatively, I'll use the best-looking Minion plush for those that don't have alternative styles.
Variety Stores: The top Minions plush comes from Walmart, Amazon, and Minion Plush because they have the best selections. In addition, both stores sell good brands, with Amazon selling the original Illumination Minion Plush. Other stores also stock Minions plush but don't have as much variety.
Matching Details: My best choices must look like the chosen Minion, even if they wear costumes. They must have the same number of eyes and hairstyle.
Top-Quality Designs: My top picks will also be aesthetically pleasing for plush collectors and young fans. I want excellent quality plush without flimsy stitching or abnormal shapes.
Important Note: Phil and Jerry are similar characters in different movies. So, you won't find a Minion Phil Plush because it would be the same as Jerry. Meanwhile, three Minions don't have alternative plush. I'll use their best traditional-styled plush for my best picks.
Best Minion Plush Guide: 10 Banana-Worthy Minions
Finally, you'll find the key to stopping the banana song in your ears. Instead, children will enjoy singing to their favorite Minions plush to spare you some sanity. So, let's see which alternative or best choice plush wins for each Minion. In addition, I'll share some exciting pros and disappointing cons for each little sidekick.
Best Minion Bob Plush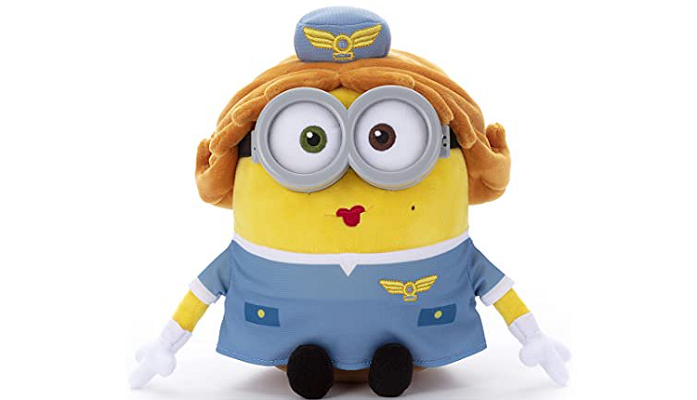 Bob is an immature little guy, but you can think of him like a child. He adds a lot of laughs to the movies. Moreover, he made me laugh through the floor in the second movie when he dressed up like a female Bob Minion. The female Bob Minion plush is a hilarious reminder of that moment, and Bob pulls it off nicely.
Brand: Takara Tomy
Size: 11″
Quality: Good
Best Minion Bob Plush Pros
The female Minion Bob plush is a surprise for fans
The Bob Minion plush will bring you down with giggles
The stitching and detailed quality are impressive for an unknown brand
Bob matches his character almost perfectly under the lipstick and outfit
Best Minion Bob Plush Cons
Minion Bob's colors could be much brighter to improve the quality
Bob's arms are longer than in the movies
Best Minion Carl Plush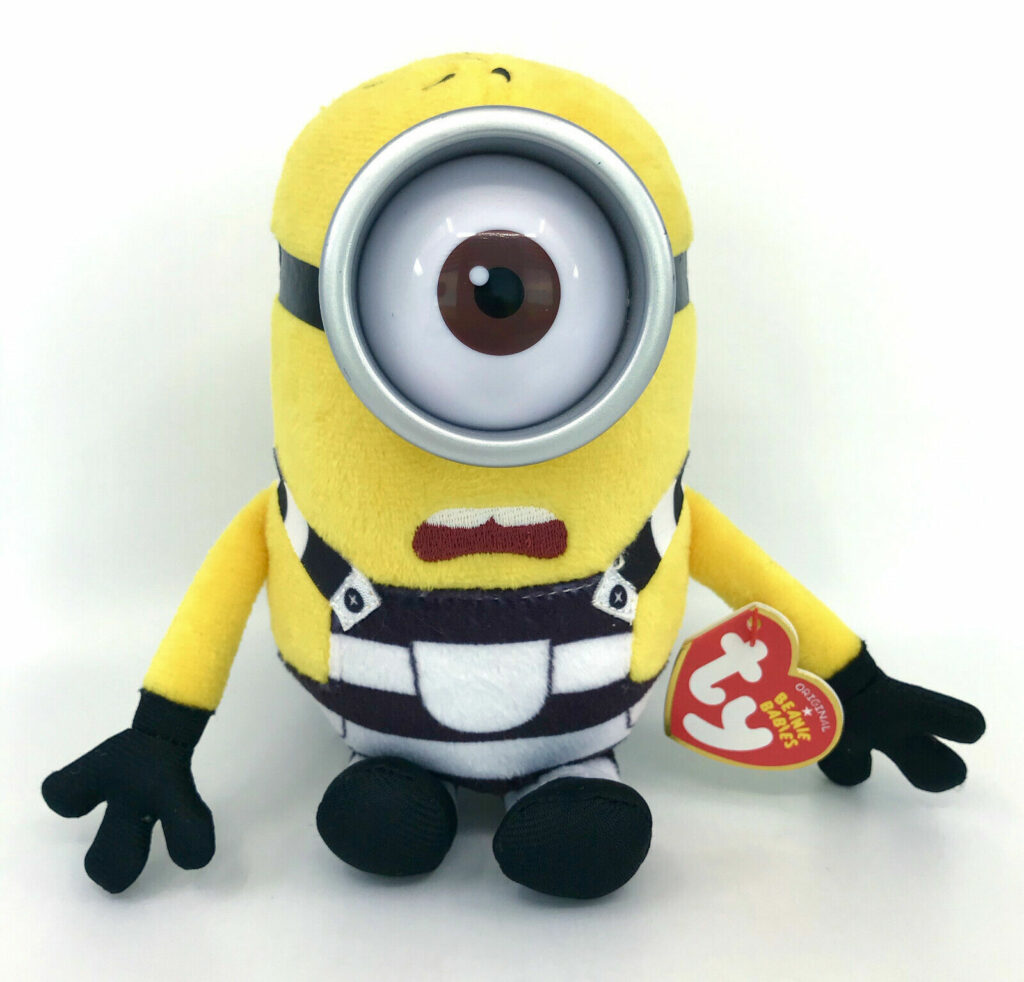 The TY Beanie Babies Minion Carl plush is collectible and insanely cute for kids. The details are next-level on this fun-loving Minion who got into trouble with the law. You'll see Carl as one of the Minions that break out of jail in Despicable Me 3. Carl is the only Minion I find in the infamous outfit that reminds us of their criminal ways.
Brand: Ty Beanie babies
Size: 6″
Quality: Excellent
Best Minion Carl Plush Pros
The Jailhouse Minion Carl plush is an adorable reminder from the third movie
Carl's features match his movie character nicely, even under the outfit
The expression on Minion Carl's face is priceless for all fans
The TY Beanie Babies brand is collectible, making Carl more valuable
Best Minion Carl Plush Cons
The Minion Carl's plush has a shocked expression that kids might not enjoy
The Minion's little hands and fingers don't have excellent details
Best Minion Dave Plush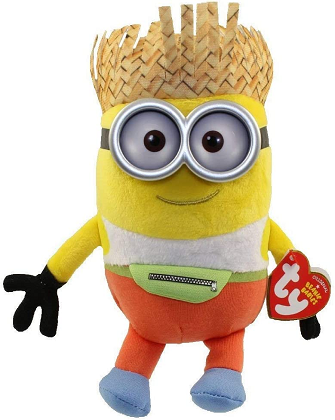 Dave is a quirky Minion who loves playing video games. In addition, people often overlook how intelligent Dave is because he's accident-prone. However, my son enjoys Dave almost as much as Bob. Meanwhile, the Minion tourist Dave plush shows his fun side. He loves venturing into new potential accidents and places.
Brand: TY Beanie Babies
Size: 8″
Quality: Excellent
Best Minion Dave Plush Pros
The Minion tourist Dave plush shows an adventurous side to him
It's another highly-collectible TY Beanie Babies Minion plush
Dave looks like his movie Minion under all the tourist accessories
Dave's goggles have a silver shine more than other Minion plush
Best Minion Dave Plush Cons
Minion Dave's fingers look a little flimsy
The zipper on Dave's fanny pack doesn't function
Best Minion Jerry Plush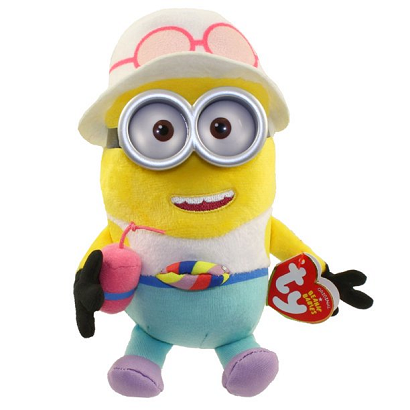 Remember that Jerry and Phil exchange looks in different Despicable Me movies. So, Jerry's Minion plush can also work for Phil. Meanwhile, Jerry is the animated version. In contrast, Phil looks more serious in the first and third films. Furthermore, the Minion Jerry plush better suits the playful character from the second movie.
Brand: TY Beanie Babies
Size: 8″
Quality: Excellent
Best Minion Jerry Plush Pros
The Minion tourist Jerry plush would work well with Dave in a collection
Jerry's goggles also have that silver shine you don't often find on plush
Jerry's playful nature shines as much as his goggles
You can see Jerry's ideal features under the tourist outfit
Best Minion Jerry Plush Cons
TY Beanie Babies shows Jerry as the third movie's Minion, but he's from the second film
The smoothie in Jerry's hand will break in a child's playful hands
Best Minion Jorge Plush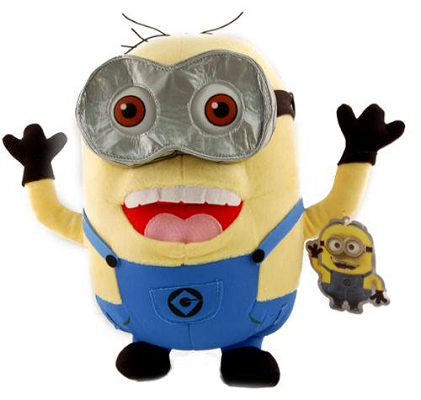 Jorge is another playful, child-like Minion who loves skating and playing games. You often hear him yelling, "Bee Boo, Bee Boo." I can imagine him running down the road, making his favorite noise.
Meanwhile, I see how the brand matched Jerry's goofy and playful nature with the expressions on this Minion plush.
Brand: Despicable Me
Size: 12″
Quality: Good
Best Minion Jorge Plush Pros
The Minion playful Jorge plush represents his character perfectly
Jorge's crazy and spiky hair stands in all directions for added humor
Children will go as wild as Jorge's hair for this plush Minion
Jorge's features match his Minion nicely
Best Minion Jorge Plush Cons
The brand could improve this Minion plush's quality
The teeth, hair, and goggles look flimsy enough to break off
Best Minion Kevin Plush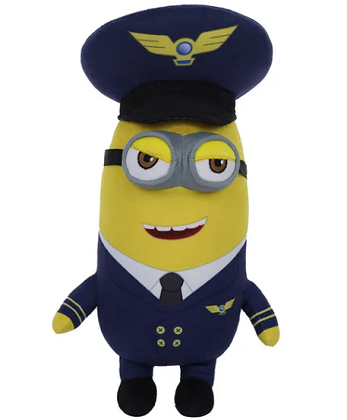 Kevin is well-known for teasing poor Jerry, but he's a quirky and lovable Minion for many fans. Ironically, the pilot Kevin Minion plush has nothing to do with his irritating or sporty nature.
Instead, it shows an outfit he wore once in the movies. However, the details and accuracy are excellent, and Kevin is a favorite for most fans.
Brand: Minion Plush
Size: 12″
Quality: Excellent
Best Minion Kevin Plush Pros
The Minion pilot Kevin plush matches his character perfectly under the costume
Kevin's pilot plush even has plastic goggles to look better than other plush
Kevin has the same goofy and naughty smile as his Minion
Children will enjoy the pilot Kevin plush for its color and versatility
Best Minion Kevin Plush Cons
The Minion Kevin pilot plush has many features that could break
Kevin's arms are too stiff against his sides
Best Minion Mel Plush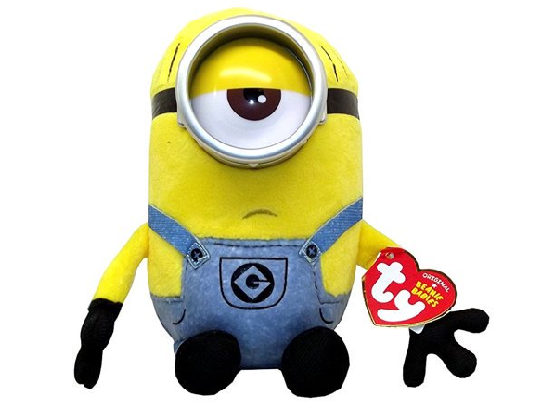 Mel is an odd Minion because he seems grumpy, but he's an intelligent and loyal sidekick to Gru. In addition, the Minion Mel can be pretty sentimental in his ways.
However, he has a serious expression in most scenes, making the Minion Mel plush the best pick. Mel isn't well-known for smiling much.
Brand: TY Beanie Babies
Size: 7″
Quality: Excellent
Best Minion Mel Plush Pros
The Minion Mel plush shows his character perfectly
The plush Minion has a smooth goggle lens that shines brilliantly
Children and collectors will enjoy Mel as an unusual pick
Mel matches his Minion perfectly without an outfit
Best Minion Mel Plush Cons
Mel's Minion plush doesn't have a unique outfit or features
The TY Beanie Babies Minion plush has flimsy fingers
Best Minion Otto Plush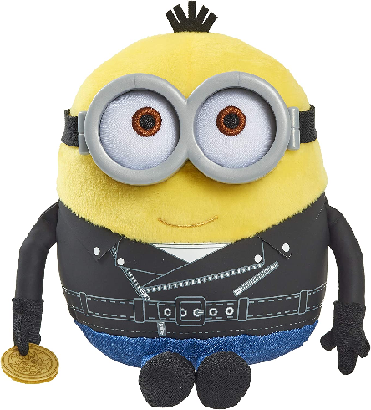 The Minion biker Otto plush looks like an innocent and sweet character. His smile will grab you without you realizing it. Otto is an adorable Minion with braces and a humorous lisp. He's my ultimate pick because he wears a biker outfit to look bad, even though he's likely the most harmless Minion among them.
Brand: Illumination's Minions
Size: 9″
Quality: Excellent
Best Minion Otto Plush Pros
The Minion biker Otto plush is my ultimate pick for cuteness and theme
Biker Otto's plush matches his adorable nature and child-like innocence
Biker Otto has a soft texture and smooth plastic goggles
Fans of all ages and stages will enjoy this much-loved Minion plush
Best Minion Otto Plush Cons
Biker Otto's hair is flimsy with a felt design
His arms are too long, and his fingers are delicate enough to break
Best Minion Stuart Plush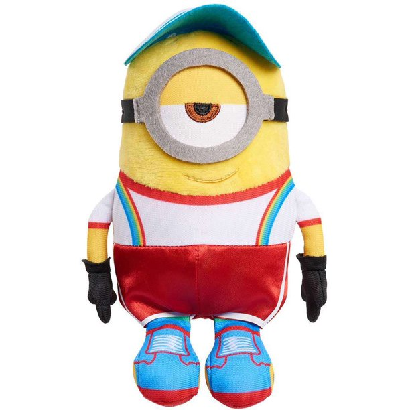 Stuart can go from sincere to goofy in seconds because he's another intelligent but friendly Minion. However, Stuart's rollerskating Minion plush shows how fast he can change character. Imagine him rollerskating from one persona to the next. Meanwhile, his features look suitable for the Stuart Minion under the outfit.
Brand: Just Play
Size: N/A
Quality: Good
Best Minion Stuart Plush Pros
The rollerskating Stuart Minion plush is a striking image of his in-movie character
The shiny pants add what the non-shiny goggles remove
Children will find Stuart's rollerskating plush hilarious
It's a highly creative version of Stuart's Minion
Best Minion Stuart Plush Cons
I can't determine the size of Stuart's plush
The non-shiny goggles and flimsy felt pieces remove some quality
Best Minion Tim Plush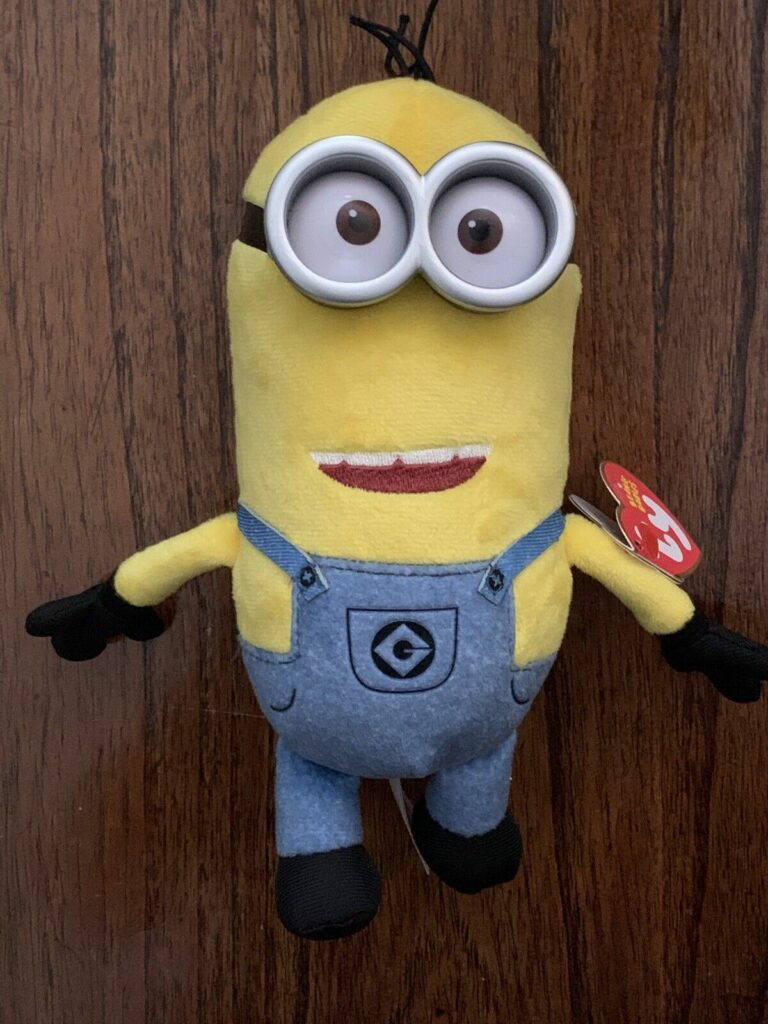 Tim isn't part of the primary crew of sidekick stooges, but he has a place some fans remember. The best Minion Tim plush represents one of the lesser-known Minions in the films.
Meanwhile, Tim's Minion plush is one of the best-looking matches for his character. The only problem is that Tim doesn't smile much in the shows.
Brand: TY Beanie Babies
Size: 7″
Quality: Excellent
Best Minion Tim Plush Pros
The Minion Tim plush is a replica, apart from the smile
Tim's strange hair spikes are entertaining and add depth
Children will enjoy Tim, even if they think he's Stuart or Kevin
The TY Beanie Babies brand remains highly collectible
Best Minion Tim Plush Cons
The Minion Tim is often mistaken for others
Not all fans remember Tim as much as other Minions
FAQs
Question: Does Build-A-Bear Have Minion Plush?
Question: Where Can I Find the Purple Minion Plush?
Answer: The purple Minion is from when the sidekicks turned crazy. So, I didn't add it as a character because they all looked entirely different. However, you'll find the Purple Minion Plush that looks like various Minions from the purple era. The 12-inch purple Minion plushes are a must-have for collectors and die-hard fans.
Question: Is There an Iron Man Minion Plush?
Answer: The Minion Plush store has an Iron Man and Minion collaboration. The Iron Man Minion Plush doesn't show who hides underneath. In addition, you'll find the Spiderman Minion Plush and the Batman Minion Plush in the same store. However, the Minions in the costumes aren't recognizable, just like superheroes wouldn't be.
Best Minion Plush Guide: Conclusion
Did you not realize how many Minion plush existed? Don't worry; I was also surprised. However, it didn't surprise me how popular they were when I remembered the banana song. Fortunately, the best Minion plush can stop your kids from driving you bananas with the music.
But first, select your child's favorite Minion and which type they'd enjoy. I chose the best options by being versatile for all fans. So, I recommend buying the Best Minion Otto Plush if your kid loves Otto as much as I do. Alternatively, get them the Best Minion Bob Plush because everyone loves the little guy.
Meanwhile, buying any Minion plush will silence the song for a while, and it will start the collection. So, grab your or your child's favorite Minion to speed the collection and silence up.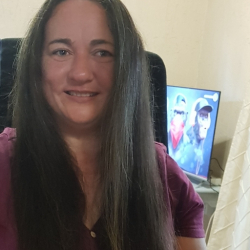 Latest posts by Caroline Lambert
(see all)