Did you know that the squishy, marshmallow-themed plush toys have backpacks? I learned about them quickly once my kids found the Squishmallow backpacks. Let me enlighten you on the new trend in this Squishmallow Backpacks Guide. There are more than 14 choices, all with matching personalities.
Squishmallows are a storm in the world of plush, a good one. I got nearly as excited as my children when I learned about them. The new Squishmallows squad comes with a few return favorite characters, and there are some rare finds for collectors like me. I'll show you how to match the perfect backpack for your child.
Bottom Line Up Front
As a mom and plush collector, I certainly enjoy the new squad from Squishmallows. Each Squishmallow comes with a unique personality, backstory, and list of hobbies. I can't see how I would better match a backpack to my children's interests. What's more, the Squishmallow backpacks appeal to various age groups.
The Denton the Chameleon backpack suits an older brother who protects his younger sibling. The Kelina the Koala backpack serves a sassy and confident teenager. The Shantira the Dragon backpack fits right into a child's habit of reading exciting books about explorations and fantastic new ventures.
The Drew the Dragon backpack represents a Squishmallow squad member with dreams larger than himself. Imagine how he can inspire your children to pursue their wildest dreams. The Nicole the Caticorn backpack is a fashionista with a creative mind bold enough to push kids into the experimentation phase (the good one).
I show you the simplest way to match your child's needs, interests, and personality with the right Squishmallow backpack. The Regina the Corgi backpack suits any child who wants a best friend who doubles as a carry-on. And if you can't find the character they love, there are Squishmallow backpack accessories to fill the gap.
Squishmallows Backpacks Guide: The Basics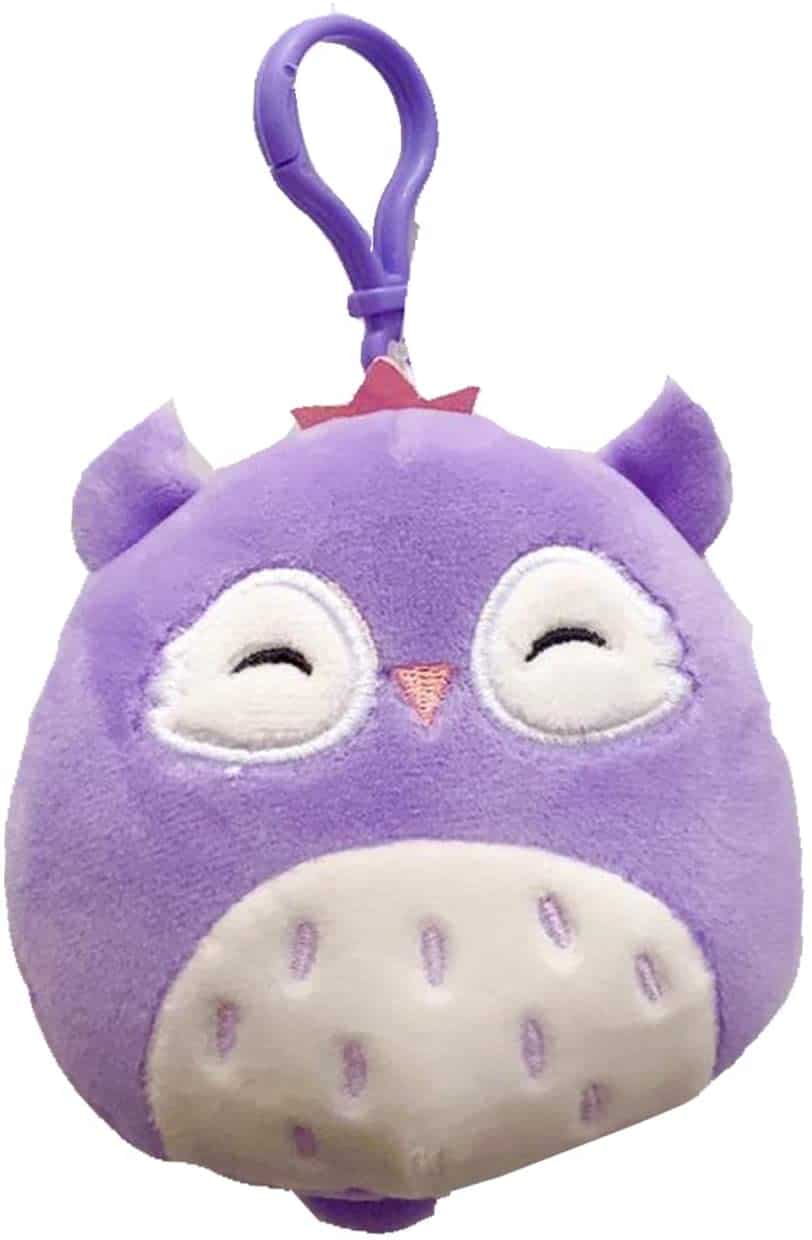 Take a marshmallow and run it through your fingers quickly. That feeling is how a Squishmallow feels, but now there are Squishmallow backpacks with the same feeling. Kids can feel the comfort and friendship from their carry-on buddies anywhere now.
Squishmallow Makes Backpacks?
Squishmallows never expected the love and passion the world showed since they began in 2017. Squishmallows started creating unique marshmallow-feel plush with background stories and personalities. Cameron the Cat Squishmallow was the first creation, the first member of the Squishmallows squad.
Squishmallows entered a new wave of success during the pandemic when Tik Tok users began sharing their collections online. The Squishmallows hashtag earned its Twitter account 100,000 followers. Kelly Toys owns Squishmallows, and the squishiest plush toys officially rank in the top flanks with other collectibles now.
Squishmallows are so popular today that the brand won the 2022 Toy of the Year Award. So when did Squishmallows begin manufacturing backpacks? Squishmallow backpacks launched in April 2021, and the first three members included Monica the Axolotl, Ilene the Pink Unicorn, and Nicole the Caticorn.
Kids love the Squishmallow squads so much that backpacks were the next logical step. Now kids can carry their buddies to school or friends. The backpacks also have the marshmallow feel, and the 14 available options in 2022 come from various squads to appeal to all children.
Squishmallow Backpack Tips
My advice is from one mom to another. Your little ones, sometimes teenagers, love specific squads and members. It's the first way to choose the best backpack for your kids. However, children can't always make their minds up. They also tend to want all of them. Let me give you some advice for when your kid wants them all.
Children love plush toys because they provide comfort, become best friends, and teach them many skills. I'd love my kids to have every Squishmallow backpack, but it's not always an option. I consider the personality of each Squishmallow member and match it to my child's personality.
I won't allow my son to walk around with a caticorn backpack unless he feels passionate about his feminine side. Help your children narrow their choice by selecting the Squishmallow backpack that suits them. Small children can also learn from the character booklets with every Squishmallow backpack.
Sure, the Squishmallow characters aren't always accurate. Monica the Axolotl's hobbies include playing the drums. The axolotl is a weird underwater creature that doesn't play the drums. Kids won't always learn the most practical lessons from their character's hobbies, but they might inspire kids to pursue their matching hobbies.
I know it all seems confusing, so let me summarize the three tips to select the right Squishmallow backpack:
Allow kids to pick their favorite character. If step one fails, move to steps two and three.
Match your child's gender, preferences, and personality to the Squishmallow backpack.
Consider whether the backpack character has the same hobbies as your child.
Squishmallow Backpack Examples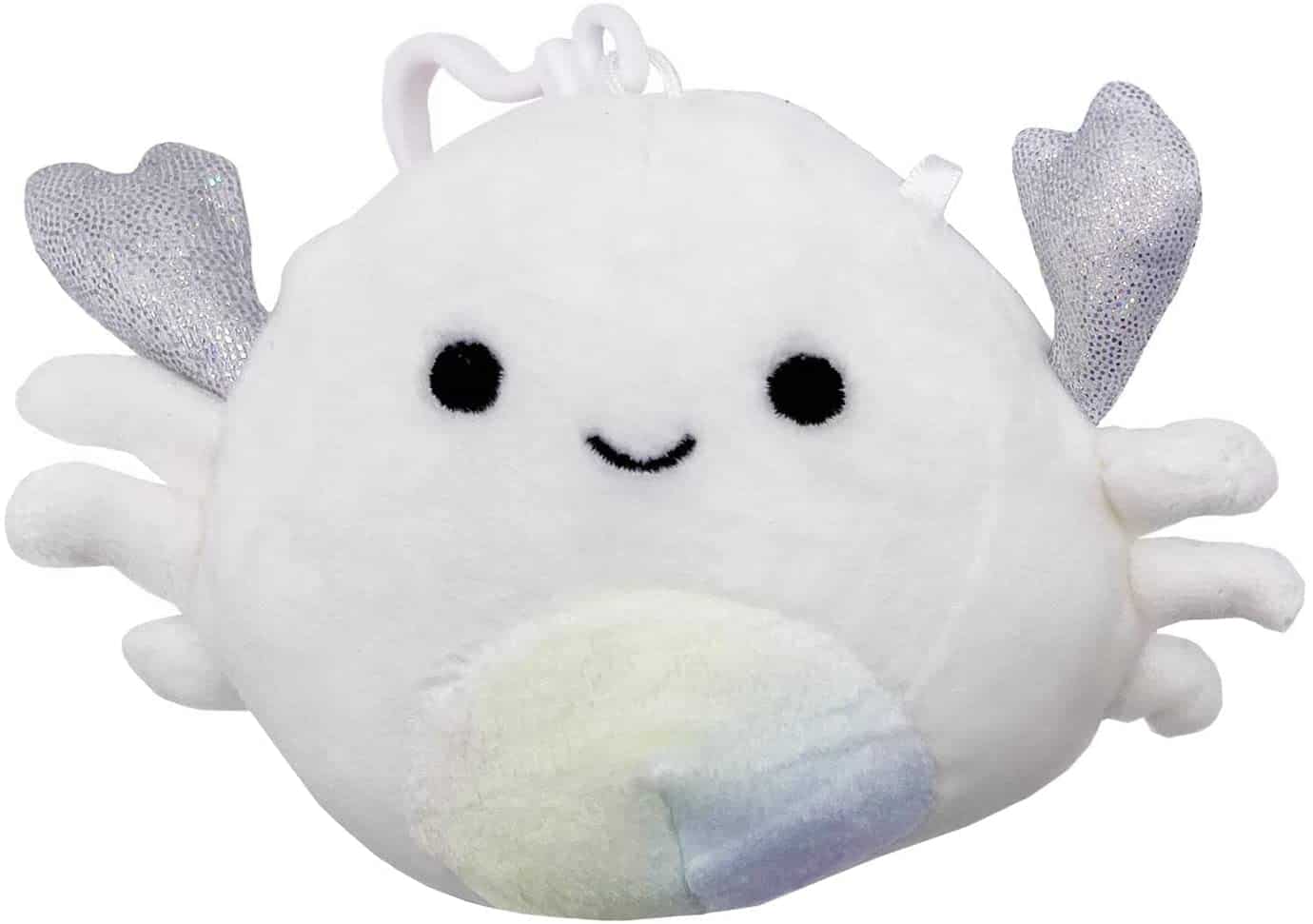 Squishmallow backpacks include members from various squads. They're all 12″ backpacks with the best of the favorite Squishmallow squad members. The brand follows Squishmallow fan trends and turns them into bags for little fans who can't get enough of their buddies. I'll show you the regular backpacks.
However, there are also exclusives available in certain countries. Miles the Dragon Squishmallow is a Canadian favorite, so Squishmallows launched an exclusive backpack in Canada. You might get one from a reseller, but you won't easily find one in the North American stores.
Maybe you can't find your little one's favorite Squishmallow as a backpack yet. You can still enjoy a wide range of backpack accessories to soothe the tide until one becomes available. I'll include as a bonus for Squishmallow backpacks is clip-on keychains.
To summarize the Squishmallow backpack options, there are three types.
Regular Squishmallow backpacks
Exclusive Squishmallow backpacks
Squishmallow backpack accessories
So, how will I pick the best Squishmallow backpacks to share with you? I'll avoid torturing you and the kids by sharing the available Squishmallow backpacks and accessories. The exclusives are hard to find and pricy from resellers, and I don't want to break your child's heart. 
I do share four exclusives later in this article. If you're lucky enough, you'll find them from a reseller. 
Squishmallow Backpacks Guide: Buddying Personalities
Now that you know how easy selecting a Squishmallow backpack can be, it's time to see the personalities, hobbies, and squad members available. I'll get to the backpack accessories soon enough.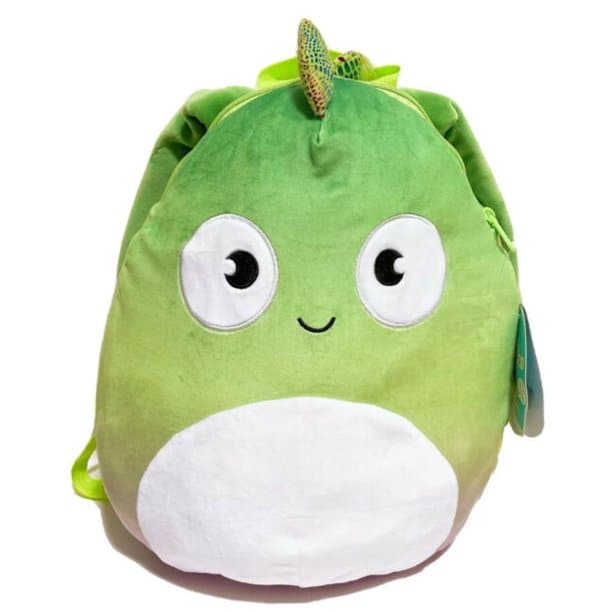 Denton is the older brother of Kent the Chameleon Squishmallow. He loves protecting and supporting his baby brother in all ventures. I'd love to see Denton's attitude in my son because I would melt if my son was as protective over his baby sister. He tries really hard, but kids won't always be as close as we wish.
Features
Squad: Squishmallow backpack squad
Member: Denton Chameleon Squishmallow backpack
Hobbies: Sketching and supporting his brother's musical hobbies
Who Should Wear This Squishmallow Backpack?
I can see my son wearing the Denton Chameleon backpack because he loves his little sister. Maybe it would inspire him to be more protective of her. My son's also creative, always drawing manga.
Pros
The Denton Chameleon backpack is an adorable option for older brothers (or sisters) with a creative edge
I love the chameleon scale effects on the back, which is pretty detailed for a Squishmallow plush
Cons
Kids without siblings might not enjoy the backpack when they read Denton's story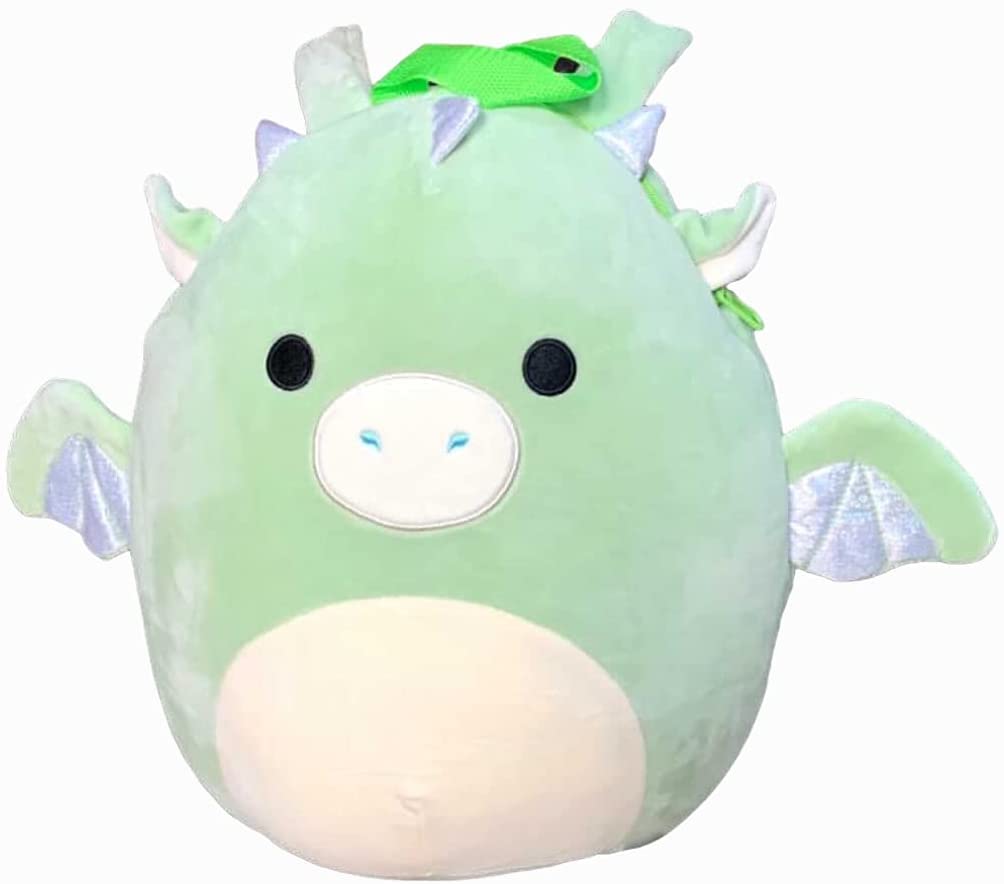 Drew is a small, mint-colored dragon with passions larger than life. He loves planes and flying, maybe because he's a dragon, after all. Drew's a wildly adventurous type of Squishmallow. I sometimes wonder about the size of my daughter's ambitions. I'll do whatever it takes to encourage her dreams, and maybe this backpack works.
Features
Squad: Squishmallow fantasy, dream, and backpack squads
Member: Drew Dragon Squishmallow backpack
Hobbies: Playing baseball, going on adventures, and learning new languages
Who Should Wear This Squishmallow Backpack?
I see boys and girls wearing Drew Dragon backpacks, especially if they share his adventurous spirit. Sporty boys with a lust for new explorations work well. It's also an incredible backpack for older kids with broad ambitions.
Pros
The Drew Dragon backpack's story inspires children to pursue their passions and adventurous sides
I think the wings, ears, and little horns look fantastic for a soft backpack
Cons
The nose looks like a pig more than a dragon, but it's still cute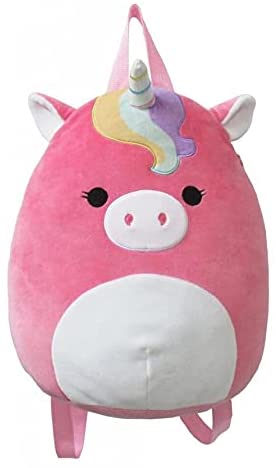 Ilene is a girl with massive dreams, hoping to become a Broadway star with her latest musical theater skills. She's as girly as they come, and she acts like a princess who owns the show. My daughter is incredibly musical and does ballet. I think Ilene suits her sometimes overwhelming spirit and energy.
Features
Squad: Squishmallow fantasy and backpack squads
Member: Ilene Unicorn Squishmallow backpack
Hobbies: Music, dance, and theater
Who Should Wear This Squishmallow Backpack?
Little girls with musical spirits suit the backpack. Kids with a diva-like personality and who love the art of music driving their souls in a band, theater, dance, or choir would love Ilene.
Pros
The Ilene Unicorn backpack reminds younger girls of the magic that exists in their imaginations
I can see every girl at school wanting the pink unicorn backpack with a rainbow mane
Cons
Again, the unicorn's nose also looks more like a pig's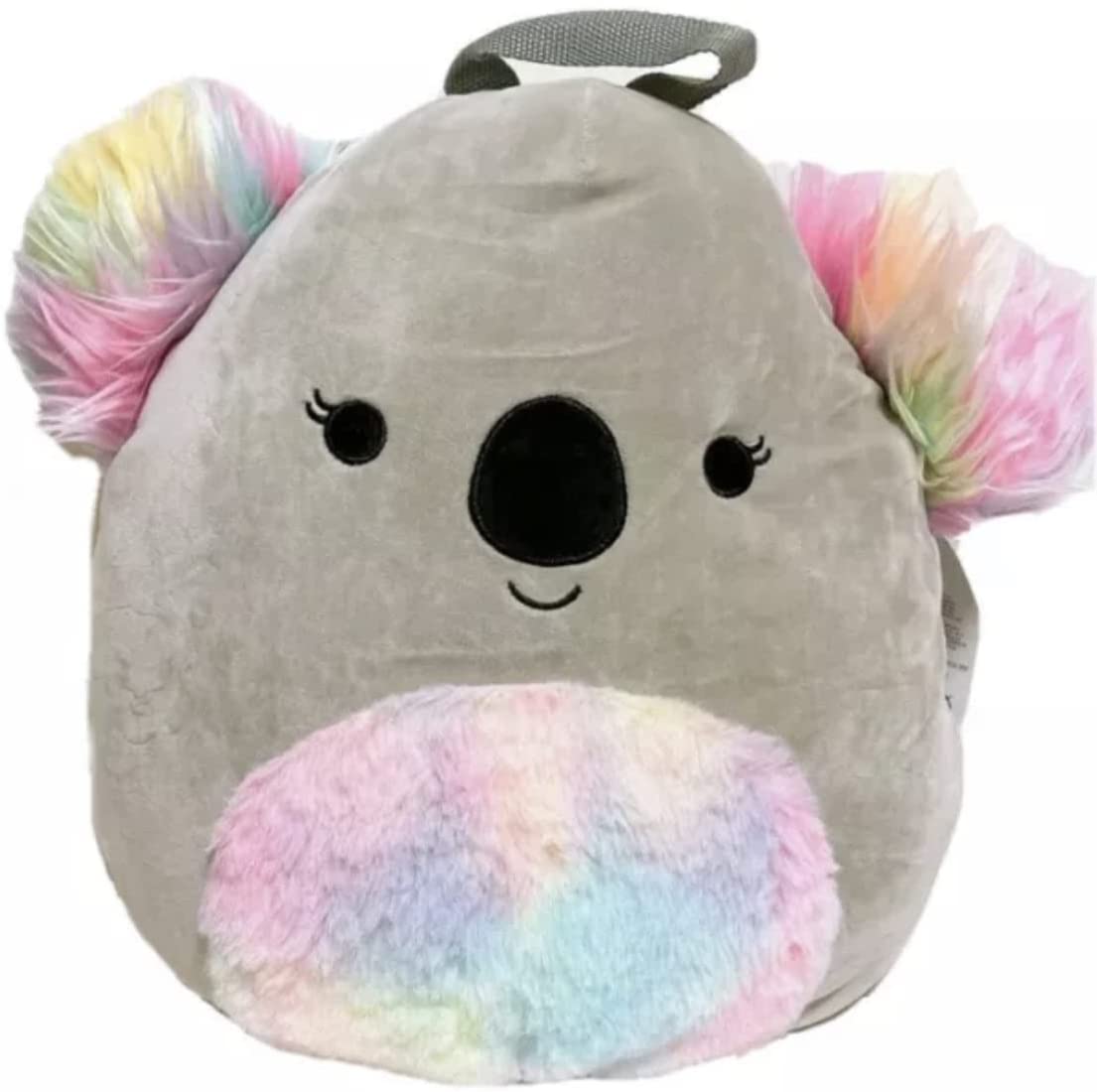 Kelina loves being a woman more than a girl. She paints her nails and acts like she has the world at her feet. She's a blend of spicy and feminine, and she loves giving other girls glamor advice. I wonder how much my daughter will grow into this type of personality. She already tells her friends what to wear.
Features
Squad: Squishmallow backpack squad
Member: Kelina Koala Squishmallow backpack
Hobbies: Dressing up, writing, and giving advice
Who Should Wear This Squishmallow Backpack?
I see Kelina suiting two types of girls. The first type is a shy introvert who needs someone to boost her confidence. The second type of girl is an older tween or teenager who likes sassy Squishmallows.
Pros
The Kelina Koala backpack undoubtedly suits any girl, even tweens, especially if they need a confidence boost
I love the rainbow ears and belly, and the furry features certainly tickle my fancy
Cons
The koala Squishmallow backpack is softer than the others, making me worry whether it can maintain its shape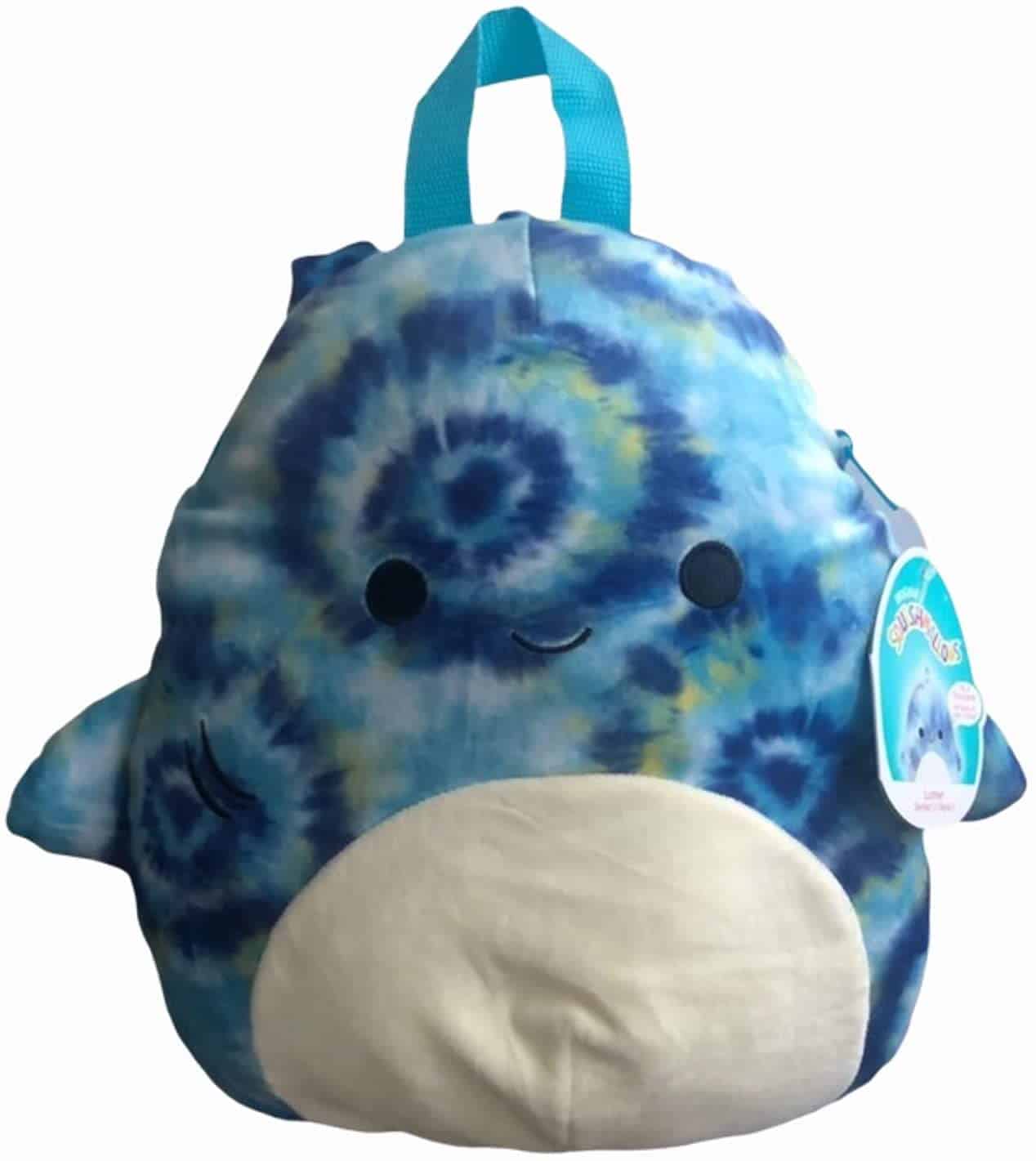 Luther is a cool guy from down in the deep. Think about a teenager who surprises you with emotional stability and logical decisions. Luther's tie-die colors also match his peaceful nature. An emotionally stable teenager with super intelligence is any mom's dream. I hope my son learns to keep his cool as much as Luther.
Features
Squad: Squishmallow sealife and backpack squads
Member: Luther Shark Squishmallow backpack
Hobbies: Experimenting with science and technology
Who Should Wear This Squishmallow Backpack?
Boys will love the Luther backpack if they feel like the know-it-alls at school. The backpack suits kids who also have a calm nature and look for solutions to their challenges.
Pros
The Luther Shark backpack inspires a sense of calm with the strong blue colors
I think the tie-die coloration is hypnotic, and the fins are adorable
Cons
I only wish the facial features were more notable on Luther
Monica the Axolotl Squishmallows Backpack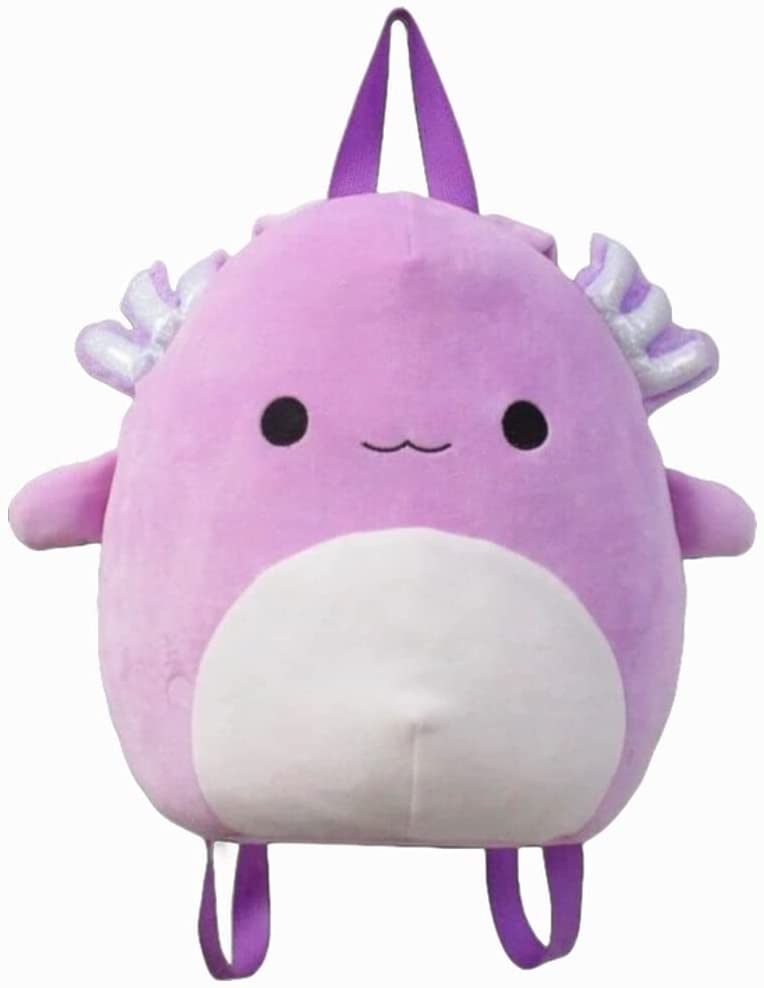 Monica has a chilled nature and is a social butterfly. You only see her leaving the relaxed zone when she zones into the drums. She's a creative soul with a passion for beautiful music. She'd also be a good friend for my daughter if only my little girl had a calm nature. She's still in the frantic stage of her life.
Features
Squad: Axolotl Squishmallows and Backpack Squad
Member: Monica Axolotl Squishmallow Backpack
Hobbies: Playing the drums and singing
Who Should Wear This Squishmallow Backpack?
Boys and girls who share Monica's passionate social existence and musical soul would suit her perfectly. Children with some emotional control would also befriend this chilled creative Squishmallow member.
Pros
The Monica Axolotl backpack is an excellent "best friend" for children of any age
I love the bright purple color and the upturned smile that subtly says, "welcome"
Cons
Not every child knows an axolotl (unless they love Squishmallows)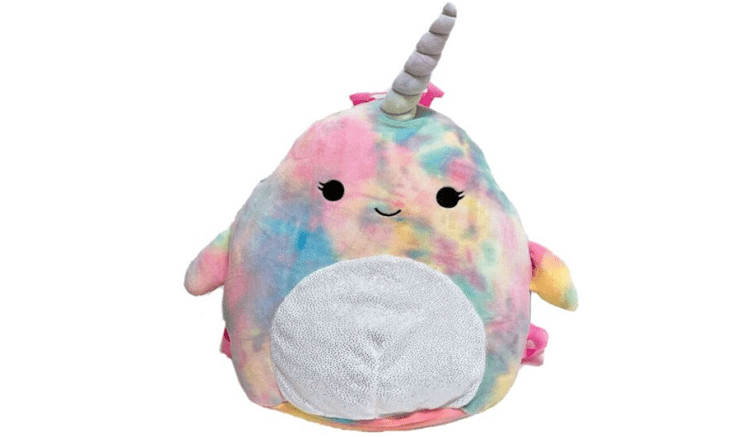 Navina can sometimes be as mystical as the sea creature that inspired her creation. She's a profoundly creative Squishmallow, often creating paintings that leave her audiences in awe of her magical talent. She suits me more than my kids because we share a profound love of self-care habits.
Features
Squad: Squishmallow fantasy, sealife, and backpack squads
Member: Navina Narwhal Squishmallow backpack
Hobbies: Painting, meditating, and self-care habits
Who Should Wear This Squishmallow Backpack?
Navina would suit any child who needs a splash of passion in their heart. Her creative and unusual nature can inspire children to try new things and express their deepest feelings through art. She's a favorite for girls.
Pros
The Navina Narwhal backpack suits small kids, tweens, teens, and even adults who dare to carry magic on their shoulders
She has a huge horn, glittery belly, and a rainbow tie-dye effect for next-level glamor
Cons
People might confuse this backpack with a unicorn Squishmallow
Nebula the Cosmic Space Unicorn Squishmallows Backpack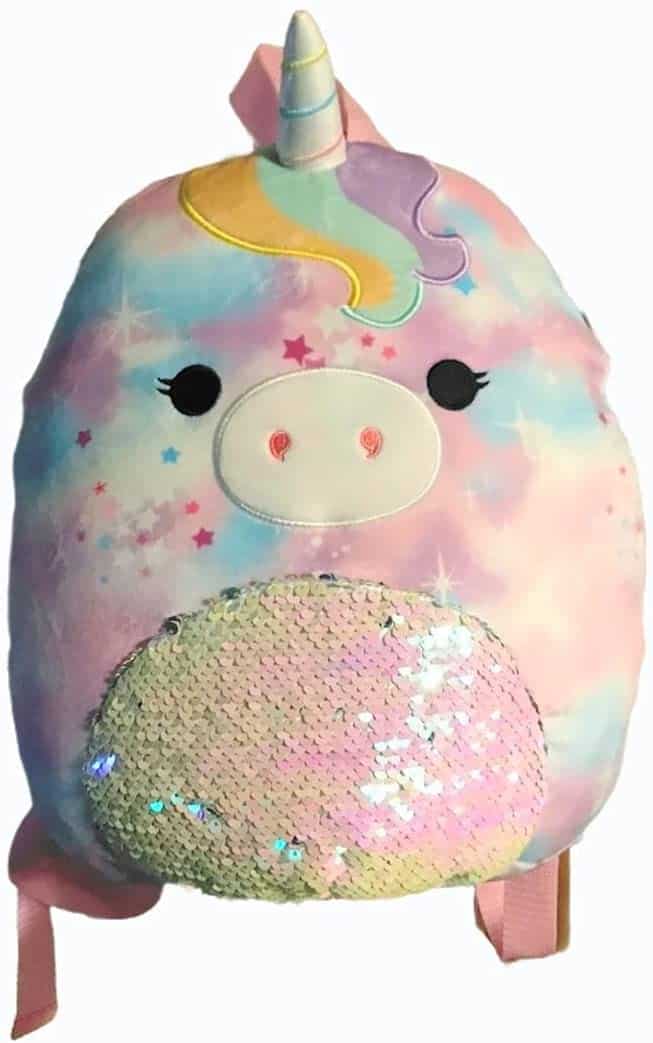 Nebula is a cosmic wonder and a unicorn. What's more magical? She has a hint of punk in her, but she's a sweet girl with her head on straight. Ironically, the space-venturer loves looking into her microscope and studying tiny organisms. I admire the splash of curiosity and creativity from this Squishmallow backpack.
Features
Squad: Squishmallow space, fantasy, and backpack squads
Member: Nebula Unicorn Squishmallow backpack
Hobbies: Art and biology
Who Should Wear This Squishmallow Backpack?
I'm getting the Nebula Unicorn backpack for my daughter when she gets older. Nebula suits tween and teenage girls with endless curiosity, creativity, and a hint of sassiness.
Pros
The Nebula Unicorn backpack fits any child with boundless energy, a little cheekiness, and curiosity to make a cat shy
The sparkles, glitter, and tie-dye rainbow effect make her the most magical backpack for girls
Cons
The nose looks like a pig instead of a unicorn again
Nicole the Caticorn Squishmallows Backpack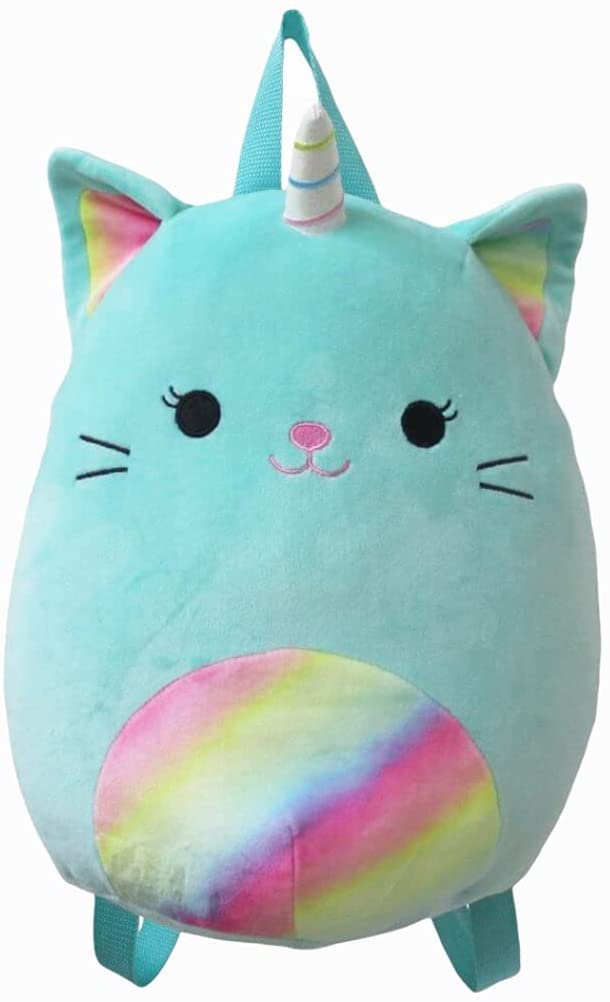 Nicole is what you'd call a fashion geek if one existed. She's perfectly rounded as a hard-working Squishmallow. She loves shoes, clothes, nails, hair, and beauty. However, she's also one of the bubbliest Squishmallows around. My daughter loves her, but maybe it's because she's a caticorn (an unusual unicorn and cat combo).
Features
Squad: Squishmallow backpack squad
Member: Nicole Caticorn backpack Squishmallow
Hobbies: Fashion, working, keeping busy, and brightening her friend's lives
Who Should Wear This Squishmallow Backpack?
Imagine how Nicole can work for girls who need that push in life. She can inspire them to be more outgoing, work harder, and see the beauty of everything positive in life.
Pros
The Nicole Caticorn backpack appeals to kids who want more, love working hard, and see the magic in the world
I think combining a cat and unicorn is the best way to appeal to little girls
Cons
The rainbow belly is smaller than I'd like to see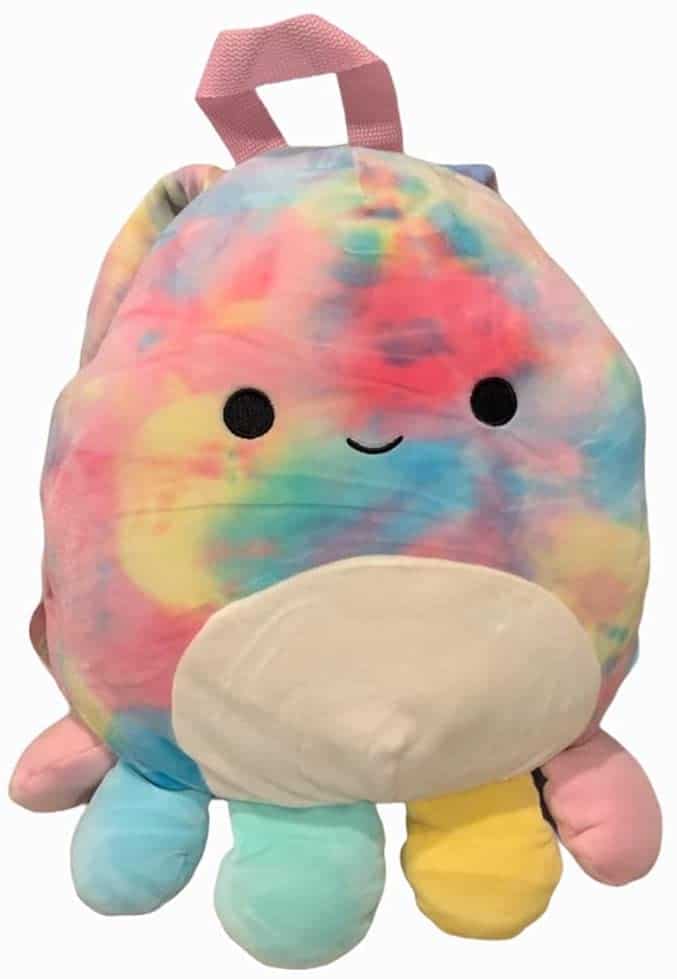 Opal is a rainbow-colored joy who lives with four older brothers. Her brothers would do anything for her, and they're profoundly protective of their little sister. Growing up with four brothers makes her a bit of a tomboy. My daughter is the opposite of a tomboy, but I hope the bond with her brother becomes this strong.
Features
Squad: Squishmallow sealife and backpack squads
Member: Opal Octopus backpack Squishmallow
Hobbies: Dirt-biking (the perfect example of an illogical hobby because how can an octopus ride a dirt bike?)
Who Should Wear This Squishmallow Backpack?
Opal is a versatile girl who works for boys and girls. She suits someone who isn't afraid of getting their pretty nails dirty. She also works for little girls who want to remember how much their brothers love them.
Pros
The Opal Octopus backpack is a dream for ambitious children of all ages
I love the tentacles hanging from the rainbow tie-dye body
Cons
The backpack's body isn't the best shape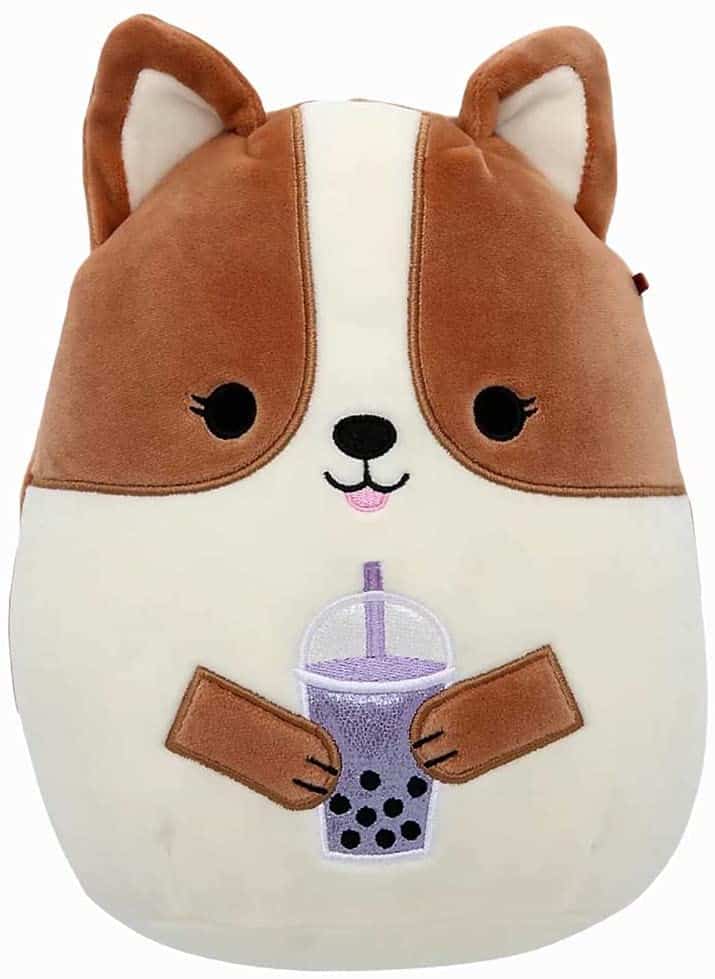 Regina has a solid motherly personality. She loves bossing other Squishmallows around, but for the sake of theater. Regina would love to run her own Broadway show one day. She's also a best friend who shares good advice. My kids love puppies, and the corgi backpack appeals strongly to both of them.
Features
Squad: Squishmallow pet and backpack squads
Member: Regina Corgi backpack Squishmallow
Hobbies: Directing, producing, and giving advice
Who Should Wear This Squishmallow Backpack?
Regina is another versatile Squishmallow backpack squad member because she's always encouraging friends to be their best versions. She also brings a sense of comfort from the pet squad.
Pros
The Regina Corgi backpack can be your child's best friend and confidant
The cute puppy is drinking a Boba tea on the front of the backpack (looks kitsch yet modern)
Cons
Sadly, the corgi looks a little catty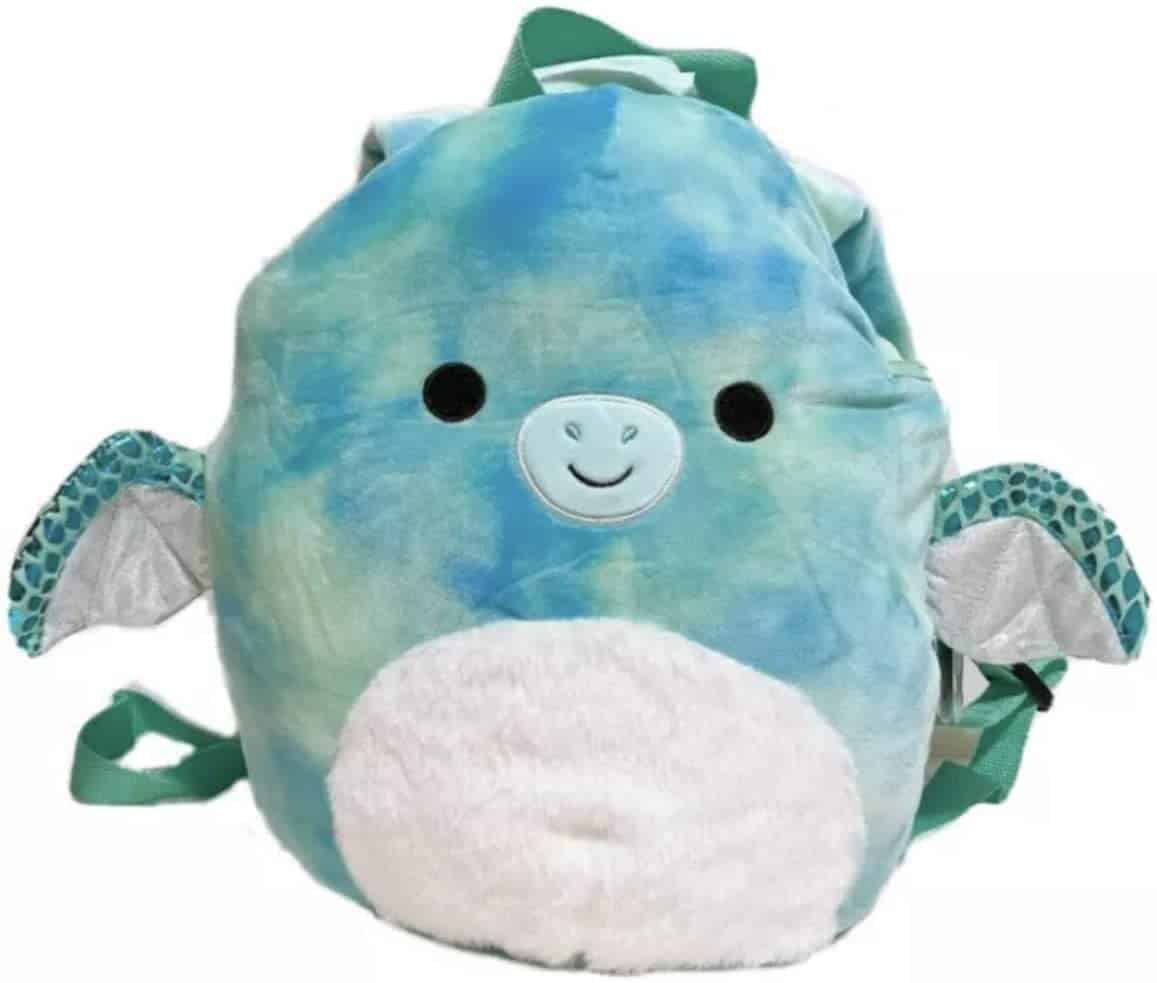 Shantira looks as wise as her prehistoric inspiration. She's a pterodactyl dinosaur with dragon abilities. Shantira is pretty similar to Regina in that she acts like a best friend, protector, and mother to other Squishmallows. My son has a thing for dragons, and he loves her, even if she's technically a dinosaur.
Features
Squad: Squishmallows backpack and fantasy squads
Member: Shantira Pterodactyl backpack Squishmallow
Hobbies: Knitting, reading, and silence
Who Should Wear This Squishmallow Backpack?
Shantira suits any child of any age who needs a best friend plush. She's a wise and calm Squishmallow, always looking out for her friends. She also finds passion in knowing more by reading books.
Pros
The Shantira Dragon backpack is a wonderful plush friend for all kids
The massive eyes and tiny wings make the backpack look adorable
Cons
People mistake Shantira for a dragon, even though she has no horns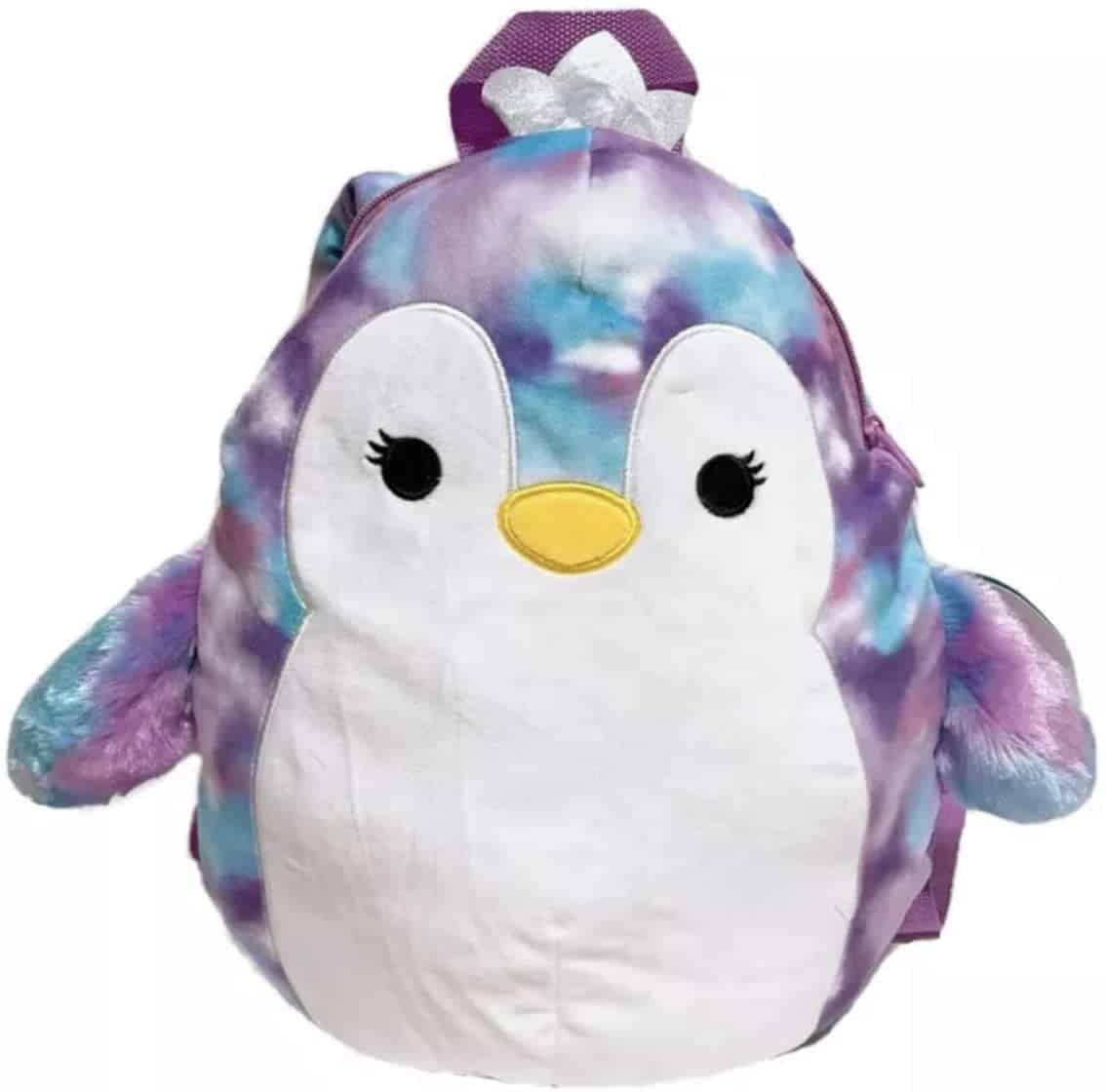 Tomara has a unique and somewhat eccentric personality. She's so obsessed with blackberries that she even loves school trips, where they travel to a farm and pick the berries. Tomara can eat blackberry jam on toast every morning before school. She makes me think of my eccentric personality.
Features
Squad: Squishmallow backpack and sealife squads
Member: Tomara Penguin backpack Squishmallow
Hobbies: Picking, thinking, eating, and dreaming about blackberries
Who Should Wear This Squishmallow Backpack?
I'm not sure who Tomara fits because she doesn't have much personality or hobbies. She's an adorable penguin backpack kids would love, though. She'd suit boys and girls.
Pros
The furry fins, tie-dye background, and big white belly make Tomara the Penguin one of the cutest Squishmallow backpacks
Cons
She doesn't suit many children, personality-wise
She gets dirty too easily with her massive white belly
Vickie the Fox Squishmallows Backpack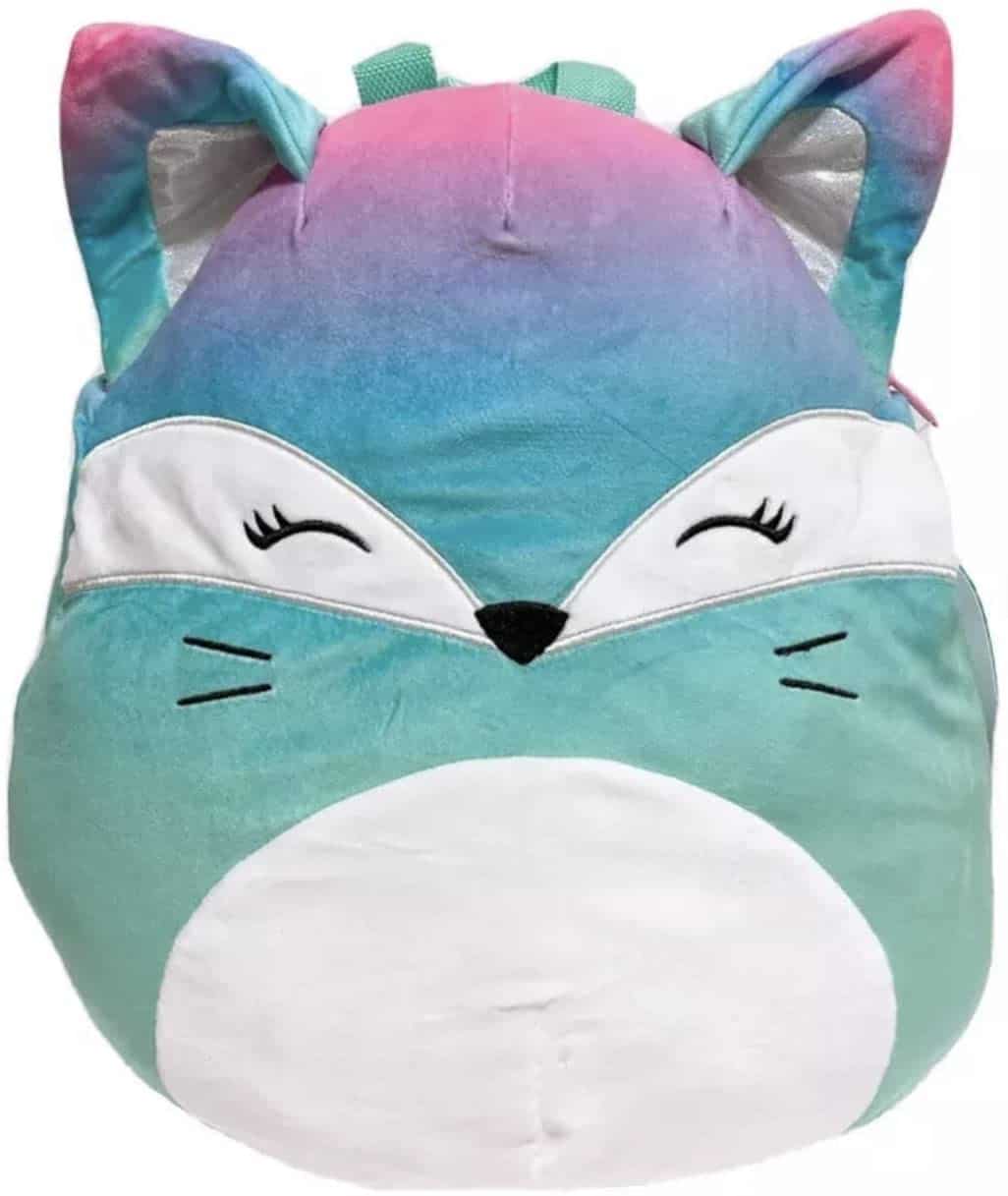 Vickie is a bit of a diva or a drama queen, but she's adorable. She's always watching her favorite shows with every ounce of attention she possesses. If not, Vickie's in the kitchen to create the most delicious cupcakes. At least her baking skills make me think of my daughter. Okay, maybe my girl's also still a drama queen.
Features
Squad: Squishmallow wildlife and backpack squads
Member: Vickie Fox backpack Squishmallow
Hobbies: Baking and shows with drama or comedy
Who Should Wear This Squishmallow Backpack?
Vickie is another character I'm not sure suits anyone specific. She most likely fits the girly side better, and she can help kids grow their passion for creating unique foods and bakes in the kitchen. What mom doesn't want her little girl learning to bake and assisting in the kitchen?
Pros
Vickies cat mask and ears make her look more realistic than the other backpacks
Cons
The Vickie Fox backpack doesn't suit many children
I don't like that her eyes are closed
Bonus Squishmallow Backpack Options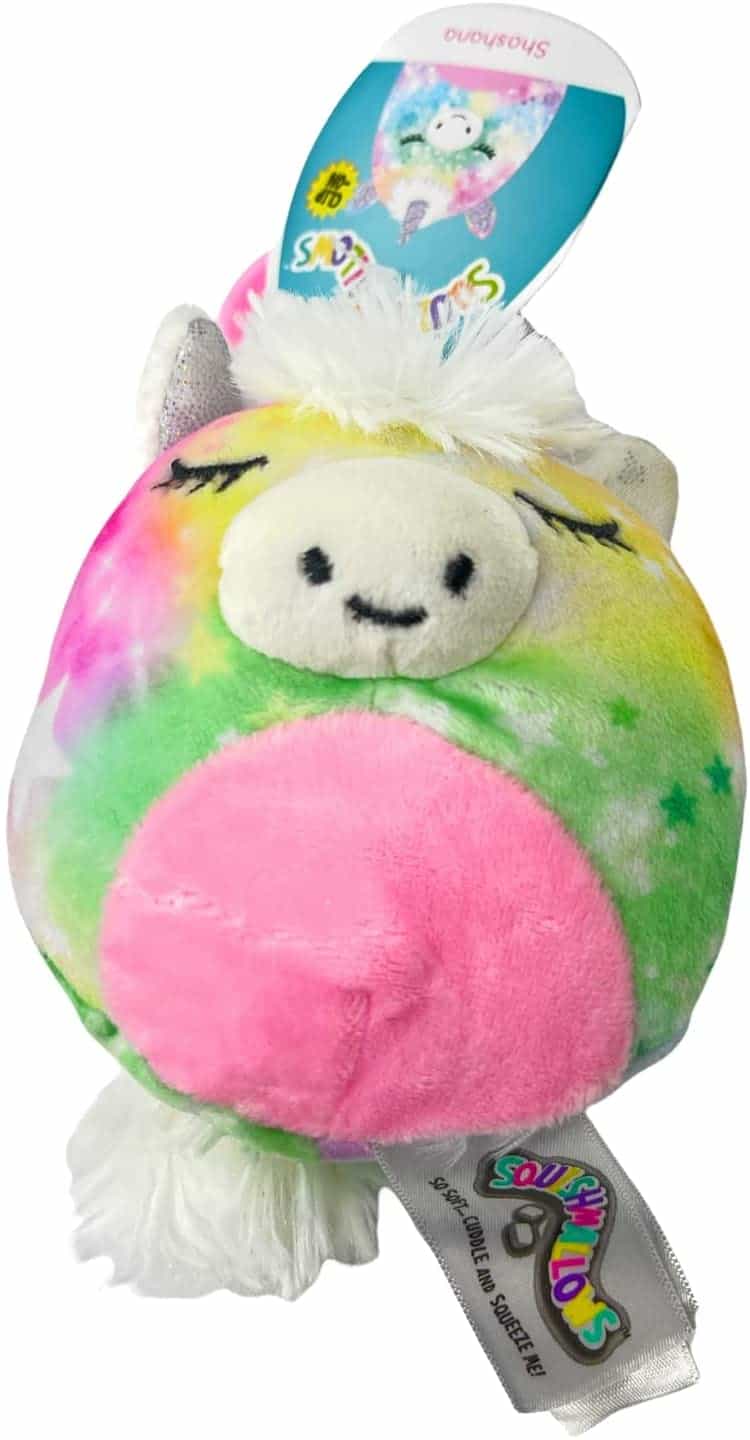 I'll divide the Squishmallow backpack accessories into two categories, with ten samples each. As a bonus, I'll add one hobby for each keychain. You should have the knack of matching your child's Squishmallow personality and hobbies now.
Squishmallow Backpack Accessories for Girls
Squishmallow Backpack Accessories for Boys
Austin the Avocado Squishmallow Keychain (dreaming of space)
Bernie the St. Bernard Squishmallow Keychain (mountain-climbing)
Fania the Owl Squishmallow Keychain (storytelling)
Freddy the Zebra Squishmallow Keychain (video games)
Glena the Eggplant Squishmallow Keychain (surfing)
Hudson the Unicorn Squishmallow Keychain (socializing)
Magela the Crab Squishmallow Keychain (chilling with friends)
Paul the Koala Squishmallow Keychain (playing sport)
Renne the Latte Squishmallow Keychain (playing lacrosse)
Top Q&A
Question: Which Squishmallows Backpack is Rare?
Question: How Many Squishmallow Backpacks Exist?
Question: Which Squishmallow Backpack is the Most Popular in 2022?
Squishmallow Backpacks Guide: Conclusion
I was shocked to see how many Squishmallow backpacks exist because I consider myself a plush expert. I can't wait to find one of the rare exclusives, and yes, I'll spend some money on them. My kids already chose their favorite backpacks, and I'll be ordering them soon. Honestly, why should they wait?
What matches your child's personality and interests? Is your older son protective of his younger brother? In that case, the Denton the Chameleon backpack suits him perfectly. Does your little one need a new best friend they can also take to school? The Regina the Corgi backpack can be that friend.
The Kelina the Koala backpack can inspire teenage girls to be confident, and the Shantira the Dragon backpack can encourage kids to read more books. Do you have a child with many passions in life? The Drew the Dragon backpack fits their personality to the tee. You know how to pick one for your child now.
Maybe I should get to ordering mine while I leave you to do the same.
For more plushy surprises: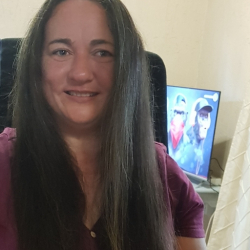 Latest posts by Caroline Lambert
(see all)