Saddle up, and let's go for a ride! Have you ever seen the movie Spirit: Stallion of the Cimarron? Or the Barbie movie Barbie and the Magic of Pegasus? If not, where have you been living all this time?
Anyways, I think almost every kid has begged their parents for a pony or two. I know I sure did and still want one to this day! We can't deny wanting a pony or a horse because they are adorable.
Bottom Line Up Front
Have you always been obsessed with horses but have never been able to afford one? Don't worry, I have a fantastic alternative with you, Horse plushies! They are cute and soft and make the perfect cuddle buddies on those lonely rainy days. 
So let me share with you my top 7 favorite plush horse options: 
However, not everyone can afford to buy ponies or horses; that's why we have to settle on something just as cute but a little cheaper than the actual horse.
And what is the perfect alternative? A cute horse plushie.
I have scoured through the internet to compile a long list of Horse Plushies. So keep reading to find your favorite plush horse idea.
Selection Criteria for Horse Plushies
Things to consider when choosing your next horse plushie:
Keep the age group in mind to avoid choking hazards and future divorces( if your partner does not like the plushies)

Consider the size and the purpose of the horse plushie, whether it will be for cuddling or decoration purposes.

Is it easy to keep it clean? And is it machine washable? This makes things a little easier and is more hygienic for you and your little ones. 

The softness and texture of the horse plushie

Consider the quality and materials that are used. For example, are their eyes made of buttons or are they embroidered. 
Horse Plush Ideas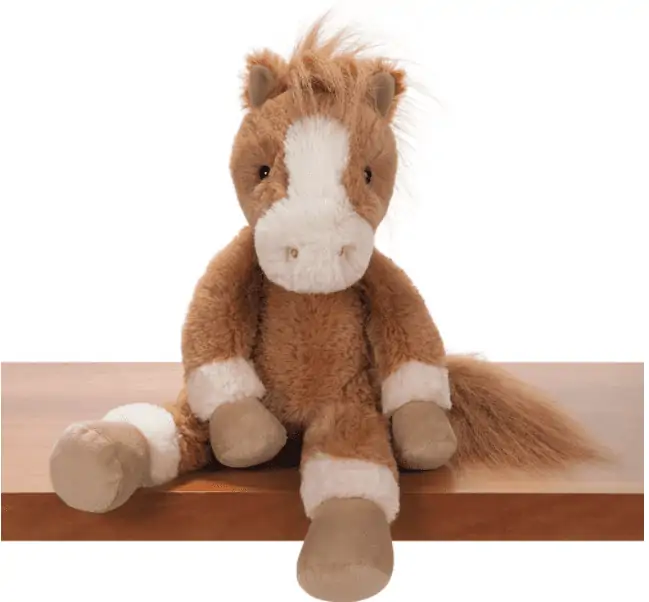 This cute and cuddly horse plushie is made from the softest fabric. And while it is a soft and cuddly friend, it is also a comforting friend as it is a weighted plush, designed to relieve your anxiety at night or whenever you are feeling anxious. 
Why I Love this Plushie?
I'm someone who deals with anxiety on a daily basis, and the smallest things can cause me to get stressed. Weighted plushies like Buddy are perfect for me to cuddle with and calm me down when I'm feeling super stressed. 
Who is this Horse Plushie for?
This horse plushie is perfect for someone who loves cuddling.

For someone who has anxiety

For someone who wants to keep their stuffed animal forever- with this plushie, it is possible because it has a lifetime guarantee.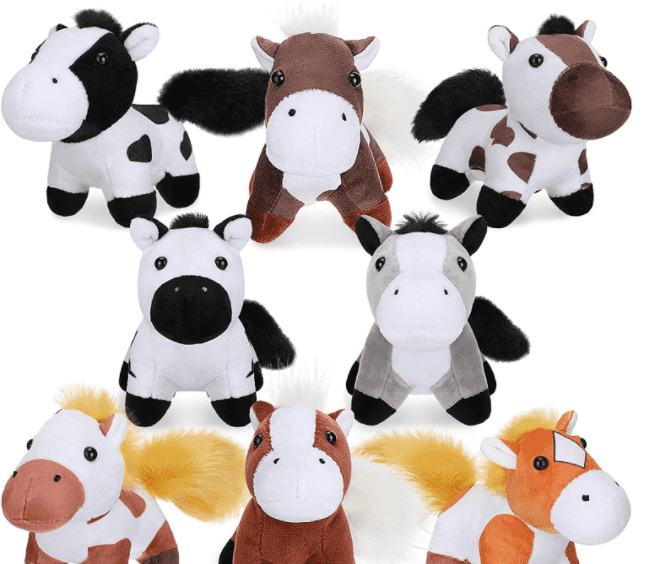 What is better than 1 plush horse, 8 plush horses! This plush toy comes in a set of 8 different plush horses. So if you have a kid with a big friend group, this will be perfect for each friend to have their own horse. 
No, this does not mean we, as adults, can't buy it. If you have a big friend group or a big family that likes to get together, this will be a cute surprise handing them their very own horse. You can make up stories, choose a different personality for each horse, and come up with funny names. 
And then each time you get together, you can bring your horse with you, and they bring theirs. It is a fun way to connect and become closer with your friends and family. They are also perfect for decoration, just in case your friends don't want to bring their horses with them to each get-together but instead want to use them as a decoration in their house.  
Why do I Love this Plushie?
I get a variety of different horses with different designs. They are soft and fluffy and the perfect plushie to throw in my handbag or suitcase when I'm traveling. I love these horse plushies even more because I can give them each a horse plushie instead of getting my friends' friendship bracelets. 
Who is this Horse Plushie for?
This set of 8 horse plushies is for kids or adults who have big friend groups and want their friends to have a matching plushies. It is also for people who love horse décor and use these cute horsies to decorate their homes.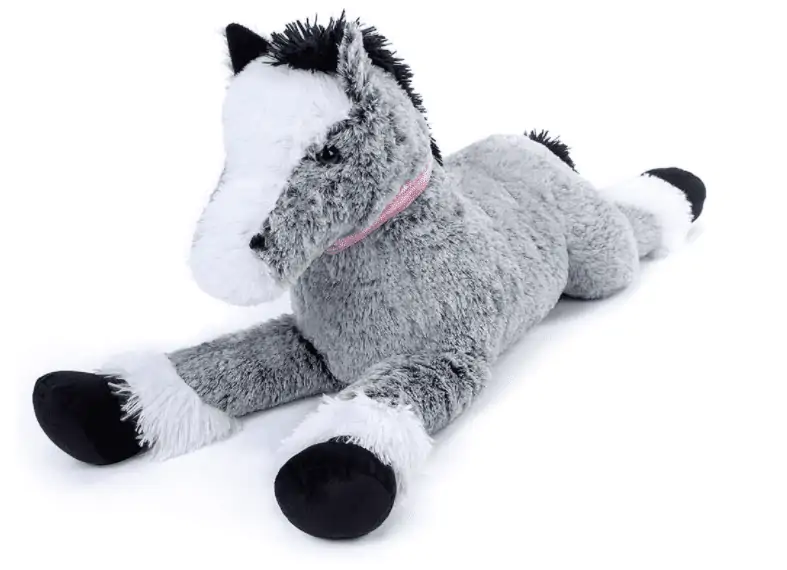 This big guy is the perfect gift for a child who is 3 years and older and who has been nagging you for a pony forever. Now you can put a smile on their face with this soft and cuddly friend. It might not be the real deal, but it is close to it. Don't have a child? Well, you can still use it as a pillow or for decoration in your house. And I can assure you that everyone will want one once they see it. 
Why I Love this Plushie?
I love this horse plushie because it is big and fluffy and will make a great cuddle buddy when my husband works away from home. And It has a pink glittery collar that just adds to its cuteness. 
Who is this Plush Horse for?
This horse plushie is for anyone who likes to cuddle up with something soft and fluffy while watching a movie or taking a nap.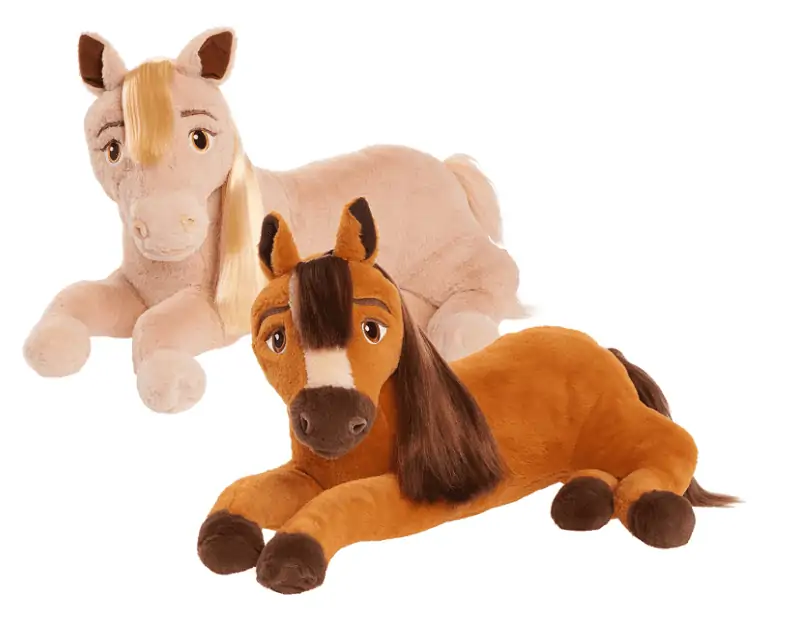 Has your kid been obsessed with the movie Spirit Untamed lately and just wants a horse with all their heart? Well, I have some great news! There is a plushie version of Spirit that your kids will absolutely adore! I'm an adult, and I want one! 
Why do I Love this Plushie?
Okay, so this is something that I really don't want to admit, but since you are my family over here, I think it is okay to share this with you. Since the movie Spirit Untamed was released last year, I have watched it at least 15 times. I know, shocking! And there aren't even kids to blame this for! And each time I have watched this movie, I have nagged my husband to get me this plushie. He got his ratchet spanner set, whatever that is. And I finally got my Spirit Untamed horsie.  
But you are probably wondering why I'm so obsessed with this plushie apart from it being a movie character. I can do its hair! Jip, I can now try new hairstyles on Spirit before trying it on my own hair. And now both of us can flaunt our hair in style. 
Who is this Plush Horse for?
This plush horse is for anyone obsessed with the Spirit Untamed movie. It is also for those who love styling hair. And if you suffer from anxiety, it will also help relieve your stress while playing with Spirit's hair.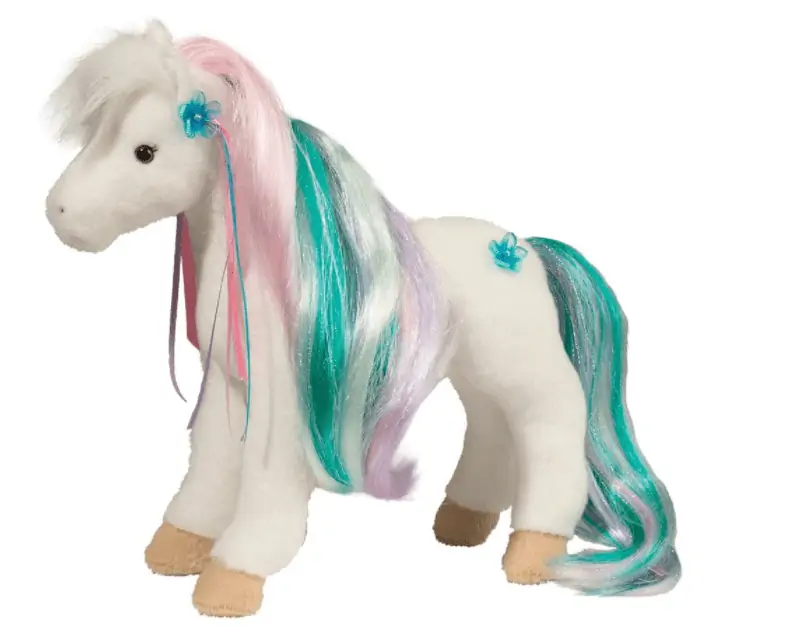 If you ever have a child that loves being a princess and is obsessed with having a white horse. This is the perfect gift for her. This Rainbow Princess Horse Plushie is white, and her mane is colored in rainbow with flowers and ribbons as decorations. The different colors in her hair are aesthetically pleasing and make it fun to braid. The only sad part is that she will get dirty very quickly because of her white colored coat. 
Why Do I Love this Plushie?
I love her rainbow-colored hair and that she has flowers and ribbons that add to her personality. It is also enjoyable styling her hair. 
Who is this Plush Horse for?
This plush horse is for anyone who dreams of being a princess and owning her own white horse.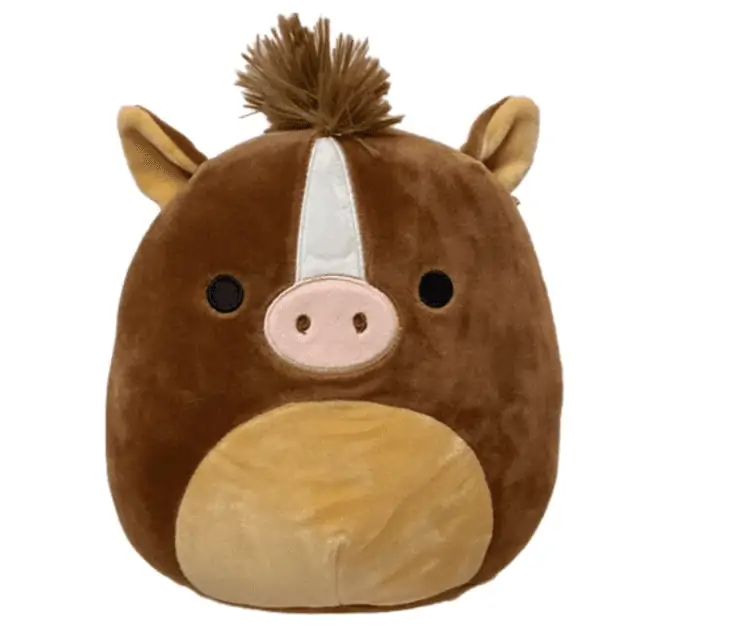 Meet Brisby the Horse Squishmallow! And like any other squishmallows, he is very squishy, soft, and cuddly! A plushie list could never be complete without a squishmallow.
 He's the perfect companion whenever you feel alone. He can sleep with you, watch your favorite movies with you, and can comfort you whenever you feel lonely. You only have to give him a tight warm hug! With this adorable horse squishmallow you get the best of both worlds. A cute horsie face with a cute piggy nose. 
Why do I Love This Horse Plushie?
I love this horse plushie because not only is it super soft and cuddly, but I don't have to worry about it getting dirty quickly because of its dark brown color. And it makes the perfect friend to my unicorn and penguin squishmallows.
Who is this Horse Plushie for?
This horse plushie is for anyone who is a fan of squishmallows or collects them. Or for someone who needs a super soft and comforting hug.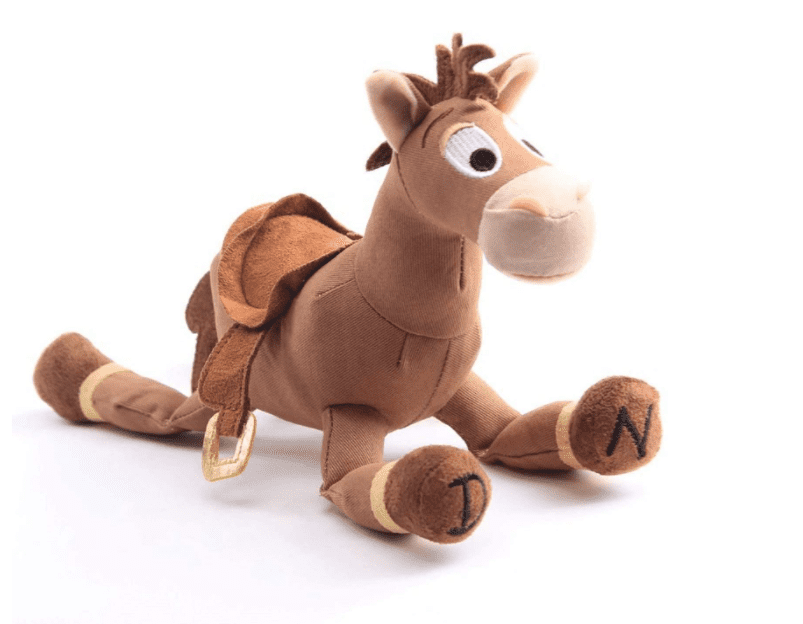 Were you obsessed with Toy Story growing up? Who wasn't? I remember I would play with my toys, leave my room, and then turn around quickly to see if any of my toys had moved. To this day, I wish my toys could talk to me; it will make our conversations so much easier. 
Why do I Love this Plush Horse?
Because he brings back so many childhood memories that I will cherish forever.
Who is this Horse Plushie for?
It is for anyone who is a big fan of Toy Story or anyone who wants to add a cute and friendly horse to their plushie collection.
My Favorite Horse Plushie
Can you guess who my favorite horse plushie is? 
If you guessed the Spirit Riding Free Large Spirit Plush, you are 100% right, my friend. This horse is my favorite because of the movie and because it has such a cute face and semi-realistic features. So if you are like me and are obsessed with the film and want your very own spirit horse, go and nag your partner now!
FAQs
Question: Is a Plush Horse a Good Gift?
Answer: Absolutely yes! A plush horse is a perfect gift for anyone obsessed with horses. Whether they are 3 or 30 years old, they will be more than happy to receive these cuties as a gift. Just make sure to choose a horse plushie that complements their personality.
Question: How Much Does a Plush Horse Cost?
Answer: This will all depend on the size, brand, and quality horse plushie you are looking to buy, but to give you a price range, they can go anywhere from the $10 range to over $100. Keep in mind the shipping cost is not included and may vary from horsie to horsie.
Question: Where Can I Buy a Plush Horse?
Answer: You can buy the cutest plush horses on Amazon, eBay, or your nearest shopping mall.
Conclusion
 Every single one of us has or had been obsessed with ponies and horses when we were children or maybe  we are still obsessed with them to this day. I, for one, had been obsessed with ponies when I was 6 or 7 and never really grew out of it. At 23 years old me and my husband's bed are full of plushies. Don't worry; he is okay with it. 
But honestly, all the plushies listed above can bring you, your children, or your grandchildren so much joy. It doesn't have to be a specific horse plushie to bring you happiness, as each plushie on this list mentioned above has its own characteristics and personalities that you can vibe with. 
Which was your favorite horse plushie growing up, and what is your children's favorite horse plushie? Let us know in the comments below. 
Use this best horse ideas guide as inspiration when looking for your or your kid's next horse plushie. I hope you enjoyed this article and now have a better idea of what to look for when you go plushie shopping next time. Happy shopping, guys, and girls!       
Find more incredible toys, by reading these guides below:
Best Sonic Plush Guide for Speedy Fans
Best Dog Squishmallows – A Guide To Finding Your Bestfriend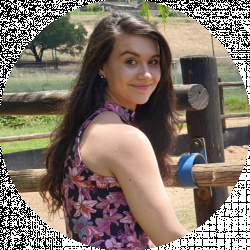 Latest posts by Christine Kent
(see all)