If you knew me, you would know I'm obsessed with cows. Whether it is cow print fashion, cow print nails, cow print stationery, cow print plushies, etc. I need to have it! My favorite cow plushies are the cow Squishmallows. What is not to love? They are adorable, soft, and squishy. And it literally feels as if you are hugging a marshmallow. 
Squishmallow cows have been my latest obsession this past year. I'm constantly scrolling the web for new cow Squishmallows. I was so excited when I discovered Bubba, the Squishmallow cow. Purple colors are my favorite, so of course, I was besotted with him and the fact that he is a cow. 
That is why I'm thrilled to share my Bubba Squishmallow guide with you all today. In this guide, you will get all the tea on Bubba and what makes him special. Ready for the Bubba adventure, guys? Let's Mooooove!
Bottom Line Up Front
Do you love Squishmallow cows? Well, I have exciting news for you! Today I will share a cute Squishmallow cow Bubba that you can add to your collection. I will share in-depth details about him and provide you with different size options. I will also share with you the pros and cons of Bubba. 
My favorite size for Bubba is definitely the 16 inches. Comfort is my priority, so when I sleep at night, I need something to cuddle with and a soft, comfy pillow to rest my head on. And the 16-inch Bubba Squishmallow checks all of those boxes.
I also love the 8 inches. I love bringing plushies when I travel, but sometimes they take up too much space. In this case, the 8-inch Bubba Squishmallow cow is the perfect size to travel with as it won't take up a lot of space. He also makes a great cuddle partner, even though he is small. 
More About Bubba the Squishmallow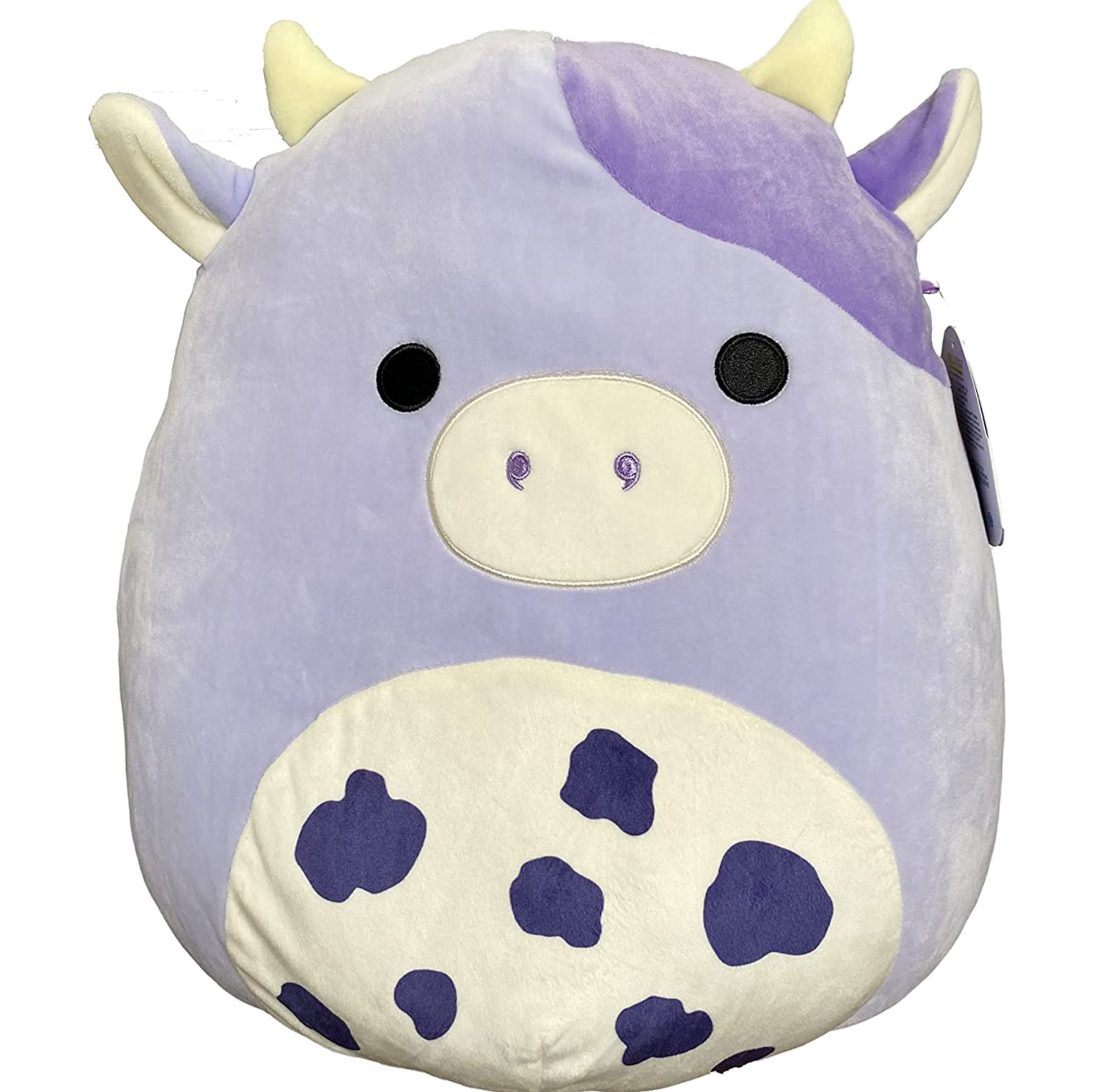 Appearance
Bubba is a purple cow with yellowish horns and nude color inner ears. He has a darker purple patch above his right eye, covering part of his ear. Bubba has round black embroidered eyes with a white muzzle and purple nostrils. He has a white belly with dark purple patches. 
The Story of Bubba
Even though Bubba isn't very tall, he is lightning-fast and plays center on the court. Want to know what his secret is? His layout. He dreams of one day going pro. We believe in you, Bubba!
What I Like About Bubba
I love Bubba's color! It is so aesthetically pleasing and calming. I also like the darker purple patches on his white tummy. It reminds me of clouds floating in the sky. His purple embroidered nostrils that look like commas are adorable to me. 
Let us have a look at the different sizes Bubba comes in:
Different Size Bubba Squishmallow Options
Here is different size of Bubba Squishmallows to choose from:
Bubba also comes in a mini plush version that is a lot fluffier.
Pros and Cons of Bubba the Squishmallow Cow
Pros
All of the Bubba Squishmallows mentioned are officially licensed Squishmallows.

I love that the facial features are embroidered; it makes it safe for smaller kids to play with.

The color of Bubba and the darker purple patches on its tummy are aesthetically pleasing. 

It is suited for girls and boys.

I love his texture and how squishy he is.
Cons
The inside of his ears, belly, and muzzle will show stains quickly. 

Most of the Bubba Squishmallows mentioned are very expensive.
Alternative Squishmallow Cows
Here are some alternative Squishmallow cows if you can't find Bubba in stores or online. All the cows mentioned below will be in 7.5/8 inches. I feel that it is the most practical size. It is great for kids to play and cuddle with. It can also become a travel companion and go on adventures with you. Please note that each of the Squishmallow cows mentioned below is available in other sizes. 
Are you ready? Let us have a look.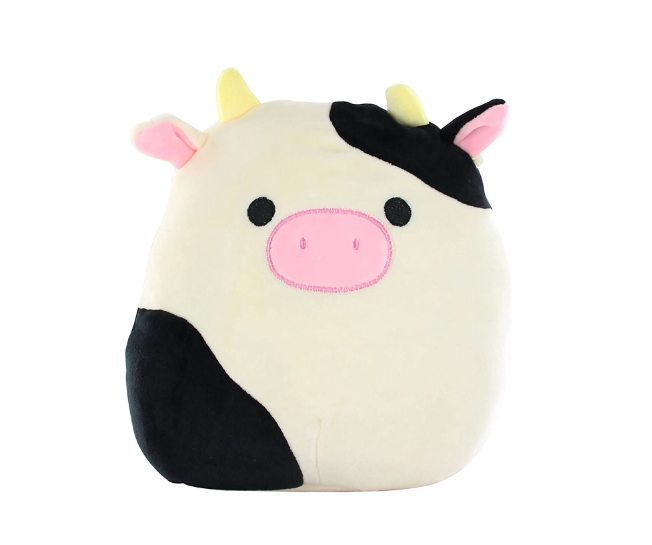 Meet Connor, the Squishmallow cow guys. He is a white cow with black patches on the bottom of his left side and the top part of his head. His inner ears are baby pink, and so is his muzzle. He also has cute yellow horns. Connor was born an athlete. He likes riding his bike everywhere and racing. So you better mooove out of the way before he rides over you. 
I love Connor the Squishmallow because even though he is a plushie, he looks similar to a real dairy cow. He is the perfect option for cow lovers or Squishmallow collectors who want their Squishmallow to look more like the real version. 
Other Versions of Connor:
Connor Hug Mee

Connor Stackable (2018)

Easter Egg Connor

Bunny Ear Connor

Fuzzy Connor

Connor Fuzz-A-Mallow

SDCC 2022 Connor

Harvest Connor
Pros
I love that even though he is a Squishmallow, he still has somewhat of a realistic look. 

I find his pink inner ears and muzzle adorable!

Makes a great cuddle and play, mate. He also makes a great travel partner and adventure companion. 

Connor is available in many different variations. 
Cons 
The white parts of his body will show stains easily.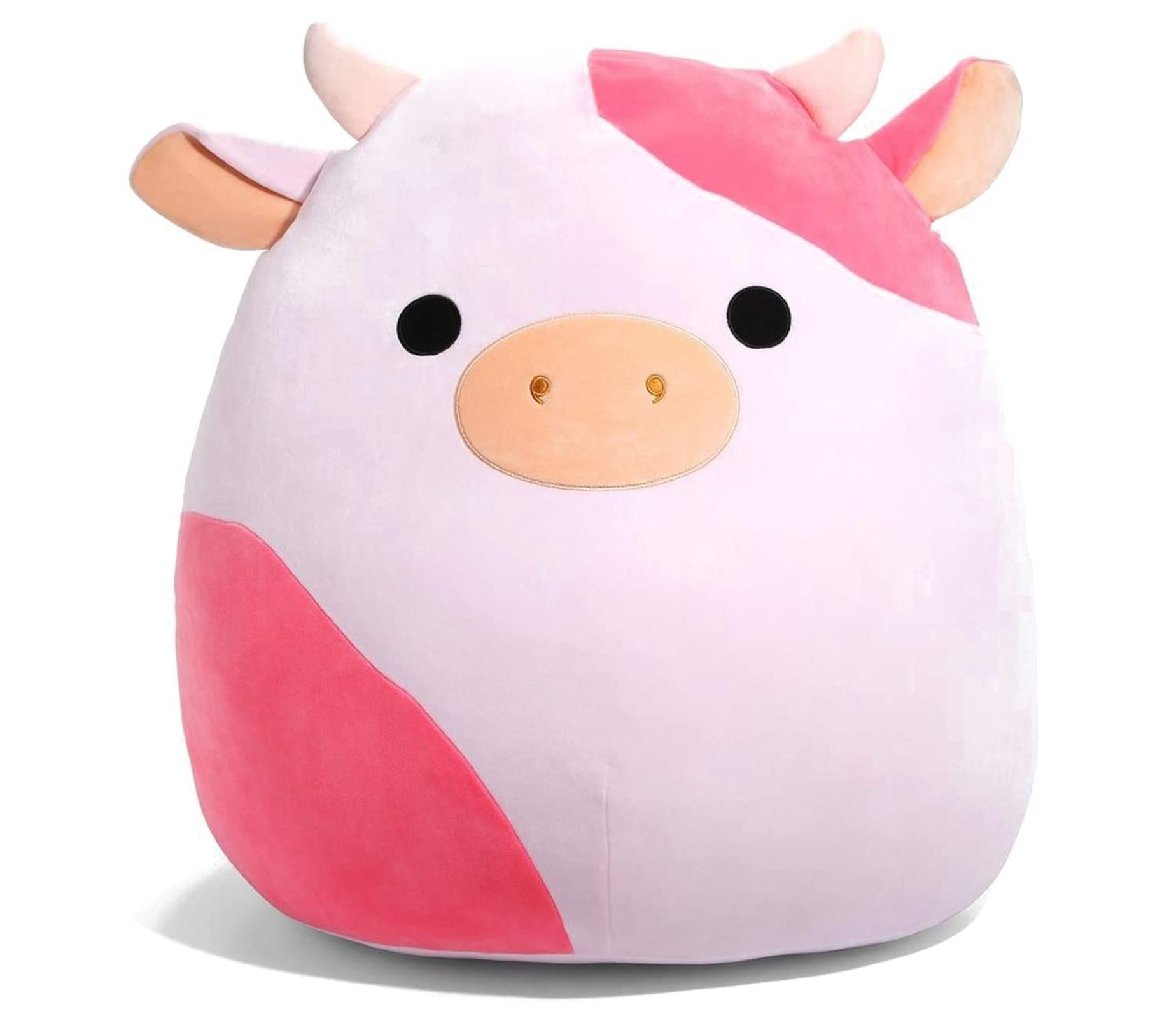 Say hi to Reshma, guys. She has a white body with coral pink patches on the part of her head covering her right ear and left side. She has round black embroidered eyes and nude horns. The inside of her ears and her muzzle are also nude. 
Reshma is another cow who likes to ride a motorcycle. She loves riding to the beach and mountains and even through the forest. Her favorite place to ride to is the strawberry fields. This is where she gets baskets of strawberries to bake her favorite treat. Can you guess what it is? If you guessed strawberry shortcake, you are correct! 
I adore Reshma because of her coral pink patches. Her coral pink patches and white body remind me of my favorite pink and white swirl ice cream. Yum!
Other Versions of Reshma:
Reshma w/ Bandana

Strawberry Reshma
Pros 
Her features are very aesthetically pleasing.

She will make a great addition to your other Squishmallow cows.
Cons 
Stains will show up easily on her white body.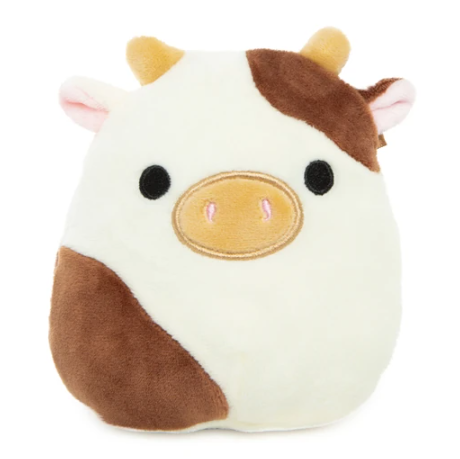 Meet Ronnie, guys! Ronnie is a white and brown cow. His body is white, and he has brown patches that cover the right side of his head and ear. His left side also has a brown patch that matches his brown muzzle and horns. He has round black embroidered eyes and pink inner ears that match his pink nostrils. 
Ronnie loves building and painting birdhouses with his sister Belana. So if you love getting creative and building things, you and Ronnie will get along great!
I love how his brown and pink features look together. Why do all the Squishmallow cows remind me of ice cream? 
Other Versions of Ronnie:
Ronnie Hug Mee

Ronnie-

Rosie

 Flip

Ronnie Squish-Doo

Ronnie with overalls

Day of the Dead Ronnie
Pros 
His brown and pink features look very aesthetically pleasing together.

He is machine washable.

It is suitable for all ages due to its size, amazing quality, and embroidered features.
Cons 
The white part of his body will get dirty easily.

Ronnie is quite expensive.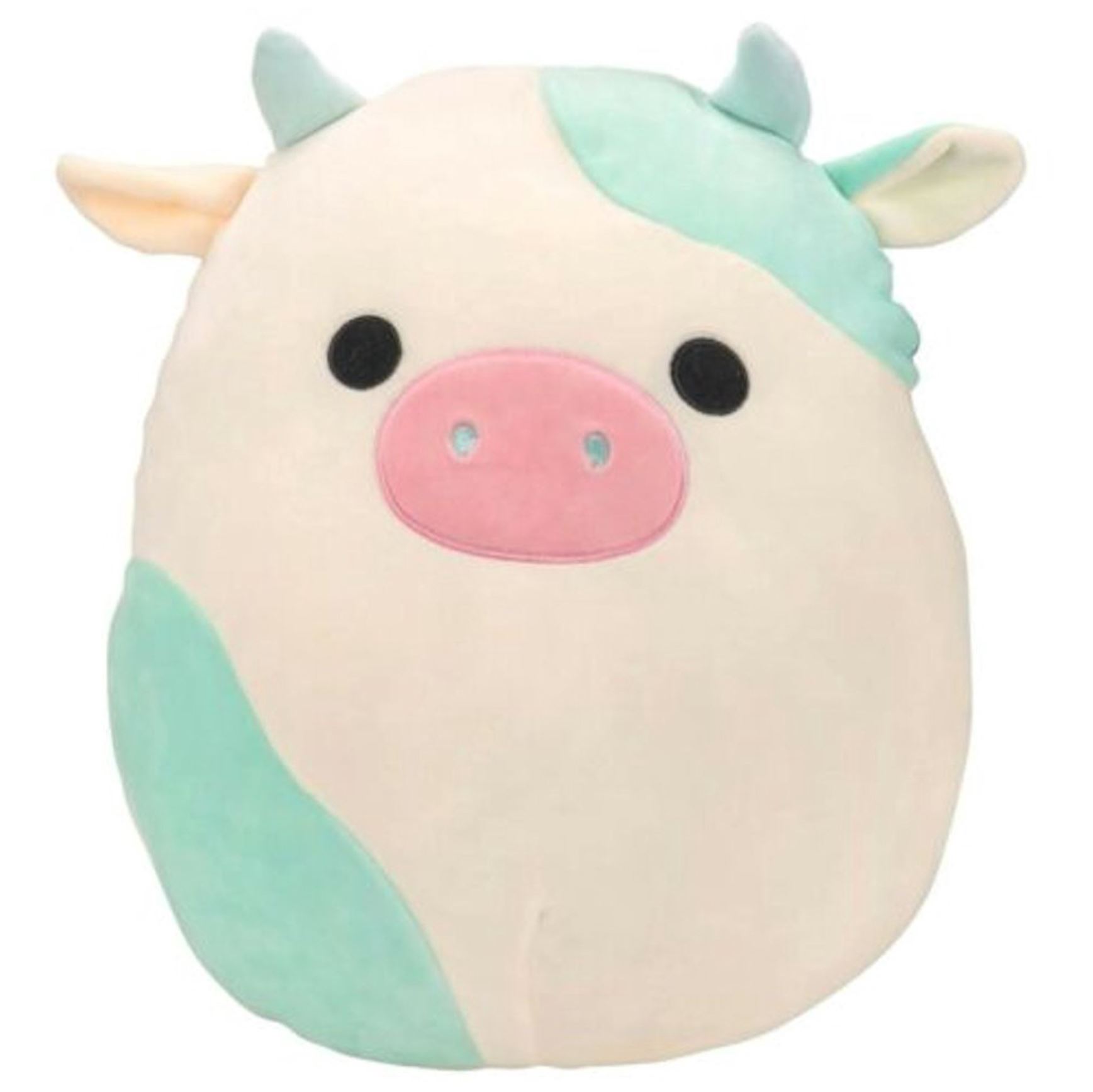 I included Ronnie, so it was only fair to include his sister Belana too. Say hi to Belana, guys. She is a white cow with teal patches covering her right ear and her left side. She has round black embroidered eyes with a pink muzzle. Her horns are teal, and so are her embroidered nostrils. 
Belana loves being creative and painting furniture and woodwork that was made by her brother Ronnie. She would love to attend art school one day. We know you can do it, Belana!
I love the teal features of Belana. It is just so calming and aesthetically pleasing. 
Different Versions of Belana:
Walgreens Easter 2023 Belana

Belana with Flower Crown

Belana with Purple Bandana

Belana with Green Bandana

Belana Stackable

Belana Hug Mee

Belana Easter Hug Mee

Belana with a bat costume
Pros 
I'm just obsessed with her teal features. It is so calming.

I love how her pink muzzle stands out on her white body.
Cons 
Unfortunately, stains will show up easily on her white body.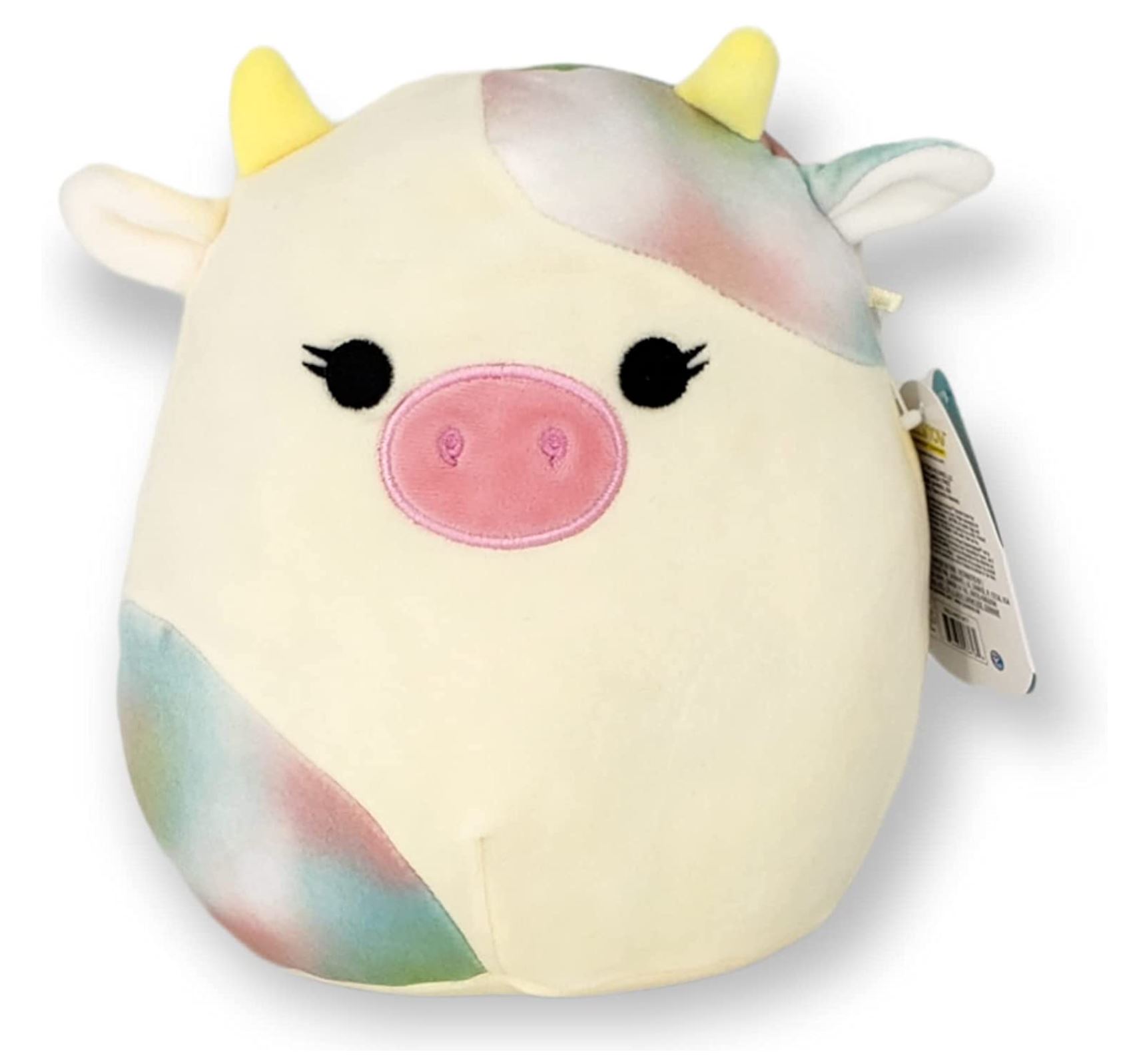 Meet Candess, the Squishmallow cow guys! Candess is a white cow with rainbow tie dye patches covering her right ear and her left side. She has yellow horns and round black embroidered eyes with pretty eyelashes. She has a pink muzzle with the outline of her muzzle and nostrils being shiny pink stitching.
Candess the Squishmallow has such a great heart and cares about people immensely. She is in school for nutrition and anatomy. Candess wants to open her own holistic practice after school because she loves helping people heal emotionally and physically.
I think Candess is adorable! I love rainbows, so Candess having rainbow patches moves her to the top of my favorite list.
Other Versions of Candess:
Pros 
I'm obsessed with her rainbow patches. She just creates such a positive and happy environment.

Her eyelashes are on fleek!
Cons 
Her white body will get dirty very easily.

She is a bit pricey.
How To Make Sure You Get an Authentic Bubba Squishmallow
The following are some tips to ensure that you don't get scammed. Since the Squishmallows have been released, more fake Squishmallows are reaching the market. I'm here today to share with you how you can ensure you don't get scammed. 
Your Bubba Squishmallow should have 3 tags, and here is what each tag should say:
Tag 1: "Original Squishmallows: Squeeze and cuddle me."
Tag 2: This tag will say Kellytoy with some info on Bubba the Squishmallow.
Tag 3: This tag will give you Bubba's Id, batch, and production info. 
Make sure the Squishmallow is from a verified site or the official site. If not, it is likely, not authentic. 

You can also do a hug or squish test in-store. Authentic Squishmallows will be of high quality and made of polyester fibers. This makes their texture feel marshmallow-like. If the Squishmallow is not soft and marshmallow-like, chances are it is fake. 
FAQs
Question: Is Bubba Squishmallow a boy or a girl?
Answer: When referring to Bubba, he/him pronouns are used, so we can assume that Bubba the Squishmallow is a boy. 
Question: What Squad is Bubba the Squishmallow from?
Answer: Bubba, the cow Squishmallow, is from the Easter Squad.
Question: Where Can I Find Bubba Squishmallow?
Answer: You can find Bubba at the following places:
• Amazon
• Walmart
• Etsy
• Five Below
• Ebay
Conclusion
That is it for the Bubba Squismallow guide, guys. I hope you found the guide "legen-diary." I love Squishmallow cows, especially Bubba. I'm just obsessed with his purple color and how the darker purple patches on his white belly look like clouds floating in the sky. He will add a calming and peaceful vibe to any room you add him too.
What size of Bubba was your favorite mentioned in this guide? Let me know in the comments below. I recommend getting the 8 inches. It is an excellent choice for kiddies as it is a size they can play, snuggle, and even travel with.
I would also recommend getting the 16 inches. This size is not only amazing to cuddle with and display in your room. But it makes a fantastic pillow. It will literally feel as if you are sleeping on a marshmallow. Now that sounds amazing. Why do you need regular pillows when you can have Squishmallows?
Get yourself a Bubba Cow Squishmallow today, guys, and experience the ultra-soft love it will give you. "Moo-chas Grass-cias," guys!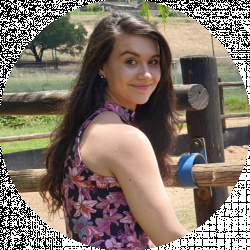 Latest posts by Christine Kent
(see all)