It's no secret that the cows are fan-favorites among our growing squish community. Connor being the very first one makes him extra special.
I think I love the cows because they weirdly cure my homesickness. I'm from rural North Carolina, and now that I live in Los Angeles, I feel like I never see animals.
Aside from my cats.
While I was far from a farm child, my favorite childhood memories are watching the cows at my grandpa's house over handmade ice cream at sunset. They're my favorite animal.
It also helps that Squishmallow's cow design is adorable as can be!
Since the cows are so popular, they tend to be hard to find, especially for city livers like me. However, as a professional squish hunter (self-titled), I am here to guide you to the perfect Connor for your life and budget!
My Top Pick: Mooove Over for Fuzzy Connor
Around Easter in 2022, a unique Connor came out where his black spots were fuzzy instead of the same texture as his white body. The eight-inch variant of this Connor was a Target exclusive and one of my all-time favorite squishmallows. The fuzz is soft and cute, and he's the perfect size for me and anyone else with limited storage!
The Lowdown First
Connor is the tenth ever squishmallow, meaning he's been around for a long time. Many sizes of Connor have been produced over the years, but aside from a couple of Easter exclusives, his design has stayed the same. Because of this, I think that the Five Below Connor is the best bang for your buck.
He is only $5.99 for what is usually a $12 plush and is the perfect size to cuddle with without sacrificing much storage.
My Top Five
Looking for a cuddle buddy? The sixteen inch fuzzy Connor can't be beat. 
Limited on space? Try a Connor clip.
An Easter fan? Bunny ear Connor is for you!  
Want something more unique? Connor cow-bat is adorable! 
Wanting something easy to display? The stackable Connor is great for shelves! 
Get to Know Connor
Connor is an athlete that loves running marathons and riding his bike through the streets of Cowlifornia! 
His squishdate is April 17th, making him and I aries twins! 
The Many Shapes of Connor
While Connor's traditional, marshmallow-like form is the most common shape to find Connor, I love the unique design of hugmee Connor's spots!
The Original Squishmallow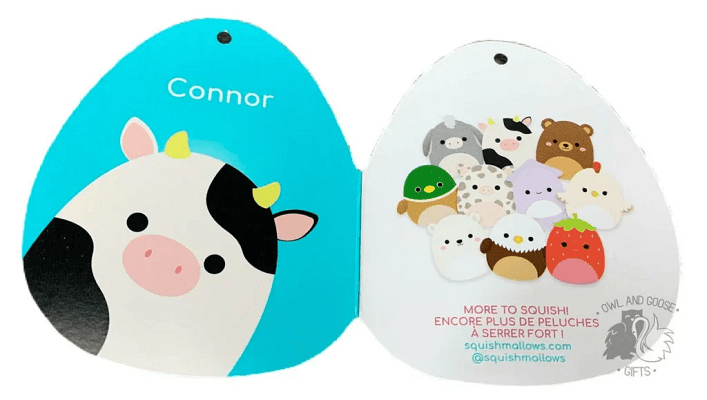 When you think of a Squishmallow, you probably imagine its iconic marshmallow-like design. The ones with the iconic plop videos that also make s-tier pillows. 
Like most squish, this is the easiest Connor shape to hunt for. This version of Connor sometimes pops up at Amazon, Five Below, Walgreens, and inside series 1 trading card tins at Claire's! 
Pros
Traditional Connor is the go-to shape for most size and style variants.
This shape is available year-round at any store that sells Squishmallows.
Cons
Connor is hard to find like the other cows and usually sells out minutes after a restock.
The two-inch micro inside the trading card tins is easy to lose, and my cats quickly deemed it a cat toy.
Custom Stackable Connor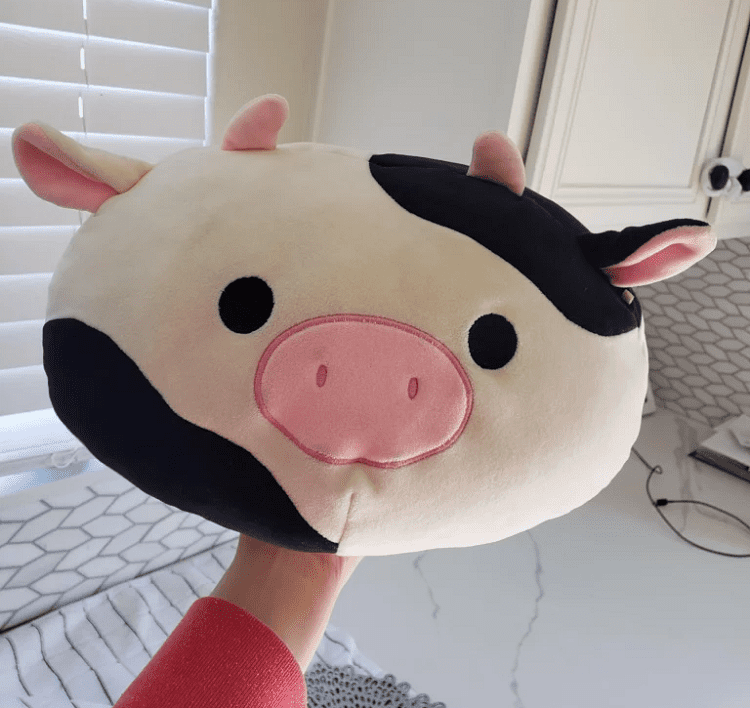 As of today, this is not an official product. The only stackables on the market are fan created using the shape of another stackable plush and the skin of a traditional Connor the cow.
However, with the growing popularity of the stackables among collectors, I think it's safe to say a Connor the cow stackable is on the horizon! 
Custom stackables are available at local squish meets, Mercari, and occasionally Etsy. 
Pros
They usually still have a tag since they are made using a real Connor squishmallow.
The stackables are made to stack on top of each other for display and easy storage.
Cons
This is an unofficial product created by fans, meaning that restock dates vary.
Custom squishmallows tend to be more expensive than the alternatives.
Hugmee Connor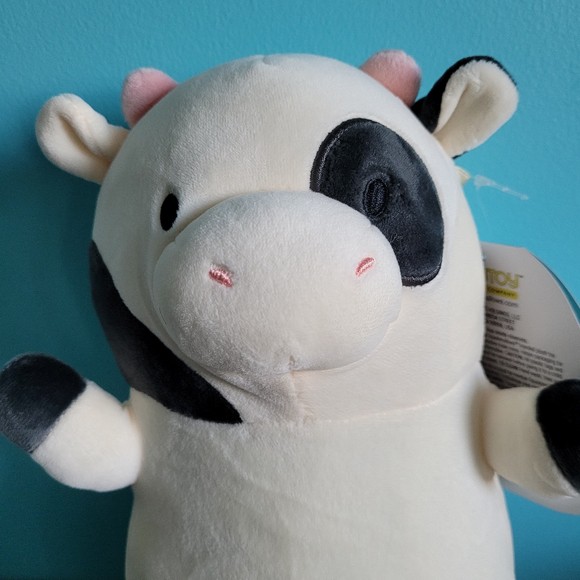 There are three different hugmees. However, only one is actually Connor!
The Aldi Easter exclusive is actually Cliff. He is identical to hugmee Connor, causing the two to often get confused for each other. He comes in a clear plastic egg-shaped container and has pastel pink and blue flowers on his hip.
An identical but larger hugmee also popped up around department stores last Easter. Her name is Marina, and her tag reveals she is Connor's cousin! It's unknown why Cliff and Marina are identical, even sharing the same flower design on their stomachs. The only difference is that Marina is fourteen inches, which is considerably larger than Cliff, who is a ten-inches.
The regular hugmee Connors are in claw machines around random department stores and diners. It became clear that it was not Cliff but Connor all along!
Since this Connor is only available in claw machines, your best bet in adding him to your collection is Mercari, squish meets, and collectors shops. However, he resells for $500, which is extremely expensive for a hugmee.
Pros
This is the Connor for you if you're looking for a challenge. He is the most difficult to find on this entire list.
I adore the design change for this version of Connor! The spot locations are adorable, and I love the pale pink horns.
Cons
He is only available inside claw machines. I've only seen him once, at the bottom of a machine in a Dennys.
The easter variant is exclusive to Aldi, which stopped receiving shipments in April.
The Many Styles of Connor
Connor is a primarily white cow with black spots on his rear and ear! He has black eyes, pastel yellow horns, and a pale pink mouth!
However, Hugmee Connor has more black spots and a white mouth.
A special edition Connor is coming to the San Diego Comic-Con in 2022 and will be fully in grayscale. He has a light gray body, dark gray spots, and golden horns, ears, and snoot.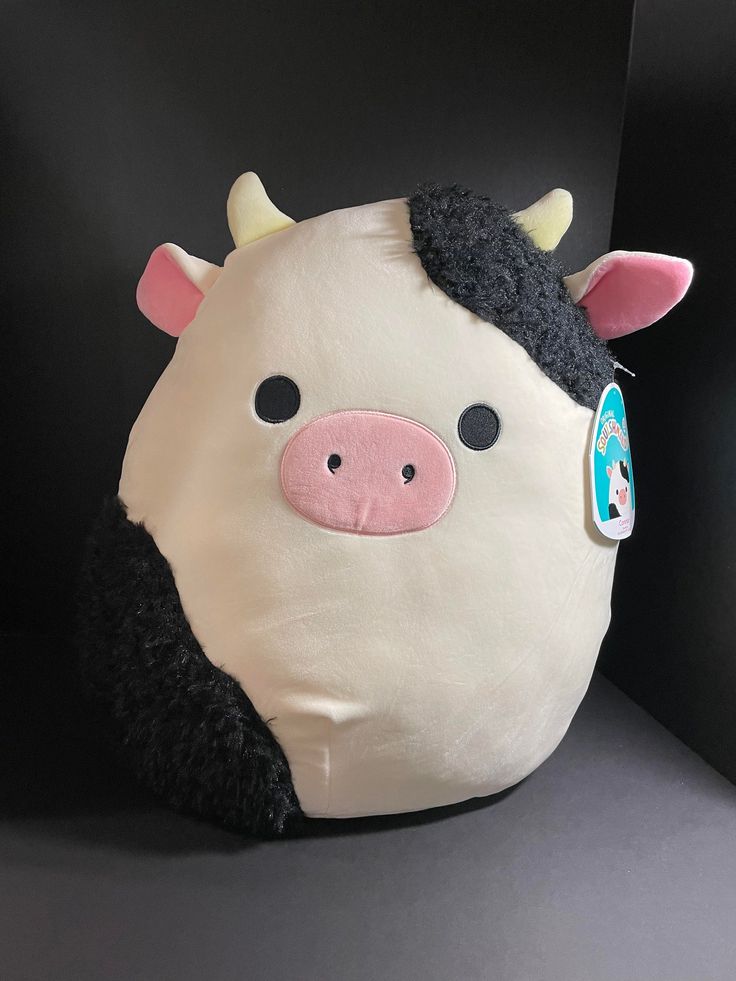 Fuzzy Connor is an exclusive spring design that first debuted in 2022. He's identical to the Connor we all know and love, but his two block spots are a fuzzy material instead of the usual velvet soft texture.
Based on pictures alone, my biggest complaint about this variant is that I thought he was hideous. The fur looked splotchy and flat, but in person, he's gorgeous. The fuzz is soft and fluffy.
This version of Connor comes in two sizes: the eight-inch exclusive to Target and the sixteen-inch exclusive to Walgreens.
Pros
It comes in two sizes. An eight-inch that's perfect for those with limited space and a sixteen-inch that is perfect for cuddling!
The spots are fluffy and soft.
Cons
This Connor is seasonal and exclusive to two different stores, making it a difficult squish to hunt.
In my opinion, this Connor doesn't photograph well.
SDCC 2022 Connor

This grayscale Connor is the newest edition to the series! He will be exclusive to the 2022 San Diego Comic-Con alongside a few other fan-favorite squish friends! Squishmallow announced that this Connor will be an eight-inch exclusive but gave no indication of how much he will cost at the convention.
Given the history of high resell prices for both event and cow Squishmallows, it's safe to assume that this Connor will be insanely expensive. So, if you're going to SDCC, be sure to pick one up! (I'll be super jealous!)
Pros
This highly exclusive Connor will be the rarest to own once it's released at the end of July.  

I love the gray and gold color scheme. It matches the new rarity tags Squishmallow is launching this year. 
Cons
Given the past exclusive Squishmallows' high value, the reselling price will probably reach the thousands. 

He will be nearly impossible to collect unless you have tickets to the SDCC. 
Holiday Connor

Surprisingly there aren't a ton of holiday exclusive Connor the cows! It makes sense that they're all Easter, given that most farm animals are associated with the holiday. However, tell me you wouldn't love a sugar skull Connor the cow for Halloween!
There are two holiday Connors. One is a five-inch that wears tie-dye bunny ears is exclusive to Five Below and is a part of a massive Easter squad.
The other is very similar to mystery squad Connor. It is the top half of the cow inside of a pastel easter egg. He is an eight-inch and can be found at various department stores such as Target and Walgreens around springtime!
Pros
If you love Easter, the exclusives are adorable.
Both are smaller sizes, perfect for children and collectors with small spaces.
Cons
I personally don't like either of the easter designs. They feel bland compared to other holiday exclusives.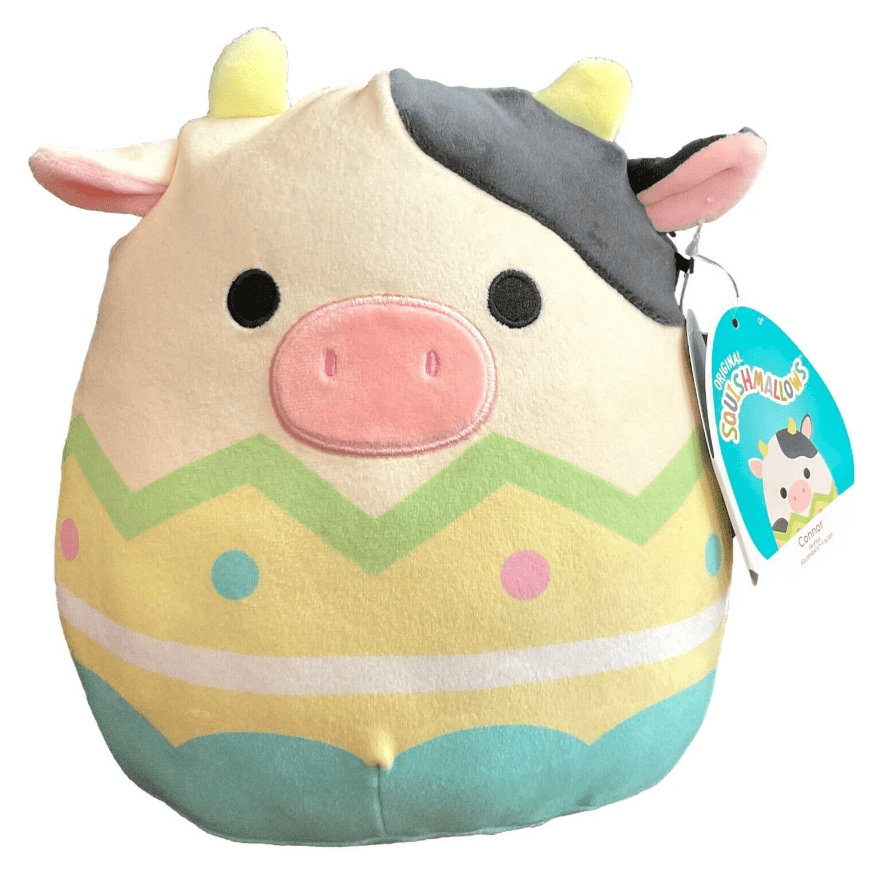 Easter 2022 Squishmallow launched an easter mystery squad. How the mystery squads work is they come in blind bags, each series having a different theme.
Unlike regular Squishmallows, these have wide animated eyes and are all scented. The exception is the secret rare in each set that usually has closed eyes. These Squishmallows don't have tags, and their names are often tweeted out by Squishmallows' official Twitter.
This is my least favorite Connor and least favorite mystery squad. He is an exact copy of Easter Connor, but with awful, yellow eyes. On top of that, I don't like any of the scents in this series.
The Connor is a mild coconut that you can hardly smell, but secret rare in this set smells exactly like Doritos. I'm not joking. It's pure fake cheese and corn chips and is insanely strong too. You can smell the secret rare without even opening the bag.
Pros
The blind bags are fun for collectors and children! 

The scents are usually sweet and refreshing. 
Cons
The designs are reused and unoriginal, making it hard to care about this series. 

The secret rare's scent is aggressively bad.
Custom Made Connor
The Many Sizes of Connor
Connor has been on the farm for quite a few years, debuting in 2017 as the 10th Squishmallow.Over the years, he's grown in popularity as well as size.
As a result, he's now available in a wide range, starting with two-inch micros found in collectors tins and ending with the massive twenty-four-inch squish.
Micro
The micros come in trading card collectors' tins. These tins can be found at department stores such as Target and mall stores like Hot Topic and Claire's.
The cards are growing in popularity because of the ability to win exclusive Squishmallows by pulling scarce cards. Inside these tins are three packs, a pin, and a micro squishmallow. Connor is among one hundred other squish friends in the first series of these tins!
Pros
Comes in a tin with trading cards and a pin! 
Cons
This size feels more like a cat toy. (My cats have taken claim to mine.) 

It isn't very squishy or soft. 
Clips
The clips are, in my opinion, the hardest to find size. This is for all popular Squishmallows, not just Connor. This is because they take up the least amount of space, allowing collectors to own more plush than they could with larger sizes. Connor's clip can pop up anywhere.
Squishmallows are sold but are almost guaranteed to sell out within minutes. If you're in a hurry to add him to your collection, he resells for $400 at collectors shops and Mercari. 
Pros
This size is perfect for storage nets, bookbags, and keys! 

It is only three inches, so perfect for limited spaces. 
Cons
They're more firm than squishy.
Five Inch
Much like the clips, this size is super popular among collectors. This makes it just as rare and expensive as the clips. The five-inch variant is usually released as holiday exclusives like the bunny-eared Easter Squad member.
Pros
Perfect for those with extensive collections or minimal space. 

I love to keep five-inch squish on the dash of my car! They make lovely decorations.
Cons
Since this is a rarer size, it resells for more than the twenty-inch.  
Eight Inch
The best part about this size is that a $5.99 eight-inch is often restocked at Five Below. This is the most common size among collectors and children as they are still plushy and soft like larger squish but don't take up nearly as much space.
Pros
The ideal size for collectors and children as they are perfectly squishy without eating too much space. 

Five Below restocks their $5.99 eight-inch Connor often! 

This is the most common size for special edition Connors. 
Cons
The eight-inch is not as soft and plushy as the larger sizes. 
Twelve Inch and Larger
Almost anytime I've found Connor out in the wild, it's been a twelve or sixteen-inch. This size of Connor is common at Walgreens, Walmart, and Kroger grocery stores. Depending on size and retailer, it runs between $10 and $40.
Pros
The perfect size to safe space but still have a ton of Squish. 

This is the most common Connor size that I find in the wild. 
Cons
These sizes quickly eat space in storage nets. 

The stuffing level varies from Squishmallow to Squishmallow, so some can feel less marshmallow-like than others. 
Alternatives to Connor
Connor the Squishmallow is the first of the extremely popular cow category. Since Connor, twenty-nine other cows have hit the scene, and I'm sure many more will come! So if Connor isn't the cow for you, I've listed some of my favorite alternatives!
The Bulls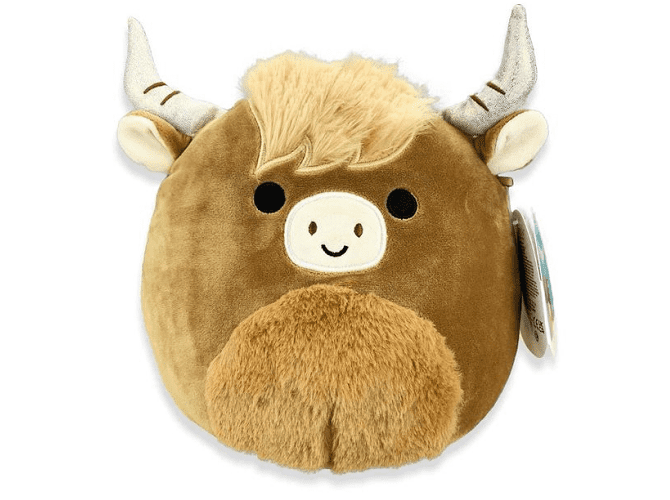 The bulls are also known as the highland cows. They feature long horns and fuzzy hair compared to their small-horned, velvety counterparts. In addition, they come in various shapes and sizes.
For example, Perni is a dark blue and white dude only available as an eighteen-inch hugmee. He was an easter exclusive at Target and now is valued at twenty dollars. 
Another is a rainbow pastel bull named Rondah. She is only available in the fourteen-inch size. She pops up randomly anywhere Squishmallows are sold and is valued at around thirty dollars. 
Wilfred is the most common long-horned to find out and about. I often see him at Walgreens and Walmart. He is a brown cow with tan bangs and long silver horns. Alternative versions of Wilfred look slightly different with tan horns and a dark brown beard instead of tan bangs. He comes in a wide variety of sizes ranging from five inches to sixteen inches. 
My personal favorite bull is Armie. She's a light blue cow with white bangs, belly fur, and long, silver horns. She is a sixteen-inch member of the Easter squad and can be found at Target during the spring. 
The Colorful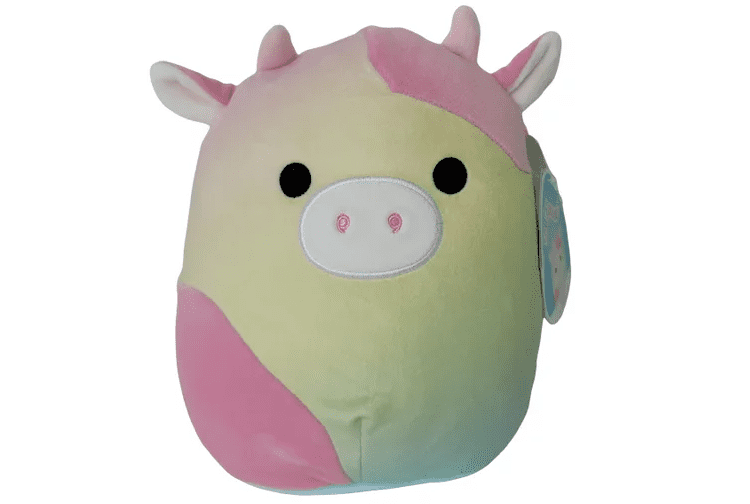 The majority of the cows are unnatural, pastel colors. The most popular color is pink. The queen of the pink cows is Caedyn.
Caedyn is a valentine's day squad member with tiny pink hearts for nostrils! She comes in a wide variety of sizes. She is findable outside of February as there are tons of different variants! The most recent is a light pink eight-inch that's exclusive to Walmart. 
My number one ISO right now is Calynda, the cow. She is a strawberry-themed twelve-inch that is exclusive to The Paper Store. Similar to Calynda is Reshma.
She is a BoxLunch exclusive that comes in eight- and twenty-four-inch sizes. Her eight-inch variant has a strawberry on her chest and can be found at BoxLunch's sister store, Hot Topic.
The second most popular color is, hands down, purple. The king of the purples is easily Bubba, the pastel cow with dark purple spots along his belly. He is available anywhere Squishmallows are sold, including Five Below, but is only available during Easter. 
Another popular color is blue. Belana is hands down the most famous blue cow on the market. He comes in multiple sizes, including stackable and hugmee, and can be found anywhere Squishmallows are sold. The only catch is that she is only available during the Easter season.  
My personal favorite of the pastel cows is Belozi. He is an eight-inch, Five Below exclusive that launched in the summer of 2021. He wears a bright blue bow tie and has a pink circle around his eye. 
There are tons of other colorful cows available, with more predicted to come out later in the year! 
The Neutrals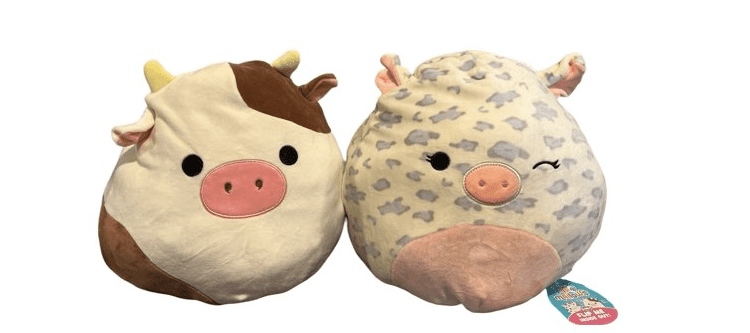 My personal favorite cows are the neutrals! They fit right into my living room cottage core decor and are harder to find, making them fun to hunt! 
The king of the neutrals (honestly, the king of the cows) is Ronnie. He's a brown and white fella and a member of the Farm Pals squad.
He comes in multiple sizes ranging from a three-inch clip to the sought-after, twenty-four-inch Cosco exclusive! His most recent addition is an eight-inch flip-a-mallow that is sold at Amazon. His alternative side is Rosie the pig! 
The closest in appearance to Connor is Clover, the bull. He has the same horns, pattern, and color scheme as Connor. The only difference is his more square mouth, flared nostrils, and nose piercing. In addition, he comes in three different sizes, all available exclusively through Shop Cows.
My naturals ISO is Nightingale, a light brown cow with dark brown spots on her tummy and ear. She is a fourteen-inch that can be found at department stores like Walmart. 
This is only a handful of the dozens of cows available at Squishmallow. There are tons and tons available, so get ready to mooove! 
Happy hunting.  
The Q&A's
Question: Is Connor the cow Squishmallow Rare?
Answer: Like all of the cows, Connor is a fan favorite making him extremely rare! However, some collectors have entire collections dedicated to Connor, who is known to sell out right after restocking everywhere he is sold.
Question: What series is Connor?
Answer: Connor is a member of the Farm Squad, Squishmallows second ever squad. He is also a member of Five Below's series 35 squad!
Question: How Big are the Squishmallow Clips?
Answer: The clips are exactly 3.5 inches!
Question: What Stuffing is Used in Squishmallows?
Answer: The stuffing is a mix of polyester and ultra-soft spandex that give it make squishmallows feel as fluffy as marshmallows.
Question: Does Connor the Squishmallow Have a Tail?
Answer: Yes! All variants of Connor from clip to twenty-four inch have a white and black tail! However, since the stackable Connor is made to fit flat against a shelf it does not have a tail.
Parting Notes
Connor is a must-have in your collection if you're a squish collector. Now that you know all the shapes, sizes, and fur styles of this S-tier cow, I hope you know which spotted friend to welcome into your collection!
Whether you are leaning toward a custom take on a classic or are challenging yourself to find a clip in the wild, I hope this guide helps lead you to the cow collection of your dreams!
More Squish to Hunt: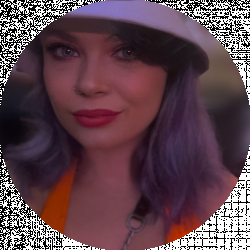 Latest posts by Teryn Greenway
(see all)