Jack the Black Cat was released in December 2020 to celebrate 500 Squishmallow designs! Unfortunately, there are only 500 Jacks in existence, and he holds the title of the very first Select Series squish.
Until recently, Jack was long sold out, but at the 2022 VidCon, Squishmallow hosted a human claw machine. Inside this machine were multiple rare Squishmallows, including a handful of Jacks! This does open the question, are there now more than 500 Jacks?
No matter the answer, Jack is still one of the rarest squishes out there, so if you are lucky enough to own him, know I'm incredibly jealous! However, if you're like me, and Jack is just high on your DISO, this meow-rific guide will help you not miss out on future rare Squishmallows and help in your search for the holy grail of black cats: Jack.
Bottom Line Up Front
It's rare, but sometimes Jack will pop up on resale websites such as Mecari and eBay, but his resale value is well over a thousand dollars.
However, there are multiple other Squishmallows with a similar vibe for a much more budget-friendly price. Also, the Select Series squad has grown in the last two years, and a handful are still available at squishmallow.com!
Get to Know Jack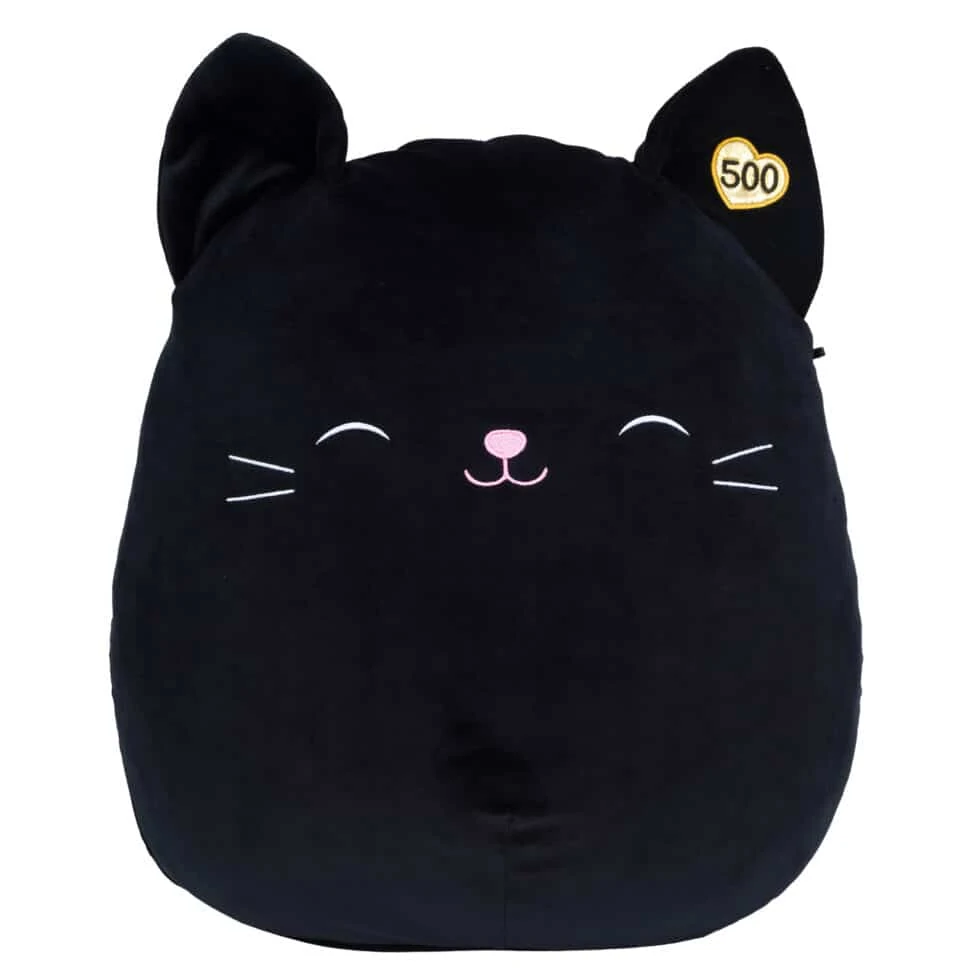 Jack is the silent type and is a little feisty if he doesn't get his alone time. However, he loves a good cuddle and will always stand up for a friend in need. He prides himself in charity work and believes that everyone should give back. 
He is a black velvet cat with a golden heart patch that reads "500" on his ear. He has a pale pink nose, smile, and white closed eyes and whiskers. He comes in a rather large, 16-inch size. 
Jack is the first Squishmallow ever to have its design discontinued. Only 500 were ever made, so if you managed to get your hands on Jack back in 2020, know I'm incredibly jealous. Jack is at the top of my ISO list. He's tough to find. Even when he does pop up for reselling, it's never for under $1000. 
However, a handful of fans at the 2020 Vidcon received a Jack the Black Cat from the human claw machine. This is where you are attached to a gurney and are lowered into a giant bin of 16-inch Squishmallows. Whichever Squish you grab is yours! A couple of lucky players a day were able to grab Jack. This is his first release since December 2020. It opens up the question, Are there more than 500 Jacks now? Will this change his rarity and value? 
I think Jack acted as the perfect start to the Select Series Squad. He celebrates an exciting time in Squishmallow history while being an adorable black cat. I'm a cat mom of two black cats, so it's safe to say I'm obsessed! 
The rest of the squish to follow him in this exclusive squad vary in excitement level, but every single one is bound to go down in history as the rarest plushies on the market. You can find out about new Select Series Squad members at Squishmallows Instagram! 
Squad: The Select Series Squad
Sizes: 16-inch
Collectors Number: Jack is the 500th Squishmallow to hit the squish scene!
Number Released: 500, though this is now inaccurate, given his special re-release at the 2022 VidCon. The exact number of Jack the Black cats is technically unknown, but even the VidCon tags claim that there are only 500.
Value: No Tag – $200 – $500, NWT – $1,500
Still Available for Retail?
No, Jack the Black Cat is unavailable anywhere aside from resellers. However, he did appear as a prize in the human claw machine at the 2022 VidCon.
Keep in mind there are only 500 of this plush in the world, so he rarely pops up for sale. Make sure you buy from a trusted reseller with S-tier reviews! I tend to have the best luck on Mercari, but eBay is another excellent place to search.
Tumblr and Reddit are excellent places to find squish communities in your area. Being a part of these communities means being invited to squishmeets, where collectors host an event dedicated to celebrating Squishmallows and selling and trading rare plushies.
Where to Search for Resale
I believe Mercari is the best place to search for high-priced resells. Most sellers on the app are also collectors, so the prices are the fairest for the product. Since they also collect, Jack is more likely to be in good condition with his tag intact. There is currently (Aug 2022) one Jack for sale on Mercari, which is still in his original packaging from shipment! 
Some sellers even take trades for the squish they're selling, but you would have to trade a Squishmallow equal in value to Jack! 
I have mixed feelings about eBay. It's littered with scalpers, so finding Squishmallows for fair prices is insanely difficult. Jack is often priced in the thousands when he's really only worth around $500.
However, if it's from a trusted and well-rated seller with lots of pictures and a fair price, I see no reason not to check eBay while hunting for Jack! 
Other Select Series Squishmallows
The Select Series Squad is special edition Squishmallows that are released in limited batches before being retired forever. That being said, once these special Squishmallows sell out, they will only be available for resale. The resell value for these squishes usually reaches over $1000.
100 Million Squishmallows Sold Hans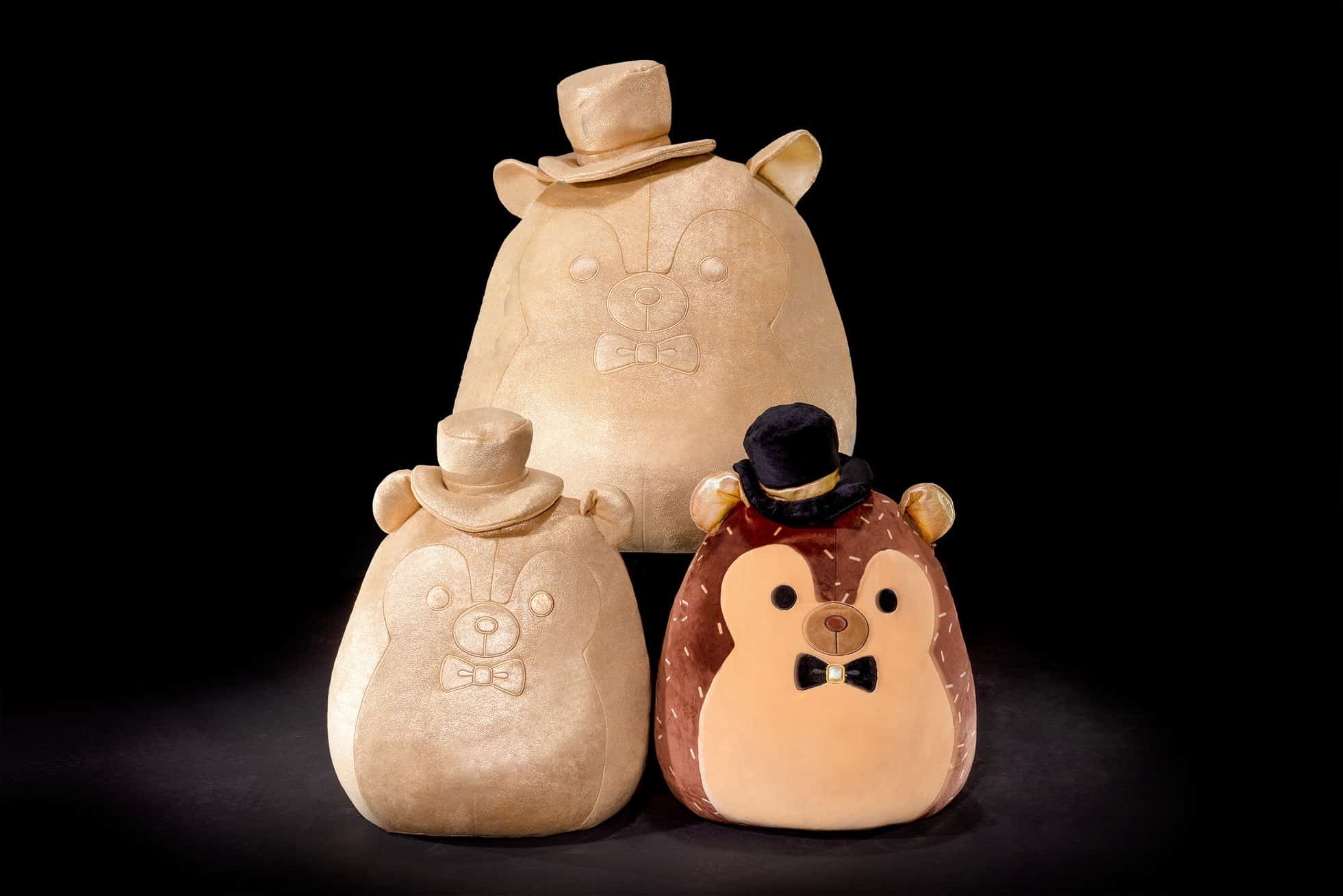 This top hat-wearing Hans the Hedgehog was released early in 2022 to celebrate 100 MILLION Squishmallows sold! Unfortunately, there were 10,000 of these squishes available only at squishmallow.com.
If you were lucky, you received one of the 2000 sixteen-inch golden Hans. If you were extremely lucky, you received one of the THIRTY 24-inch golden Hans. The golden Hans was not available for purchase. They were sent out in the place of 100 Million Celebration Hans randomly.
Squad: Select Series Squad
Size: 16-inch and 24-inch
Collectors Number: S16-#2-5
Number Released: 16-inch Hans – 10,000. 16-inch Golden Hans – 2,000. 24-inch Golden Hans – 30, making this the rarest Squishmallows in existence.
Value: Keep in mind that the value of this Squishmallow is increasing rapidly. This is the value as of August 2022. 16-inch Hans – $70 – $120. 16-inch Golden Hans – $100 – $300. 24-inch Golden Hans – $2,000 – $8,000.
Still Available for Retail?
No, Hans is only available through resellers and super lucky squishmeets.
1. Lamont the French Bulldog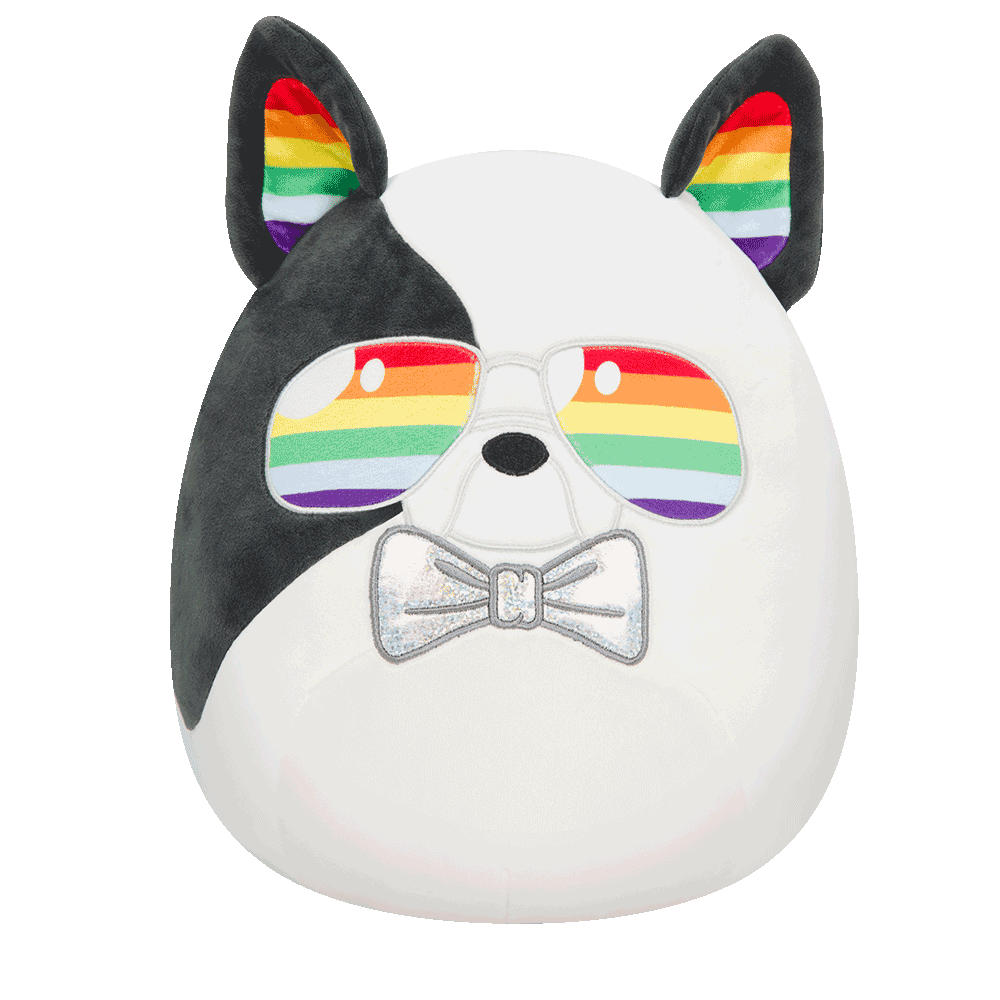 Lamont is the 2022 exclusive Pride Squishmallow. But unfortunately, he is only available at Squishmallow.com!
Size: 12 inch
Squad: The Select Series Squad
Collector's Number: Lamont is the 1226 Squishmallow to join the squish party!
Number Released: 10,000
Value: No Tag – $10. NWT – $20.
Still Available for Retail?
Yes! Lamont is available on the Squishmallows website for around $19.99.
2. Jarik The Red Dragon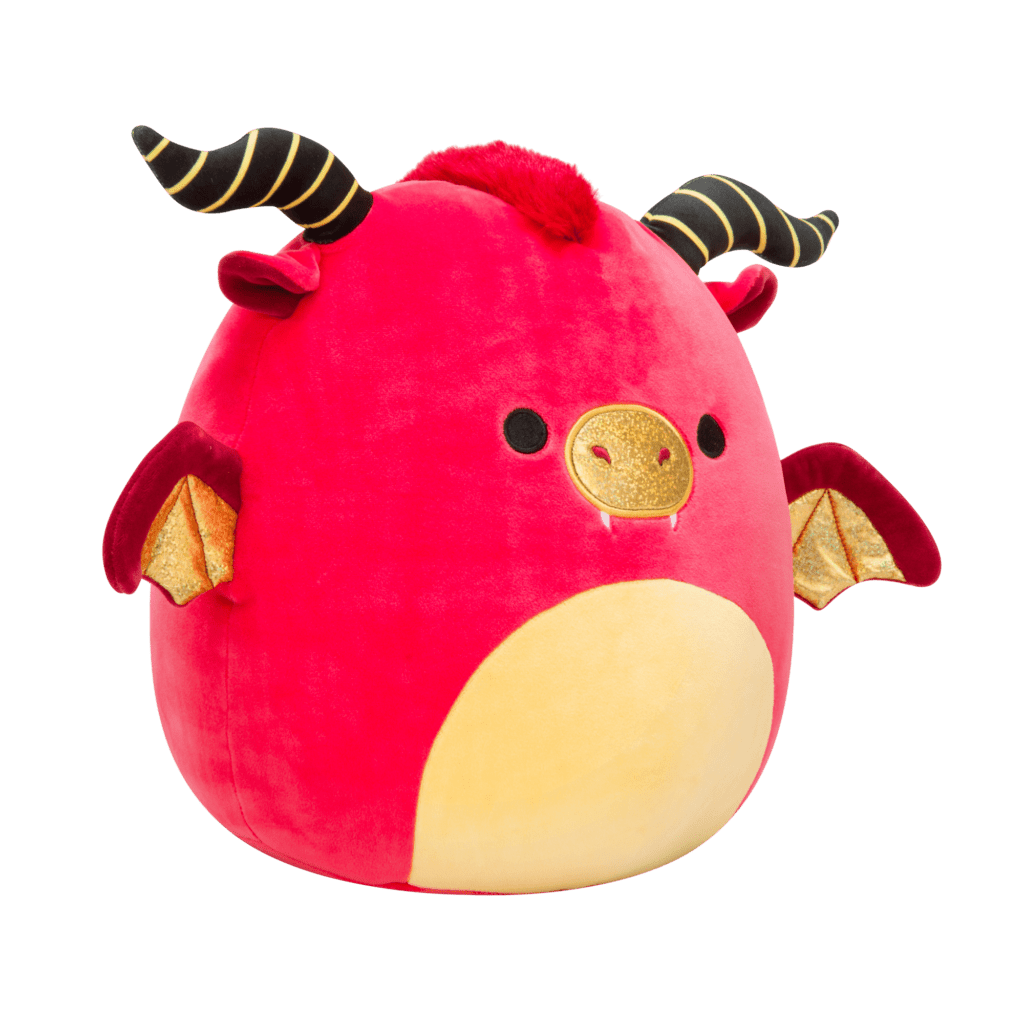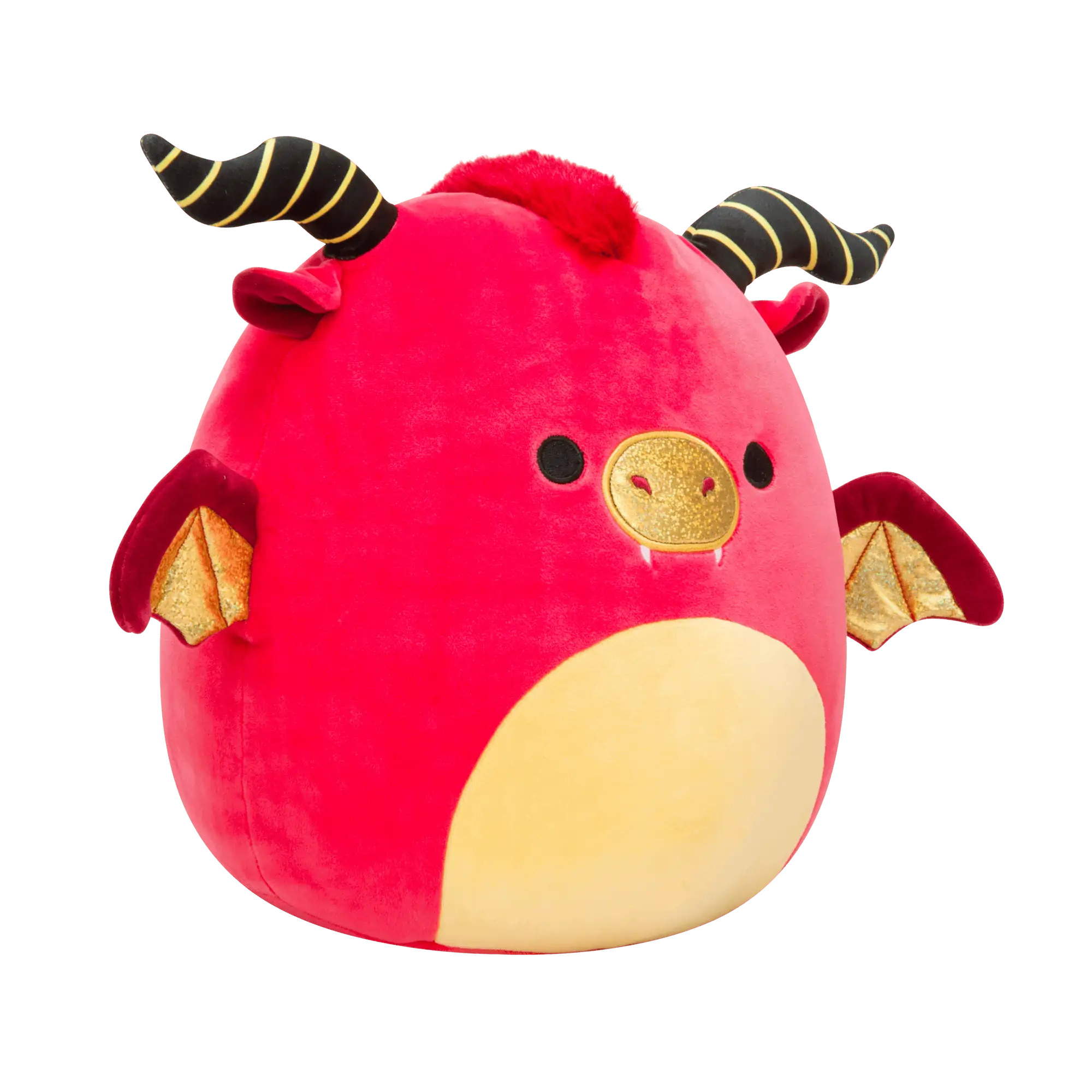 Jarik is a Squishmallow.com exclusive that launched in early 2022. He is sold out online, meaning he is now retired.
Size: 12 inch
Squad: The Select Series
Collectors Number: Jarik is the 1262nd Squishmallow to fly into the scene.
Number Released: 10,000
Value: No Tag – $20 – $30, NWT – $40 – $60
Still Available for Retail?
Jarik is only available for resale. Since he is sold out on the Squishmallows website, he is considered a discontinued design.
3. JSK Business Cat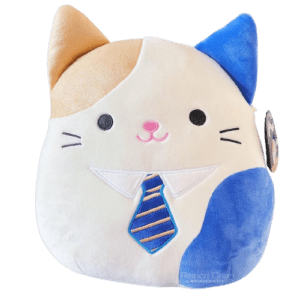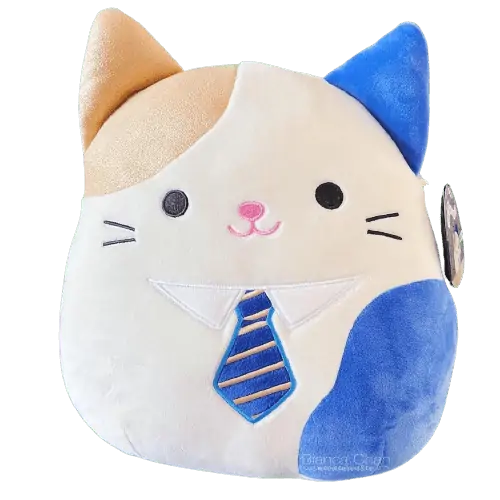 JSK is currently the only member of the Founder's Edition Squad. The only way to get JSK is by opening Squishmallow Trading Card packs and pulling a special JSK card, which you claim through contacting Squishmallow. However, it is unknown if there are any JSKs left to claim. 
Size: 12-inch
Squad: The Founder's Edition
Collectors Number: JSK is the 1200th Squishmallow, and one of the rarest on the market!
Number Released: 250
Value: No Tag – $800 – $1,200. NWT – $2,500 – $6,000+.
Still Available for Retail?
It is currently unknown if all 250 have been claimed. Try your luck at finding JSK by collecting Series 1 trading cards!

Steele is the summer 2022 Squishmallow.com exclusive plush! He is $19.99 and ready to swim into your hearts!
Size: 12 inch.
Squad: The Select Series
Collectors Number: Steele is the 1252nd fish in the Squishmallow sea.
Number Released: 10,000.
Value: No Tags – $10 – $15. NWT –  $20.
Still Available for Retail?
Yes! Steele is available on the Amazon website for $19.99!

Ulga sold out within hours when he launched as the newest Select Series member in June 2022. As a result, his resell value is quickly climbing into the hundreds!
Size: 12-inch.
Squad: The Select Series
Collectors Number: Ulga is the 1303 squishmallow to hit the field! While she was designed in the fall of 2021, she didn't officially hit the market until the end of July 2022 as a Squishmallow.com exclusive.
Number Released: 10,000
Value: No Tag – $20 – $30. NWT – $60 – $120
Still Available for Retail?
No, Ulga sold out super quickly (as the cows tend to do.) However, she is still being delivered to the lucky buyers, so I'm sure as they arrive, more will pop up for resell!

Foster is the newest edition to the Select Series Squad, as he came out in early August 2022. He is available at Squishmallow.com for $19.99.
Size: 12 inch.
Squad: The Select Series
Collectors Number: Foster is the 1260th squishmallow to add to your collection. Fun fact, his squishdate is September 25, 2021, but he was just released on August 9, 2022!
Number Released: 10,000.
Value: No Tag – $10 – $15. NWT – $15 – $20.
Still Available for Retail?
Yes! Foster is a Squishmallow.com exclusive. However, it is a super recent launch, so it will probably sell out by the end of August 2022.
More Affordable Squishmallows Similar to Jack
There are a ton of black cat Squishmallows on the market. Most are a part of different Halloween squads, but others are possible to find year-round! I tracked down every single black cat Squishmallow and how to hunt for them, so you don't have to!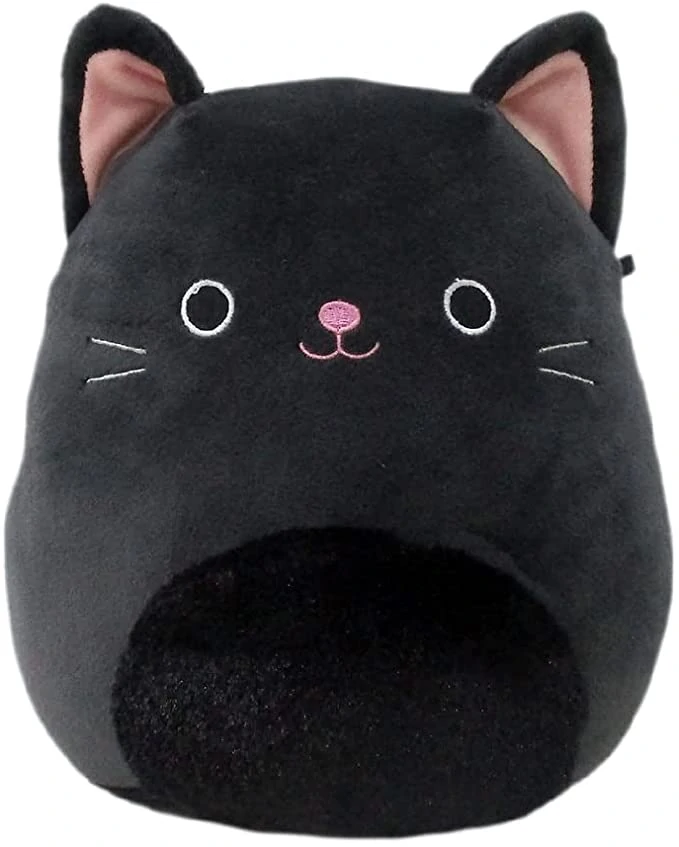 Bambalina came out in 2021 and can be found at Walgreens, Walmart, and Amazon.  The Walgreens variant is only available during February, as it is the Valentine exclusive version of Bambalina. The only difference is she has the red Valentine tag instead of the regular blue.
Squad: The Valentines Squad, The Walgreens Exclusive Squad
Size: 8-inch, 16-inch
Pros
He looks almost identical to Jack
It comes in both a small and large size
Cons
The valentines version has no special design changes
2. Jamal the Cat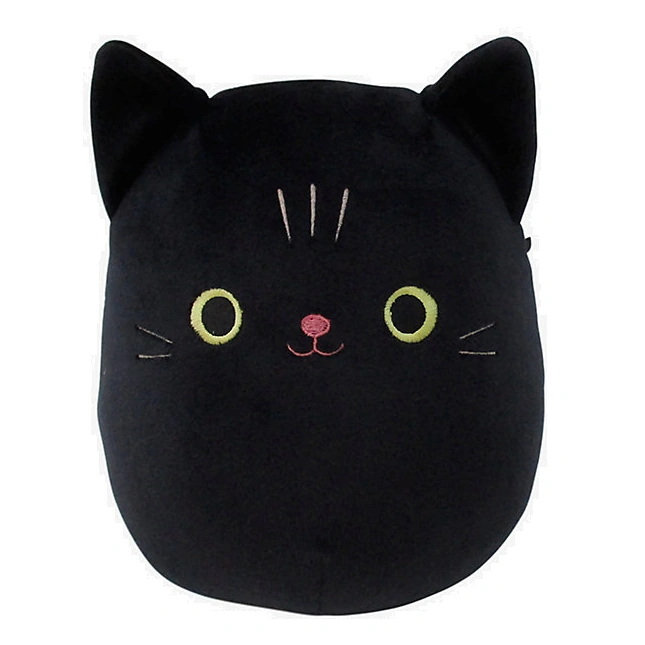 Jamal launched in 2021 as a Hot Topic exclusive. However, he has not restocked in many months and has a resell value of $45.
Squad: The Hot Topic Squad
Size: 8-inch
Pros
Adorable design
Available in a small size, perfect for collectors (and black cat lovers) with limited space.
Cons
It hasn't been restocked in months
Hot Topic Squishmallows are a bit overpriced
3. Autumn the Cat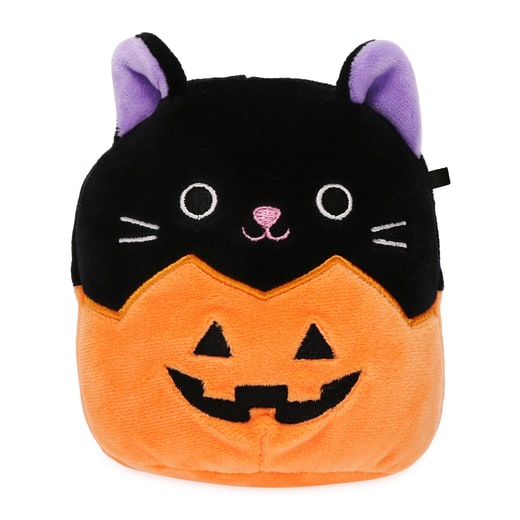 Autumn comes in multiple different variants, such as Pumpkin Autumn, Monochrome Autumn, Witch Autumn, and Purple Autumn. He usually has store exclusives at Walmart and Walgreens. However, most variants can be found anywhere squish.
Squad: The Halloween Squad, The Monochrome Squad, Squish-Doos
Size: Clip, 4, 5, 8, and 16 inch
Pros
Tons of different variants to collect
A fan favorite squish
Cons
Usually only out during the Halloween season
It doesn't come in extra large sizes
The Q&A's
Question: Why is Jack the Black Cat Squishmallow so Rare?
Answer: Jack is so rare because only 500 of him exist. On top of that, a ton of him went to children who more than likely removed his tag/played with him, making him lose his value and collectability. Every few months, a handful pop up for resell, making Jack nearly impossible to get your hands on.
Question: When did Jack the Black Cat Squishmallow Come Out?
Answer: Jack came out in December 2020 to celebrate 500 Squishmallow designs on the market! He also holds the title of first discontinued Squishmallow, as the Select Series are retired once sold out.
Question: What is the Rarest Squishmallow of 2022?
Answer: The rarest Squishmallow of 2022 is the 24-inch variant of golden Hans. Only 30 were made, and they were not available for sale. You acquired the 24-inch golden Hans by buying one of the 100 Million Sold Celebration Hans and then were chosen randomly to receive a bonus golden Hans.
Question: What is the Most Expensive Squishmallow Ever Sold?
Answer: Fania the Purple Owl sold for three grand at an auction in 2021. She is a member of the Valentine Squad and was released in 2020. I honestly don't know why Fania holds this title, as she is available for $25 at Walmart. 
The Last Meow
Jack is one of my number one goal Squishmallows. Honestly, I'd consider spending the two grand for him if I weren't a broke grad student. I live for the cats and the spookier squad, and Jack is the best of both worlds.
To fill the void in my collector's heart, I love to hunt for other black cats, and I am so excited that fall Squishmallows are starting to hit the shelves.
Squishmallow has grown even more popular since celebrating its 500th design back in 2020. Just look at golden Hans, who hails 100 MILLION squishes sold. Clearly, Squishmallows are popular with kids since they come in multiple sizes that fit all ages, and they're marshmallow soft, so perfect for naps!
However, it's no secret a large part of Squishmallows fanbase are my fellow 20-somethings. I find Squishmallows super anxiety-reducing.
Their cute design, combined with the adrenaline rush of finally hunting down your DISO, makes them exciting to collect. The community is also the most unique and sweet (and sometimes vicious if their DISO is involved), making me feel perfectly at peace with being an adult collecting stuffed animals.
However, Squishmallows are more than stuffed animals. They have tags that fill them with personality, friendships within their squads, and unique plush designs that are easily findable!
Best of luck hunting for Jack and getting your hands on future Select Series Squishmallows. I'll see you on the battlefield (aka hoping that bots don't crash the website before you have a chance to check out!)
Happy Hunting!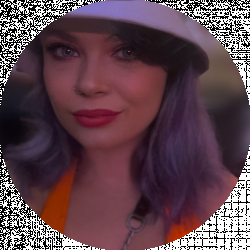 Latest posts by Teryn Greenway
(see all)