In 2020 the Wildlife squad was released, bringing 11 new squishmallows into the lineup. The squad consists of a variety of wild animals found all over the world, including Babs, the blue jay. Babs' squishdate is September 25, 2020. Her collector number is 467.
I first encountered Babs in a set given for my niece's birthday, and I was immediately drawn to Babs. Her design simplifies the complex look of a blue jay so that it fits perfectly with the cute squishmallow style without compromising the intricate look of real-life blue jays. Most squishmallows meant to look like real-life animals have neutral colors. But, on the other hand, Babs stands out from them with a rich blue.
A Quick Introduction to the Variations of Babs
Like most squishmallows, Babs comes in a variety of sizes. They range from small accessories to carry around, cute decorations to arrange with other squishmallows or larger plushes that can give comfort and cuddles. You can easily find Babs in these seven sizes.
Some squishmallows have a variety of designs. Sometimes the changes in look come from a new expression or fashion choice, a change in shape, like the Hug Mee line, or adding a new fabric for extra texture. The squishmallows with the most variations are the ones that have been out for the longest. This keeps the old designs fresh and exciting. Since Babs was released in 2020, she's had time to get a few new designs but not nearly as many as some older squishmallows. There are two variations from her base design.
Babs' Personality
Babs and I share a lot in terms of personality and hobbies. This adorable little blue jay enjoys superheroes and sci-fi, which I also immensely enjoy. To express her love for these stories, she created her own superhero, Captain Blueberry. While he may be a mild-mannered bird by day, Captain Blueberry solves mysteries and stops crime at night. Babs isn't quite finished with the story yet; Captain Blueberry doesn't even have a sidekick. Don't worry, Babs, I can relate.
Babs' face gives her a shy and sweet disposition if you prefer to exercise your creative freedom and ignore the tag. Her pink blushing cheeks make her look a little shy, and her natural design makes her seem more grounded and less fantastical than other, brighter-colored squishmallows. You could easily imagine her as someone who likes to hike and be outdoors.
Babs' Sizes
3.5″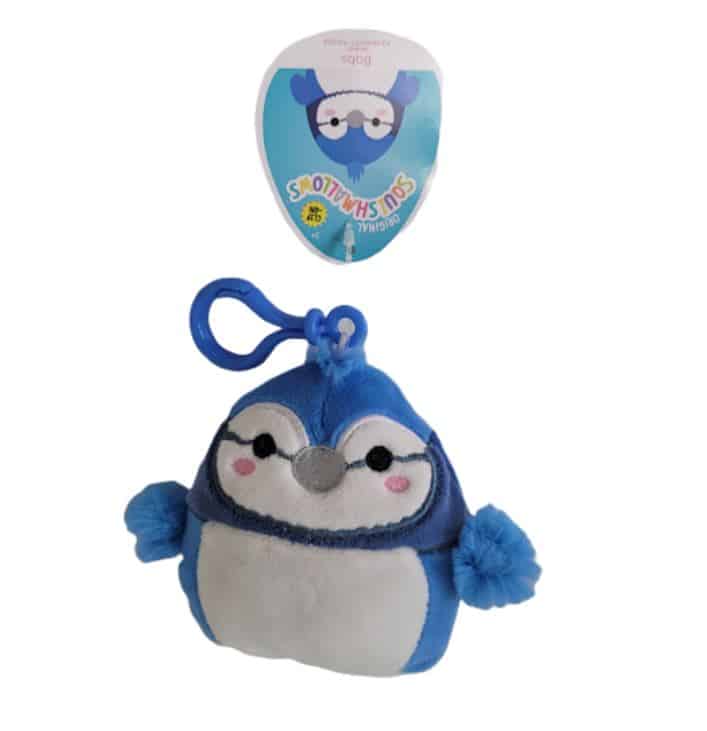 The smallest Babs is the only one of the base designs that seriously differs from the others. At this size, she hangs from a large clip. Her wings aren't quite big enough to be stuffed; instead, she is made of fluff balls, much like the poof on her head.
The clip makes this the ideal size for having Babs with you on the go. You can attach her to a backpack, purse, or anything with straps or handles to take with you when you leave home. Her soft exterior can be soothing to hold when you want something to casually fidget with. She also can add a pop of color and decoration to your outfit.
If you choose to take this Babs on adventures with you, ensure she is secured. Squishmallow clips are easy to attach but can sometimes slip off. You don't want to lose her will you go about your day. The clip-on squishmallows also tend to stray a bit from their original designs. Babs' face is much larger in proportion to her body to ensure no details are lost.
5″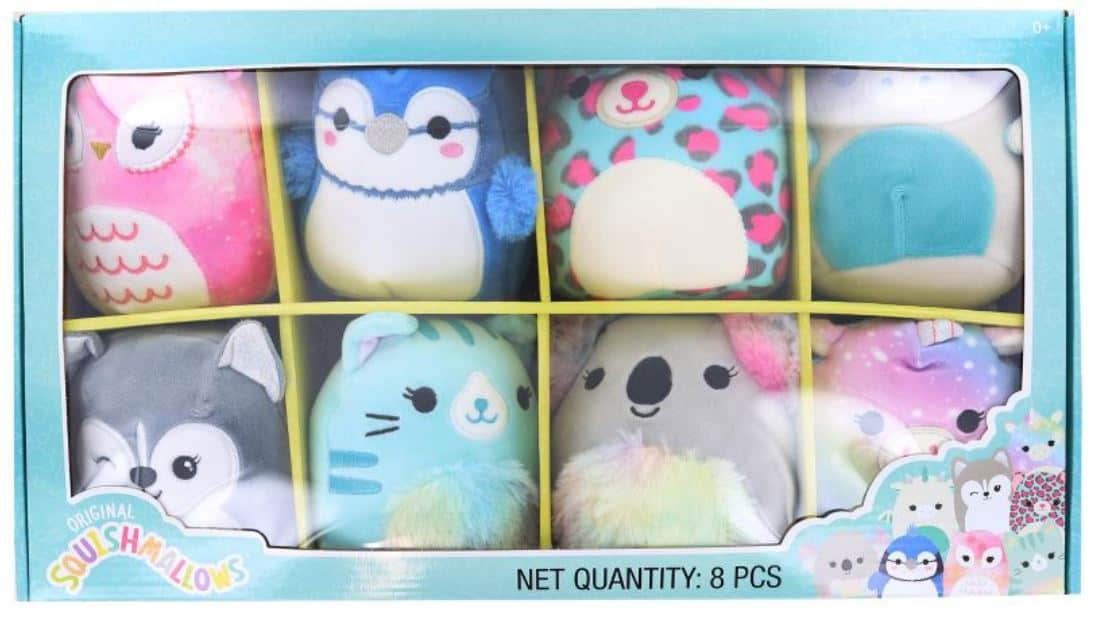 This is the smallest size you can get Babs as a regular squishmallow. She fits perfectly into your hand. Her design is now much more proportional than the 3.5″ clip, which has limited space. As a result, her face is closer to the center of her body, and she is rounder and harder to flatten out. She also has larger wings stuffed and sewn with fluffy fabric rather than just pom-poms.
If you like having an extensive collection with lots of variety that won't take up a lot of space, this would be a good size for you. You can get Babs alone from the link above, or if you want to get her some friends and expand your collection simultaneously, you can find an 8-pack with Babs here.
7.5″
This is the size where Babs starts to get a lot more huggable. You can give little cuddles at this size, but you still won't have to sacrifice too much space. When going on long road trips or plane rides, you can easily slip Babs into a backpack, then she can keep or company or even be used as a travel pillow.
All squishmallows vary in price depending on where you find them. However, 7.5″ is the most reasonable compared to the other small sizes, specifically when looking at Five Below.
8″
8″ and 7.5″ aren't that much different. Half an inch doesn't lend itself to grand changes. 8″ can still do some traveling, give some cuddles or sit nicely on a shelf. If you aren't bothered by a half-inch difference and have access to it, I would recommend the 7.5″ over this one due to the lower price.
12″
At a 4″ leap from the previous size, we are now looking at the larger squishmallows. If you've got some space to spare and want a lap buddy for company, then 12″ will work great for you. There's a good amount of give at this size, so you can finally give your friend a proper hug.
This is also when we start getting into the more pricey sizes, regardless of where you look. So keep your eye peeled for online deals or stock-ups at cheaper stores if you want to get your hands on one without emptying your wallet.
14″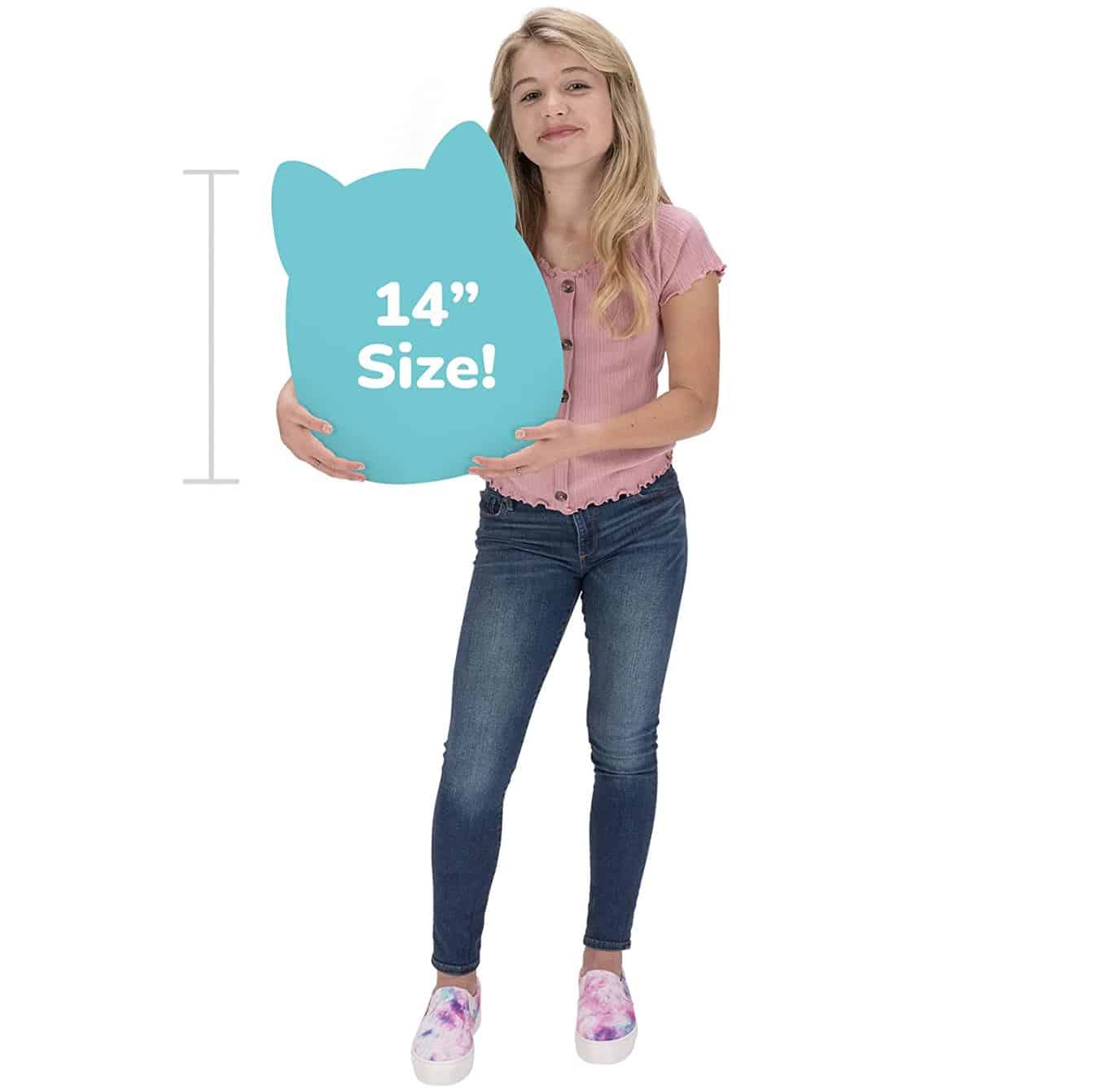 Those extra 2 inches give the 14″ a surprising advantage over the 12″ in terms of cuddliness. It takes up a lot of space in your arms. You'll need to find a good place to keep it. A soft 14″ orb doesn't just fit in wherever you put it.
16″
Finally, we arrive at the biggest Babs of all. If you want that ultimate squish, this will be the Babs for you. She'll take up a sizable amount of space, but the hugs you get will be well worth it since you can wrap your arms around her now.
Of course, this will most likely be the hardest size to find with how desirable their cuddliness can be. It might take some looking and cash, but a large Babs could make an excellent friend if you are dedicated enough.
Babs' Styles
Unlike some older squishmallows, Babs doesn't have a lot of different styles to find. The only two currently available are Squish-doo and Tie-dye. Getting your hands on a stylish Babs will be more complicated than getting one of her base designs in any size.
Squish-Doo
The easier to find of the two styles is the Babs Squish-doo variation. Squish-doo Babs is 14″ and is sold during the summer. This comes from the Squish-doo line that showcases various squishmallow characters with wild, fuzzy hair.
Each Squish-doo is given its own unique style. Bab's Squish-doo consists of a light blue cap with silver trim and three blue-white pom-poms on her head. The style is fun and reminds me of Carnival or a New Year's Eve party. If you like a squishmallow with accessories and flair, this one will work wonderfully.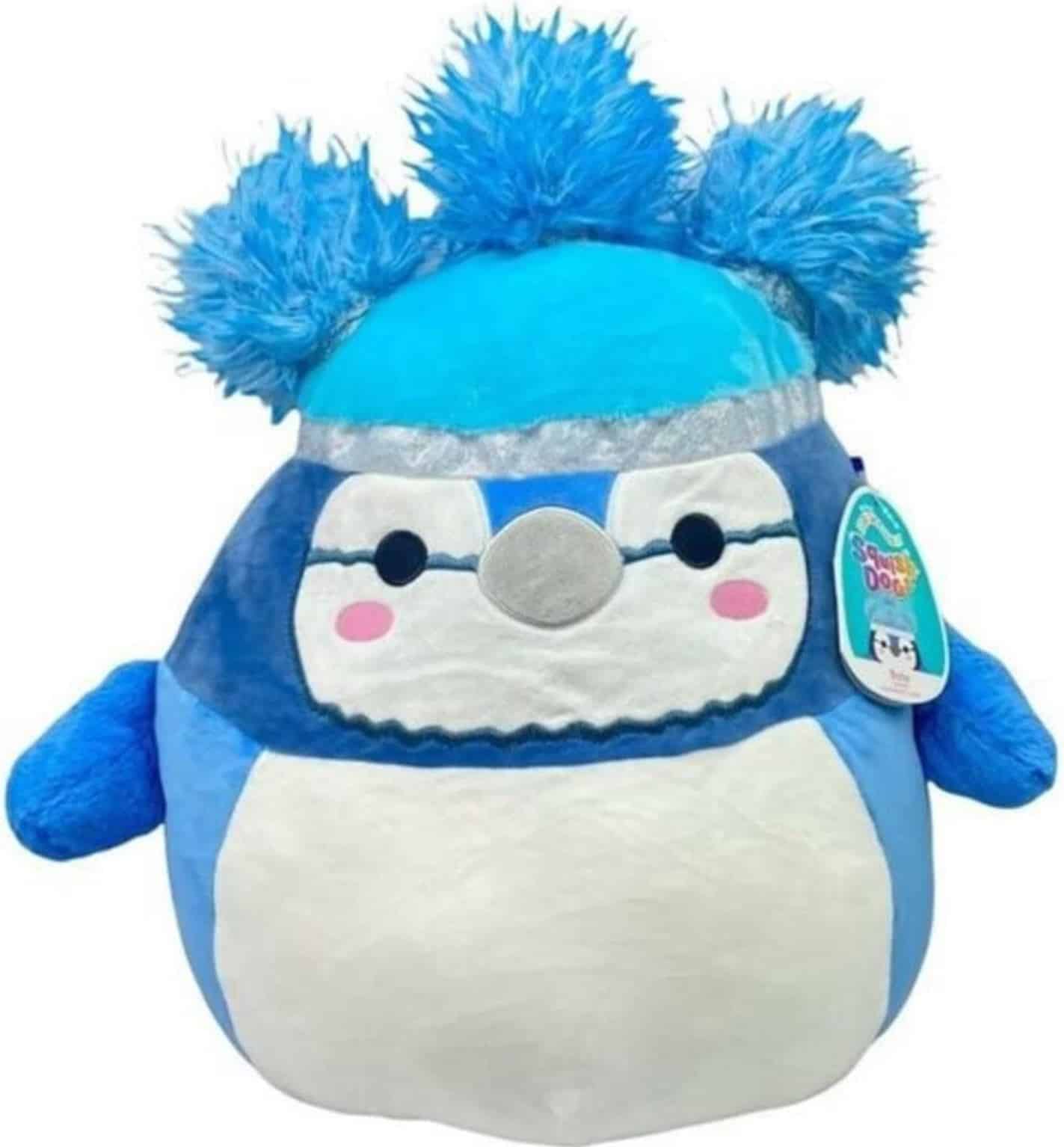 Tie-Dye
The tie-dye variation of Babs is tough to find. I've only seen them being sold on Mercari. So if you find an opportunity to get your hands on a tie-dye Babs you might want to make your decision quickly.
Tie-dye Babs looks a lot like regular Babs and comes in 12″. She has the same shape and face. The difference lies in the blue that covers the majority of her body. Rather than being solid cobalt, it is a slightly lighter blue with a white tie-dye pattern spiraling around it. It gives her a fun, groovy look that makes her a bit more fantastical.
Closest Alternatives
Maybe you like Babs' style but don't quite like blue jays, or you love Babs' and want to find more squishmallows like her. Plenty of options will get you close depending on what you like about Babs.
Birds
While not the most popular animals, birds hold a special place in many people's hearts. Babs is one excellent representation of a bird in the squishmallow line, but she isn't the only one.
Cazlan the Cardinal

 is probably the closest to Babs when it comes to other birds. Cardinals and blue jays share similar habitats and have rich colors but lack fancy decoration.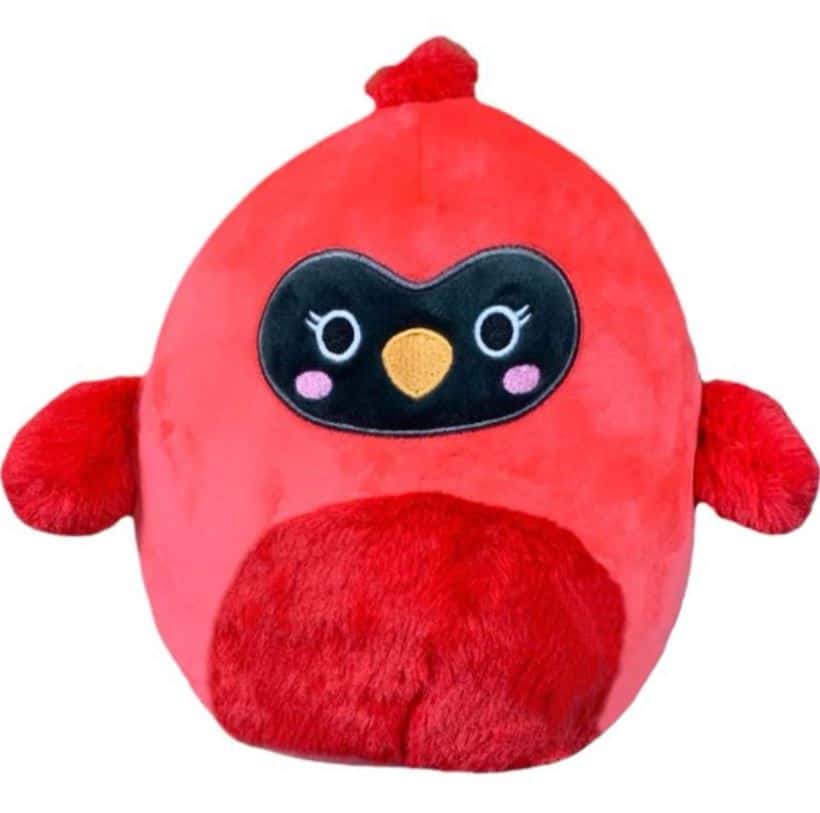 Susie the Penguin

 is also blue with a white belly. Babs is sometimes mistaken for a penguin, so perhaps this one would match Babs perfectly! However, Susie is missing the fluffy little wings Babs displays.

Kena the Peacock

 is a good choice if you want a bird with more pizzazz. She has a bright, fan-like tail that rises behind her like a crown. However, she is Mexico exclusive.

Tito the Toucan

 also provides a realistic-looking bird with smaller pops of color. Unlike Babs' complete blue coverage, Tito is primarily black with brightly colored wings, head feathers, and a striped beak. Tito comes in a few different designs with variations in color and eye patterning.
Blue
I am a big fan of Babs' brilliant blue coloration. Perhaps you want a color-themed collection and desire other squishmallows to match.
Ms. V the Axolotl

 has a similar deep blue at her base to Babs' primary color, but hers blends into a much lighter blue at her top. Her design is simple but effective, and her ear-like gills provide that fantastical nature axolotls always exude.

Tatianna the Dragon

 can provide a more impressive fantasy element to your collection. Between her glittery wings, little horns, and a row of spikes, she's highly decorated and draws a lot of attention. Though each different element is either a gorgeous shade of blue or compliments her teal body.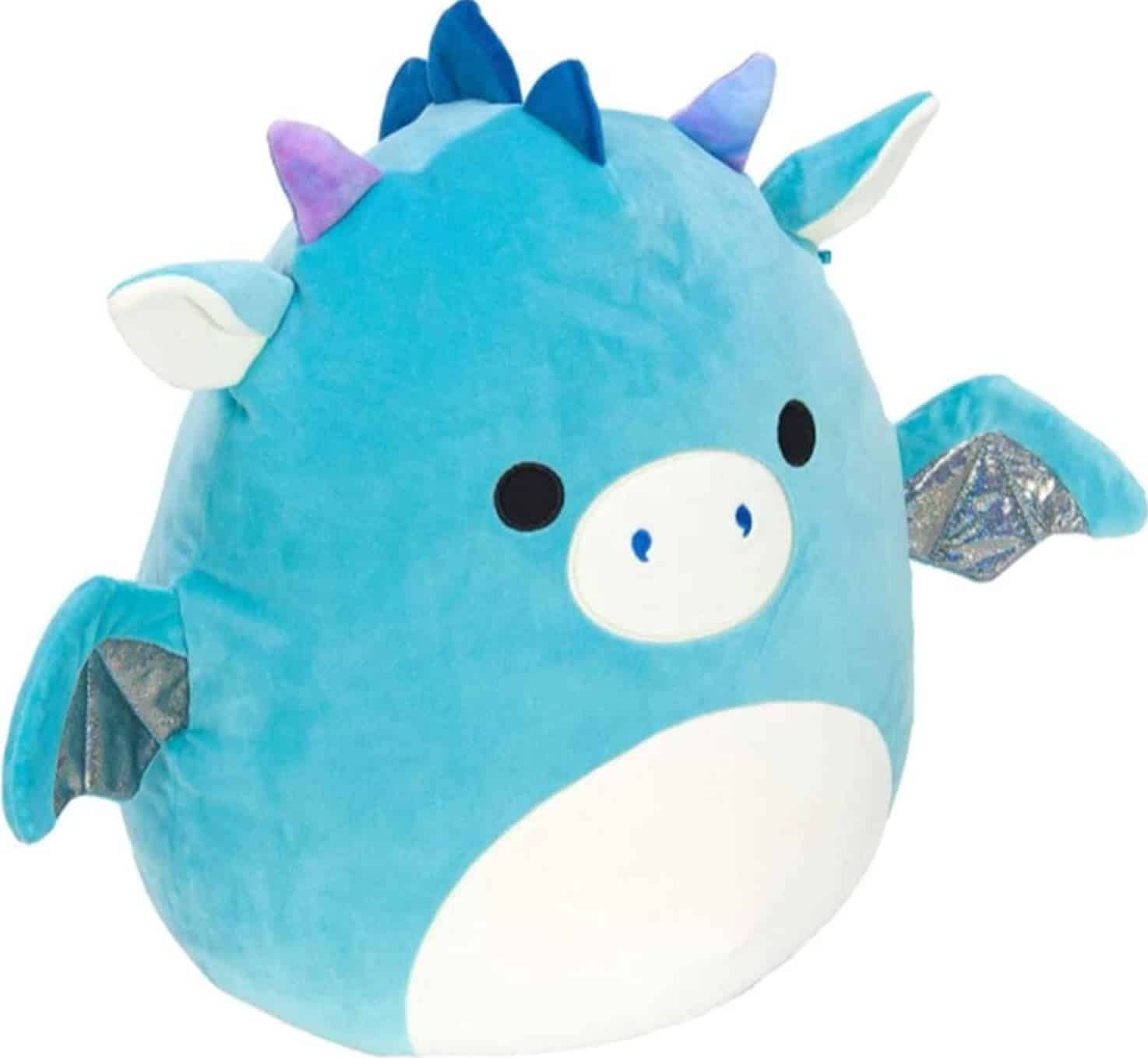 Mav the Shark

 makes the blue color more realistic than Tatianna or Ms. V, though not quite as natural as Babs. He is part of a summer line and holds an ice cream cone between his fins, giving him a childish and carefree personality.

Sayed the Bunny

 is a less saturated steel blue with large floppy ears and a textured belly made of the same material as Babs' wings. If you enjoy the coloration and texture of Babs, there's a good chance you'll enjoy Sayed even more.
Non-Plush Products
Suppose you want to display your love of squishamallows, or more specifically, Babs. In that case, there are some options for various accessories and decorations that aren't the traditional squishmallow plushes to satisfy your love. There's limited official squishmallow merch, none of which feature Babs, but there are plenty of fan-made options.
Etsy is probably one of the first sites recommended when looking for high-quality fan-made creations. Of course, some creators will make their product with your squishmallow of choice, but here are some creators I found selling items that either feature Babs.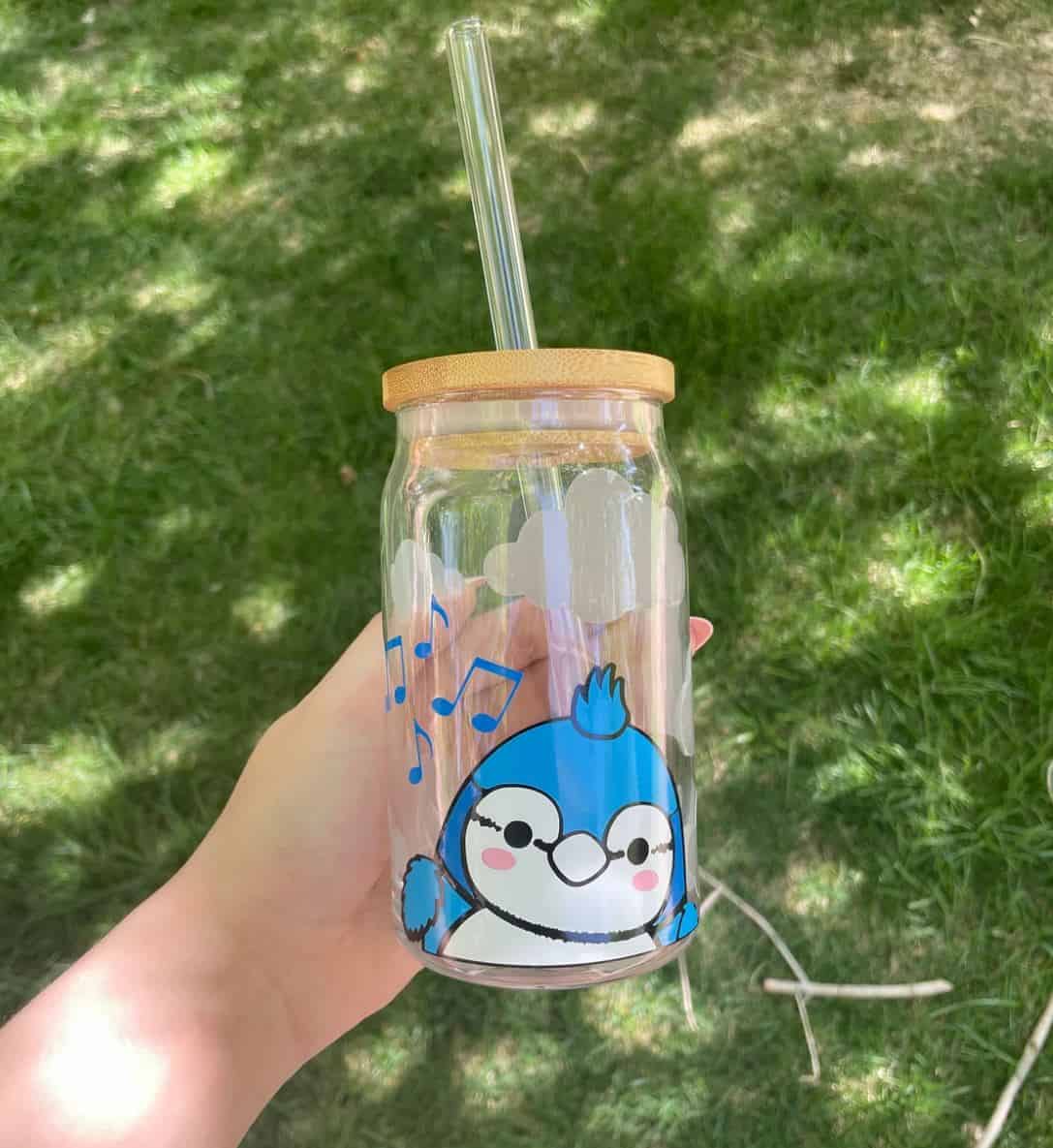 Tee public allows for a single design to be printed on various products. They have a small assortment of squishmallow designs, including Babs. The design isn't much, just a cartoon drawing of Babs with a thick white outline. This could be an option if you are looking for a straightforward way to display your love of Babs. You can get the following items.
T-shirt

Hoodie

Mask

Mug

Phone Case
The best site to find unique Babs products is Redbubble. The artists there exercise a bit more freedom with their designs, so there are some options beyond just a picture of Babs on your merch. The main product you will find there are stickers, but you'll have a few options for the style you want Babs drawn in. A couple of the stickers give Babs an accessory like a towel or spiked choker. Among the high quantity of stickers, there's also a blanket, phone case, and pillow displaying Babs' adorable face.
Summary
Babs has excellent potential if you like birds, squishmallows, or just the color blue. Her variety of sizes ensures that you can find a Babs just the right fit for you. Her lack of variation may be a disappointment now, but with some time and love from the community, I'm sure new looks for Babs will be on the horizon.
FAQs
Question: What is Babs Squishmallow?
Answer: Babs is a blue jay. You may not recognize the species if you don't live in central or east North America. Like Babs, they are blue birds with white bellies and black facial markings.
Question: Is Babs Squishmallow a Penguin?
Answer: Nope, Babs is a blue jay. She was mistakenly labeled as a penguin on the squishmallow website. Still, her patterning is distinct and doesn't match any penguin species.
Question: Is Babs the Squishmallow a Girl?
Answer: Yes, Babs is a girl. Her design doesn't have any features that directly tie her to one gender, but her tag refers to her with she-her pronouns.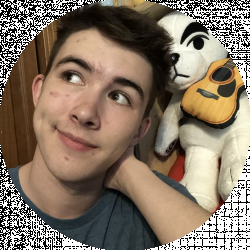 Latest posts by Mika Zans
(see all)