Pixar's movie, Turning Red tells us the story of Mei, a young Chinese girl growing up and learning new things about herself, like her ability to turn into a giant red panda. I first watched this movie with my sister, and I admired how it delved into the experiences of young girls.
While I didn't share the experienced depicted, I found myself engaged and educated by Mei and her friends growing up together. It was a touching movie that gave people often overlooked by popular children's media a time to shine.
Bottom Line Up Front
Mei's panda form is excellent for creating plushies. The design was made to be overwhelmingly cute, representing Mei's girlhood while being instantly interesting to her classmates. Pixar succeeded in this task. Mei's panda is huge, round, soft, and expressive, making the perfect character to turn into plushes.
Since the character works so well in plush form, there's no shortage of choices. Disney has created several official toys that showcase different aspects of the panda and partnered with other merchandise brands to bring Turning Red into other successful lines of products.
So you can find this giant red panda in styles we already love, like Funko Pop, Build-a-Bear, and Pillow Pets.
I've collected this list of Turning Red plushes to show off the best of these choices. Whether you're looking for something for a child to play with, a cuddle buddy of your own, or a collectible to display on a shelf, there will be something here that will suit your needs.
Top Picks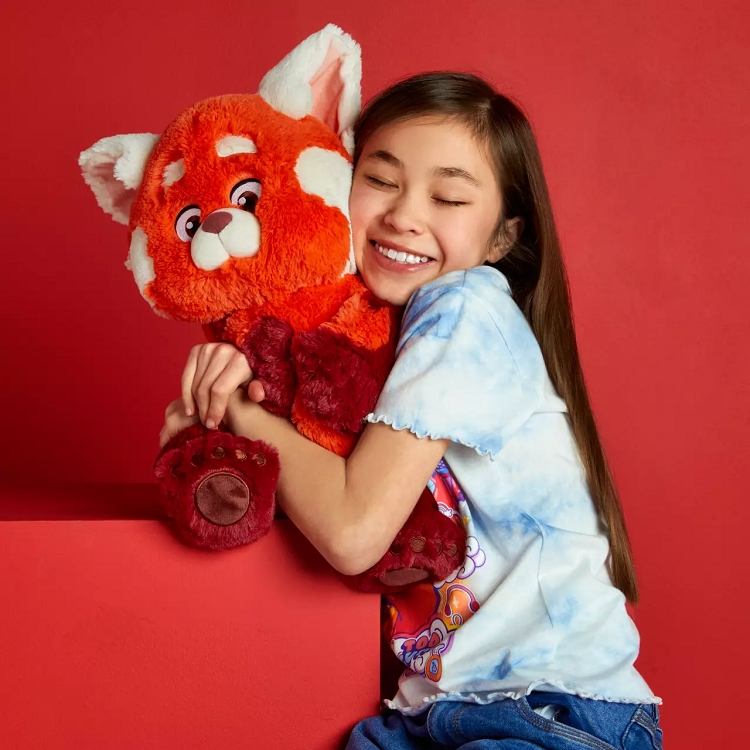 Selection Criteria
Recognizable
The most important job for any plush created based on an already established character is for it to be an undeniable resemblance. I don't want to buy merchandise for a movie that looks generic or wrong.
In the case of Turning Red, this means proportioning the plush to look like Mei's panda form. Real red pandas are long and skinny, while the panda forms in Turning Red are larger and rounder. The stylized markings on the face and arms also help to differentiate them from generic pandas.
Distinctive Style
Turning Red's bright and expressive animation style is one of my favorite parts. It encapsulates all the glitter, color, and feeling of the early teenage experience. Since the animation is so memorable, I want the plush to evoke it somehow through an exaggerated expression or meticulous attention to detail.
However, not every plush on this list looks exactly like the movie. When a film reaches this popularity level, brands with a unique style will adapt the characters. In these cases, I'm happy to let the plush's style be dictated more by the merchandiser and less by the movie.
Still, even within the different styles, the character must be recognizable. The key details of the character design must be present to align with the other selection criteria. You can't create just any red panda and claim it as Mei. In this case, her distinctive snout shape, fur patterns, and smile are good ways to indicate character.
Cute
This trait is hard to miss but is crucial nonetheless. The cuteness of the panda is a huge point in the movie that practically drives half the plot. Failure to create a cute plush from such an adorable character shows an inability to design quality plushes in the first place.
If I questioned if a plush was cute for even a moment, it got immediately removed form the list.
Best Plushes
Build-a-Bear Panda Mei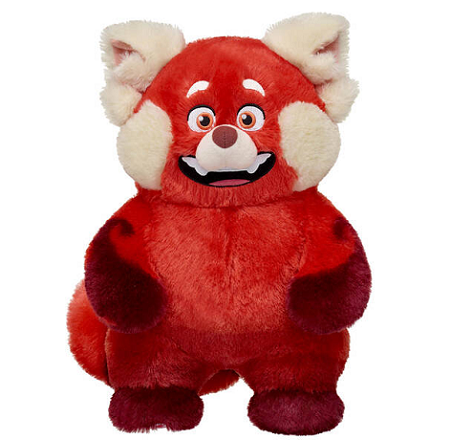 Size: 

16 inches

Price: 

$32.00
Build-a-Bear is one of the most reliable manufacturers of quality plushes. They create designs that resemble the characters well with materials that will last. On top of that, there are all the customization options and the magical experience of children building their plush.
Their Panda Mei plush has a huge smile and upturned eyebrows, making her look excited. Her body is thick and round, with short arms and legs. This allows the plush to sit on its own fairly well.
The best part, though, is the sheer fluffiness. Every inch of this plush is covered in extremely fluffy fabric, except for the snout and face details. The tail, ears, and cheeks turn the fluff up a notch to create depth and texture variety.
While looking online, I hoped there would be sound or clothing options to go with the plush. Perhaps the panda's roar or a 4Town song. Unfortunately, the plush is the only Turning Red item Build-a-Bear currently has available.
Pros
Quality materials and construction that will last a long time.

Build-a-Bear offers plenty of customization options with clothing, sounds, and scents.

The large, round shape is perfect for cuddling.
Cons
Only available online.

No special accessories to match.
Cuddleez Panda Mei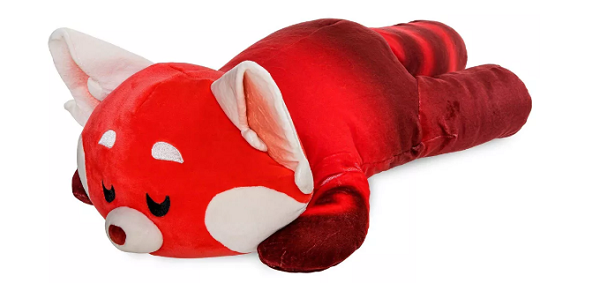 Size: 

24 inches

Price: 

$30.00
I hadn't heard of Cuddleez before researching this plush, and I'm surprised they aren't more popular. Cuddleez is a line of Disney plushes perfect for nap time. They feature various characters lying on their bellies with sleepy closed eyes and are made of light, soft fabric.
The Cuddleez Panda Mei looks serene and peaceful. It reminds me of how Mei looks while trying to calm herself down in panda form. The colors used work so well together, and the gradient from the brighter red at the top of the body to the darker red near the legs is beautiful.
I also appreciate how large the ears are. Without using a fluffier fabric or over-the-top expression, it could have been difficult to convey the extreme cuteness of the panda. However, they pulled it off by placing the face low on the head and highly exaggerating the ear size.
Pros
It is made from super soft material.

The sleepy expression and posture stand out from the other plushes.
Cons
The fabric tends to curve around seams and folds, revealing its white base.
shopDisney Panda Mei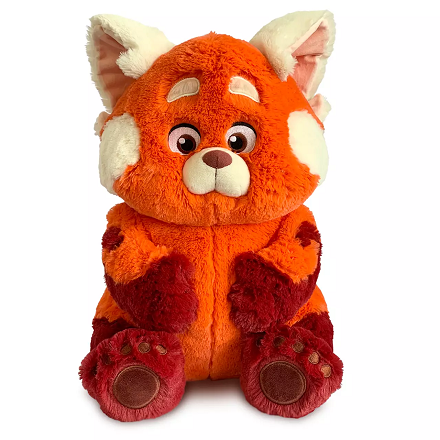 Size: 

18 inches

Price:

 $34.99
Of Disney's non-stylized plushes for Mei, this is the one I find most attractive. Its large size evokes the size of the panda and is perfect for cuddling. They've posed her to sit with her arms resting on her belly. It's an interesting choice since it's not the pose you'd initially think of when Mei's panda form comes to mind, but I find it cute. It makes her look like she's sitting and waiting patiently.
The fabric is highly fluffy, perfectly mimicking the thick fur we see in the movie. The colors used are also quite pleasing and stand out from each other very well.
It makes the fur patterns clear and clean while maintaining the plush's softness. My favorite detail is the paw pads which add subtle depth.
Pros
The material is perfectly fluffy.

The sturdy shape lets it sit up on its own.
Cons
The expression is very neutral and boring.

The pose is cute but cannot change since the arms are sewn to the stomach.
Pillow Pets Panda Mei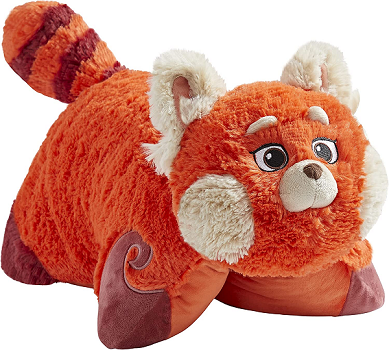 Size: 

16 inches

Price: 

$34.99
While Pillow Pets seem to have passed their pique in popularity, they continue to create cute plushes in their distinctive style. They've made Mei's panda form by adding a round head with fluffy ears, a huge tail, and spiral arm patterns to their base pillow.
There are a few different textures on the head that help to give the face some depth. The typical fluffy fabric used on most pillow pets frame the eyes nicely, and the eyebrows are sculpted to stand out. The ears have longer fur at the base to give them that extra softness and texture.
There isn't much of an expression on this plush. They limited the mouth to just the snout while other plushes added the mouth underneath it, usually in a big smile.
This keeps the expression rather restrained. While this works on other plushes, the dull eyes keep the face from being exciting. They have a weird, almost squared-off shape rather than the rounder eyes we see elsewhere. Overall it's still quite cute, but it blends into the background compared to the more exciting choices.
Pros
Excellent for traveling with children since they can have a plush friend and pillow at once.

The different materials create good texture and contrast.
Cons
Depending on the pillow's orientation, the tail or head might get in the way when sleeping.

The strange shape of the eyes and lack of a mouth is disappointing.
Concert Panda Mei Plush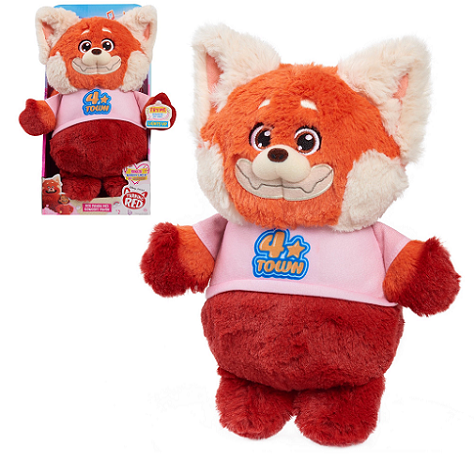 Size: 

10 inches

Price: 

$25.02
Mei's interests play a large part in who she is and her conflict with her mother. It's a shame that we don't see her interests represented in most plushes. Most of them are just the panda in the style of the movie or manufacturer. However, this plush is centered entirely on Mei's love of 4Town.
This panda wears a 4Town t-shirt with a huge grin worthy of a young girl seeing her idols for the first time. I would have found it disappointing if this plush had just been the addition of a t-shirt. However, they added lights to the shirt and a soundbox in the paw that plays Nobody Like U. These additions make the plush a celebration of the fictional band, helping it to stand out.
Pros
The sound and lights add pizzazz to the plush.

I like how it incorporates more of Mei's personality and interests rather than just focusing on the cute panda.

The face is appropriately enthusiastic.
Cons
Some sources charge nearly double the price.

It would have been nice to get more than one song.
Animated Panda Mei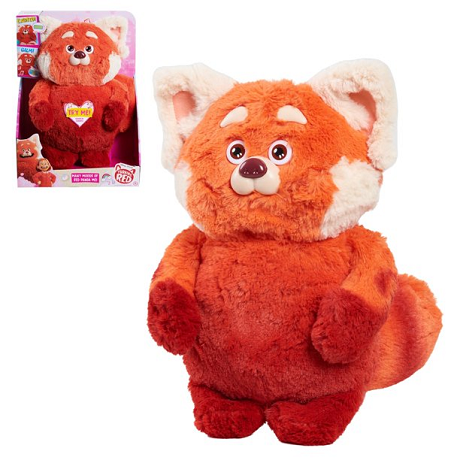 Size: 

12 inches

Price: 

$47.69
One aspect of the panda we haven't explored yet is the angry side. While the panda is cute and fluffy, the movie makes it clear that it is also a beast that can cause real harm when provoked. This plush explores that side by allowing you to change the expression.
Under normal circumstances, the toy looks calm. The eyebrows are turned up, and the eyes are wide. While it's advertised as calm, I find the expression rather blank. This neutral expression allows easy change between faces. When you squeeze the toy's belly, it activates the animation. The eyebrows furrow, the arms fly up, and the mouth opens to reveal sharp teeth.
This makes the plush look angry and ready to attack. However, the expression is still rather goofy. It makes it look like Mei is trying to sneak up and scare someone by yelling boo rather than threatening them.
Pros
Showcases the different emotions that drive Mei in her panda form.

The mechanics are hidden well, so they aren't obvious.

It's easy to change the expression.
Cons
The advertising emphasizes the plush showing the 'Many Moods of Mei' but only has two.

You have to be interacting with the toy to get the angry expression.
Small Panda Mei Plush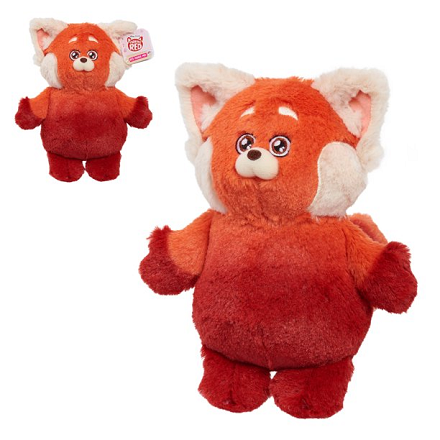 Size: 

8 inches

Price: 

$18.99
Not everyone needs their plush to be big and bold. Sometimes you just want the character, and that's it. This plush is a perfect baseline for panda Mei. It isn't large and doesn't have extravagant accessories, abilities, or branding. Yet, it still has its own character through the expression.
I absolutely adore the puppy dog eyes of this plush. Her high eyebrows, lack of mouth beneath the snout, and sparkly eyes make it look like Mei is entranced by 4Town or sweetly pleading for a chance to see them.
The plush is appropriately fluffy, and the change from bright to dark red is seamless. While it doesn't stand out from the unique plushes, it suits the movie perfectly well and does so at a good price and a size that doesn't take up a ton of space.
Pros
It's a good price for a basic toy that doesn't stand out but has no huge problems.

I think the expression is super cute.
Cons
Extremely basic.

It hits all the basic points of the character but lacks some details.
Funko Pop! Panda Mei Plush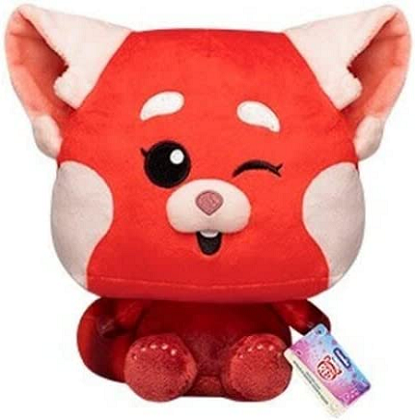 Size: 

7 inches

Price: 

$12.13
There isn't a nerd out there who hasn't encountered Funko Pop. They are everywhere. While most known for the vinyl figures, Funko branches their style into other forms, including plushes.
Funko's Panda Mei Plush features the iconic square Funko head, black eyes, and a tiny body. Though the body is far smaller than Funko usually goes to allow the plush stability.
The expression is a coy smile with a wink and uneven eyebrows. It makes it look like Mei is ready for fun or posing for a picture. They even added some highlights to her eyes to give her a bit more life.
Pros
An excellent addition to any Funko Pop collection.

The Funko Pop style looks like something the characters in the movie would be super into.
Cons
A strip of fabric inside the plush provides structure, but it causes a dimple at the top of the head.
Turning Red Reversible Plush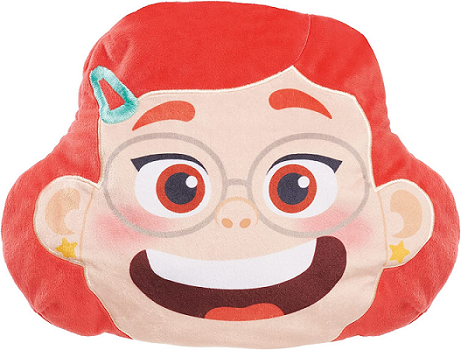 Size: 

11 inches

Price: 

$14.55
Reversible plushes have been very popular for the last few years. They provide a fun way to get the most out of one toy. You can have it display different emotions or entirely different forms. It works particularly well here since the entire movie is about transformation.
Most Turning Red merch focuses entirely on the panda, and understandably so. It is the movie's selling point, and the panda is cute, making for easy merch. However, oversaturation can make us forget that the film is about Mei learning to balance herself with the panda.
This plush shows how Mei's human and panda forms are part of her, and neither is more prominent or important. Still, as much as I appreciate this from a symbolic and story telling-point of view. It has drawbacks from a toy angle.
It's difficult to reverse a large, complex shape, so they've made the toy into a flat pillow of just Mei's head. So while it's fun to use as a pillow or decoration, it doesn't work well for playing.
Pros
It uses reversible plush as a fun way to represent Mei's transformation.
Cons
Since it's just a head, it doesn't make a great toy if it is intended for playtime.
Alternative Plushes
If you've found yourself at the end of this list without strong feelings towards any plushes here, you might want a plain red panda plush rather than a Turning Red plush. Here are some good red pandas I've found.
Build-a-Bear Red Panda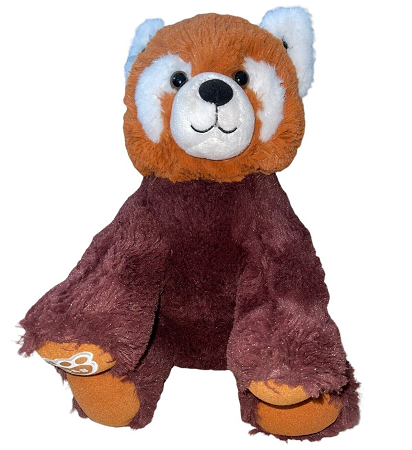 Size: 16 inches
Price: $24
I've already sung the praises of Build-a-Bear. So, naturally, my first pick for a red panda would be this one. It differs from the Turning Red plush by having a slimmer body, being quadruped, and having a more generic happy expression.
Pros
The fabric is brightly colored and fluffy.
I like the round head shape contrasted with the triangular ears.
Cons
It's an online exclusive.
Eco Nation Red Panda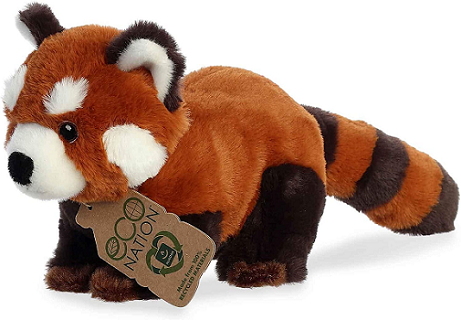 Size: 9 inches
Price: $16.59
The red panda, like many species, is endangered. Eco Nation aims to support our environment through the sale of cute plushes. All the materials used in their plushes come from recycled plastic, and their shipping supplies are recyclable.
Their red panda stands on all fours and has a slight curve to the body that makes it look longer without making the plush bigger. The colors are bright but realistic, and the recycled fabric has a unique look that evokes natural fur better than usual materials.
Pros
The plush is environmentally friendly.
The design does an excellent job of mimicking real-life red pandas.
Cons
One review shows that the plush received didn't look like the one pictured and was lopsided.
Adorlynetty Red Panda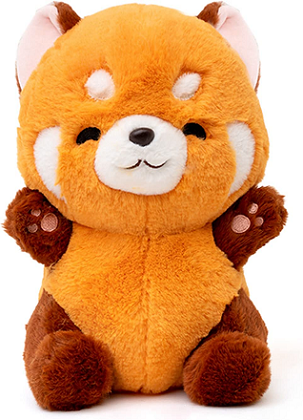 Size: 9.8 inches
Price: $19.98
This panda is excellent if you're looking for something that really leans into how adorable red pandas can be. This plush emphasizes the face of the panda with a curved mouth and closed eyes. The arms are raised like they're ready to give you a big hug.
Pros
Every detail of this plush is round and cute.
The tiny paws and round face look incredibly friendly.
Cons
The plush comes vacuum sealed, so you have to spend some time fluffing it up.
FAQs
Question: Is there Turning Red merch at Disney World?
Answer: Yes, you can find quite a haul of merchandise for Turning Red at Disney World, including items not available online. You can find it at most shops that include Pixar properties, like the Emporium at Magic Kingdom.
Question: What is the toy in Turning Red called?
Answer: The toy that Mei carries with her is called a Tomogatchi. It's a small device that houses a virtual pet you must carry with you and care for in real time.
They were extremely popular in the early 2000s when the movie was set. They have been making a comeback recently, possibly due to Turning Red.
Question: Does Build-a-Bear have the red panda?
Answer: Yes, Build-a-Bear has two red panda options, one being the real-life animal and the other being Mei's panda form. Unfortunately, both are online exclusive.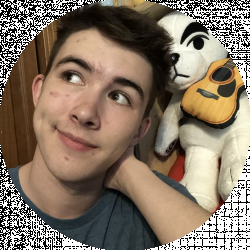 Latest posts by Mika Zans
(see all)