A fun fact about me, I grew up in the mountains of North Carolina. A favorite pastime is hiking through the woods, hoping to spot the mythical Bigfoot.
Squishmallows managed to bring this same experience to me now, as a twenty-five-year-old adult in Southern California. However, instead of mosquito-filled forests, I hut in busy Targets and wake up at the crack of 10 am for Five Below launches. 
For me, the attraction to Benny lies in his rarity. Like the real-life creature, most will never see him in the wild. That's what makes finding Benny all that exciting. You have to work for him. Luckily, I'm here to tell you exactly how!   
My Top Pick: Eight-Inch Benny Can't Be Beat!
Personally, I love the eight-inch Benny because he doesn't take up too much space in my tiny LA apartment but is still adorable. However, as a soon-to-be graduate, Graduation Benny is at the top of my ISO list!
The Lowdown First
The Bigfoots are among the rarest squishmallows to date, and Benny is no exception. In fact, I believe he's the hardest to find Bigfoot on the market. No worries, though. In this guide, I'll teach you exactly how to hunt for your new furry best friend! From picking the right side to custom options, I'll help you choose the best Benny for you!
My Top Five
Do you have limited space?

Consider eight-inch Benny! 

Want a nap buddy

?

Try out the twenty-Four Inch Benny!

Looking for something more unique?

Pumpkin Spice Benny is your dude! 

Looking to expand your Bigfoot collection?

I suggest checking out the lovers!

A recent grad (twinsies!)?

Try your luck at finding graduation Benny
Quick Benny Facts 
Did you know that Benny is the 433rd squishmallow? Below are even more fun facts about our favorite big-footed friend!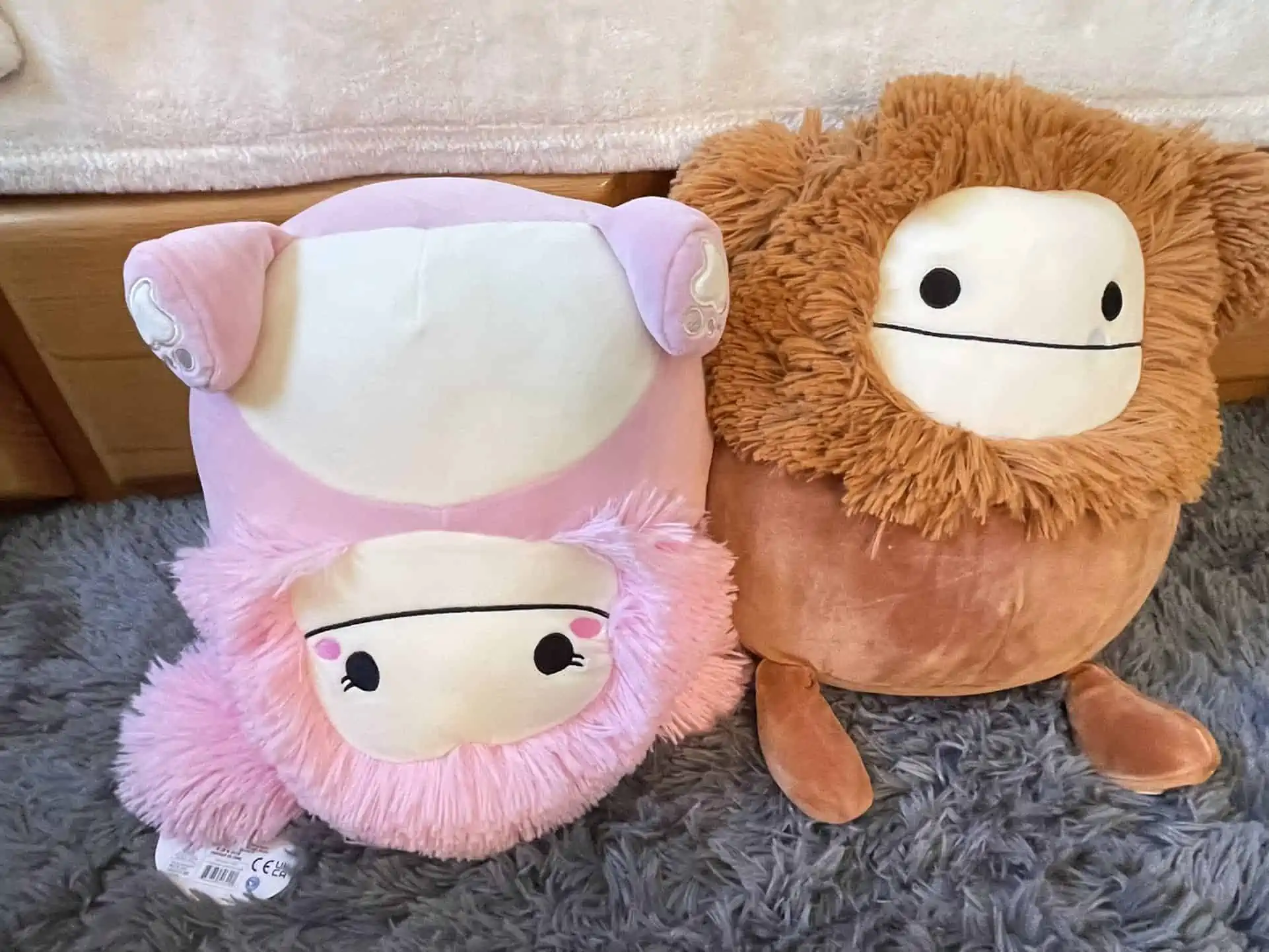 Benny's about Me
According to his tag, Benny loves running and playing with his forest friends! However, when he isn't running, he dabbles in his love for photography by hosting photoshoots for his pals!
His squishdate is March 11, 2020, making him a Pisces. Of course, this makes perfect sense, given Benny's creative side!
Why Benny?
The Bigfoots are hands down one of my favorite squish species to hunt! This is because of the thrill you get when you stumble into one out in the wild – the wild being your local store. How many of y'all travel to the closest Five Below at open anytime Benny is released? I know I do. 
Brown is the New Pink
There are officially over a thousand squishy friends available worldwide. Among this thousand, less than sixty are brown! This makes Benny one of the rarest squishmallows on the market and the rarest Bigfoot! 
For me, I love the brown and neutral squishmallows for the aesthetic. I love a good cottage core moment, and a hammock full of neutrals hanging from the ceiling fits right into my home! 
"Bigfoot Sightings"
If your goal is to have a complete Benny collection, knowing where to hunt will make your job much easier. Good thing I did all the heavy research for you! Below is an extensive guide to where to shop for our fuzzy friend. This includes the pros and cons, restock dates, departs to search, and price range! 
Five Below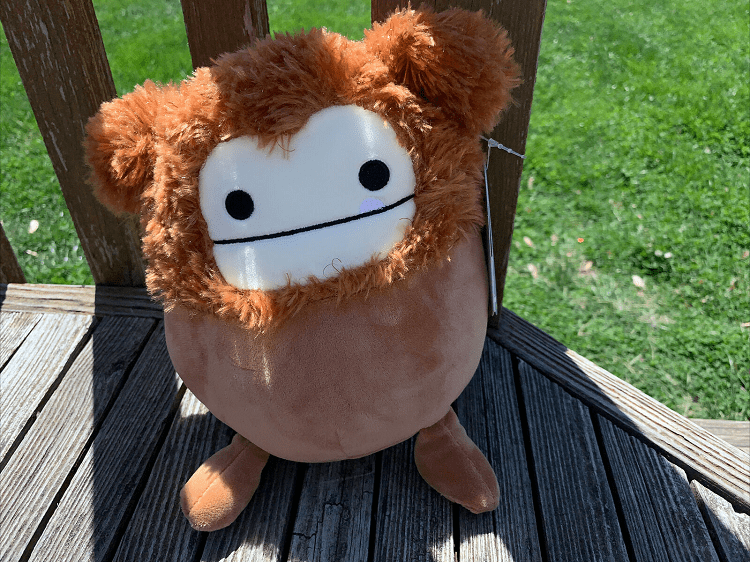 Five Below is hands down the most budget-friendly place to squish-hunt! That said, the rarer the plush, it will be harder to get your hands on. Restocks are often random but always on Sundays. Five Below will announce the restock a couple days ahead of time on social media to give you time to prepare!
Don't live near a Five Below, or are unable to get there when the store opens on Sundays? You're in luck, because they always put the entire squad online at 5am EST. Beware, though, as the rarest squish often fall victim to bots.
This means they are purchased as soon as they launch online. So be ready to move fast! Now, if you can attend a squish-restock in person, prepare for a big event. There will be a line, especially if Benny is launching, and the Bigfoot is often the first to go.
Price point-wise, they will always be $5.95 for an eight-inch! Most stores also will have a 4 squish per person limit, but luckily they are almost always in buckets right at the front of the store! I've been to a few.
However, they like to sprinkle squish in the toy section, the very back of the store, and in the checkout line, so if you don't find your Benny right away, don't forget to check these places!
Pros
Locked price of $5.95! 

Benny is often restocked! 

Occasionally hosts Squish-meets that are tons of fun! 

Available online during launch day! 
Cons
Benny is only available in his 8-inch form. 

Getting Benny here is very competitive. 

Usually a squish limit of 4 squishmallows. 

Products can be spread across the store. 
Walgreens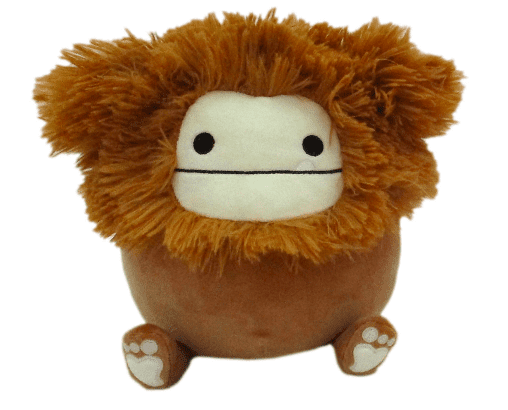 The thing about Walgreens is every single one I've been to is different. Some have nearly nothing squish-wise, while others are the holy grail of plushies. That said, Walgreens is where I had my first Benny sighting!
Also, I've discovered that the best time to search Walgreens is off-hours, so early morning and late night. If you're lucky, you'll catch them at restock! They carry Benny in eight inches and sixteen inches, as well as a double pack with Brina. 
Depending on size and edition, prices vary from $6 to $30. In addition, Walgreens is known to get special edition and holiday Benny, which typically run a bit more than the regular price. As of right now, online is sold out of all forms of Benny, but they do randomly restock, so it doesn't hurt to keep an eye on walgreens.com! 
If you're in a hurry or trying to search as many Walgreens as possible, check these departments: seasonal, toys, and end caps.
Pros
Usually multiple Walgreens in an area, so you can hunt without a ton of miles! 

They carry a double pack, so two Bigfoots! 

Usually get fun exclusives! 
Cons
Benny sells out fast, usually within hours of restocking. 

Restock is different per store. Some are at open while others wait till night shift. 

Prices and sizes vary. 
Target
Rumor has it that Target carries various sizes of Benny. I've even heard tales of those finding his clip! However, I, myself, have only ever seen twenty-inch in person. This seems to be a popular size at Target during non-holiday months. Aside from their special Hugmees (they don't have Benny, but his best pal Zaylee!)  
Prices at target stay pretty stable, ranging from $5-$50 depending on the size! They also tend to always be in the toy and the seasonal department, making hunting simple! 
Target restocks daily, but what they stock is always random. They often won't know whether Benny is in until after the stocking is done. Online tends to be unreliable, with prices leaning more towards reseller rates. 
Pros
You're likely to find a twenty-inch here! 

Often restocks daily. 

Who doesn't love a Target run? 
Cons
The website is inaccurate. 

Target tends to get other Bigfoots in more frequently than Benny. 

Smaller sizes sell out fast. 
Ralphs/Harris Teeter/ Kroger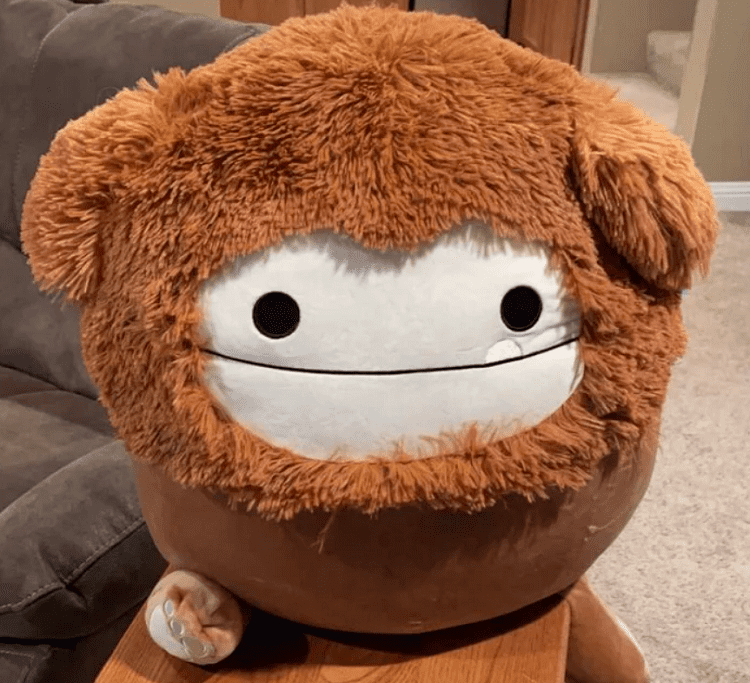 I wouldn't go out of my way to search a Kroger grocer for Benny, but if you happen to be shopping anyways, you may luck into him!
Usually, Ralphs/Harris Teeter/Kroger have squads they get every couple of months, and once they sell out, they're gone until the next squad hits. Most of the time, this is for holidays, but during off months they get in rarer squish such as Benny!
Prices are usually more inflated than in other stores. For example, an eight-inch is typical $5-8 but will lean closer to $12 at Kroger. However, they often have sales for members, and memberships are free!
He can be stressful to hunt for here as he doesn't have a department. If you're lucky, he'll be in the seasonal/candy area up front. Otherwise, they are scattered around the store on end caps and decorating the tops of coolers.
Pros
Serotonin boost on your next grocery store run! 

Sometimes up to 30% off with a Kroger card! 
Cons
You will be paying more than other stores. 

Restocks are rare. 

No clear department to search.
Walmart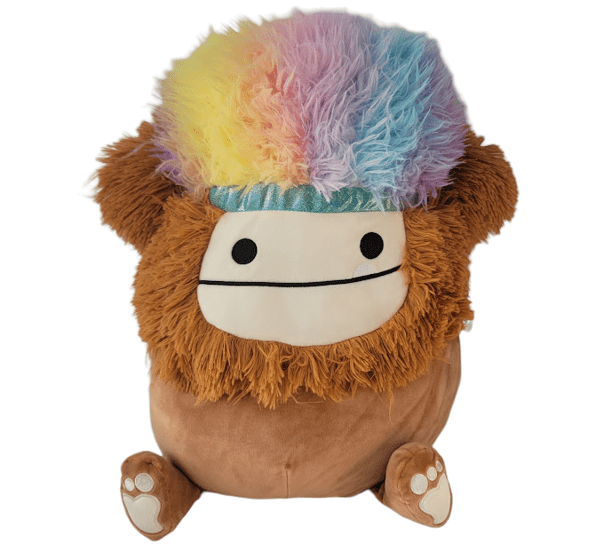 Fun fact: Walmart currently carries TWO special edition Bennys! In giant blue, Squishmallow buckets outside the toy aisle, you may find Benny with a rainbow hairdo, and, if you're lucky, a graduation hugmees!
Prices at Walmart are the average $5-$50 based on size. Walmart also gets shipments in daily, but like Target, they will not know what Squishmallows are coming in until after stocking. Also, like Target, Walmart's website is extreme in prices. It appears that third-party resellers can post on Walmart's website, which causes the giant price difference.
As for where to check, if you're after graduation Benny, head towards the party section. If you're looking for the OG Benny or Rainbow Mohawk Man, head towards toys. They usually are in giant Squishmallow branded boxes outside of the toy aisle!
Pros
Restocks often!

Best prices for larger sizes.

Currently carries TWO special editions. 
Cons
Graduation Benny can be hard to find. 

Online is unreliable. 

They are usually in big buckets, meaning you'll have to dig for Benny. 
Amazon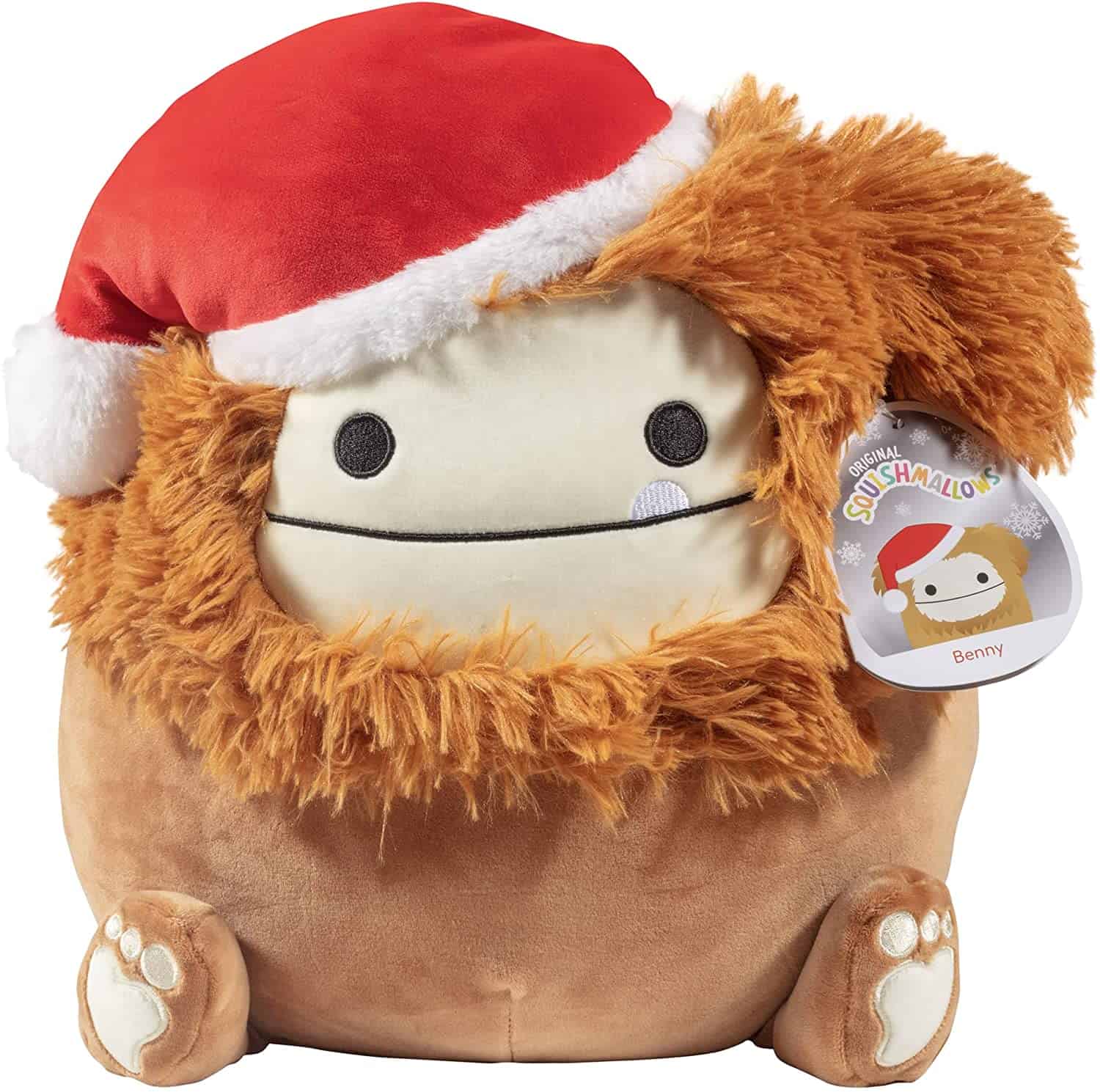 Do you love Christmas in July? You can still get Santa Hat Benny on Amazon!
I know hunting online isn't as fun as in person. A serotonin boost comes with finally finding your ISO plush after weeks/months of searching. However, if you're in a pinch, Amazon carries a wide variety of Bennys!
There's no indication when Amazon replenishes their stock, but if your Benny of choice is out of stock, you can request to be notified when he's back!
Price-wise, Amazon is on the higher side. I'm talking $90 for a sixteen-inch high. But, he is a Prime product, meaning shipping will be free, and if you're not into the hunt that comes with the rarest squish, it's not an awful price to pay!
Pros
Amazon Prime product, so free 24-hour shipping if a member! 

Has holiday edition Benny months later. 
Cons
On the more expensive side. 

Takes away the thrill of a Bigfoot sighting. 
Mercari, & Squishmeets, & Collectors, Oh My!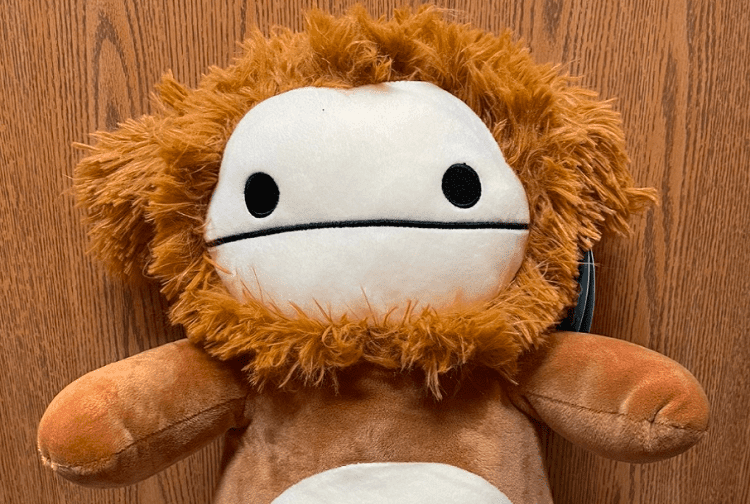 Squishmeets are fan-held events where Squishmallow collectors agree to meet up to sell and trade their rarest fur friends. Benny almost always will make an appearance at a squishmeet, so keep an eye on Instagram for any in your area!
Prices tend to be on the lower side, as these events are for squish's love, not profit. Most people are there for the trading, so bring your own rare plushes you're willing to part with and make friends with other local collectors! 
Mercari is like an online squishmeet. Prices are more often than not fair for Benny, ranging from $3 to $300 for a special edition Benny!
While scalpers sometimes make their way onto Mercari, the website is mainly dedicated to collectors and fans just like you and me! Sometimes sellers are looking for trades, so check the item description and message the seller if you happen upon a Benny for an exchange! 
As for collectors shops, you will always be paying resell prices. Most likely leaning towards the scalper range. These shops aren't affiliated with Kellytoys in any way. Usually, they don't know a ton about the product as their inventory includes dozens of other collectibles. However, you are most likely to find rare and out-of-season Bennys here!
Pros
A community experience! 

The best chance of finding your specific ISO Benny! 
Cons
Scalpers!  

Usually the most expensive route. 

Benny will almost always be used. 
Directly from the Source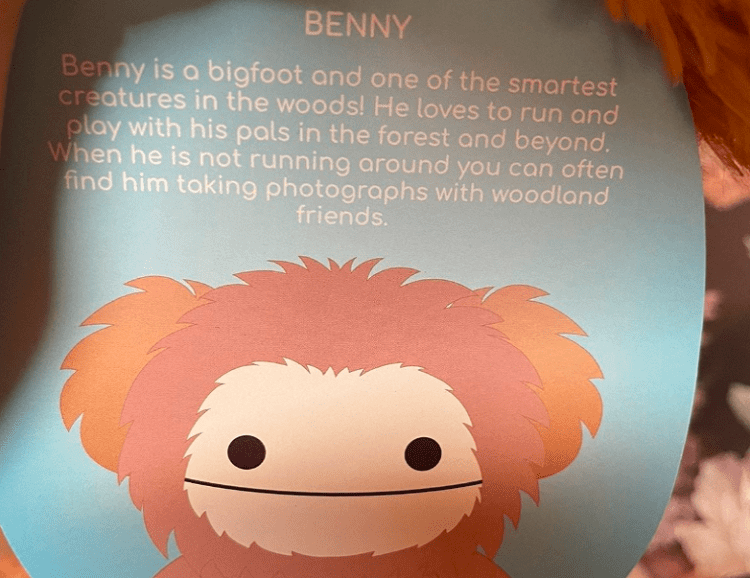 To wrap up where to hunt, let's talk about Squishmallows.com! Obviously, this is the most trustworthy place to find Benny online. Still, when he is restocked, it is usually the twenty-four-inch. To put that in perspective, my 24-inch Squishmallow is used as a beanbag chair. So they aren't ideal for those with limited storage.
Restocks are announced on Instagram, but Benny usually sells out within the day, so make sure to rush to the site when you see the post! 🙂
Pros
Can be notified via email of restocking. 

Great if you're collecting big squish! 
Cons
The twenty-four-inch takes up a lot of space. 

Sells out quickly. 

The website tends to only keep a handful in stock at a time. 
Sizes of Benny: From Clip to Beanbag
Clip 
Clips are probably the hardest to find size for any Squishmallow. This makes it the ultimate hunt for your Benny collection! They're perfect for hanging from keys and bags and occupying little to no space. I personally hang mine from my stuffed animal hammocks! 
Currently, the only place to find clip Benny is collector shops and resellers as he is not in stock in stores.
Pros
The perfect size for those with big collections or small spaces. 

The rarest size to find! 
Cons
Since it's the hardest to find size, he costs as much as some twenty-four-inch. 

Rarely in stores. 
Five Inch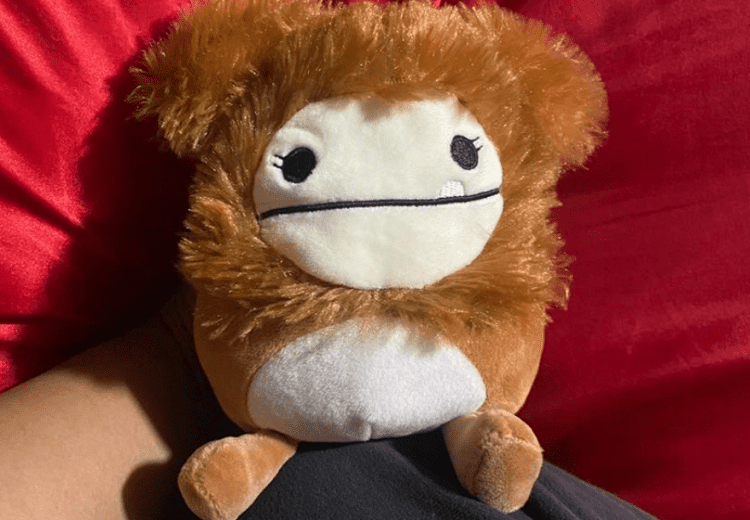 Just like the clips, the five-inch Squishmallows tend to be hard to find. This is because they're the ideal size for children who want to collect as many Squishmallows as possible.
They're also perfect for adults like me, who share a tiny apartment with roommates. Five-inch Benny sells for $95 on Mercari as he hasn't been available in stores in over a year. 
Pros
Small but still squishy. 

Rare enough to have bragging rights. 
Cons
Hasn't been in stores in over a year, so have to buy resell. 

Rarely available for reselling. 
Eight Inch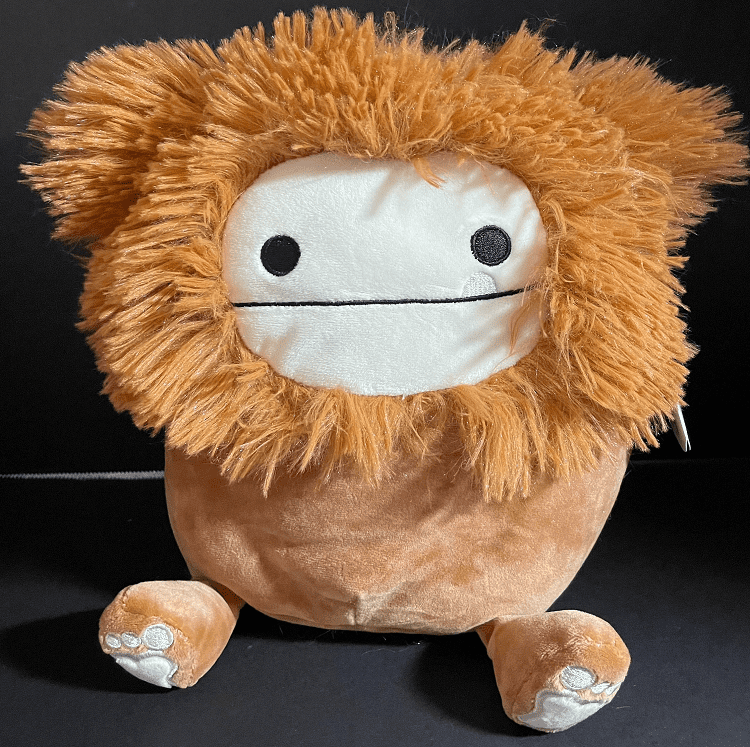 Where the previous is the rarest Benny sizes, the eight-inch is the most common! Almost any store that carries Benny will get his eight-inch in during a Benny replenish.
He even pops up at Five Below on weeks he isn't scheduled! I consider eight-inch the perfect size for both displaying on shelves if you're a collector and children! AKA, they're the ideal size to play and display, haha.
Pros
Easiest to find. 

Most price friendly.

Perfect for children. 
Cons
Honestly none. 

He's a bit basic compared to his smaller/bigger counterparts. 
Twelve and Sixteen Inch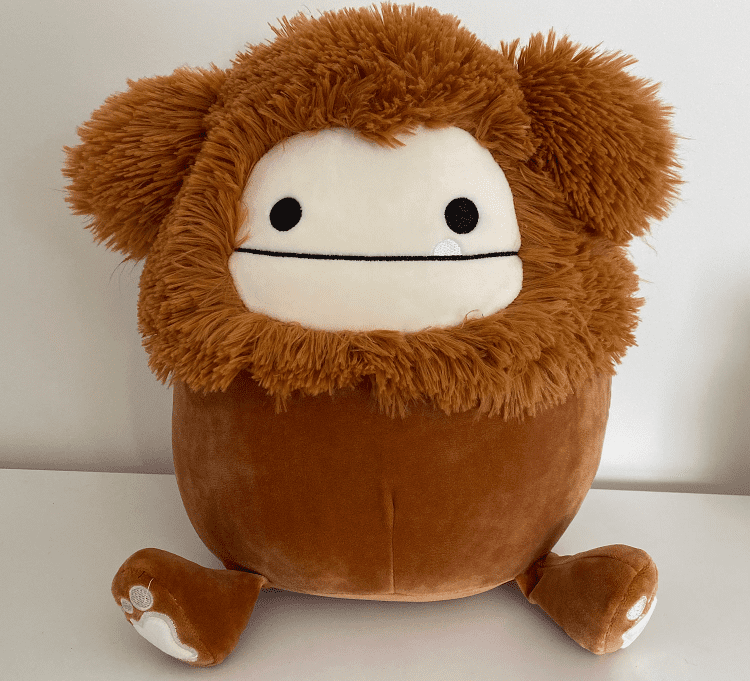 The twelve-inch is when Benny's features begin to feel more defined. His ears are more prominent and droopy, there's more space to notice his single bottom tooth, and his heart-shaped footprint is more noticeable. Altogether, he's the perfect, hugable size without being overwhelming storage-wise.
The sixteen-inch is hands down my favorite size when it comes to Benny! His feet are adorably floppy. Cuddling him is like a big, warm hug. And best of all, he still fits perfectly in my storage hammocks!
Pros
Large enough to hug but small enough to not take up too much of your bed. 

A rather large plush for under $30.
Cons
He tends to sell out fast. 

In my experience, the large Bennys shed more than the smaller ones.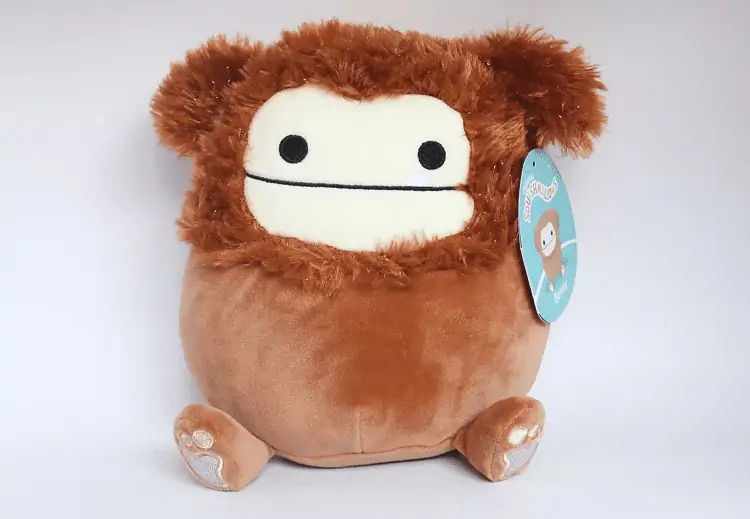 Living up to the Bigfoot name, these Bennys are large and in charge! Trust me, if you've never had the honor of seeing a twenty/twenty-four-inch Squishmallow in person, they're massive!
This size is perfect if you are a Bigfoot lover who wants Benny to show off your love. They're also great for those with larger spaces and more storage. I can't stress enough how adorable it is to use the twenty-four-inch as beanbag chairs for children. The opportunities with the large squish are endless!
Pros
Max level squishy. 

Decorative possibilities. 
Cons
Takes up A LOT of space. 

Won't fit in most plushy storage nets. 
The Different Faces of Benny

Original Benny is a must-have for any Bigfoot collector! He's the only variant that comes in all the above sizes and is in stock year-round! He's our OG, mid-pandemic bestie until the end. As more and more special edition Bennys make their way onto the market, the original will always have a special place in my squish-loving heart.
Pros
Findable in stores! 

Comes in many sizes!
Cons
Literally none. OG Benny is perfect! 

Okay. I'll admit it. He can be a bit basic compared to the other options!
Benny is for Lovers
Did you know that Benny has a significant other named Brina? She's a candy-pink Bigfoot who's obsessed with snowboarding. You can find Benny partnered up with Brina in February in a special two-pack!
However, I still see these Valentine's exclusives pop up at Walgreens, and Claire's around me! According to my insider scoop (being friends with cashiers, haha), this is because of a massive shipping delay earlier this year!
Pros
Two Bigfoots for only $20! 

Benny and Brina are the power couple we all need in our lives.
Cons
Only available in eight-inch.

Only available during Valentine's season. 
The Doos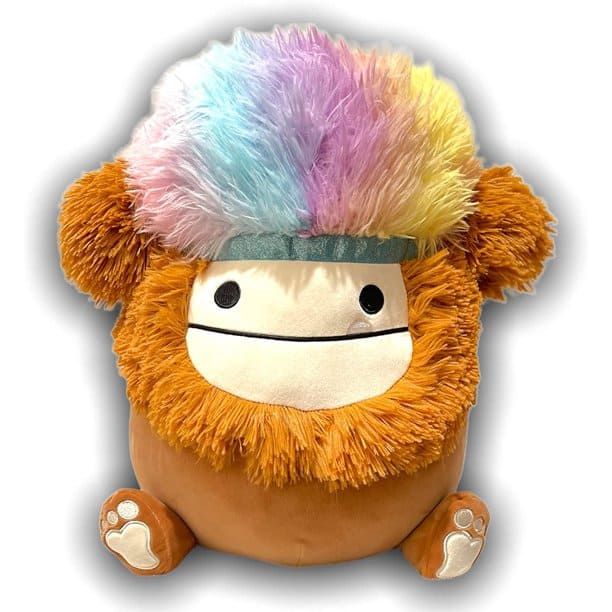 Okay, we've made it this fr together. I'm going to be honest with you. I can't stand the Squishdoos. I know, this isn't exactly a controversial opinion, as many Squishmallow fans consider these hideous.
Benny is actually the only one from this collection on my ISO list. As you can see, Squishdoo Benny adds a rainbow afro to his already fluffy head, and he pulls it off in a way only Benny can do. He's perfect for a Pride companion, and his new doo fits his goofy personality.
Pros
Readily available at Walmart. 

Extra fluffy. 
Cons
Only comes in sixteen-inch. 

In my opinion, his squad-mates aren't up to par with Benny. 
Squeezemallows

Squeezemallows are a newer style Squishmallow that rose in popularity in the last few months. Unfortunately, Benny is among the rarest of this style and isn't available in stores. He occasionally pops up on Mercari, but typically starts at $90.
Pros
His arms are precious. 

Easy for kids to carry around.
Cons
In an in-between size somewhere between eight-inch and twelve. 

Not squishy. 

Only available in Graduation and Easter special editions.
Holiday Exclusives

Despite being a fan-favorite Squishmallow, Benny rarely gets a holiday form! Currently, the only ones are graduation, Easter, and Christmas Benny. Easter Benny launched this past Easter and is a squeezemallow exclusive to CVS with a tiny pastel egg on his tummy.
Pros
The limited-time frame adds to their rarity. 

Holiday exclusives are always fun designs! 
Cons
Only available for a month each year. 

Usually exclusive to specific stores.  
Cottage Core Benny

Etsy creators have started making custom Benny plushies, and my all-time favorite is the cottage core Squeezemellows! Note, this is just a clothing set for squeezemellows. Squeezable Benny currently only comes in Easter and Graduation editions, giving those who don't celebrate these occasions a chance to collect Squeezemellow Benny!
Pros
A beautiful, aesthetic version of Benny. 

A unique twist on an all-time favorite. 

Supports small businesses! 
Cons
Shipping and handling can take weeks to months.

Must already own a squeezmallow Benny.
More Custom Bennys

There are many other customized Benny squishes ranging from zombie Benny to PSL Benny!
Customs often take other Squishmallows and combine them with fan favorites. For example, the one above is Benny combined with a Claire's exclusive Pumpkin Spice cat from last fall!
Pros
A unique twist on your favorite Bigfoot. 

Fun for collectors. 

Could be a fun DIY for the craftier Benny stans.
Cons
Long shipping and handling times. 

Only available on Etsy, Mercari, and Instagram.

Handmade by third-party companies, so can arrive not as expected. 

Usually, only smaller Squishmallows are customized. 
Alternatives to Benny

The other Bigfoots are ten times easier to find than Benny. With that being said, they aren't common either. However, there are alternatives if you're struggling to find Benny but still want a Bigfooted friend to snuggle with. 
We've already discussed Benny's lover, Brina, but she also has a best friend: Hailey. She's a hot pink squish that is exclusive to the United States. 
Also in pink is Caparinne. Fun fact about this squish: she's a Five Below exclusive. She's light pink with a bush of pastel fur around her face. However, everywhere outside the US, she looks exactly like Hailey. 
Next in pink is Zaylee. She has a pastel pink body and colorful ears, much like Caparinee. In fact, the two are often confused with each other! The best way to tell the two apart is to look at their body. Zaylee is a much lighter pink than Caparinne! 
Lastly, in the pink Bigfoots is Dobrilla. She's a valentine exclusive, as she wears a heart headband. She also only comes in sixteen-inch! 
Moving on from pink is the blues! First, there's Joelle, a light blue Bigfoot that is only available in sixteen-inch and below. Lastly, in the blue squish squad is Zozo! She has a pastel blue body and a colorful mane around her head! 
Finally, during the winter months is an unnamed, solid white, Canada-exclusive Bigfoot! While her tag is nameless, it is speculated in the Squish community that she is the holiday form of Zaylee! She's the ultimate Bigfoot to complete your collection as she is the absolute hardest to find, unless you find yourself in Canada during December. 
Even More Benny Content

As I mentioned, custom Benny content is blowing up on Etsy! So if Benny is your favorite Squishmallow, be sure to check out the ever-changing merch! My personal favorites are this color-changing Benny lamp and these handmade earrings! 
Custom merch tends to move fast, so check often! At any given time, you should be able to find tons of Benny stickers and tumblers to show off your love for my favorite Bigfoot! 
The Q&A's 
Question: What Squad is Benny in?
Answer: Benny is a member of the Fantasy Squad! At Five Below, he is a part of Series 36. 
Question: What is Benny the Squishmallow Supposed to be?
Answer: Benny is a mythical creature called a Bigfoot. 
Question: Is Benny the Squshmallow Rare?
Answer: Benny is a fan favorite, making him one of the rarest Squishmallows on the market! 
Question: When did Benny the Squishmallow Come Out?
Answer: Benny first launched in mid-2020!
My Conclusion on Benny 
Bigfoot sighting is fun for everyone, even those who don't collect Squishmallows! They're cute and fluffy, and it's easy to see why Benny is such a fan favorite. From his adorable single tooth to his heart-shaped feet, he's the perfect Squishmallow.
Rather, you're starting your collection, an avid Squish-oholic, or just a Sasquatch fan!
More Squish to Hunt: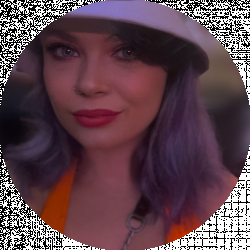 Latest posts by Teryn Greenway
(see all)