Stressed out by your little one who won't eat fruit? Want to learn a trick for them to eat the fruits the body needs for a stronger immunity? Be creative, and they will be asking you for fruits in no time.
Strawberries, in this case, are known to be very high in vitamin C, so today, we're going to be focusing on the strawberry squishmallow guide, which will help you C how these soft toys can pique your child's interest in fruits for a better immune system.
I feel that strawberry squishmallow is for everyone, from young kids to teenage collectors. This adorable fruit-inspired plush will not only inspire little foodies and promote healthy eating habits, but you can also use it as a bedroom decoration or pillow. It will be like hitting two birds with one stone, right? That is why I'm obsessed with these adorable squishmallows. 
A unique feature of the strawberry squishmallow is that most of them have been designed to look like actual strawberries. So let us get to these berry special recommendations.
Bottom Line Up Front
Do you love soft and squishy plushies? Well, then I have a treat for you! The Strawberry squishmallows are not only soft and squishy, but they make the perfect friends to play with, take naps with, and keep you company. My favorite strawberry squishmallow is Suzy, the squishmallow strawberry. She is in my favorite color, and I'm obsessed with her pink glittery bow and her gorgeous lashes. She is also the perfect size to take with me when traveling. Let us have a look at my other top picks.
Top Picks
Strawberry Squishmallow Recommendations
Finding the perfect plush toy for your child, friends, family members, or even yourself can be challenging. But don't worry, I have come up with a cute little guide that will ensure you get the berry best squishmallow. So let's get to it!
Meet Scarlet guys! Although she is small, she is super soft and squishy and makes a great traveling buddy. She is the friendliest strawberry you will ever meet, and once you get to know her sweet personality, you will want to eat her up( But please don't). 
Scarlet loves the farm and dreams of one day owning her farm with her boyfriend Melon. She especially loves the cows, or as she calls them, the Moo Moos. So if you have a cow squishmallow, add Scarlet to your collection. I can guarantee you they will become the berry best of friends. 
Features
Scarlet is a red strawberry squishmallow with green leaves on her head that looks like a cute green hat.

Her belly is pink.

Scarlet has seeds covering her body.

She has pretty little black round eyes with perky lashes

Her mouth is pink, and she is always smiling.
Pros
She is soft and squishy

She is a great size to take with you wherever you go if you hate traveling alone

Cute details

The perfect gift for someone who loves strawberries

Cute eyelashes
Cons
She is very expensive

For some, she might be too small
Say Hi to Suzy, everyone! She has the most beautiful pink color and has a cute little glittery bow on her head. If I could be any plushie, I would choose to be her. Why? Because by just giving her one look, you can see she has the sweetest personality and the most beautiful heart. And you will just want to be friends with her. She has very similar features to Scarlet, but I would say she is a younger Strawberry because of her glittery bow, rosy cheeks, and the light green leaves on her head that look like a hat. Let us look at some of baby Suzy's features: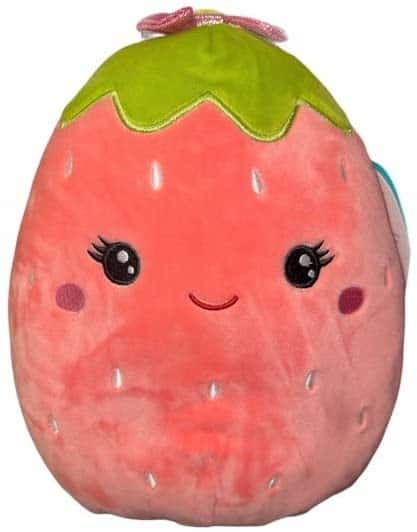 Features
Suzy has a light pink body with a green hat( leaves).

She comes with a cute glittery pink bow

Suzy has beady black eyes with whitish circles inside with eyelashes that look as if she has the best eyelash tech in town

She has pretty pink cheeks

She has seeds over her face and body
Pros
It's a perfect gift to give to someone special

It has features of a real strawberry( the leaves and the seeds)

It has a glittery bow that just adds to her cuteness

She is a beautiful light pink!

She is scented
Cons
She is smaller than expected

She is overpriced
This scented strawberry squishmallow will be a beautiful addition to your collection. Not only does she make a super cute toy, but she is also the perfect companion on those lazy days where you just want to cuddle, or you need a comfy pillow, and she can do both! 
Caparinne is a beauty pageant strawberry queen! She believes the gold glitter ribbon that her grandma gave her brings her luck. Everybody loves her, and as of yet, she hasn't lost one competition. 
Now let us get to this beauty's features: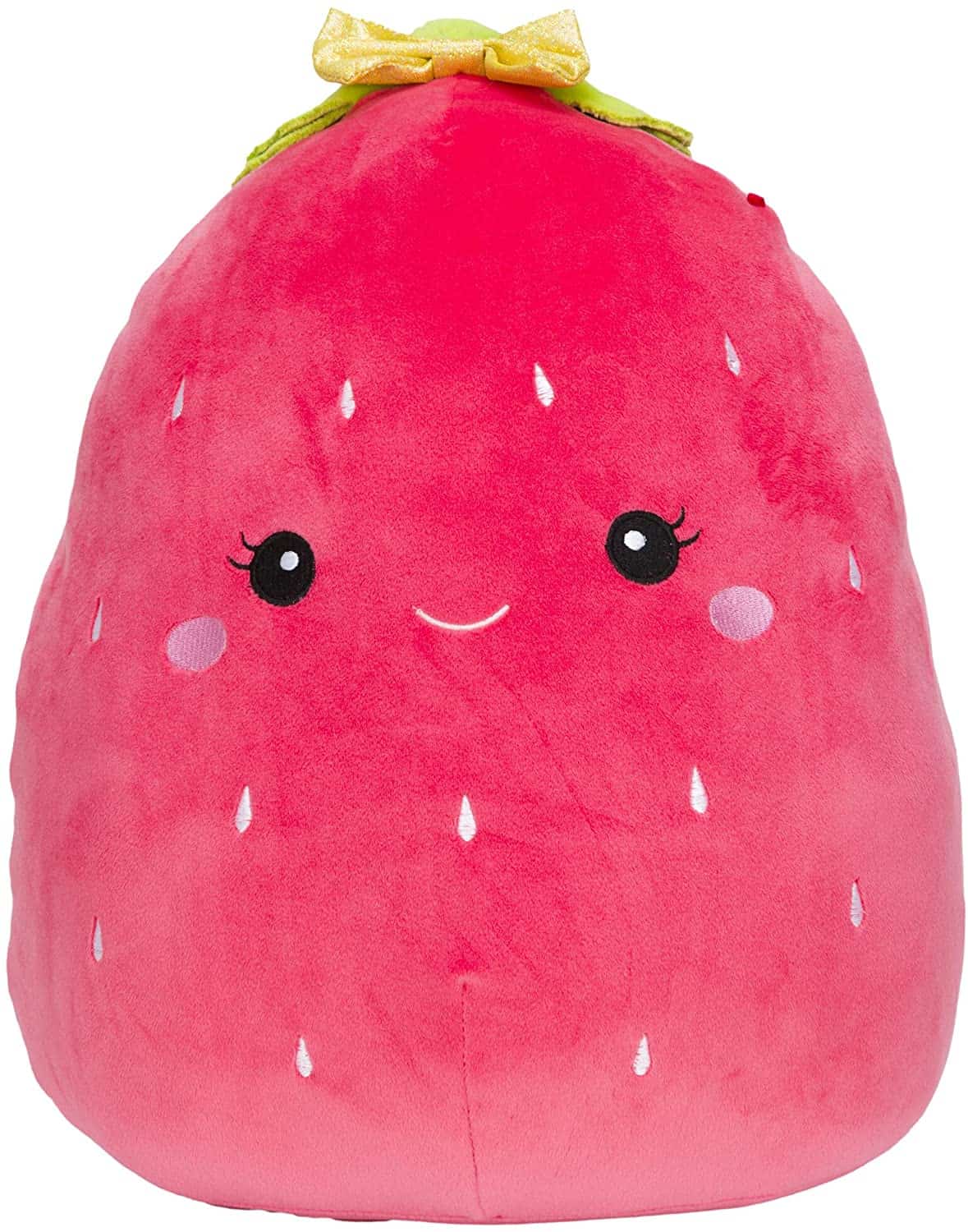 Features
Caparinne is a dark pink strawberry squishmallow

She has green leaves on her head that form a hat with a cute glittery gold ribbon on it. 

The plush has seeds covering her body.

Her eyes are circular with white pupils and with perky lashes

Its mouth is white, and she is always smiling.

She has cute little round pink cheeks.
Pros
She is super soft

It is scented, and It's the perfect choice for people who love the strawberry scent.

It makes a beautiful bedtime buddy since it's large enough to cuddle.

It's a beautiful color

Pretty little golden bow

She will look great on your bed or as a cushion in your living room 
Cons
It might be irritating for people with allergies since it's scented.

She is very expensive
Meet Sissy! She is small but feisty! Some say she is losing her seeds( we know it as losing our marbles). Because she likes doing a lot of things at once, she ends up forgetting to do half of these things. But all in all, she is super cute and loveable and will make a great addition to your collection. Just keep an eye on her with your other plushies as she might influence them with her crazy ways.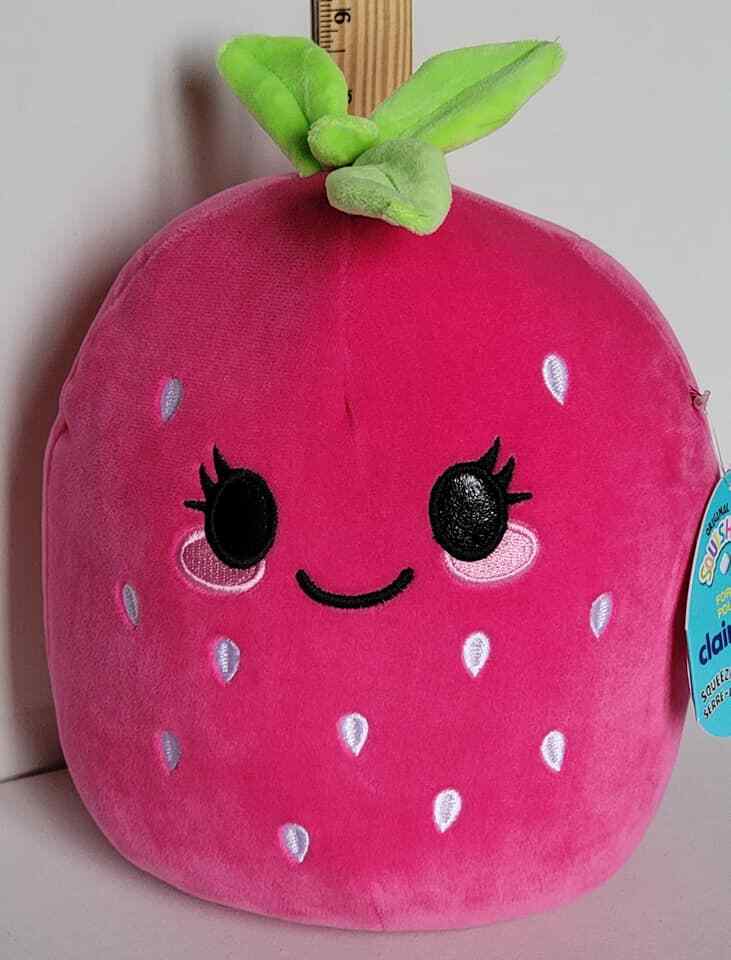 Features
Sissy is pink in color and has white seeds.

It has three narrow, light green leaves on its head.

Sissy has big black eyes with spiky eyelashes and a big smile.

Also, she has a soft pink blush under each eye.
Pros
It's a great addition to a living room or bedroom.

It's a perfect gift to give someone during the holidays or on Valentines' day.

She is a great size, so your SO can take them wherever they go so that they are not lonely and can think of you.

She has cute features like light green leaves and big eyes with spiky eyelashes.

Compared to the rest of the strawberry squishmallows, she is affordable.
Cons
She is small

I don't like it that her eyes cover her cheeks.
Are you obsessed with tie-dye? Well, then you will love Reva. Reva is in a beautiful dark and light pink tie-dye color with a cute white flower on the side of her head. The leaves, or should I rather say that in this case, are a beautiful glitter green color with a brighter green as the outline. She is a unique and fun option and will bring life to any room you put her in. Let us have a look at her features.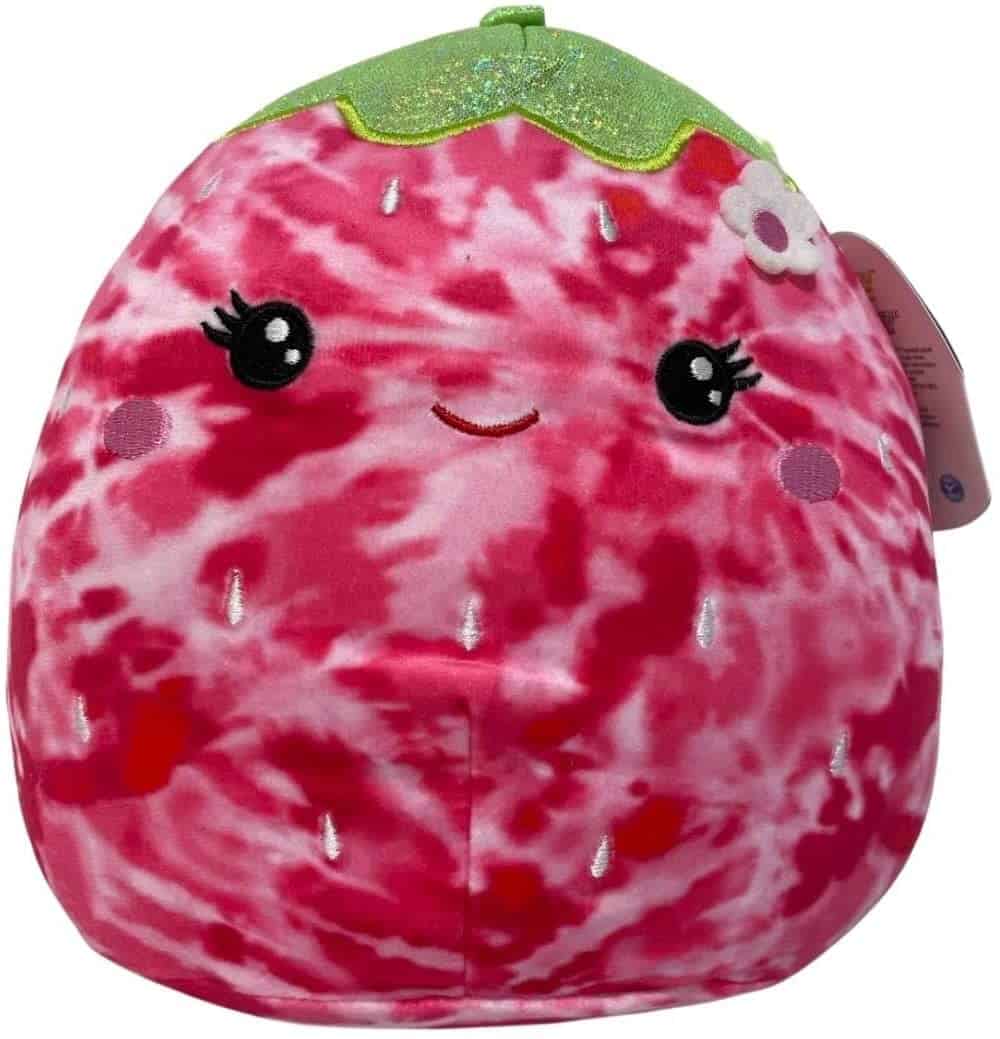 Features
Reva strawberry squishy comes in two colors; red and pink tie-dyed

This squishmallow has a glittery green hat

White seeds are spread over her body

She wears a whitish flower containing a pink center on her head.

She has circular black eyes with white pupils

She has a small red mouth
Pros
The tie-dye pattern makes it a special gift to a loved one.

Its facial features are embroidered on, which makes it safer for little children

Cute little eyelashes

Cute added detail with the white flower and glitter green hat
Cons
She is expensive

For some, she might be too small

It's an inaccurate representation of the natural strawberry, so it's not an excellent educational tool.

Not everyone will love the tie-dye color.
Alternative Strawberry Options
So maybe the strawberry squishmallows were not for you, don't worry; I have some other strawberry plushie options that I'm sure you will be obsessed with. 
Let us take a look:
This strawberry plushie is adorable and will look great in your living or dining area on a tray. It will just give off a fun and unique vibe and will get people's attention. Let us have a look at his pros and cons.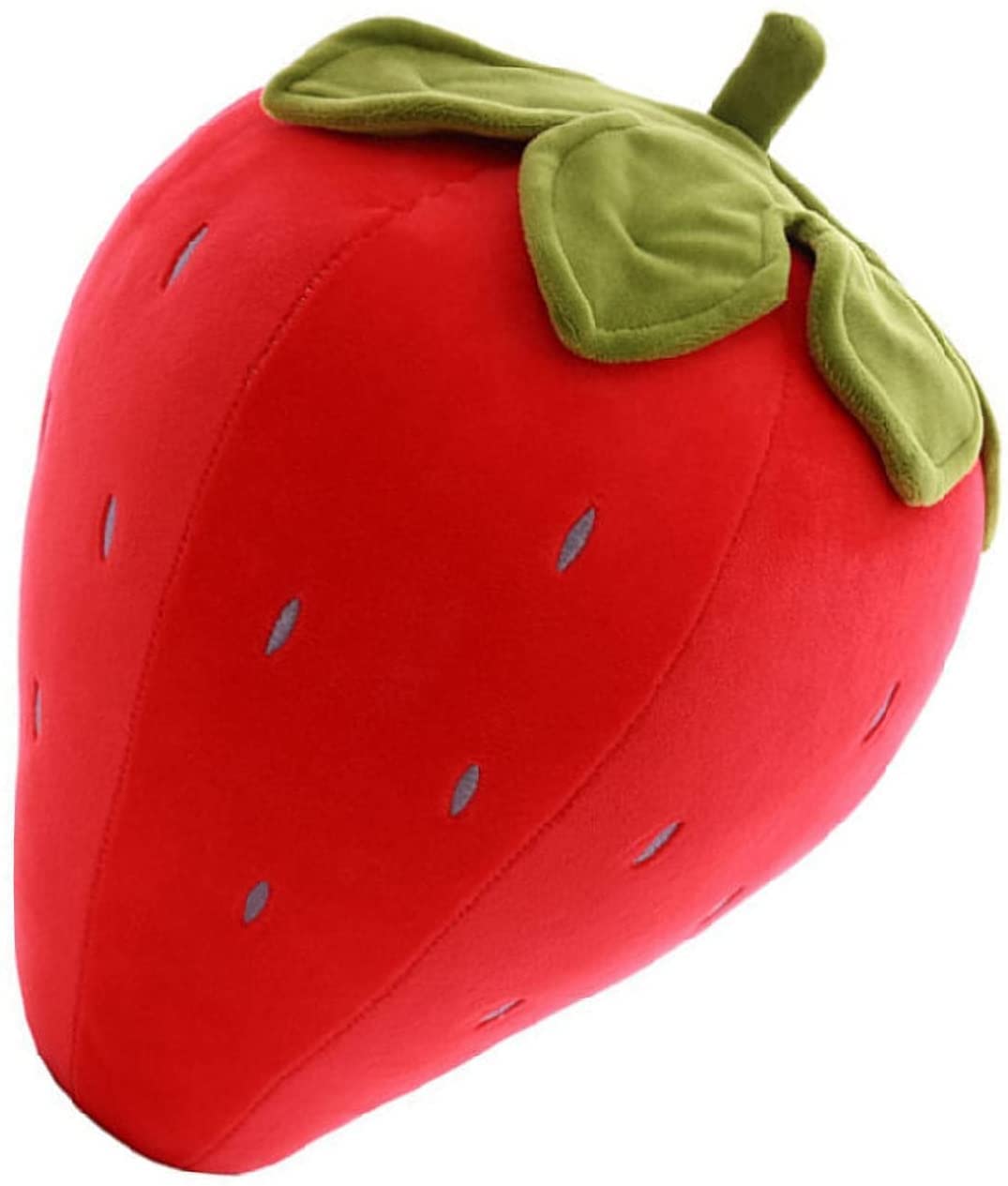 Pros
It looks realistic

It is soft

It is affordable

It will look great in any room

Makes a cute gift for anyone obsessed with fruits
Cons
This is not a strawberry but a cute little piggy dressed in a strawberry outfit. It is so adorable I just had to add it to the list. You can even remove the strawberry hat of the piggy to reveal its cute chubby face. Let us have a look at its pros and cons.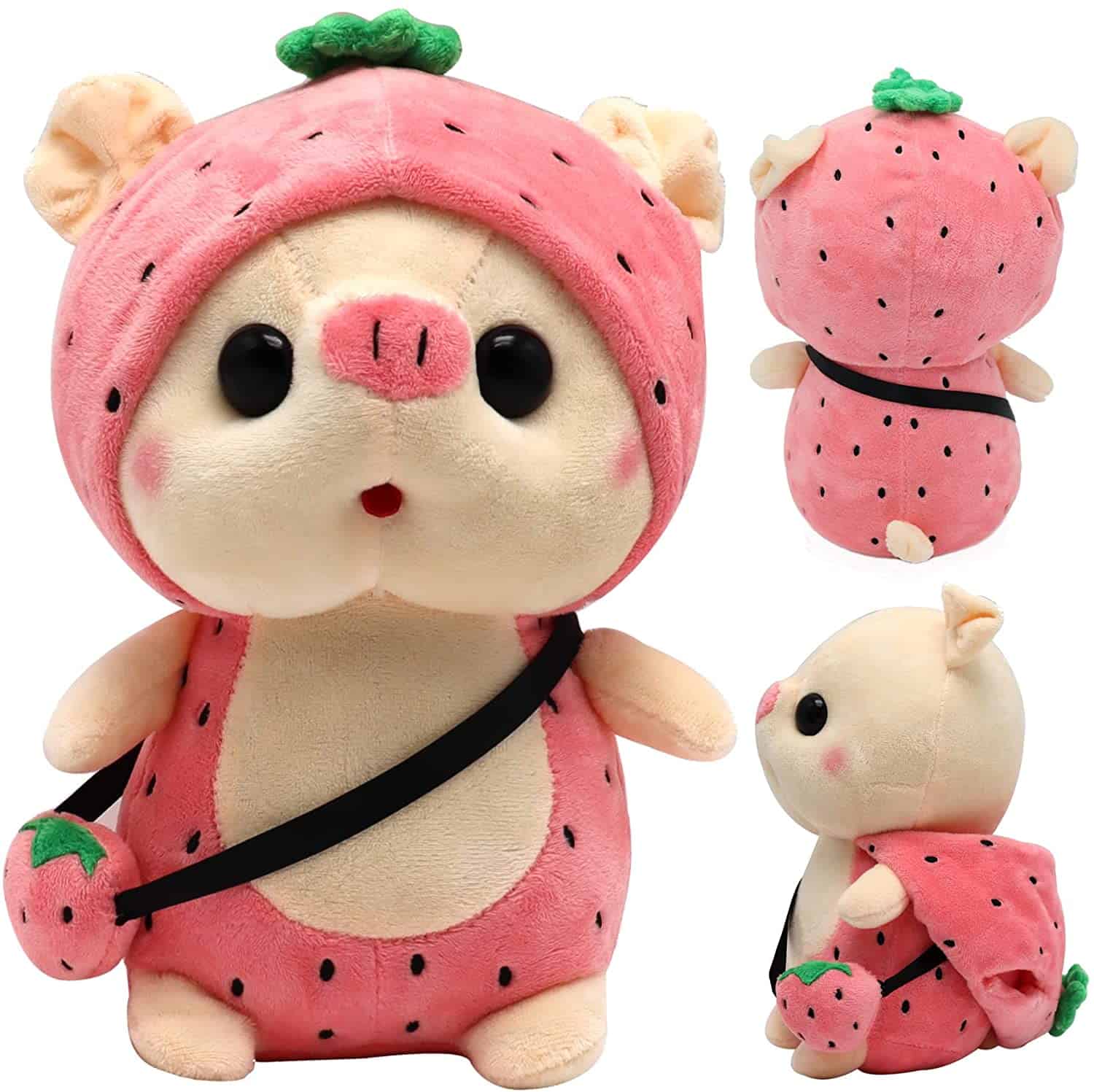 Pros
It is a great cuddle size

It is soft and squishy

It is super cute 

Has great detail

You can remove its hat 

It is pocket friendly

It has a cute little strawberry handbag
Cons
Not everyone will; like the idea of a piggy dressed up as a strawberry.
This strawberry pillow is super cute, and it is scented! What more could you ask for? It has adorable eyes that will make you fall head over strawberries with it. It has a big smile that will always put you in a great mood and be a light in the darkest of times. Let us have a look at its pros and cons.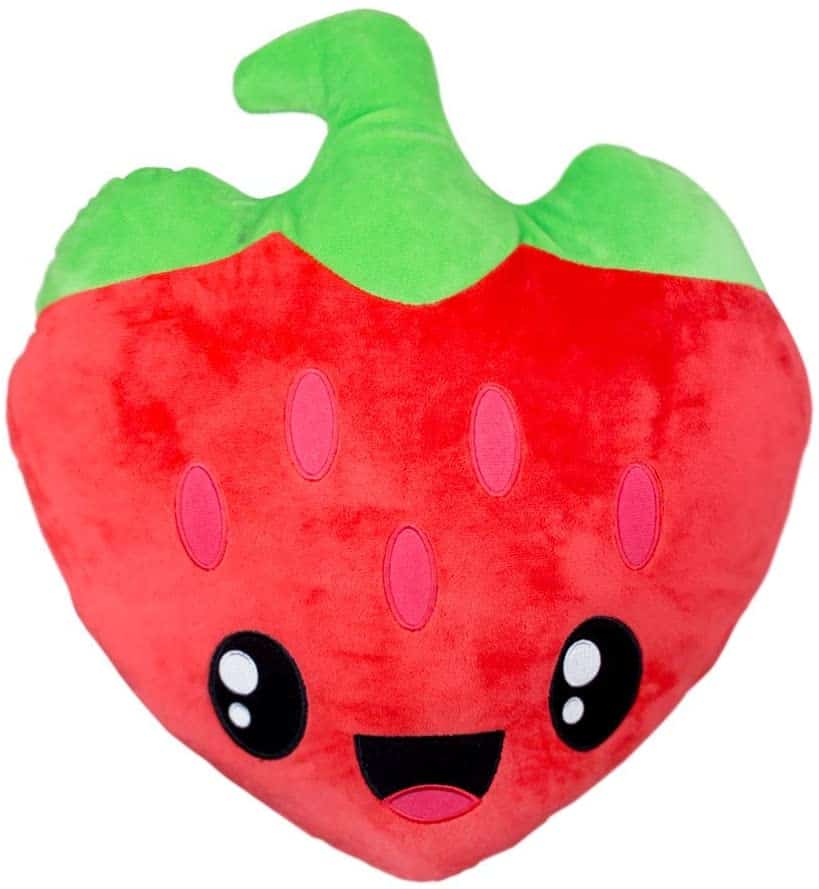 Pros
It is super adorable and soft

Gives a cute and stylish look to any bedroom

It is super comfy 

Makes great gifts for kids and adults
Cons
Tips to Help the Reader
There are various alternatives to select from when searching for strawberry squishy. These strawberry squishmallow buying tips will enable you to find the right one for you, whatever your needs are:
Consider Your Budget on the Strawberry Squishmallow
Avoid going out to purchase the first strawberry plush you come across. It's a great idea to try and get a few stores that sell it and find out if they have better deals. Also, you can check online stores too( that might be easier).
Be Sure to Look for a Store that is a Little Cheaper but has a Good Quality Product
Ensure you're looking for a slightly cheaper store that has top-notch products. This strategy will help you to save a lot of money. Also, it would help if you considered factors like getting free shipping to ensure that you get the best deal possible.   
Closely Check the Squishy to Determine if it's Genuine or a Fake
So how do you recognize an original squishmallow? The best thing you can do is check the stock on the official site and ensure it's listed. The list includes sold-out items, so don't be fooled by desperate sellers looking to deceive you.
Also, you can study the tags. This will also tell you whether that cute squishy is real or if it is a strobbery( robbery). 
Keep the Child's Age in Mind
When shopping for a squishy strawberry toy for your child, you'll have to consider the child's age. This is important since the last thing you want is to give a kid a squishy too big for them to have fun with. Plushies come in different sizes. So make sure to keep this in mind.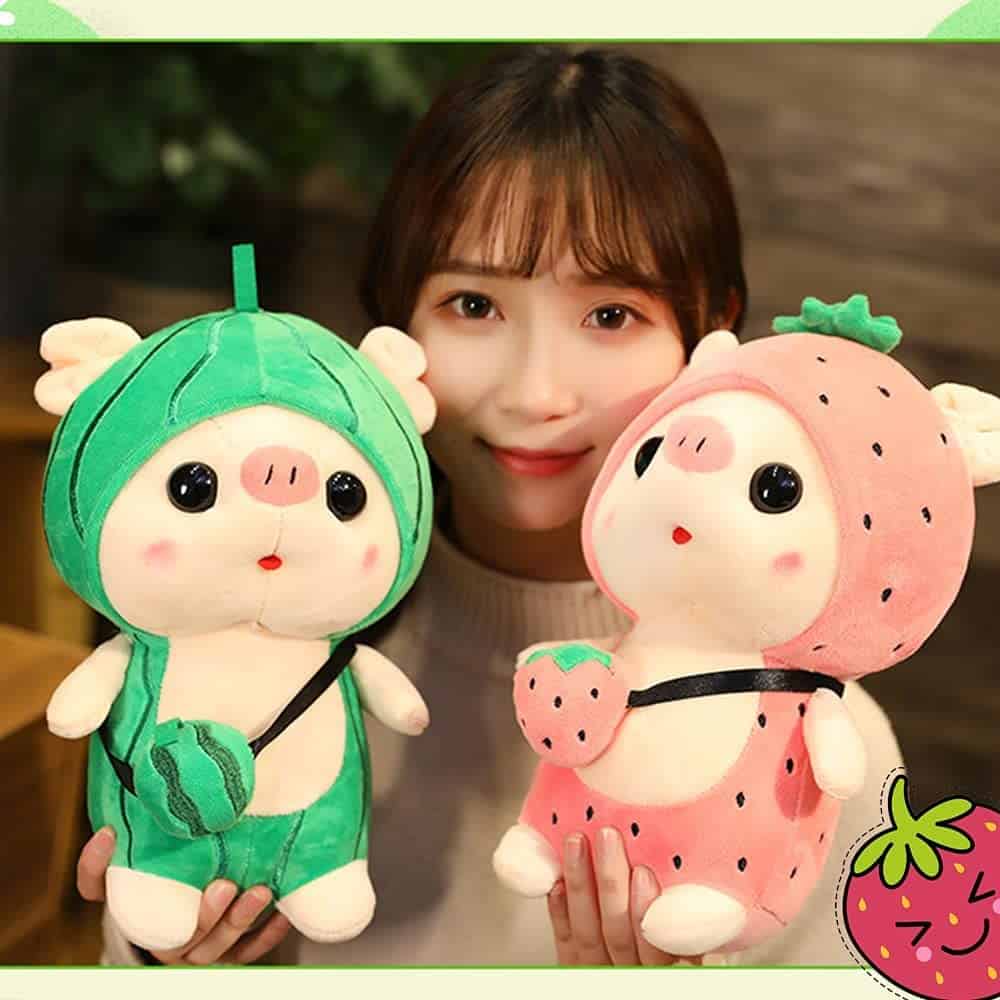 FAQs
Question: How did Squishmallows get so Popular?
Answer: It all began with the covid-19 pandemic. During the first coronavirus outbreak, people needed a break, so they turned to social media or technology, especially TikTok.
Since most people were very inactive with too much free time on their hands, they began content creation on the social media platform. And voila, a content creator, went viral for creating a video about squishmallows.
People soon realized they could find happiness in these stuffed animals in place of human contact. And so the Squishmallow's dominance began.
Question: How can you Clean your Squishmallow?
Answer: The wash-friendly fabric makes washing squishmallows easy without sacrificing the softness and quality of the stuffed animal. A mild washing detergent mixed with warm water and a clean piece of soft cloth will suffice.
Afterward, air dries it, then gently fluff your squishy until it goes back to its initial shape but remember to say no to artificial heat. Avoid microwaves, hairdryers, tumble dryers, and other alternatives.
Question: Why are Some Squishmallows so Pricey?
Answer: Some people purchase squishmallows from shops to resell them at higher values after noticing the increased demand. These people are called scalpers.
The average squishmallow price is around $10-40, which is relatively pocket-friendly. Because of scalpers, some specific models become rare to find in the market almost as soon as they hit the shelves.
Also, the supply and demand laws apply here. Some individuals may want the stuffed animals, but they aren't available in the market. As a result, the inventory value goes up.
Question: How Big is the Strawberry Squishmallow?
Answer: The sizes of the strawberry squishmallow vary, but in this article, the smallest is 8 inches, and the biggest is 16 inches. 
Conclusion
After exploring my strawberry squishmallow guide, I hope you get the ideal one for yourself or your child. So take the time to explore the different product recommendations until you get to the one you are looking for.
Strawberry squishmallow are on their way to filling the hearts of your little ones with profound affection and love. These Strawberry Squishmallows offer warmth, comfort, and support as pillows and travel companions. You and your child no longer have to feel lonely anymore; the strawberry squishmallow will be a great companion for a good laugh, playtime, bedtime stories, and more! 
These strawberry squishies come in distinctive sizes, patterns, and colors. They are made from exceedingly soft marshmallow-like materials. Also, they're easy to wash.
It's time to put squishmallows on your squish list because the strawberry squad can't wait for your company and hugs. So what are you waiting for? Get your strawberry squishmallow today!
Continue reading: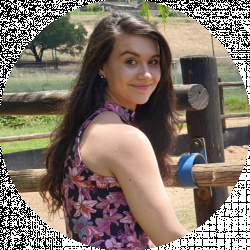 Latest posts by Christine Kent
(see all)