There is truly no doubt that pigs are one of the cutest animals that exist on earth, and the best thing is that you can actually get one as a pet! Unfortunately, not everyone gets a chance to have a pig as a pet due to housing circumstances. However, you can still get the next best thing, Pig squishmallows!
Pig squishmallows are by far the most adorable squishmallow that have been released. And this article will serve as your guide to go on a squishmallow journey and find your favorite one! I have listed my favorite pig squishmallows, so let's get an oink on and get on with the pig squishmallow guide.   
Bottom Line Upfront
Are you obsessed with pigs? You are not the only one! I love them and wish that I could have a teacup pig, just think how cute it would be! But unfortunately, my dogs would think it's Christmas and that I have bought bacon, especially for them. So there go, my piggy dreams. But at least I can still have a pig squishmallow; they are just as cute and super soft and squishy. My favorite pig squishmallow is Rosie, as I can use her as a toy or a comfy pillow. With Rosie, I get the best of both worlds. Read on to find your favorite pig squishmallow.
Top Picks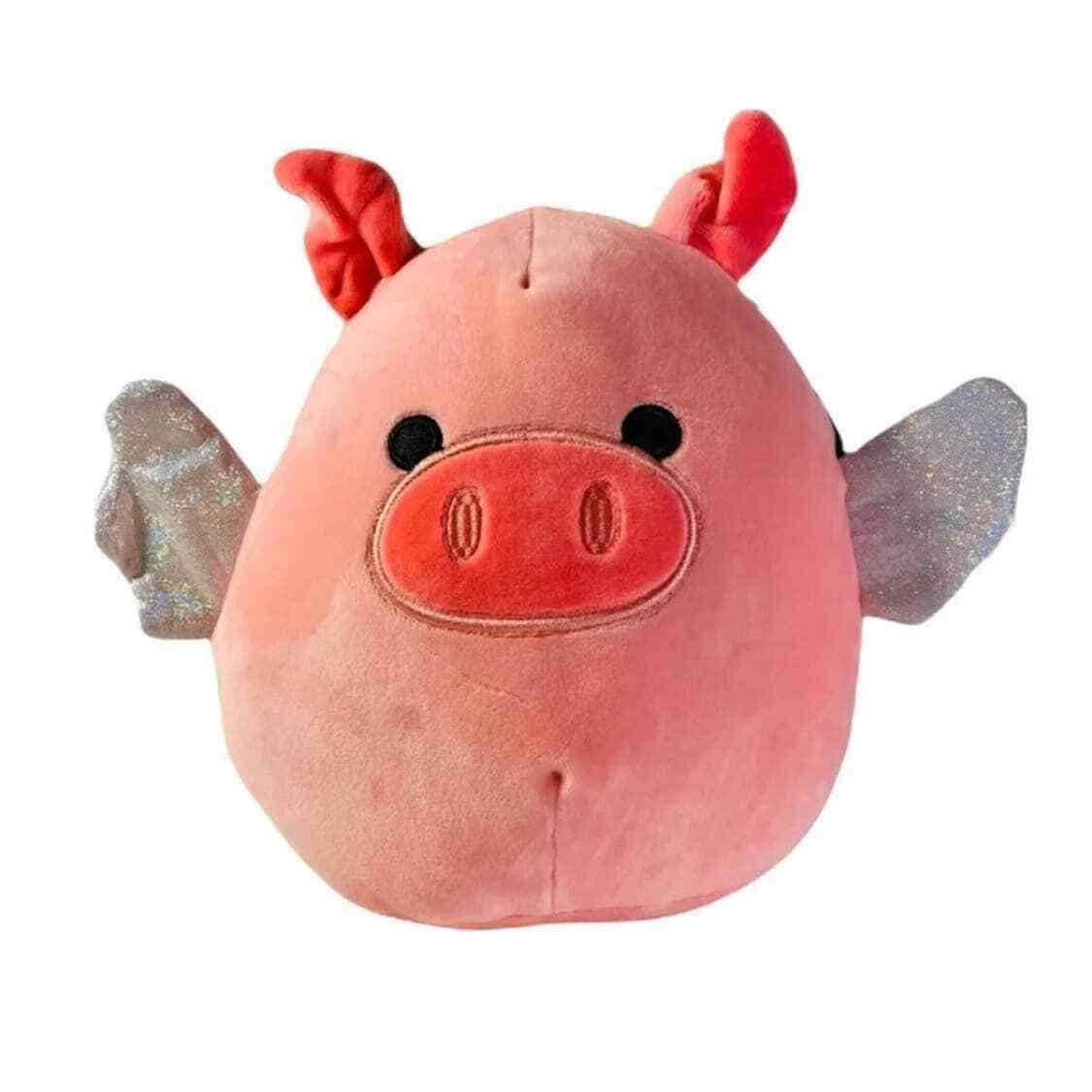 Who said pigs can't fly? Well, Cincy can with her beautiful glittery wings! So if you decide to purchase this little cutie, make sure your windows are closed because she might go exploring and might not find her way back. After all, she has a bad memory. She is small but gives the softest hugs and will definitely add a feeling of comfiness to your room. Let us take a look at her features.
Features
She has a big round snout with big nostrils that are in the color pink

She has round black eyes

She is 8 inches big

Her ears are dark pink and matches her snout

She has a soft squishy body

Glitter silver wings
Pros
She is soft and squishy

The perfect size to always be by your side

She is pink!

Beautiful glittery wings

She is machine washable 
Cons
She is very expensive

Too small to cuddle with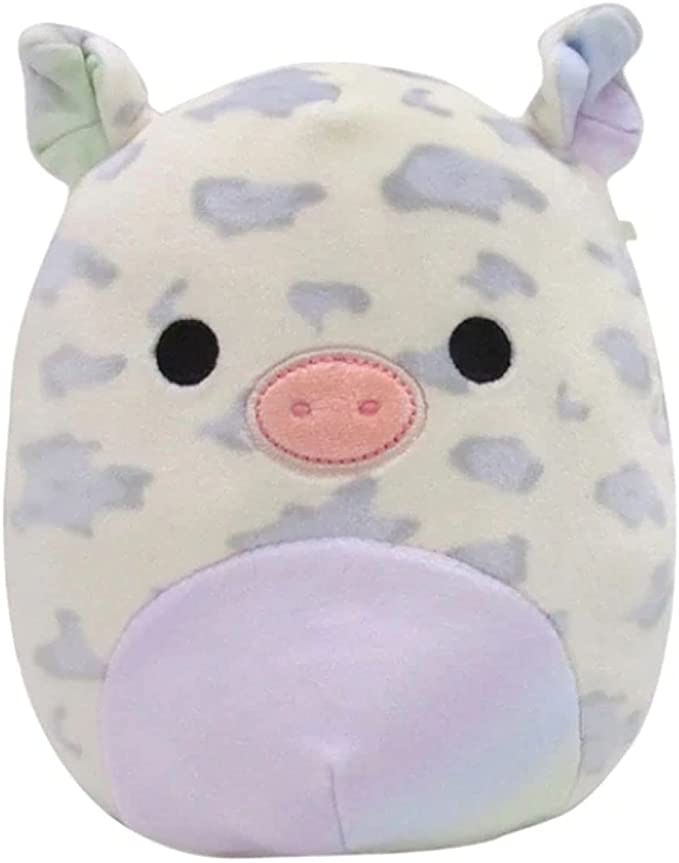 Meet Nia, guys! She loves going on her daily walks in the field and meeting new friends. Although you will have to start the conversation first because she is a bit shy. She has a beautiful cream-colored coat with purple spots all over her body that also matches the inside of her ears. Let us have a look at her features.
Features
She is a cream color with purple spots

The insides of her ears are purple

Her snout is pink, and the outline of her nose, as well as her nostrils, are embroidered on

She has a white belly

She has round black eyes
Pros
She is small, making her portable

She is soft

Her facial features are embroidered on

Great gift for a boy or a girl
Cons
Because she is such a light color, she will get dirty quickly

For some, she might be too small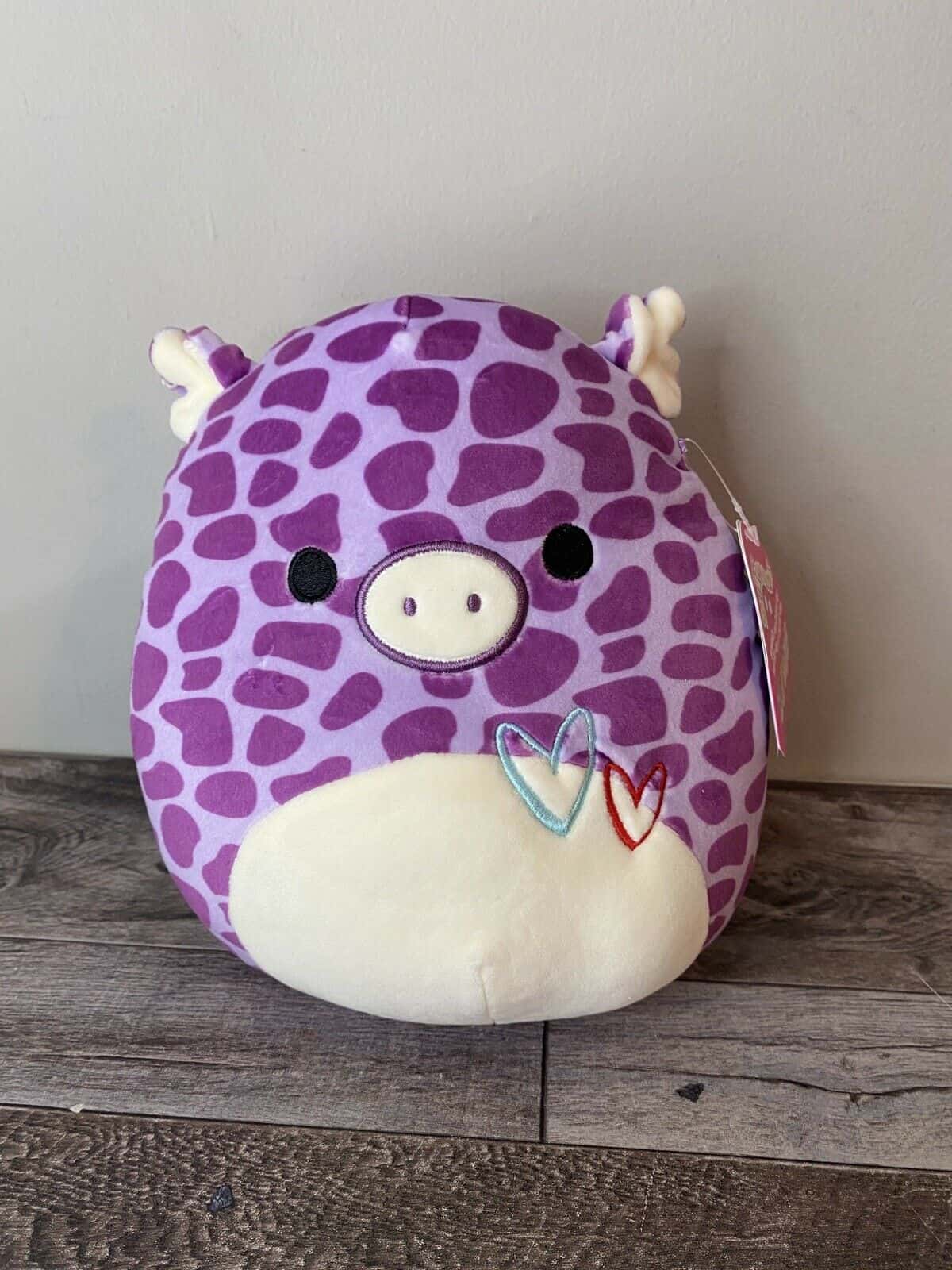 Say hi to Pammy, guys! Pammy is a unique pig squishmallow because she is part of the Valentine's collection. Even though she has cute heart designs on her tummy, she is not my favorite pig squishmallow. Because her color and spots are too overwhelming, and to me, she looks more like a giraffe than a pig. Let us have a look at Pammy's features.
Features
She is a light purple color with darker purple spots and a white belly

The insides of her ears are white

She has a cute heart design on her belly

She has round black eyes

And a white snout with purple nostrils
Pros
She has a unique look compared to the other pig squishmallows

She makes the perfect gift for Valentine's day

Cute heart designs on her belly

She is small, so your Significant Other can take her with them wherever they go
Cons
She is a bit expensive

Her color and spots are a bit overwhelming

Her white belly, snout, and inner ears will show dirty quickly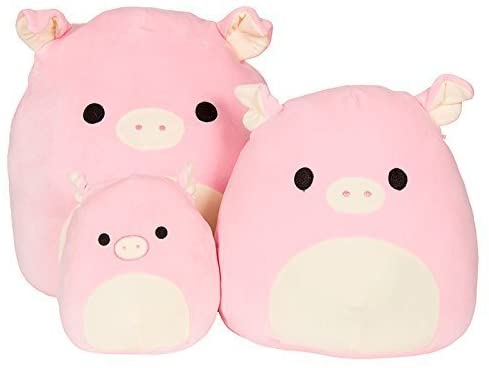 You can't argue that Peter is absolutely adorable. He may be small, but he has an aggressive personality. Don't mess with his friends because he will put up a fight. And as you can see in the link above, you can get the bigger sizes of Peter and form a cute pig family. I love the 2 shades of pink fabric used on his little body. He also looks perfect and stands out in my pink and white room. The only drawback I have with him is that he is too small to cuddle but still makes a great addition to my bed or bedside table. Let us look at Peter's features:
Features
He is 5 inches big

His body and his ears are pink, with his belly and inner ears being in a lighter shade of pink

His ears stand up and are pointed at the ends

He has a pale pink snout with darker pink nostrils
Pros
He is small enough to fit into your handbag 

He is cute and soft

Perfect gift for anyone obsessed with pigs
Cons
For some, he might be too small.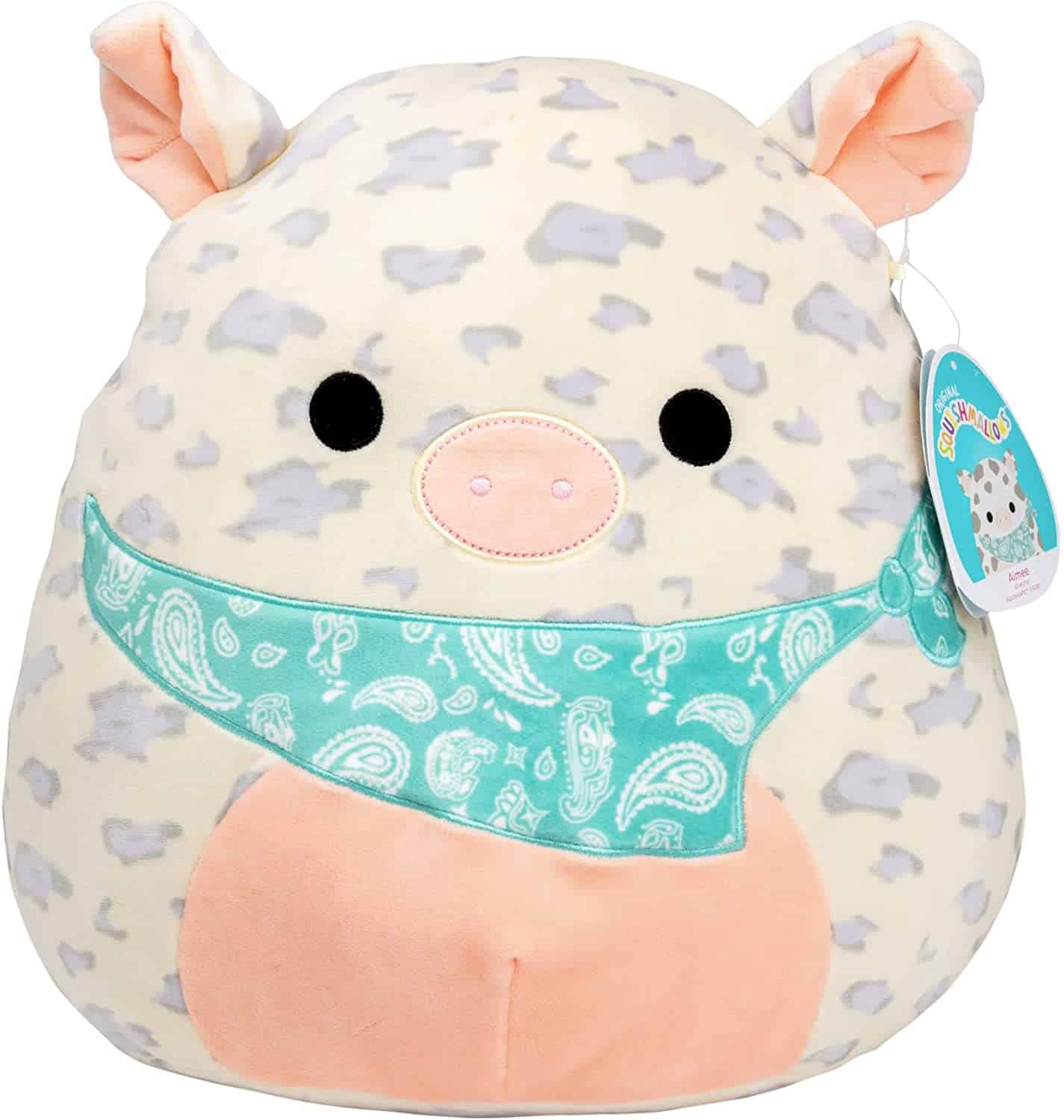 Rosie looks just like Nia, except she has a cute, stylish green bandana around her neck. She is extra soft and squishy, and the soft material used on her belly and inner ears add to her softness. She is also a multipurpose toy, as you can use her as a toy or a comfy pillow. She is definitely coming home with me! 
Rosie loves reading books, and her favorite place to be is the library. Don't stress if you can't find one of your school books because Rosie will probably have it, because she loves learning new things. Maybe she can teach you a thing or two when it comes to your math homework! She is definitely my favorite pig squishmallow.
Let us have a look at Rosie's features.
Features
She is 12 inches big

She has a green bandana with white patterns on

Her belly and inner ears are pink and of a velvety texture

She has round black eyes

Her snout and nostrils are pink and embroidered on

Her body is a cream color with greyish blue spots
Pros
She makes the perfect gift for Easter

She is extra soft and squishy

She has cute added details like her green bandana

She will look great in any room
Cons
Alternative Section
So here are some alternative pig options that you just need in your life. There are some cute plushie options to keep you company and some fun accessories to spice up your look. So let us get to it!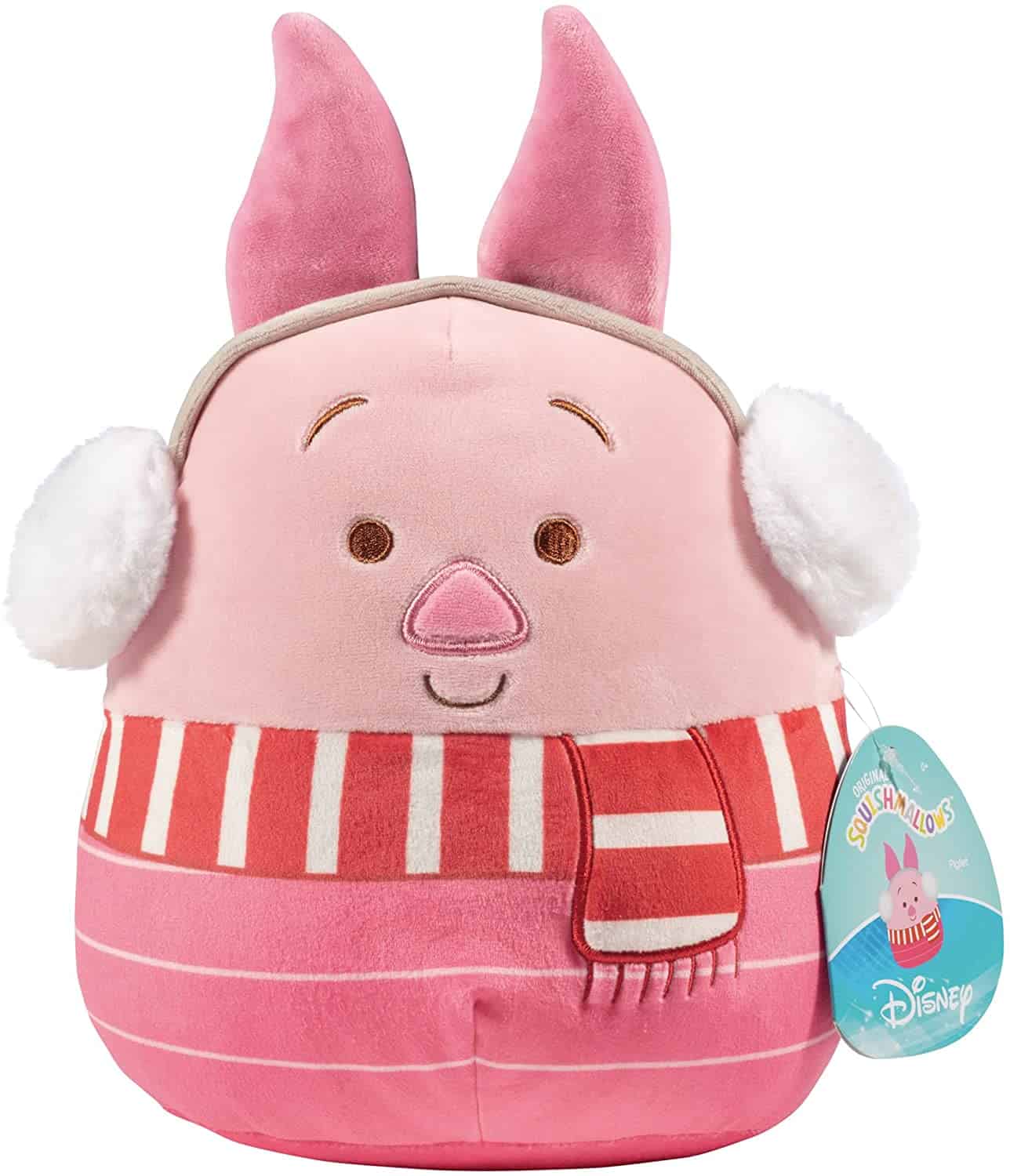 Anyone who has watched Winnie the Pooh will be very familiar with this cute pig character. Meet Winnie the Pooh's adorable BFF, Piglet. Piglet is easily scared, but despite being afraid, Piglet has never disappointed Pooh. And together, they have the most amazing adventures and friendship!
This Piglet squishmallow is super cute, and I just had to add him to the alternative section for the Winnie the Pooh lovers out there! He is all ready for winter with his cute white fluffy ear muffs and cute little red and white scarf. You just need to add him to your collection!
Pros
He will make a great addition to the rest of your Winnie the pooh squishmallow collection

It will make a cute gift to someone obsessed with Piglet

He comes with cute little ear muffs and a cute detailed scarf

He will make a great traveling partner

He is affordable
Cons
He is too small if you want him for cuddling purposes.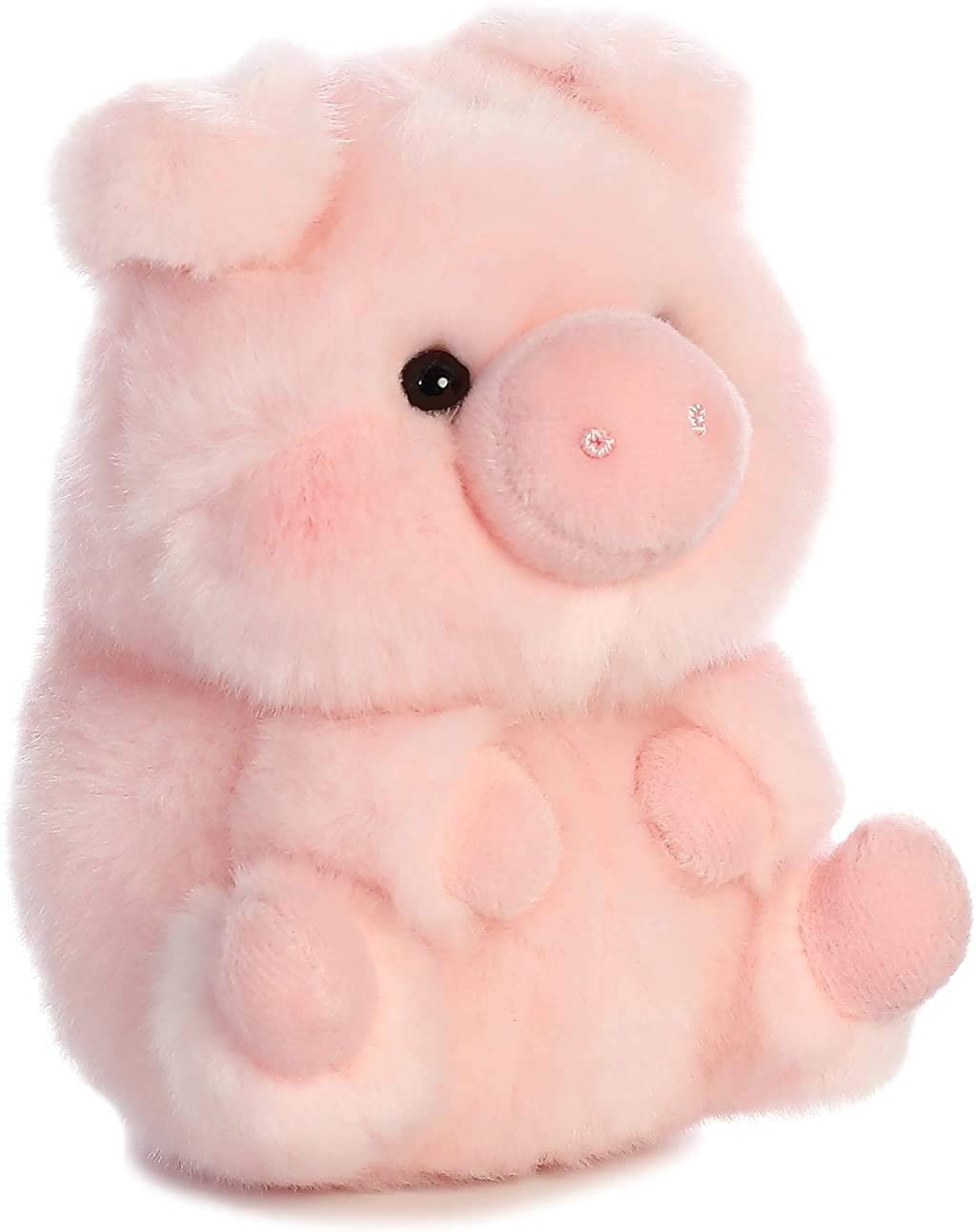 This little pig plushie screams cuteness overload. He is so adorable and fluffy, and once you lay your eyes on him, he is definitely going home with you. He just has that kind of face that when you talk to him, it looks like he understands exactly what you are saying and that he sympathizes with you. Let us have a look at his pros and cons.
Pros
He is soft and fluffy

He is small, so you can take him with you on all your adventures

He has blushy cheeks

Anybody will be happy to receive this little guy as a gift
Cons
Unfortunately, he is too tiny to cuddle with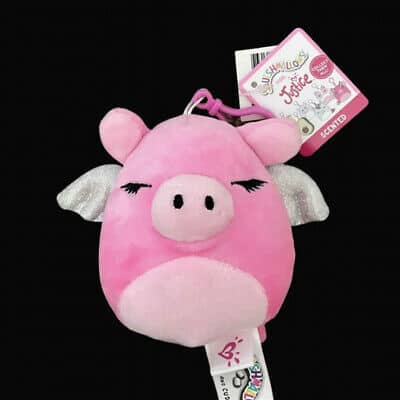 Excuse me, Miss glamorous piggy! This squishmallow keychain is a must-have! Her lashes remind me that my lashes need a fill and her glittery wings add to her stylish and glamorous look. I'm definitely adding her to my cart right now! And you should too!
Let us have a look at her pros and cons.
Pros 
You will always know where your keys are

It makes a cute gift for friends

It is glamorous
Cons
Boys might not be a fan of this keychain.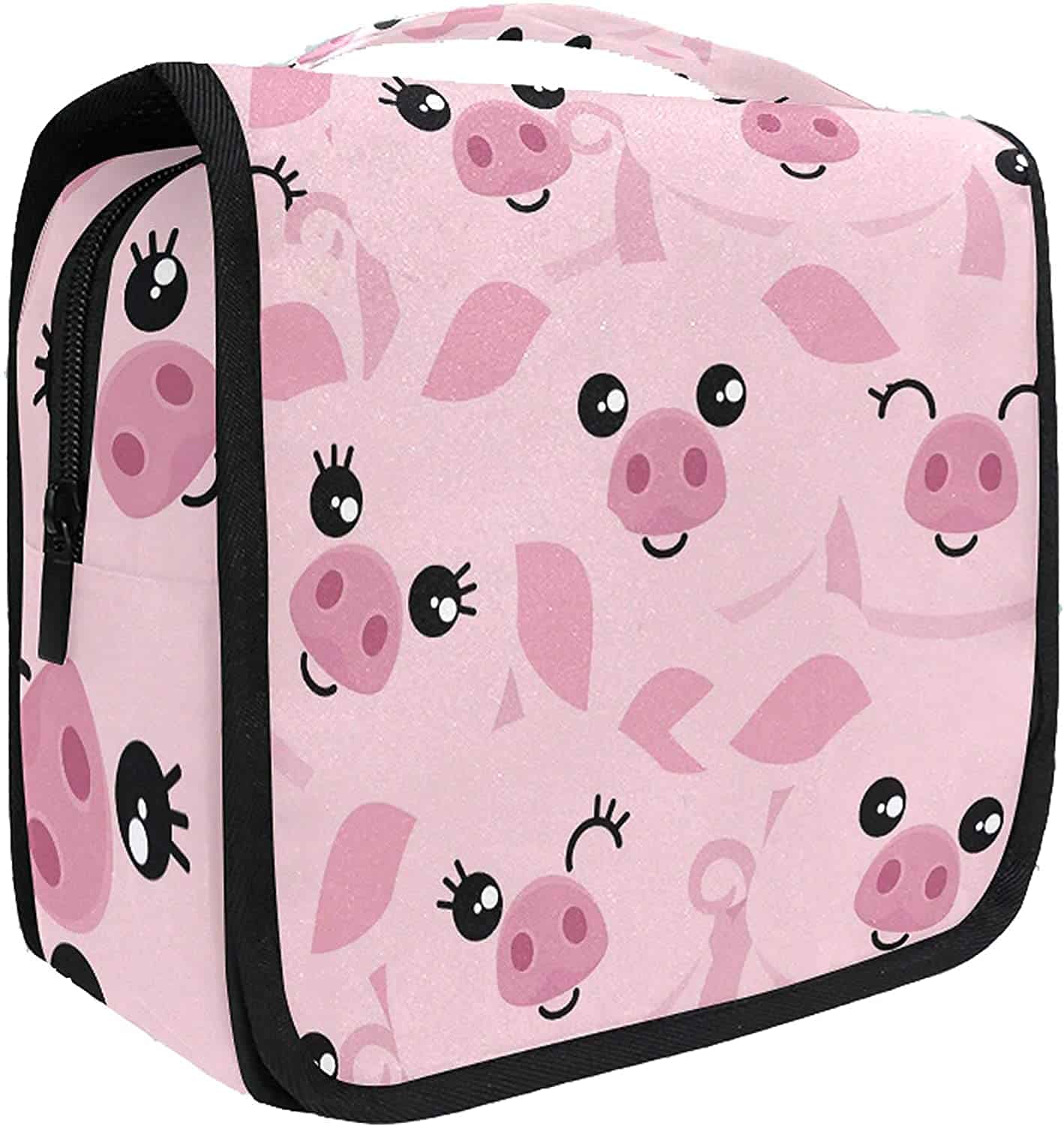 Okay, so being a woman means you come with a lot of makeup and extra accessories. With this cute pig makeup bag, I can fit my most important daily makeup in it.  And my husband can stop complaining about my makeup being all over the place. Let us have a look at some pros and cons.
Pros
It is super cute

It has a lot of space and compartments, which means you can buy more makeup (haha)

Any girl will be more than happy to receive it as a gift

Your boyfriend/ girlfriend can store their stuff in there as well
Cons
Guys might not like this bag and might find it too girly.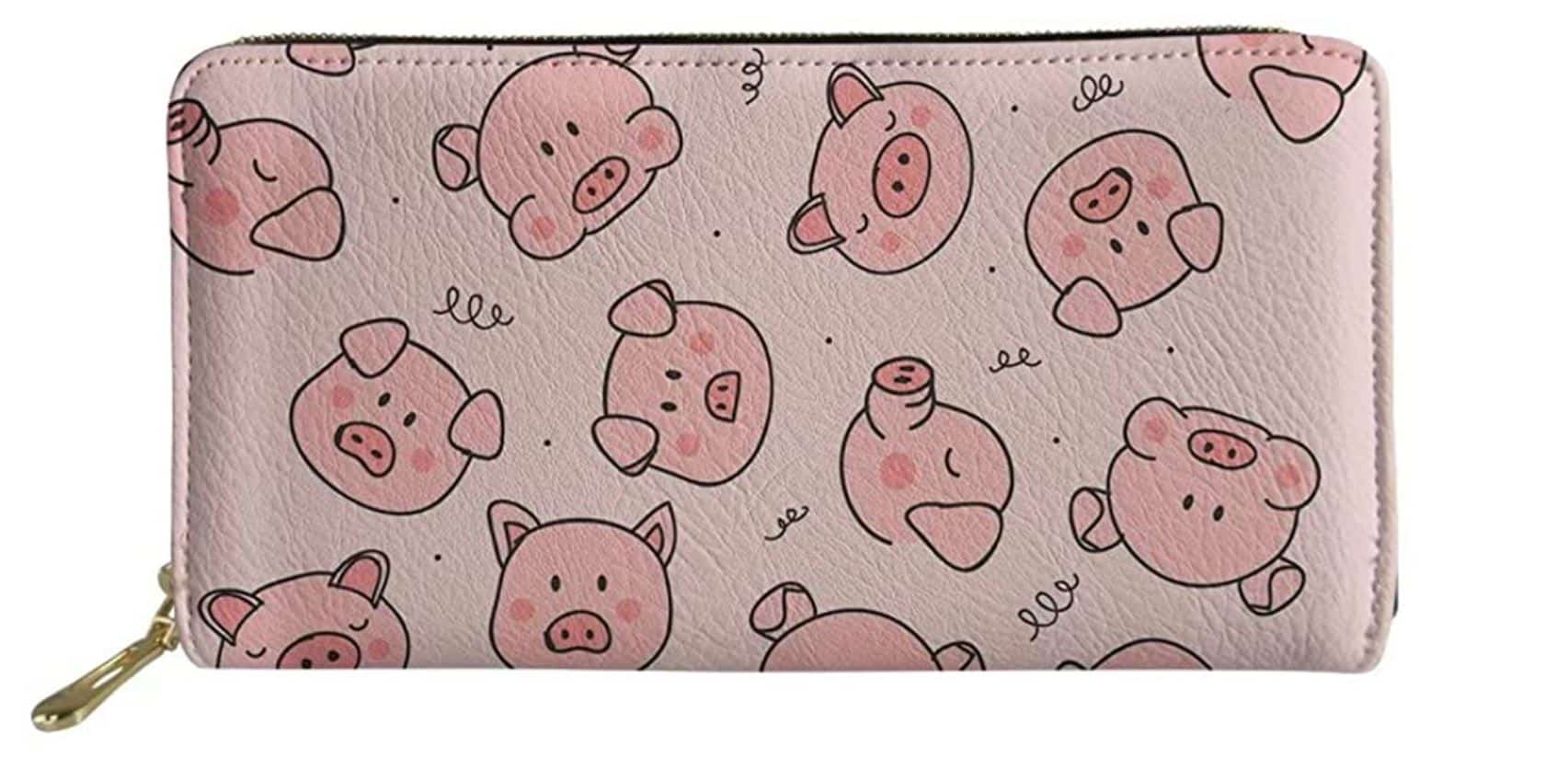 We, as ladies, always need cute and stylish wallets. Why? Because that is just who we are. So this pig wallet will be perfect. Let us have a look at some of its pros and cons. 
Pros
It is cute and stylish

It is affordable

It will make an excellent gift for anyone obsessed with pigs.
Cons
It might show dirty easily because it is light in color.
What Makes Pig Squishmallows Special? 
Well, firstly, they are adorable, and they fill your heart with so much love and joy by just looking at them, and when you hug them, it feels as if your heart can explode with happiness.

Overall, they are of great quality and durable, meaning you will have your pig squishmallow collection for many years to come.

They make excellent gifts.

They come in different sizes to fit everyone's needs.

Most of them come with great detail and unique designs.

They make great additions to your squishmallow collections.
FAQ's
Question: Is Rosie the Squishmallow a Pig or a Cow?
Answer: Rosie is a pig squishmallow.
Question: Where can I Buy a Pig Squishmallow?
Answer: You can buy pig squishmallows at your nearest store like Walmart, it is not a guarantee that they will have your favorite one, but you can still go and look. Maybe it's your lucky day. But the easiest option will be to look on online like Amazon or eBay.
Question: Are the Pig Squishmallows Available in Different Sizes?
Answer: Yes, they are! And in this article, the sizes vary from 5 inches to 12 inches.
Conclusion
Oink Oink! You have reached the end of the pig squishmallow guide. I hope you enjoyed this guide and that you found your favorite piggy. If the pig squishmallows were not for you, I'm sure you will find something in the alternative section. Let me know what your favorite pig squishmallow option was is in the comments below. I hope you find your pig-ture perfect piggy. Happy shopping, squishmallow maniacs!
Continue reading: 
All About Ronnie the White and Brown Cow Squishmallow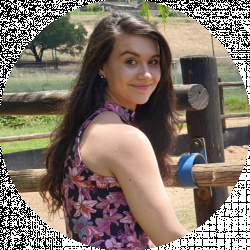 Latest posts by Christine Kent
(see all)