As you probably know by now, Squishmallows have gained an almost cult-like following, with a popularity that challenges Beanie Babies and Superheroes, selling over 100 million Squishmallows since 2017 (when they were introduced).  Their foam-like squishiness is both a stuffed animal friend and a pillow, fulfilling both roles with over 1000 varieties to choose from.  Part of their allure is that each one has a name and unique qualities with likes and dislikes to align with every child's hopes and dreams.
Incredibly effective for people who have sensory regulation challenges, or who are on the spectrum, these poufy, spandex, stretchy pals have proven themselves to be comforters to all.  Their soothing and calming ability make them an everyday go-to, from naps to car rides, to difficult social situations.  My son even had a high chair set up in a restaurant for his Squishmallow cat!  (It was the only way…)
Ronnie the Cow Squishmallow is one of over sixteen cows in the Squishmallow family.  His sizes are 3.5, 5, 8, 12, 14, 16 (rare) and 24 inches, however, Squishmallows consistently spring up with slight variations of style and size related to a retailer's exclusive line.  It's challenging to monitor all the different types of the same Squishmallow that is being manufactured and "debuted" in its new "skin"!
The vast majority of Squishmallows has already "debuted" as new from Kellytoys and is now widely available on most thrift store sites. That being said, measurements for Ronnie the Cow (and all things) will be different unless the sellers stick to the official tag sizes.  I have seen listings for all sizes in between 2 and 24 inches for Ronnie the Cow, and with new releases related to seasons, holidays, cartoon characters and famous personalities, I wouldn't be surprised to find larger styles!
Several sites, like Romper, list Ronnie the Cow as being rare and very difficult to find.  Some of the different editions of Ronnie the Cow may be easier to find and less expensive than looking for the original Ronnie.  I have noticed that you can buy a squad with Ronnie in it for less than just Ronnie himself.
Bottom Line Up Front
If you or a loved one is already emotionally invested in having Squishmallows, then there are some tips for choosing the "best" Squishmallows.  I have based this on the fact that all Squishmallows come with the same online benefits that I mention, as well as being well-constructed and multi-purpose.
Within the Cow family, you will find that Ronnie the Cow is more of a realistic, generic looking character (unless you get the purple haired Squish-Doo version).  I find that some of the other Squishmallow cows offer more bang for the buck, and I have listed them below.  Happy shopping!
For nature lovers, Belana the Cow with the Flower Headband is the prettiest Spring Squishmallow!
Style Variations for Ronnie the Cow
Having a marshmallow-like texture, velvety softness, and plump stuffing, Ronnie is the quintessential Squishmallow.  He doesn't have an embroidered mouth, but we can see his eyes smiling at us as he invites us to play or nap with him! Featuring the classically cute face style of many Squishmallows, Ronnie the Cow original edition looks similar in markings and colors to the real thing. If you are a big fan of cows, or you share the same interests as Ronnie, you may already know that he is the one for you.
Squishmallows come in hundreds of color combinations, with some having trinkets, or hats or scarves, or extra fabric or patches on them, and Ronnie has several different variations besides his size.
The original Ronnie has tan horns, brown ears with pink inside, and two big brown spots on his left lower side and on top of his head on the right side.  His fat nose is light tan and his round eyes are embroidered.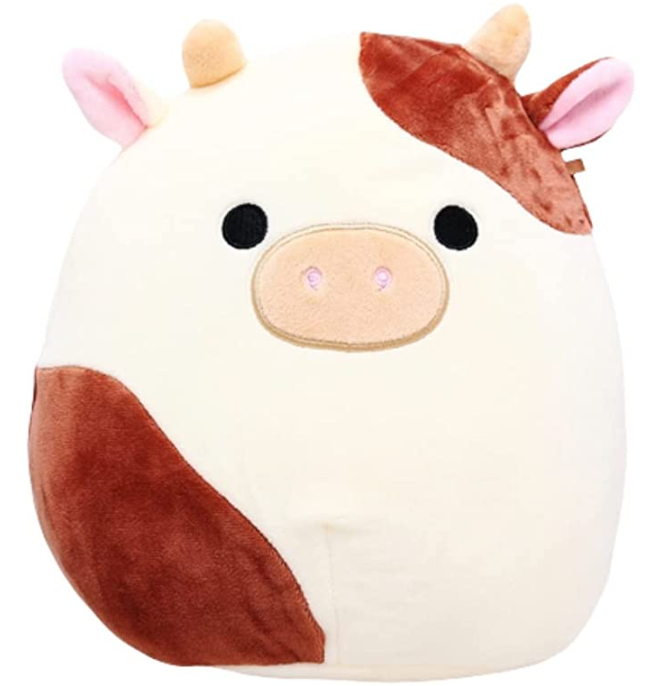 At a whopping huge 24 inches, this Ronnie the Cow is the ultimate body pillow and best friend!  The softest, most huggable cow you can find to keep you warm on the couch, in bed or traveling.  Great for airplane naps!
He loves to travel, and when you reach your destination, Ronnie will want to eat and then look for unique trees and plants.
Ronnie invites you to share your favorite birdhouse ideas with him so he can help you make a custom designed forever home for all the birds near you!  He loves to take naps during the day when he gets tired from all that building, and he is a huggable and snug pal to keep you company while you sleep!
Squish-Doo Purple Hair Ronnie the Cow
An edition of Ronnie that is decked out in glam boasts a purple feather headdress that sticks straight up.  It is the Squish-Doo style Ronnie that came out on June 10, 2021.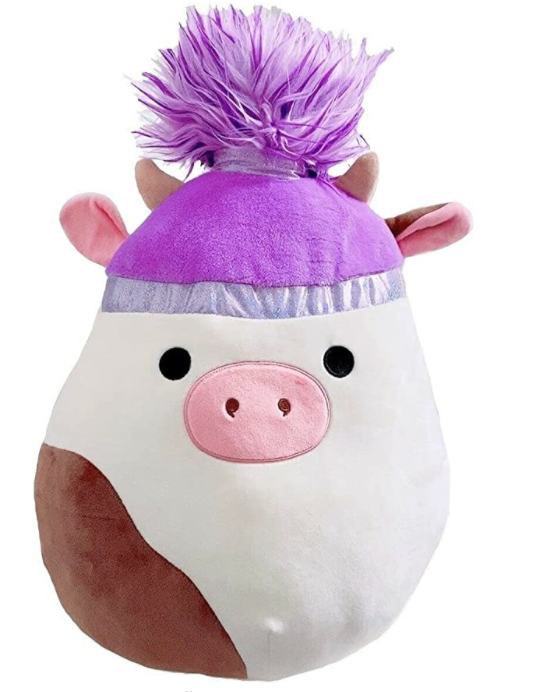 Wow!  Look what happens when friends get together and do each other's hair!  Ronnie's friend Reina found this purple hair dye and a sparkly band for Ronnie.  Friday night they all get together and get makeovers with each other's clothing, jewelry, makeup and hair accessories.  Ronnie thinks he looks pretty cool with this trendy do.  Find this at Amazon.
These Squish-Doo Squishmallows are all about being totally true to their own sense of style and are not afraid to boldly try new accessories to highlight their preferred hair-dos! Ronnie the Cow sports a fanciful look that accentuates his playfulness.  He courageously goes where no plushie has gone before!
Ronnie likes purple an awful lot, and besides it being a color he uses for the birdhouses he builds, he also decided it would show off his style in the best way!
What Squad is Ronnie the Cow in?
Ronnie the Cow is in a number of different squads.  He likes to keep busy!  He was originally from the Farm Pals Squad that came out in 2020, and his buddies from the Farm Squad are Aimee the Duckling, and Rosie the Pig.
The Farm Pals Squad is 4 inches tall, and in this edition Ronnie sometimes will come with a pink nose instead of light brown and this is considered rare.  There are some 12 inch Easter Squad versions of Ronnie that also come with a pink nose, and are also considered rare!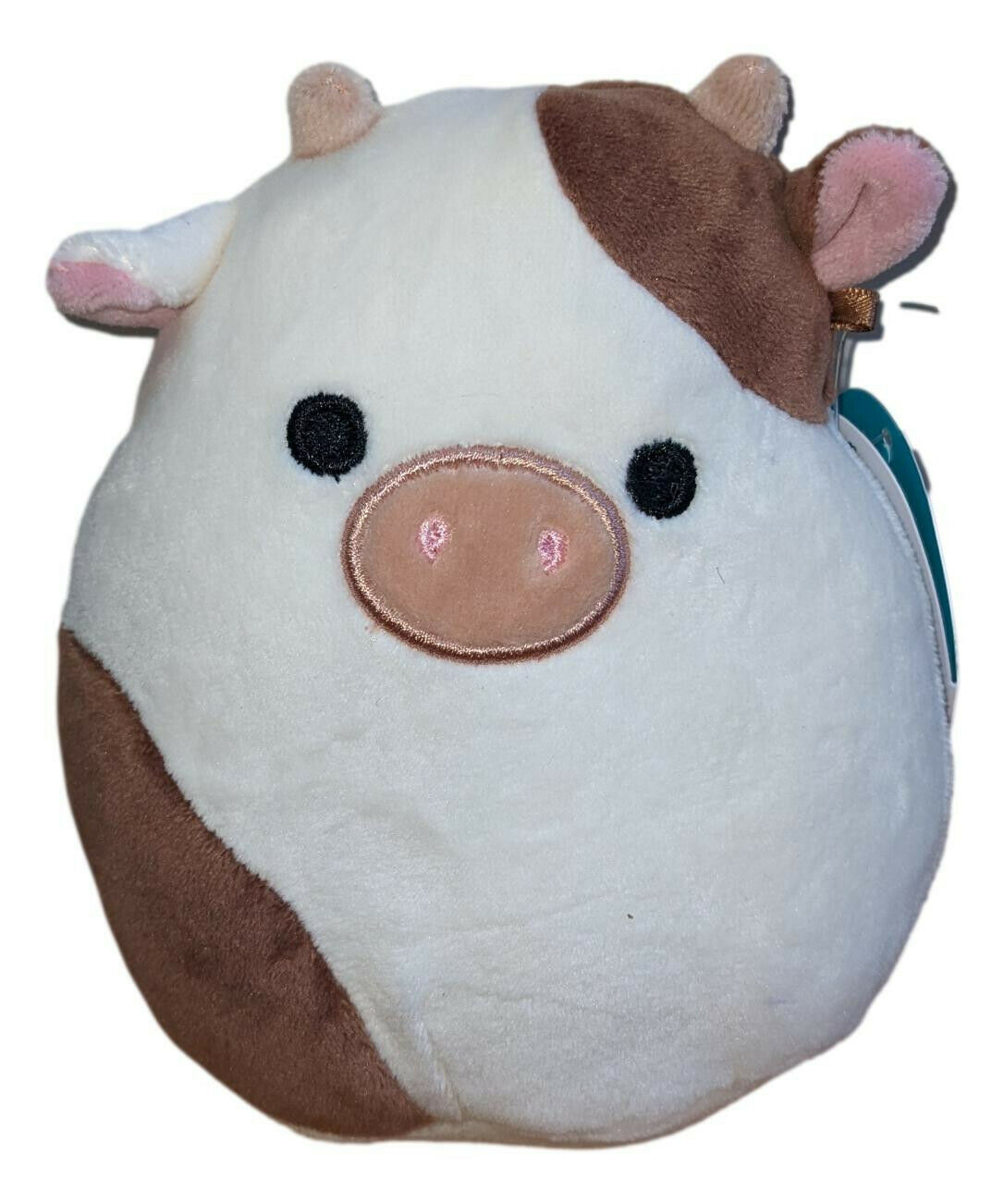 Ronnie is also part of the 2022 Spring Farm Squad which members include Teddy the black dog, Palmer the goat, Todd the chicken, Peter the pig, and Meadow the horse!
These 5 inch mini-mallows are big enough for pillows and hugs.  The team is ready for travel together with you, and will think of games and adventures to keep you busy during your journey!
These 6 squad members love working on the farm to help carry the grain, plant and weed the gardens, pet the animals and cook delicious meals.  They hope you will go exploring with them to find different kinds of leaves and trees.  Ronnie likes to pick up all the sticks and use them to build presents for his five friends.
Find Ronnie the Cow at Amazon.
Reasons to Buy Squishmallows During the Pandemic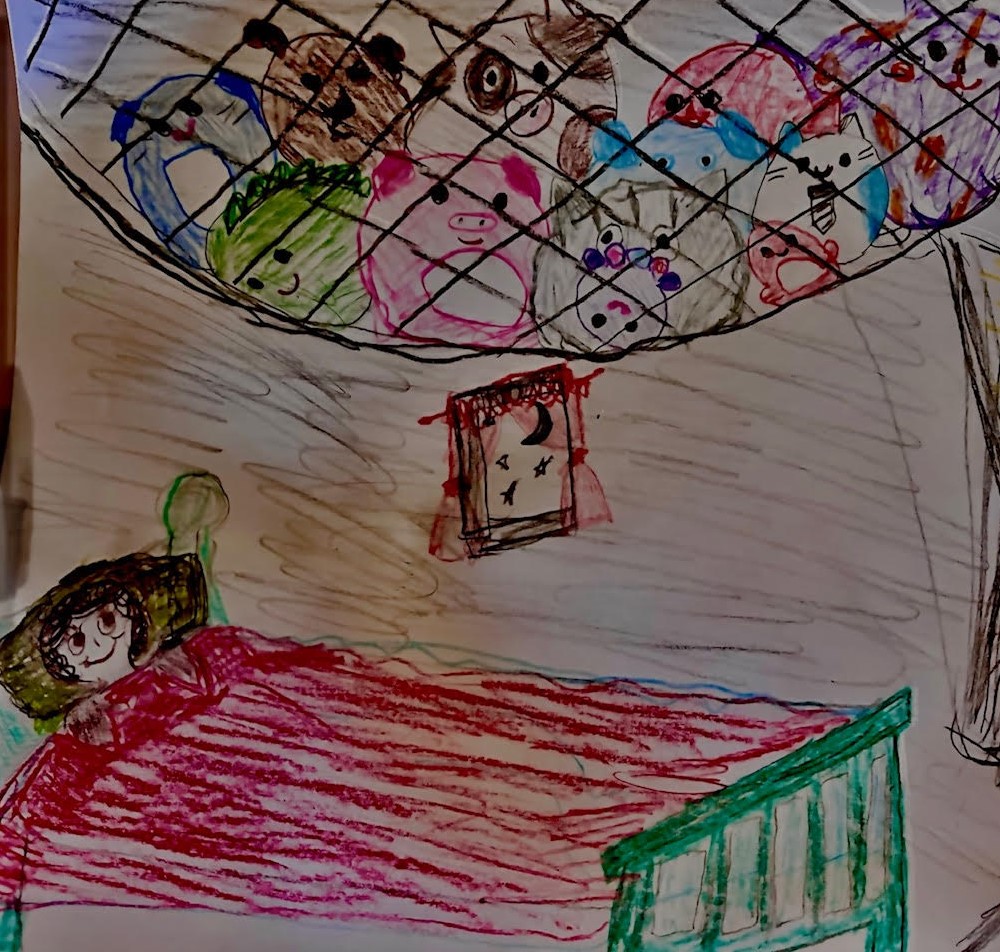 Almost a necessity, a toy net is usually bought along with Squishmallows so fans can hang their nets above their beds and have their friends sleep over them! I have drawn a picture of what most "bed net" pics look like.
Long distance friendships abound, with daily check-ins on others' Squishmallow friends, and avid role-playing between kids being skyped or zoomed.
With more than five billion views on TikTok and @squishmallows, one million Instagram posts, a social media following of more than 700,000, and more than 100 groups created by Facebook users, this super-star toy continues to skyrocket in popularity.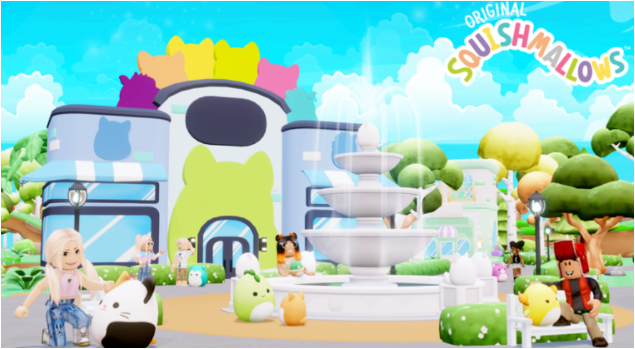 The huge online community also plays  Squishmallow games that offer a laser-focused social virtual world with opportunities to create custom Squishmallow-themed homes.
Kelly Toy Company created Squishmallows, and was bought by Jazwares, Inc. last year.  Jazwares partnered with Roblox Gaming to bring #SquishmallowsonRoblox to millions of global-wide fans.
Players can acquire and trade virtual Squishmallows, play with friends, explore the adventurous world and compete in mini-games.
Learn more about this colorful and exciting world here.
Ronnie the Cow and His Sister Belana the Cow
Ronnie the Brown and White Cow Squishmallow was born on September 19, 2020, alongside his sister, Belana the Cow, into a friendly cow family that has a centuries old love for construction and building furniture and birdhouses.  Recently Ronnie made a two-story birdhouse that is purple.  It even comes with shutters on the windows that are green, like the grass, for his bird friends!
Ronnie's sister, Belana, is a pretty aqua spotted cow with aqua horns that helps Ronnie finish the birdhouses with her expert painting abilities.  She hopes to save money to go to art school.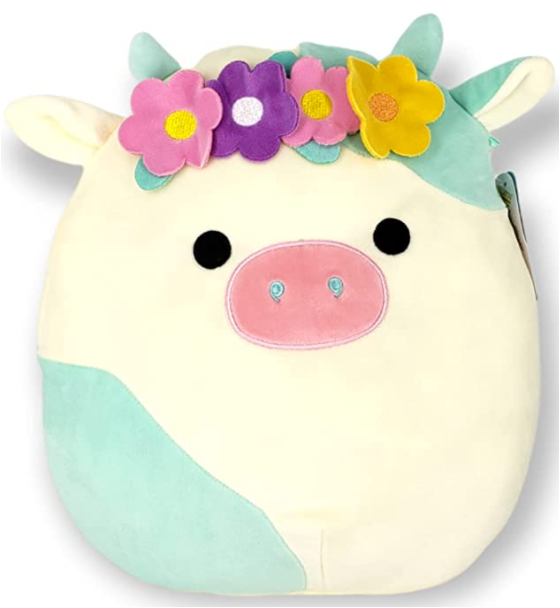 Come and get your own Belana here!
This adorable version of Belana the Cow has a flower headband and dreams of going to art school.  Made from super soft polyester fiber, she is machine washable to keep her extra clean!  Belana is the sister of Ronnie the Cow and is in the Squishmallow Animal Squad.
The twelve inch size is perfect for snuggling up in the car with, laying your head down to rest at night in bed, and hugging on when you are feeling blue.
Belana is very creative and she is a hard worker.  She helps out in the family birdhouse business, painting her brother's creations.  Her favorite afternoon activity is walking through nature and picking flowers to make unique headbands!
Ronnie the Cow Merchandise
There are over 1000 Squishmallows and for every one of them, there is coordinating merchandise you can buy from independent sellers.  Etsy has dozens of businesses devoted to putting the likeness of your favorite Squishmallow on jewelry, clothing and school supplies!  Check out some of the choices below for Ronnie the Cow!
Super Cute Ronnie the Cow Squishmallow Earrings

These are handmade earrings that you wear to let the world know that you love Ronnie the Cow Squishmallow!  They are made with 100% surgical steel, and they are smudge proof but not waterproof.
Buyers are raving about this jewelry store that offers a variety of bracelets, earrings, necklaces and more.  This store has nothing but happy customers, and 706 reviews that are 5/5 stars.
The price point is very low for jewelry and anything to do with Squishmallows!  Great deal for the everyday set of earrings!
Ronnie the Cow Squishmallow Pin
This darling pin will let people know of your love for Squishmallows!  Sweet Ronnie the Cow looks out at you through his kind eyes and will give added glamour to anything that you wear, or to your backpack or purse!
This enamel pin would make a great stocking stuffer, or put it in a card to let a loved one know you are thinking of them.  It is made of enamel, and the store has a 5/5 star rating.  Customers love the product, and it comes in several other Squishmallow characters.  The store is both "Lulu finds gifts" and "Coco finds gifts" on Etsy.
I love the fact that the price point is so affordable for such a unique gift!
Ronnie the Cow Squishmallow iPhone Case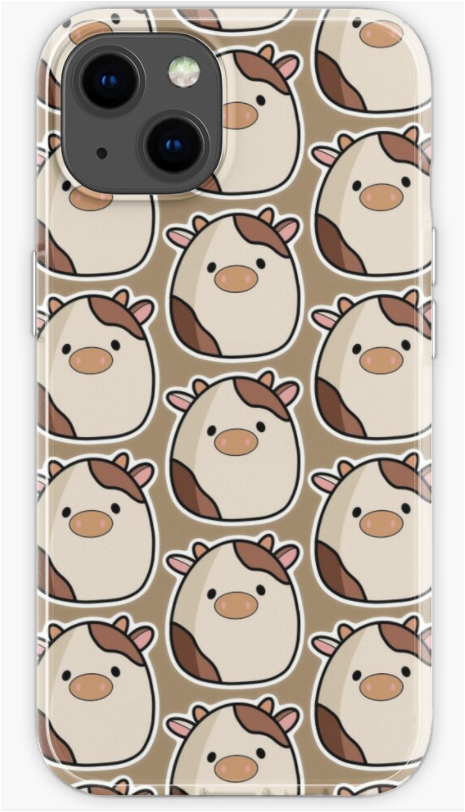 This case for iPhones is incredibly stylish and will let people know you take your Squishmallows seriously!  This case will fit a variety of iPones, from the 4S to the newest 13.  (Check the listing to make sure it fits yours).
Ronnie the Cow is a symbol of hard work and creativity with his love of birdhouse building and flashy colors he uses. He enjoys family time and his sister, Belana the Cow, helps him get the birdhouses ready for the birds to move in!
This seller on Redbubble has a huge assortment of items related to the Squishmallows, including more phone cases with different plushies adorning them!
FAQs
Question: What are Squish-Doos?
Answer: Squish-Doos are funky Squishmallows that have wild hair styles, or "doos".  Kellytoy came out with the Squish-Doos in late 2020, and they are a variation on existing Squishmallows,  the main premise is to represent the importance of young people's self-expression and personal style.  Many Squishmallows have an interest in fashion and art, and the Squish-Doo line strays from the more conservative appearance that is the hallmark for original editions of Squishmallows. Encouraging innovation and creativity through personal "branding" (in this case, how you do your hair) these Squish-Doos are wacky and fun ways to show off your specific chic!
There will be three sizes for the Squish-Doos, 8, 12, and 16 inches.  There are more than sixty Squish-Doos and more are being released all the time!
Question: Is Squishville for Squishmallows?


Answer: The same company that makes Squishmallows also has created a line of toys called Squishville, which is comprised of plush playsets, 2 inch Squishmallows, and a whole host of accessories and décor for the miniature sets and figures.  Squishville is a community of miniatures, so it will not fit anything but the small squishies that come with it (unless you want to squash your smaller 3.5 – 5 inches Squishmallows into a house).
The Squishville community fosters a sense of belonging, with their motto being, "Everyone squishes in!"
Squishville Fifi's Cottage Townhouse with Fifi and Blair


Answer: Squishville toys are sold at a variety of stores, including GameStop. Find this one at Amazon.
What could be better than one Squishmallow?  Two mini-mallows and a house full of squishable furniture!  In this Squishville set you get two mini Squishmallows (each is 2 inches high), a three story house (8 x 6 inches) for Fifi and Blair to explore with five rooms, small plushy bed, toilet, loveseat and bathtub!
Watch as Fifi and Blair hop into the tub and then bed after a long day.  In the morning they can watch the sunrise by squishing themselves up the chimney!
Tiny Fifi the Fox and Blair the Cat mold right into the furniture when you squish them in, fitting right in no matter where they go in Squishville.  There are many different playsets to choose from, and you can get your own here on Amazon!
Question: Why are Squishmallows so Expensive?
Answer: Since 2017, Squishmallows have skyrocketed in popularity on an exponential level.  Even the toymakers were astonished by the overwhelming demand for them.  There are more than 1000 different Squishmallows, each with their own personality, and their double use as a pillow and cuddle friend has appealed to all generations.  The pandemic has increased their value, as their is a certain community belonging to owning Squishmallows.  With social distancing, friends can chat online, make new friends that have similar plushies, engage in games with others that are focused around
Squishmallows, and find general sympathy and support in the more than 100 worldwide groups that have been created on Facebook.
Once certain plushies are introduced and sold, they make way for new, different types of Squishmallows.  Not being readily available in stores or at major online retailers has left fans to search online thrift stores for their favorite huggable.  This limited quantity brand immediately "limits" the supply, therefore making the demand for it much greater, and this drives the prices up.  Way up.
There are also exclusive editions of Squishmallows that are only available at one retailer, such as 5Below or Claire's.  Then there are the defective – or should I say perfectly good Squishmallows with aberrations that make them one of a kind.  Like horns on a cow being below the ears!  One 12 inch example like this was being sold at Mercari for $500.
Question: Do they Make Squishmallow Clothing?
There are many different items that are both created by the makers of Squishmallows, and those that are made with the likenesses of Squishmallows.  The variety of merchandise available with your favorite squish plushy is seemingly endless.  Jewelry, clothing, stickers, notebooks, party supplies,
You can get your own Squishmallows tee-shirt here on Etsy!
This adorable  tee-shirt declares your mission of Squishmallow Searching!  This store has tee-shirts and sweatshirts with different Squishmallows themes.
Coming in four colors, and adult sizes from S – 3XL, there are many buyer pics to look at for satisfied customers!
If you Google up Squishmallow shirt, or jeans or another item, there will be many choices for you to browse!
Question: Do all Squishmallows Have a Scent?
Answer: No, usually Squishmallows come without a scent, however, there is a Squishmallow product line of "Limited Edition Mystery Squad Pack" which has one scented Squishmallow in a colorful blue bag.  It's a mystery which character in the squad you will get, and they come in different sizes as noted on the bag.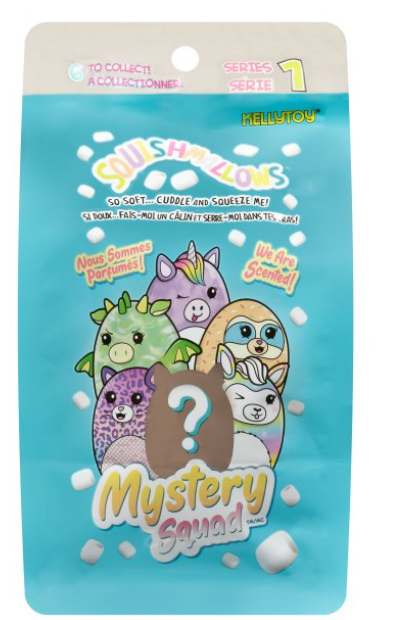 You won't know what scented squad member you will get until you open the bag!  This limited edition line has different series and different Squishmallow characters that are scented!  They come most frequently in 5 and 8 inch versions and there is one in a bag.  They are packaged randomly at the time of shipping.
This particular Scented Squishy is from Series 1 of the scented mystery squads and will be 5 inches tall.  Fans have said that some scents smell like peaches, blueberry, lavender, incense, and cake.
These could be a fun swap gift as the secret nature of the exact prize inside will be unknown until the final person opens it!  This will add some guessing and excitement to the event.
In Conclusion
Ronnie the Cow is certainly a lovable, huggable and machine washable buddy for life.  But so are all the Squishmallows.  Don't get me wrong, I love that Ronnie has variations such as the Squish-Doo version of him with a purple headdress on and fanned out hair on the top of his head, and a wonderfully defective type that have the ears higher on the head and the horns under them.  I just think for the price that you could get a more detailed and unique Cow huggable from the Squishmallows.
Roblox and Squishmallow have teamed up to offer a virtual Squishmallow game world, there is a Squishmallow song on YouTube, many spin-off versions of original Squishmallows, and a healthy motto of "Everyone is welcome to express themselves".  At squishmallows.com, you can shop, register your own Squishmallows, learn more about all the characters, download sheets to draw, and more!
Opt for a truly one-of-a-kind "chonky", one that looks as special as it really is.  There are two choices below that made the Cow Cut!
Belozi the Rainbow Cow Squishmallow Runner-UP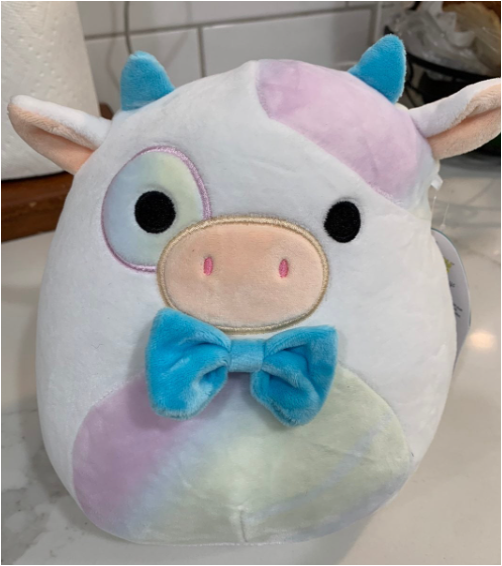 Belozi is white with pastel shades like a rainbow in spots, with a dapper blue bow tie that matches his blue horns!  He has a very unique marking around his right eye, and a big, fat "chonky" nose that is one of his dearest features!
He takes pride in how he dresses, and likes to be sharp and crisp, standing out from all the rest.  He has a golden rule to treat everyone with the greatest respect and he always likes to make sure he looks the very best he can before he goes anywhere.
All his Squishmallow friends know and love him for his kindness to others.  They also comment on how nicely he dresses, and many admire his classy swag and independent spirit.
This 8 inch rainbow Belozi is a 5Below exclusive that came out in 2021, and is no longer available in stores. 

Find your own Bubba the Cow here at Amazon.
Bubba is fast as lightning on the basketball court, and his team counts on him at every game.  Bubba handles bullies with expert communication and his team supports him. He makes sure to let people know when others are mean. He is not very tall, and so some people think he cannot be good at basketball, but watching one game will set them straight!
Bubba the Cow is determined to try out for a professional basketball team when he gets older, and hopes to play on a Division I team at college.
This Squishmallow cow is a light purple with a darker spot over his left ear and head, and has dark purple patches on his white tummy.  Bubba is 8 inches of "chonkiness" and is part of the Easter Squad.
Continue reading: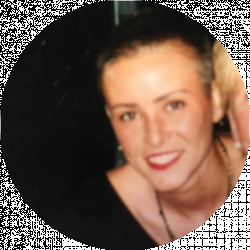 Latest posts by Richelle Tieman
(see all)