The phenomenal magnetism that Squishmallows have has taken the world by storm ever since Kellytoy introduced them in 2017.  With over 100 million of the "chonkers" sold and more than 1000 different Squishmallows to choose from, their reach has no boundaries. Each Squishmallow is endowed with its name, likes and dislikes, and dreams and aspirations. All of them share the mantra of "Everybody belongs", and all of them practice kindness daily. Who wouldn't love these huggable sensations?
Can you believe that these pillowy-soft pals have even permeated the online gaming niche?  Roblox has partnered with Squishmallows to offer a bright and colorful virtual town where you can buy and trade your virtual Squishmallows!  Explore this world's forests and soda shops, and compete in games.  The fans who have created more than 100 Squishmallow groups on social media may be playing alongside next to you!
Bottom Line Up Front
In nature, Axolotls are medium gray and have only recently been bred to be pinkish for pet stores and breeders.  Because pink is so popular, many Squishmallow Axolotls resemble each other and make it hard to tell them apart.  Jaelyn the Axolotl Squishmallow is the closest thing to the "real" thing there is, being black all over with a white tummy and silvery pink gills.  I would opt for the more dramatic and darker color of Jaelyn to remind us what the vast majority of Axolotl look like.  Jaelyn is also a more striking character, and is an expert at posing for the camera!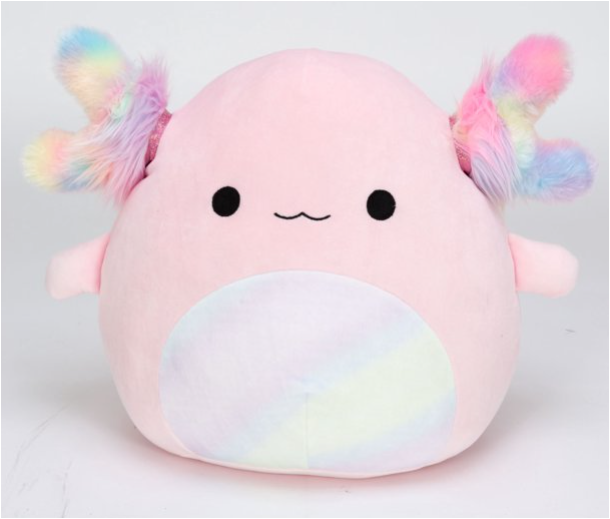 Find this Archie Squish-Doo Squishmallow at Amazon!
Here is the new Archie the Axolotl "Squish-Doo" Squishmallow in 14 inches of soft, marshmallow stuffed fun!  The Squish-Doo line from Squishmallows is focused on self-expression through creative hairstyles.
Two (not the usual three) bright pastel gills on each side of Archie's head are fuzzy rainbow dyed!  His white tummy is pastel rainbows and he is a very soft pink all over!  This very light pink color is similar to the color used to breed pet Axolotls.
Expert beauticians and hairstylist plushies come together to invent the most trendy and fun "doos" that align with individual tastes.  There's never been a better time to show your true colors!
The larger size of Archie makes him easy to hug and use as a pillow in the car, yet still squish him into tiny spaces.
More than 800,000 Squishmallow enthusiasts belong to the social media community, and they share resources and Squishmallow stories.  In this social distancing time, you are sure to connect to many other people and have long-distance friends!
Archie the Axoxlotl was released in 2019 and has since become a fan favorite.  He is fully versed in using his hands to talk in sign language and spends a lot of time teaching his friends to speak that universal language as well.  Archie is very shy, and having something to do with his hands when he meets people is important to him which is how he got involved in mastering sign language.
There are more than 12 versions and limited editions of Archie the Squishmallow to choose from.  To see these, follow this link!
A favorite activity of Archie's is playing soccer both at school and in a community league.  He has been playing for years and started a soccer club for his Squishmallow friends.  At their soccer training, Archie shares his love for the game and teaches sign language to those who care to learn.  He also was the first one to play in the "Squishmallow Cup" which is the championship soccer tournament held for all Squishmallows.  His goal is to win the cup one day!
Being an Axolotl, Archie has feathery gills on the outside of his body that he uses to breathe underwater, even though he has fully functioning internal lungs for air!  Archie and his Axolotl friends can regenerate their organs, legs, and arms multiple times in weeks!  Archie is asked questions every day about his "superpowers" of regrowing and being 1,000 times more immune to diseases than humans!
Archie's home is in Mexico and he loves to visit his family who lives in Mexico City lakes.  People living in Mexico celebrate all salamanders, especially Axolotl Salamanders and there are stories and songs about this amphibian that can change colors.
Light pink with a round white tummy and stubby arms, Archie the Axolotl Squishmallow comes in sizes of 2, 2.5, 3.5, 5, 7, 8, 11, 12, 16, 20, and 24 inches!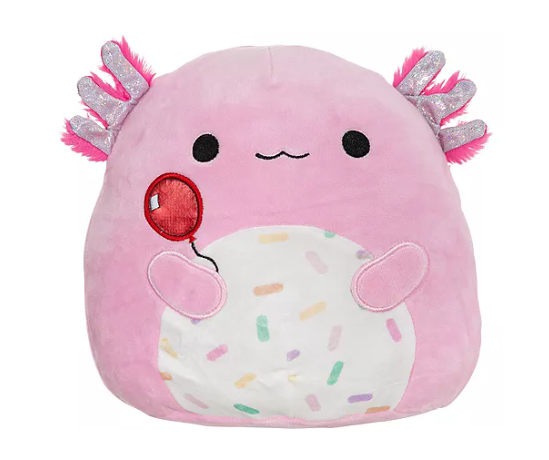 Find this limited edition Archie the Party Axoltl at Amazon!
This limited edition of Archie the Axolotl Squishmallow has embroidered stubby arms and a red balloon.
His ears are silvery in front and pink fur in back.  With a pale pink body and a white tummy with pastel sprinkles on it, he is sure to liven up all birthdays!
At 8 inches tall, he is the perfect size for all hands to hug and squish!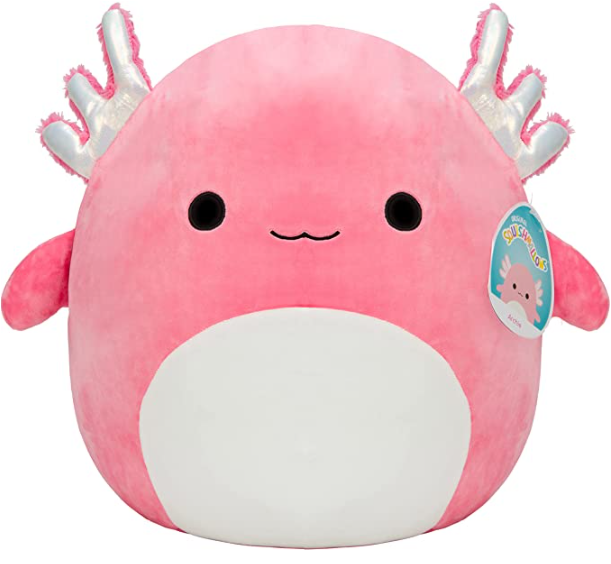 Archie the Axolotl at Amazon!
This Archie sports glittery, silvery-white gills that have hot pink fur backs to them.  The variations on Archie are so numerous that every detail of his gills, colors and even his stubby arms have been changed to create a limited edition or exclusive offering or store promotion.
Quite similar to the original Archie, except having a deeper pink color and having the front of his gills silver, this Squishmallow boasts clean, defined lines that don't suggest clutter or chaos of textures.
And, on most Archies, the side profile is amazingly cute with his little body whittled down into the tiniest tail – imitating the living Axolotl!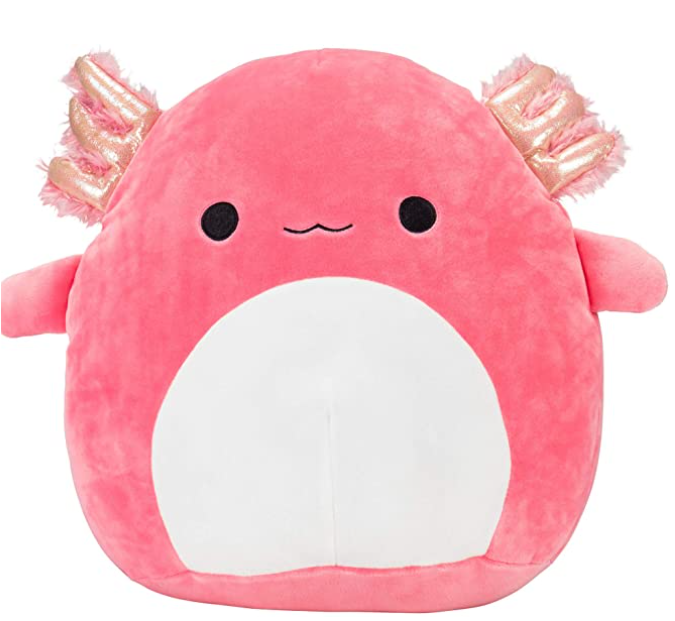 This 12 inches huggable squishy wants to ride with you in the car, airplane, or train, sleep with you in bed, and play with you and your friends at home and online!
Notice anything different between the image above and this image of Archie?  They both have that same all-over velvety, bright coral pink and white tummy, and they both have three gills on each side of their head.
The difference is that this Archie has sparkling pink/gold gills on one side!  The image above has bright white/silver gills.  For collectors, this difference could mean hundreds of dollars!
From the back, they both have the same furry pink hair on the gills, although in the picture above it looks darker pink and more sparse.  That could be because of the lighting from the picture and the way Archie came out of the box!
Don't forget that this Axolotl has a super squishy tail, too!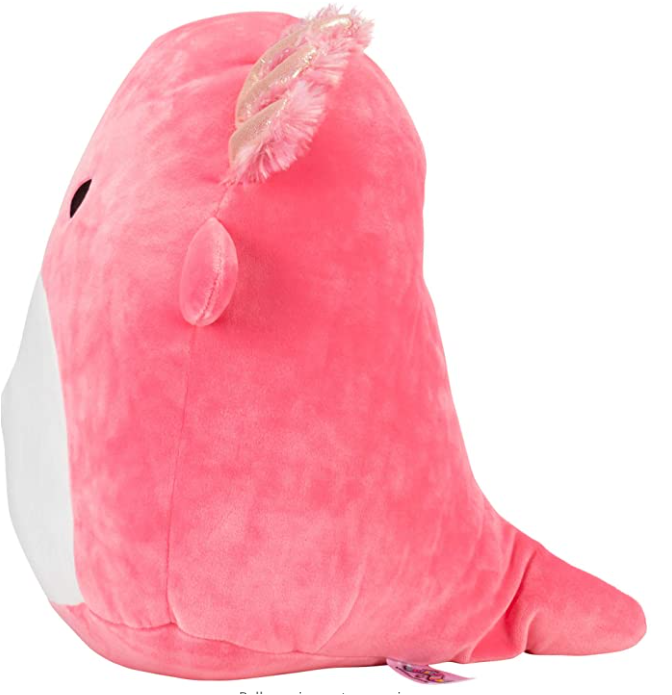 Authentic and original Archie the Squishmallow from Kellytoys can be registered online at squishmallows.com, and they will send you a certificate.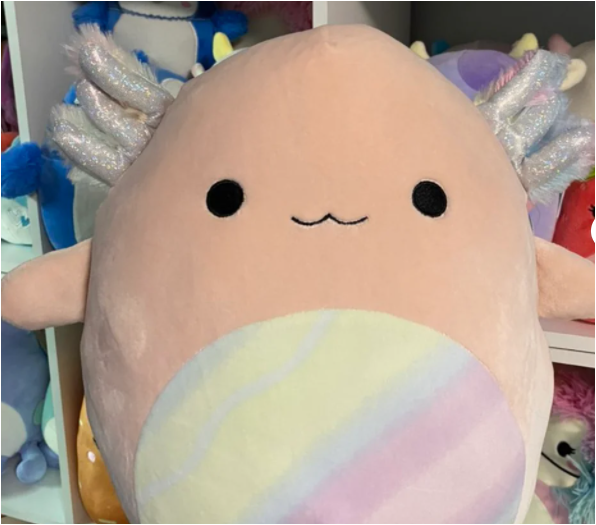 Find this version of Archie at Amazon!
This is a rare type of Archie Squishmallow, with the three silvery, glittery gills on the sides of his head- but wait, turn him around and it is fluffy, fuzzy pastel rainbow hair for gills! His body color is also the lightest peachy pink, and he has a tummy that is lightly rainbow-hued.
The unique pairing of fur with glitter on his gills, and his off-color variation, make this Squishmallow just that bit more different from any that have come before.
FAQs
Question: What are the Axolotl Squishmallow Names?
Answer: It is overwhelming to try and determine how many Squishmallows there are of any one type of character.  Kelly toys is constantly creating new creatures, and the numbers continue to grow.  At 1000 plus critters so far, there are seemingly endless variations of one character, but that is the easy search.  The harder one is coming up with a definitive list of how many …..blank…(you fill in the character- horse, Mickey Mouse, cat, etc.) Squishmallow there are.
I have done an exhaustive search and come up with 20 different Squishmallow Axolotl creatures.  Remember now, there are probably between 2 and 8 varieties of each creature.  That means you could choose your favorite colors and hair and accessories that each Axolotl has.  Potentially over 100 different looking (not to mention different sizes) of the Axolotl Squishmallows. Here is a list of their names and links for each:
Question: What was the First Axolotl Squishmallow to be Released?
Answer: The first Axolotl Squishmallow to be released was Archie.  He was released in 2019, which is two years after the first Squishmallow had been released.  New Axolotl characters did not start to be manufactured again until 2021.  In 2021 there were more than ten new Axolotl characters released, and in 2022 there have been more than five different ones so far!
Question: Is There a Flip Squishmallow Archie?
Answer: Yes, the Flip-A-Mallow Squishmallow line has several Archie "flips" that you can push into 5 inches Reina the Aqua Butterfly and a 5 inch Tristan the Triceratops.  These are easy-to-handle plushies that you can take a finger and mush down their heads and another Squishmallow character will emerge from the bottom.  Pull them out and enjoy twice the fun with two for one!
Question: What Squads Does Archie the Squishmallow Belong to?
Answer: Archie the Axolotl Squishmallow belongs to the Spring Squad where he sports a lighter than usual pastel pink body, stubby arms, white tummy, and velveteen hot pink gills.  Archie also belongs to the Rainbow Dream Squad of Squishville two-inch Squishmallows and playsets, the Foodie Squad, Spring Squad, and the Easter Squad!  Other groups that Archie "belongs" to, but that aren't squads, are the Micromallows, Flip-A-Mallows, Clip-Ons, Squish-Doos, HugMees, and Squishville editions.
Question: What Squads Does Archie the Squishmallow Belong to?
Answer: Archie the Axolotl Squishmallow belongs to the Spring Squad where he sports a lighter than usual pastel pink body, stubby arms, white tummy, and velveteen hot pink gills.  Archie also belongs to the Rainbow Dream Squad of Squishville two-inch Squishmallows and playsets, the Foodie Squad, Spring Squad, and the Easter Squad!  Other groups that Archie "belongs" to, but that aren't squads, are the Micromallows, Flip-A-Mallows, Clip-Ons, Squish-Doos, HugMees, and Squishville editions.
Question: Is Archie the Squishmallow Deaf?
Answer: According to the official Kellytoys description of Archie, "he has a special talent-he talk with his hands". It states that he also started a Squishmallow club to play soccer and also for his friends to learn Squishmallow Sign.  I would bet he is not deaf because they use the word "talent" instead of just saying he "talks with his hands".  I believe he also teaches his friends how to communicate in Sign Language during their soccer club.  Since all Squishmallows have talents and hobbies, Archie's talent is knowing Sign Language.
In Conclusion
Squishmallows are no doubt a wise investment that pays off exponentially due to the seemingly endless ways to play and cuddle with them.  From roleplaying on the floor to online gaming and virtual fan communities, Squishmallow enthusiasts can always find something to do.  And when they are done – they can snuggle up and sleep on their marshmallow friend!
Due to the large variety of colorful Axolotl Squishmallows manufactured, the original Archie the Axolotl is a more plain version.  Of course, if you look at what an Axolotl looks like, you will also see that they are very generic looking!  Breeders of Axolotl have mixed it up a bit and are creating "pink" Axolotls that are very pale and almost translucent for pet stores.  Naturally, you will find that Axolotls are grey, and there is only one Squishmallow that comes close to the true color of an Axolotl. Jaelyn the Black Axolotl has a white tummy and silvery pink fur gills.  I like Jaelyn the best as he most closely resembles what an Axolotl will look like in nature.
Jaelyn can only be found on thrift store websites as his release has come and gone, but huge cropping of choices pops up if you search for him.  I also like him as the best Axolotl because there are many shades of pink Axolotl Squishmallows that look like each other even without the many pink variations on variation!  You will always know you have Jaelyn because of his clean, well-cut markings and colors.
Continue reading: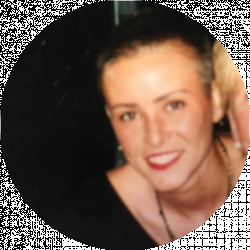 Latest posts by Richelle Tieman
(see all)