I'm a plush toy enthusiast who also enjoys good literature. Alan Milne wrote one of the most outstanding children's stories ever told. The saddest donkey crawled into every child's heart. So, my Eeyore Squishmallow guide will go beyond the brand's famous marshmallow-stuffed plushes.
Eeyore Squishmallows might even outshine Pokémon plush among Disney and Winnie the Pooh fans. Let's face facts about Eeyore. The depressed donkey from a famous children's story is more capable of putting smiles on kids' faces than many other plushies. So, let's discover everything Eeyore has to offer as a Squishmallow.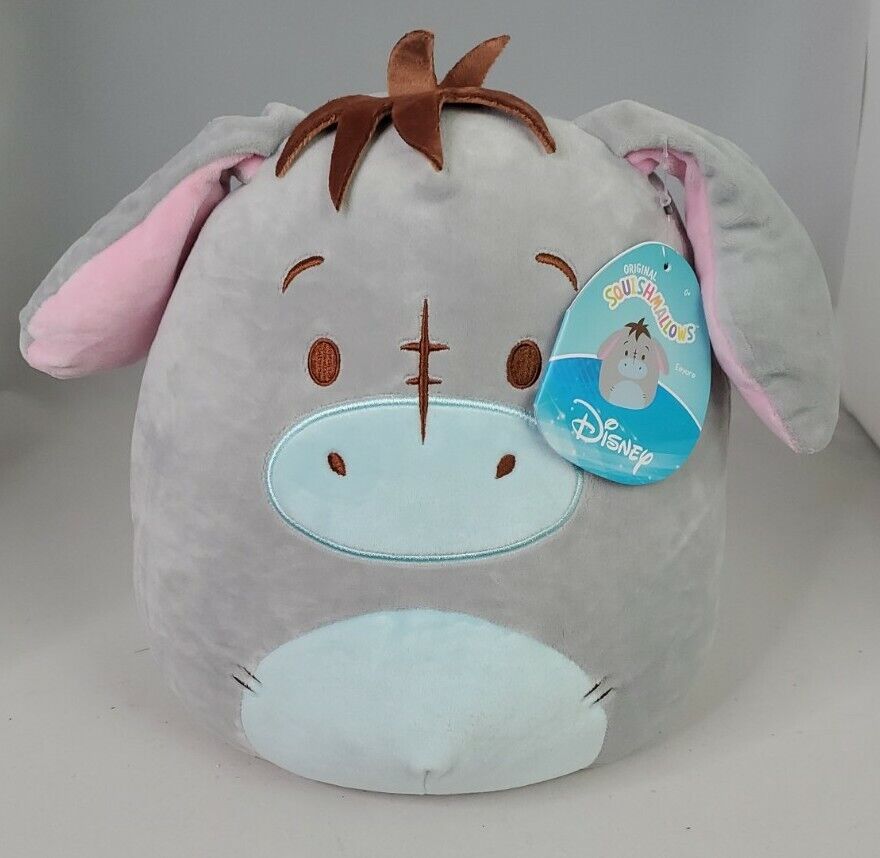 Eeyore Squishmallows Bottom Line Up Front
Do you know why I admire Eeyore Squishmallows? Very few Squishmallows can say or do the same thing as Eeyore. I love Eeyore Squishmallows because one of the children's most famous depressed donkeys always manages to brighten up a child's life when you squeeze the marshmallow plush.
Nothing about Eeyore or his buddies will make kids feel sad. So, giving Eeyore Squishmallows to children will turn frowns upside down. He's a massive collectible from a squad large enough to make any child happy with different sizes and versions. I'll share tips about expanding Eeyore Squishmallows soon enough.
You'll be shocked to see the potential of Eeyore Squishmallows and adding other Winnie characters. But first, let me share a favorite from the Eeyore Squishmallow selection. The Large 14″ Disney Eeyore Squishmallow is my top pick because it appeals to the age group that matters. Little kids love cuddling and hugging large plush.
So, the most significant size of Eeyore Squishmallow makes the most sense. However, let's discover what makes Eeyore Squishmallows sought-after before seeing more of him. In addition, I'll show you every tip to find and collect Eeyore and his friends while sharing incredible alternatives later in this article.
Selection Criteria
Eeyore may feel down from time to time, but thankfully, with the help of this selection criteria, we can guarantee that our Eeyore plush picks won't have you feeling down in the dumps. This is the criteria that we ran with:
All Eeyore Plush toys should be of the utmost quality in terms of materials, stitching, softness, and design.
All Eeyore Plush toys should be representative of the character, which means, the plush should look exactly like our downtrodden little pal.
All toys should be available from reputable vendors.
We will include Eeyore plush toys of all shapes and sizes to offer a wide variety of options.
Eeyore Squishmallow Guide: Not-So-Sad Plushes
Winnie and his friends all have issues, which makes the story unique. Eeyore can turn a child's frown upside down, which is strange considering he represents depression. However, Squishmallows bring nearly as much joy as the movies and books. So, let's meet the Eeyore squishes and see what each size brings in terms of fun.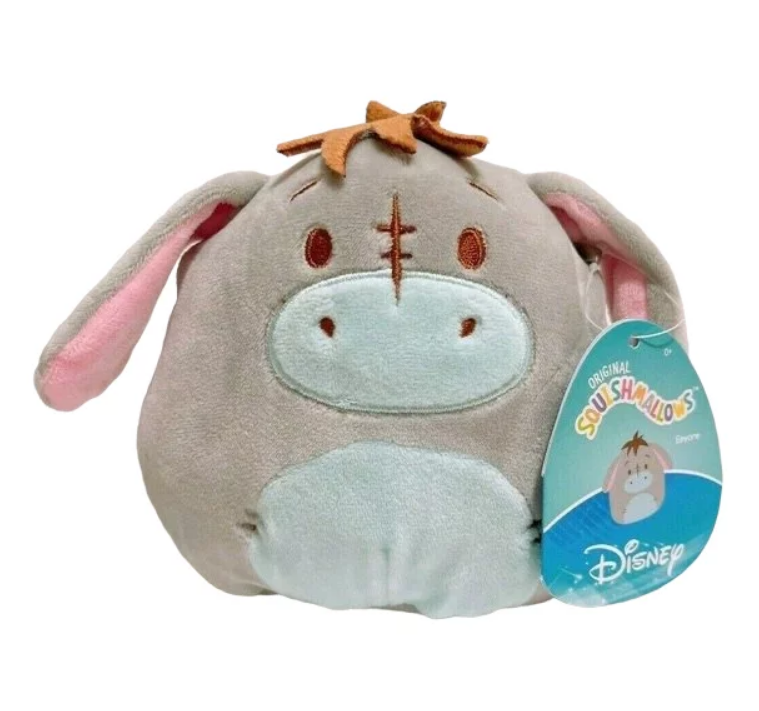 Disney's Eeyore Squishmallow, in its tiniest form, is nearly as adorable as the donkey from Winnie the Pooh. Nothing about this plush toy seems sad, lonely, or upset about friends forgetting its birthday. On the contrary, the Eeyore five-inch Squishmallow looks like a happy chap, almost as gay as the Shrek donkey.
Pros
The small Disney Eeyore Squishmallow has gorgeous features
Eeyore's small Squishmallow looks happier, friendlier, and cuter than Donkey from Shrek
I don't usually love five-inch Squishmallows, but Eeyore stole my heart with this plush
The Eeyore Squishmallow has long donkey ears, a suitable snout, and a gorgeous shape
Cons
The small Disney Eeyore plush might not suit fans who want him to look neutral or sad
Tiny Disney Squishmallows aren't the best options for little kids unless they travel with them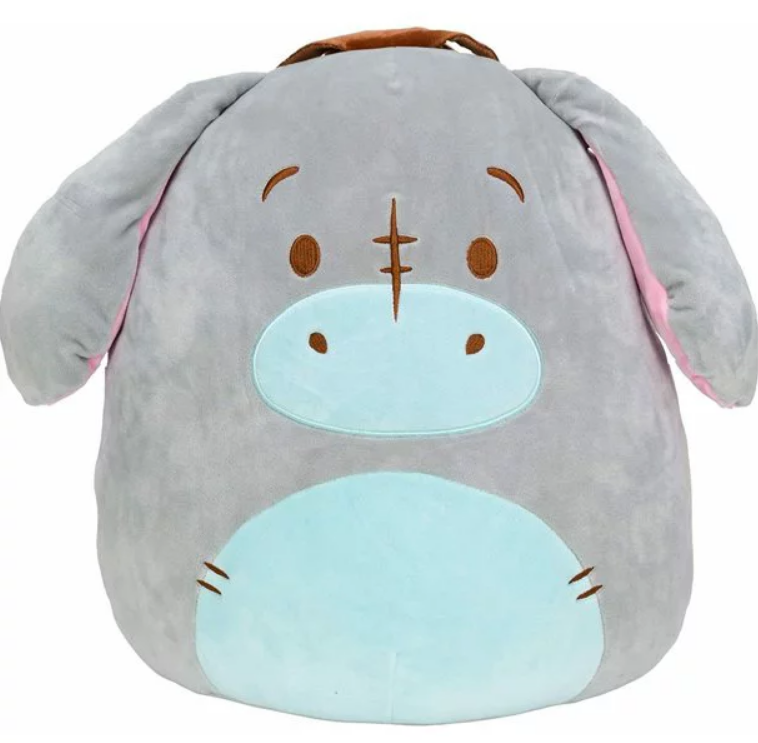 The eight-inch Disney Eeyore Squishmallow rocks my collector's boat more than the last one because of its size. I mainly collect eight-inch Disney Squishmallows, but they don't work as well for little kids who prefer larger squishes. However, even the price tags show the size to be more collectible for older fans with money.
Pros
The small Disney Eeyore Squishmallow is an adorable ball of squish
The eight-inch Eeyore Squishmallow looks more mature and accurate for the donkey
Eeyore's eight-inch plush toy takes a more neutral expression and has puffy ears
This version of Eeyore Squishmallow is my ultimate collector's pick
Cons
Eeyore takes a new expression, looking more neutral but not depressed
The eight-inch Eeyore Squishmallow has fewer features than the last one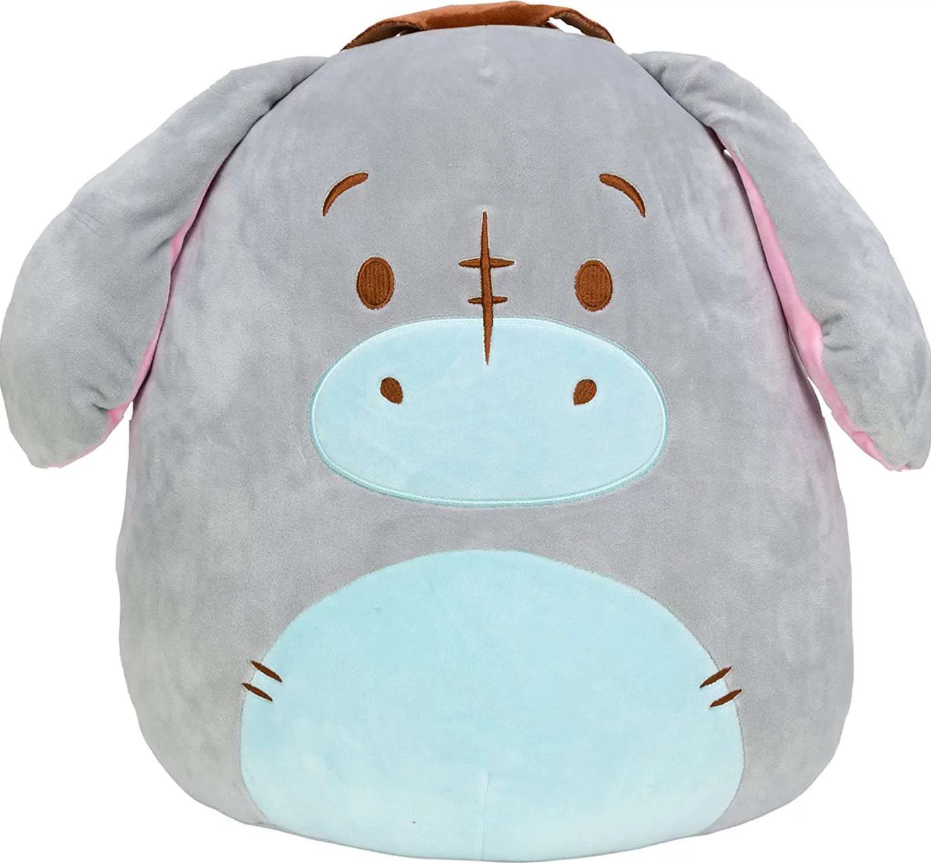 Medium Disney Squishmallows are more versatile than other sizes because kids enjoy them, and collectors can scoop up multiple options. So, the medium Disney Eeyore Squishmallow appeals to a massive range of people. Admittedly, it looks nearly identical to the eight-inch plush toy if you want every size of the famous donkey.
Pros
The medium Disney Eeyore Squishmallow marks all the fans
Eeyore's expression remains neutral to appeal to a variety of fans
This size of Eeyore Squishmallow also has puffy ears with stuffing
Eeyore's eyes look surprised, which you often see in the movie
Cons
Eeyore's neutral design can seem sadder than his five-inch plush toy
The 10-inch Eeyore Squishmallow also doesn't have many detailed features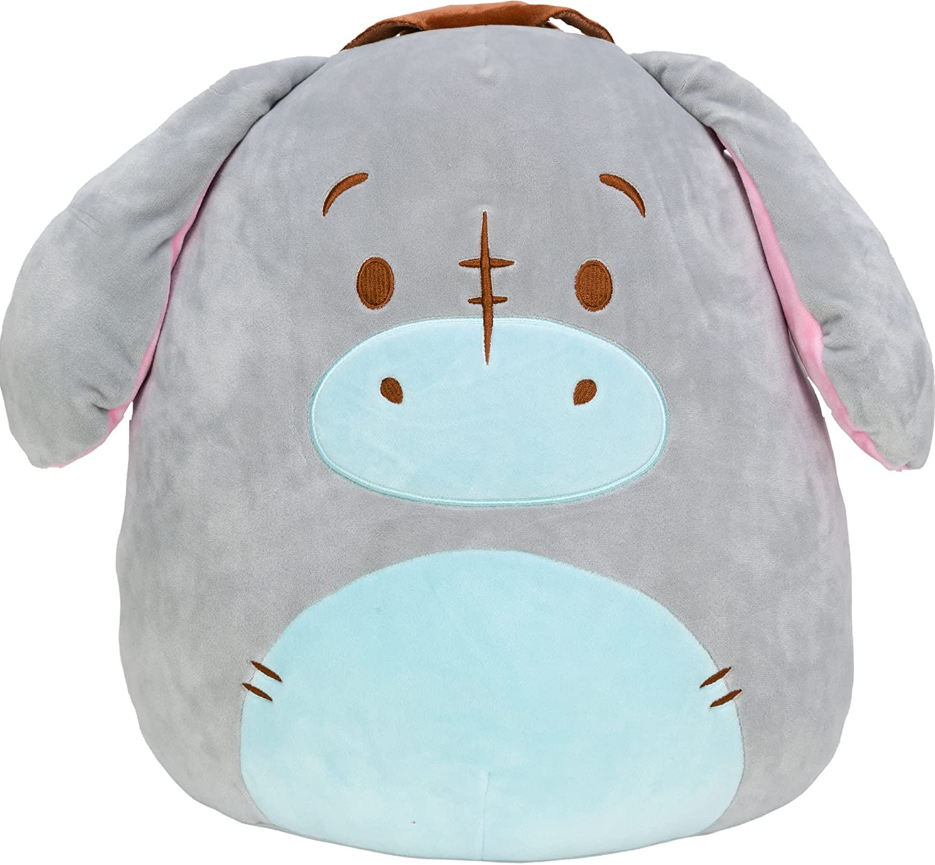 The Disney Winnie the Pooh Squishmallow once came in four sizes, but now Squishmallows brought another dimension to stores. I welcome Squishmallow squad members with multiple sizes because the collection potential is endless. Winnie Pooh's collection already has more opportunities than most. So, it's a win.
Pros
The new medium Disney Eeyore Squishmallow makes five collectible sizes
Eeyore's design remains neutral compared to the five-inch plush, but he has added details
The 12-inch Disney Eeyore Squishmallow has a detailed feature around its tail
Younger kids will start getting excited with the 12-inch Eeyore plush toys
Cons
Disney's Eeyore Squishmallow still maintains fewer features, except for the tail
Eeyore's eyes should be brighter and more detailed for a happy friendship with kids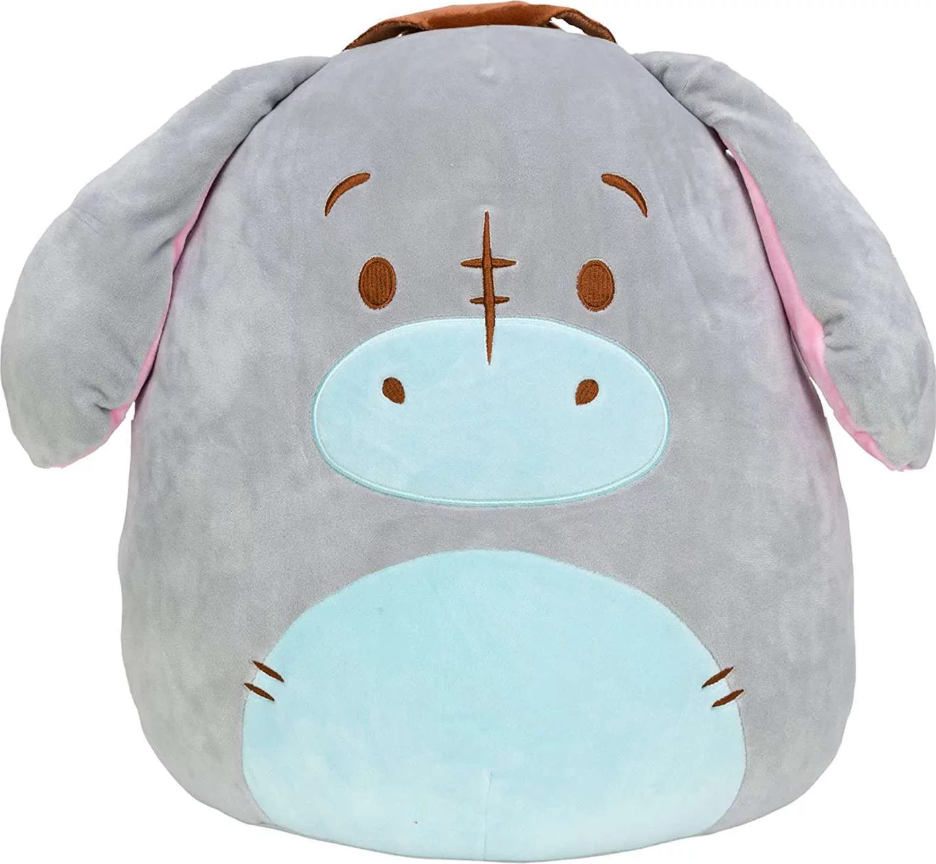 The large Disney Eeyore Squishmallow is 14 inches, the most significant size for Winnie Pooh's famous donkey friend. Meanwhile, the design remains consistent after the five-inch Eeyore plush toy, which isn't a train smash, either. Collecting identical Eeyore Squishmallows in various sizes can make for an exciting display.
Pros
The large Disney Eeyore Squishmallow is the best size for kids and younger fans
Disney's 14-inch Eeyore Squishmallow sticks to his stuffed ears and bright face
The 14-inch Eeyore Squishmallow also has a tail with a pretty pink bow
Older fans can enjoy the large Eeyore Squishmallow if they want the collection
Cons
Large Disney Eeyore Squishmallows don't appeal to my collector's shelf
I'd change Eeyore's eyes to solid black to make them stand out more
Recommended Alternatives for Eeyore Squishmallows
I always choose the most petite and collectible sizes. However, Eeyore Squishmallows are happy plushies for kids, and so are his friends. So, I'll recommend Disney Winnie Squishmallow alternatives from the 14″ range. That way, you can collect all four Disney Squishmallow characters for little kids who enjoy snuggling at night.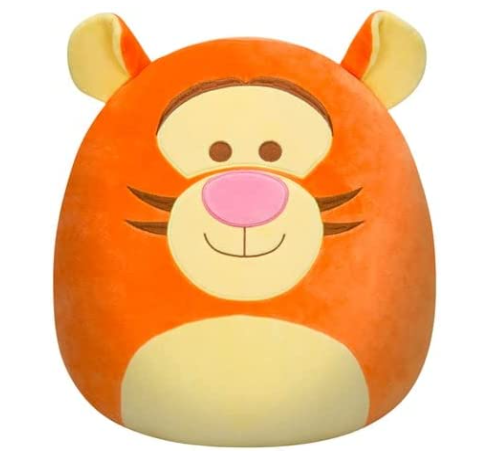 Tigger is my second-favorite character from Winnie the Pooh. Maybe I love his energy or hyperactive element, but Tigger impresses me and entertains my kids. Meanwhile, the Disney Tigger Squishmallow adds a bright color to your child's Eeyore Squishmallow collection. In addition, the Disney Tigger plush smiles broadly.
Pros
The large Disney Tigger Squishmallow is ideal as an addition or alternative
Tigger's 14-inch Squishmallow is bright, bold, and ultra-friendly
You can see Tigger's wild energy with the 14-inch plush toy
Disney's Tigger Squishmallow has impressive details around his eyes and stripes
Cons
Tigger's nose should be darker because kids will mess it up
Ironically, Tigger and Eeyore Squishmallows have different textures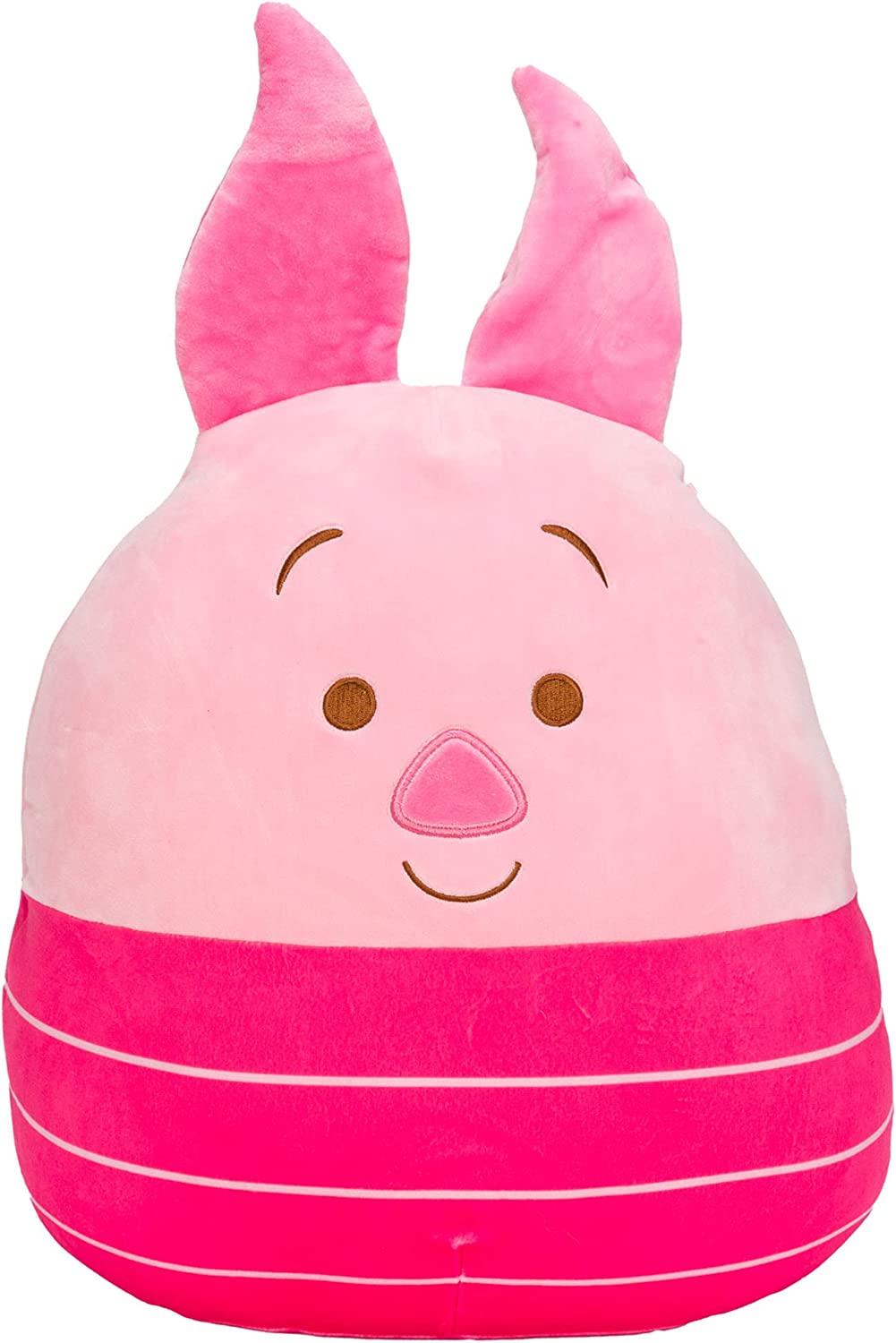 Admittedly, Piglet is my least favorite Winnie the Pooh character, even though he's an adorable piglet with attractive features. Anxiety is my enemy, so I'm not mad about him. However, the Disney Piglet Squishmallow is another bright color to change things up in your Eeyore plush collection, and kids love bright colors.
Pros
The Disney Piglet Squishmallow is a shocking pink to brighten things up
Disney's 14-inch Piglet Squishmallow is the perfect alternative or addition
Kids will go wild for Piglet's plush toy with his oddly-shaped ears
Piglet's features and details are excellent, including his eyes and stripes (except the ears)
Cons
I wouldn't enjoy the Disney Piglet Squishmallow's random and wild ears
Piglet doesn't look anxious, and some older fans will enjoy his famous expression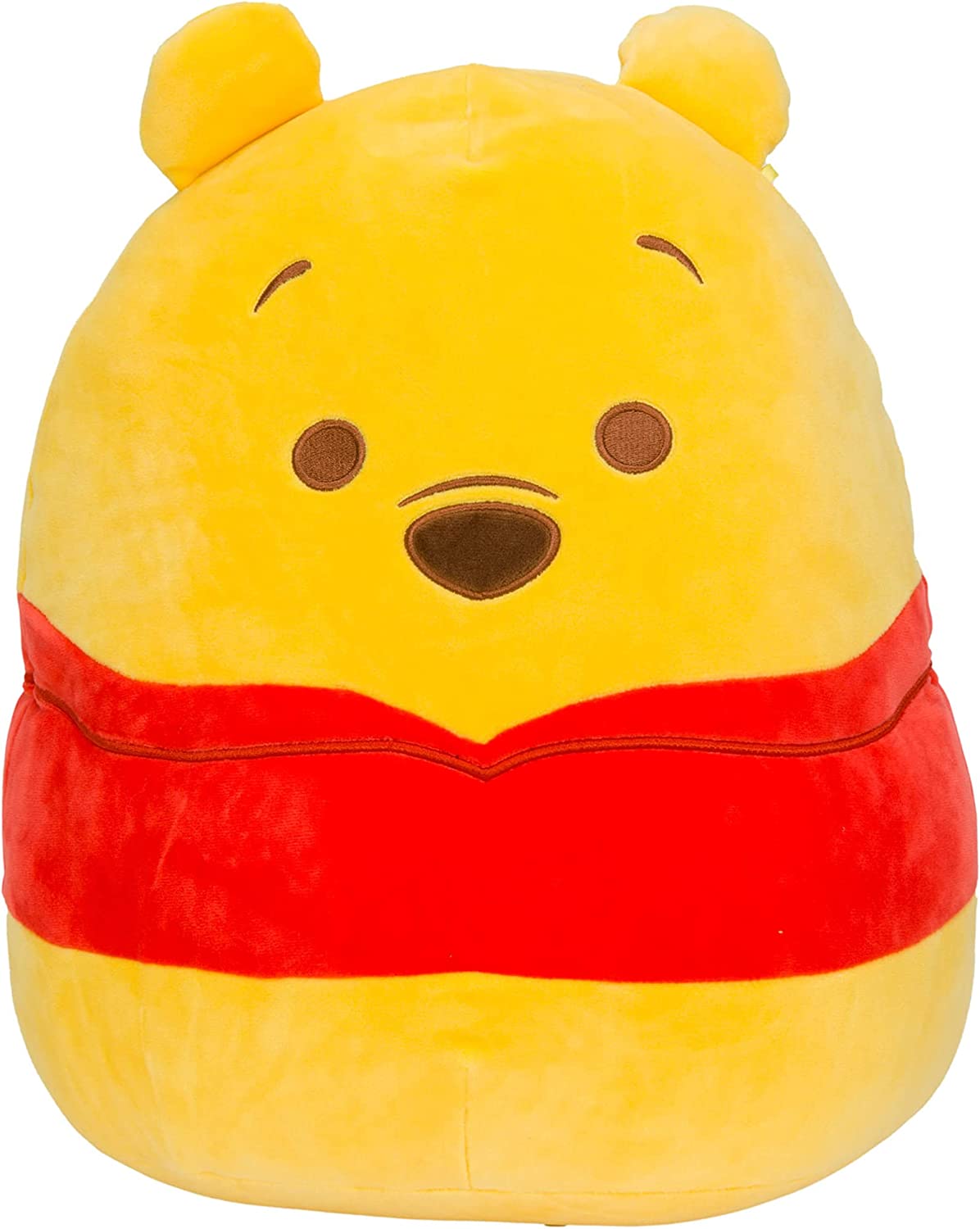 Disney's Winnie the Pooh is an essential addition if your child loves Disney movies and books. Winnie the Pooh is the story's center and would be a welcomed friend for Eeyore Squishmallows. I'd only change Winnie Pooh's face to give him a happy smile or some mouth features. He looks like the shirt ate him for a change.
Pros
The Disney Winnie, the Pooh Squishmallow, is the epicenter of collections
Winnie, the Pooh's 14-inch Squishmallow, is bright, colorful, and accurate for his character
Children know Winnie the Pooh well and would invite him to their friend's circle
Winnie Pooh's fame and glory make him more collectible than others
Cons
Disney's Winnie, the Pooh Squishmallow, should have a mouth or smile
The Winnie, the Pooh plush looks like his eating disorder, caught up with him
FAQs
Question: How Big Is the Largest Eeyore Squishmallow?
Answer: Disney's Winnie the Pooh brings many plushies to life for various characters. However, the largest size for the Winnie the Pooh Squishmallows is 14 inches. The Large 14″ Disney Eeyore Squishmallow will excite little kids who want this size plush to cuddle and befriend at bedtime.
Question: What Size Is the Smallest Eeyore Squishmallow?
Answer: Disney Squishmallows is likely one of the most enormous squads from the brand. So, the most miniature version available for Eeyore would make the ideal travel mate for kids and older fans. The Small 5″ Disney Eeyore Squishmallow is the tiniest variation of Eeyore from Winnie the Pooh.
Question: What's Eeyore Squishmallow's Most Famous Line?
Answer: "I'd say thistles, but no one listens to me anyway." – Eeyore. I can imagine hearing Eeyore's Squishmallow saying his famous line. I can see why he maintains some of his sad demeanor with the plush without removing his fun sides for kids. Children still love Eeyore, even if no one listens to him.
Eeyore Squishmallow Guide: Conclusion
The Eeyore Squishmallows don't come in many sizes or versions yet. However, the Disney Winnie the Pooh Squishmallow collection has tremendous potential for fans and collectors. Eeyore Squishmallows can bring smiles, excite kids, and make Disney or Winnie the Pooh fans jump over a wall anticipating what comes next.

Hardly any Disney story has more profound roots than Winnie the Eeyore's plush toys. So, I'll recommend you buy the Large 14″ Disney Eeyore Squishmallow before you can't find the original child-friendly size anymore. Then, I recommend expanding your collection before Disney's fame erases the selections.
For More Squishy Friends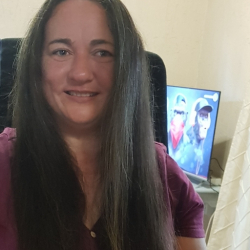 Latest posts by Caroline Lambert
(see all)