Everything you always wanted to know about the Mystery Squad Squishmallows is here!  Broken down by original mystery squads first, this article delves into the mutations that have come along when we think of Squishmallow Mystery Squads! The few original mystery characters have morphed into hundreds of potential mystery squad characters, thanks to the collection taking off several years after Kellytoys introduced Squishmallows.
The exhilaration of getting a blind bag with an unknown squishy mallow in it is hard to describe.  A mixture of certainty that you will love whatever you get (because it's the softest, cutest, most personable friend ever), and the suspense of not knowing which character it will be, is a buzz not even beanie babies offered!
My son and I are avid collectors of plushies, and we love a good backstory! That's why squishmallows are so enticing for us!  With the mystery squad characters, and the thrill of opening the unknown, Kellytoy ramped up the entertainment! Anticipation is contagious, and regardless of what mystery lies inside (the duplicates get made into twins or triplets that "mom" has to take extra care of!), the fun of getting another squishmallow is always extended!
To take a quick peek at what Kellytoys are listing as Mystery Squads, check out their product categories page!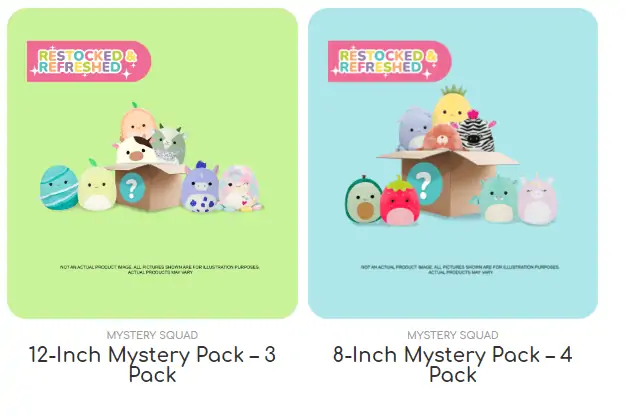 Bottom Line Up Front
It was super hard to choose my favorite Squishmallow this time.  Usually, I have no problem at all, but there are just such a variety of different mystery types, with different character alterations and sizes!  For instance, you can either get Squishmallow 2″ mini-plushies in the regular version or get them with special clothing.
You can also get the 5″ or the 8″ original Squishmallow versions of characters! Don't forget you can either get several Squishmallows you can see and then one or two "blind" ones in the same package!
I finally managed to separate the bottom line. Here, I broke down and recommended the absolute squashiest munchkins because the cuteness factor was a 100 out of 10!  You guessed it – I recommend the Squishville Mystery Mini Plush Series 2 Blind Eggs! The mystery eggs are easy to keep on hand for birthdays, Easter, and Christmas, and as rewards for a job well done!  They are price accessible to everyone, which is necessary.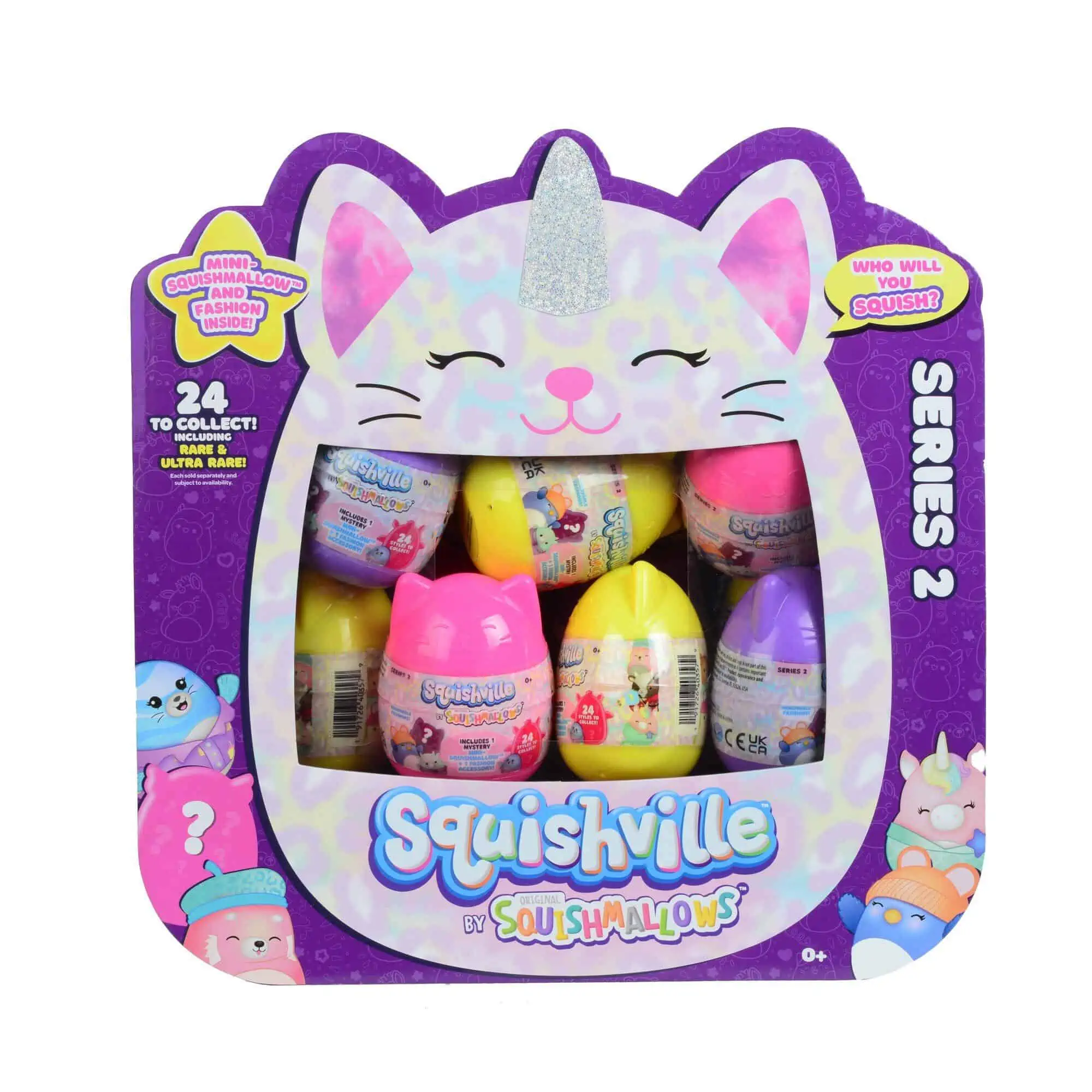 Mystery Squad Squishmallows Quick List
Kellytoys has increased the variety of Mystery-type Squishmallows available and changed their packaging strategies for continuously alluring products. Not all mystery squads are scented, and not all scented mystery characters have their own squad (it's just called "mystery squad" instead of "sealife mystery squad" or "micromallows mystery squad").
On their website, they state that mystery squishmallows can come from any squad there is.  One of their "true" mystery squishmallow boxes has randomly selected squads, sizes, variations, and accessories(think Squishville) packed into the mystery squad box. The entertainment is endless!
I have broken them down by type and size of Squishmallow, and then I took them and broke them down by cost.  It's the same list, but in two different ways, so you can easily find what you're looking for!
Broken Down by Type
Squishmallow Mystery Bag

Scented Mystery Squishmallows

Micromallows (2.5-Inches) Mystery Squishmallows

Squishville (2-Inch) Mystery Pack Squishmallows

Broken Down by Price
$5 to $10

$11 to $20

$21 to $29

$30 to $40

$41 to $50

Squishmallow Mystery Bags, Boxes, Eggs, Packs, and Capsules
The Mystery Ball Starts Rolling
The original mystery squads are made up of 5-inch and 8-inch scented limited edition squishmallows that come in bags. Those original bagged five and eight-inch mystery scented squishmallows come in series with different squishmallows.  There are six in each series, and there 6 series with a new series coming out every few months (with 6 different squishmallows!). Is it any wonder very few of us know exactly which squishmallows we will be getting when we open a mystery bag?
The original mystery squad bags were so successful that Kellytoys decided to expand the mystery squishmallows to include micro-mallows, Squishville mallows, and existing squad squishmallows in every type of packaging imaginable!  I think they were making squishmallows at such a fast rate to keep up with the demand that all this started to get a bit crazy! It's ingenious how they came up with all these different ways of packaging and grouping different mystery squishmallows.
Some are great for Easter egg hunts and stocking stuffers or as daily rewards when achieving new tasks. Others are like a whole happy meal!  Very substantial for an entire birthday gift box!  The thrill of hiding a dozen mini bags, capsules, or eggs is just as fun as watching someone look for them!
Kellytoys knows how to keep us interested with their regular-size bags, tiny baggies, capsules, eggs, and even multiple assortments of mystery squishmallows in boxes!  The only thing missing is storage pods of mystery squishmallows for sale! (I bet those would be fun to wade through!)
The Happy Confusion of Mystery Squads
The sheer amount of customer pictures and comments from buyers that mentioned incorrect package labeling (mostly on the bags) or different squad characters was unbelievable.  To make sense of the mystery squads, you need to have ruthlessly followed every squishmallow mystery character from the introduction and continue buying each mystery squad's packages until you are sure you have every character from every mystery squad.
That means every character from every name, series, season, and size mystery squad. If you haven't, like most of us, it is probably impossible to hunt through hundreds of thousands of retailer listings or cross-reference official fandom sites, the Kellytoys and Jazwares sites, and Reddit, Instagram, Twitter, and Facebook to determine if you will get the right mystery squad member or not!
The most complaints come from original scented mystery squad bags.  If there were only the original two mystery squads (5 and 8 inches), you would know you were getting one of the six characters from each size. It may be the third one of the same character you had gotten in the past three bags, but you would know.  When they introduced other squads into the mystery squads and compounded the names (sealife mystery squad, axolotl mystery squad), things got very muddled!
Squishmallow Love Conquers All
The great thing is, despite all these wrong characters being opened, the mislabeling of bags, and faulty images, all these mystery character package options are rated almost 5/5 by thousands of buyers!!  That shows the magic of the velvety soft, elastic mushy, squishiness of Squishmallows is still coveted and considered the best of any plushie available!
People are thrilled to get Squishmallows, regardless of what they are!  How could Kellytoys go wrong doing anything; we love these pillow buddies and love cuddles so much we just can't get enough of them in any form!
Two Mystery Chaos Examples
Oriental Trading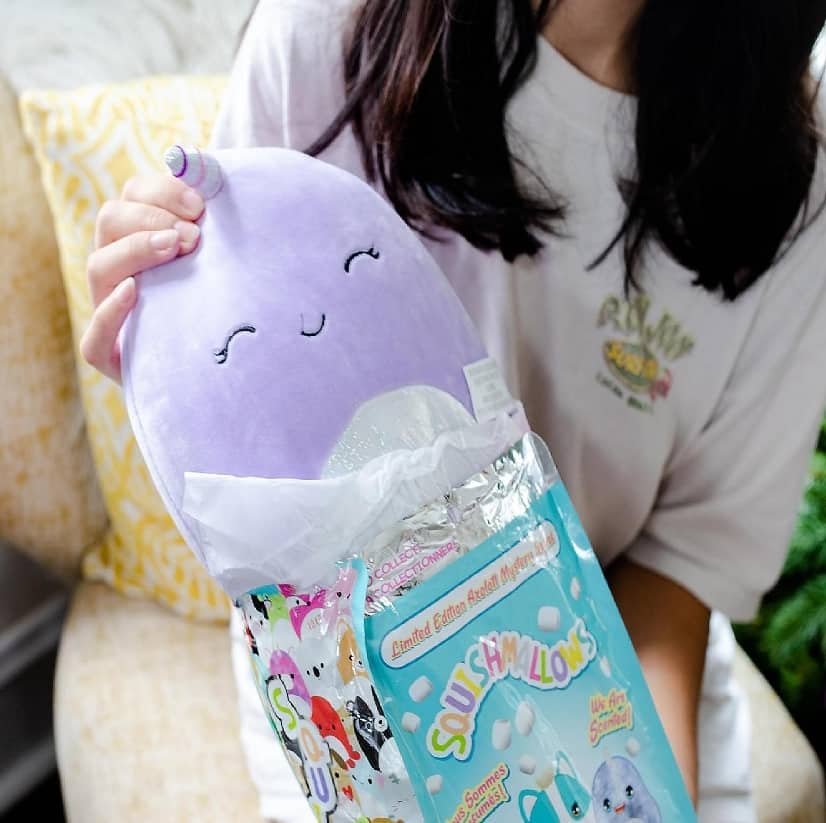 For instance, if you buy this mystery bag from Oriental Trading, it is from Squishmallow, says "Limited Edition Axolotl Mystery Squad" on the bag, and shows axolotl characters.  However, in the second picture, the bag still says axolotl mystery squad, but there are six (one is blanked out) squishmallow characters that are NOT axolotl!
In addition, a third picture shows the possible characters you will get (and not one is an axolotl). When the woman opens the bag, she gets a purple unicorn octopus (which is one of the characters shown on the bag she actually gets in the mail). This convoluted theme is replicated in dozens of listings for mystery squads on Amazon, ToyWiz, Walmart, etc.  It seems the retailers are confused, also!
On top of that, I have seen these same pics for different retail sites listing alternate mystery squad mallows!  It would be helpful if the retailers each took pics of their own items so we could have a more accurate idea of what was in the bag! This copying of pics from retailer to retailer doesn't clear any muddy water but compounds the errors of certain listings.
Quick Tip for What's in the Bag
I have found that the only somewhat reliable method of deducting what you will get in the bag is looking at the picture of the squishmallows gathered around the mystery character! You realize that the mystery character could also be one of the squishmallows shown around it as well – the picture is not excluding those five around the mystery character, only exemplifying that those are the six squad members you may be getting.
Original Mystery Squad Squishmallows
Before the mystery packaging of Squishmallow creatures became such a whirlwind of cross-over themes, squads, character variations, limited editions, and multi-size mixes, there were just the six scented squishmallows that came in the signature blue bags.  Six different characters were possible to get. There were 5-inch and 8-inch-sized bags.  Six scented characters for the 5-inch bags and six others for the 8-inch bags.
You can find a partial listing of all the non-Squishville mystery squad members at Squishmallows Fandom.
Apparetnly, Kellytoys has received enough requests for orderly categorized collector's lists that they are in the process of making one!  See below!

Quick Tip for Squishville Collector's Guides
I found the "official" Jazwares website with most of the information, but some of their guides don't have the series or the season name on them! (The downloadable guides are at the bottom for various time periods and seasons).
These guides are helpful when figuring out who you have in the mystery bags and which characters you still need!  Originally made for trading card sheets, they are just as useful for collectors to check off their mystery squishmallow characters!
Ultimate Roadmap for Squishmallow Mystery Squads!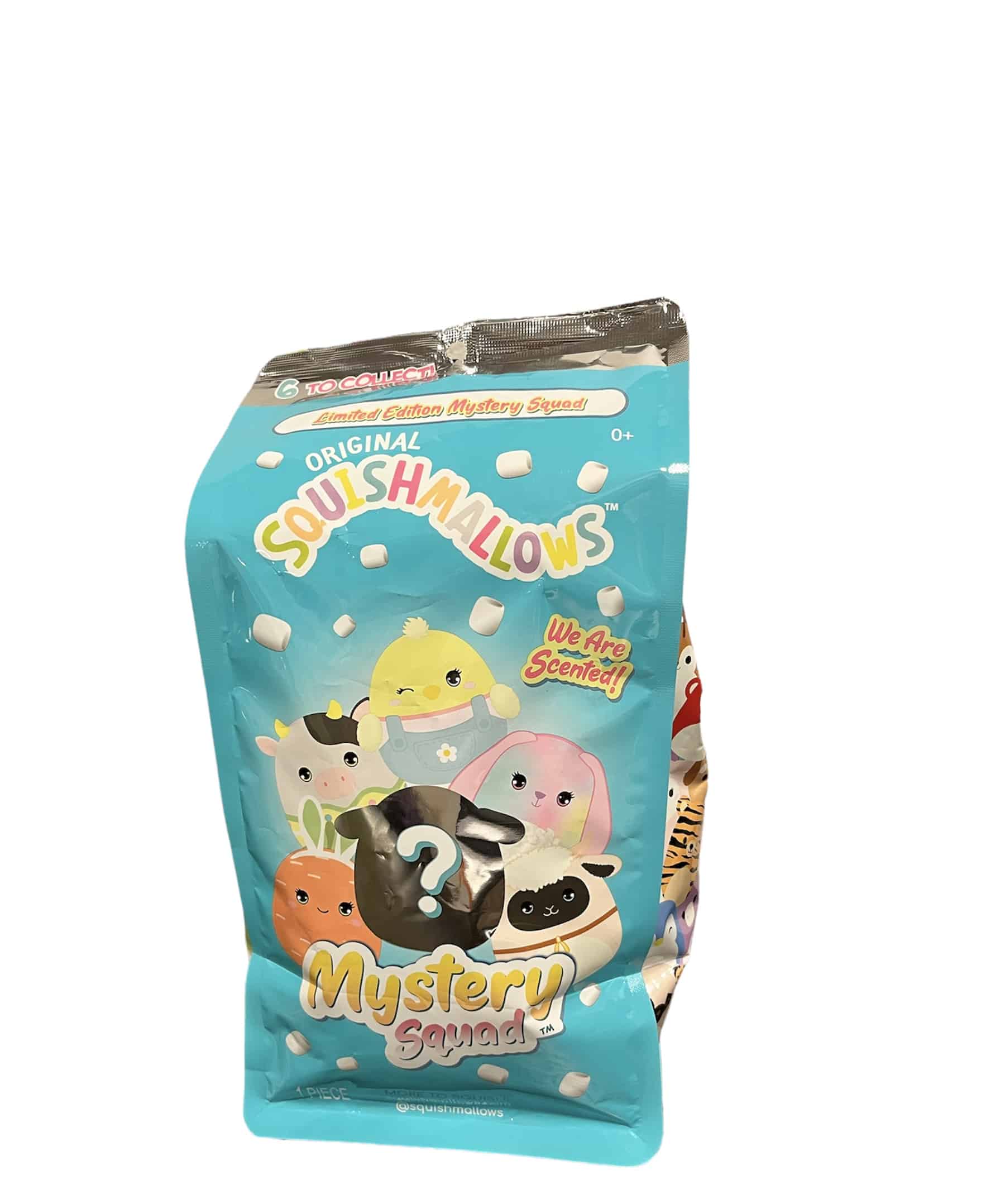 What could be better at Easter than opening the most adorable, tiny holiday-themed Squishmallow?  New for Easter 2022, these little buddies are all dressed up to celebrate with you!  The chick and cow are my favorites!  Looking like decorated eggs but soft and squishy elastic spandex that practically melts in your hand!  You never know which of the six you will get! Great Easter hunt item!  Find this at Walmart.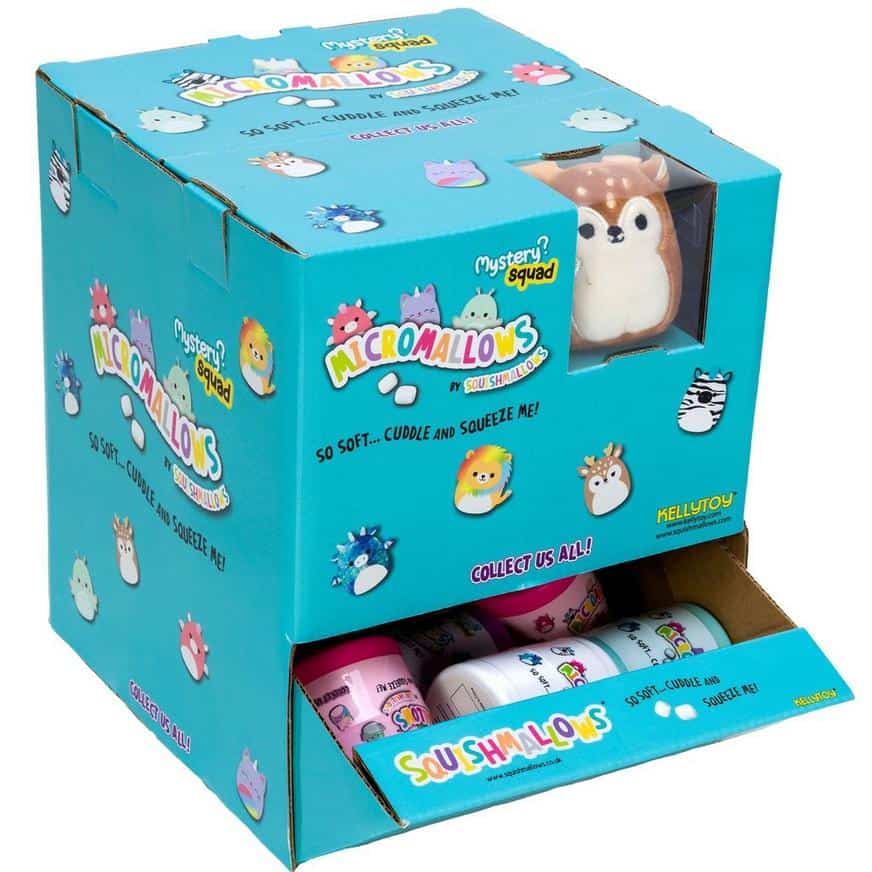 These micromallows are the big cousins of the Squishville squads!  These 2.5″ plushies are almost as small as the residents of Squishville and just as cute, coming in 12 possible characters as shown on the box.  You get one "capsule" of a micromallow to open and find out which one you got!  I love the capsule idea of packaging – we always used it as their beds! Find this at Party City!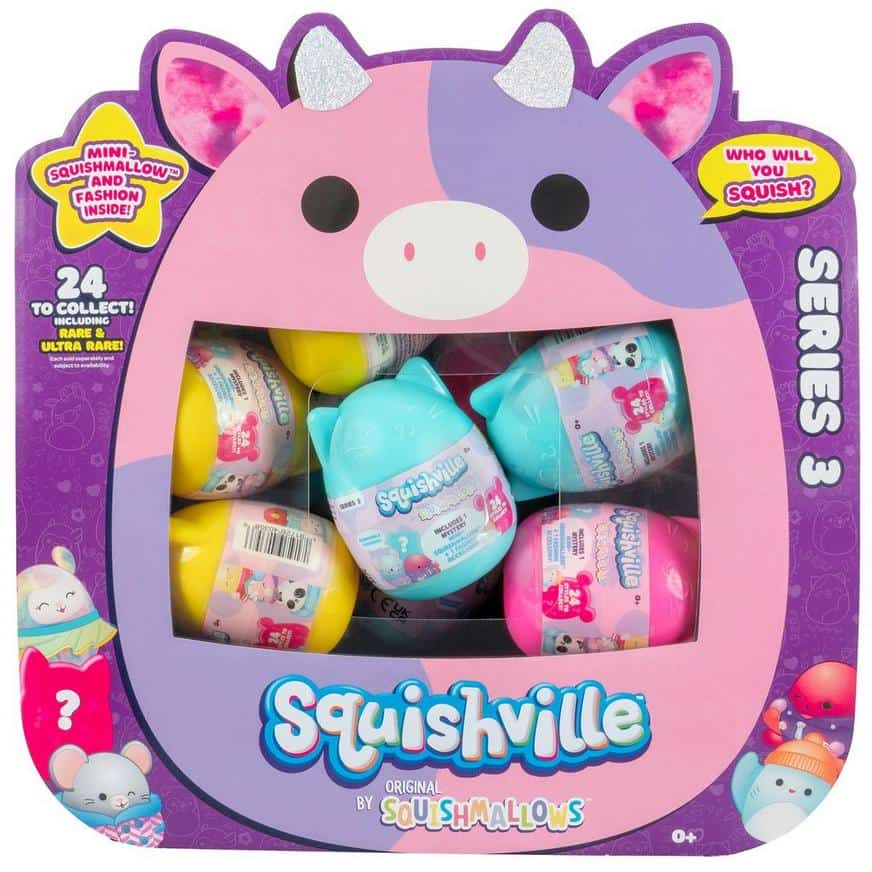 You could make a larger Squishmallow (5 or 8 inches) to be the mother or grandmother of these button-sized plumpettes! These come with unique fashion accessories to keep them in the latest styles!  I love these finger-sized mashable characters with their community of townhomes, boutiques, tents, sweet shops, schools, roller discos, campers, day spas, birdhouses,  and the list goes on!
There are 24 possible characters that you could get in these fun plastic eggs, and you could save the eggs for a special reading chair for them! Find this at Amazon.

This mystery grab bag contains one scented axolotl from the scented squad of six possible characters (Caslina, Ally, Aika, Caprina, Avana, and Gawa). Axolotls have become more popular recently as curious Squishmallow fans learn about this endangered species native to Mexico.  These darling babies never grow old as they age; a biological anomaly called neoteny leaves them baby-like with underdeveloped limbs and tails. Find out who your 8″ axolotl friend is at Amazon.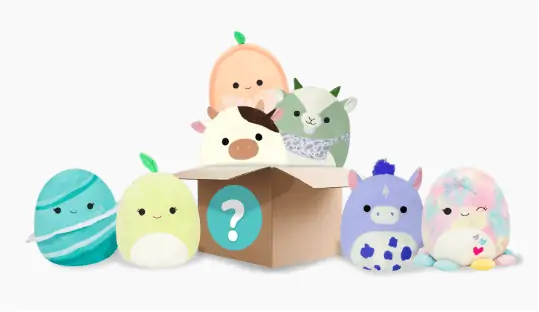 Here's an example of a fun box packed with three mystery squishmallows!  The box comes unlabeled, and the random 12-Inch squishable you are getting could be any one of the hundreds of Squishmallows out there.  Kellytoys even includes Stackable Squishmallows, seasonal items, limited editions, and variations of characters!
I love this box for the whole spectrum of possibilities that could be inside! This item is un-returnable, but honestly, it would be so much fun to see what it had inside, I wouldn't want to return this! Find this at Squishmallows.com.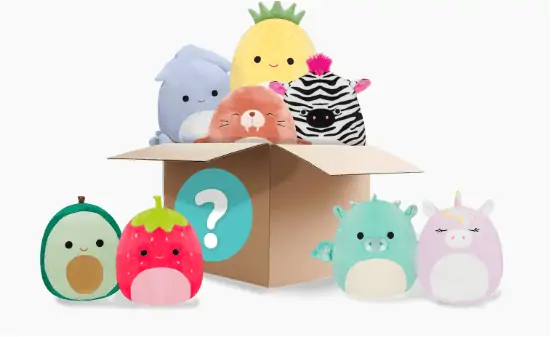 This mystery box is so tempting, with four randomly chosen squishmallows from the entire squishmallow family of plushies! Huggables, stackables, fancy clothes, wild hair, and more are all in the mix to be put in your box!  It gets me wanting my own box just thinking about it.  Find it at Squishmallows.com.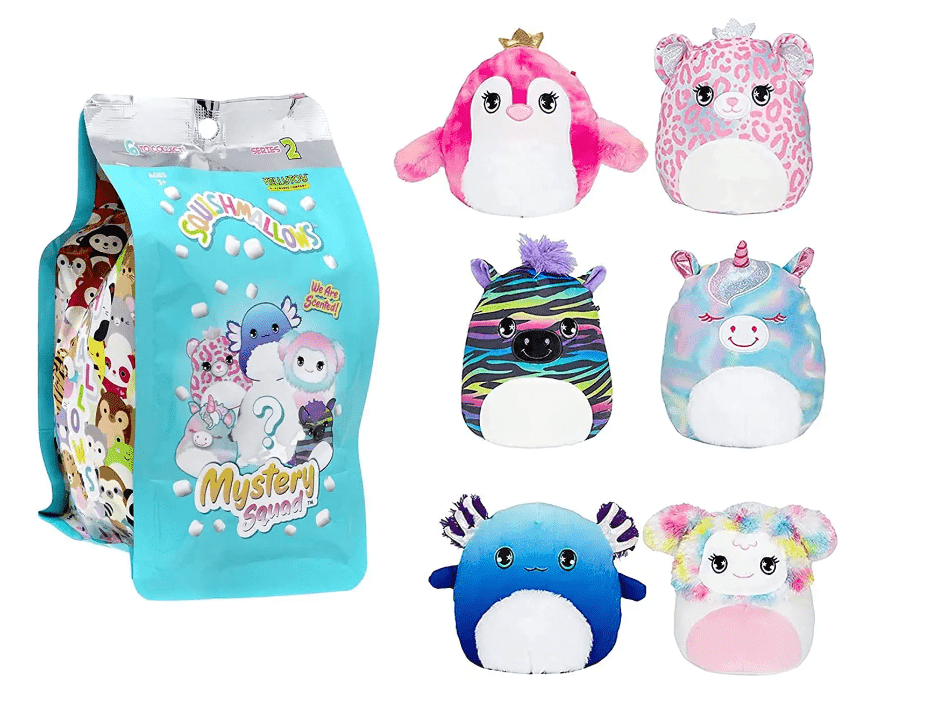 Series 2 Scented mystery squad will net you one of the six cuties you see in the picture, all with added scents!  My son and I make up reasons why each member smells a certain way – we make a story adventure out of it! It's fun to gather a group and all come up with different scents for the same squishy! Find this at Amazon!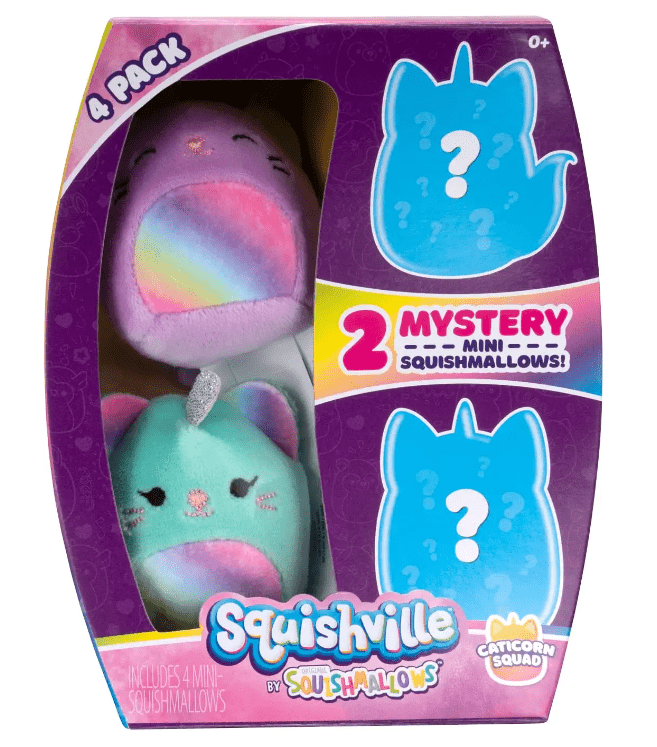 Calling all Caticorn squad members! This has two Squishville caticorn characters that you can see and two caticorns that you can't see!  Perfect for someone who doesn't want to leave everything to chance!  Know you are getting your preferences while also having fun wondering who is in the box! Find this on Amazon.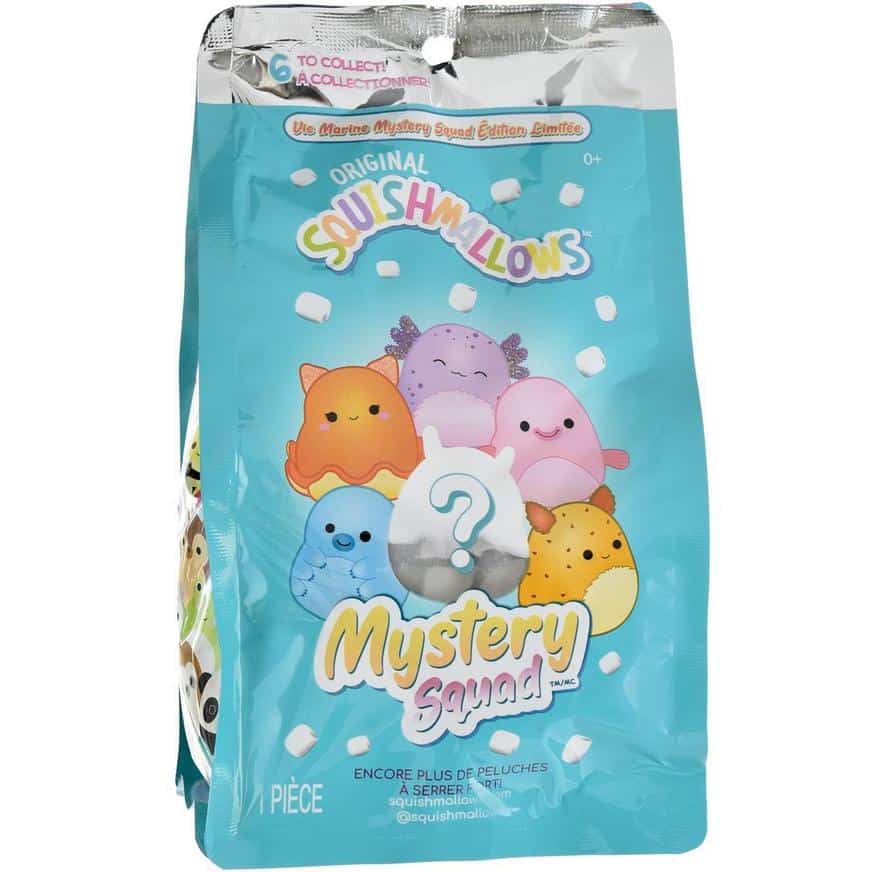 This blind bag holds one random adorable sea creature to cuddle with!  There are six in this squad, and the one you get in the bag is a surprise!  Can you collect all six ultra-squishy underwater characters?  The six squad members to collect are Amala the Axolotl, Eric the Blob Fish, Misko the Water Bear, Kamili the Sea Pig, Norbu the Dumbo Octopus, and Tenzig the Sea Bunny. Find each at Amazon!

Get ready to squish with your Fruit squad in Squishville with six mini 2″ squishmallows in your favorite fruits!  You will see four of the Squishville fruits you are getting, and you will have two that are a big surprise when you get this home!  These fruits are made with the softest inside; you can stuff them all in your pillow and sleep with them! See if you get the whole squad the first time or if you get some twins! Find this at Amazon.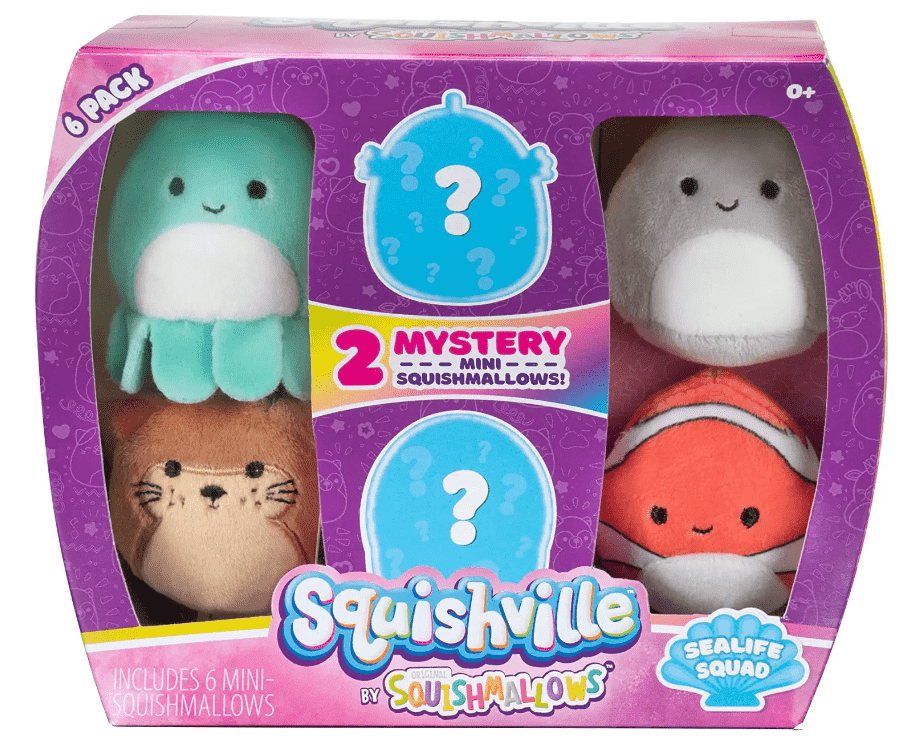 The Sealife squad from Squishville will make all the oceans friendly and inviting for you! Here are your favorite 2″ mushy squishes in adorable sea creature forms! You get four gorgeous min plushies that you can see, and then you have to find out which two are in the middle!  Catch all the sealife squads and start squishing in Squishville! Find this at Amazon.

The Rainbow Dream squad has the iconic pastel-colored rainbow tie-dye that squishmallows are known for! All these rainbow plush pals have homes, clothing, playsets, and more in their hometown of Squishville!  There are six squad members, but you won't know who two of them are until you open the package! This is for someone who doesn't like total surprises but can also find fun in not knowing! Find this at Amazon.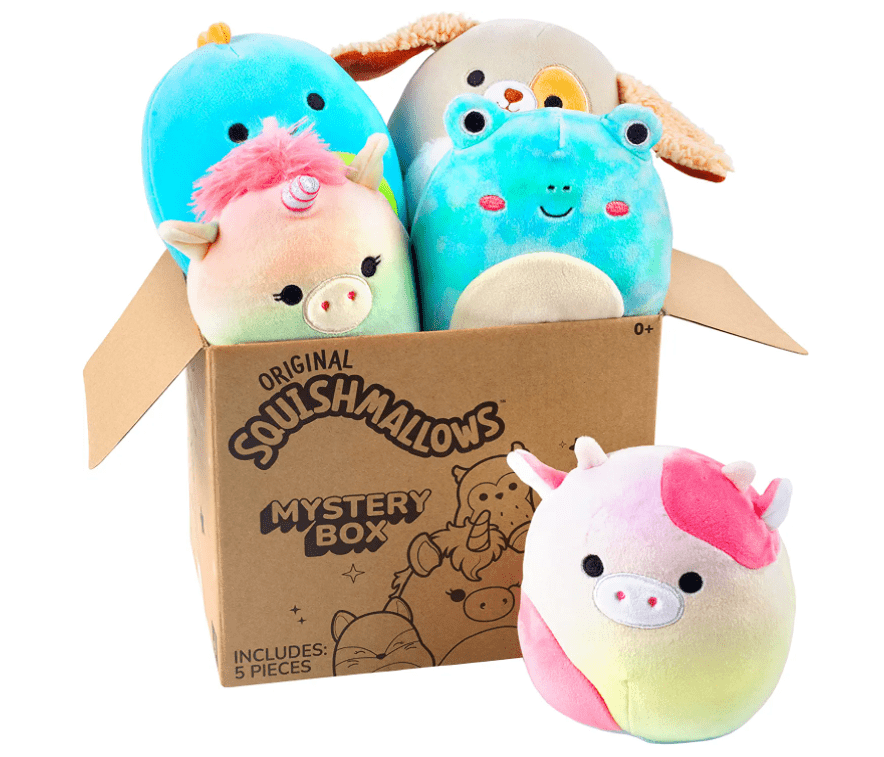 These mystery squishmallows are obsession-worthy! Coming in a box with five unknown 5″ squishmallows, this is one gift that will leave you breathless.  Amazing excitement to unwrap five of the best pillow pals you'll ever have.  This is the biggest surprise mystery box, with large five-inch characters keeping each other cozy on the ride from the warehouse to your home! This is one gift that will please everyone. Find this at Amazon.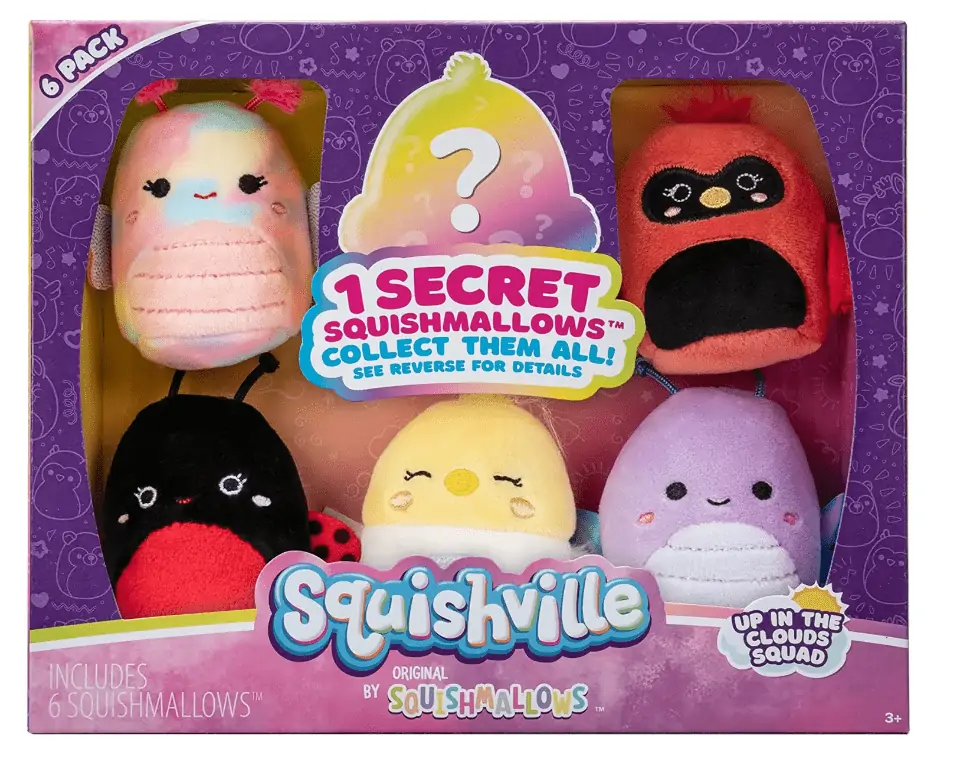 I love this microscopic mystery squad of Squishville flying characters!  They all share a love of flying, and all belong to the Up in the Clouds Squishville squad! Two inches of tiny wonder will have you squishing and squeezing them into town to find their abodes!  With this package, you get five cheery characters and one flying friend you don't see!
This is one squad that can find the shortest line from point A to B, and they are always on time! Six members include Trudy, Iris, Cazlan, Charlize, and Devorah. Find them at Amazon.

For all your feline followers, the cats are back in a mystery six-pack (one "blind") Purr-fect squad set! Pounce over to Squishville with these spongy, elastic, pillow finger-pals who are ready to join their friends and play! Such cuteness all in one box, with cats, lions, leopards, and tigers eager to keep you company! Find this at Amazon.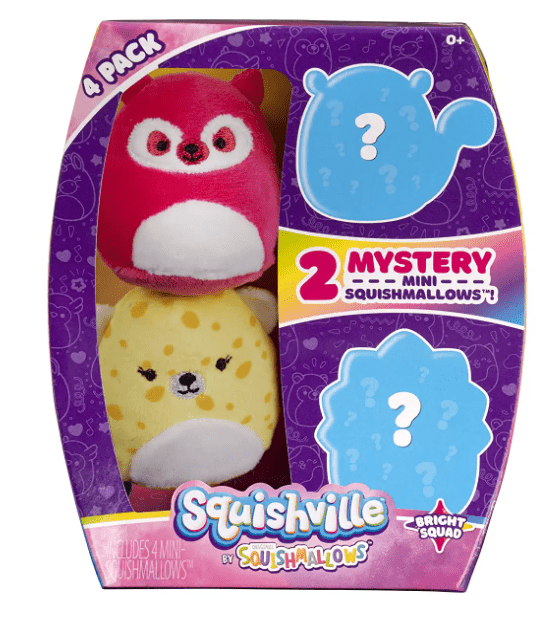 Tristan the plum red Triceratops, Neon Yellow Reginald the Corgi, Santiago the blue Squirell, Lucia the pink Lemur, Lexie the Yellow Cheetah, and Leonard, the vibrant rainbow Lion, make up this Squishville Bright Squad of mini-mallows!  In this package, you see two of them who you will get, but you have the surprise of unpacking two more that you have no idea about! You get four total, but you may get four different ones or some duplicates! Find this at Amazon.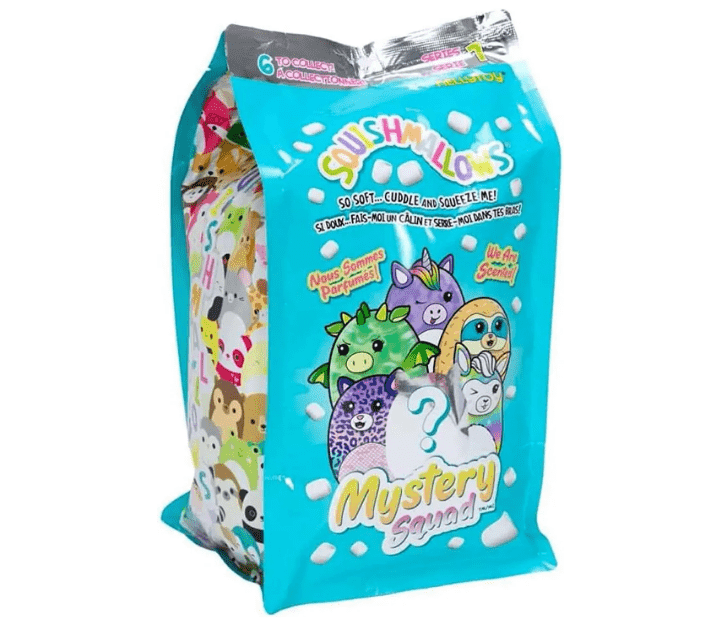 Here is the first series of mystery squad squishmallows in a bag! Notice how, in the top left corner of the bag, it tells you the number of mallows in the series 1 mystery squad, and at the top right-hand side of the bag, it lets you know that this is series one. However, not all bags have this information as more mystery squads emerge. This squeezable bag comes with a five-inch scented mystery squad member! I wonder which one is in this bag? Find out at Walmart.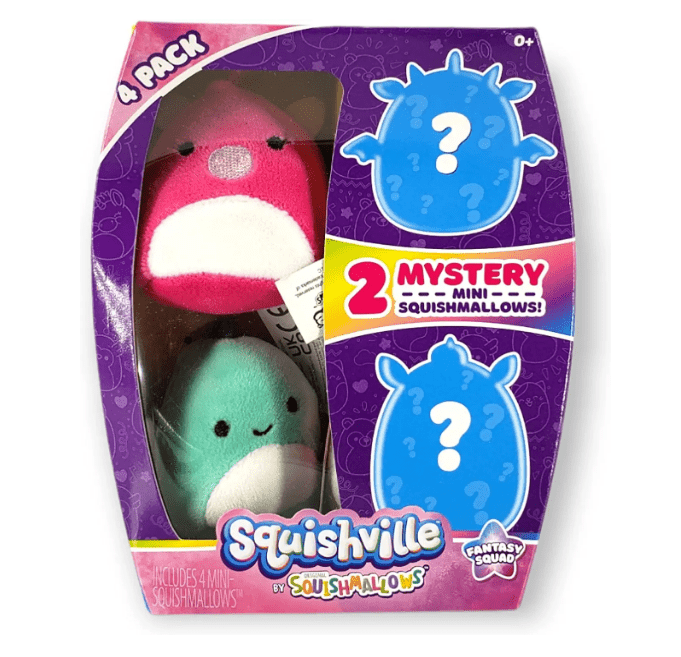 I just adore these 2-inch marshmallow squishes with their little Squishville community!  This is a four-pack and includes members of the Fantasy Squishville squad.  The mystery mini-mallows in this squad may be the other two members or duplicates (twins, I like to call them).  Open up this mystery package to reveal which fantasy members you will have! Find this at Amazon.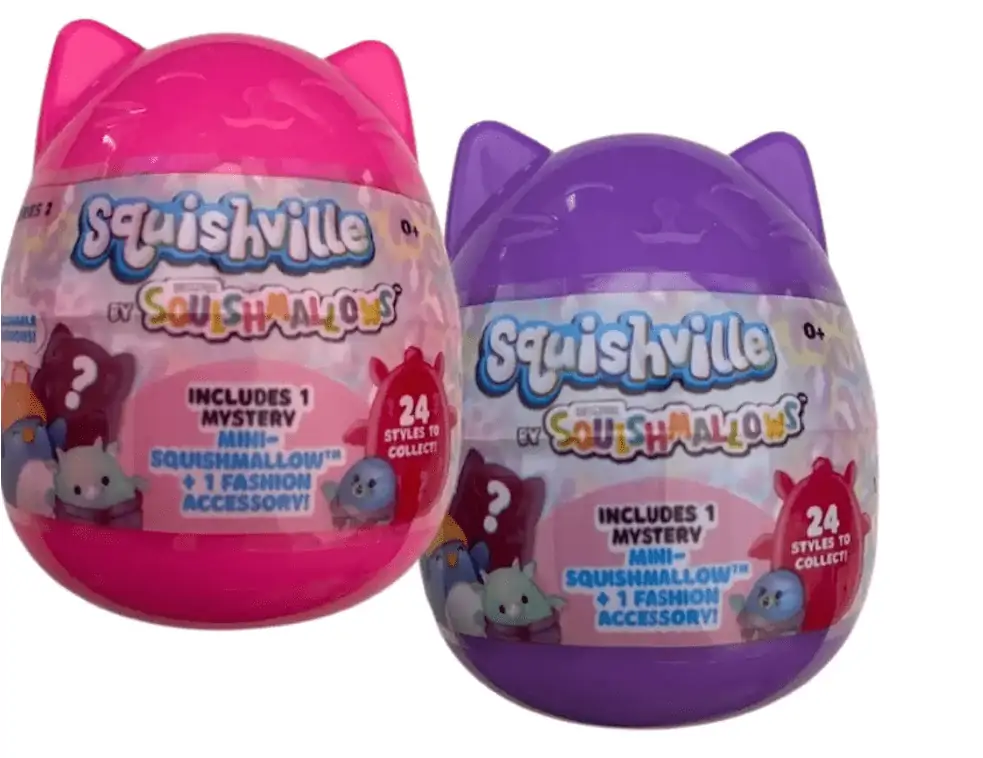 These blind Squishville mystery eggs are so adorable; they each come with one or two fashion accessories that show off their personalities! This is truly a squishtastic surprise to open! These are made with the same high-quality material as the large squishmallows and are so fun to play with in their cars and boats. Use the mystery eggs as stocking stuffers, rewards, or just to say," I love you"! There are so many different characters that you may get that it makes it fun to open a few! Find this at Amazon.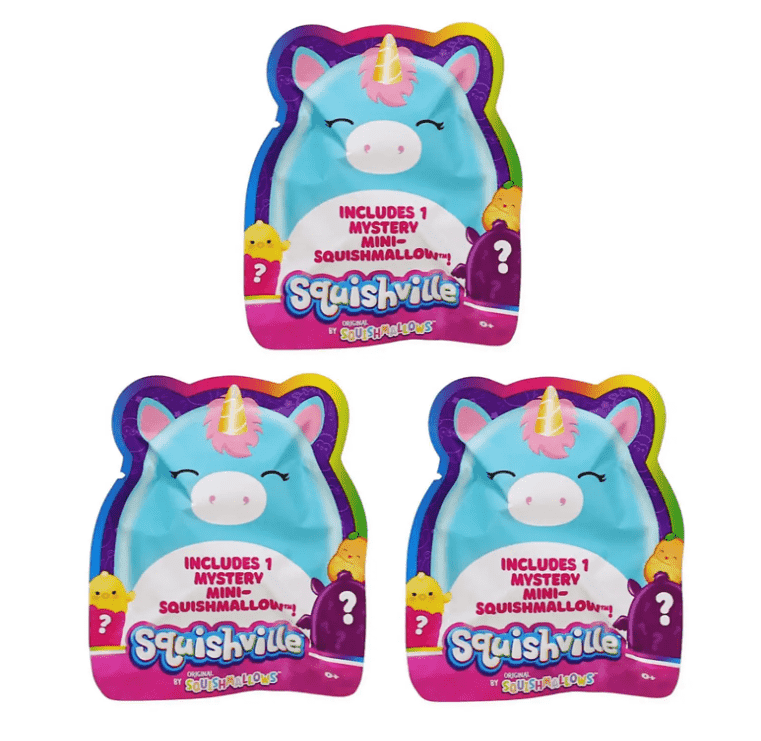 These tiny bags with mystery Squishville characters come in three bags to a set!  See if you get plushies that can be twins or triplets of the same character!  It could be a unicorn, a cat, or a caticorn! Dress them up with their favorite accessory.  An apron comes with Cora Cat, so she stays clean in the kitchen!  Find this at Amazon.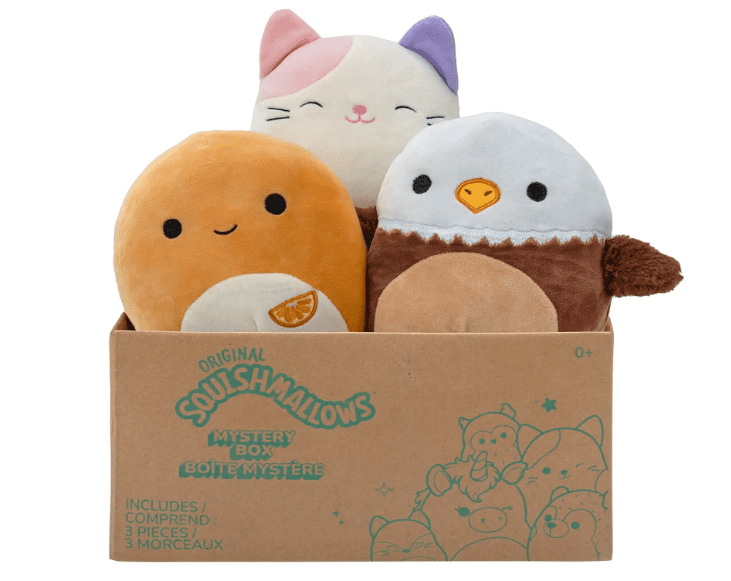 Once you have one squishmallow, you will want more and more.  There's never a shortage of fun with one thousand characters.  This mystery box contains three of the 8″ size squishmallows for your collection.  These are the perfect size buddies, large enough to use as a pillow and small enough to tote around in little arms.
Open the box to find out which ones you have or if you get any duplicates! This is one of my favorite mystery boxes because of the larger size and because you get three of them! Find this on Amazon.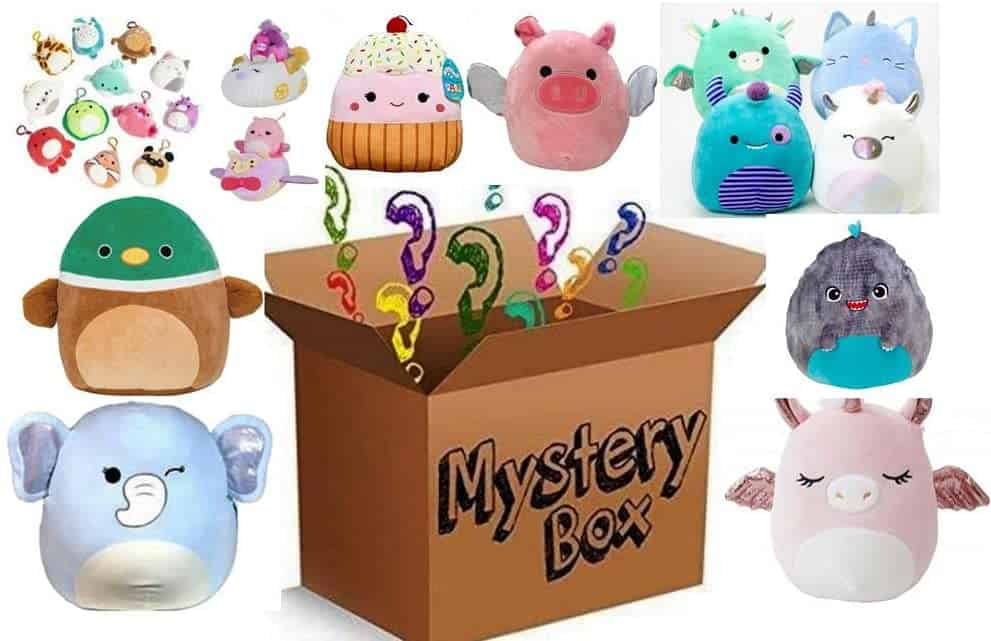 Kellystoys has packed up a bunch of fun for you with 4 mystery squishmallows!  Inside the box, you will discover which ones you got.  The set includes one 8-inch, one 5-inch, one 3.5 clip-on, and a 2-inch squishville mallow! I love the variety and the certainty of knowing I definitely will have specific sizes of these pudgy pals! This is a great way to determine which size and style fit you best. Find this at Amazon.
Question: What are the Names of all the Mystery Squad Squishmallows?
Answer: There is no one list of all the mystery squad squishmallow characters because there are dozens, even hundreds, now!  The original squads of 5 and 8-inch mystery squishmallows include Aika, Amara, Tobey, Caslina, Anouk, and Noah. A partial list can be found at the Jazwares website, and officially, the Kellytoys company has said that their complete collector's guide will be coming out shortly.  Check it out here!
Question:  How Many Squishmallow-scented Mystery Squad Members are There?
Answer: Currently, 36 scented Squishmallow mystery squad members come in both 5-inch and 8-inch sizes (72). However, a new series comes out every few months with 6 more characters. The scented mystery squad Squishmallows come out in sets of 6 characters with 6 unique smells.  They also come out in a series number, ranging from Series 1 scented mystery squad to Series 6 scented mystery squad. Now, there are 6 characters for each of the 6 series.
Question: How Many Squishmallow Mystery Squads are There?
Answer: Originally, there were only the two mystery squads of 5-inch and 8-inch squishmallows.  In several years, Squishmallow mystery squads have come to include almost all the "regular" existing squads, limited edition mystery squads with variations of existing characters, and Squishville mystery squads of mini-mallows! New original series of mystery squads come out every few months. There are dozens of squads listed by Kellytoys as "mystery squads."
If you are only looking for the first mystery squad to come out, that was the Series 1 scented mystery squad.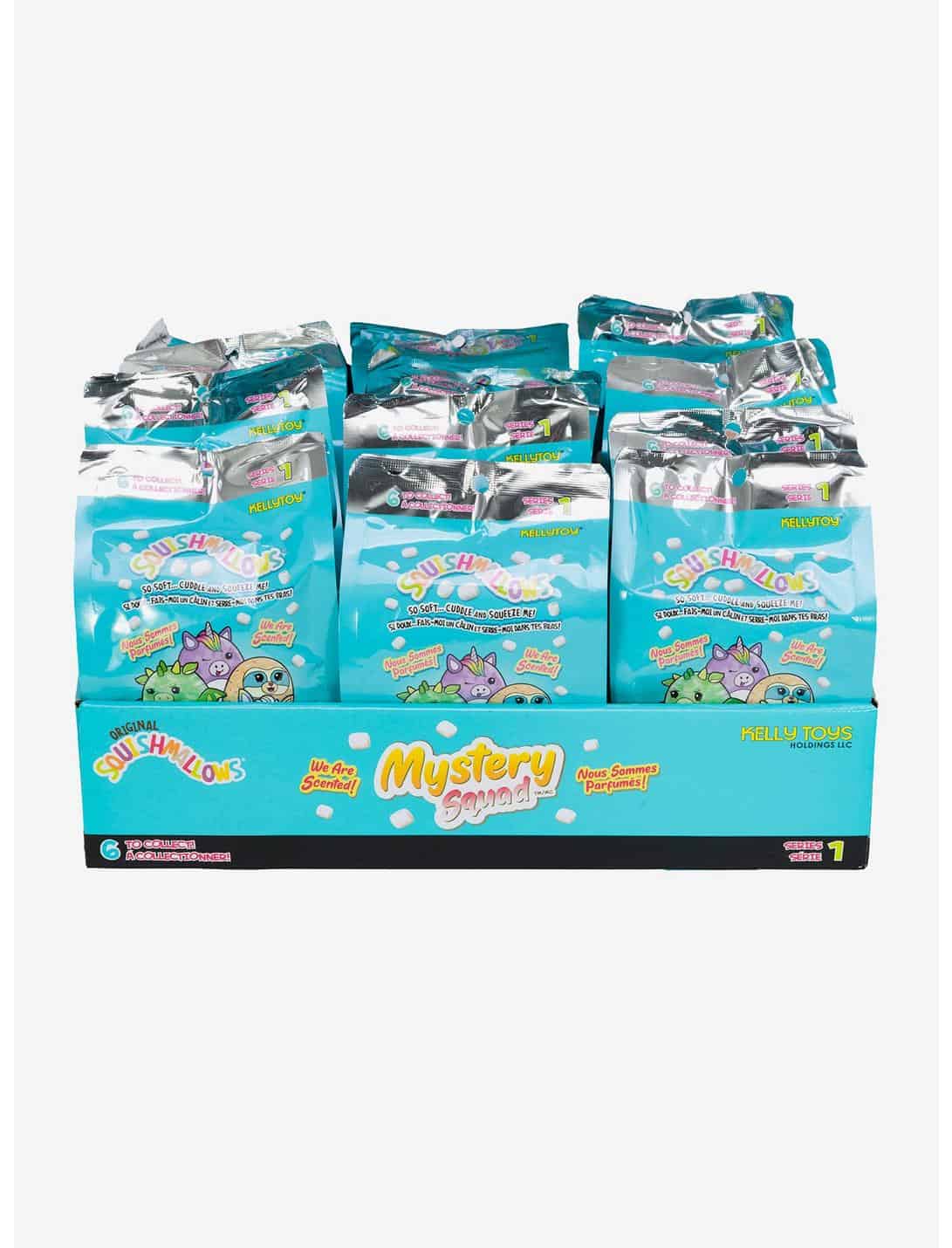 Final Thoughts on Squishmallow Mystery Squads
It's fun to explore all the surprises that lay in store (no pun intended) when I get a bag, box, capsule, or egg of mystery squad squishmallows!  It's almost too much fun to open them! I love having smaller packages and individual bags that you can buy more of to increase the odds of getting the whole squad.  It just keeps getting squishier and squishier every year with the new mallows to love!
I am particularly partial to the delicious bite-size Squishville characters!  They look cute enough to eat!  These tiny mallows are the smallest you can get at 2″ each, and some of them come with adorable skirts, hats, scarves, tutus, costumes, sports garb, etc.! I would amass a whole room full of the Squishville Mystery Mini Plush Series 2 eggs if I could!
The world loves to open Squishmallows, even if they are unmarked, mismarked, defective, or just plain right!  I couldn't agree more because nothing comes close to the non-stop enjoyment surrounding them or their silken soft squishy invitation to be besties for life! Which ones do you like to open the most?
Continue reading: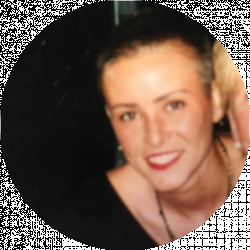 Latest posts by Richelle Tieman
(see all)