Time for the Squishmallow squads to expand in more ways than one!  Laying on top of a 24″ Squishmallow and looking at its wide eyes, smiling mouth, and rosy cheeks makes you feel like you have found a bestie forever to follow you wherever you go.  Can anyone stand to get more of the squashy, spongelike, sateen comfort? It's like laying in a cloud of feather dough made of whip cream foam.
That's the closest anyone has come to describing what it feels like to hug all 24″ of a Squishmallow!
My children and I are the ultimate collectors of unique stuffed animals, centering around cats, snakes, and overly fat characters! We gravitate toward plushy fur and furry long plush-covered friends; however, Squishmallows have made silky smooth bounce-back fabric the new definition of plush! I love them because they are machine washable and come out of the dryer, ready to pound into shape again!  (Maybe not pound, maybe push and cajole). They refuse to get lumpy and flat. There's a joke there somewhere.
Not only are there 1000+ personalities to choose from, but new variations of existing Squishmallows and brand new characters are constantly hitting the shelves.  That makes them ideal for collectors' interests.  Ranging from 2″ to  24″, once you have one, you can't stop. You are initiated into a humongous global community of other Squishmallow lovers with character-themed games, social media groups, and fan pages!
For challenges with anxiety, sensory issues, and many other spectrums, Squishmallows help provide a calm, soothing atmosphere. Let's face it, it's rare for someone not to have anxiety these days! Trouble sleeping is pervasive among Americans, and having a huge smushy face character to spoon with helps many people, according to the NYPost, and me!
Join me as I discuss the biggest Squishmallows and how you can get them!
Bottom Line Up Front

I had difficulty choosing just one best 24-inch Squishmallow, and if truth be told, I wouldn't mind sleeping with three or four of these giant angels!  I will say that there was just something about how Detra the Octopus  has cheery, scrunched-up eyes with a bright orange color and a smiling face that just shouts "delightful."  Detra seems like the type of friend who is a social butterfly but very loyal to her few best friends.
I love the crooked hat and different color feet she has, and even though she's from the Halloween squad (not my favorite holiday), she manages to pull out all the stops and bring a smile to everyone who sees her! Plus, since she's another version of Detra the Octopus that represents Halloween, she's a great collectible item!
This would be one 24″ Squishmallow that you should scoop up now while she's still being sold retail!  Who knows how many hundreds of dollars will be paid for her on an auction site once her edition sells out?
My Top Picks at a Glance
Best 24″ Teaching Tool Squishmallow Roman the Planet Earth
Best Signature Rainbow Squishmallow Dahlia the Tie-Dye Unicorn 24-inch Squishmallow
Best 24″ Dog Squishmallow

Griz the Bullxdog 

Best 24″ Arachnid Squishmallow

Samanthe the Scorpion

Best 24″ Axolotl Squishmallow

Archie the Pink Axolotl 

Best 24″ Frog Squishmallow

Alandy the Blue Frog 

Best 24″ Flying Squishmallow Heather the Dragonfly 
Best 24″ Fruit Squishmallow

Scarlet the Chocolate Strawberry

Best 24″ Feline Squishmallow

Brigita the Snow Leopard

Best 24″ Beverage Squishmallow

Emery the Coffee Latte 

Best 24″ Farm Animal Squishmallow

Ronnie the Cow

Best 24″ Valentine's Day Squishmallow

Nefen the Gnome 

Best 24″ Flower Squishmallow

Jackie the Purple Tulip

Best 24″ Halloween Squishmallow

Detra the Octopus
My Criteria for the Best 24-Inch Squishmallows
Choosing the best Squishmallows is an incredibly subjective activity because there are so many to choose from that you are certain to find a bunch that matches your personality, color preferences, favorite squad theme, and most enjoyable holiday! One hundred people could choose their favorites and not have an overlapping plushie!  I see the collector appeal of cross-categorizing the Squishmallows and putting them in some semblance of order.
As if the sheer quantity of Squishmallows wasn't enough, they each have a name and a specific personality! One might love math subjects, work at a fish store, and like rainy days! Another might travel the world searching for the best Halloween outfit to match her hairstyle!
I am a big fan of facial feature details on plushie toys. Eyelashes add an extra touch of glamour, make the eyes look wider, and the plushie is more likable.  Squishmallows speak to us in the most basic of ways, from a hug in this age of social distancing to calming our anxieties about the health of people around us and providing us with a supportive community that we can join virtually.
Criteria
A unique quality that makes them tools for teaching or especially collectible worthy!
Must be branded Squishmallow
Must be 24 inches
Must be available from a reputable retailer
Descriptions of My Best Picks
Best 24″ Frog Squishmallow
Alandy the Blue Frog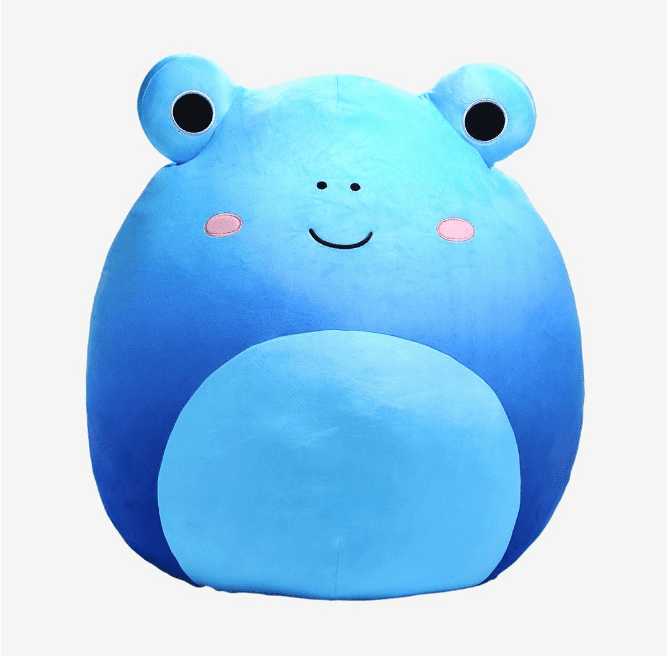 I used to catch frogs and chase my mother around the house with them hanging out of my hand, so Alandy, the 24-inch cutie, is no surprise on my list.  My most stealthy feat was catching a ginormous bullfrog in my college friend's pond behind her dorm! (Yes, I was still doing it in college!) The blue color is a mix of the ocean and sky, and the tiny nostrils and big bug eyes are adorable!
The darker spot detail on the back makes this one yummy, and collectors will take note. There is nothing I don't like about this huggable frog except maybe some little webbed feet! Get Aalandy at Box Lunch.
Squishdate: 4/27/2021
Features: Royal blue with lighter blue toward the top, light blue belly, and navy blue spots on her back. She has large open eyes that sit on top of her head.
Alandy the Blue Frog Pros
Widely available in many sizes and versions
Spot detailing on the back
Frog bug-eyes give this doll added cuteness
Alandy the Blue Frog Cons
Low collectibility with many versions to choose from
Best 24″ Farm Animal Squishmallow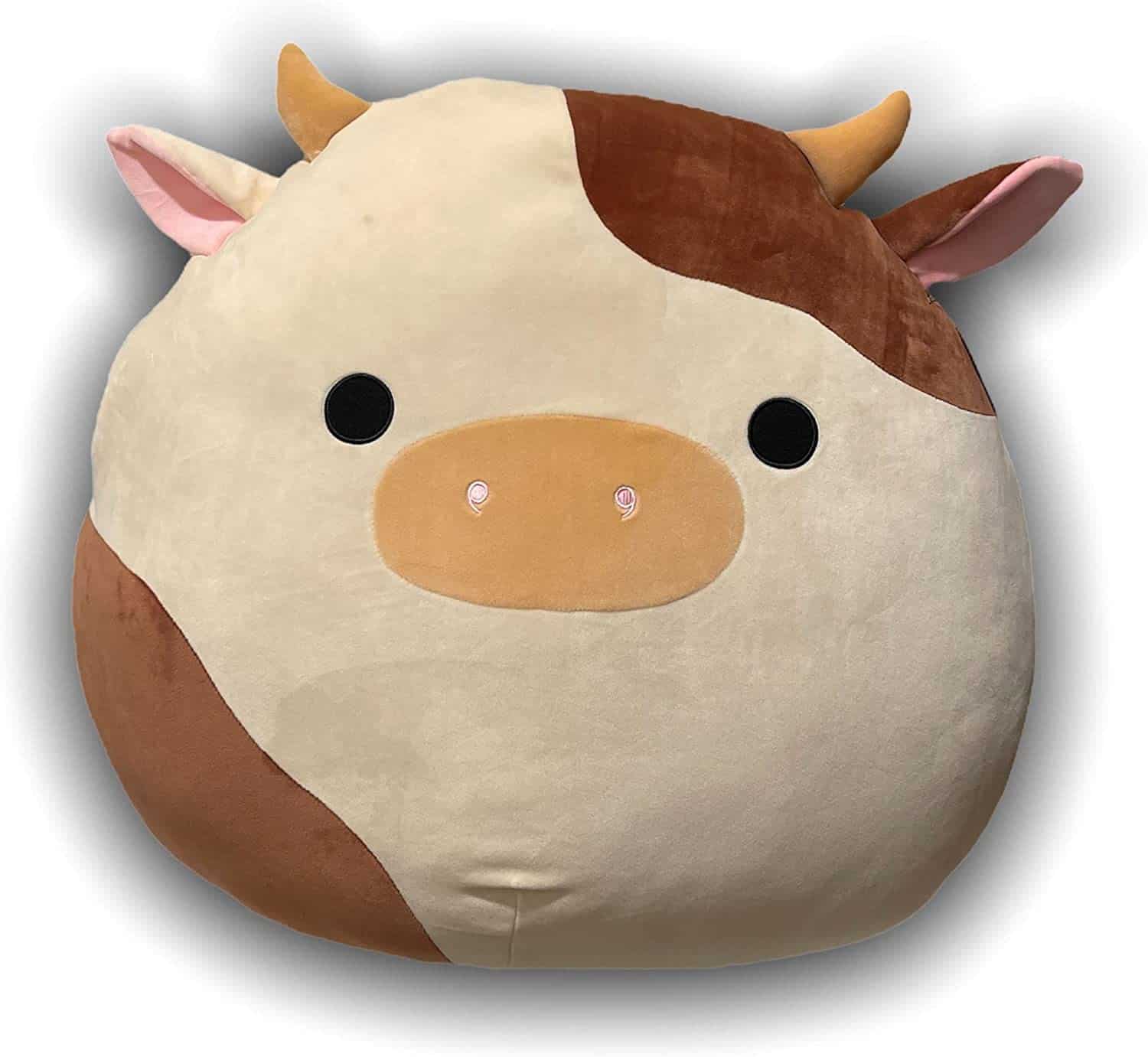 Look at the extra fat nose on Ronnie!  He is charming with his little horns and wide eyes that show he is ready for fun with friends!  He loves to build birdhouses with his sister, Belana, which are a different color every week.  They have shutters and doors, so the birds feel at home.  This may be the most enchanting male I have ever seen! Find Ronnie on Amazon.
Squishdate: 9/19/2020
Features: Light tan body with darker brown spots on the top right and bottom left, pink inner ears, beige horns and open eyes.
Ronnie the Cow Pros
A must-have for collector's in the 24″ size
One of the most popular Squishmallows
Ronnie has many versions, sizes, and squads
Ronnie the Cow Cons
Best 24″ Halloween Squishmallow
Detra the Octopus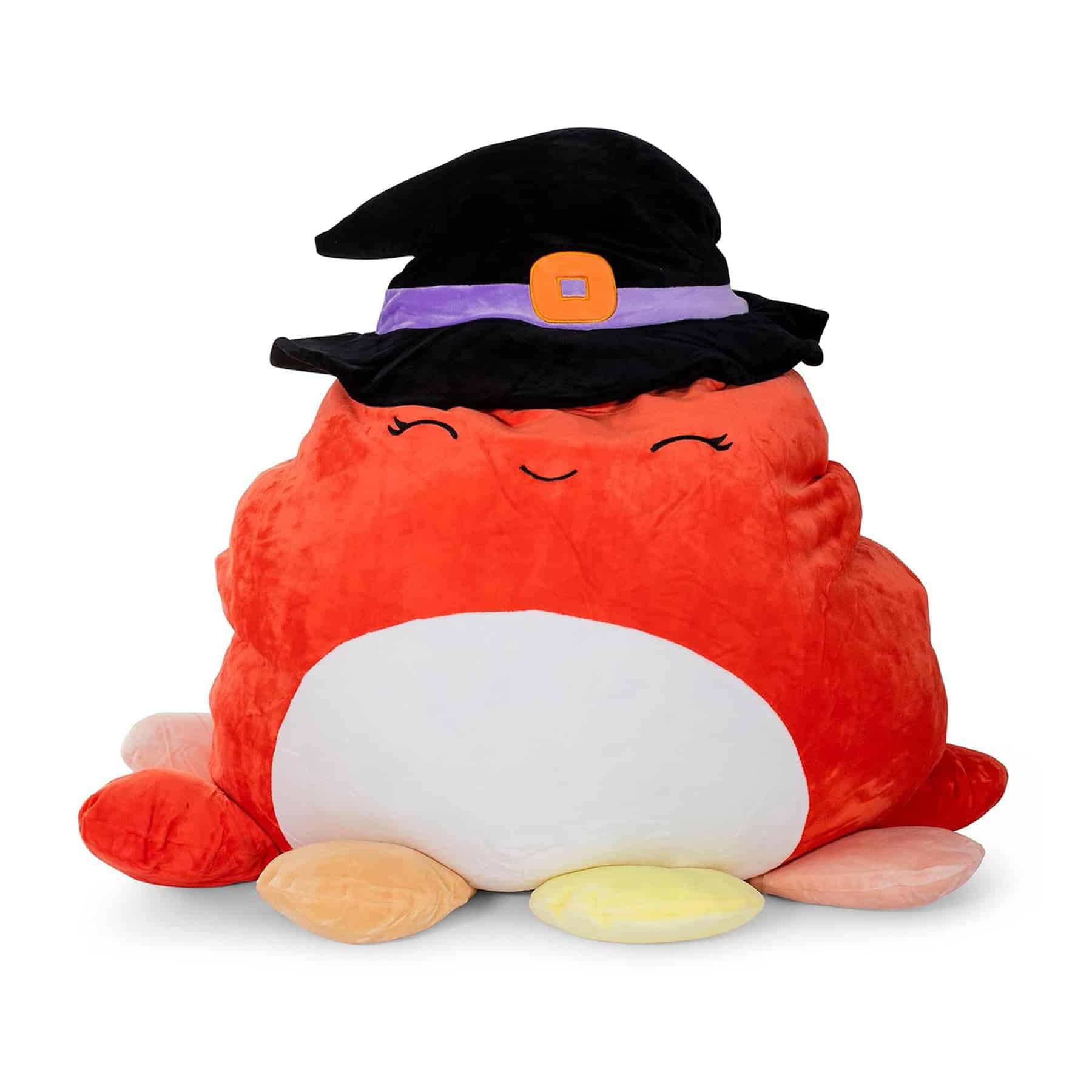 This special edition of Detra the Halloween Octopus is a collector's dream!  I love the detail and uniqueness of this Squishmallow with the black lopsided hat and the different color tentacles. Detra has an "A" shape frame because of the hat, and the little feet serve as paddles to splash in the water!  Her face is what gets me, though; with the smile that takes over her whole face, you just know she is good-natured and finds joy all around her! Who wouldn't want Detra for a pal? Find this at Toynk.
Squishdate: 2021
Features: Costume-dressed octopus with a rich orange body, white tummy, eight multi-colored legs, closed eyes, and a black witch's hat.
Detra the Octopus Pros
Fantastic 24″ edition for collectors
Widely available in other sizes
Eight paddle feet in different colors
Detra the Octopus Cons
Detra is limited in stock
Best 24″ Arachnid Squishmallow
Samanthe the Scorpion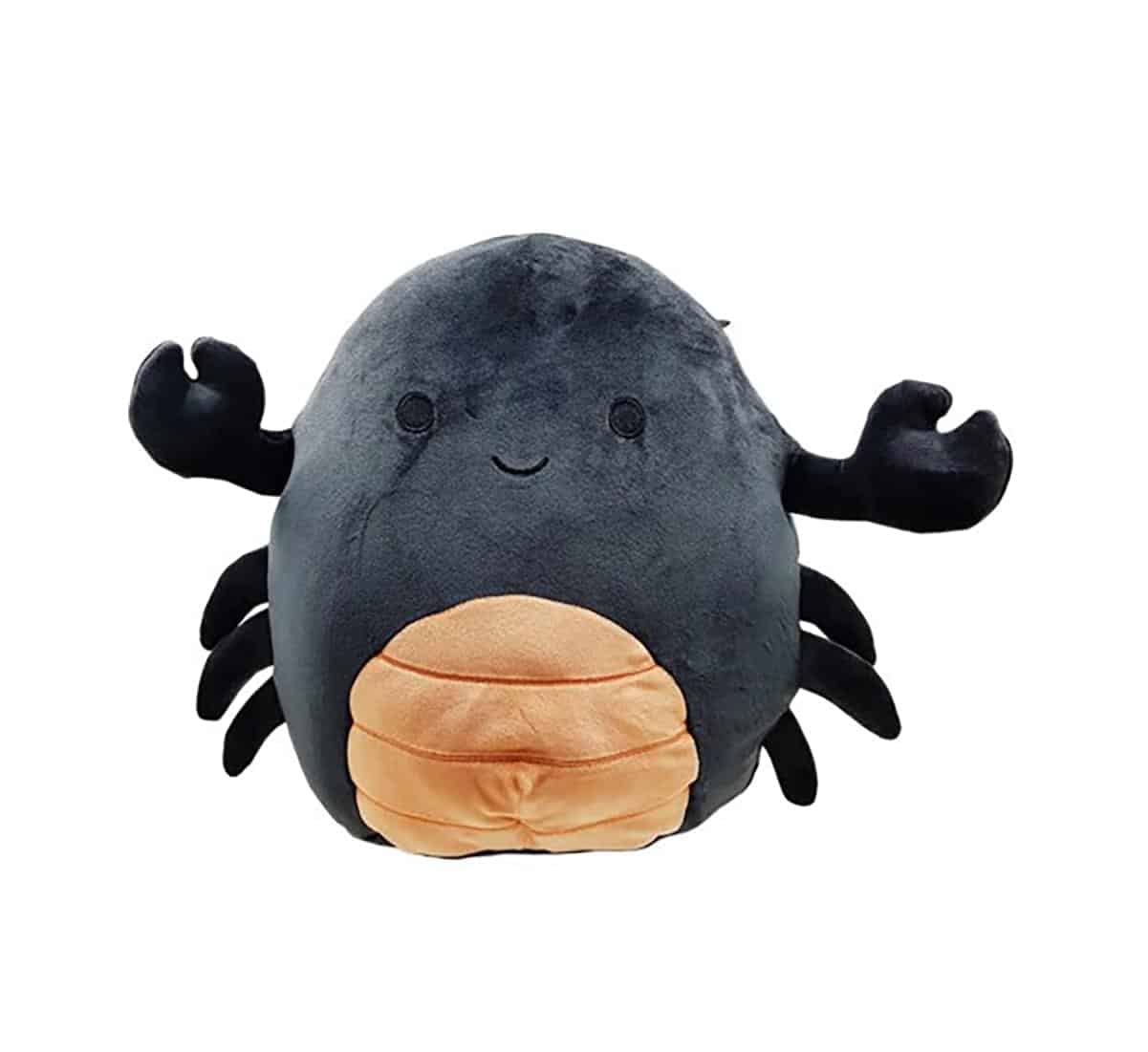 Samanthe is sassy and loves soca music for snapping with the beat! Don't confuse this scorpion with a crab; her stomach and her tail are segmented, and she has a stinger at the end of her tail! She's not poisonous, and her arms are outstretched to hug you!  She speaks six languages and travels the world!  I love the all-black color of this Squishmallow, and all the details and stitching add to her value. Get Samanthe at Toynk.
Squishdate: 6/7/2021
Features: Black all over with two large scorpion claws and six legs, open eyes, and a light peach segmented stomach.
Samanthe the Scorpion Pros
Lavish detail and stitching set it apart
Widely available in many sizes and versions
Outstretched arms and a smiling face invite you for a hug!
Samanthe the Scorpion Cons
Low collectibility for serious shoppers
Best 24″ Feline Squishmallow
Brigita the Snow Leopard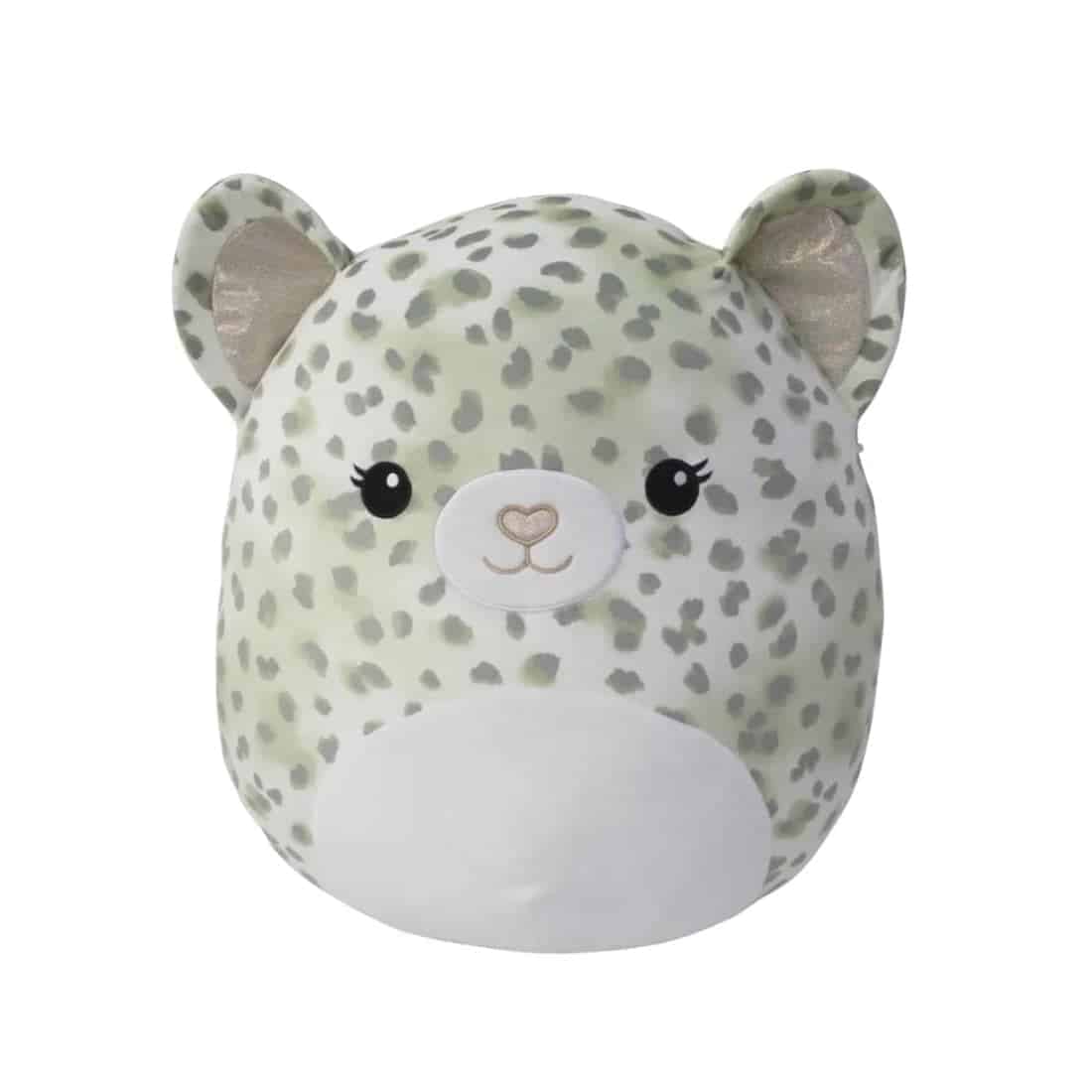 The personality of this Squishmallow is darling with her dancing ladybug bathrobe and her love of bagels with peanut butter in the morning! Her eyelashes and little nose and mouth combination make her face captivating.  She is a gentle leopard; this is a great opportunity to educate little ones on this animal! Her spots are unique and make her valuable for collectors as well. Get Brigita at Owl and Goose Gifts.
Squishdate: 2021
Features: Shimmering gold ear design, white with light green spots, and a white tummy. She has open eyes.
Brigita the Leopard Pros
Unique markings add value for collectors
Widely available in many sizes
Great teaching opportunity
Brigita the Leopars Cons
People can't decide if this is a leopard or a cheetah – multiple listings for both!
Best 24″ Beverage Squishmallow
Emery the Coffee Latte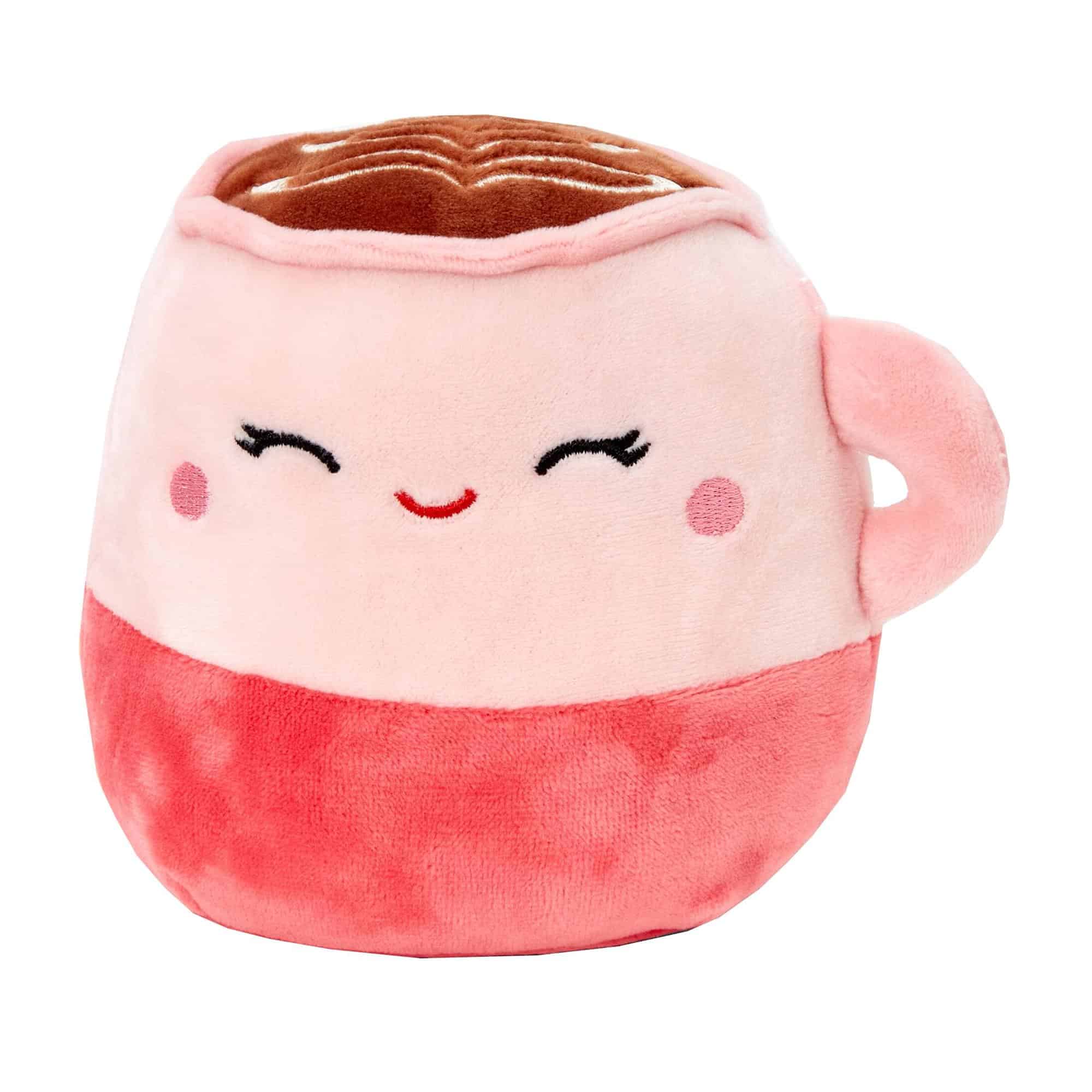 I am a big coffee fan, with Cordoba Spanish coffee my favorite, so this pink and coral mug of tasty brew appealed to me!  Emery has a handle you can hold her with, and the swirls on top look very realistic!  She has amazing barista skills and can make any type of fancy coffee you can think of! Find Emery at Toynk!
Squishdate: 2021
Features: Tri-colored mug of brown latte with white swirls, the top half of the mug is a medium pink, the handle is a darker rose pink, and the bottom is a coral pink, and she has closed eyes.
Emery the Latte Pros
Gorgeous tri-color pink mug with handle
Highly collectible with not many sizes or versions
Stitching details add value for collectors
Emery the Latte Cons
Best 24″ Fruit Squishmallow
Scarlet the Chocolate Strawberry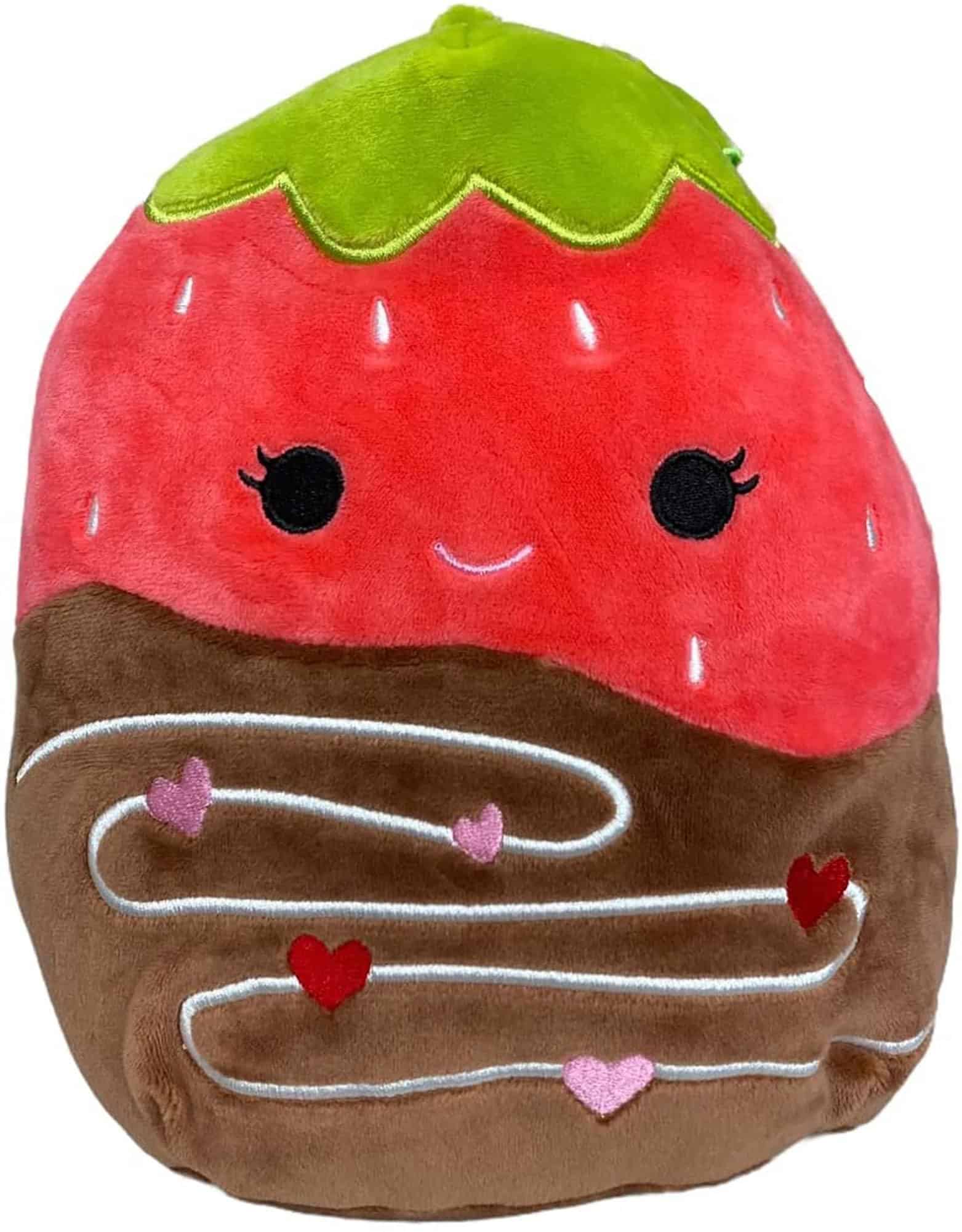 The detail on this chocolate-dipped version of Scarlet the Strawberry is exotic it's so rich!  This is definitely one for the collectors.  I love the green patch and stem on her head – that makes her stand out.  Her eyelashes showcase her cute pink mouth, and her personality is just as delectable!  Her interests include the theatre and dancing, and she makes the costumes for her school's play every year because her father taught her to sew! Find Scarlet at Toynk.
Squishdate: 9/27/2019
Features: Grass green top, bright pink body with bottom half covered in dark brown with white swirls and hearts and open eyes.
Scarlet the Strawberry Pros
Awesome stitching detail value for collectors
Unique design
Scarlet the Strawberry Cons
This version may be harder to find since there are so many others
Best 24″ Axolotl Squishmallow
Archie the Pink Axolotl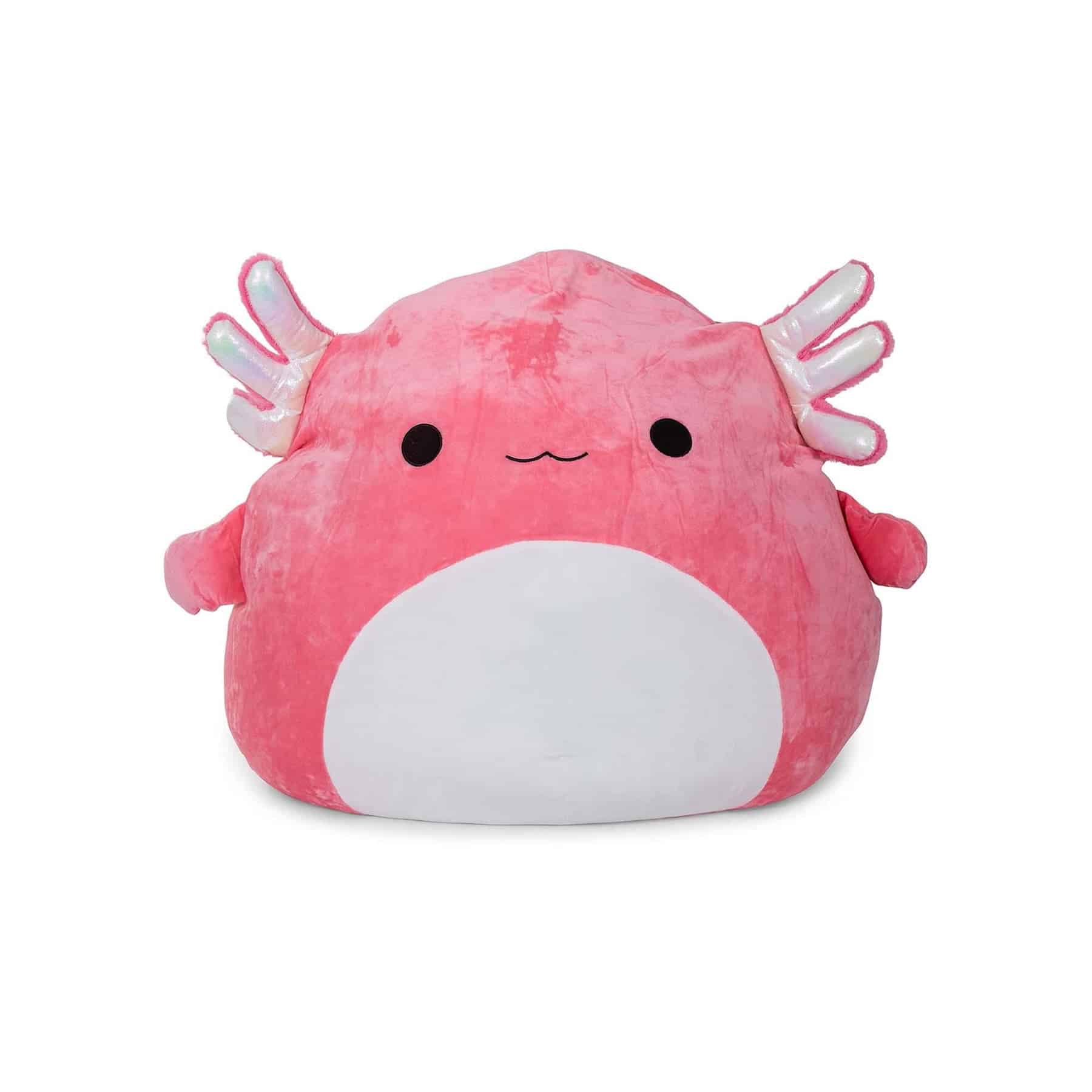 Archie is hot pink with silver-lined gills in this version of the baby-like axolotl.  He is a must-have for any Squishmallow collector; whether serious or not, he remains one of the most popular and loved of all the Squishmallows.  He plays soccer and knows sign language, which makes his appeal more inclusive. Perfect teaching tool for the endangered Mexican Axolotl, this little guy has neoteny and will stay a baby no matter how old he gets! Get Archie at Toynk.
Squishdate: 7/13/2021
Features: Bright coral pink, white belly, and short stubby arms with silvery gills edged with pink fur.
Archie the Axolotl Pros
Widely available
Sign-language learning opportunity
The hot pink color is luxurious!
Archie the Axolotl Cons
Best 24″ Valentine's Day Squishmallow
Nefen the Gnome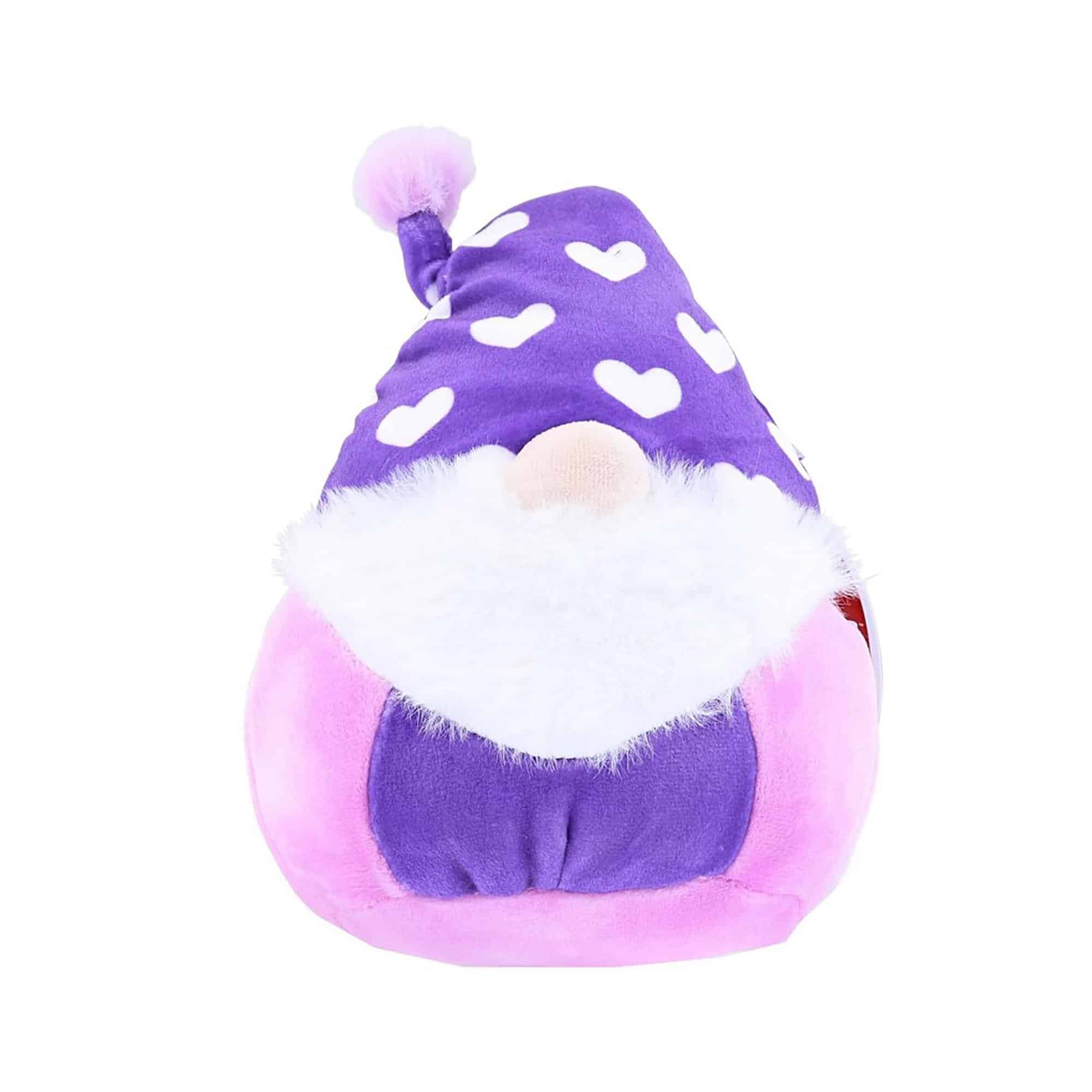 This is a perfect example of a Squishmallow collector's dream!  This Valentine's Day gnome sports the rotund, stout nose and body of little woodland creatures clomping to work daily! Nefen is a stunt double for the movies and one day hopes to gain national recognition as a stunt coordinator!  This furry buddy will keep you company on all your adventures, no matter how wild. I love the nose sticking out from the hat; it gives this Squishmallow loads of character! Get Nefen at Toynk.
Squishdate: 8/12/2021
Features: Round, pudgy nose sticks out of his purple cap with white hearts on it, no eyes, white bushy beard, pink body and dark purple belly
Nefen the Gnome Pros
One of a kind design makes this a must-have for collectors
More details than an average Squishmallow
Nefen the Gnome Cons
Not offered in many sizes or versions
Best 24″ Flower Squishmallow
Jackie the Purple Tulip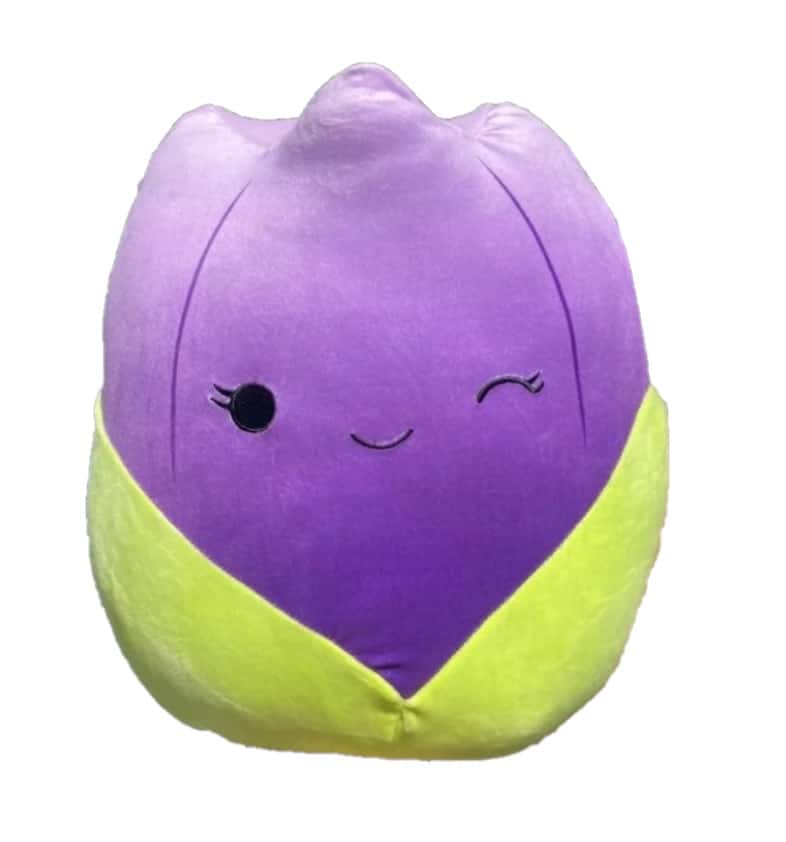 The brilliant colors of Jackie are so vibrant you can almost feel the spring air and smell the tulips!  I love tulips, so this Squishmallow especially appealed to me with the dark purple flower base covered by two green leaves, just like the real thing.  The detailed seaming to separate the petals gives added charm and value, and the sculpted curves of Jackie's head mimic nature.
She loves to buy vintage and retro items, which helps the environment, and this is a great teaching tool as well.  Smiling and winking eyes matched with the black mouth give a more dramatic appearance than the pink mouths of most Squishmallows. Find Jackie at Toynk.
Squishdate: 11/19/2020
Features: Varying shades of purple get darker at the bottom, vivid green leaves cupping her bottom third, winking eyes.
Jackie the Tulip Pros
Dark purple and black facial features are dramatically lush
Widely available in many sizes
Seamed details replicate separate petals
Jackie the Tulip Cons
Low collectability due to many sizes/eyes open or winking
Best 24″ Flying Squishmallow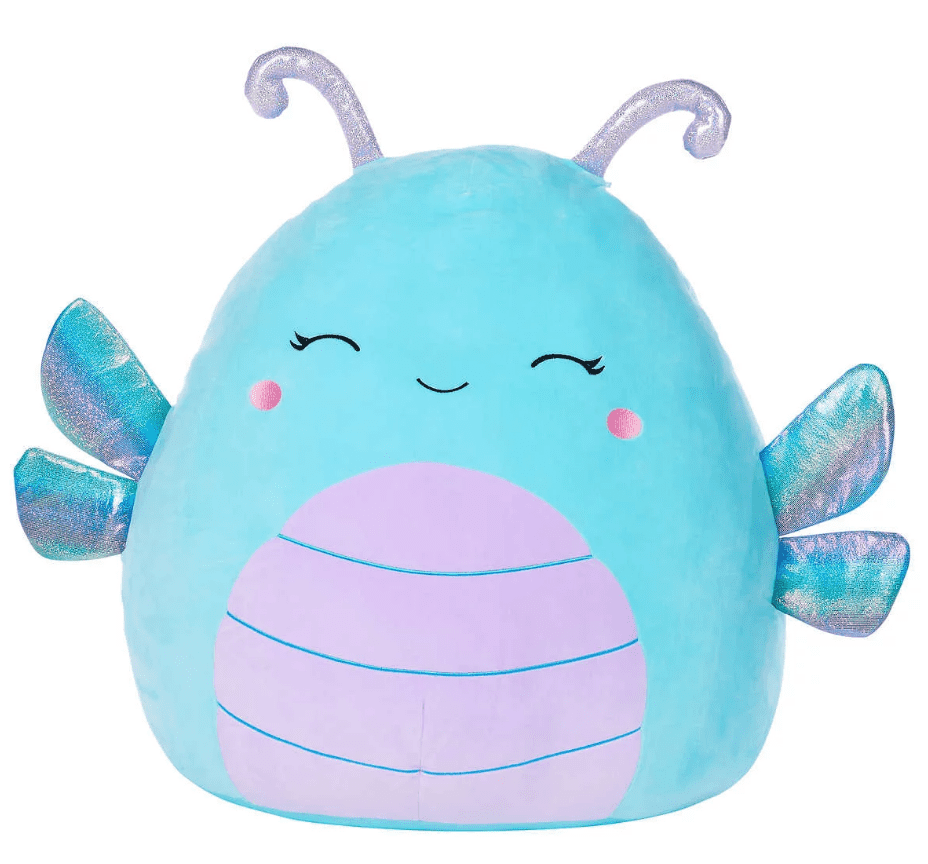 The only time you'll find the iridescent colors of Heather in nature is when you have a real-life dragonfly on your arm!  The magical wings glint in the sun, and the shiny neon-like body glimmers all over! Summering in Maine at our camp gave me hundreds of chances to have dragonflies land on me and flutter for a few seconds.  Long enough for me to see their beauty. Great teaching opportunity, as well as being a collector's must-have. Find Heather at Walmart.
Squishdate: 9/6/202
Features: Light blue with a purple segmented tummy, shiny rainbow wings, 2 antennae and closed eyes.
Heather the Dragonfly Pros
Widely available and easy to find in different versions and sizes
Irridescent blues and greens mimic nature
Fun antennae
Heather the Dragonfly Cons
Her collectability is low because of all her sizes offered
Best 24″ Dog Squishmallow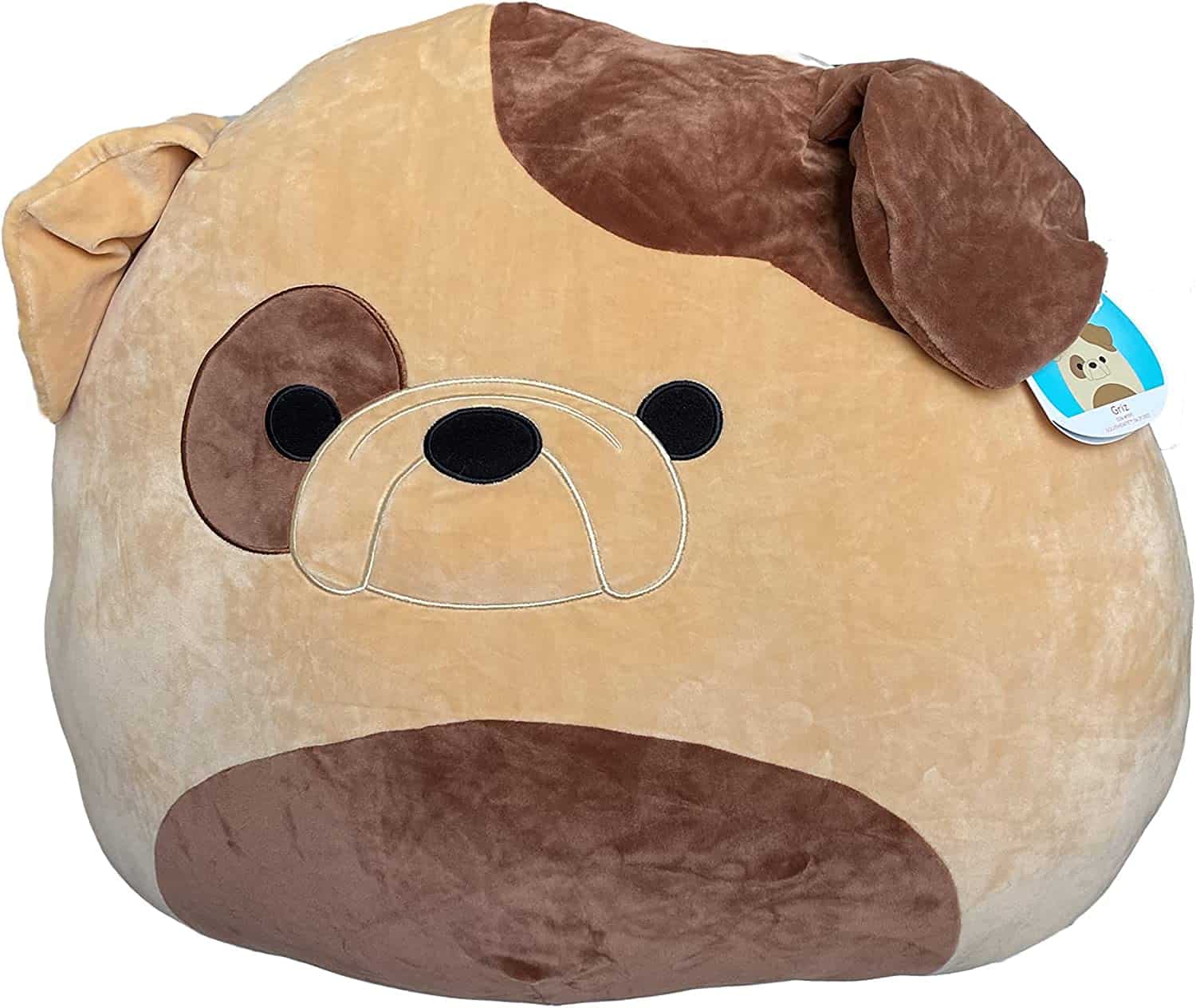 This big boy is great for any dog-loving family!  I love the floppy ears and big flabby cute nose!  Griz likes pineapple ice cream, music, and road trips.  He's perfect for long car rides with his jumbo size and big eyes waiting for you!  This is one pal that will follow you around no matter where you go. Find Griz at Amazon.
Squishdate: 6/29/2021
Features: Non-binary, light brown with dark brown spots over one ear, one eye, and the bottom, open eyes.
Griz the Bulldog Pros
Overall best brown dog for mixed breeds
Road trip personality makes car time fun!
Facial expression is unique for a dog with no mouth and a large nose
A basic staple for a collector
Griz the Bulldog Cons
Some people may want a happier-looking face
Best Signature Rainbow Squishmallow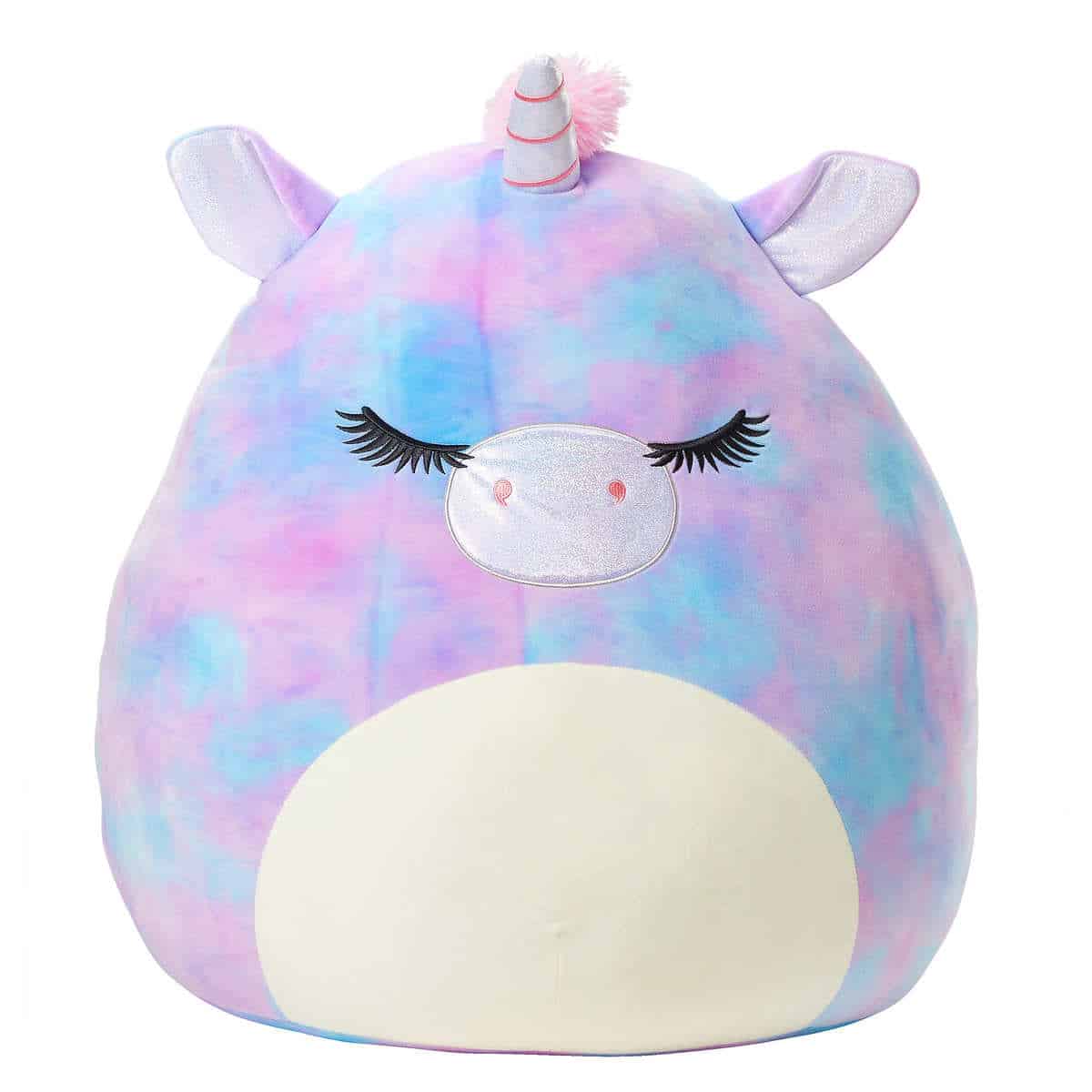 Squishmallows may come in all colors, but a few seem to show up more than others, and pink, purple, and a tie-dye pattern are a few! Squishmallow has loads of rainbow tie-dye patterns and this has become their signature look!  Owning a pink and purple tie-dye has almost become a necessity when owning a Squishmallow! Added to that is that Dahlia is a unicorn which is one of the most popular characters for Squishmallows! Find Dahlia at Walmart.
Squishdate: 9/8/2020
Features: Pink, Purple, and Blue Tie-Dye Unicorn with closed eyes, silvery horn, ears and nose
Dahlia the Unicorn Pros
Representative of Squishmallow's love of pastel tie-dye themes
Great collector's item due to limited sizes and no alternate versions
Dahlia the Unicorn Cons
The rainbow pattern may be too similar to other characters
Best 24″ Squishmallow Teaching Tool
Roman the Planet Earth 24-inch Squishmallow at Toynk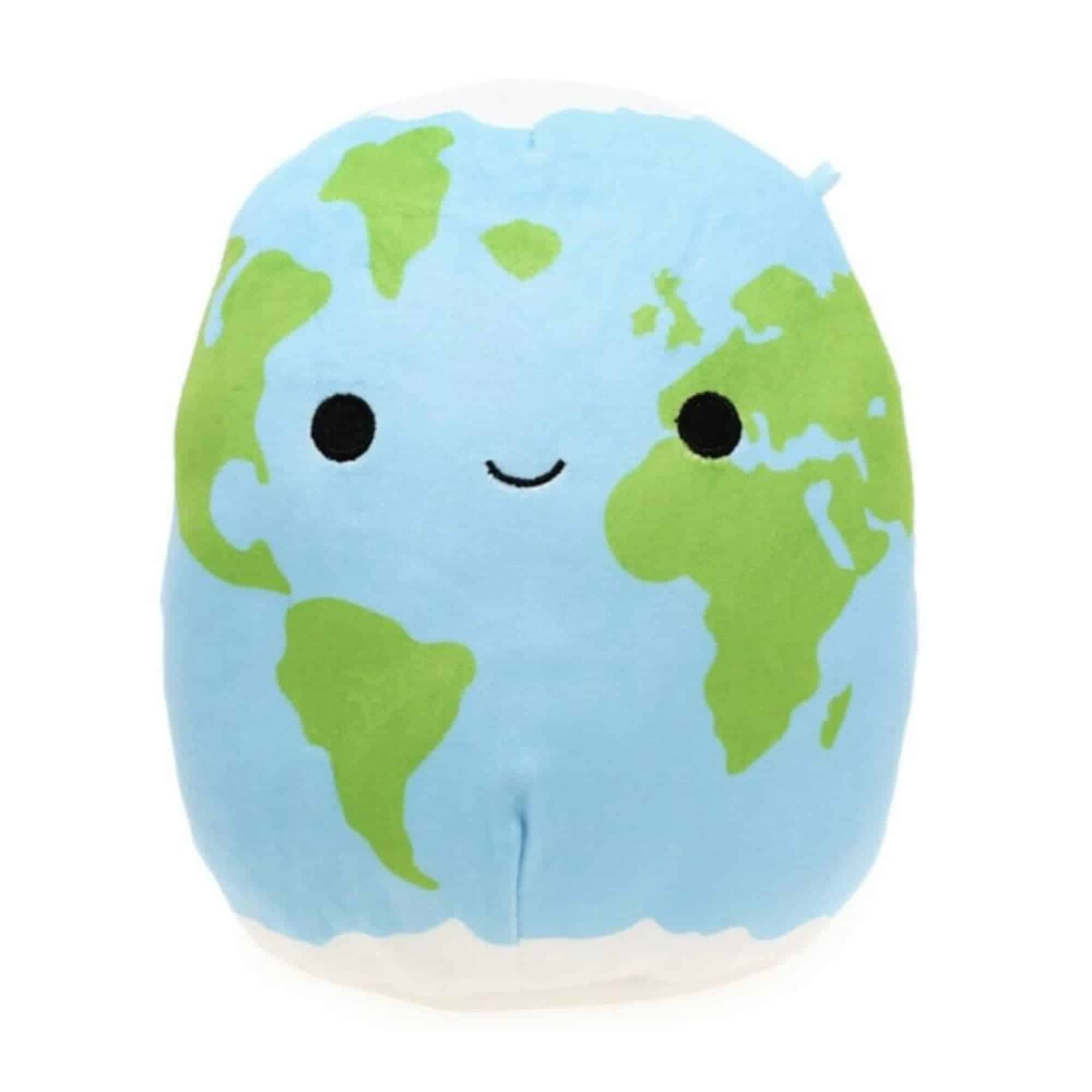 These giant cuddle pals are perfect for a teacher to have in her room for both comforts of primary school children and as examples to use when teaching about geography or certain animals.  I was fortunate to work in primary schools for years and saw many plushies that effectively initiated interest in various topics!
This light blue and green creature is the perfect earth, with white polar caps and accurate representations of the continents in green!  Kids will relate to this geography plush and their interest level will spike once they see it! Find Roman at Target.
Squishdate: 12/21/2020
Features: Blue and green with open eyes and white bottom and top for polar caps.
Roman the Earth Pros
Highly interactive teaching tool
Increase multi-cultural awareness
Widely available in different sizes
Roman the Earth Cons
Serious collectors may find Roman is not rare enough
Tips for Buying 24-inch Squishmallows
As an example of the wonderful purchases you can make at auction and second-hand stores, this special edition Hello Kitty is available at several online stores.  Auction and second-hand stores can either be a blessing or a frustration, depending upon the demand for your item.
I have seen dozens of fabulous Squishmallow buys for almost every Squishmallow ever made, even if it has been discontinued.  More and more people are using these sites to sell their NEW merchandise, so something that started out for re-selling slightly used items has become a major opportunity to buy "brand new with tags" items!
Whenever possible, I would encourage you to wait out the crazy lines that form when a new Squishmallow comes out and get barely used or new Squishmallows for half the price. I would also opt for the smaller-sized Squishmallows and make out a budget limiting the 24″ Squishmallows to a few extra meaningful ones.
Easier said than done, but I find that if you offer choices between things (like the trip to a water park or a 24″ Squishmallow), it gives just enough time for everyone to stop and think about what the money means that is being spent!
Hawaiian Floral Hello Kitty 24-inch Squishmallow Like New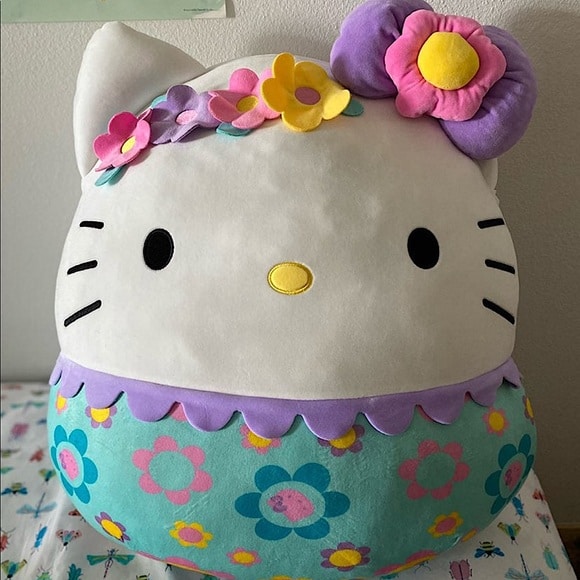 FAQs
Question: What is the Most Popular Squishmallow?
Answer: It depends on how you are defining the "most" popular.  Is it the Squishmallow that has sold the most, or the Squishmallow that is rated the "cutest," or the most expensive Squishmallow? Chip the Beaver, Hans the Hedgehog, and Prince the Pug are some of the cutest Squishmallows out there, but according to MoneyInc, it was Fania the purple owl Squishmallow that sold recently for $3000 on an auction site.
The Kellytoys family isn't cashing out with that kind of money, and if you go to their website to browse available Squishies, you'll find the most expensive ones under $100. Third-party auction sellers buy Squishmallows from a retailer and then wait until that version is sold out, putting it on the market for an outrageous amount.  Cats, Cows, Axolotl, and Unicorns could be considered the most popular for young people to collect as it is almost a requirement to have one of each when you start your "familysquish"!
Question: What Size Squishmallow Should I Get?
Answer: You will love even the tiniest 2″ Squishmallow for its pudgy gooey soft texture, but if you want a pillow pal or a bedtime buddy that won't get lost in the sheets, you could opt for a larger 10″ or 16″ size.  They come in clip-ons that are 3.5″ and easily attach to a keychain or strap, and the 8″ size is perfect for stuffing in your backpack and bringing to school for "show and tell" time or nap time.
For long car trips, airplanes, you may want the extra large 20″ size to use as a pillow or cushion to sit on.  At home, the 24″ size is luxurious for lounging and sleeping!
Question: What's the Big Deal with Squishmallows?
Answer: Since 2017, Kellytoys has sold 82 million and counting Squishmallows.  The pandemic pushed that popularity to the edge, and it exploded with the stretchy, marshmallow textured squishable toys giving hugs to millions of children and adults alike.  The cuddly softness factor, no edges, just round shapes, embroidered eyes for safety, and unique personalities of each character make them more than just a stuffed animal.
Over 1000 characters, each with a name and personal likes and dislikes, make for very interesting collectibles.  New versions and holiday-themed characters are consistently released, increasing the variety and categories you can put each Squishmallow into. Add to all that the fact of online forums to share your Squishmallows stories with others, Squishmallow Roblox games, and fandom pages for each character, and you have an entire social agenda planned out for the next year!
Last Thoughts on 24-inch Squishmallows
You can't ever have enough jumbo-sized Squishmallows, especially if they are the unique and extra cute kind I have recommended in this article. I would sleep in a mound of huge plushies if I could find them big enough.  Easy to carry and transport from one destination to another, these colossal companions fit in vacuum bags where they shrink down to several inches and pop right back up once they are set free!
My bottom line 24-inch Squishmallow, Halloween Detra the Octopus , is a prize possession with her infectious smile and laughing eyes all year round. Halloween never goes out of style, and her costume shows how playful she can be!   Color coordinating her with your own costume for trick or treating gives you another memorable event to share with Detra!
Squishmallows never lose appeal like other plushie crazes.  You can't cuddle with a Cabbage Patch Doll, and you can't use a Beanie Baby as a comfortable pillow!  Squishmallows provide pillow-like softness, squishiness, and huggableness like you would get with a body pillow.
Add their personalities and endearing faces, and you have almost a life-size friend for life!  The social media opportunities to mix with others who share your passion and the online gaming challenges add a new and fun dimension that other collectible plushies can't.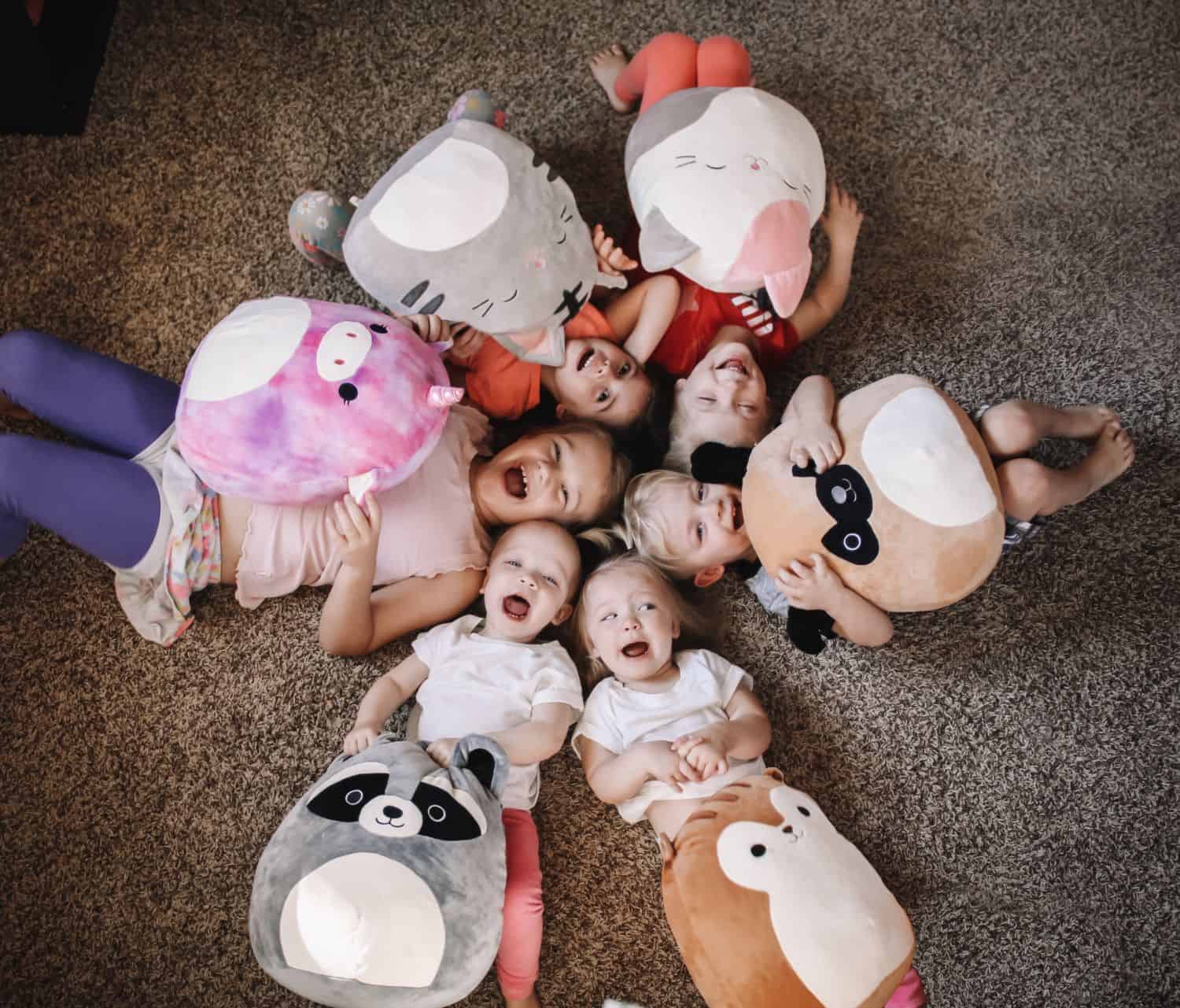 Years from now, even if the online aspect of Squishmallows has faded away, the huggable comfort of these cuddle chums will be in full force!  That and their adorable faces that beg to be added to your life!
You May Also Like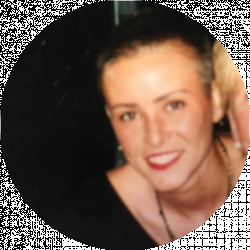 Latest posts by Richelle Tieman
(see all)