Moths are one of my favorite insects, and you might wonder why such a "boring insect" is my favorite. Well, a moth is everything but boring. Many moths don't have mouths meaning they can't eat. Now you might ask yourself, "how do they survive?" Well, they use the energy they have gathered during their caterpillar phase. Amazing right? 
Since I learned this about moths, I looked at them in a new light. The colorful, beautiful butterflies were no longer my favorite. They were replaced by moths. I grew such an obsession with moths that I started doing more research on them.
I wanted to know everything about them. I wanted to have my own moth. I know having a moth as a pet is not ideal or fair to it. So I decided to search the web for moth toys. And what I found was better than I could imagine. 
I found moth Squishmallows. Moths that I could hug, cuddle and play with without worrying that I would hurt or kill them. After gaining much knowledge about the Moth Squishmallow, I'm excited to share the Best Moth Squishmallows Guide.
In this guide, I will share the best moth Squishmallows and their pros and cons. Are you ready to go on a journey to find the best moth Squishmallows? Let's get started!
Bottom Line Upfront
Do you find moths intriguing? How about moth plushies? If so, you will love the best moth Squishmallow guide I have today. You never thought that you would be able to hug a moth, right? Well, now you can with these ultra-soft, huggable Squishmallow moths. 
Miry, the yellow moth, is the best if you want a fun new moth Squishmallow to add to your collection. Its body's color is light and soft, but its wings make it stand out. It will make a cute spring or summer decoration. 
Berit the moth is the best if you want a moth that is more on the neutral side. It is a great gift idea for both boys and girls if you are still determining their favorite colors and want to keep things simple. Its wings also have somewhat of a realistic look to them, which I like. 
Where To Buy Moth Squishmallows
You can find the moth Squishmallows at the following places:
Amazon

eBay

Etsy

Walmart

Poshmark

Ubuy

Walgreens
Best Moth Squishmallow Options
Miry the Yellow Moth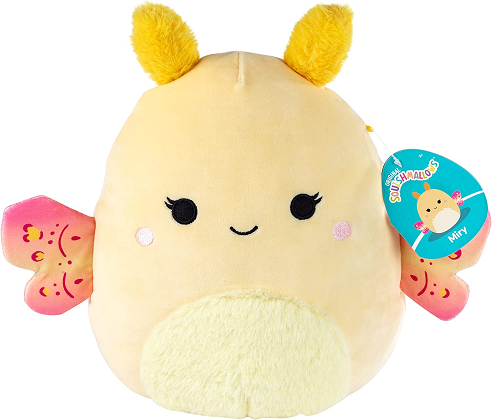 Sizes
Disclaimer: The 5-inch Miry, the Yellow Moth, is quite hard to find. So if you want to add her to your collection, I suggest looking on Etsy or eBay.
Meet Miry, the yellow Squishmallow moth guys. Isn't she just a breath of fresh air? She shouts spring and summer vibes. She will be a gorgeous decoration in your home during this time. If it is not summer or springtime, she will still look beautiful displayed in your room. She is a great way of adding color and positive vibes to your room. 
Miry is a new Squishmallow that was released this year(2023). Her body is a gorgeous yellowish-orange color with a light yellow fluffy belly. She has round black embroidered eyes with stunning curled lashes on each eye. Miry has a thin black embroidered smile with pink blushy embroidered cheeks. 
Miry has the cutest fluffy yellow antennas that are great to squish and play with when stressed. Now we come to my favorite part of Miry: her wings. Her wings are a combination of pink and yellow tie dye that I'm obsessed with. Each wing has darker pink and yellow details, making Miry look even more beautiful. 
I think Miry the moth Squishmallow is stunning! She reminds me of the "Rosy maple moth" with her pink and yellow colors.
Let us have a look at Miry's pros and cons.
Pros
She is cute and colorful.

Miry has gorgeous tie-dye wings.

She will make a great decoration around your house, especially in the summer and springtime.

I love her fluffy antennas and belly. It is a stress reliever. I love squishing her antennas and running my fingers through her fluffy belly. 

I love her embroidered facial features.
Cons
The material of her wings might tear if it hooks on something or if played too rough with.

Her belly's fluffiness might change after a couple of washes.

Darker stains will show on her body and belly. 
Berit the Moth Squishmallow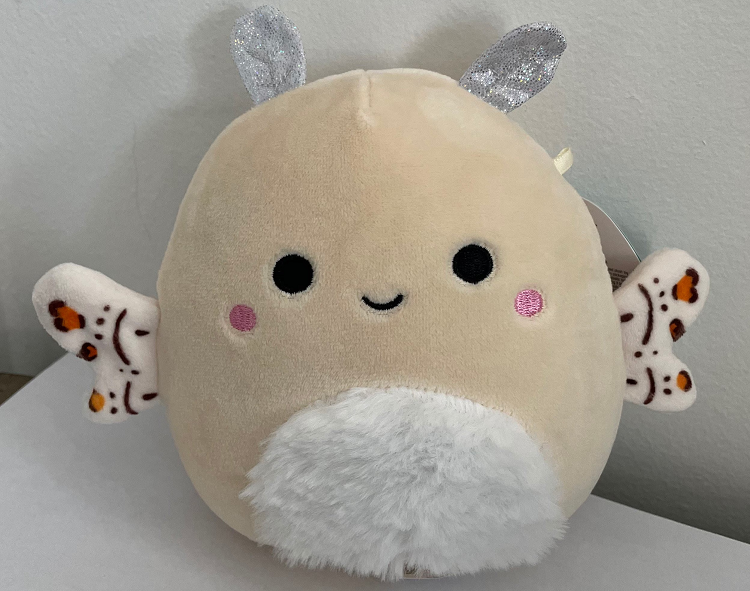 Size
Disclaimer: It is hard to get your hands on the five and seven-inch Berit the Moth Squishmallow. I suggest looking for Berit on Etsy, eBay, or Poshmark.
Meet Berit, guys. Berit is a dreamer. She loves to help others discover the deeper meaning behind their dreams. Berit usually has dreams about being a snowflake fairy princess. In these dreams, she rules a magical kingdom. 
Do you have dreams that need interpreting? Get Berit today!
Berit the moth has a beige body with a fluffy white belly. She has round black embroidered eyes, a thin black smile, and blushy pink cheeks. Berit has lovely nude-colored wings with brown and orange designs on them. My favorite thing about her, apart from her fluffy belly and gorgeous wings, is her shiny silver antennas. I love how it adds elegance to her look. 
Let us have a look at Berit's pros and cons.
Pros 
I love that she is neutral but still has elements of color in her wings.

I love her fluffy belly!

I love shiny things, so her antennas are the first thing that caught my eye. 

The patterns on her wings add to that somewhat realistic look.
Cons 
Her fluffy white belly will get dirty very quickly.

The shininess of her antennas might become dull after time. 

She is very hard to find. 
Alternative Moth Plushie Options
Here are some alternative moth plushies for the moth lovers out there! I included Squishable moth options and moth plushies with a realistic look. Are you ready, guys? Let's get to it!
Squishable Moths
Squishable / Mini Luna Moth 7″ Plush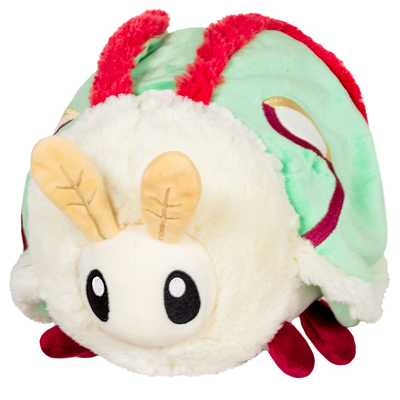 Oh my! Isn't Luna just the cutest moth you have ever seen? She is the perfect balance of color and neutrals. She is fluffy, soft, and squishy, making her the perfect hug buddy.
Luna has big embroidered oval-shaped eyes. This gives her a cute and friendly appearance. She has yellowish antennas with embroidered detail on top. Her fluffy head reminds me of sheep. Please let me know if you can see the resemblance too. 
Luna has gorgeous green wings with a red and yellow design on each wing. The design looks like two eyes to me. Her wings are outlined with red and nude-colored fluffy material. This makes them stand out more. She also has the cutest maroon-colored feet. 
I love everything about Luna! Let us have a look at Luna's pros and cons.
Pros 
She is so soft and fluffy, which makes her extra huggable. 

I love that her wings' outline is fluffy and makes her wings stand out. 

She is an excellent size for little children to carry around and play with. 

She has a cute and attractive appearance.
Cons 
Some might feel that she is a bit expensive for her size.

The lighter-colored parts of her body will get dirty very quickly.

She is only surface washable.
Squishable / Squishable Poodle Moth 15″ Plush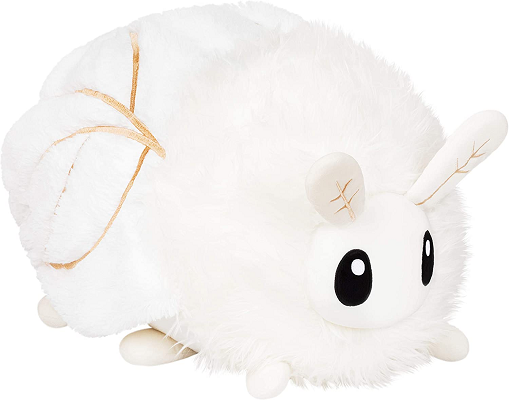 Meet the Poodle moth guys. The name suits it perfectly because it reminds me of poodle dogs. It looks like a fluff ball, and I'm here for it! This moth has big, round, oval-shaped eyes and white antennas with brownish-gold embroidered detail. Its face, along with its antennas, looks like a bunny to me. 
Its entire body is white and fluffy. It even has white feet. The only thing that breaks the white is the brownish-gold embroidered detail on its wings and the black spots that match its eyes.  I love this Poodle moth! Its white color makes it stand out and gives it a clean and aesthetically pleasing look. Let us have a look at its pros and cons.
Pros 
Its softness and size make it great to cuddle with.

I love that everything is white with a slight golden embroidered touch on its antennas and wings. It also has a few black spots, which is a fun addition. 

The face of the moth just melts your heart!
Cons 
Its entire body is white, so it will get dirty very easily.

It is expensive.
Squishable / Mini Rosy Maple Moth 7″ Plush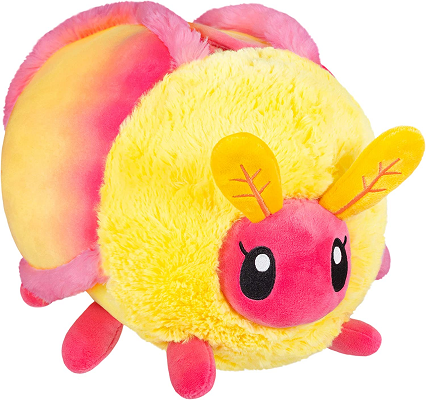 Say hi to Rosy the Maple moth guys! Wow, she sure is bright and beautiful. I love how her hot pink and yellow colors look together. Maple has a hot pink-colored face with bright yellow antennas and big oval-shaped black embroidered eyes. She also has an eyelash on the side of each eye.
Her body is a bright yellow, and she has hot pink feet that match her face. My favorite part about Rosy is her pink and yellow tie-dye wings. I love how the pink flow into the yellow so effortlessly. The lighter pink fluffy material that outlines her wings is adorable!
I never thought that hot pink and yellow could look so good together, but Maple proved me wrong. Even though she is tiny, she will add a pop of color to any room. I have a very girly aesthetic, and she perfectly matches it. 
Let us have a look at Rosy's pros and cons.
Pros 
She is vibrant and beautiful.

The ideal size for younger kids to hold, carry and play with.

She will only take up a little storage space.

I love her tie-dye wings.

She is fluffy and super soft.
Cons
She might be too tiny for some people.

She is only surface washable.
Realistic-Looking Moth Plushies
Blue Moth Plush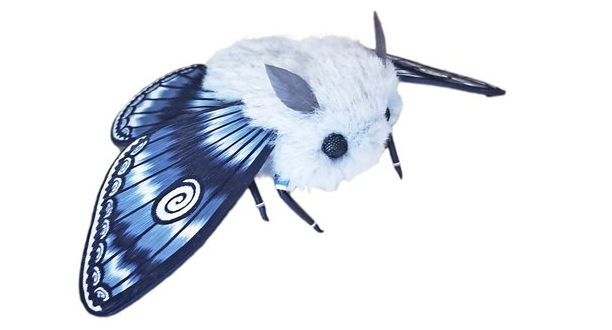 This beautiful moth looks very realistic. It will make such an amazing decoration on a shelf, desk, or dresser. I wouldn't recommend getting it for a child as the eyes, antennas, and legs may break off and cause a choking hazard. I would mainly recommend this beauty for interior decoration and to teach your child about nature. But preferably not as a toy to play with. 
This moth's body is very fluffy, and its antennas look like feathers. I'm obsessed with the beautifully detailed wings and the little feet. Its eyes remind me of a mulberry.
Let us have a look at its pros and cons.
Pros 
I love its realistic-looking appearance.

It is budget-friendly.

Its detailed wings look insane!

It is a great interior decorating piece.
Cons 
I would not recommend it for small children to play with. Parts like the antennas or eyes can break off and become a choking hazard.

The wings might tear after time.
Gothic Moth Plushie
Do you love the gothic aesthetic? If so, then I'm sure you will love this gothic moth plushie. It has a realistic look, and to be honest, I find it quite scary. Its red beady eyes that peek through its fluffy black hair give me the chills. 
The only thing I like about this moth is the detail of its wings. The print on its wings looks like its body is throwing a shadow on the part of the wings. Its look is creative, but I'm not fond of it. You can use it as decoration on your door, window, or bedroom wall. One thing's for sure it will definitely attract attention. 
Let us have a look at this gothic moth's pros and cons.
Pros
It is very realistic looking.

Great decoration if you love the gothic aesthetic. 

It is affordable.

Beautiful shaded wings.
Cons
Its red eyes are scary to me.

Not for people who are not fans of the gothic aesthetic.
FAQs
Question: Are Moth Squishmallows Rare?
Answer: I would say yes. There aren't a lot of different moth Squishmallow options to choose from at this stage. And the available options are usually hard to find. Berit the Moth Squishmallow is especially hard to get your hands on.
Question: Are Moth Squishmallows Affordable?
Answer: It will all depend on the moth Squishmallow you choose, its size, and whether or not it is a rare edition. But they tend to range from $20 range to $50.
Question: In What Sizes are Berit the Moth Squishmallow Available?
Answer: At this stage, Berit the Moth Squishmallow is available in 5 and 7 inches.
Best Moth Squishmallows: Conclusion
Moths are such interesting and amazing creatures, and they are under-appreciated. They are one of my favorite insects. I love their life process, and how some are plain and neutral and others are colorful.
That's why I was so excited when I found out there were moth Squishmallows. It is a combination of my favorite insect and plushie. I love the moth Squishmallows. Looking at them makes me appreciate nature and its greatness so much more. And I can show my appreciation by giving the moth Squishmallow a big hug.
What was your favorite moth Squishmallow mentioned in this guide? I recommend getting Berit the Moth Squishmallow. She is a neutral moth with beautifully detailed wings. I know she is a Squishmallow, but her more neutral look makes her look more realistic to me. Berit is a great choice for boys and girls. 
So what are you waiting for, guys? Go get yourself a moth Squishmallow today! And appreciate the gifts of nature in a Squishmallow form.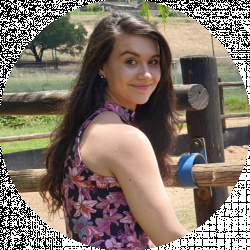 Latest posts by Christine Kent
(see all)