Have you ever seen or heard of a panda pegathorn? I can assure you that I haven't. But so reads the amusing tag on a Squishmallow, the wildly popular plush toys that erupted in popularity in the fall of 2020. (In fact, between January and March 2021, queries for "Squishmallows" outperformed searches for "Selena Gomez" on many occasions).
I'd seen the puffy plush creatures on TikTok a few times before, but I didn't give them any attention until I went shopping at Costco and spotted a large container of mega-sized Squishmallows immediately as I walked in.
And you know it's a huge thing when you see a brand on TikTok and in the very front of Costco. So this got me wondering, what is it about these toys that caught millions of people's attention?
You might be interested in: Where to Buy Squishmallows Online Guide: Top 22 Stores
What are Squishmallows?
Squishmallows are egg-shaped stuffed animals and fruits that are curated in different sizes, colors, and have embroidery that highlights their eyes, mouth, and stomach. They're sold across different online retailers and can often be found in stores such as Walmart and Target.
You can find animals crossed with another such as a cat with a unicorn horn, you can find single animals like elephants and cows, you can find fruits ranging from an avocado to a pineapple.
These puffy plushies are popular among all age groups, from little kids who use their imagination to adults who have Instagrams dedicated to showing off their collection of Squishmallows. We believe that Squishmallows are now being linked to other stuffed plushies like WebKins, Furbies, and Beanie Babies.
The tag for each Squishmallow includes a brief personality description as well as the character's name. Others, like the cat I bought, seem like borderline millennials despite their Gen Z appeal: "Tres'zure loves to arrange gatherings for her pals… [her] favorite part is developing the vision board and building memories…," the tag says.
Why You Should Buy Squishmallows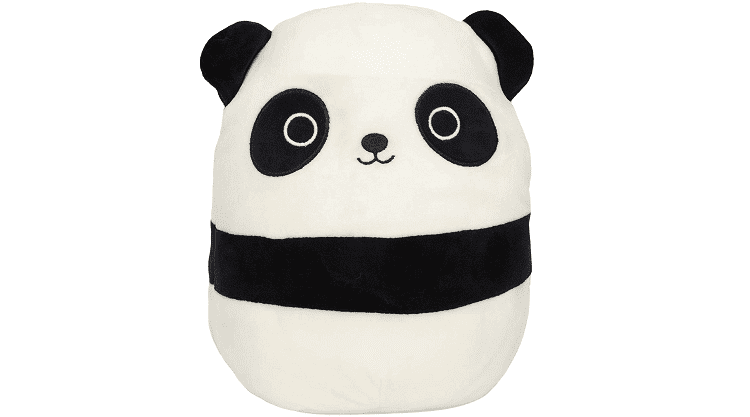 There are so many reasons why one may want to buy a Squishmallow. Let's go over some of the amazing qualities these puffy plushies offer to one.
Collectibles
Just like WebKins in the 2000s, Squishmallows are the new collectible plushie this decade. Aside from social media, the attributes of Squishmallows appeal to Gen Z's consumer buying habits.
In a paper for North Carolina State University's Institute for Emerging Issues, Stacy Wood, a professor of marketing and executive director of the Consumer Innovation Collaborative, noted, "Gen Z is going to be a significant market for items that pander to escapism."
"Collecting may be considered as a type of escape since it allows a person to focus and be absorbed in a desire to develop the collection," she explains. "Collecting Squishmallows is simple since they are inexpensive, readily accessible, and come in a variety of shapes and sizes."
Because the firm provides over 1,000 characters, the amount of Squishmallows a person may acquire is virtually limitless.
Though no Squishmallows have been officially retired, a spokesperson says that certain characters aren't sold on a regular basis—rather, they're brought back for small-run batches every now and then (which the company does "to help drive the element of collectibility," according to the spokesperson).
If you want to buy a "very collectible" Squishmallow, go for "Select Series," which are "runs with just a few numbers of plush presented to the market." Take, for example, the company's first limited-edition figure, Jack the Black Cat, who debuted in September 2020.
Only 500 of the 16-inch Jacks were manufactured because he was the 500th figure. He was only available on Squishmallow's official website, and he sold out in less than two hours. Limited editions and other items are announced on the website of the trade publication Toy book.
Extra Inclusive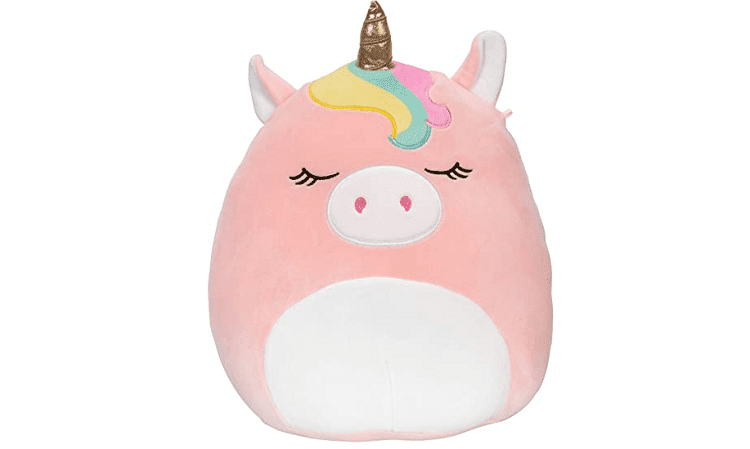 There are several non-binary characters in the Squishmallows lineup. The first, "Bobby the Bunny," was released last year and is a tie-dye bunny using they/them pronouns.
The response was overwhelmingly good, and they rapidly became in high demand. The firm has continued to introduce non-binary characters since Bobby's debut when questioned about additional LGBTQ+ characters.
We don't whether additional LGBTQ+ identities are already represented in the Squishmallows line, but the firm will include more non-binary characters while identifying other methods to properly represent the LGBTQ+ community in the Squishmallows brand.
Though representation isn't a deal-breaker for certain customers, it is for others, such as my sister. It's critical to have a product that's extremely huge, that's symbolic, and that appeals to youngsters. We think that Squishmallows' decision to include non-binary characters would serve as an example for other businesses.
Softness Overload
Apart from collectibility, Squishmallows have a few other characteristics that may entice buyers. I didn't realize how soft and fluffy they are until I literally picked one up before purchasing it at Costco.
The outside cloth is not only pleasant to the touch but also reassuring and somewhat seductive—the animal was so soft that I didn't want to put it down.
Squishmallows are squishy and huggable, and the animals may be used as pillows, according to my sister and nephew. Squishmallows have been given and received as gifts by my friend's daughter.
Where Can You Buy Squishmallows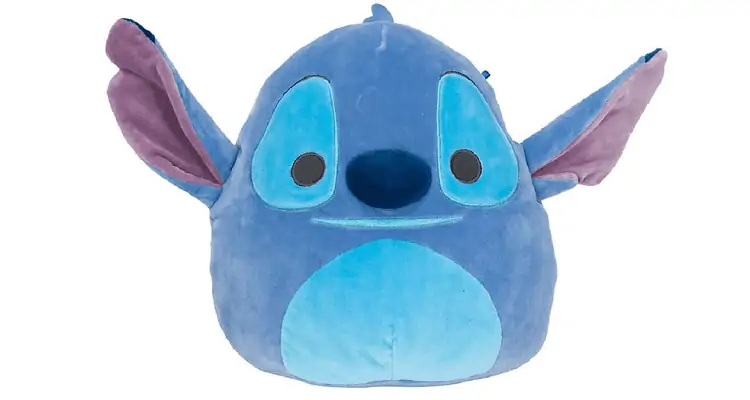 Squishmallows are available everywhere, from large shops to small local boutiques, if you want to get in on the action.
The bad news is that because they're so collectible, getting one may be difficult—just search "Squishmallow hunting" on TikTok and you'll see plenty of videos showing fans going to different stores and rummaging through bins in the hopes of discovering one plush or another.
Squishmallows are available from a variety of internet vendors. Despite the fact that they're available on Amazon, you should only buy Squishmallows that are "delivered and sold by Amazon" to ensure authenticity. Other merchants have restrictions on where you may buy Squishmallows—they're sometimes only available in-store.
Squishmallows are only available in small and medium sizes at Hallmark, for example. Costco, on the other hand, only carries bigger sizes.
The 16-inch Squishmallows at the wholesale store cost $12.99 online (I got one for $9.99 in the warehouse), which is less than you'll pay anyplace else. Eight distinct conventional Squishmallows are available at Costco, as well as a handful in the 20-inch version.
These bigger Squishmallows are figures from popular cultures, such as Chewbacca and Hello Kitty dressed as a mermaid and a scuba diver, and cost $27.99 each. I also discovered both on Amazon, but they weren't being offered through Amazon, which may be a bad flag.
Target typically has a limited assortment (at the time of publishing, there were nine available online), while Walmart has a much wider selection.
Claire's sells a wide range of Squishmallows, including several that are just available at Claire's, such as the Coral and Blue Puppy Dogs. Squishmallows are also available at CVS, Walgreens, TJ Maxx, and Marshall's, albeit these stores do not sell them online.
It's not simple to find the most popular Squishmallows, such as Baby Yoda and Belana the Cow, and you might have to resort to eBay or other third-party sources.
If that's the case, be wary of imposters. To maximize your chances of acquiring anything genuine, look for things with still-attached tags that perfectly match those on the company's website.
What Squishmallows are Offered?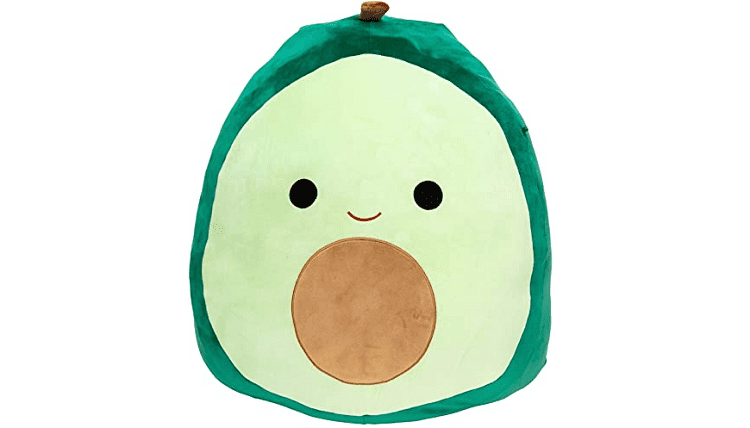 Considering there are over 1,000 Squishmallows floating throughout the world, you must be wondering what type of Squishmallows are offered. We've compiled a list of the several different types of Squishmallows that are floating around out there that you can buy.
8 inch
Scarlet the Strawberry: this plush toy is vibrant red with a light pink stomach. She has light pink seeds and a light green leaf embellished on her.
Orin the Orange: this plush toy has an orange outline with a light orange center. He has white "meat" embellished to his stomach. He also has a leaf and a stem attached to the top of him.
Dexter the Dragon: this plush toy is light green with a white stomach. He has yellow horns, dark green spikes, light green & white ears, and dark green & light green wings all attached to him.
Simon the Sloth: this plush toy has a light blue outline with a cream center. He has grey stripes over his eyes and nose.
10 inch
Nemo: this plush toy is mainly a bright orange. He has two-sized fins, one bigger than the other. He also has embellished strips on the sides of him that consist of white with a black outline.
Sulley: this plush toy is bright blue. He has two purple horns attached to his head. He also has purple spots embellished by his stomach.
Olaf: this plush toy is mostly white. He has stick-like shapes attached to his head and on each side for arms, he has an orange carrot for his nose as well. He also has two black dots embellished on his stomach.
Piglet: this plush toy has a light pink base with three dark pink horizontal stripes at the bottom. He has two dark pink ears attached to the top of his head.
12 inch
Natalie the Narwal: this plush toy is tie-dye with a white stomach. She has a silver horn with three colored stripes attached to her head.
Cienna the Catcorn: this plush toy is purple with a rainbow stomach. She has a white horn and purple & rainbow ears attached to her head. She also has whiskers embellished in her cheeks.
Xandra the Blue Crab: this plush toy is light blue with a white stomach. He has dark blue claws along with dark blue & green legs attached to the sides of him.
Saxa the Stingray: this plush toy has a light pink front with a white stomach and a rainbow back. She has a rainbow tail attached to her in the back. She also has two light pink fins attached to the sides of her.
14 inch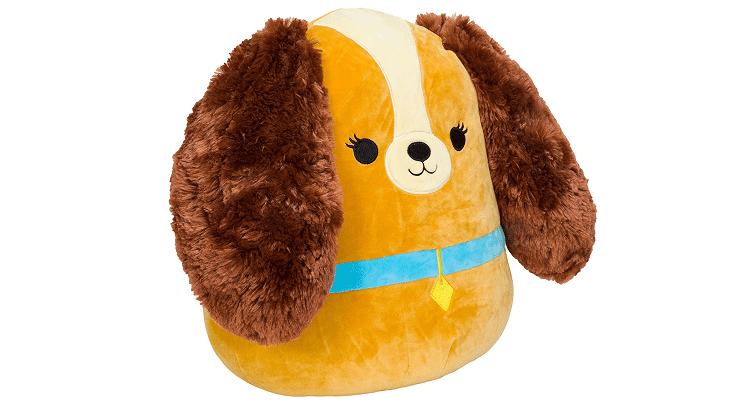 Paislynn the Pumpkin Spice Latte: this plush toy is a dark orange with a brown stripe around the center. In the center of this stripe is an embellished pumpkin. On the top is a white swirl of whipped cream that has brown, orange, and yellow dots all over.
Antoni the Turtle: this plush toy is green with a white stomach. He has two green fins attached to his sides. On his back is his dark and light brown patterned shell.
Hasani the Blue Hedgehog: this plush toy has a light blue outline with a white middle. He has blue ears attached to the head. He also has dark blue sprinkle-like lines embellished throughout his light blue outline.
Brooke the Polar Bear: this plush toy is white with a grey stomach. He has white & grey ears attached to the head. He also has a dark blue & black plaid scarf and hat embellished to him.
16 inch
Darex the Dinosaur: this plush toy is blue with a green stomach. He has bright orange spikes attached to him starting from the top of his head ending at his tail.
Silvina the Snail: this plush toy is light pink with a white stomach. She has shinty antennas attached to the head along with a rainbow shell on the back.
Bridgie the Pink Tulip: this plush toy is an ombre of pink. She is wrapped with a light green leaf base.
Sydnee the Squirrel: this plush toy has an outline of light purple with a cream center. She has a rainbow tail attached at the back of her. She also has three dark purple stripes embellished to the top of her head.
20 inch
Raylor the Australian Pup: this plush toy has a grey base with dark grey specks over him. He has a fluffy white stomach. His ears are attached to the head, they are a mix of brown, grey, and dark grey.
Sinclair the Avocado Toast: this plush toy is unlike the rest, instead of being egg-shaped, it is rounded like an oval. The base is light beige with a dark brown outline forming the illusion of toast. In the middle is a light green color with yellow, red, and black specks.
Bethany the KoalaCorn: this plush toy is also oval-like. The base is white, attached to the head are two blue, purple, and pink fluffy ears. There is also a shiny pink horn attached.
Emily the Bat: this plush toy has a black base with a dark grey stomach. She has two black wings attached to her sides and two black & dark grey ears attached to her head. Her mouth is embellished with red string and she has two sharp teeth coming out.
What are the Best Selling Squishmallows?
Although we've given you some type of idea of what each size offers, there are still hundreds of Squishmallows we haven't covered. If you're looking to join in on the bestselling ones, you've come to the right place. We've compiled a list of the bestselling Squishmallows out on the market right now.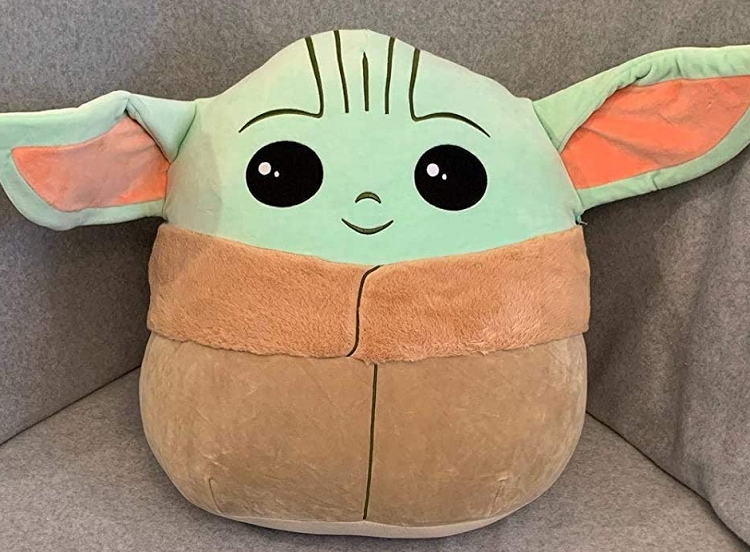 With this famous Squishmallow, the force is powerful. Throughout 2020, Baby Yoda was everyone's unofficial fixation, and the plushie version is just as popular. Yoda Squishmallow is a baby who doesn't talk or move, but he does have a lot of snuggability.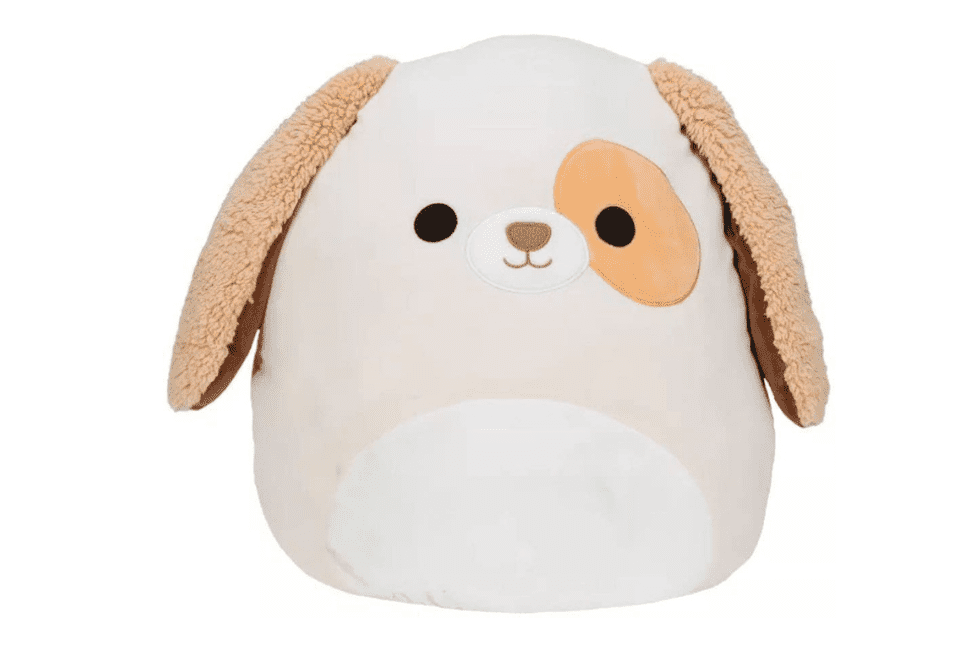 The Harrison Dog Squishmallow is extremely cuddly and comes in a classic teddy bear hue. Although Harrison Dog is a gender-neutral stuffy, it is a particularly popular Squishmallow for guys. Obviously, guys favor pink kittens, and girls like blue puppies, but puppies are still a huge hit in newborn boys' bedrooms.
More dog's Squishmallow ideas here: Best Dog Squishmallows – A Guide To Finding Your Bestfriend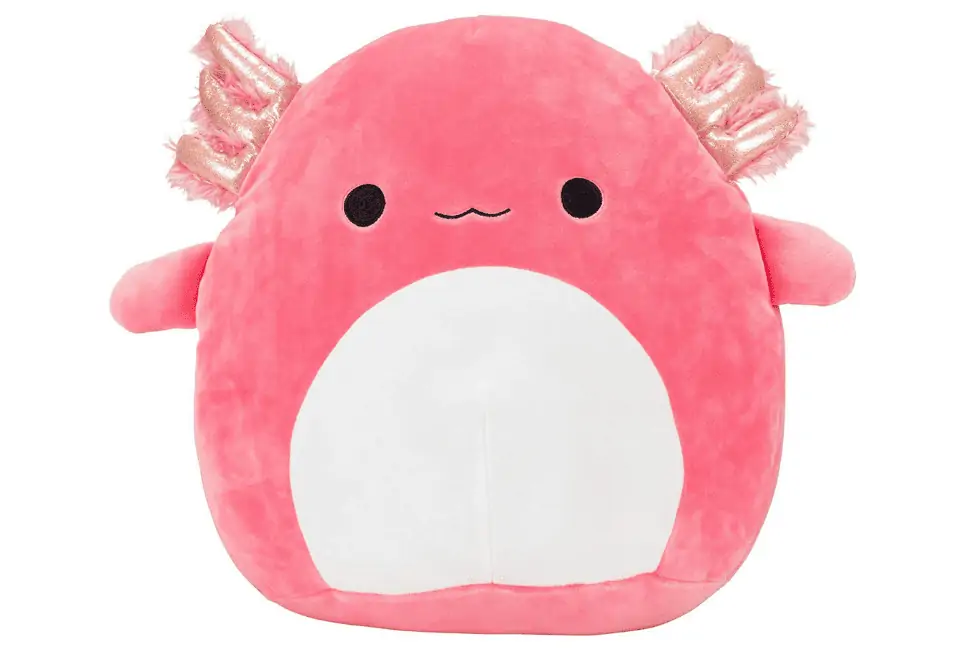 Have you not heard? Squishy Axolotls are all the rage. Archie the Axolotl resembles a genuine axolotl, but without the pricey aquarium. A genuine axolotl would probably avoid sleeping in your bed as well.
You're an Axolotls enthusiast? Find more here: The Ultimate Axolotl Squishmallow Guide for Enthusiasts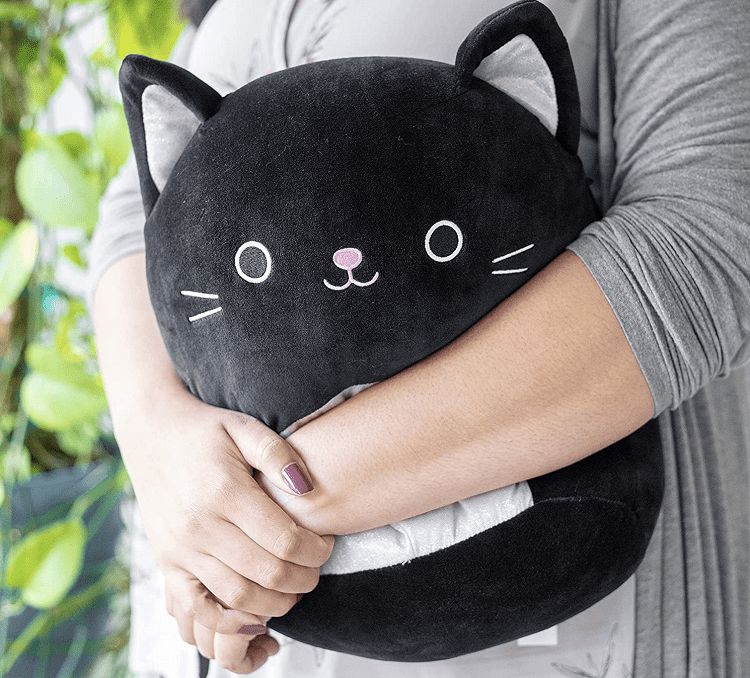 Autumn, a member of the Squishmallow Halloween team, appears to be scarier than she is. Her purple highlights and black body give her a witchy October air, but she's actually rather adorable. On gloomy, rainy evenings, she enjoys sleeping in and curling up next to you.
Want more Cat Squishmallow options? Find it here: Best Cat Squishmallows Guide
Jenny the Cow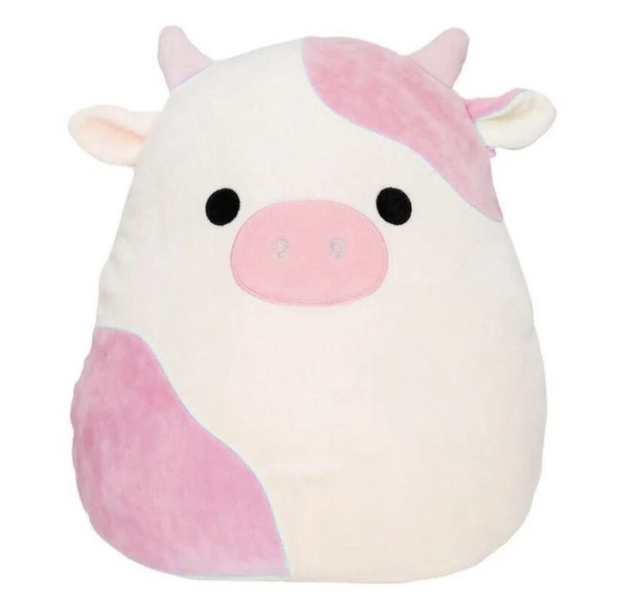 Jenny the Cow has been accused of being a hoax by Reddit users. We're perplexed since this squishable and lovely cow, with big, round eyes and spots in all the right places, can be found on the Squishmallows website, or so it appears. Is it a forgery?
Jenny the Cow is by no means the only Squishmallow cow, but she is the only one who is pink. Kelly Toys has to tone down the sweetness before Squishmallow, their next cow, moo-ves us to tears.
Destiny the Dragon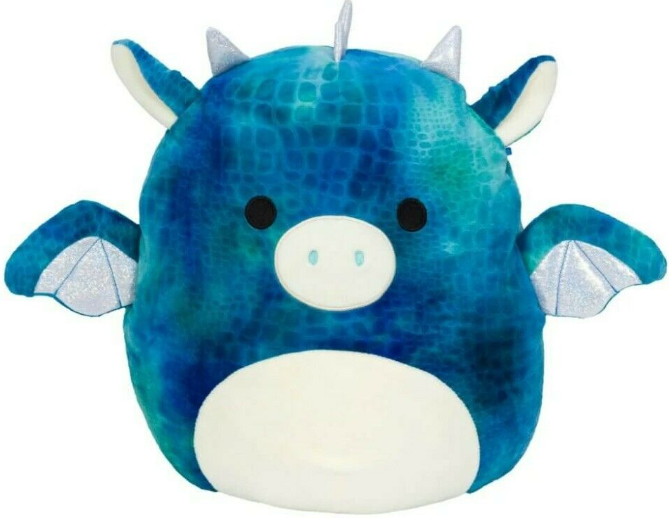 Who says blue is only for boys? With her marbleized blue wings, Destiny the Dragon Squishmallow loves to soar high in the sky. We're not complaining because she doesn't appear to be the most aerodynamic.
Related read: Bearded Dragon Squishmallow Guide: Find Your Very Own Spikey Friend
Dante the Demon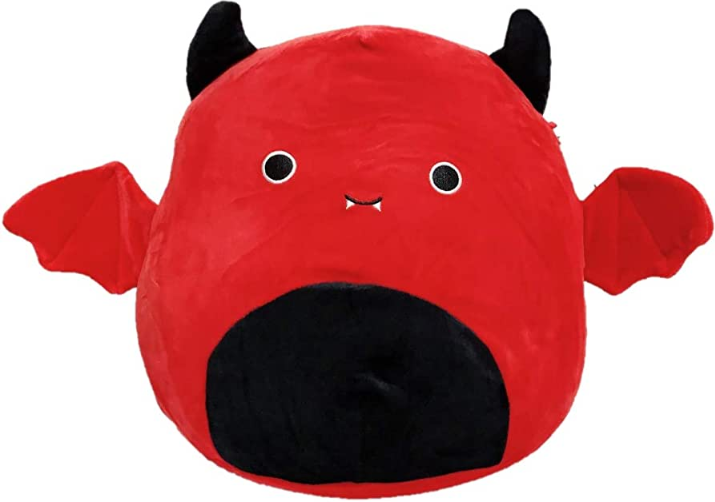 Dante is quite adorable for a demon Squishmallow. This nasty little beast is, of course, a member of the Squishmallow Halloween Squad. He's red, black, and oh-so-adorable. The only thing about him that is frightening is his fondness for spicy sauce. The spiciness of his famous hot wings is unbearable.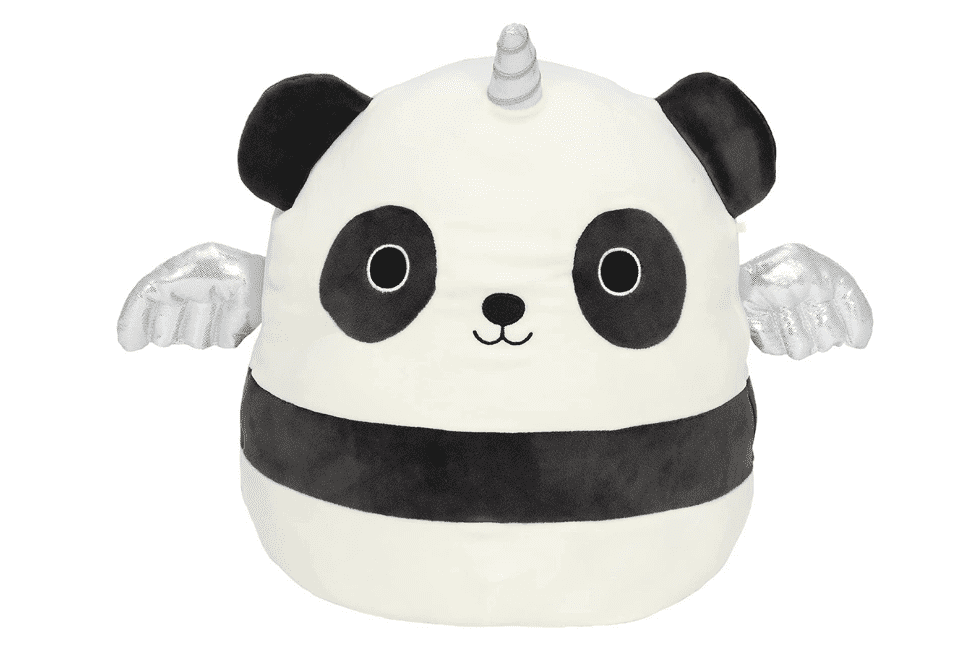 Dante is quite adorable for a demon Squishmallow. This nasty little beast is, of course, a member of the Squishmallow Halloween Squad. He's red, black, and oh-so-adorable. The only thing about him that is frightening is his fondness for spicy sauce. The spiciness of his famous hot wings is unbearable.
More Panda's Squishmallow here: Panda Squishmallows Guide: Cute Zoo Plush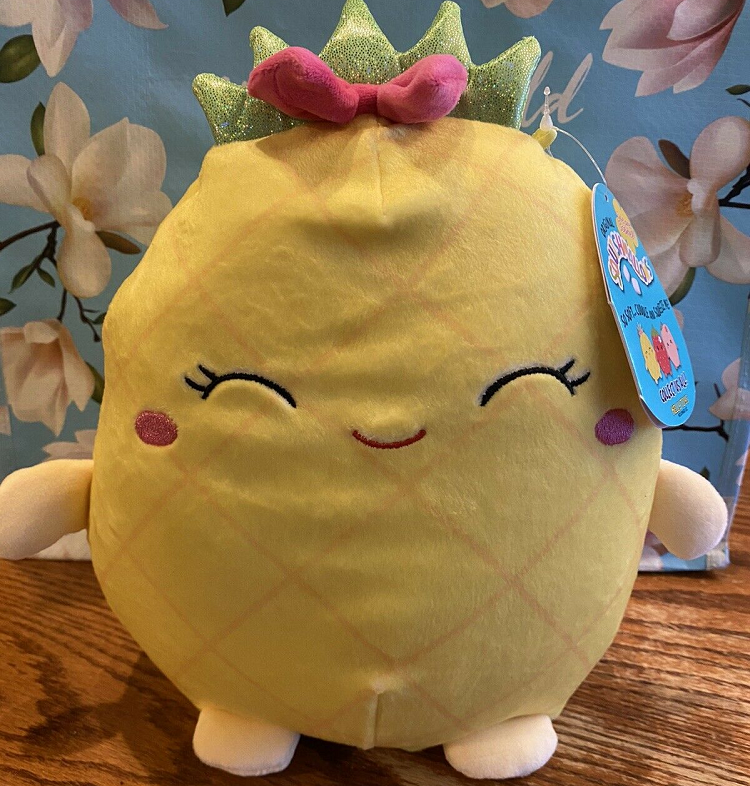 Squishmallows are always sweet, but this time we mean it. Lulu Pineapple, a member of the Squishmallow Fruit Squad, has a bright smile and appears to be edible. She's one of the most popular Squishmallows in the culinary world. She's the perfect stuffy to add to your summer collection, with her vibrant yellow and pink color scheme.
Bernise the Boba Tea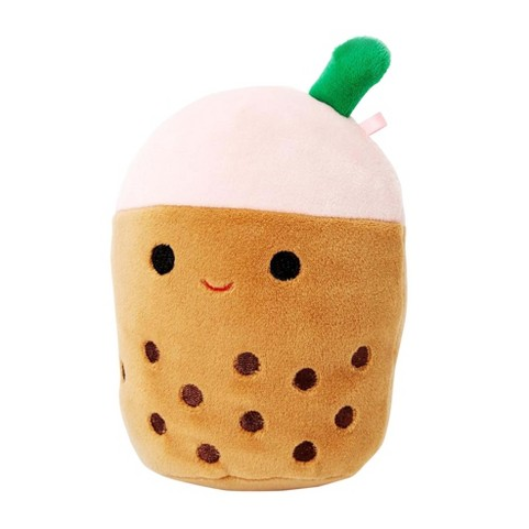 Boba, boba, boba, Bernise the Boba Tea Squishmallow resembles a Frappuccino in appearance. Bernise, unlike some of the larger Squishmallows, stays small. She comes in only two sizes: 5-inch and 12-inch. No one will notice if you keep her on your desk at work.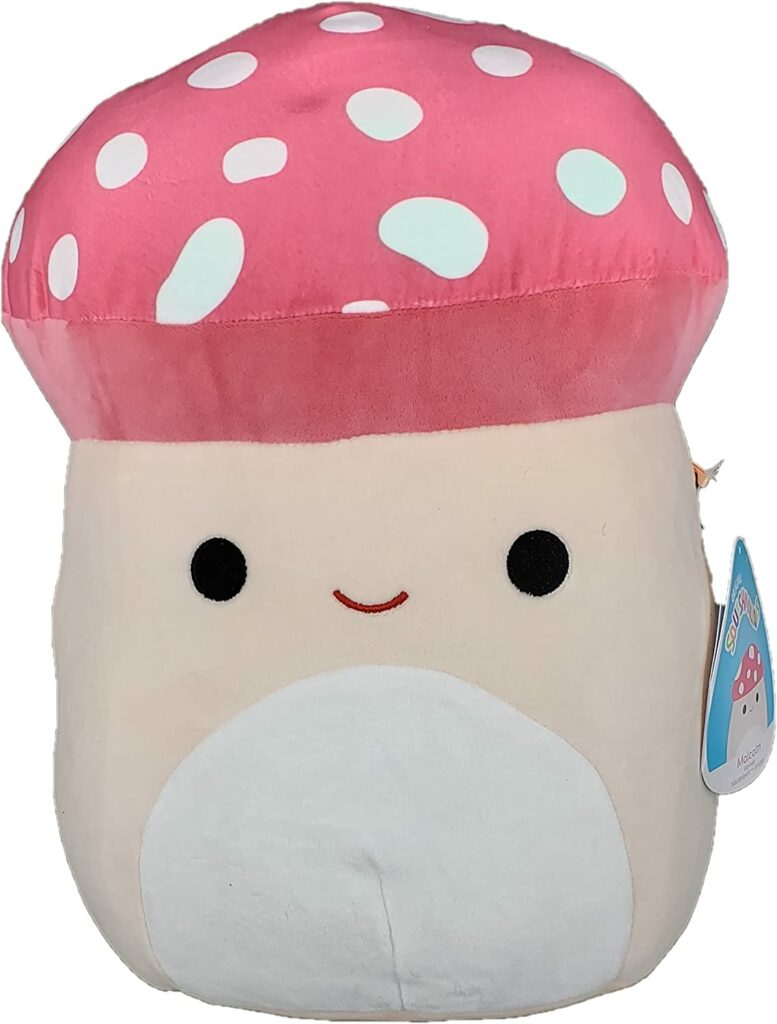 Take a look at that expression. Malcolm the Mushroom Squishmallow is adorned with polka dots, and his little smile is stitched to match his cap. Other woodland-themed stuffies, such as fairies and dragons, go nicely with this mushroom Squishmallow.
Celine the Chicken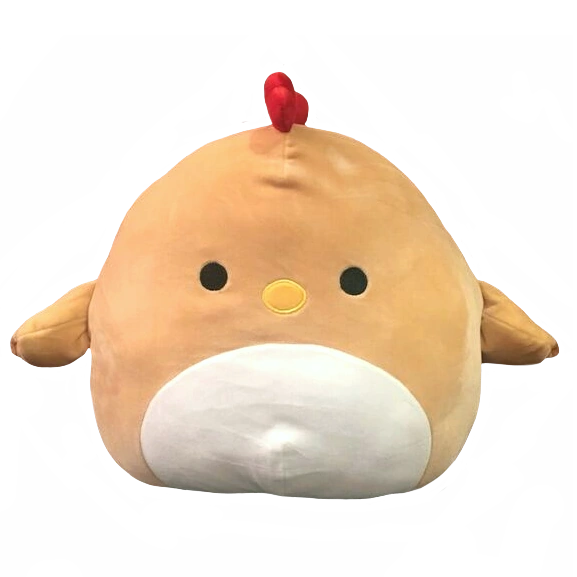 Many people consider acquiring a chicken so that they may have fresh eggs every morning, but chickens are a lot of work. Celine is not one of them. Celine the Squishmallow chicken is plump and spherical, with a yellow beak button. Even better, she never goes to the bathroom like a genuine chicken.
FAQs
Question: What is the Biggest Squishmallow?
Answer: The machine-washable toy is available in a number of sizes, ranging from 3.5-inch clip-on to 24-inch extra-large size. 3.5-inch (keychain), 5-inch, 7-inch, 8-inch, 11-inch, 12-inch, 13-inch, 16-inch, 20-inch, and 24-inch Squishmallows are available; the 13-inch will be phased out shortly.
Question: Why are Squishmallows So Popular?
Answer: Squishmallows aren't simply adorable; they're also full of personality. Each stuffed animal's tag includes not just a name, but also a detailed description of the toy's personality. Bobby the rabbit even uses they/them pronouns, and the official Squishmallow Twitter has verified that more non-binary plushies are on the way.
Question: How Do You Clean Squishmallows?
Answer: Putting your Squishmallows in a pillowcase and tying it closed has worked best for a member of the Squishmallow Squad. Squishmallows may be washed and dried in the pillowcase and will come out fluffy and fresh.
Squishmallows
Squishmallows aren't just a toy for those who like to collect popular items. With the range and prices of these plush toys, this could be your life-long commitment to collecting these avid toys.
With so many combinations of animals, foods, drinks there is an endless possibility for what you could give a little one. I would suggest choosing either their favorite food, color, or animal and picking a Squishmallow for them from there. They have become extremely popular due to how inclusive the brand is.
They offer a range of sizes, so if you wanted to have a Squishmallow on your keychain, you can buy the perfect size. if you wanted to buy your kid a jumbo size, you would be able to. What do you think about Squishmallows?
Continue reading more related Squishmallow toy guides by checking these links below: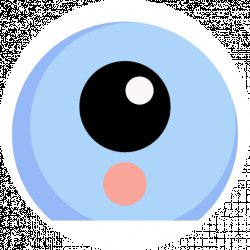 Latest posts by Avid Plush Team
(see all)