Bigfoot Squishmallows took an enormous leap with Joelle, the Sassy Bigfoot. I'm a long-time Squishmallows fan and collector, and so are my kids. We collect various plush toys, even Pokémon plush and Bigfoot lookalikes. So, let me share the Joelle Squishmallow guide to reveal the sassy Sasquatch that leaves impressions everywhere.
Nothing blends better for a plush passion than a Squishmallow matching my daughter's nature. My kids still believe in the Sasquatch, making Joelle an enjoyable Squishmallow character for our family. In addition, her sassy nature matches my daughter's. So, let me share everything you need to know about Joelle.
Joelle Squishmallow Bottom Line Up Front
Joelle Squishmallow is a phenomenal friend for sassy kids and adult collectors who enjoy the fantasy, sassy squads. She has more variants than you realize, but I'll introduce Joelle's original design before diving into her many versions and exclusive editions, including a giant plush you'll want with everything you have.
My kids and I love Bigfoot Squishmallows. So, we intend to reveal everything about Joelle, even sharing some fabulous alternatives for the blue and white Sasquatch Squishmallow. In addition, I'll demonstrate how I picked every example of Joelle Squishmallow using the best source available, Squish Alert.
But first, let me share a favorite. The 8″ Joelle, the Sassy Bigfoot Squishmallow, is my favorite because of her size and features. She's adorable, friendly, and dreamy. Eight-inch Joelle Squishmallows are collectible, and her original sassy squad design makes her the perfect edition for her personality.
However, it's time to discover everything about Joelle Squishmallow, including collector's tips, before we view all the remaining examples of this phenomenal Squishmallow friend.
A Quick Guide to Joelle Squishmallow
Joelle Squishmallow is a squishy plush with more personality and dreams than most, and she has plushies matching the size of her dreams if you know where to look for them. So, let's discover all the details about Joelle Squishmallow and what makes her unique. Then, I'll start showing you the incredible Squishmallows.
Meet Joelle, the Bigfoot Squishmallow
Joelle Squishmallow's dreams are nearly as enormous as the myth behind her existence. She's a gorgeous light blue Sasquatch with a fuzzy mane and a sassy personality. Joelle's original design also often comes with a fuzzy, darker blue belly and hair, but some alternatives have additional features.
Meanwhile, Joelle has big, solid black eyes and a broad smile to show her enthusiasm. She also has long eyelashes to show her girly features and blushing cheeks to match. In addition, Joelle has printed paws under her feet, which change in color for unique editions but are blue for her original design.
Furthermore, Joelle Squishmallow is a dreamy Bigfoot Squishallow with a touch of determination. She dreams of becoming an ambassador, leading her kind into the frontiers of reality. However, Joelle is still a young little Sasquatch and looks to her teacher for guidance. I'm sure this girl has much to offer in the future.
Here's a Squish Alert screenshot to show her standard design Squishmallows: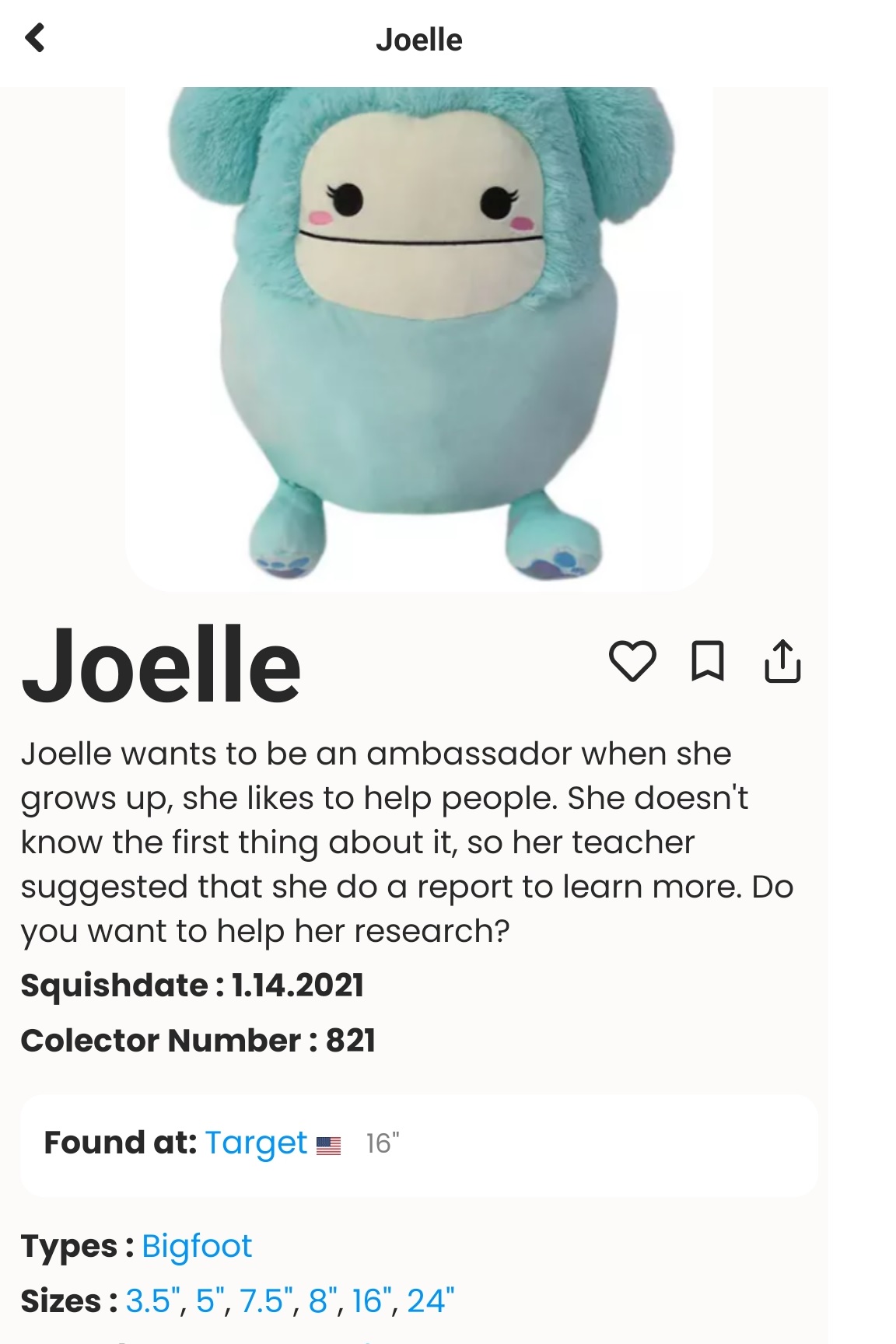 What Makes Joelle Squishmallow Famous?
Joelle Squishmallow has many opportunities, ranging in size and fitting multiple squads. Her preliminary squads are sassy and Bigfoot. However, a few special editions make her stand out more than most Sasquatch Squishmallows. Firstly, Joelle has pretty Christmas-themed and other holiday-themed Squishmallows.
Secondly, she has a size to match her enormous dreams. Unfortunately, Joelle's extra-large Squishmallow, measuring an astonishing 24 inches, is exclusive to Northern Canada. However, you might find the Standard Design Extra-Large 24″ Joelle Squishmallow on eBay if Canadian resellers are kind enough to let them go.
Meanwhile, Joelle is such a dreamer that she got a second extra-large Squishmallow in Canada. The Extra-Large 24″ Joelle Christmas Squishmallow is a unique pick that shows Joelle with her famous Christmas-themed blue scarf. In addition, she has no blushing cheeks or eyelashes, brown paw prints, and a tongue sticking out.
Joelle's Christmas-themed 24″ Squishmallow might not be available anymore, but resellers will supply it. Squishmallow friends hardly get 24″ plushies. So, Joelle is genuinely an incredible Sasquatch, sassy enough to earn more than one extra-large Squishmallow. Various other editions are discontinued, but I'll share tips later.
Tips for Joelle Squishmallow Fans
Joelle Squishmallow has many variants. So, it helps to add her to the Squish Alert app to know Where to Buy Squishmallows for the blue (but sometimes teal and white) Bigfoot Squishmallow. The app shows where you can find various sizes, editions, and unique versions of Joelle Bigfoot. See my screenshot example below: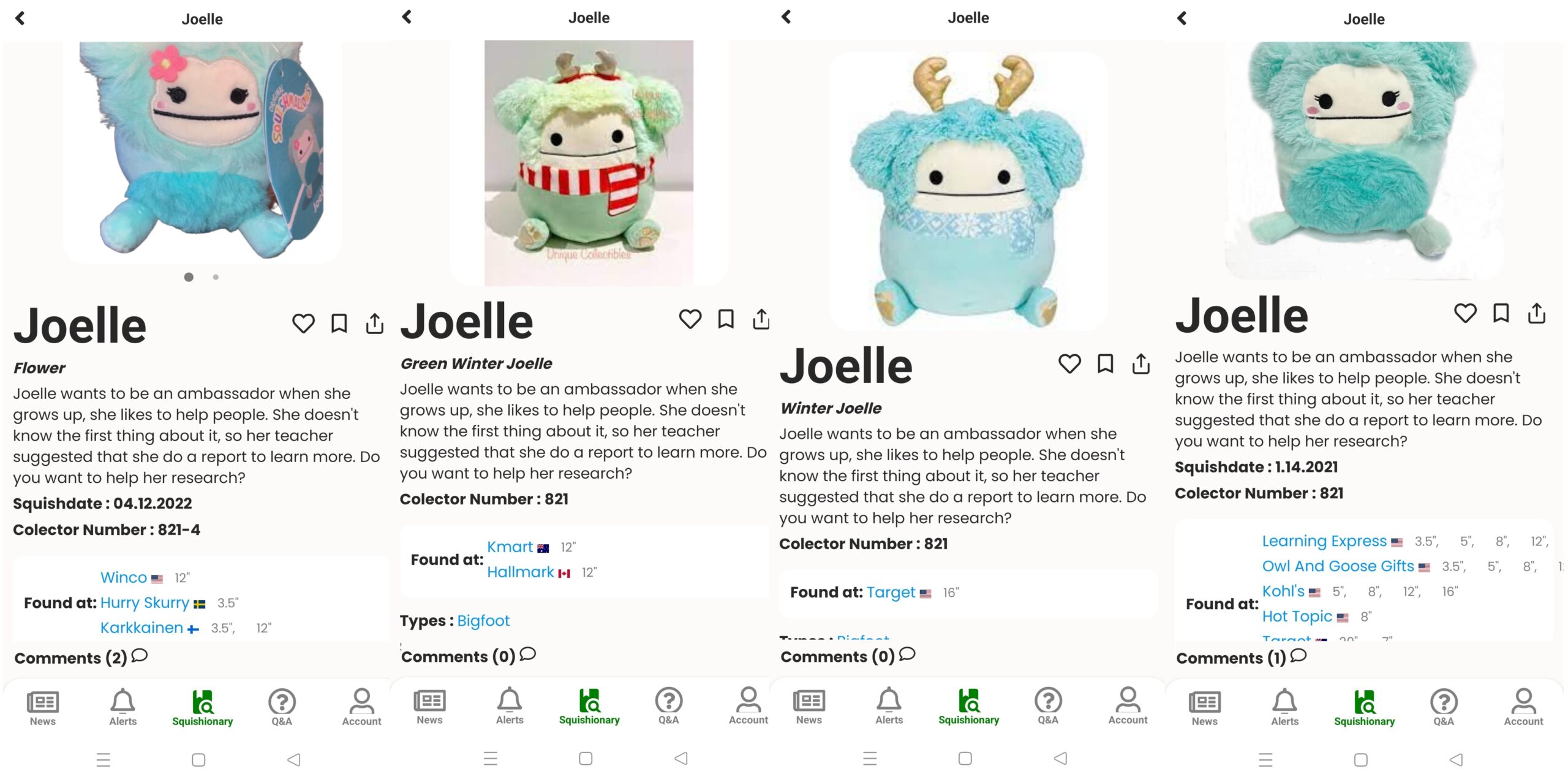 Die-hard fans collect as many Joelle Squishmallows as possible. I'm sharing the inspiration behind Joelle Squishmallow's many editions because you can manage more of her, making your collection as enormous as her dreams. The screenshot also shows how many sizes you'll find for each variation and where to buy them.
However, please remember that the Squish Alert app doesn't send live notifications. So, the available stores will change often. Winco Foods and Target have no Joelle Squishmallows in stock, but they'll get more soon. So, use the app as inspiration to find more Joelle Squishmallows, not relying on the information as current.
Finally, various sizes and editions come out for specific Joelle Squishmallow versions, including:
Alternate Joelle Squishallow (Fantasy or Sassy squad – has a tongue sticking out or alternate colors)
Christmas Joelle Squishmallow (Christmas squad)
Flower Joelle Squishmallow (Spring squad)
Green Winter Joelle Squishmallow (Christmas squad)
Sassy Joelle Squishmallow (Sassy squad – with a fuzzy belly)
Standard Joelle Squishmallow (Fantasy squad – no fuzzy belly)
Winter Joelle Squishmallow (Christmas squad)
How Will I Share Joelle Squishmallow's Plush?
Joelle has many variants and sizes, but I won't break your heart by sharing Joelle Squishmallows gone from the stores. Instead, you can add them to Squish Alert to see when they return. Meanwhile, I'll only share versions and sizes currently in stock at stores, including Owl & Goose Gifts, Walmart, and Amazon.
The Joelle Squishmallow must be original with her dreamy tags. In addition, they must show her fantastic smile and sassy qualities of a fuzzy belly and mane. So, let's see the examples that make you see how large her dreams seem. I'm aiming for every size available and all editions in stores.
Joelle Squishmallow Guide: Every Version
Various Joelle Squishmallows aren't in stores anymore or need to return to stores. So, I'll include the seven you can easily find in stores today. Unfortunately, they don't include flowers or standard belly plush. Still, you'll have seven incredible starter examples for Joelle Squishmallow while waiting for store restocks.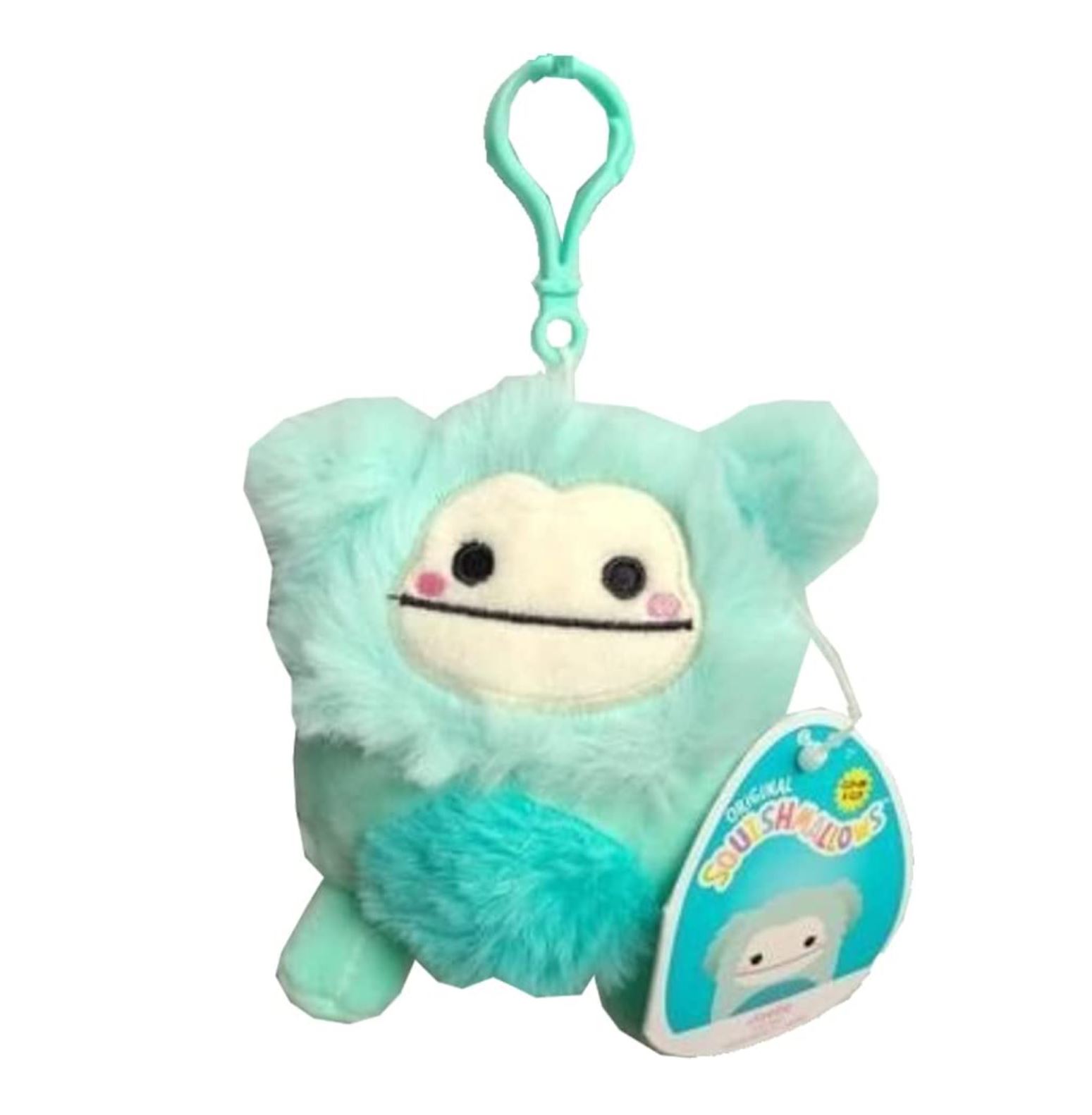 Joelle Squishmallow's entire design turns sassy with her most miniature version, including a fuzzy body. She's adorable, soft, cuddly, and mobile. In addition, the Joelle keychain Squishmallow belongs to the fantasy, sassy, and backpack squads, making her a triple joy for dreamers sharing her passions.
Joelle Squishmallow Keychain Pros:
The Joelle Squishmallow keychain is adorable and tiny
Squishmallow keychains are ultra-soft with added fuzz around the body
Joelle's mini Squishmallow will travel with anyone, including fans and children
Joelle doesn't lose her gorgeous smile on this miniature plush
Joelle Squishmallow gains adorably short legs to run absolutely nowhere fast
Joelle Squishmallow Keychain Cons:
Joelle Squishmallows mini version makes more sense for travel companionship
Joelle has an incredible smile, and the mini version doesn't show it boldly enough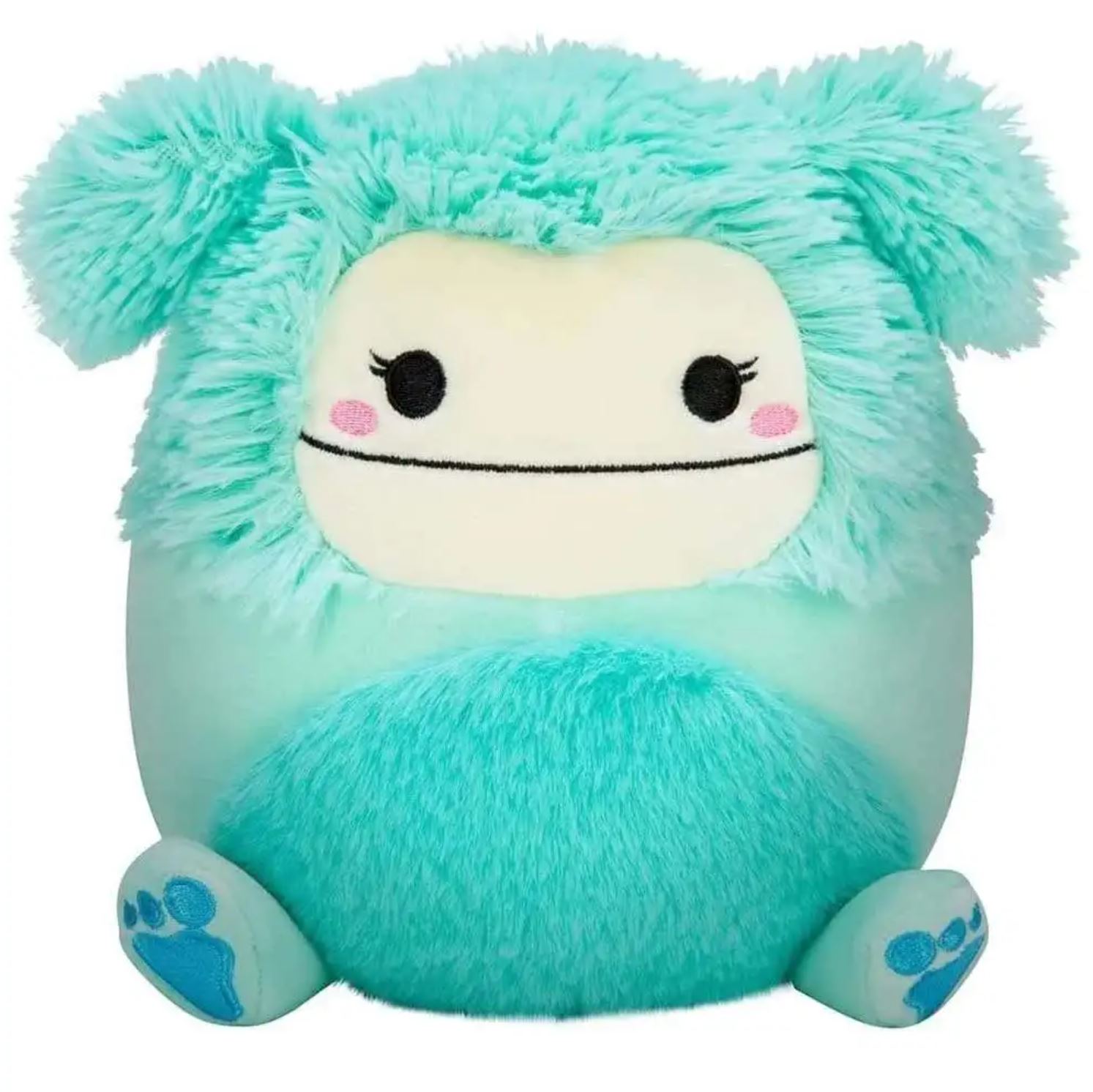 Joelle, the Sassy Bigfoot Squishmallow, comes as a five-inch joy in her next version. Joelle's legs return to normal with the five-inch Squishmallow, and her eyes look inviting, even inspirational. In addition, she captivates the fuzzy belly and mane perfectly and smiles broadly, from ear to ear. She's pure joy for any fan.
Sassy 5″ Joelle Squishmallow Pros:
The 5″ Joelle Squishmallow is ideal for kids who enjoy the dream of Sasquatches
The size also makes Joelle Squishmallow a perfect plush for fans with extensive collections
Joelle's five-inch small Squishmallow is cute and fuzzy in every way imaginable
Joelle feels like a ball of soft marshmallows, waiting to excite any Bigfoot dreamer
Her blushing cheeks, long eyelashes, blue pawprints, and fuzzy bits are perfect
Sassy 5″ Joelle Squishmallow Cons:
Joelle Squishmallow's small-size plush won't suit kids who want more oversized plushies
She will make you enjoy every other size possible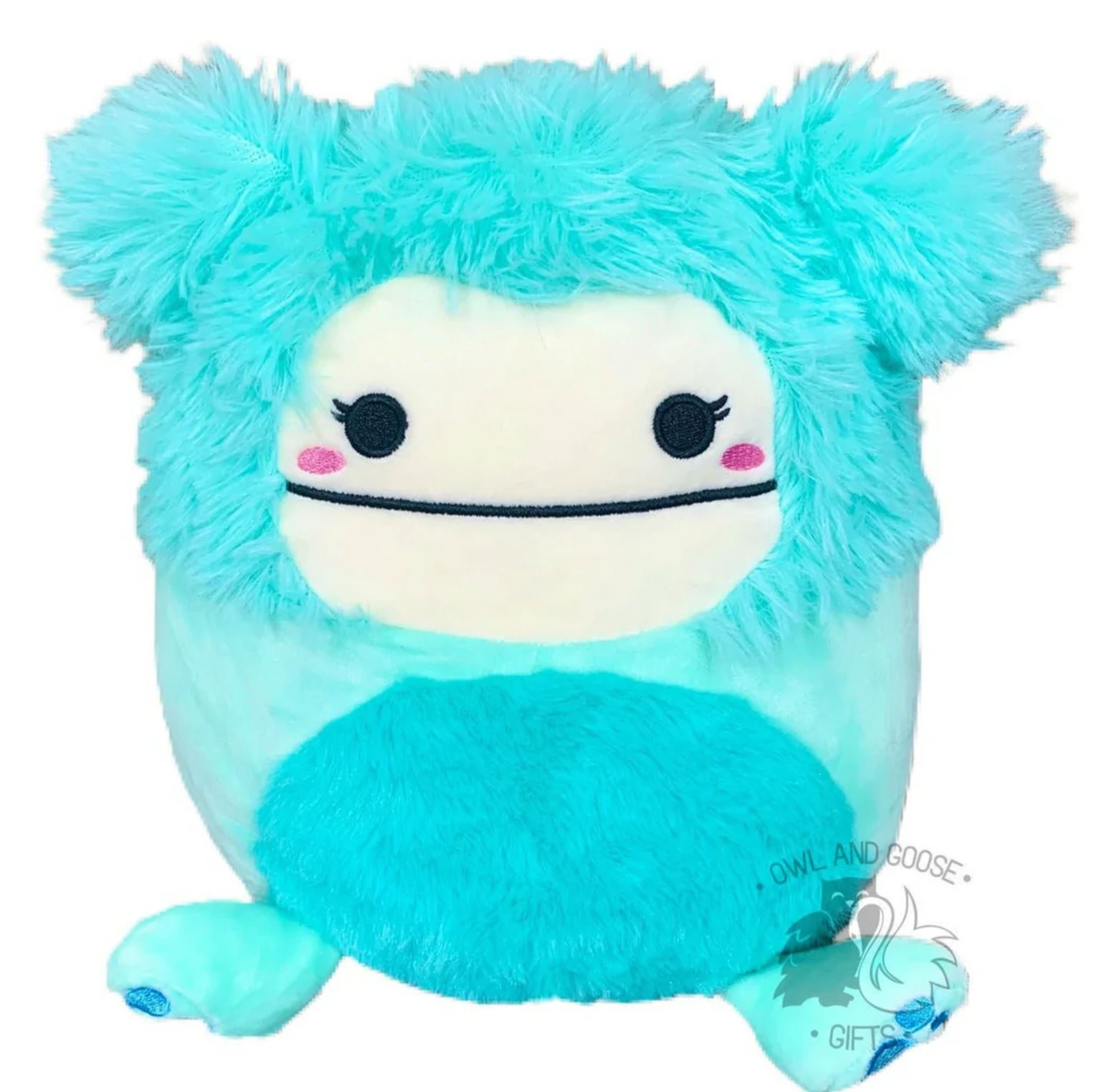 Joelle, the Sassy Squishmallow, also comes in what I call the most collectible plush size around. Eight-inch Joelle Squishmallows allow you to add many other sassy squad members to this pretty girl. In addition, you can expand into the fantasy squad or buy more Bigfoot Squishmallows to join this gorgeous and friendly plush.
Sassy 8″ Joelle Squishmallow Pros:
Joelle's eight-inch Squishmallow is the ideal size for fans who want extensive collections
Joelle Squishmallow also makes an adorable friend for kids with smaller hands
Joelle's colors and features pop much better with the eight-inch plush
Joelle has the famous expression that says she can do anything she dreams about
Joelle's eyelashes, smile, fuzzy bits, and blushing cheeks are perfect
Sassy 8″ Joelle Squishmallow Cons:
Eight-inch Joelle Squishmallows might not work well with kids who want cuddle buddies
Again, Joelle's collectible plush sizes will hypnotize you into buying more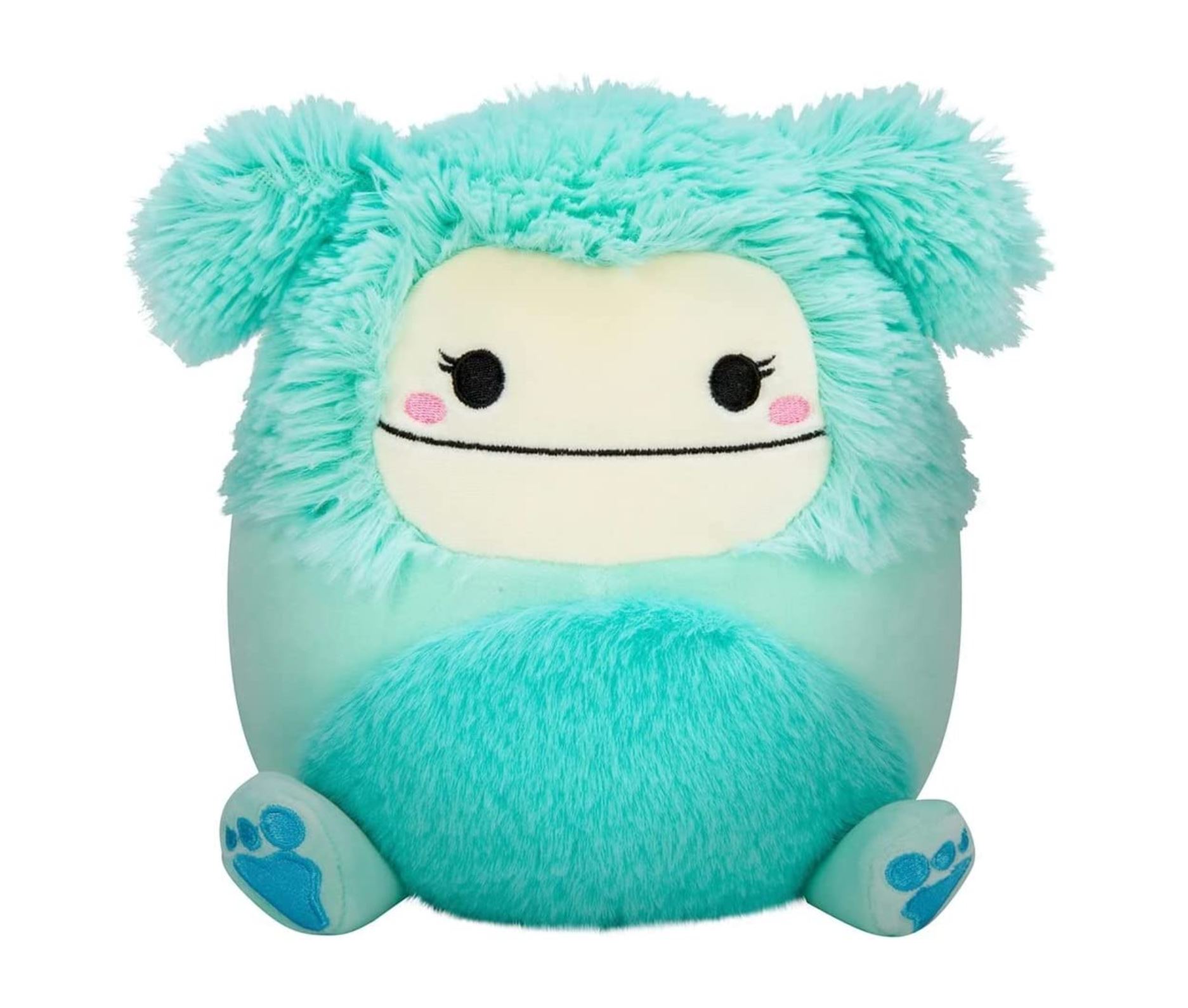 Joelle, the Sassy Bigfoot Squishmallow, starts expanding her plush size to reach closer to her dreams. Don't mistake the eight variants for the size. The Amazon store puts the 12-inch length in the specifications at the bottom of the page. Meanwhile, Joelle Squishmallow never fails to impress me with her friendly designs.
Sassy 12″ Joelle Squishmallow Pros:
Joelle, the blue Bigfoot Squishmallow, is a next-level joy for younger kids
Young kids can cuddle this Joelle Squishmallow at bedtime for comfort
Fans can also enjoy Joelle's 12-inch Squishmallow if you collect fewer plushies
Joelle's long eyelashes, broad smile, fuzzy parts, and pawprints never fail
Joelle somehow becomes cuter with each growth spurt
Sassy 12″ Joelle Squishmallow Cons:
Fans can only collect the medium Joelle Squishmallow if they don't have many plushies
Joelle's belly shrinks slightly with her larger-size Squishmallows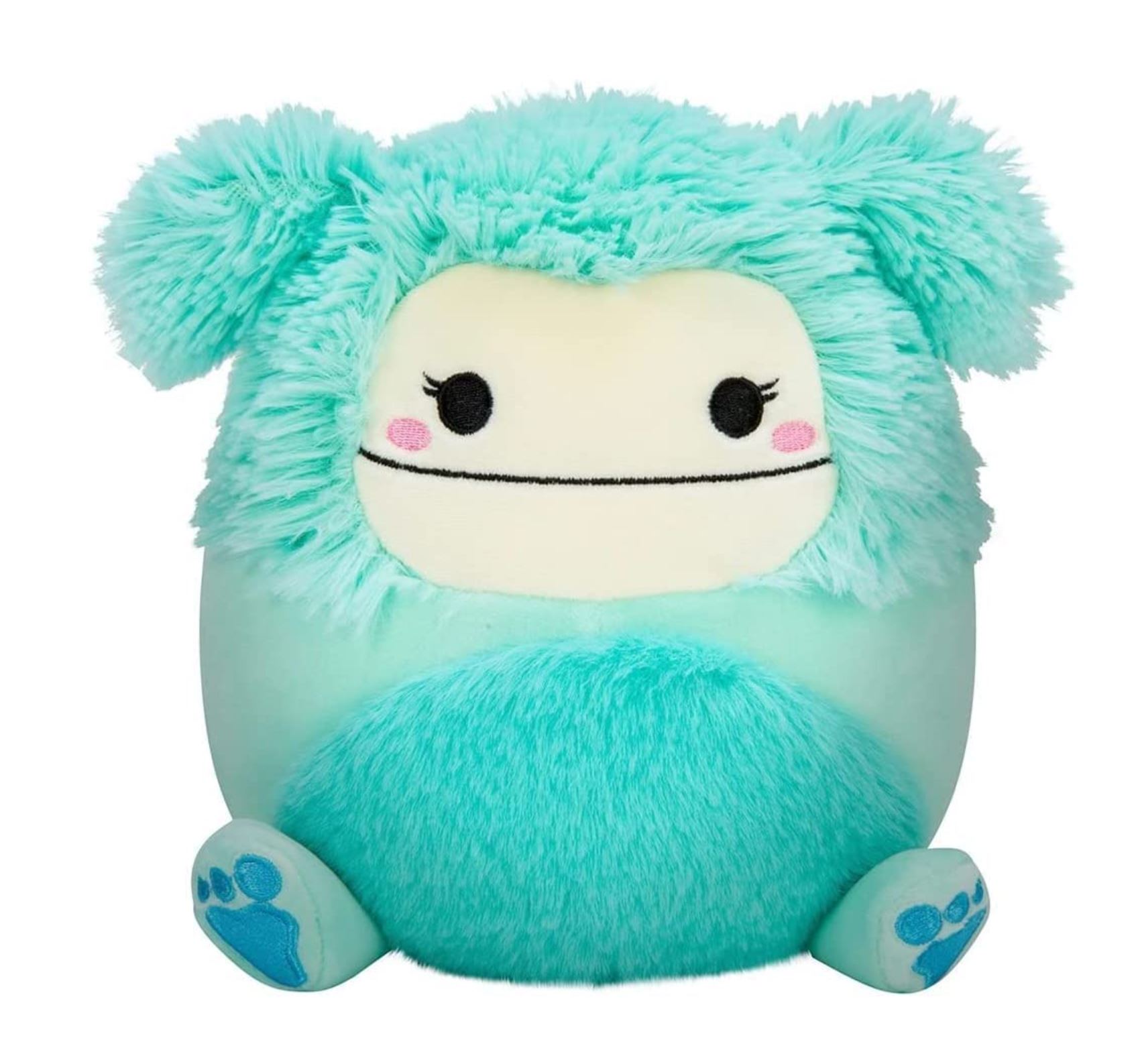 Joelle, the Blue Bigfoot Squishmallow from the sassy squad, also has a 14-inch plush you don't see on Squish Alert. It's not an original size but rather one that launched recently. Who cares if we can collect more of Joelle's Squishmallow dreams in a plush form? So, here are her 14-inch plush pros and cons to consider.
Sassy 14″ Joelle Squishmallow Pros:
Joelle, the Sassy Squishmallow, has a new 14-inch plush toy
Joelle's medium-sized Squishmallow appeals to young cuddlers as much as the last one
Joelle can't stop smiling broadly to invite fans to collect more of her
You can see Joelle's incredible eyelashes and pawprints, making her authentic
Fans can collect medium-sized Joelle Squishmallows among a smaller collection
Sassy 14″ Joelle Squishmallow Cons:
Joelle Squishmallow's smile will continue inviting you to buy more of her plush
Joelle's belly seems to shrink slightly from her last size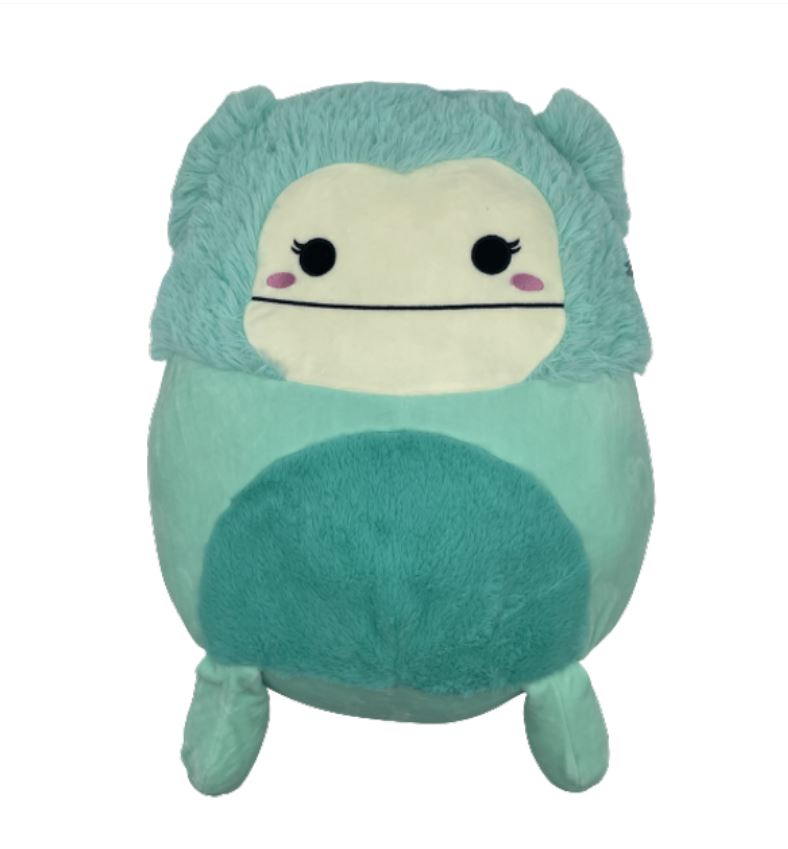 Joelle, the Sassy Squishmallow, has a 16-inch plush widely available in stores for fans of large Squishmallows. She looks like she's reaching further into the sky to catch her wild dreams among the stars. Meanwhile, she changes features slightly by having longer feet to carry her larger body, and her colors fade slightly.
Sassy 16″ Joelle Squishmallow Pros:
Joelle, the Blue Bigfoot Squishmallow, is a cuddle-a-minute joy in a large size
Joelle's large Squishmallow will welcome kids and fans who enjoy bedtime snuggling
Joelle's smile remains broad, and her eyelashes and blushing cheeks keep her pretty design
Joelle's fuzzy belly and mane give more way to the Sasquatch's mythical body
Fans will collect this among a hand full of large Squishmallows
Sassy 16″ Joelle Squishmallow Cons:
It's not the best size if you want many fantasy or sassy squad members
Joelle's colors fade slightly, turning almost green, and her belly shrinks a lot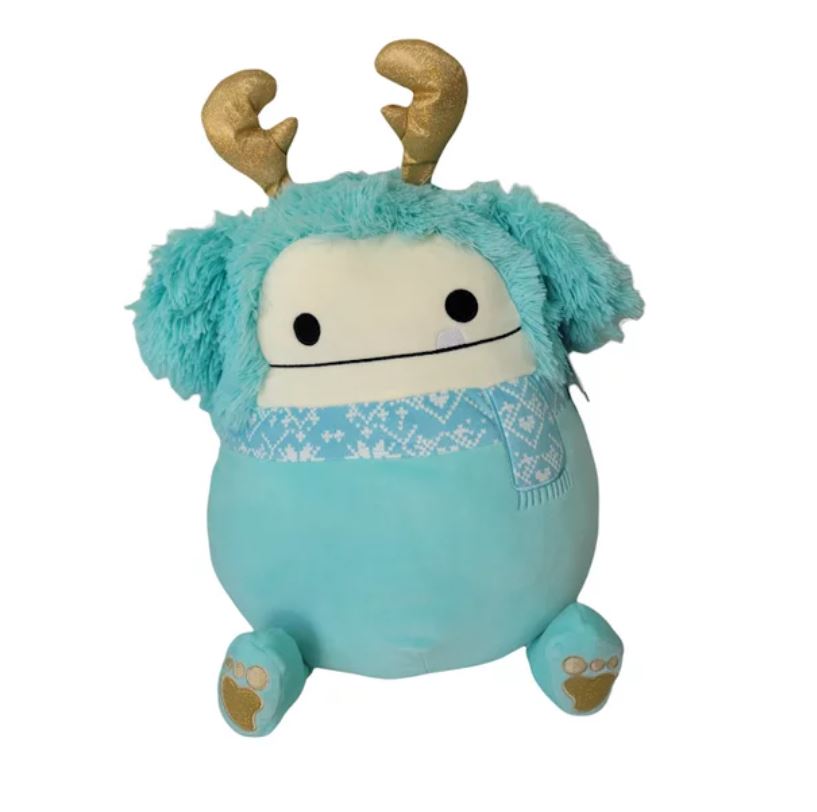 Joelle, the Winter Bigfoot Squishmallow, only has one size available in stores. Fortunately, the Christmas-themed Joelle Squishmallow with antlers is an alternative design if you'd like both of her large plushies. She has a scarf, antlers, and a naughty design with her tongue out. She's an adorably goofy Bigfoot Squishmallow.
Winter 16″ Joelle Squishmallow Pros:
Joelle, the Winter Bigfoot Squishmallow, brings a new style to stores
Joelle's 16″ winter Squishmallow belongs to Christmas, sassy, and fantasy squads
Joelle's large winter Squishmallow has antlers and a scarf to stand out more
She also has a goofy look on her face to bring changes to her usual designs
Kids will love cuddling Joelle Squishmallow's larger plush, and fans can add her to the mix
Winter 16″ Joelle Squishmallow Cons:
Fans can't collect many fantasy or sassy squad members with this Joelle
Joelle loses her fuzzy belly and blue pawprints, but she gains golden pawprints to match the antlers
Recommended Alternative for Joelle Squishmallows
Too few Joelle Squishmallow variants are in stores. So, I'll show you three fantastic Bigfoot Squishmallow alternatives to add to Joelle's dreams of becoming an ambassador. It will allow her to expand her unique wishes to other Bigfoot and fantasy squad members. So, let's see who makes a good match for her.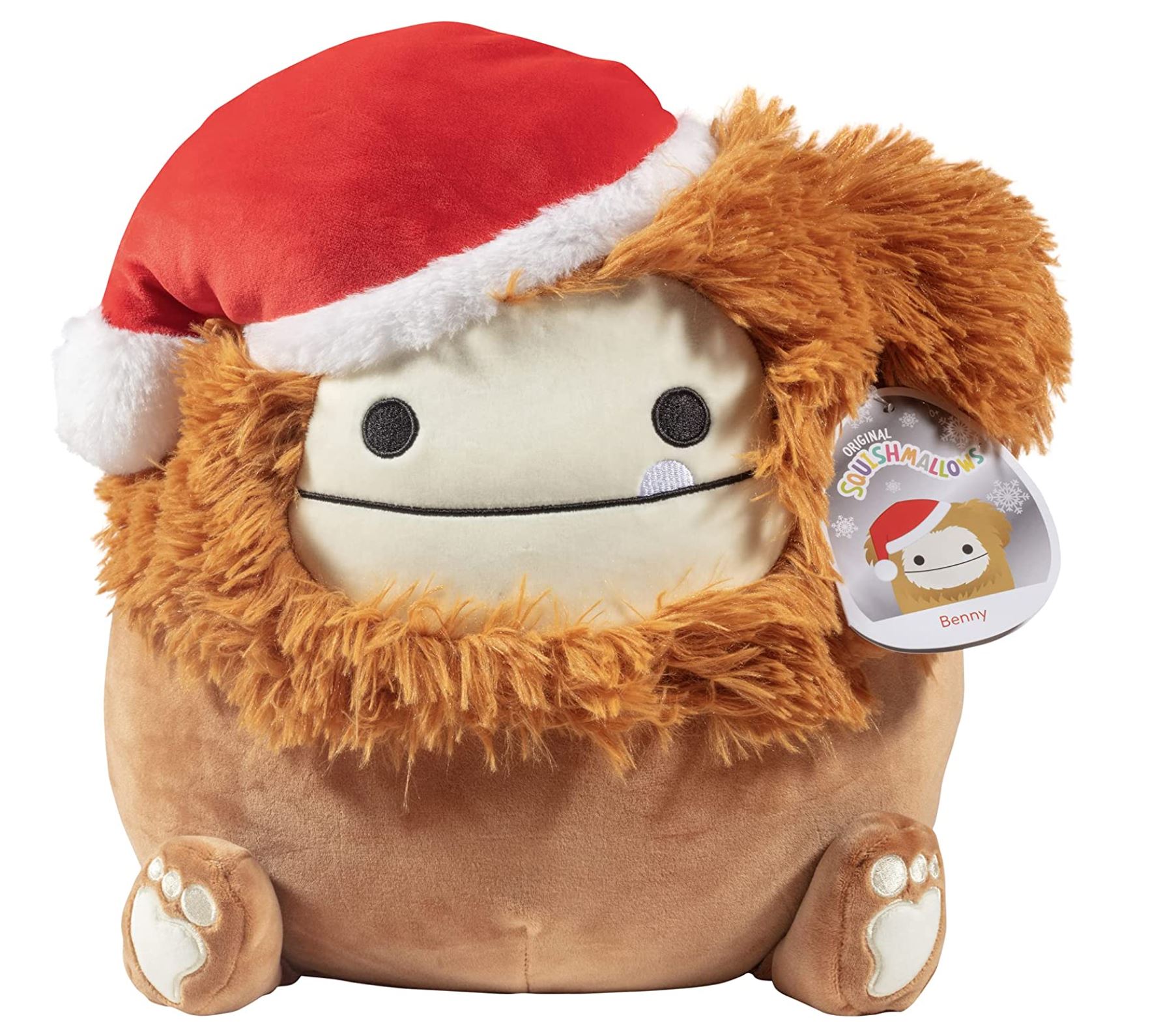 Benny, the Bigfoot Squishmallow, is one of the most famous Sasquatches worldwide. So, he would make an excellent friend and mentor for Joelle. In addition, he has many variants, sizes, and unique editions. The brown-colored Benny Squishmallow would bring some normalcy to how we think Bigfoots look in nature.
Quick Benny Squishmallow Pros:
Benny, the Bigfoot Squishmallow, is a famous friend
He expands the fantasy squad collection
You'll find many sizes and variants
Quick Benny Squishmallow Cons:
Benny Squishmallow might outshine Joelle with versions
He's brown, which doesn't suit every fantasy squad fan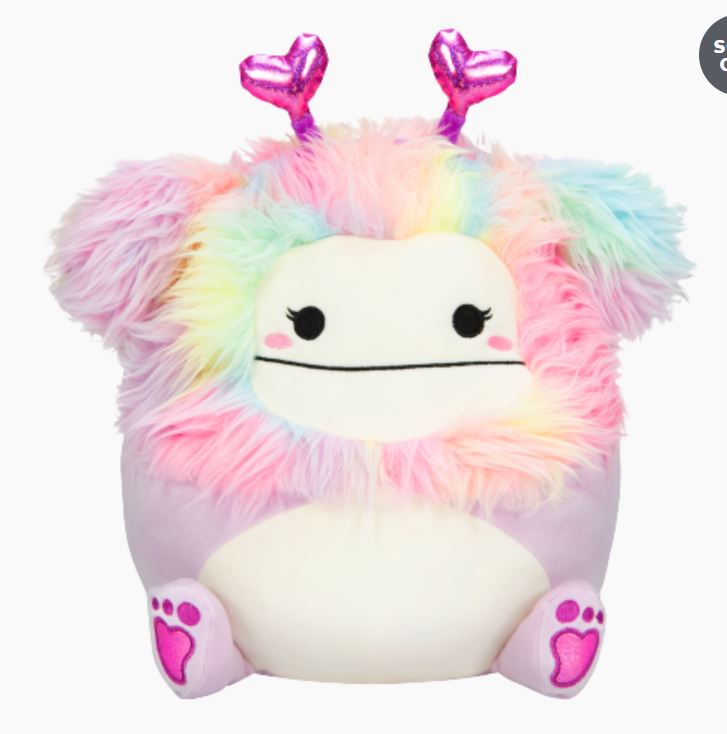 Conradina, the Bigfoot Squishmallow, is a genuinely unique girl and one of the newest Sasquatch Squishmallow members. She has fun, shimmering antlers, tie-dye rainbow colors, and a fuzzy mane to befriend Joelle with a new shade. In addition, she's a Select Series exclusive you can only buy from the Squishmallows store.
Quick Conradina Squishmallow Pros:
Conradina, the Bigfoot Squishmallow, is a limited edition from the official store
Conradina is exclusive and highly collectible
She adds gorgeous colors that contrast Joelle nicely
Quick Conradina Squishmallow Cons:
She's a limited edition and will sell out fast
She might be too pink for blue Bigfoot lovers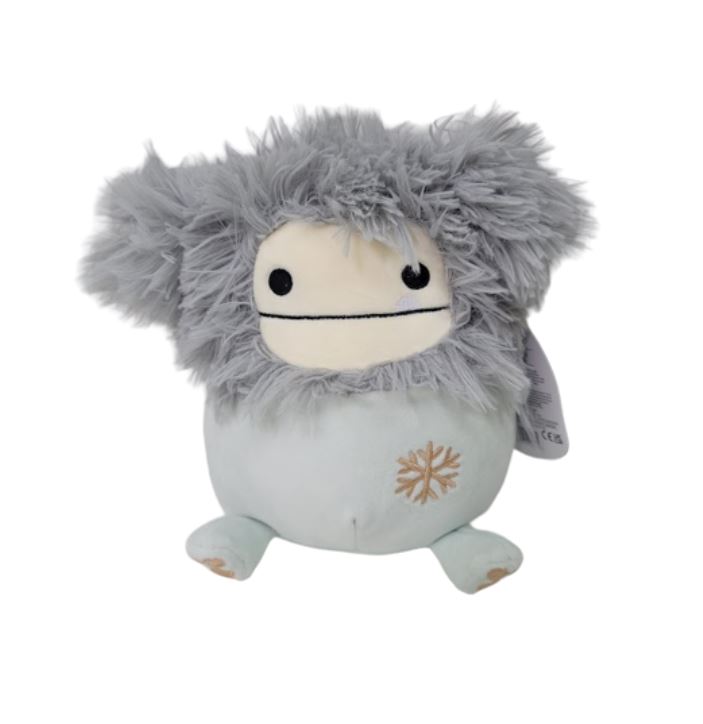 Evita, the Winter Bigfoot Squishmallow, is the ideal alternative for Joelle because she also dabbles in winter and Christmas affairs. Evita is a neutral-colored alternative for Joelle, not removing Joelle's bizarre dreams or passions. She would make an excellent friend for any Christmas-themed Joelle Squishmallow.
Quick Pros:
Evita, the Winter Bigfoot Squishmallow, is a sassy, fantasy, and Christmas squad member
Evita matches Joelle's multi-squad passions for further expansion
Evita also has a fuzzy mane and a broad smile to match Joelle
Quick Cons:
Evita's color is pretty neutral or dull
Evita's expression is as neutral as her color
FAQs
Question: Does Costco Sell Joelle Squishmallows?
Answer: Costco has an 8-Pack Fantasy and Wildlife Squishmallow Pack with a five-inch Joelle, the Sassy Squishmallow, inside. It also includes Meadow, Greta, Laura, Brian, Avery, Patty, and Pilar Squishmallows. Unfortunately, you can't buy loose Joelle Squishmallows at Costco, but the multi-pack has eight plushies.
Question: Does Claire's Sell Joelle Squishmallows?
Answer: Unfortunately, Claire's doesn't have a single Joelle, the Sassy Bigfoot Squishmallows. However, the store has a fantastic Claire's Exclusive 12″ Sassy Squad Squishmallows with a chance of getting Joelle. You'll have to visit Claire's store to pick Joelle, the Sassy Bigfoot Squishmallow, as your exclusive Claire's plush.
Question: Which Joelle Squishmallow Is Rare?
Joelle Squishmallow Guide: Conclusion
Joelle Squishmallow has a range of cute, adorable, sassy, and dreamy plushies to collect. She has so much personality and offers various attractive features, even crossing into other squads. You know how to find her unusual versions, and don't forget to add her to the Squish Alert app because she will return.
Joelle might not come back as her previous variations, but she'll come as new ones, multiplying into more squads. Joelle Squishmallow has plenty of potential, but start your collection with her perfect size. In addition, the 8″ Joelle, the Sassy Bigfoot Squishmallow, is beyond adorable and cheeky.
However, buy yourself a larger Joelle Squishmallow if you want the winter versions. Whatever you do, don't miss out on her store variations before they're gone like the others.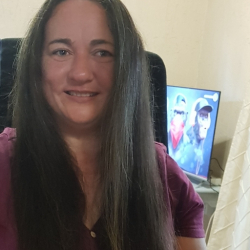 Latest posts by Caroline Lambert
(see all)