Are you also tired of people calling every larger-than-tiny Squishmallow a jumbo? The word "jumbo" is emphasized in Squishmallows, often incorrectly. Fortunately, I spent many hours ensuring that my Squishmallow sizes explained article would rest all doubts, including the dinnertime debates with family.
I'm an avid Squishmallows, Pokémon plush, and various pop-culture plush toys collector, and so are my children. However, I've been a lifelong plush toy enthusiast, collecting fandoms many don't know. Still, my family loves debating Squishmallow sizes. Admittedly, my kids are seasoned plush geniuses.
Meanwhile, I spent many hours learning the standard sizes of Squishmallow plushies to end all debates and avoid buying so-called jumbo Squishmallows from stores that don't know the dimensions. So, let me share them.
Bottom Line Up Front
Can you believe 21 Squishmallow sizes exist in 2023? Wow! Indeed, Squishmallows know how to start debates among fans and traders. However, I'll give you precise measurements for each Squishmallow size, the typical plush types in each range, and the metric measurements for my non-American friends.
In addition, I'll blow you away with quick ideas about how sizes work before choosing a careful system to show examples of each. The samples will reveal how large the Squishmallow is compared to an average 5′ 4″ woman's height or an everyday item. Meanwhile, I'm an avid collector who prefers quantity over showpieces.
So, my favorite Squishmallow size is eight inches, landing right in the medium range. It's ideal for collecting countless squad members and different squads. Furthermore, it's the perfect size to hold near when you feel stressed or want a quick plush cuddle. However, let's not spoil the fun.
Instead, discover what Squishmallows sizes are available and all the know-how about each one.
Squishmallow Sizes Explained: Scaling Plush
Squishmallows are so much fun, but it would be even more exciting if you understood the sizes, what to use them for, and how to get every Squishmallow's size out there. Wow! Now, that's a mouth full. But don't worry; I promise you'll enjoy everything I'm about to share, which goes beyond a standard, boring size chart.
An Overview of Squishmallow Sizes: A Quick Yet Boring Size Chart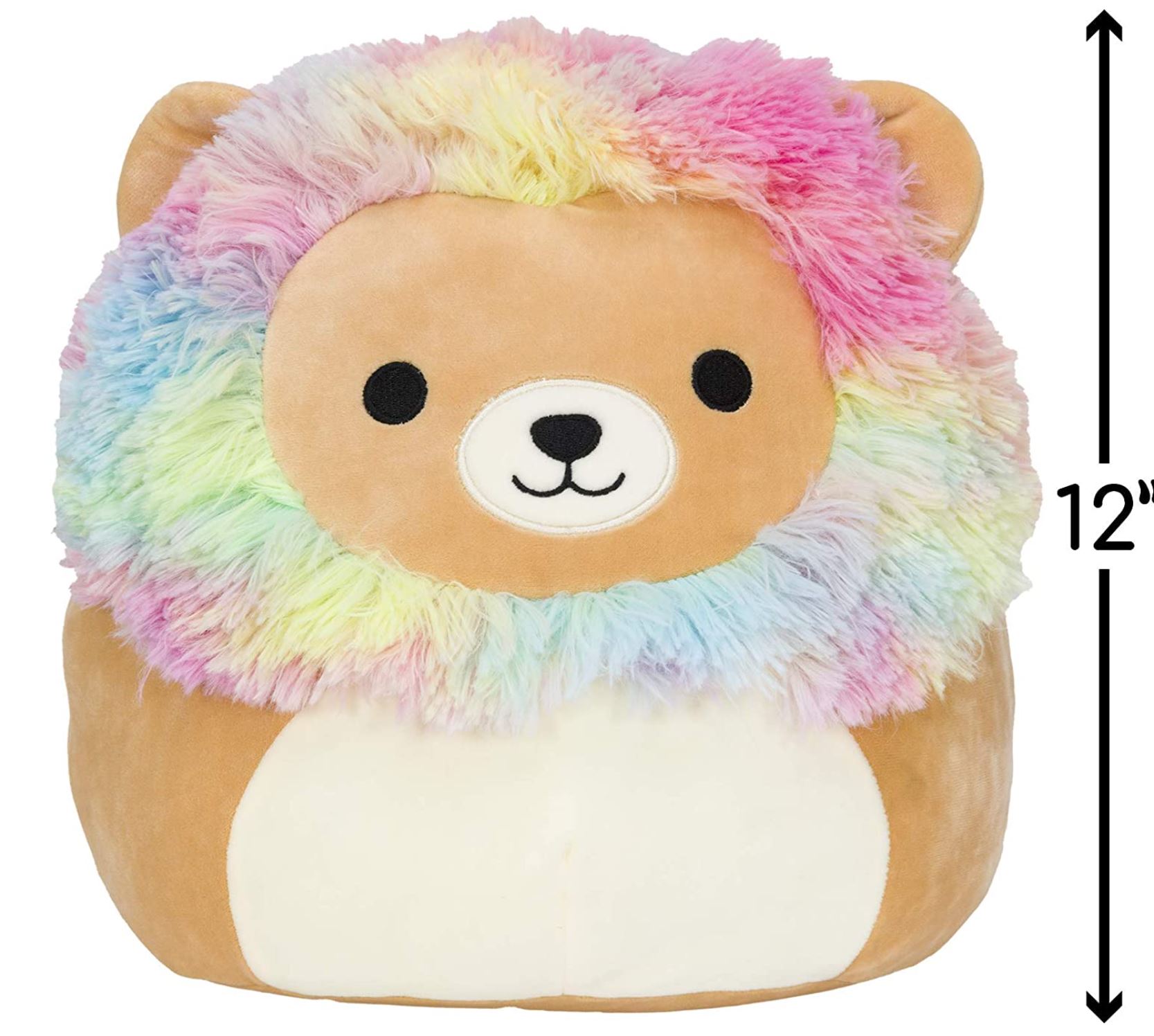 Squishmallows are a set number of inches tall, measuring from the floor to the tip of the plush toy's head. So, the longest part of the Squishmallow's body is how tall the plush looks. Alternatively, the HugMee Squishmallow range will measure from the tippy toes to the end of the plush's head.
Fortunately, Squishmallows don't have standard sizes for width or circumference. Indeed, I'll move along before that complicated thought lingers too long. However, Squishmallows once came in four sizes but now have 21 official sizes for various plush. I verified each size by searching online stores like Walmart.
Walmart is one of the most trusted stores to sell licensed Squishmallows with the correct information. So, I'm happy to use their extensive range of sizes for my chart. Meanwhile, from my search, I can show you which types are common to each size of Squishmallow.
So, here's a quick size chart with inches and centimeters (for my metric friends).
| | | | |
| --- | --- | --- | --- |
| Quick Size | Inches | Centimeters | Common Types |
| Micro | 2 | 5.08 | Micromallows / Squishville Minis |
| Mini | 3.5 | 8.89 | Keychains |
| Small | 5 | 12.7 | Squishmallows / Stackable Squishmallows / Flip-A-Mallows |
| Small | 6 | 15.24 | Squishmallows |
| Small | 7 | 17.78 | Squishmallows |
| Small | 7.5 | 19.05 | Squishmallows |
| Small | 8 | 20.32 | Squishmallows / Flip-A-Mallows / Stackable Squishmallows |
| Medium | 10 | 25.4 | Squishmallows / Squishdoos |
| Medium | 11 | 27.94 | Squishmallows |
| Medium | 12 | 30.48 | Squishmallows / HugMees  Flip-A-Mallows / Stackable Squishmallows / Squishdoos |
| Medium | 13 | 33.02 | Squishmallows |
| Large | 14 | 35.56 | Squishmallows / HugMees / Stackable Squishmallows |
| Large | 15 | 38.1 | Squishmallows |
| Large | 16 | 40.64 | Squishmallows / HugMees / Stackable Squishmallows |
| Large | 18 | 45.72 | HugMees |
| Large | 19 | 48.26 | Squishmallows |
| Jumbo | 20 | 50.8 | Squishmallows / HugMallows / Stackable Squishmallows |
| Jumbo  | 22 | 55.88 | HugMallows / HugMees / Hug-A-Pets |
| Extra-Large | 24 | 60.96 | Squishmallows |
| Extra-Large | 26 | 66.04 | HugMees / HugMallows / Hug-A-Pets |
| Giant | 28 | 71.12 | HugMees / HugMallows |
Quick Tip for Finding Specific Squishmallow Sizes
Jessica Dao created the famously rising Squish Alert app that allows you to seek new and restocked Squishies as major retailers bring them into stores. Do you know what else Squish Alert does? It has a Squishionery that shows you every Squishmallow born into this world. In addition, it offers every size available for it.
The differences below show how Squish Alert's Squishionery helps to find every size of your favorite squad member. For example, Wyatt, the Frog Squishmallow, only comes as a Select Series, limited-edition 12″ plush. In contrast, in her basic form, Lola, the Unicorn Squishmallow, has seven official sizes from which to choose.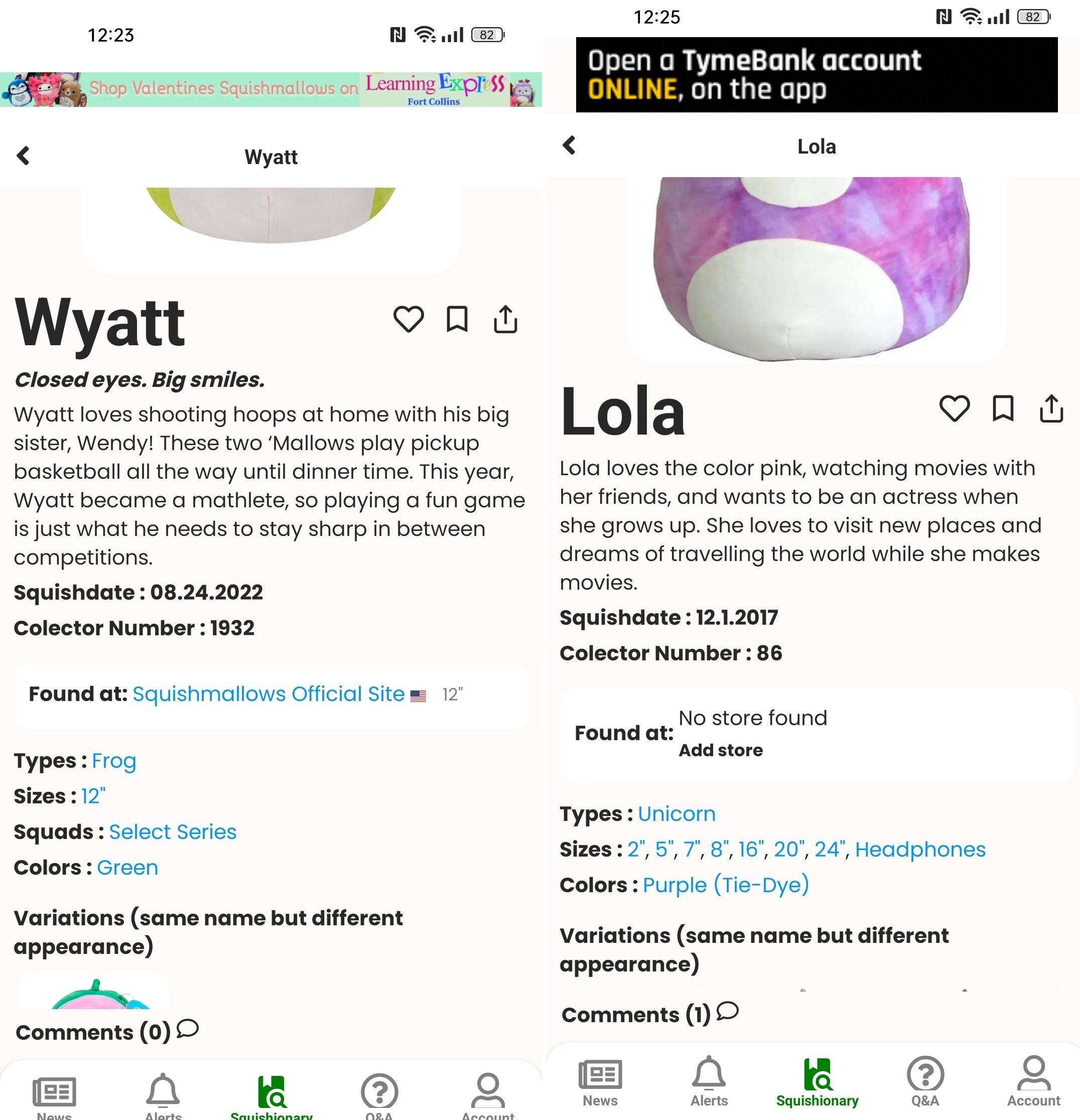 Important Note: The Squish Alert app can be wrong about which stores have stock, or it can be delayed in sharing the news. My picture shows how the Lola Squishmallow isn't available in stores. Yet, I already shared Lola Squishmallow's 12″ Plush available on the Squishmallows store. So, be careful of delays.
Otherwise, the flawless app lets you see every size imaginable for various Squishmallows.
Who Suits Which Squishmallow Size?
Typically, you need one sentence to understand what each "quick size" does for Squishmallow fanatics. So, here's a brief explanation of what you could do with various size Squishmallows:
Micro Squishmallows are tiny Squishville friends. They're fantastic for kids but don't do much for older fans.
Mini Squishmallows are portable friends anyone can use on backpacks, keychains, or baby strollers.
Small Squishmallows are beautiful plushies that look like regular ones and work for kids and older fans.
Medium Squishmallows are the most incredible choices for collectors who want tons of plush.
Large Squishmallows are better for fans who enjoy smaller collections and children who wish to cuddle.
Jumbo Squishmallows are showpieces for die-hard fans or kids who enjoy bedtime plushies.
Extra-large Squishmallows are insanely massive and fit die-hards with a larger bed.
Giant Squishmallows are complete insanity and require tons of space in a child's or adult's bedroom.
How Will I Select Squishmallow Size Examples?
It's challenging to show examples of all 21 Squishmallow sizes unless you have all day. So instead, I'll show you models of each "quick size," such as medium or large. That gives me eight examples to share. However, I'll add two adorable Squishmallow examples of different sizes (where applicable) to each "quick size."
For example, micro Squishmallows only have one size, but large Squishmallows have five sizes. In addition, I'll choose two examples for each size category by following these fun rules:
It must be the most beautiful one I spot first on a loading page. So, it must have tie-dye colors, punk hair, or some unique plush to make my examples.
It must be an original Squishmallow. So, I'll stick to Walmart and Amazon's official stores to find examples.
Please remember that my size examples don't show the best Squishmallows in any squad. I'm picking the first beautiful examples on the loading page. So, there's no rocket science. It's simply to show you the size.
Squishmallow Sizes Explained: Visual Examples
I know visualizing a size can be challenging. Still, I'm a writer who intends to make it much simpler by comparing the Squishmallow's height to a 5′ 4″ woman. Alternatively, I'll use everyday items, like credit cards or iPhones, to help you visualize the Squishmallow's height or length.
I hope that helps you visualize each one better because I don't have Squishmallows in every size category. In addition, I'll give you quickfire pros and cons for each size.
Micro Squishmallow Examples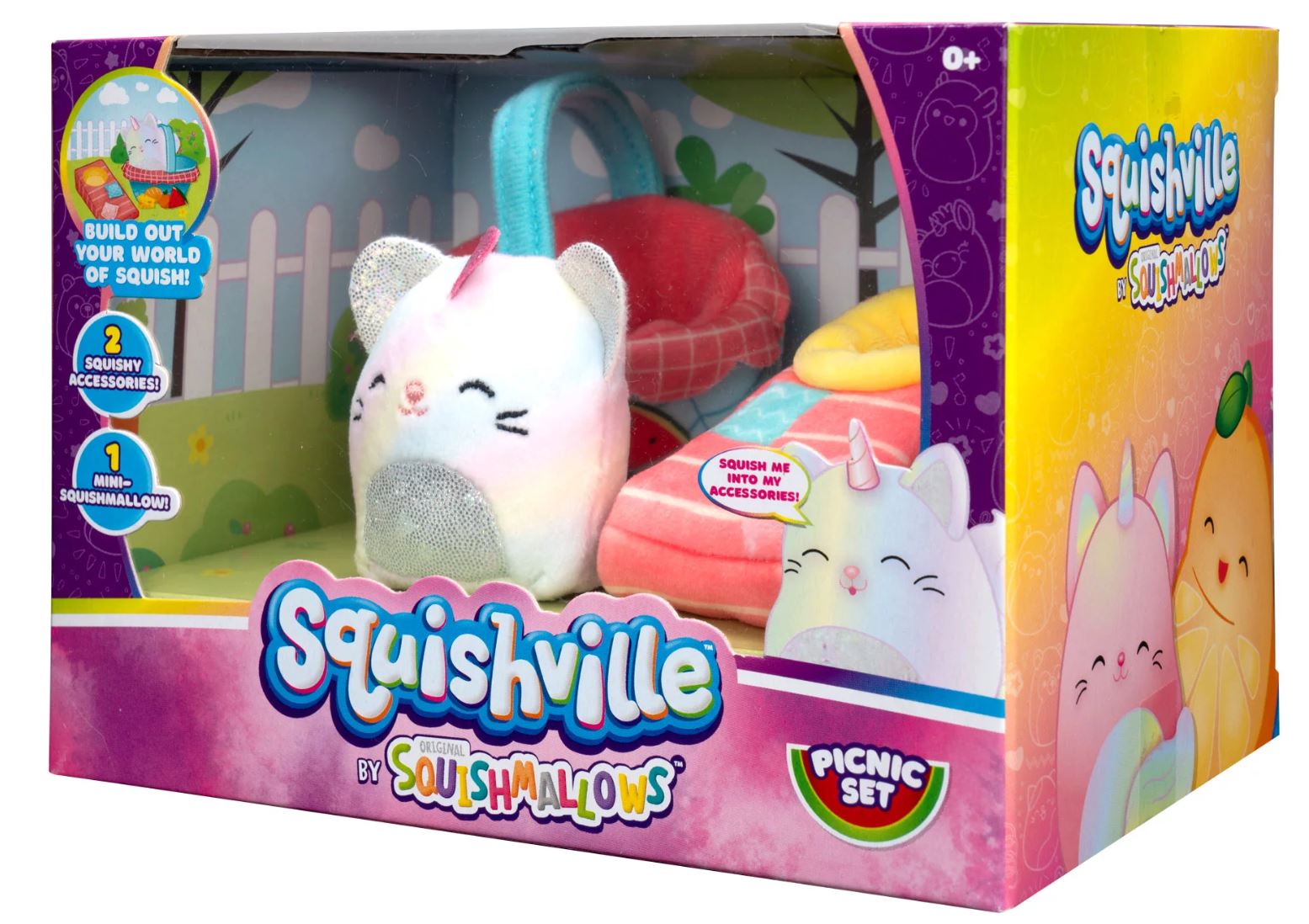 I can't compare micro Squishmallows to the average size woman because the little Squishville residents only measure two inches tall, no matter which version you pick. All Micromallow plush are two inches tall. However, I can tell you what else is two inches tall. Get your head out of the mud because I'm talking about credit cards.
A credit card is roughly two inches wide to give you a size comparison. Meanwhile, my first example is Danya, the Bunny Squishville Micromallow, who comes with a fun playset. In addition, Kelsey, the Cat Squishville Micromallow, makes a brilliant alternative example with her adorable plush vehicle suitable for babies.
Micro Squishmallow Pros:
Micromallows are adorably tiny and include accessories
The Squishville friends are ultra-soft and squishy
The size is excellent for kids who love playing with plush
The mystery pack of Micromallows is exciting to open
Many characters come as Micromallow Squishmallows
Micro Squishmallow Cons:
Micromallows aren't baby-friendly unless the packaging confirms it
Most Micromallows come as playsets or in multi-packs
Mini Squishmallow Examples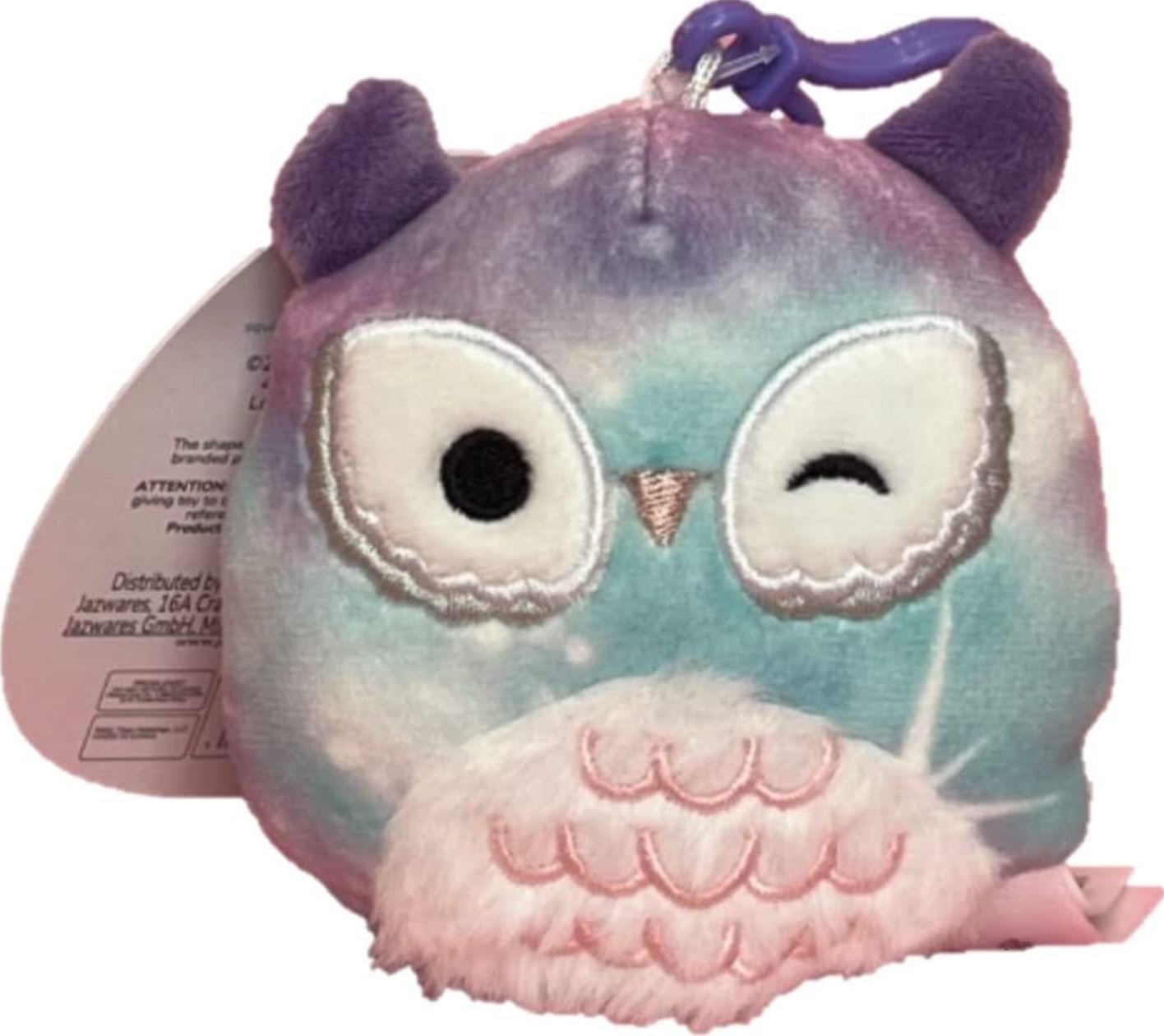 Mini Squishmallows only include the keychain versions of your favorite squad members. Nothing says you can't wear one in your work bag. Fortunately, many squad members have become mobile-friendly for parents to attach to strollers or backpacks. Meanwhile, a credit card is suitable for comparison again.
However, you'll flip the card length-wise to get a rough comparison of how tall Squishmallow keychains are at 3.4 inches. Meanwhile, Solina, the Owl Squishmallow Keychain, is a beautiful, colorful example. In addition, Caparinne, the Bigfoot Squishmallow Keychain, shares another cute and imaginative example.
Mini Squishmallow Pros:
Mini Squishmallows have clips to attach to anything
Various squad members become part of the keychain family
The mini Squishmallows have as much detail as the small and medium sizes
Kids can take their Squishmallow friends anywhere as a travel mate
Older fans can go wild collecting countless Squishmallow keychains
Mini Squishmallow Cons:
They have a clip-on piece that might make a display shelf look odd
The Squishmallow keychains are only safe for strollers if the baby can't remove them
Small Squishmallow Examples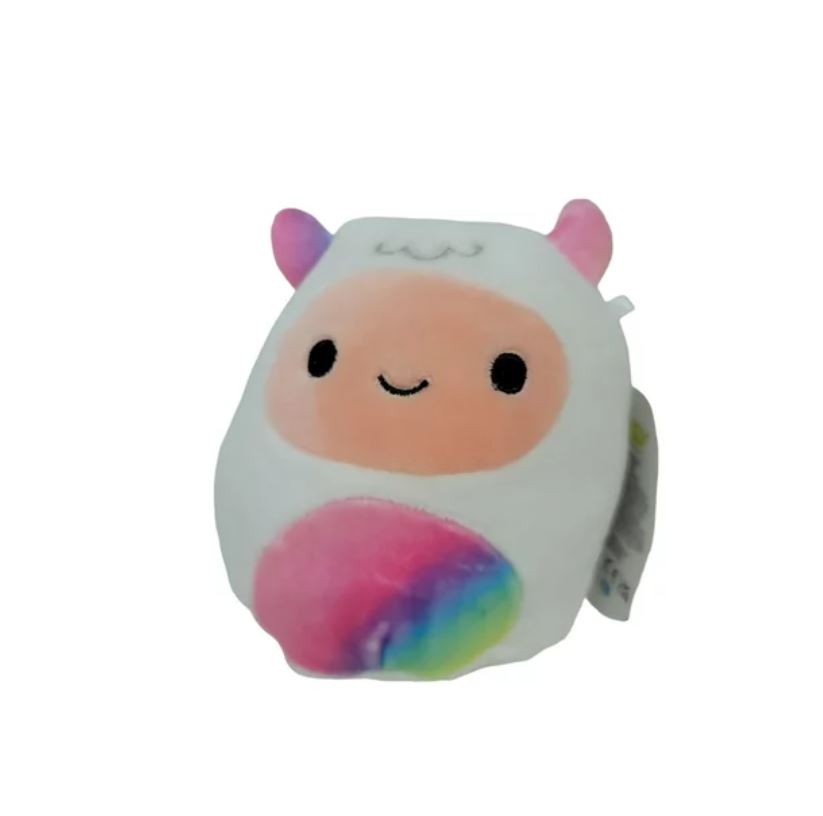 Small Squishmallows range from five to eight inches. So, I'll use two examples to help you visualize the sizes. Yuri, the Rainbow Yeti Squishmallow, is five inches tall, the same height as an iPhone. In addition, she's an adorable fantasy squad member with a beautiful rainbow-colored stomach.
Next, I'll use Drow, the Dragon Squishmallow, as an eight-inch example, ironically measuring the same height as an iPad mini. It's a collectible size that allows you to expand your Squishmallows beyond your dreams. Furthermore, Drow Squishmallow's fantasy-inspired design is magnificent and has extra width with wings.
Small Squishmallow Pros:
Small Squishmallows are ideal for collectors who want countless squad members
The smaller Squishmallows also welcome multiple squad collections
The size is simple to carry around if kids want another travel companion
You can easily place many small Squishmallows in a neat display cabinet
Older fans will love that eight-inch Squishmallows have more friends than other sizes
Small Squishmallow Cons:
Small Squishmallows don't make the best bedtime companions for kids
Die-hard collectors who feel passionate about specific characters want massive options
Medium Squishmallow Examples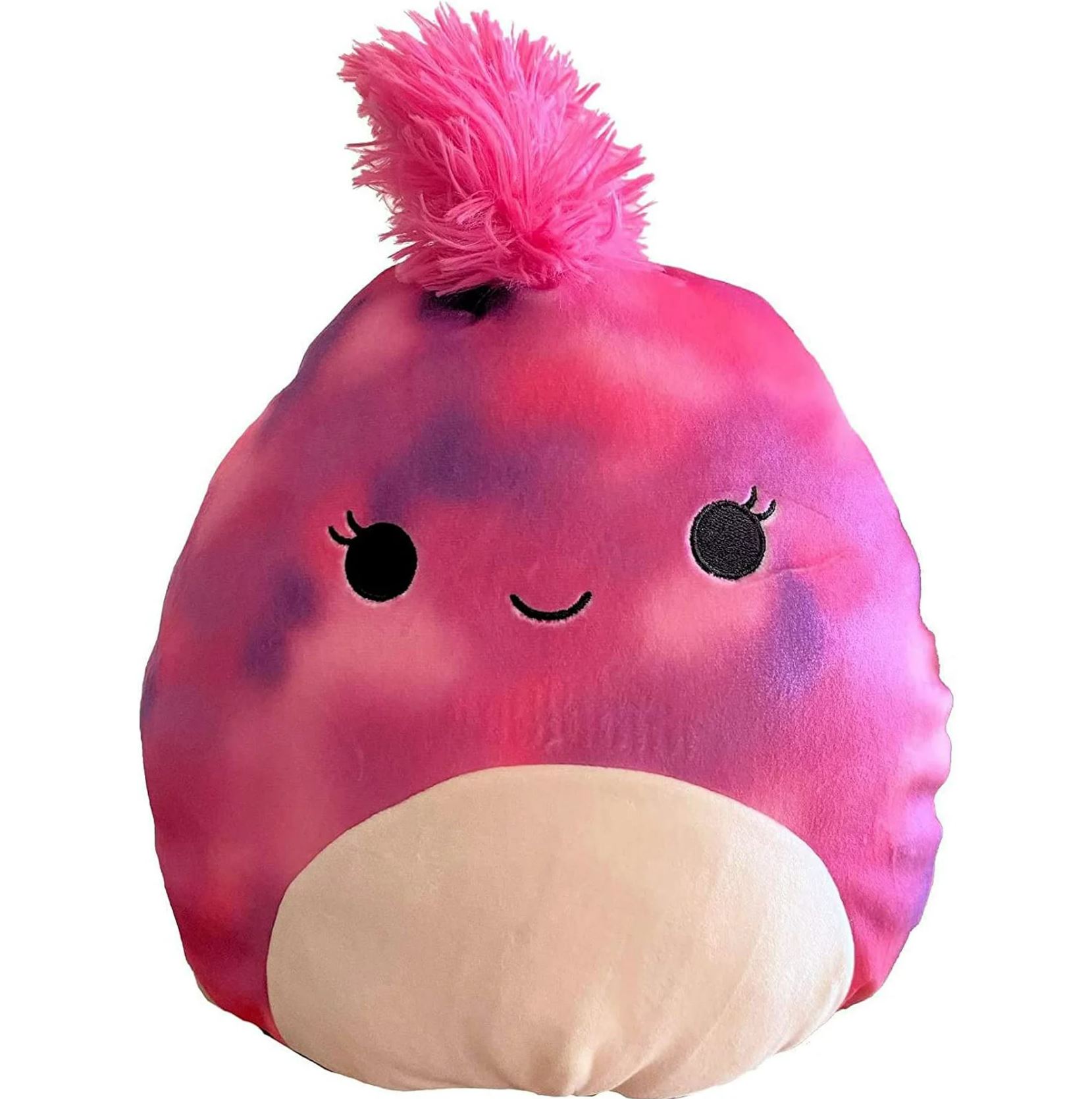 Medium Squishmallows marry the love of kids with serious collectors who want larger plushies on their beds or shelves. So, let me introduce two incredible examples. Firstly, Lovisa, the Chameleon Squishdoo, is an attitude-filled, pink-rocking plush measuring ten inches tall. She's the same height as a dollar bill's length.
Lovisa Squishmallow is a unique girl with a value matching the dollar. Alternatively, Leonard, the Rainbow Lion Squishmallow, measures 12 inches tall. Leonard Squishmallow would reach an average woman's upper calf because he's the same height as a ruler. Ironically, a lion matches a ruler, and he's a leader in the safari.
Medium Squishmallow Pros:
Medium Squishmallows offer the world between collectibles and cuddles
Medium Squishmallows cover various sizes and have plenty of squad members
Children will begin loving the cuddle potential of 12″ Squishmallows
Fans who enjoy specific Squishmallows will love the medium size plushies
Medium Squishmallows feel softer than the smaller and mini versions
Medium Squishmallow Cons:
Sometimes, medium Squishmallows lose quality in their design and details (not always)
You'll be overwhelmed with options if you start collecting medium Squishmallows
Large Squishmallow Examples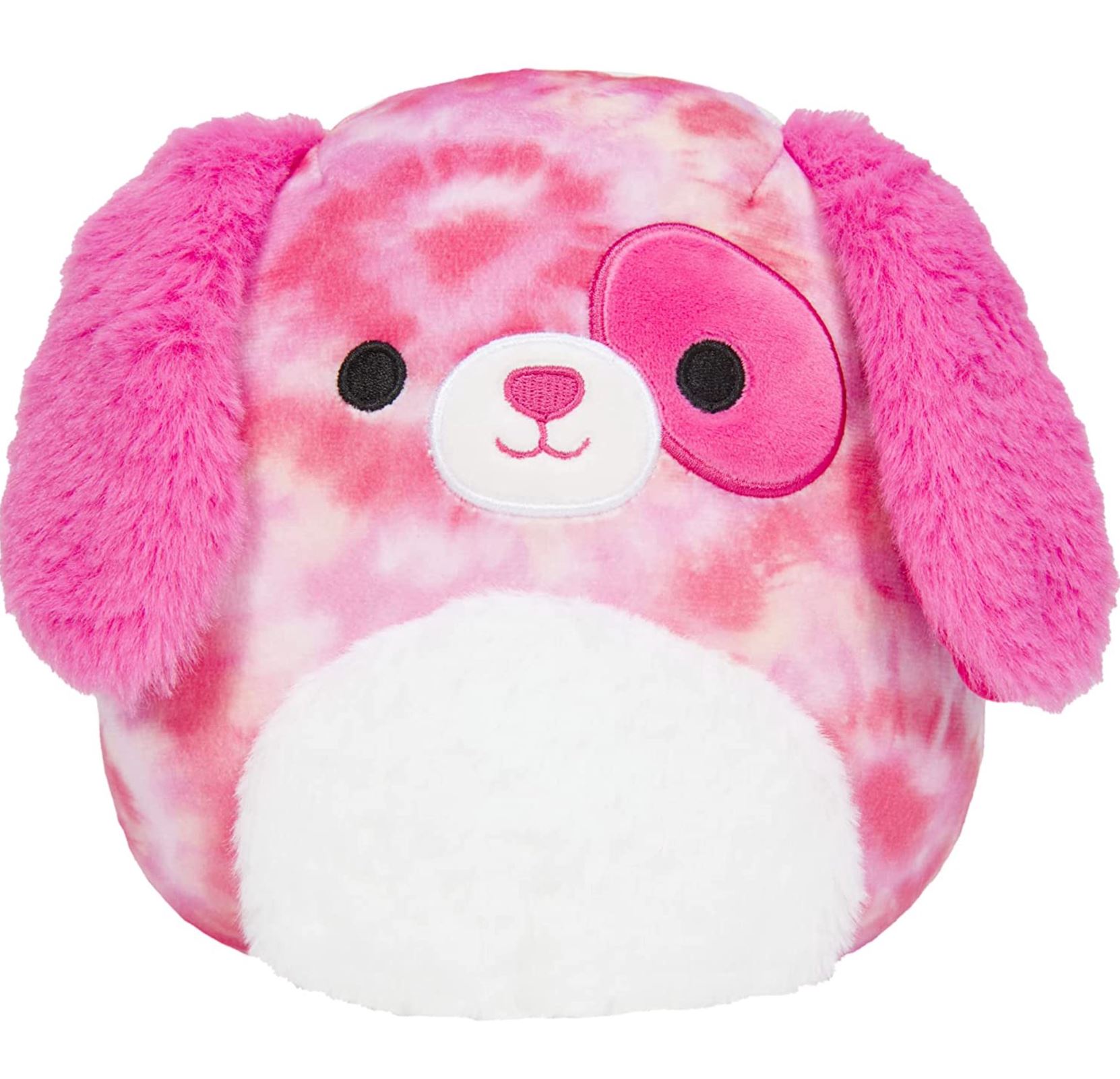 Large Squishmallows have as many sizes as small versions. So, let me share two examples to help you visualize the Squishmallow sizes properly. I'll start with Detina, the Tie-Dye Dog Squishmallow, measuring 14 inches tall. This adorably colorful puppy Squishmallow is about the same height as an average laptop screen's width.
Alternatively, I'll show you Paedra, the Pandacorn Squishmallow, measuring 16 inches tall, close to reaching an average woman's knees. A car with 16″ rims will match Paedra's size if that helps more. Meanwhile, she's an incredible example from the fantasy squad, one of my ultimate collectibles.
Large Squishmallow Pros:
Large Squishmallows start coming near the average woman's knees, with 19″ plushies tickling them
Large Squishmallows make excellent plush friends for little kids to snuggle
This size also works for fans who specifically enjoy a Squishmallow character
Large Squishmallows also work well if you love in-your-face plushies
Squishmallows tend to grow softer and more marshmallow-like with bigger sizes
Large Squishmallow Cons:
Large Squishmallows don't easily fit into most display cabinets or bookshelves
Large Squishmallows don't keep their shapes nicely in the washing machine
Jumbo Squishmallow Examples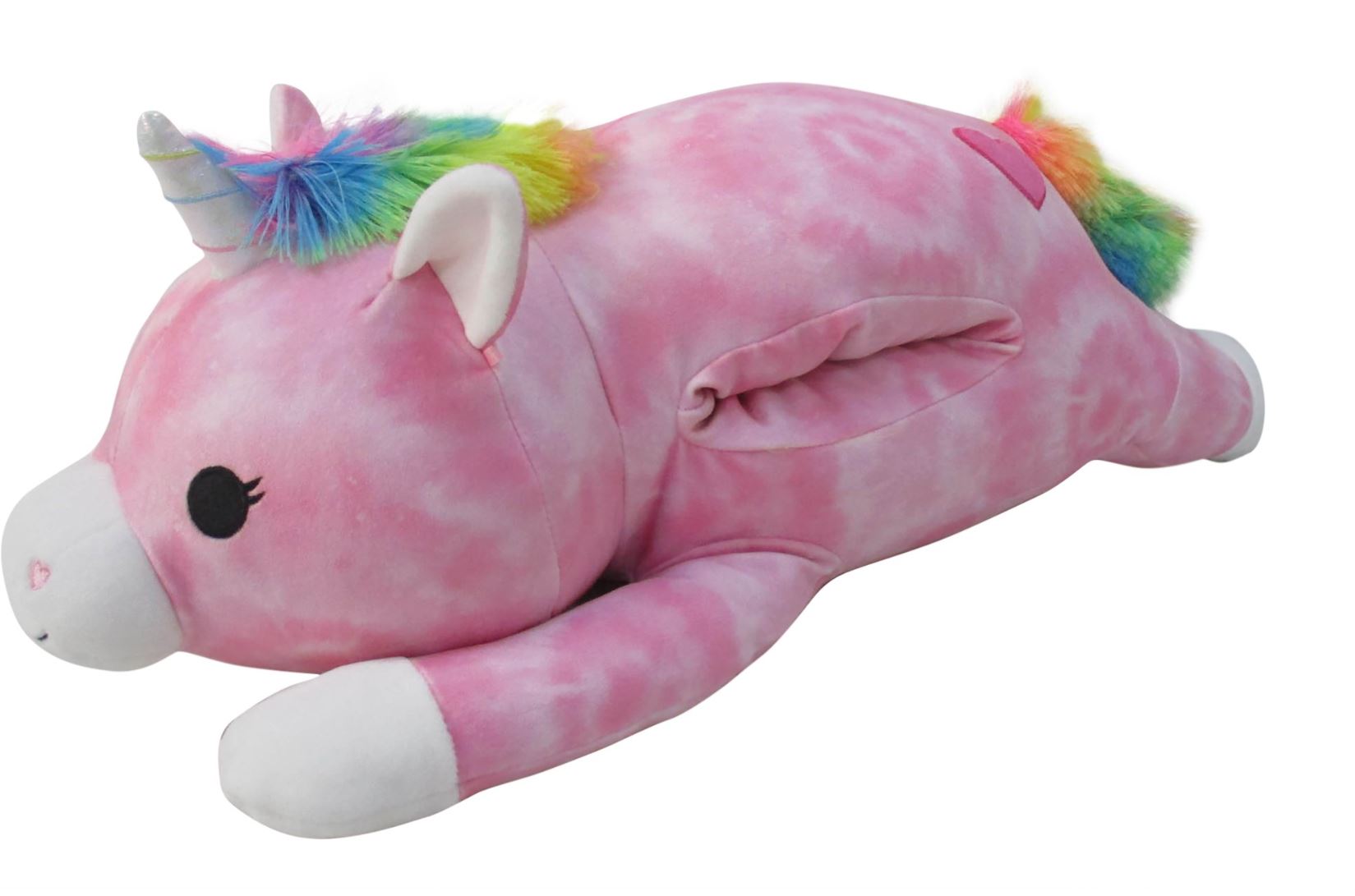 Jumbo Squishmallows are all the rage, but little do fans know they come in two sizes. Danya, the Rainbow Bunny Stackable Squishmallow, measures 20 inches long. So, she's a jumbo Squishmallow from ear to ear but not in height. However, she compares nicely to three soda cans in a row or reaches over a woman's knees.
Meanwhile, Angelie, the Unicorn Hugmallow, is the larger 22″ jumbo Squishmallow. Two inches can make a difference, especially for avid fans and collectors. So, the 22″ Squishmallow comes to a woman's upper thighs. In addition, HugMallows and Stackable Squishmallows are fantastic bed buddies for kids and plush fans.
Jumbo Squishmallow Pros:
Jumbo Squishmallows are a massive hit in 2023, and everyone wants one
Jumbo Squishmallows are fantastic to own a few among other sizes
Children will sleep like a dream while dreaming of unicorns and bunnies of this size
Older fans can also enjoy using jumbo Squishmallows as pillow buddies
The jumbo-size Squishmallow more commonly comes in odd plush types
Jumbo Squishmallow Cons:
Jumbo Squishmallows have limited numbers of squad members
Many jumbo Squishmallows start losing shape and look like they could use more details
Extra-Large Squishmallow Examples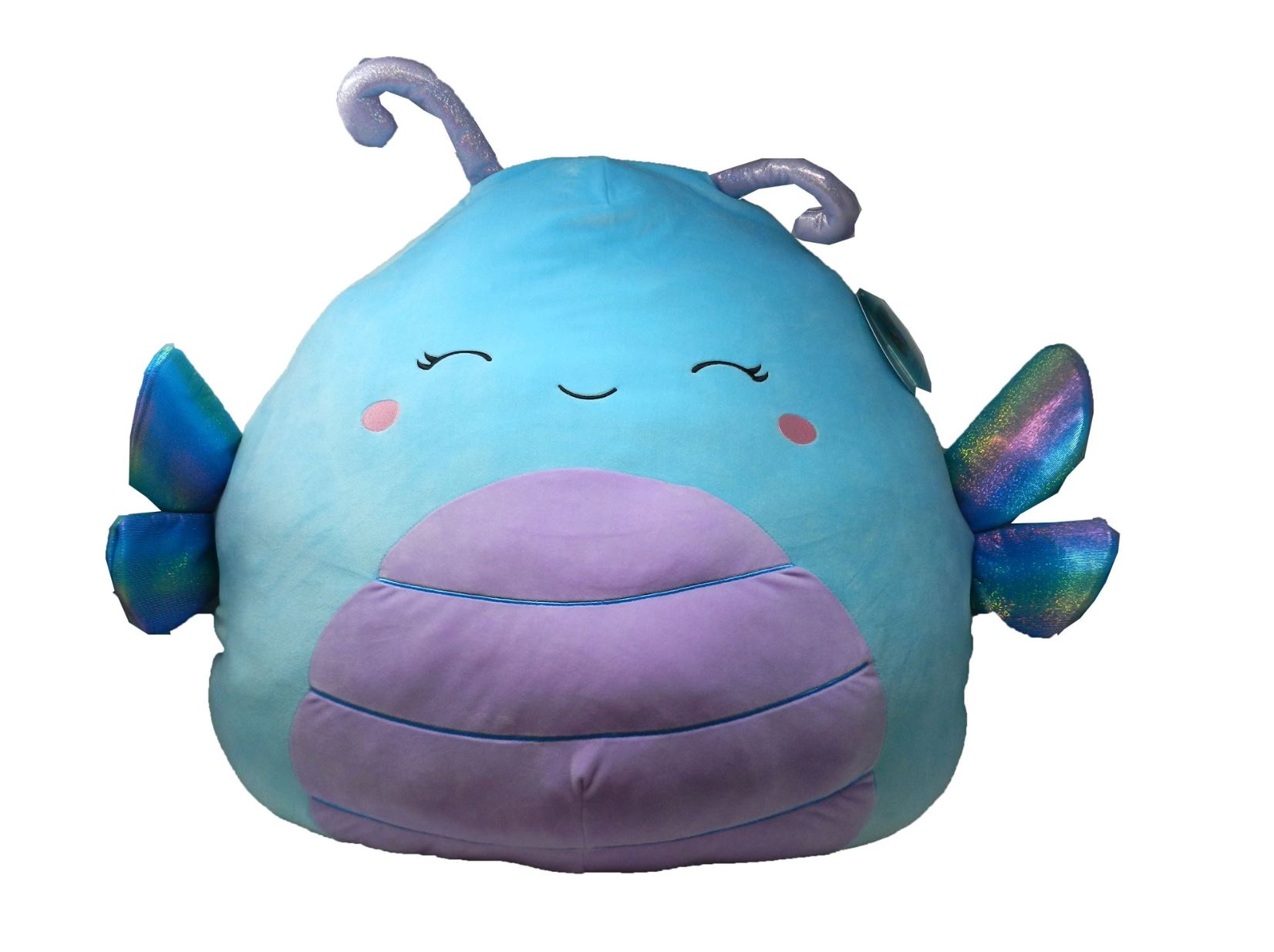 Heather, the Dragonfly Squishmallow, is a beautiful and colorful plush that would come to the top of a woman's upper thighs without trouble. In addition, the traditional-styled Squishmallow has a wider body that makes Heather a giant on your bed. Extra-large Squishmallows start reaching near a woman's pelvis.
Next, Raquel, the Pegacorn HugMee Squishmallow, measures 26 inches long and would easily touch a woman's upper thighs. It would come pretty close to the top of your legs. Meanwhile, the HugMee must be on its side to be this tall because HugMees measure from the tippy toes to the top of their heads.
Extra-Large Squishmallow Pros:
Extra-large Squishmallows are an insane yet satisfying investment for die-hard fans
Extra-large Squishmallows also make incredible plush friends for kids over three
Extra-large Squishmallows often come as unique characters or once-off members
Die-hard fans will enjoy this size taking up the entire room
HugMees and other special Squishmallow types of this size look more realistic
Extra-Large Squishmallow Cons:
Extra-large Squishmallows aren't too safe for kids under three
These Squishmallows require tons of space and a massive washing machine
You can't put them on a bookshelf or with many others on a bed
They don't come as many squad members
Giant Squishmallow Examples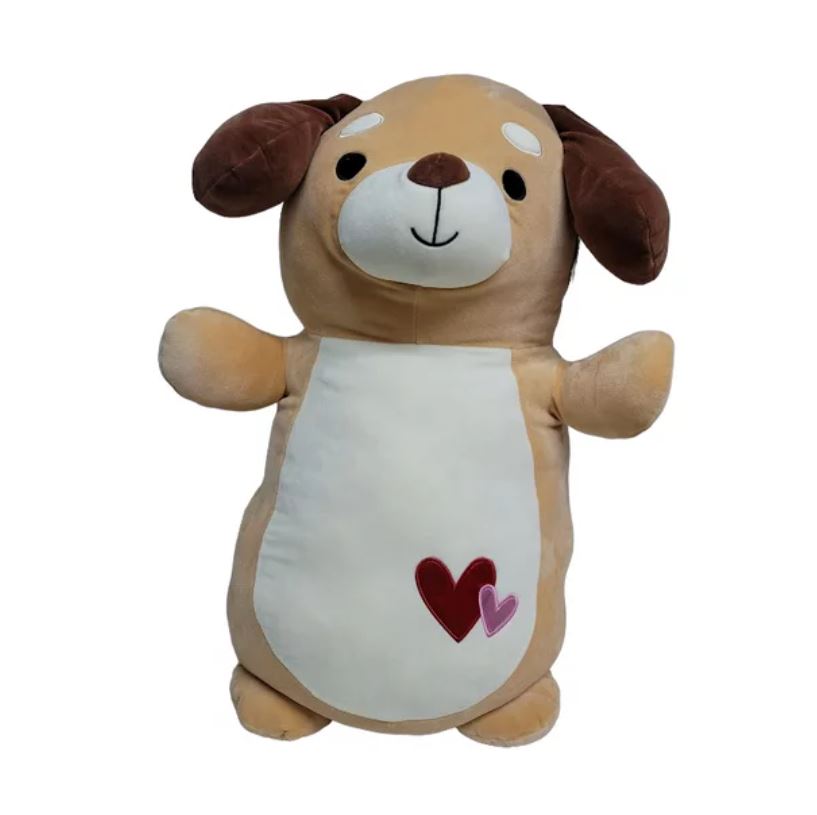 These Squishmallows are insane but come as HugMees and HugMallows. Believe it or not, a giant Squishmallow will be as long as your pelvis is high. So, let's see which 28″ Squishmallows I found. Firstly, Santos, the Shark HugMallow, is a giant waiting to rise to about a third of your height.
Then, Duffy, the Dog HugMee Squishmallow, will soon follow if you have the space for two giant Squishmallows. Meanwhile, both unique Squishmallows have things in their favor. Santos Squishmallow has beautiful tie-dye patterns, while Duffy Squishmallow looks more like a dog than most plushies.
Giant Squishmallow Pros:
Giant Squishmallows are the biggest size you'll find until the brand launches a new one
Giant Squishmallows come in unique plush types to make them more realistic
This size Squishmallow would be the ultimate gift for an older child
Serious fans will go out on a limb to own this size Squishmallow
Giant Squishmallows make the ideal showstopper for die-hard fans
Giant Squishmallow Cons:
Only two exist in 2023
They're big enough to take over a room
Giant Squishmallows often cost a lot
They don't have many variants or types
They aren't safe for kids under three, especially in the bed
FAQs
Question: What Is the Smallest Squishmallow Size?
Question: What Is the Biggest Squishmallow Size?
Question: What Size Squishmallow Is the Most Common?
Answer: I must use Walmart's massive variety to determine which Squishmallow size has the most plushies. The 12″ Squishmallow results page shows over 249, and the 16″ results page brings up 105 options. However, the 8″ Squishmallow results page shows over 1,000 possibilities. Indeed, they aren't all Squishmallows.
However, the results pages indicate which sizes the online stores stock more. As a result, I'll stick with the 8″ Squishmallow size as the most popular in 2023. It's not surprising how this size fits children, collectors, and die-hard fans who want thousands of plush.
Squishmallow Sizes Explained: Conclusion
Guess what? I bet you didn't know so many Squishmallow sizes existed. I didn't realize until I dug deep into the available Squishmallows, only looking at originals. Now, I'll be brave and wish for a 30″ Squishmallow. However, I'll recommend the 8″ Squishmallows as my ultimate size.
The smaller Squishmallows allow you to collect many squads and members, and nothing makes a Squishmallow fan happier than that. So, pick your size and example, and buy your first of many size-specific Squishmallows. Most of mine are eight inches tall, but my kids have some larger ones. Either way, grab yours today.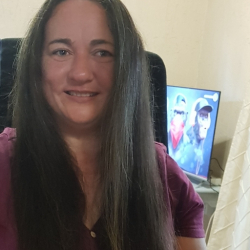 Latest posts by Caroline Lambert
(see all)