Adopting a passion for Squishmallows is beyond exciting until you wonder which stores are the best online shopping platforms. You want to adopt adorable marshmallow-stuffed plush without worrying about the small stuff. In that case, let me share my where to buy Squishmallows online guide to erase your worries.
Plush toys allowed me to sink into a world of fantasy and cuddly cuteness since young. So, I'm all about showing you where I enjoy finding the best Squishmallows. Therefore, I'll give you a sneak peak of my top stores in order, starting with my best-rated to my least-liked.
Would you like to know why I rated the stores in the order I did? Then, I invite you to learn a little more about each online store's Squishmallows before clicking on a favorite.
Quick Tips Before Buying Squishmallows Online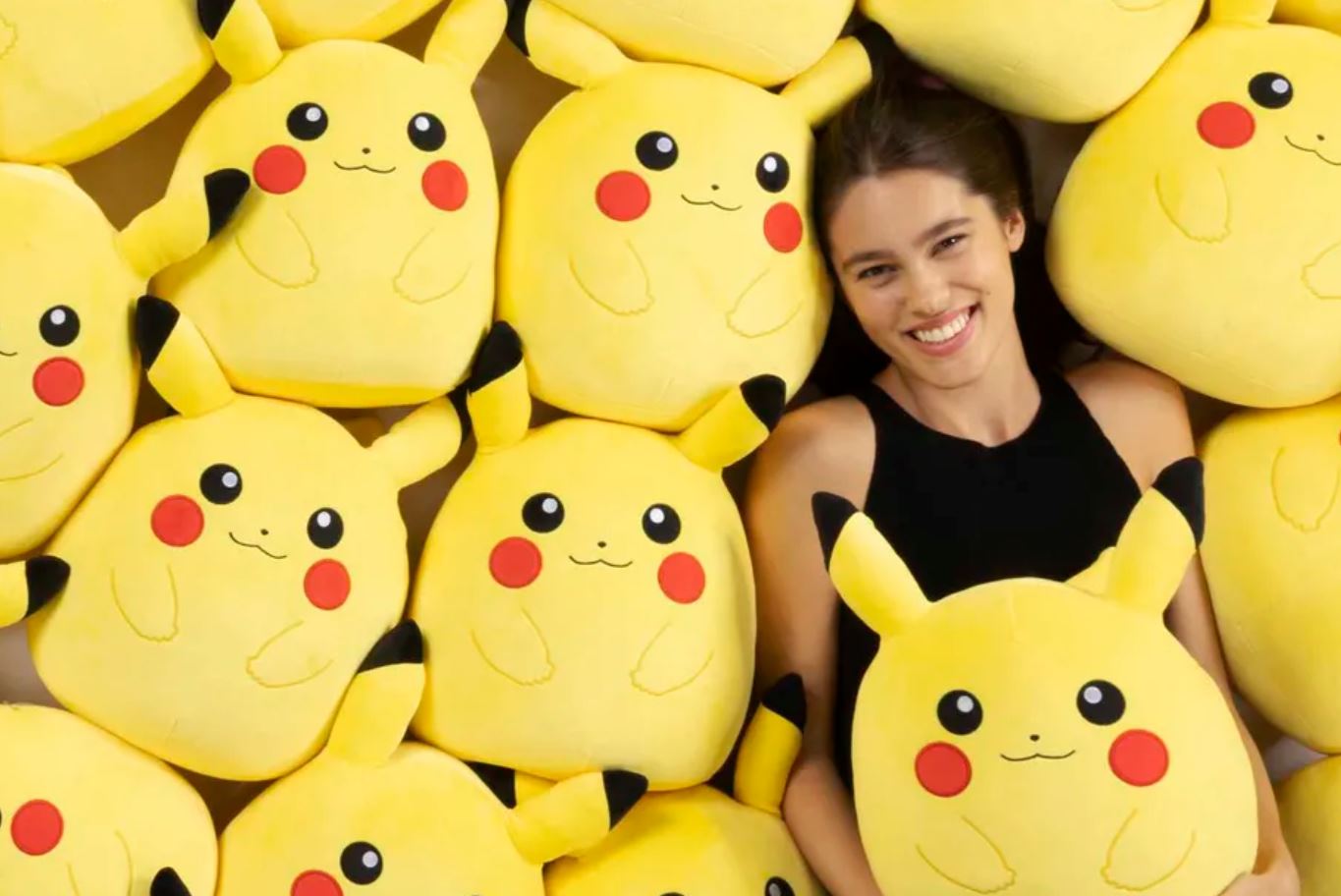 You'll need tips before buying Squishmallows online if you want quality, authenticity, and variety. So, here's a quick look at my buying guidelines of what you must consider before buying Squishmallows online:
The online store must sell original Squishmallows.
The store must offer a variety or frequent changes.
The online store should offer fast shipping of no longer than five days.
The store must sell single Squishmallows.
The store must offer exclusive Squishmallows occasionally.
In summary, I rate my knowing where to buy Squishmallows online guide by considering how many requirements each store meets. Fewer requirements will put the store low on my list.
Where to Buy Squishmallows Online Guide: Rated!
Finally, here are the top stores on my where to buy Squishmallows online guide. The top picks rate five, while the numbers go down on later stores. Stores under three-star ratings won't include a long intro, and I'll add simple benefits and pitfalls under each.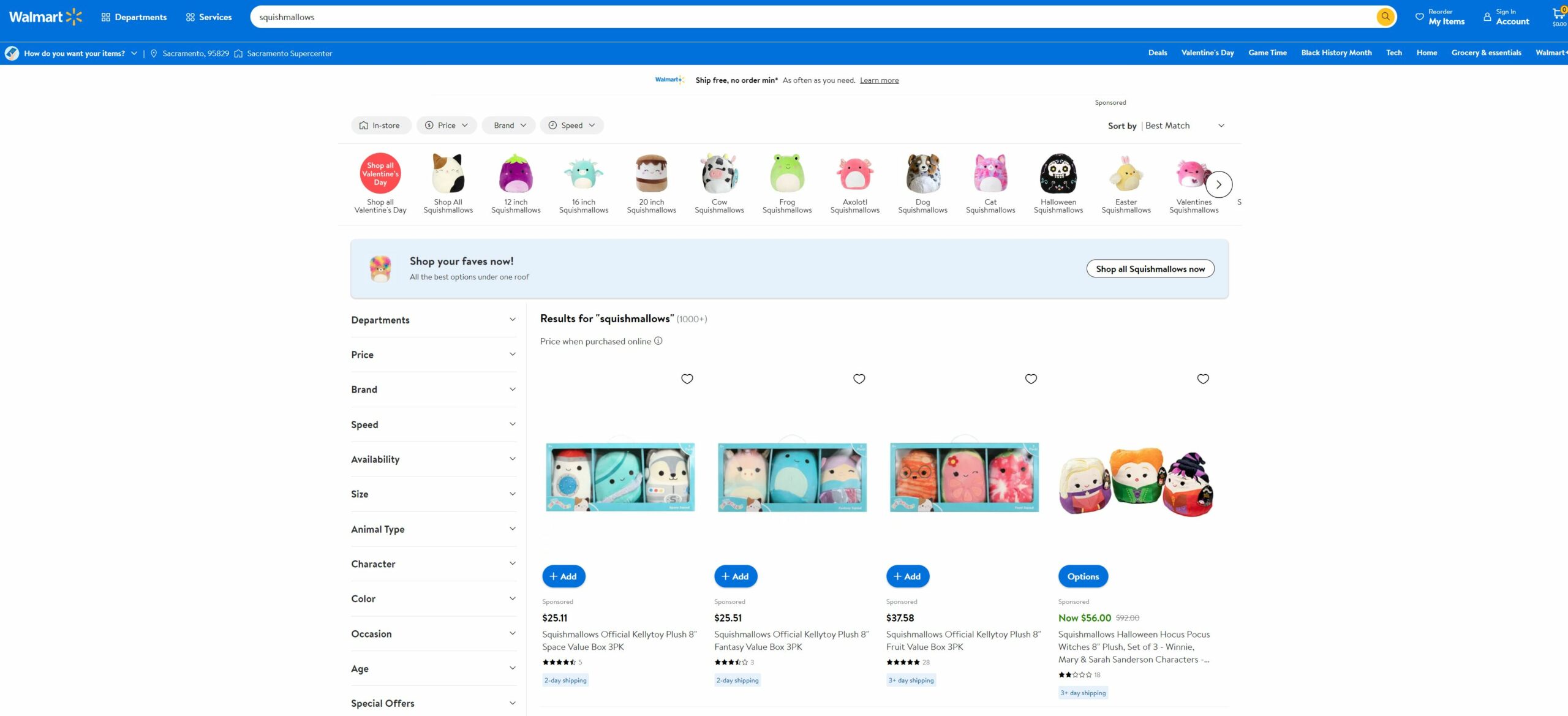 Walmart is my top pick for US Squishmallow fans because it has the most extensive plush collection. Walmart also has good customer service and stocks a good Pokémon Squishmallow range, including the Gengar Squishmallow. It's a go-to online store for many fans to find marshmallow stuffed animals.
Walmart Squishmallow Pros:
Authentic
Huge selection
2-day shipping
Single Squishmallows
Walmart Squishmallows Cons:

Amazon has the second-widest range of available Squishmallows and is another prime store. Amazon stocks from Beanie Baby plushies to Squishmallow stuffed toys for avid fans. In addition, the Disney Squishmallow range is good. It's a second go-to store for many fans.
Amazon Squishmallow Pros:
Authentic
Great variety
Next-day delivery
Single characters
Amazon Squishmallow Cons: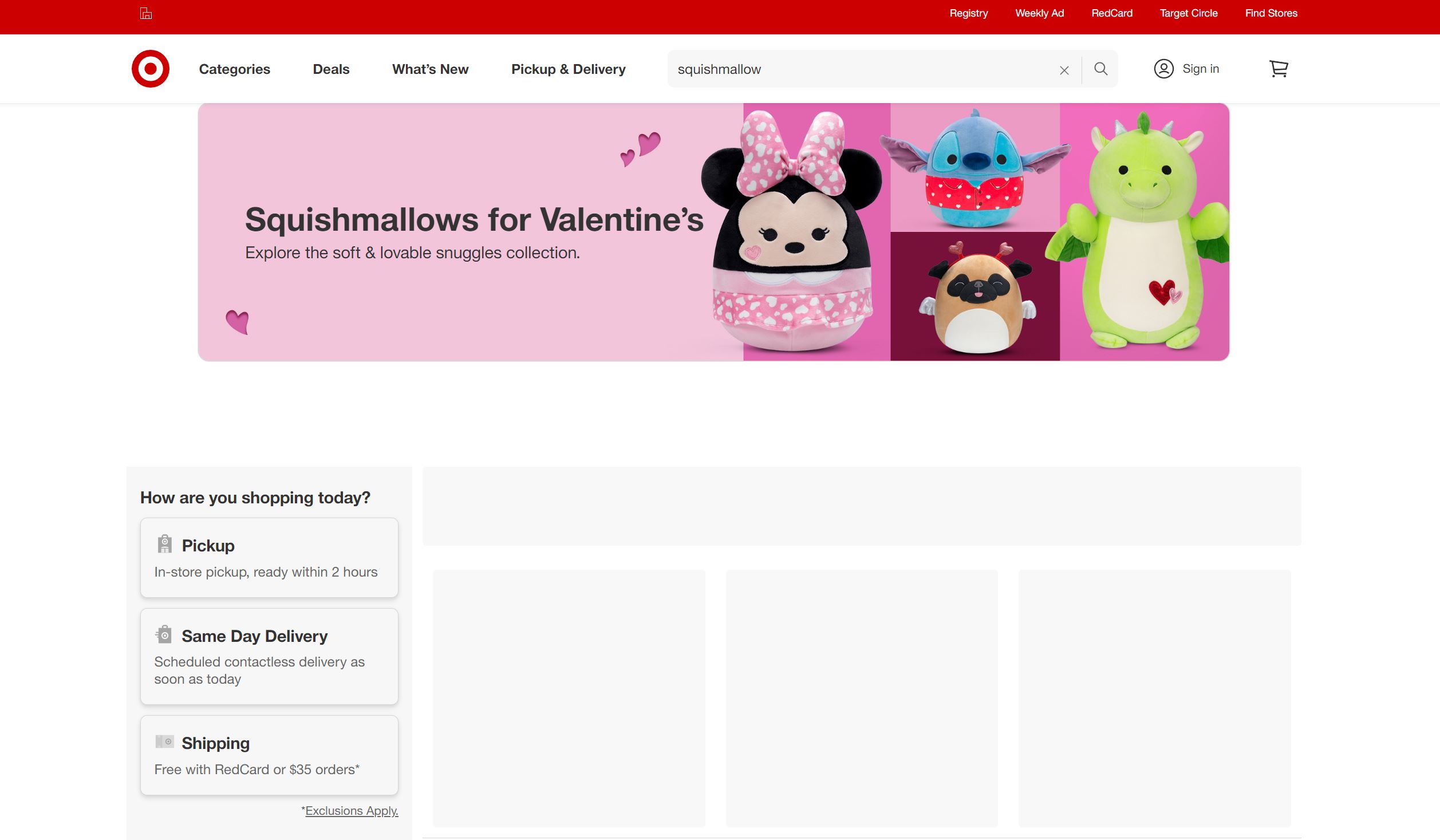 Target is another fan-favorite for buying online Squishmallows. Meanwhile, it has good customer service.
Target Squishmallow Pros:
Authentic
Frequent additions
Same-day delivery
Single members
Exclusives
Target Squishmallow Cons: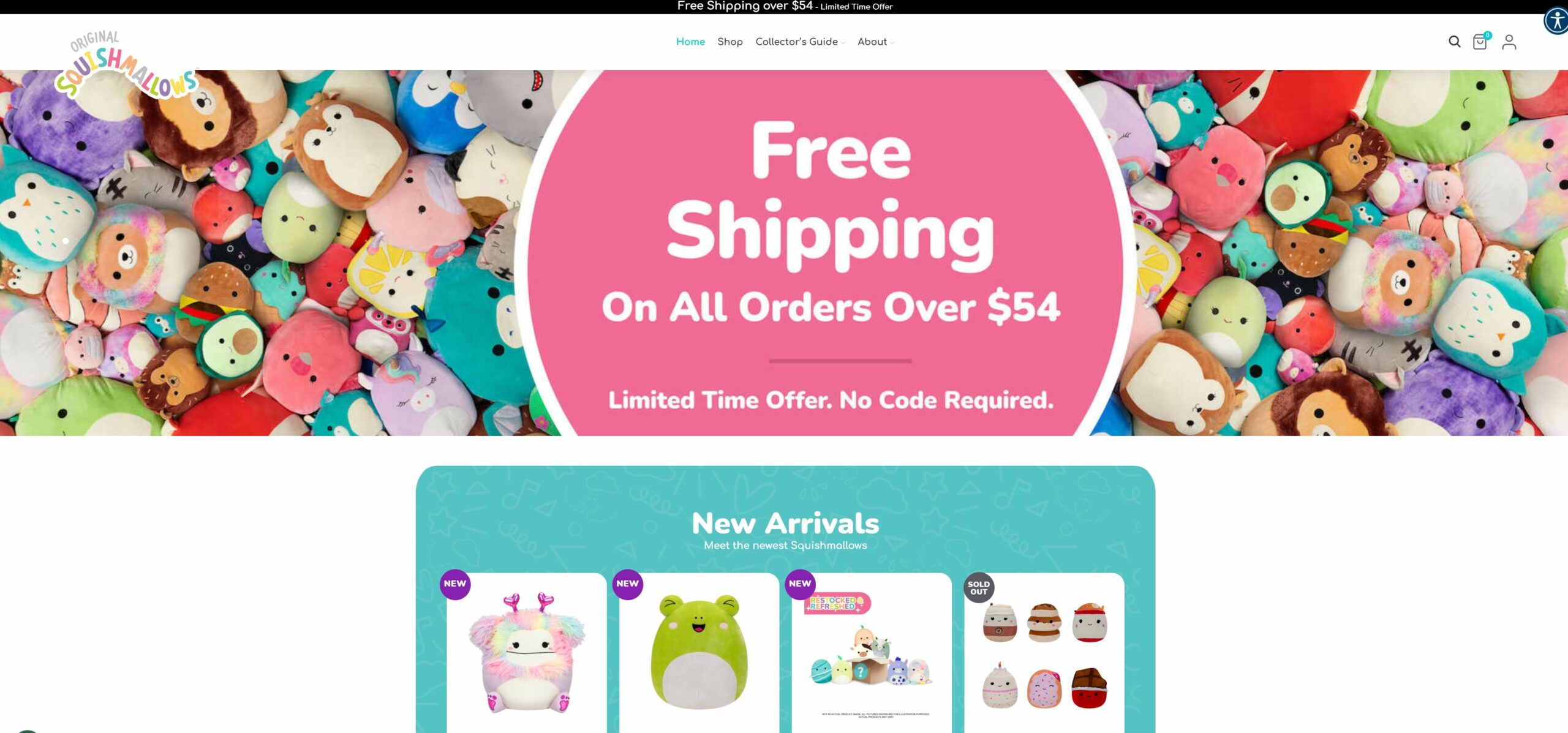 Squishmallows is the store to go for new releases and Select Series exclusives you need to finish specific squads. It doesn't have many filters or variety, but new additions come more often than in other stores. Finally, you'll find a rare Squishmallow often on its site.
Squishmallows Pros:
Original
Frequent new releases
5-Day delivery
Single members
Squishmallows Cons: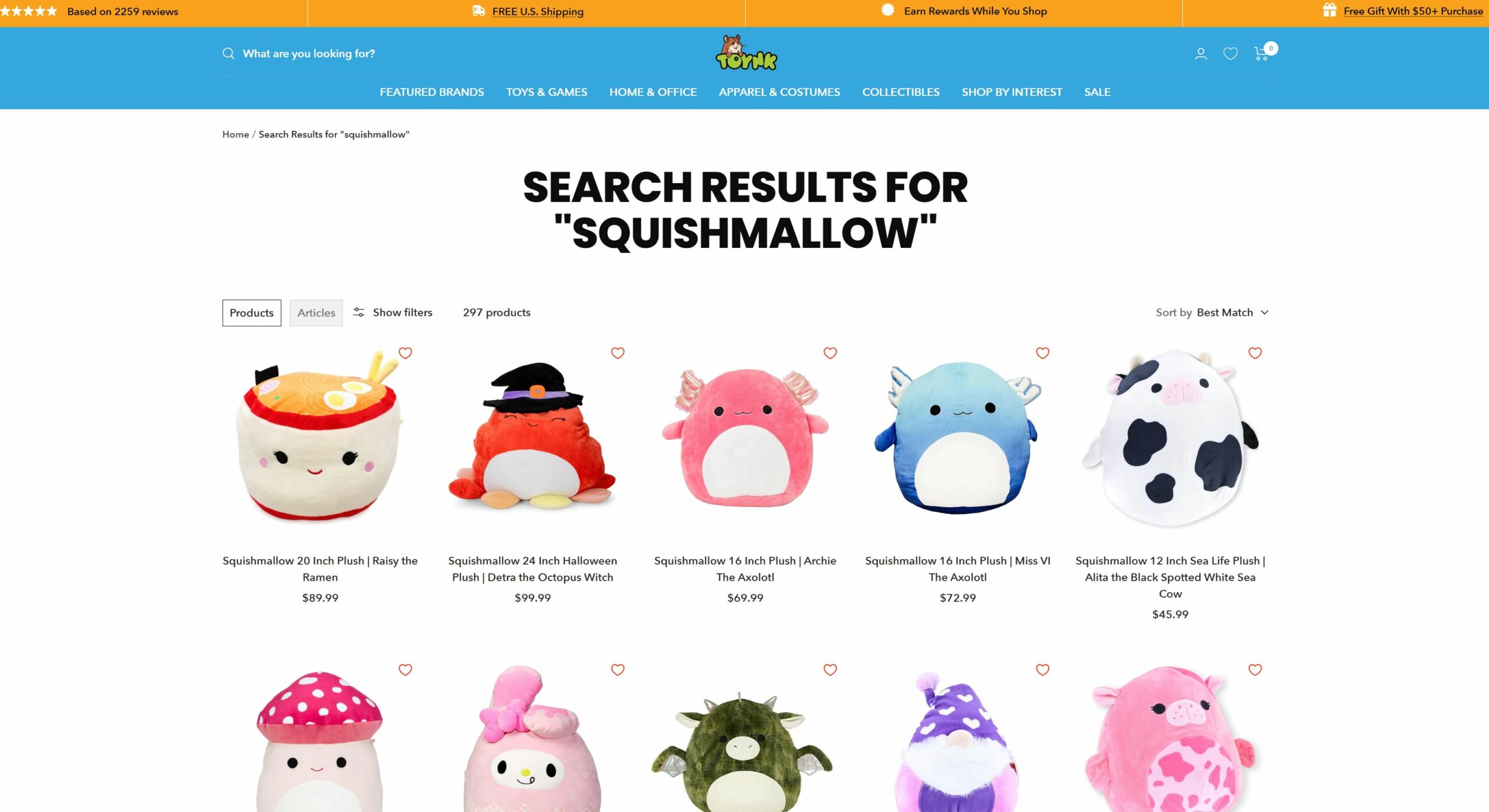 Toy NK supplies stores like Target, but they carry an extensive collection on their shopping platform. In addition, you'll frequently find new launches.
Toy NK Toys Squishmallow Pros:
Original
Variety
Fast shipping
Singles
Exclusives
Toy NK Toys Squishmallow Cons: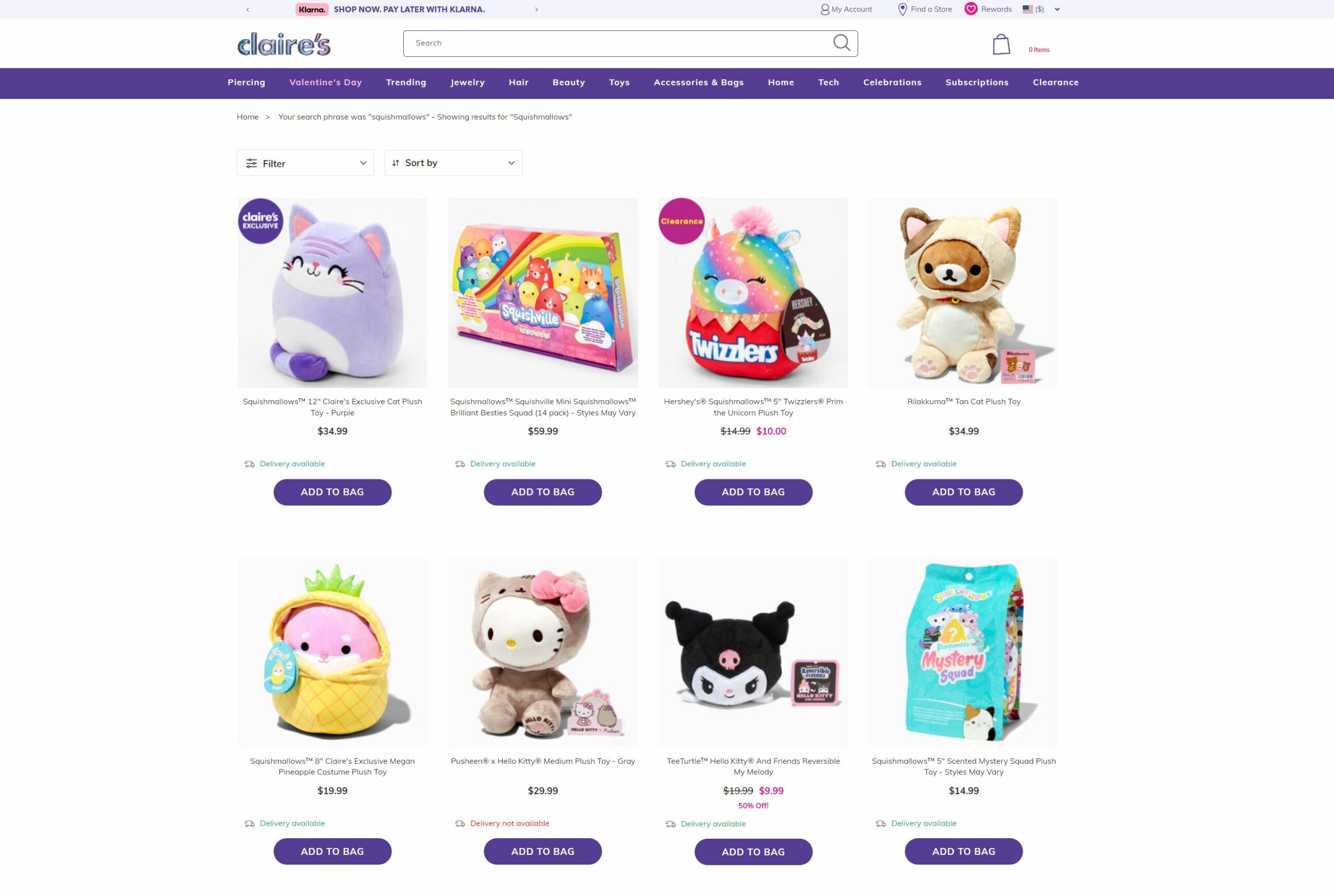 Claire's doesn't always have much variety but offers exclusives. Meanwhile, the store has good filters for results and has a few rare Squishmallows.
Claire's Squishmallow Pros:
Originals
Frequent newbies
Singles
Claire's Squishmallow Cons: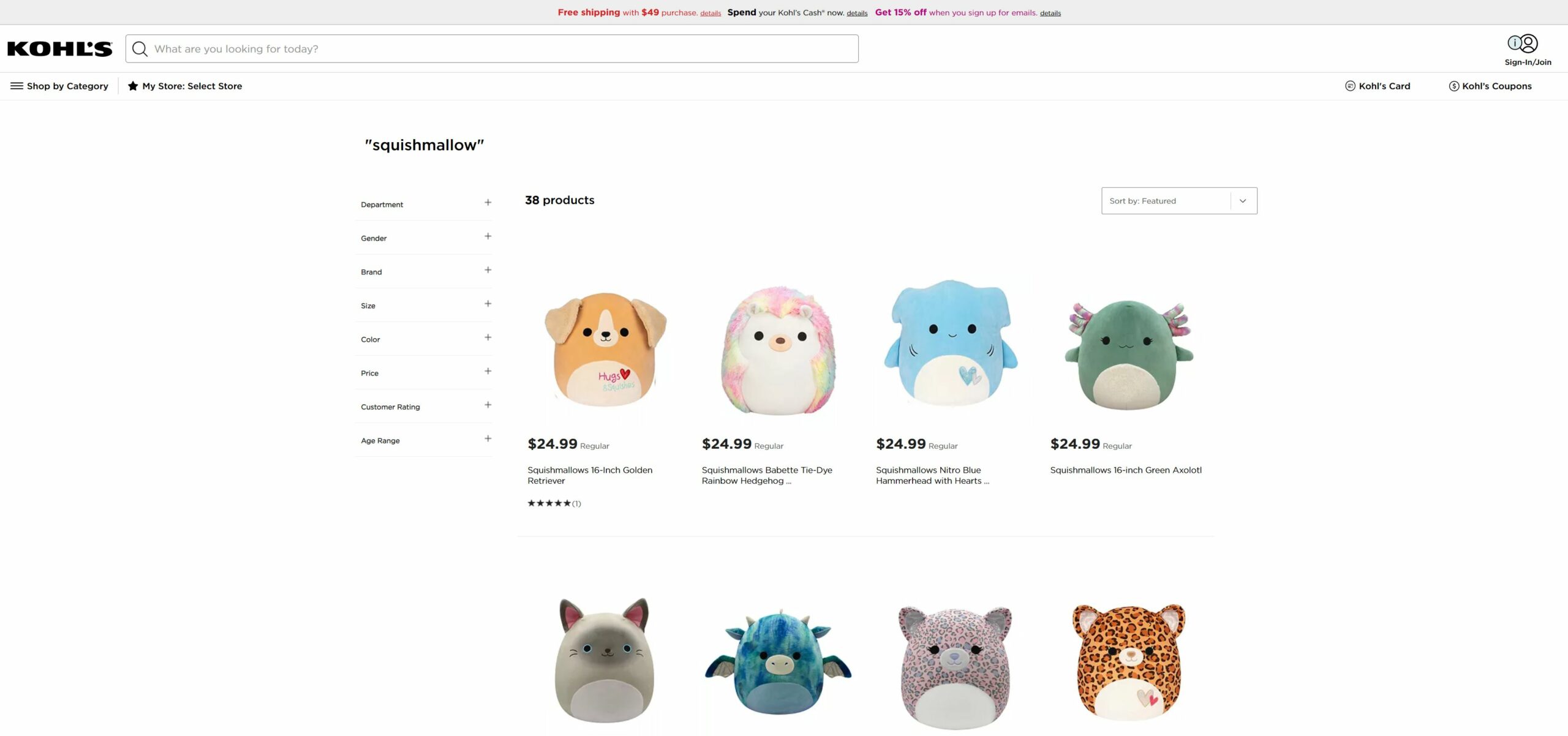 Kohl's is an unusual store to buy Squishmallows, but don't underestimate the variety.
Kohl's Squishmallow Pros:
Originals
Variety
5-day shipping
Singles
Kohl's Squishmallow Cons: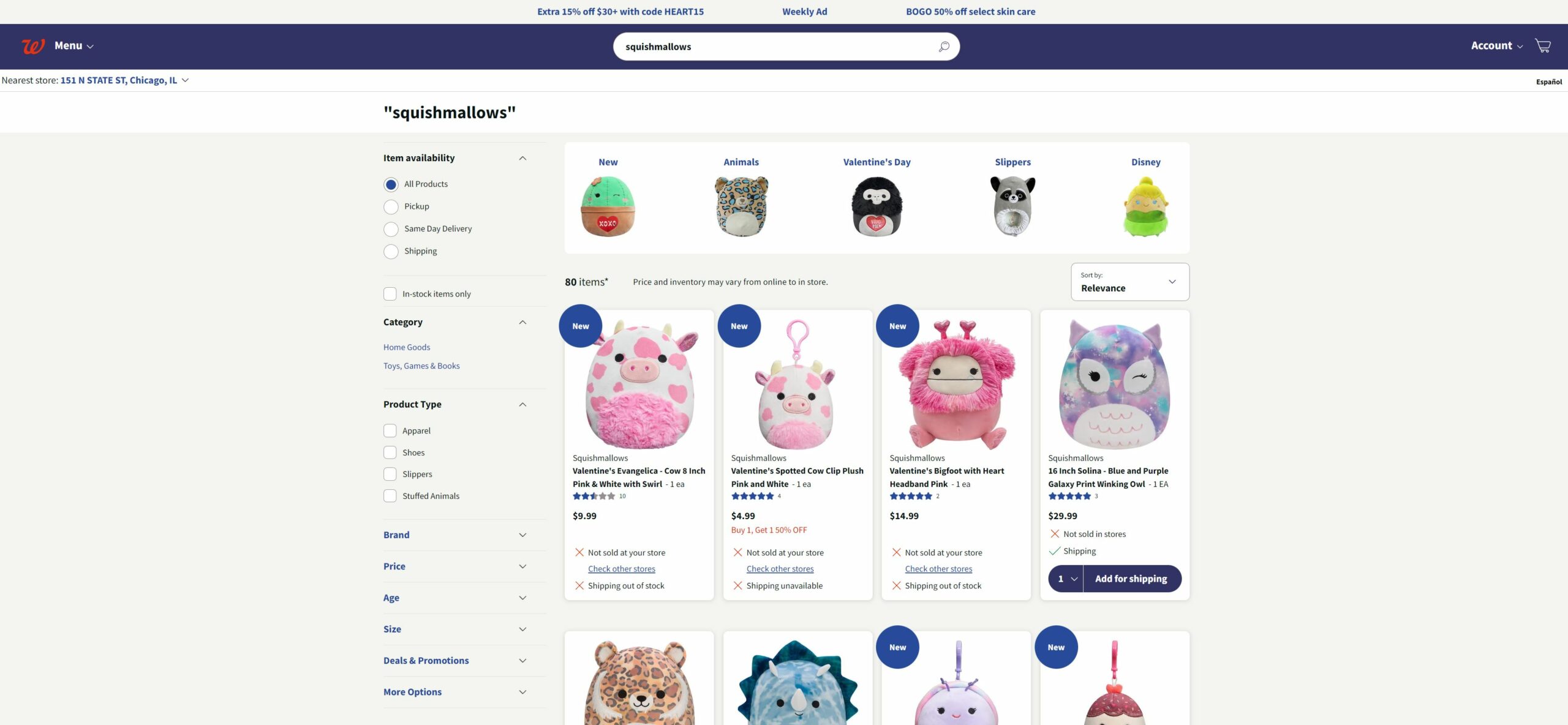 Walgreens is another store for buying Squishmallows online. In addition, they have Disney Squishmallows and offer same-day delivery options.
Walgreens Squishmallow Pros:
Authentic
Good variety
Same-day delivery
Singles
Walgreens Squishmallow Cons: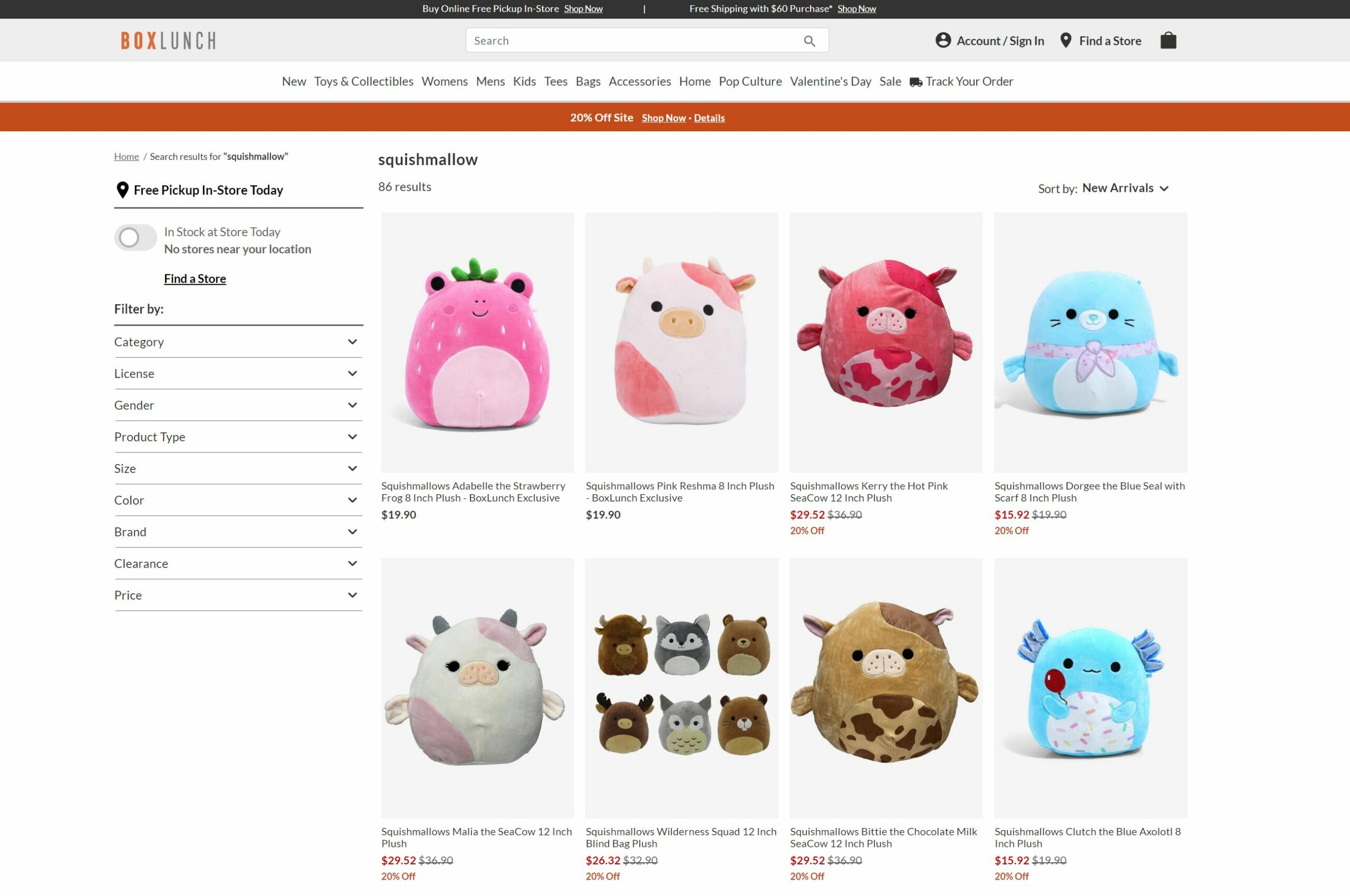 Box Lunch isn't famous for Squishmallows, but it works for buying unusual Squishmallows online.
Box Lunch Squishmallow Pros:
Authentic
Frequent releases
Box Lunch Squishmallow Cons:
Limited singles
Slow shipping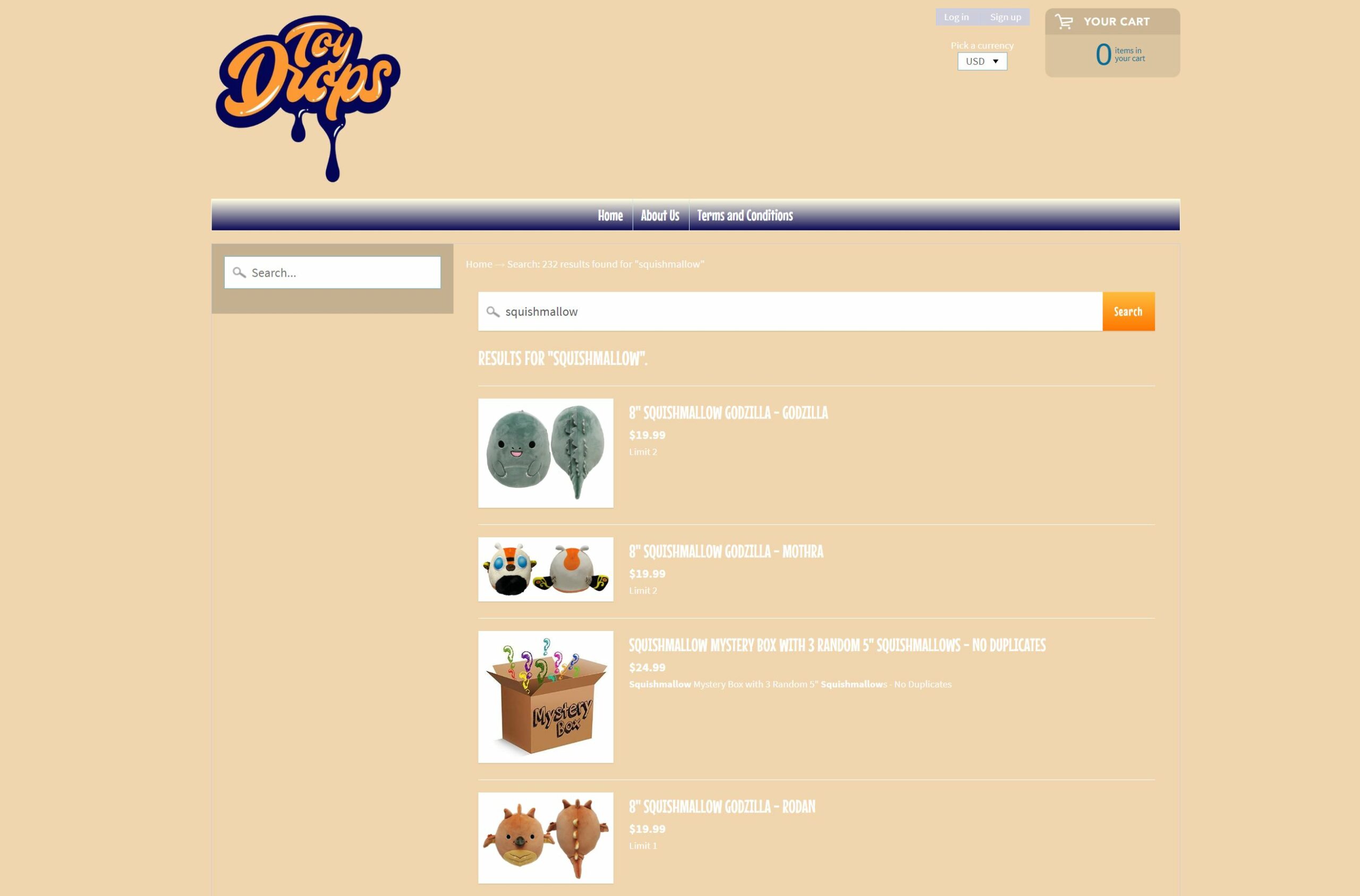 Toy Drops doesn't have a user-friendly interface like other stores, but they offer excellent customer service and rare or unique Squishmallows.
Toy Drops Squishmallow Pros:
Toy Drops Squishmallow Cons:
Limited quantities allowed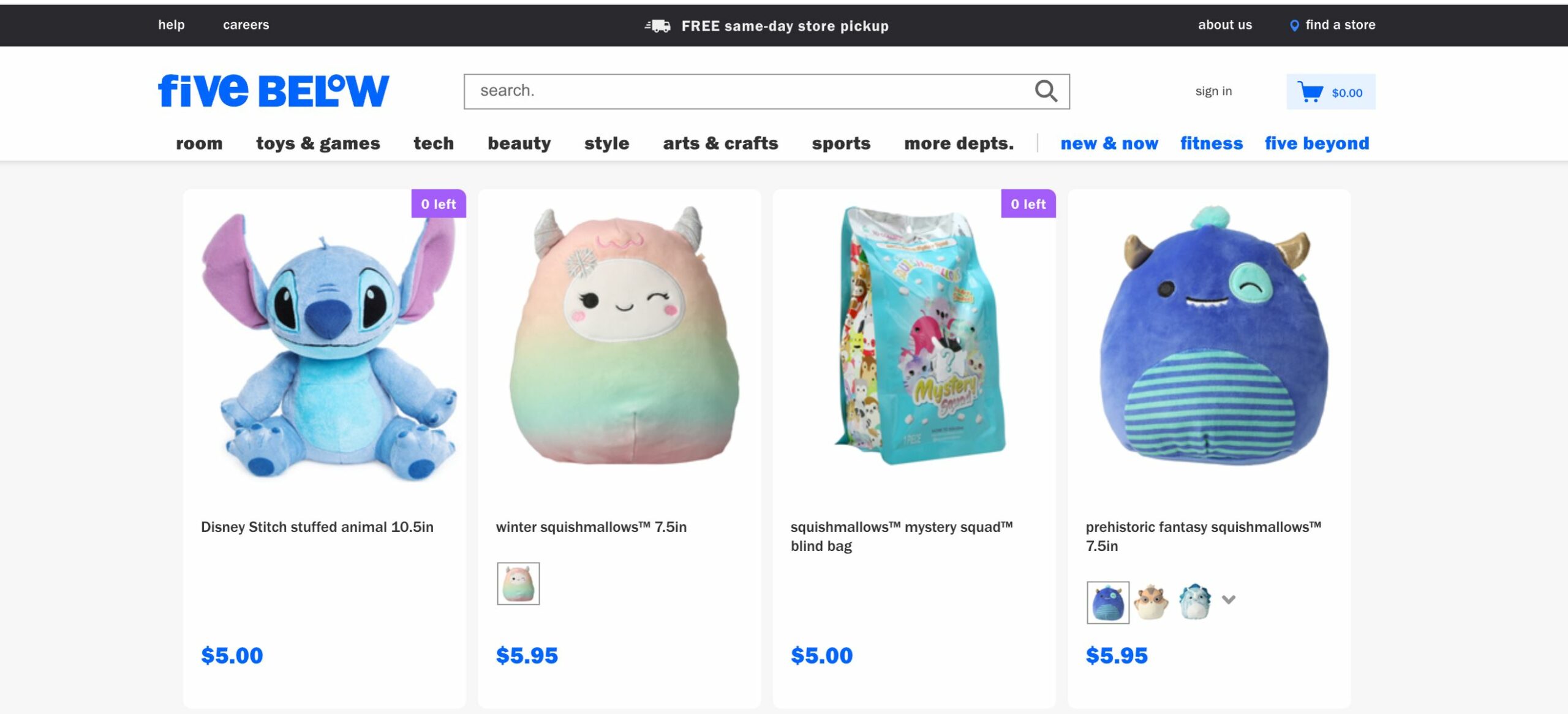 Five Below is another online store where you can shop by squad!
Five Below Squishmallow Pros:
Authentic
Good variety
Singles
Five Below Squishmallow Cons:
Slow shipping
No exclusives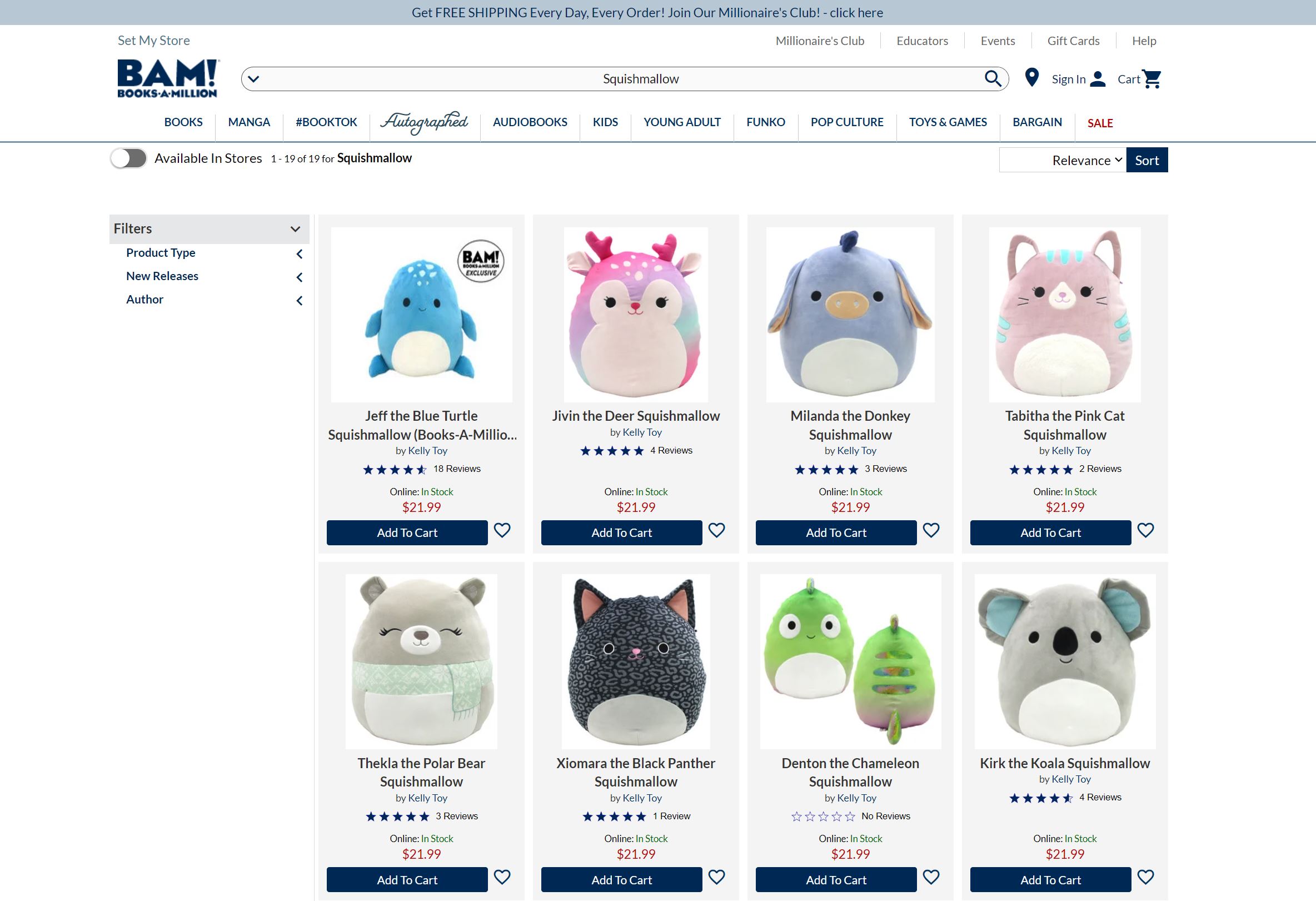 Books A Million doesn't have much variety, but you'll find awesome service and a friendly interface. In addition, you find ocassional exclusives.
Books-A-Million Squishmallow Pros:
Authentic
Fast shipping
Singles
Books-A-Million Squishmallow Cons:
No variety
No current exclusives
More Places to Buy Squishmallows Online
My lower-rated online stores miss a few requirements, mainly variety, and fast shipping. Instead, I'll simply show you what they offer because surfing them can reveal unusual stuffed toys.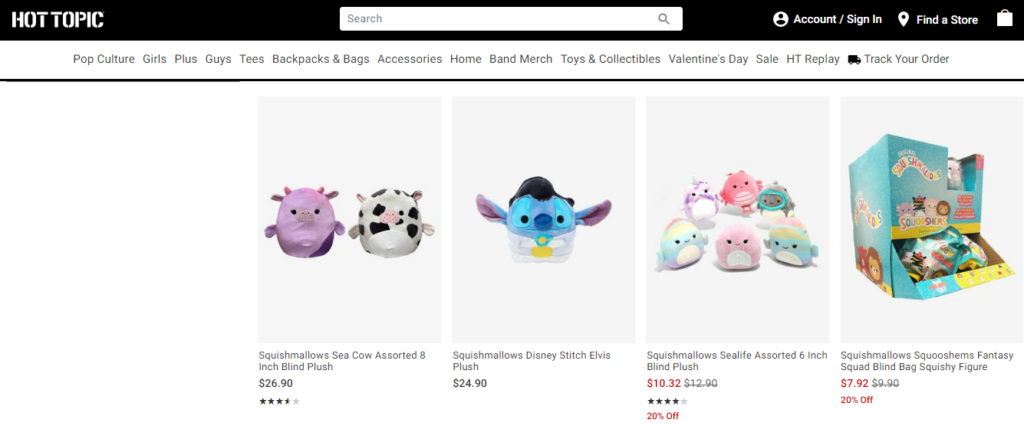 Hot Topic is a fandom haven for rare stuffed toys and Squishmallow merchandise. Unfortunately, they don't always have stock. So, add them to Squish Alert.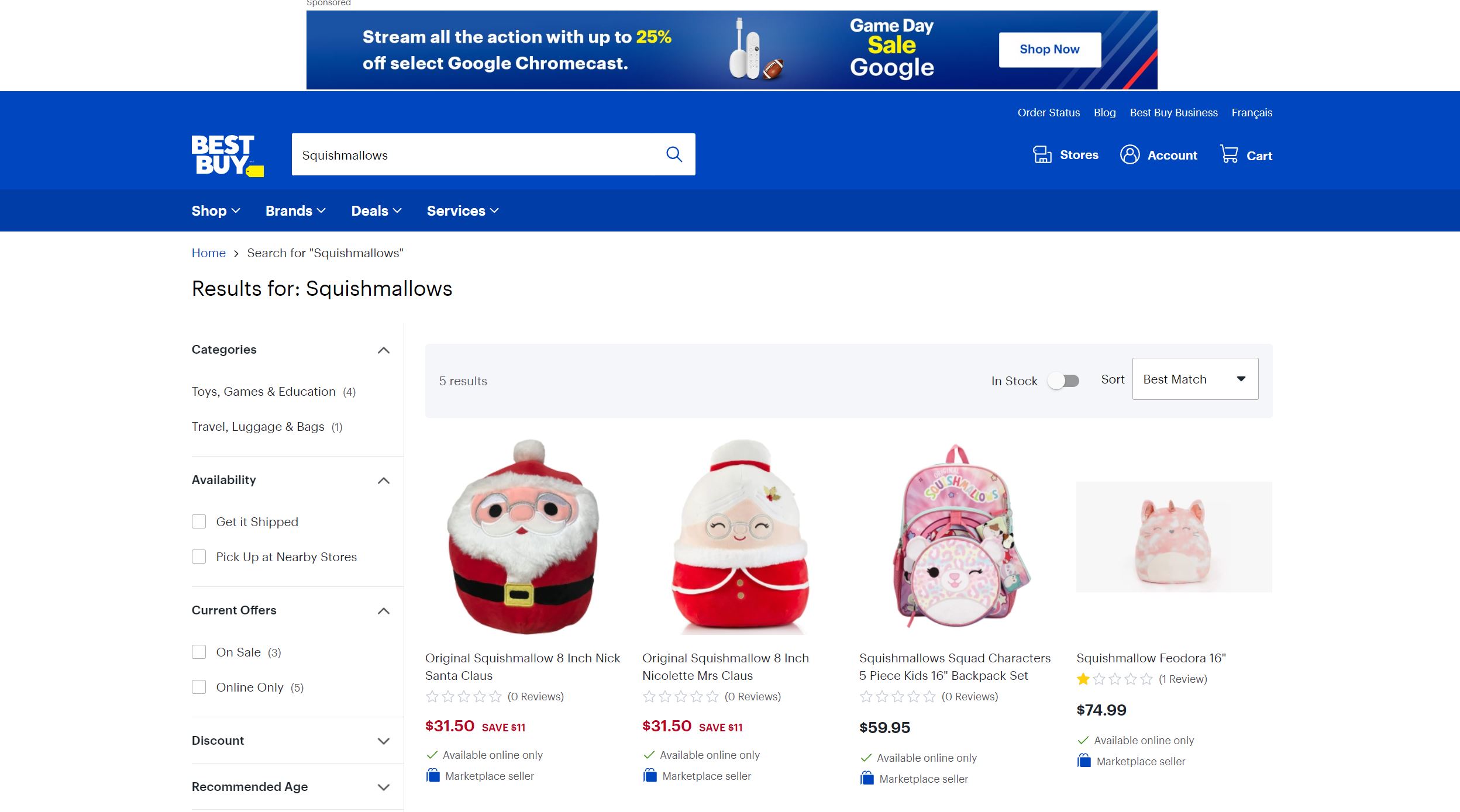 Best Buy only keeps a few Squishmallows at a time. However, the store prides itself on providing good service to customers and fast shipping.
Cracker Barrel believes in quality over quantity, meaning they don't have many Squishmallows but enjoy keeping some rare stuffed animals.
Gamestop is a haven for exclusive Squishmallows and unique designs. The website doesn't work well for international fans, but it's a US favorite for online Squishmallow shopping.
Hallmark never offers tons of Squishmallows, but they have some bundles, multi-packs, and single plushies for fans looking for unusual picks.
The Paper Store keeps a few unique Squishmallows. Meanwhile, it's a trendy online store for buying Squishmallow merchandise, like stationery and stickers.
The Pokémon Center keeps the Gengar and Pikachu Squishmallows. Add them to Squish Alert for notifications when new stock arrives or new Pokémon plushies hit the store.
Party City has much more than Squishmallow plushies on hand. They have Flip-A-Mallows, multi-pack collections, and adorable Squishville friends.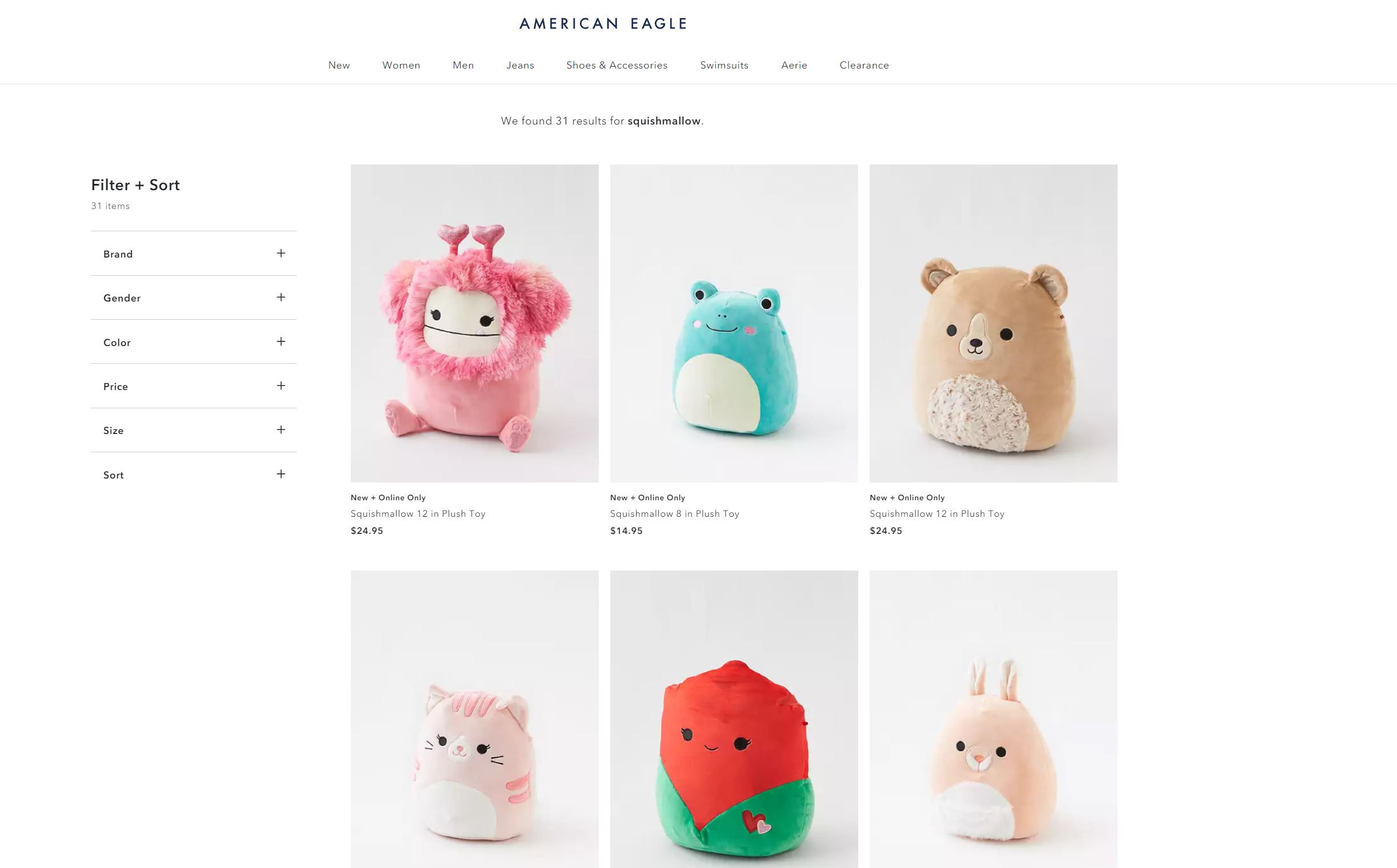 American Eagle might be famous for denims and shirts, but they also stock a few unique Squishmallow plushies for browsing fans.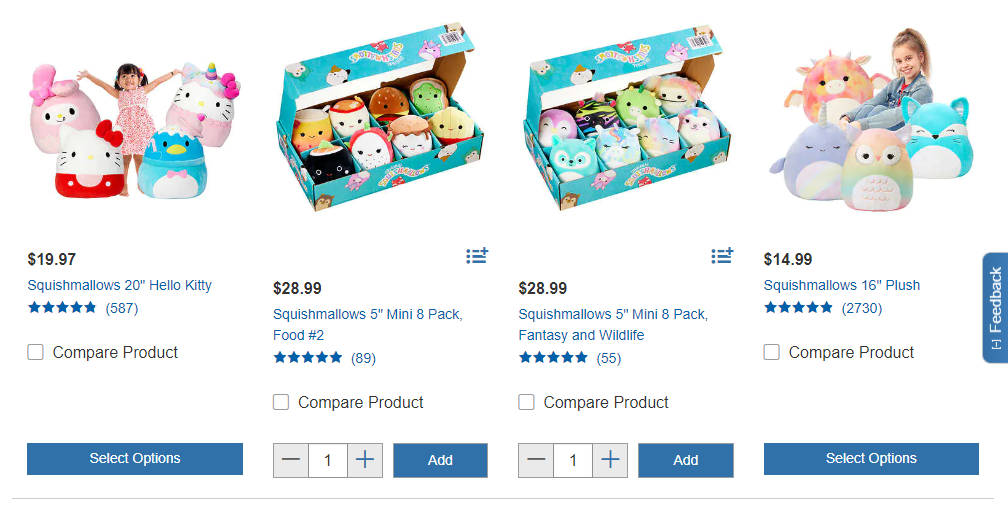 Costco offers excellent customer feedback and sells in bulk, meaning you'll find multi-packs or be able to buy two-for-one Squishmallow deals at a lower price. In addition, they have fast shipping.
FAQs
Question: Do I Recommend Lower Rated Squishmallow Stores?
Answer: Most definitely, if you're looking for unusual picks, other Squishmallow merchandise, or rare stuffed toys. Stores that stock fewer Squishmallows and take longer to deliver might have something unique. So, yes, you must browse the lower stores on my scale. They simply miss fast shipping and a variety.
Question: Which Online Store is the Best for Squishmallows?
Answer: You'd think Amazon is the first stop for Squishmallows, but it's not. Unfortunately, Amazon sells many unoriginal Squishmallows and runs out of stock. However, Walmart stocks over 1,000 Squishmallows and hardly runs out of stock. Walmart is the best online store to buy Squishmallows, with multiple benefits and a variety.
Question: What's the Original Squishmallow Online Store?
Answer: Squishmallows has an online store offering multiple Squishmallow exclusives under the Select Series, which you won't find anywhere else. Unfortunately, the store doesn't keep much variety. However, you'll find new Squishmallow members and limited edition versions to complete any squad by watching the store.
Where to Buy Squishmallows Online Guide: Conclusion
Finally, you know where to buy Squishmallows. Many stores stock Squishmallows, but a hand full gives you the entire experience. Walmart and Amazon have the best selections but don't forget Squishmallows and Target. Should you ever have trouble finding what you want, Squish Alert Explained will guide you.
Meanwhile, start surfing the online stores that add value to your Squishmallow passion, and start buying your favorites (or exclusives) today.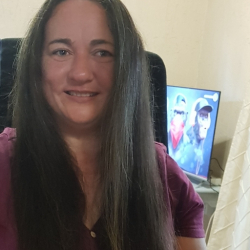 Latest posts by Caroline Lambert
(see all)