I've been a Pokemon fan since generation one, so naturally, I have a soft spot for Gengar. In fact, the purple ghost has been one of my top ten since I was a kid. Combining three of my biggest loves, Pokémon, Gengar, and plushies, I found some of the best plushies on the market to consider for your collection. 
Bottomline Up Front
If you're looking for the best bang for your buck, I suggest the Walmart three-pack that includes Gengar, Ekans, and Koffing. However, the corduroy Gengar by Suoi Mart has been on my DISO list for months despite its $80 price tag! 
First Appearance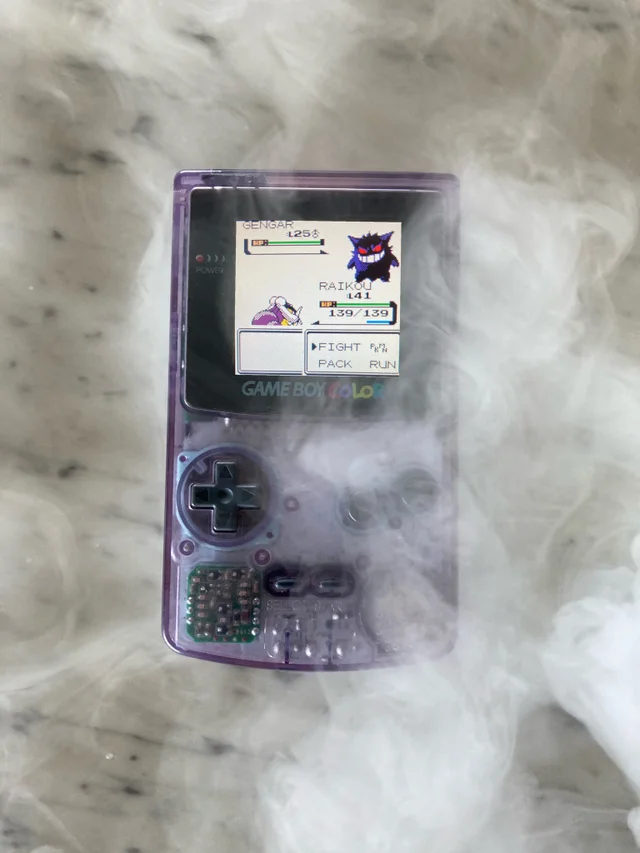 Gengar the Shadow Pokémon is the 94th Pokémon and made his debut in the very first generation! He first appeared in Red and Blue, where he is described as "mimicking the shadow of people and finds their fear funny." He has been in every mainline Pokémon game since as well as appearing randomly throughout the anime and its spinoffs!
He is a ghost/poison type that can have the abilities Cursed Body or Levitate, depending on what generation you're playing. He is a fan favorite, so it's safe to say he will continue to pop up in games and animes for years to come! 
Gengar the Shadow Pokémon is the 94th Pokémon and made his debut in the very first generation! Since his debut, he has also been a staple of the anime and manga, appearing regularly in multiple episodes and chapters. He first appeared in the Game Boy games Red and Blue, where he is described as "mimicking the shadow of people and finds their fear funny."
He is a ghost/poison type and an all-time fan favorite, so it's safe to say he will continue to pop up in games and other Poké-media for years to come! 
Searching Far and Wide – aka The Search Criteria
I searched the internet far and wide for the best Gengar plushies, so you don't have to! The following on this list range significantly in design, price, and size, but they all have one crucial thing in common: They are an iconic depiction of everyone's favorite cuddly sassy shadow man – Gengar! 
To narrow down the hundreds of Gengar plushies on the market, I set the following rules for myself: 
Something must make the plushie stand out, whether it's a different battle form of Gengar, shiny, or just a unique take on the average plushie. 

Availability and price must be reasonable. The Pokémon community is full of collectors, so it's no secret that some of the plushies are hard to find, and when you do costs a small fortune. Because of this, I gave myself a search budget of $100 and did not include any plushies that are only available through resellers. While a few are online exclusives, they are available through official stores for market value. 

There must be an inclusive size range. Some plush collectors prefer the massive 24-inch plushies, others medium 12-inch. Those with limited storage gravitate towards smaller 5 and 8-inch plush. I included plushies of all different sizes to fit your collection! 
Gengar Squishmallow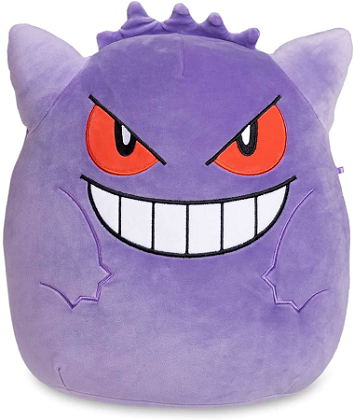 This is the most anticipated Squishmallow launch since the company's debut in 2017. The Pokémon x Squishmallow collab was announced in July 2022 at the San Diego Comic-Con and has been on my mind every day since.  We know it will include a handful of fan-favorite characters, and one of the main features will be the Gengar squishmallow! 
There wasn't much said about a release date until Pokémon Center launched a preorder for wave one around the 2022 holiday season. This preorder included both Gengar and Pikachu's 12-inch variants. However, the preorder sold out within minutes, but no worries if you, like me, didn't get your hands on the preorder.
Squishmallow has announced that wave two will be coming in Spring 2023! According to Squish Alert the Squishmallows will be sold at most Squishmallow retailers like Target, Walmart, and Hot Topic. 
Wave two is expected to expand the size variants available for Gengar and Pikachu and introduce Togepi and Snorlax! This wave will likely sell out just as quickly as wave one, but waves three and four are coming within the year! 
Fun Facts
Sizes: Please note that these are the sizes that have been announced so far. There are still waves three and four to hit later in the year that will likely add more dimensions. We know that Game Stop will have 10-inch and 14-inch variants. (This preorder has long sold out; it is unknown if they will receive extras for in-store sales.) 
Pokémon Center carries the 12-inch variant, and retailers like Target will have a large 20-inch variant. The picture posted on Squishmallow's Twitter makes it appear that we will get smaller 8-inch size in the future! 
Available In Stores: The Pokémon collab will start to appear in stores in March 2023. However, some lucky Walmart shoppers have found Gengar and Pikachu at their local store early.
At the time, I suggest avoiding buying Gengar online for resell price because the launch is coming in soft waves over the year. Be patient and keep an eye out at your local squish retailer this spring!
Difficulty Scale: This collab combines two huge collector communities. It is already insanely hard to find Pokémon collectibles and rare Squishmallows for retail price. Now that they've joined forces, it will likely be the most brutal squish hunt of all time for fans of both platforms. 
Pro Tip: Target has the 20-inch Gengar listed online; turn on notifications to be alerted as soon as he's in stock this spring! 
Pros
Iconic for Pokémon and Squishmallow collectors! 

There are going to be multiple sizes available that fit anyone's storage needs. 

Released in waves to hopefully give fans numerous chances to find Gengar. 
Cons
This is going to sell out within minutes of hitting the shelves. 

The resell value of this Squishmallow has already doubled in value. 

Scalpers are a huge problem in both the Squishmallow and Pokémon communities, so you will compete with bots and resellers for this product. 
Gengar Blanket Plush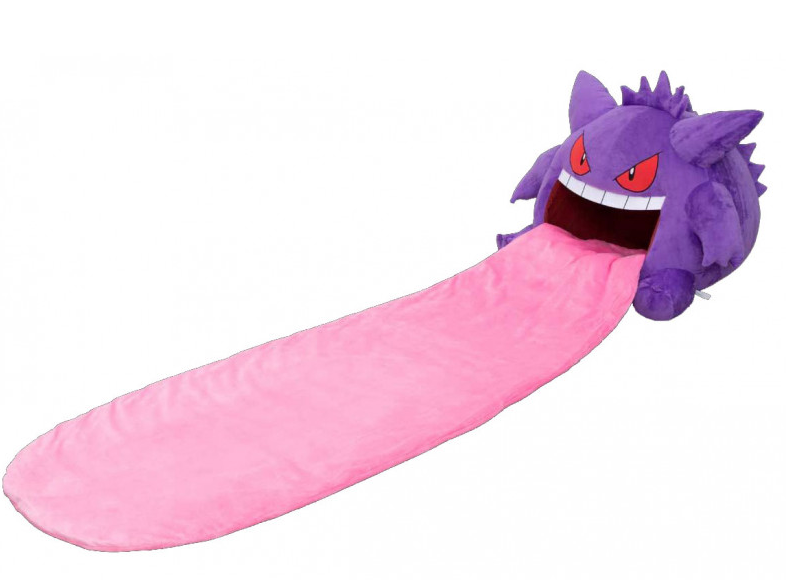 This CircumToy plush doubles as a blanket and a stuffed animal! He is a 12-inch plush, the size of an average Squishmallow. However, he has an extendable tongue that becomes a throw blanket. He's perfect for couch cuddles while you binge your favorite anime!
Fun Facts
Sizes: 12 inches with a 51 inch tongue blanket
Available In Stores: This product is only available online at CircumToy.
Difficulty Scale: It is usually in stock at CircumToy, but is an online exclusive.
Pros
A plush and blanket in one! 

Gengar fits into small spaces when the tongue is folded up and doesn't take up much room on your bed. 

Ships globally and usually within one to two business days. 
Cons
It is an online exclusive to CircumToy. 

Standard shipping is not available in some countries.

Shipping is between $9-$25 depending on location.      
Mega Gengar
During gen six, Pokémon introduced a new gameplay element called mega evolution.  Mega evolution caused the Pokémon to take on a temporary transformation and significantly boost their strength. It was basically the terastal phenomenon of the XY/ORAS era. 
Gengar was one of many Pokémon to receive a mega evaluation and is hands down one of the coolest mega designs in the entire game. This Walmart Plush brings the unique design to life! 
Fun Facts
Sizes: 8-inch
Available In Stores:Exclusive to Walmart.com.
Difficulty Scale:It is generally in stock online but is not in stores.
Pros
This is one of the most unique Pokémon plushies I've seen.

The 

shiny variant

 of mega Gengar is also available! 
Cons
His color scheme is way off, and it bothers me. He is slightly darker than he's supposed to be, and his pinkish-red ombre effect looks off to me. 

This is an online exclusive. 
Gengar, Ekans, Koffing 3 pack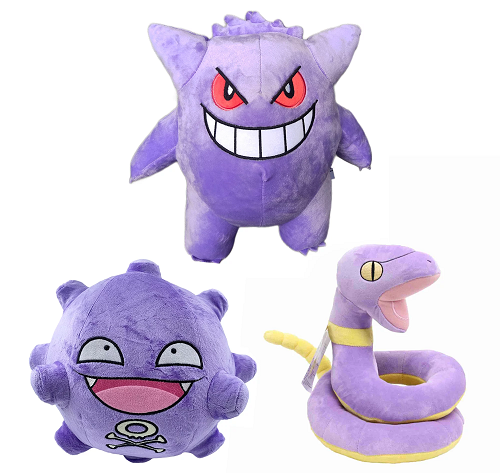 This set is a poison trainer's dream! It includes three three-inch plushies, the same as Squishmallow's keyring plushies! This is the most bang for your buck for any Pokémon fan.
Fun Facts
Sizes: Mini 3-inch
Available In Stores: Available at Walmart.com
Difficulty Scale: It's often in stock online, but can not be found in stores.
Pros
The small size is excellent for collectors with limited storage as they fit nearly anywhere without eating much room. 

Great idea if you have multiple kids, as each can pick their "starter" like in the games! 
Cons
Only available at Walmart.com

The plushies are tiny, so they aren't cuddly and will be stiffer than a typical 8-12 inch plush. 

$70 is a pretty hefty price tag for mini plushies. 
Corduroy Gengar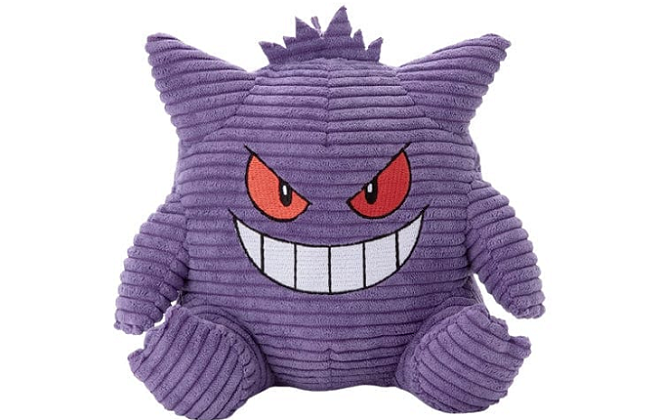 Sugoi Mart is a counterpart to Japan Crate and is an online store that brings Japanese merch to western countries like the US!
I'm utterly obsessed with this Gengar plush. He's been on my shop wishlist for a few months because he quickly sells out when he's restocked. He is the most expensive on this list, but he is imported from Japan and made with soft corduroy.
Fun Facts
Sizes: 8-inch
Available In Stores: It is available at Suoi Mart.
Difficulty Scale:  It is usually sold out, and when it does restock, and sells out within a few hours.

Pros
The attention to detail in this plush is insane! He is full soft corduroy with embroidered facial features. 

He is the size of a small Squishmallow, making him perfect for cuddling and storing in small spaces! 
Cons
Rarely in stock. 

When it is in stock, it is very pricey for a plushie. ($80)

Nylon can be irritating to those with sensitive skin. 
Gigantamax Gengar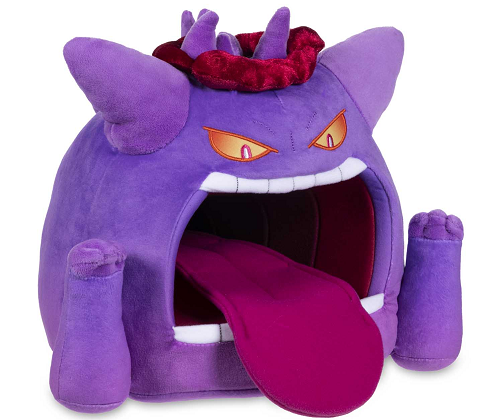 This is the only gigantamax Gengar I've seen, and I think Pokémon executed the design so well. He looks equally terrifying and cuddly!
This medium-sized plush is high on my Pokémon ISO list. However, it has not been restocked in months. Sadly, it is exclusive to the Pokémon Center, and as a Californian, I do not live near a physical location.
Fun Facts
Sizes: 14.5-inch
Available In Stores: This is a Pokemon Center exclusive!
Difficulty Scale: It has been out of stock for a few months and has a resell value of $200. This means that if you were to find the plush on Mercari or eBay, it would be $200 or more. However, Pokémon Center is known to randomly restock old plushies throughout the year, so it may be worth waiting for a refill.
Pros
This a unique take on a Gengar plushie, as there are only a few gigantamax plushies on the market. 

Pokémon Center plushies are high quality. 

Officially licensed Pokémon product. 
Cons
Rarely in stock, which has led to a giant resell value. 

A bigger plushie is not ideal for those with limited storage. 
Build-a-Bear Gengar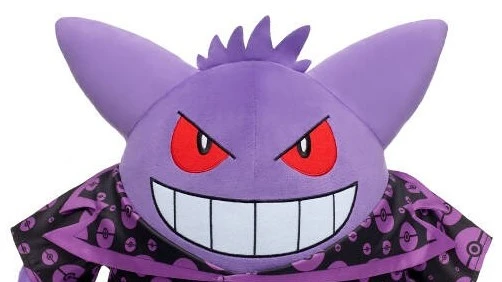 I don't care how old I get; I will always love Build-a-Bear trips! Especially when a new Pokémon is due to release! 
The Gengar is hard to find in stores, but it is in stock online and comes in a bundle that includes a voice box and outfit! 
Fun Facts
Sizes: 12-inch
Available In Stores: It is available in stores and online.
Difficulty Scale: It is sometimes sold out in stores, but usually available online.
Pros
Build-a-Bear is such a fun friend date idea, my friends and I go 2-3 times a year, and it's always a blast. 

The Pokémon lineup is growing rapidly, with new additions every few months. 

The online bundle includes many accessories, like an outfit and a voice box! 
Cons
Rarely in stock in stores and the entire appeal to Build-a-Bear plushies is the experience of building your new plush friend. 

There is now a specific restock date in stores. The best route is to check during your shopping trips or to call ahead. 
Gengar and Friends!
Are you trying to catch 'em all? The following Pokémon are either related to Gengar or have a similar vibe to everyone's favorite gen one ghost type.
Stage One Gastly – Pokémon Center Sitting Cuties

The Sitting Cuties collection is hands down one of my favorite lines Pokémon Center has released.
They're pretty small, making them perfect for storing on bookshelves with your card binders! The best part is that nearly every Pokémon (yes, there's Haunter and Gengar, too!) has a Sitting Cutie design, making them super fun to collect. I add one to my cart every time I order new TCG trainer boxes!
Fun Facts
Sizes: 6.5 inches
Available In Stores:This is a Pokémon Center exclusive, meaning it is only available online unless you live in one of the few locations with a physical store.
Difficulty Scale: It is sold out online but restocked sporadically throughout the year. It is also possible to find it in an in-store location. However, these are only possible to come by if you're in Japan or one of the few other locations.
Stage Two Haunter – IADZ Amazon Plush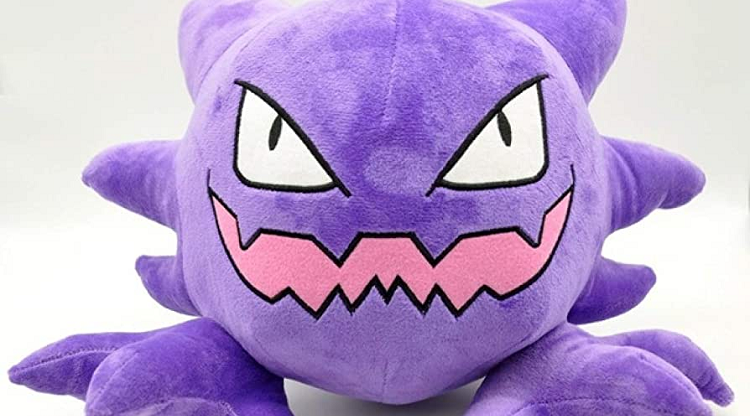 This goofy-looking plush is available on Amazon. However, it is not a Prime product. Shipping is free but takes around two weeks. Amazon plushies tend to be hit or miss, but this one is one of the better Haunter plushies I've encountered. 
He's an odd-shaped Pokémon, meaning it's hard to find a plushie that does him justice. My only real complaint is the somewhat long shipping time! 
Fun Facts
Sizes: 11-inches.
Available In Stores: No, this is available on Amazon through IADZ.
Difficulty Scale: It is currently in stock but is not a Prime item. This means that shipping time varies, but it usually takes around two weeks.
FAQs
Question: What is the Rarest Pokémon plush?
Answer: Giant Eevee! This plush was exclusive to Japan in 2012, and only 20 exist! It resales for around $5,000, but given the small quantity available, it is extremely rare to find for sale.
Question: What animal is Gengar?
Question: Does Pokemon restock their plush?
Answer: Restocks happen multiple times yearly but are random and usually unannounced. Your best bet is to check the item numerous times a month until it is available.
Gengar Plush: The Final Move
To conclude, Gengar is an all-star Pokémon that will have new plush designs for many years to come, but I hope this article helped you pick your next plush-hunt ISO! Only one more month until we go on Target strolls, hoping to be blessed by the 20-inch Squishmallow.
Best of luck, my readers. I can't wait to update you soon on the Pokémon plushies I get my hands on! Til next time, keep catching them all.
Love Pokémon? Check out these plush reviews!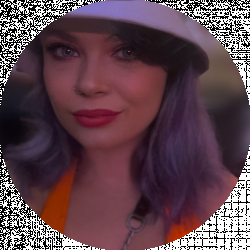 Latest posts by Teryn Greenway
(see all)