If you're tired of your child destroying every toy you buy, it might be time to consider buying something indestructible yet soft, like a stuffed animal. If you grew up watching the unforgettable Pokemon television series, today, the Pikachu plush will be of sentimental value. In this article, we'll walk you through a Pikachu plush guide as we explain why your kid needs this cute plush.
For most kids, the first relationship they form outside of their family is with a plush. Stuffed animals offer kids companionship and comfort. They are the ideal audience that is always listening and motivating.
Plus, children love Pokémon, and so do you, especially if it was a big part of your childhood as you were growing up. It made it hard to forget how much it changed your brain, how influential it was, its excellence in combat, and everything it could do. You also got to learn important values like respecting your elders and teamwork. And that's why getting a Pikachu plush for your kid is perfect.
Bottom Line Up Front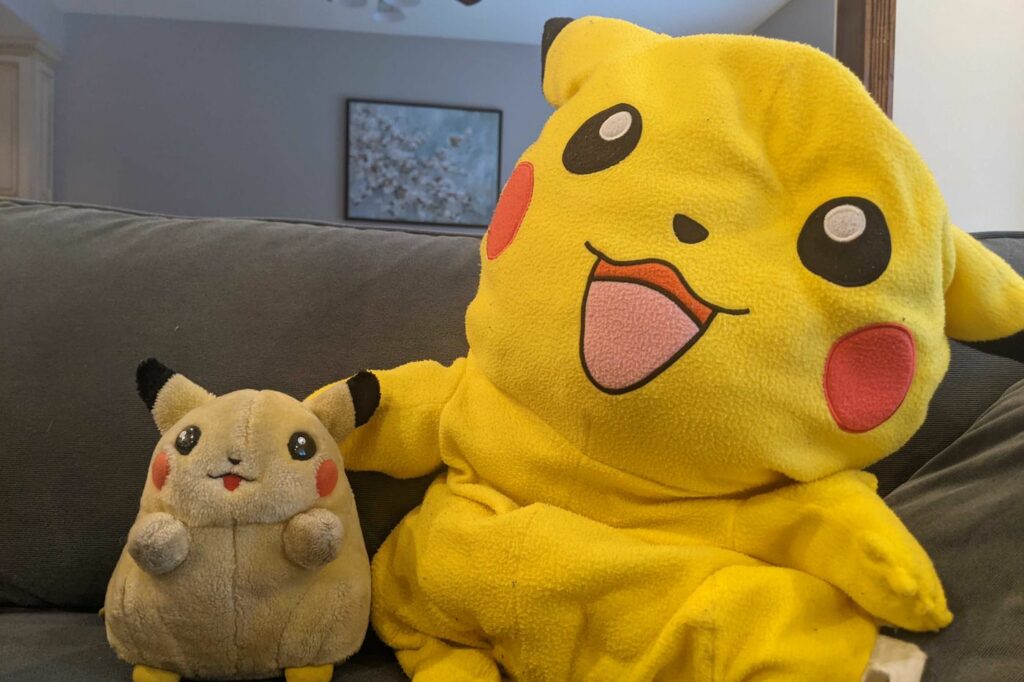 Are you a huge Pokémon fan, and Pikachu is your favorite character? Well, then this Pikachu plush guide is just for you! My favorite Pikachu plushie for the kiddies is the Interactive Pikachu plush because not only does it keep the kids entertained for a long time, but it also improves their attentiveness. Now, my favorite Pikachu plushie is the Gigantic Pikachu plush of 39 inches, because it is super soft and its size makes it a great cuddle buddy.
How to Pick the Best Pikachu Plushie
Pikachu plushies always make incredible gifts; children love them! However, they come in an almost endless array of sizes and other distinctive features. Choosing the perfect one for your child can seem complicated. If you're wondering how to pick the plush toy that your child will appreciate, here's our easy-to-use guide:
Take the Child's Interests Into Account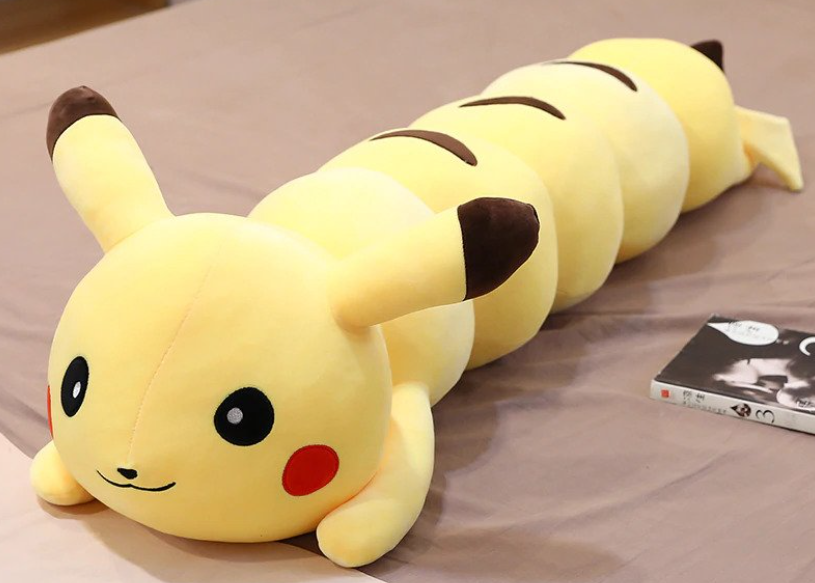 Consider your child's passion and also what their room looks like. Pikachu plushies vary in size and shape so ensure your child's eyes will skip with joy when they see the plush.
Get the Child's Opinion 
Whenever possible, it is helpful to ask your kid what Pikachu plush they prefer. You can involve them in the buying process, or if they are old enough, they can help you pick one from the website that has plenty of Pikachu options. 
A Pikachu plush that eight-year-old likes probably won't be ideal for an eight-month-old, and vice versa. Pikachu plushies for children must be soft, small, or flexible to be caught with small hands and free of accessories that could represent a risk of suffocation.
The Different Pikachu Plushies you Get
We have compiled a list of the best Pikachu plushies together with the features, the pros, and the cons of each below: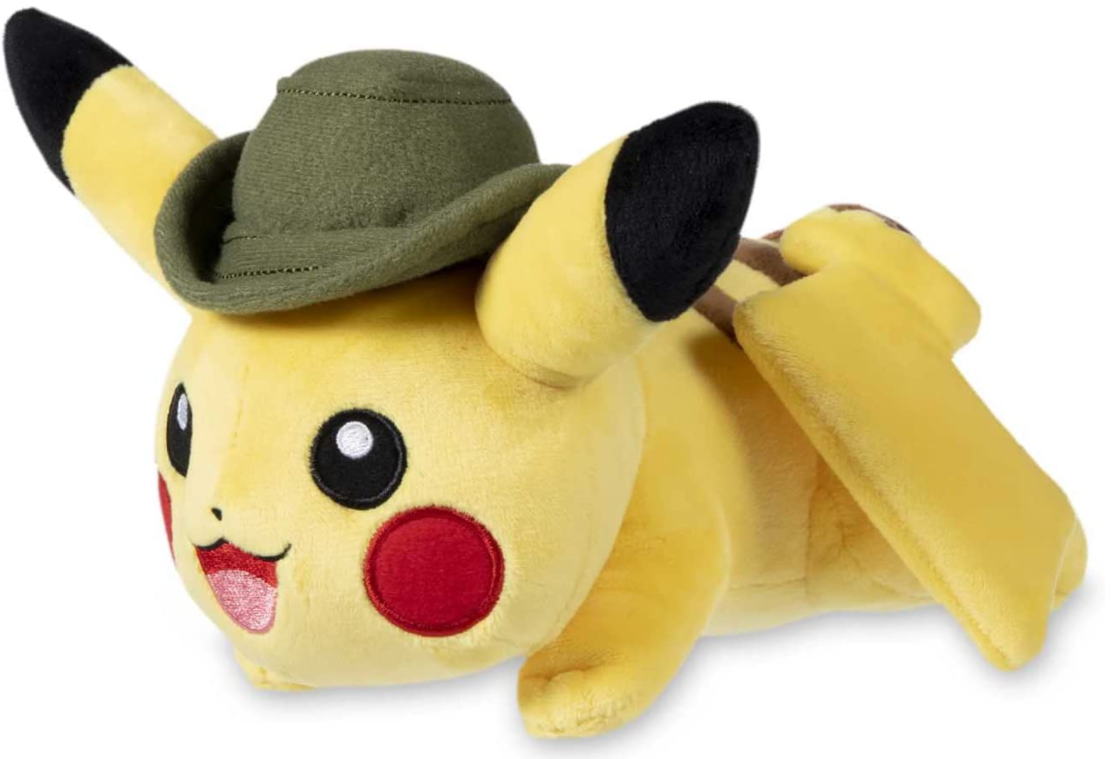 To match the safari theme, Pikachu wears a safari hat, which gives him an Indiana Jones look. So you just know he will be ready to go on an adventure with you or your little one.  
Features
Character: Safari Pikachu
Brand: Card game
Size: 8 "
Age range: 12 months and up
Pros
It is soft and will make a perfect cuddle buddy

Easy to wash

The perfect friend to take on an adventure
Cons
You can't take the hat off.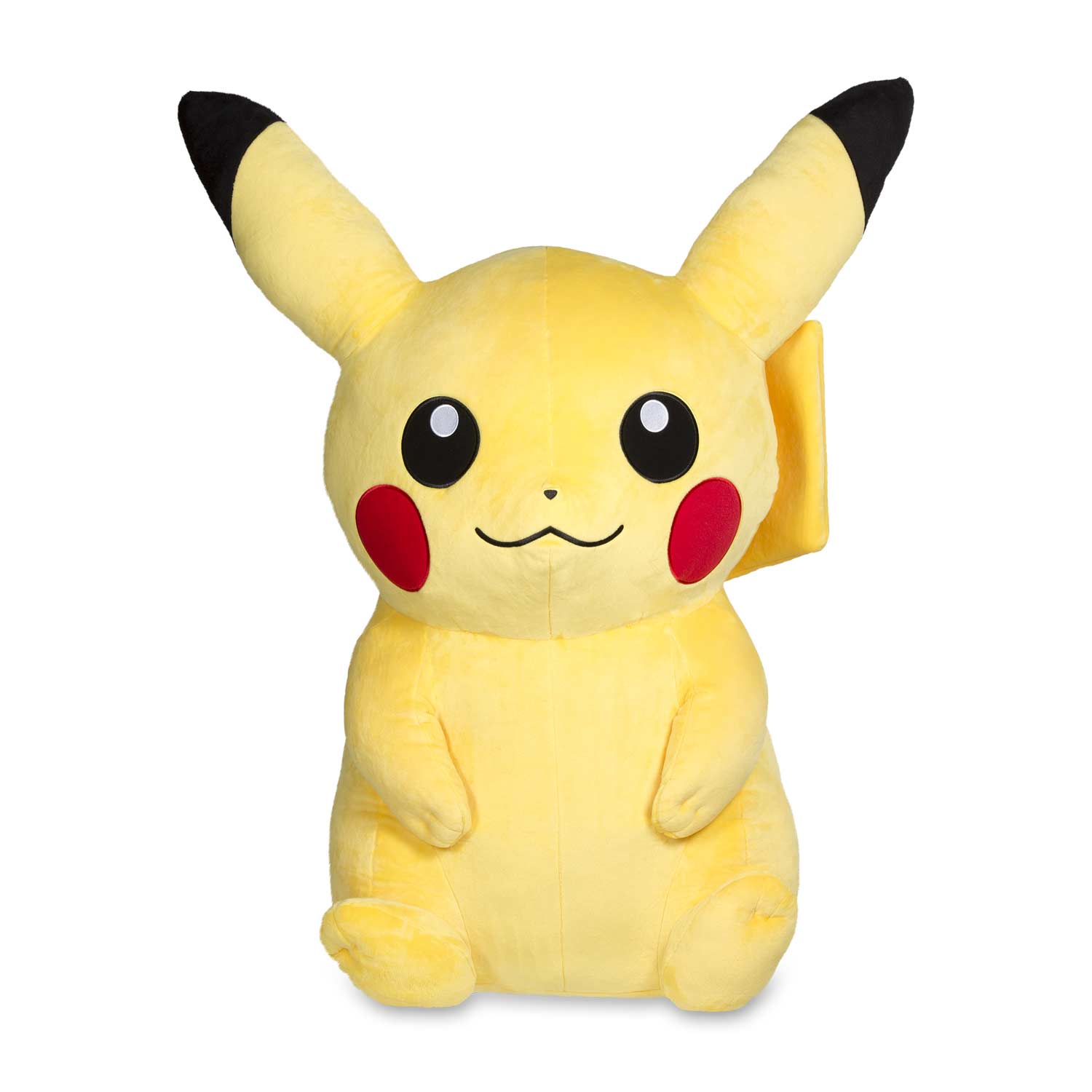 This gigantic Pikachu is large enough to put up a big fight but still soft enough so that you can spend hours cuddling. It's famous and lively; it's the giant Pikachu! 
Features
Character: Gigantic Pikachu
Brand: Pokémon Center
Size: 39″
Age range: Age 4 and up
Pros
Its size makes it even more fun to cuddle

It is soft

It is not heavy for its size
Cons
It's expensive

Because it is so large, it makes it difficult to clean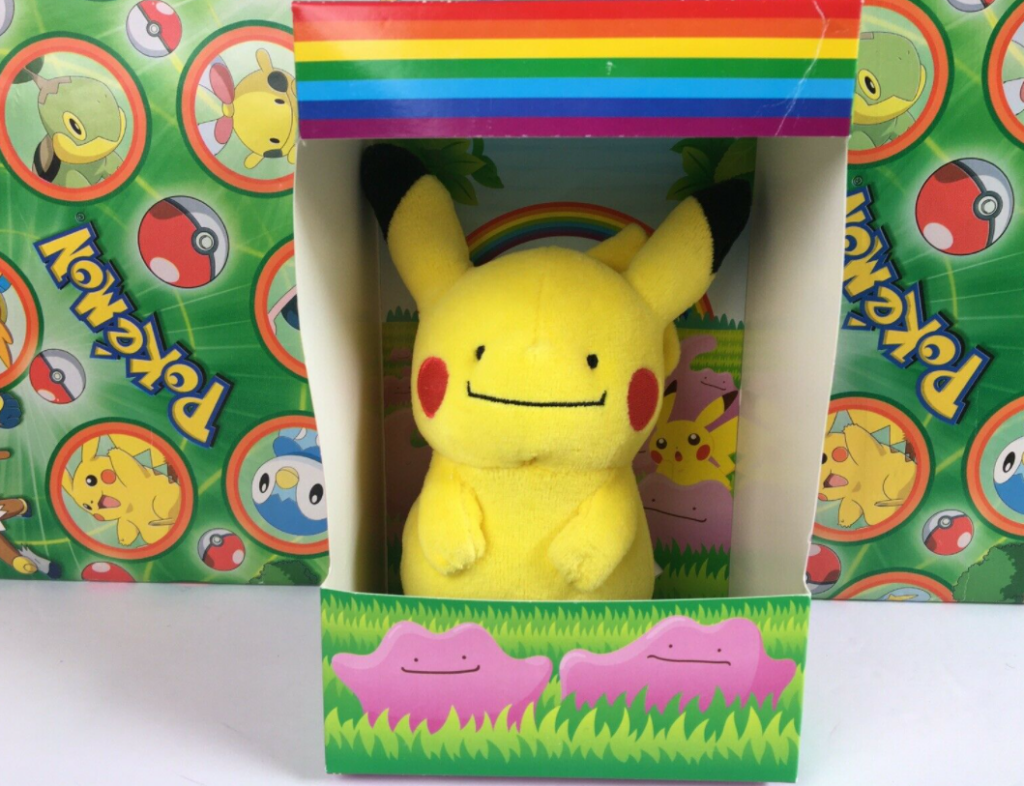 Pokémon plush toys with the face of Ditto(Ditto is a popular Pokémon that can mimic other Pokémon almost perfectly) are trendy. One of the most sought-after Ditto face plushes is the "Dittochu" right from Pokémon Center Japan's Rainbow 2010 series. The Dittochu plushies were made in limited quantities and are sometimes sold for resale. 
Features
Character: Dittochu Pikachu plush
Brand: Pokémon Center
Size: 6 "
Age range: Age 3 and up.
Pros
They are trendy

They are different than your typical Pikachu plushies

They are rare and valuable
Cons
It is hard to find them 

Difficult to clean

It is expensive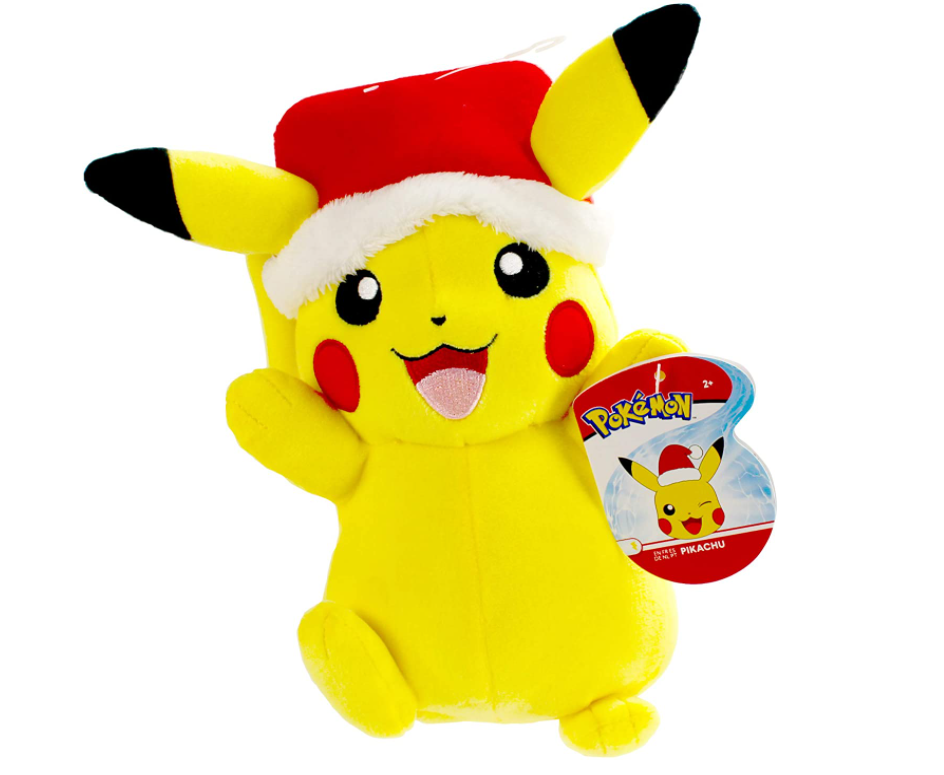 The lovely and cuddly 8″ Pikachu plush is available to celebrate the holidays with you! It comes with great detail and a special Santa hat; this seasonal plush is the ideal gift for all ages! Pikachu Santa hat plush is among the most famous Electro-type Pokémon, and luckily now it can accompany you on all your Christmas-themed adventures! 
Features
Character: Pokémon Pikachu Holiday Seasonal Plush
Brand: Pokémon
Size: 8 "
Age range: Age 2 and up
Pros
They are stylish and cute

They are easy to clean

Makes the perfect gift

They are bright and soft
Cons
For some, it might be too small.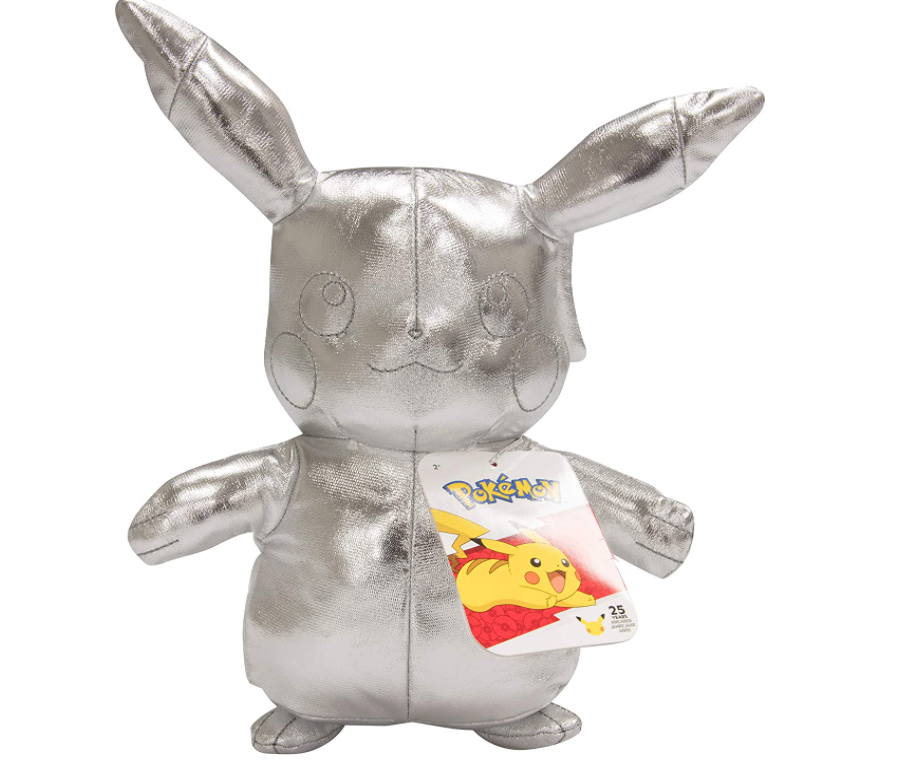 This is a limited edition Pikachu to celebrate the 25th Anniversary of Pokémon. They are not going to last very long, so you need to purchase them while you still can. Let us look at some features of this silver guy.
Features
Character: Silver Pikachu
Brand: Pokémon
Size: 8″
Age range: Age 2 and up
Pros
It's less likely to get dirty.

It's easy to clean because it is smaller in size

Good quality

Limited edition

It will make a great gift
Cons
They are very rare

They come in a bag, not a box, so they are highly likely to accumulate dust.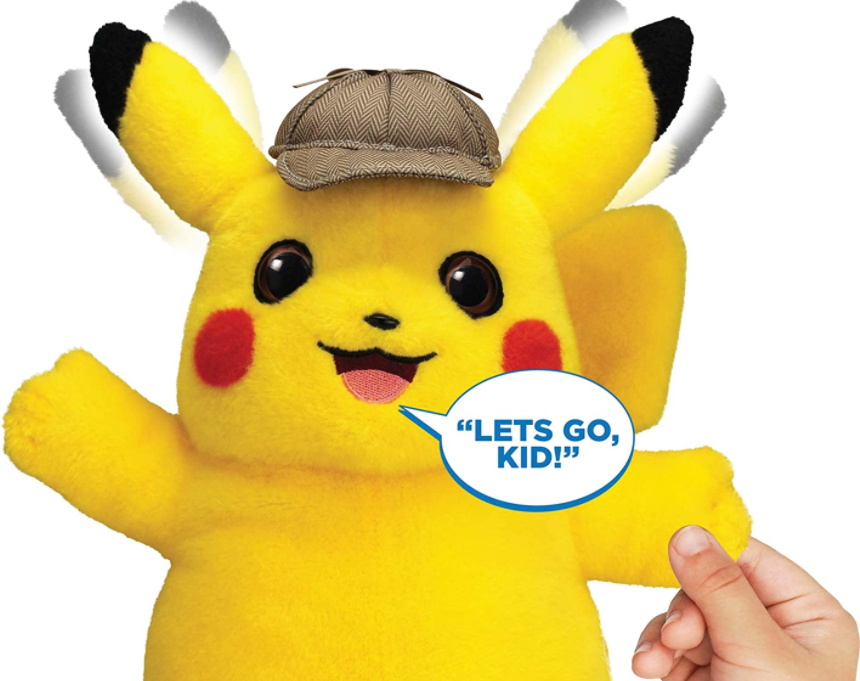 This talking plush has two voice modes: Pikachu and Detective Pikachu, so you can easily talk in the same way as in the movies. Press the button on his chest if you or your loved ones want to listen to Detective Pikachu speak, and then press it for the second time if you want to hear the voice of Pikachu! Even the ears of Pikachu moves; how cool is that? Let us look at some features. 
Features
Character: Pokémon Detective Pikachu
Brand: Pokémon
Size: 12″
Age range: Age 2 and up
Pros
It's the perfect size At 12 inches for snuggling up 

It makes a great gift

Now you and your little one can go on many detective adventures with this Pikachu

It comes with a cute little hat

It will keep your children entertained
Cons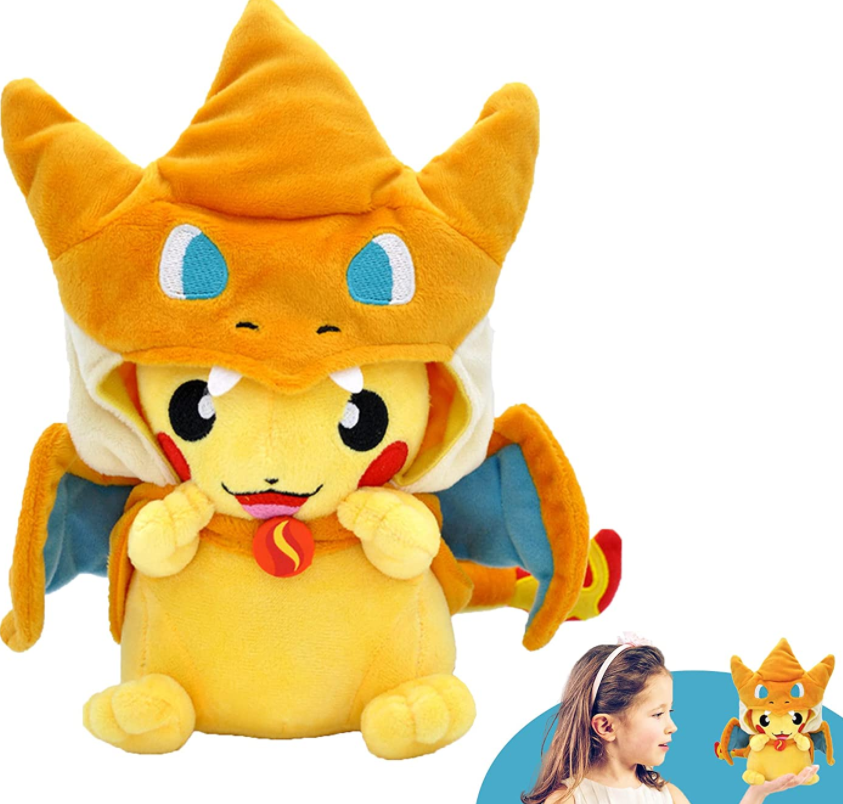 This Pikachu plush makes the perfect gift for birthdays and holidays. It is super soft, making it a great cuddling buddy for you or your little one. This little guy will also make a great companion on Halloween.
Features
Character: Charizard Pikachu Plush
Brand: Kreveroy
Size: 8″
Age Range: 12 months and up
Pros
It is cute and stylish

Made of top-notch materials

Soft and cuddly

Make the perfect gift

You can remove his little jacket to change his look
Cons
For some, it might be too small.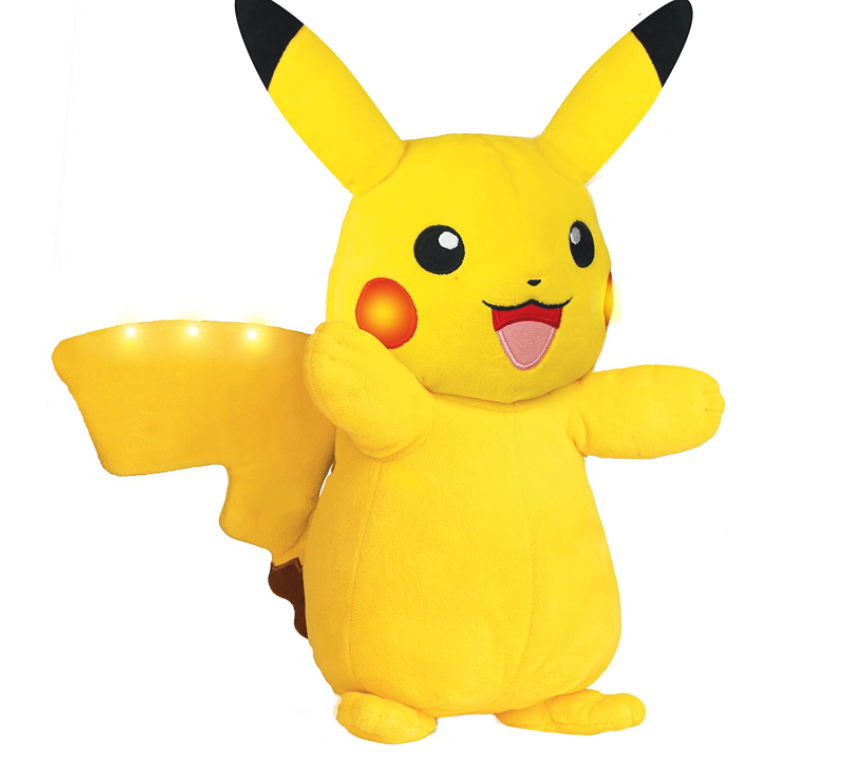 This is an interactive stuffed animal with lights, motion sensors, and sounds. The Pikachu's tail and cheeks can light up. He also has talking abilities that make him a great companion. The more you speak with this Pikachu, the more efficient the reactions are. When you are not using the light or sound features, you can just use it as a regular plushie. Let us have a look at some features:
Features
Character: Power Action Pikachu
Brand: Pokémon
Size: 13″
Age range: age 3 and up
Pros
It makes a great companion.

It's an intelligent, interactive toy that kids will enjoy 

It lights up

It has talking features
Cons
The electronics might give problems after a while
Alternative Plushie Options
So, if you are not a fan of Pikachu, I have some cute alternative options for you.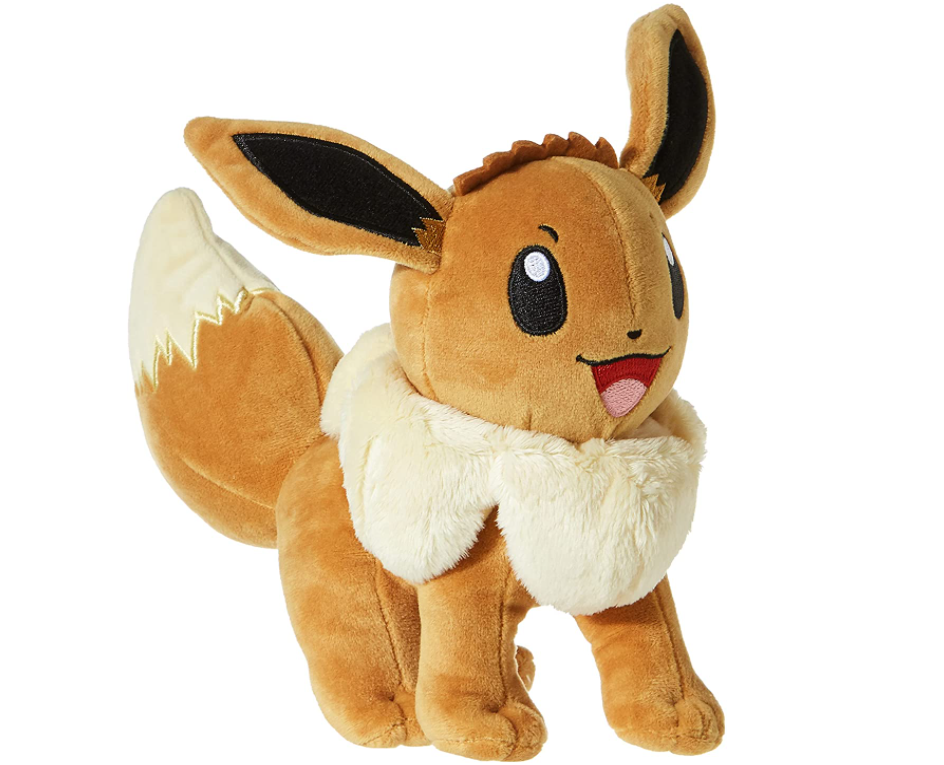 Eevee is a small fluffy creature that looks like a fox. Due to an unstable genetic code that Eevee has, it allows it to evolve in one of eight Pokémons; how cool is that? 
The 8-inch Eevee plush is so soft and adorable that even young kids who are new to the Pokémon world will adore it when they see it. It's large and soft enough to be snuggly yet the perfect size for a kid to carry. The detailed and happy expression of Eevee will always uplift your mood.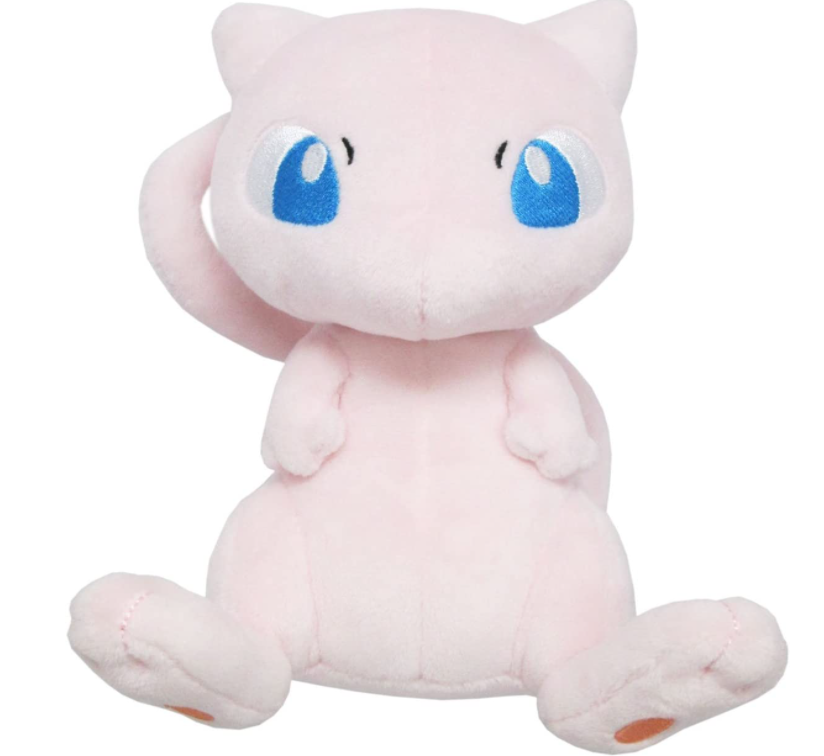 This little pink Pokémon is one of the most powerful Pokémon's. Mew's personality is very playful and childish, but this doesn't stand in Mew's way of being a great friend and always being there for the other Pokémon's.  
The Mew plushie is extremely cute and cuddly, and at just 6.5 inches tall, it's an excellent collector's item. Mew will make a great friend to you or your little one. Mew will also teach your child to be caring and will always put a smile on their face.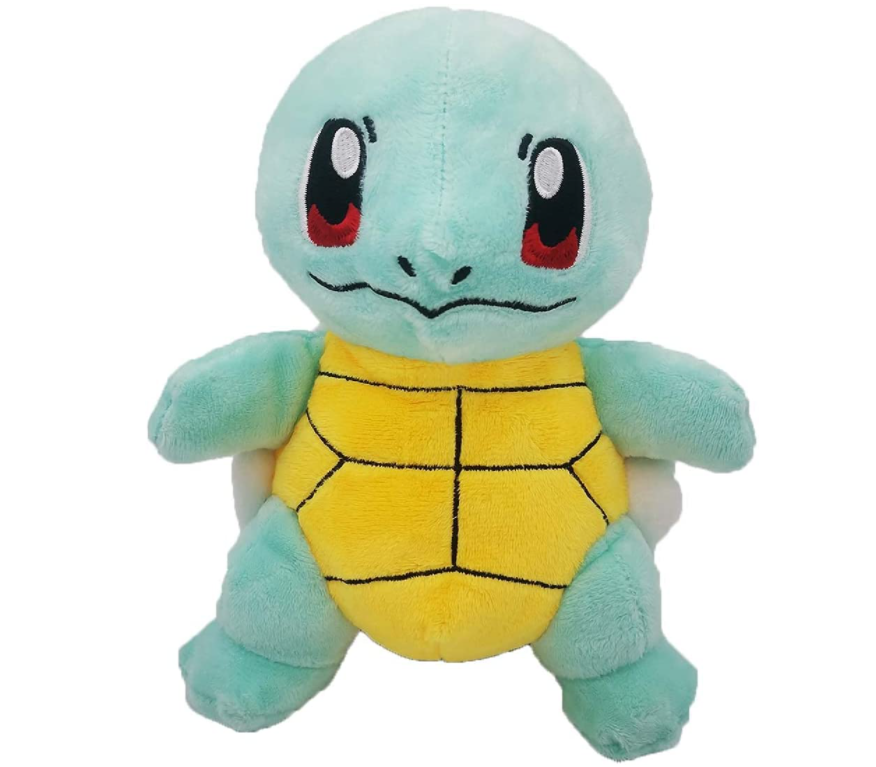 Squirtle gets times where it can be very immature, but you can always count and trust on him. The soft Squirtle plushie makes a great birthday or Christmas present. It will make a great cuddle buddy when you are snuggled up and watching movies. It is also a size that makes it easy for your kid to carry around.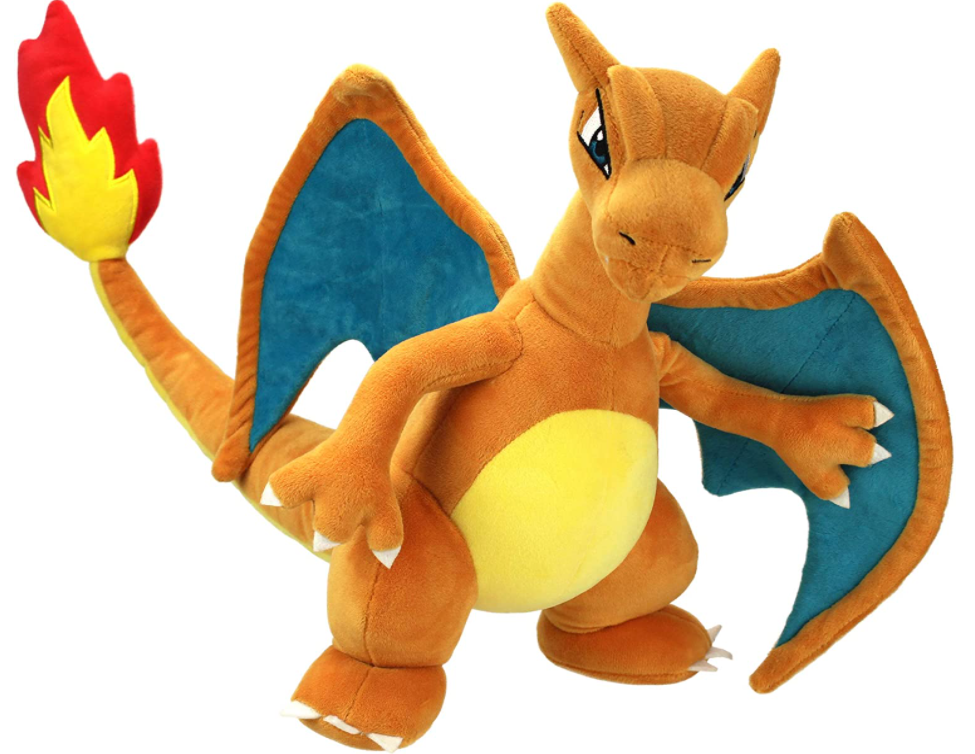 This Flame Pokémon character evolves multiple times in combat but always reverts to its original and well-known form. The plush features remarkable detail from the wingtips to the end of its tail. Kids enjoy throwing it as it soars into combat, but it doesn't get destructed.
Because it's a flying Pokémon creature, it looks incredible hanging from a lamp or hanging from the ceiling.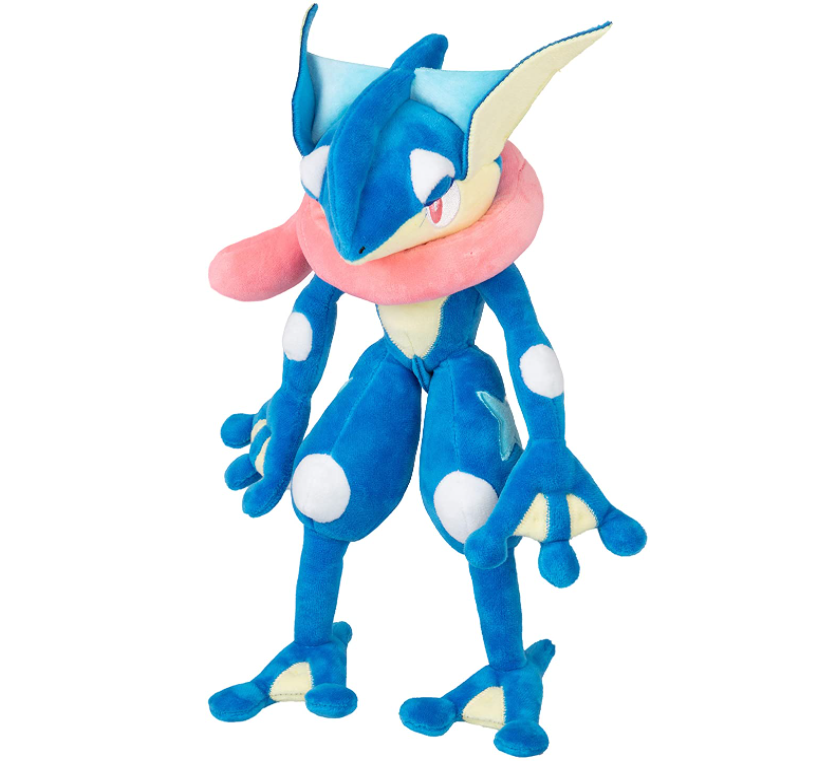 This Pokémon is half frog, and what should I call it? Half weird. This soft plushie is a perfect companion for children when traveling. It has amazing detail and is super cute and cuddly. Greninja is quiet but observant and will definitely keep an eye on your little one while they are playing.
My Favorite Pikachu Plushie
The Pokémon Detective Pikachu plush is one of my favorite plushies because it keeps the kiddies entertained for a long time. This plushie also improves their attentiveness span and encourages them to think, and also enhances their creativity. In addition, it will also help your kid to improve their hand-eye coordination. So that is my favorite option for the kiddies. But, my favorite Pikachu plushie for myself is the Gigantic Pikachu Plush. My husband travels a lot, so this Pikachu plushie will be great to keep me company and great to snuggle with.   
Some Pikachu Inspiration for Your Collection:

How cute is this little Pikachu? Dressed in a pink, white, and purple colored dress with a little bow on the head. I need it now!

Even though Valentine's day is over, it is not too late to get your bae this cute little Pikachu.

If you are obsessed with Pikachu, you can bring Pikachu to life by putting this adorable Pikachu outfit on your doggies.
FAQ
Question: What are Pokémon Plushes Usually Filled With? 
Answer: Pokémon plushies are filled with the popular polyfill fiber. This material feels cotton-like. It is soft, lightweight, and provides the plushie with evenness and puffiness to form its shape. This is why it is the perfect stuffing for all stuffed animals. 
Question: Can you Clean the Plushes in the Washing Machine? 
Answer: The manufacturer recommends cleaning the surface only, but if you decide to wash it in the washer, be sure to use a low-temperature setting to prevent the glue from melting or wearing down the fabric.
Question: What Kind of Creature is a Pikachu? 
Answer: Pikachu had all along felt like a mouse and rat's distant relative, but, over an interview, r Atsuko Nishida, a game designer whose responsibility was working on the original Pokémon Gameboy games, stated that the Pikachu character is not rat or mouse-based. Pikachu, according to him, is a squirrel.
Conclusion
Perhaps relieving anxiety and distress are the most apparent reasons for purchasing stuffed animals. After going through our Pikachu plush guide, you now understand why and how Pikachu soft toys help your kids cope with emotions since they represent comfort and familiarity. 
Also, this is essential to gradually develop your baby's ability to calm down without help from mom or dad. Have you purchased a Pikachu plushie for yourself or your little one? Which one was your favorite in the guide mentioned above? Let us know in the comments below. Happy Pikachu shopping, guys and girls!
Find more inspiration below: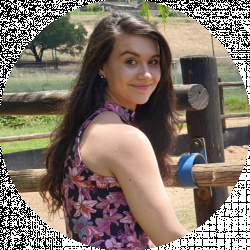 Latest posts by Christine Kent
(see all)