How often do your kids roar like dinosaurs? If they roar even once, you might need to find them a new friend in this best dinosaur plush guide. Boys and girls love dinosaurs and plushies. Combining them is like winning the lottery for a kid. I'll show you the best of the dinos and how each one measures up to the next.
My kids love the squishiness of soft plushies, and I love the collectibility potential of every brand. Would you believe there's even a best mood plush dinosaur? From cats to birds, dinosaur plushies certainly compete as one of the top stuffed animals, even if they're extinct. Let's see what the best dino plushies have in store.
Bottom Line Up Front
As a mom, I learned a long time ago that kids would love what they love. My son's into scary dinosaurs, whereas my daughter loves cuddling her favorite baby dino plush. I also have a different side to my interest in plush toys. I'm a collector with a broad vision for adding the best dino plushies to my collection.
Dinosaur plush toys come in all sizes, colors, and shapes. I simultaneously value collectibility and my children's love, which leads me to select the best dinosaur plushies from known brands. I also consider the size for cuddling and whether the dinosaur rings a bell with my kids. Who the heck knows what a nigersaurus is?
Oddly enough, it's a genuine dinosaur, but it's so unknown that my laptop is telling me I spelled it wrong. Nope, it exists. After considering the three factors, all you have to do is select a dinosaur your kids love. Does your son go wild for the T-Rex? The Dinosauria T-Rex Plush is the winner in that case.
Does your daughter have trouble communicating her emotions? The Reversible Stegosaurus Plush will help her achieve proper communication. I love fluffy dino plushies, and the Trace Triceratops Plush does it for me. Additionally, it's a collectible dinosaur plush. There's a dinosaur plush for every child or collector.
You merely have to find your sweet spot for dino plushies. Let's take a quick look at my top picks for each famed dino and trend.
My Best Dinosaur Plush Toys at a Glance
The best dino plush toys come from selecting the favorite dinos or stuffed toy trends for 2022. Question any child about my top dinos, and they'll recognize them, especially if they watch cartoons. These are my best picks and a brief reason for their entrance to my list:
Why Choose Dinosaur Plushies?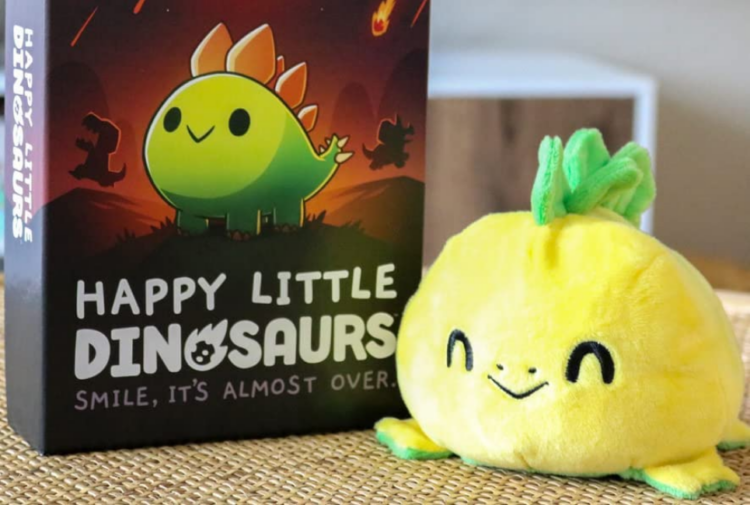 Plush toys have many benefits for children. A proven benefit is that your child learns social skills by adopting a furry friend. Children find comfort in their plushy friends. They use the furry friends in role-playing games to practice social and communication skills. Kids even develop improved emotional regulation with plushies.
The developmental benefits are enough to find your child a new dinosaur plush. The more common reason is that kids become heavily attached to their favorite plush friends. Your child is sure to develop a bond with the plushy if they love dinosaurs. A stronger bond leads to improved chances of skill development.
Roaring Advice for Dinosaur Plush Toys
My advice is two-fold, depending on whether you're buying plush dinosaur toys for kids or a collection.
Advice for Children's Dinosaur Plush
Kids will own a toy factory if they can. Trust me; I've lived in one. It's a dream to own every new dinosaur plush that hits the market, but you'll be surprised how many exist. You're allowed to limit the number of plush toys your kids keep in their bedrooms. If their plushies grow too large, store them with the collector's advice.
I allow my kids 20 items of toys at once. They hold onto their favorite plushies while the others rest in storage. Everything else is stored until they feel like rotating their favorites. Can you imagine what their bedrooms would look like if I allowed them to keep all of their toys at once? I know it doesn't seem kind, but my kids don't mind.
I noticed how my 20-toy system had taught my kids some responsibility, too. It also makes their jobs more manageable when it's time for dinner and the toys must go. I allow my daughter to keep her favorite plush at the dinner table because it's her best friend, after all. Everything else is packed neatly before dinner.
Dinosaur plushies are no different, even if you have a dino-crazed kid. Limits teach boundaries, responsibilities, and self-control. Skills your kids need when they grow up. You don't want them becoming roaring dinos, do you? They deserve to have all of the fun in "Jurassic World," but you're the parent.
Babies will chew everything, and even fabric parts break off into their throats. Another tip for plushies, especially dinosaur plush, is that you supervise babies under 12 if the toy has any spikes and chewable parts. Additionally, never allow babies to sleep with dinosaur plushies in the crib.
Advice for Collector's Dinosaur Plush
Every fandom exists, including plush dinosaur toys. You might be a Jurassic Park fan, or maybe you love a specific brand of plush toys and want to collect them all. Either way, collecting dino plush is another exciting venture. As a collector, I can tell you things get out of hand if your collection grows too much.
In the case of a massive plush collection, you'll need to store the delicate beauties to maintain their sentimental value to your fandom's heart. I have a few vintage collectibles, and I keep them in a climate-controlled environment. Humidity, sunlight, and extreme temperature changes damage your previous dino plushies.
I know you want to keep them displayed for everyone to see, but you should consider storing them. Every few months, I rotate my favorite plush toys to my display, and the rest go into storage. Keep the original packaging and wrap them in plastic before storing them.
If you don't have the original packaging anymore, vacuum-sealing the plush dinos will work. It keeps them airtight while you store them in a cool, dry place. You might want to consider mothballs, even if they're vacuum-sealed. Never put the mothballs in the vacuum pack itself. Place them between the sealed plushies.
How to Choose the Best Dinosaur Plush
You'll be shocked to see how many dino plush toys are available. It doesn't help that my son and every child love dinos and plushies. I narrowed the best dinosaur plush toys with three guidelines:
The dinosaur plush should come from a known plushy brand to find more in the future. Some popular plush brands include Bearington, Aurora, Wild Republic, Manhattan Toys, TeeTurtle, Steiff, Pillow Pets, and Bellzi.
I think plushies are perfect cuddle buddies for kids. I only choose cuddly-size plushies between six and 16 inches, which suits most kids.
The final guideline I used was to select famous dinosaurs my kids know or the plush types they love. For example, every child knows the TeeTurtle reversible mood plushies. All kids know what a T-Rex looks like, too.
Best Dinosaur Plush Guide: The Winning Dinos
I'm all about talking through the trends and known dinosaurs. The more collectible it is, the better the quality you'll find. I also know the top brands because I collect plush toys. Let me show you how each dinosaur plush meets my standards for the best of the best.
Best Ankylosaurus Dinosaur Plush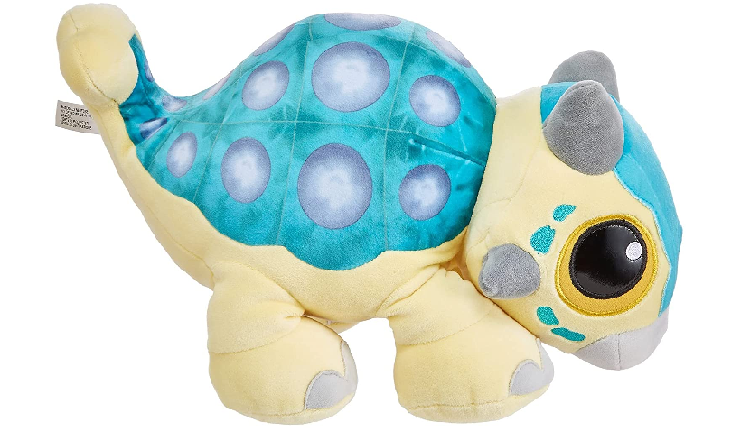 An Ankylosaurus isn't naturally the cutest dinosaur. Still, kids know the dino from Camp Cretaceous because it becomes Ben's best friend. The Ankylosaurus Baby Bumpy Dinosaur Plush perfectly encumbers how adorable the creature is in the kiddies animation series. I think the artwork is impressive, and I want to gobble it up.
Key Features
Brand: Jurassic World
Recommended Ages: 3 and up
Style: Baby dino plush, ankylosaurus plush, Camp Cretaceous plush, Jurassic Park plush
Materials: Super soft polyester with cotton fill
Size: 10.51″ x 5″ x 9.06″
Collectible: Yes
Model Name: Baby Bumpy
Pros
The ankylosaurus plush toy is next-level adorable with huge eyes and floppy limbs
It's soft and big enough to be your child's cuddle buddy
It has a roar sound effect for active play that benefits toddlers
It's a known brand and collectible
Cons
The floppy limbs are fantastic, but they can break with time
You might never get a child to put this dino toy down
Best Any-Species Baby Dinosaur Plush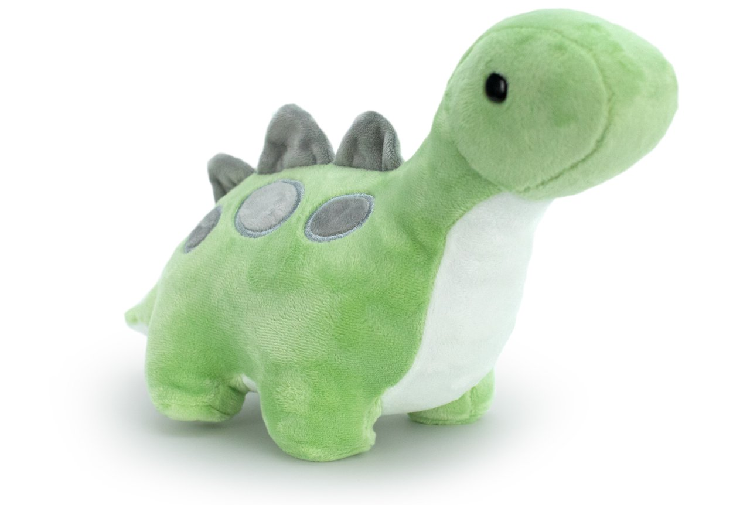 The next best thing after Baby Bumpy is undoubtedly the huggable, lovable Baby Brontosaurus Plush. Bronti isn't a character from an animated series or anything. Kids are familiar with the brontosaurus as a famous dino in many shows and movies. I'd select this as my go-to baby dino plush if my daughter were still a baby.
Key Features
Brand: Bellzi
Recommended Ages: All ages
Style: Baby dinosaur plush, brontosaurus plush, cuddly dino plush
Materials: Premium, clump-resistant, and high-density polyester
Size: 12″
Collectible: The brand can be collectible
Model Name: Bronti
Pros
The baby brontosaurus plush toy has exceptional cuteness, and that baby look stumps me
It's the perfect size to cuddle, and it has a squishable level of new proportions
The baby dino plush is made in California if you love local products
It's a known brand and could be collectible
Cons
The tiny spikes on its back might break with babies chewing them all the time
Your baby will find a new friend so awesome that they might forget to talk to you
Best Brachiosaurus Dinosaur Plush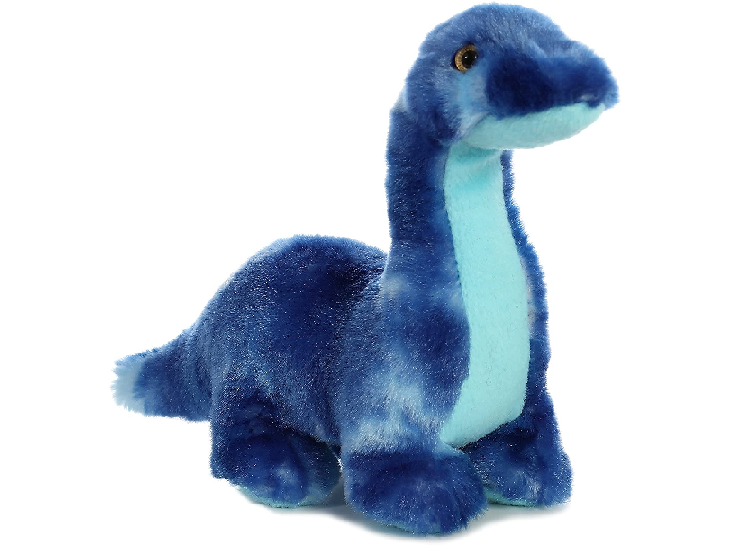 The brachiosaurus is another famed dino that makes every movie about dinosaurs. Kids consider this dino to be gentle and calm. It's a herbivore, so kids learn how some animals are peaceful. The Brachiosaurus Dino Plush is a fluffy ball of fur with short enough legs to look as though it's lying down. It's perfect for nap time.
Key Features
Brand: Aurora
Recommended Ages: All ages
Style: Fluffy dino plush, brachiosaurus plush, cute dino plush
Materials: Soft and durable polyester fill with lock-washer eyes
Size: 8.5″
Collectible: Why not?
Model Name: Brachiosaurus
Pros
The brachiosaurus plush looks like a peaceful dino resting on legs that barely look straight
It's perfect for cuddling, and fluffy exterior is enough to meet your child's heart
The lock-wash eyes and double bagged filling make it safe for babies
It's a known brand and could be collectible
Cons
The length of the legs are inaccurate if you're looking for teachable dino plush toys
Furry dino plushies are harder to keep fluffy in the wash over time
Best Brontosaurus Dinosaur Plush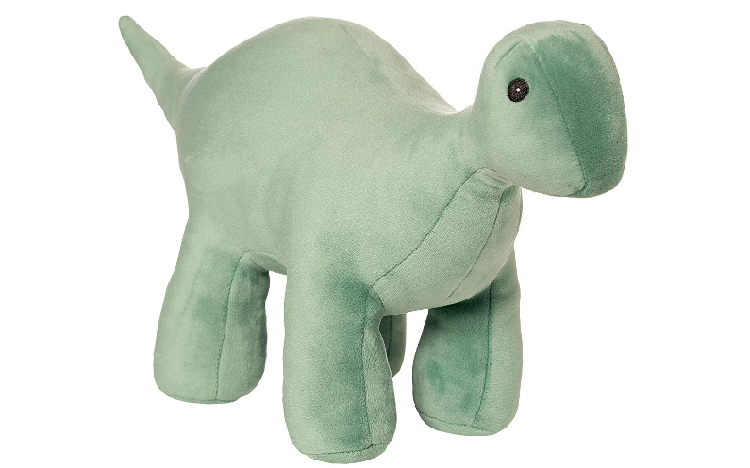 And the brontosaurus returns because it's another peaceful creature or herbivore. Okay, some kids love the monstrous side of carnivorous dinosaurs, but some herbivores are well-known and loved. The Stomper Brontosaurus Plush is an unusual toy because it has an ultra-soft finish. It looks a little odd, though.
Key Features
Brand: Manhattan Toys
Recommended Ages: All ages
Style: Brontosaurus plush, dino plush, and dinosaur baby plush
Materials: Luxury plush fabric with double filling and velveteen feel
Size: 7″
Collectible: Maybe
Model Name: Stomper
Pros
The plush brontosaurus toy has an alien appearance, but its baby face makes it worthwhile
It's a good cuddle buddy and safe for babies and toddlers
It has a velveteen exterior that feels like a cloud drifting through your fingers
It's a known brand and might be collectible if you're into odd-looking dino plushies
Cons
The tail and neck are certainly flimsy and could break with babies and young toddlers doing what they do
I can't get over the oddity of the design
Best Reversible Dinosaur Plush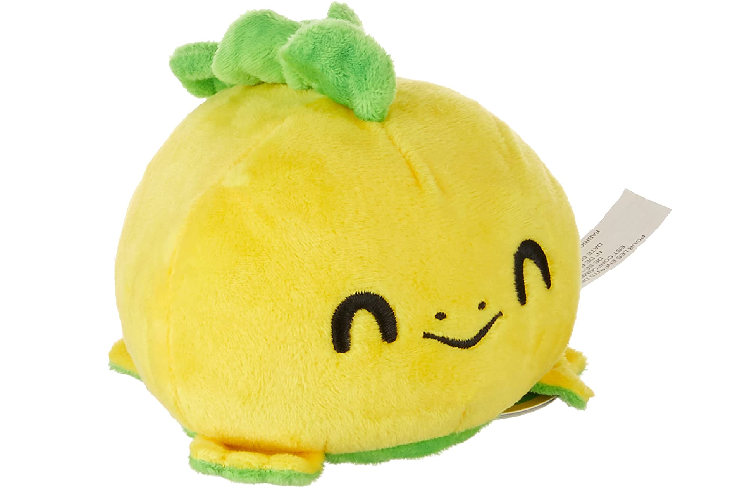 Thanks to Tik Tok, reversible TeeTurtle plushies are a massive trend. However, they're on my list of must-have dinosaur plushies because every kid needs one, especially toddlers learning to express themselves. The Reversible Stegosaurus Plush is how your toddler learns to manage their massive emotions, and it's cute.
Key Features
Brand: TeeTurtle
Recommended Ages: All ages
Style: Stegosaurus plush, baby dino plush, and reversible dino plush
Materials: Combined cotton and polyester for squishy softness
Size: 6.5″ x 3.5″ x 4.5″
Collectible: Most definitely!
Model Name: Stego
Pros
The reversible stegosaurus plush is an endearing little plushy with bright colors for moody expressions
It's safe for babies, toddlers, and big kids, and it's all too easy to cuddle all night
It has a reversible feature with a happy and sad face
It's a collectible and well-known brand
Cons
The paws and spikes are fragile enough to break with too many reversible expressions
You don't want kids becoming too reliant on using mood plushies instead of self-expression when they get older
Best Spinosaurus Dinosaur Plush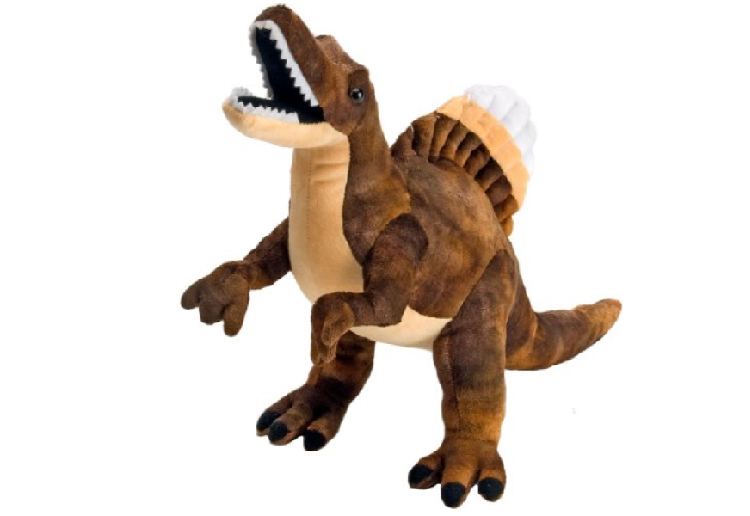 Cute dinosaur plushies are a must-own for girls and little boys, but some boys prefer the carnivorous kind of dino plushies. The Dino Spinosaurus Plush is perfect for boys who want hangry-looking dinos in their toy collection. The spinosaurus is another famous dinosaur with more attitude. The teeth look dangerous enough.
Key Features
Brand: Wild Republic
Recommended Ages: All ages
Style: Spinosaurus plush, dangerous dino plush, wild dino plush
Materials: Polyester and cotton blend with a furry exterior
Size: 10″
Collectible: Maybe
Model Name: Spinosaurus
Pros
The spinosaurus plush toy has realistic-looking teeth and a spine to match
It's a safe toy for babies, toddlers, and any age to cuddle and enjoy
The Wild Republic manufactures realistic-looking dino plushies as educational toys for young kids
It's a well-known brand with collectible potential
Cons
The scary-looking dino plush might not sit well with little girls (unless they have some fear control)
The dino plush's position is awkward (intended to represent the realistic side of the dino)
Best Stegosaurus Dinosaur Plush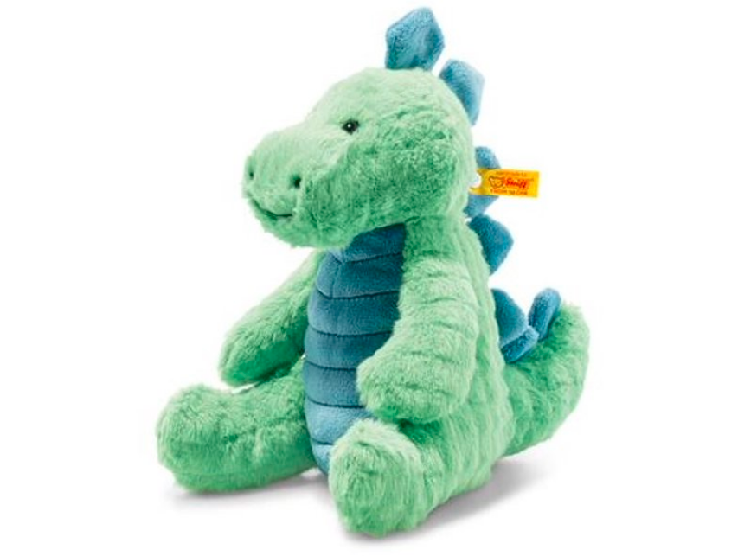 Steiff creates some of the best toys, and the stegosaurus is a missing link in the best dinos kids know. The Spott Stegosaurus Plush is a beautiful stuffed toy with cuddle potential. The details are impressive, and the colors are more neutral. Dinosaurs weren't really as blue as the sky or as green as the lawn.
Key Features
Brand: Steiff
Recommended Ages: All ages
Style: Stegosaurus plush, cute dino plush, furry dino plush
Materials: Polyester and cotton with a furry exterior
Size: 10″
Collectible: Most definitely!
Model Name: Spott
Pros
The stegosaurus plush has so much appeal, and the furry exterior turns it into the perfect friend for little ones
It's a huggable, lovable dino plush that makes dreams feel like reality for kids
Steiff is the mother brand of stuffed toys, making this dino plush collectible and a must-own
It's a well-known brand with exceptional quality
Cons
The spike and forearms are flimsy with too much handling
You might have to fight this plush toy away from your kids
Best T-Rex Dinosaur Plush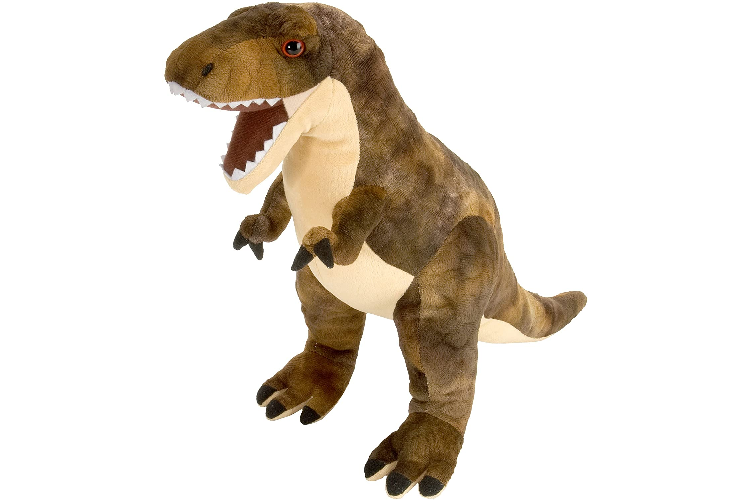 And we go straight back into the jaw of the dangerous dinos with a T-Rex. The Dinosauria T-Rex Plush is a scary-but-not-too-scary plush for kids who love the main dino. Every child knows the T-Rex, and boys especially want to own the scary-looking plushy with teeth sharp enough to chase their imagined enemies away.
Key Features
Brand: Wild Republic
Recommended Ages: All ages
Style: T-Rex plush, dino plush, and dangerous dino plush
Materials: Polyester and cotton blend with realistic touch
Size: 15″
Collectible: Maybe
Model Name: T-Rex
Pros
The T-Rex plush toy has realistic feels and looks like a not-too-scary version of the beast
It's a colossal cuddle buddy for kids who love scarier dinos
It's another realistic feel dino plush from Wild Republic (educational toy)
It's a well-known brand with collectible potential
Cons
The T-Rex isn't known for long arms, and that makes the plush's arms flimsy
Some kids might want a scarier looking T-Rex plush
Best Triceratops Dinosaur Plush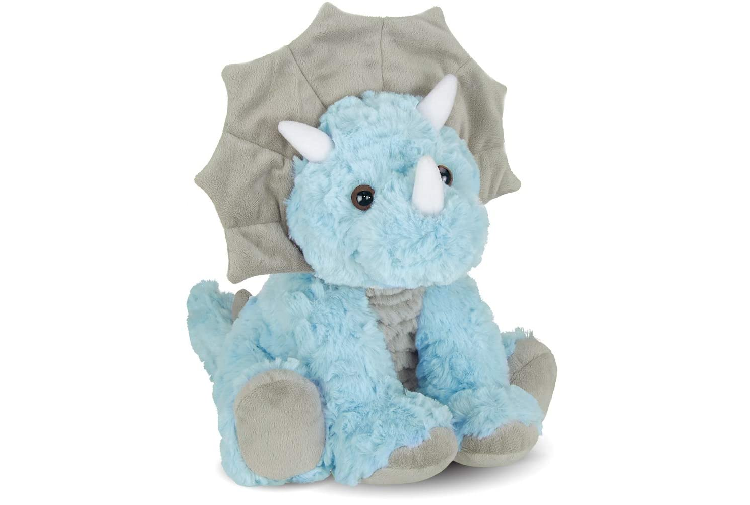 The triceratops is another awesome dinosaur from children's movies and series. It's an in-between dino with scary potential and a sweet side. The Trace Triceratops Plush represents the in-between world perfectly. It shows the horns and spiky tail while the dino plush sits down smiling. It has a naughty but nice feel about it.
Key Features
Brand: Bearington
Recommended Ages: All ages
Style: Triceratops plush, dino plush toy, prehistoric stuffed animal
Materials: Cotton and polyester with a furry exterior
Size: 11.5″
Collectible: Oh yes!
Model Name: Tracer Triceratops
Pros
The triceratops plush has mean features with an inviting smile and position
It's as cuddly as you'd expect any dino plush to be, and it works for all ages
It's a well-known and highly collectible brand with a certificate
Cons
The horns, tail, and limbs feel flimsy enough to break with too many washes or rough handling
Your kid will never believe this dino can be dangerous when tempted because the face is too cute
Best Velociraptor Dinosaur Plush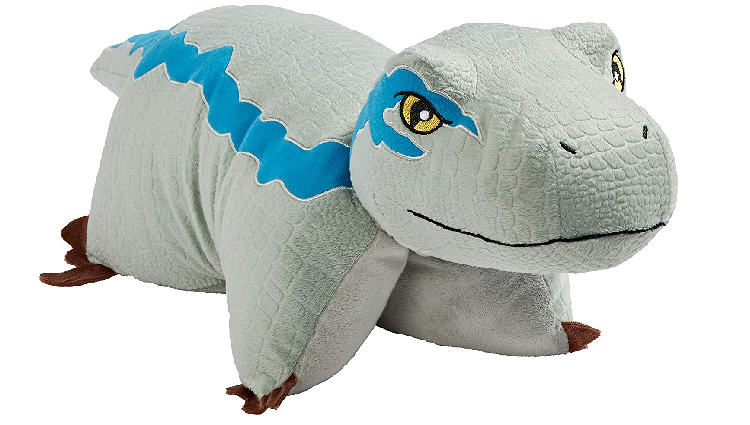 Pillow pets are another trending plush toy. Why shouldn't kids sleep on their best friends at night? The velociraptor is also the final key to the most famous dinosaur plush toys in 2022. The Blue Velociraptor Plush is a significant entry because it strikes dinos and pillows with one swoop. How much more cuddly do you want?
Key Features
Brand: Pillow Pets
Recommended Ages: 12 months and up (don't let babies sleep on plush toys)
Style: Velociraptor plush, pillow plush, and dino pillow plush
Materials: Polyester with realistic feel (BPA and phthalate-free)
Size: 16″
Collectible: Maybe
Model Name: Blue Velociraptor
Pros
The velociraptor plush is adorable because it looks and feels like the dino
Kids of 12 months and older can cuddle with this pillow dino plush for improved, safe sleep
Pillow pets promise BPA and phthalate-free products
It's a well-known brand with collectible potential
Cons
The dinosaur's shape isn't accurate because it's a pillow plush
The claws break off easily with rough handling and washing
Recommended Alternatives for Dinosaur Plush Toys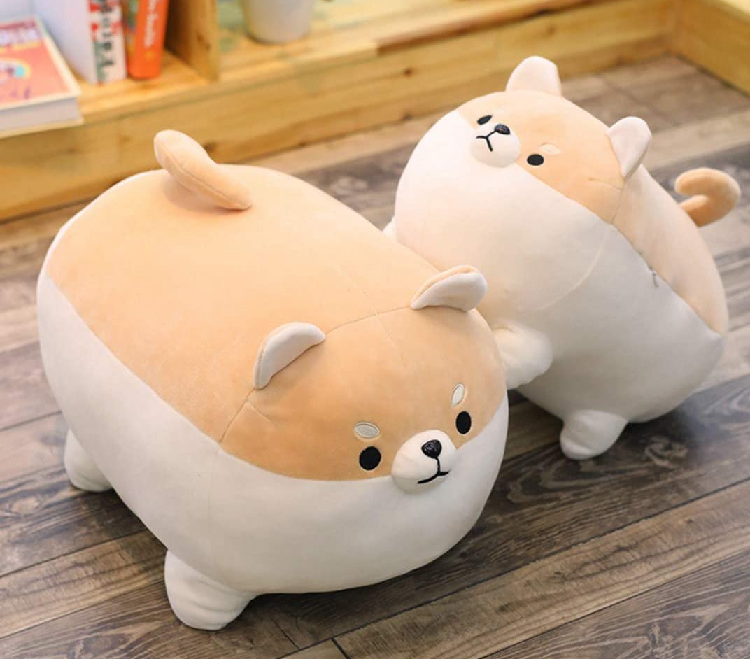 Dinosaur plush toys are a sure hit for most kids, even collectors. Some kids prefer other animal-inspired toys and plushies. Consider these alternatives if your kids love other animals more than dinos:
Top Q&A
Question: Is a Dinosaur Plush as Popular as Dinosaur Figures?
Answer: Whether a plush dinosaur toy stands up to a dinosaur action figure is about personal preference. My daughter loves plush toys more than action figures. My son loves action figures more than plushies. I prefer dinosaur action figures because they're more collectible, but some plushy brands are also collectible, including:
Bearington
Steiff (the mother of all stuffed toys)
Wild Republic
Question: Which Dinosaur Plush is Popular in 2022?
Question: When Did Dinosaur Plushies and Toys Become Popular?
Answer: You'd think plush dinosaur toys became popular with the 1993 movie Jurassic Park: The Lost World. That's not entirely true. However, the popularity of dinosaur toys began in the 1950s already. Pop culture always inspires the trends of plush toys, and Jurassic Park sparked considerable interest.
Best Dinosaur Plush Guide: Conclusion
Dinosaur plush toys bring two much-loved concepts together for children. They're passionate about cuddly and furry friends, but they also love dinosaurs and the mystery behind the prehistoric creatures. There's a dino plush for any child, from educational dino plush to the types that improve developmental progress.
My son loves roaring T-Rex dinosaurs with big teeth and even bigger attitudes. He's already added the Dinosauria T-Rex Plush to his Christmas wishlist. My daughter prefers extreme cuddling with her plushies. Her wishlist is complete for now, but the Trace Triceratops Plush is a future consideration.
Who knows? I might buy myself and my daughter the triceratops because it's a highly collectible brand. My kids know quality because I'm such a plushy snob. I'm okay with that because none of my favorites cost an arm and a leg. Plush toys, collectible or not, shouldn't cost your apartment.
Take my tips to heart, consider my best dinos of the current plush trends, and get your kid the roaring fun they deserve. You might need to prepare for their endless roars and unwillingness to let go of their furry best friends, but you'll be fine. Don't let your kid's desire for a dino friend go unnoticed.
To read about more toys: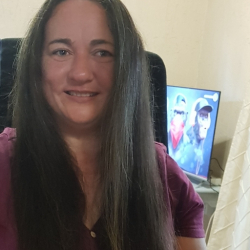 Latest posts by Caroline Lambert
(see all)