Who lives in a pineapple, under the sea? Well, Spongebob and Gary, but I'll show you the other loved characters from Bikini Bottom in the Best Spongebob Plush Ideas. The plush toys cost less than $35, and the little ones worldwide love the characters, as you can see by their popularity on online stores.
Spongebob plush toys might not be as famed as the Squishmallows brand, but the cartoon characters have a large fan base, and the plushies have advantages. What more do you want from a plush toy as a parent? Well, Spongebob plush toys, among others, might have more benefits than you imagined.
Let's create some under the sea fun with Spongebob plush toys to get your kids smiling.
"Bikini Bottom" Line Up Front
Spongebob Squarepants is merely another cartoon brand parents know too well. Kids love Spongebob and his friends, and you can't prevent your child from having their favorite characters as plush toys. After all, there are so many lessons to learn from the Bikini Bottom characters, and plush toys benefit kids.
My daughter loves her Sandy Plush Toy because she loves the character. I don't mind her love for Sandy because the character is a dream-chasing underwater squirrel who never lets anything get in her way. Where have you seen an underwater squirrel? I hope she inspires my little girl to chase her dreams.
I love the Rainbow Spongebob Plush because it brightens any child's face. Rainbows encourage happy thoughts, and plush toys are supposed to be the first best friends our little ones have. Allow the happy characters and hidden lessons in the Spongebob plush range to inspire your kids.
Most importantly, welcome your kids to choose their favorite Spongebob plushies as I did. I don't love Spongebob the show, but my daughter does, which means I'll allow her passion to flourish with her cuddly best friend.
My Best Spongebob Plush Ideas at a Glance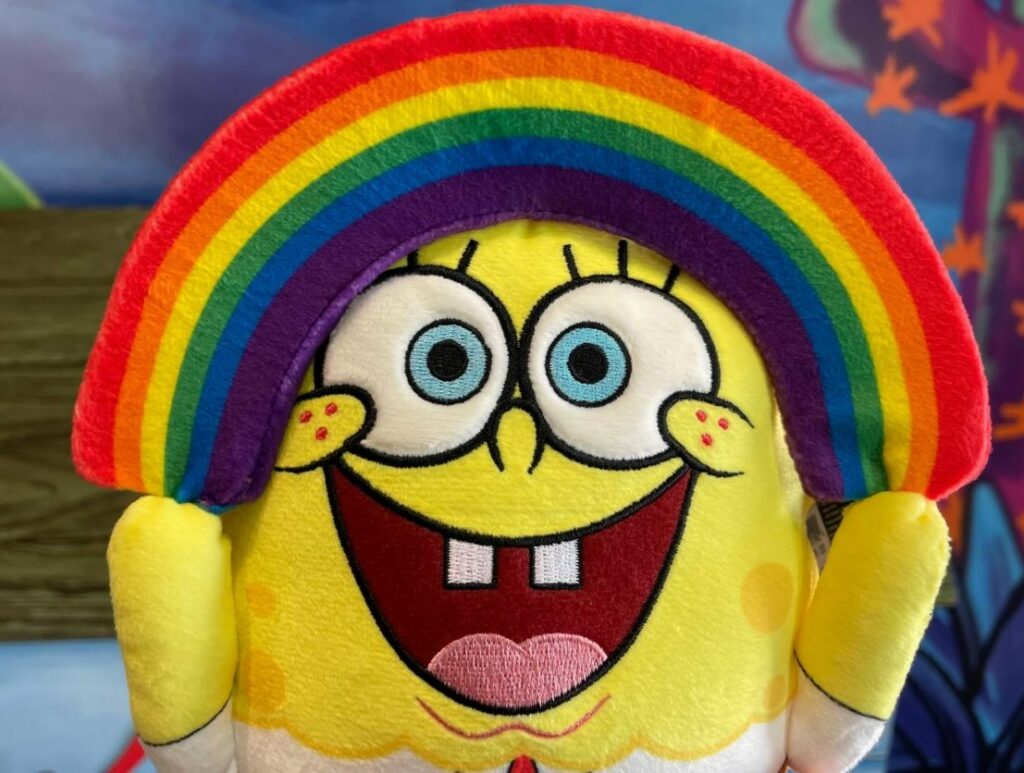 I can't say I'm a huge fan of Spongebob, but my daughter loves the Bikini Bottom gang. I won't tell her, but the theme song gets under my skin. I love how it lights her face up, though. The best Spongebob plush toys I chose with my kids include:
As a bonus, I'll give you an alternative brand of Spongebob plush toys if your kid has a serious passion. Kids can also start collections, and the TY Beanie Babies brand is a pricier Spongebob plush toy collection.
How to Pick the Best Spongebob Plush Ideas
Spongebob Squarepants plushies are a bit of a fad that isn't running dry any time soon, but what about the other characters from the show? Everyone loves the goofiness of Patrick Star plushies, and who doesn't want Gary the Snail as a cute, cuddly, and squishy plushy?
I will show you the top picks for each Bikini Bottom character children love. How will I choose the best of each character? Simple, I'll be selecting plushies under $35 and highly rated by people who bought them before. An approval rating over 75% will win a spot on my best Spongebob plush list.
There's one exception to my rule. Sandy is my daughter's ultimate cartoon craze, and I'll allow her to choose a Sandy plush for the list. I often get my kids involved because they know what they want, after all, and that leads to my Spongebob advice for parents.
Spongebob Plush Advice for Parents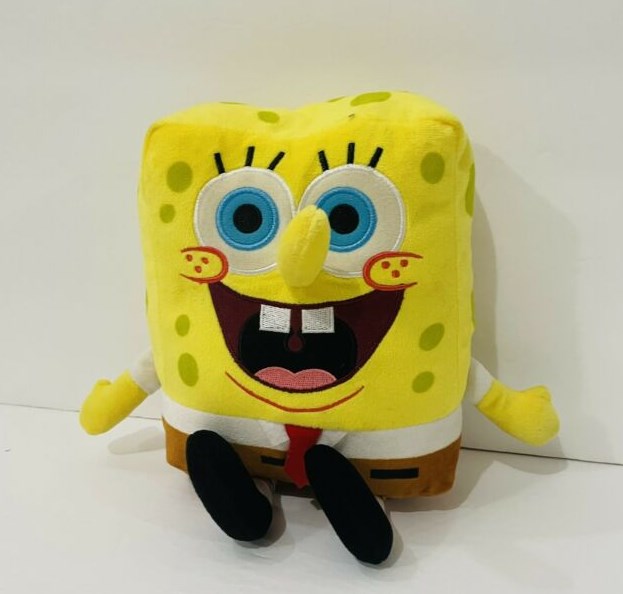 There are two reasons to get your kids involved in choosing their new Spongebob plush toys. Firstly, plushies are often the first friend to which your child bonds. Parenting experts agree that plushies make toddlers feel safe and allow them to experiment with ways they can interact with other children.
Toddlers have no social or communication skills, and giving them the first bonding friend, a plush toy, helps them learn the skills they need to embrace real friends. They benefit from role-playing or "pretend" play with their Spongebob plush to make them more comfortable for the real thing.
Secondly, stuffed animals have long been a favorite toy for kids. A 2014 Study proved that 31% of children prefer plush animals to other toys. Only 7% of kids chose hard toys like cars and action figures. A bonus to Spongebob plushies is that stuffed toys offer kids a multi-sensory experience, making them sensory toys.
Spongebob and the Bikini Bottom gang offer a much-loved plushy experience for young children. Allow your child to help you pick their new best friend, and watch as they slowly develop the skills they need for life.
Best Spongebob Plush Ideas: Plush Bikini Bottom Residents
Without wasting more time on the details, let's dive into the list of the best Spongebob plush toys you can buy a child in 2022. You'll find all of the loved characters, and maybe one not-so-popular character.
Best Spongebob Plush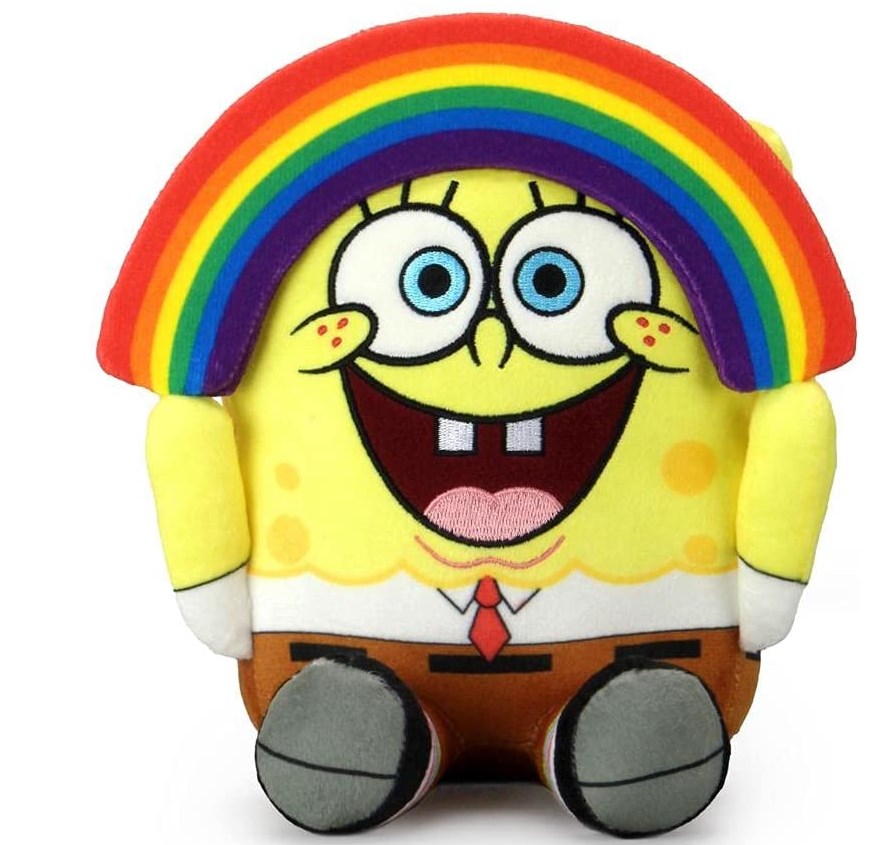 This Spongebob plush belongs to any child who loves the Bikini Bottom plush toys. Spongebob's goofy smile is enough to befriend any child. The Rainbow Spongebob Plush is a friendly reminder that the world is filled with more than scary and unknown situations, perfect for kids learning to embrace the world.
Key Features
Character: Spongebob Squarepants Plush
Brand: Kid Robot
Likability: 100%
Size: 8″
Age Range: All ages (supervise babies with plush toys)
Pros
The Spongebob plush is a classic for all lovers of the Bikini Bottom gang
I love the rainbow addition to brighten Spongebob's smile more
Cons
The rainbow addition might break off with a few washes
Best Spongebob Buddies Plush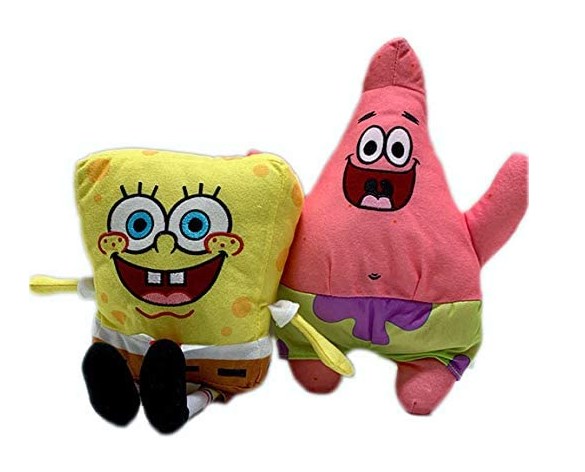 The Patrick and Spongebob Plush Toy Set perfectly represent two friends who share every experience and face the big, scary world together. Patrick and Spongebob embrace every aspect of life as a friendly team, and kids learn a lot from this friendship in the series.
Key Features
Character: Patrick star plush and Spongebob Squarepants plush
Brand: Spongebob Squarepants
Likability: 77%
Size: 10″ and 11″
Age Range: All Ages (never leave plushies in a sleeping baby's crib)
Pros
The plush toy represents the best friendship on the show
The plushies are big, soft, squishy, and huggable
Cons
Spongebob's arms and legs are a little flimsy and might come off in the wash or with rough play
Best Spongebob Pillow Plush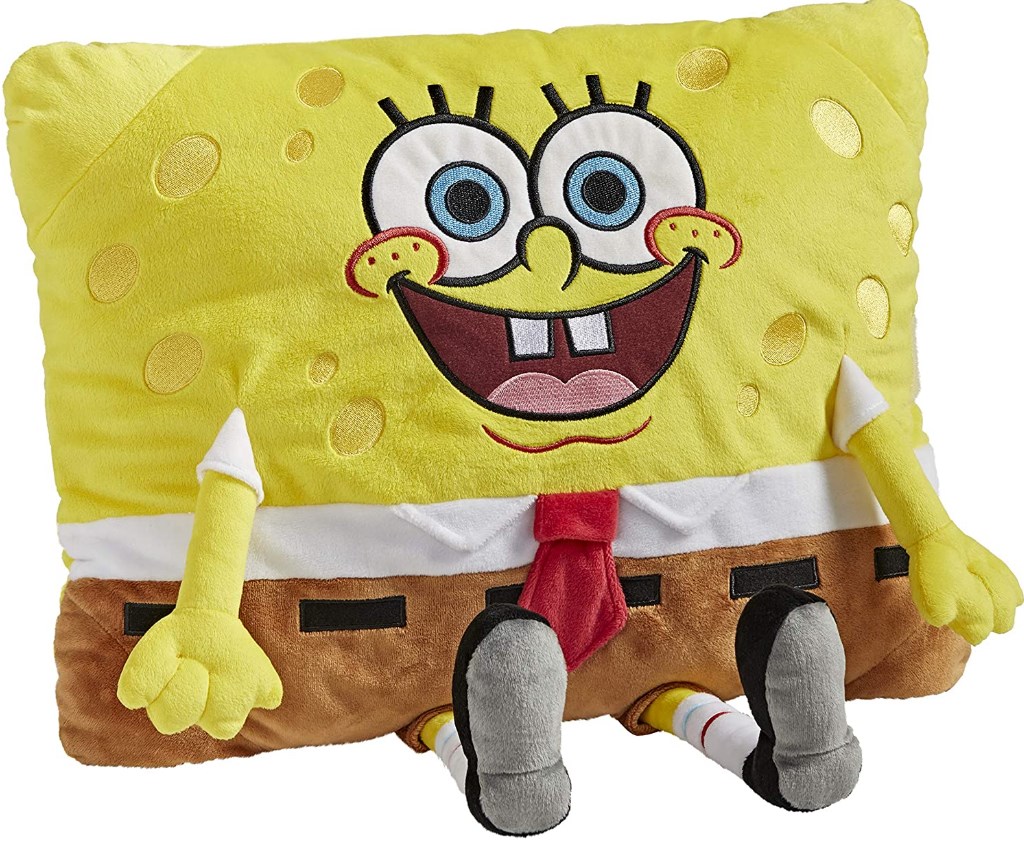 The Spongebob Plush Pillow invites kids to find comfort from the big, scary world while they sleep on their favorite cartoon character. This Spongebob plush toy is super soft, machine washable, and fully functional friend for your kids. Maybe they'll start dreaming of Spongebob's spine-curdling laugh.
Key Features
Character: Spongebob Squarepants plush pillow
Brand: Pillow Pets
Likability: 89%
Size: 18″ x 13.4″ x 15″
Age Range: All ages
Pros
Kids get to sleep on top of their favorite Bikini Bottom character
The Spongebob plush pillow doubles as a friend or pet while your child dreams, and it's safe for babies
Cons
The arms and legs dangle and could break
Best Spongebob Patrick Plush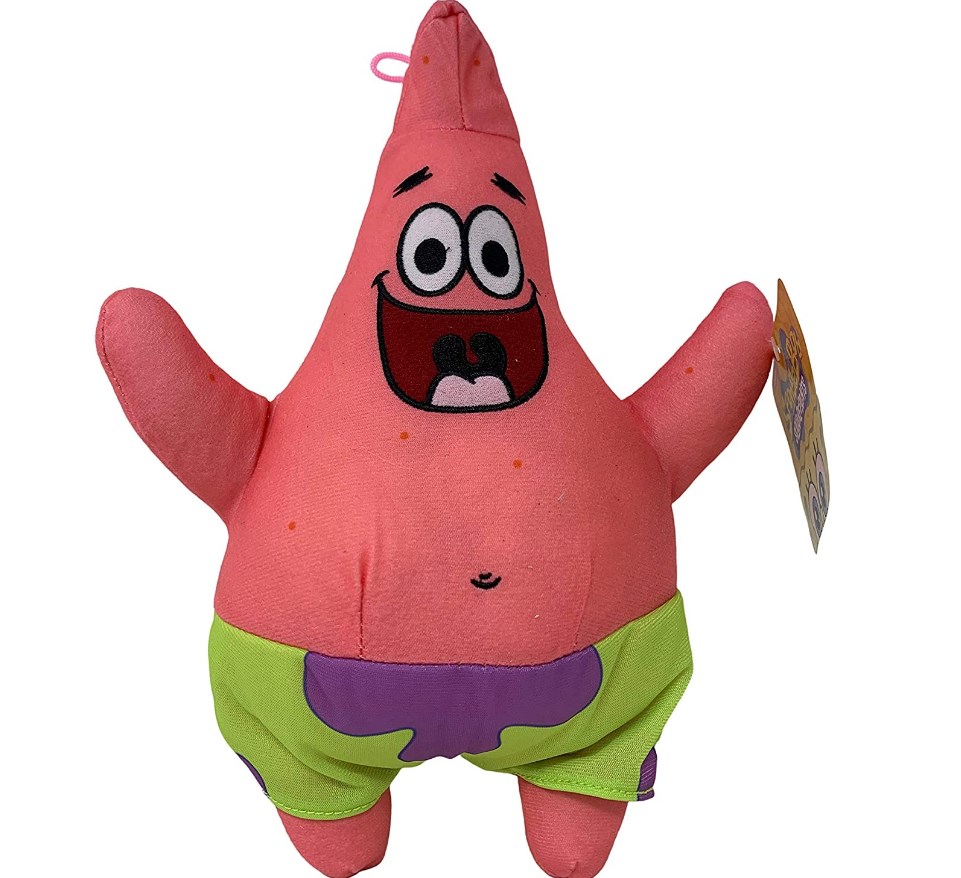 The cartoon's Patrick Plush Toy is another classic must-own because kids love the starfish who lives under a rock. It's also an excellent idea to buy the Patrick plush if you don't get the buddies pack because it can help kids recreate the friendship between the two main buddies from the show.
Key Features
Character: Patrick Star plush
Brand: Good Stuff
Likability: 84%
Size: 6″
Age Range: 2 and older
Pros
Patrick Star is Spongebob's best friend, and owning the plushy is a no-brainer if you have Spongebob
The Patrick plush toy is brightly colored with a welcoming smile to encourage happy kids
Cons
The top of the Patrick plush toy isn't well designed, and it makes his head look misshapen
Best Spongebob Squidward Plush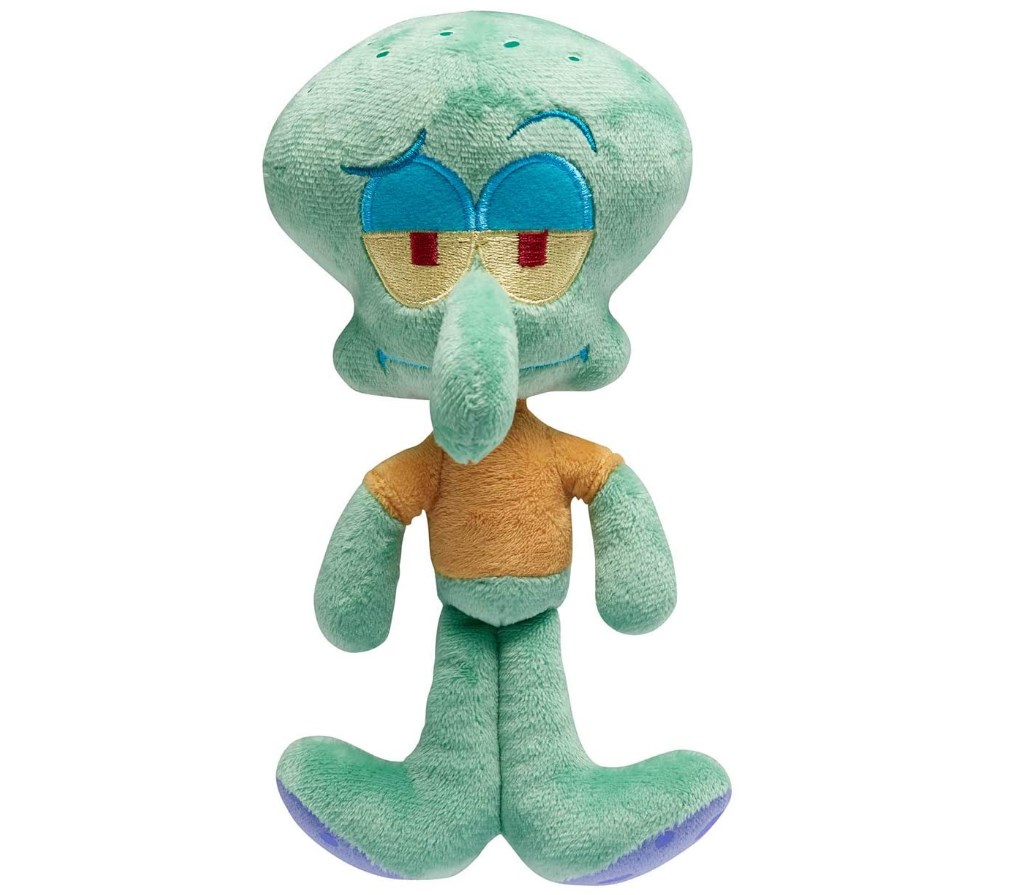 The Squidward Plush Toy is another fantastic addition to a Spongebob fan's collection because it's the neighbor with the bad attitude. Maybe it can teach kids to slowly get used to grumpy people because, let's face it, kids will encounter grumps on their young journey. Spongebob doesn't allow Squidward to deter his happiness.
Key Features
Character: Squidward Tentacles plush toy
Brand: Alpha Group
Likability: 84% (I'm sure Squidward isn't this loved in the show)
Size: 6″
Age Range: 2 and older (it might scare babies)
Pros
The Squidward plush brings new lessons to the table for kids learning to socialize
It's a beautifully detailed plushy with bright colors
Cons
A negative character inspired the plushy, and the legs seem a little fragile at the joint
Best Spongebob Gary Plush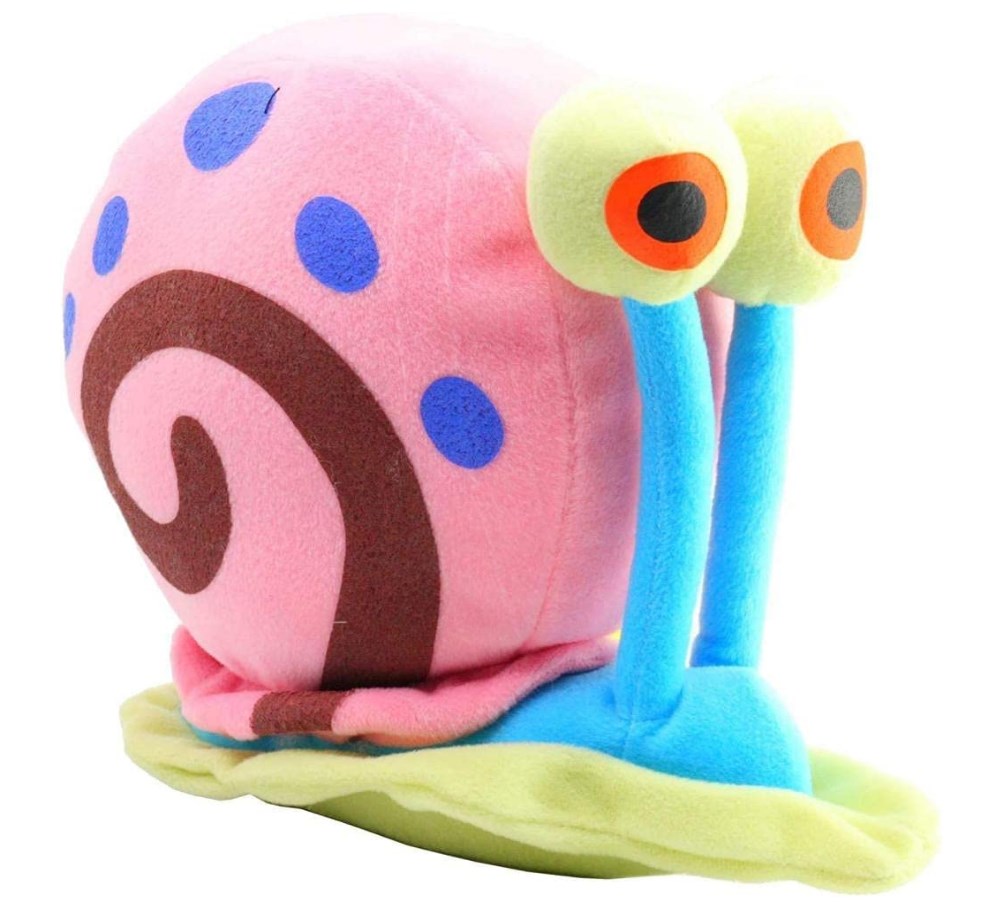 The Gary Plush Toy represents Spongebob's underwater cat-type pet. It holds more lessons for young kids, especially if they want a pet. Spongebob will do anything for his pet, and he looks after it the way you want kids caring for their pets. One thing I find funny is the way Gary wakes Spongebob up sometimes.
Key Features
Character: Gary Wilson plush toy
Brand: QMHN
Likability: 92%
Size: 6″
Age Range: 2 and older
Pros
The Gary plush toy is an adorable teacher of responsibility and friendship
The plushy has bright colors and big eyes, and kids love it
Cons
The eyes tend to wear over time, and they might break in the wash or with rough play
Best Spongebob Sandy Plush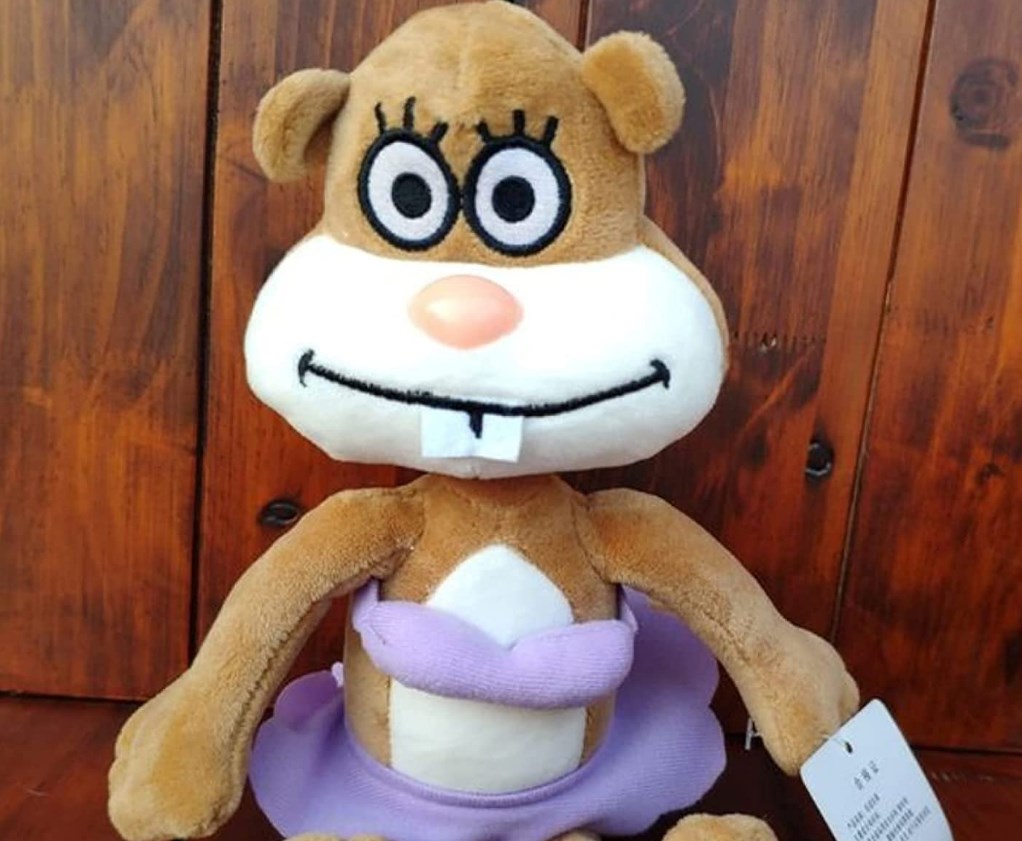 The Sandy Plush Toy is inspirational. Don't think I'm crazy, but Sandy Cheeks is a Bikini Bottom character who defies the laws of nature. She's a land creature who lives under the sea. In other words, Sandy teaches kids to aim for their dreams, no matter what those dreams might be. Sandy is also an excellent friend to Spongebob.
Key Features
Character: Sandy Cheeks plush toy
Brand: Kawaii
Likability: 100%
Size: 12″
Age Range: 2 and older
Pros
The Sandy plush could inspire kids to follow their dreams the way the underwater squirrel did
The plush is 100% cotton, meaning it's incredibly soft and cuddly
Cons
The Sandy plush has some design flaws, including the head and eyes being too big, and the bikini is too fragile for continuous rough play
Best Spongebob Mr. Krabs Plush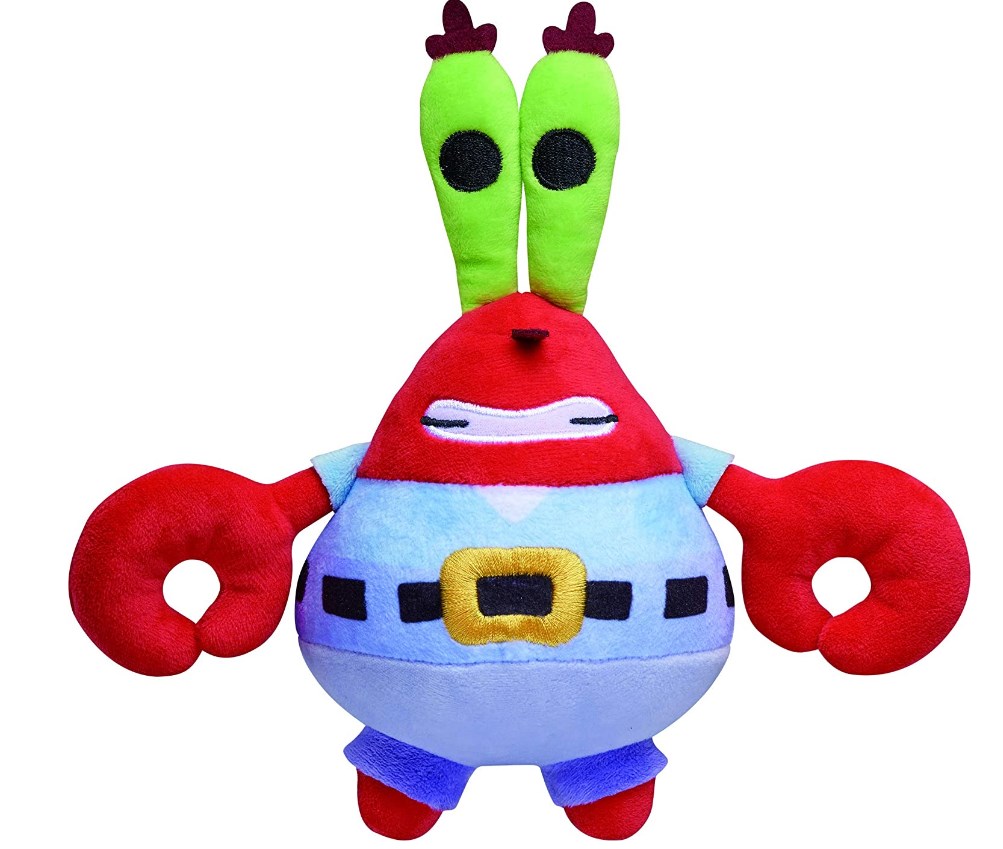 Eugene Krabs is a cunning character who teaches kids that not everyone is so lovely. The Mr. Krabs Plush Toy is a friend for kids who love the underwater show, but it also has a few lessons attached. In the series, Mr. Krabs is greedy, always wanting more money and overworking Squidward and Spongebob.
Key Features
Character: Eugene Krabs plush toy
Brand: Alpha Group
Likability: 86% (it likely receives more love than the show's character again)
Size: 6″
Age Range: 2 and older
Pros
The Mr. Krabs plush toy can teach kids about earning money, working hard, and how the world isn't full of the nicest people alone
The plush toy is bright, colorful, and more adorable than most plushies from Spongebob
Cons
The eyes and arms might break with rough play and too many washes
Spongebob Toys – Best Spongebob Plankton Plush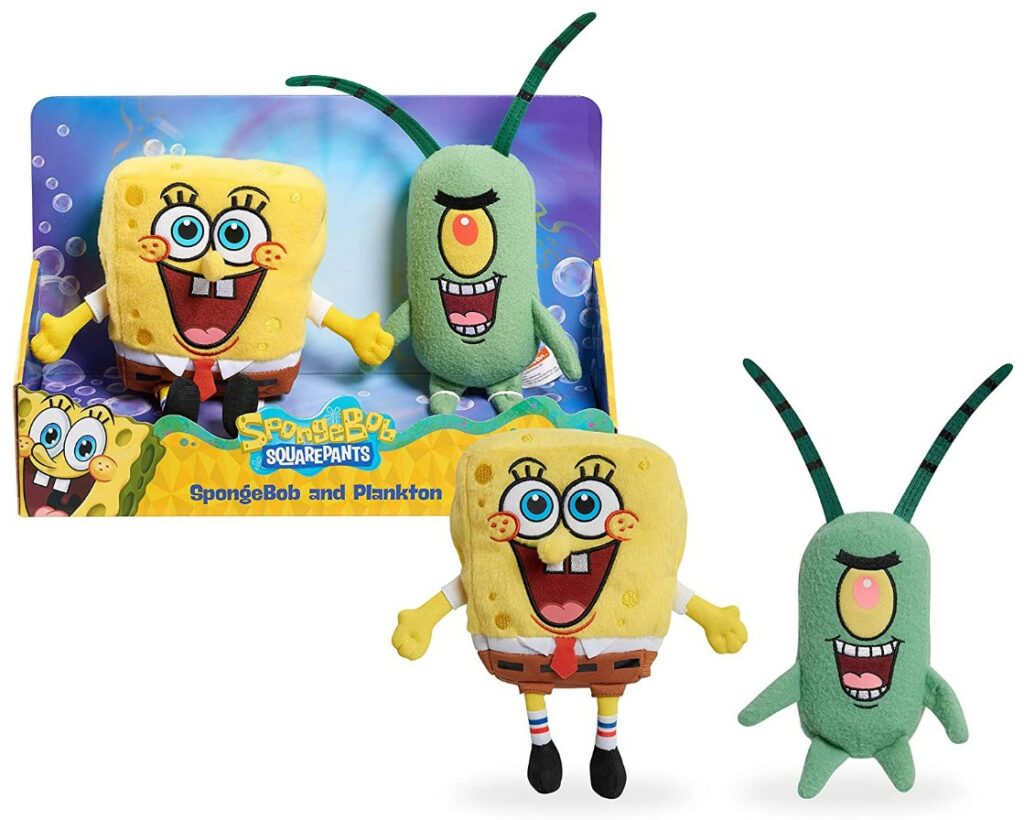 The Plankton and Spongebob Plush Toy Set is the only way to find Plankton in a plush form in 2022. In fairness, kids don't love Bikini Bottom's bad guy. My daughter says Plankton doesn't deserve friends. Wow, that surprised me a little. Plankton does become friendly in many episodes.
Key Features
Character: Sheldon Plankton plush toy
Brand: Just Play
Likability: 85% (it seems some kids love the plushy Plankton)
Size: 7″ and 6″
Age Range: 3 and older
Pros
The Plankton plush toy represents the bad guy in the show, and it completes the characters
The design is cute and intricate on both plushies
Cons
Plankton's ears are flimsy and will break with rough play and wash cycles
Alternative Spongebob Plush Ideas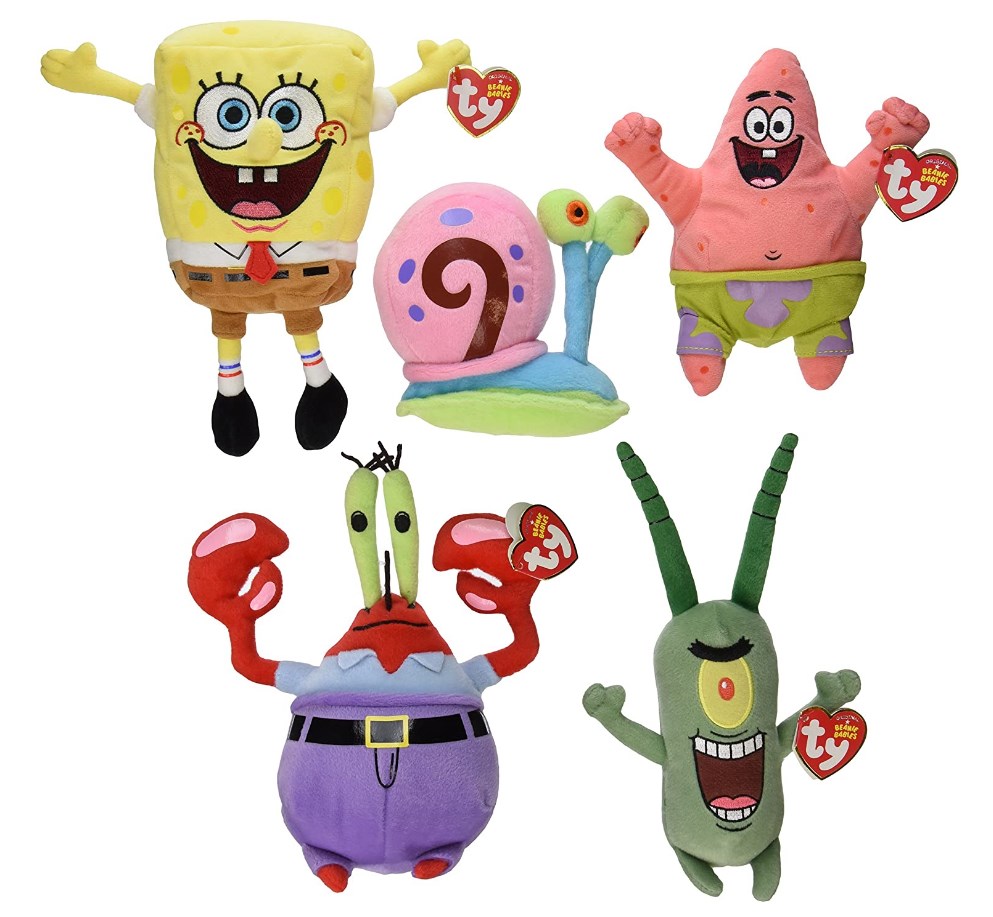 Do your kids have as much passion for Spongebob plush toys as a bull charging a matador? If so, you might consider investing in collectible Spongebob plush toys. TY Beanie Babies are collector's plush toys, and some Spongebob characters are available, including:
Recommended Alternatives for Under the Sea Plushy Fun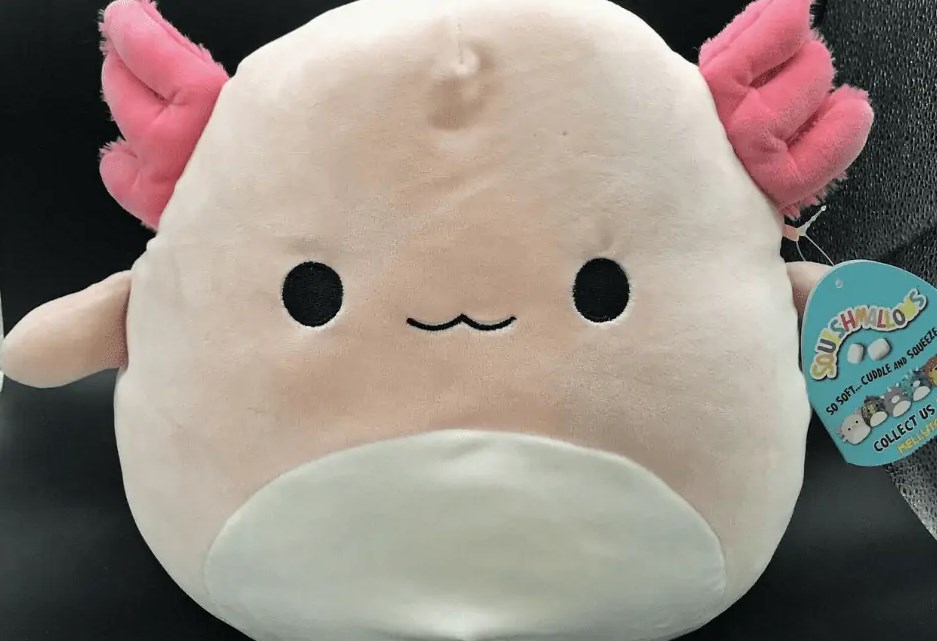 I can also recommend entirely different alternatives for Spongebob plush toys if you're not into the theme song or your kids don't love the characters. Sticking to the under the sea theme, try these alternatives:
Top Q&A
Question: Which Spongebob Plush Toy is the Most Popular in 2022?
Question: How Many Spongebob Squarepants Character Plushies Exist in 2022?
Answer: The crazy answer is that the Spongebob Squarepants series has over 700 characters who come and go. The plush toy market only targets the main guys. Toymakers focus on the seven main Spongebob plush characters, including Spongebob, Sandy, Patrick, Mr. Krabs, Squidward, Gary, and Plankton.
Question: Which Spongebob Squarepants Plush Toys Represent Friendship?
Answer:The Spongebob Squarepants series has many lessons for kids about friendship, but the unmistakable bond between Patrick Star and Spongebob is undoubtedly the best one. Spongebob plushies remind kids of solid friendships in the show. Spongebob also has a fantastic bond with Sandy Cheeks and his pet snail, Gary.
Best Spongebob Plush Ideas: Final Thoughts
If you're a fellow parent who doesn't find much value in watching Spongebob Squarepants, consider how your kid loves the Bikini Bottom gang. Spongebob plush toys are another famous market, and it's not just because kids like the show. Parents know the value of the lessons behind each of the show's characters.
Every child must own a plush toy, and there's nothing wrong with them becoming best friends with a Spongebob plush if they like the character. I love the Rainbow Spongebob Plush because rainbows encourage happiness. I love how the Gary Plush Toy teaches kids about responsible pet ownership.
I can't deny how much my daughter loves Sandy, and she takes her Sandy Plush Toy everywhere. The value of the lessons alone should be reason enough to get your child a new Spongebob plush toy today.
To read about other fabulous plushies:
Best Mood Plush Guide for Squishy Expressions Under $25 – Avid Plush
The Top Unique and Best Animal Crossing Plush Ideas – Avid Plush
Complete Angry Birds Plush Guide for Collectors and Kids in 2022 – Avid Plush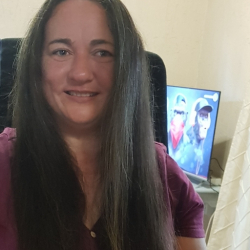 Latest posts by Caroline Lambert
(see all)