As a big Animal Crossing fan myself, I thought that creating the top unique and best animal crossing plush ideas guide would be informative for others. From Fauna to Maple, there are many amazing animals in the game with their own unique personalities.
I love how you can even gift items to your favorite characters, and they'll wear them. So whether you're a big fan of Timmy and Tommy or Tom Nook, this guide is for you! So read on to explore the various plush ideas for your home today.
Bottom Line Up Front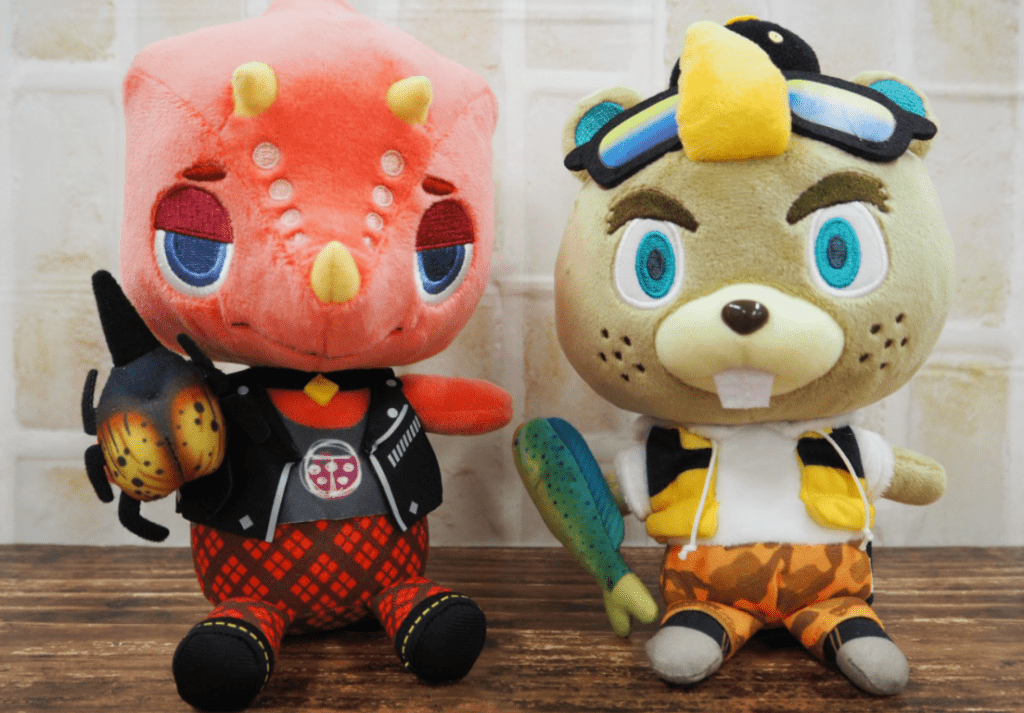 Since I love many of the characters from the game, it was hard to pick just one. No matter how many times I've played it, though, Fauna is my favorite.
She's always announcing to you, "Hi Dear-y!"
As of right now, she's on sale as my top pick: Little Buddy USA Animal Crossing New Leaf Fauna/Doremi 7″ Plush, Multi-Colored. She's cuddly, warm, and loving, just like in the game! She also comes in a cute outfit. 
My Top Picks at a Glance
Little Buddy USA Animal Crossing New Leaf Fauna/Doremi 7″ Plush, Multi-Colored-She's cuddly and comes with such a cute outfit!

Little Buddy 1794 Animal Crossing – New Horizons – Timmy & Tommy Plush-It wouldn't be the same if you only had one or the other. This is a 2-pack of them both!

Little Buddy 1792 Animal Crossing – New Horizons – Isabelle Plush-I love Isabelle in both Animal Crossing and in Smash Brothers. As this plush, she's well dressed and ready to report to work. 

Little Buddy USA Animal Crossing New Leaf D.J. K.K. Slider 8″ Plush-I'm lucky to have this cool dog when he comes to my island, and what better way to show off his skills than with this toy!

Little Buddy 1839 Animal Crossing New Horizons Blathers-Blathers is a town favorite since he runs the local museum. He looks as serious as ever with his snazzy bow tie.

N-brand 1 Piece of 20-40cm Animal Crossing Plush Doll-He's just missing his toothpick. Zucker is ready to play! He's super soft and cuddly. 
Tips for the Reader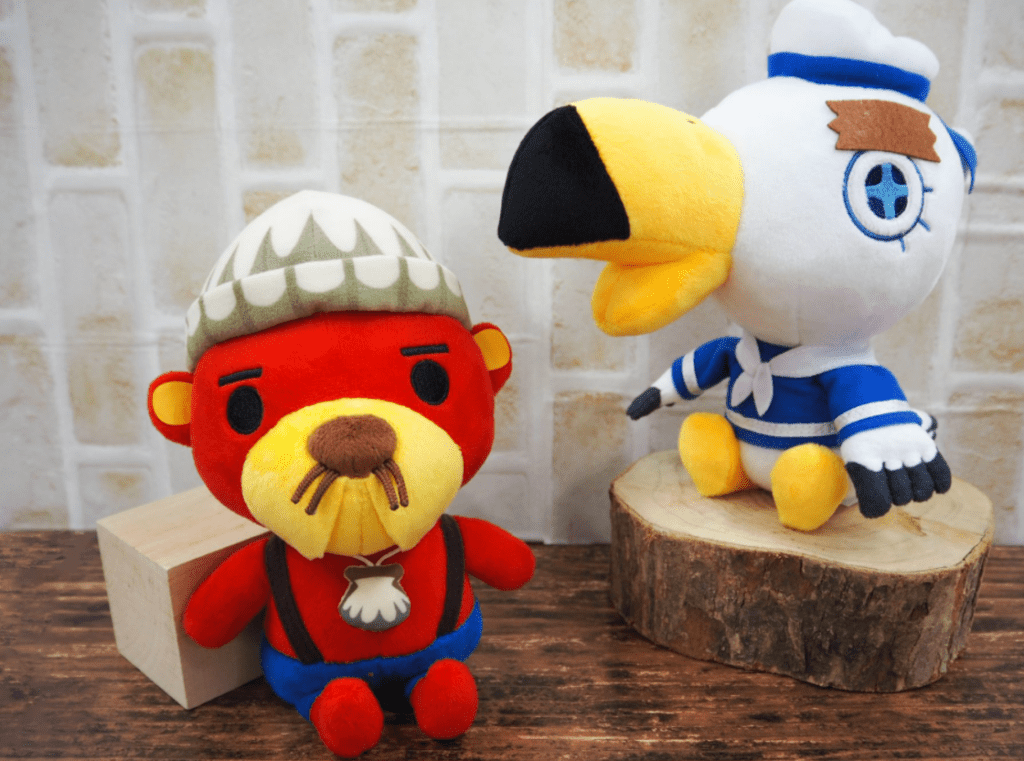 You might find it tricky to pick out a suitable villager toy as you go through this list. Keep in mind that if you're picking out a villager toy for someone else, find out what villagers they actually have on their island. Safe bets are Isabelle, Tom Nook, Timmy, and Tommy since all islands start off with them.
Keep your budget and individual tastes in the forefront as you pick out a suitable plush. The great news is that many of these plush toys are reasonably priced.
Selection Criteria
Since they're primarily reasonable prices, I'm going by who I enjoy most in the game. This includes the main ones that everyone starts out with (Timmy, Tommy, Tom, and Isabelle). I'll also include other various choices that you may or may not have on your island but are popular choices!
Why Should I Buy an Animal Crossing Plush?
If you enjoy the game as much as I do, then you might want your favorite character in your home. Likewise, if your child or another person you know loves Animal Crossing, then these make great gifts as well!
Let them show their pride in the different villagers on their island. Plus, they're soft, cuddly, and perfect for various ages. Younger children can practice imagination through play.
The Island Staff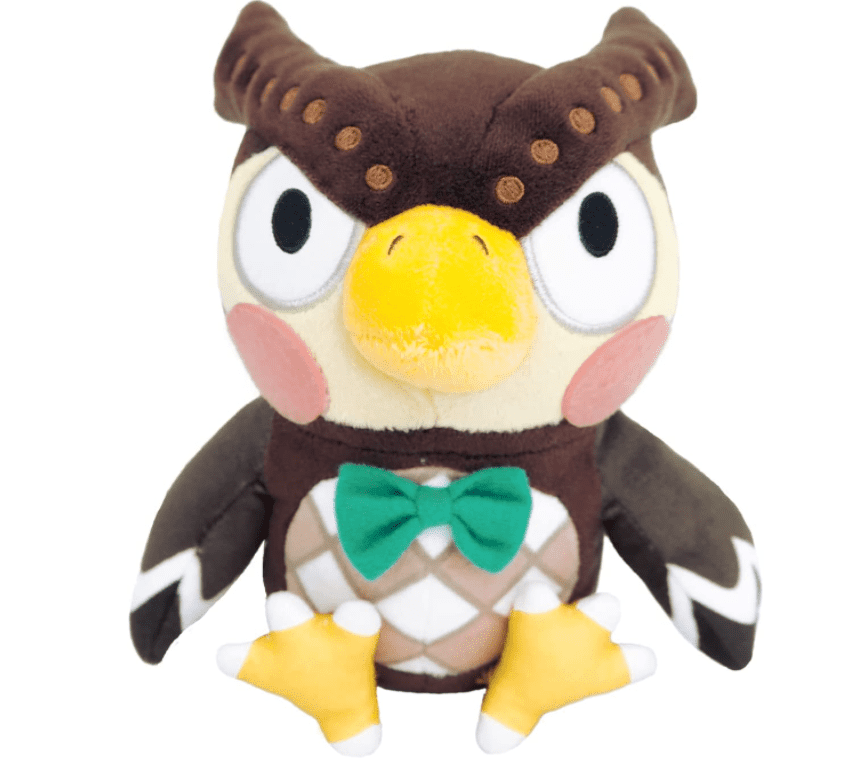 Everyone starts out with Blathers on their island, running the museum. You can bring various items you've found on the island to build up your collection, plus he gives you information on each one.
Encourage your children to learn and grow with a plush of Blathers. Since Blathers is full of knowledge, they'll need to think about different facts he'll say about insects, fossils, and art as they play him. He's also looking just as serious as his character, and he's fashionable with his cute bow tie.
Pros
Everyone starts out with Blathers

Reasonably priced

Soft and cuddly

Fashionable

Accurately represents his personality
Cons
Some might find him boring since he's not unique

He's often serious, which this toy shows

He's not a favorite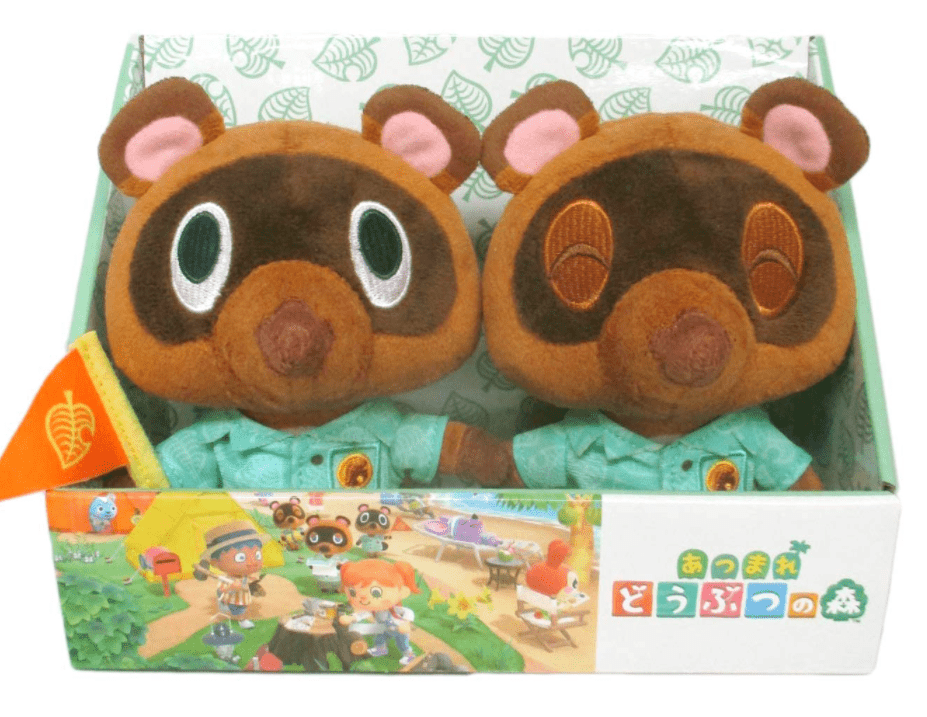 Let's be honest, these little guys are so excited when you come into their store and look around at the different items! What better way to enjoy these little guys than to buy them as a set.
I love how you get them together instead of buying them separately. Plus, they're a safe bet since they start off on every island.
Pros
You get both of them

They're fun for kids to pretend to be since they're friendly and happy

Accurately represents how they look in the game
Cons
If you want to buy them separately, you can't

They're not a popular option since everyone starts off with them

A bit pricy since it's a pack of two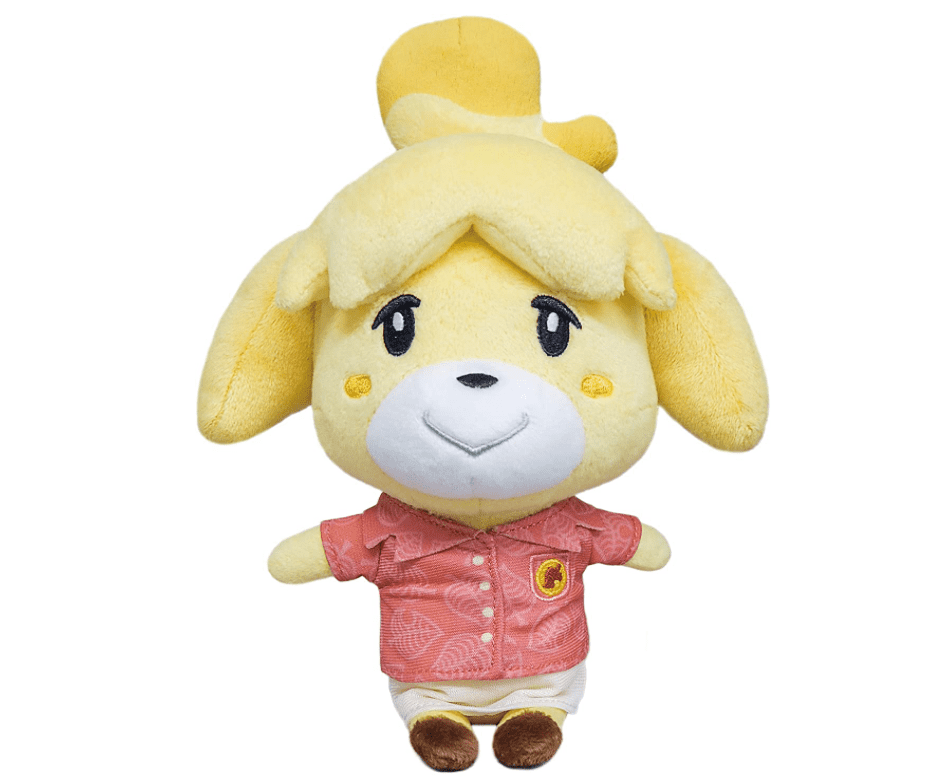 I'm a huge fan of Isabelle since I had her in Super Smash Brothers on the Switch before I started playing the newest Animal Crossing game. She always cracked me up in the game when she'd use her umbrella to fight.
In Animal Crossing, you see her more relaxed, helping you get set up on your island and answering your questions. I love how this plush has her dressed up in her work attire, ready to start her day.
Pros
She's affordable
Cuddly
Ready for work in her outfit
Cons
This plush looks more serious than her personality
If you're gifting her, find out what outfit she's wearing since each game varies.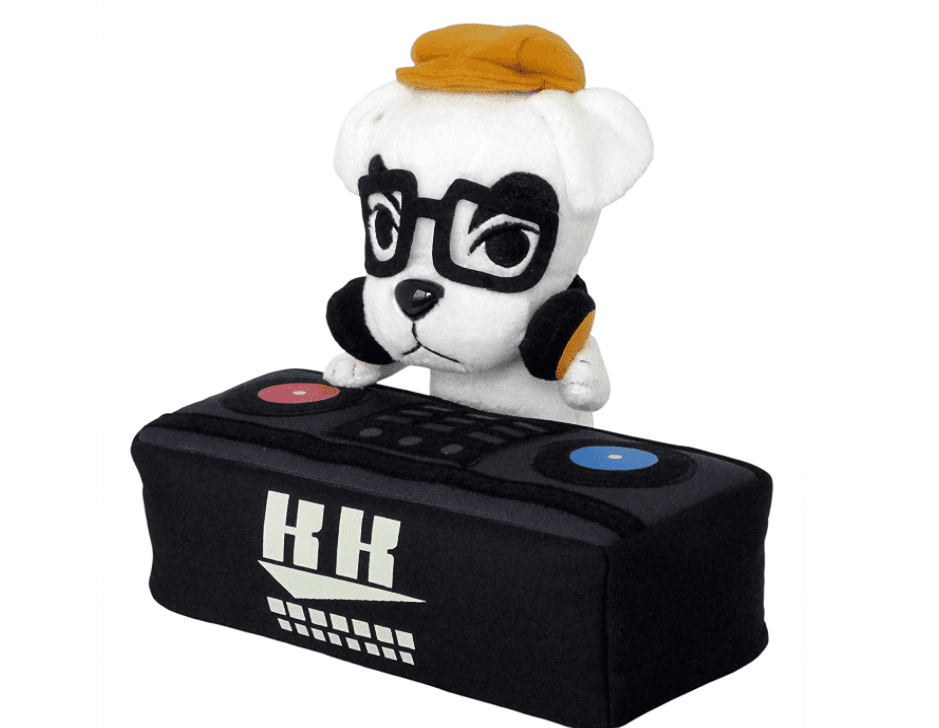 You can find this guy hanging out on your island playing a song, and all of your islanders gather around him to listen. Then, show off his skills by buying him as a D.J. as this fantastic toy.
I love how unique and fun this toy is. Your kids are bound to have hours of play pretending to D.J.
Pros
Such a unique toy

A favorite that shows up on your island

Affordable price
Cons
Since he's not a villager, he might not be a popular choice

It might be harder to play with since he comes with his D.J. set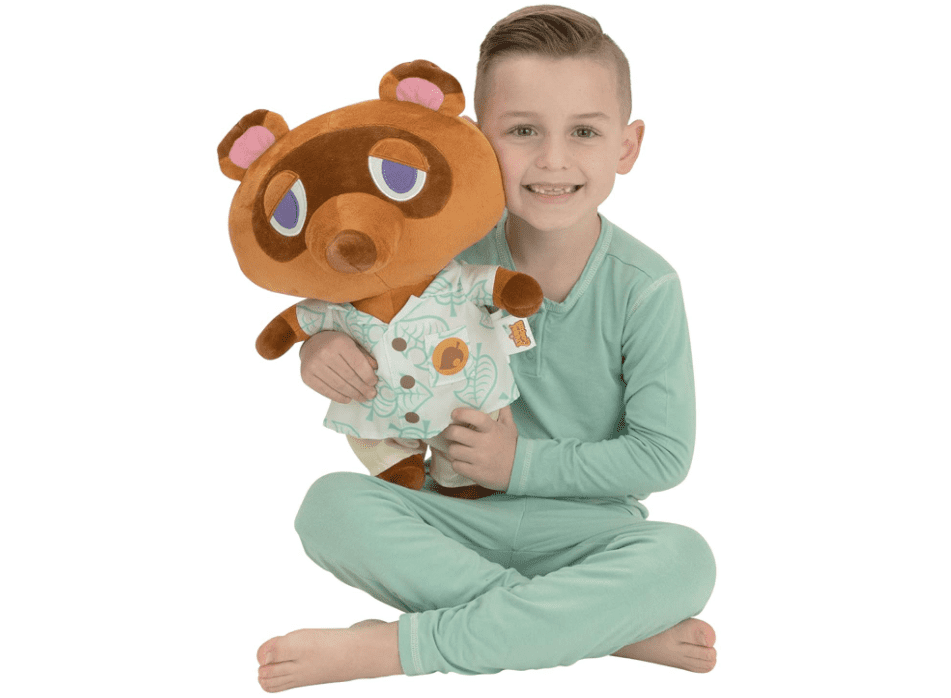 I love that this plush is nice and big for extra cuddles! Whether for an adult or child, they'll love how soft he is and how he's dressed for a day at the job. He's at an affordable price for being a larger toy too!
Pros
Larger plush

Dressed and ready to go for a day on the island
Cons
He might be too big to place on a shelf

It costs more than the other toys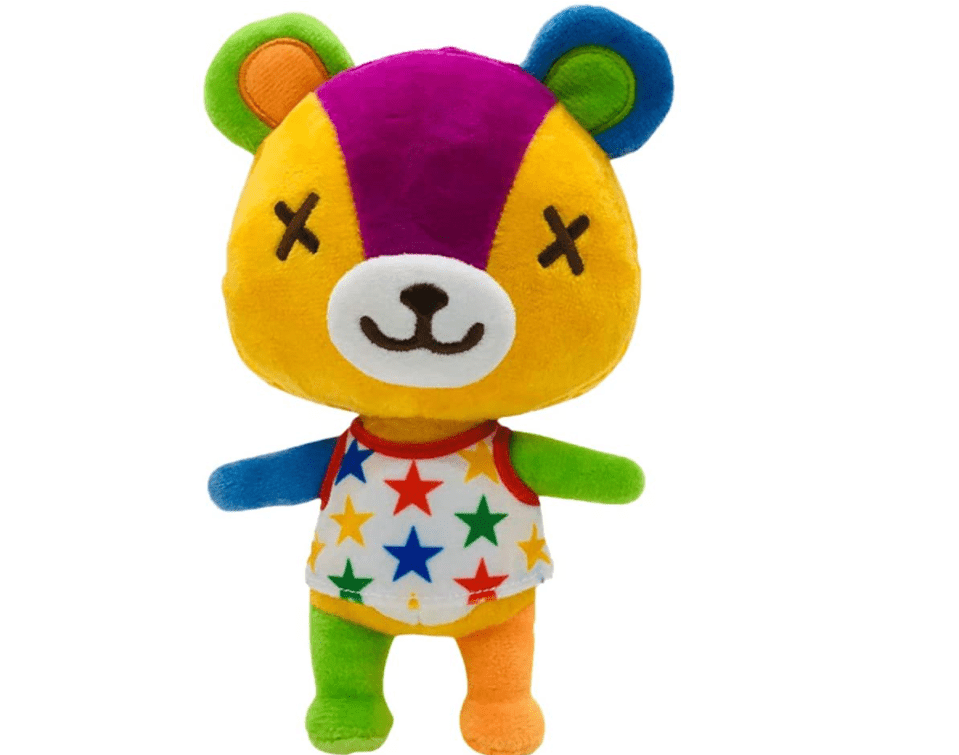 I love how this plush shows Isabelle's happy and bubbly personality! She's big smiles and ready to start her day in her outfit. But, of course, it's a great price as well.
Pros
She shows Isabelle's personality

Accurately represents the character's looks and style

Affordable
Cons
It looks like this might not be as lovely as the other Isabelle plush

Keep in mind that it's not licensed by Nintendo
My Top Pick Villager Favorites 
N-brand 1 Piece of 20-40cm Animal Crossing Plush Doll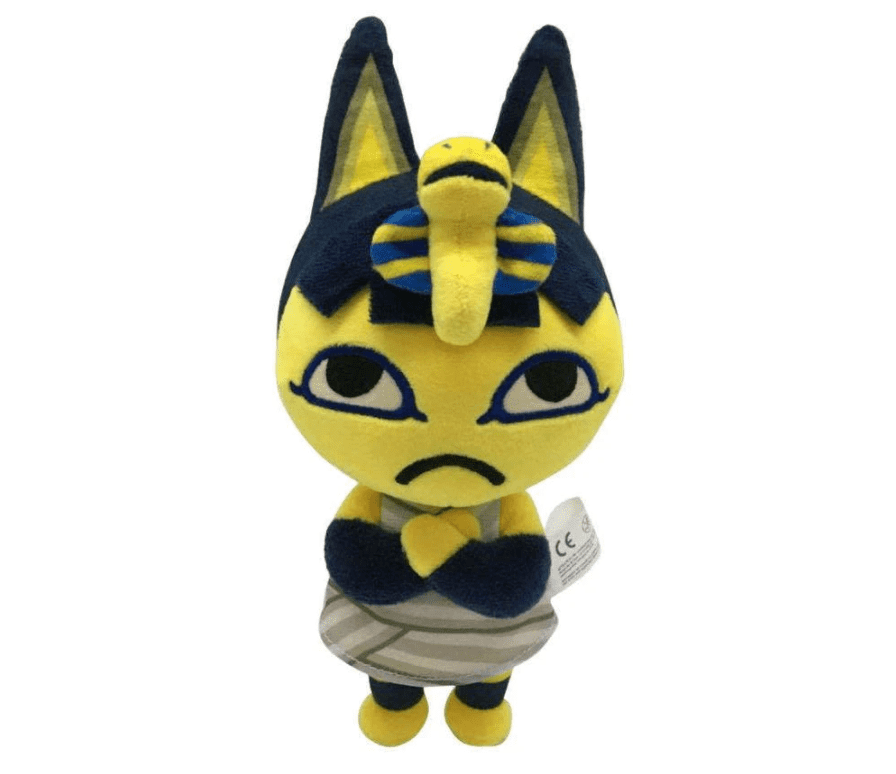 I'm lucky to have Zucker on my island! He's kind, quirky, and has a pretty unique house.
While he's missing his toothpick here, I love how he's still in his fun and fashionable outfit. This plush is very accurate to how he looks in the game as well!
Pros
I love his outfit

He looks like how he does in the game

He's one of the more popular and unique villagers out there!
Cons
He's missing his toothpick

On the higher end price-wise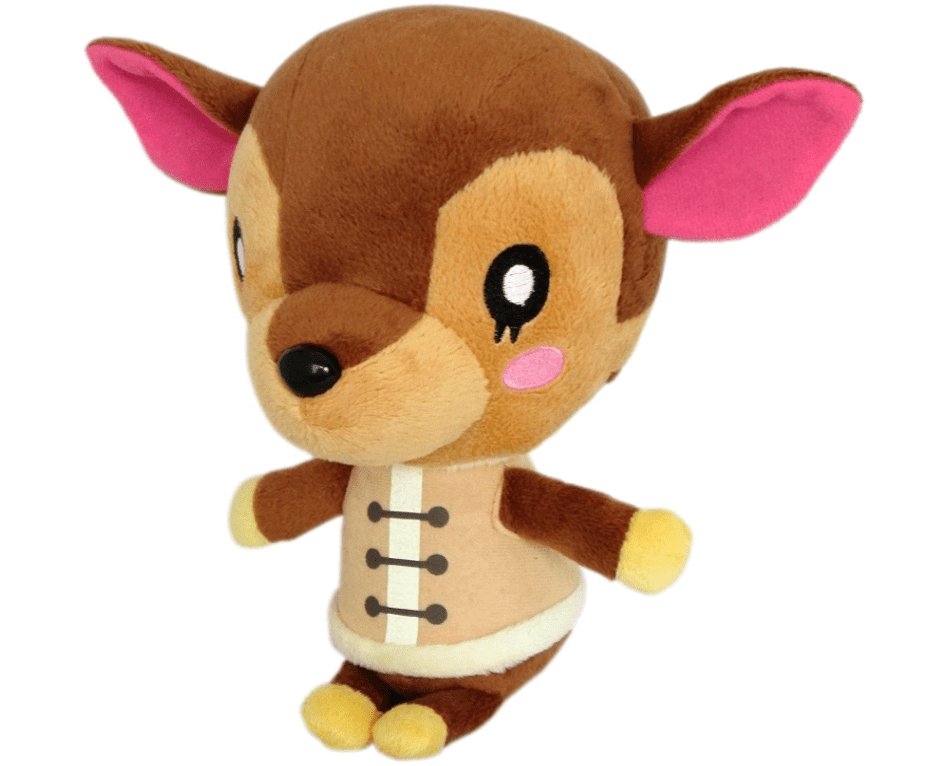 Fauna is my absolute favorite! She's so kind and encouraging; it's like spending time with your grandmother or close aunt. So what better way to show her off than picking up this affordable and cuddly plush? I love how they gave her a cute little outfit, and her arms are out for plenty of hugs.
Pros
She's a popular villager to have

Affordable price

Comes with a cute outfit

Cuddly, and you can give her plenty of hugs
Cons
I just wish they showed her personality more, such as her smiling

If you don't have her on your island, you probably won't want this plush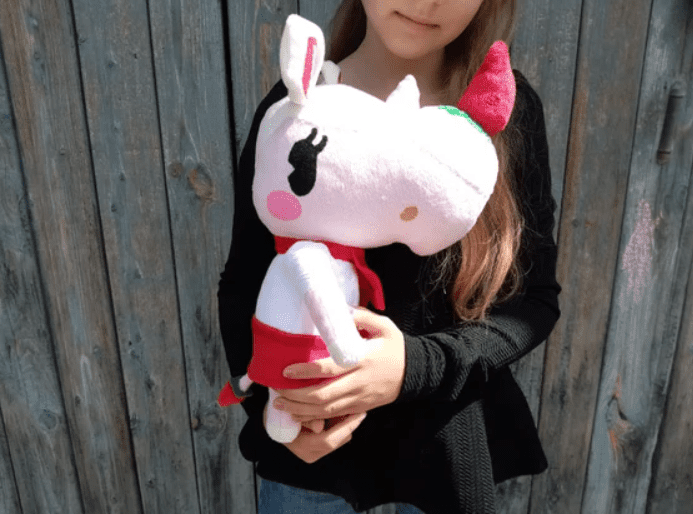 I know that Merengue is another popular villager in Animal Crossing. How cute is this plush too!
I love how she has a strawberry horn and tail, just like her character. She even has a cute outfit to match and is color-coordinated.
Pros
She's a more popular villager who many want on their island

She's super soft

Her outfit is fashionable like in the game

I love how she's color-coordinated and accurately represents how she looks in the game
Cons
It's more expensive than the other options

She might not be suitable for every home if they don't have this villager

It just comes as her, no accessories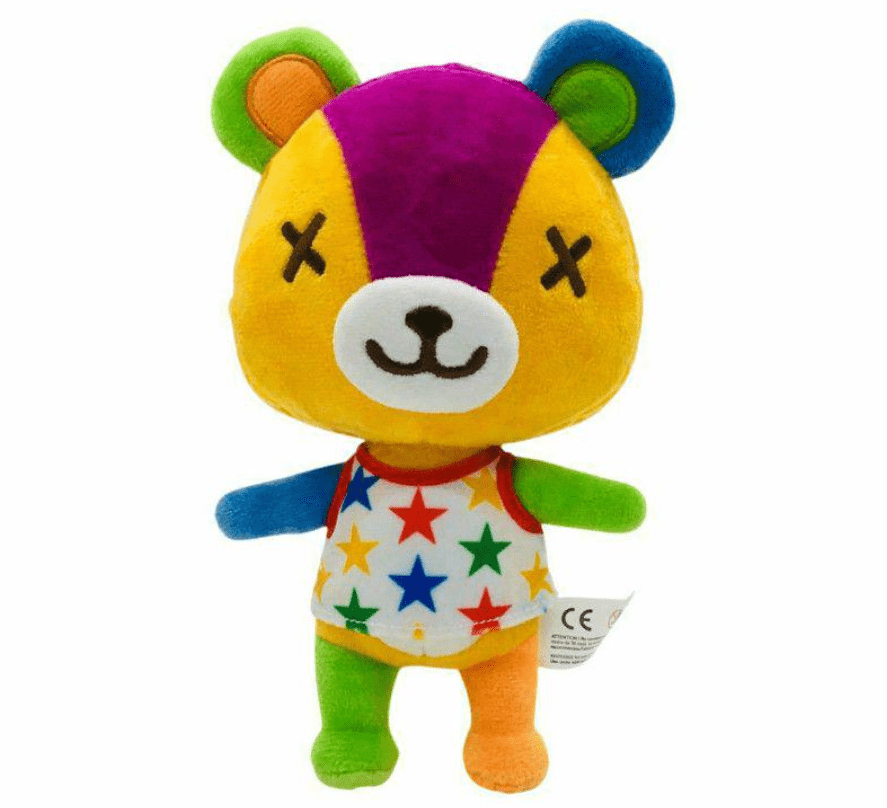 Raymond is a cool cat and so much fun in the game! I love how this toy makes him look like he's ready to put on some good music and have a party.
His outfit is professional and accurate to the game. I love how they didn't forget his glasses either. Plus, he's an affordable option!
Pros
Super affordable

Accurate representation of the game

Fashionable outfit

Smiling and cuddly, which is always welcoming
Cons
He's a less popular villager

While he's soft and cuddly, be careful not to rip his glasses
How To Pick the Best Animal Crossing Plush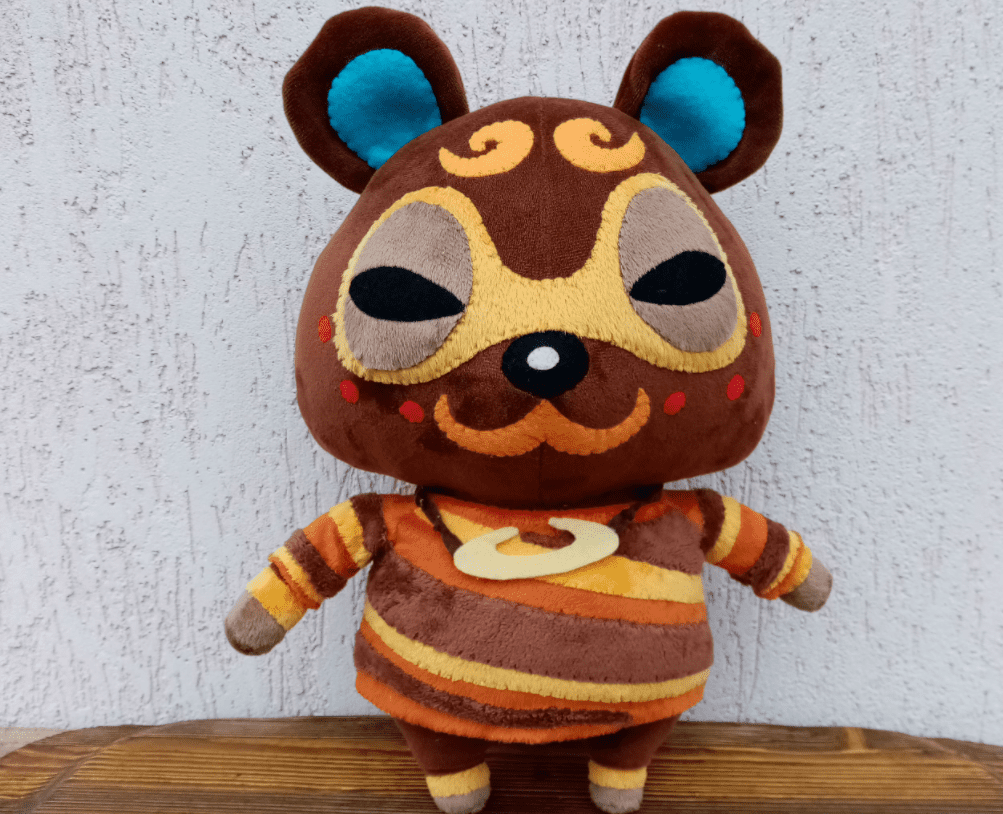 While it can seem challenging to pick the best Animal Crossing plush, it doesn't have to be! First, decide on your budget, and from there, you can narrow it down in the searches.
Next, decide on which characters are your favorite. If it's a gift, then you'll want to ask that person questions about which villager or other character is their favorite.
If all else fails, go with one of the staff in the village since everyone starts out with them. Remember that you can find affordable plushes and don't need to spend top dollar on a larger plush.
Where Can You Play Animal Crossing?
While you might think that you're limited to the Nintendo Switch, that isn't entirely true. You could also play it on the Nintendo 3DS, Wii, Nintendo DS, GameCube, and Nintendo 64 depending on what game within the series you want to play.
Other Fun Animal Crossing Merchandise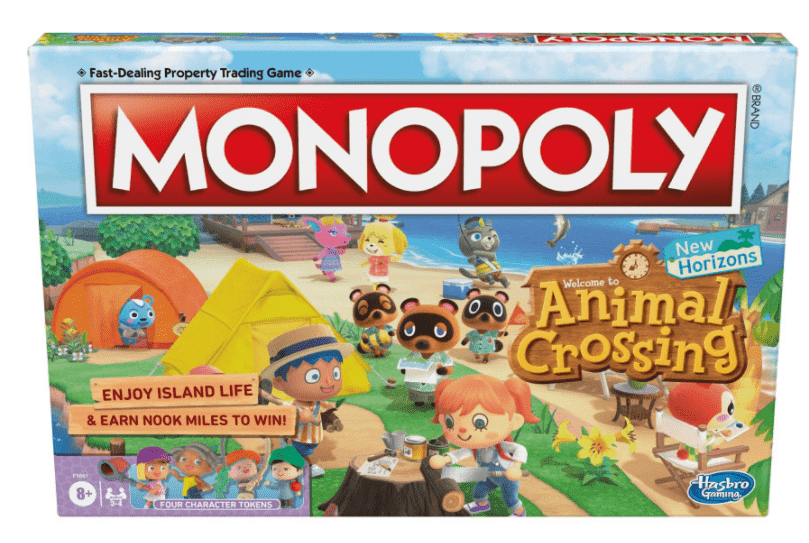 Suppose you and your family are big fans of Animal Crossing and Monopoly. Why not get the Monopoly Animal Crossing New Horizons edition? It's an excellent option for a family game night since you can play it with 2-4 players.
Pros
Fun for the whole family

Affordable

Animal Crossing themed
Cons
It's only for ages 8 and up

It could have been expanded on more and changed from the original Monopoly game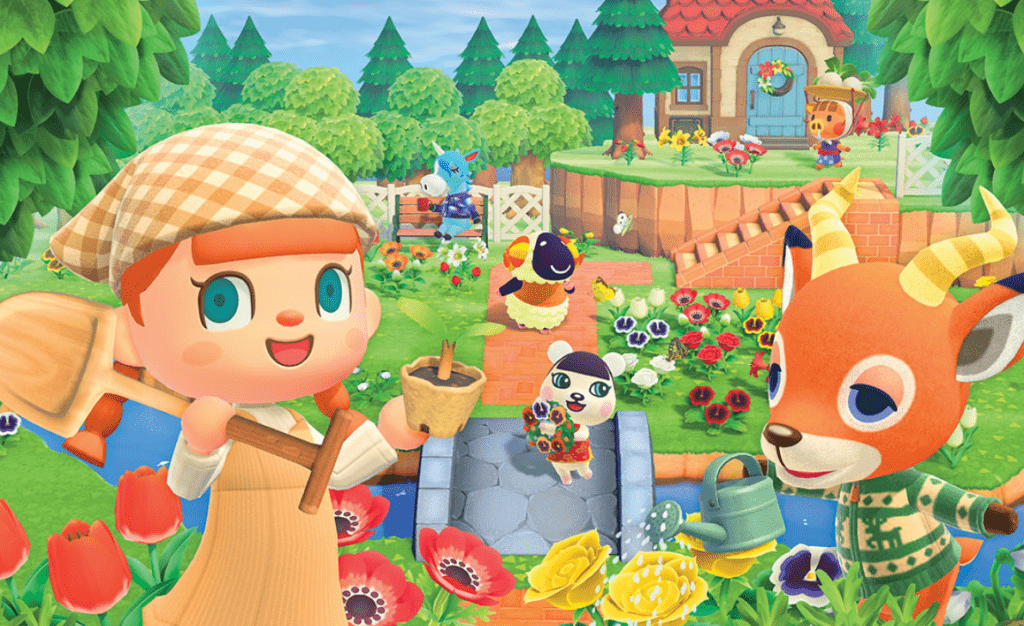 I love how you can have family bonding time by combining puzzles and Animal Crossing into one activity! Plus, it's super affordable too. It's also officially licensed by Nintendo.
Pros
Officially licensed by Nintendo

Affordable

Animal Crossing theme
Cons
Be sure to check all of your items first to ensure everything is included

The image to follow is a bit small
FAQs
Question: What is the Most Popular Plush Animal?
Answer: One of the most popular plush toys is the Melissa & Doug Giant Giraffe! Of course, this will come down to personal preference.
Question: Can you get a Stuffed Cat in Animal Crossing?
Answer: At the time of posting this, it looks like you can't. You could get a stuffed dog during the December holiday season, though.
Question: Can you get a Puppy in Animal Crossing?
Answer: You could get a puppy plush from December 1st-December 25th.
Question: Are Cat Villagers Rare?
Answer: They have a slight chance of appearing, so yes, they're rare!
Question: Is Isabelle in Love With K.K.?
Answer: While it's not clear whether she's in love with him, she has an immense admiration for him and the songs he plays.
Question: Who is Tom Nook's Wife?
Answer: Tom never married or had children. However, he did take in Tommy and Timmy to learn the business and someday take over.
Question: Where do Timmy and Tommy Live?
Answer: They initially live in the Resident Services tent. Once the shop is built, they live there.
Question: Who is Older, Timmy or Tommy?
Answer: They're twins! Timmy is older, though, and they work hard to run the local shop.
A Guide on the Top Unique and Best Animal Crossing Plush Ideas
This guide gives you a rundown on the top unique and best Animal Crossing Plush ideas out there. Think about your favorite characters as you go to pick out your favorite.
If I had to choose my favorite, it's still the Little Buddy USA Fauna. I love her character and how kind and caring she is. I love how the plush looks so much like her in the game.
Not only is the plush super soft and cuddly, but her arms are open for lots of hugs. Her outfit is super cute and goes with her personality too.
Further readings:
Complete Angry Birds Plush Guide for Collectors and Kids in 2022
Everything There is to Know About Wendy the Frog Squishmallow Who is Wendy the Frog Squishmallow?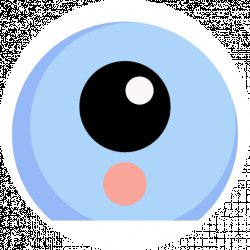 Latest posts by Avid Plush Team
(see all)