Having traveled across the globe, one of my favorite places was Taiwan. I remember selecting and trying out the different Boba Teas they had available. There are various options, from white concoctions to green teas.
Back in the United States, I still try different Boba Teas. And when I started finding out about Squishmallows releasing Boba Tea squishies, I was thrilled! As a toy collector, I thought combining the two would be fun, so I made the ultimate Boba plush guide. Be sure to read on to find some of the best Boba plush out there!
Bottom Line Up Front
It can be challenging to pick out the perfect gift for yourself or others, but I've created this list to make it easier. If I had to choose a favorite for many it'd have to be the shark drinking the Boba Tea.
Not only is he unique, but he's a great price, soft, and cuddly. The only con is that he's on the smaller side. But a smaller size is great for some depending on where they're located.
My Top Picks at a Glance
Squishmallows  Boba – Ultrasoft Stuffed Animal Plush Toy (sunset)- Perfect for your next getaway or imagining that you're on a trip. Collectors and children alike will love her coloring and Boba too!
Squishmallows Boba – Ultrasoft Stuffed Animal Plush Toy (blue)- Perfect for those who love the color blue and Boba! He's a great size to carry around. I can see collectors and children both loving this Kellytoy.
Squishmallows  Boba – Ultrasoft Stuffed Animal Plush Toy- One for the lovers of purple and lavender! She's a beautiful color and ready for tons of play and cuddles.
Bubble Tea Boba Cup – I love how they keep those who love sour flavors in mind. Perfect for the green apple lover in your life!
Squishmallow Bernice the Boba Tea – Great for those who want a more traditional design, including coffee lovers.
Boba Shark Plush Toy – Perfect for the shark lover in your life and unique.
Tips for the Reader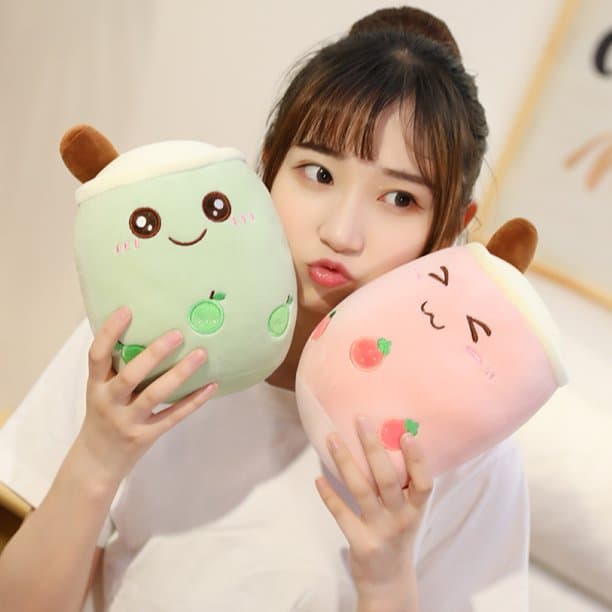 As you're going through this list, it's a good idea to note the best option for you or your family member. Think about who the recipient of this gift is. If it's for you, think about what you like as far as colors. I've separated the Boba Teas into different sections to make it easier to find the right one for you!
Selection Criteria
As I'm choosing, I sorted through all of the available flavors. I've also chosen these Squishmallows based on flavors. 
Picking Out the Best Boba Plush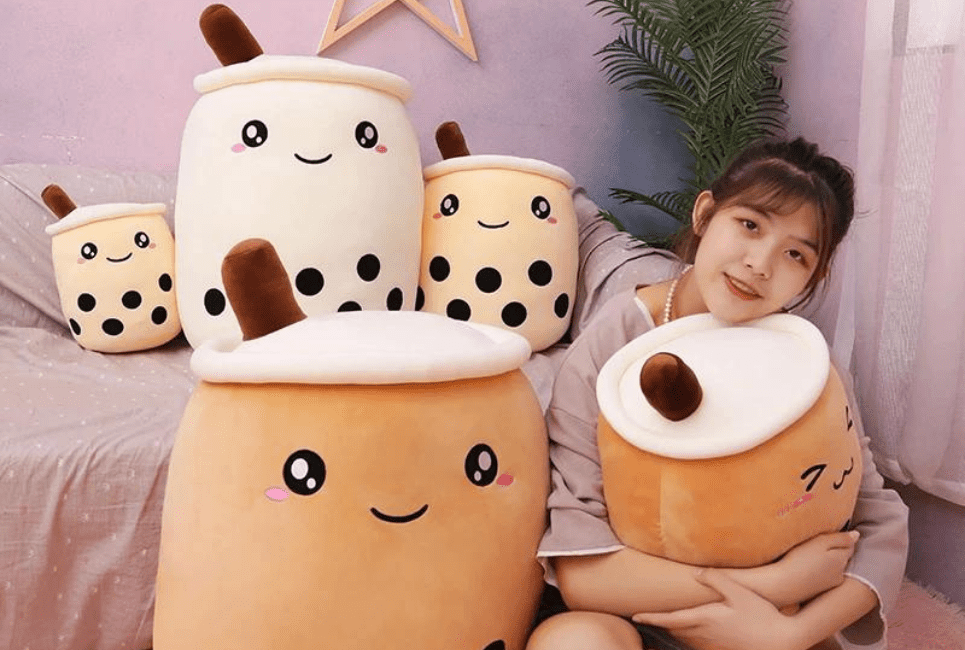 First, who is it for? Then, if it's for you, think about the different flavors and colors you prefer.
If it's for someone else, do they already have some Boba Tea plush? You definitely don't want to buy a duplicate.
Notice what their favorite colors are. Do they often choose a specific color for their outfits? Of course, the flavored Boba Teas would be the best option for children since they're fun!
Where to Buy Boba Plush?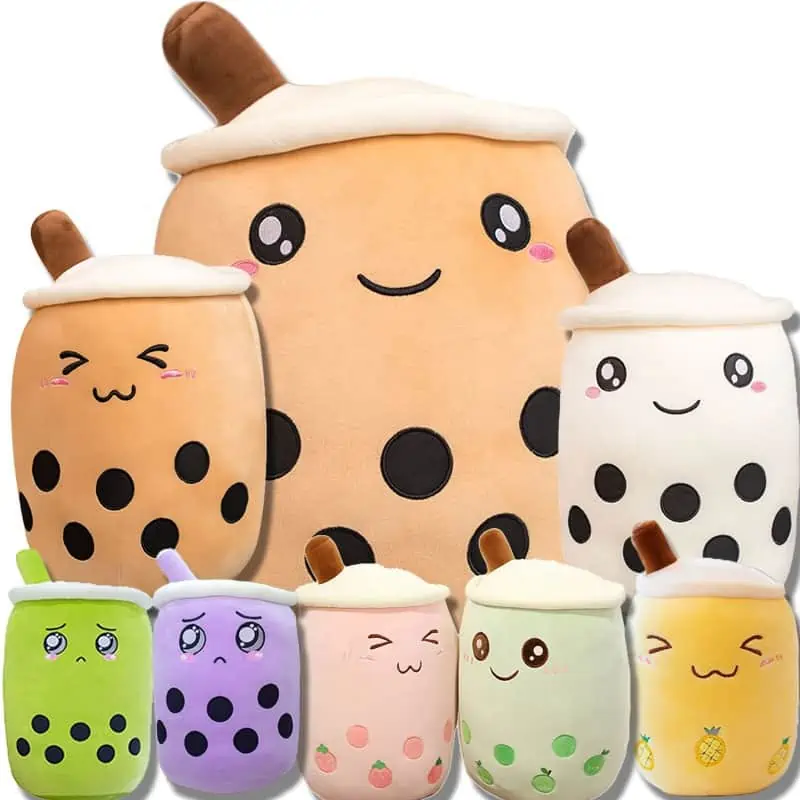 Some great places to check out for Boba plush include Amazon, Target, and Walmart. Unfortunately, I didn't see many options in the Target store near me, so your best bet is online.
They might only have so many options in person, but they'll have more of an assortment online. Plus, it's convenient to order online from the comfort of your own home. Keep in mind that Target has fewer options for Boba plush.
Squishmallows Boba (Sunset)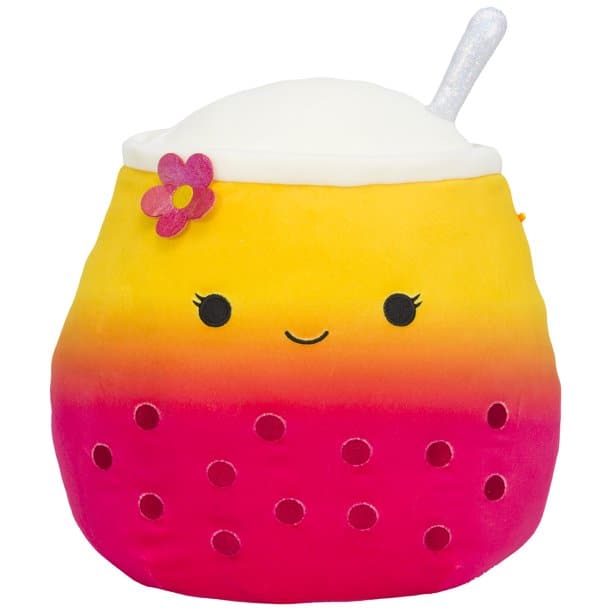 Perfect for a summer day trip, this boba tea made me feel like I'm on a tropical island vacation! I love the sunset colors in this boba tea Squishmallow, but my favorite part is the glittery straw inside of the boba tea!
I think the flower added onto her head is the perfect addition too! I do wish the bubbles in the tea were glittery; I feel like it would be the perfect way to tie everything together. 
Pros
Glittery straw, which is super cute
Friendly smile on the Squishmallow' face
Unique sunset coloring
Cons
May be too tropical for some people
Squishmallows Boba (Blue)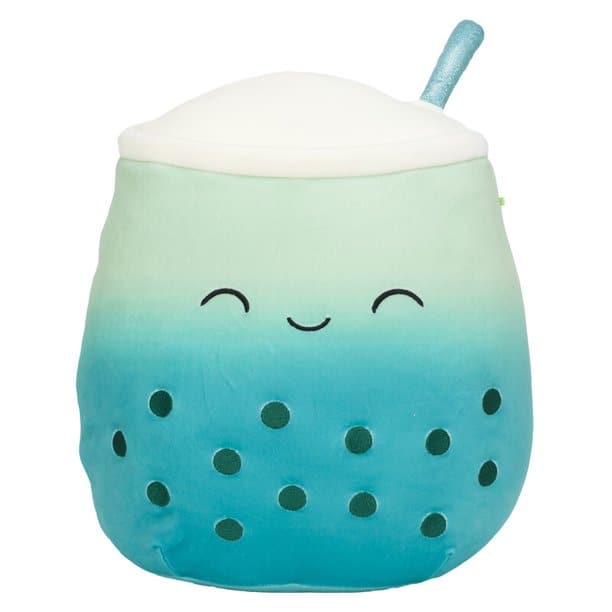 If you're looking for a less tropical way to celebrate your love of boba? I love this boba Squishmallow! I think this boba squishmallow is super calming; I love how tranquil the colors of this Squishmallow are. Plus, he's also ombre, and would be a great option for boys that are looking for something squishy and cuddly to snuggle with! 
And I love how cute his smile is. Of course, I love the straw in this boba too! Although, I wish this one wasn't glittery, for little boys who may want something more grown up.
Pros
Super cool blue ombre design

Great for a little boys

Calm design
Cons
Glittery straw, may not be a great option for boys
Squishmallows Boba (Purple)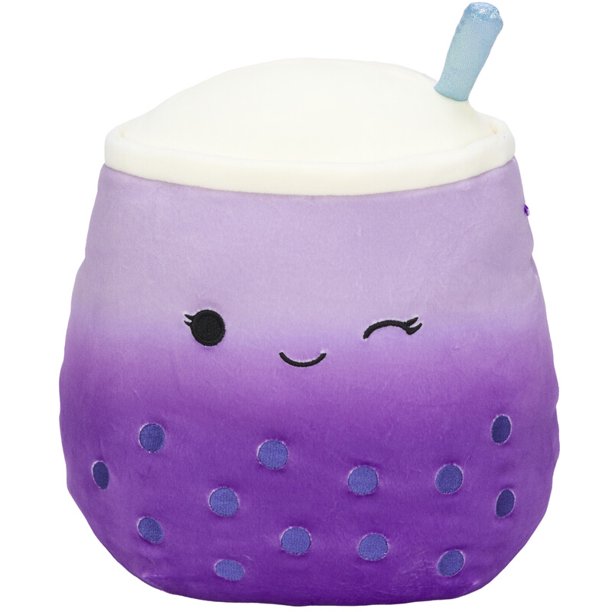 Lavender is one of my favorite colors, so I had to include her! I don't really love the coloring inside of this boba tea because it looks like blueberries to me. 
Out of all of the boba Squishmallows in this guide, this is my least favorite. I don't feel like it's nearly as exciting as the other options available. But, this may be a great option for someone who's obsessed with the color purple.
I can appreciate the ombre look with white and lavender fading into purple. 
Pros
Pretty lavender coloring
Cute winky face
Cons
The boba bubbles blend into the tea
Pearl Milk Tea Strawberry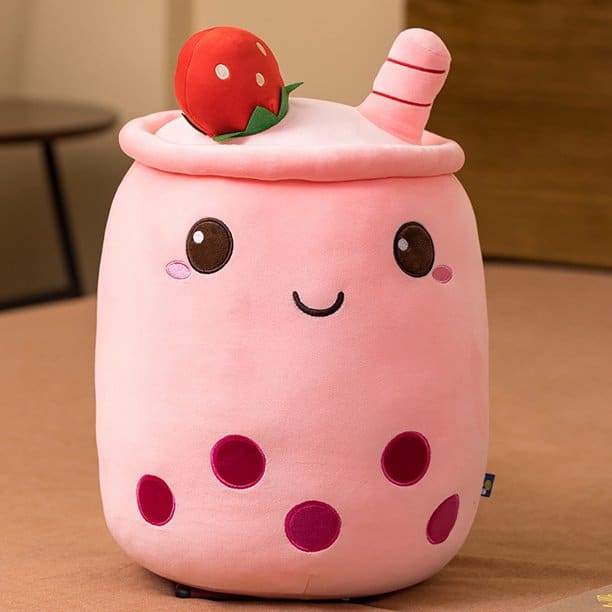 I think the strawberry on top of this boba tea is a super cute addition to this tea, but the blush underneath of the eyes is my favorite part! I love all of the colors that are in this boba tea; it's super girly and I love that! I think the straw is super cute too. I like how there's a stripe on the straw, instead of glitter. This may be a great option for someone who isn't interested in getting a Squishmallow with glitter on it. Also, I really like how the eyes on this aren't black; the brown eyes were very refreshing to see.
Pros
Super girly and fun colors

Very affordable
Compact, super easy to carry around
Cons
Not a lot of color options available
Kellytoy Squishmallow 8 Inch Plush | Bernice the Boba Tea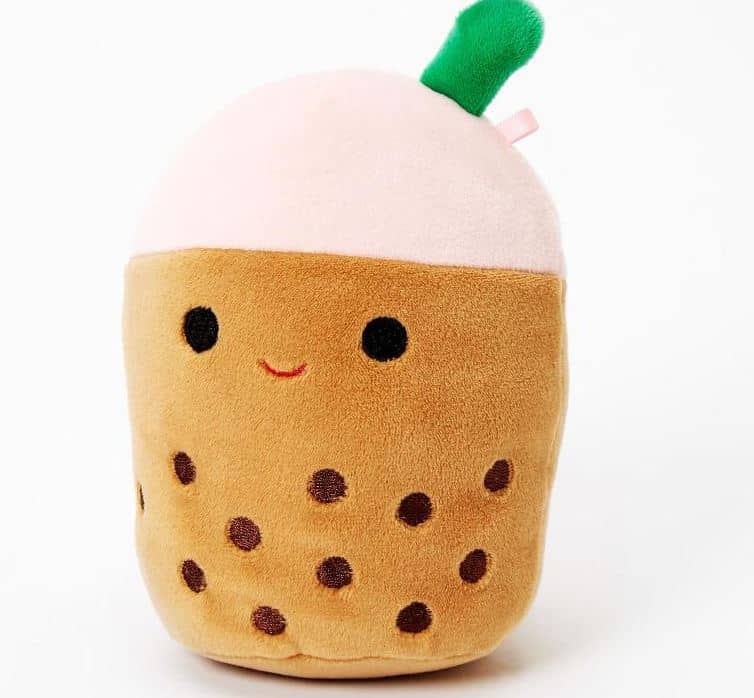 Bernice is so cute and looks like the traditional Boba Tea you might think of. She kind of reminds me of a coffee drink, too, with her white foam, green straw, and tan body.
I love her rounded bottom, because it makes it easier for her to stand up! The gummy-like texture of Boba makes everyone hungry to think about. I don't like the face on this Squishmallow; the smile is a little small and I feel like the face is kind of creepy. 
But, she's perfect for the collector in your life who loves Boba Tea.
Pros
Simple design for people who aren't looking for something unique
Cons
Creepy face
No bright coloring
Avocatt Boba Shark Plush Toy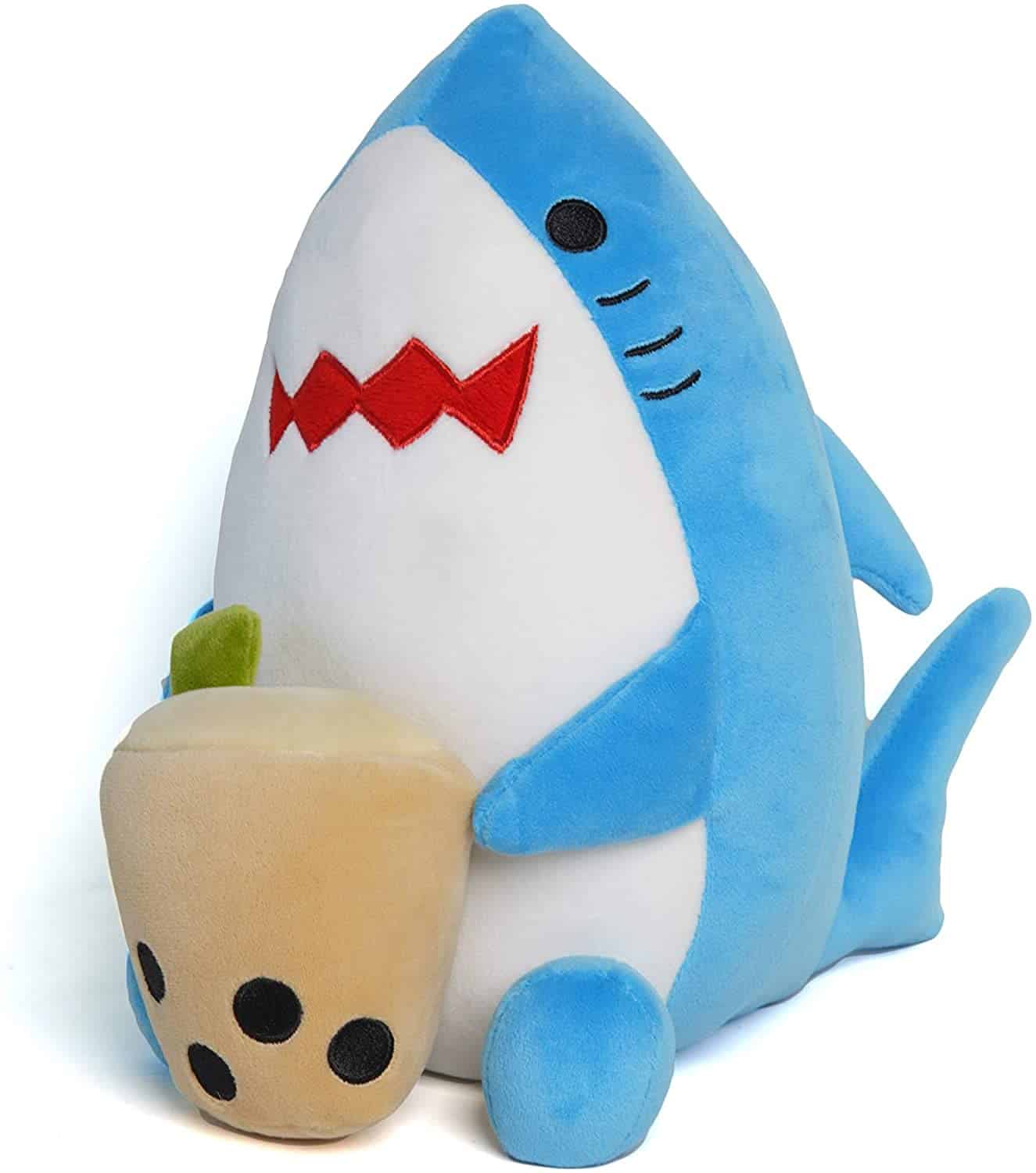 I love sharks and I love boba tea; this is the perfect combo of both of these things! I think this is a perfect toy for boths too, with the super cool shark. And I like how the straw doesn't stick out too much from the boba tea either. Also, I love the size of the boba shark too because he's easy to carry around with you!
Pros
 I love how unique and fun the design is

Perfect for shark and Boba Tea lovers alike

Special fabrics are used
Cons
Small design, may be too small for older teens
FAQs
Question: What is the Best Boba Plush to Get?
Answer: This is a personal preference! The bright-colored Boba Teas are my personal favorite, though. They're great for kids too!
Question: How do I Pick out a Suitable Boba Plush?
Answer: First, think about who the gift will be for and their interests.
Question: Why Should I get a Boba Plush?
Answer: They're great for children to play with, and collectors love them too! There are even unique options for you to choose from as well.
Exploring the Best Boba Plush Guide
After exploring this Boba plush guide, I hope you have a better idea of what Boba Tea plush might be best for you. Think about who the gift will be for, what they already have, and their favorite colors and interests.
I personally recommend Avocatt's Boba Shark Plush! He's so fun since he's unique. He's relaxing after a long day at the beach and enjoying his Boba Tea.
If you enjoyed this article, check out our other articles today!
Find more inspiration:
Best Mood Plush Guide for Squishy Expressions Under $25
The Top Unique and Best Animal Crossing Plush Ideas
Complete Angry Birds Plush Guide for Collectors and Kids in 2022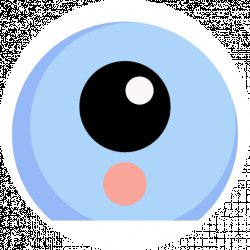 Latest posts by Avid Plush Team
(see all)