I've always found frogs fascinating and I love that my son shares the same passion. I mean, how cool are frogs to look at? I could spend all day looking at frogs. I love collecting frog plushies because it reminds me of how much I love seeing frogs in the wild. 
I wanted to start building a massive frog plush collection to give to my son, so I can share my love for all things frog-related with him. Now, I want to share all of my favorite frog plush ideas with you, so you can find inspiration for your next frog plush purchase!
Bottom Line Up Front
While there are various frog plushes to choose from, my favorite is Frisco the Poison Dart Frog! I think the coloring and pattern on this frog because it's so natural-looking! I loved how I could take my son about camouflage with this frog plush.  
Selection Criteria
You may not be surprised to know this, but there are a ton of different options for a frog plush on the market. But, with all of the different frog plushes on the market, it can be difficult to sort. I've chosen all of the frog plushes in this guide based on affordability, availability, cuteness, and chosen plushes that look the most like a plush frog!
Tips on Picking Out the Best Frog Plush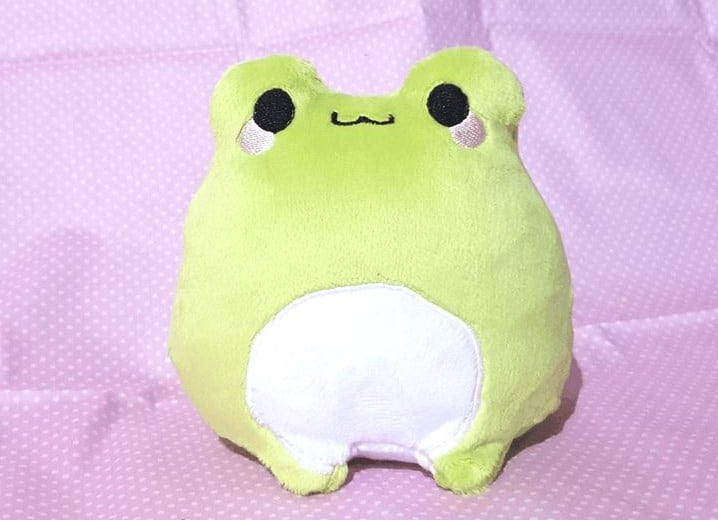 I think it's first important for you to consider whether you're shopping around for a frog plush for yourself or for someone else. If you're shopping around for someone else who happens, I would highly recommend you look to see what the recommended age for each toy is. For example, you don't want to gift a plush frog that happens to be too small for the child you're giving it to.
You should also consider if you're looking around specifically for a toy that's either cudly or educational. There are some toys out there that can combine the best of both worlds. But, I made sure to only include frogs on this list that were easy to find online.
I know how frustrating it can be to spend hours looking around for the perfect toy. Don't worry – these are super easy to find online and in-store! Lastly, I made sure that none of these plush frogs were too expensive. 
Squishy Frogs
This section is all about super squishy frog plushies! Some are even great for young children too.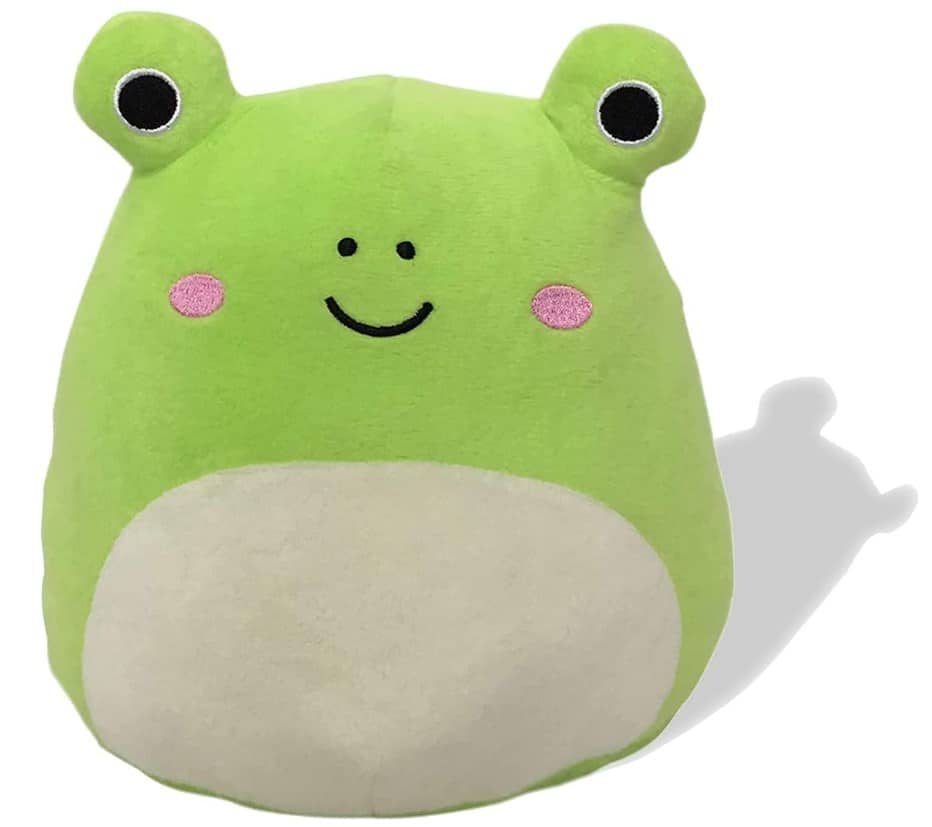 I love squishy and adorable this frog is!
I think the blush on his cheeks almost remind me of a prince stuck inside of a frog's body. Personally, I love how his eyes stick up from the rest of his body, which compliment a real frog's body. And when your kids leave all of their toys out, you can use this super squishy frog as a lumbar pillar. I mean, what more could you ask for from a plush frog?
Key Features
Can double as a pillow or a lumbar cushion

The nose holes on his face make him seem much more approachable 

I love how he has the 3D design, which I know my son would love to grab at
CAZOYEE Soft Frog Plush Toy Frog Plushie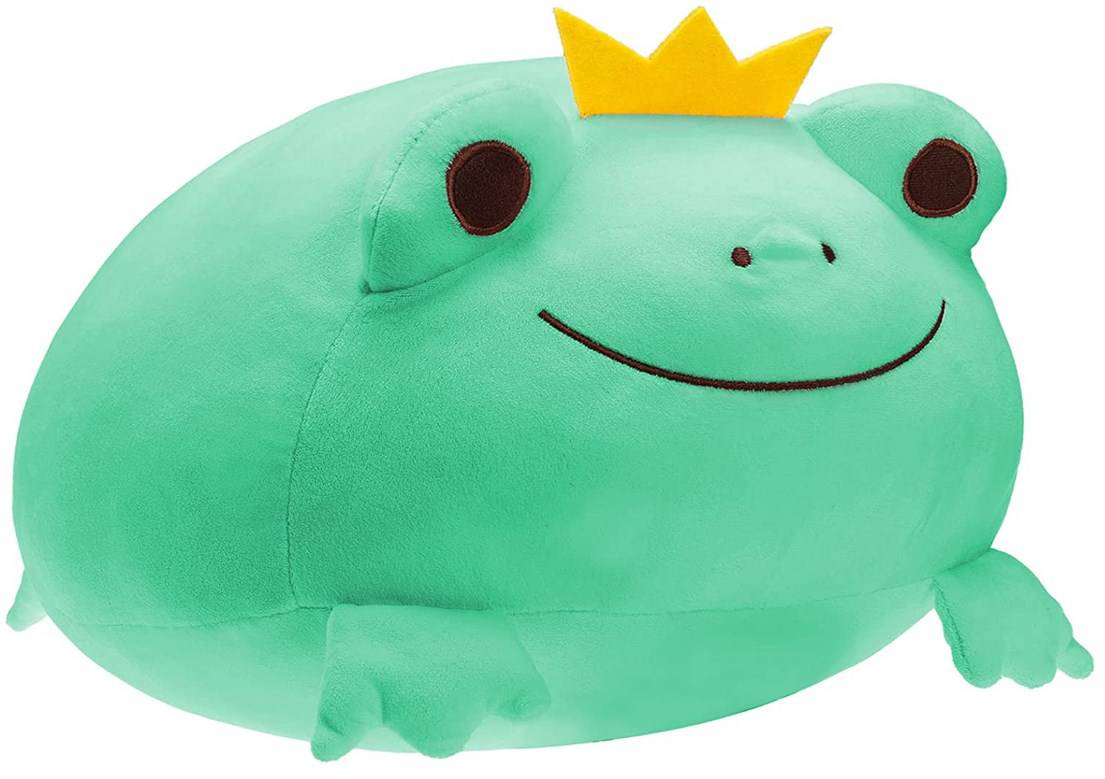 Is your princess looking for her prince?
While she's too young to start dating, I think this cute frog would make the perfect prince! I think the coloring on his body is my favorite part; I love how he isn't obnixously green. Instead, he's a nice mint color that could blend in with the aesthetic of my living room. Of course, he's soft too. And he's got a huge smile on his face, which I think makes him look friendly!
Key Features
My favorite part of this frog is how chunky he is; his small feet make me crack up

Gentle mint color

Great for little girls looking for their frog prince
Folkmanis Mini Frog Finger Puppet Plush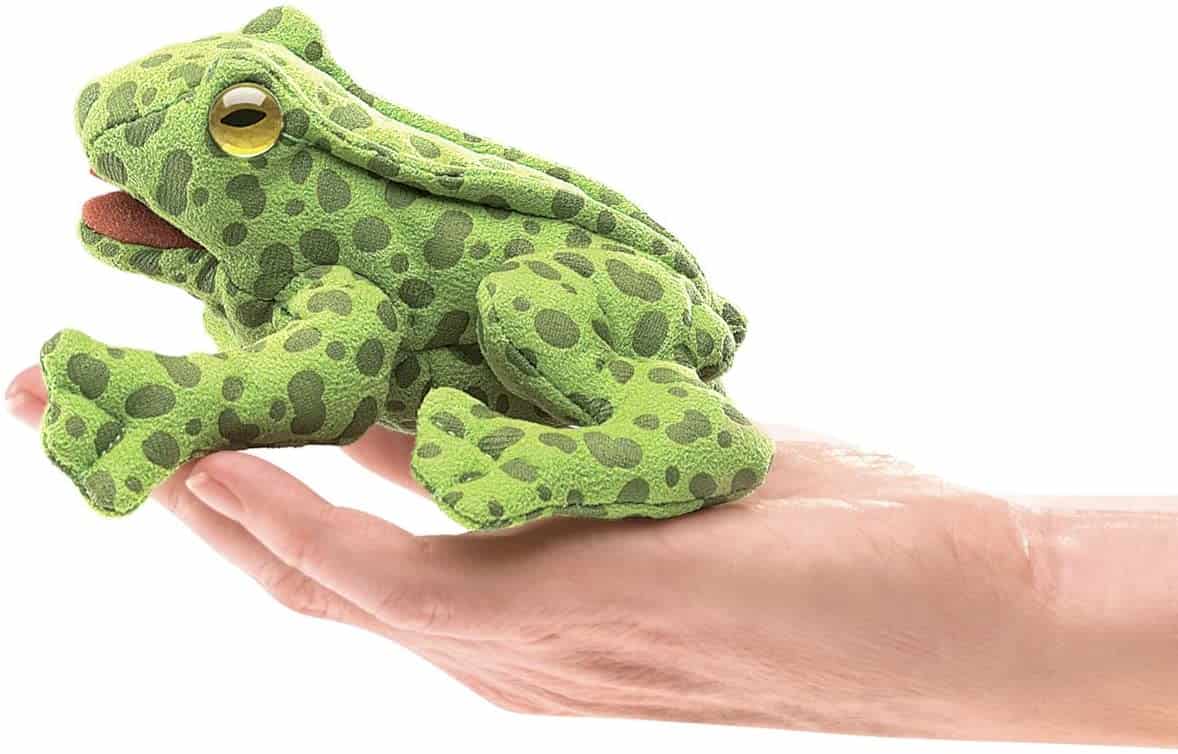 I love this plush because of how realistic it looks, but it's also super portable! I know it can be difficult when I'm trying to pack my son into his carseat, while he's holding onto a giant stuffed animal in his lap. But, this frog is super easy to carry around because it's so small!
I also love how I can use this frog as a finger puppet to tell jokes. It makes for a unique (and fun) bonding experience between my son and I. The colors on this frog are realistic, which I love because it's helped me to teach my son about camouflage.
The biggest downside is that this finger puppet isn't machine washable. There are times when it would be nice to throw the puppet into the wash just to make sure it's clean of any bacteria. But, I can spray some disinfectant on there and it's still all good to go.
Key Features
Super lightweight
Very affordable
Small enough to carry around
Realistic looking
Soft
Great for kids in theater
Ice King Bear Plush Giant Frog Stuffed Animal Soft Toy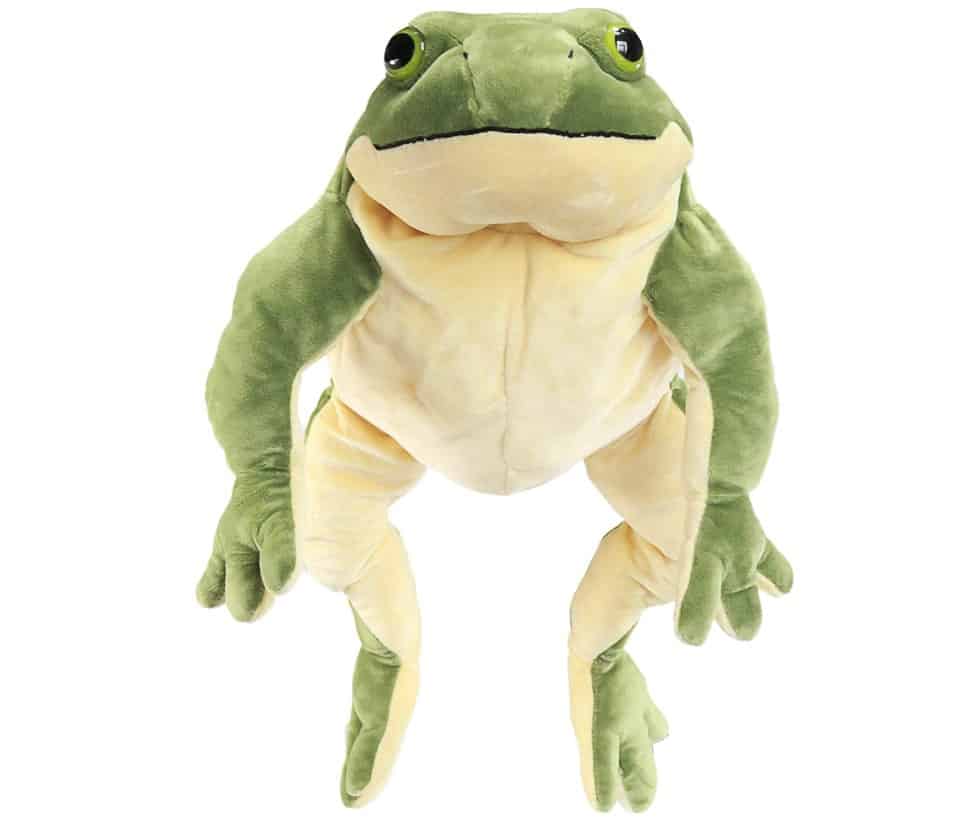 If you have an older child who wants to learn all they can about science, I think this is a great frog to look into! This is conraua goliath frog, which is the largest frog in the entire world. Isn't that crazy?
And since this is the largest frog in the world, I love how the plush is huge too! This giant frog plush comes in at 22 inches, which it perfect for a bedtime stuffie! But, he may be too big for some kids to play with, because of his size and his weight.
Have your child's eyes light up as they look at this fun frog! While you might think that he's boring since he's not an interactive toy, he's loads of fun!
Key Features
Realistic design

Unique frog; the world's largest frog

Big enough for large adventures, but maybe too big for smaller hands
Frisco the Poison Dart Tree Frog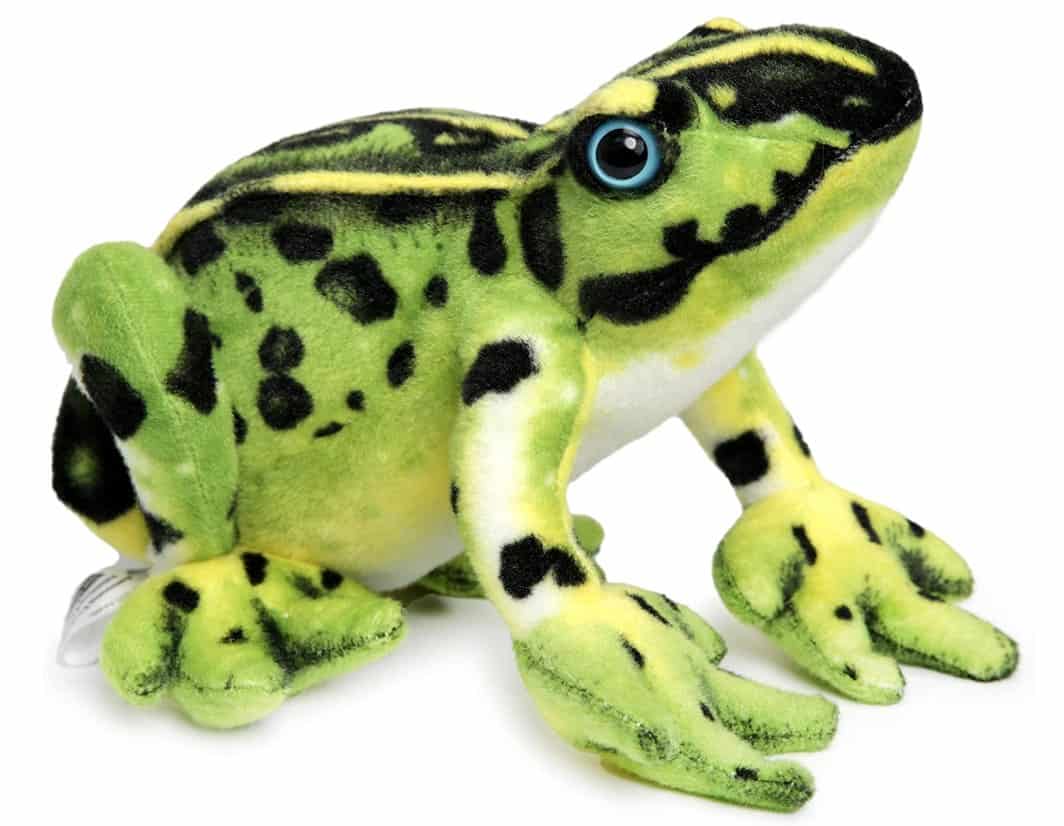 The colors on this frog are my favorite! Online, the colors don't look like anything too special. But in person, the colors on this frog are stunning! They're so bright and vivid.
And from the looks of this frog online, it doesn't look like it's that soft. However, that's not true! I loved how soft this poison dart frog was in person too. He's small enough to carry around, but he isn't too small to the point where he's easy to lose. Plus, with his bright coloring, I can easily spot him anywhere in my house.
Key Features
Realistic design
Isn't too heavy or big to carry around
Super bright colors
I thought he was a lot softer than I was expecting him to be
Bearington Ribbity Stuffed Frog
I remember years ago, when I gave my cousin a Bearington Ribbity stuffed frog for Christmas one year. Years later, he still has it. So of course, I had to include him on this list! I think this is a great option for a stuffed for because of how affordable and durable he is.
Personally, I think my favorite part of this frog is his eyes. I love how they're glass and aren't sewn on like a lot of other frogs on this list. I feel like it adds so much personality to this stuffed frog that other frogs on this list don't have! And I love the muted colors he has; nothing too bold, bright, and distracting that could potentially overstimulate my child.
Key Features
Dark and muted colors

Glossy eyes, which give him a lot of personality 

Super durable, speaking from personal experience 

Not too heavy to carry around
Vermont Teddy Bear Buddy Frog Plush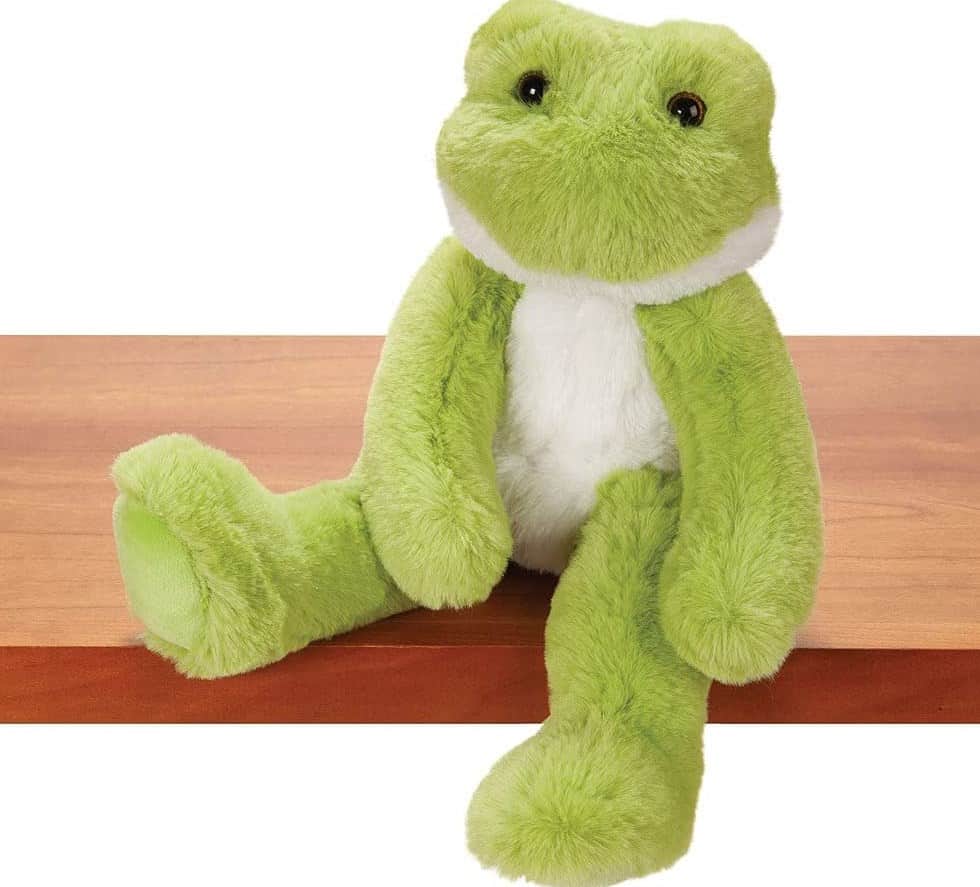 This is one of the most expensive frog plush, but for a good reason: he just feels sooooo soft. Seriously! I wouldn't give this frog plush to my young son (mainly because of the price). But, I would give it to my sister, because I know she would appreciate the extreme softness of this froggie!
I love how he still has beautiful green fur with a white body, like a real frog. Plus, you can pose him in different positions if you want to keep him displayed in your house, which I think is super cool too!
Key Features
You can place him into different poses

Super duper soft

Quite an investment, especially if you're looking for a kids toy
Green Frog Plush Stuffed Animal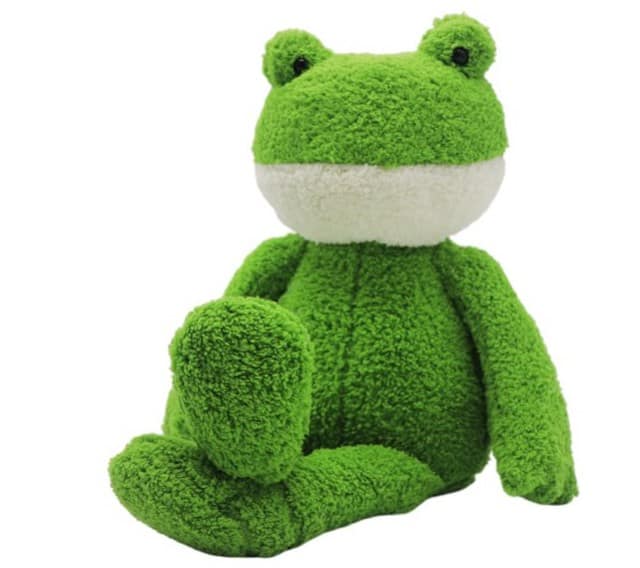 Another posing cutie! This plush frog has a very unique texture; I don't think he's as soft as other frogs on this list. And since the fabric of this frog is a little bit rougher, I wouldn't say this is a good frog for babies or young children. Instead, I feel like this frog plush is a great option for someone who's a collector! I this frog would be darling sitting up on a mantle, looking out over the rest of a room. 
Key Features
Texture fur

Another poseable frog, great for someone who is a collector

A very simple design, so it isn't too distracting to place as a decor item in a room
ELAINREN Donut Frog Plush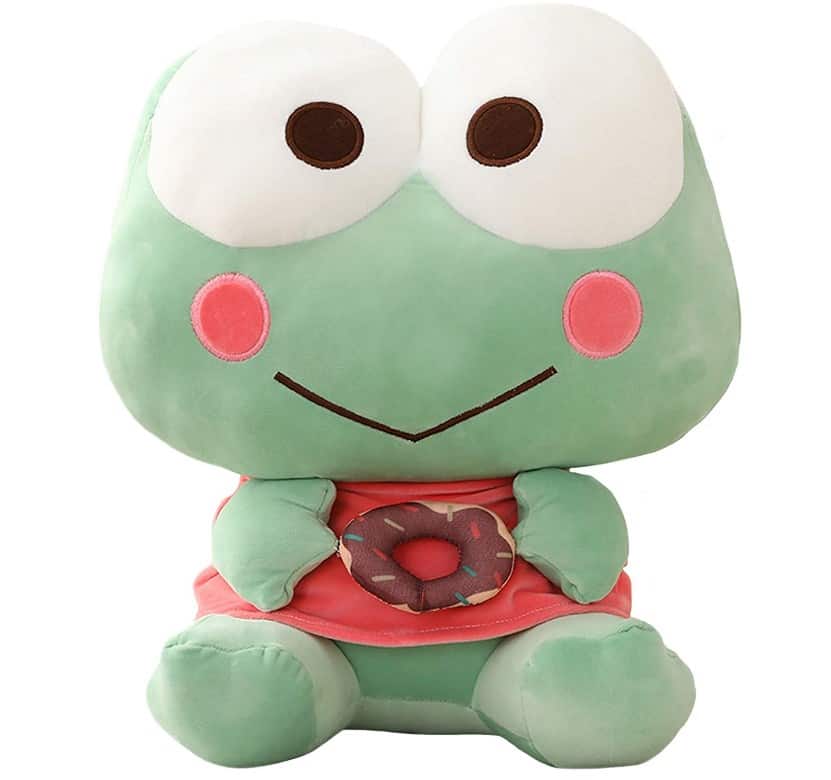 How could you not look at this frog and go "aww"?
I think there's so much about this frog that's absolutely adorable! I absolutely love the combo of the mint green and the bright peach as the two main colors of this frog.
If your child loves sweets, I think this would be the perfect gift! The donut on this frog just makes her so much sweeter! Personally, I think the expression on this frog's face is so unique; there isn't another mouth on this list that has the same shape as this frog's mouth does. 
Key Features
Beautiful color scheme

Super friendly-looking, thanks to the large eyes and colorful cheeks

The donut addition just adds the perfect touch!
BOHS Plush Frog with Flower on Head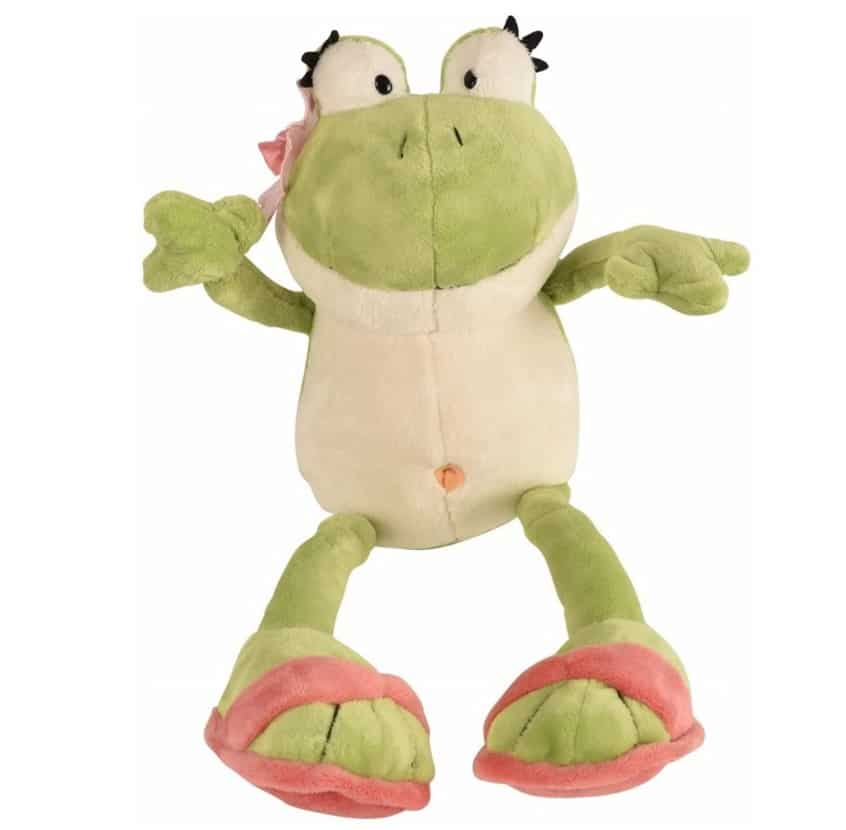 I love how tropical this frog is! She's super cute and would be a great addition to a little one looking to have a summertime adventure buddy!  I think it's great that children can pretend that she's relaxing on the beach, by the pool, or anywhere else due to her outfit. 
I love that whether or not you're going on vacation, she's sure to get your little one excited about your next trip. I love how she can be placed into different positions too. She can be standing or sitting for tons of fun for your child! The thing I don't like the most about this frog is that you can't remove her flipflops. This may not be a great option to consider if you're looking to buy a frog your sweetie pie can play dress-up with. 
Key Features
Shoes aren't removable
Silk flower, which adds a unique texture
The seller offers a 30-day refund policy
Bearington Hoppy Hearts Plush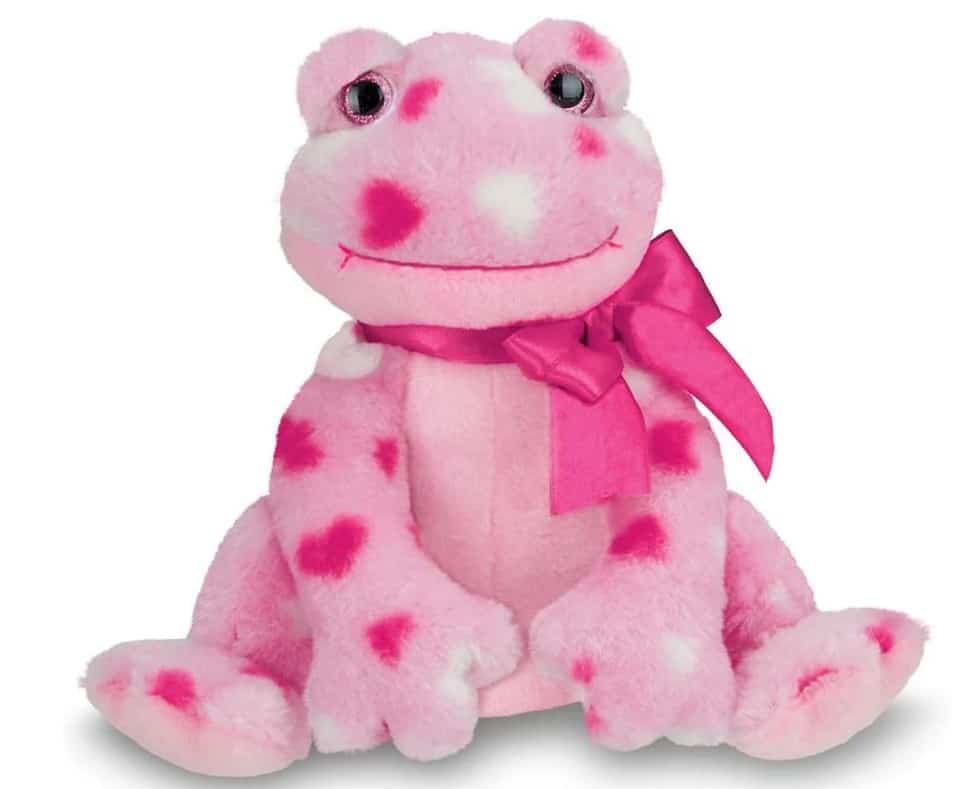 Whether you're looking for the perfect gift for someone special or you're looking for a cute toy for your child, this little one fits the bill. The soft colors of her fur, the cute hearts, the soft look in her eyes; she's perfect! She's so different than the other frogs on this list too, simply because of her color scheme. If I had a daughter, this would be my first pick for her! My only concern is the bow; I would be worried if it came untied and completely coming off of her neck. 
Key Features
Pink eyes that have a lot of personality
I love how the hearts aren't all the same color
I think the bow on her neck makes her look so beautiful
Disney Kermit Plush
If you have an avid Disney lover in your home, this Kermit the Frog plush would be a great gift to give them! And while he's fun to snuggle with, I think he's even more fun to look at. I'm personally not too into Disney myself, but this would be something I would give to any of my friends who are looking to expand upon their Disney collection.
Key Features
I adore the little frog on Kermit's polo

A baby version of Kermit, my personal fave

Adorable matching outfit
FAQs
Question: Is There a Frog Squishmallow?
Answer: Yes! There's Baratelli the Frog Prince that's sixteen inches!
Question: How Much Does a Plushie Cost?
Answer: The price can vary depending on the size and features. It can be five dollars, fifty, or more.
Question: Is it Weird to Sleep with a Stuffed Animal at Twenty?
Answer: Nope! Experts say it's normal! So order your frog plush no matter what age you are.
Exploring the Best Frog Plush Ideas
After exploring this guide, I hope you better understand some of the best frog plush ideas. Think about who the plush will be for as you're picking one out.
Consider their age, educational opportunities with the plush, and whether they'll be taking them on the go or not. But, at the end of the day, I love Frisco the Poison Dart Frog!
He's a tremendous educational opportunity for children since you'll all have a conversation about them. Plus, he's small and easy to carry around too!
Further readings:
Best Disney Plush Ideas for 2022
Haikyuu Plush Guide for Anime Lovers
The Best Cat Plush Guide in 2022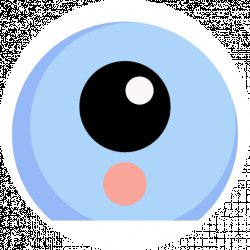 Latest posts by Avid Plush Team
(see all)