If you love Squishmallows, click here to help them win the Toy of The Year Award for 2022 (TOTY) on Twitter!
Anniversary Edition of Wendy the Frog Squishmallow for SALE
This gorgeous tie-dye Wendy the Frog, from Squishmallows, is the 5th-anniversary edition of Wendy and was sold at Walgreens.
This specific Wendy is on Mercari for $38 plus shipping. You can find others on eBay and Poshmark, Squishmallow's, StockX, and more.
At 16″ around, this pillow friend is sure to be used night and day for multiple purposes.
Wendy is spongy, squishy, slightly firm, and incredibly soft. She pops back up into shape when you let her go.
Wendy the Frog was born in 2017 with seven other Original Squad members, and so she is celebrating her 5th anniversary!
Wendy the Frog Squishmallow Earrings for SALE
Find these fabulous homemade Wendy the Frog Squishmallow earrings on Twitter! Wendy would love them because of their natural precious stones and gems – opalite and green aventurine!
Wendy loves the environment and helps clean up around her wherever she goes. Using Earth's natural resources is something she strives to do!
Wendy is so happy in these circular round hoops with dangling gems because it is like the round Earth!
Wendy has red eyes in a limited edition sold by 5B
The Story Started in 2017
When is Wendy's birthday? It's May 10! She appeared in 2017 as one of the first Squishmallow's "Original Squad." Taurus is her "SquishScope" star horoscope sign. Wendy is very academic and wants to become a famous scientist.
Wendy the Frog also invents many things and has the artistic talent to paint pictures of her creations. Her favorite subject is chemistry in school, and she loves the lab work! She hopes to work in that field when she grows up.
Look no further than the basketball court if you try to find her outside of school hours. She loves to play basketball, and Wendy the Frog won the Most Valuable Player of the Year Award for her skills on the court.
Busy Wendy the Frog is an environmentally conscious Squishmallow and finds time to help clean up her community whenever the opportunity arises. She knows the importance of being eco-friendly and tries to leave her space better than before – it's no coincidence Wendy is GREEN!
Speaking of green, guess what her favorite food is? It is SUSHI – she loves to eat the Avocado Rolls (which are also green).
Green gardening is her all-time best hobby to do with her family. It's so much better to spend time with family cleaning up the community and planting and weeding the garden!
Wendy the Frog, Squishmallow, comes in 2, 3.5, 5, 8, 13, and 16 inches. That's six different sizes for different stages of her life. Like the Granny Smith and Shamrock Apple colors, she is green with a bright off-white tummy.
Wendy has brilliant black eyes that are intelligent and shining, as shown off by the white rim all around. Her eyes look at you from atop her head, asking you to play with her and help her invent more essential things.
Her cheeks are a rosy pink from all her activity and basketball playing. She has solid and alert nostrils to smell her ingenious chemistry potions.
Her mouth is a glowing smile, and she is always happy. She wants you to learn and have fun with her. She invites you to be her friend for always. Who wouldn't want Wendy the Frog Squishmallow for a playmate?
Squishmallows: From Best-Selling to Buyouts
The world has gone head over heels for Squishmallows since KellyToy created them in 2017 – and starting with just 8 Squishmallows at Walgreens.
Since then, in only four years, there have been more than 1000 Squishmallows to choose from, and they have sold more than 100 million of them! The Pandemic has undoubtedly contributed to the popularity of these stay-at-home friends.
The related items that go along with these scrunchy creatures are crazy – jewelry, furniture, trading cards, and online games, just to name a few. Log in and play with the different characters you buy, chat with "real" friends and expand your imagination.
Squishmallow Wendy the Frog with Red Eyes for SALE at Mercari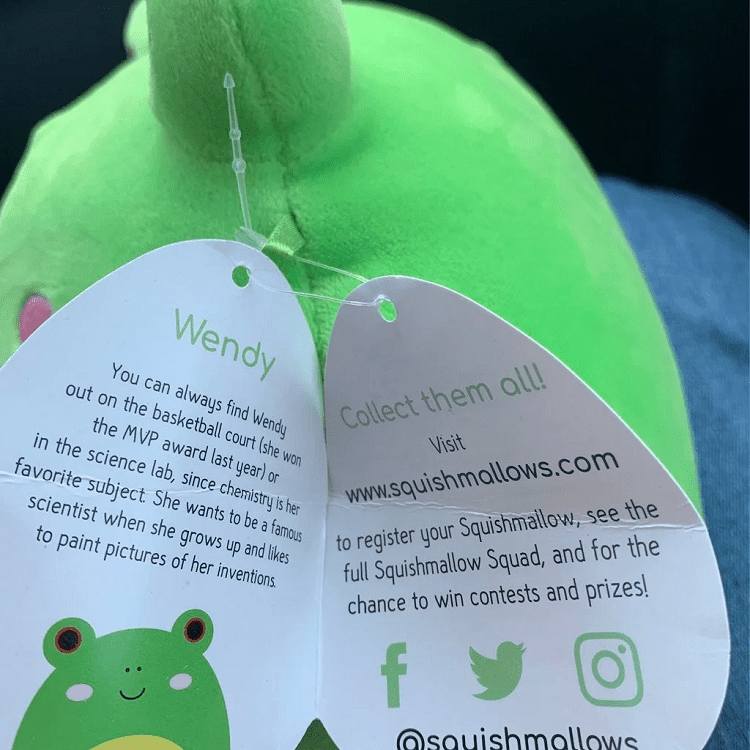 Check out this limited edition Wendy the Frog with the red eyes at Mercari! Excellent condition, and the colors are bright and deep. The yellow tummy especially sets off the green skin of Wendy (which is what I like).
Wendy was sold at 5Below during a sale and had red eyes with a sunny yellow stomach and was 20 inches.
Happy Shopping!
They are a pillow, yet they are a teaching tool, and they are a huggable and lovable pal. Children (and adults!) are obsessed with these loneliness busters! Just like the Webkinz and Beanie Babies that came before them, Squishmallows have topped the charts with awards from dozens of reputable toy and parent organizations.
Jazwares bought KellyToys recently and is now the global distributor for all Squishmallows. While their prices may be relatively stable, there is a no-holds-barred policy for the pricing of hard-to-find Squishmallows.
The message here is to buy from a reputable source, i.e., Jazwares or Squishmallow.com, when the plushy is available or when it has just come out. Second-hand online retailers have current Squishmallows selling for hundreds of dollars for a single.
Gerhard Runken, Vice President of Global Brand for Jazwares, notes that they had aspired to make something that everyone could enjoy and had a vast appeal.
He said that it takes many years, usually, for a toy to be sought after by children and adults. It only took a year or two to become the obsessive focus of millions of people and drive sales up to 7 or 8 figures.
Wendy the Frog Squishmallow With Black Eyes and White Tummy for SALE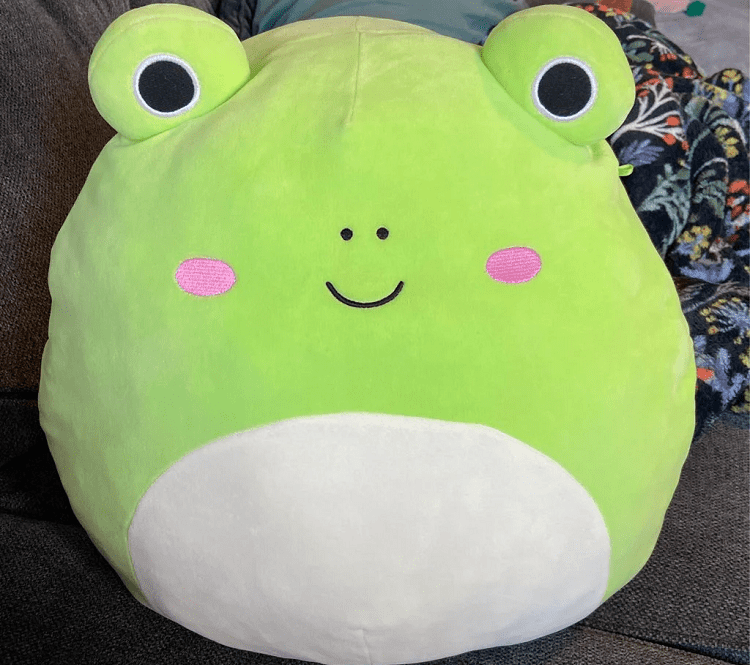 See this huggable Squishmallow at Mercari. It is the original Wendy the Frog with black eyes that are white-rimmed and a white belly. Excellent condition, just waiting for you to be her best friend!
Happy Shopping!
Social media accurately reflects Squishmallow's popularity, with followers upwards of 700,000 on Instagram, Facebook, and Twitter. On Facebook, fans have made over 100 Squishmallow groups! TikTok has more than 2 billion video views for Squishmallow hashtags.
I have some tips to overcome the immense disappointment many children are displaying if they can't have the specific Squishmallow that everyone else does.
Show your child what is available at the time, and create an atmosphere of anticipation as you talk about the particular Squishmallow's personality, what sort of homemade abode you can make,  the Squishmallow's friends, and the hobbies of the Squishmallow.
For example, Baratelli the Frog Prince loves to entertain with singing, dancing, and food trucks his main interests! Think of how you and your child could create a stage, curtain, microphone, etc., in anticipation of the Squishmallow.
I would not spend any extra money on out-of-stock or hard-to-find Squishmallows because of the immense alternatives that are available.
I don't see these plush toys as being different or offering anything special from many stuffed toy crazes of the past (unless you want to include the addictive online games and chat rooms for fans of the Squishmallows.
There are so many, and the options for play get pretty complex to keep your interest and keep you buying! If you are trying to have your child engage in more non-online activities, then "pretend" play with tangible soft toys is the way to go.
The tactile benefit from plush toys effectively calms children with anxiety, sensory integration disorders, and those on the autism spectrum.
My son was of the latter two, and they provided hours of joy and relief and comfort. They were also beneficial to play-act social situations. We must have spent thousands of hours playing with his stuffed animal "family" while I modeled behavior for him!
List of 16 Stores That Sell Wendy the Frog Squishmallow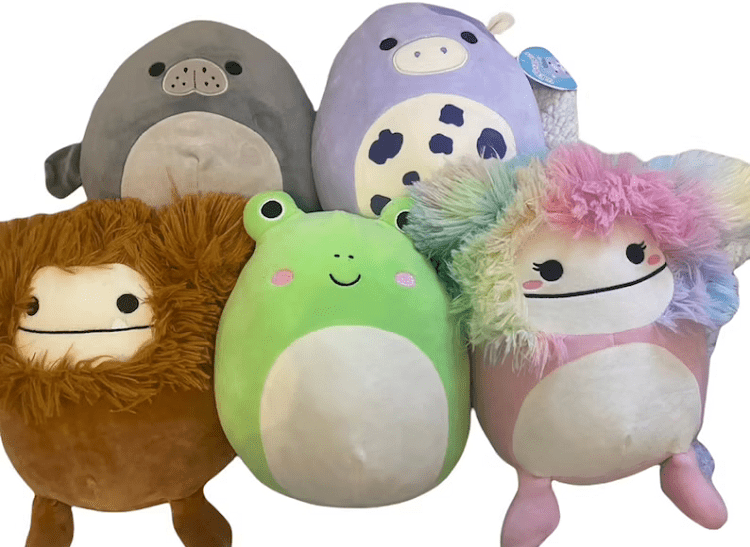 Pros and Cons of Squishmallows
Pros
Any Squishmallow is the most trendy stuffed animal/pillow you can buy at this time!
As a pillow, it is not too big and round to comfortably lay your head on – there is some "flatness."
Squishmallows have a GIANT online game presence, and once your child has one, they are immediately part of the "Squishmallow Squad."
There are over 1000 Squishmallows to choose from, which makes every child have ones with their interests and preferences.
If belonging is a challenge, hundreds of groups on social media focus on collaborations and common interests within the Squishmallow domains!
Squishmallows have invited different brands to share their characters, and they include Hocus Pocus, Pokemon, Nightmare before Christmas, Star Wars, JoJo Siwa, and Lilo % Stitch, to name a few.
They are great for travel, and they encourage sleep (which is always good!)
Cons
Not as round and full as other plushies, the hugging can be a bit empty
Squishmallows makes online gaming a primary focal point of its marketing – so be sure that this current obsession will also invade screen time
Demand drives prices way up – sometimes ridiculously  – beware of being caught last minute having to pay a lot more for a Squishmallow. (I would suggest having your child help clean their room or the car or contribute to the cost of the expensive Squishmallows.)
It would be best if you planned to get the Squishmallows when they are available to ensure 1) you GET one, and 2) you pay the standard price and not hundreds of dollars.
It is a trend that is super hot right now, but as with all fads, this one will fade and give way to another relatively soon.
The Original Squad Includes Wendy the Frog!
One of the original Squishmallows to show up was Wendy the Frog in the "Original Squad" in 2017. Her other buddies in the squad are Ace, Astrid, Piper, Puff, Seth, Ilene, and Nathan, and they came out altogether as besties!
Alternatives to Squishmallows
Other Stuffed Characters Like Squishmallows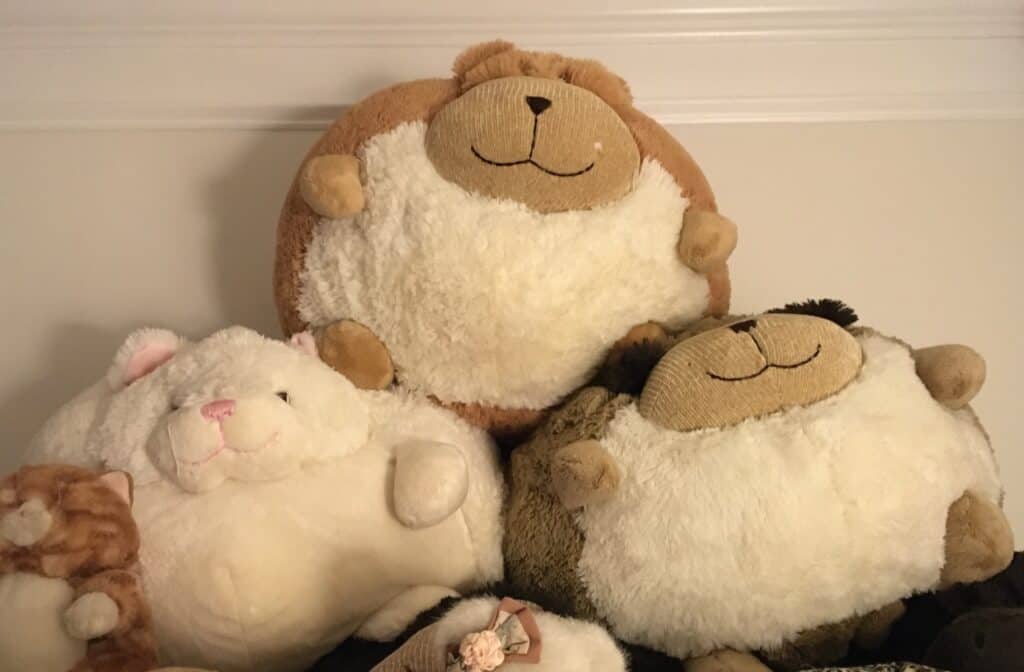 These are just a few of my son's Squishables – they are about 16″ wide and 14″ high.
The big, fat, round white one at the bottom is the Squishable! The rest is "family"!
Growing up, instead of Squishmallows being all the rave, my son had a whole boatload of incredibly soft, plush stuffed animals, and the "adults" were the Squishables brand. He spent hours of creative play with them, giving them each their own set of traits.
He made a vast extended family of cats and various animals. I still have the whole collection to this day, and probably you will still be holding on to your child's many beloved (expensive), huggable "babies," too!
I can recommend Squishables as a very viable alternative to Squishmallows, should you be out of luck at the store. I know you will LOVE Squishables because they are the softest, cuddliest, most giant round pillow animals that you have seen.
Your head will sink into about one-third or one-half of them, and they will pop right back up as you awake. You can even roll them! They have the cutest expressions on their faces, with glass eyes, tiny hands, feet, and tails. See the gorgeous Squishable below to try something different!
Alternative #1 to Squishmallow Wendy the Frog for SALE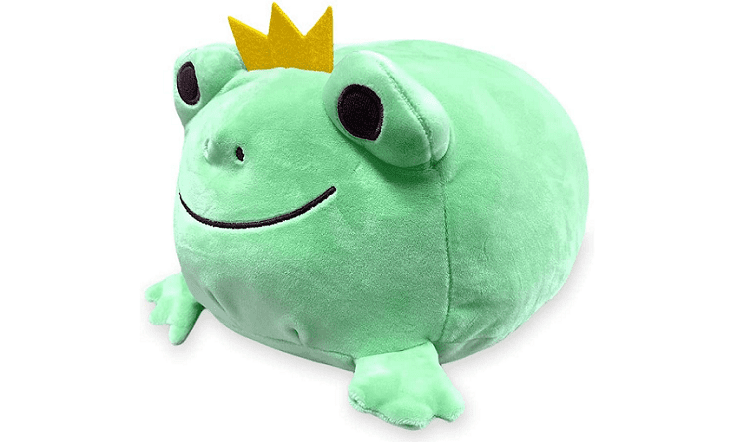 This frog is quite similar to Wendy the Frog Squishmallow is in stock at Amazon and has a much lower price!
It is 16 inches around, and it has a 4.5-star rating out of 5 by more than 250 reviewers!
This frog will be very stretchy, velvet elastic, and filled with cotton down. I chose this because it looks so much like Wendy the Frog! Its shape isn't exactly like a pillow, but it seems squishy enough to mold into something comfortable for your head!
This Wendy-like huggable toy is machine washable (a big plus) and comes in 2 sizes. The manufacturer will also provide you with a full refund should you not love it for any reason.
Many reviews stated that this product was well-made but that the shipping took about a month in some cases. As with everything these days – order early!
One reviewer even said she spilled soda all over the frog after opening the box! She washed it in the machine, and the stain came right out – you can't beat that!
It's about $22, which is well worth it, the only drawback being the long shipping time – in some cases, it took two months.
Alternative #2 to Squishmallow Plushie for SALE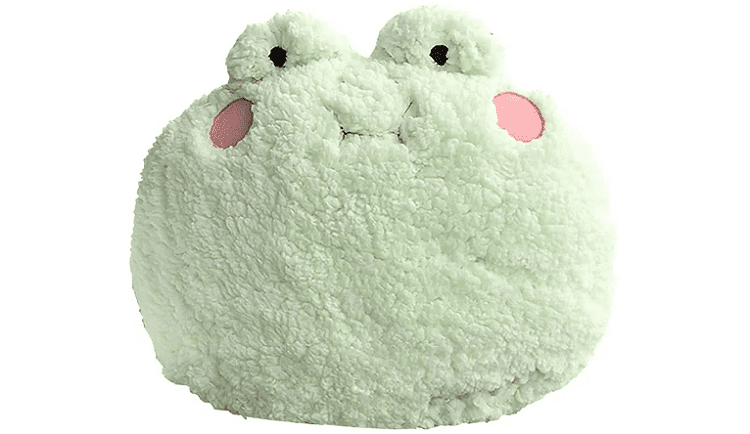 This sherpa-like cozy plush frog can be found on Amazon ten by 13 inches. It is the softest and most comfortable round frog and is an excellent alternative if you can't find the Wendy the Frog Squishmallow you want.
Also, if the price is driving you away from the Squishmallows, this offers you another choice.
This is truly a pillow shape and is not round like a snowball – it is more flattened in the back to lay like a pillow. My son had two that he loved – He is the king of stuffed animals!
The manufacturer is Madaoo, and they offer a money-back guarantee – which speaks to the item's quality.
Frog has other friends for sale just like her, and Tigger, Bunny, Piggy, and Bear would make a room quite cozy and whimsical – even an adult's!
You can't beat the price, which is $16.99, and it's Prime Eligible!
I would recommend this alternative to Wendy the Frog.
Alternative #3 for Squishmallows, Squishables Brand Mini Ribbit Ribbit Frog for SALE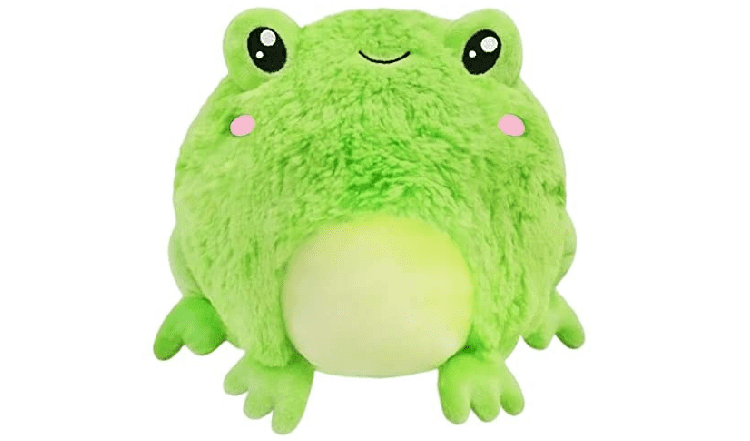 This is the original Squishables Brand that I would recommend first for an alternative to Squishmallows.
I find them to be much softer, have a higher "pile" of plush, and be round all over, like a ball so that you can roll them!
They can also serve as a pillow or body pillow for younger folk and will mold to you so that you sink into them and feel secure and cozy.
This helps children who find it hard to self-soothe and go to sleep. Make up a story about the frog and his family's adventures, and watch your little one get sleepy! (Or at least be very happy!).
Like Wendy the Frog, Mini Ribbit has black eyes, pink blush marks, and a tiny black smile. The belly is even different, like Wendy's!
This 7-inch style sells on Amazon and it is worth it – I know from personal experience!
Alternative #4 to Squishmallows – The Nordic Wolf, Hati, a Plush Squishable for SALE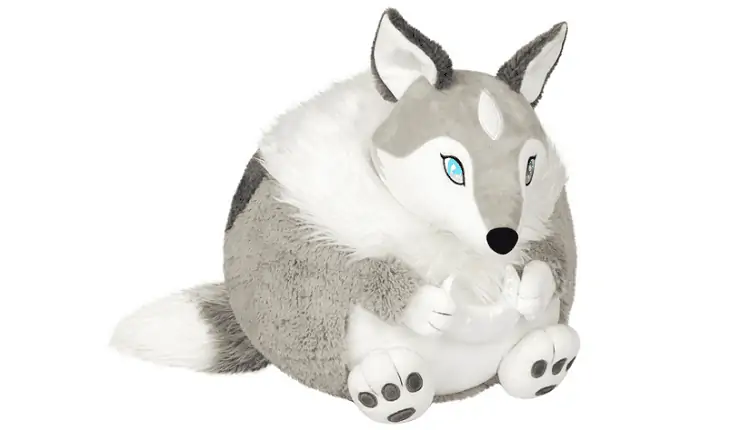 This Squishable Wolf is eating the moon like it's a piece of watermelon! This lovable big guy is named Hati, a Nordic Name coming from mythology. Hati is said to run in front of the sun and chase the moon so that he can eat it.
Hati is 18 inches by 15 inches and has a very rounded shape that easily conforms to your head. He is very loyal and protective.
A little-known fact is that Hati enjoys protecting smaller creatures, like the frog, from predators! Hati makes a pillow of his tummy so the little ones can dive in and stay warm and safe!
I highly recommend this plushy for its quality-made design, long-lasting materials, and ability to be washed. These are roly-poly friends that will last through the generations!
I have much experience with many brands of stuffed animals, and Squishables is one of the best! Hati sells for $49 (worth it!) at Squishables.
These Are Some Excellent Reasons to Adore all the Squishmallows you can, Especially Wendy the Frog and her Original Squad!
There are more than 20 "Squads" of Squishmallows. Particular plush pals with similar themes make up the squads.
An example is the Food Squad, which consists of six 8″ friends that are yummy food. And foods with personalities. Maui Pineapple, Sinclair Avocado Toast, Bernice Boba, Tex Taco, Bernardo Burrito, and Clara Ice Cream Sundae. You can see them shown below in the Food Squad for sale!
Squishmallows "Food Squad" for SALE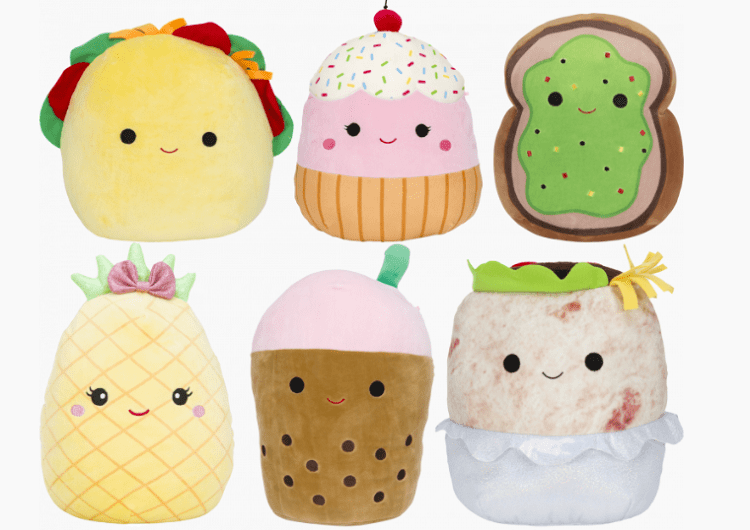 At Squishmallow.com, you can buy all the different squads of plushy besties to play with! Here in the Food Squad group, you can have Maui, Sinclair, Bernice, Tex, Bernardo, and Clara for your very own foodie friends!
Bernice has a personality that is carefree and joyful. She helps her friends out whenever they need something and is always sweet. She is the best, Boba!
Sinclair is very interested in aliens and whether they exist. He needs more proof to believe in them. He does believe in outer space and spends lots of time imagining it. Sinclair loves his cousin Austen (from another "squad")!
Clara the Ice Cream Sundae goes from the Food Squad to the Sugar Box Squad when she is at the gym. Working out with her friends is her favorite activity!
This group of six 8-inch friends sells for $49.99 at Squishmallows.com.
Some of Wendy's Frog Friend Squishmallows
Phillippe the Frog Retired Edition for SALE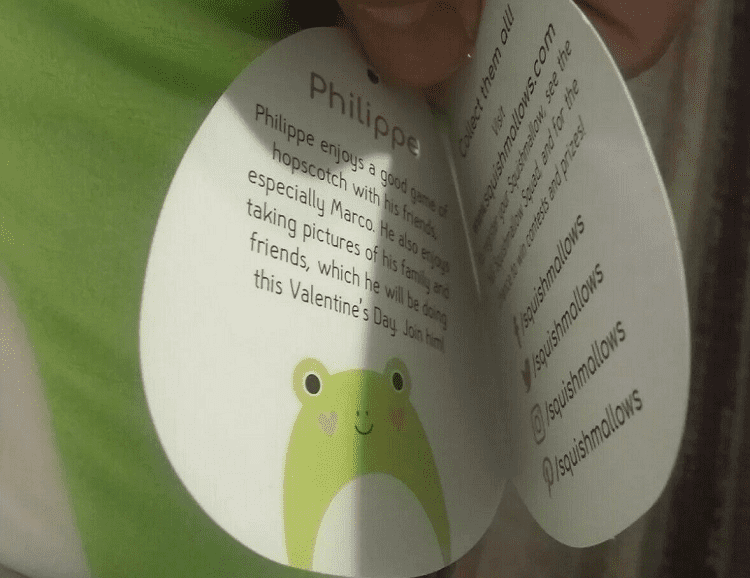 Find Phillipe the Frog Squishmallow at eBay! Phillipe has been retired and is no longer manufactured. He first made his appearance in 2017!
Phillippe is a cheery frog with sparkly pink hearts on his cheeks. He is part of Valentine's Day Squad, with about a dozen other friends!
He enjoys taking pictures of his family and friends, and Valentine's Day is his favorite holiday! He is best friends with Marco and is often found playing hopscotch.
Phillippe the Frog is a perfect companion to Wendy the Frog – the only difference being that Phillippe has pink sparkly hearts instead of pink dots on his cheeks!
Another difference is the PRICE. Since Phillippe was discontinued, people have paid hundreds of dollars for this Squishmallow. I think it is time to look at the choices above – mainly because his price here is $350!!
Squishmallow Baratelli the Frog Prince for SALE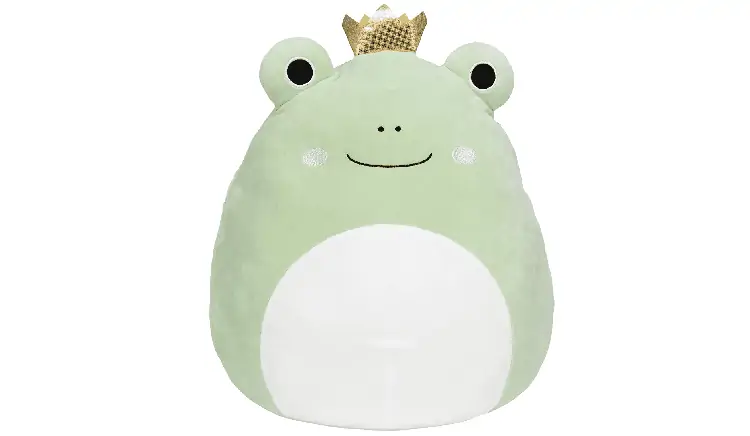 Baratelli, the Prince Frog from Squishmallows, can be found on Amazon for $24.99!
Baratelli loves to be in the spotlight – you can find him singing and dancing and tap, tap, tapping with his tap shoes and top hat! He is an incredible performer – and is always looking for a dancing partner.
It's a good thing he dances and performs to keep his weight down because on the weekends; he samples all of the different food trucks there are – he loves food!
He is a rising star and wants YOU as his companion! He is Sage green, and just like Wendy the Frog, his eyes are black with white rimming. He has a sparkly crown atop his head that contributes to his search for fame!
He made his appearance in 2021, so he is four years older than Wendy the Frog. Plush Baratelli is 16 inches around, and most everyone calls him Prince Baratelli.
Spot clean with soap and water only. Over 1,000 reviewers rated Baratelli a 5 out of 5-stars, so this will please everyone!
I recommend this for the price – buy now before it sells for 10x the price!
Ludwig the Frog Squishmallow – 8 inches for SALE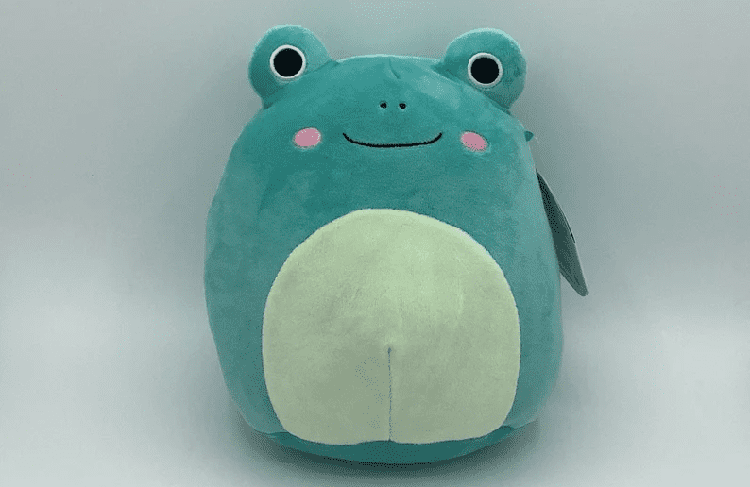 This gorgeous, cozy lovable dark teal frog is named Ludwig and loves the ponds he shares with other frogs like Wendy, Robert, Baratelli, and Phillippe!
This energetic early riser is quite the entrepreneur, owning a ski lodge with snow-covered trees for miles around it.
He likes nothing better than to live in log cabins and go snowboarding!
He frequently goes skiing just as the sun is coming up and invites you to enjoy a sunrise cruise with him!
Ludwig is an outdoors kind of frog, and his ski lodge is situated on top of a hill so that he can see fantastic wintry scenes for miles when he looks out the window.
I adore the colors of Ludwig – he is deep teal and has a light green stomach. Perfect for falling into a deep sleep.
He is sold on Etsy (one of my favorite places to shop – real humans) for $22, and it is well worth the price!
FAQs
Question: What is the Largest Squishmallow?
Answer: Squishmallows come in various sizes ranging from 2 inches to 24 inches. Not all Squishmallows come in a 24-inch size, but most come in 16 or 20 inches. Below is a 24-inch Squishmallow Olga the Octopus available to buy at Target.
The 24-inch Squishmallows are well worth the price not only because of the "wow" factor you get when someone receives it but also because of the potential "hand-me-down" status.
These are very well-made plushies and will stand up to much wear and tear (although I am not sure if your retriever got hold of it).
Check out TOYNK for a filtered list of all 24-inch Squishmallows. There are quite a lot!
Question: Is Wendy the Frog Squishmallow Discontinued?
It appears that Wendy the Frog Squishmallow was discontinued but has had several comebacks at various stores for a limited time. Walmart started to carry Wendy the Frog again after Christmas, but they are already sold out! She also had sightings at Walgreens and CVS, but those are such "one-stop" shops for everything that people have just bought her up with their makeup and prescriptions!
Your best bet is to go into some reputable toy stores and ask the manager if he would dig a bit for you and find out if they expect any Wendy's to come in.
Another idea would be to contact Jazwares, the global distributor of Squishmallows, and ask them their plans for Wendy.
Question: Are all the Squishmallow Frogs named Wendy?
No. However, Wendy did come out in 2017 as one of the first Squishmallows ever. Other Squishmallow frogs are Baratelli the Prince, Robert, Phillippe, Ludwig, Fanina, and Alandy. They all have different colors and distinctive markings on them, and of course, they all have specific, unique personalities! Check out this link to the fandom page for more information!
In Conclusion, for Wendy the Frog
While the highly popular squadrons of Squishmallows are extremely impressive given the fact that they skyrocketed straight to the moon in a matter of months and have stayed perched there – I do have some reservations.
I'm all for having a few Squishmallows around to use as pillows, bring to school, and play online games (as a reward for doing chores, etc.). Keeping up with the Joneses can be a stressful, time-consuming, and expensive philosophy, but I understand a child's perception when they are young.
Squishmallows have many reviews touting their quality and durability – and don't forget softness. These plush animal characters are helpful on long car rides, soothe sensory-motor issues, and occupy a child with imaginative pretend play. But so aren't many many other plush stuffed animals/pillows.
I find the material soft, stretchy, and velvet-like instead of sherpa-like. I also think for the novelty and hugging, Squishmallows should be a bit more plump and round to fill up your arms.
The cuddle factor for Squishmallows is less than the cuddle factor of Squishables (which I have years of experience with). The facial expression on the Squishmallows is cheery and happy, but it is rather bland, and having glass or bead eyes would lend more character and "realness" to them.
My last defining statement is to buy those Squishmallows in stock and not buy them from a second-hand entity. I saw a $2000 price tag on a discontinued Squishmallow and almost had a seizure. Is this what it's come down to?
Sure they have personalities and online games, but so doesn't your child have an imagination and other stuffed animals that you can operate to create a circle of friends who play together.
Playing together gives you quality time with your child, keeps them off the screen, and allows you to listen and watch them as they act out their idea of what life is. What could be better than that?
Find more Squishmallow guides below:
The Ultimate Axolotl Squishmallow Guide for Enthusiasts
The Ultimate Axolotl Squishmallow Guide for Enthusiasts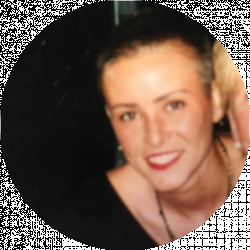 Latest posts by Richelle Tieman
(see all)