Everything You Ever Wanted To Know About Squishmallow Cats
If you don't have a Squishmallow now, I have the perfect kitty cat Squishmallow pillows for you! They cradle your head (and body, if you get the larger ones) with just the right amount of stretchy, velvety comfort. How many Squishmallow cats do you think there are? It's more than 50! It is somewhere between 60 and 80!! The number will increase if you include lions, tigers, cheetahs, and other large "cats."  How to choose? I will break it down for you and give you everything you ever wanted to know about the cat Squishmallows so that you can pick one that is just for you!
Only Cat Squishmallow
Now, friends, we will focus on JUST the adorable, feline-only cats of the Squishmallow family! Here is every little thing you wanted to know – in one place – about the cute and squishy pillow cats of Squishmallow Land (or SquishmallowVille)! I couldn't choose just one, so I have several that I highly recommend based on their personality and the kind vibes they give off! Another factor in selecting the best cat Squishmallows was their love of the planet! Earth-loving cats that try to make the world a better place were high on my list!
Best Pick – Squishmallow Cat "Autumn" Favorite Friend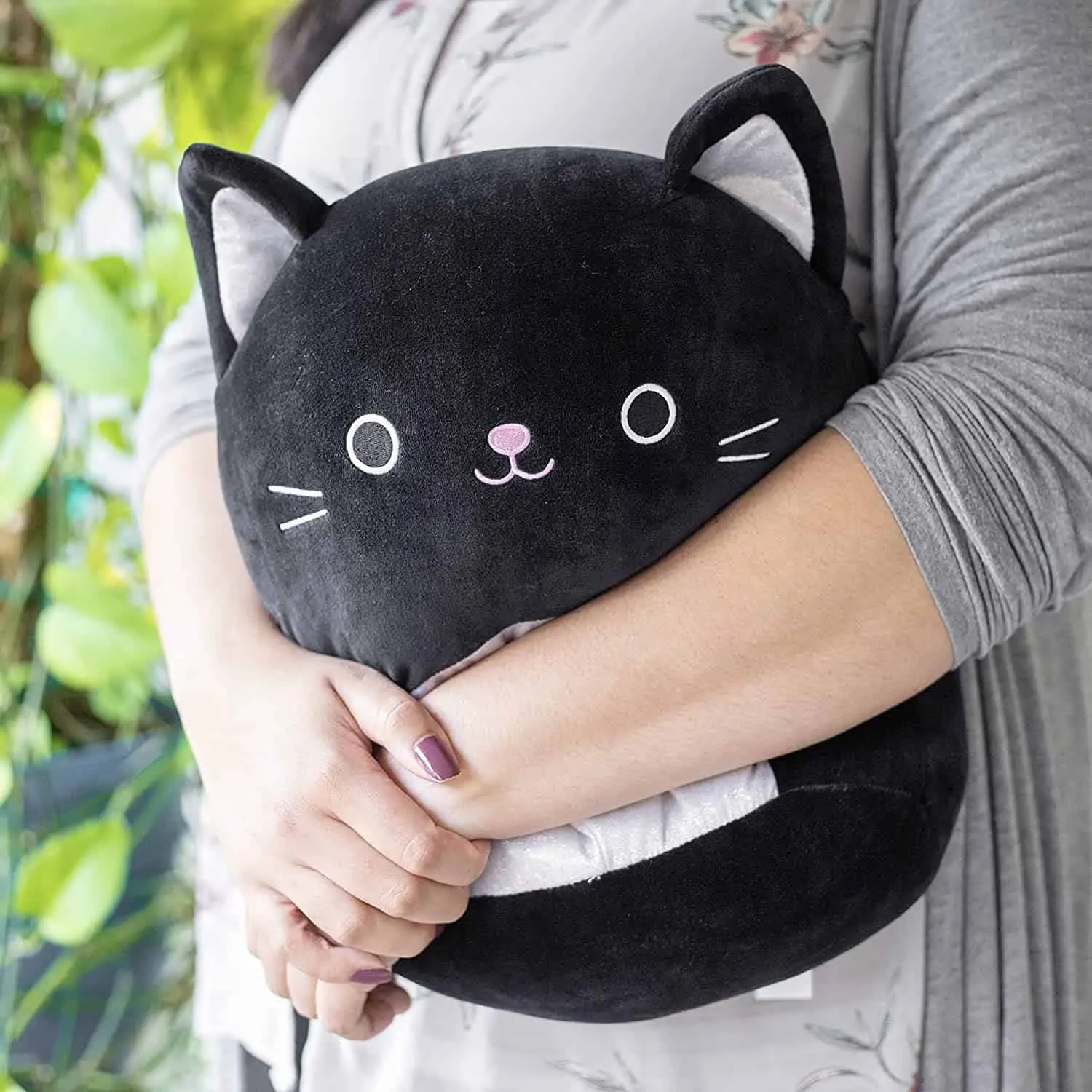 Autumn is one of my favorite cats because she looks so much like a real cat but still has that purple glamour going on! I love that her eyes are wide open – she is awake and thinking about her next Adventure.
Just like her black coloring, she comes alive at night, and pure excitement runs through her as she scouts out her next romp around with her friends. Autumn the Squishmallow does not love the morning time!
She invites you to travel worldwide with her – at night, of course! She looks for the Halloween celebrations in every city and country! She is a nature-loving cat, and she thinks it is fantastic to be outside in the dark. It is natural for her to rise with Mr. Moon and seek out her next journey!
She has several editions, all having to do with Halloween, and belongs to 3 different Squads! Even though she sleeps during the day, she is a social butterfly at night!
You can buy her at Mercari!
Carmen the Cat Squishmallow from the Valentine Squad for SALE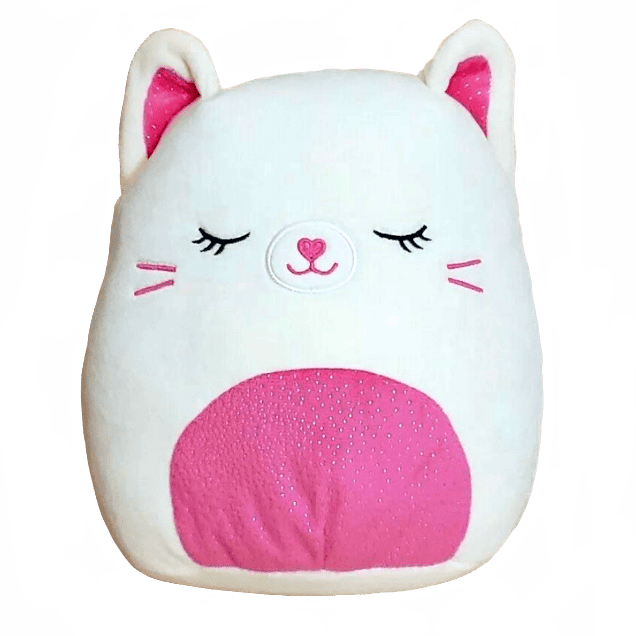 You can buy this eight-inch Squishmallow on eBay for about $15.
I chose Carmen because she has a more pronounced nose and mouth (in a circle), which gives her an adorable, squishy, fat face!
She looks delicate because of her eyelashes, which many Squishmallows do not have. Her simple white fur with pink accents makes her scrunchy little face stand out!
I also chose her because she is ALL cat – rather than a mixture of Squishmallow breeds. Her category is clear-cut, and it's not confusing to have her belong to many "groups."
Her personality's message is eco-friendly, focusing on finding the beauty in nature and photographing it. Looking at rocks and trees to discover pretty natural resources is refreshing in this speed-of-light technological world around us.
Shany the Squishmallow Cat for SALE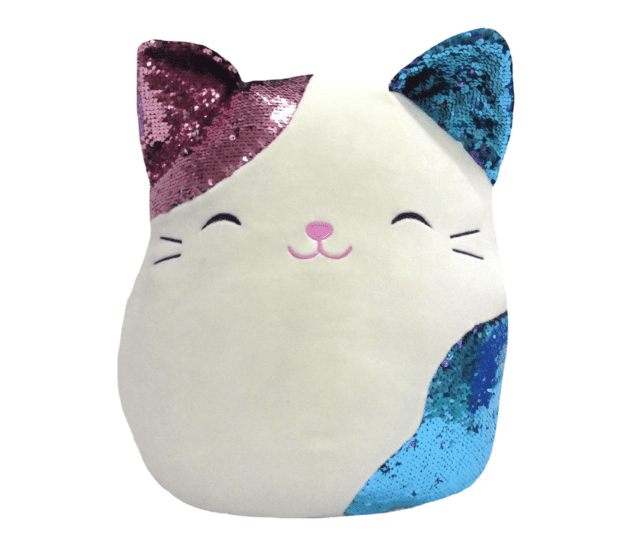 This gorgeous, glittery Shany is a whopping 16 inches of pillow friend love! Shany made the best picks list because of her bright eyes that are unique, and her deep, luxurious teal, and shiny purple patches.
Her smile is genuinely welcoming and joyful – she almost has live energy about her! I loved that she takes baths with pink fizz balls – that is something not mentioned with any other cat Squishmallow!
Another unique pastime of Shany is her affection for cooking heart-shaped GLITTER cookies! Now that is creative!
You can buy glitzy Shany on Poshmark.
List of all the Squishmallow Cats
Here is the master list of all the cats in Squishmallow Land! Remember that some cats have different editions, with different colors or details added. I have not included them here because this would be twenty pages! An excellent website to see is the Squishmallow Fandom for a total listing of every cat and animal. (That website is somewhat under construction and is missing some information – so, an excellent place to go but expect a bit of searching).
Autumn is a black cat with a purple belly and purple ears who loves Halloween and traveling. The night is when she is most active and always looks around every corner to find a new adventure! Making others laugh and solving mysteries are her favorite things to do. She is inviting you to be her friend!
Blair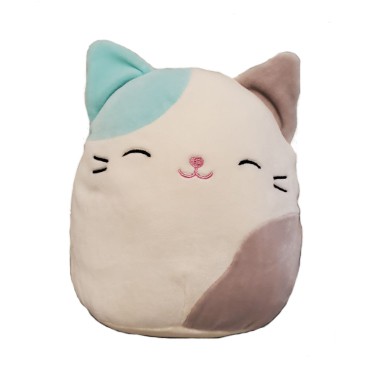 A calico cat with blue, grey, and white patches that loves to experiment with makeup! She wants to be a cosmetologist one day and make everyone around her shine with their beauty. She spends much time making others feel beautiful about themselves. She wants to try a new makeup on you!
Brielle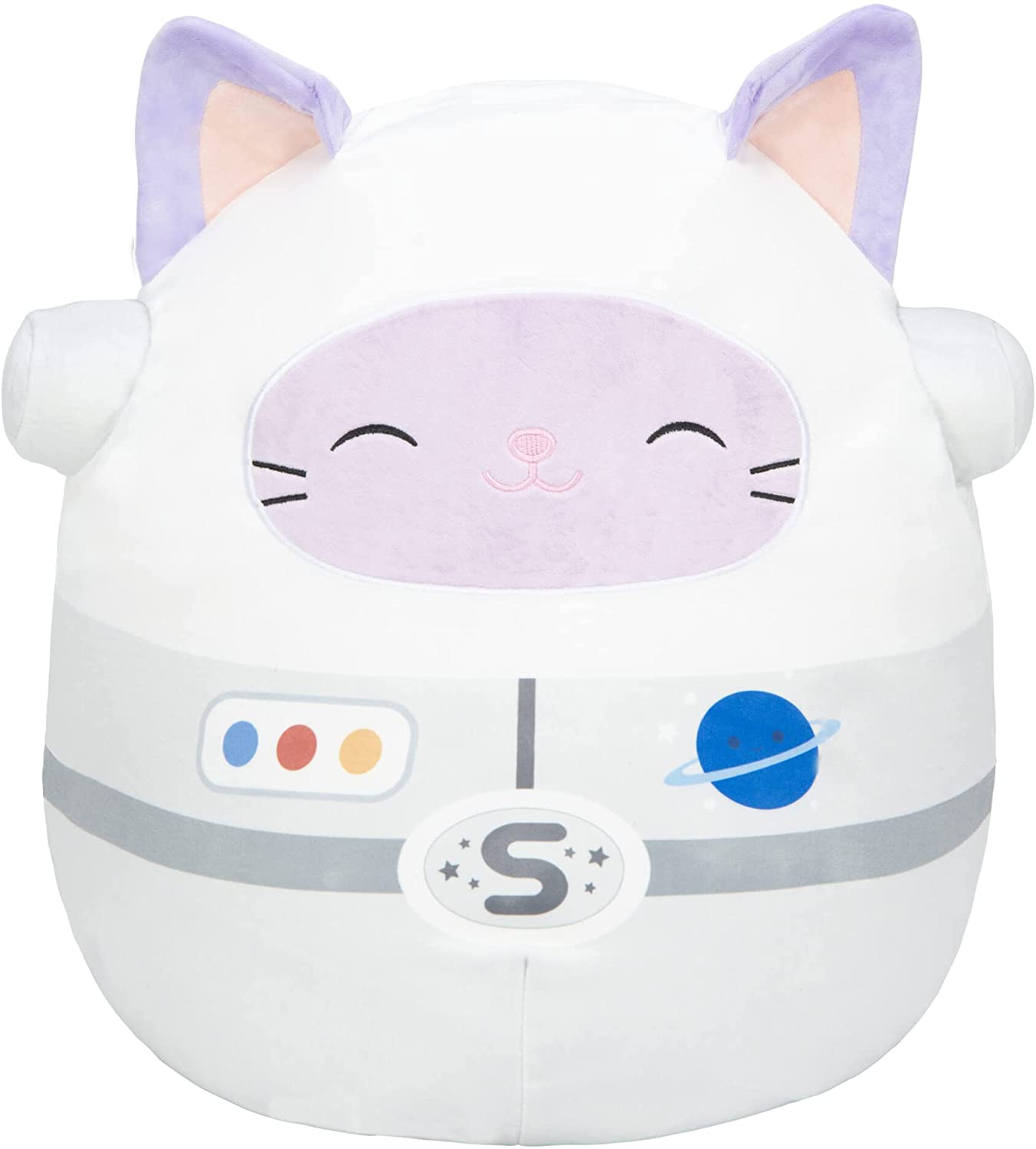 A purple astronaut cat all suited up in a white spacesuit from the Space squad. Brielle and her friends will rocket into outer space and tell everyone they meet about their plans. She has built a space station out of pillows at home and told her mother she has an important mission to save the planet before dinner!
Caeli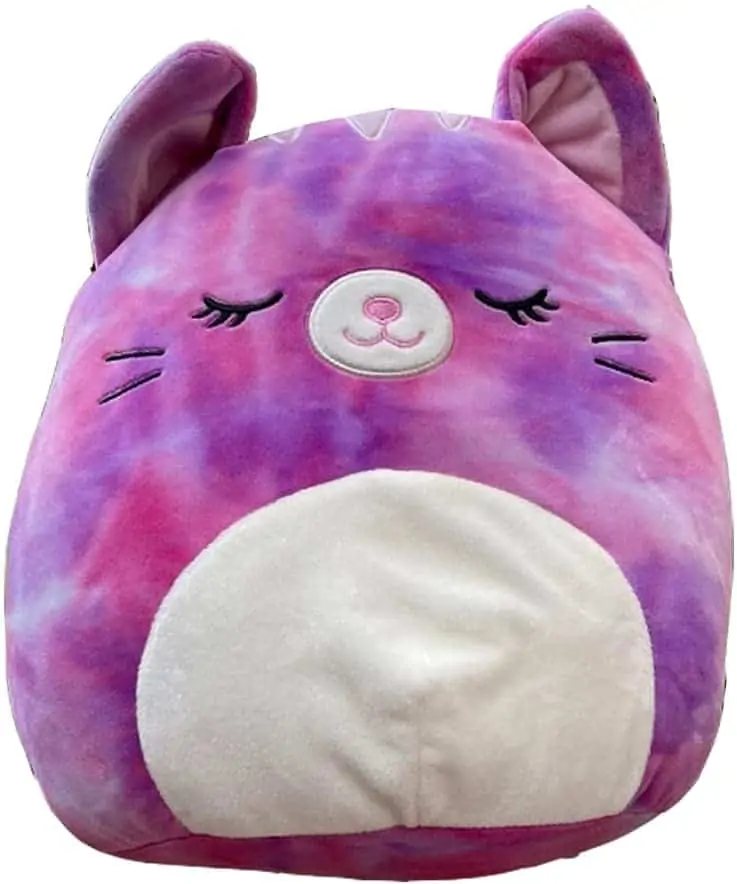 A purple tie-dye cat with closed eyes who is the ultimate specialist for different types of yarn. She spends most of her time organizing yarn and knitting, but she does get tangled up when her extra-long, sparkling nails cause problems! She is asking for friends to help her get herself untangled!
Cameron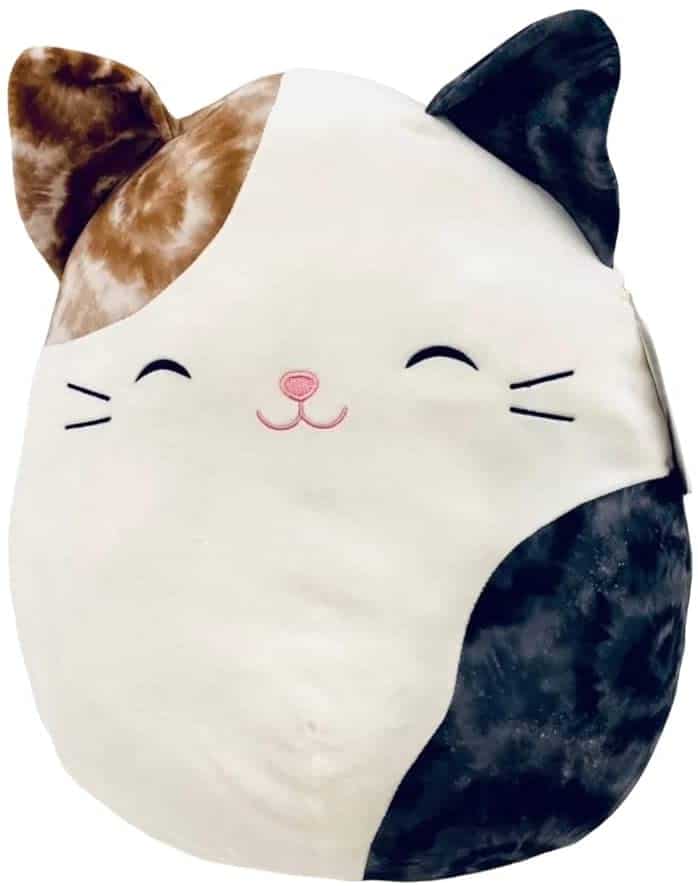 A calico cat with black, brown, and cream patches and closed eyes that goes everywhere on his skateboard! He is a master skateboarder and wears a lot of protective gear, so he doesn't hurt himself. He and his friends jump in and out of boxes and build forts for fun. They love going to the beach, and they fall asleep listening to the waves. His goal is to travel around the world on his birthday!
Camette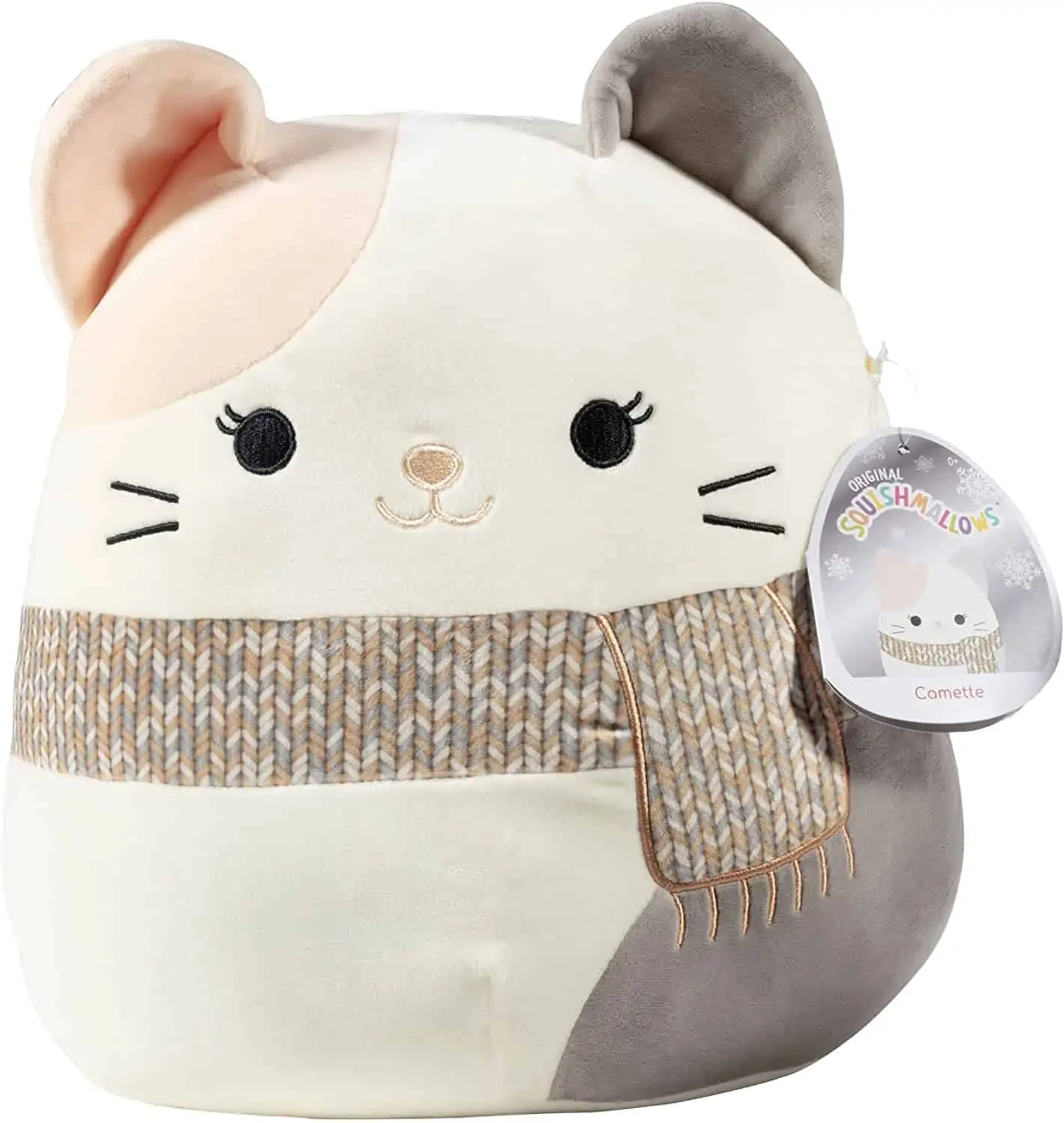 A white cat with open eyes, pink and grey patches, and a brown scarf, Camette loves to knit, and she loves being outside. She gets cold often, so she likes cozy things like scarves, hats, and mittens. Her goal is to live somewhere that it never snows!
Carmen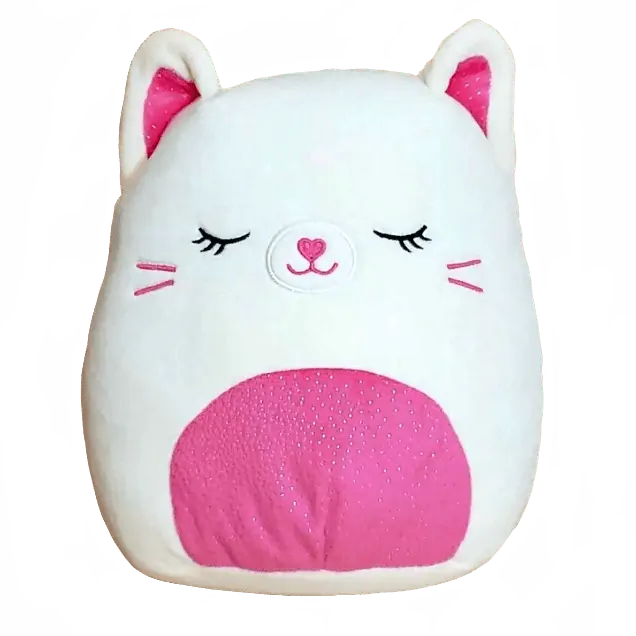 A white cat with closed eyes, a pink tummy, and pink in her ears, Carmen loves nature and the outdoors. She is a photographer for school and takes pictures mostly of trees, rocks, mountains, and beaches. Every day she finds something else that is beautiful in the world.
Carson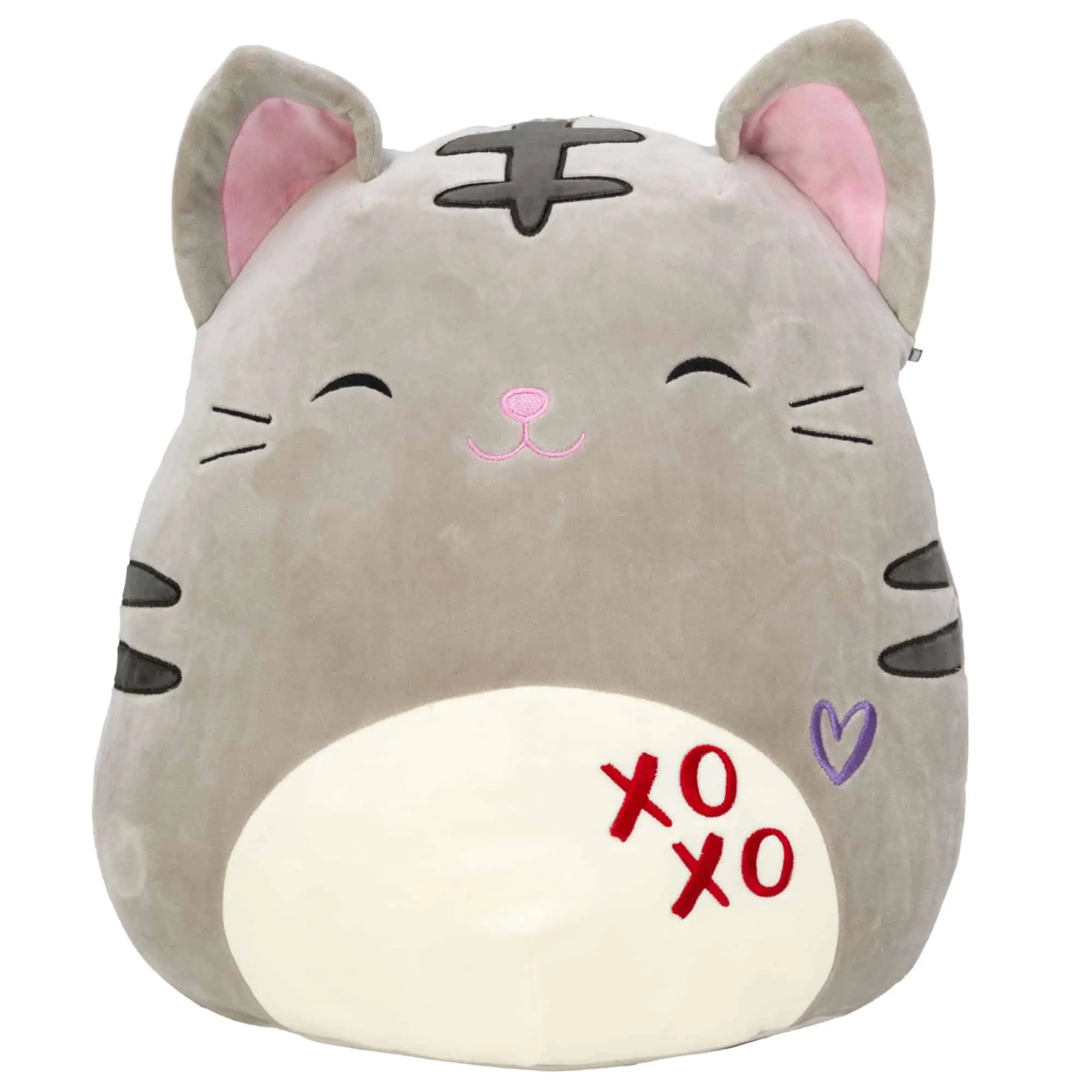 A grey cat who lives in Texas at home but has traveled to many places in the United States. He loves cars, going to different places, and monster movies! He always needs another friend to watch scary movies with! He is part of the Valentine Squad!
Cassie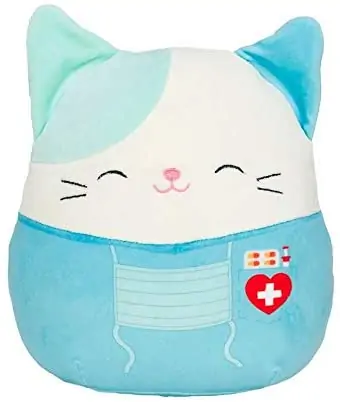 A nurse Squishmallow who is blue and white. Her squad is the Heroes Squad. She has an essential job as the nurse in charge of the hospital where she works, and she heals people every day! She loves to comfort others and keeps candy and stickers in her pockets to give you if you get scared. She loves to meet new people!
Catarina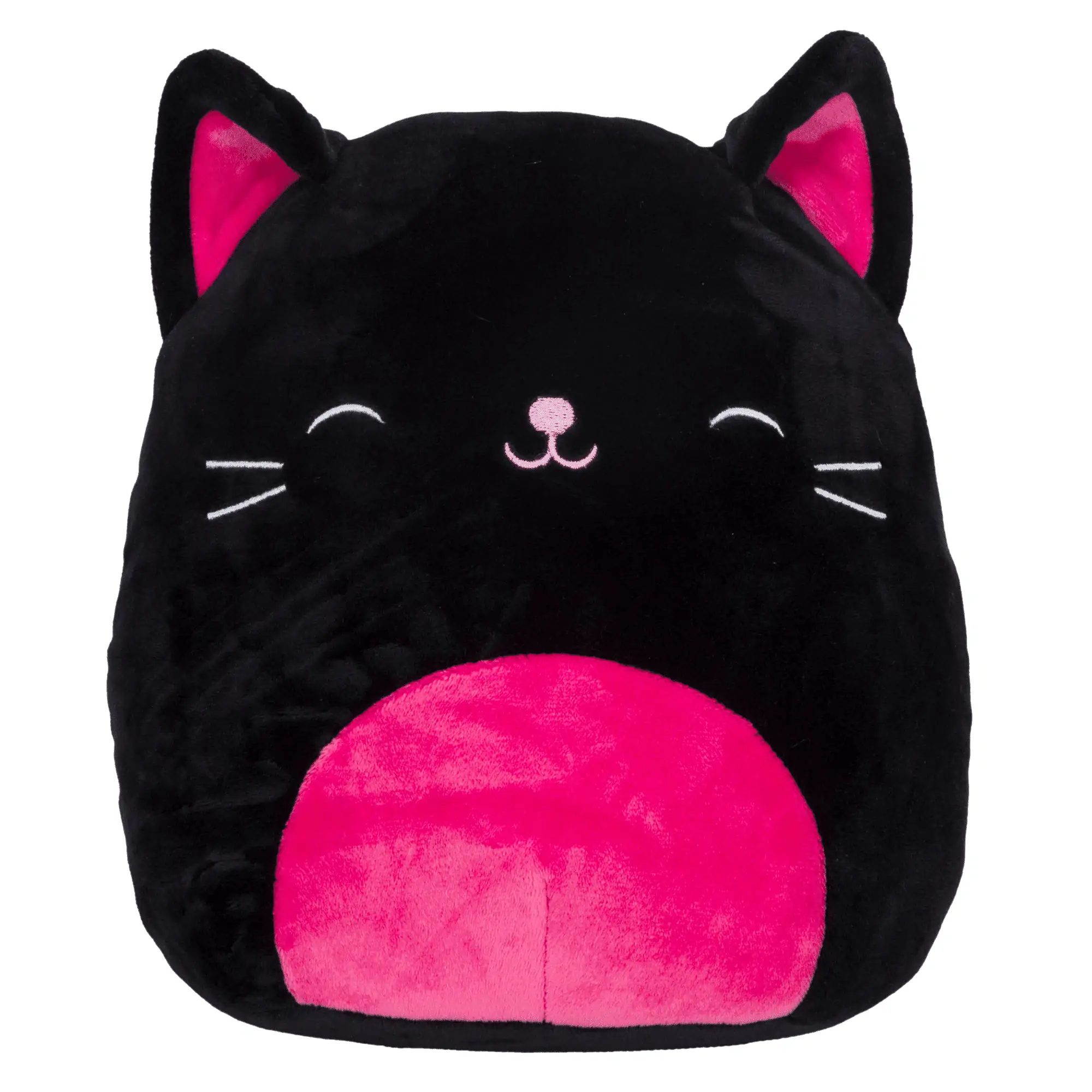 Her squad is the Halloween Squad, and she is black and pink. Every Squishmallow in the Halloween Squad thinks Halloween is the best day ever! She decorates inside and outside her house on October 1st and has a Halloween party with a different theme every year!
Charisma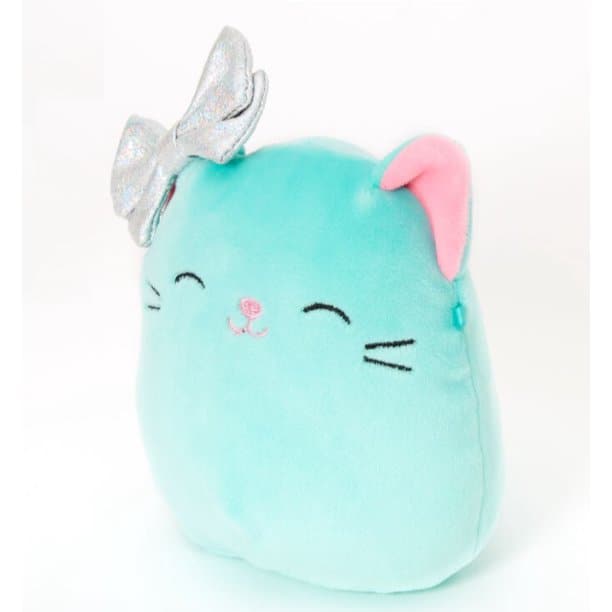 Claire's is the only store that Charisma calls home, and she loves to play video games and live stream talk with her friends when they go on raids! She is mint green in color, and her squad is the Easter Squad! She eats crunchy peanut butter, has chocolate wafers, and loves cinnamon toast.
Charlotte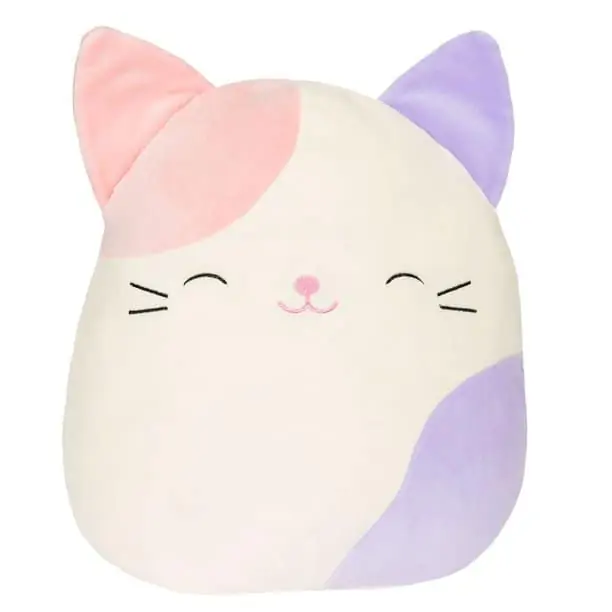 A calico cat from the Easter Squad, she tries to find as many Easter baskets as she can to jump in and out of! Easter is her favorite holiday, and you will find her nestled into one of the tiniest baskets she can find. Sometimes she even sleeps with the Easter eggs.
Chase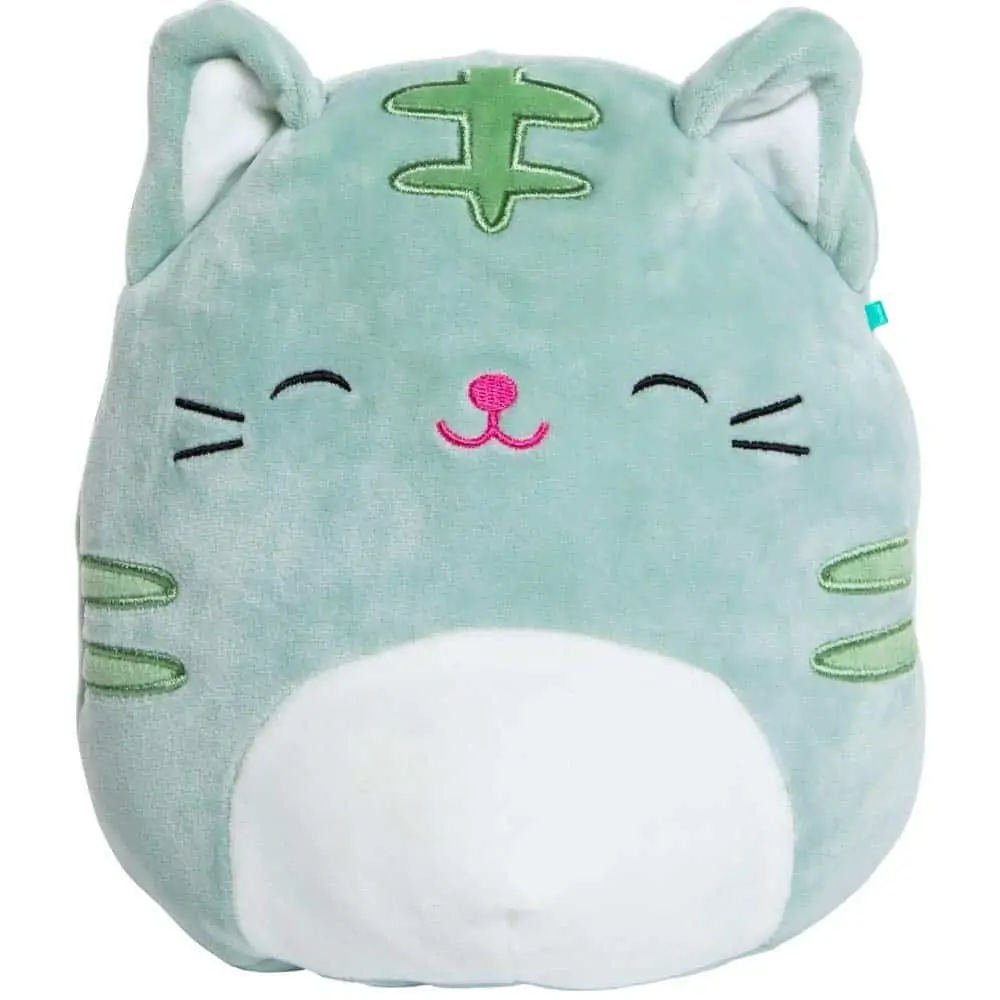 He is an outdoor kind of cat, and you can find him camping, canoeing, and playing capture the flag with his outside friends. He is part of the Squishmallow Scouts group, and he looks forward to the summer trip they take every year. He found the game flag for his team last year!
Cinda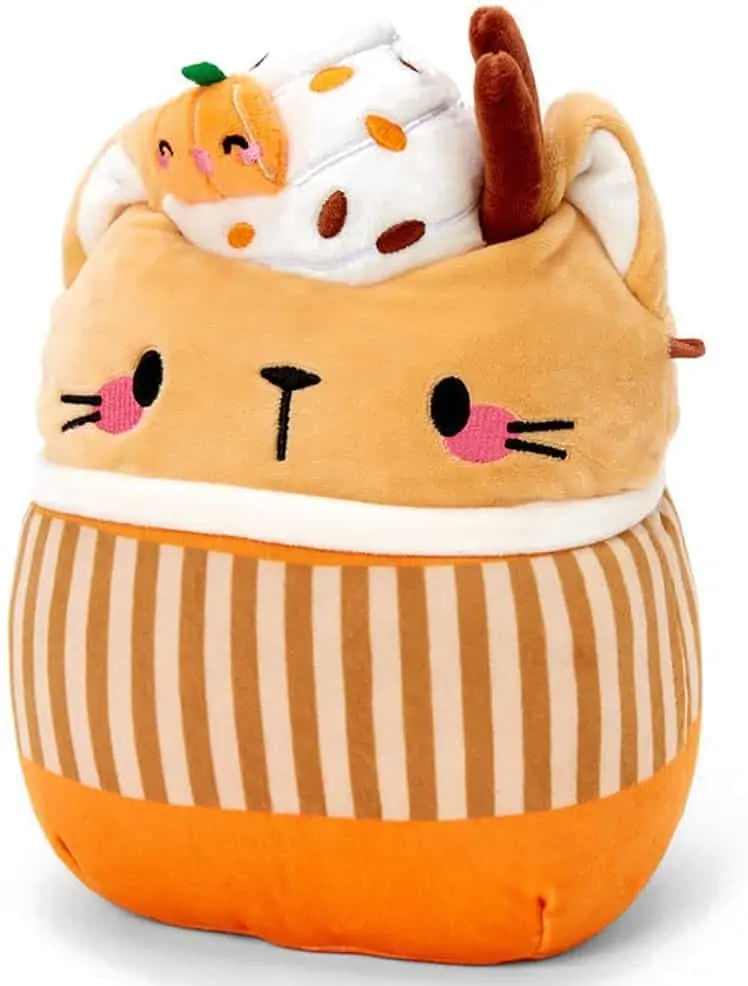 She likes to stay at Claire's store when she is not home and feels special because she is a pumpkin spice latte cat! She is a master chef; she speaks "foodie" and shares her yummy food with her friends. She tries to help others by delivering her food to cat shelters and wants you to help her start her non-profit business that feeds cats "in need"!
Cindy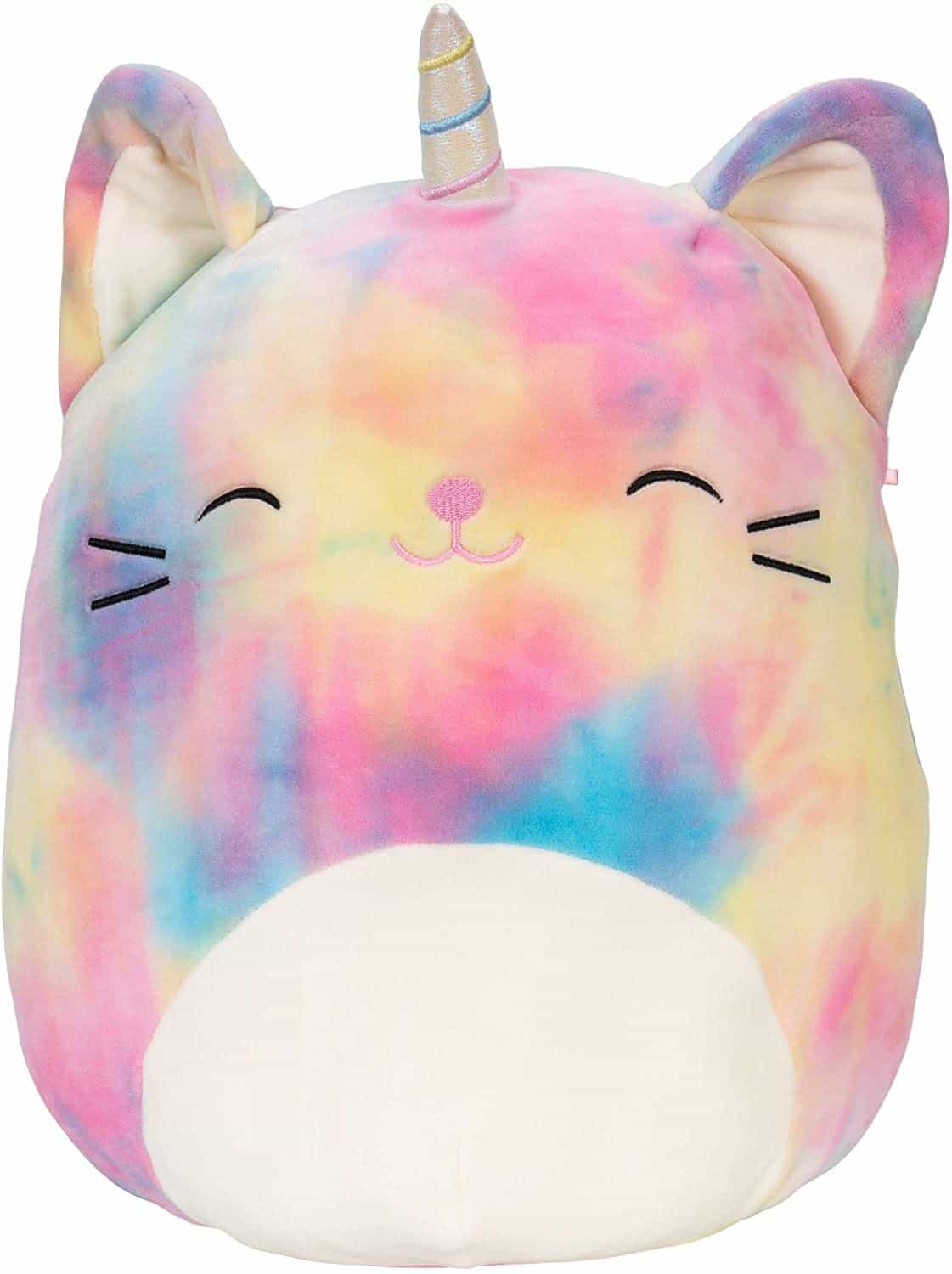 You will have to approach Cindy first because she is timid but loves new friends! She is a rainbow cat and part of the Valentine Squad. Drawing and creating her comic book takes up much of her time, and every story is one that she has made up! Her goal is to make a cartoon that is like her comics!
Cleo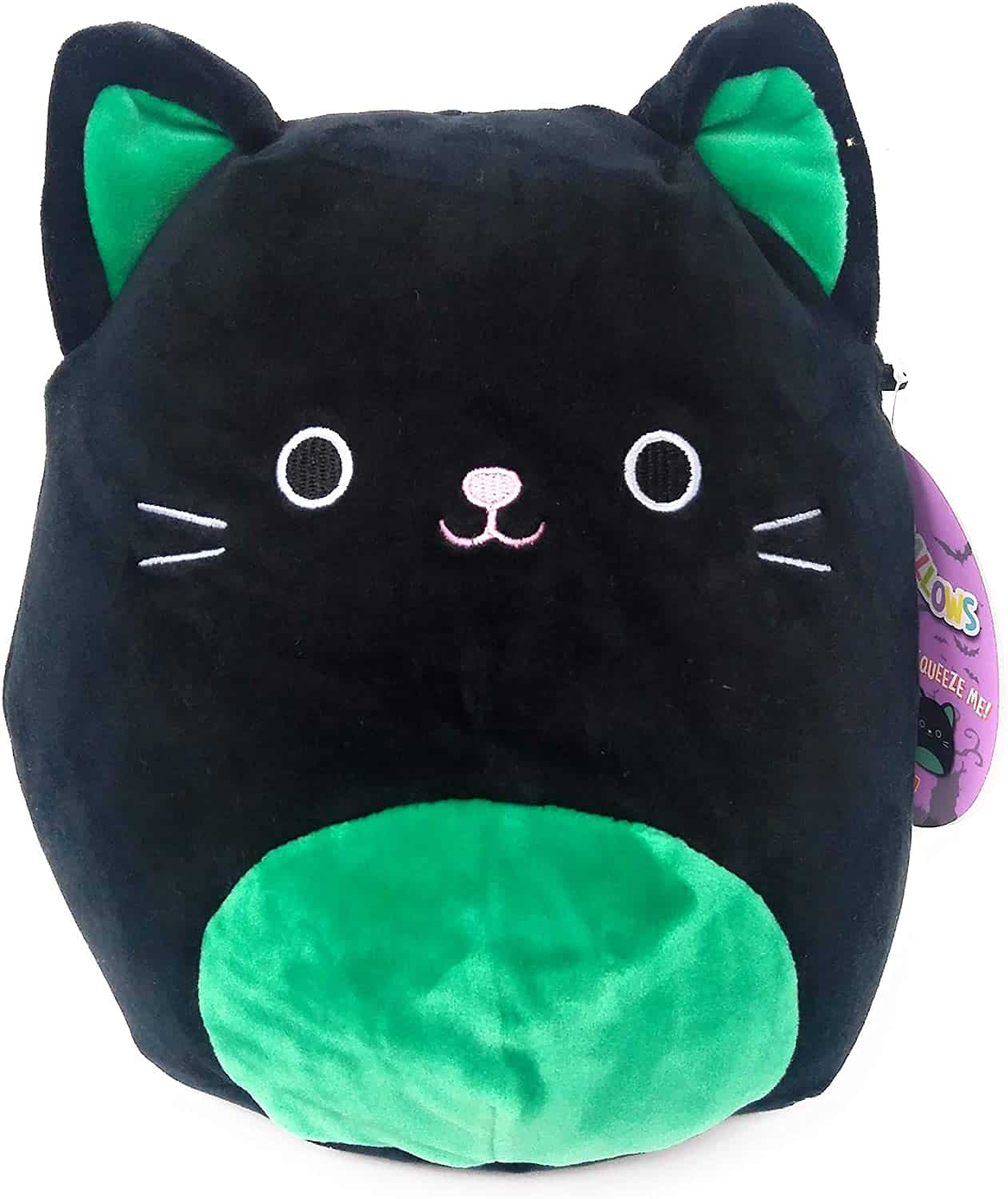 Cleo loves her name because it makes her feel like Cleopatra in Egypt. She is part of the Halloween Squad and has black and green colors. She wants to be an actress and is part of the drama club at school. She invites all her friends to dress up and act out scenes from their favorite plays!
Colton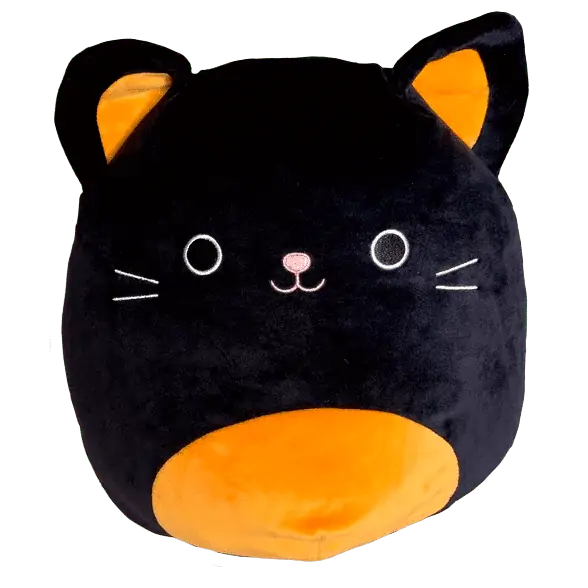 His squad is the Halloween Squad, and Colton is an all-black cat that loves scary movies just like Carson! Colton always eats popcorn with hot sauce on top and makes lists of his favorite scariest movies ever made. He even has a blog about them!
Cora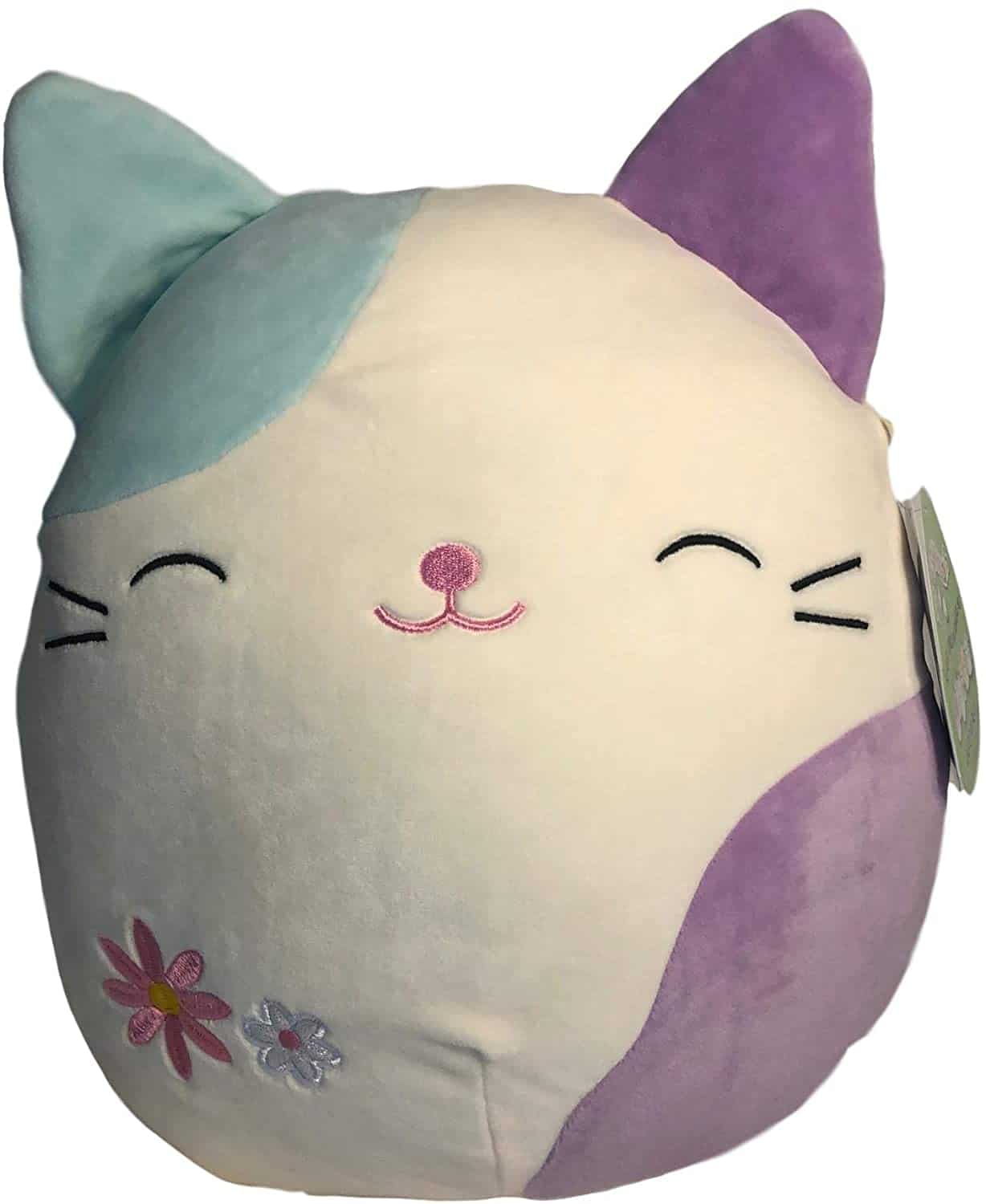 Cora is blue and purple and calls the Easter Squad her "groupies." Be careful when you have adventures with Cora because she loves the thrill of excitement! Cliff diving, hang gliding, swimming with sharks, and parasailing are some things she does.
Corinna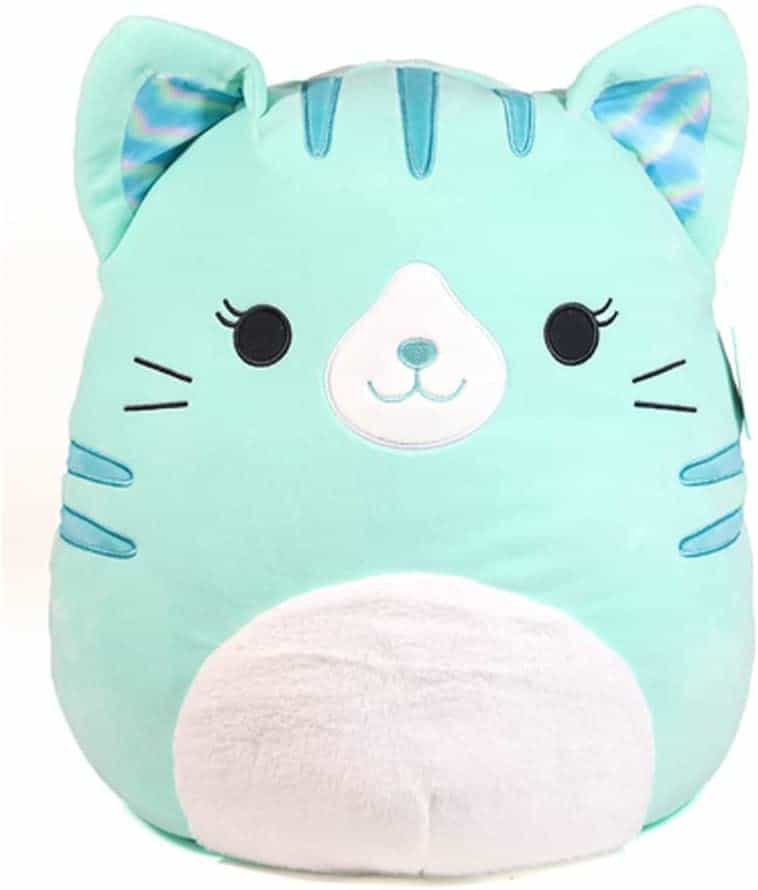 Corinna is an amiable cat who loves staying at home and making up fantasies for fun. She invites you to come on her magical trips to slay dragons or hop from cloud to cloud! She is a blue/green color and is part of the Vlog squad!
Eloise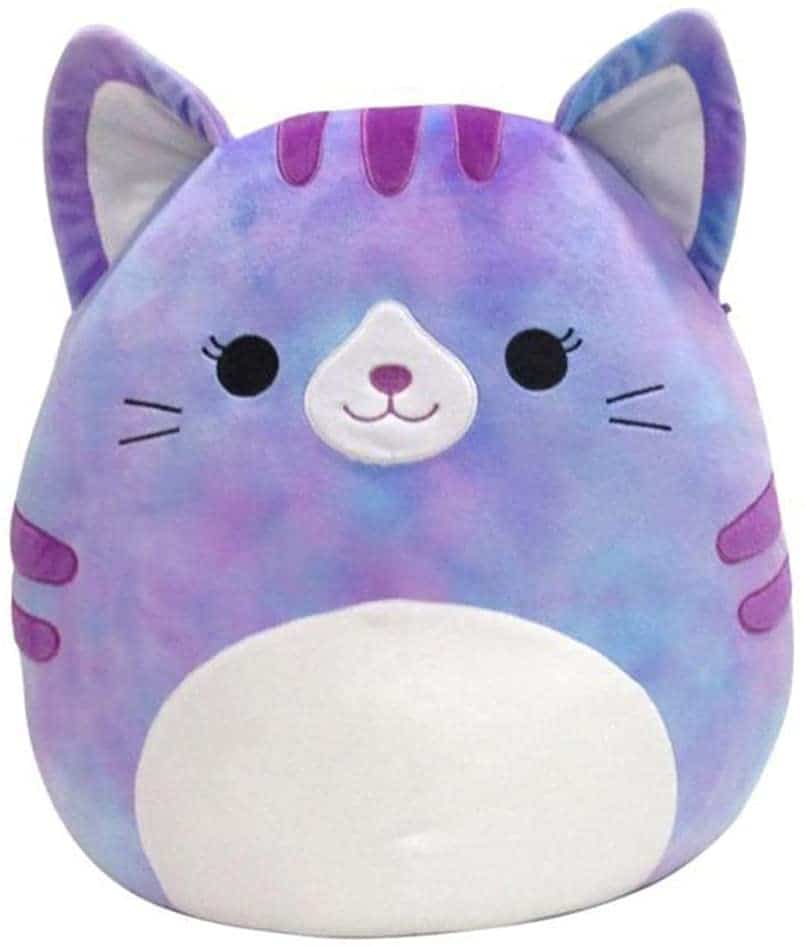 Eloisa is purple with blue tie-dye colors and struts her stuff on the runway to model her most chic outfits! She has a beautiful style and taste in clothes, but she also likes to stay home and make crafts in many colors!
Filippa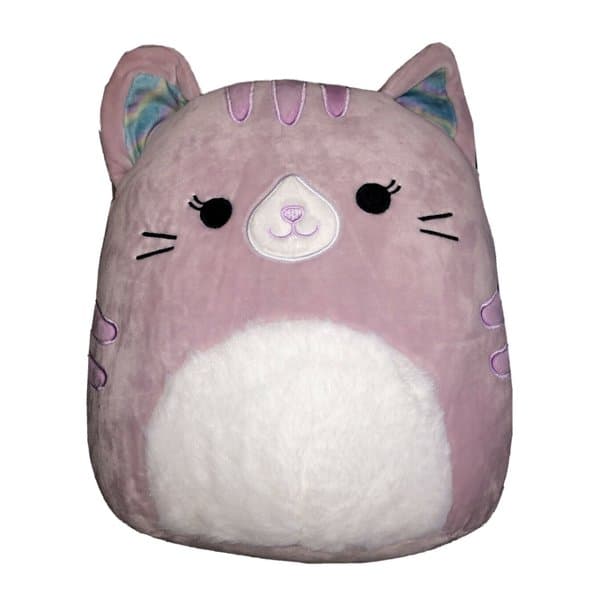 She only calls Target her home away from home, and she looks like a light pink tabby cat angel when she plays the harp. She is into health and teaches meditation and yoga with music. She wants you to take her class and be her friend!
Frank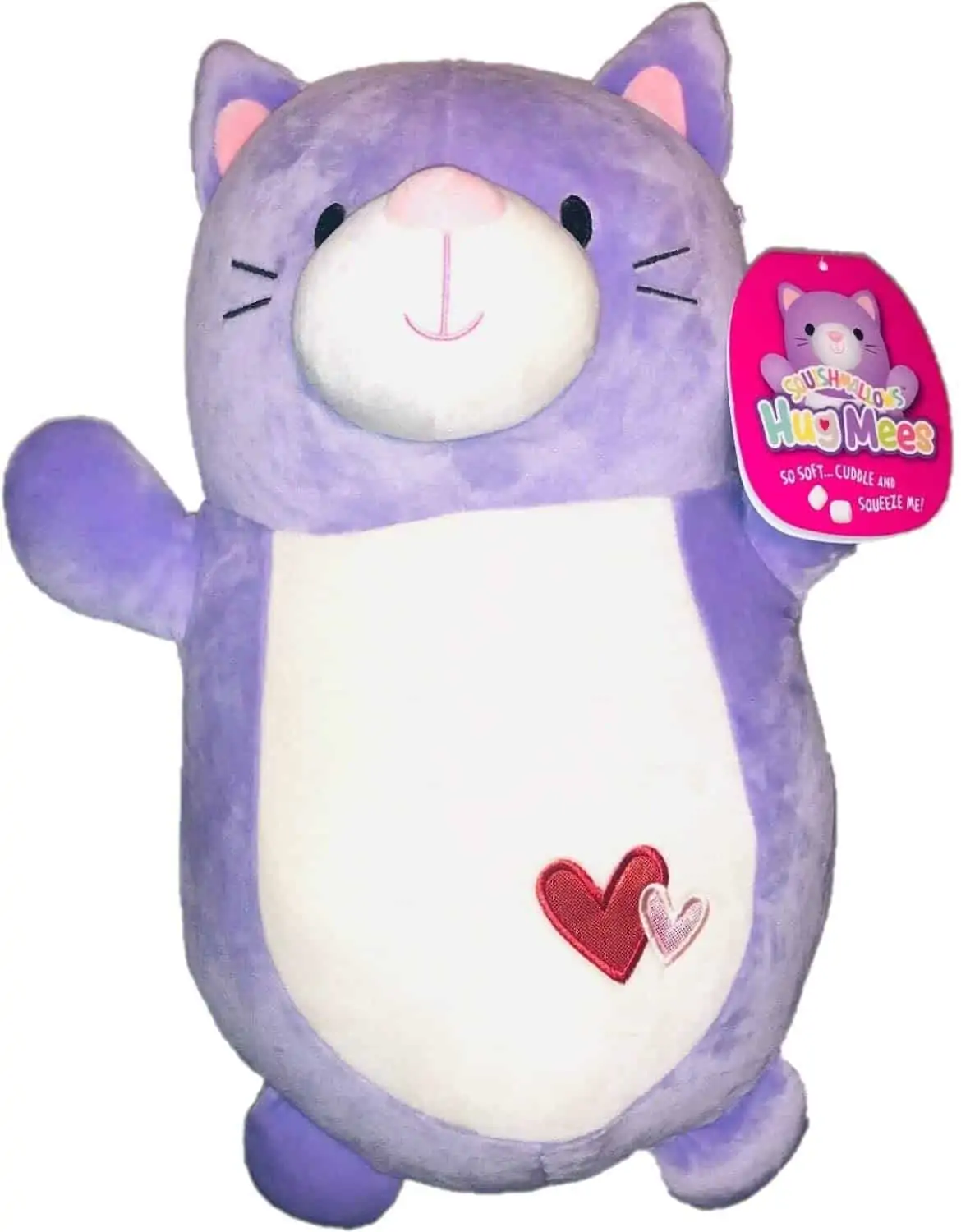 He is part of the "Hug Mee" Squishmallows, and his colors are purple and white. Frank has legs and feet and is the only Squishmallow with legs! You can find him fishing and swimming at his lake house with his best friend, Cam. Frank wants to travel in a boat to see the world, and he invites you to join him!
Gigi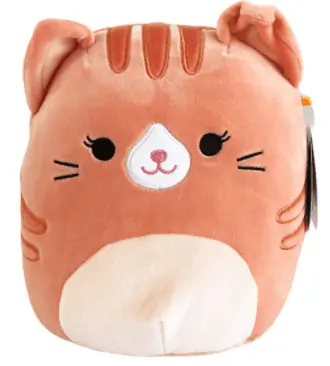 This orange cat is always moving and can get places faster than her friends! She can go a mile a minute because she drinks so much apple juice it gives her speed power! She even smells like apples. Do you think you can keep up with her?
Hayes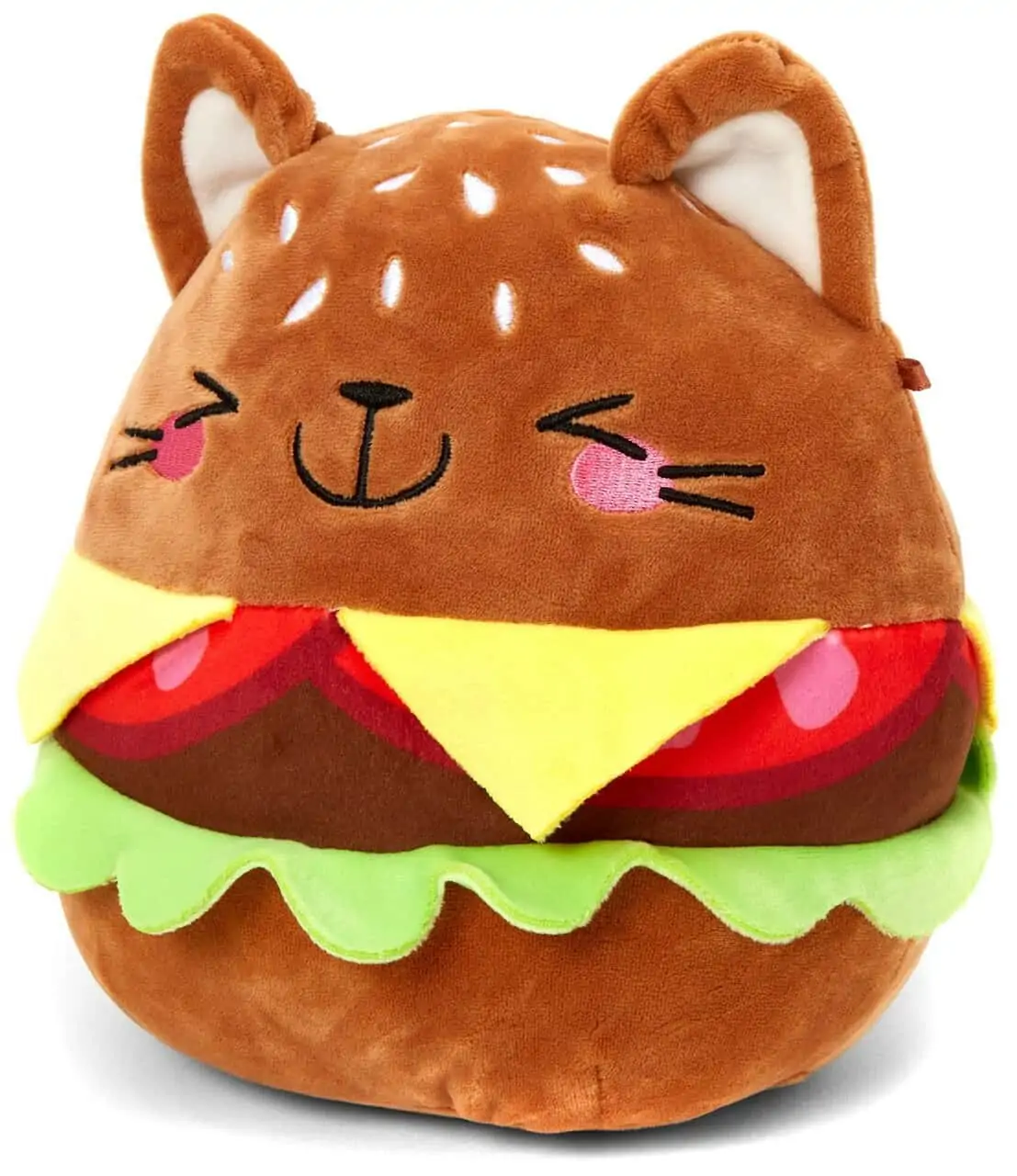 Funny cat Hayes is a catburger! He is brown and calls Claire's his favorite place to be. He designs unique suits that are all different colors and one-of-a-kind pj's with many patterns. Hayes invites you to come to see him at Claire's!
Jack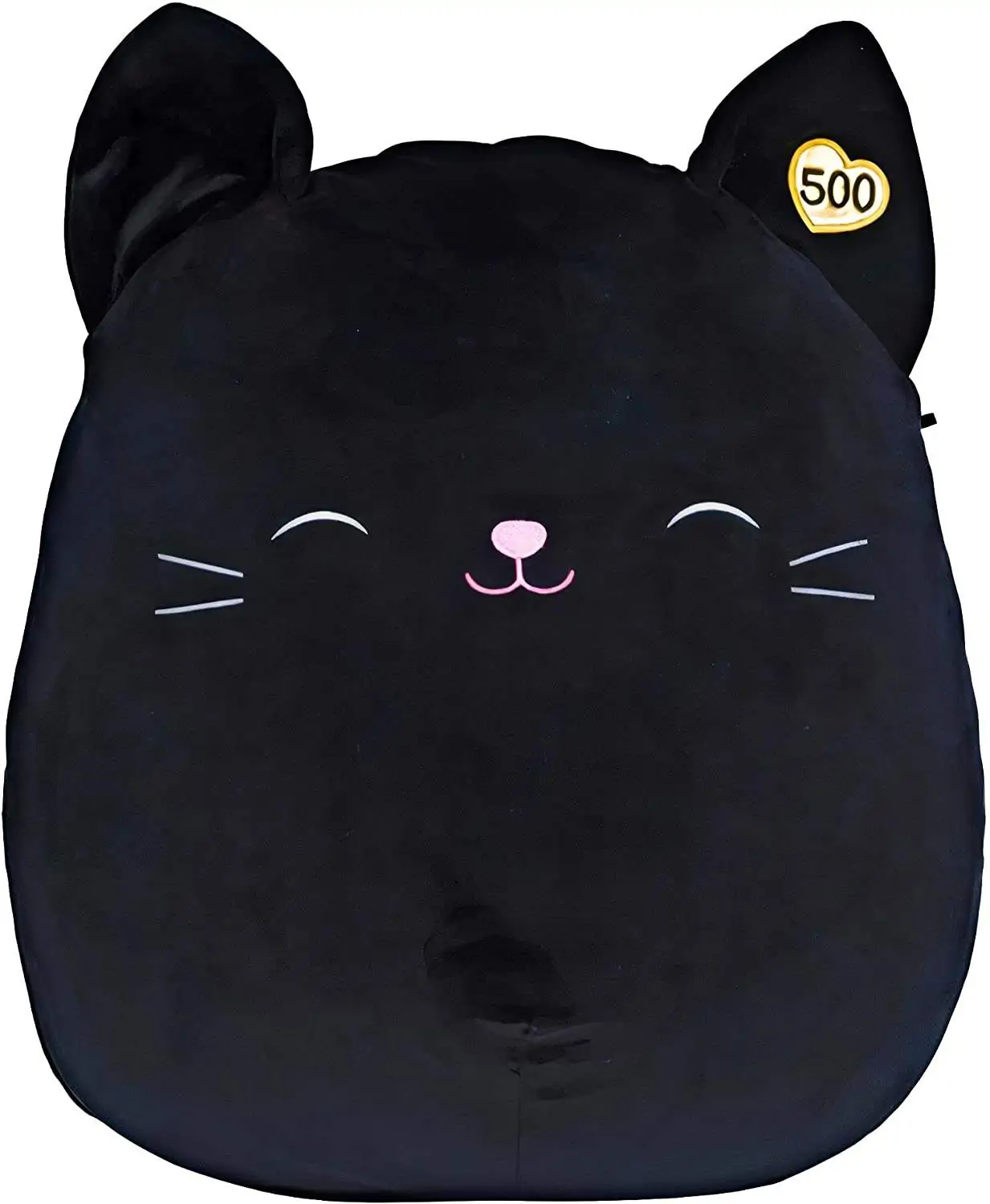 He is an all-black anniversary cat for being the 500th Squishmallow! He also started the Select series. Feisty but very quiet, Jack will always be there for you whenever you need him, and he likes to speak up for himself and others. Jack talks a lot about helping other people and being kind.
Jamal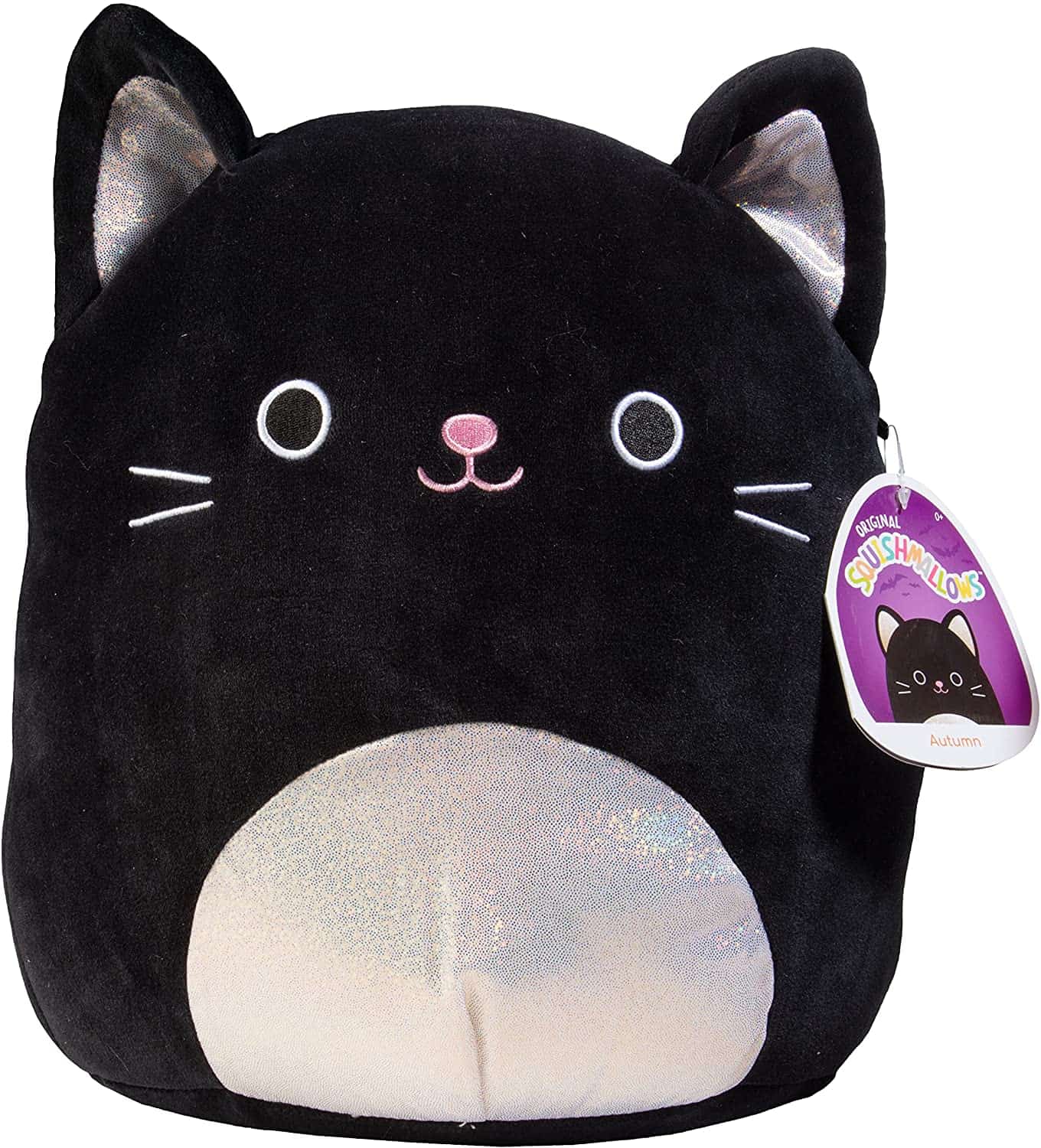 He is only at the Hot Topic store and his home. He is an all-black cat and focuses on geography and tries to get others to help him make a camp to study the world.
Jingles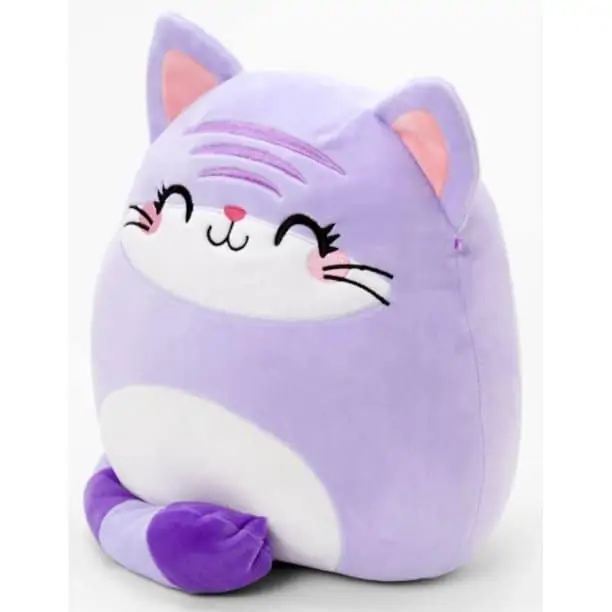 She is only at Claire's with her friend Cinda, and she is working hard to design costumes for a living one day! She is purple loves tassels, feathers, glitter, and glam. She helps make the costumes for the school play every year and is very busy with that and studying!
Jiovanne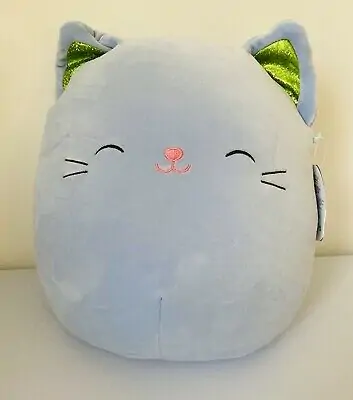 Her only home is Smyth's, where this bluish lavender cat with green glitter ears loves to take naps and find new friends. She is pretty young and needs some older friends to supervise her!
Jules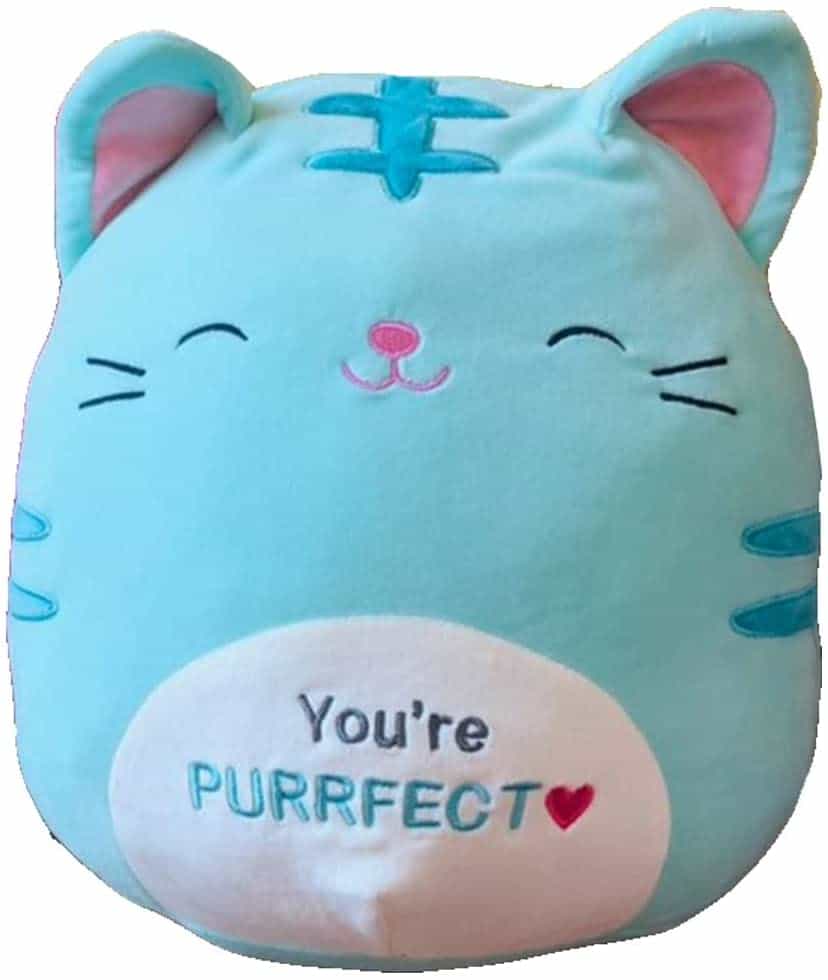 This cat loves to color with friends! She is a mint green color and is part of the Valentine Squad. She is constantly laughing loudly while playing hide and seek, and she can tell stories about the things she colors!
Karina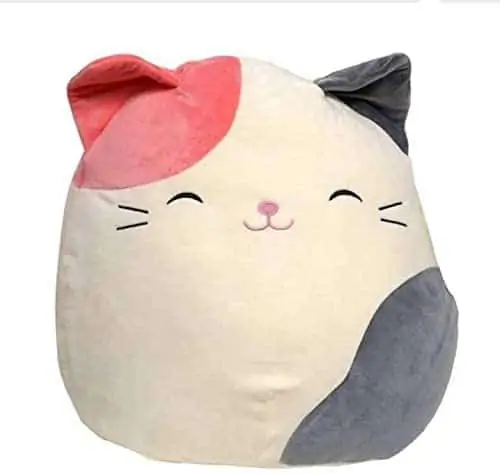 Karina is very educated and spends much time studying math and science, her favorite subjects. Everyone calls her a "numbers gal." She is pink and grey, and her goal is to become a computer scientist. She is always looking for friends because she doesn't go to any parties!
Katsla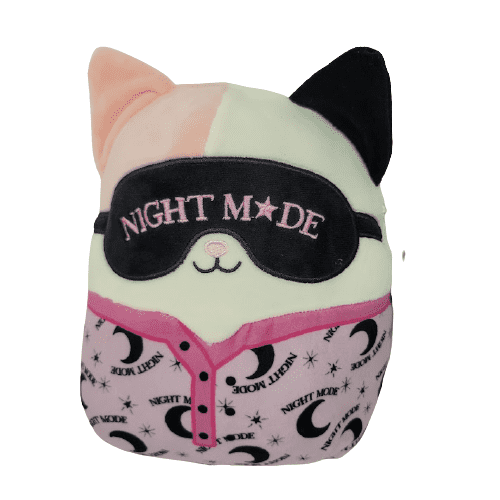 From the Pajama squad, this is a pink and black cat that is the sister of Karina! Katsla would love to be a scientist like her sister, but Katsla wants to discover the secret of sleep! She researches the formula that makes cats sleep. Can you help her?
Kelsey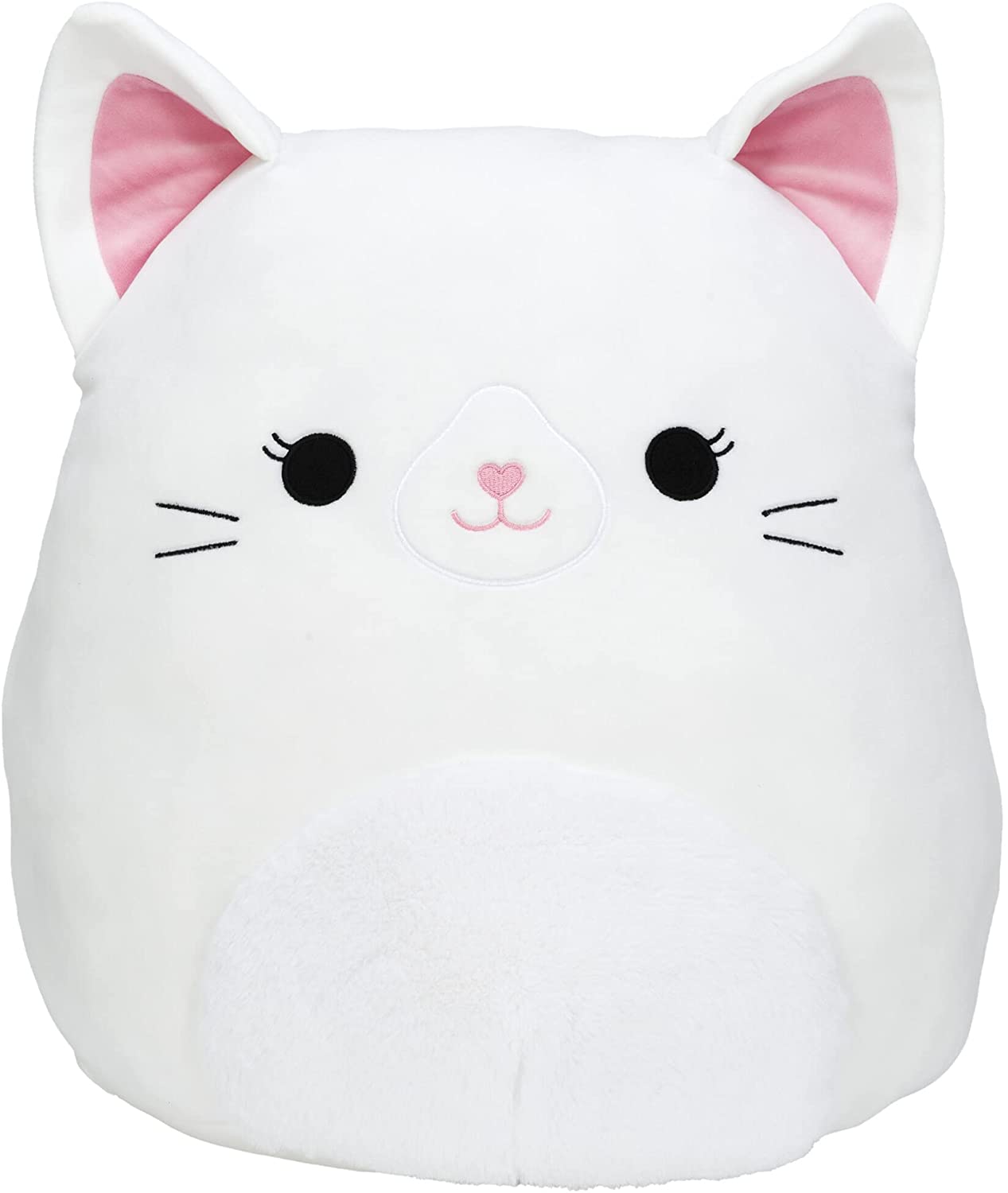 Kelsey is a white cat that is part of the Valentine squad. She is always helping others, gardening, or doing craft projects about nature. She invites everyone to be her friend!
Laura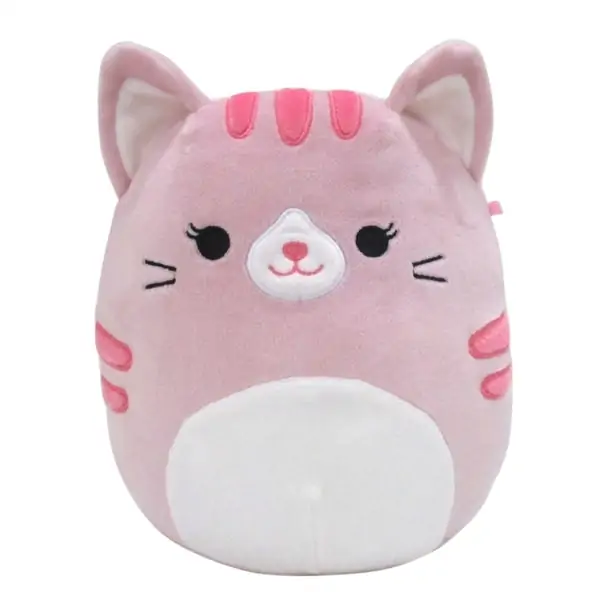 Pink and striped, Laura is part of the Pet Shop Squad. She is creative, and you can see her building and inventing new things. She loves gaming and tries to be the first in line to have a new game when it hits the stores!
Marie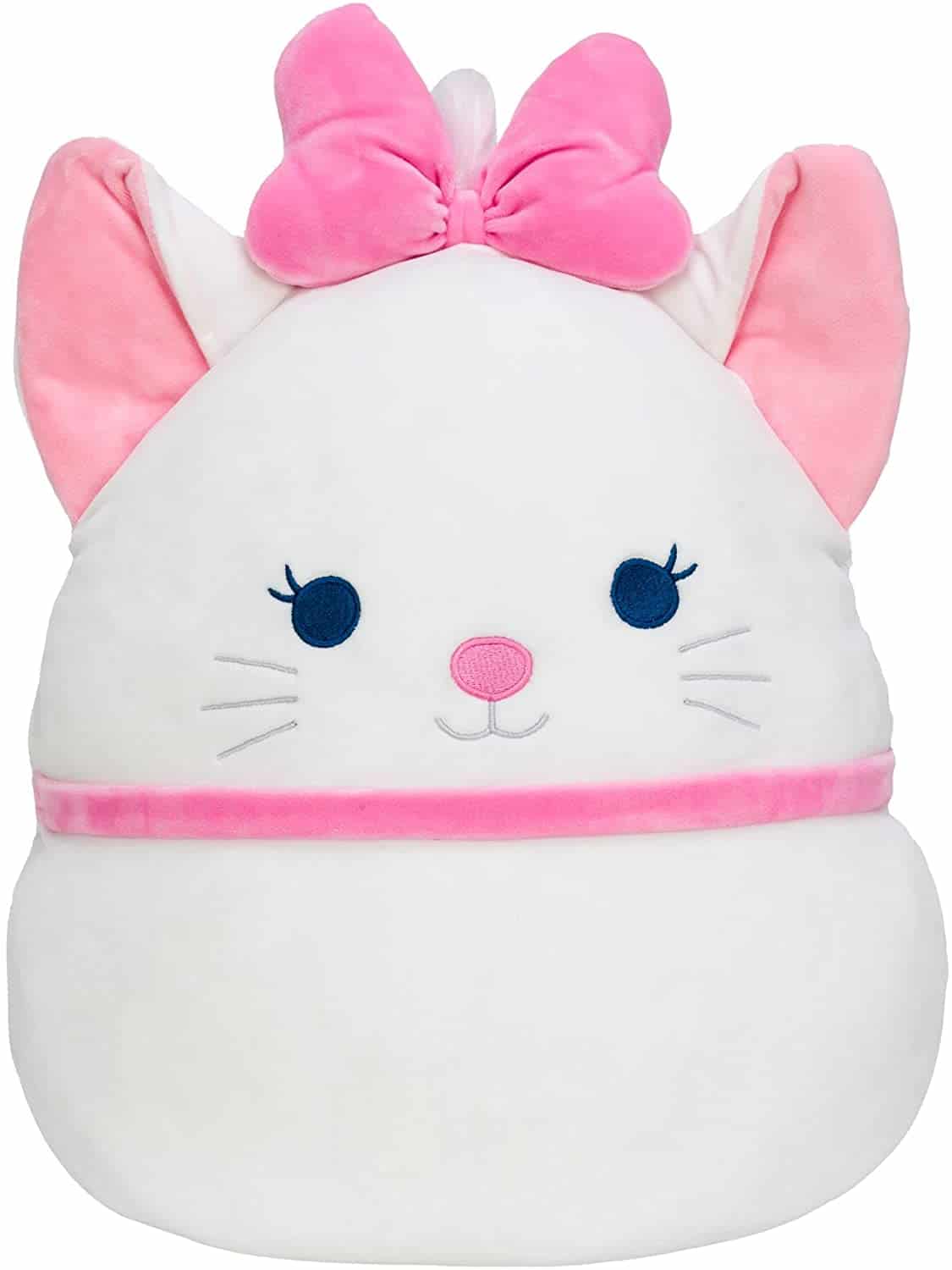 This white with pink accents cat is from the Disney movie "The Aristocats" and has glittery pink wings and a pink bow in her hair. She loves fancy food and flies to restaurants worldwide with her friends!
Nancy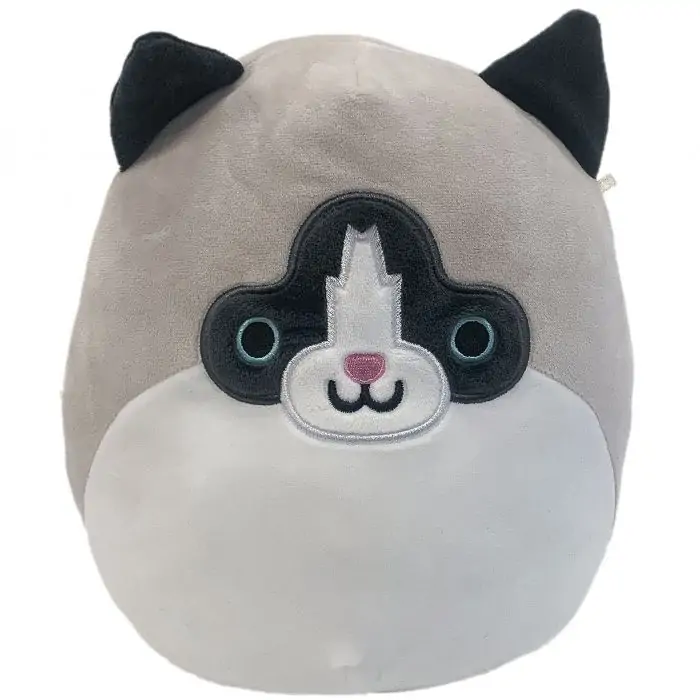 Her home is called Learning Express Store, and this grey and white ragdoll cat wants to know everyone's business! She asks lots of questions to find out the latest gossip, and she makes plans with clubs and meetups that she organizes for everyone!
Nathan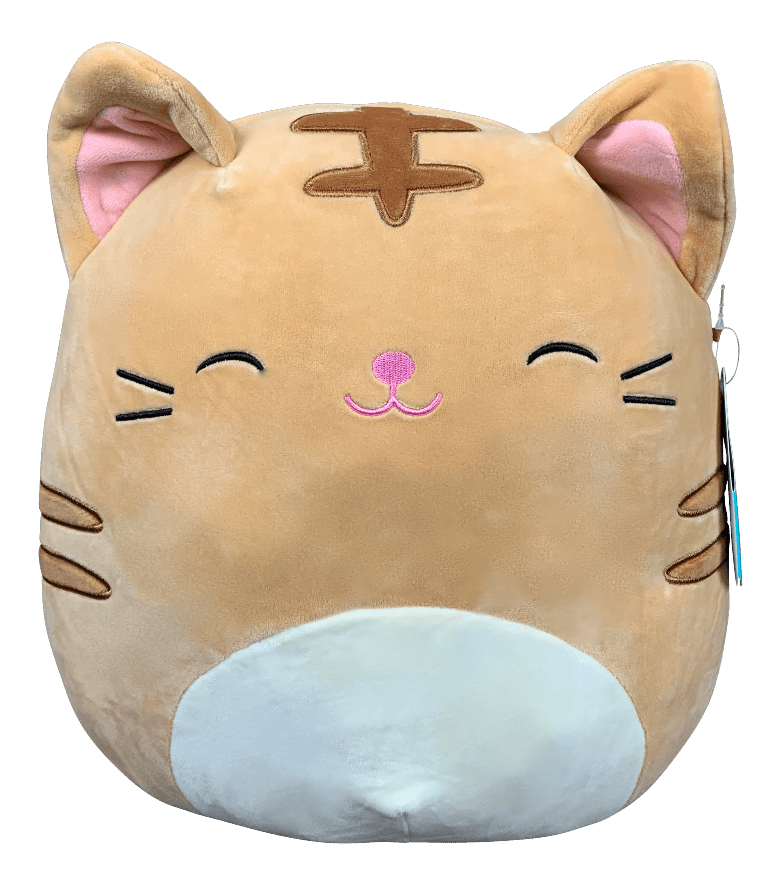 A brown-striped tabby cat, Nathan will be eating tacos and oranges when you find him. He is always ready to keep new friends company, even if he is an introvert, and will curl up next to you to watch a movie or video game. Just be sure to have tacos!
Nell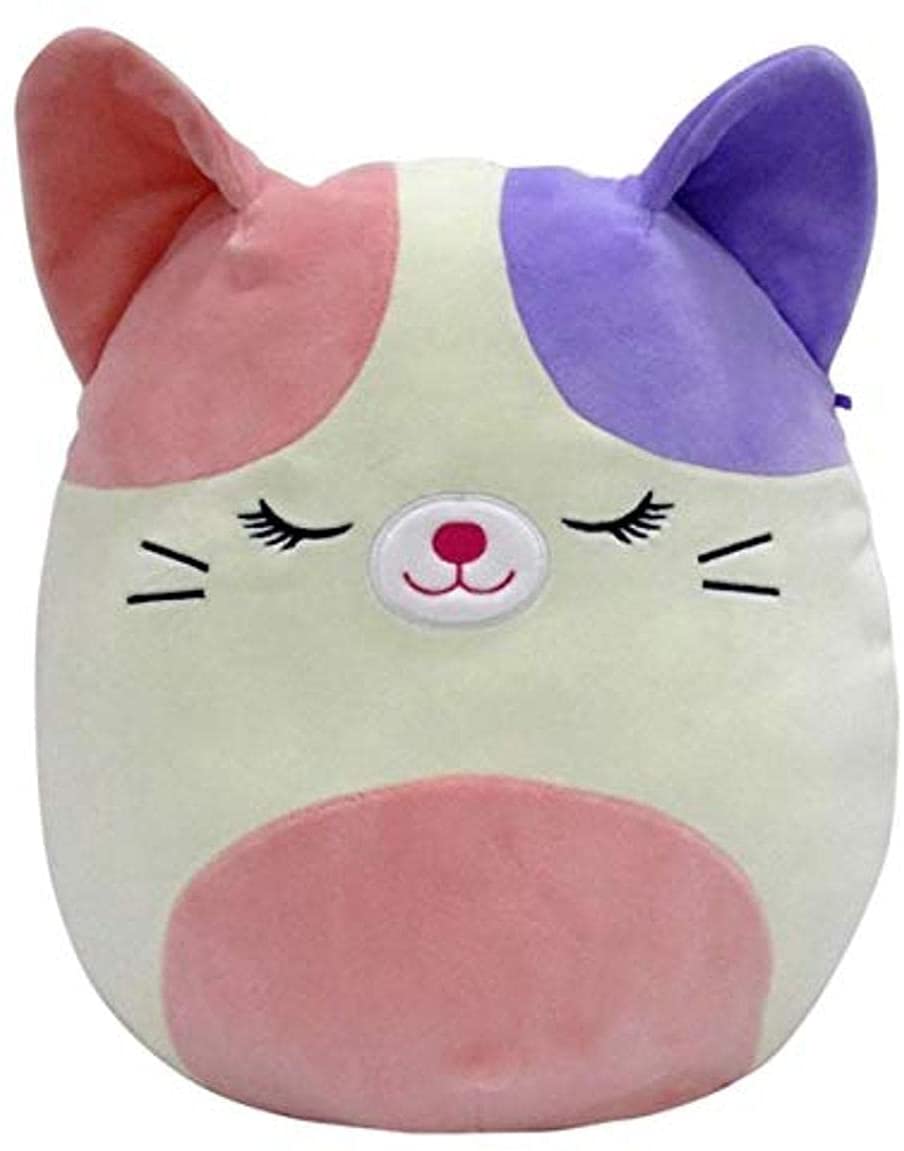 A pink and purple cat, Nell is shy but can overcome it boldly! Sometimes she speaks up right away when describing her creative graphic design work or organizing music as a DJ! The only thing Nell likes better than those two things is pasta! She will stop doing anything to eat delicious spaghetti or lasagna!
Oliver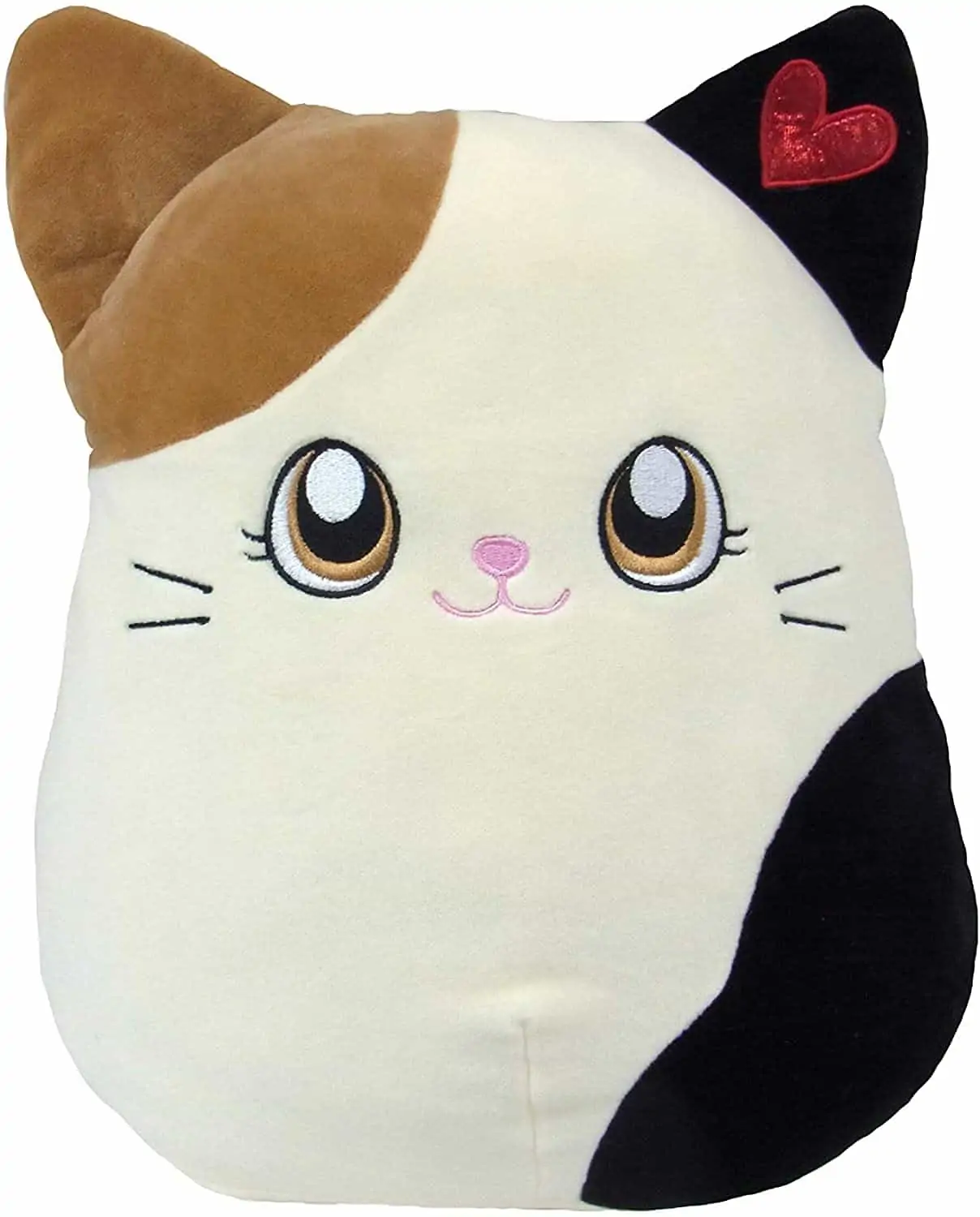 He is a calico cat with many colors belonging to the Valentine Squad. People often think he is Cam. He shows how he is different by making homemade Valentines with his paws and lots of colored glitters! He loves having people help him make new designs for his Valentines.
Paulita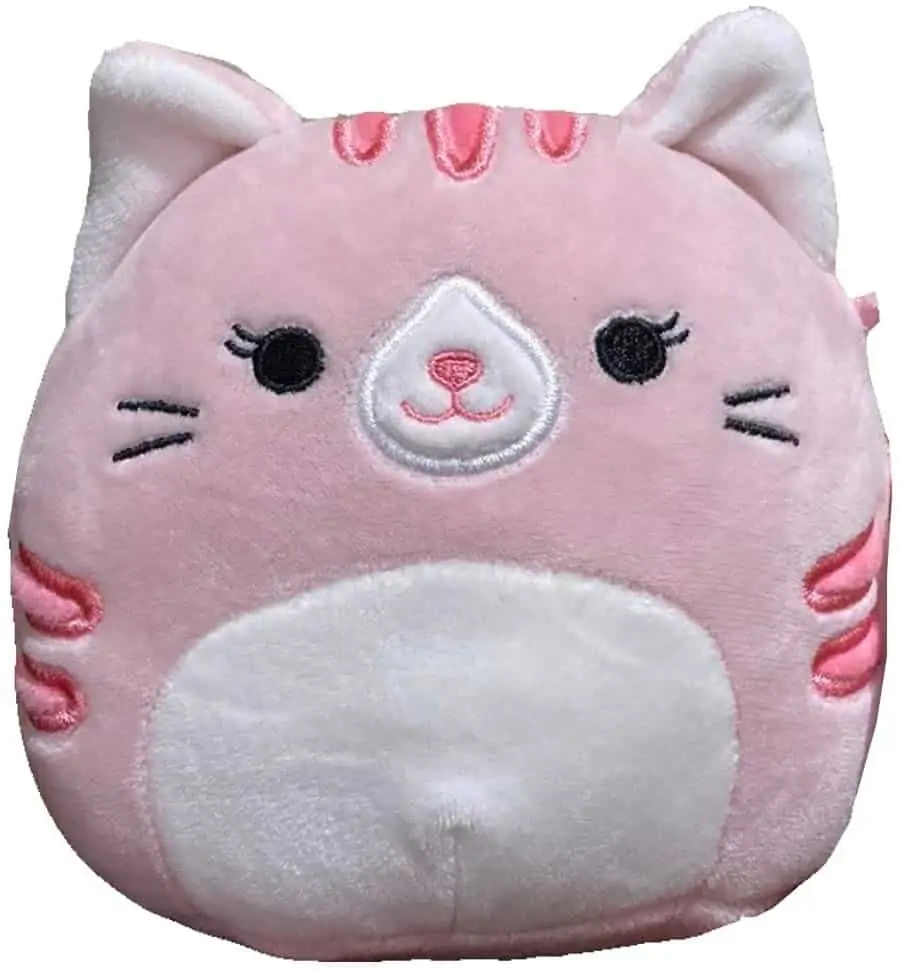 A pink tabby cat who is the ultimate nap queen! Sleep is her favorite thing when she is not singing, dancing, painting, or making creative crafts. Her favorite food is chicken nuggets, and she always has more for you!
Risa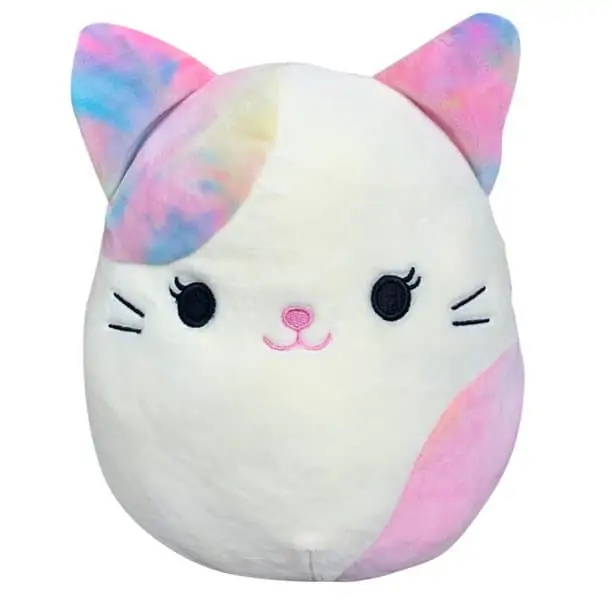 A tie-dyed calico cat, Risa is new and is trying to make friends. She loves to bake, and before the first day of school, she made banana chocolate bread for sharing with her class!
Roxy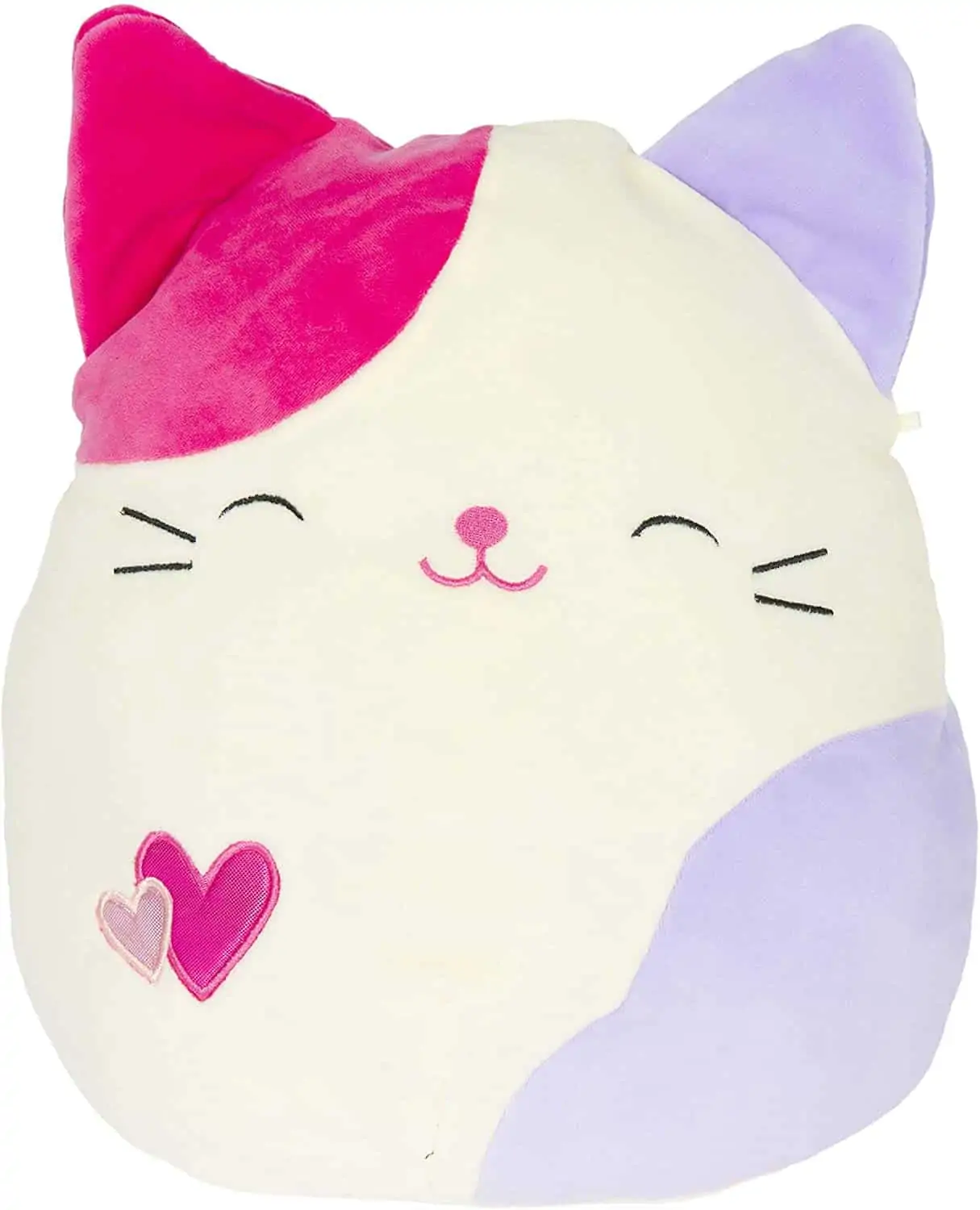 Roxy is part of the Valentine squad, with pink colors over her white fur. Every Valentine's day, she likes to plant tulips in her garden, and she wants to make the world a more beautiful place to live.
Shany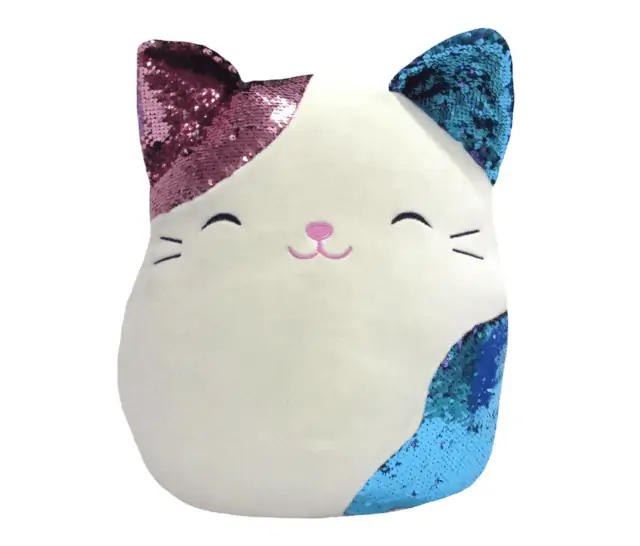 Glitzy purple and teal sequins are on Shany's white fur and make her look very glamourous. Pink is her favorite color, and anything sparkly will draw her attention! Taking baths with pink fizz bombs is her favorite thing to do when she is not making heart-shaped glitter cookies!
Skully
A skeleton cat that is black and white; Skully has many strange hobbies such as salami and science fiction movies! He is a central part of the Halloween Squad since he is a creepy skeleton, and he loves to think about outer space and other living things like Martians!
Stump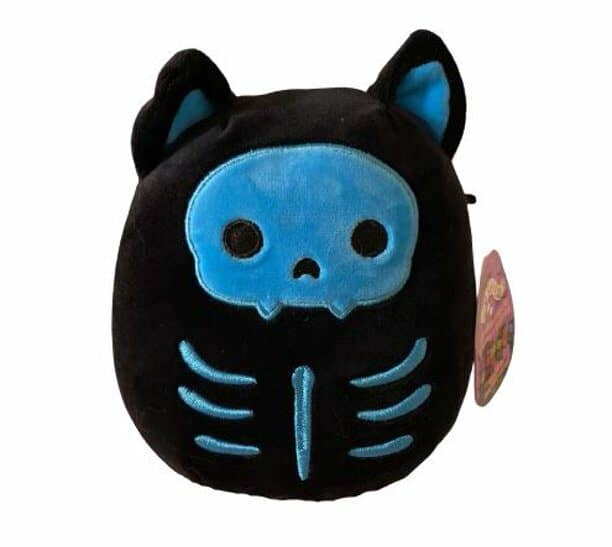 Having colors of black and blue, Stump is a protector for the Skeleton squad. He is the main strong cat of the group, and he teaches self-defense classes. He loves to wear different costumes and wants lots of new friends to tour with him!
Tabitha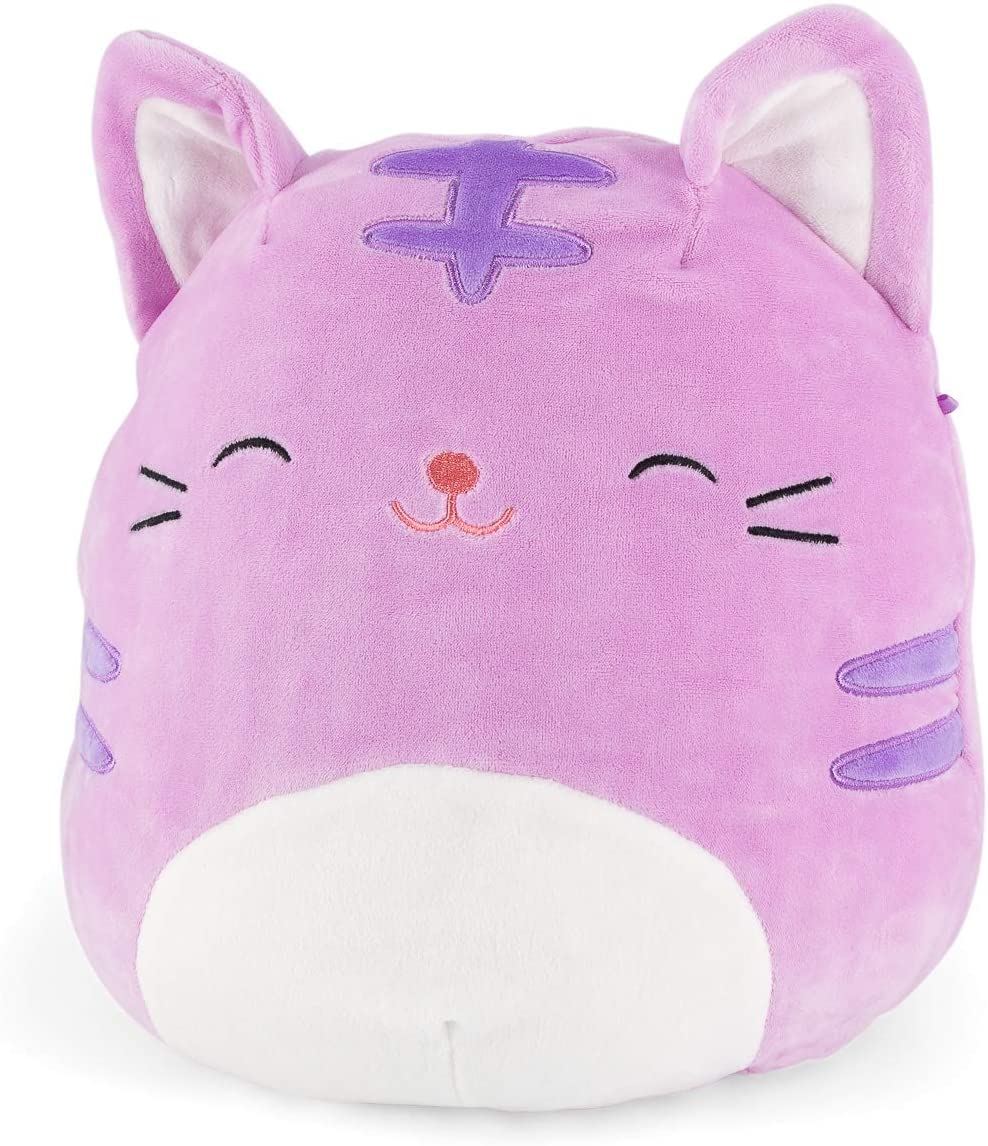 Tabitha is a purple tabby cat and is proud to be part of the Easter squad. She rises energetically every morning, and she loves to ask "why?" about everything! Her goal is to become a journalist one day.
Tally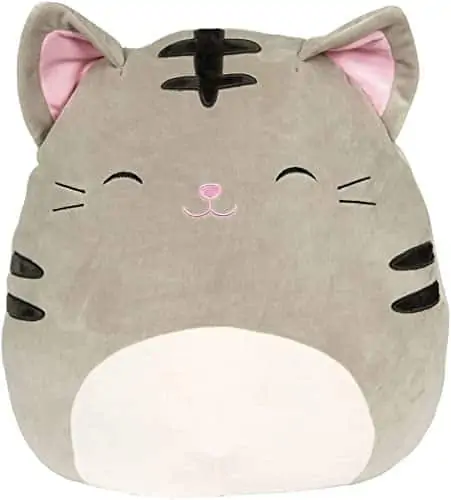 A grey and white tabby cat with black markings, Tally is part of two squads – the Adventure and the Classic squads! Her time is taken up being a health and fitness coach to all the other Squishmallows!
Tiffany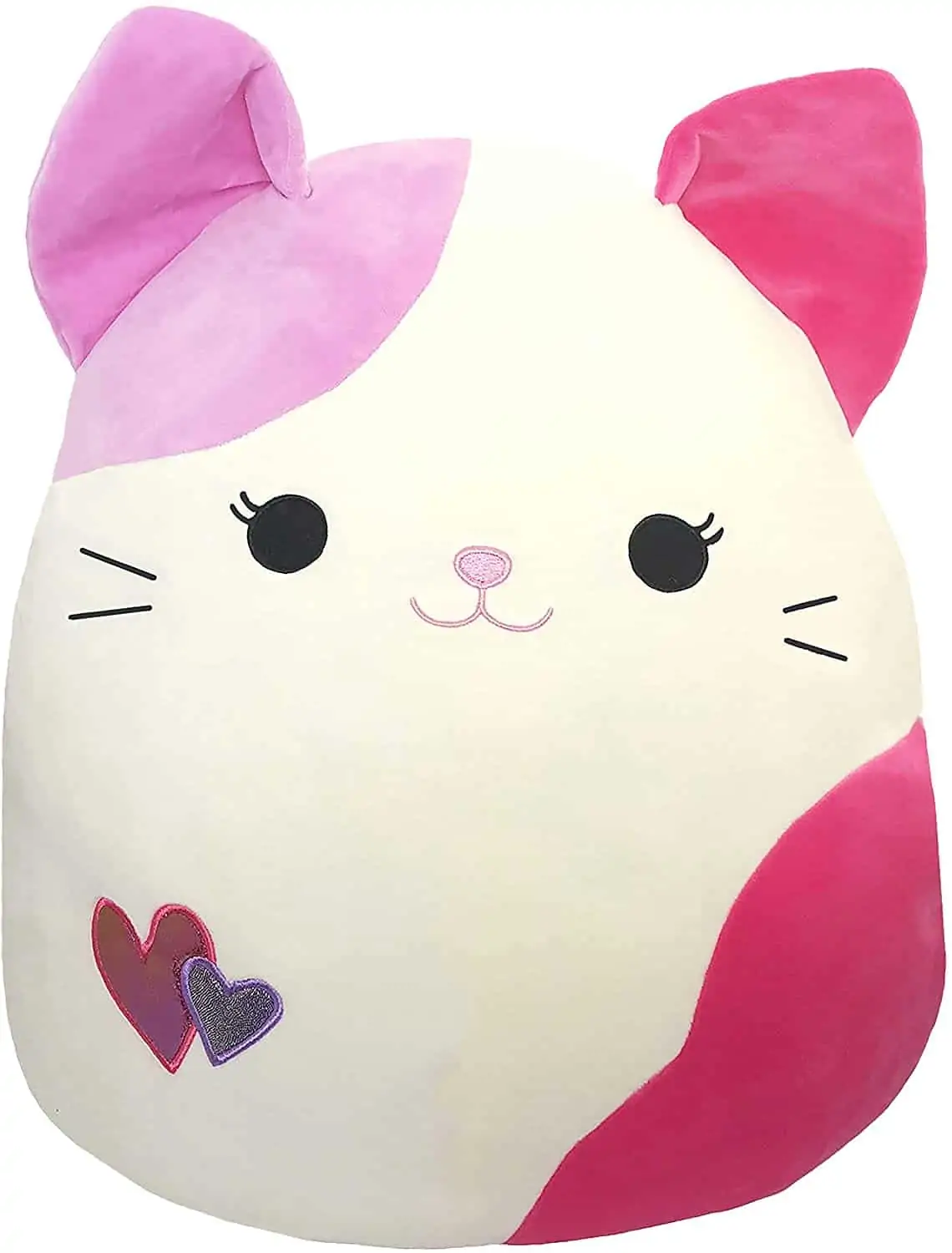 This pink and purple calico cat is part of the Valentine squad. Her favorite activity is playing tennis with friends and drinking chocolate milk with red heart sprinkles.
Tres'zures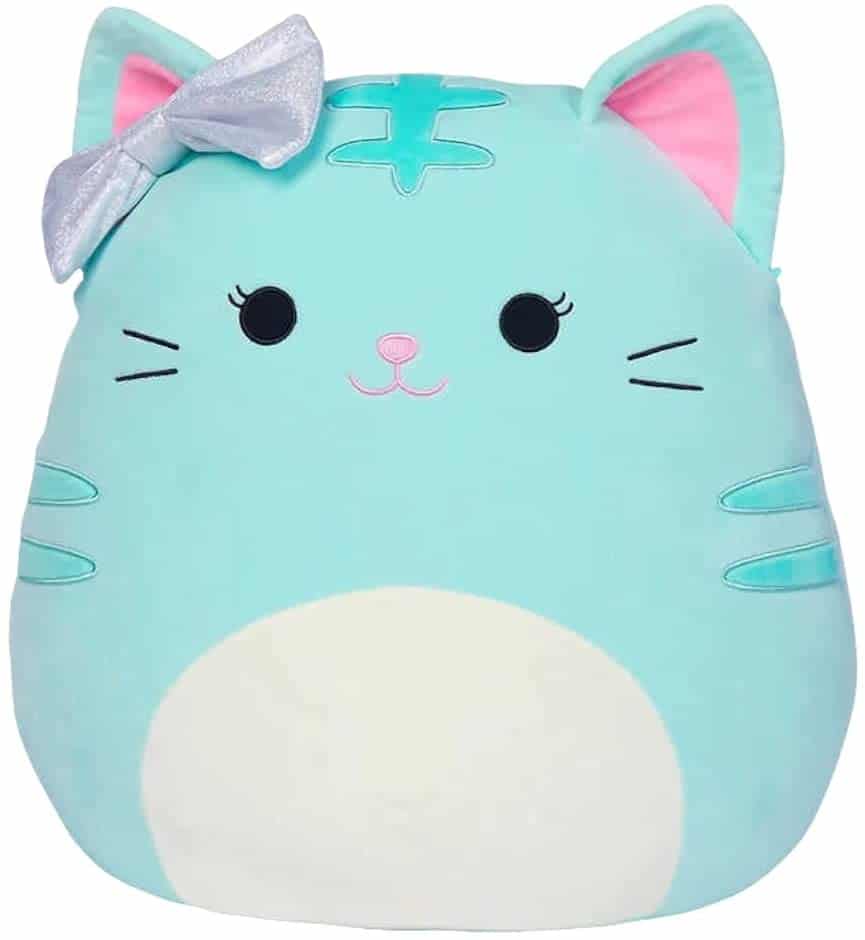 Treszure loves her mint green color! She uses green to make birthday decorations for all her friends and family. She plans special events and experiences for everyone, including unique games like the Vision board, and she takes lots of pictures! 
Squishmallow Caticorn Cats
The CATICORN. A caticorn is a Squishmallow cat that has a unicorn horn.
That doesn't sound very comfortable to me, but these friends seem to enjoy their dual breed! There are more than 23 different caticorns
(I say this because the number is different on the Squishmallow website than if you search for Squishmallow Caticorns! I found more than 23!)  Here they are, according to the official Squishmallow site!
Squishmallows quickly grow in value and are trending towards infinity on the popularity spectrum. More than 3 million Squishmallows have been sold – and many people consider that number to be closer to 5 million.
Created in 2017 with the "Original Squad," Squishmallows have hit the ground running! Who wouldn't love these adorable, soft, huggable friends? Especially when they turn into pillows for us and whisper of future adventures.
Having that tactile body sensation – (especially if you invest in a 16 to 24-inch Squishmallow) – is something you can't replace. If you have challenges falling asleep or self-soothing, it will help to have soft pressure. This is for children and adults! I have seen all the Squishmallow cats there are, and they are the most precious loves you can buy. So soft, squishy, and almost foamy-like, with a bit of firmness to keep them in shape.
My Favorite Caticorns!!
LOBI the Caticorn Squishmallow is a special edition and is very rare – for SALE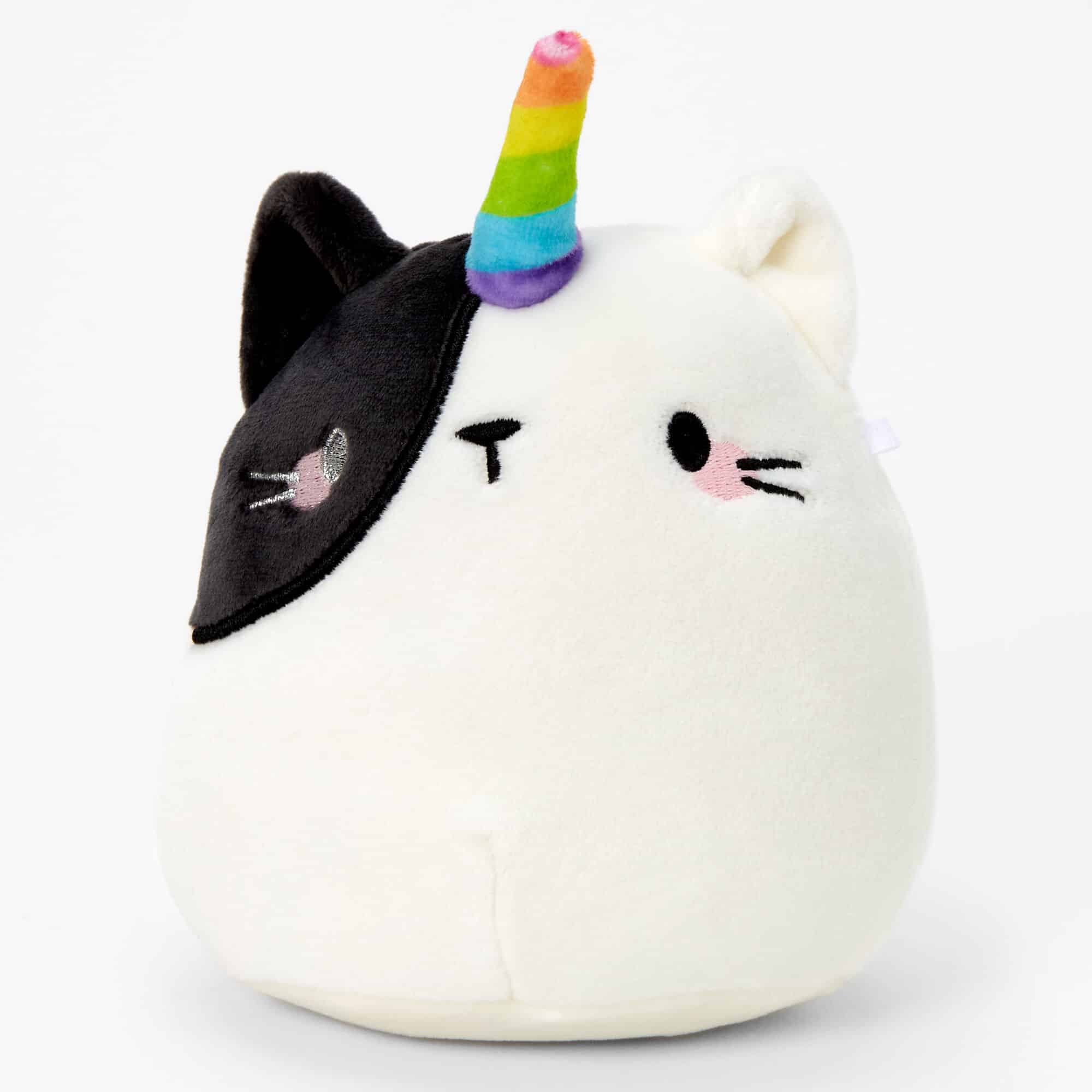 Lobi the caticorn is a sweet black and white cat originally manufactured only for Claire's and sold through second-hand stores. (Although you can get a brand new one). Her rainbow unicorn horn looks quite pretty against her black and white fur. She is exceptional and would be a great addition to your plushy friends because she is hard to find, and her horn stands out so much!
Lobi loves YARN! Her room is full of yarn everywhere – she sleeps in it when she is not knitting scarves and ear warmers for her friends.
This Squishmallow is a specialist in varieties of yarn, and some of her favorites are sparkly and glittery yarns, rainbow and tie-dyed yarns and even bubblegum scented yarn! I love the fact that Lobi creates warm things to snuggle in. It's just like when she snuggles with you! I also am so fond of her young and sweet face that is always looking for new friends!
Lobi has a goal to open a yarn museum to show her different styles of yarn and knitting. She invites you to help her, and to come and visit! You can buy her on Mercari.
Squishmallow Caticorn Mermaids
In addition to cats that are part unicorns, some cats are unicorns that are mermaids! They are called Mermaid Caticorns, and there are approximately 5 of them. Their names are Anya, Mitzie, Gracie, Svetlana, and I will include "Hello Kitty Squishmallow Mermaid" as well.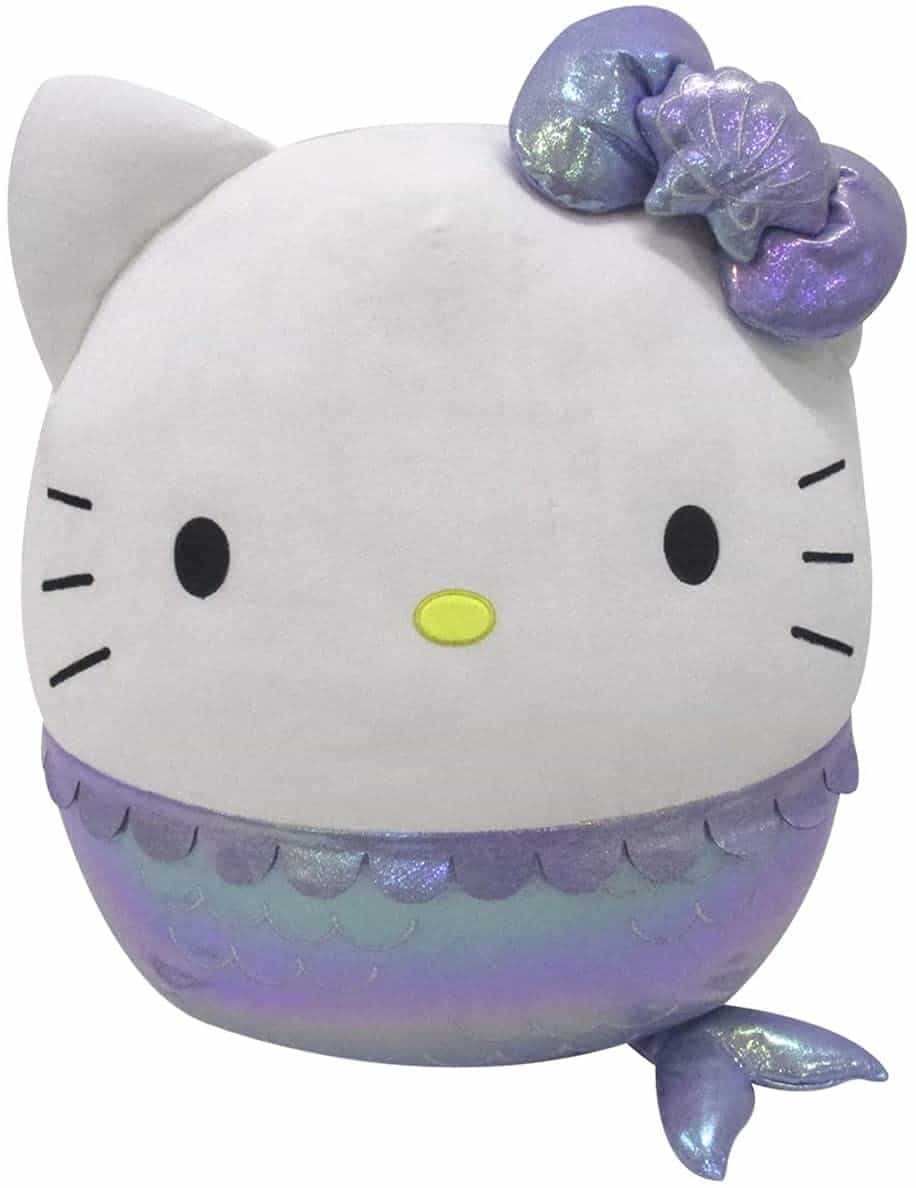 Hello Kitty is half cat and half mermaid, and she has a unique and beautiful glittery tail that helps her swim extremely fast!
This Squishmallow is a collector's edition, and it may be hard to find anywhere other than second-hand stores, but there are many new ones for sale like the one to the left.
Amazon also carries Hello Kitty Squishmallows. There are several varieties, including Hello Kitty with sunglasses, a floral Hello Kitty, Hello Kitty Red, Pink, and Rainbow, and the list goes on!
I suppose those Hello Kitty Squishmallows could either be classified as "cat" Squishmallows or "Hello Kitty" Squishmallows. This Hello Kitty mermaid can be found on Mercari.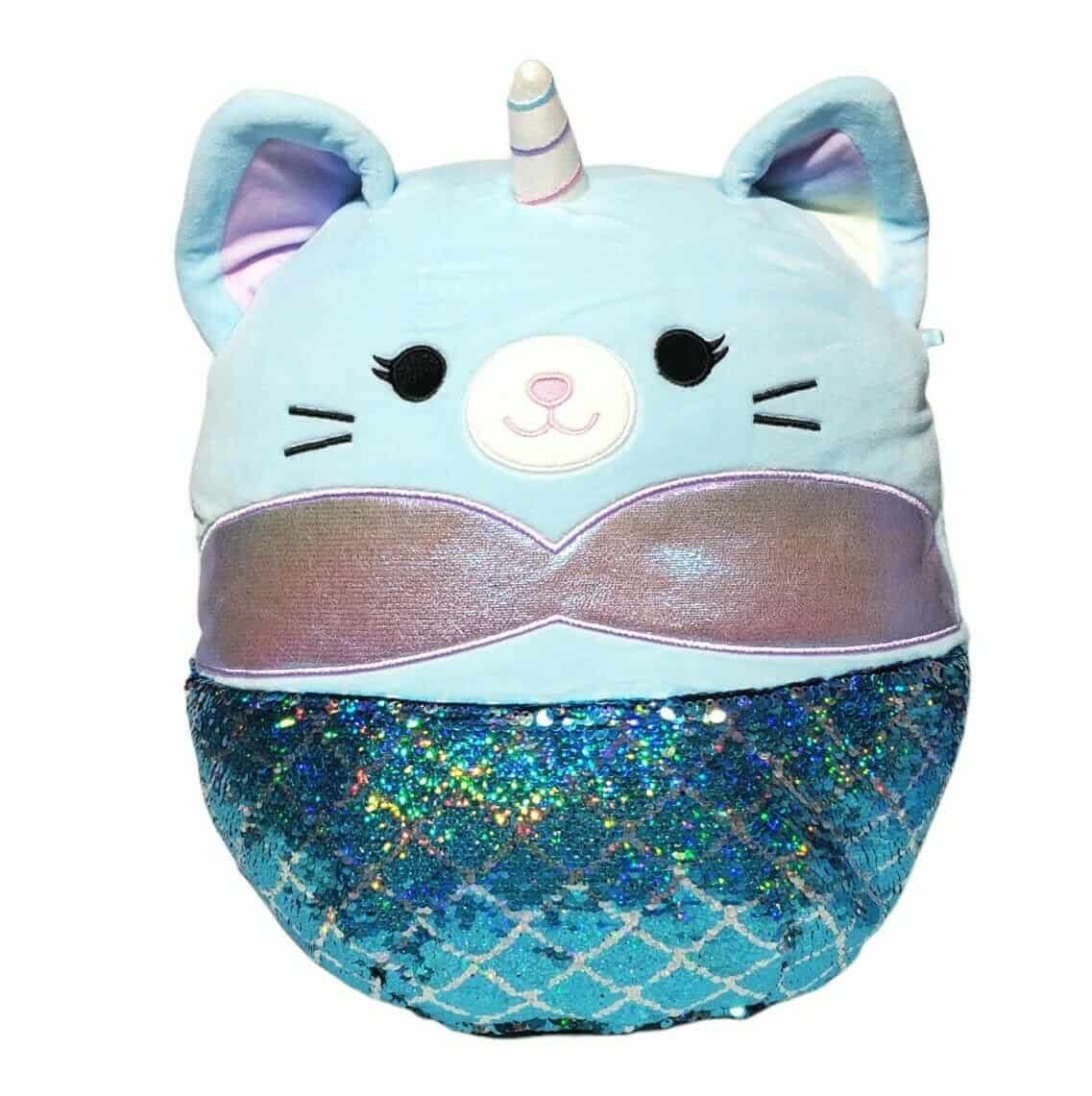 My favorite Caticorn Mermaid is Svetlana because of her bright, wide-open eyes and her adorable glitzy two-piece bikini. She is very stylish and pulls herself together.
I also like her because her unicorn horn is visible and doesn't have many confusing colors! She looks like she has a natural horn growing out of her head. The colors of her bathing suit are sea life colored and make Svetlana very happy.
Some of her favorite things to do are boogie-boarding and sunbathing in her hammock. Svetlana is probably riding the waves if you see cat ears and glitter out on the water! She reads adventure stories and can't get enough good books to read – have you any suggestions? To keep her mermaid figure, she loves to drink all kinds of smoothies and invites you to give her a recipe!
Svetlana is in many places, and here she is at eBay!
FAQs
Question: Can you Wash Squishmallows?
Answer: Yes! Squishmallows are machine washable and dryer friendly. It's best to use a gentle, no-bleach stain remover first and then wash in warm or cool water cycles. For the dryer, you can use low heat settings. If they come out a bit "mashed up," you can easily squeeze them back into shape! They are made of extra soft Spandex with a polyester filling.
Question: Why are Squishmallows so Special?
Answer: Squishmallows have taken over the stuffed animal niche and are everywhere on the internet! They range in size from 2 inches to 24 inches, and all are made from velvety soft Spandex that is quite flexible and soft.
They are a pillow, but they are an animal or cross-breed of animals! They have cats and unicorns and "caticorns." Bats, dogs, pigs, bees, butterflies, cows, sea creatures, and others – all total, there are over 1000 different Squishmallows to choose from! They each have a unique personality, from studying to be a chemist and taking baths with pink fizz bombs to photographing nature and being in the medical field! They all have favorite foods, holidays, and friends, and you can play online Squishmallow games! Their presence in social media has hundreds of thousands of fans!
They are a quality item, can be machine washed, and everyone can find one with similar likes and dislikes! Their mushy faces are excited and cheerful, and quite a few have eco-friendly goals! Since 2017 they have been increasing in popularity with ages 3 to 103!
Question: How Many Different Squishmallow Animals are There?
Answer: There are so many Squishmallow creatures that only the manufacturer knows! New categories are created constantly, so keeping an exhaustive list is…well…exhausting! As of now, this is the ultimate Squishmallow creature category list!
Axolotl
Bat
Bear
Beaver
Bee
Bird
Blobfish
Bunny
Butterfly
Camel
Cat
Caterpillar
Chameleon
Cheetah
Chicken
Chinchilla
Cow
Crab
Deer
Dinosaur
Dog
Dolphin
Donkey
Dragonfly
Duck
Eagle
Elephant
Firefly
Fish
Fox
Frog
Giraffe
Goat
Grasshopper
Groundhog
Guinea Pig
Hamster
Hedgehog
Hippo
Horse
Jellyfish
Kangaroo
Koala
Ladybug
Lemur
Leopard
Lion
Llama
Lobster
Manatee
Meerkat
Monkey
Moose
Mouse
Narwhal
Octopus
Orca
Ostrich
Otter
Owl
Panda
Parrot
Peacock
Penguin
Pig
Platypus
Possum
Raccoon
Red Panda
Rhino
Scorpion
Sea Bunny
Sea Pig
Seahorse
Seal
Shark
Sheep
Shrimp
Skunk
Sloth
Snail
Snake
Spider
Squid
Squirrel
Stingray
Swan
Turkey
Turtle
Walrus
Water Bear
Whale
Wolf
Wombat
Zebra
https://www.reddit.com/r/squishmallow/comments/q28ww2/my_full_collection_whos_your_favorite/
Question: What is a Squishmallow "Squad"?
Answer: In short, a squad of Squishmallows is a group of Squishmallows that all have the same theme. The "Food Squad" has different kinds of food for Squishmallows, and the "Halloween Squad" is made of Squishmallows who love Halloween. New squads are being released constantly (with multiple new Squishmallows in them), and to date, there are more than 65 squads! Here is the list of all the squads I could find from many different sources!
Adventure Squad
Baby Squad
Back to School Squad
Bird Squad
Bright Squad
Bugs Life Squad
Christmas Squad
Classic Squad
Day of the Dead Squad
Deep-Sea Squad
Disney Squad
Disney Squad
Dogs Squad
Dream Squad
Día de Los Muertos Squad
Easter Squad
Fantasy Squad
Farm Pals
Farm Pals
Farm Squad
Food Squad
Fruit Squad
Halloween Squad
Headphones
Headphones
Heroes Squad
Hocus Pocus Squad
Hocus Pocus Squad
Inspirational Squad
JoJo Siwa Squad
JoJo Siwa Squad
Kentucky Derby Squad
Kind Squad
Mexico Squad
Mystery Squad
Neck Pillow
Neck Pillow
Original Squad
Pajama Squad
Pattern Perfect Squad
Peanuts Squad
Peanuts Squad
Pet Shop Squad
Pet Squad
Ryan's World Squad
Ryan's World Squad
Sanrio Squad
Sanrio Squad
 Sea Life Squad
 Sealife Squad
 SeaWorld Squad
 Select Series
Sesame Street Squad
Sesame Street Squad
Sleepover Squad
Space Squad
Spring Squad
Squish-Doo
Star Wars Squad
Star Wars Squad
Summer Squad
The Nightmare Before Christmas Squad
The Nightmare Before Christmas Squad
 Valentine Squad
 Wildlife Squad
 Zoo Squad
In Conclusion
Squishmallows are all over the internet. Whether you are 6 or 60 years old, you can find one with the same aspirations, feelings, hobbies, goals, and life philosophies! They are very soft and cuddly, machine washable, instantly usable as pillows and friends, and can spark imaginative role-play stories. Squishmallows provide a tool to model appropriate behavior through interactive play and quality time with your youngsters. I would recommend buying a Squishmallow or two just for the car playtime alone! They are great for travel friends, highly mobile, and when your head nods with sleep, they are there to comfort you.
The sizes lend a variety of choices for prices and for small bedrooms! Having ten Squishmallows with each one being two feet across can be space invasive! Then again, trying to buy ten extra-large Squishmallow at $50+ can be wallet invasive!
A quick tip is to buy directly from Jazwares or Squishmallows.com so that you are not paying the inflated prices of old edition Squishmallows. I saw one being sold for over $800! That is just not in my reality. The Learning Express is also a reputable seller.
An idea to increase the value of your Squishmallow collection is to focus on one Squishmallow and then research all the different editions that it has. If you group them with all known editions, your "squad" will be more valuable should you decide to resell.
Cornella the UniMermaid Squishmallow for SALE at Target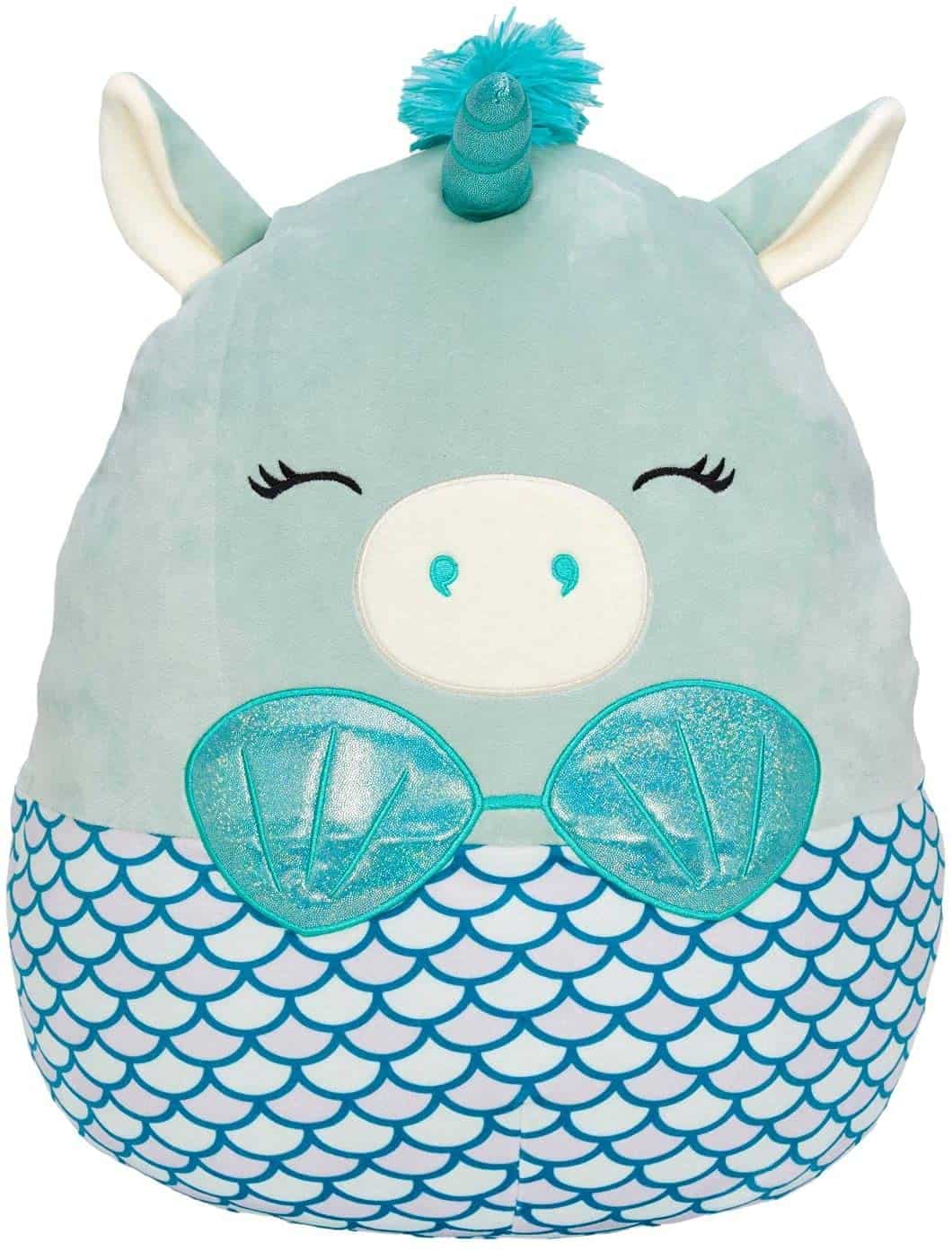 I had to include Cornella, the most lovely unicorn mermaid that ever lived! She can be found at Target and the price is reasonable! At 20 inches wide, she is sure to be the best buddy for cuddling.
She has aquamarine and brilliant blue accents on her sea-green velvet body, and stitching detail on her scalloped shell bikini top!
Her feminine eyelashes are squinted up in the most friendly smile and her unicorn horn blends in with her colors.
I  included her because her best friends are the Caticorns above!
Continue reading:
Ultimate Hello Kitty Plush Guide
Pineapple Squishmallow Guide for Fruit Squad Fans
The Complete Bee Squishmallow Guide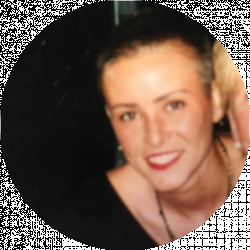 Latest posts by Richelle Tieman
(see all)