Hello Kitty is a staple character that has always been a part of our childhood. I bet everyone here knows about and has been obsessed with this adorable Japanese white cat at some stage of their life. I, for one, had so much Hello Kitty stuff growing up that I could fill and decorate an entire house. Jip, I had the plushies, the pens, the pencil cases, the clothes, the bedding, and the book covers. I even had Hello Kitty jewelry!
So, if you are like me and had an obsession with Hello Kitty growing up or still do to this day, you will love this Hello Kitty plush guide that I have in store for you.
Bottom Line Up Front
My favorite Hello Kitty plushie is the Squishmallow x Hello Kitty Official Kellytoy Sanrio Squad. I love it because it is everything I want in a plushie. I mean, who doesn't like Hello Kitty, unicorns, and Squishmallows? They are perfect! Or should I rather say purr-fect?
Let us have a look at my top picks:
Top Picks
So sit back, relax, get a juice box and some snacks, and let us get into this article.
Are you a fan of plushies that are soft and fluffy? Me too. I love them! They are soft to touch and soft to hug. And this little Hello Kitty plushie is all of those things!
She makes a perfect gift for your children, nieces, nephews, or grandchildren. And even a great gift for yourself if you need a new plushie to take with you while traveling.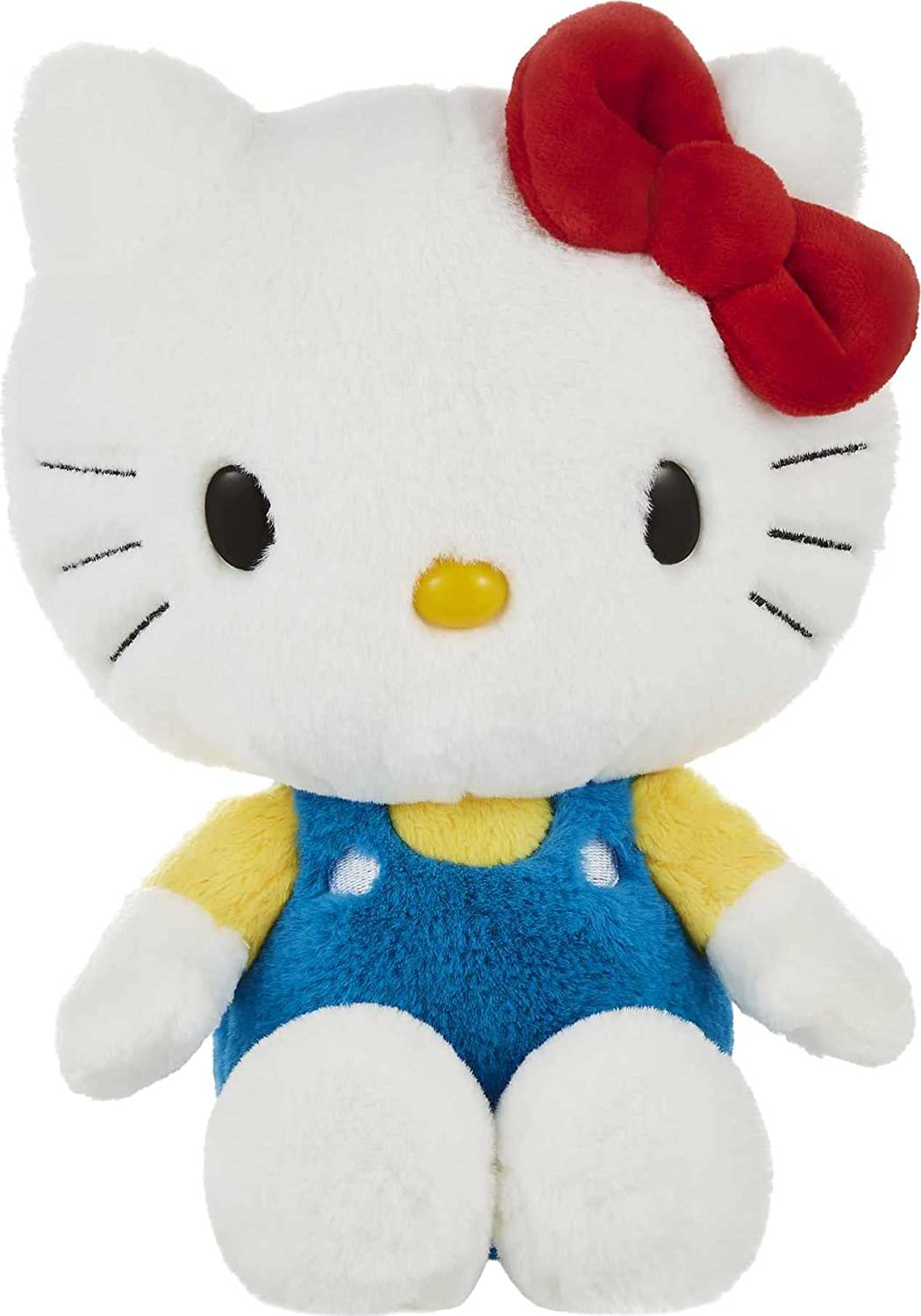 Features
Brand: Mattel
Size: 8 inches
Age range: Age 3 and up
Colors: white, yellow, red, and blue
Pros
Because of her size, she is portable and can go anywhere with you

She is soft and fluffy

She is of excellent quality

Perfect gift for little ones
Cons
Because the majority of her body is white, she will show dirty very easily

If you want a plushie to use as a pillow, she might be too small for this purpose
Are you a Hello Kitty fanatic but have a sweet tooth? Then this plush toy is the perfect fit for you! This Hello Kitty plush toy is designed to look like she is dressed like some sweet dessert. Her bow is designed to look like they have yummy sprinkles on them while she is holding huge ice cream! 
She is super cute and girly, and any girl will be happy to receive this cutie as a gift. Her material is also super soft and stretchy, making her the perfect pillow to take your afternoon naps on. But I need to warn you, you might wake up craving ice cream.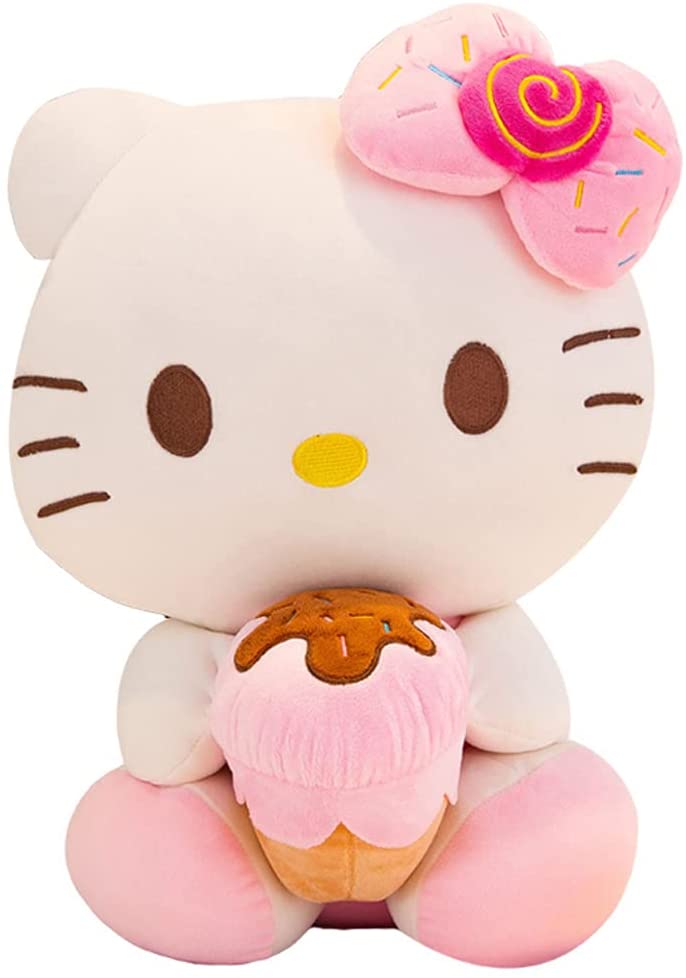 Features
Brand: My Super Star
Size: 14 inches
Age Range: Age 3 and up
Color: Different shades of pink 
Pros
She is adorable

She is super soft and stretchy

If you love ice cream, you will love this Hello Kitty plushie version

She is made up of different shades of pink

She is a great size to cuddle with
Cons
Because of her light colors, she might show dirty easily

You might eat more ice cream because of her (But is that a bad thing?)
Are you a big fan of Nissin cup noodles from Japan? If so, you are going to love this Hello Kitty plush toy! Hello Kitty is dressed in a yellow chicken suit while holding a giant cup of Nissin noodles. You can also pull down the hat part of its little chicken suit to get a better look at its adorable face. 
If you are a collector of Hello Kitty, you need to add this Hello Kitty to your collection.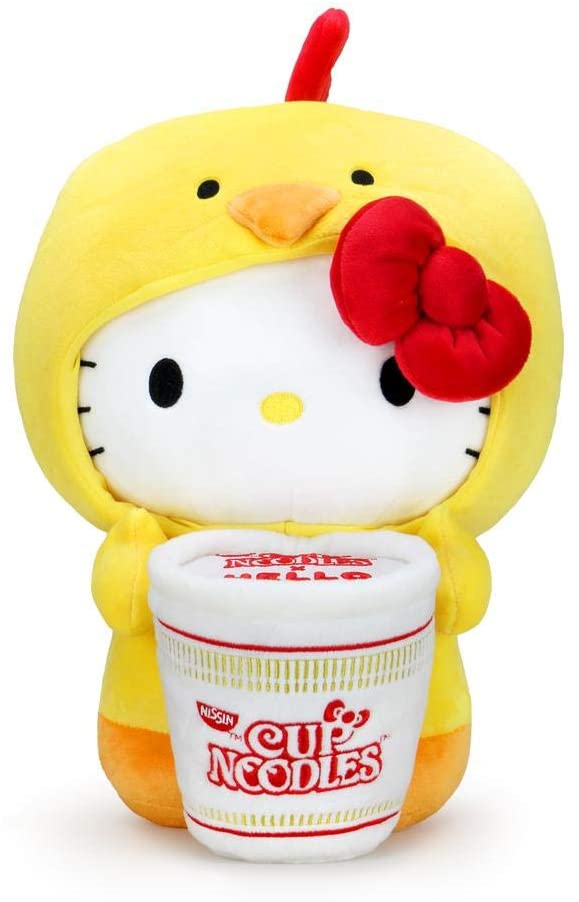 Features
Brand: Kidrobot
Size: 16 inches
Age range: Age 3 and up
Color: White and yellow
Pros
She is big!

She comes in a cute little chicken suit

You can take off the hat part of the chicken suit to see more of her face

The cup of noodles along with the chicken suit makes her unique compared to the other Hello Kitty plushies

She is soft and cuddle-able
Cons
The cup of noodles is not detachable.

You can't entirely remove the chicken suit

The cup of noodles might make it uncomfortable if you want to use her as a pillow
If you love anything Japanese, you will adore this Hello Kitty. This Hello Kitty is dressed in a pink kimono while sitting on a pillow. A perfect addition to your Hello Kitty collection. She would look great sitting alongside your other Hello Kitty stuffed toys or if you put her on your dressing table or bedside table. Did I mention everything is in pink! What more could a pink lover like me ask for? Let us have a look at some of her features: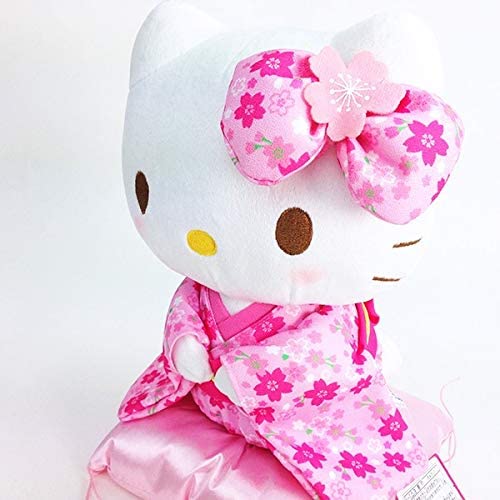 Features
Brand: Sanrio
Size: 24 cm
Aged range: Age 3 and up
Color: White with different shades of pink 
Pros
She has a cute little pink kimono on

She sits on a cute little silky pillow

She has pink blush on her cheeks

Her ribbon matches her kimono

She will make a great gift to someone who collects Hello Kitty Plushies
Cons
She is expensive

Her pillow and kimono might tear after playing too rough with it
This list of Hello Kitty plushies will never be complete without a squishmallow! Meet this unicorn Hello Kitty squishmallow! A unicorn and Hello Kitty combined? I must be dreaming!
She has a white face with part of her head being rainbow-colored with a multicolored horn. Her head looks like ice cream with sprinkles on top. She also has on a beautiful pink-colored dress with what looks like leaves embroidered on to form a belt. If you are a squishmallow collector and a Hello Kitty fan, this plushie should be part of your collection! Let us have a look at some features: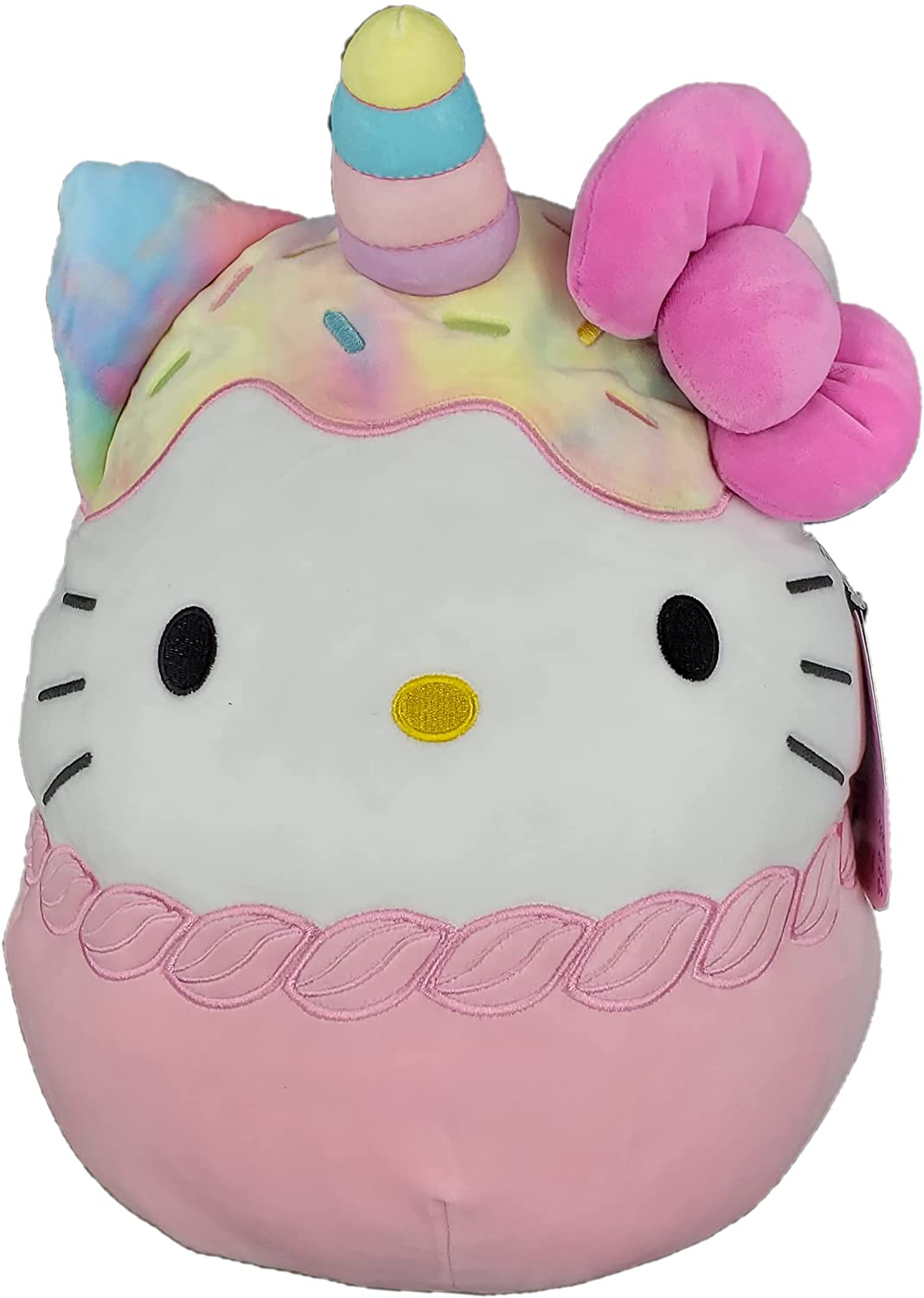 Features
Brand: Squishmallow
Size: 8 inches
Age range: Suitable for all ages
Color: multicolored
Pros
She is a squishmallow!

She can be machine washed

She is part unicorn, which makes her even more special

She is soft and small enough to be carried with you wherever you go
Cons
She is expensive for her size

For some, she might be too small

Her face will show dirty easily
Love is in the air with this Hello Kitty Plushie! This Valentine-themed plush will surely capture your heart within seconds once you set eyes on her! Her bow is decorated with a heart, and she is also holding a huge and furry heart. Oh, and before I forget to mention the cutest part, it looks like she is wearing heart pajama bottoms. So if you still haven't purchased anything for your significant other for Valentine's day, I'm getting a bit worried about you. But I'm sure this little cutie will make up for it and put a huge smile on your partner's face. So hurry and get it today!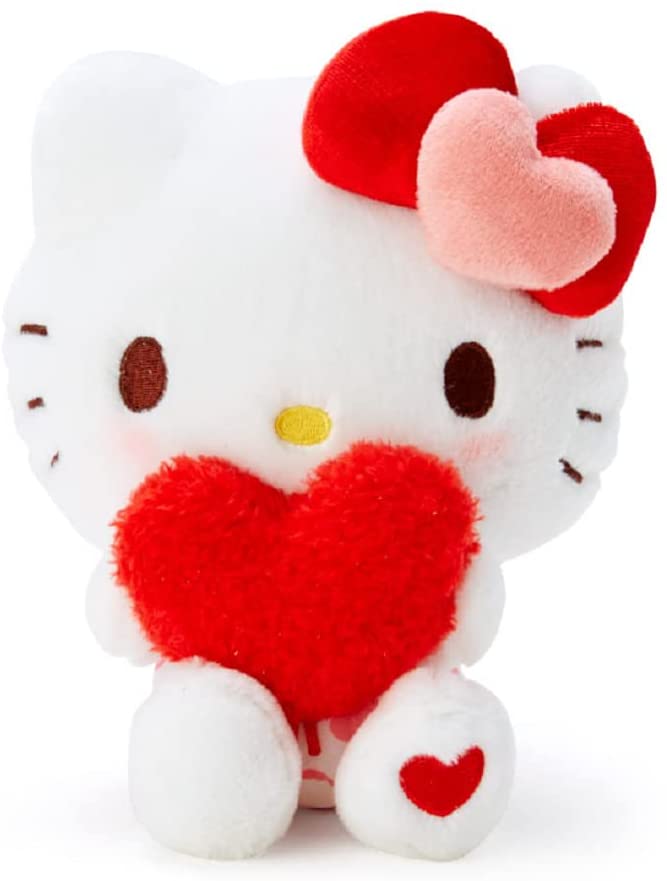 Features
Brand: Sanrio Japan
Size: 7 inches
Age range: Age 3 and up
Color: White, red, and pink
Pros
She is soft

She makes the perfect gift for Valentine's day or just a special gift to surprise your significant other with

She is small, so you can throw her in your handbag or travel bag and have her with you wherever you go
Cons
Are you obsessed with vintage items? Don't worry, you are not the only one! I love them! And I have a showcase where I put all my vintage items in. And I must say this little vintage Hello Kitty will make a perfect addition to my showcase. She is dressed in yellow overalls that have 2 red buttons that match her red bow. I'm sure some of your parents might recognize her from their childhood. So let us have a look at some of her features: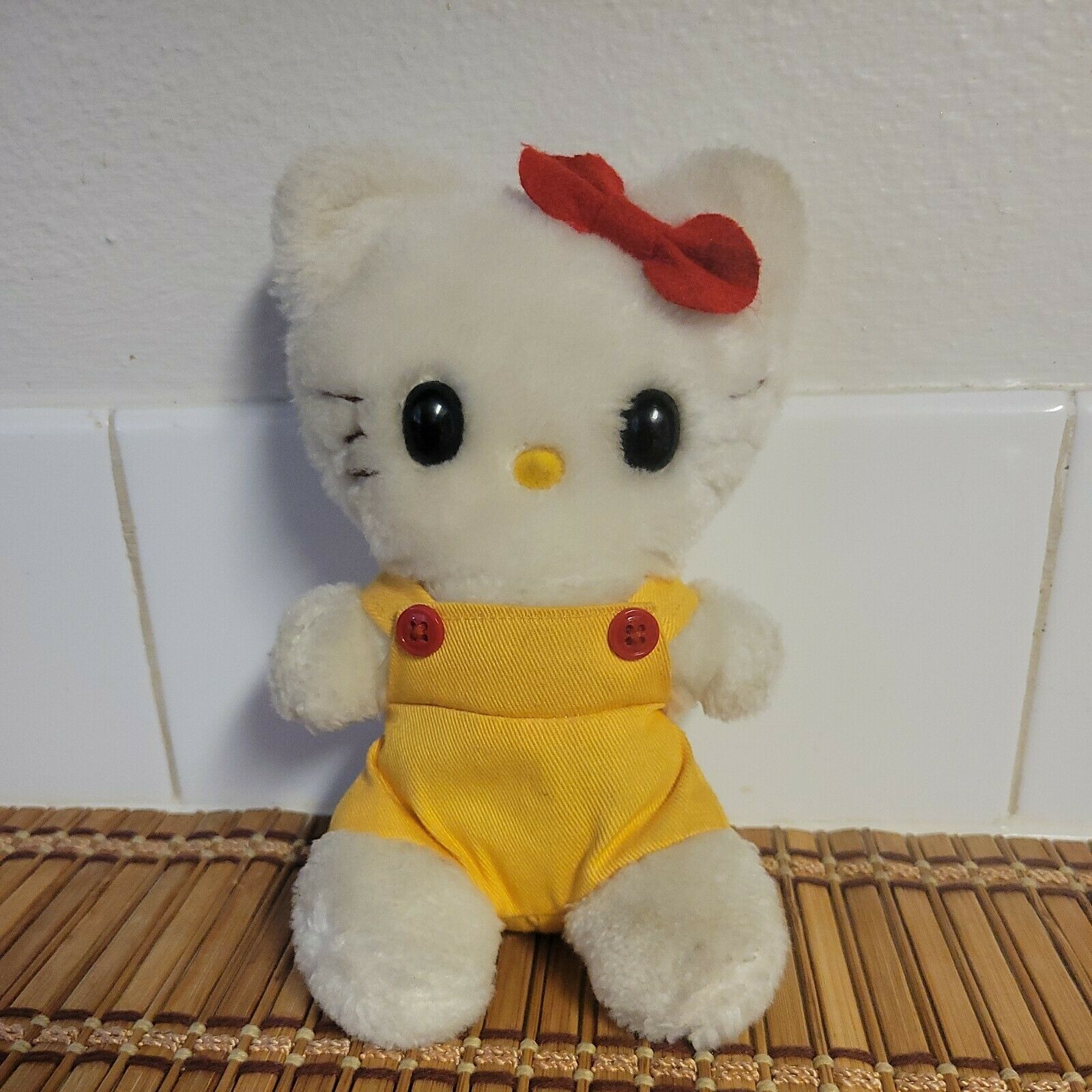 Features
Brand: Sanrio
Size: 7 inches
Age range: Age 3 and up
Color: White, yellow, and red
Pros
She will be a great addition to your collection as she is a vintage item

For a vintage item, she is affordable

She will look great as a display in your room or living room

She has cute little yellow overalls on 
Cons
She is tiny 

Because she is vintage, she might tear or pull loose easily
Alternative Hello Kitty options
So maybe you are a fan of Hello Kitty, but you are not a plush toy person, don't worry; I have included some options for you. So let us get to it. 
Do you love Hello Kitty and need a new keychain for your handbag, backpack, or car keys? Well, then this Hello Kitty Keychain will be perfect for you. Get matching Hello Kitty keychains with your friends and be stylish together.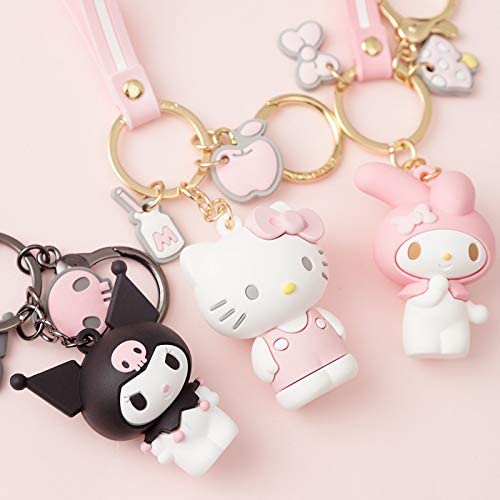 Pros
It is cute and stylish

Will make a cute gift for your friends

It is affordable
Cons
The Hello Kitty part of the keychain might show dirty easily.
Are you a coffee or tea -aholic? Me too! Now you can drink your coffee or tea in cuteness and style with this Hello Kitty mug. Just note that it won't be a lot of coffee or tea as this mug can only hold 24 ml. But this just means you can have 10 of these cups. (Haha). Now you can spice up your kitchen or your children's room with this cute mug. Get a few and set them out as display. Trust me, everyone that comes to visit will want to have one.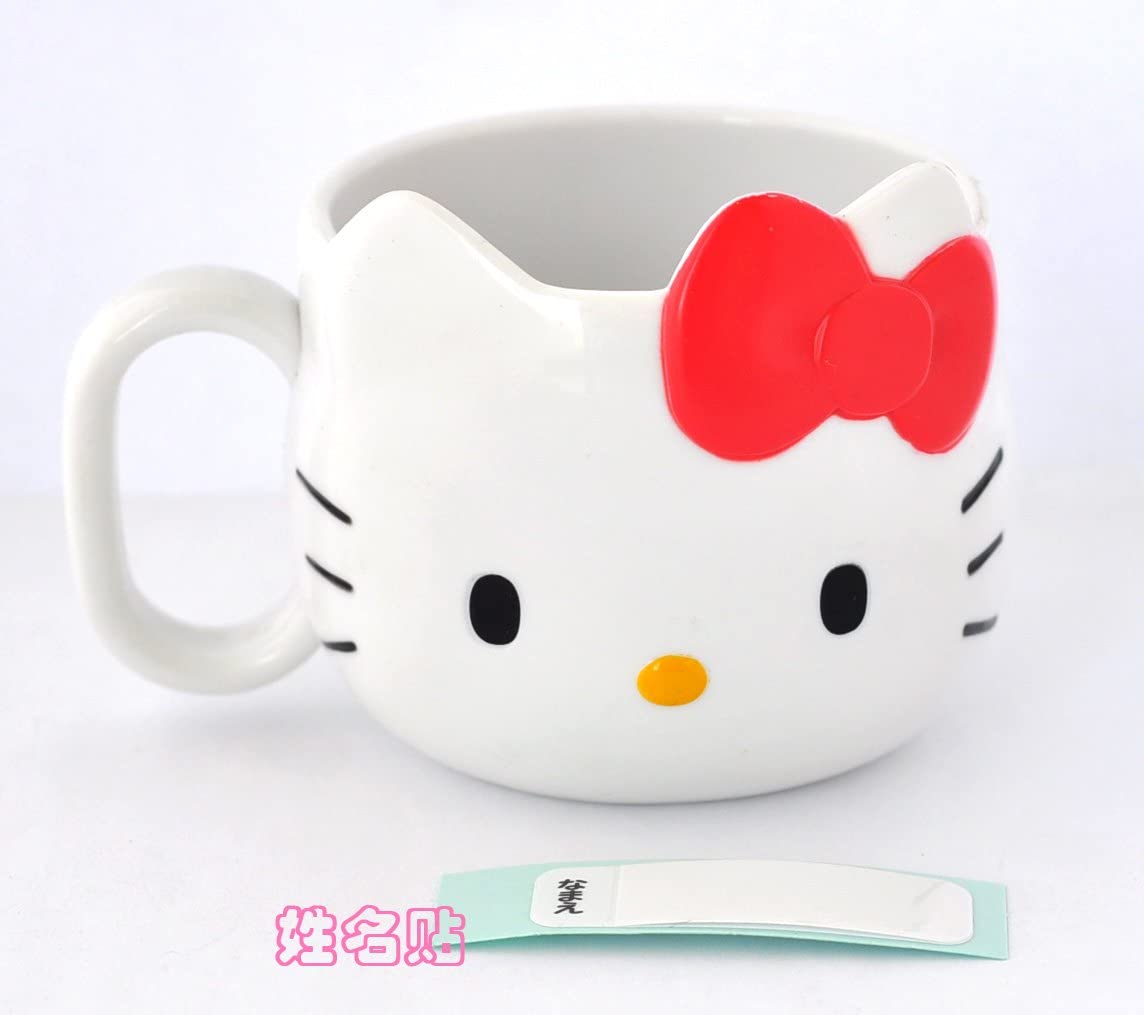 Pros
It is super cute

It is made of plastic so it won't break that easily

It is affordable
Cons
Do you want to add some cuteness to your car? Why not get a Hello Kitty ornament for your dashboard? It will look super cute and will give your car some character. Remember to keep your eyes on the road and not get distracted by Hello Kitty.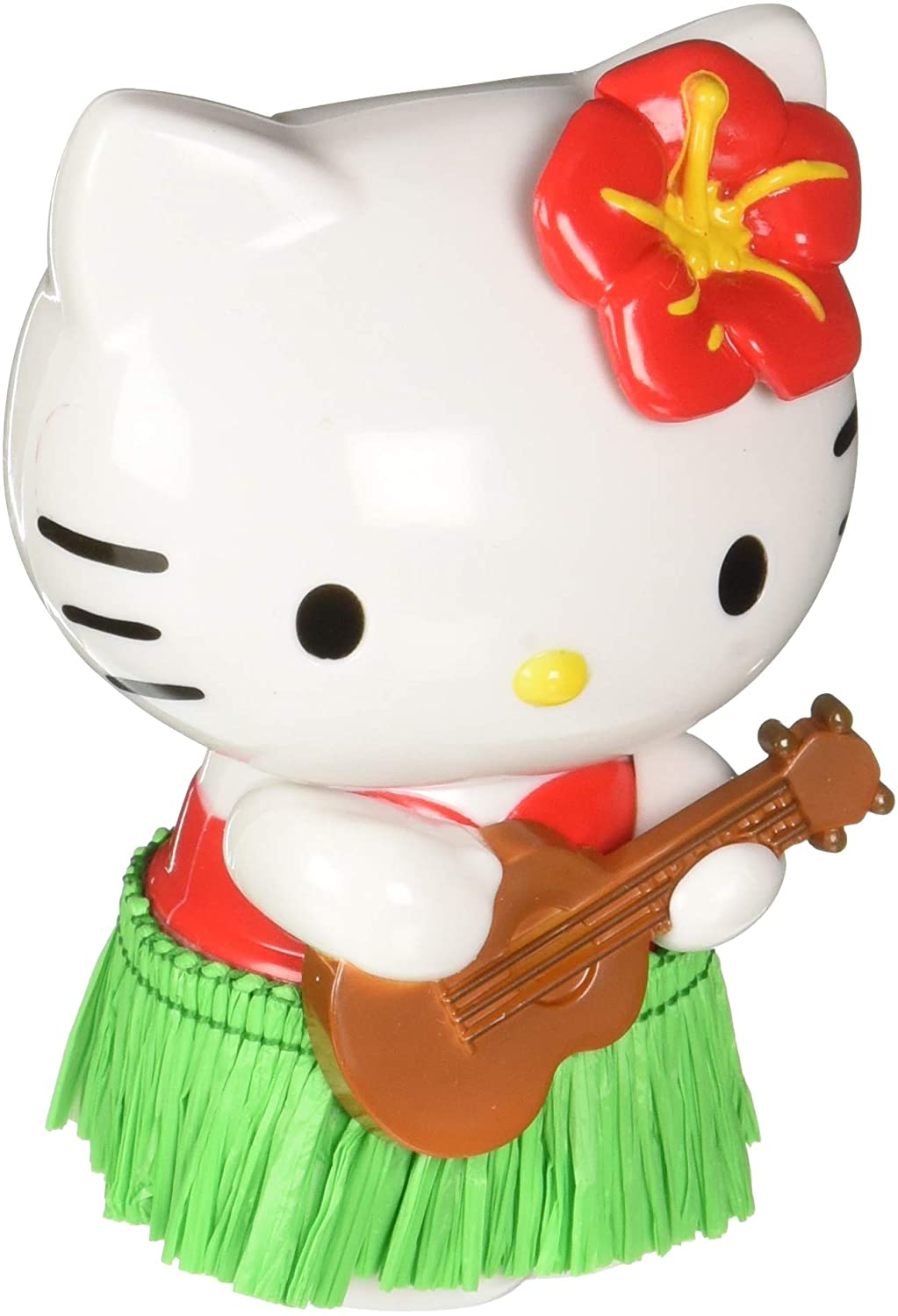 Pros
She will look adorable on your dashboard

She is affordable

It has a unique look compared to other Hello Kitty items

It is easy to set up on your dashboard
Cons
Its little dress might tear after a while
FAQs
Question: How Much is Hello Kitty Worth?
Answer: You might think that Hello Kitty is not worth a lot, and that is where you are wrong. This might shock you, but 8 years ago, Hello Kitty was already about 8 billion dollars worth a year. So to answer your question, Hello Kitty is worth a lot!
Question: Can you Machine Wash your Hello Kitty Plushie?
Answer: The answer would depend on the material and the wash instructions on your Hello Kitty plushies tag. But If your Hello Kitty is a limited edition or a vintage item, I would recommend not washing it and instead just Wiping it with a damp cloth to protect the quality of your plushie. So if you want to know if you can wash your Hello Kitty plushie, make sure to check its label for instructions. 
Question: What Age Group is Hello Kitty for?
Answer: It all depends on the size of the plushie and the accessories it comes with. But most Hello Kitty plushies are more suited for ages 3 and up.
Question: Are Hello Kitty Plushies Expensive?
Answer: It depends on what you see as expensive. The prices of the Hello kitty plushies can range from as low as $10 to the more pricey Hello Kitty plushies that are over $60. 
Questions to Ask Yourself Before Purchasing the Ultimate Hello Kitty Plushie
What size Hello Kitty plushie am I looking for?

What will the purpose of the Hello Kitty plushie be? Will it be used as a pillow, a cuddle buddy, a toy, or a decoration piece?

Are you looking for a Hello Kitty that is unique in style, is a limited edition, or perhaps vintage?

How much are you willing to spend on a Hello Kitty plushie?

What material would you prefer your Hello Kitty plushie to be?
Conclusion
You have reached the end of the Hello Kitty guide. I hope you now have a better idea of what to look for, for your next Hello Kitty Purchase. What Hello kitty option did you like the meowst? My favorite Hello Kitty is, without a doubt, the Squishmallow x Hello Kitty Official Kellytoy Sanrio Squad. Why?
Because I get a Hello Kitty, a unicorn, and a squishmallow all in one, what more do I need? Suppose the Hello Kitty recommendations were not for you. In that case, there are alternative Hello Kitty options to choose from that will be purr-fect for you. Have fun shopping and stay PAWsitive.
Continue reading more related plush toy guides by checking these links below:
Pikachu Plush Guide -Durable & Cuddly
The Best Cat Plush Guide in 2022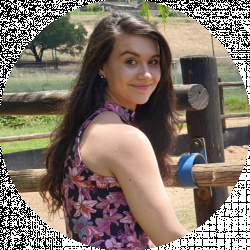 Latest posts by Christine Kent
(see all)