Suppose your child is fascinated by the ocean and their birthday is fast approaching. In that case, you should consider giving them a stuffed sea animal. I recommend an octopus, an ocean creature famous for its eight legs and big round head. Read on to find the best octopus plush guide as I help you choose a birthday gift for hitting that milestone.
Babies and toddlers love plushies and stuffed animals. Why? Stuffed toys make the perfect playmates and console the young children as they work on big feelings.
Bottom Line Upfront
Are you just like me and obsessed with the sea and everything in it? To be more specific, Octopuses? Well, then you will love this best plush octopus guide that I have in store for you. My favorite octopus plushie is  Sparkly Green Octavia Plush Octopus.
She just fits my personality and aesthetic the best. Oh, and the best part is she is sparkly! So she reminds me every day to sparkle and stands out from the crowd.
Let us have a look at my top picks:
Top Picks
Stuffed toys are fun for both your kids and yourself. I especially like stuffed animals as they make great friends and great listeners. They also help relieve my anxiety with their soft cuddly bodies.  
Luckily, stuffed octopuses are available in numerous shapes, sizes, and colors that everyone can enjoy. So let's go on an adventure and find your favorite octopus plushie. But before we look at octopus recommendations, let us look at some tips when buying a plush octopus. 
Tips When Buying a Plush Octopus
Decide whether you want a realistic-looking octopus plushie or a non-realistic looking one

Octopus stuffed animals have the most individual limbs compared to most stuffed animals, so it's critical to ensure durability. The last thing you want to see is the octopus's legs falling off. That will be so disappointing.

Octopus plush toys with long tentacles can pose a choking hazard to small children. If possible, opt for octopus toys with eyes that are embroidered on and limbs that won't pull loose easily.

Look for machine washable plushies or plushies that are at least surface washable.

Consider if you are looking for an octopus plushie as a toy or a cuddle buddy.
Before we get to the recommendations, I want to share with you my selection criteria. The octopus recommendations are chosen according to the following criteria. 
Selection Criteria
Quality

Softness

Cuteness

Cuddle-ability
Octopus Plush Recommendations
Want help picking a suitable octopus plush? I have rounded up the best octopus plushies you can find. So let's dive right in.
Wild Republic Octopus Plush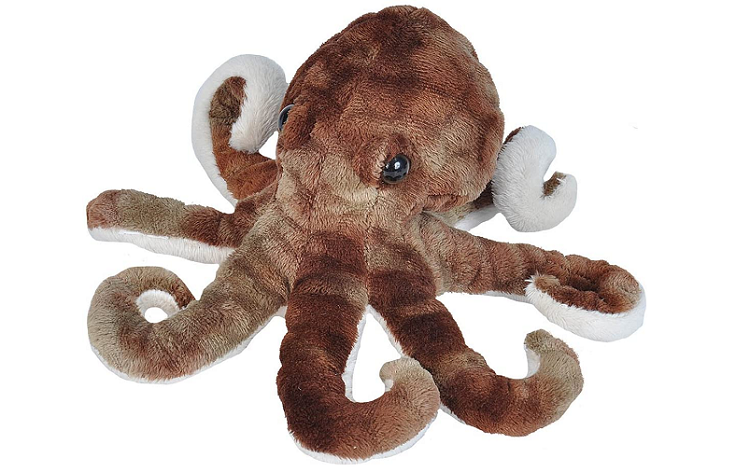 This pocket-friendly and realistic octopus plushie are made from top-notch materials. It's super soft and small enough for small kids to carry around easily. It has no hard wires or anything dangerous in its limbs, making it safe for your toddlers. It makes the perfect gift for anyone who loves octopuses. So let your imagination run wild!
Features
It's approximately 8″ inches long

It features realistic details and color.

Suitable for all ages
Pros
It's tiny enough for small kids to carry easily

It's pocket friendly

It's made of good quality materials.

It is realistic looking.
Cons
It's too tiny if you are looking for something to use as a pillow. 
Big Eyes Octopus Plush
This cute octopus plush has big eyes and long legs. Its long legs contain a special material that replicates the suckers on each tentacle. So be careful when you put this little guy on your head; it might give you a "sucking" hug.
Its blue and white colors make it aesthetically pleasing. And it will especially look great when you put him on your white sofa or white bed to give it that beachy vibe. Let us look at its features.
Features
It is 22 inches long.

Every tentacle measures approximately 15 inches long.

It is suitable for ages 3 and up.
Pros
Because it is big, it is great to cuddle with 

For its size, it is affordable 

Its eyes are embroidered on, which makes it safer for your toddler 

Its colors are aesthetically pleasing 

Perfect gift for boys or girls
Cons
It might be too big for smaller kids.
Fiesta Scribbleez Octopus Plush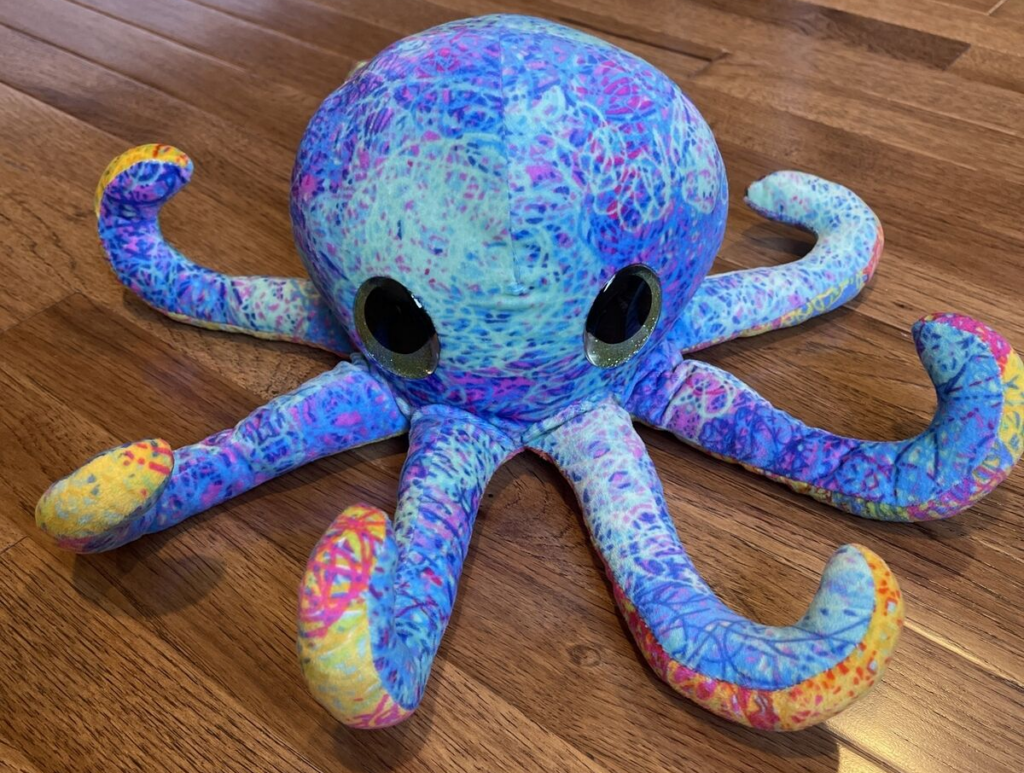 If you're looking for a stuffed toy that matches someone special's vibrant personality? Or maybe yours? Pick the Fiesta's Scribbleez Colorful Octopus Plush! This colorful octopus immediately catches the eye. It's wild, bright, and so colorful! It will turn any dull room into a colorful one. 
And its combination of soft fabric and bright colors will make you fall head over heels with it. When your family and friends see it, they will want one for themselves.
Features
This bright plush octopus measures six inches and has multiple colors.

It is suitable for ages 3 and up. 
Pros
It is soft

This colorful octopus is beautiful and bold.

The price of this colorful plush octopus is affordable.

It will bring life to any room. 
Cons
Some individuals might find it too colorful

For some, it might be too small
Ophelia Octopus Plush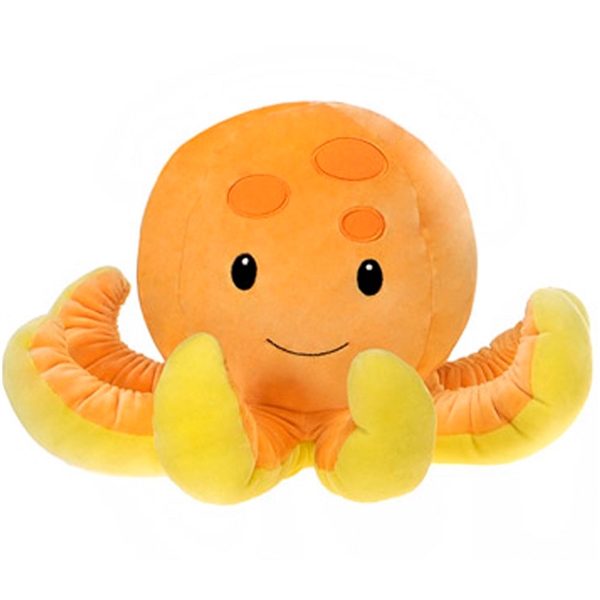 This soft octopus plush is cute, and its colors go together perfectly. This octopus plush measures a practical 14 inches and makes a great cuddle companion. It is super soft and will make a great pillow. Need to add some color to your room or living area? Ophelia will be a perfect choice. It is not only her colors that will light up the room but her adorable smile too!
Features
It measures 14 inches

Suitable for ages 3 and up 

She is bright and colorful
Pros
She is made of excellent quality materials.

Pretty pleasant to the touch or lay on because of its softness

She has beautiful bright, and vibrant colors

She has a cute smile
Cons
People who don't like yellow or orange won't like this plushie
Sparkly Green Octavia Plush Octopus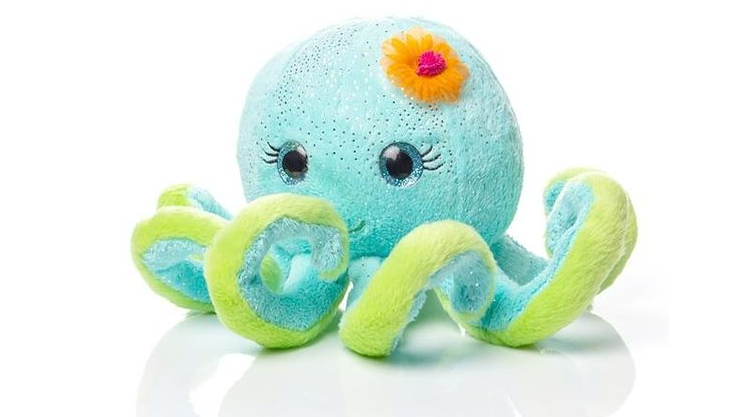 This blue and green plush octopus is approximately ten inches long with a body so soft you want to cuddle her to death. She is definitely a girly girl with her cute eyelashes, sparkly blue eyes, and cute orange flower on her head. The pretty little sparkles on her head that look like freckles just add to her cuteness.
Features
It is approximately ten inches long

It is suitable for ages 3 and up

She is a beautiful blue and green color
Pros
Her sparkly blue eyes are adorable

Her eyelashes are on fleek

She has a cute little flower on her head that adds some uniqueness to her

Her blue and green colors blend together perfectly

Any girl will love to receive her as a gift
Cons
 Boys might not like Octavia because she is so sparkly.
The Fiesta Jumbo Plush Octopus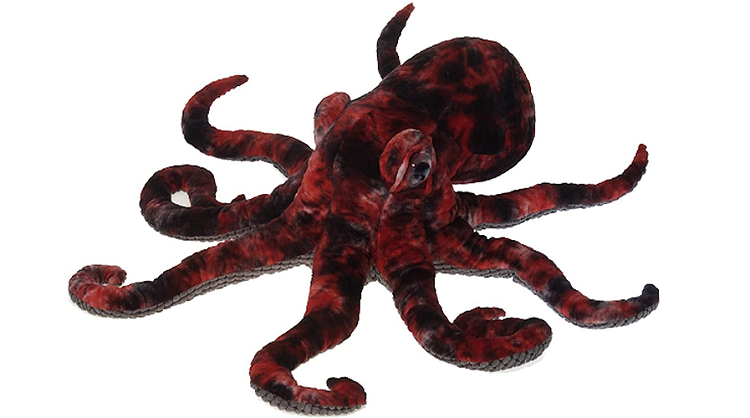 The Fiesta Jumbo plush Octopus is a huge plush toy offering unlimited creative playtime. It also makes a great pillow for your kiddies, thanks to its large size.
I'm not a fan of this octopus as its eyes freak me out a bit. I'm also not very fond of its color. But that doesn't mean you can't like it. If you love Octopuses and you like this Fiesta Jumbo plush Octopus, add it to your cart. 
Trust me; this giant stuffed octopus will be much easier to care for than a real octopus.
Features
It is suitable for ages 3 and up.

It's about 32 inches tall.

It has realistic-looking features.
Pros
It is large, which makes it great when you want to rest your head on something when watching a movie.

It has a realistic look.

Makes a fantastic gift for someone obsessed with octopuses
Cons
Because it is so big, it will take up a lot of space

It will be too big for little kids to carry around
Douglas' Winky Plush Octopus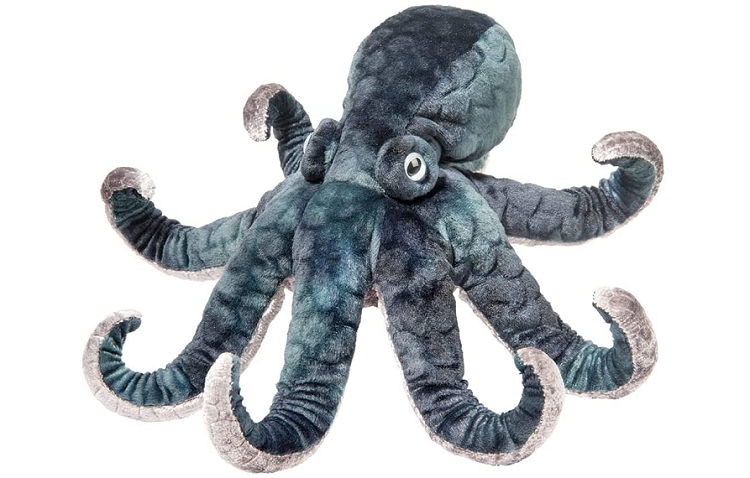 This plushie octopus is super adorable, realistic, and so much fun. It has incredible realism and detail while maintaining a cute and playful personality.
The realistic design and color add to the octopus plush's appeal and charm without detracting from its playful appearance and warm expression. When you see Mr. Douglas, you want to give him endless hugs and love. Let us have a look at some of his features: 
Features
It is approximately seventeen inches long 

It has realistic looking features

This realistic plush octopus is recommended for ages two and up
Pros
Winky is a genuinely remarkable stuffed animal to be treasured for many years to come.

It has realistic looking features

It is super soft and cuddly

Because of his dark colors, he won't show dirty that quickly

For its size, it is affordable
 

Cons
Some people might not like his realistic features
Alternative Options
Reversible Octopus Plush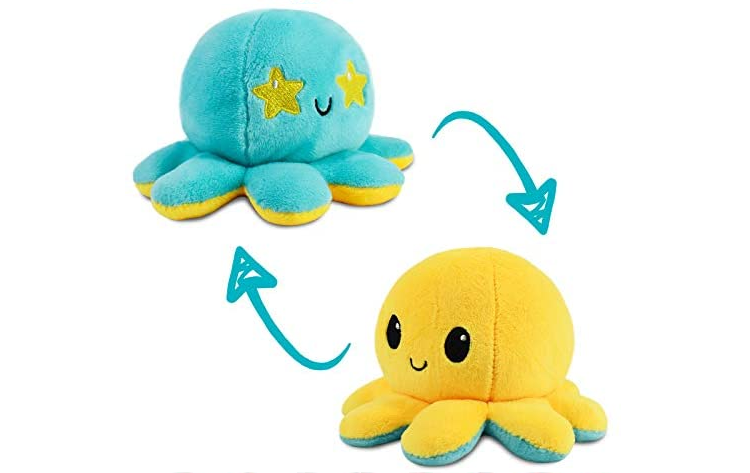 This best-selling octopus plush toy is soft and the perfect toy to help relieve your anxiety. Are you feeling sad today and don't want to talk? Show your partner by flipping your octopus plushie to the sad expression.
Are you in a good mood? Show your partner by flipping your plushie to the happy side. Now you can express your feelings with ease. This plushie is not only great for adults to express their feelings but for children too. 
Choose your favorite color and have fun by showcasing your moods. Get yours today!
Pros
It is the perfect size to carry around with you

It helps to relieve anxiety

It is soft

It is affordable

It helps you to show your emotions

Great gift for adults and kids
Cons
For some, it might be too small  
Squishmallow Octopus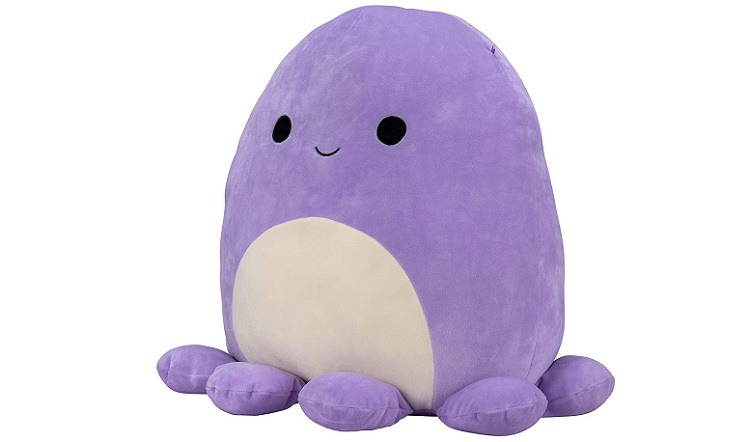 I could not end this article without including a squishmallow. I mean, they just make everything more fun. This Squishmallow Octopus named Violet is extremely cute and cuddly. She is also a beautiful color that will help you relax. Cuddling Violet throughout the night will help you achieve the best sleep you have had in your entire life.  
Pros
She is soft and makes the perfect nap buddy

Her color is calming

Her eyes are embroidered on, which makes it safer for your toddler

She has a cute little smile

She will make a great friend to the rest of your plushies
Cons
Her belly will show dirty easily
My Favorite Option
So after you have gone through the octopus recommendations and alternatives, you are probably curious to find out what my favorite octopus plushie is. Do you have any guesses? Well, if you guessed  Sparkly Green Octavia Plush Octopus, you are 100% correct, my friend!
I feel she just fits my personality the best as she is cute and girly. She is also sparkly, which makes me love her even more. Because if you know me, you would know that there is always at least one thing on me that is sparkly. 
FAQs
Question: What Type of Stuffed Octopus is Great for Travel?
Answer: Large octopus plushies are more fun, but a smaller design is easier to carry. If you want to take an octopus plush with you while traveling by vehicle or plane, remember to take a plush size that will fit into a luggage bag or backpack for safety reasons. So to answer your question. A smaller octopus plushie will be better for traveling purposes.
Question: Should you Purchase Multiple Octopus Plushies?
Answer: Yes! If you're buying a stuffed animal for a kid, it might be a great idea to get a duplicate as a replacement. You never know when Mr. Oct's legs tear off, or the dog gets hold of him. And an operation can't save him. Then you need a spare to avoid endless tears from your child.
Another reason to get more than one octopus plushie is that it needs a friend. Your octopus needs a friend to keep them company when you are at work or school. So my answer is yes, get more than one, you can even get 10 if you really want to. 
Question: Why is the Stuffed Octopus Popular?
Answer: The octopus plush is currently leading in the category of Toys & Games on Amazon, probably because of its popularity on TikTok. Buyers use the stuffed animal as a tool to express their emotions even without uttering any word to their loved ones.
Another reason is that they are simply adorable and that you get to experience the feeling of having an octopus as a pet without all the hard work.
Conclusion
After reading my article on the best plush octopus guide, I'm sure you don't have any reason to feel stressed about buying an octopus plushie.   
Octopus plushies are worth buying because their many legs make them unique compared to the other stuffed animals. They come in a wide range of colors, designs, and patterns, and they are super soft and cuddly. So you have no reason not to buy at least one!
What octopus plushie did you find ink-credible? Let me know in the comments below. And if you are still unsure of what octopus plushie to get, go through my comprehensive little guide again and let the octopus plushie Octopi your thoughts. Have fun! And happy shopping!
Further readings:
The Best Cat Plush Guide in 2022
The Top Unique and Best Animal Crossing Plush Ideas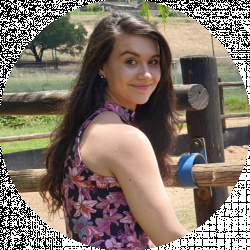 Latest posts by Christine Kent
(see all)