Halloween is one of my favorite times of the year. Between the leaves changing color and falling, and delicious candy all around. I love finding the cutest toys to display this. Have you ever checked out the best Halloween-themed Squishmallows?
There are so many cute options to choose from, and it's hard for me to pick a few! I've created this guide because of my love for toys and Halloween. Read this guide on the best Halloween-themed Squishmallows today!
Bottom Line Up Front
While there are so many adorable and squishy Squishmallows to choose from, I had to narrow it down and pick out my favorite. Since I love cats and Halloween, there's a clear winner.
I love the Squishmallows Official Kellytoy Plush! Look at how precious she is with her black and pink fur and matching witch hat. She's super cuddly, and you need her in your life!
My Top Picks at a Glance
Squishmallows Official Kellytoy Plush (Black and Pink): I love the colors of this cat and the witch's hat!
Squishmallows Official Kellytoy Plush (white and pink): Unicorns and cats are both popular (rightfully so), so I feel like this deserves a spot.
Squishmallows Hershey x Halloween Emily The Bat: I think it's so cute how this adorable bat comes in a Jolly Rancher pack.
Squishmallows x Hershey Halloween: Since I love cats and Twizzlers, I love the pairing of this one.
Squishmallow Official Kelllytoy Plush Holly the Owl Mummy: I love owls and mummies; this is too adorable!
Squishmallow Detra The Halloween Witch Octopus: I love Octopus and Witches. This is an adorable Squishmallow with her orange/red fur and white belly.
Squishmallow Nightmare Before Christmas Jack Skellington: Jack Skellington is one of the most popular characters since he comes from The Nightmare Before Christmas. Show your love for this movie by grabbing this squishy toy!
Squishmallows Vampire Mickey Mouse: Growing up crazy about Disney, I had to include Mickey Mouse! He's the mascot, and I love how they tie Mickey plus vampires together.
Squishmallows Tally The Cat Vampire: I think this Squishmallow is so cute with the traditional vampire outfit combined with an adorable cat. Take a look at its vampire's teeth too!
Tips for the Reader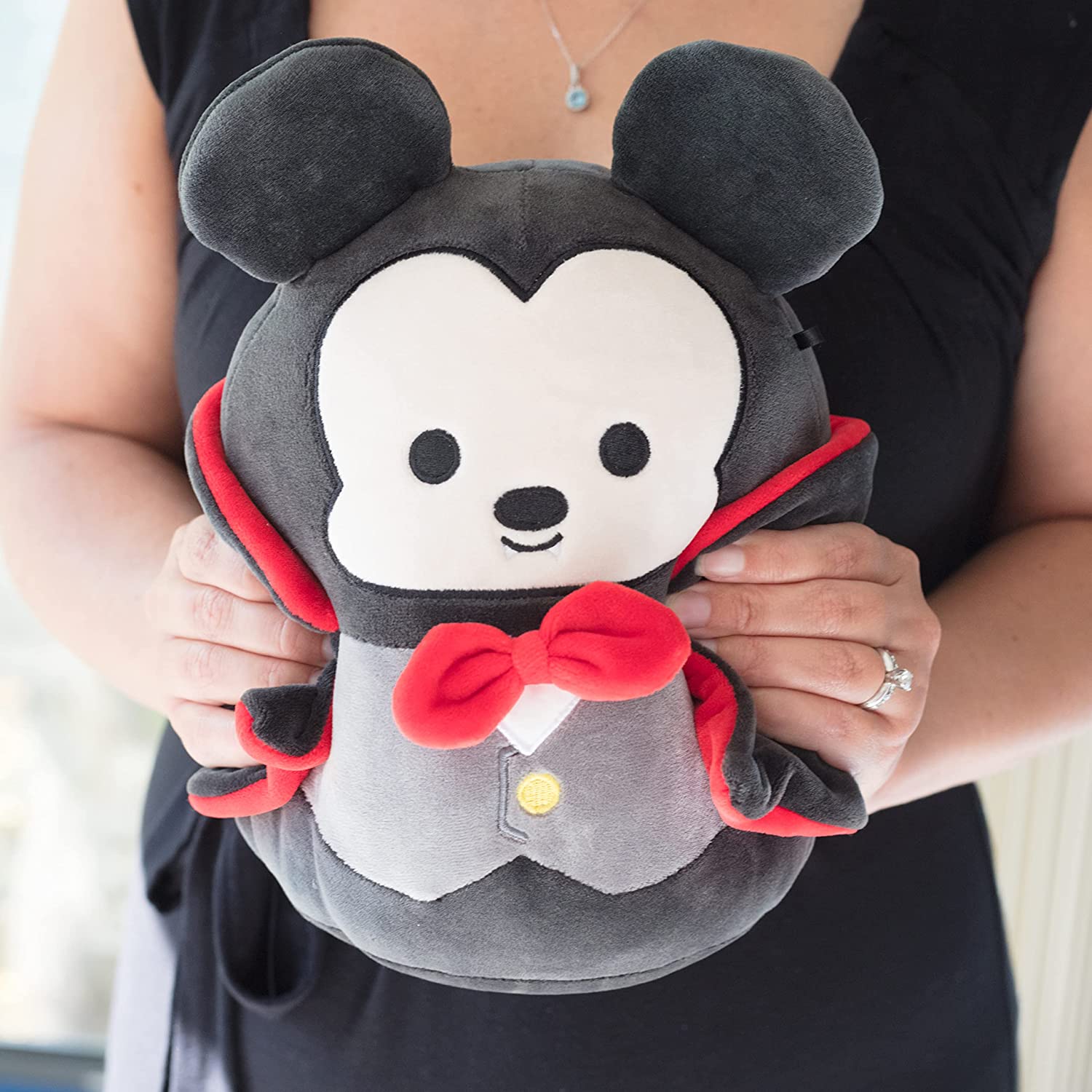 As you're going through this list, think about what your favorite Squishmallow would be. If you notice one that stands out more than the others, then that might be the one for you!
Think about your current interests too and what you like most in toys. Don't worry if you find some that don't interest you; this entire list has quite a few to choose from!
Selection Criteria
I'm combining my love for stuffed animals with Halloween here. As a toy collector, I'm only going to recommend the Squishmallows that are super squishy, adorable, and that you'll love.
Why Should I Buy Halloween-themed Squishmallows?
I find a certain calmness in collecting toys and squishing them. After a long day, there's nothing better than picking up a squishy and hugging it. Adults and children alike are collectors of Squishmallows.
Whether you love Halloween, cats, or Squishmallows, represent this by buying a Halloween-themed Squishmallow!
Squishmallow Favorites
This list is about favorite movies and shows that you love. For example, maybe you love Disney, so you would love an adorable Disney-themed Squishmallow. Or perhaps The Nightmare Before Christmas is your favorite, so you could consider a Squishmallow for this movie.
Squishmallow Nightmare Before Christmas Jack Skellington
Being Jack, who is charismatic and beats to his drum, why not celebrate his personality by considering this Jack Skellington Squishmallow? You can find that Jack as a Squishmallow still looks like the Jack you know and love from the movie.
I love his tie, and if you look closely, they even have the detail of a small black cat. The stripes of his suit are spot on to the movie as well.
Soft and squishy, he's perfect for children and adult collectors alike! The great part is that he'd work for both Halloween and Christmas.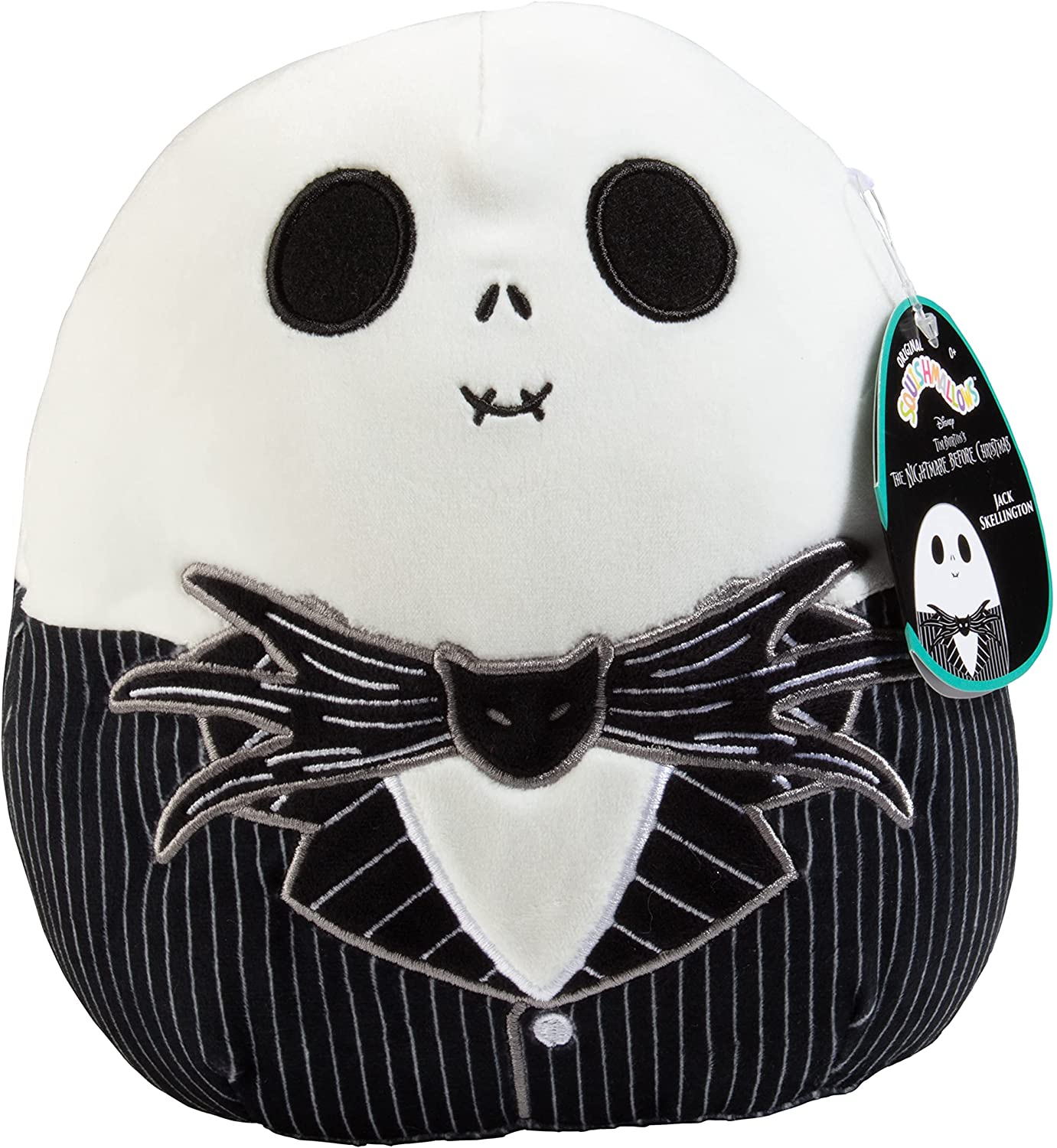 Pros
Soft and squishy texture

Accurate to his character
Cons
On the small side

Some might be put off by the size and how the round shape makes him look less like Jack
Squishmallows Vampire Mickey Mouse
Many know and love Mickey Mouse! I love how accurately it portrays him, even as a Squishmallow.
The only con is that he's less soft than the other Squishmallows. If you look at his ears, you'll see what I mean.
His body is super soft, though, and check out his overall outfit. It gives me vibes of the classic vampires that I grew up watching.
His classic cape and red bowtie are adorable. I also love his gray vest with a yellow button.
Checking out his face, it doesn't look 100% like Mickey. But I love how they gave him little vampire fangs.
This is an excellent option whether you're crazy about Squishmallows or Mickey! It's even an official Disney toy which makes it perfect as part of a collection.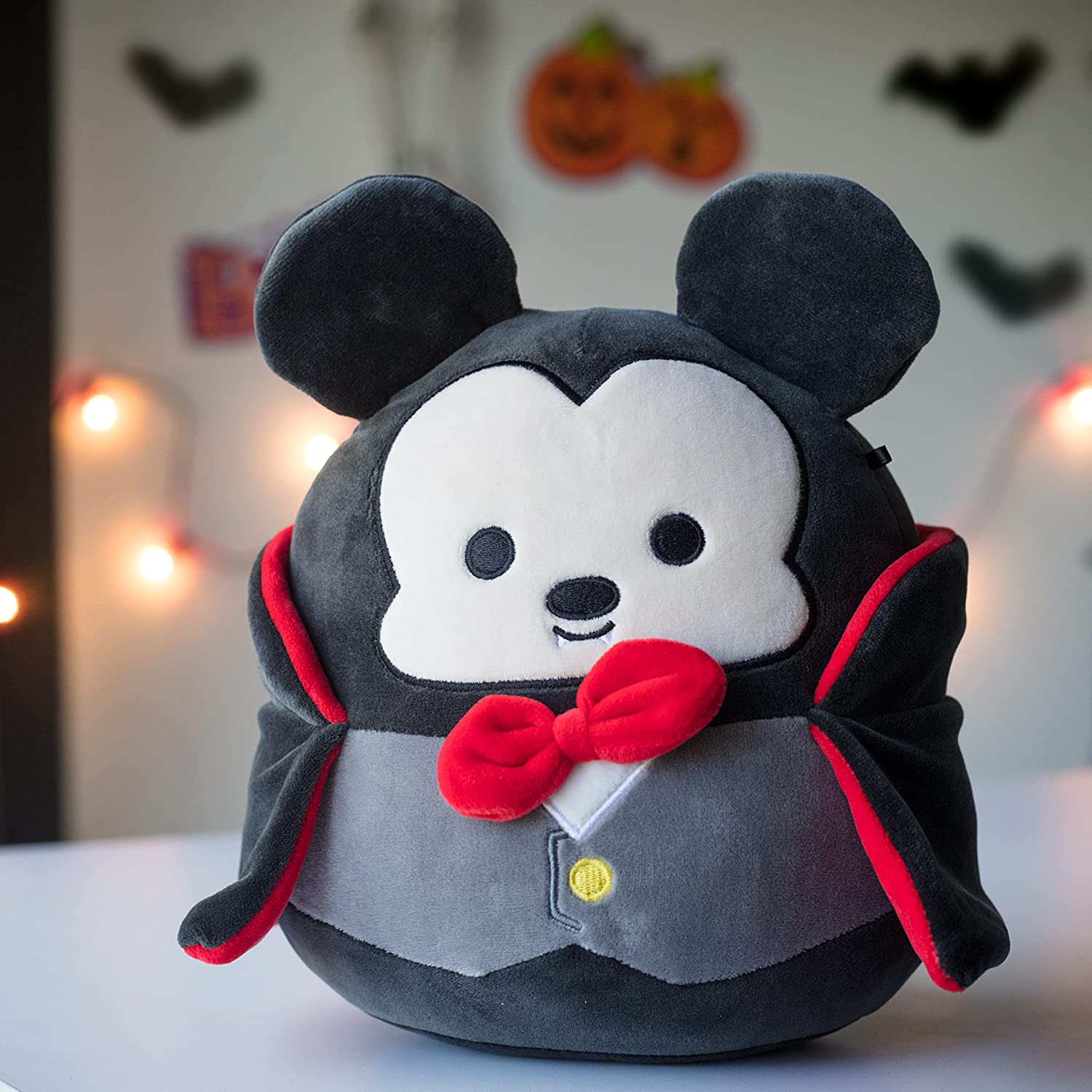 Pros
An official Disney theme

Mickey mouse!

Reminds me of the classic vampire movies I grew up watching
Cons
The face could have been shaped better

I wish he was softer
Candy Inspired Squishmallows
Since it's Halloween, I felt it was fitting to include these adorable little ones. Twizzlers, Jolly Ranchers, and other candy are seriously some of the most delicious options.
Plus, look at how adorable they are sitting in the container! These are unique and fun.
Squishmallows Hershey x Halloween Emily The Bat
Emily is so precious, sitting in a Jolly Rancher box. This brings me back and provides me with plenty of nostalgia. Do you remember when you were a kid opening up Jolly Ranchers on Halloween?
Emily the Bat is so cute, soft, and cuddly. One-touch of her velvety-feeling fur, and you'll know that you made the right choice picking her.
The container that she's sitting in is bright and easy to read. I also love how her little wings are poking out of the sides.
Her little ears are perked up, too, along with her eyes. I love the little fangs too.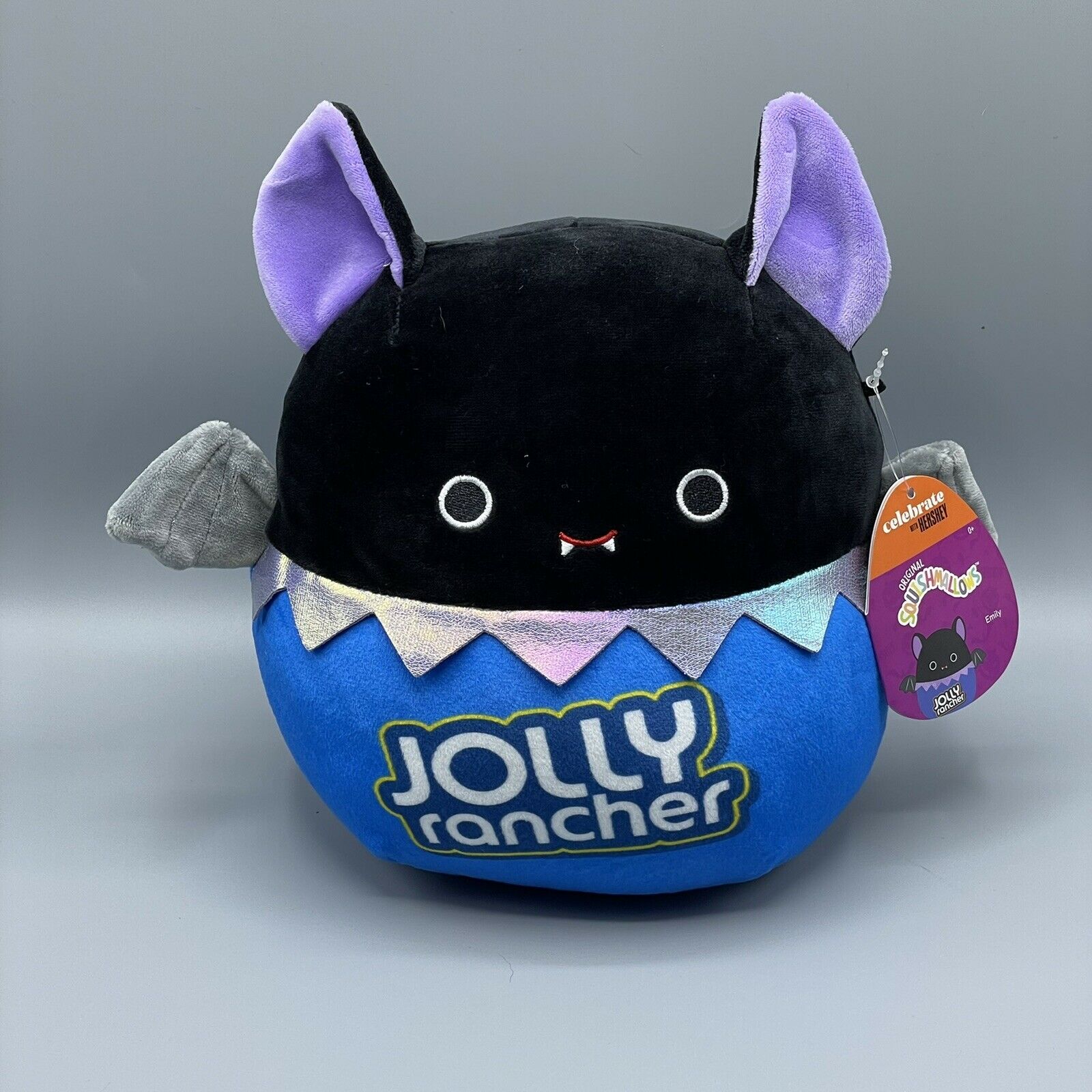 Pros
Jolly Rancher themed

Emily the Bat

Adorable and unique
Cons
On the smaller side

I kind of wish that her face had a bit more definition.
Squishmallows x Hershey Halloween Autumn The Cat
I know I'm crazy about cats, but I'm not the only one. If you know someone who loves cats too, then they're sure to love this Squishmallow!
Autumn looks happy to be in a Twizzlers container. It seems like she's content and ready to take a long catnap.
While she's smiling, her Twizzlers container is readable and bright too. What a unique design that they came up with, pairing two of my favorite things.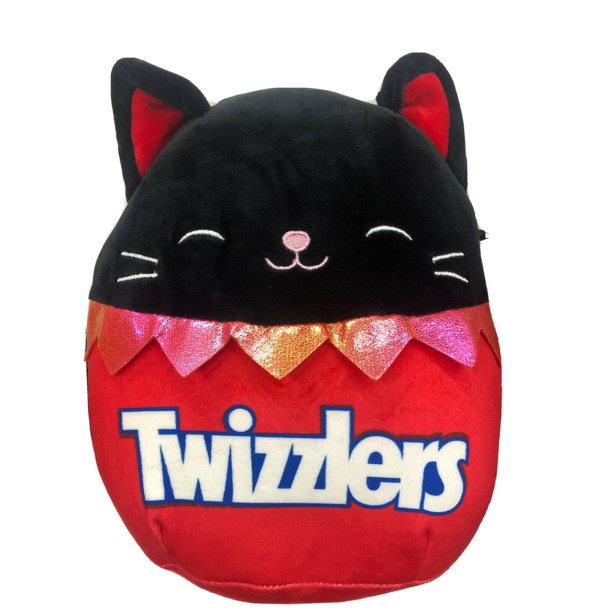 Pros
Super soft and cuddly

Bright and readable font
Cons
I wish there was a way to take her out of the Twizzlers container

She's on the smaller side
Fun Animal Squishmallows
I couldn't resist adding cute animals to this list! So many people love animals, which doesn't always include domesticated options.
My husband loves octopuses and owls, so some remind me of him. Many people seem to love owls, so consider an owl if you're not sure about a gift!
Squishmallow Official Kelllytoy Plush Holly the Owl Mummy
So cute and fluffy, this Squishmallow will make the perfect addition to any family. So whether you're placing her on a windowsill or cuddling with her while reading a good book, she fits the bill.
Take a look at her purple ears that pop out of the wrapping. You can see a piece of her fur on the left side too.
The yellow beak is precious too. If you know someone in your life who loves owls or mummies, they're sure to love this.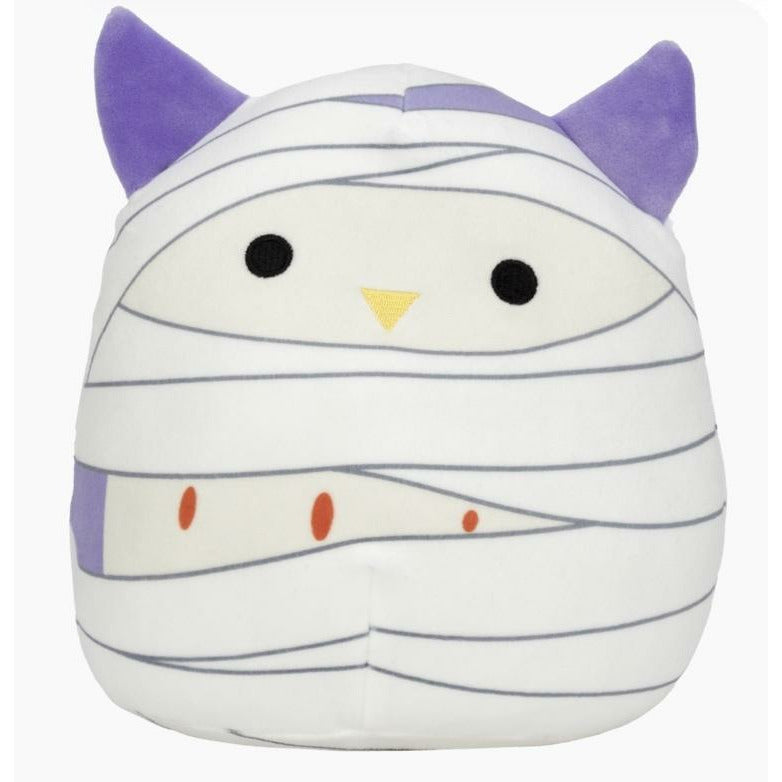 Pros
Soft and cuddly with a cute design

I love how unique this design is overall
Cons
The owl has a surprised look instead of a happy one

On the smaller side
Squishmallow Detra The Halloween Witch Octopus
Put her on the list as one of my favorites. Her soft and fuzzy red/orange fur is unique, like an octopus.
I love her white belly, and check out her tentacles; they're different colors! To top it off, she's a witch; I love her hat.
Smiling and ready for some witchiness, this octopus would make the perfect gift for children and adult collectors alike.
I love the hat's design; it reminds me of various witch movies. Look at the purple toward the bottom of it with a yellow buckle. She could honestly stay out year-round.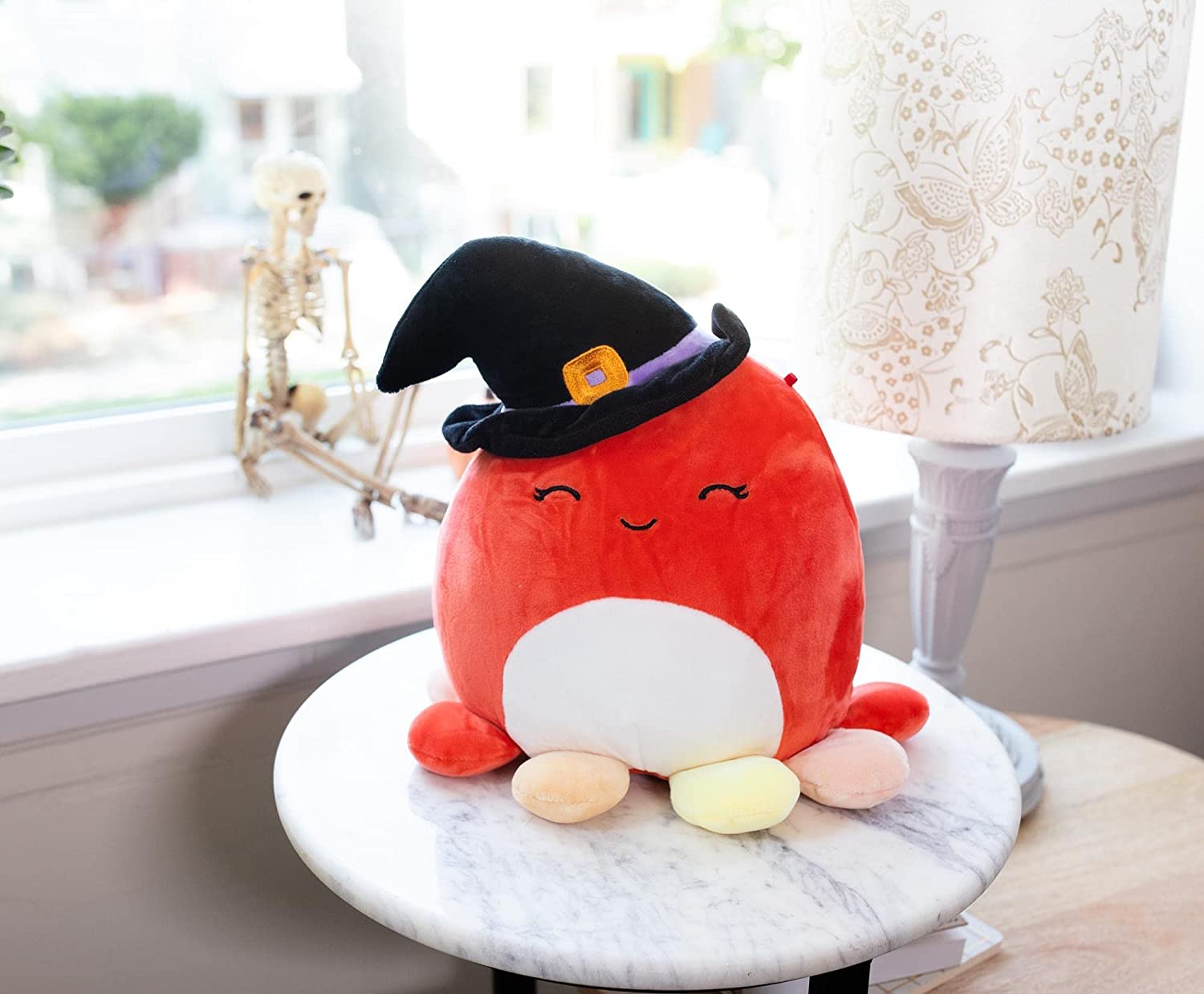 Pros
Unique since she's a witch and octopus

Soft to the touch fur

Love the different colors of the tentacles
Cons
I kind of am curious what her eyes would look like

It might not be the right option for those who are octopus fans unless they love toys too
Meow's the Word
This section is dedicated to my love for cats. I know many people out there feel the same and love cats.
It was tough for me to narrow these down since there were various options.
Squishmallows Official Kellytoy Plush (Black and Pink)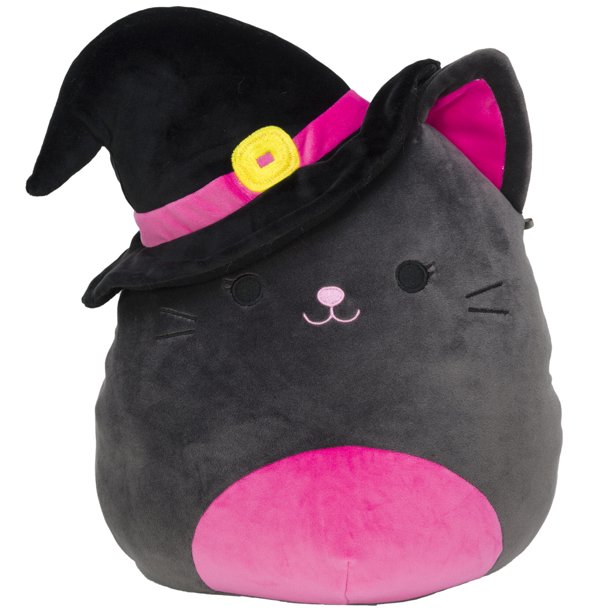 What a cutie pie! I love how the hat is tilted on her and matches her coloring perfectly!
Her fur is soft to the touch, and she's smiling at you. This kitty looks like she's ready for some magic after a catnap, of course.
Feel her soft belly that's a pinkish-purple like a stripe on the hat. You'll notice this color in her ears too.
She'd make the perfect gift for children and adults alike. Even if someone doesn't collect Squishmallows, they'd probably love her.
She's perfect for the cat lover in your life, especially ones that love black cats.
Pros
Soft and cuddly fur

Beautiful coloring

Unique since she's a cat and witch
Cons
She's bigger, so it might be harder to bring her around the house with you.
Squishmallows Official Kellytoy Plush (white and pink)
Say hello to the perfect gift for the cat lover in your life! This is the ideal option, whether you love Squishmallows, cats, or both.
I love how she's Halloween-themed since she has Boo! Easily readable on her belly. She's white with pink accents, similar to a unicorn.
Unicorns are big right now! My nieces love unicorns, along with many children their age. So I bet they would love her.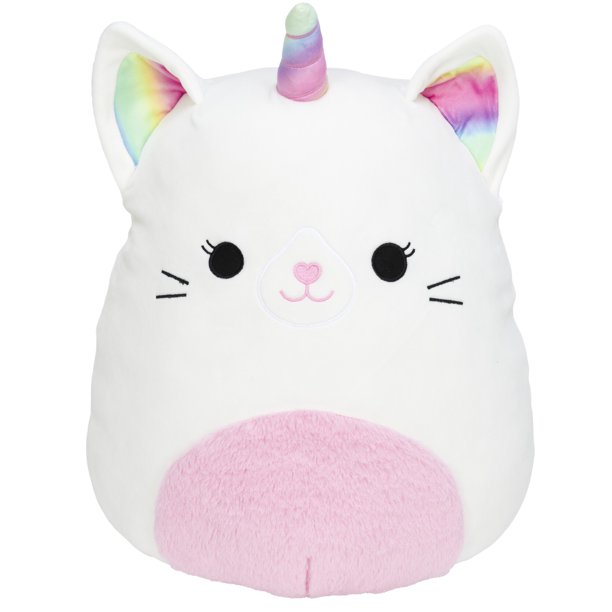 Pros
The perfect pairing of a unicorn cat Squishmallow!

Beautiful coloring

Great for children and adults alike
Cons
Since she's so niche, she might not be suitable for everyone.
Squishmallows Tally The Cat Vampire
Look at how cute this little Squishmallow is! The design is very representative of the old vampire movies.
I love how there's even a definition where hair would be on their head. Between the purple vest and cape, this cute cat is ready for a fun evening.
She's the perfect gift for Squishmallow and cat lovers alike. Even the adorable nose is pink instead of black. The perked-up ears complete the overall cuteness.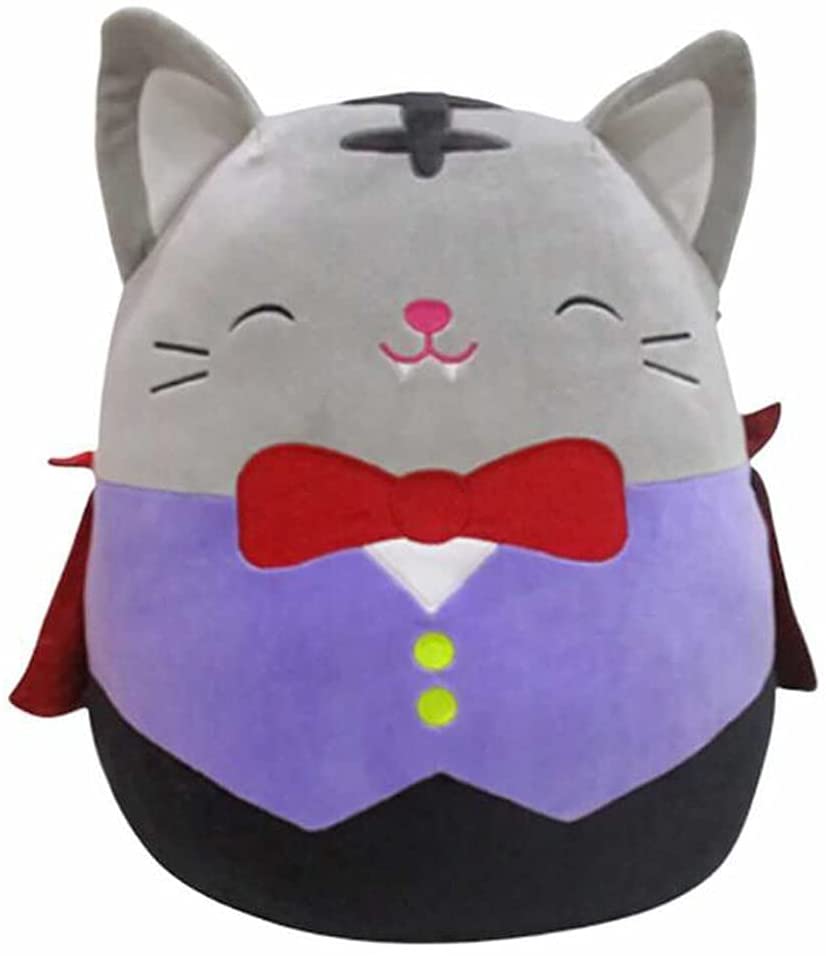 Pros
A unique design
Classic vampire outfit
Adorable cat
Cons
Very tiny
Some cat lovers might find it cheezy.
Where To Buy Squishmallows?
Squishmallows can be found both on and offline. However, if you're tempted to head to the local store, keep in mind that the options might be limited.
Instead, head online. Amazon, Walmart, and Target are common places. Although, I did notice that Target has fewer options. They have fewer options for Squishmallows in general too.
Walmart has plenty to choose from! I was pleasantly surprised by this. But, of course, Amazon has plenty as well.
I love Amazon's convenience since they have free shipping for Prime members. Their click-and-buy button makes it convenient to buy items too.
How To Pick Out a Halloween-themed Squishmallow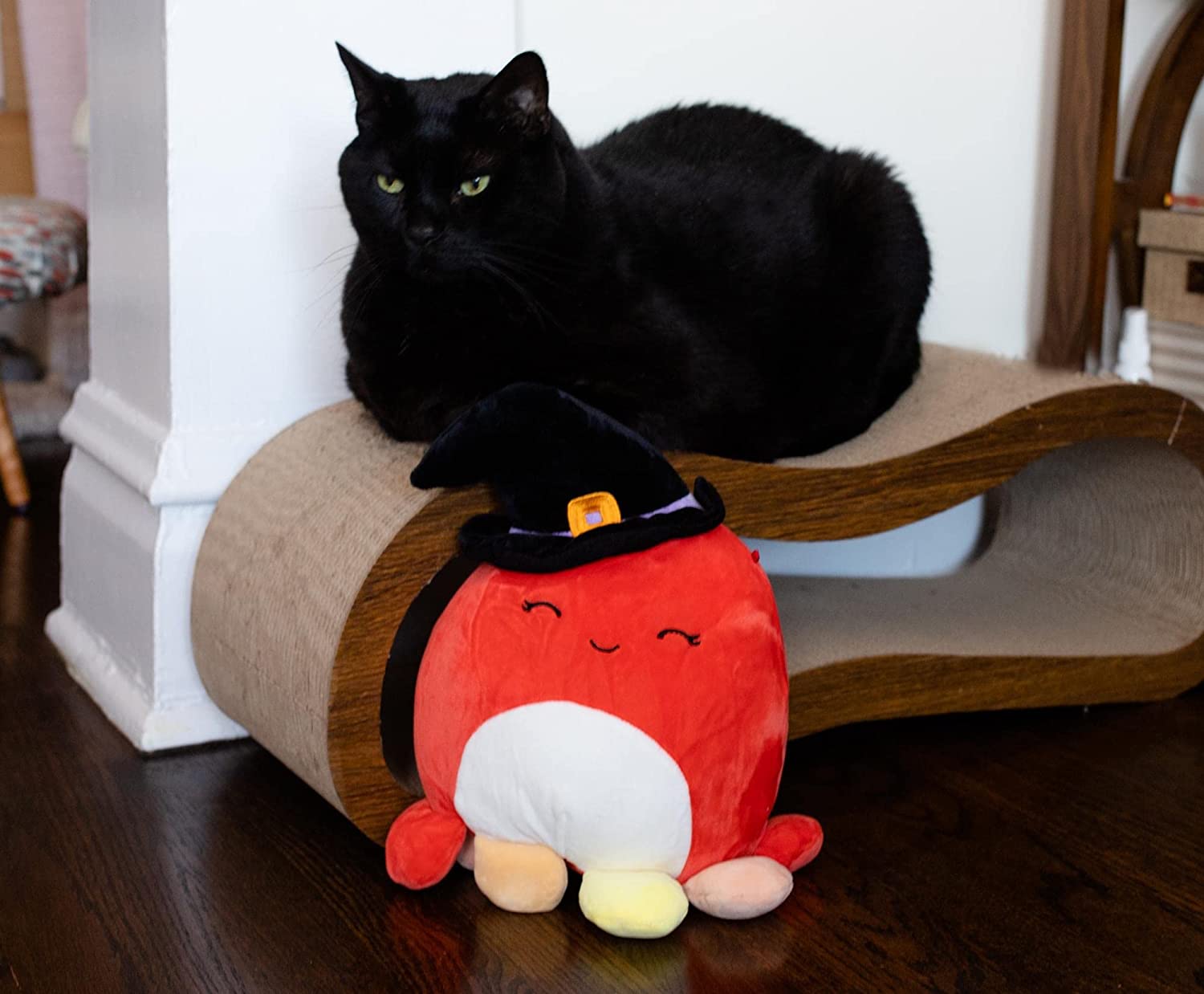 While it might be tricky to pick out the right Halloween-themed Squishmallow, especially as a gift, it doesn't have to be. They're adorable, and many toy lovers will love them.
For gifts, think about what that person currently loves. For example, is Halloween their favorite holiday? If so, what about it do they love?
Maybe they love Halloween movies, candy, or something else. Next, decide if they're crazy about animals. For example, they might love cats, and there are plenty of cat options to choose from out there!
Unique combinations are fun, too, such as cats in candy containers. Do any of these cats look like their pet? Or maybe they're crazy about unconventional animals such as owls or octopuses.
FAQs
Question: What is the Best Squishmallow?
Answer: Check out the Bigfoot plush toy! It's large and a rare find.
Question: Where can I Buy Squishmallows? 
Answer: Amazon, Mercari, and Walmart, to name a few.
Question: Why are Squishmallows so Popular? 
Answer: You can find them talked about on Reddit and TikTok, which just increases their reach. People, especially collectors, love them since they're so soft and squishy. There are so many different options to choose from too.
Exploring the Best Halloween Themed Squishmallows
This was such a fun list to put together, and I hope you enjoyed checking out some of the best Halloween-themed Squishmallows. As you're looking through the list trying to pick out the perfect gift, take a look at what they currently have.
This might give you some ideas for what to choose. For collectors, see if there's an option to help them complete or continue their collection.
At the end of the day, if I had to choose a favorite, it'd still be the Squishmallows Official Kellytoy Plush (Black and Pink). I could see children and adults alike getting excited over this cutie!
If you enjoyed this article, be sure to check out our other articles today!
To get more inspiration, check the links below:
Best Cat Squishmallows Guide [2022]
Best Dinosaur Plush Guide for Roaring Fun
Best Dragon Squishmallows Guide for Spesh Fans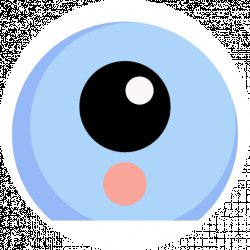 Latest posts by Avid Plush Team
(see all)