I was shown my first Ghibli movie during my first year of college. I sat on the floor of the student lounge, since all my friends had taken the chairs already, and saw Howl's Moving Castle. I was enthralled. The animation was beyond gorgeous, and the characters were interesting, even if I didn't completely follow the story at the time.
The character I was most enamored by was Calcifer. I'm a big fan of little characters with big personalities, so this grumpy fire fit the bill perfectly. He's had a special place in my heart ever since.
Bottom Line Up Front
Certain kinds of characters always get turned into plushes. Pets and non-human sidekicks often find their way into plush merchandise since their cute looks lend themselves to soft toys.
Some characters don't often get plushes. Think of how many human characters get plushes compared to animal characters. There are so few because making a cute human plush is much harder. They often have goofy faces or strange proportions that make them less appealing.
Calcifer finds himself at a fun intersection of these categories. He's a cute character, a small sidekick with a spunky personality. Yet, he's made of fire. He doesn't have one solid shape to make into a plush because he's always moving and burning. It's hard enough to draw fire, let alone recreate it with fabric.
Thus, there aren't a lot of official Calcifer plushes, and some look rather strange. However, dedicated and creative fans will stop at nothing to make their favorite characters in the cutest ways possible. Thus, I've provided two sections, one discussing mass-produced Calcifer plushes and one on handmade ones. Both have wonderful options, depending on what you want to find.
Top Picks
Selection Criteria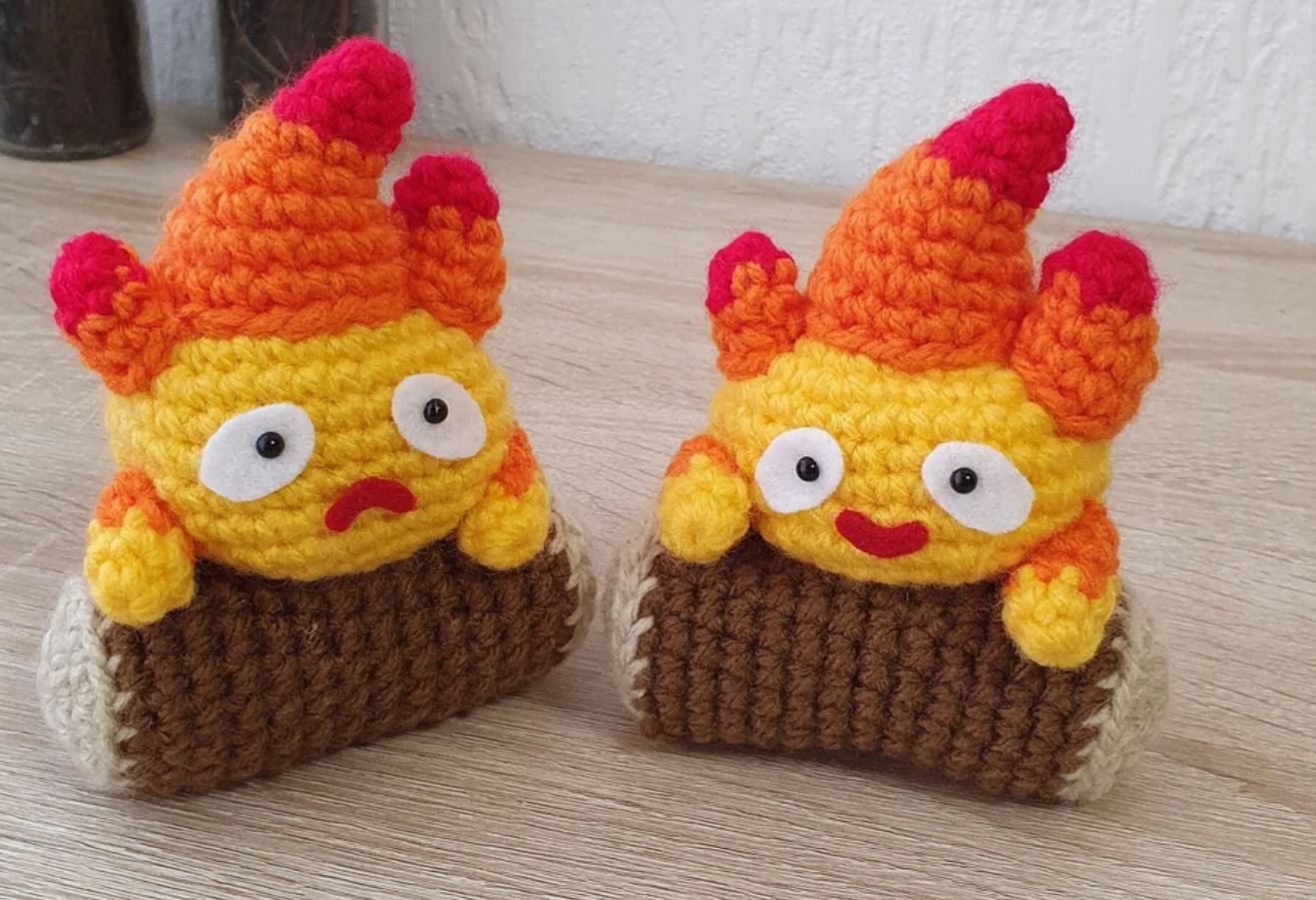 Clearly Calcifer
An issue with Calcifer as a character is that, in essence, he is just fire with a face. He has very few distinct features that help to identify him beyond being a living flame. It's dangerously easy to mistake Calcifer for a generic fire if you don't have Howl's Moving Castle in mind.
Still, when I buy merchandise, I expect it to look like the character. So I ensured each plush had some feature that tied it directly to Calcifer. Usually, this was an iconic expression or the addition of the arms and legs he occasionally has in the movie.
Personality
Calcifer is memorable for many reasons. Most notable and obvious is his role in the movie. Having a fire demon personify the heart of a mysterious character is unique, interesting, and a great way to show Howl's inner feelings. However, having an interesting role doesn't make a character popular. People don't like Calcifer because of symbolism. They like his spunky personality and attitude. 
His grumpy yet soft personality draws people to him, so his plush should convey that. Ghibli animates complex and evocative expressions, so there are many to choose from when making a plush. I ensured that each plush I chose somehow emulated some aspect of Calcifer's personality through its expression.
Fire Representation
Fire is difficult to represent in any medium. It doesn't have hard lines or solid colors to copy and translate. Thus, we need to find workarounds to try and mimic the idea of fire. I choose Calcifer plushes that successfully convey the idea that he is living flame in effective and creative ways.
I looked for good, warm colors and dynamic shapes that matched the look the plush was going for. Some are symmetrical and clean, while others are wild and a bit messy.
Mass Produced Plushes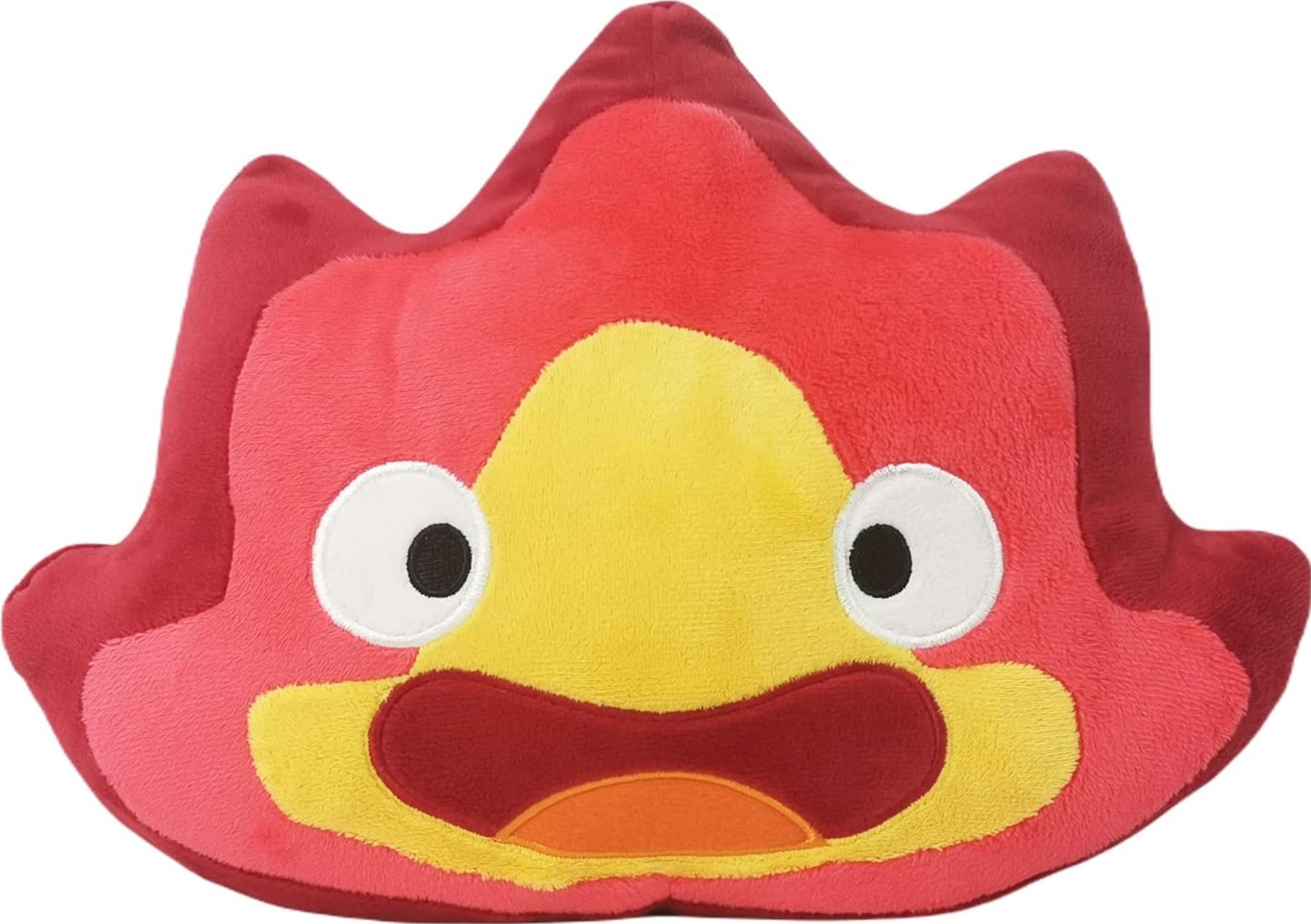 This plush is widely available on Amazon and other online shopping sites. It represents Calcifer's flames through five symmetrical spikes at the top of the plush. Most of the plush is red, with orange and yellow shapes around his face representing the heat at the center of the fire.
The facial expression is the best part of this plush. He's got a round smile and wideset eyes that mimic Ghibli animation perfectly. Looking at him makes me want to smile every time.
There are also smaller sizes for sale, but they are sold for the same price. I recommend getting this one since the sizes aren't that much of a difference, and you might as well get the biggest one to take advantage of every dollar.
Pros
It has an adorable expression.

The colors are bright and eye-catching.

The price is very reasonable.
Cons
The plush is very flat.

There isn't much texture.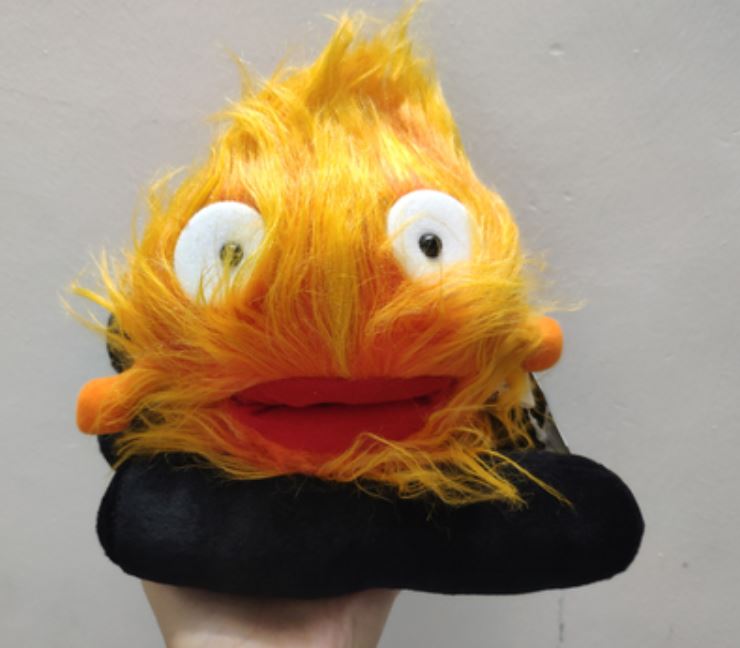 I found this plush on Aliexpress, depicting Calcifer sitting on a pile of soot. I like this idea of adding some environment to the plush. It's a great way to better identify him since, in the movie, Calcifer relies on fuel to live. The arms also help to identify him, even if they can be hard to see sometimes.
The fire is made by using a fur-like fabric across the whole body. This is an interesting decision since it mimics movement fairly well with the solid material. Yet, it runs the risk of being hard to shape and obscuring other features. The fur often gets in the way of Calcifer's eyes, making the expression hard to read.
The fur is a combination of red and orange across the whole body. This helps create the illusion of movement but at the cost of the illusion of heat. By having the base of the fire be the same color as the tips of the flame, you make the fire look uniform in temperature when real fire, and the animated Calcifer, burn brighter and hotter toward the middle.
The face is done with huge circular eyes and a wide puppet-like mouth. The three-dimensional mouth adds depth to the expression but at the cost of shape. It's just open without intention. However, it adds charm that I think people who enjoy puppets would love.
Pros
The fabric has an excellent furry texture.

The colors create an illusion of movement.

The soot pile grounds the plush.
Cons
The expression isn't very clean and can be scary to some.

The arms can be hard to see in the fur.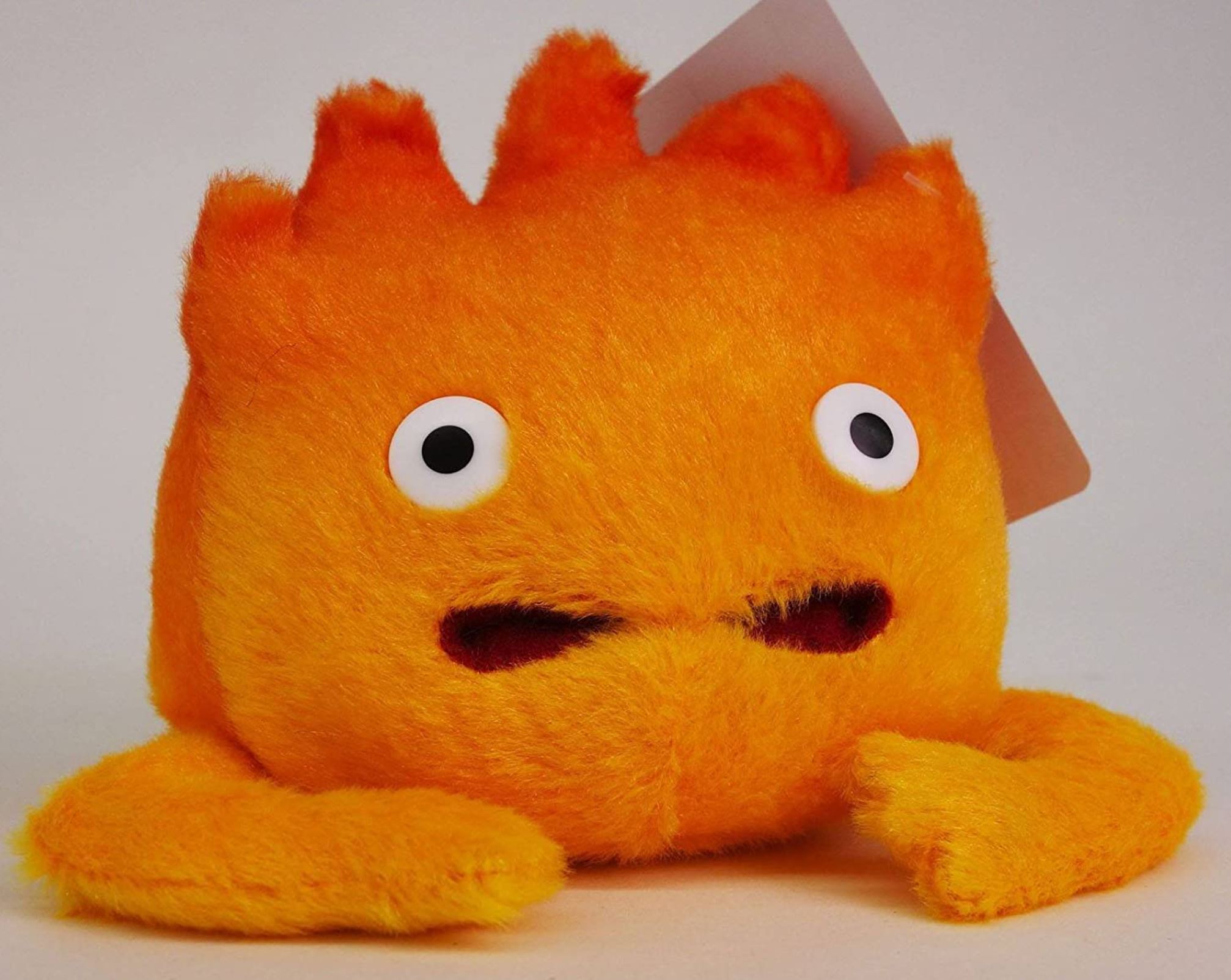 Sun Arrow is the official Studio Ghibli toy merchandiser. They have a wide selection of Studio Ghibli plushes, but their availability varies by country. For example, this Calcifer is available on the UK's Amazon but not in the US. Depending on your location, you may need to look a bit to find it.
This Calcifer is an oval shape with five short flames across his head. He has long arms bent on either side and a slightly furry fabric. At the base, the plush is yellow, fades to orange in the middle, and red at the top. Calcifer has a worried expression, a wide mouth pinched in the middle, and typical circular eyes. Compared to other plushes, the eyes are rather small, and the pupils directly in the center give him a thousand-yard stare.
However, the shortcomings of the eyes are made up for by the mouth. Similar to the Fuzzy Calcifer, the mouth is three-dimensional. However, it is sewn into a particular shape to mimic the nervous half-smile Calcifer often does. This makes the expression dynamic and adds interest to the plush as a whole.
Pros
Has the quality guarantee of official merchandise.

The color change is subtle yet dynamic, making a good fire effect.

The arms help characterize the plush and allow it to stand independently.
Cons
It is not easily available in all regions.

The flames are short, and the stuffing falls into the main plush, deflating them even further.
Handmade Plushes
While mass-produced plushes are cheaper and easier to find, they often provide less variety. They don't always represent the character in the best possible way, just the easiest way. If you are willing to spend more money, you can support a small business by ordering a handmade plush.
Ordering something handmade means your plush will take longer to arrive, and there might be small flaws not found in mass-produced plushes. There's a strong possibility it looks slightly different than the picture on the website. However, I find these flaws charming since it shows how it was made with time and love by the artist rather than a machine.
You'll also be treated to a wider array of options. Many creators will give you customization options ranging from color choice to adding personalized details. 
Here are the best Calcifer plushes I found on Etsy. Each one fills a role that the mass-produced plushes lack and comes from creators with good ratings.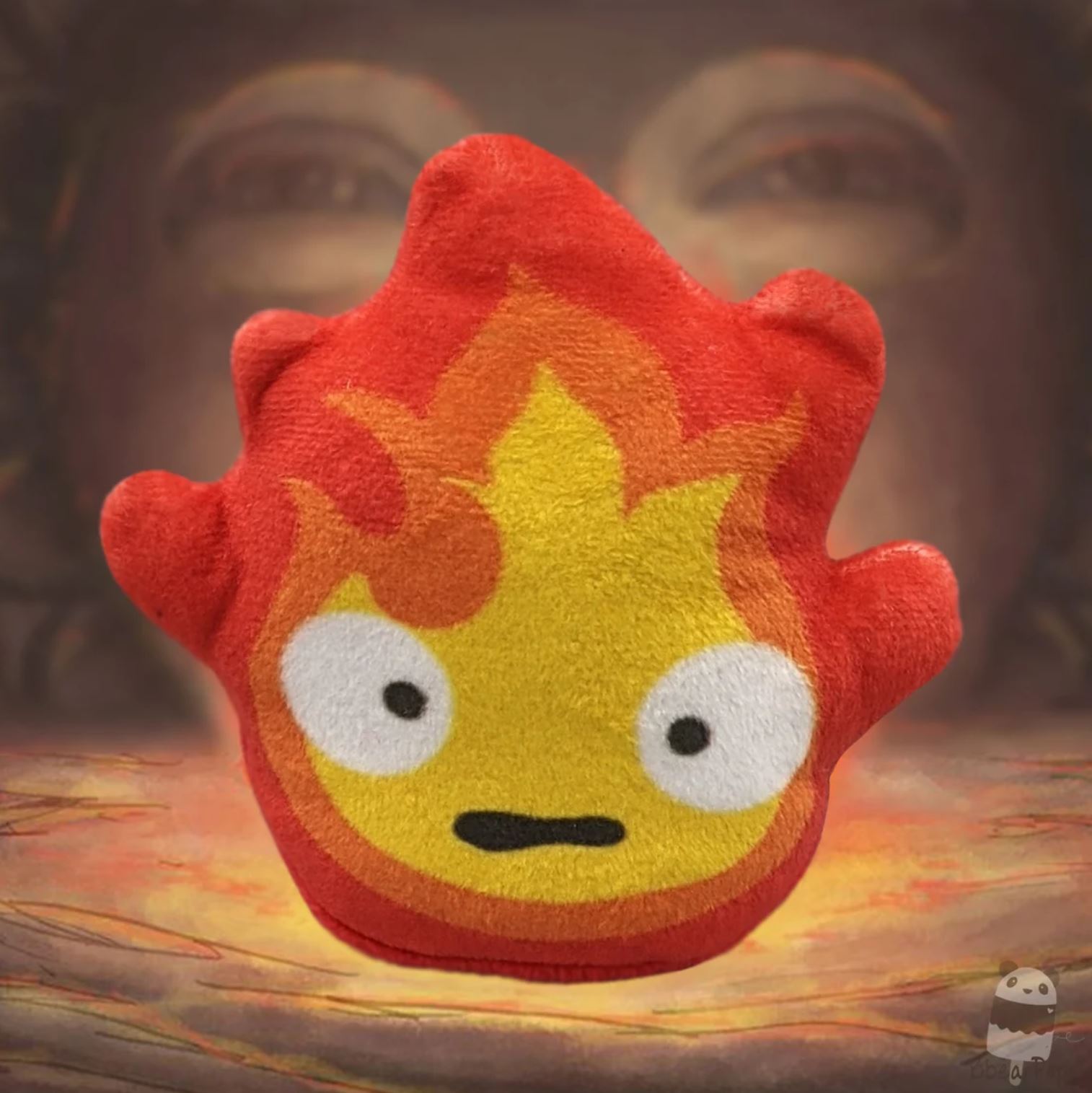 Size: 

4 inches

Material: 

Anti-pill Fleece

Customizable Options:

(Red or blue flames/ Add a name/ Add a keychain)
This Calcifer plush is small and made to order. It creates the illusion of flames through asymmetrical spikes above the face and color change. The red option has smooth yellow and orange flames mimicking the larger shape. The blue option has a more subtle gradient effect from a light, almost white, blue at the base to a darker blue at the tip.
Each color comes with a different face that is printed onto the fabric. The red option showcases Calcifer's nervous side, with wide eyes and a squiggly mouth. The blue option is far more devilish. Calcifer has angry eyes with a wide, fanged smile.
Pros
The plush can stand independently despite being small and round because it has poly beads in the base.

The color change is in the front and back.

The printed details prevent them from coming undone.

The customization options allow you to have both sides of Califer's personality and personalization for gifts.
Cons
The printed details mean there isn't much texture variation; everything is very smooth.

The tips of the flames tend to be rounded rather than sharp because of their size.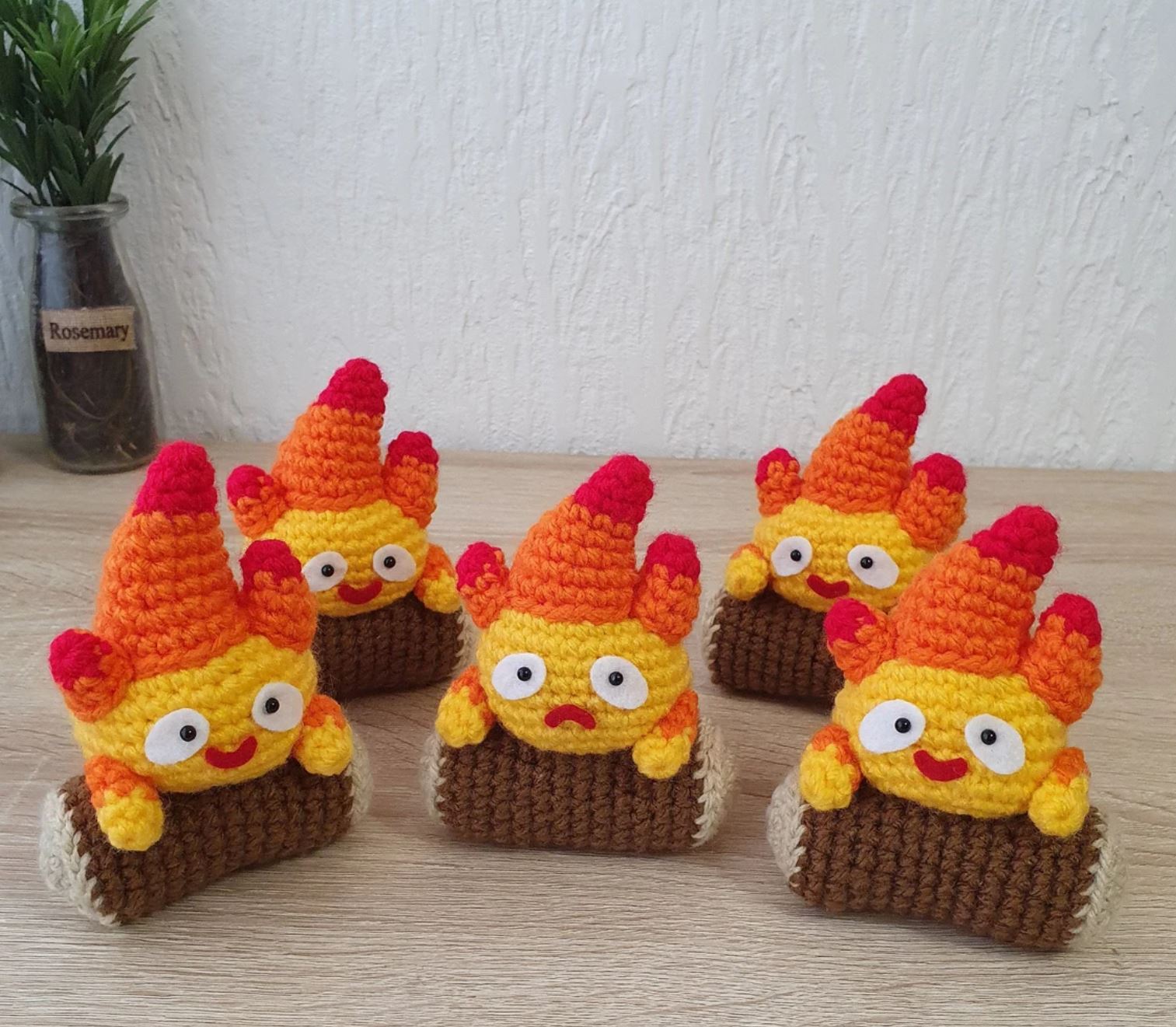 Size: 

5 inches

Material: 

Acrylic Yarn

Customization Options:

Happy or Sad Face
This is an amigurumi Calcifer, meaning it is a crocheted plush. It represents Calcifer as a three-pronged flamed with tiny arms and feet hanging onto a wooden log. He is primarily yellow with red-tipped orange flames and orange arms and legs.
The face is created with felt and safety eyes. For both expressions, he has downturned oval eyes cut from felt with small black pupils made from safety eyes. The mouth is a bean shape cut from red felt. The only difference between the happy and sad expressions is if the mouth is sewn on, curving upward or downward.
What I like most about this plush is the log and how Calcifer is posed on it. His feet and arms are so tiny and round compared to his body, and they are sewn to connect with the log to make it look like he's trapped over it. The whole thing reminds me of the moments when Calcifer hangs on for dear life as he moves around.
Pros
They are already made, so receiving your order won't take long.

The addition of the log helps to solidify the character.

The entirely yellow body is a unique design choice that stands out from other plushes.
Cons
While cute enough, I don't think the faces are very expressive.

You have limited customization options.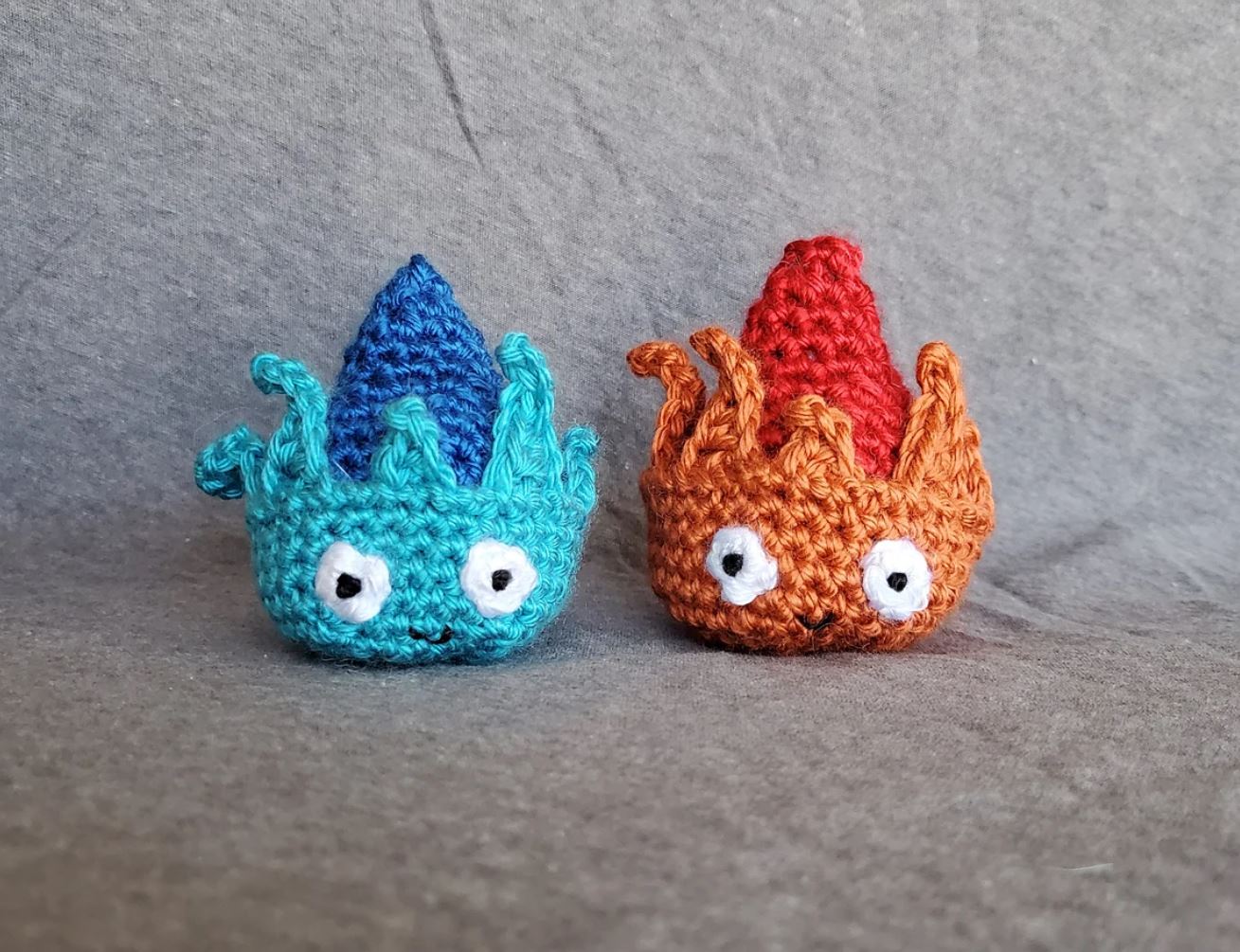 Size:

 3 inches

Material: 

Acrylic Yarn

Customization Options:

(Orange or Blue/ Add a keychain)
This is another amigurumi option that brings a different vibe. Rather than a solid, sizable plush for a shelf or play, these are little guys. They can still be displayed or played with but also work as accessories.
These depict flame using two colors. One large central tear-drop shape surrounded by a lighter color that forms smaller, more numerous flames around its base. This pushes the face all down to the bottom few rows. Most other plushes put it low but close to the middle. The low face emphasizes the simple expression and size.
If you enjoy this little Calcifer and like to crochet, you can buy the pattern from the creator!  
Pros
A unique creation of fire and flames.

Made to order but is typically created quickly, so you don't have to wait long.

If you get the pattern, you can make a rainbow of tiny Calcifers!
Cons
When looking closely, the expression is rather bland.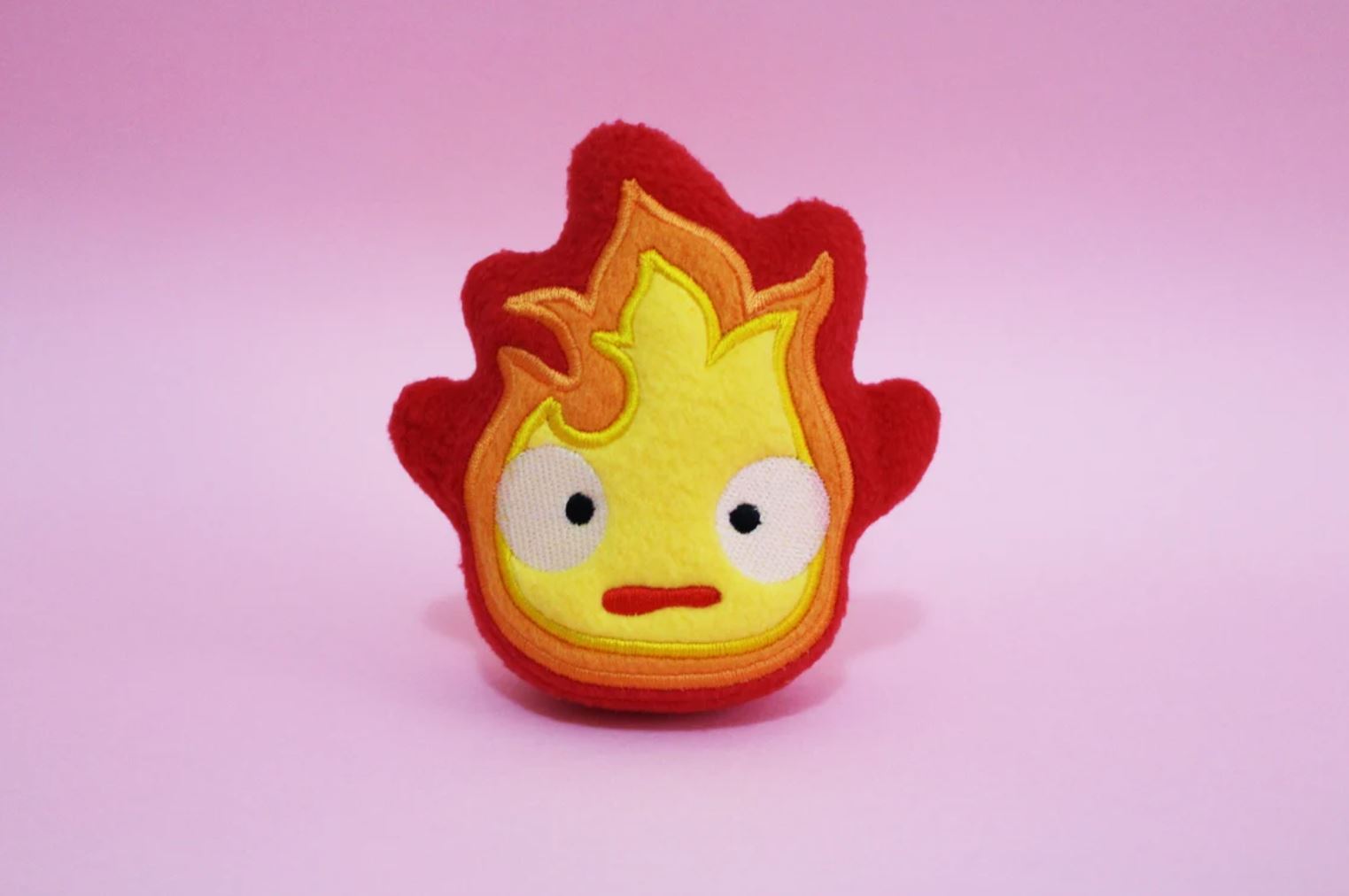 Size

: 4.5 inches

Material: 

Fleece

Customization Options: Classic Calcifier or Blushing Calcifier
This Calcifer is handmade and uses embroidery to add details. The face has the classic wobbly mouth worried expression stitched onto the yellow central part of the flame. The front and back feature the change from a central yellow flame to orange and then red. The borders between the colors have a line of embroidery that makes the colors stand out from each other.
The overall shape of the plush mimics cartoonish fire well. There are five spikes, but they are asymmetrical, so the plush feels balanced but still captures the movement of fire. The internal shapes of the orange and yellow also mimic the overall body. Still, they vary enough in size to make it look dynamic.
The two different options differ in color. The classic Calcifer has the typical red, orange, and yellow colors. The Blushing Calcifer replaces the red with hot pink. I like this idea of changing the color but keeping it warm to maintain the fire look while changing the vibe.
Pros
The embroidered details stand out against the fleece.

The flame shapes are interesting and look amazing.

The fleece used is very soft.
Cons
Since it's made to order, the wait time varies from one to three weeks before shipping.
FAQs
Question: Is there an official Calcifer plush?
Answer: Yes, Studio Ghibli works with a few merchandisers to create merch for their movies. For plushies, they go through Sun Arrow, which does sell a Calcifer plush, but only in certain regions.
Question: What kind of demon is Calcifer?
Answer: Calcifer is a fire demon. He used to be a star, but he fell and was captured by Howl before he went out. This is why he appears as a flame and relies on wood to stay alive.
Question: Does Calcifer love Sophie?
Answer: Yes, Calcifer is Howl's heart, so as Sohpie cares for the two, we see Calcifer growing fond of Sophie just as Howl does.
Calcifer Plush: Conclusion
Limitations and obstacles breed creativity and innovation. I think you can see that creativity in the variations of Calcifer plushes. Most characters will look the same in all their different plushes, with variations coming mostly from quality, type of fabric, or degree of simplicity.
Calcifer has a huge amount of variation; all are only working with the same few elements of fire, a wide face, and maybe a log to sit on. Creators, both individual and official, have to make decisions on how to represent flames, light, and expression, and there are so many choices that work in different ways.
I like seeing all the ways flame is turned into fabric. The balances of reds, oranges, and yellows change based on preference and medium. So if you are looking into getting yourself a Calcifer plush, there are many options to choose from in terms of style, so there's bound to be something you find appealing.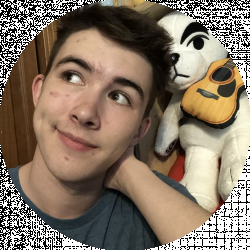 Latest posts by Mika Zans
(see all)