One of my must-watch movies every Halloween is Nightmare Before Christmas. I'm not usually into spooky aesthetics, but the artistry of the animation and touching story of Jack discovering his love for Christmas while reawakening his passion for Halloween gets me every time.
I'm not alone in this sentiment, either. 
The Nightmare Before Christmas has a massive following. Many people draw inspiration from it and watch it year-round while surrounding themselves with the merchandise. So, naturally, it has attracted the attention of popular merchandise brands.
In 2021 Squishmallow released a new batch of Halloween-themed friends. Among the cute and spooky critters was a special squad of Nightmare Before Christmas characters. The squad includes nine characters: Jack Skellington, Sally, Zero, The Mayor, Lock, Shock, Barrel, and two variations of Oogie Boogie.
Bottom Line Up Front
Oogie Boogie is the villain of The Nightmare Before Christmas. He revels in fright and spends his time gambling on the lives of others. His crazed enthusiasm has reached a point where even the strange citizens of Halloween Town avoid him.
His body is made of a burlap sack, formed into a crude humanoid shape and filled with bugs. Oogie Boogie has two looks throughout the movie. One is how he regularly looks with plain brown burlap.
During his song number 'Oogie Boogie's Song,' he turns his lair into a brightly lit casino filled with neon colors. Here the fabric of his skin changes from brown to vivid green. There are two Squishmallow variations of Oogie Boogie to reflect this change.
The Oogie Boogie Squishmallow is perfect for people who love things that fall within the intersection of cute and spooky. Oogie Boogie represents the scary monster lurking underneath our bed and in shadowy corners. Yet, he has this round body that translates perfectly into a soft plush.
If you're a fan of Halloween, Tim Burton, and Squishmallows, but you've found yourself with more than enough Jack Skellington merch, you're in the right place.
Where to Find Oogie Boogie
Since it's been over a year since his introduction, finding Oogie Boogie in stores will be difficult. He may pop up in a few places around Halloween, but your best bet will be to look online. I've included links to Amazon for every Oogie Boogie variation I could find since they are the most consistent seller regarding price and availability.
If you are looking to hunt elsewhere for better prices, you can try plenty of other websites. Mercari and eBay will likely have someone selling second-hand, so you might find a better price, but you'll have to deal with the possibility of damage or wear to the plush.
You can look at stores' websites to see if they will ship you the plush. Target and Walmart currently have Oogie Boogie listed on their websites, but I wouldn't rely on them to keep him up forever.
Oogie Boogie Variations
The Oogie Boogie squishmallow has a unique shape. Rather than an orb, they imply a teardrop shape with a floppy curl at the top of the head. It helps to mimic Oogie Boogie's pointy head in the movie while maintaining a soft, plush look.
The face shows an open mouth surrounded by stitches and eyes with furrowed brows. The expression makes him look excited and evil at the same time.
The fabric has a slight pattern to mimic the rough texture of burlap. Decorative stitches are embroidered on his sides to convey that he is crudely sewn together. Each version has a symbol on the lower right to add more decoration to the plain body.
Green Oogie Boogie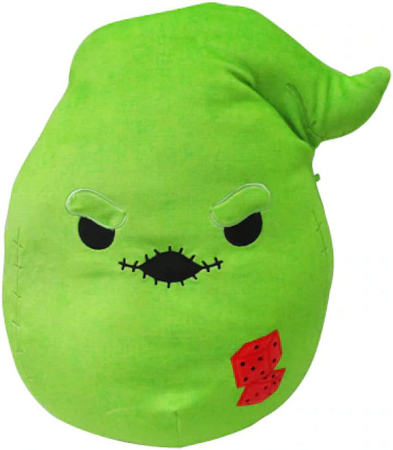 Sizes
The green variation depicts Oogie Boogie in his psychedelic casino lair. The fabric is neon green with a slightly darker and more saturated green creating the burlap pattern. I suspect they choose this version to be more widely available because of its color. It's hard not to notice it.
The symbol on the body depicts two red dice. They are a simplified version of the dice used in the movie. There the dice follow Tim Burton's twisted style, with skulls carved into each side and holes for bugs to slither into. Meanwhile, the limiting medium of fabric and thread only allows for plain red cubes with black dots. 
There aren't many differences between the four sizes. Due to the simplistic detail when they scale the plush down, nothing needs to be changed to a different material or proportioned differently to fit everything in. Every stitch is placed in the same way. I can only find two noticeable differences, and even then, they don't have much impact.
The first is the dice. Between the edges of cubes and the dots on the faces, it can be difficult to fit everything in at smaller sizes. Their solution was to change exactly how the dice were added. The larger sizes have the dice appliqued, so only the outlines and dots are made of thread, while the majority is fabric. Meanwhile, the 5-inch plush has the dice entirely embroidered to keep the details from being lost.
The other difference is caused by the way the fabric lays. Even though the pattern is kept the same, the material will interact with itself differently at different sizes.
The pointy tip of Oogie Boogie's head causes slight problems with how the fabric folds. At the smaller sizes, the material doesn't have anywhere to go and creates muddling creases that hide some of the detail in that area of the plush. 
Pros
The coloring and theming match Oogie Boogie's most iconic scene.

The bright colors are eye-catching and interesting.
Cons
The bright colors might be too distracting or hard to look at for people with sensitive eyes.

It might clash with other pieces if you are using it for decoration.
Brown Oogie Boogie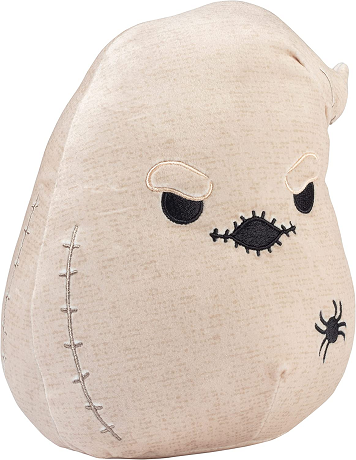 Sizes
Of the two variations of Oogie Boogie, this is the one I prefer since I like warmer, muted colors over bright neon ones. So it's a shame that this Oogie Boogie is only available in two of the four sizes the Nightmare Before Christmas Squad comes in. 
This variation is meant to represent Oogie Boogie in regular lighting without all the pizzazz of his casino. The beige fabric with the slightly darker brown patterning does an excellent job of mimicking the look of burlap. The colors match, and the pattern is more noticeable with the gentler colors.
Rather than dice, the symbol is a simplified spider. This references Oogie Boogie's bag body being filled with bugs. To keep the spider from being too scary, it's depicted as a circle with eight lines representing legs. So we don't have to deal with the creepiest parts of spiders with our cute plushes. 
While the dice on the green version changed slightly between the sizes, the spider doesn't. It remains entirely embroidered all the way from 5 inches to 12. This means it's quite smooth and adds some texture variation, which I always appreciate.
Pros
The more muted colors make, the subtler details easier to see.

It's more likely to match other decorations if being used for display.
Cons
Only available in two sizes.

The colors aren't as energetic as the green version.
Spooky Alternative Squishmallows
As I mentioned, there's a whole collection of Nightmare Before Christmas Squishmallows. Here's a look at the main characters, Jack, Sally, and Zero, since I find their characters more endearing and memorable than the side characters that make up the rest of the collection.
I've included links to each plush's 8-inch size since it's the most common, but they're all available in other sizes.
Jack Skellington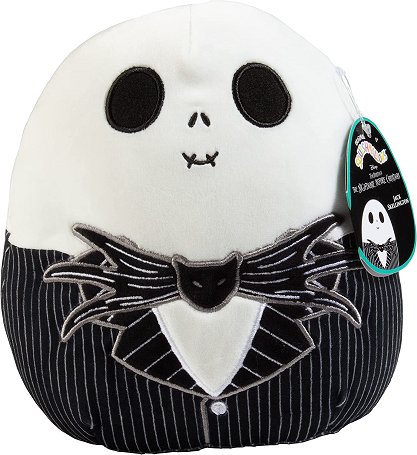 Price:$24.99
As the Pumpkin King of Halloween Town, Jack is the star of Nightmare Before Christmas and presents as a classic skeleton.
He's long and lanky, but by focusing on only his skull face and iconic suit, squishmallow has replicated his look very well. The top half of the plush is bare white with large black eyes, hollow nostrils, and black lines on the mouth to indicate teeth.
The bottom half is a near-perfect recreation of Jack's pinstripe suit. Obviously, there are no arms or legs, but They put a lot of detail into his bat-like bowtie and the silver pinstripes.
The one gripe I have with this plush is the face. Most humanoid squishmallow characters have the same expression, large circular eyes with a tiny smile. They stick with this to keep Jack from looking too creepy, but I always picture Jacl with an impossibly wide smile. The little mouth just doesn't suit him.
Pros
The silver embroidery on the suit emphasizes the detail and looks amazing.

The monochrome color scheme is very striking.
Cons
The face doesn't feel representative of Jack.
Sally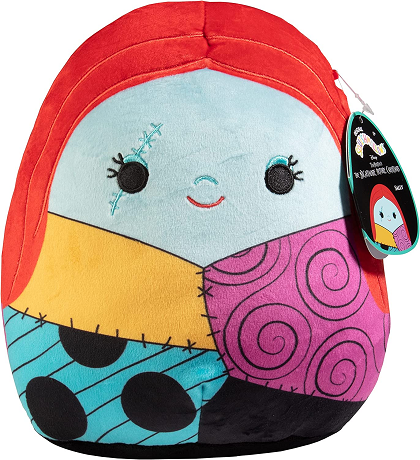 Price: $29.99
Sally is the voice of reason in the film. She's a Frankenstein's monster-style creature made from a patchwork of bodies. Squishmallow depicts this through a scar-like stitch across her right eye and her iconic patchwork dress patterns.
The plush has a pale blue face framed by bright red hair. This, combined with all the mismatched colors of her dress, makes Sally a quite colorful plush. Yet, they work well together, and the patterns on the dress are minimal enough to add interest but not be too distracting.
Sally's face has the usual expression for humanoid squishmallows I discussed earlier. Still, it has a few subtle details to set it apart.
Her eyes have stitched eyelids matching her skin color and two pairs of two-pronged eyelashes. This helps to characterize her face more, so the plush isn't entirely reliant on the hair and dress for characterization.
Pros
The colors look great and contrast well with Jack if you want a set.

The eyes are unique and represent the character.
Cons
How human hair is done on squishmallows always weirds me out since it always looks so flat.
Zero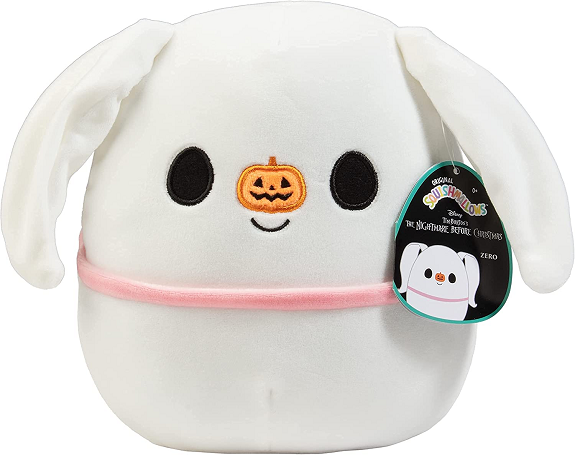 Price: $41.99
Zero's plush gives some a lot of conflicting feelings. On the one hand, I find it insanely cute. The colors are soft and pleasing. Making the color three-dimensional instead of printed or stitched on gives a lot of depth and interest to what would otherwise be a plain plush. Even the ears are endearingly floppy.
On the other hand, it doesn't look like Zero. Zero's face is long and pointed, and his body is a sheet that flaps in the wind. He's constantly moving and doesn't have a set shape. I would never imagine Zero as round. 
If I weren't already thinking of Nightmare Before Christmas when I saw this plush for the first time, it would take me a while to identify it.
Yet, I still can't bring myself to dislike it. The cute face framed by soft ears is too charming. I may not seek it out to add to my collection, but I would never be mad if I happened to receive this adorable ghost puppy.
Pros
Every detail is overwhelmingly adorable.

Even at smaller sizes, the pumpkin is well-stitched and clean.
Cons
Zero's shape doesn't translate well into the squishmallow's round shape.
FAQs
Question: What Size is the Oogie Boogie Squishmallow?
Answer: The Oogie Boogie squishmallow comes in two or four sizes, depending on your desired color. Green comes in 5″, 8″, 10″, and 12″. Brown only comes in 8″ and 12″.
Question: Why are Squishmallows Sold Out?
Answer: Squishmallows have succeeded in being a quality plush with broad appeal. Adults and children alike clamor for the adorably soft creatures. Add in the many variations and enthusiasm of collectors. The high demand will make squishmallows sell out frequently anywhere they are sold.
Question: Which Halloween Squishmallow is Rare?
Answer: The rarest Halloween squishmallow is Jack the Black Cat, having only a few hundred available. Luckily for Nightmare Before Christmas fans, Oogie Boogie and the rest of the gang aren't among the rare squishmallows and are easily accessible online.
Conclusion
If you're looking for a spooky Halloween pal and find fun-loving villains more interesting than the heroes of a story, then the Squishmallow Oogie Boogie plush will definitely fit the bill.
The various sizes ensure you can find one to fit your needs, be it play, cuddling, or collecting. Plus, being part of a collection means you have an excuse to get a few to ensure he isn't lonely. Or to make sure he has someone to torment, whatever works for you.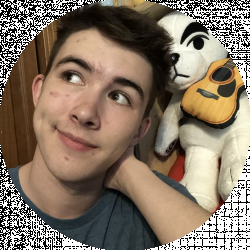 Latest posts by Mika Zans
(see all)