I have been obsessed with Halloween since my first viewing of Halloweentown on Disney Channel as a child. Fun fact about me, when I'm not writing about my love for Squishmallows and collectibles here, I am a horror screenwriter! That said, it's safe to say that the Halloween squads are by far my favorite Squishmallows to collect.
The Halloween Squad is one of the largest to date, and this 2022 season will expand it substantially. Worry not, though, as this guide will go over every single new Squishmallow announced so far and how to track them down. There's also a handful of confirmed returns from Halloweens past. So by the end of this guide, you'll be ready to join me in completing our Halloween DISO lists in a few short hunts (and visits to Amazon.com!) 
Bottom Line Up Front
There are still a few weeks to wait before Halloween Squish starts flooding shelves, but it's not too early to check out your local stores! 
Within the last couple of weeks, I have found all three 5-inch Sanderson Sisters at my local Ralphs AND the brand AND the brand new spider: Gildie at Walgreens!
I think the Day of the Dead Squad and the Gargoyles will be fan favorites this season. Gio and Day of the Dead Ronnie are at the top of my DISO list! 
I think it will be an exciting and lucky hunting season for us Halloween Squish fans! 
Oh-My-Gourd It's the Pumpkins!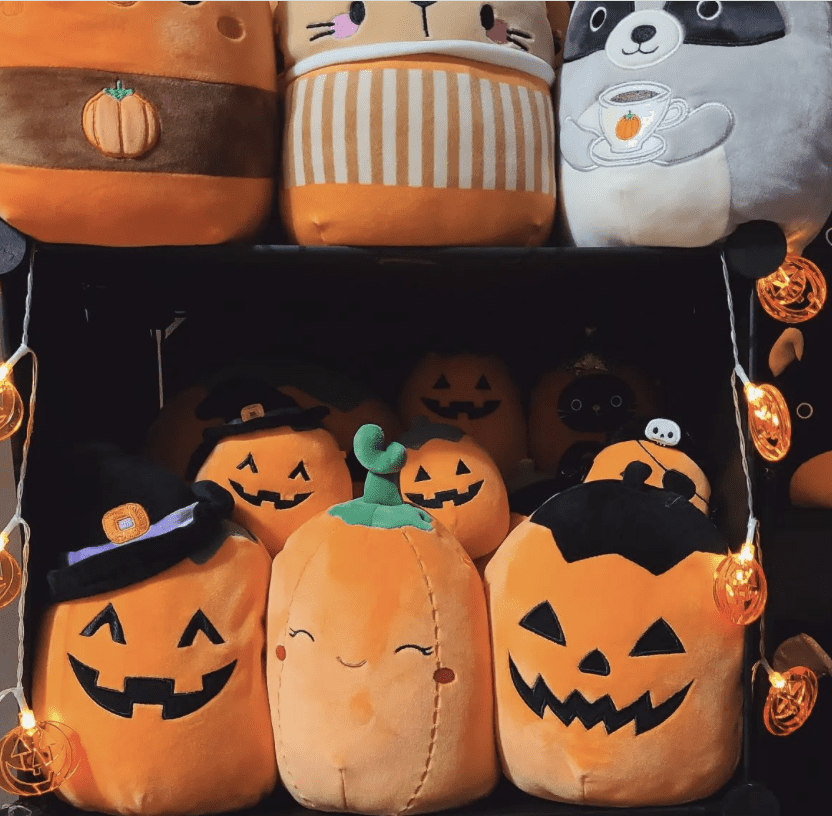 Pumpkins are one of the most famous symbols of the Halloween/fall season. They're adored by autumn enthusiasts and spooky lovers everywhere this time of year. So whether you're using the gourds to:
Decorate your cottage core living room.

Deck your porch in spookily carved jack-o'-lanterns.

Drink it in your morning latte.
Squishmallow has a pumpkin plush for every single aesthetic. I'm unsure if past favorites like the pumpkin cupcake Belissa or the Jack-O-Pirate, Paxton, are returning. However, some adorable new pumpkins and a few iconic returning pumpkins are confirmed for the 2022 season!
#01 Paige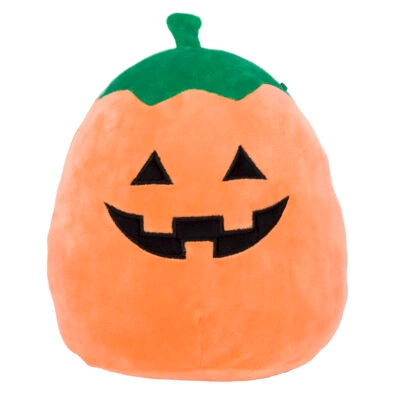 Paige puts the spice in pumpkin spice. Her friends even describe her as the "firecracker" of their group. She's the furthest from shy and loves encouraging her friends to join her in the spotlight! 
Paige first hit stores in 2019 and is already making her 2022 appearance at Walgreens! In the past, she has come in the following sizes: clip, 5-inch, 8-inch, and 12-inch. 
She is usually an orange jack-o-lantern with triangle eyes and a 3-tooth smile. She also usually sports a green stem. However, other variants include:
Pros
Paige is an iconic Squishmallow for Halloween lovers.  

She comes in multiple different variants, making her a very collectible Squishmallow. 

She comes in a wide variety of sizes. 
Cons
Like every Squishmallow on this list, most of these plushies are not yet available online and won't be until October. So you have to luck into a store that received early Halloween stock until closer to Halloween. 

Squishmallow notoriously provides stores with holiday exclusives late, resulting in some stores not putting the holiday plushies out for months. For example, my local Walgreens has Valentine's day Squishmallows on the shelves in September.
#02 Riba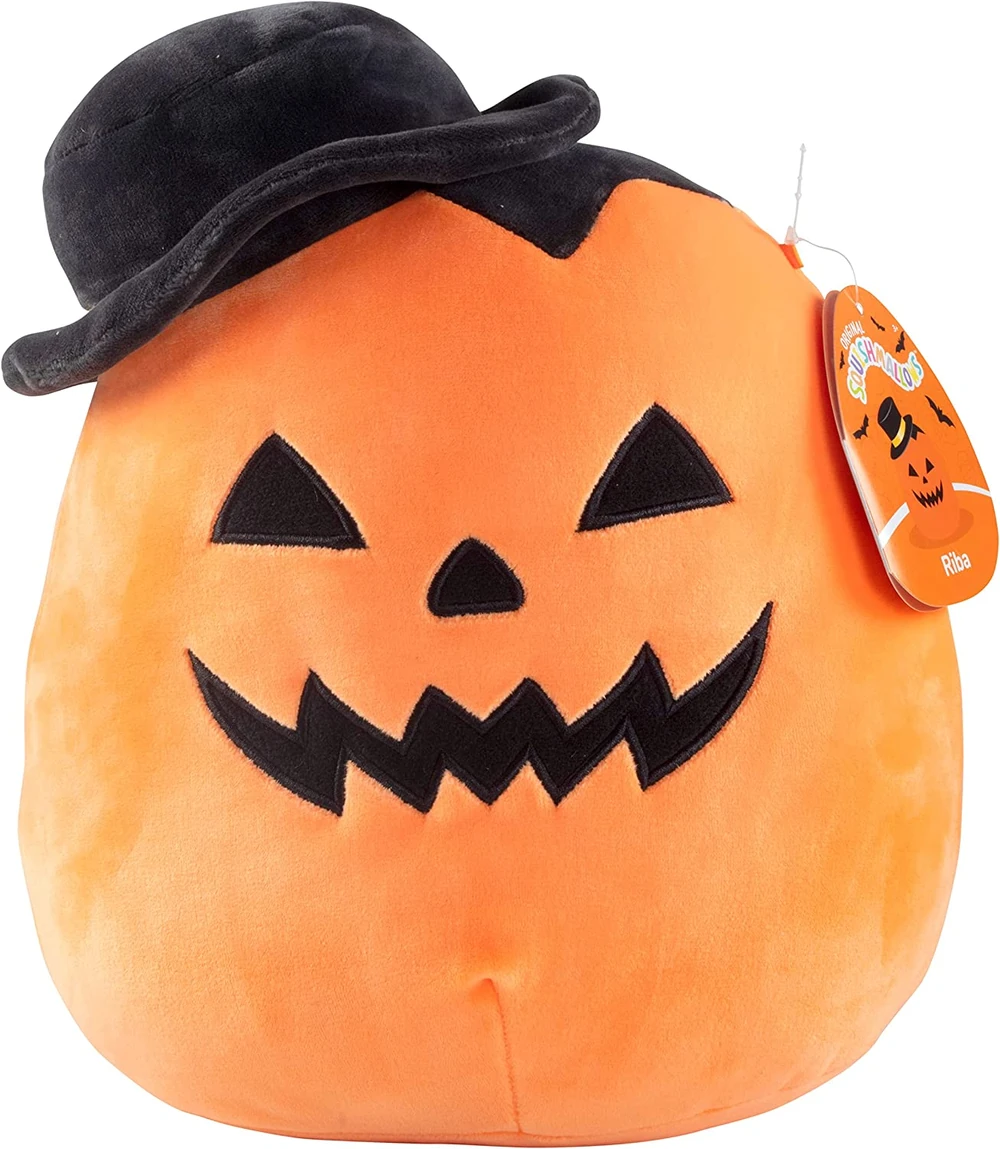 Riba is a brand new jack-o-lantern that is debuting this October. The top bowler-wearing plush sports a triangle nose to match their eyes and have a spooky, jagged smile.
Since they are new to Squishmallow, Riba's bio won't be known until they hit the shelves. However, it is confirmed that Riba will be available in both 8 and 10-inch variants. 
Pros
Riba is an adorable addition to the jack-o-lantern family! 

They have a spooky face, which I – a horror writer and Halloween fanatic- love! 
Cons
Not a ton is known about Riba yet. 

There are not many size variants. 
#03 Jodie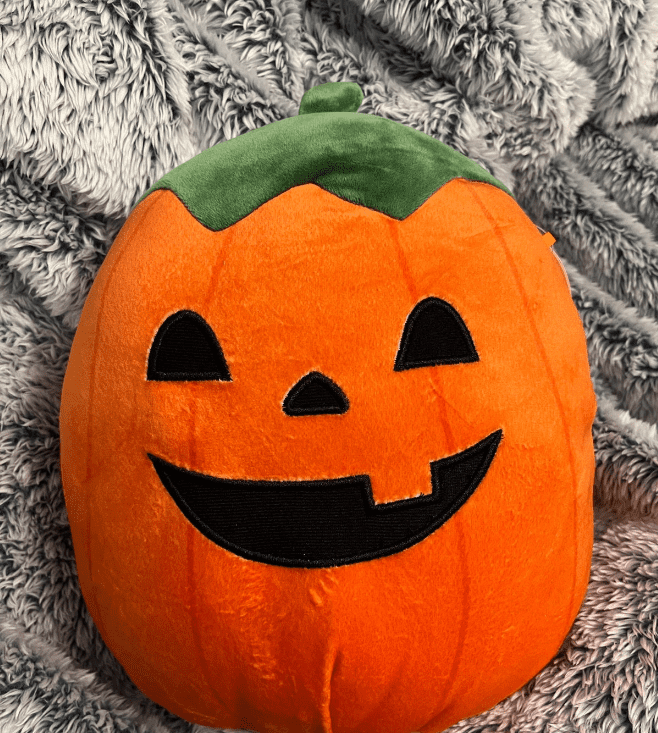 Jodie is popping up all over Mercari as another sweet-faced jack-o-lantern. She has a green stem-like Paige, but Jodie sports rounded features and a one-tooth smile. She is a Meijer exclusive, which is a grocery store in the midwest of the United States. 
Pros
I'm always excited for new pumpkin Squishmallows! 
Cons
She is only available to a minimal area of a single country. 

She's almost identical to Paige. 
It's Just a Bunch of Hocus Pocus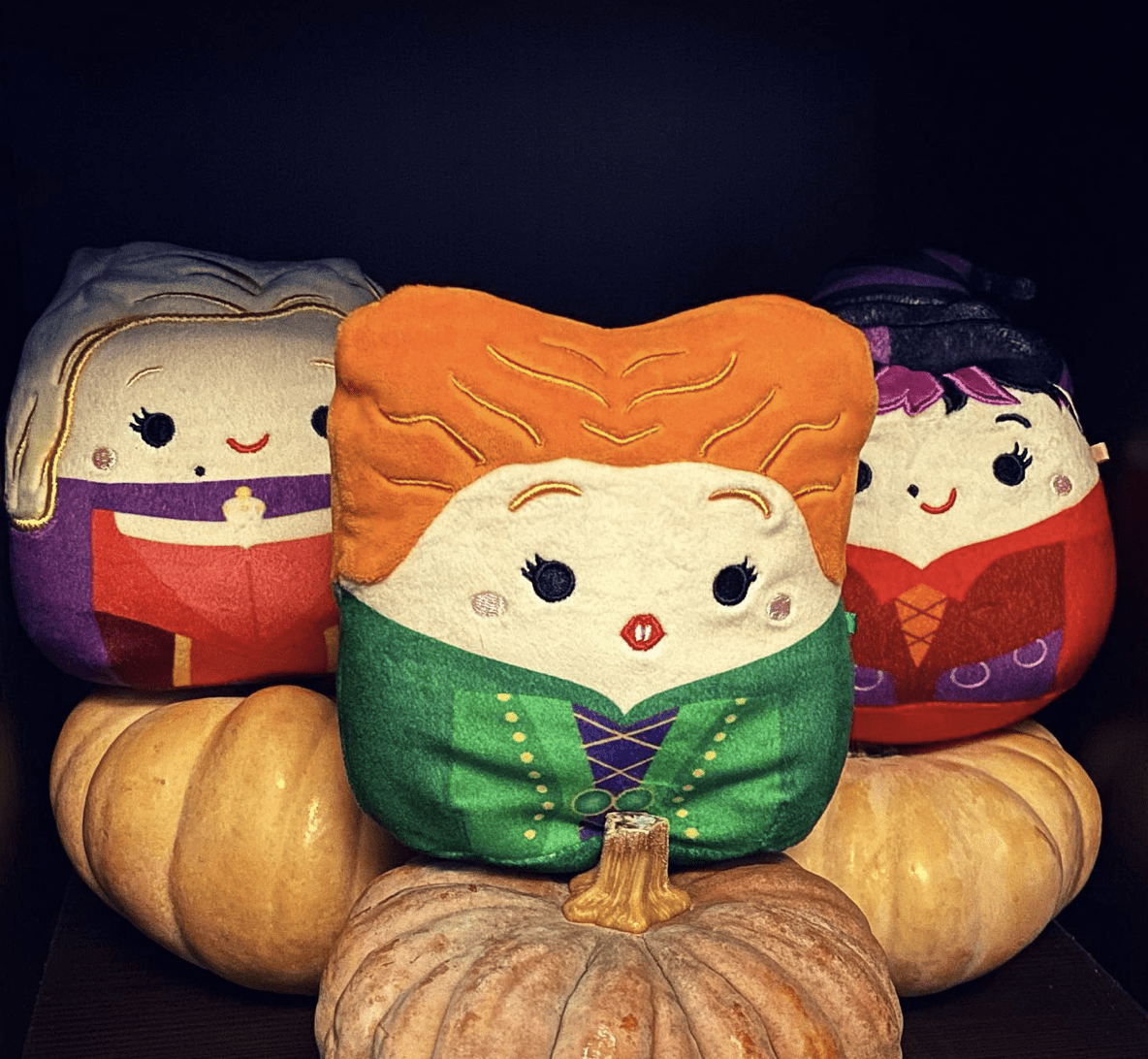 I have been searching for this squad in the small, 5-inch size (the only size available) for a few years now and finally tracked them down a few weeks ago at the grocery store!
If they follow the same trends as last year, they will pop up at most Squish retailers, including grocery stores and Walgreens.
While I found mine at Walgreens for $5.99, they pop up in multiple other stores like Ralphs, Claire's, and Hot Topic! 
The squad includes: 
Winifred – the copper-haired witch wears her signature green dress and sports her iconic buck teeth! 
Mary – her dark hair has purple streaks that I don't recall her movie counterpart having, but I love it! She wears a red dress that feels less detailed compared to Winifred, but her red mouth is held in a crooked smile, right by her beauty mark. 
Sarah – She is my favorite witch but is the worst looking of the three. She wears a low-cut red dress with her purple cape, but her face and hair are plain, and she hardly looks like Sarah. 
Pros
My Hocus Pocus Squishmallows are always a hit by those who visit my apartment! 

Their small size is perfect for those with limited space, but worry not if you're a big squish fan! It's still super early in the season. So more sizes could still be released, just like Nightmare Before Christmas below! 
Cons
I'm disappointed that there are only three characters in this squad. It feels like a missed opportunity to make a Binx and Dani considering the much-anticipated sequel film comes out this year. 

Winifred looks fantastic and super detailed, but the other two sisters lack this detail. 
Everyone Hail to the Pumpkin King!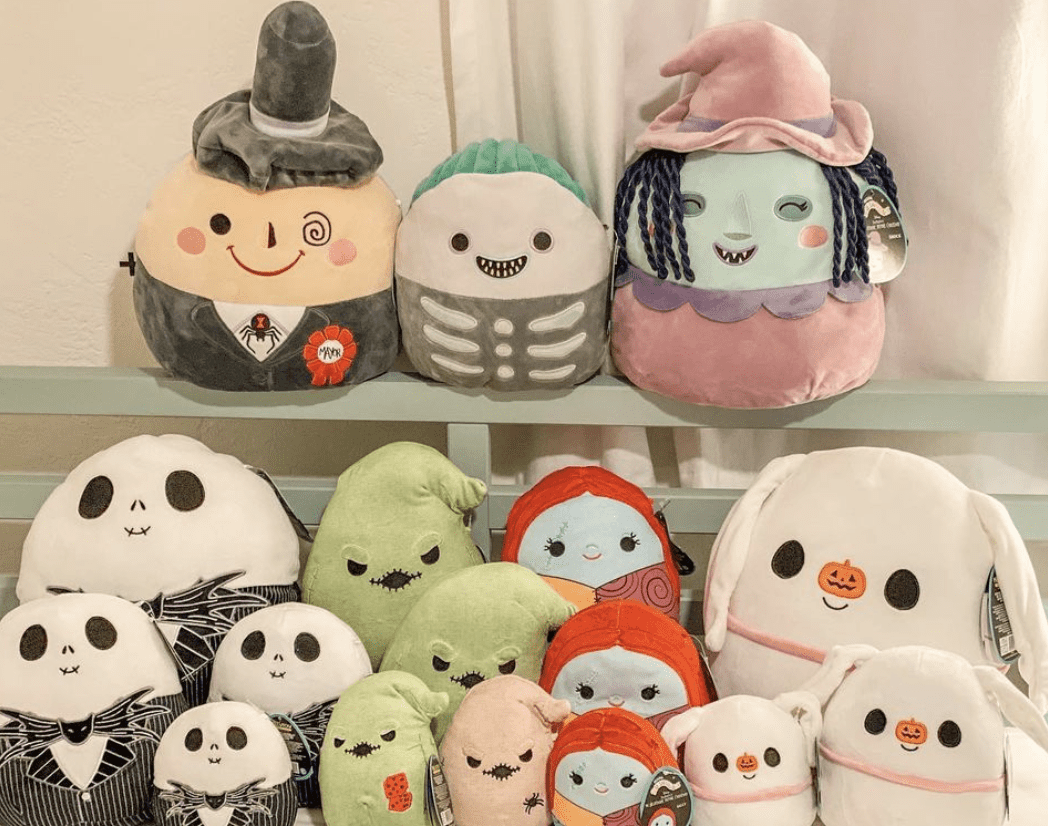 Fun fact, Jack was my first ever Squishmallow! I found him at Walmart a few years back and have collected them ever since. I've personally already seen Sally and Zero at a handful of Walgreens around Los Angeles!
The squad is available in the following sizes: 5-inch, 8-inch, and 12-inch. However, The Mayor, Lock, Shock, and Barrel do not come in the size 5-inch. Like Hocus Pocus, the Nightmare Before Christmas squad is heavily sought after. Luckily they are sold almost anywhere Squishmallows can be found. I have already seen a handful of squad members at Walgreens and Ralphs in mid-September! 
Included squad members include: 
Jack Skellintington

 – The one and only Pumpkin King, wears his famous bat tie and pinstripe suit. He has the cutest sewed-on smile and large holo eyes. 

Sally:

 This squish is so detailed she even has the scar through her eye, fire red hair, and her favorite patch dress! However, I feel her design lacks when compared to the rest of the squad. She is made to look more friendly and round and less like the girl-boss Frankenstein monster that I adore. 

Zero

 – Halloweentown's favorite undead, white dog! Zero has an adorable jack-o-lantern nose, a pink collar, and floppy ears. 

Oogie Boogie 

– There are now two Oogie Boogies to hunt! The ectoplasm green version has a red set of dice on his belly. The Beige has a spider. Both are high on my DISO list because, obviously, I need both – haha! 

The Mayor 

– This Squishmallow is unique because, just like the movie character, The Mayor has two faces! One side shows the Mayor smiling wide, one eye a swirl. The other depicts a much paler Mayor with wide, fearful eyes and a sharp-tooth frown. 

Lock, Shock, and Barrel 

– The three kids of the movie are made with incredible detail that I wish Sally (sorry for the shade Sally) had. 
Pros
A must-have if you, like me, can quote the entire movie in your sleep! 

Unlike Hocus Pocus, a ton of characters are included in this squad. 
Cons
The newer editions to the squad (the Mayor and the triplets) are not available in the smallest size. This sucks because I have been collecting the 5-inch variants of the squad, and these four will not fit in with their squishmates. 

While a gorgeous Squishmallow, Sally does not have the same attention to detail that the rest of the squad has. 
The Flipmallows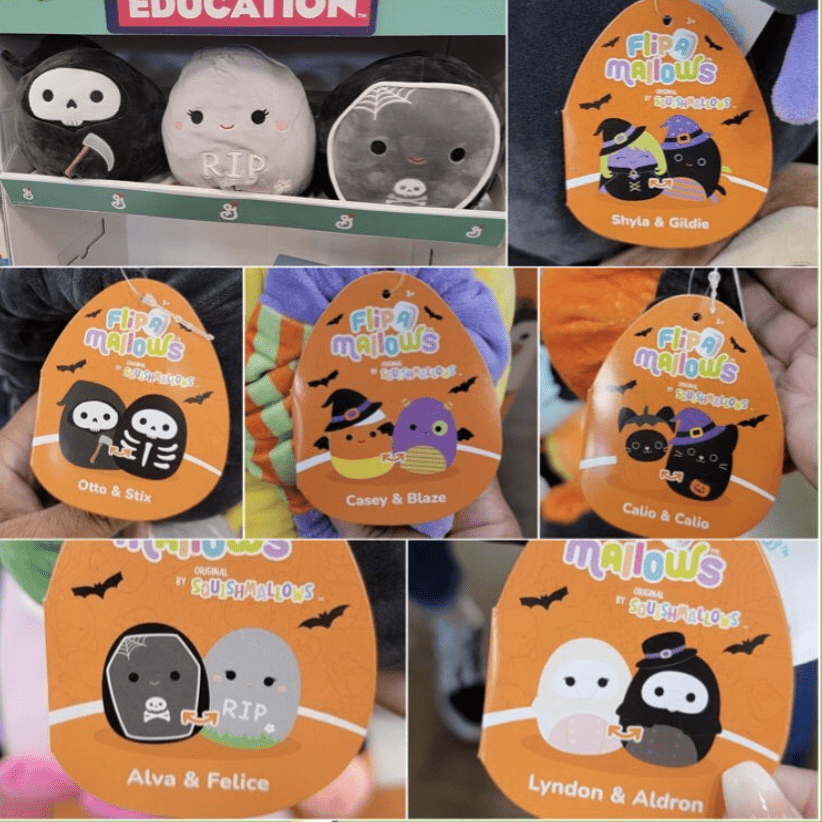 I have mixed feelings about the flip-a-mallows. I say this as I hold the Johan to Ellette one I bought just tonight.
My main complaint is that they're just not as easy to maintain as the regular Squishmallows. I like to keep the tags on my plushies, and the placement on the flip-o-mallows makes the tag super rip-off-able.
However, I am in love with the new Halloween designs that are taking over my local Ralphs.
The upside to flip-a-mallows is that it's two eight-inch Squishmallows for the price of one, aka $14.99. So far, they can be found in the seasonal departments of Ralph's and Target!
So far, there are around ten flip-a-mallows, but I notice more every time I go grocery shopping! Designs include mythical creatures like witches and werewolves, pumpkins, and gravestones!
Pros to Flip-a-Mallows
Two Squishmallows in one. 

They are pretty easy to find and tend to stay in stock. 
Cons to Flip-a-Mallows
I keep the tags on my Squishmallows, and they almost always fall off the flip-a-mallows. 

The hole at the bottom is awkward looking on basically every design. 
New (and Returning) Additions to the Day of the Dead Squad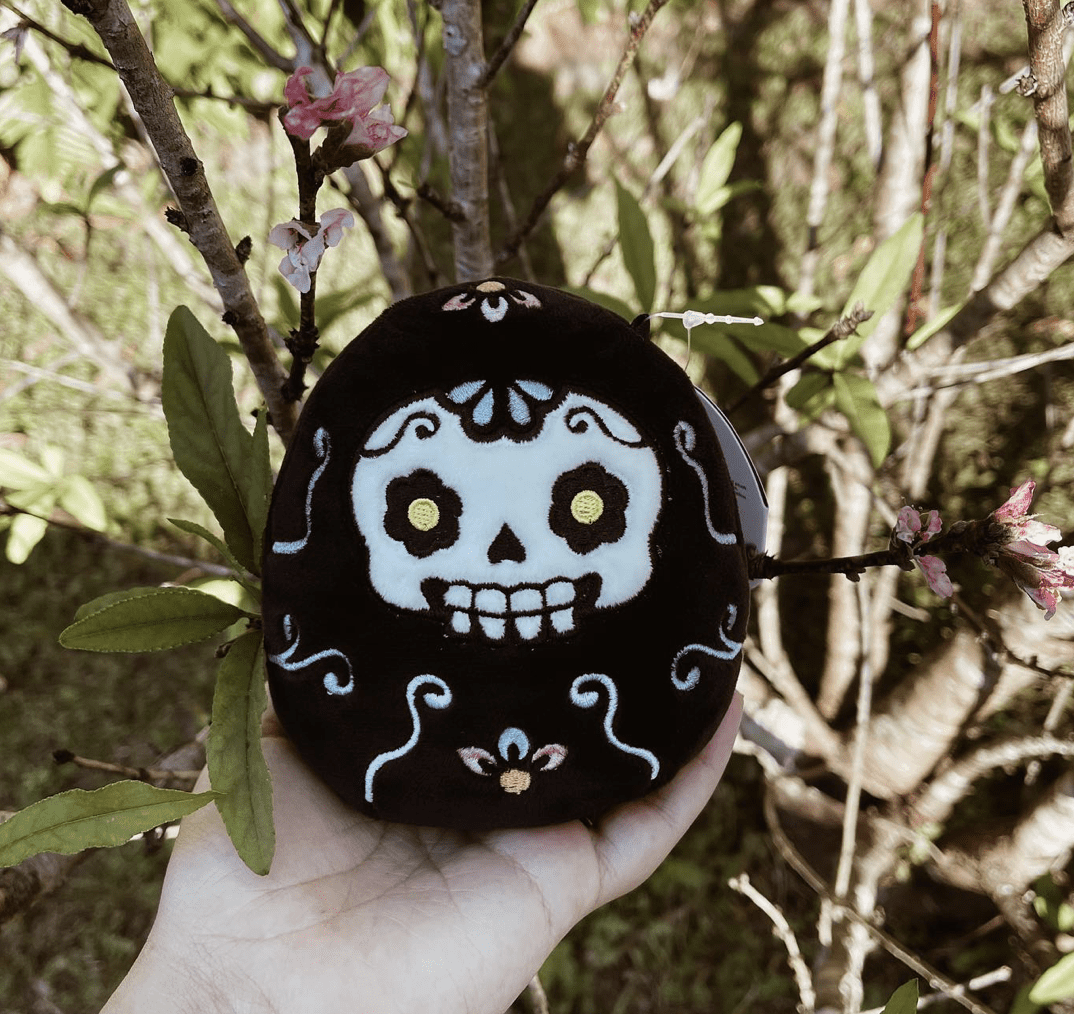 The Day of the Dead squad has been a fan favorite for years! Luckily for us, fan-favorites like Marcita the Pink Sugar Skull and Zelina the Sugar Skull Cat are returning and have been spotted at stores like Claires and Kroger!
The majority of the squad is only available in the 12-inch size. However, the Sugar Skulls can also be found in the small 5-inch size!
In addition, the 2022 season greatly expands this set with multiple new members including:
Aneesa the Sugar Skull 

– A brand new black sugar skull! Aneesa wears a red, yellow, and pink flower crown and is painted in matching colors! 

Jeanne the Octopus 

– A fan favorite, baby pink octopus who wears Day of the Dead face paint to celebrate Día de los Muertos! She only comes in the 12-inch size. 

Benny the Bigfoot 

– The best of the two new Halloween Bennys! His entire body is painted green, white, and purple to celebrate! 

Gjemail the Spider 

– The new spider is painted in pink, green, and orange with blue and white accents. Their orange and green legs match their paint! They are also the exception to the 12-inch rule, as they are also available in a

 5-inch variant.

 

Betty the Bat 

– Betty came out last Halloween and quickly was a fan favorite! This Halloween, Squishmallow released a sugar skull variant for her! 

Ronnie the Cow

 – Without a doubt, the star of the Halloween season! Day of the Dead Ronnie is high on every DISO list I've seen for the fall season, including mine. Everyone's favorite brown cow has an embroidered spider coming from the webs on his fur. He is painted in orange and purple to celebrate Día de los Muertos! 
Pros
This set has the most unique and gorgeous designs I've ever seen out of Squishmallow. I look forward to the new editions every year! 
Cons
This squad is incredibly popular, so it sells out very early in the season and resells for high prices. 
New Additions to the Skeletons Squad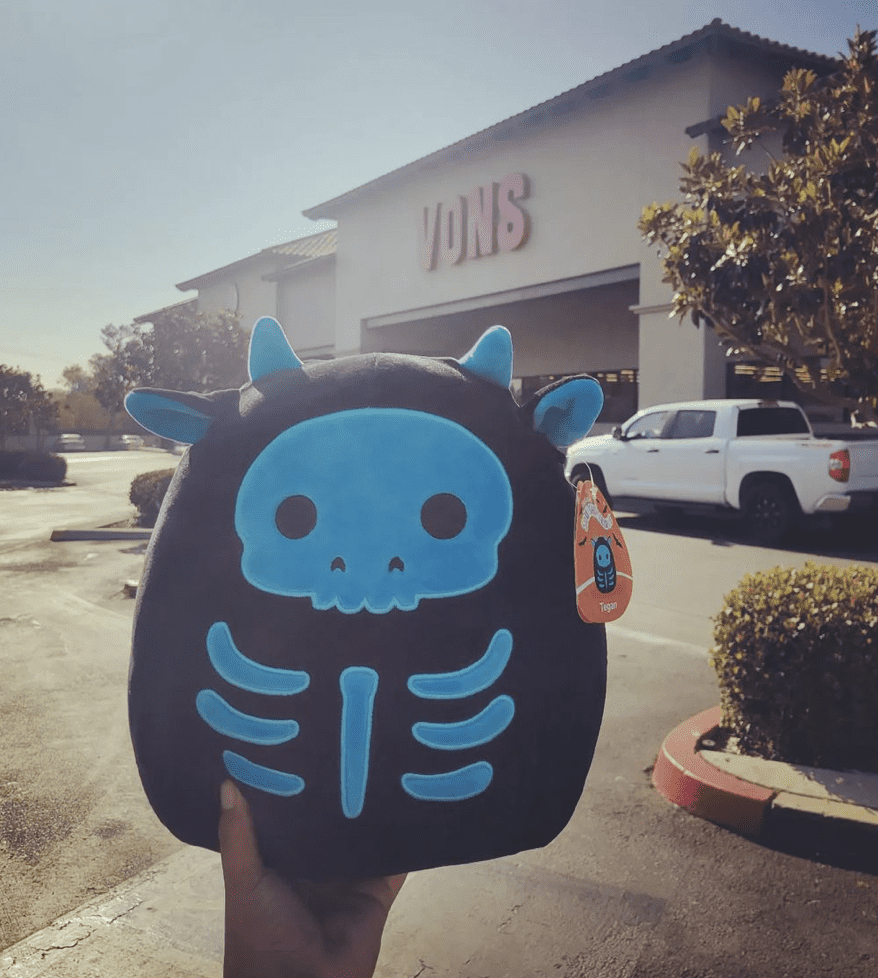 The Skeletons Squad is returning this 2022 Halloween season and includes past favorites like Scrapper, Skeeter, and Serge are returning and have already been found at Walmart! There are also three new editions to this squad that I'm insanely excited to hunt down! 
Tegan the Cow 

– The entire squad is only available in the 12-inch size. This includes brand new member, Tegan! He is a black velvet cow with Carolina Panther blue horns and bones! 

Roven the Elephant 

– Roven, like the rest of the squad, has a black velvet body. His ears and skeleton bones are bright orange! 

Geli the Unicorn 

 – A hot pink skele-corn-maid. This Squishmallow is velvet black with hot pink detail in her mermaid tail, face, skull, and rib cage. She has a silver unicorn horn and a glitter belt around her waist. 
Pros
They glow under a black light, making them really cool Halloween party decor! 

I'm obsessed with both the cow and Halloween Squishmallows, making Tegan one of the coolest new Squishmallows on this list! 
Cons
Only one size is available, and the 12-inch variants are not ideal for apartment livers. 
Squad Ghouls: The New Squishmallows to the Ever Growing Halloween Series
There are literally hundreds of Squishmallows in the Halloween squad, and the 2022 season is adding even more! This is my favorite year yet to hunt, as many new designs are fun and unique.
The Bats, Snakes, and Spiders!
Below are brand new Squishmallows for the fall/Halloween season. In addition, fan-favorite bats, snakes, and spiders such as Tangie, Emily, Bart, Buffy the bats, and Bella, the spider are also returning and are popping up in Ralphs and Targets!
#01 Joldy the Bat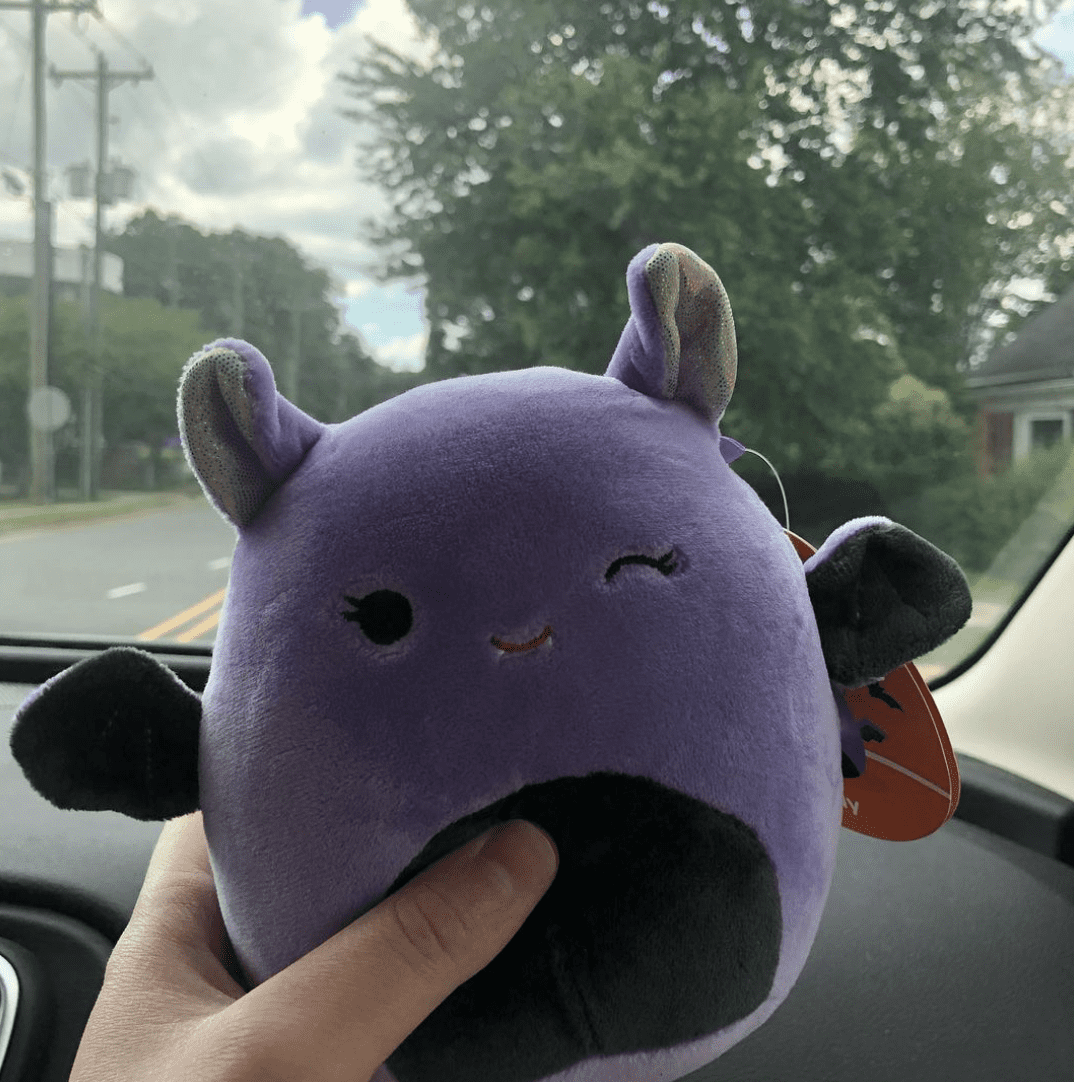 About Joldy
Meet Joldy! She's a Squishmallows newest bat and loves to spend her day pranking her friends.
Joldy is a purple, winking bat with black wings and silver ears. She has sharp teeth and a red smile. Unfortunately, she is only available in the 5-inch size and can be found at most Kroger grocery stores.
Pros
I adore the bats and am so excited for another one. 

She's a gorgeous shade of purple and has the cutest holographic ears. 

5-inch is a great size for collectors since they take up minimal space. 
Cons
Since she is launching this year, not much is known about Joldy yet. This includes if more sizes will be available and locations. 
#02 Gildie the Spider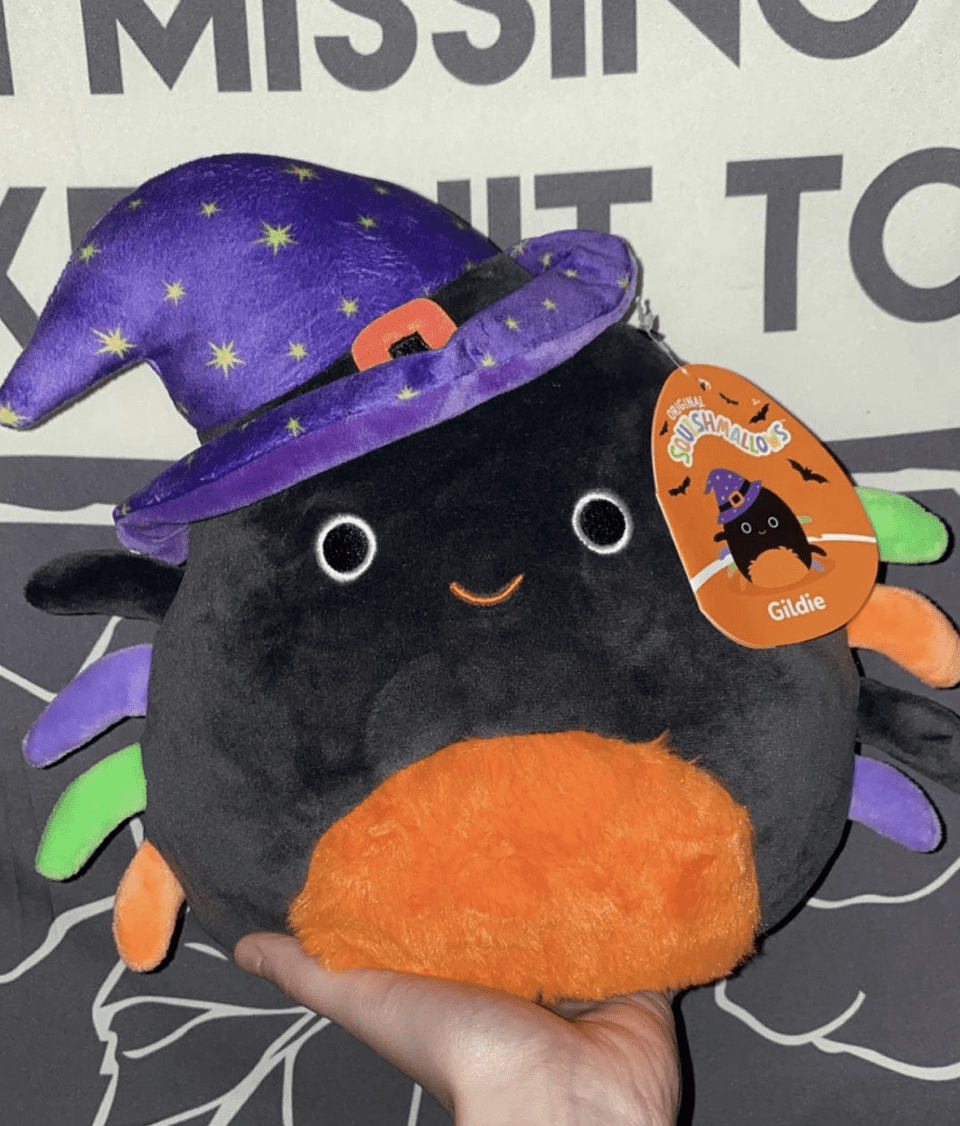 About Gildie
I'm obsessed with Gildie. She was my first hunt of the 2022 Halloween season, and I lucked into the last 8-inch at my local Walgreens! She is an accountant who spends her nights defending her 4-year-strong trivia win streak!
Gildie is black with eight black, purple, green, and orange legs. She wears a purple celestial witch hat.
She is available in the following sizes: 4-inch, 8-inch, and 10-inch.
Pros
One of my absolute favorite additions to the Halloween squad. 

Gorgeous design. 
Cons
All three available sizes are small, so they are not ideal for large Squishmallow collectors. 
#03 Fabi the Snake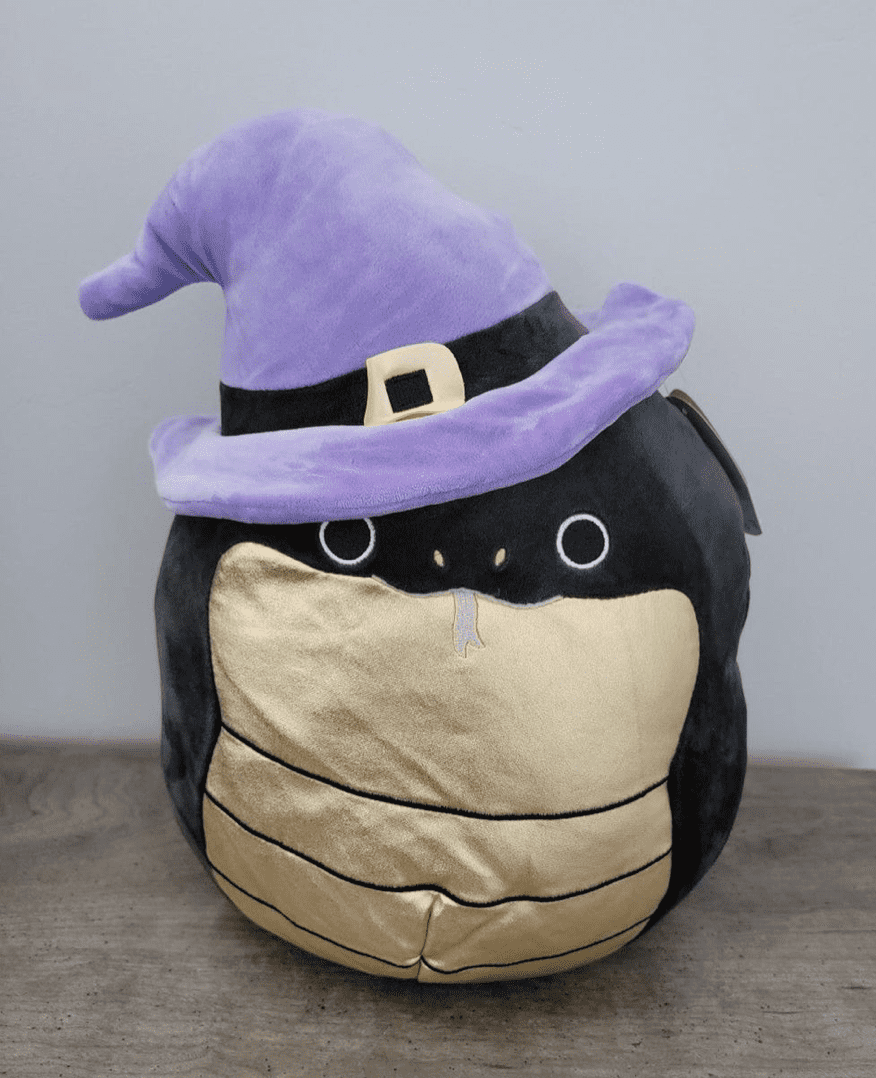 About Fabi
So Fabi is one of my least favorite additions. Her metallic belly is cold and uncomfy to cuddle, and I'm just not a huge fan of the design (or snakes, haha). However, Fabi is super relatable because she loves spending her fall days napping inside with PSLs!
Fabi is a black snake with a golden metallic belly. She wears a light purple witch hat with a black and gold belt.
She is available in the following sizes: 5-inch, 8-inch, and 12-inch.
Pros
the pros
Cons
The gold belly is a metallic material and isn't as soft as a normal Squishmallow. 

The buckle on her witch hat bends easily. 
The Cats and Dogs
The cats and dogs are some of the most popular Squishmallows on the market, and these new additions are absolutely fabulous! In addition, oldies such as Devil Regina the Dog, Vampire Tally the Cat, Callio the Halloween Cat, and Autumn are returning for 2022!
#01 Bly the Cat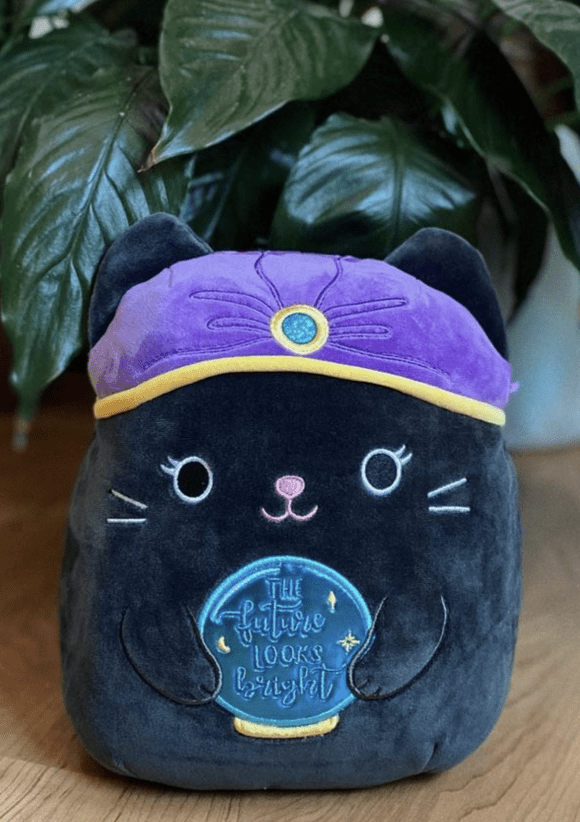 About Bly
The only thing that is known about Bly so far is that Squish Alert announced finding her at Meijer in August. 
She is a black cat that wears a purple turban and holds a crystal ball. It appears that she will be available in 8-inch, but more sizes could be available. 
Pros
Cons
Not much is known about Bly, including if she is a Meijer exclusive or not. 
#02 Hello Zombie Kitty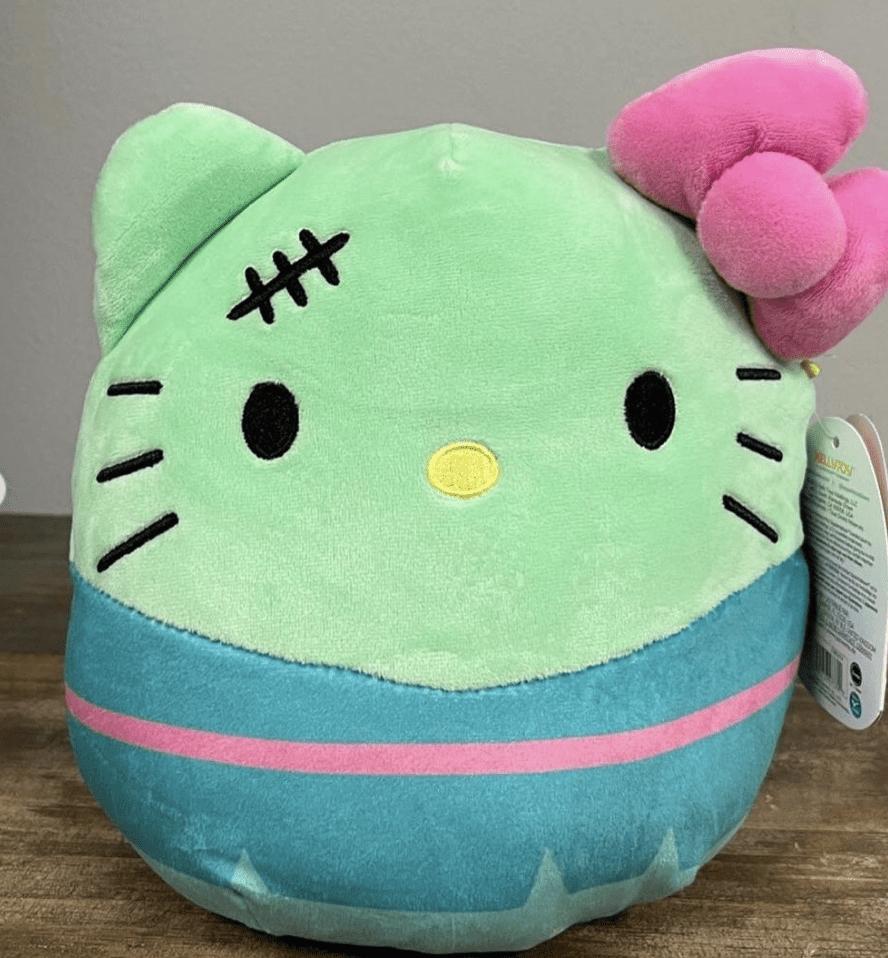 About Hello Kitty
Franken Kitty is an 8-inch Walgreens exclusive. It is predicted that she is a part of a squad, but this has not yet been confirmed. 
Pros
Perfect for 

Sanrio

 fans! 

She has a really cute design! If she is a part of a larger squad, I hope the other Sanrio characters are also classic horror monsters! 
Cons
Not much is known about Bly, including if she is in a squad or not. 
#03 Gerik the Cat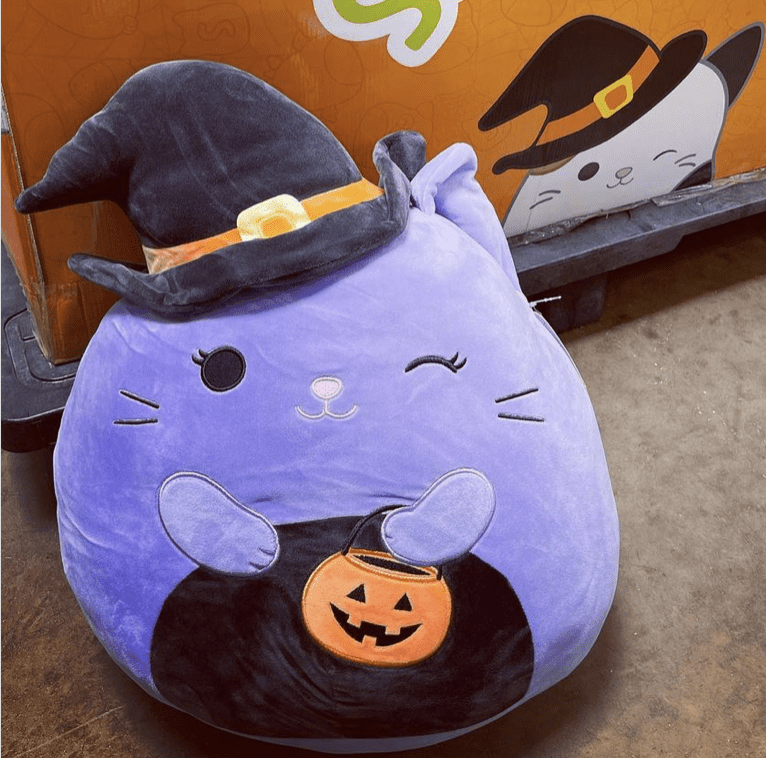 About Gerik
Meet Gerik! They're the newest 16-inch cat with a vast appetite for meat pies and Halloween candy. But, of course, their favorite thing to do is "nosh" with their friends!
Gerik is a purple cat with a black velvet belly and a witch hat. They wink and hold an orange jack-o-lantern trick-or-treat bucket!
Pros
They are a 16-inch squish, meaning they're huge and cuddly! 

 The past few Halloweens, Squishmallow has released cats nearly identical to Autumn the Black Cat, so I love seeing something different this year! 
Cons
She's huge, so not great for those with limited storage. 
#04 Beau the Dog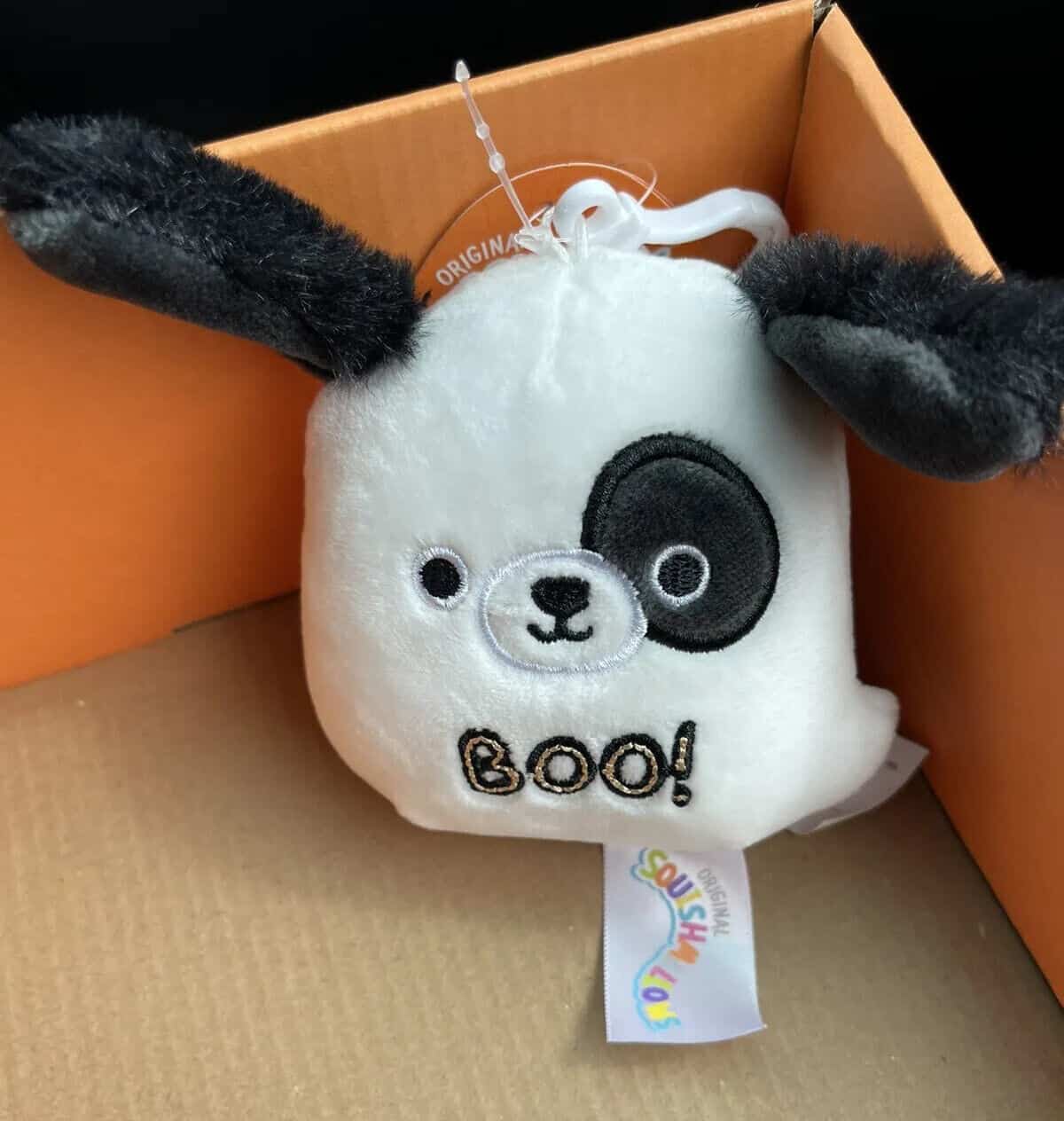 About Beau
Beau is the newest ghost dog and loves to play games and collect zombie stickers!
Beau is a white and black ghost/dog with BOO! written on his tummy. He is only available as a clip. I have seen Beau at Walgreens around Los Angeles, but I am unsure if he is a store exclusive.
Pros
Like the 5-inch, the clips are excellent for collectors because they take up minimal space! 
Cons
It is unknown if he is a Walgreens exclusive or if Beau will be available at other stores. 
The Owls
There are THREE brand spanking new owls this 2022 Halloween season, and I am so excited! Holly, the purple (and occasionally black) owl, is one of my all-time favorite Squishmallows, and I am so ready to hunt more spooky owls!
#01 Alder the Owl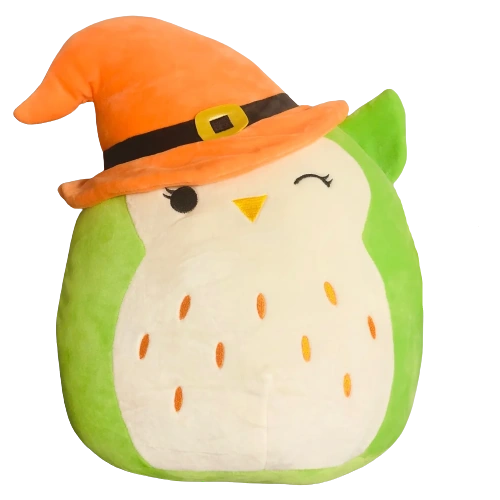 About Alder
Meet Alder! She loves to camp (even if it's just in her backyard) because she adores the great outdoors!
She is a lime green owl with orange accents. She wears an orange witch hat flopped to the side of her head. She is available in the medium, and 4-inch, size. I don't know if she is a Kroger exclusive, but I often see Alder at Ralphs!
Pros
An adorable addition to the spooky owl group! 
Cons
She only has one known size available. 
#02 Demi the Owl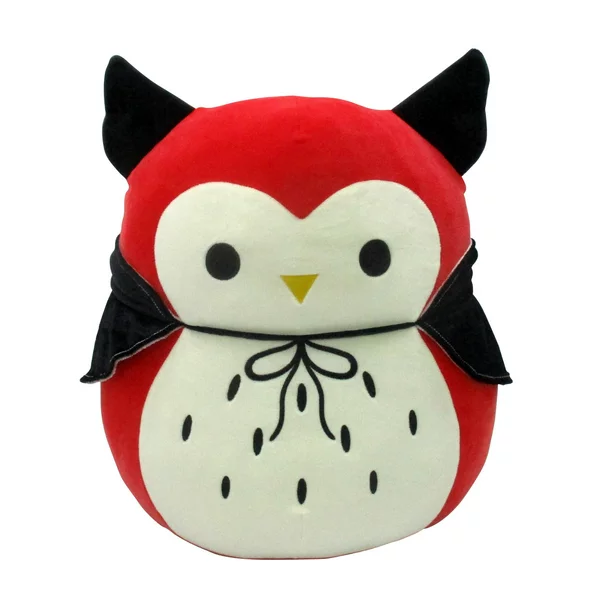 About Demi
Demi is a dark red owl with black accents and a black vampire cape. He loves the simple moments in life, like playing in the leaves and the smell of mourning air. His favorite fall date is apple picking and using them for pies later! 
He is currently only known to be a 16-inch Squishmallow. 
Pros
I love the shade of red that Demi is. It's very fitting for a vampire owl! 
Cons
I wish Demi were dressed as a different creature as Ellette is the much cooler-looking vampire. 
#03 Ellette the Owl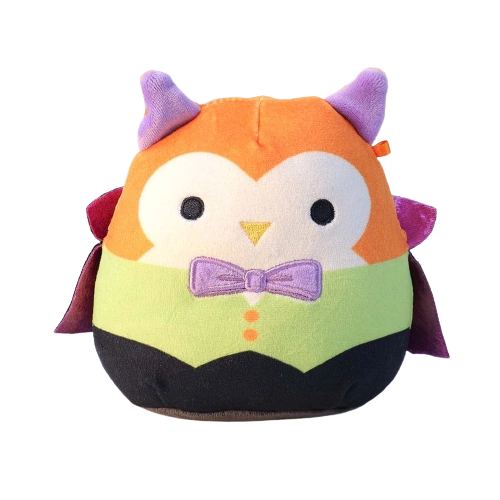 About Ellette
Meet my favorite new owl, Ellette! Though he stands at a small size of 5-inches, he has a huge personality! He loves to make friends and strangers laugh and spends his free time singing! 
He is a bright orange owl with purple accents. He wears a lime green vampire coat with a purple cape and sparkly purple cape! While he only is available as a 5-inch, he is also available as an 8-inch flip-a-mellow with Paige the Pumpkin! 
Pros
A unique design that I think is perfect for Halloween. 
Cons
Since he is new, not a ton is known about him yet! 
More Fan-Favorite Animals
Past fan-favorite animals include Detra the Witch-Octopus and Floxie the Trick-or-Treating Fox!  
#01 Belana The Cow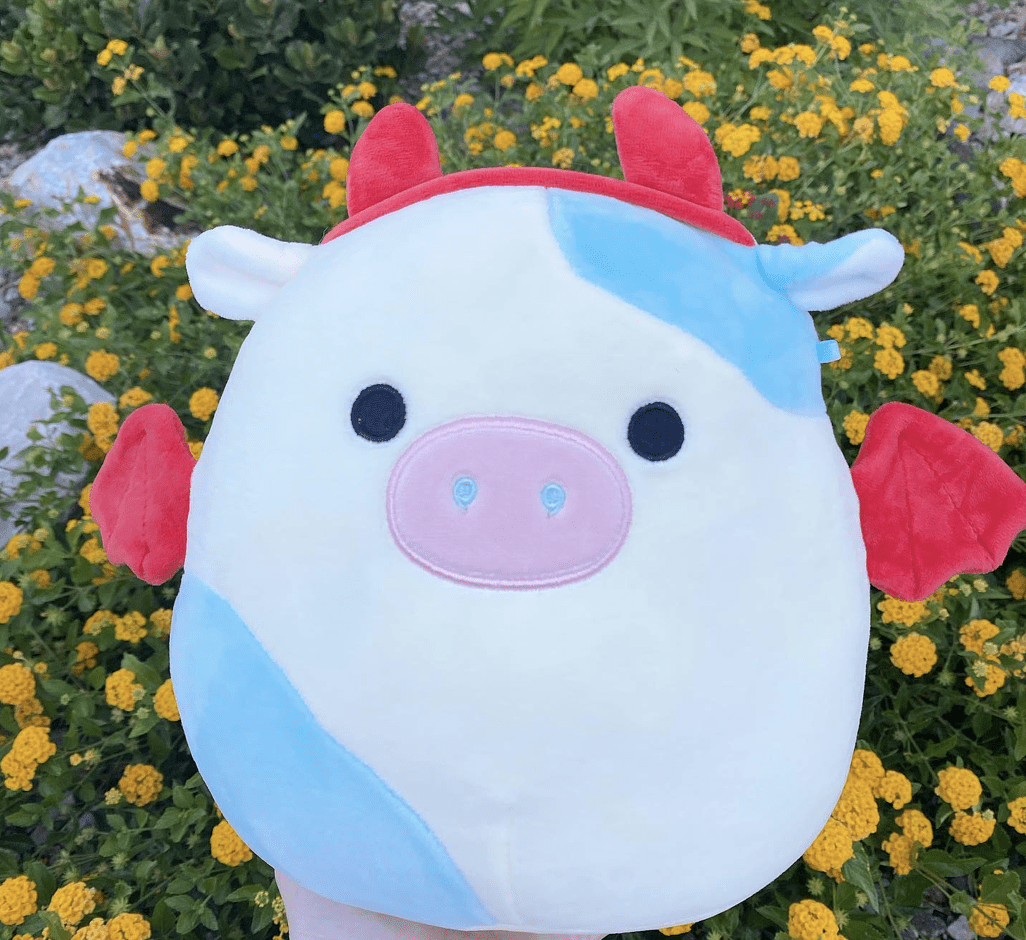 About
This new Walgreens exclusive version of Belana is to die for! She comes in the fan-favorite, 8-inch, size and dotes the cutest pair of devil ears and red wings! In addition, she's dressed as Dante the Devil to Trick-or-Treat!
Not much is known about this Halloween variant of Belana, but I found mine on the bottom row of the seasonal section of Walgreens!
Pros
The top of almost everyone's DISO list! 

One of the first Halloween cows! (a big shoutout to Squishmallow for giving us THREE Halloween cows this year!)
Cons
Not much is known about this Squishmallow since Halloween Squishmallows are still being released. 
#02 Dolma the Octopus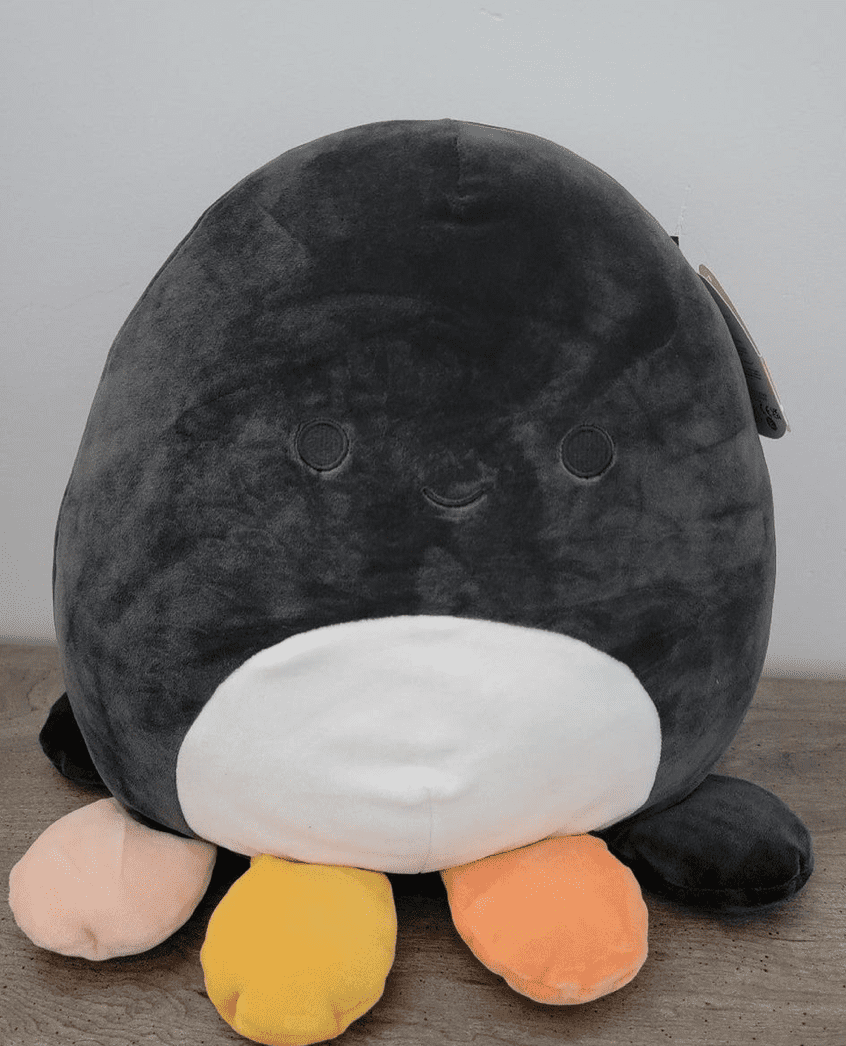 About Dolma
Meet Dolma! She is the newest octopus to join the squad and loves to photograph cities with her friends. She is a black Squishmallow with a white belly and pink, yellow, orange, and black tentacles! 
Pros
The black Squishmallows are really cool looking because their eyes blend into their bodies! 
Cons
While Dolma's size range is still unknown, usually, the octopus are mostly larger sizes (12-inch and up) 
The Monsters and Mythical Creatures
The monsters are a staple of the Halloween squad. Starting with the 2019 Frankensteins, Myrtle, Marcus, and Len and also including personal favorites like Hank the Scarecrow, Marvin the Monster, and Otto the Grim Reaper. 
#01 Ferlize the Ghost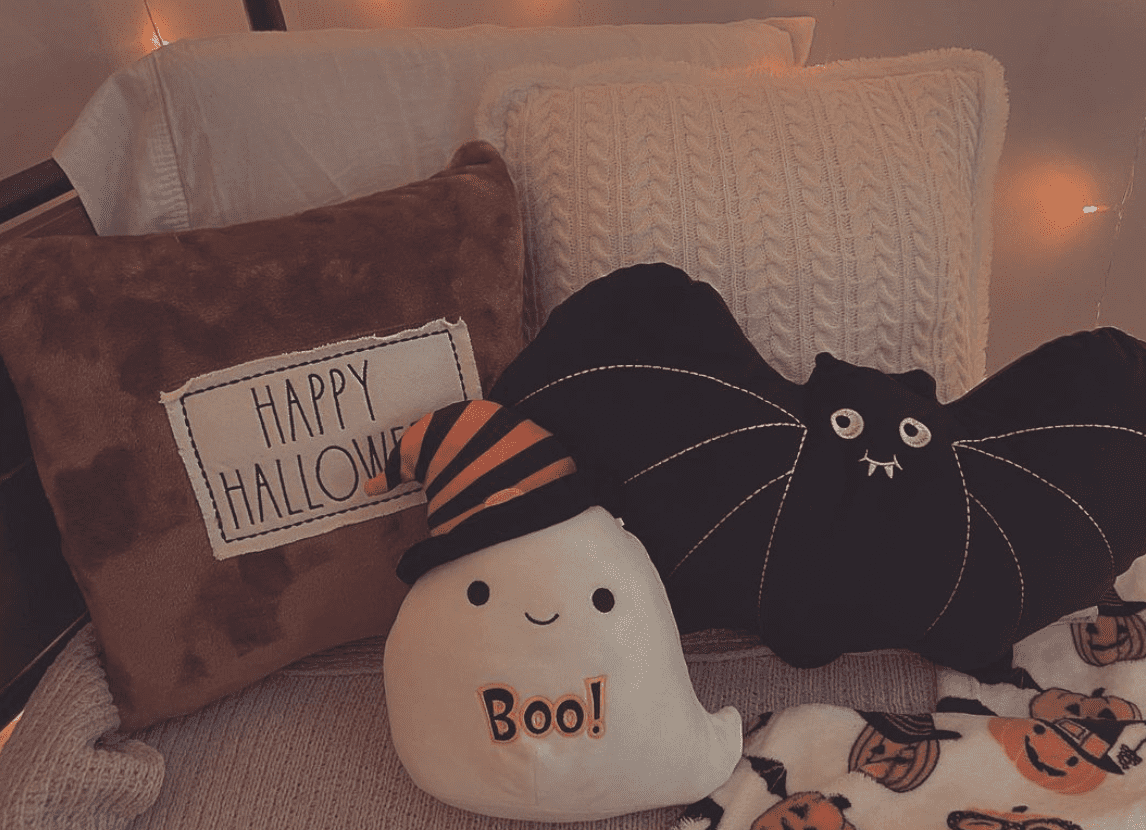 About Ferlize
Felize is nearly identical to Grace the ghost. However, she has purple and orange accents instead of pink! She loves to make caramel apples with her friends and decorate them in fun toppings! 
She is available as a 10-inch Squishmallow and will be sold at most squish retailers, including Halloween shops! 
Pros
The ghosts are an iconic staple to the Halloween squad! 
Cons
She is far too similar to Grace, and I wish they would have given Feilze a more unique design. 
#02 Kaprina the Monster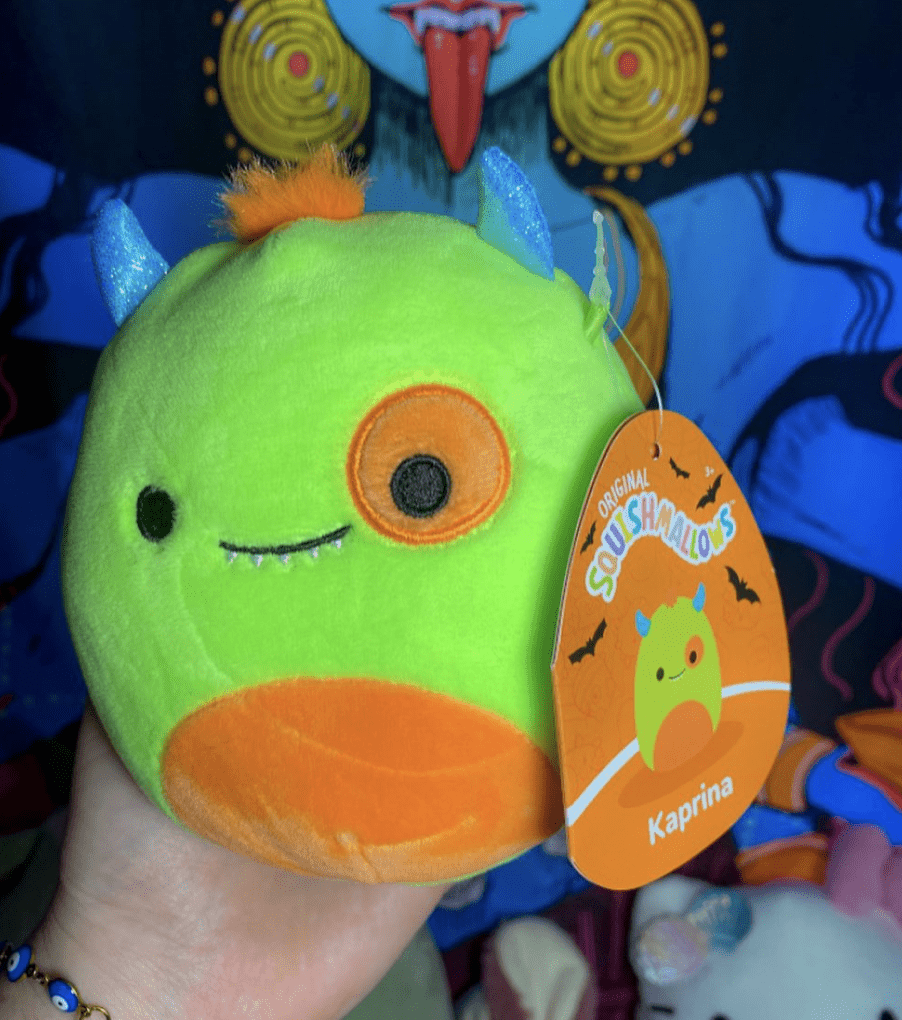 About Kaprina
Kaprina is the newest monster that loves to spend her free time acting in commercials. Her latest paper towel commercial was a hit amongst the Squishmallows! 
She is a bright green and orange plush with sparkly teal horns and a sharp tooth smile. She is a 5-inch Squishmallow that is popping up around Walgreens! 
Pros
The monsters have super fun designs, and it's been a couple of years since we've gotten a new one. 
Cons
Only one size is available.
#03 Gio the Gargoyle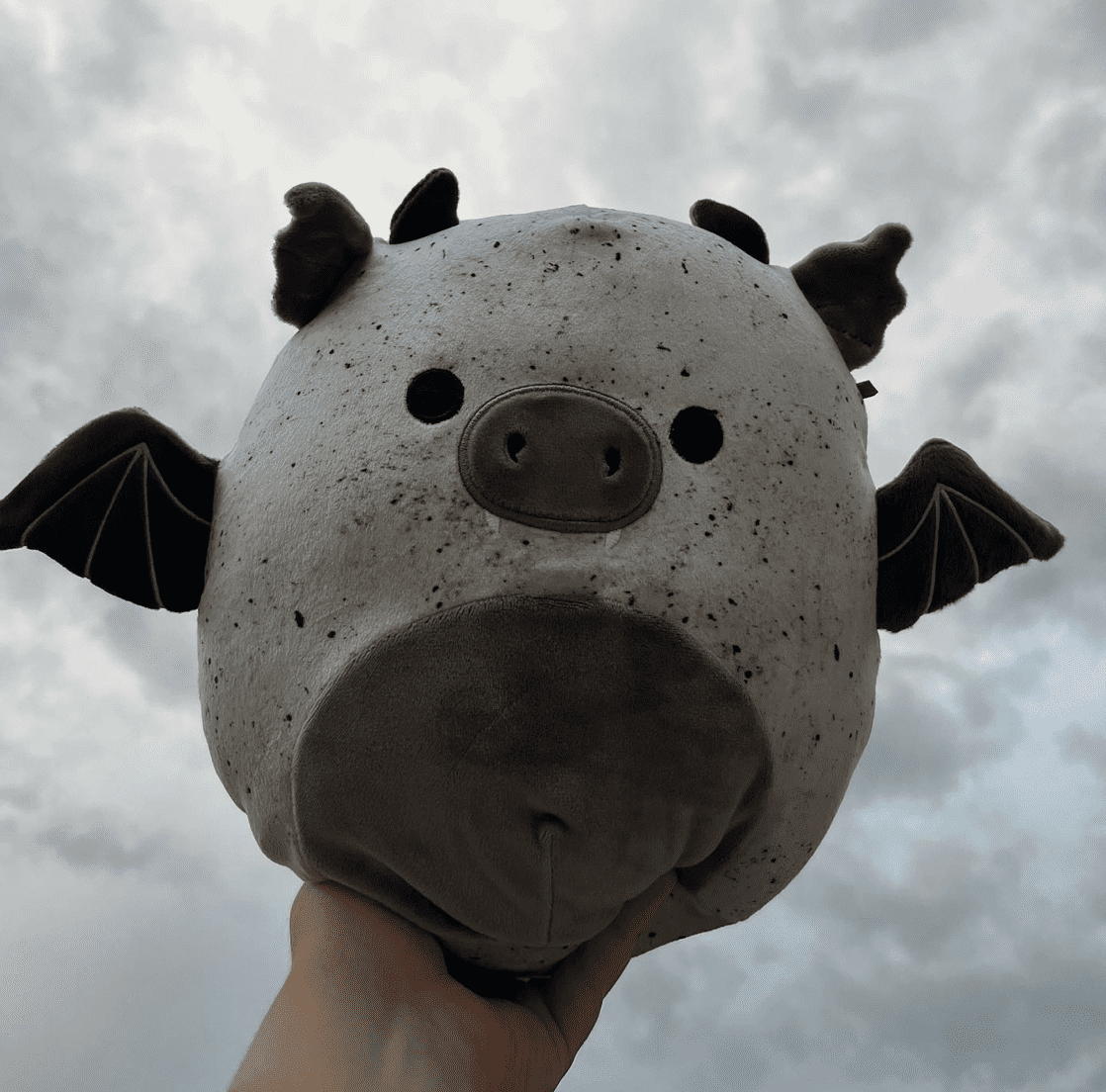 About Gio
Gio is brand new and assumed to be a Meijer exclusive. However, this has not been confirmed by Squishmallow, so keep your eye out at your local Kroger stores for this gray Gargoyle!
Pros
I love his design. The color scheme looks like real stone. 
Cons
Almost nothing concrete, including location, is known about Gio. 
#04 Bimbi the Clown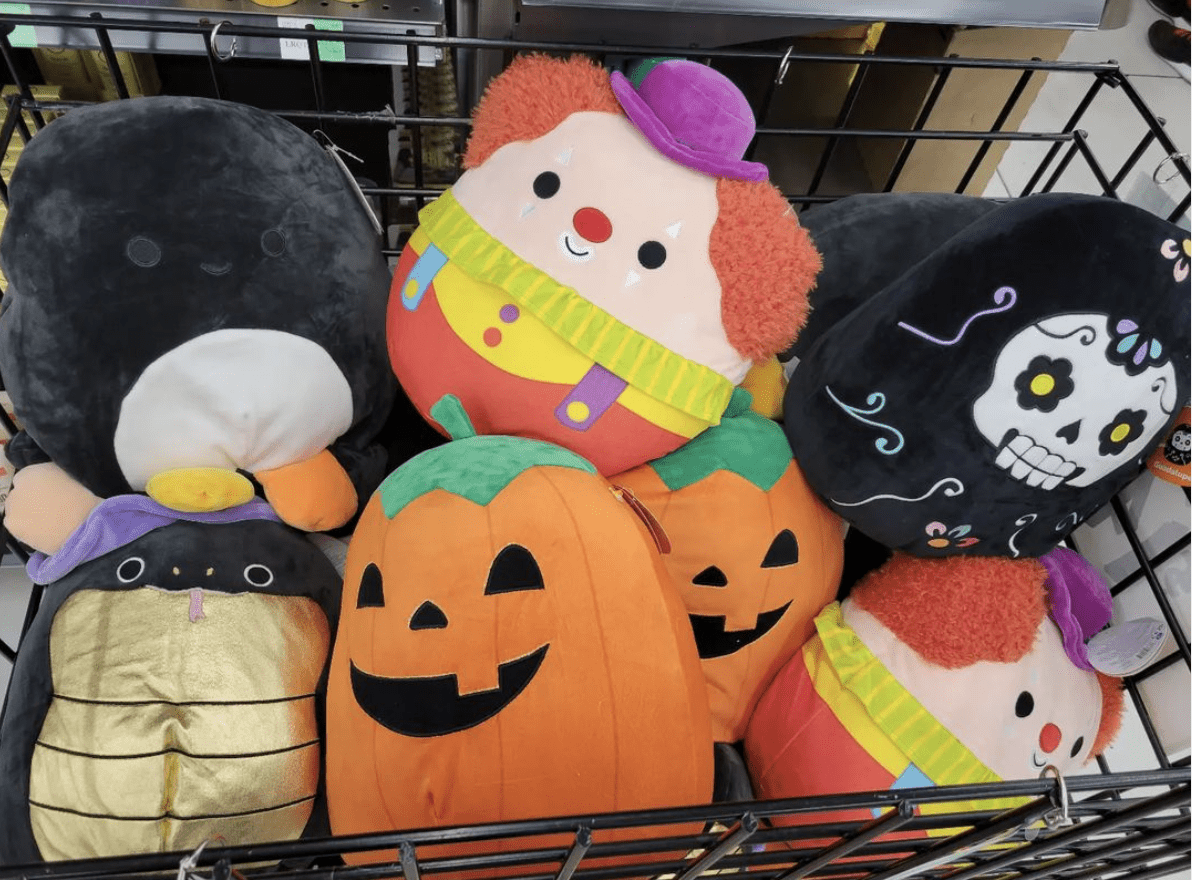 About Bimbi
Bimbi is about to graduate from clown college and is excited about their new life as a professional clown! They love to tap dance and practice their stand-up routine with friends in their spare time. 
Bimbi is one of the most stunning additions to the 2022 Halloween squad. They are a pale clown with orange curly hair, a purple bowler hat, and a colorful, frilly clown suit. Not much is known about this Squishmallow yet, but 12-inch Bimbi's are popping up at various Walgreens in the United States! 
Pros
They have a unique design that I can't wait to hunt down! 

A 

non-binary

 Squishmallow! 
Cons
Not much is known about this squish at the moment, including if they're in smaller/larger sizes and if they're exclusive to Walgreens or not. 
#05 Fab-Boo-lous Mystery Capsules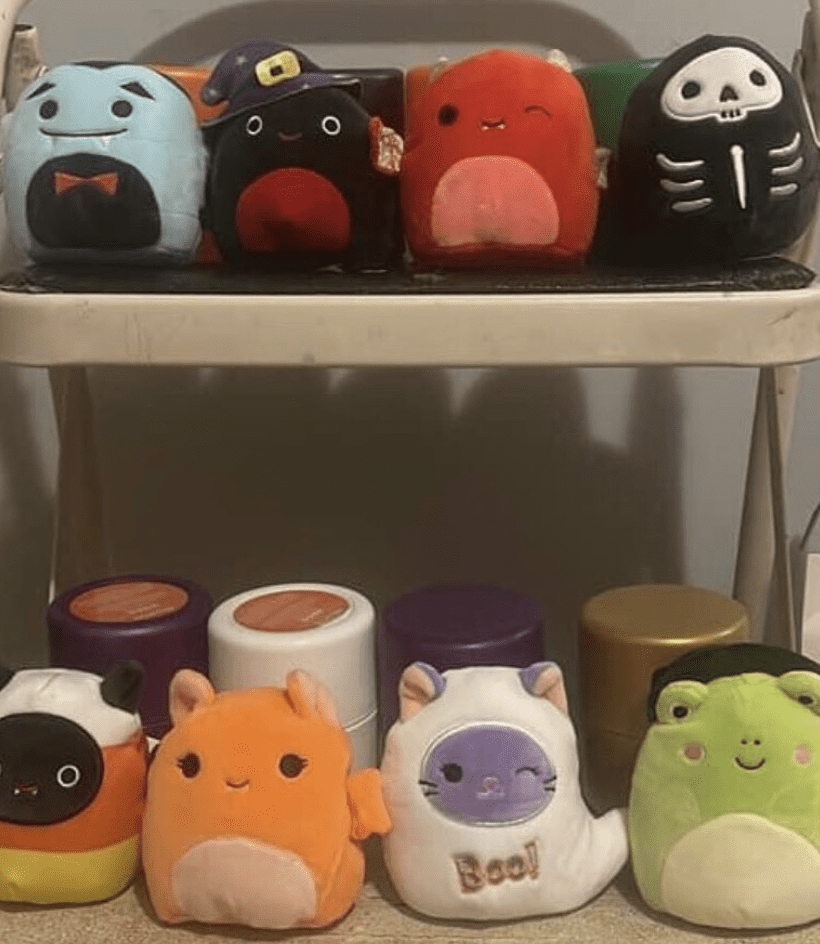 Like the original Mystery Capsules, the Halloween editions contain a surprise 2.5-inch microsquish. Each container is a blind grab for one of 7 spooky mini Squishmallows. The containers have been popping up at Walgreens and Party City, so they will not be store exclusives this Halloween! The capsules retail for $5.99 but sell out quickly and resell for nearly four times their value. So, if you are lucky enough to hunt down a mystery capsule in stores, make sure to grab it!
Possible Pulls
Wendy the Frog – Everyone's favorite blushing frog dressed in a black witch hat for Halloween.
Brand New Bat/Devil – The name of this new Squishmallow is still unknown, but they are bright red with sparkly wings and sharp fangs!
Tangie the Bat – Tangie is a gorgeous bright orange bat with tiny fangs and sweet lashed eyes!
Emily the Bat – The most famous Squishmallow bat is dressed up as Casey the Candy Corn for Halloween!
New Purple Cat – A brand new light purple winking cat dressed as Grace the Boo Ghost for Halloween!
Drake the Dracula – The blue skin of a vamp with killer fashion sense, Drake is a friendly fellow that loves bow ties!
Bella the Spider – Bella is a black spider with a scarlet belly! She wears a purple celestial witch hat with a large gold buckle!
Stix the Skeleton – Everyone's favorite skeleton returns for the 2022 mystery capsules!
Honorable Mentions From Past Years
These are a few of my favorite Halloween Squad members from years past that has not yet been confirmed for 2022. However, given the amount of returning Halloween members, it's still possible these designs will pop up in  stores closer to October.
The Q&A's
Question: When do Halloween Squishmallows Come Out?
Answer: The Halloween Squishmallows begin to pop up in stores around the end of August but become easier to find in mid to early September.
Question: How Many Halloween Squishmallows are There?
Answer: Like the other popular holiday squads (Easter, Valentine, and Christmas), the Halloween squad is giant. It contains dozens of squad members ranging from favorites like Autumn in costumes to unique sets like the Sugar Skulls.
Question: Why are the Squishmallow Holiday Squads so Large?
Answer: The holidays are usually known for gift giving, so toy brands like Squishmallow rush out tons of additional products during the seasons to create hype among the fans and kids, resulting in more products being sold.
Happy Haunting!
While the fall sets aren't hitting many selves yet in Los Angeles (where I live), my friends in smaller towns are already noticing them at grocery stores and Walgreens!
2022 greatly expanded the squad, adding dozens of new Squishmallows to the family. They even expanded Halloween subsets like the Day of the Dead Squad and The Nightmare Before Christmas Squad!
Fall Squishmallows are my absolute favorite plush to collect! I've loved the comfy aesthetic since childhood, and Halloween is my favorite holiday, so it's safe to say my apartment is covered in spooky squad members.
I'm so excited to start my favorite squish hunt of the year in September, and I hope my guide helps you complete your spooky collections. Happy Halloween!
More Boo-tiful Squish to Hunt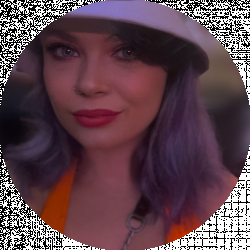 Latest posts by Teryn Greenway
(see all)