Maybe it's the former emo kid inside me still longing for Warped Tour and MCR pit tickets. Perhaps it's my deep-rooted love for fall and Halloween. No matter the reason, the Plague Doctor collection is quickly climbing my ISO list.
In this guide, I will teach you everything I know about this growing squad that is quickly becoming my all-time favorite!
My Top Pick: The Mini Doc
Don't let the name mini fool you. Doc is larger than an eight-inch Squishmallow and is firm enough to stand on its own when displayed on a shelf.
The Lowdown First
Squishables are a slept-on alternative to Squishmallows. They feature more adult and aesthetically pleasing designs such as alcohol and forest demons.
The Plague Doctor launched as a Halloween exclusive in 2020 but was so popular it broke the website. Twice. After this, The Plague Series quickly became a permanent set.
If you are a fan of Squishmallows' Halloween squads or just a collector who loves fall, you will find these plushies to die for!
My Top Five!
What are Squishables?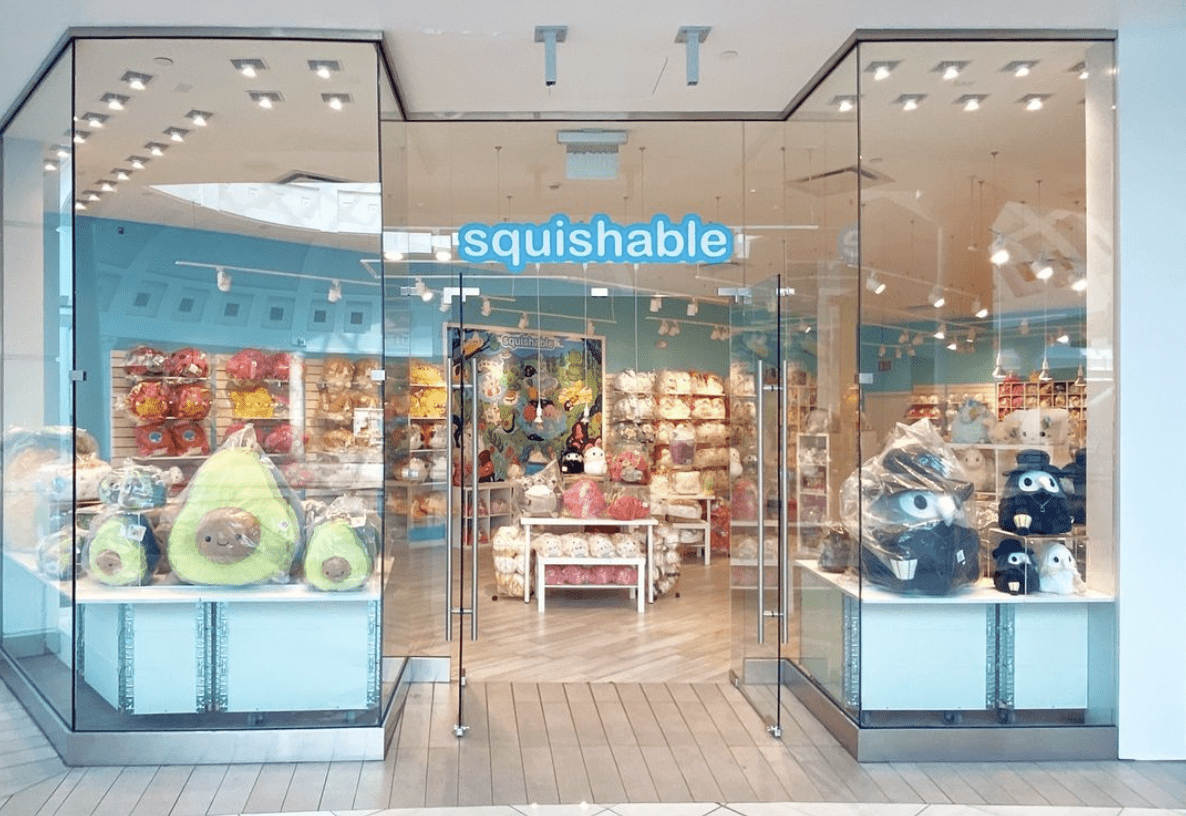 To begin, let's answer the question on everyone's tongue. No, Squishables are not the same thing as Squishmallows. Although Squishables are nearly a decade older than Squishmallows, in my opinion, they are more collectible.
They are geared toward older kids and adults with spookier designs and less animated faces. In addition, they are fluffy in texture, unlike the velvet softness of a Squishmallow.
The most considerable difference comes with the plush level. Squishmallows are a marshmallow of softness, while Squishables are firm and able to stand on their own for display.
The last significant difference is that Squishable has physical locations in some major cities, with pop-up shops regularly coming to new places in the US, UK, and Canada.
The Plague Squad and Other Spooky Friends
The set launched a couple of years ago, the Halloween during the height of the pandemic, and was supposed to be a holiday exclusive. However, Doc and his love, the Nurse, were so cute that they quickly found a permanent home at Squishable.
Not only that, but their squad continues to grow, with two more spooky friends coming out at the end of July!
The best spot to shop for your new spook plush is at Squishable shops, which usually have full stock, and you can have the product immediately. If you are not near one of these shops, the website is pretty quick with shipping and handling.
While it isn't guaranteed, sometimes Barnes and Noble and FYE will carry various Squishables for the same price as the physical store!
The Original Plague Doctor

Doc started it all with his seven-inch launch for Halloween 2020. Unfortunately, Doc was so sought after that he crashed the site upon release, which is now a staple of the Squishable brand! 
He wears his pointy nose mask because, in medieval times, real-life plague doctors thought that smelling herbs and flowers would keep them healthy and cover the stench of death that haunted Europe. But, of course, it wasn't the mask that kept the doctors safe, but instead the leather of their hazmat coats. Of course, today, we have soap and cleaning products, meaning we can avoid the pointy masks and large leather jackets, but the iconic look stuck as a spooky stable in world history. 
Doc comes in most size variants with a clip (3-inch), mini (7-inch), regular (15-inch), and a massive plush (24-inch) all available! Prices vary from $12-$250 depending on size, with shipping price depending on your country of residence. 
All sizes include a fuzzy top-hatted new friend with a glow-in-the-dark lantern and cute pink blush on his masked cheeks! 
Pros
The man who started it all! 

Fuzzy and insanely soft. 

It comes in a twenty-four-inch size! 
Cons
The lantern only glows under a blacklight. 

Firm rather than squishy. 
The Plague Nurse

When battling a highly contagious and equally deadly disease armed only with a glow-in-the-dark lantern, a beak full of flowers, and a leather jacket of good hygiene, you require a partner in crime. The plague nurse is the Watson to Doc's Sherlock. 
The plague nurse came to be after fans began to request the historical figure to join the famous Doc's side. She holds her lantern on the opposite side so that she and Doc can hold hands (after a thorough wash, of course).
The nurse comes in a micro clip (3-inch), mini (7-inch), and regular (15-inch) size range, with the price, starting at $11.99 and ending at $48 for a fifteen-inch. 
She wears a white leather cloak with an off-white hood instead of a top hat. Her lantern, as well as a thick band around her wrist, is pastel pink, giving her a different, lighter feel when compared to her counterpart! 
Pros
It looks precious holding hands with Doc

There's this gorgeous lace detail on her hood. 

She has lashes, a detail that I find adorable. 

Her lantern color is pink, fitting her aesthetic. 
Cons
The lantern only glows under a blacklight. 

Firm rather than squishy. 

Easy to get dirty as it is all light colors. 
The Venus Flytrap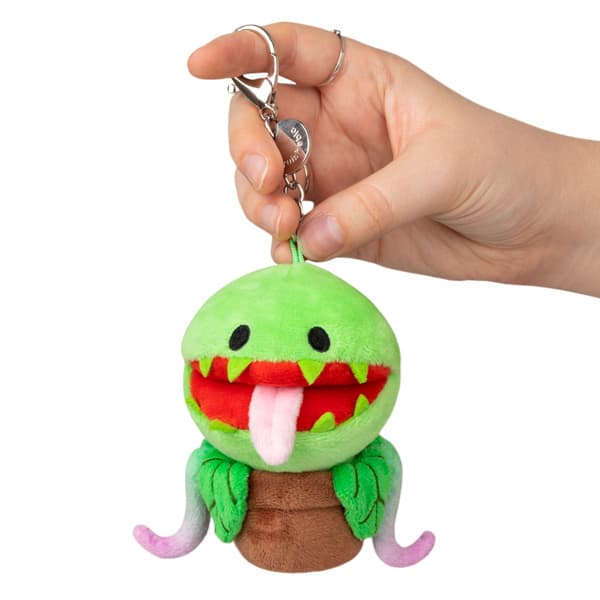 The Venus Flytrap is a newer addition to the Mysterious Doctor Plague squad. Unfortunately, they don't have a lantern, but this is because they can see in the dark! Instead, his mouth is magnetic, meaning you can open and close it, theoretically keeping tiny objects in your plush friend. Where his plague doctor friends are huge on personal hygiene, Venus works for teaching his friends the importance of dental health! 
The flytrap comes in a micro clip (3-inch), which is a brand new size! It also comes in mini (7-inch) and regular (15-inch) sizes, starting at $11.99 and ending at $48 for a fifteen-inch. 
He's a lime green head sitting on dark green and purple leaves inside a brown pot. He has a bright red mouth, sharp green teeth, and a long pink tongue to help hold onto what he loves, like you! 
Pros
He has a magnetic mouth to imitate eating! 

He comes in three sizes, including a clip!  
Cons
Magnet comes undone easily. 

His color scheme doesn't match the rest of the set.  
Coming Soon to the Plague Series
King Raven

King Raven is a nod to horror legend, Edgar Allen Poe and is joining the Plague Series in fall 2022! 
He is royalty and beloved by all for his ability to listen and lend a helping hand. He's the sweetest, grumpy bird you'll ever meet, and I can't wait until mine is delivered! 
Since he is new, there are only two sizes available for preorder. The mini($24) and the regular($48). 
He is a dark purple and black bird with a gray beak that matches his tiny eyebrows and wide, curious eyes. He also looks adorable in his bejeweled ring and crown! 
Pros
He marks the latest expansion of the Plague series! 

The attention to detail in his design is super impressive. 

Available in multiple sizes. 
Cons
Not yet available.

It appears to be more velvety than fuzzy.
Phlox the Plague Cat

This cool cat loves her belly rubs and is a magical medical genius. She's in charge of making potions for the ill.
She launches in Fall 2022 but is available for preorder now! She will come in the mini size, which is seven inches of squish. 
She's a purple cat with two different colored, sparkly eyes (one golden and one teal). She wears a sparkly bejeweled collar. She's ready to live her life as a protective lap cat! 
Pros
I'm a cat mom, so I'm already obsessed. 

I love the magical look of the two-eye colors! 
Cons
Not available until fall 2022. 

It will only be available in one size.  
More Spook-tastic Squishables
The Witch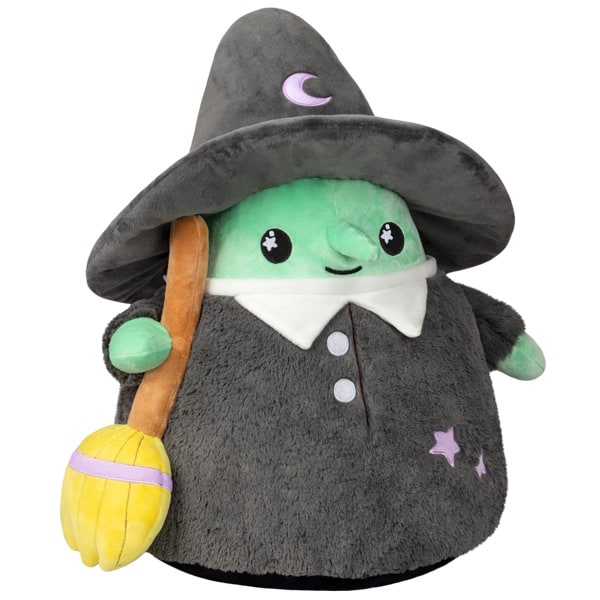 Ever accidentally create an anti-aging potion so potent it turns your friends into super-smart babies? Okay, of course not, but if you ever find yourself in this situation, Squishable Witch is here to help with her extensive knowledge of rituals, spells, and cures! 
Of course, her bestie is the Cauldron, launching later this July! This one comes in regular size for $48, and a pre-order is still available.
The witch comes in both mini for $22 and regular for $49. 
She's a green witch with a broomstick and a long pointy nose in tack. 
Her spells cause stars to shine in her eyes. She dresses in all black from her hat to her cloak but loves to accent in purple! 
Pros
I love the moon and star details, showing her relation to the Wizard! 

Her green skin is velvet soft. 

I'm so excited for the cauldron to launch right in time for Halloween decorating! 
Cons
She is identical in feel and shape to the Wizard, meaning she is firm than squishy. 
The Baby Mothman

As an east coast local and a Virginia-based childhood bestie, it's safe to say the baby Mothman is at the top of my ISO.
The Man. The Moth. The only legend himself has inspired West Virginian folklore for centuries and will continue for many more years!
I love that Squishable took this east coast staple and made it an adorable, shy blob hiding in his wings. His big, red eyes popping out, and his ears up and alert!  
He is currently only available as a $24 mini. Still, how adorable he is and how much the community is eating him up, I see a size range increase in his future. 
Pros
He's adorable, from tiny toenails to huge, bright eyes. 

I love a good Appalachian folklore creature 

His wings open to reveal a round squishy body. 
Cons
A super weird negative, but his feet look too much like chicken legs to me, and I don't like it. 

He doesn't launch until the fall of 2022. 
The Wizard

Hug this thousand-year-old real-estate agent by day Wizard by also day friend and experience the amount of power in his beard alone! 
He's wicked smart and loves to share his knowledge with his friends, just like you and me. 
He comes in two sizes, a $24 mini and a $49 regular. 
Both humanoid figures have tall, pointy blue hats and matching robes. The Wizard holds a blue and gold wand and takes extra care of his magical beard of knowledge. 
Pros
His jacket gives Taylor Swift vibes. 

I love the magical look in his eyes. 

He stands on his one because of his heavier stuffing and a flat bottom. 
Cons
He's more firm than squishy. 
The Lich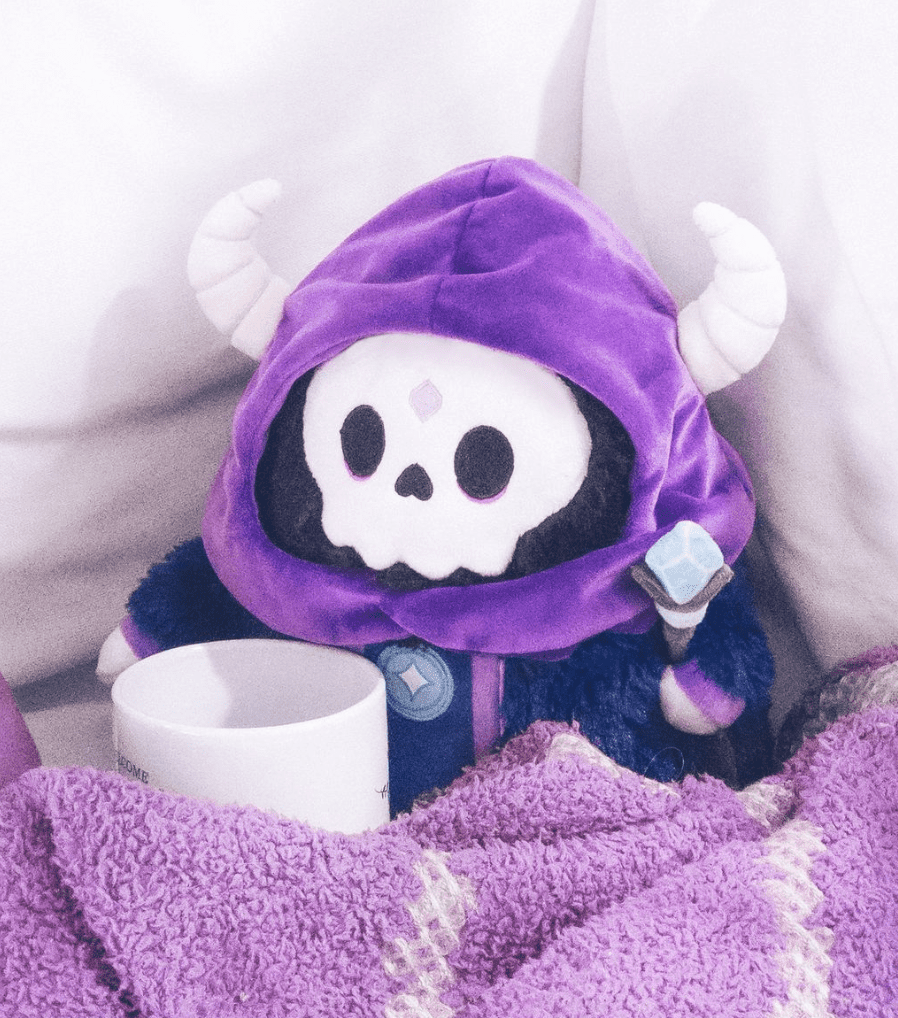 A lich is a necromancer that uses a phylactery to bound itself to the physical world. This spell lasts even after its body is destroyed. So as long as the phylactery is safe, the creature has eternal life. He's super popular in fantasy games like Dungeons and Dragons and even makes an appearance in the show "Adventure Time"! 
This lich comes as a $24 mini size as he doesn't launch until the spring, and Squishable tends to only launch one size at first to test new designs. 
As designs go, this one is darker than others on this list. While it is a fun, bright purple color, it has devil horns poking through and a skeletal face with dead, bloody eyes. However, as a horror fanatic, I'm excited to add lich to my collection! 
Pros
A lot of research went into the design of this creature! 

Out of all the coming soon spooky plushies, I'm most excited about this one.
Cons
It isn't out yet, but pre-order is available online! 
The Spooky Ghost

This punny ghost may not be great at scaring people, but he does make one killer breakfast. His secret ingredients: Boo-berries and bacon. He loves to raise the spirits of his friends with his bubbly personality and legendary hugs. 
This undead cutie comes in three sizes, Micro ($9.99), Mini ($21), and regular ($45). 
He's an adorable sheet ghost with huge black eyes, the cutest U-shaped grin, and pink, blushing cheeks! If you believe the spooky season is year-round, this dude will be your best friend! 
Pros
Just look at his tiny arms. How can you not want to hug him! 

Super soft and fuzzy! 
Cons
Compared to his spooky friends, he is pretty plain looking. 
The Reaper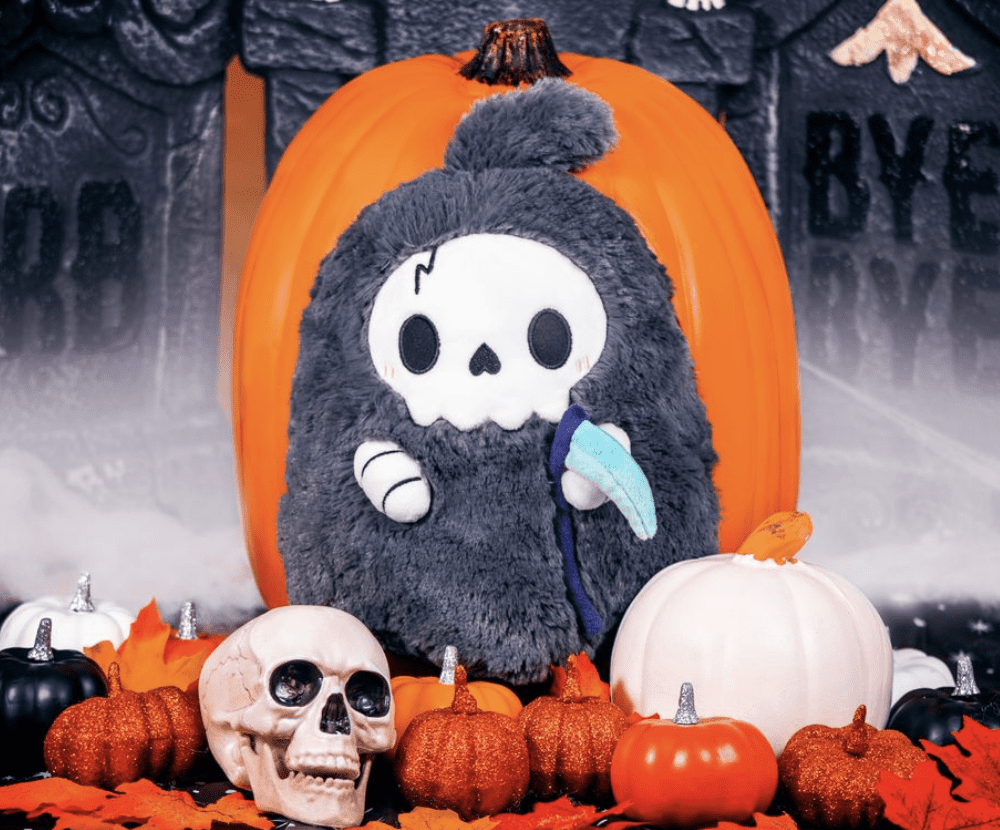 This snuggly grim reaper is probably the most popular on this list as he is often sold out. However, he's a favorite for a reason! He's super fluffy and soft and holds the cutest scythe you've ever seen! Don't worry, though. He's super friendly. He just wants to train for his ultimate frisbee competition! 
This spooky squish comes in not only three sizes (micro, mini, and regular) but also pins and stickers! 
Pros
Grim is at the top of my ISO list. 

It comes in multiple different options, including accessories! 
Cons
Unlike other micros, the Reaper changes quite a bit in appearance and, in my opinion, doesn't look as cute. He's not fluffy, and his scythe has significantly less detail. 

The Reaper is often sold out.
The Skelecado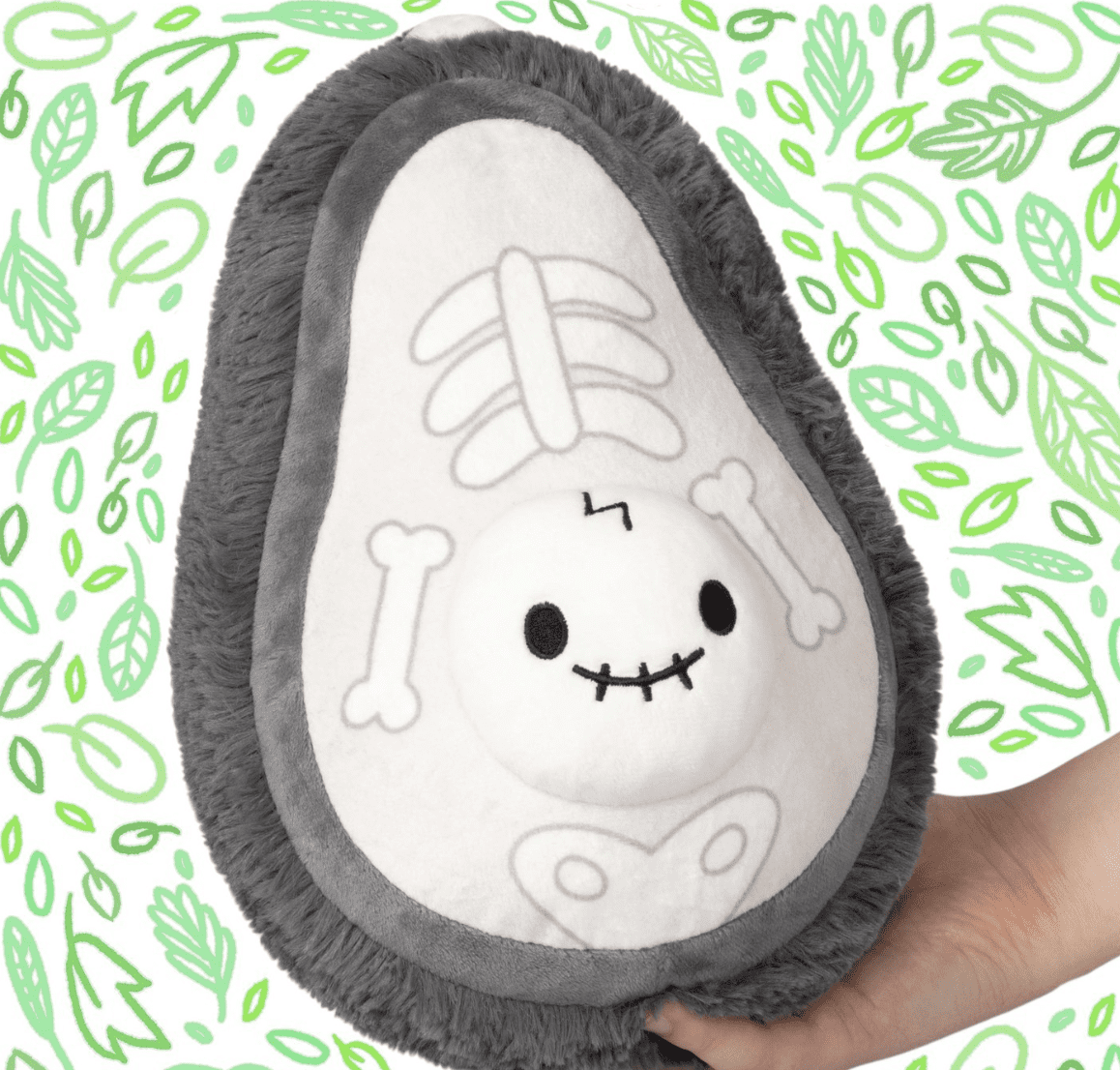 Skelecado is a member of the newer Alter Ego series! He is a part of the first series (the second series is coming soon and hinted to feature new Doc designs!) The idea of alter egos is to take the item and imagine its alternative universe possibilities. This avocado happens to be an outlaw on the run after robbing a local saloon.
He comes in snacker-sized plush, which is five inches of squishy goodness. He is $13 and is in a series with four other alter ego avocados! 
Pros
The first of a new limited series! 

I love the design, especially the skull being the pit! 
Cons
It only comes in snack size, which is relatively small. 

Only the backside is fuzzy. The face is more of velvet material. 
Squishable Merch!
The plague set continues to expand with new products launching often! There's even plague merch to go alongside your favorite squishy pals. My favorite is the Doc bookbag, and I'm already in love with the Plague Nurse bag launching this fall. As someone who lives in SoCal, I also appreciate the tote bag as a unique option to carry on beach days.
For those with kids or who love arts and crafts, they recently launched a 1000-piece puzzle. It is shaped like the Doctor using his lantern to light his way through the night. I am a fan of the matching coffee mug as I can't go a day without an oat milk latte. 
Apparel-wise, there are multiple choices, from t-shirts to workout leggings to phone cases and pins! 
I'm having so much fun watching this series of adorable spooks grow and can't wait to see what's to come in Alter Egos series two and Halloween! 
The Q&A's
Question: How do I get a Plague Doctor Plush?
Question: How Much do Squishables Weigh?
Answer: The minis weigh 5.6 ounces, and the regular size weighs 8 ounces.
Question: Is Squishable the Same as Squishmallow?
Answer: While they are both squishy friends, they are very different brands with unique designs and different textures. Squishmallows are velvet and soft, where Squishables are fluffy. The most significant difference comes in the squishiness level. Squishmallow has a more plushy and marshmallow feeling. Where as Squishable is firmer and able to sit up on their own.
Question: Does the Plague Doctor Squishable Glow in the Dark?
Answer: Yes! Doc comes with a glow-in-the-dark lantern held in his hand. However, it will only glow under a blacklight. His glow pattern can vary from plush to plush.
The Last Spook
A fun fact about me is that I am finishing up my MFA in screenwriting next month. I adore fantasy and horror genres and base my thesis project on Appalachian folklore. At the same time, I still enjoy a good cottage core and cutesy aesthetic. The growing plague doctor collection hits every single note of the cottage-gore aesthetic I'm growing to love.
While these are harder to find if you don't live in cities with Squishable pop-ups, I think their high-quality and more grown-up designs will only grow in popularity. I intend to continue collecting this set as it grows, and I hope you join me in the spooks!
More to Feed Your Spooky Soul
Bat Squishmallow Guide for Halloween Squad Fans 
Bendy Plush Guide for Survival Game Fans
The Best Halloween-Themed Squishmallows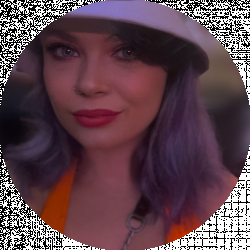 Latest posts by Teryn Greenway
(see all)