Do you also love swimming in an ocean of jumbo Squishmallows? In that case, I have the best 20-inch Squishmallows you'll find if you love color, glorious patterns, and glittery effects. Squishmallows are the best plush toys in which you'll find pretty options to add color to any bedroom.
And don't worry, there's a simple way to collect many 20-inch Squishmallows. My family and I love Squishmallows and are avid collectors. So, I searched every online store to find the unique beauties that stand out more than others. Let's see what I found and which ones made my kids fall in love.
My Winning 20-Inch Squishmallow
Jumbo Squishmallows undoubtedly come in various gorgeous colors and squad members. I looked for Squishmallows with unique personalities, colors, and crossover squads. My ultimate pick is the Abilene, the Rainbow Ostrich Squishmallow because she meets all my needs for unusual marshmallow plush.
I never thought an ostrich could look so fabulous. Of course, I've seen the animals in real life, and they're weird-looking creatures. However, Abilene has a punk-rocker style with rainbow and tie-dye patterns to bring her personality out better. She even comes with wings that carry a textured design.
Here are more jumbo Squishmallows I love:
My Other 20-Inch Squishmallow at a Glance
Quick Space-Saving Tips for 20-Inch Squishmallows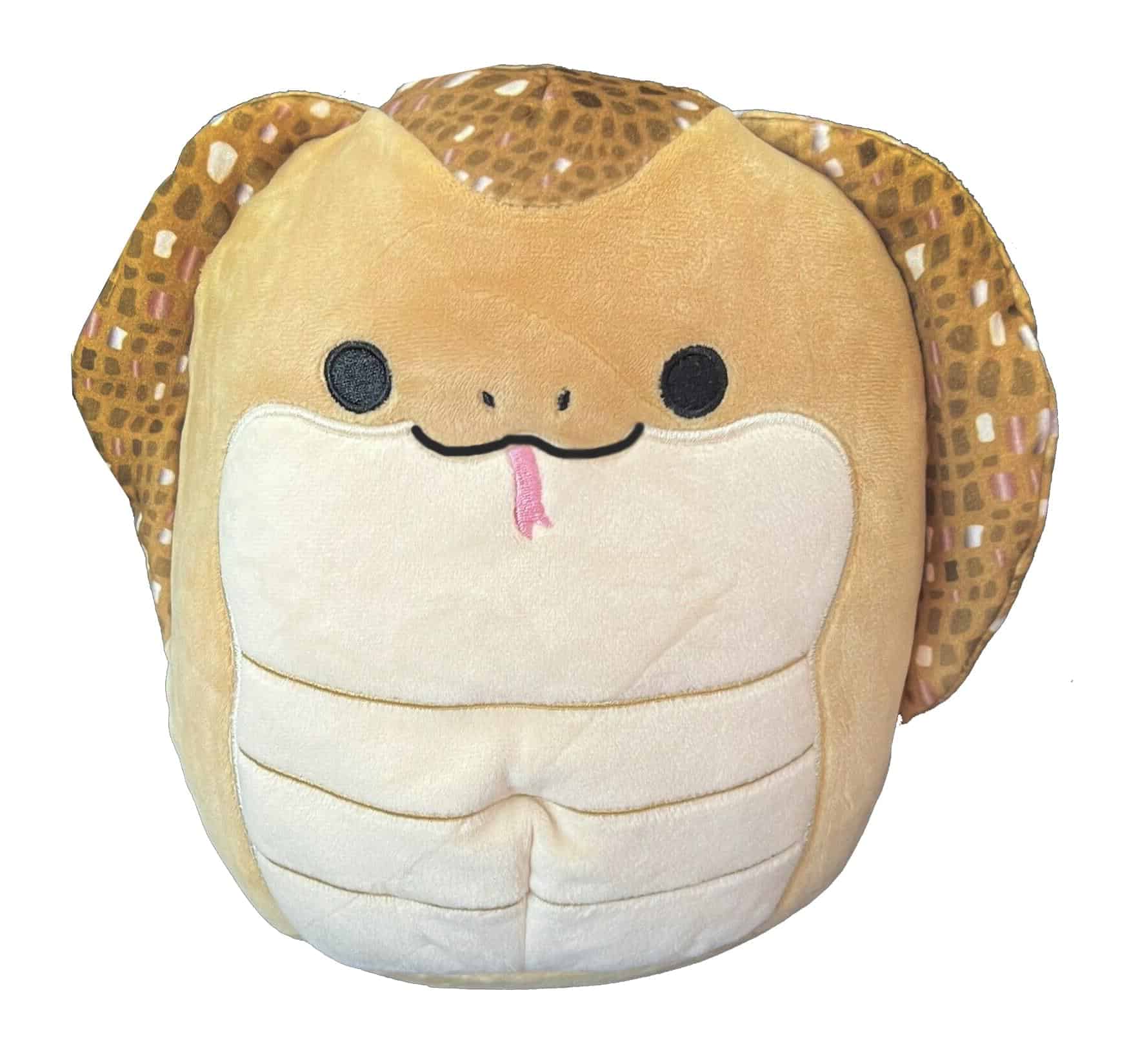 The 20-inch range of plush from Squishmallows is better known as jumbo, and you'll need some tips on storage if you're going to collect a few of them. I have a Squishmallows collection in storage, and my method seems like the best option to keep many jumbo Squishmallows.
I vacuum seal every Squishmallow to keep them looking new while I keep a few at home. My kids do the same. But unfortunately, you can't keep a bunch of 20-inch Squishmallows sitting on your bed unless you want a Squishmallows bed that feels like marshmallows and clouds.
Pick a few favorites to keep on shelves and the bed, and start vacuum-sealing the rest. You can change them up from time to time. Use this video tutorial to vacuum your Squishmallows carefully. You can seal squads together, or you can sort them by size. However, you also want to find them again quickly.
I use labels on the vacuum bag to remember which ones went into which bags. Finally, you'll need to remove them from storage when you switch things up carefully. Follow these steps to remove vacuum-sealed Squishmallows:
Open the vacuum-sealed bag carefully. Never use a knife or sharp object that could harm your plush.
Allow the air to flow out naturally. You don't need to squeeze the air out to put more pressure on the plush toys.
Remove the desired Squishmallow and place it on a counter for at least an hour. Don't force it to return to the standard shape. You can gently fluff it like a pillow now and then, but don't try to reshape it yourself.
It's that simple to keep many, and I mean many Squishmallows. Now, you only have to pick your favorite 20-inch Squishmallows to start storing them and changing things.
How to Select the Best 20-Inch Squishmallows
I love the best Squishmallows I can find, meaning I want unique options. I'm not mad about having the same Squishmallows everyone else does. My top Squishmallows should:
belong to two or more squads
look unique with beautiful colors, accessories, or unusual textures
fit the animal kingdom, whether farm animals, forest critters, or fantasy creatures (yes, I love animals)
Best 20-Inch Squishmallows: My Recommendations
The cutest jumbo Squishmallows come in a range of bright colors, some with textured qualities and others with multi-squad backgrounds because they hold accessories. Let's look at the top animal-inspired 20-inch Squishmallows and why they're incredible and why not.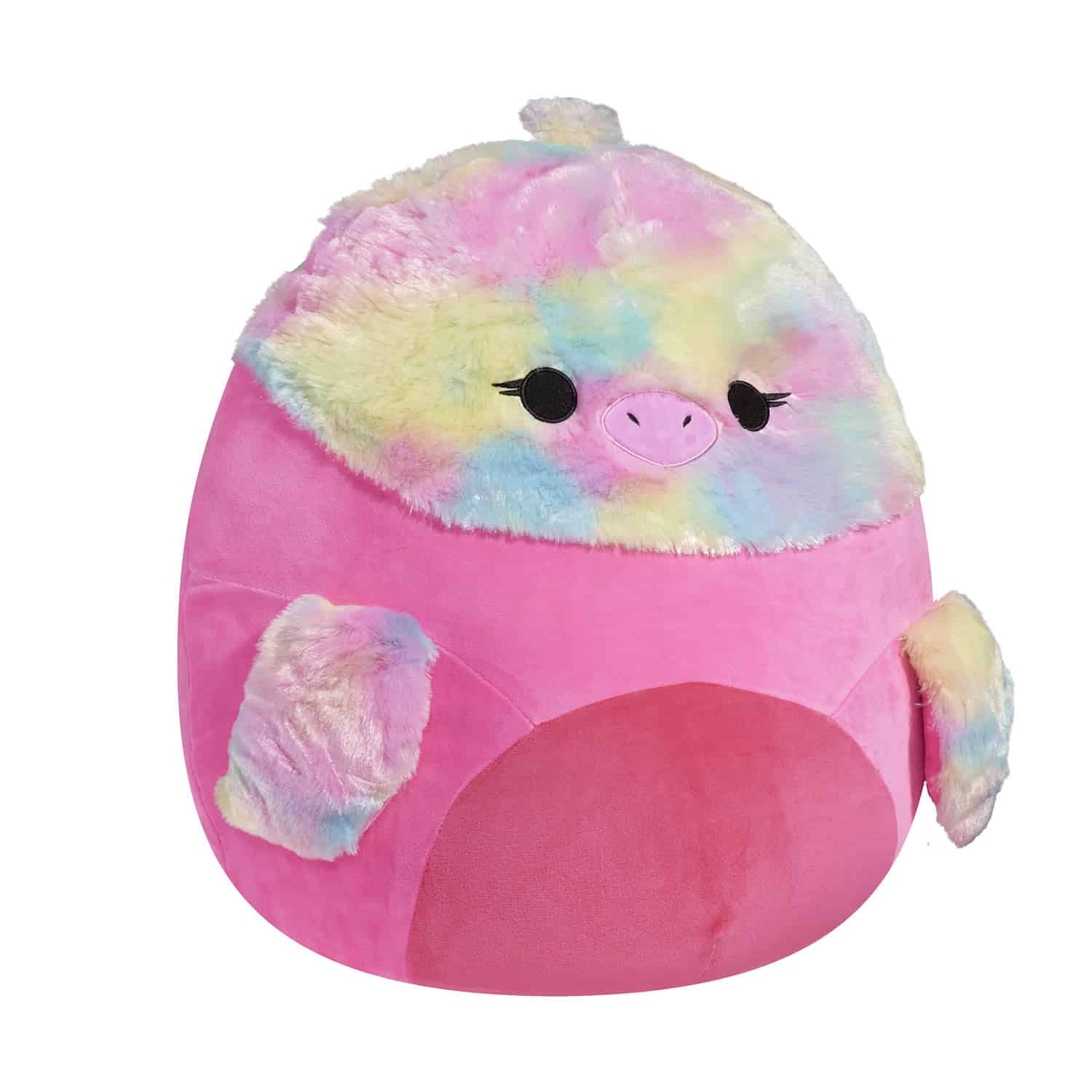 Abilene has a proper name if you think about it. Abilene makes me think of Australia, where ostriches are pretty standard. It's an Australian name that suits the Squishmallow perfectly. Her punk-rocker attitude is adorable, and I love how it looks like her hair stands up. Her eyes are also supposed to look cute as pie.
Abilene Squishmallow Facts
Squads: Rainbow and safari squads
Best Feature: Abilene's colors are my favorite feature
Abilene Squishmallow Pros
Abilene, the rainbow ostrich Squishmallow, is a beautiful representation of a dull animal (sorry, but I think ostriches are dull until they chase you at high speeds, of course)
Abilene's rainbow colors on her face and wings make her stand out enough to brighten up a bedroom, and her adorable eyes make your heart melt
Abilene Squishmallow Cons
I would've broken Abilene's pink body color a little to create more contrast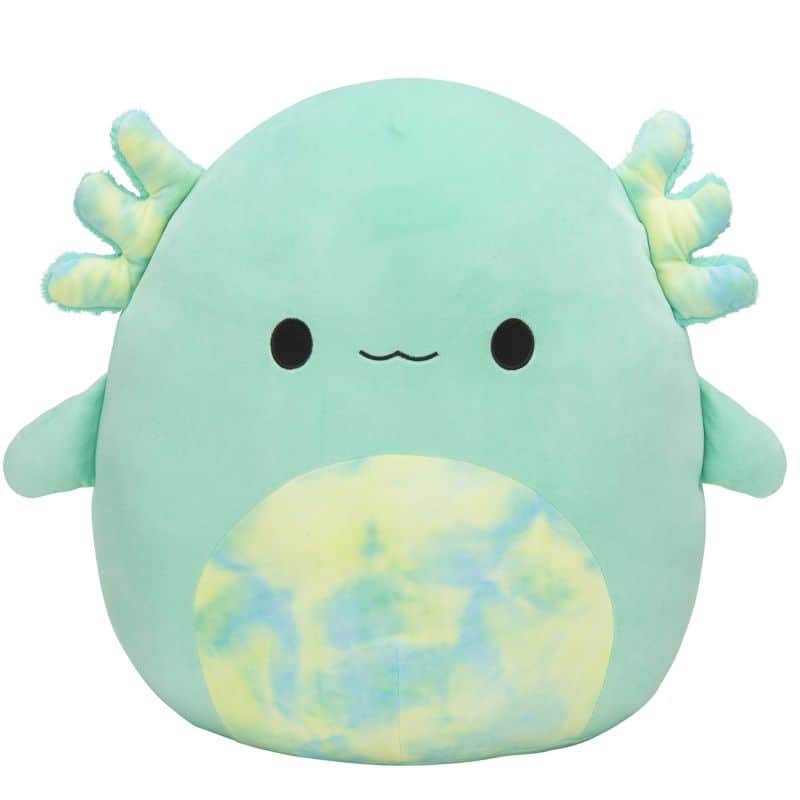 The axolotl Squishmallows squad is one of my favorites because they're mysteriously adorable sea creatures. They're some of the weirdest looking animals in real life again. Still, Squishmallows turned them into collectible and much-loved plush toys. Anastasia is a pretty girl with a beautiful belly.
Anastasia Squishmallow Facts
Squads: Tie-dye and axolotl squads
Best Feature: Anastasia's belly looks like clouds
Anastasia Squishmallow Pros
Anastasia, the axolotl Squishmallow, doesn't look like she offers much until you gaze into the belly that takes your mind to cloud nine
Anastasia comes from a mysterious sea creature kingdom, from which many children adopt pets and would love to hold jumbo Squishmallows
Anastasia Squishmallow Cons
The axolotl Squishmallows nearly look like dinosaur crossovers, meaning you should tell kids about the animals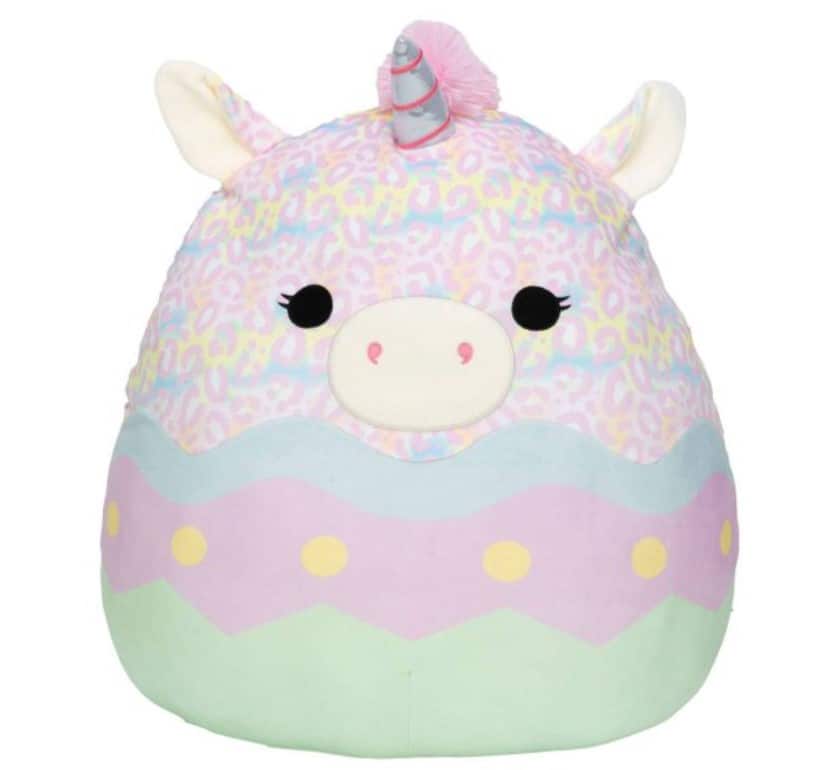 Indeed, unicorns aren't animals, but my daughter insisted I add a few fantasy creatures. She believes they belong to another realm's animal kingdom, whether it's imaginary or not. Honestly, I don't mind because many Squishmallow fans go wild for unicorns, caticorns, and pegacorns. Bexley is an unusual boy.
Bexley Squishmallow Facts
Squads: Easter and fantasy squads
Best Feature: I love that Bexley comes in an Easter egg costume
Bexley Squishmallow Pros
Bexley, the unicorn Squishmallow is an unusual squad member because he doesn't cross with other fantasy creatures but instead falls into an Easter costume
The colors are far brighter than they look on the store's stock image, and Bexley is a fantastic addition for any fantasy squad collector or unicorn lover
Bexley Squishmallow Cons
Some Squishmallow collectors don't celebrate Easter, which complicates Bexley's love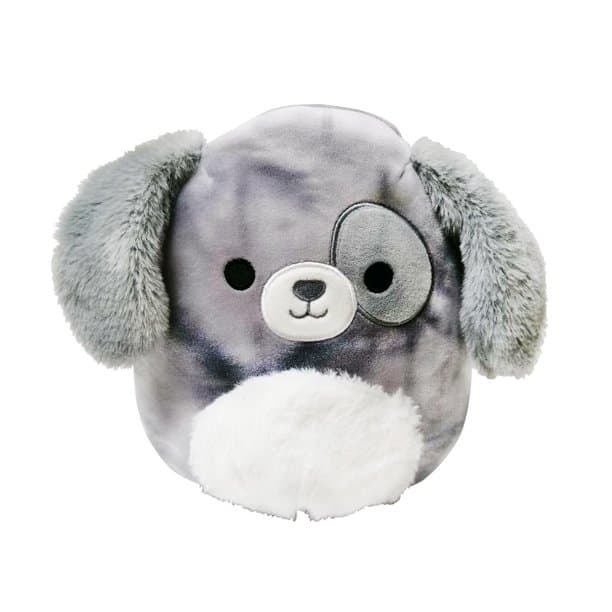 Puppy Squishmallows are favorites for my daughter and son. They go wild for puppies with adorable features. There's a range of beautiful puppy Squishmallows, but the 20-inch Brian Squishmallow changes the patterns you'd typically see on puppies. Brock also has similar designs, but Brian is a jumbo plush.
Brian Squishmallow Facts
Squads: Tie-dye and puppy squads
Best Feature: Brian has gorgeous color fading
Brian Squishmallow Pros
Brian, the dog Squishmallow, has a beautiful faded tie-dye design that isn't bright, but the contrast of grays and blacks makes him stand out
Brian also has an adorable patch around his eye, and he comes with a textured belly and ears for little kids to enjoy sensory playtime
Brian Squishmallow Cons
Brian lacks bright colors if that's what you're looking for in a 20-inch Squishmallow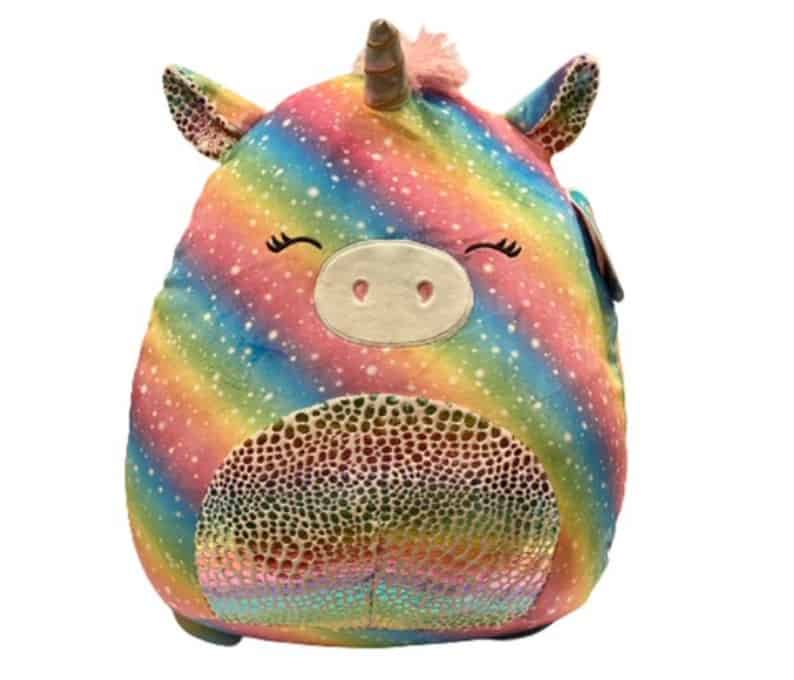 According to my daughter, I can't add enough unicorns to my top 20-inch Squishmallows. However, only a few meet my standards for unique jumbo Squishmallows. Esmerelda is one of the gorgeous fantasy squad girls who float my plush boat. She has more lovable features, colors, and patterns than most 20-inch options.
Esmerelda Squishmallow Facts
Squads: Textured, rainbow, and fantasy squads
Best Feature: Esmerelda is the most colorful girl in the jumbo Squishmallow range
Esmerelda Squishmallow Pros
Esmerelda, the unicorn Squishmallow flaunts a beautiful rainbow color with a glittery textured belly and inner ears, and her furry mane finishes the job
Esmerelda is a gorgeous 20-inch Squishmallow you'll notice from the International Space Station, and she works for every little girl
Esmerelda Squishmallow Cons
Sometimes, too much color and pattern can put collectors off because they take away from other plush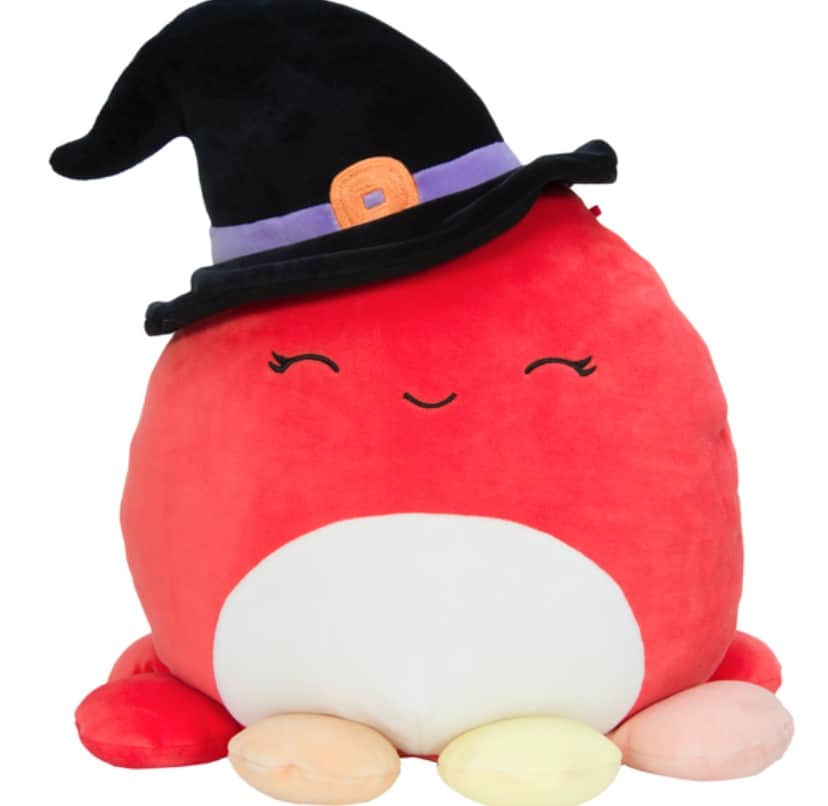 Octopuses are another beautiful creature in the wild. Have you ever found one on the beach? My kids and I used to look for octopuses among the rocks. We'd follow them to photograph the gorgeous color changes as the creature moved gracefully through the water. We left the animal alone once it turned black.
Detra Squishmallow Facts
Squads: Sealife and Halloween squads
Best Feature: Detra wears a witch's Halloween hat
Detra Squishmallow Pros
Detra, the Halloween octopus Squishmallow, represents a beautiful sea creature and looks like the friendliest witch in town
I love Detra's bright red color with multi-colored tentacles, and the Halloween hat finishes her unique style to fit into my favorites
Detra Squishmallow Cons
I wish Detra's eyes were open because she would look even more adorable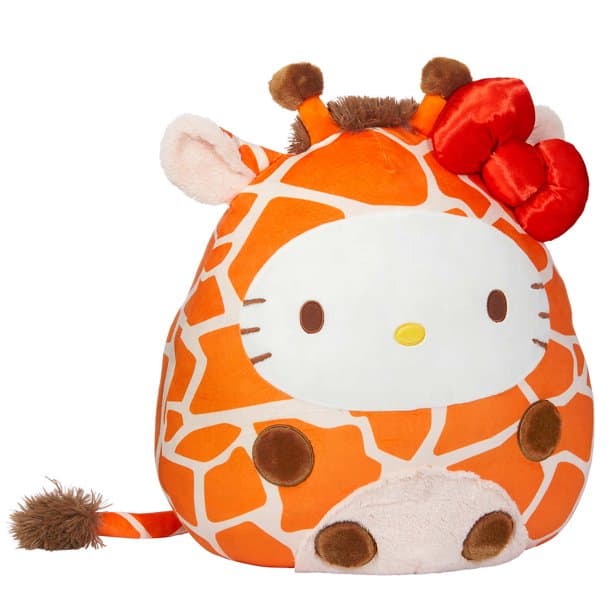 Hello, Kitty Squishmallows are much-loved among little girls. My daughter went through the Hello Kitty phase, and she would've wanted every version of this cute white cat. However, I chose Hello Kitty's giraffe costume Squishmallow because the latter animal is one of my favorites in the kingdom. I love feeding giraffes.
Hello Kitty Giraffe Squishmallow Facts
Squads: Hello Kitty and safari squads
Best Feature: Hello Kitty wears a giraffe costume
Hello Kitty Giraffe Squishmallow Pros
The Hello Kitty in giraffe costume Squishmallow is pretty, colorful, bold, and famous, and it represents two beautiful animals in one
I love the extra pieces for Hello Kitty's costume, including the tail and mane, and the pretty bow undoubtedly makes her look like the character kids know
Hello Kitty Giraffe Squishmallow Cons
I would've wanted Hello Kitty's face to look more like she was wearing a costume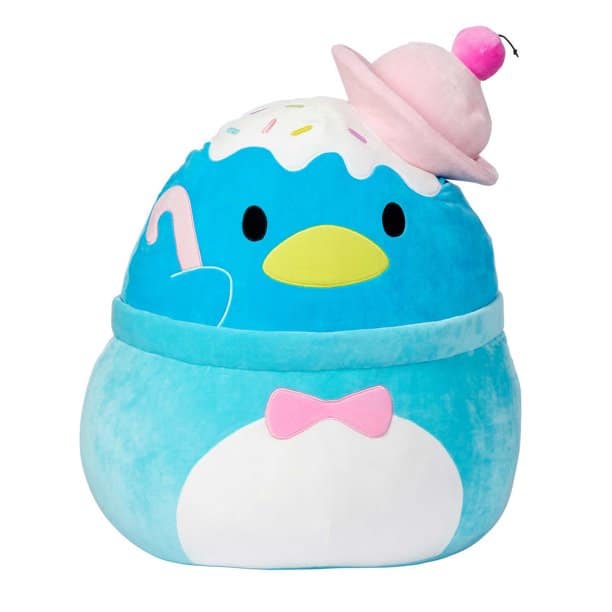 Indeed, my daughter wanted me to keep looking at the jumbo Hello Kitty Squishmallows to find another winner. Again, a few were available, but I wanted something different. So instead, I chose Sam in an ice-cream costume this time. Sam is the cutest penguin you'll ever meet, and he suits the ice-cream costume.
Hello Kitty Sam Squishmallow Facts
Squads: Hello Kitty and food squads
Best Feature: Sam wears an adorable ice-cream costume
Hello Kitty Sam Squishmallow Pros
The Hello Kitty, Sam in an ice-cream costume Squishmallow represents two things children love, penguins and their favorite dessert for a hot day
Sam is a loving penguin from the Hello Kitty franchise, and penguins are known as adorable creatures, but the ice-cream scoop on his head finishes the unique touches
Hello Kitty Sam Squishmallow Cons
I'm not a lover of Sam's penguin flipper sticking out of the costume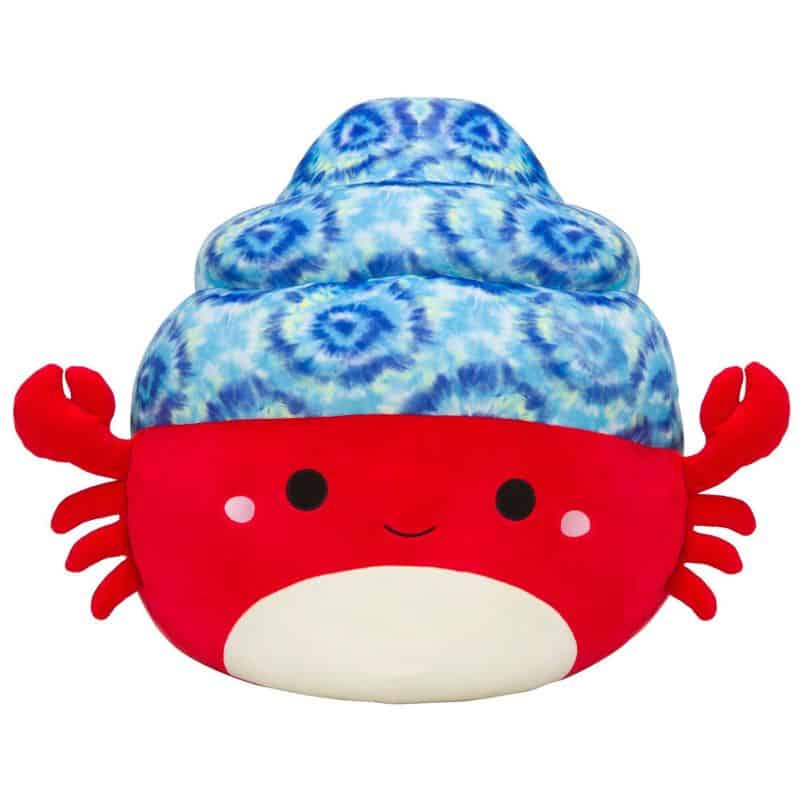 I love tie-dye Squishmallow colors because they're mesmerizing. The circular patterns can take your mind to another place, maybe the beach, in Indie's case. Honestly, I don't love crabs. Indeed, a few animals freak me out, but their Squishmallow versions don't cause panic. Indie is a beautiful plush toy with a bright personality.
Indie Squishmallow Facts
Squads: Sea life and costume squads
Best Feature: Indie wears a tie-dye hat to fit the costume squad
Indie Squishmallow Pros
Indie, the hermit crab Squishmallow, carries the gorgeous tie-dye shell (hat) to invite plush fans to feel the mesmerizing effects of the patterns
Thank goodness, Indie looks like a super-friendly crab because they're grumpy creatures, and he has an inviting face and claws
Indie Squishmallow Cons
Indie is an in-between winner because the hat can be a shell or vice versa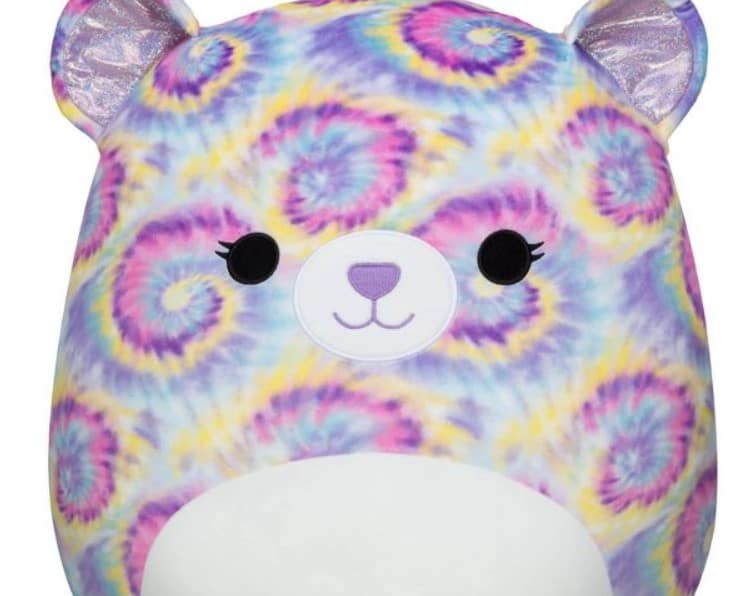 Squishmallows continue to transform weird or dangerous creatures into adorable animal plush. I suppose many plush manufacturers do the same thing. Bears are dangerous animals I wouldn't encourage my children to put in the wild. However, I can't stop them from loving the beautiful plush toys available for the animals.
Jonessa Squishmallow Facts
Squads: Tie-dye and forest squads
Best Feature: Jonessa looks fabulous with a tie-dye pattern
Jonessa Squishmallow Pros
Jonessa, the bear Squishmallow is a famous choice for plush toys, and her colors are much brighter than they look on the store's page
Jonessa also has gorgeous glitter ear inners to make her look more girly than most bear plush, and she has the famous girly eyelashes to finish her touches
Jonessa Squishmallow Cons
I wish Jonessa's belly and snout were the same glitter pattern as her inner ears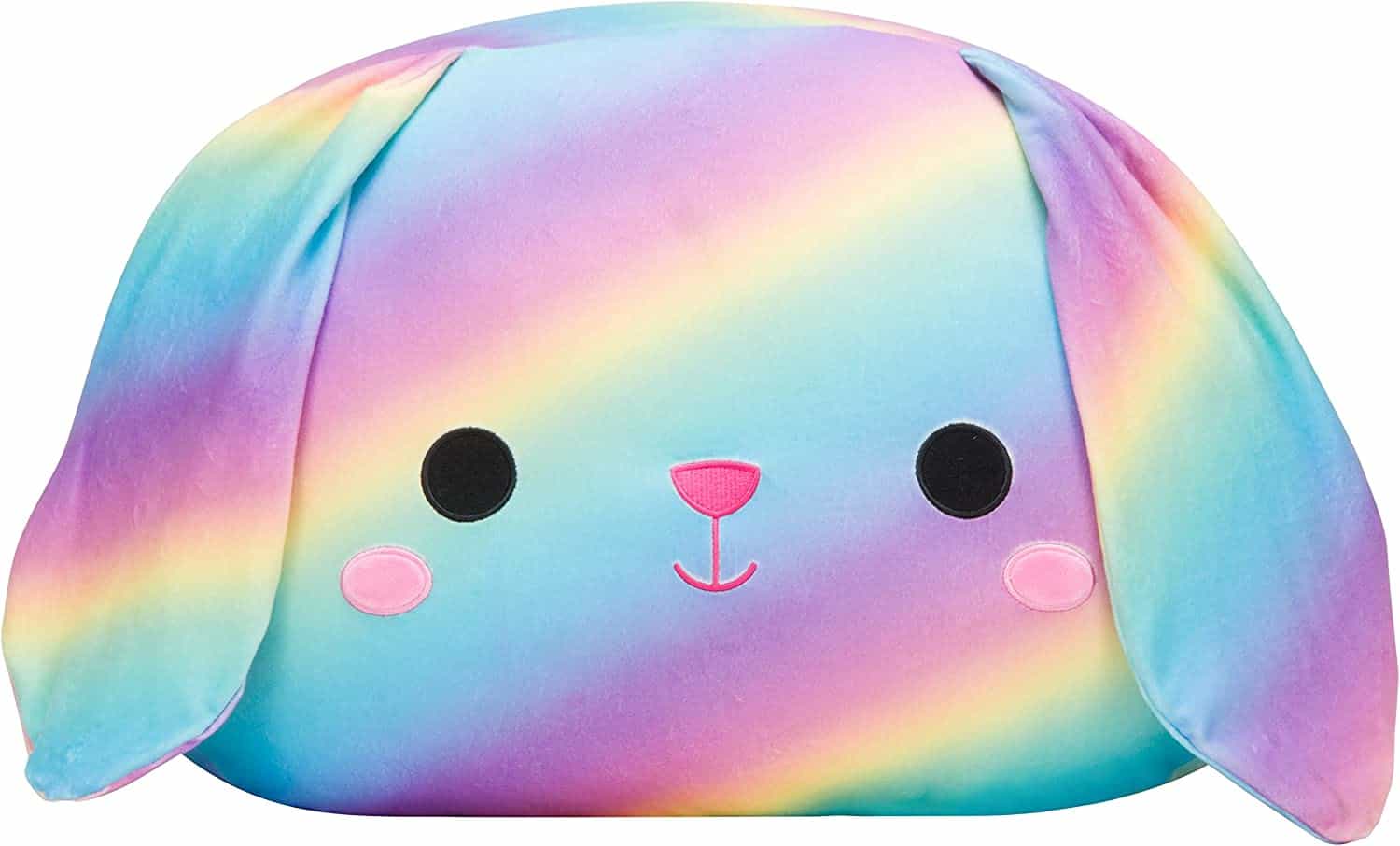 Bunnies are also famous, and much-loved plush toys and Squishmallows turned Rima into an unusual type of plush that allows children to stack more on each other. A stackable plush of this size can also work beautifully as a pillow that feels like marshmallow heaven under a child's head at night. Even I'd sleep with Rima.
Rima Squishmallow Facts
Squads: Rainbow, stackable, and forest critter squads
Best Feature: Rima is a stackable joy that encourages children to collect more from her unique squad
Rima Squishmallow Pros
Rima, the stackable bunny Squishmallow, is one of the more unique options because she fits three squads and looks gorgeous as a soft pillow friend
Rima's rainbow pattern is subtle enough to encourage peaceful dreams when children sleep on her, and her cheeks make her look like an adorable bunny
Rima Squishmallow Cons
I would've added the girly eyelashes to Rima's face to make her even prettier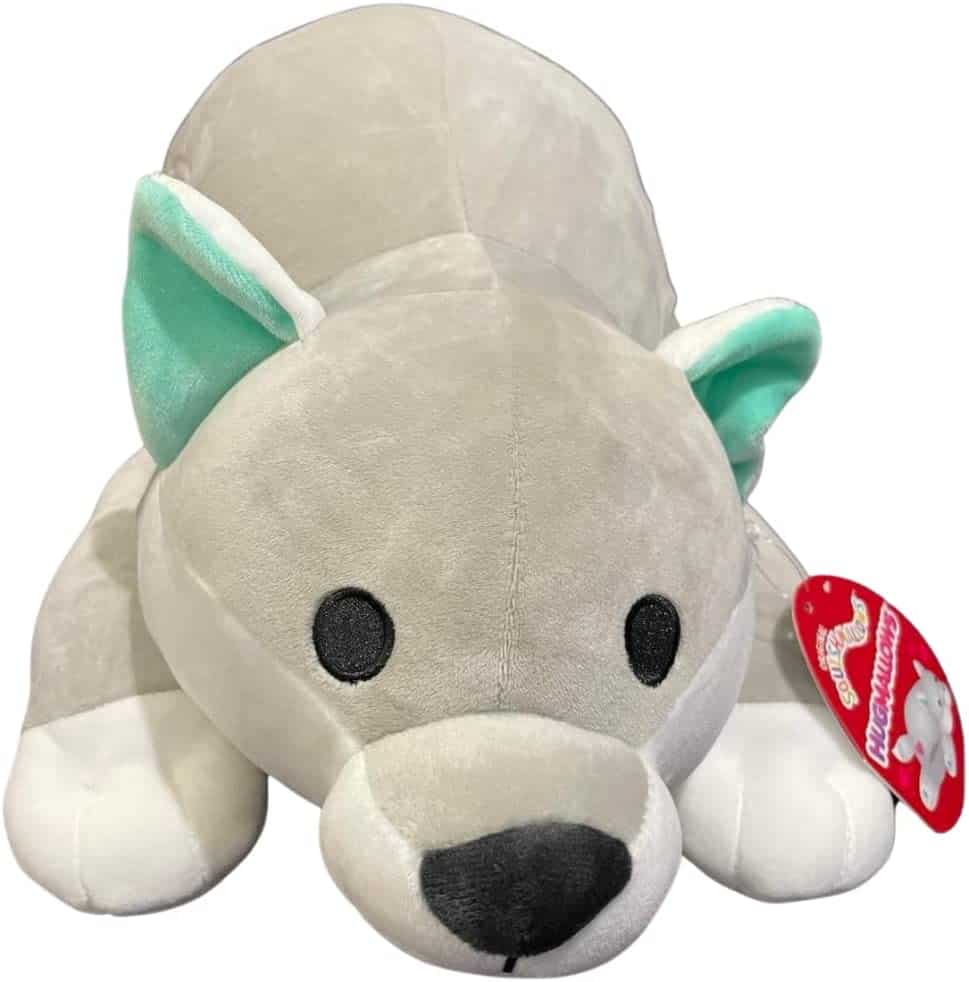 Some of my favorite Squishmallows are the Hugmallows range because they look and feel more like real animals. Unfortunately, there aren't many Hugmallows available in the 20-inch range because they're mainly 22 inches. However, slapping a Valentine's patch on a puppy that looks like a real dog undoubtedly wins me.
Ryan Squishmallow Facts
Squads: Valentine's, Hugmallows, and puppy squads
Best Feature: Ryan has a big heart and a different shape
Ryan Squishmallow Pros
Ryan, the husky Squishmallow, looks as squishy and lovable as you expect the dog breed to be, and he's a popular squad member to collect
Ryan's face looks adorably sweet, almost making you feel sorry for the little bugger, and he comes with hiding places on his sides for storage
Ryan Squishmallow Cons
Ryan doesn't have many colors, but he has many factors in his favor for unique qualities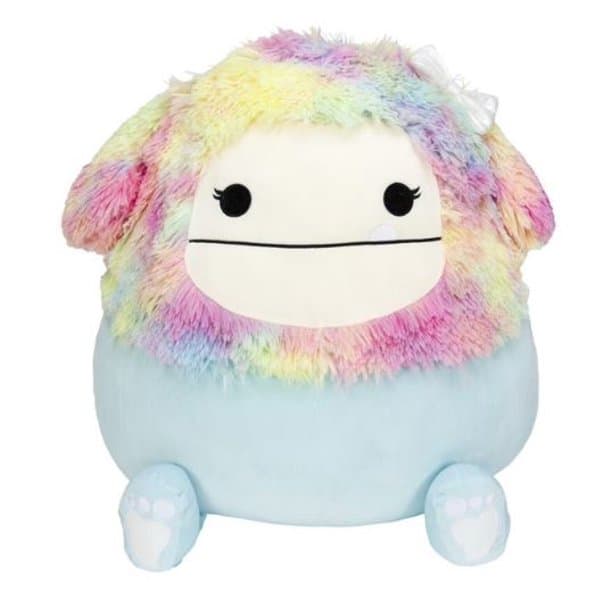 The Bigfoot Squishmallow range technically falls into the fantasy squad, but some kids call them animals. Children love Benny, the Bigfoot Squishmallow, and his friends. Zozo is the only Bigfoot member with a rainbow color on her mane. She looks welcoming and friendly for little ones to cuddle for comfort.
Zozo Squishmallow Facts
Squads: Bigfoot, rainbow, and fantasy squads
Best Feature: Zozo has a gorgeously colorful mane
Zozo Squishmallow Pros
Zozo, the Bigfoot Squishmallow, earns her spot for being a famous fantasy creature with an impressive rainbow mane to swoon children
Zozo's hair is also textured for little fingers to enjoy the sensory pleasures, and she has pretty, girly eyelashes that make her look sweeter
Zozo Squishmallow Cons
Zozo's little legs look weird because most Squishmallows don't have them
Top Q&As
Question: How Big is a 20-Inch Squishmallow?
Answer: The 20-inch Squishmallow range is sizable, known as the jumbo plush from the marshmallow brand. Each 20-inch Squishmalllow would be half as big as a three-year-old child. Perhaps it would be wider, but it would be approximately half as tall as a third-year toddler.
Question: Which Food Squad 20-Inch Squishmallows Exist?
Question: Are 20-Inch Squishmallows the Largest?
Answer:Fortunately, 20-inch Squishmallows aren't the largest of the marshmallow plush. The plush range comes after the 16-inch Squishmallows available from various squads. However, there comes a 22-inch and 24-inch range after the 20-inch beauties. For example, Caeli, the Tie-Dye Cat Squishmallow, comes in 24 inches.
Best 20-Inch Squishmallows: Conclusion
I can't stop writing about jumbo Squishmallows because they're incredible. Still, you must consider my storage tips if you plan to buy a bunch of them. You won't see your bed anymore if you keep showing your bold, beautiful, and colorful Squishmallows without storing and changing them.
My ultimate 20-inch Squishmallow would undoubtedly be the Abilene, the Rainbow Ostrich Squishmallow because it meets every colorful mashup I enjoy. I recommend it for a child or adult collector because it doesn't look as scary as an ostrich about to run you down.
I also love and recommend the Halloween Detra, the Octopus Squishmallow, and the Esmerelda, the Rainbow Unicorn Squishmallow, for unique collections with color and costumes. Esmerelda would blow any little girl's heart out of the water. Your daughter would love you for bringing her home.
You know how to store them and have seen the most attractive options. Now, you must select your first (or twentieth) jumbo Squishmallow.
For more Squishy Friends
Boba Squishmallow Guide – Avid Plush
Harrison Squishmallow Guide for Puppy Lovers – Avid Plush
Best Squishmallows at Walgreens for Unique Picks – Avid Plush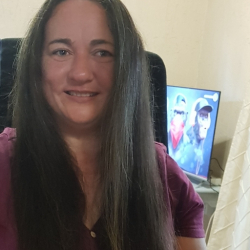 Latest posts by Caroline Lambert
(see all)