Boba is quickly taking over the drink squad with the most variants of any of the beverages! They're also growing in the fandom, given that multiple new boba friends have come out in the last year alone.
They come in various sizes and colors, so there's one to fit every home, regardless of size or aesthetic.
Outside the Squishmallow brand, there are dozens of other boba drink options. As the drink grows in popularity, so do the plushies. This means if the squeezable cuteness of Squishmallow isn't your vibe, there are tons of options to show off your love for milk teas!
My Top Pick: The OG, Bernice
I won't lie. I love Bernice because I'm an ice coffee addict. She looks like a large ice coffee with espresso boba and whipped cream, which is one of my go-to orders!
In fact, I received Bernice as a joke from my roommate for how many of these drinks I'd go through in a week in grad school. The five-inch I own fits perfectly in my storage nets right along my favorite drinks, which I cover below!
My Top Five!
The Squishmallows
Squishmallows are easily the holy grail of squishy plush toys! They're high quality and incredibly soft. They also come in various sizes, animals/shapes, and some are even scented.
They make some of my favorite boba plushies on the market, and I'm so excited to share them with you!
Bergit the Sunset Boba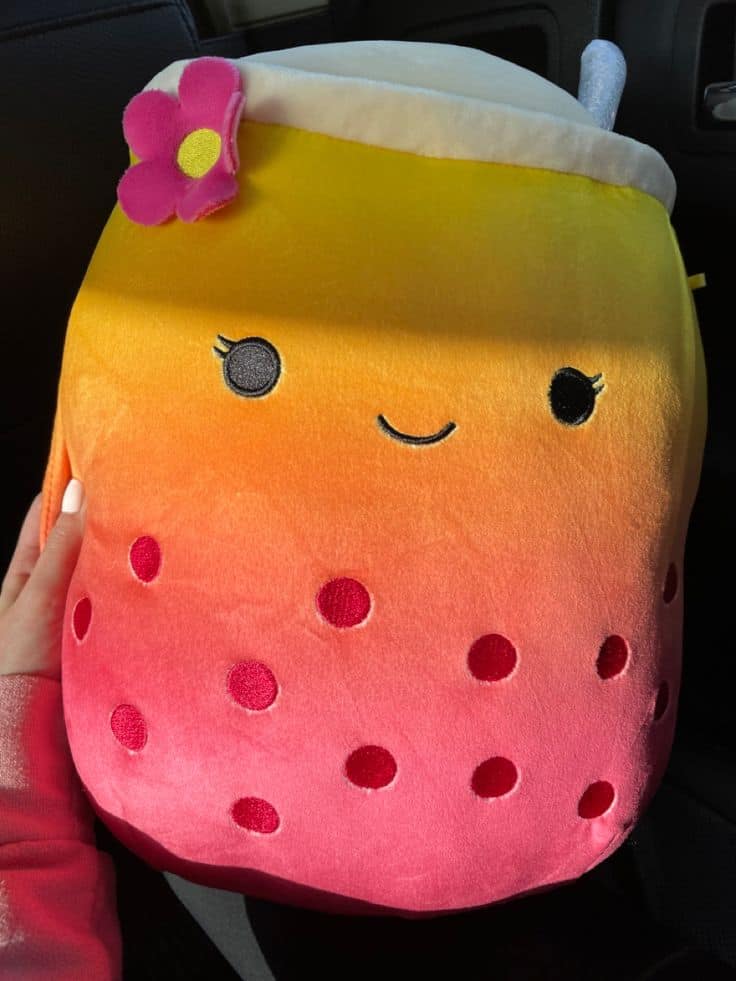 Bergit is an up-and-coming photographer that views life in a series of perfect shots. She goes as far as to pick vacations based on the location's photogenic. But, of course, her favorite thing to take photos of is her best friends!
Her squishdate is April 20, 2020, making her a cusp, as this is the first day of Taurus season!
Bergit is loved for her sunset color, pink boba pearls, and pink daisy on her lid.
She comes in a range of sizes, from five-inch to sixteen-inch. As a result, she is valued between nine and thirty dollars depending on the size and retailer.
The best retailer for Bergit depends on the size you want. Her five-inch variant can be found at both Owl and Goose and Claires.
The twelve-inch is best to hunt for at Walmart as they are often restocked.
Cosco is my go-to for larger squish, and Bergit is no exception. They carry her sixteen-inch variant for fifteen dollars, which is half its value!
The Pros
The ombre color is unique and very flattering on this squish. 

10/10 plop score. 
The Cons
The flower comes off very quickly, especially in the hands of kids or cats. 

It only comes in three sizes. 
Sevda the Green Boba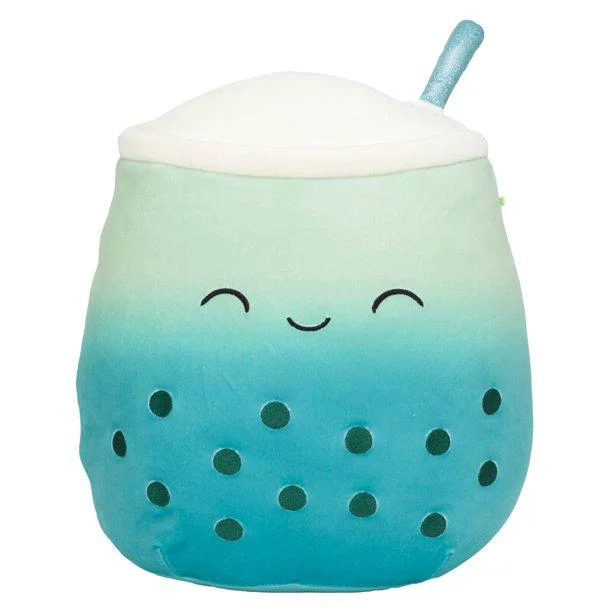 Sevda is a talented ice skater that basically lives at the rink to perfect her skills. In her free time, she teaches others how to skate!
Her squishdate is April 20, 2021, making her zodiac twins with Bergit!
Sevda is a twelve-inch mint green to teal ombre tea with dark green tapioca peals. Her lid is a cheesecloth with a sparkly teal straw. Her eyes are closed, but she smiles happily.
She has a new eight-inch variant that is exclusive to five below. She's neon green with brown boba pearls. She's topped with a white lid and a pastel pink straw.
Like her twelve-inch form, she has her eyes closed, but this time has lashes and a red smiling mouth. It restocks at random and sells for $5.99.
The only other Sevda is a twelve-inch. I see her often at both Walmart and BoxLunch for $20.
The Pros
Two variants to collect! 

Soft and cuddly. 
The Cons
It only comes in two sizes. 
Poplina the Purple Boba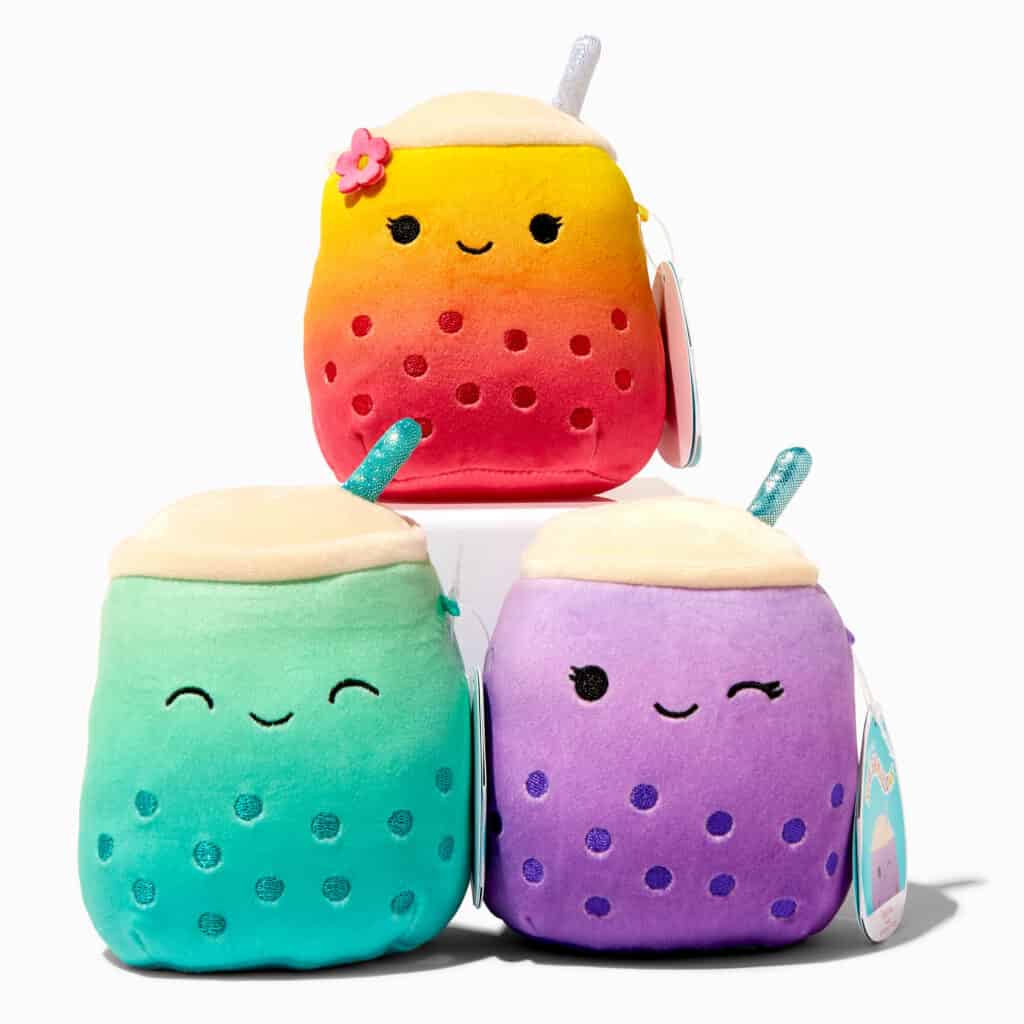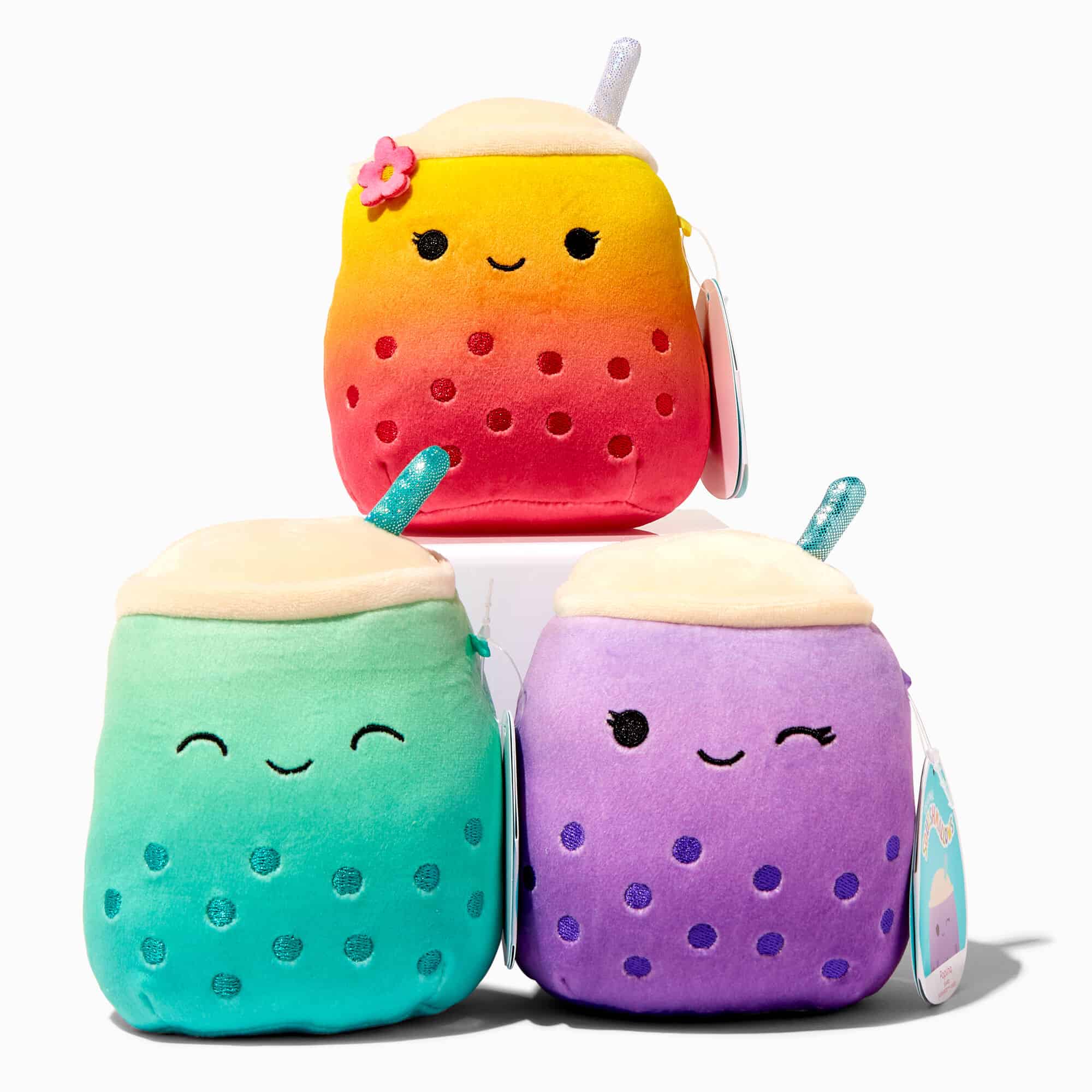 Poplina is a shy storyteller that loves to travel. She has already been to eight countries!
Her exact squishdate is unknown, but she hit stores in early 2021!
Poplina is a taro boba drink that is dark purple with tapioca pearls. She has a cheesecloth under her pale pink lid and sparkly green straw. She winks and has eyelashes and a closed-mouth smile.
Her five-inch is available in a box of eight fellow food squad members at Cosco for $25.99. The only downside is that the squish doesn't come with their bio tags. 
She's also available at Claire's for $12.99. However, this is pretty expensive for a five-inch squishmallow. 
I've seen eight-inch Poplina pop up at BoxLunch and the twelve-inch at Hot Topic lately.  
Her twelve-inch is also available on Amazon Prime with next-day shipping for $32.97. 
The Pros
She's newer and starting to pop up in department stores more often. 

Comes in a set with eight other five-inch squish. 
The Cons
I don't think her color story stands out as much as the other bobas. 
Jakarri the Blue Boba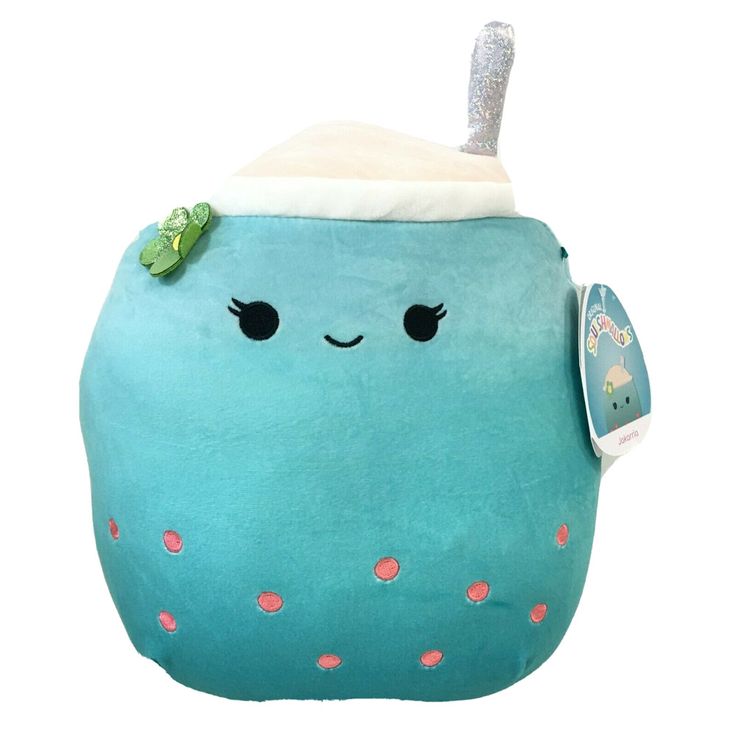 Jakarria is known for her bubbly personality and heart of gold. Friends say it's impossible to be around her without a smile on your face!
Like Poplina, her exact squishdate is unknown, but she came out in early 2021.
Jakkaria is a blue tea with pink tapioca pearls. Her lid is a sparkly white band around a pastel pink top and a silver straw. She has open lashed eyes and a closed-mouth smile. She also is similar to Bergit, with a green daisy on her rim!
She is only available in twelve-inch and is easiest to find at Target! He retails for $10. I often see tons of her on restock days. However, these vary from week-to-week.  
The Pros
Easy to find at your local Target. 
The Cons
In my opinion, she is the least cute of the bobas. I don't like her color scheme or the flimsy flower. 

She only comes in one size and a larger one at that, making it hard for those in small spaces to collect. 
Bernice the OG Boba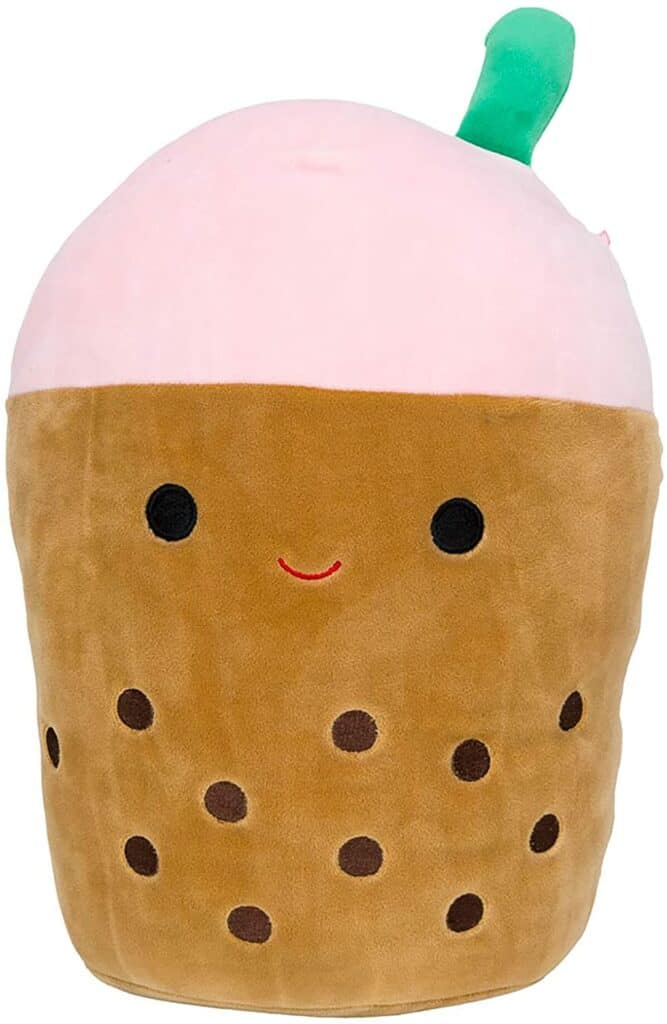 Friends describe Bernice as "sweet, but not too sweet." Stating she'll always lend a helping hand with she meets a friend in need!
Her squishdate is March 24, 2020, making her my favorite boba and my zodiac twin, an Aries! She is the 451st squishmallow to hit shelves!
Bernice is coffee-colored with dark brown pearls. Her eyes are round black dots, and she has a red smiling mouth! Her lid is pale pink, and she has a starbies green straw! However, sixteen-inch Bernice has closed-lashed eyes and a white cheesecloth lid.
 She comes in the widest variety of sizes, from three-inch to sixteen-inch. I mostly see this boba squish as prices at amusement parks (for me, Knotts Berry Farms), county fairs, and Dave and Busters. However, the eight-inch version is on Amazon for $25.99. 
The Pros
The cutest of the bobas! 

Comes in the most sizes, including supermini! 
The Cons
I rarely see this squish in department stores. 
Callister and Cadencia the Cat Bobas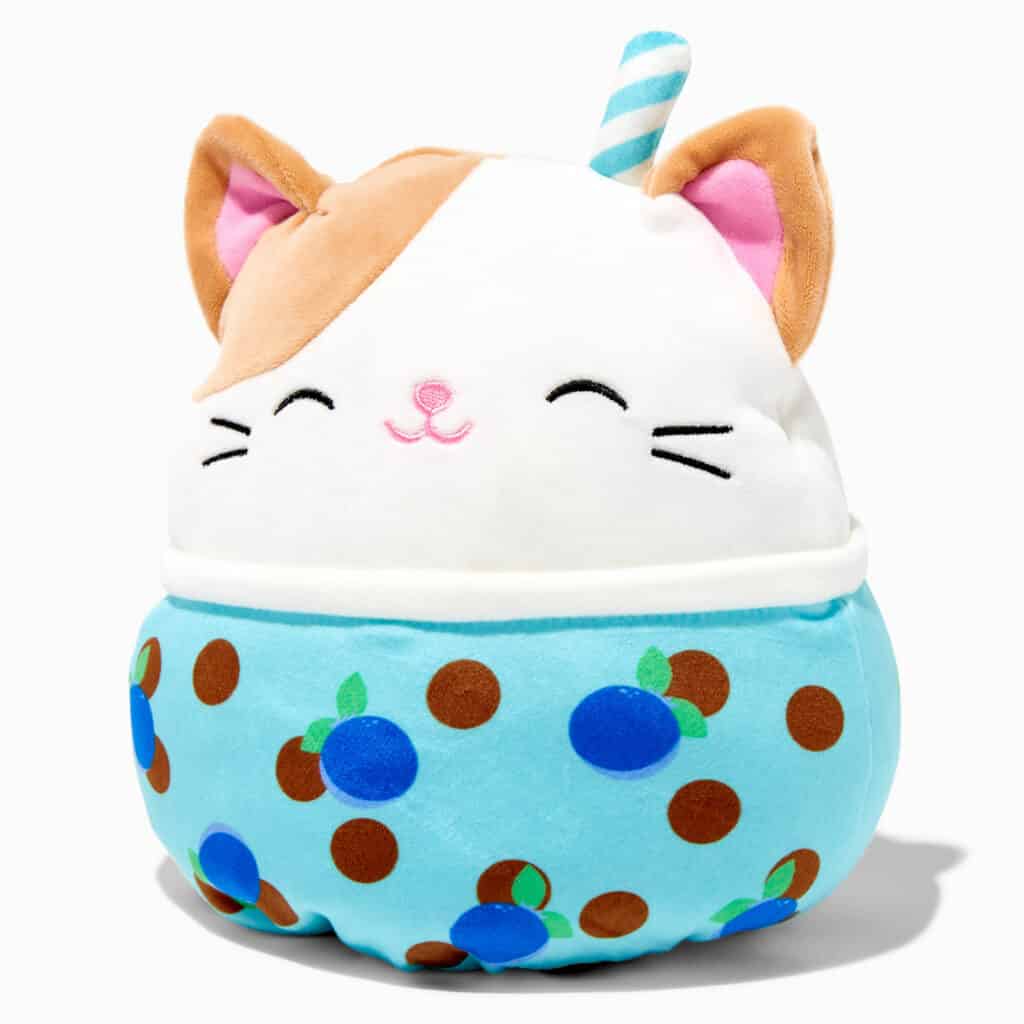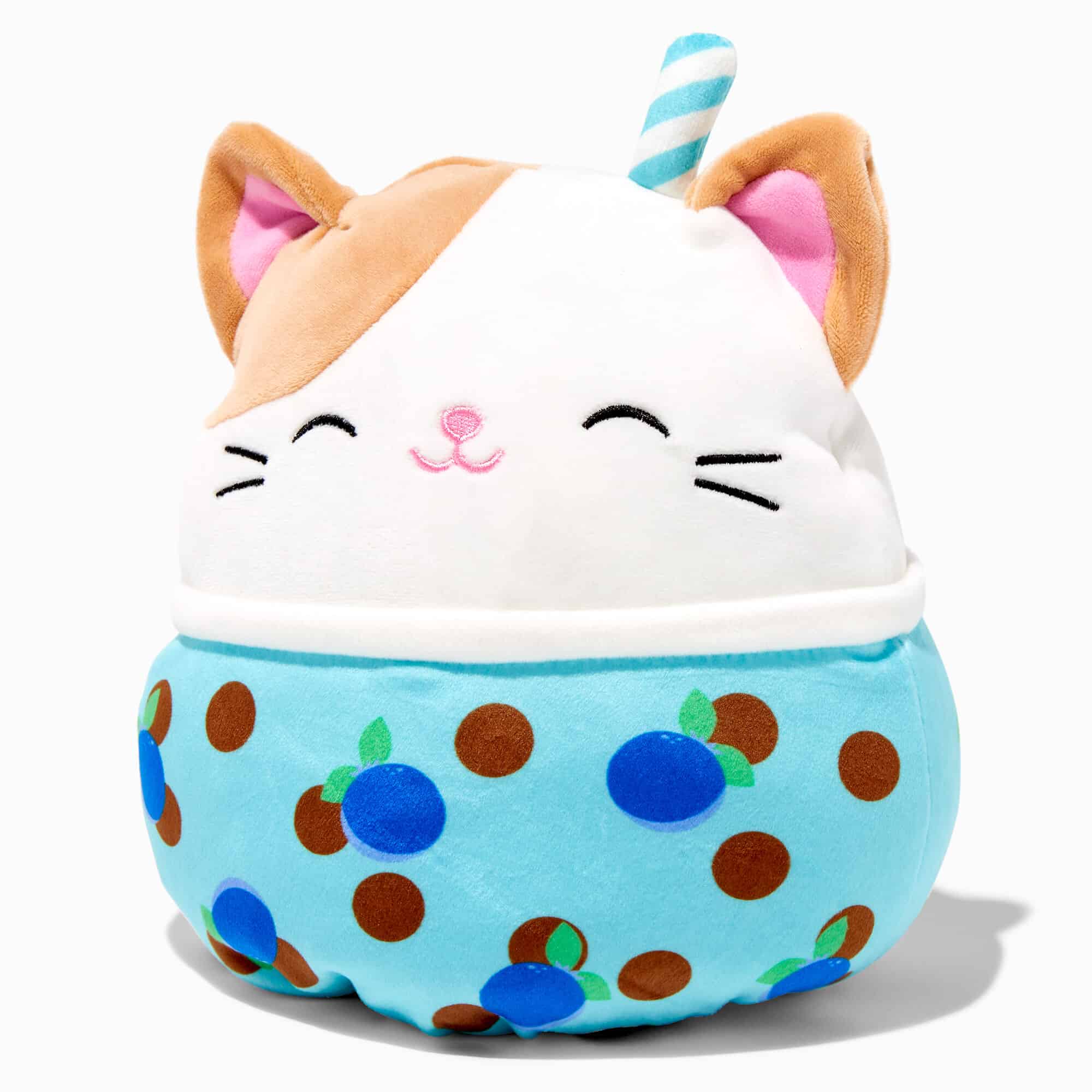 This flip-a-mallow changes based on your tea cravings. She is newer to the Squishmallow family and is a Claire's exclusive.
She comes in two flavors, blueberry and strawberry. The blueberry is a white and orange cat with a blue milk tea base. Brown pearls and fresh blueberries inside.
On the strawberry side is a white cat with a pink spot on her forehead. Her bottom is pink with brown boba and fresh strawberries inside.
She comes in eight-inch for $25 and twelve-inch for $36 at Claire's! 
The Pros
Flippable, meaning there are two squishes in one! 

Claire's is located inside most malls. 
The Cons
It isn't as soft or squishy as regular squishmallows. 

I don't care for the design, especially on the blueberry side. The blueberries feel like a last-minute afterthought. 
Roxy the Cat Boba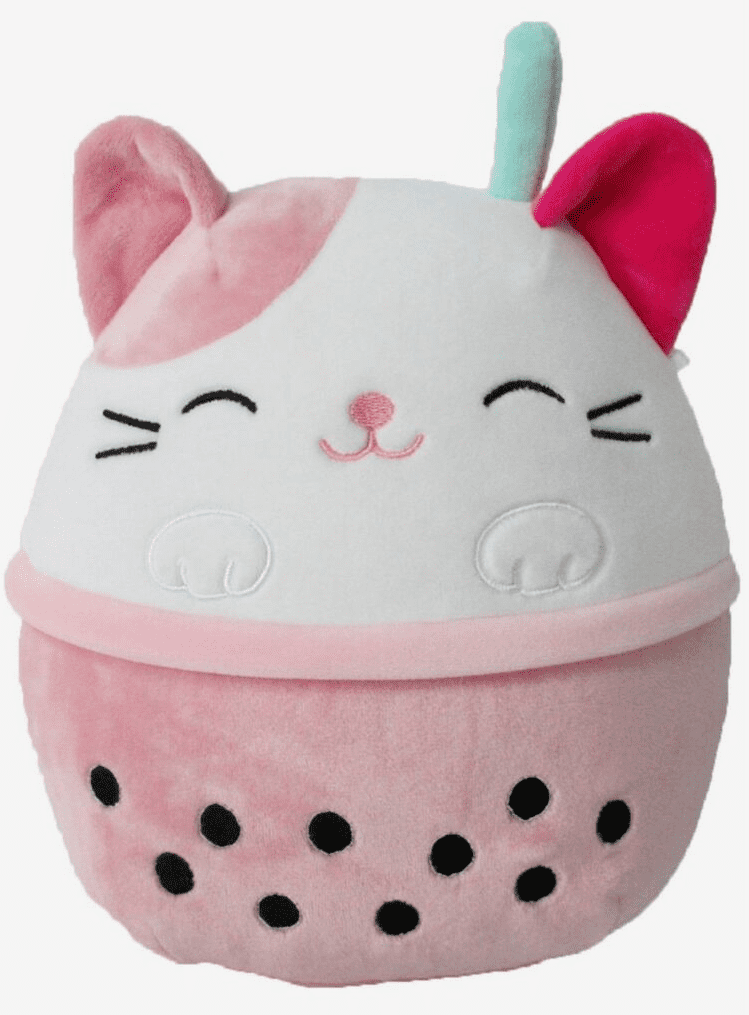 Roxy is a gardener who loves to plate flowers for her friends. Her favorite flowers are tulips, and her friends plant them for her on valentines day! She's a Hot Topic exclusive whose squishdate is May 19, 2021, making her the third Taurus on our list!
Roxy is a white cat with one pastel pink ear and one hot pink ear. She has a teal straw on top of her head, and her eyes are closed as she smiles. Her paws rest on top of the pastel pink rim of her matching bottom. She has black boba pearls.
Roxy is an eight-inch that retails for $19.90! 
The Pros
Soft and cute design. 

Hot Topic is located inside most malls. 
The Cons
Sells out as soon as it restocks.

$20 is on the high end for an eight-inch. 
Squish with Boba
Even other Squishmallows love boba based on this entire squad of boba-loving animals!
Baiden the Red Dragon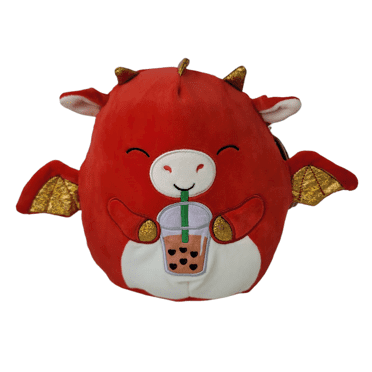 Baiden works after school harvesting crops at a farm. He studies soil types to become the best farmer he can be!
His squishdate is January 7, 2021, making him the first Capricorn on the list!
The red dragon sports golden wings, and when he can enjoy his favorite boba drink, he closes his eyes in happiness! During valentines day, the boba pears are little hearts! 
Boba drinking Baiden was a Walgreens exclusive during February but now is available on Amazon for $47. 
The Pros
Eight-inch is the perfect size for collectors. 
The Cons
Holiday exclusive is currently expensive since it is out of stock in stores. 
Hello Kitty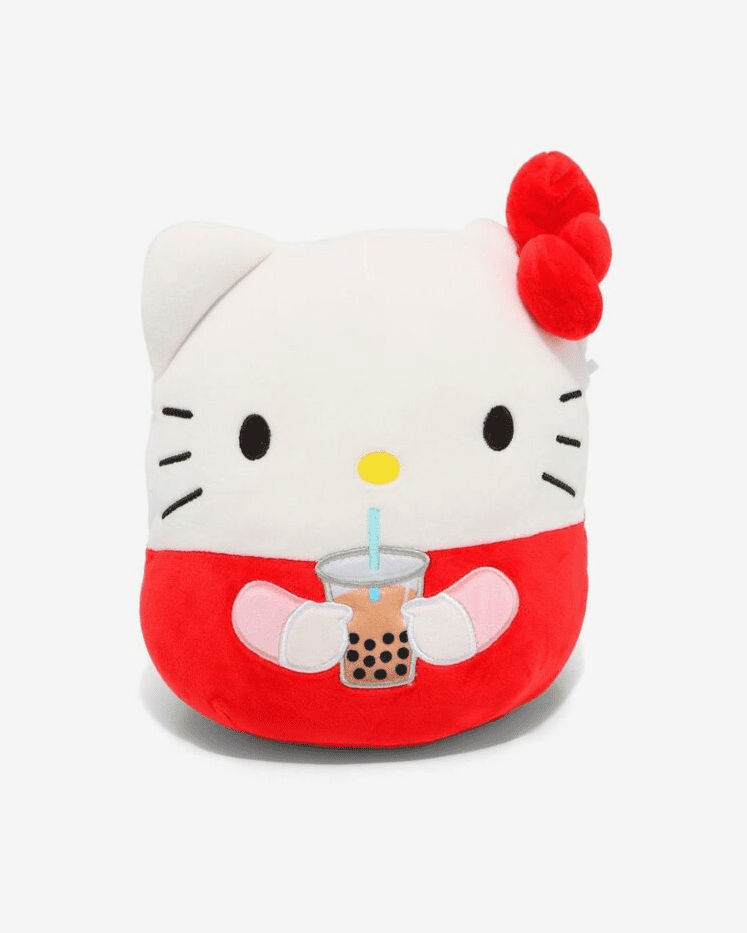 This Hello Kitty squishmallow has a big red bow in her hair and a full cup of boba tea in her hands! 
She is brand new to the squishmallow family, so new I have yet to see her in person, but I am super excited to hut for.
She is an eight-inch Hot Topic exclusive that retails for $24.90. 
The Pros
Adorable if you're a Hello Kitty fan! 

The newest edition to the Hello Kitty squad!
The Cons
Hot Topic sells out of exclusives very quickly. 

The Hello Kitty brand makes her more expensive than other Hot Topic exclusives of the same size.
Squisheen Bobas
Fruit Milk Tea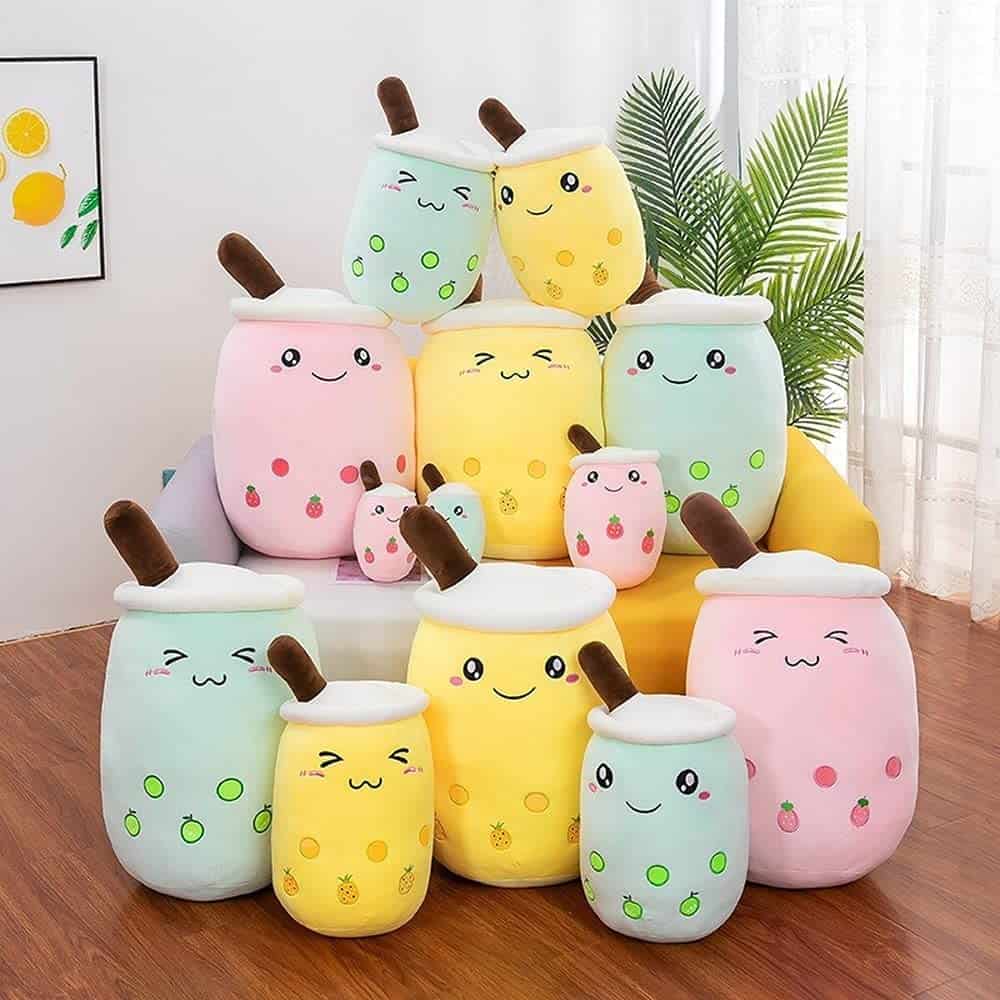 These goofy-looking plush toys are taking over collector stores in malls and are super popular on Amazon! They have animated-looking faces with brown straws, pastel colors based on their fruit flavors, and fruit mixed with their neon boba pearls. 
They come in a variety of flavors ranging from strawberry to pineapple. In addition, they range in price, a small ten-inch selling for $9.90 to a giant twenty-eight-inch for $43.90. 
The Pros
A wide variety of sizes. 

Each flavor comes in multiple different facial expressions. 
The Cons
It could be softer. 

If I'm being picky, I don't like how the thick, dark straw looks with the pastel teas. 
Topped Pearl Tea
The difference between the topped boba and the squisheen is that it doesn't come in as many fun facial expressions, but it makes up for that in sweet toppings!
My favorite is a tie between the strawberry with its whole berry on top of the lid or the iced coffee with two coffee beans on a mountain of whipped cream.
These come in a nine-ish-inch size on Amazon for $12.99. They are slightly more significant than the average five-below squishmallow with many extra details.
The Pros
Cute toppings. 

An animated design. 
The Cons
Other Boba Plushies
These four last boba plushies are some of my favorites on the list for their unique designs that don't subtract from their squability!
Squishable Comfort Food Bubble Tea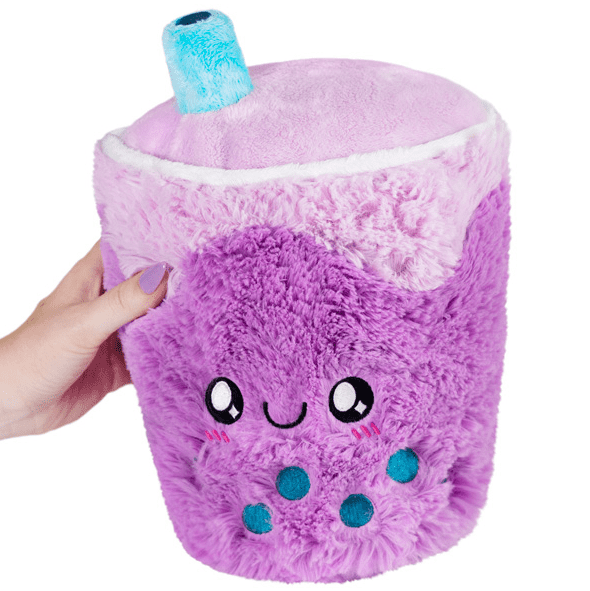 This bright purple tea with teal boba and a matching straw is Squishables' fan-favorite bubble tea. The big difference between squishmallow and squishable is that this bubble tea is a bit fuzzier and stuffed a bit more, making it less squishy and more firm.
It also has features catered towards adults and older kids. 
Physical Squishable stores pop up in major cities randomly. Current and upcoming locations are available on their website! 
This bubble tea is a fifteen-inch that goes for $45. However, it is running low in stock, so if it is on your ISO, don't hesitate to order soon! 
Axolotl Boba Plush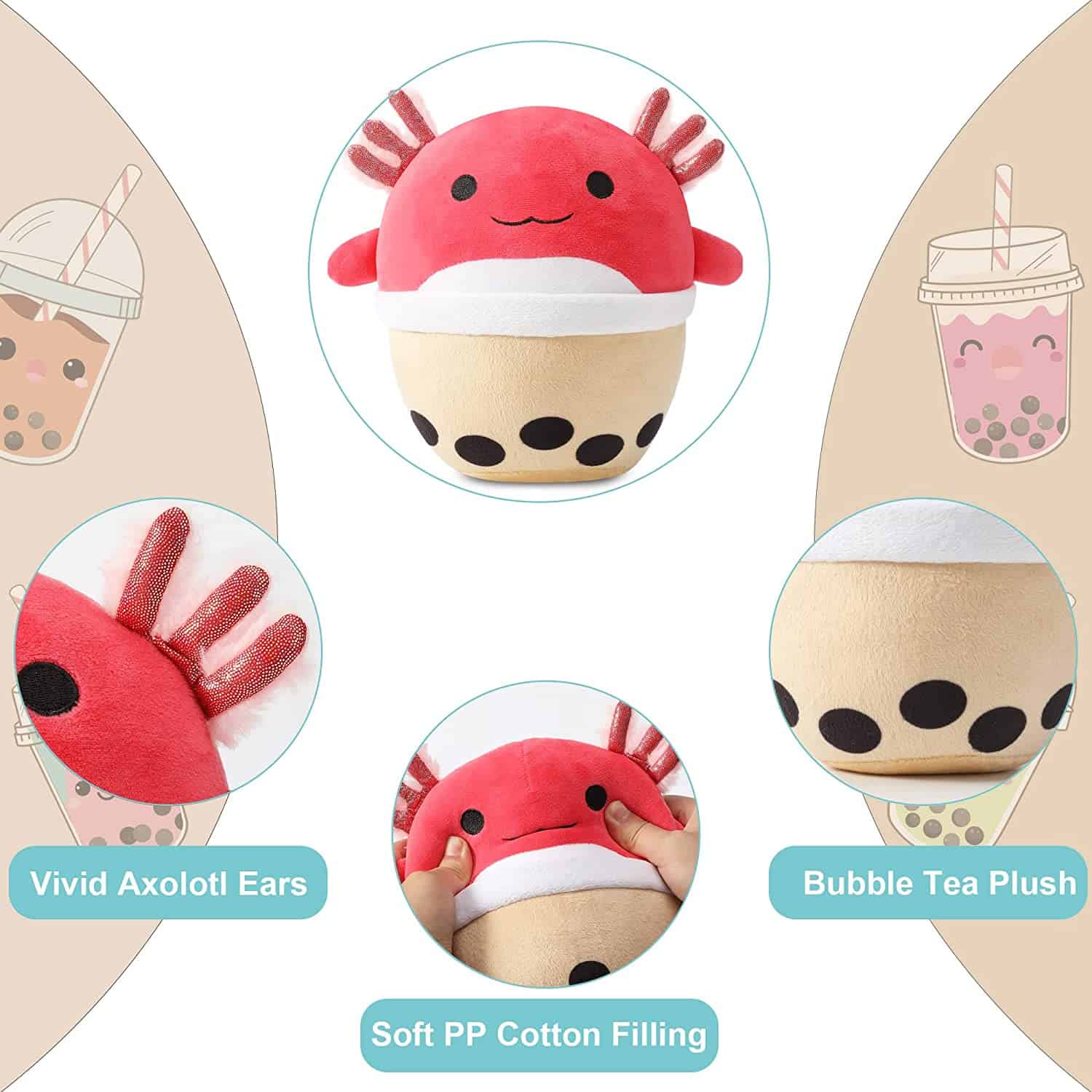 I don't know about you, but I love axolotls. I have an entire collection of axolotl plushies and a growing boba tea collection. This plush is the best of both worlds!
It is a ten-inch Amazon Prime plush that retails for $13.99
Avocatt Boba Shark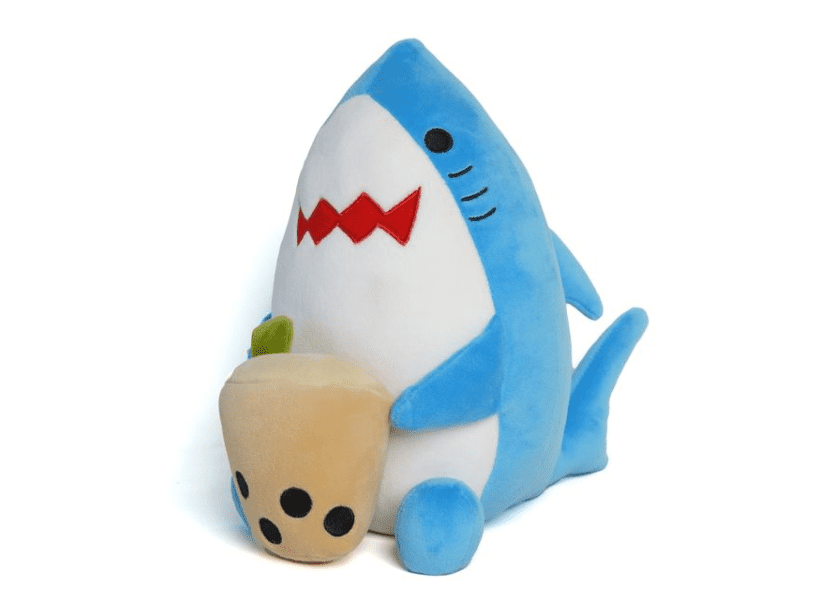 I won't lie to you guys. I found this plush while researching prices for this very article on Amazon and just had to include him! I mean, look at this adorable plush that I couldn't help but impulse purchase the second I clicked on his picture. 
He is a nine-inch stuffed animal that is $19.99 at both Target and Amazon. 
I can say he is super soft and plushy from my limited time with this plush. I'd consider him somewhere in between a squishmallow and a squishable in softness. My one complaint is the cup is fabric glued in, meaning over time, it will rip off if not cared for properly. 
Boba Alternatives for Drink Squad Fans!
Prefer Lemonade? How About Ice Coffee? Here are a few of my favorite boba alternatives! 
The Q&A's
Question: What Kind of Drink is Jakarria Squishmallow?
Answer: Jakarria is a blue milk tea with pink tapioca pearls.
Question: What is the Rarest Squishmallow?
Answer: Jack the Black Cat! He was a special release for Squishmallows 500th squish. Unfortunately, only 500 exist, and they're selling price usually starts at $2000.
However, a few Jacks were given out at the 2022 vidcon!
Question: What is the Oldest Squishmallow?
Answer: Cam the Cat is Squishmallows' number 1! He came out in 2017 alongside Wendy, the frog, Piper, the penguin, Hans the hedgehog, Puff the penguin, Hoot the Owl, Fifi the fox, and Holly the owl.
They are referred to as the original squad and were available at Walgreens!
Question: Is there a Deaf Squishmallow?
Answer:Yes! Archie the axolotl is deaf. A Party City exclusive squish named Clutch's tag informs he "steps in to be Archie's ears and advocate when they're with someone who doesn't sign.
He taught the entire their whole team to sign for Archie's birthday!"
The Final Sip
As the boba line grows, my one request is for more size variants. There are only one to two per boba and almost no eight-inch, which is my favorite size to collect.
That being said, no matter your go-to order, boba plush is taking over stores and my heart. I can't wait to see what's coming as I grow my drink collection alongside you!
More Squish to Hunt!: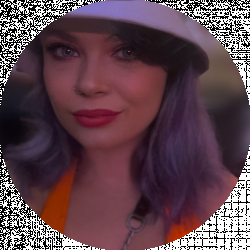 Latest posts by Teryn Greenway
(see all)