A child's love for dinosaurs dates back nearly as far as the prehistoric creatures do. The best dinosaur Squishmallows can bring the greatest joy to children. Squishmallows are a range of plush toys quickly becoming as lovable as dinosaurs. I don't only collect Squishmallows for my kids because I love them, too.
I'm an avid plush collector who grew up in a bedroom with more plush toys than a child's dream. My children enjoy the same benefits because there's no limit to the number of plush best friends a child can own. Dinosaur Squishmallows are a treat for children and older fans to enjoy, but I pick the most exclusive squad members.
Shaking the Ground First
Plush dinosaurs come in all shapes, sizes, and colors. However, some unique dino squad members exist among the beauties. It would shake the ground for you to meet every dino squad member, but the special ones narrow the choices down to manageable options. The best dino Squishmallows are about unique traits and originality.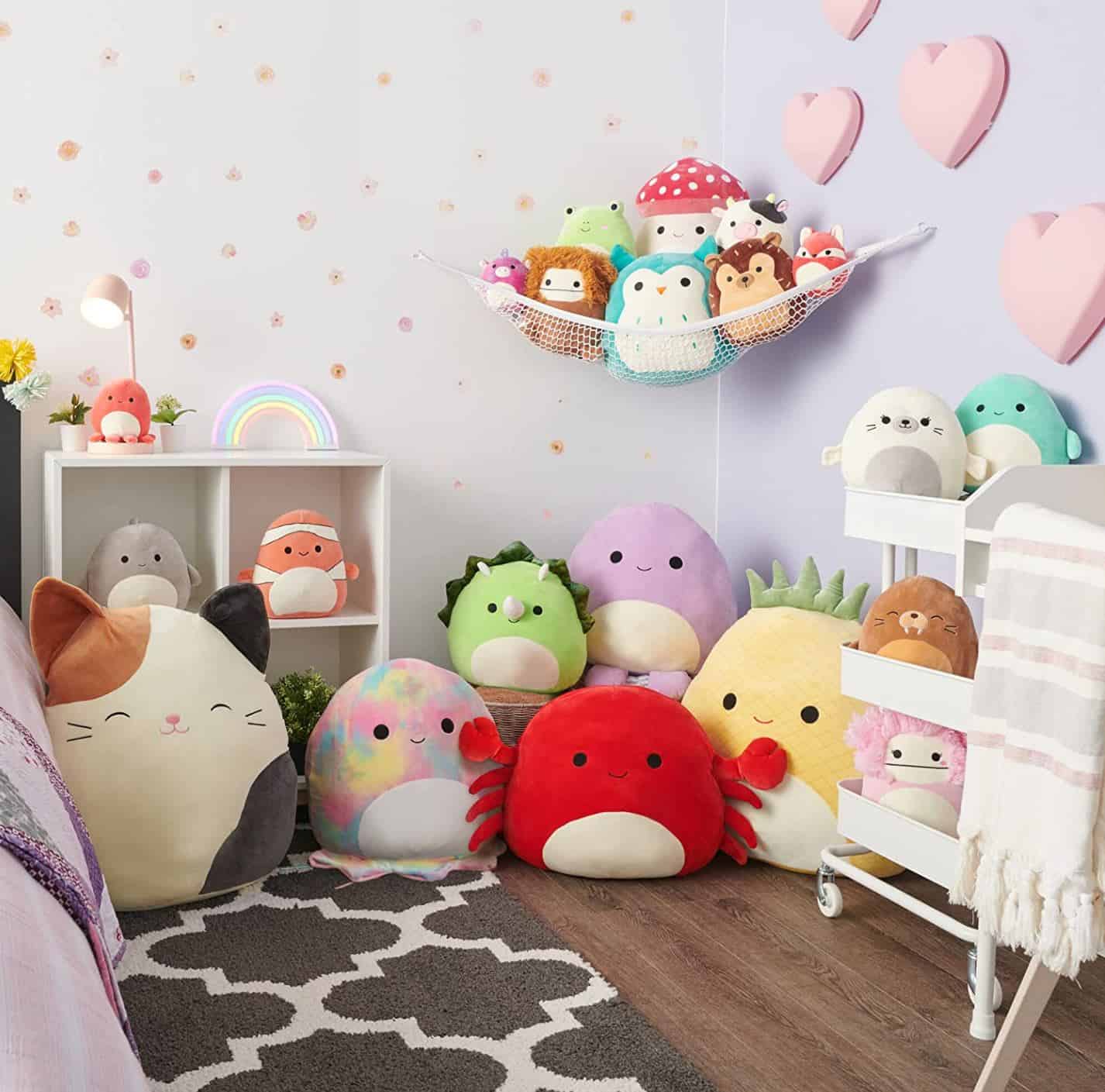 I'll introduce you to the dino squad members, but I'll also use their unique traits to help you pick a few beautiful choices for yourself or your children. Here's a peek at the best dino Squishmallows before you get into the squad and what makes them unique:
Everything About the Best Dinosaur Squishmallows Explained
I remember my first movie ever watched in a theater. It was about dinosaurs, and I loved every second of it, even when my dad fell asleep. I also remember buying my first Squishmallow. I couldn't get enough of the marshmallow feel between my fingers. Combining the two memories into one plush idea is beyond beautiful.
Meet The Dinosaur Squad
Squishmallows are the squishiest plush toys you'll ever feel, and they're so popular that they have countless squads with numerous members. The dino squad is a favorite for children and older fans, and there are a few prominent members I can introduce, including:
As you can see, many dinosaur squad members exist as Squishmallows. Each member comes in different sizes, and some have exquisite details for special occasions. Additionally, the dinosaur Squishmallows sometimes belong to more than one squad. There are also unique types of dino Squishmallows, like Hug Mees.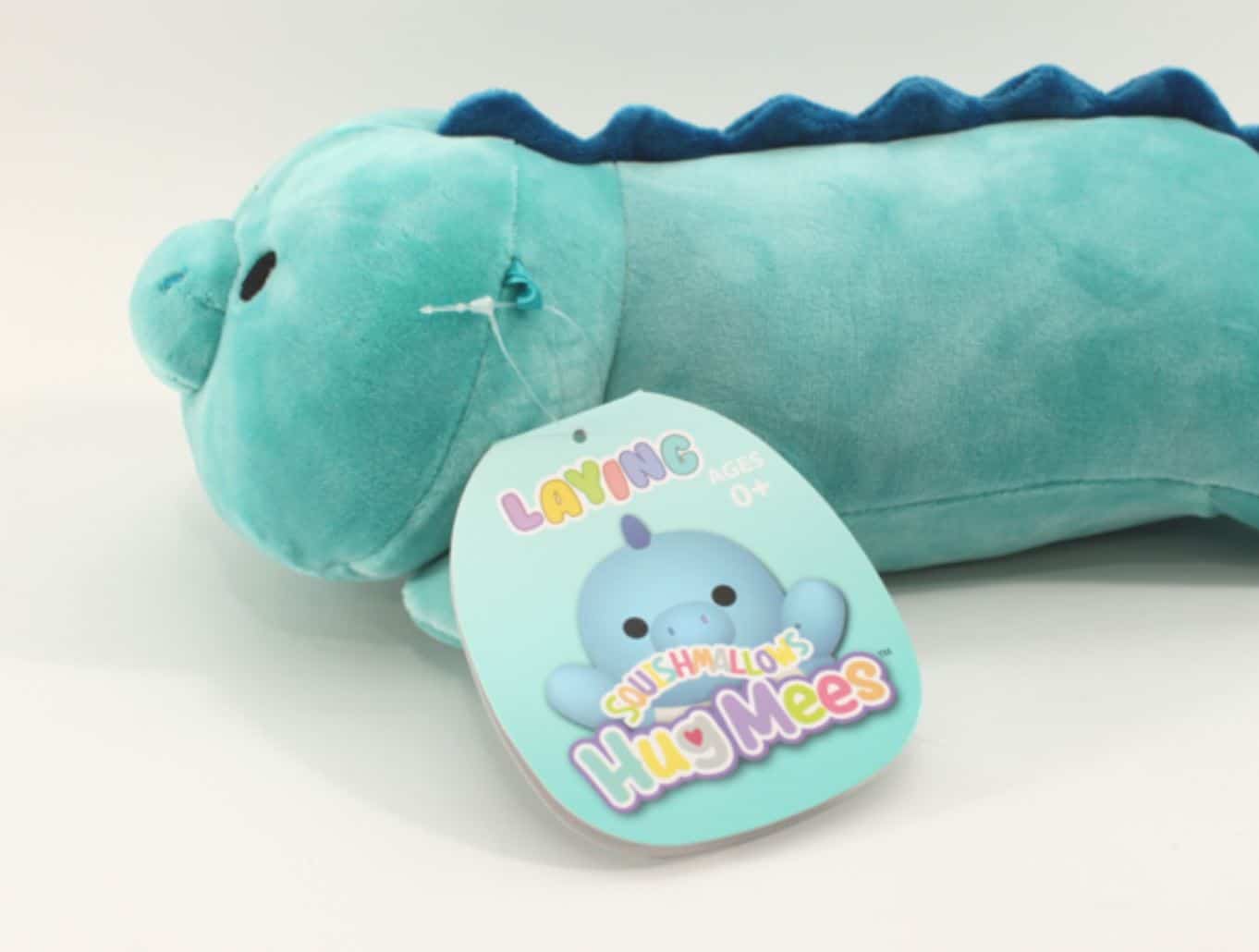 Tips for Collecting Dinosaur Squishmallows
The availability and variety of dinosaur Squishmallows allow you to collect a few gorgeously unique plushes. If your children love dinosaur plush like my family, look for special types, some including:
These are some of my favorite unique dinosaur Squishmallow types. Don't merely collect the standard dinos when there are so many incredible types.
How to Find the Best Dinosaur Squishmallows
There are too many dino squad members to pick them all. Instead, I'll pick one of the most unique types for the dinos with special versions. The variety will appeal to any child who knows the squad. The unusual designs and crossover squads will make them stand out. Of course, the dinos must also be original Squishmallows.
Best Dinosaur Squishmallows: Prehistoric Beauties
I chose the most beautiful versions of some main dinosaur Squishmallows. They each have unique qualities, which I'll share. They also have ups and downs, and I'll dig into the details of what makes them better than the regular Squishmallow dinos.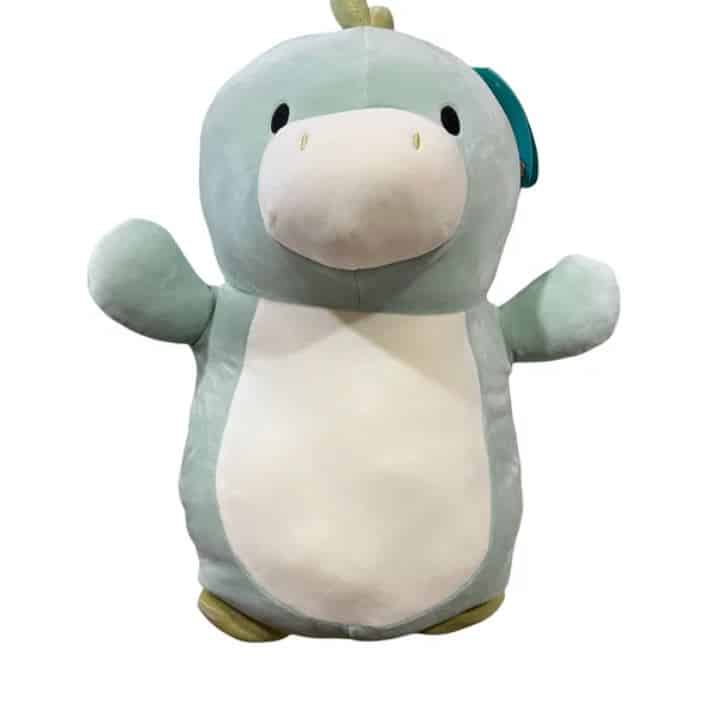 Arlie, the dinosaur, is typically a light green color with a striped belly, but the Hug Mees version is unique. It doesn't look like Arlie Squishmallow, but it looks more like a dinosaur than most versions because it has arms and legs. The dinosaur also shares a style that makes him look Easter-friendly.
Fun Facts
Name: Arlie the Dinosaur Hug Mees
Unique Trait: It's a limited-edition Hug Mees with Easter embroidery
Squads: Easter, Dinosaur, and Hug Mees squads
Size: 18″
Pros
The Arlie Dino Hug Mees Squishmallow is a massive plush that welcomes children for snuggles
I love Hug Mees because they look more accurate than traditional Squishmallows, and this plush has various unique traits for added collectibility
Cons
My daughter saw this Squishmallow and didn't like that Arlie's stripes were missing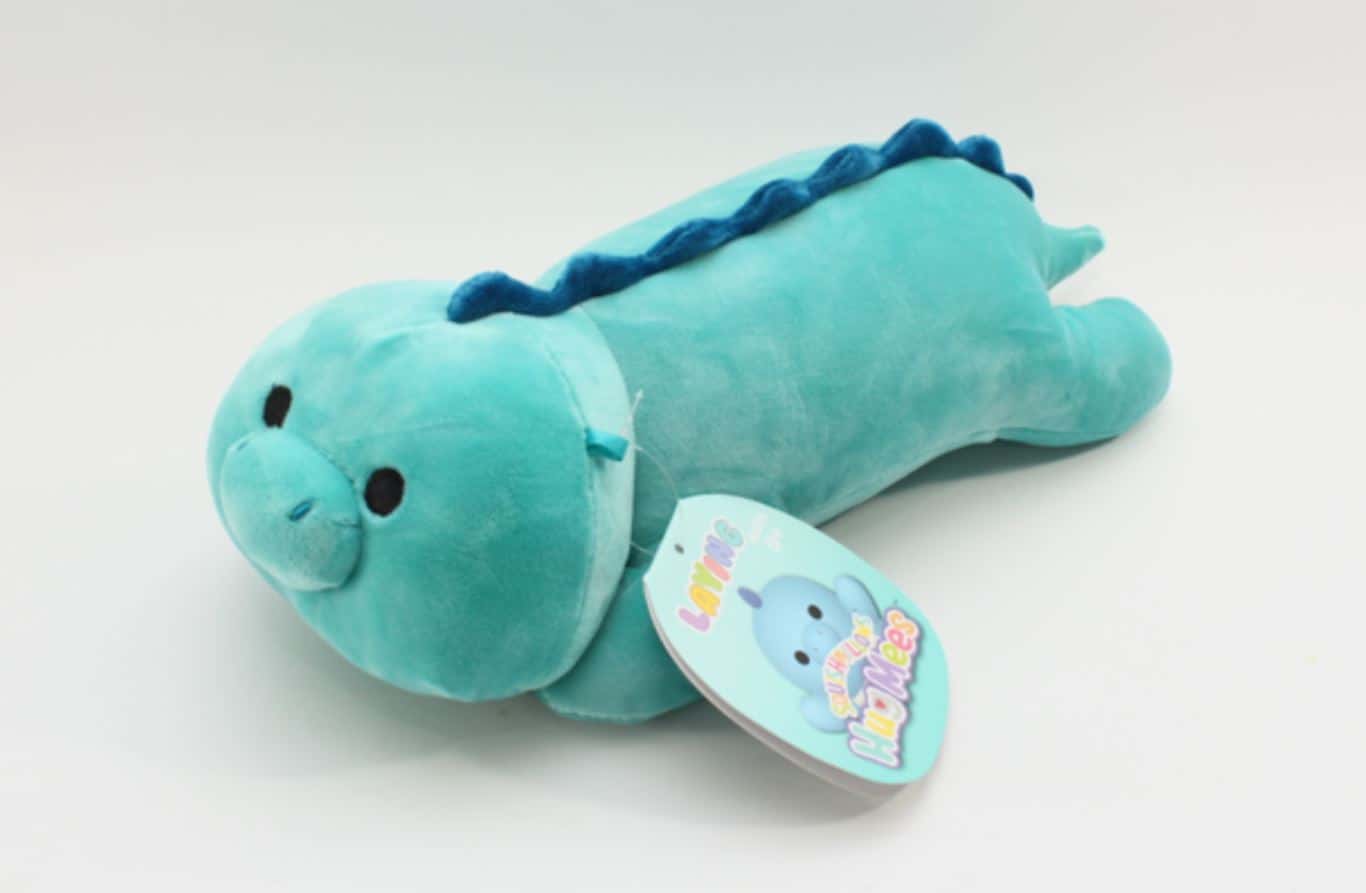 Ben is one of the most versatile dinosaurs from the squad, and you'll see him in many other teams. Ben is a blue-green dino with intelligence exceeding the prehistoric era. I love the colors because the teal blue is bright and appeals to most kids. Ben has a long body, and I'm sure kids will use him as a pillow.
Fun Facts
Name: Ben the Dinosaur Hug Mees Squishmallow
Unique Trait: Ben looks more like a real dinosaur and comes as a Hug Mees special
Squads: Dinosaur and Hug Mees squads
Size: 13″
Pros
The Ben Dino Hug Mees Squishmallow is a gorgeous design that makes sleeping with a plush friend better
Ben is a famous dino Squishmallow most children will know, and he has a unique trait that makes him more special
Cons
Ben's long body might be too long, making him look like a snake more than a dino

I love two-for-one specials, and Flip-A-Mallows bring two dino characters to life. Fans adore Tristan and Chuey. Maybe kids love Chuey so much because he's a t-rex. Tristan is also a triceratops and not merely a dino Squishmallow. The reversible dino Squishmallows are sure to double up a child's excitement.
Fun Facts
Name: Chuey the T-Rex & Tristan the Triceratops Flip-A-Mallow
Unique Trait: Kids get two dinos they can change between
Squads: Dinosaur and Flip-A-Mallow squads
Size: 12″
Pros
Flip-A-Mallows allow children to decide who their best dino friend is for the day, and it's a decent size
Squishmallow dino fans love Tristan and Chuey, and the combo feels like value for money
Cons
Kids might have trouble deciding who must spend time with them each day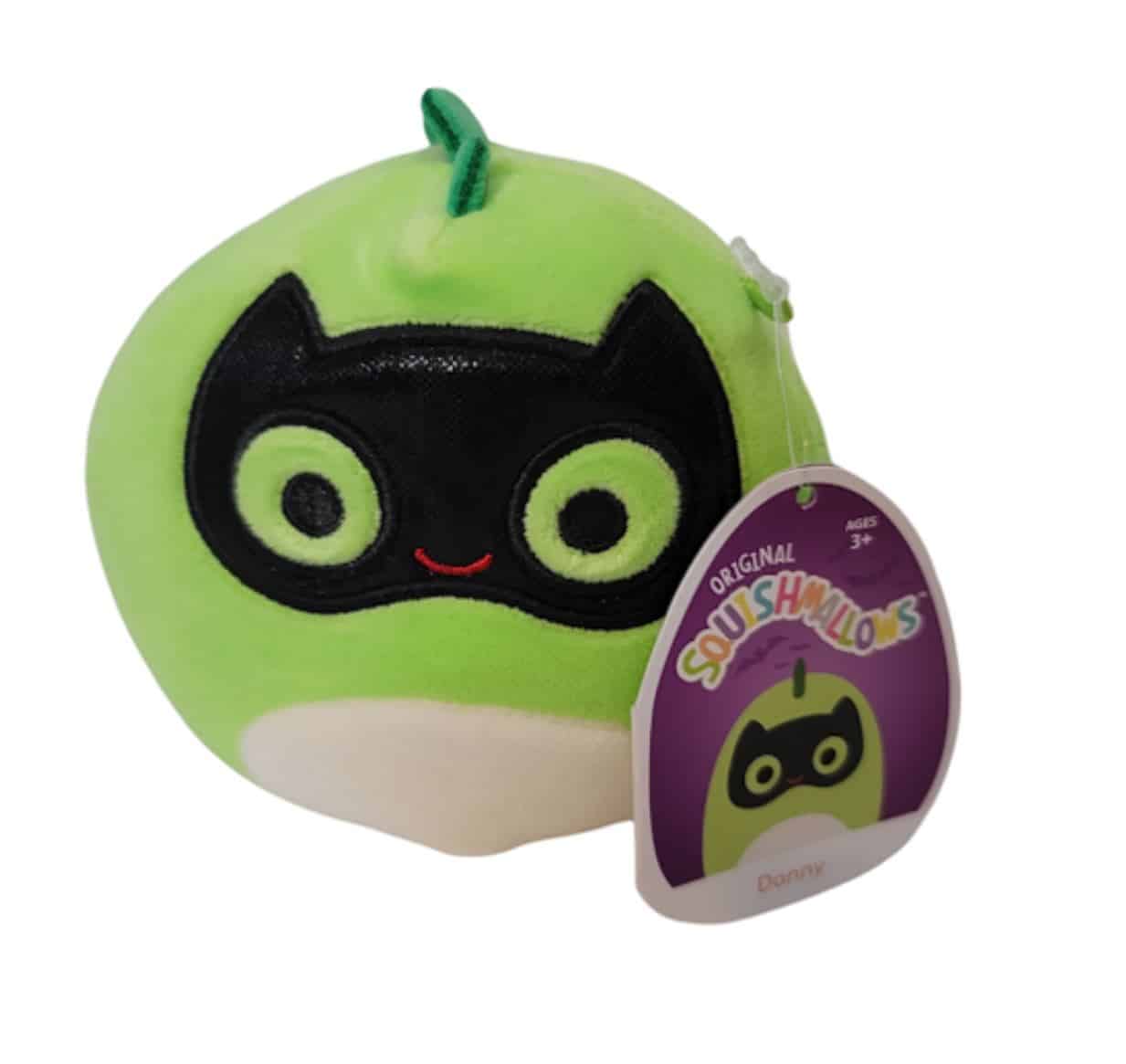 This version of Danny makes me suspicious because he looks like a mischievous character. My daughter says I'm wrong. Her friend has Danny's normal Squishmallow, and his story speaks of games and fun. The green dinosaur loves playing games, making the Halloween edition more sensible.
Fun Facts
Name: Danny the Halloween Dinosaur Squishmallow
Unique Trait: Danny is a holiday edition wearing a mask
Squads: Halloween and Dinosaur squads
Size: 4.5″
Pros
The Danny Dino Squishmallow wears a cute mask to show his Halloween spirit for costume parties
Halloween edition Squishmallow dinos are more collectible than regular ones because they're limited
Cons
Danny looks like he's wearing a bat as a mask, but it's adorable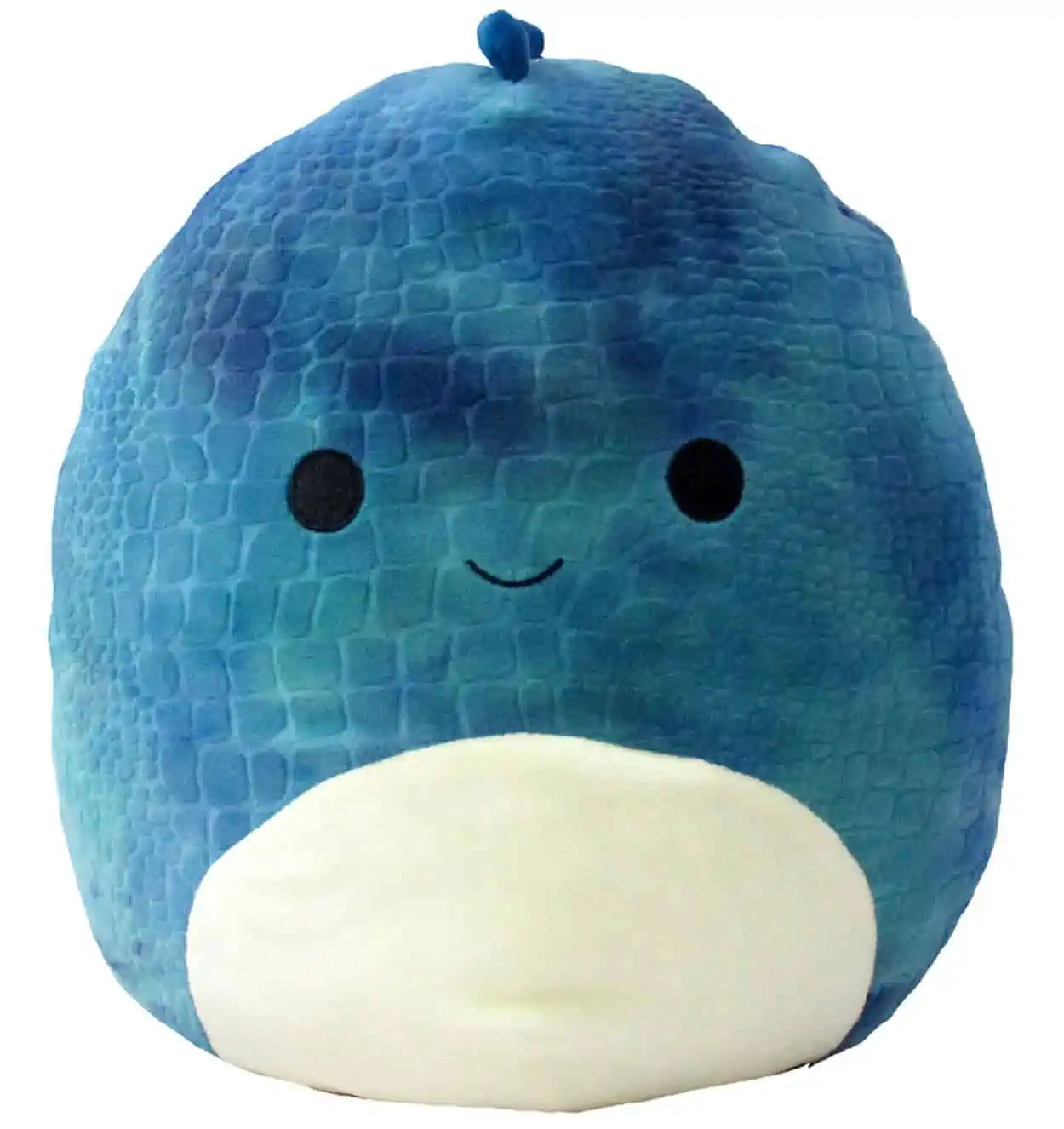 Darex is another familiar dinosaur squad member you'll see in various versions. I love this version of Danny because he has phenomenal colors over textured skin that looks like scales. I imagine dinosaurs had rough skin resembling scales. I'm sure that's how dragons came about, making Darex more unique.
Fun Facts
Name: Darex the Tie-Dye Dinosaur Squishmallow
Unique Trait: Darex has textured skin and a tie-dye color
Squads: Dinosaur and Tie-Dye squads
Size: 16″
Pros
The Darex Tie-Dye Dinosaur Squishmallow feels glorious with the textured exterior that looks beautiful
Darex looks as boisterous as his personality card claims the dinosaur is in the Squishmallows world
Cons
Darex has no unique traits other than the colors and texture, which looks normal to some fans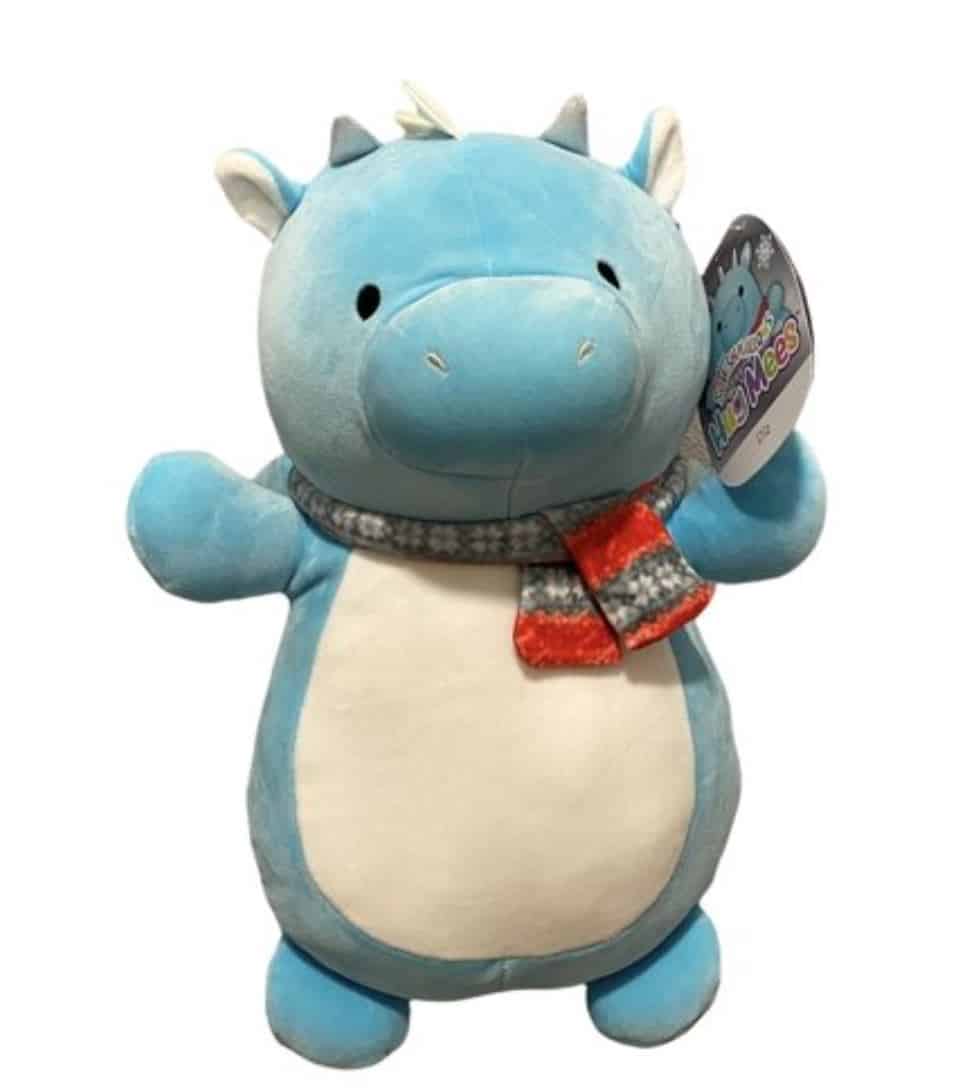 Diz, the Dinosaur Squishmallow, is a unique girl you don't see as a regular marshmallow plush. I call her the unicorn of dinosaurs because she only comes in one version, which happens to be a unique one. I want Diz because there isn't currently another Squishmallow of her kind. I love exclusive dinosaurs.
Fun Facts
Name: Diz the Hug Mees Dinosaur Squishmallow
Unique Trait: Diz is one of a kind and comes as a Christmas special and Hug Mees version
Squads: Dinosaur, Christmas, and Hug Mees squads
Size: 14″
Pros
The Diz Dinosaur Hug Mees Squishmallow wraps a few unique traits into one massive nighttime cuddle-buddy
Diz includes a gorgeous scarf for her Christmas accessories, and the Hug Mees Squishmallow is an excellent size as a pillow
Cons
Diz is a limited-edition, meaning she can sell before you get her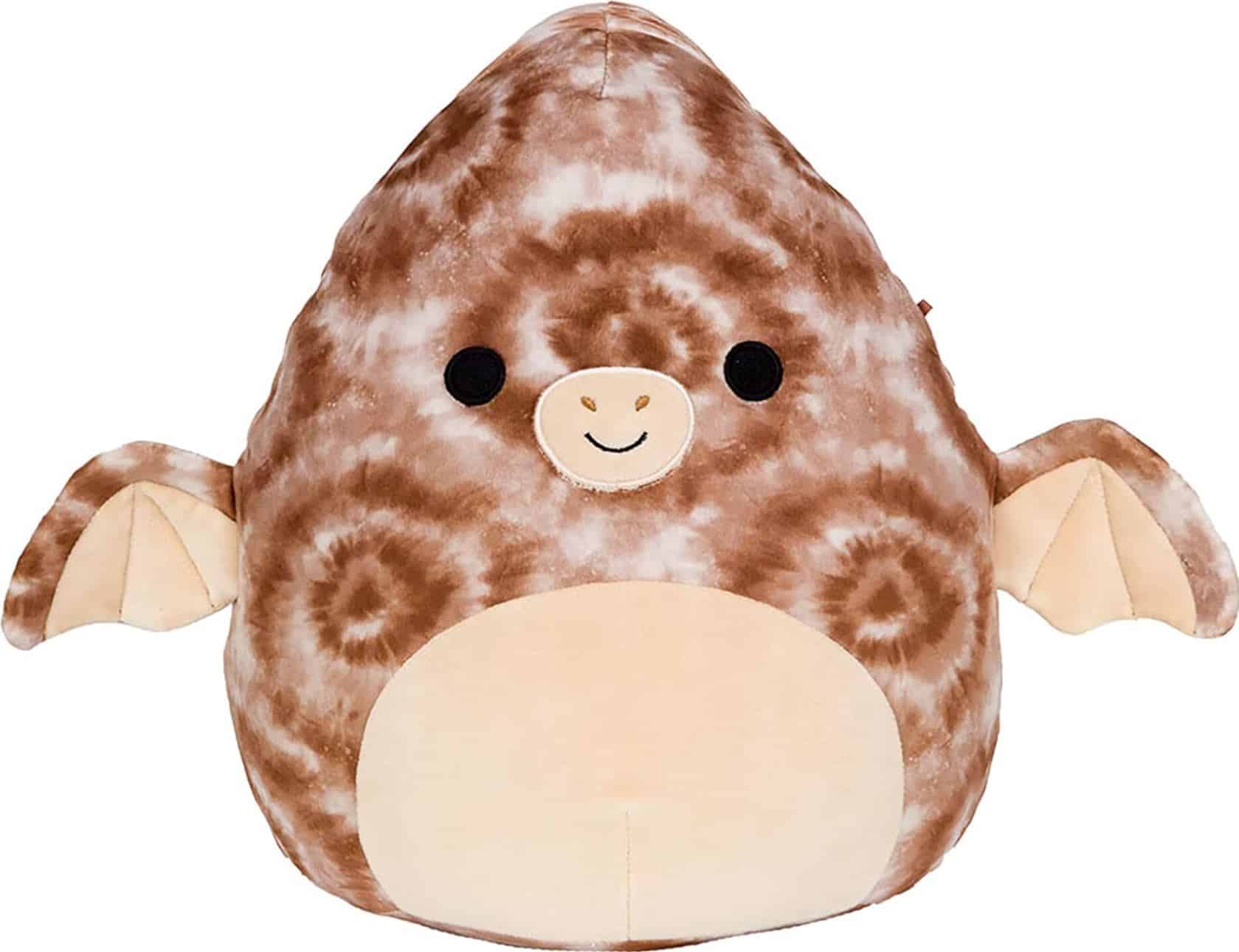 I love Edmund because the pterodactyl dinosaurs look like dragons. They come with wings, and the Squishmallows are typically mistaken for dragon squad members. That makes Edmund more unique than most dinosaurs. His colors are also fabulous, and the brown and beige suit the dinosaur type.
Fun Facts
Name: Edmund the Tie-Dye Pterodactyl Squishmallow
Unique Trait: Edmund is a unique dinosaur Squishmallow with wings and incredible colors
Squads: Tie-Dye and Dinosaur squads
Size: 8″
Pros
The Edmund Pterodactyl Squishmallow is a beautiful salute to an air-born dinosaur from the squad
Edmund has more character than most of his friends, and the wings look fantastic compared to dinos without them
Cons
Again, fans might mistake Edmund for a dragon Squishmallow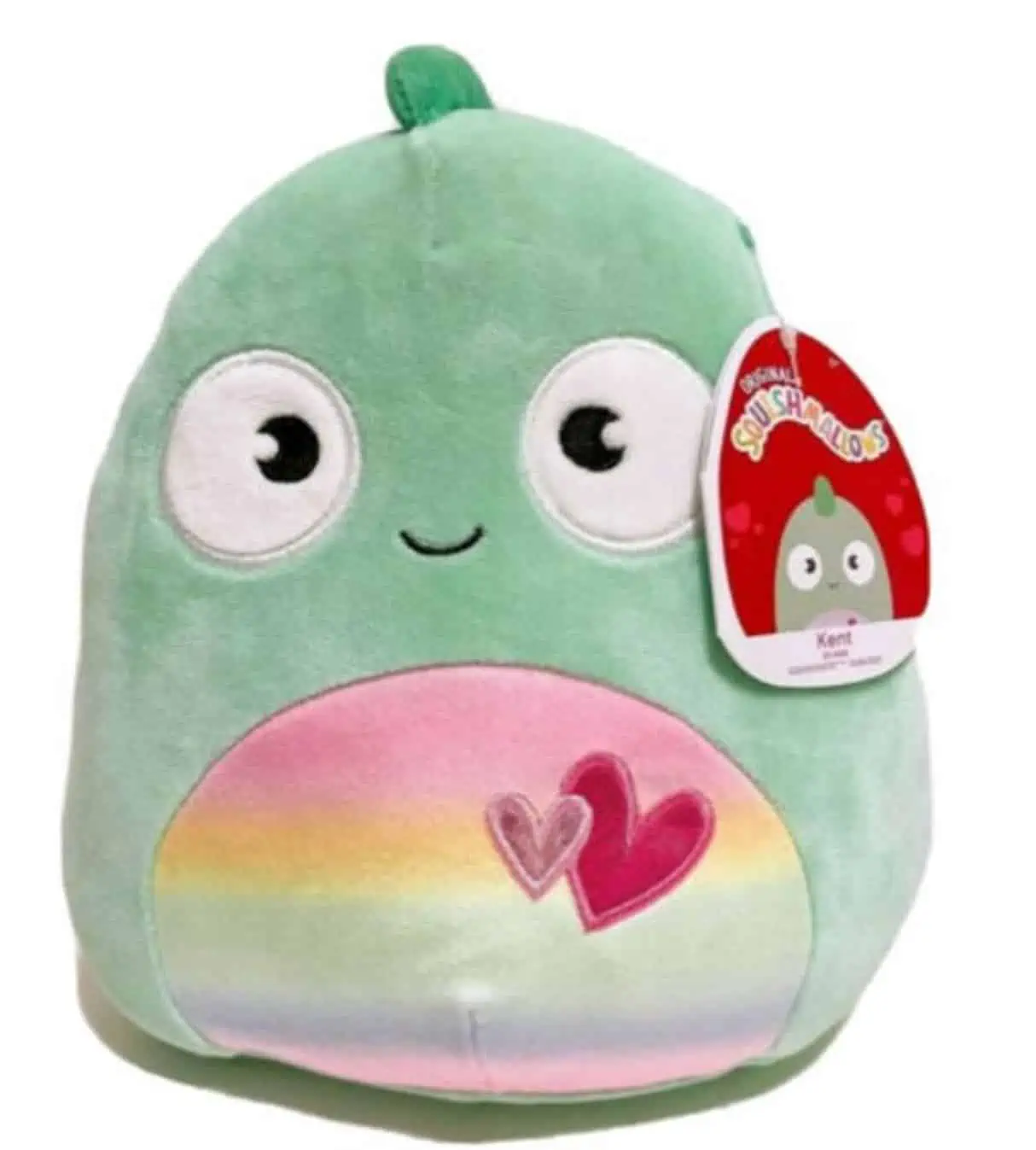 Kent, the Dinosaur Squishmallow, is an adorable pale green member. His cuteness makes me love him more as a Valentine's squad member. The colors fading away on his belly make me think of a sunset. I can imagine this Squishmallow would make an excellent Valentine's gift. You'd want to pinch his cheeks.
Fun Facts
Name: Kent the Dinosaur Squishmallow
Unique Trait: Kent is a Valentine's baby with embroidered artwork
Squads: Dinosaur and Valentine's squads
Size: 8″
Pros
There's nothing cuter than a match between the character and edition for a Squishmallow
I love Kent's belly more than I can express, and maybe my partner will see this post before the next Valentine's Day
Cons
It's such a pity that Kent doesn't come as a larger Squishmallow with the same belly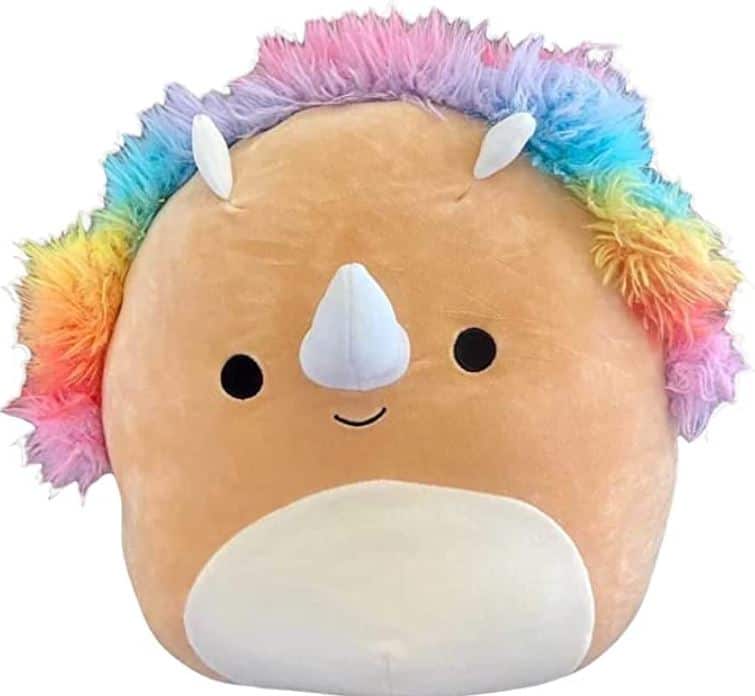 Massai broke through my barrier for Squishmallow love with his weird hairstyle. I know of a few Squishmallows from the Squish Doos squad, but Massai brings the hairstyle to life. The rainbow colors complement the punk-style hair, and Massai looks like a genuine hippie heading to the beach. It's incredible for a dino Squishmallow.
Fun Facts
Name: Massai the Triceratops Squishmallow
Unique Trait: Massai is the only dinosaur Squishmallow from the Squish Doos squad
Squads: Dinosaur and Squish Doos squads
Size: 14″
Pros
The Massai Triceratops Squishmallow officially became my ultimate favorite dinosaur plush from the brand
Massai adorably has a weird hairstyle instead of his usual horns on top of the head, and he's a beautiful design
Cons
I wish the prominent horns and belly weren't so white because this Squishmallow is a nightmare to clean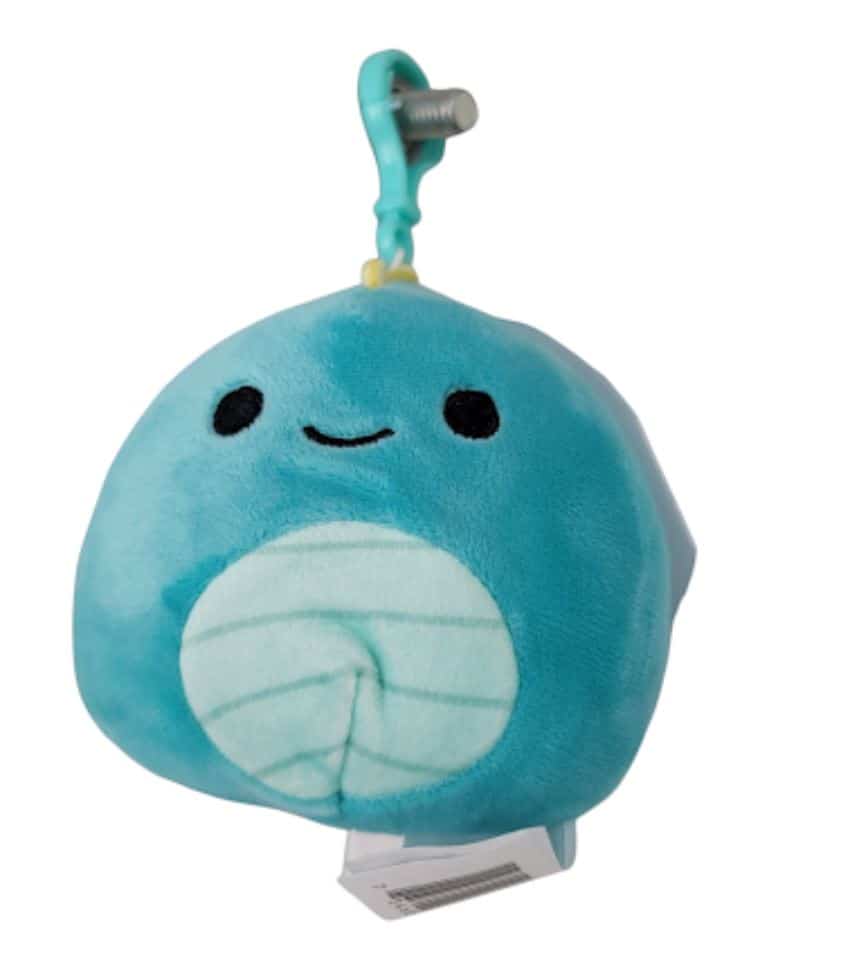 Every version of Nafese, the Dinosaur Squishmallow, is unique because he has stripes over his tummy. I love Squishmallow dinos with little color differences or patterns that make them stand out more. However, Nafese brings the unique traits selection criteria to the front because he also fits into a second squad.
Fun Facts
Name: Nafese the Dinosaur Clip-On Squishmallow
Unique Trait: You can carry Nafese Squishmallow around like a backpack clip-on
Squads: Dinosaur and Backpack squads
Size: 3.5″
Pros
The Nafese Clip-On Dinosaur Squishmallow includes two unique reasons for loving the tiny dino
I'm not crazy about clip-on Squishmallows, but Nafese's face looks as peaceful as his nature, and he invites you to befriend him
Cons
I'm still not a massive fan of clip-on Squishmallows, and it's a tiny version of a big animal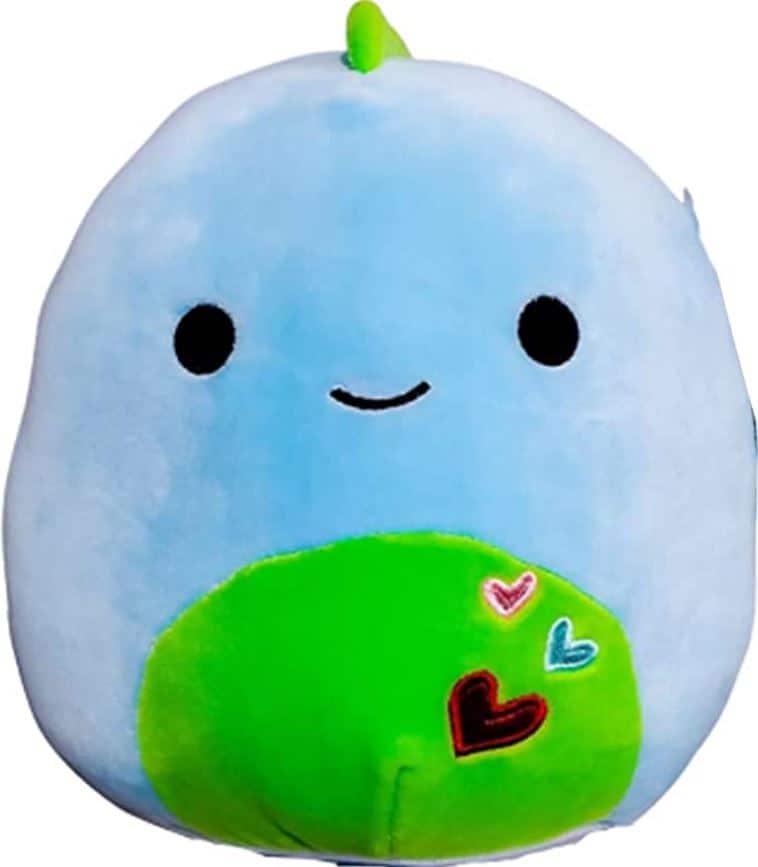 Squishmallows are known to turn tummies into butterflies, and the cuter versions do it so much faster. Rashad has a few versions, but Valentine's Day dinos shine the spotlight on everything adorable. The colors work well together, and the hearts almost shine because the embroidery has fine details.
Fun Facts
Name: Rashad the Valentine's Dinosaur Squishmallow
Unique Trait: Rashad is an adorable Valentine's special
Squads: Valentine's and Dinosaur squads
Size: 8″
Pros
The Rashad Dinosaur Squishmallow comes as a special edition capable of melting everyone's hearts
The darker lime green color of his belly and spikes against the light blue background are one of the most excellent color matches I've seen
Cons
Valentine's Squishmallows sometimes feel limited to when you can purchase them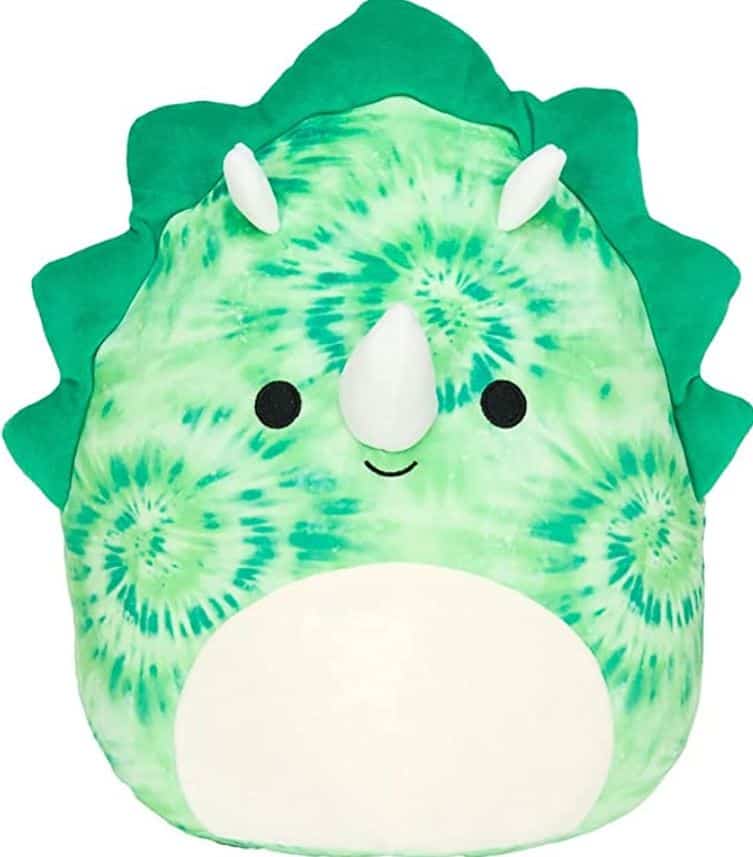 The triceratops is one of the best-looking Squishmallow dinosaurs. The brand can use horns and features other dinosaurs don't have. The central horn brings much more detail to the dinosaur's face. I love Squishmallows, but some dinosaurs and other squad members look plain. Hence, I always look for unique options.
Fun Facts
Name: Rocio the Tie-Dye Triceratops Squishmallow
Unique Trait: Rocio has gorgeous colors against a beautiful dino design
Squads: Dinosaur and Tie-Dye squads
Size: 14″
Pros
The Rocio Triceratops Squishmallow flaunts a beautiful tie-dye pattern with bright green colors
Rocio's face brings a smile to children with her friendly demeanor, and she looks more like a dino than the t-rex plushes
Cons
I wish Rocio's horns were tie-dye colors like her skin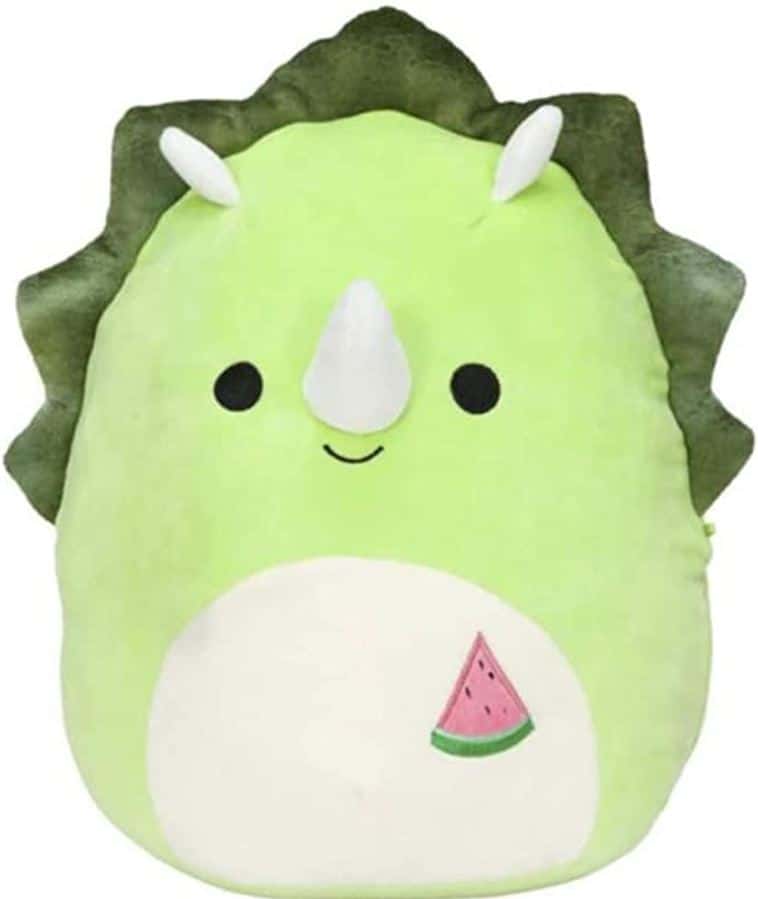 Tristan is another famous dinosaur from the brand with many variations. He even comes in a red version, while most of Tristan's Squishmallows are green. However, the red one doesn't have unique patterns or belongs to another squad. So, instead, I chose the Summer Edition Tristan Squishmallow because he's unusual.
Fun Facts
Name: Tristan the Summer Dinosaur Squishmallow
Unique Trait: Tristan comes from another squad with a small watermelon on his belly
Squads: Summer and Dinosaur squads
Size: 12″
Pros
The Tristan Triceratops Squishmallow is a double-squad member with a beautiful Summer picture
You'll also notice that Tristan's horns have a texture and unusual pattern to make him stand out more
Cons
The Summer-edition Tristan looks similar to the standard one
Top Q&As
Question: Are Dinosaur Squishmallows Worth Collecting?
Answer: My memories of sitting with my dad for the first movie with dinosaurs, combined with the feeling I get from squishing a Squishmallow, makes the choice undeniable for me. However, a massive range of dinos is available, and some are unusual. The most unusual dino plush is the Diz the Dinosaur Squishmallow.
Question: Which Dino Squishmallows Are Rare?
Question: Which Dinosaur Squishmallow Is the Most Common?
Best Dinosaur Squishmallows: Final Thoughts
Dino Squishmallows are a treat for children and older fans who love dinosaurs and squishy plush toys. You've met the prominent squad members, and I shared the unusual finds for some famous members. Buying a special-edition dino Squishmallow will put a smile on any collector or child's face.
Which dino did you love the most? The Best Massai the Triceratops Squishmallow is at the top of my recommendations because it's the only Squish Doos member from the dino squad. You don't get a plush more unique than that. The Best Diz the Dinosaur Squishmallow is my second recommendation for being as unique.
I love sharing unusual and exclusive Squishmallows, and I'd get clicking before the beauties are gone. You'll want to own them before they become rare collectibles. If you're a parent, pick the Squishmallow dino that appeals to your little one.
For more squishy friends:
Bat Squishmallow Guide for Halloween Squad Fans – Avid Plush
Best Shark Squishmallows Guide With 38 Options – Avid Plush
Pig Squishmallow Guide – Avid Plush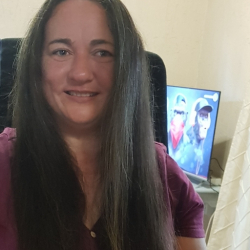 Latest posts by Caroline Lambert
(see all)