I would never have guessed there were nearly 40 choices unless I wrote the Best Shark Squishmallows Guide. And here I was, believing I'm the Squishmallows expert. I write about and collect them, and my kids collect as many as I do. You can call us a family of Squishmallow snobs because we love squishy plush toys.
I got lost in the options, and it gives me great pleasure to neaten the ocean before you dive into seeking the Shark Squishmallow of your or your children's dreams. With only 10 Shark members, I'm happy to announce that you'll find some unique sea life Squishmallows. Let me show you the fantastic squishy sharks available.
Bottom Line Up Front
One thing I promise is that you won't be overwhelmed by my best picks among the 38 Shark Squishmallow variants. I'll peek at the available variants for all ten sharks, but I'll only cut down the best selections to unique choices. I want you to walk away with the best Shark Squishmallow for a deserving fan.
I'll show you how to turn the ten characters' personalities into the best buys for little ones. Then, I'll share a variety of unusual Shark Squishmallow picks to bring smiles to any fan. Furthermore, I'll share how I liked the top 17 sharks from the 38 variants, including at least one of each squad member.
Are you ready to glance at my best picks before welcoming the sharks?
My Top Shark Squishmallows at a Glance
You'll find at least one version of each squad member among the 17 best Shark Squishmallows. They're also unusual variants and exclusive Squishmallows. Here's a peek at the most fantastic Shark Squishmallows:
Best Baby Shark Squishmallow
Best Crossover Shark Squishmallow
Best Inspirational Shark Squishmallow
Best Squishmallow Shark Set
Best Shark Squishmallows: An Underwater Guide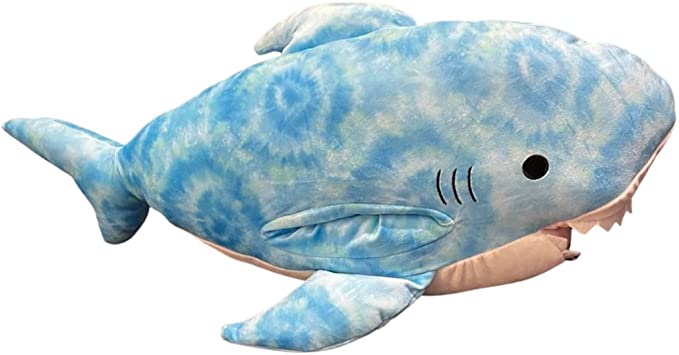 Shark Squishmallows are some of the most intriguing plushies. There are more than you can believe, and the variants are vast. Learn about the variants, names, and unique features I found before diving into my squishy tips and finding out how I picked the best Shark Squishmallows.
Welcome the Sharks
Squishmallows welcomed the sharks to the sea life squad, and there were new faces bringing joy to children and fans everywhere. There are a few different types of Squishmallows, and the shark squad introduces many variants. Let's take Gordon the Gray Shark Squishmallow as an example.
Gordon Shark Squishmallow Variants
Gordon is a lovable shark with an adorable smile and personality. He comes in various sizes, including 7.5, 12, and 16-inch squishy plush. Gordon shows his gorgeous smile in the size variants, and the 12-inch Squishmallow has black trimmings on the fins. The gray shark then has a 12 and 16-inch variant with a closed mouth.
Most fans don't notice the differences between the standard Gordon variants. However, the famous shark then comes in a variety of unique versions. It begins with a 2-inch Gordon Shark Squishville. Gordon also comes as a reversible Flip-A-Mallow and a 5-inch, an 11-inch, and a 12-inch tie-dye shark.
You'd think Gordon is famous already, but Squishmallows also gave him extras. Gordon, the Shark Squishmallow With Goggles, and Gordon, the Shark Squishmallow With Watermelon, are two unique variants. Additionally, Gordon has a 6-inch and 8-inch stackable Squishmallow.
Gordon isn't the only member with unique types.
Shark Squishmallow Variants
Unusual variants I found for Shark Squishmallows include:
There aren't many Squishmallow squads with so many variants, but unique sharks fall into multiple teams.
Advice for Shark Squishmallow Matches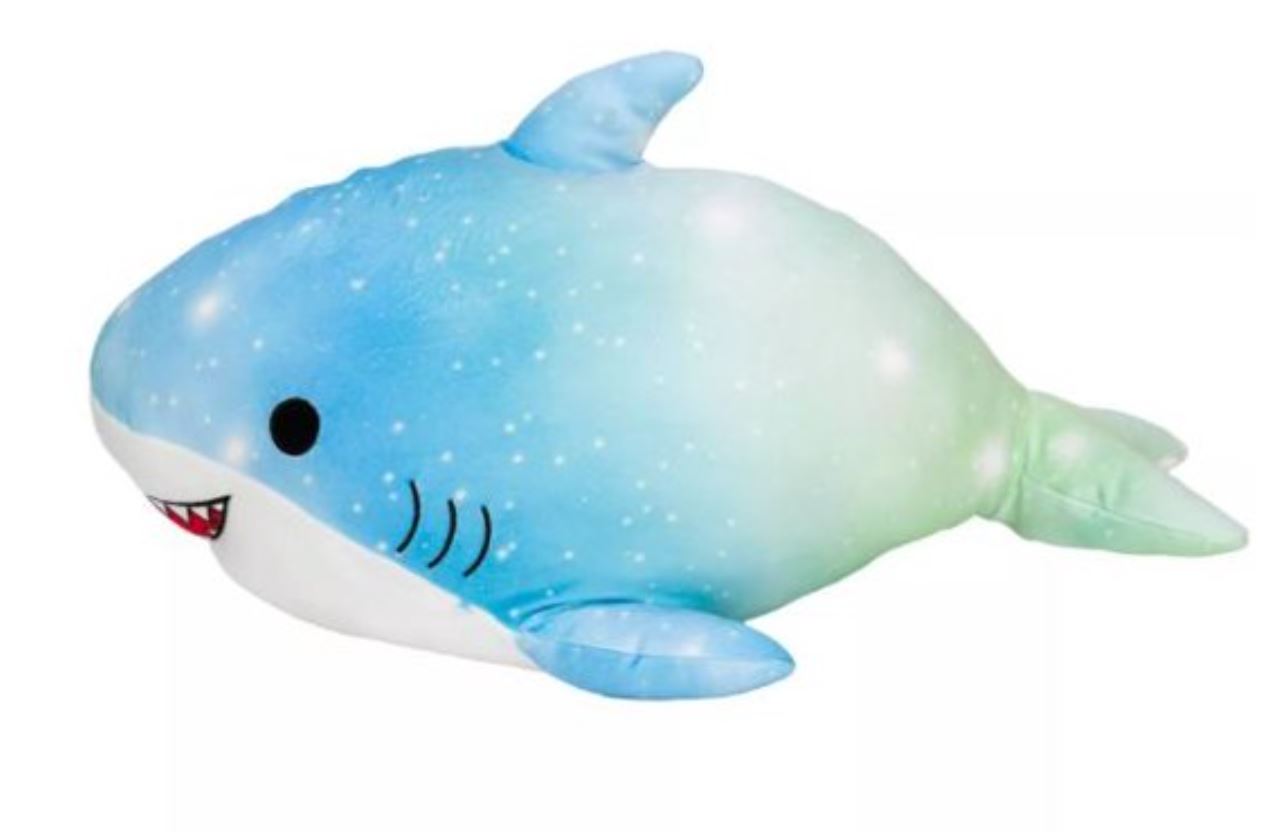 With 38 versions of Shark Squishmallows, you'll need to know the ten base friends. Pick the shark friend that best suits your or your children's personality by learning the squad. Let me share a quick rundown of each shark's personality and versions so you can match their personalities.
1. Chandler Shark Bio
Chandler has three variants: a standard 8-inch Squishmallow, slippers, and a baby version. He loves napping, snacking, and sharing with friends. He'd suit kids with the same hobbies.
2. Gordon Shark Bio
I won't tell you again that Gordon has 14 variants. I'll instead tell you that Gordon is the friendliest shark around. He's a helpful and determined little guy who wants to start a non-profit organization.
3. Luther Shark Bio
Luther has four variants: an 8-inch, 12-inch, and 16-inch tie-dye Squishmallow. He also has a backpack. Luther is determined to use his scientific mind to discover why he sneezes so much.
4. Rey Shark Bio
Rey, the Shark Squishmallow, has seven variants: a Flip-A-Mallow, two regular editions, an inspirational Squishmallow, a micromallow, a Squishmallow with an item, and a stackable version. Rey loves fashion and comes across as a shy romantic. He usually appears as a Valentine's Edition.
5. Rocket Hammerhead Shark Bio
Rocket Hammerhead Shark Squishmallow only has an 8-inch standard plush. He's a Walmart exclusive who loves swimming as sharks do. He's a water baby.
6. Samir Shark Bio
Samir, the Blue Whale Shark Squishmallow, has two variants: a backpack clip and a standard 14″ plush. Samir is a kind and compassionate friend who often leads the squad.
7. Santos Shark Bio
Santos, the Shark Squishmallow, has two variants: a HUG MEES and a Hugmallow. He's a calm character with ambition, and he'll get the shark of his dreams.
8. Selene Shark Bio
Selene, the Shark Squishmallow, is a Valentine's exclusive. She's a pretty pink shark with massive dreams about becoming a biologist and linguist. Selene is smart but lovable. She had other variants now discontinued.
9. Sharon Shark Bio
Sharon, the Shark Squishmallow, is another exclusive to the birthday squad. They discontinued her other variants. However, she's a traveling life of every party, making her ideal for the birthday squad.
10. Tank Hammerhead Shark Bio
Tank, the Hammerhead Shark Squishmallow, has two variants: an 8-inch and 12-inch standard plush. Can you imagine a hippie shark? Tank fills the gap between relaxed and loving peace.
Picking the Best Shark Squishmallows
Underwater Squishmallows include many sharks, and they're all friendlier than they are in the wild. With so many, you need guidelines for buying the best sharks around. Here are my buying tips:
Buy original Squishmallows with their character cards.
Look for unusual Shark Squishmallows that fit into two or more squads. I added only one standard Squishmallow Shark to use all ten squad members.
Best Shark Squishmallows Guide: Meet the Crew
Shark Squishmallows was the most significant challenge to sort into the best ones. They have more unusual variants than any other squad. However, I'm happy to share my best picks and why they made the winning spot. I'll share the squads, versions, sizes, and whether they're original. You only want authentic Squishmallows.
Best Baby Shark Squishmallow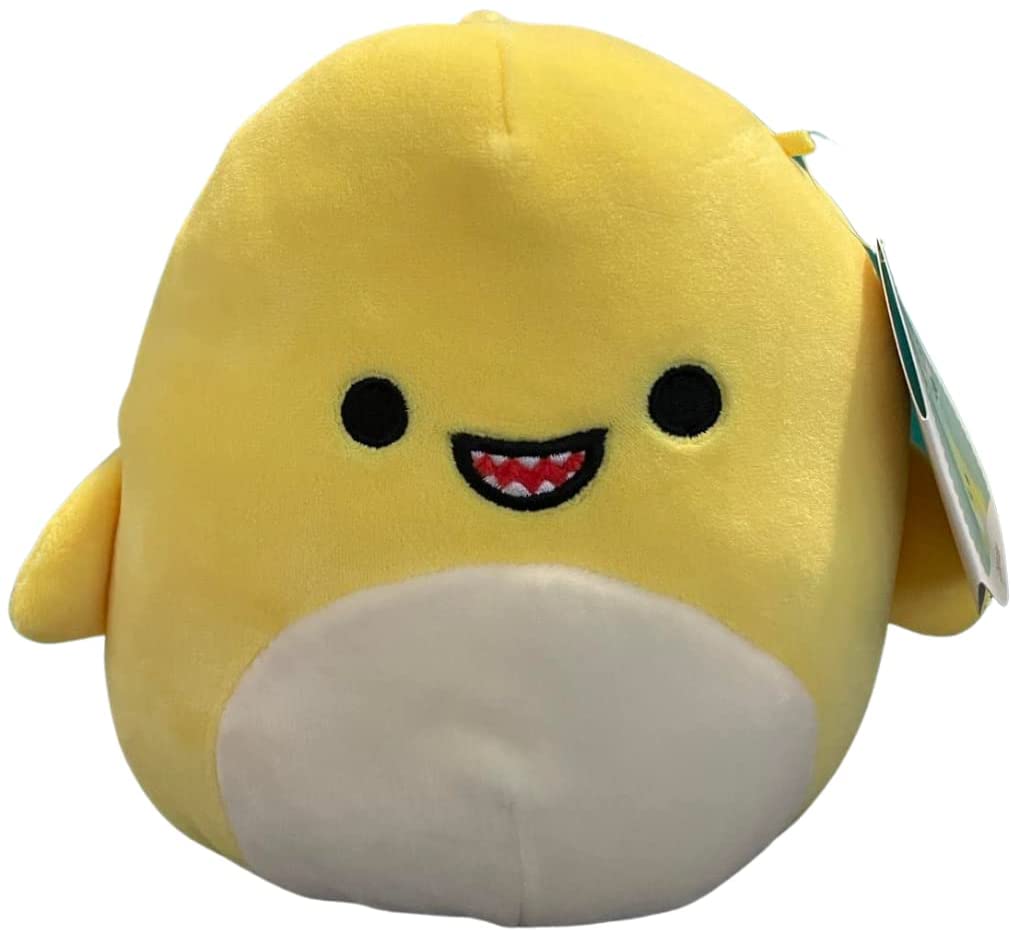 The ridiculous Baby Shark song comes to mind when I see baby Squishmallows. My kids are frantically obsessed with it. I'm sure you're as sick of the song as I am. Anyway, baby Squishmallows are adorable beyond belief. The Yellow Baby Shark Squishmallow Chandler is a winner for cuteness, cuddliness, and squishiness.
Squishy Features
Original: Yes
Size: 7″
Squads: Sealife, shark, and baby squads
Version: Baby Shark Squishmallow
Pros
I want to squish the life out of Chandler because his smile invites me to befriend the yellow shark
I like how Squishmallows designed Chandler with big, gorgeous, black eyes while putting his welcomed smile in the middle
Cons
Yellow Squishmallows are challenging to keep clean, and the squishy is small for a pillow buddy
Best Crossover Shark Squishmallow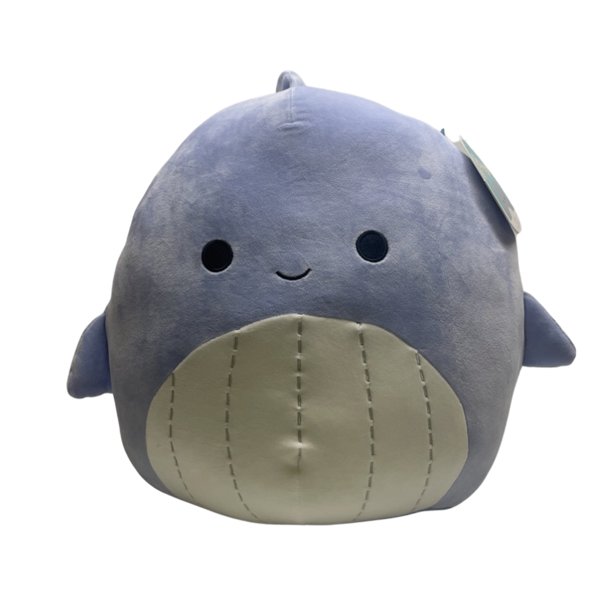 Crossover Squishmallows include unicorns mashed into cats and llamas. I love the blue whale and shark combination because they're both sea creatures. The blue whale is also one of my favorite sea creatures because it's majestic and ancient. Samir, the Blue Whale Shark Squishmallow, is the ideal blend.
Squishy Features
Original: Yes
Size: 14″
Squads: Sealife and shark squads
Version: Crossover Squishmallow
Pros
I see a hint of mystery in the crossover between a blue whale and shark, and the Samir Squishmallow represents it well
Samir Squishmallow has gorgeous stripes down his belly that make him more unusual, matching the blue whale's natural look
Cons
Some fans might believe Samir is more whale than a shark, and his fins are tiny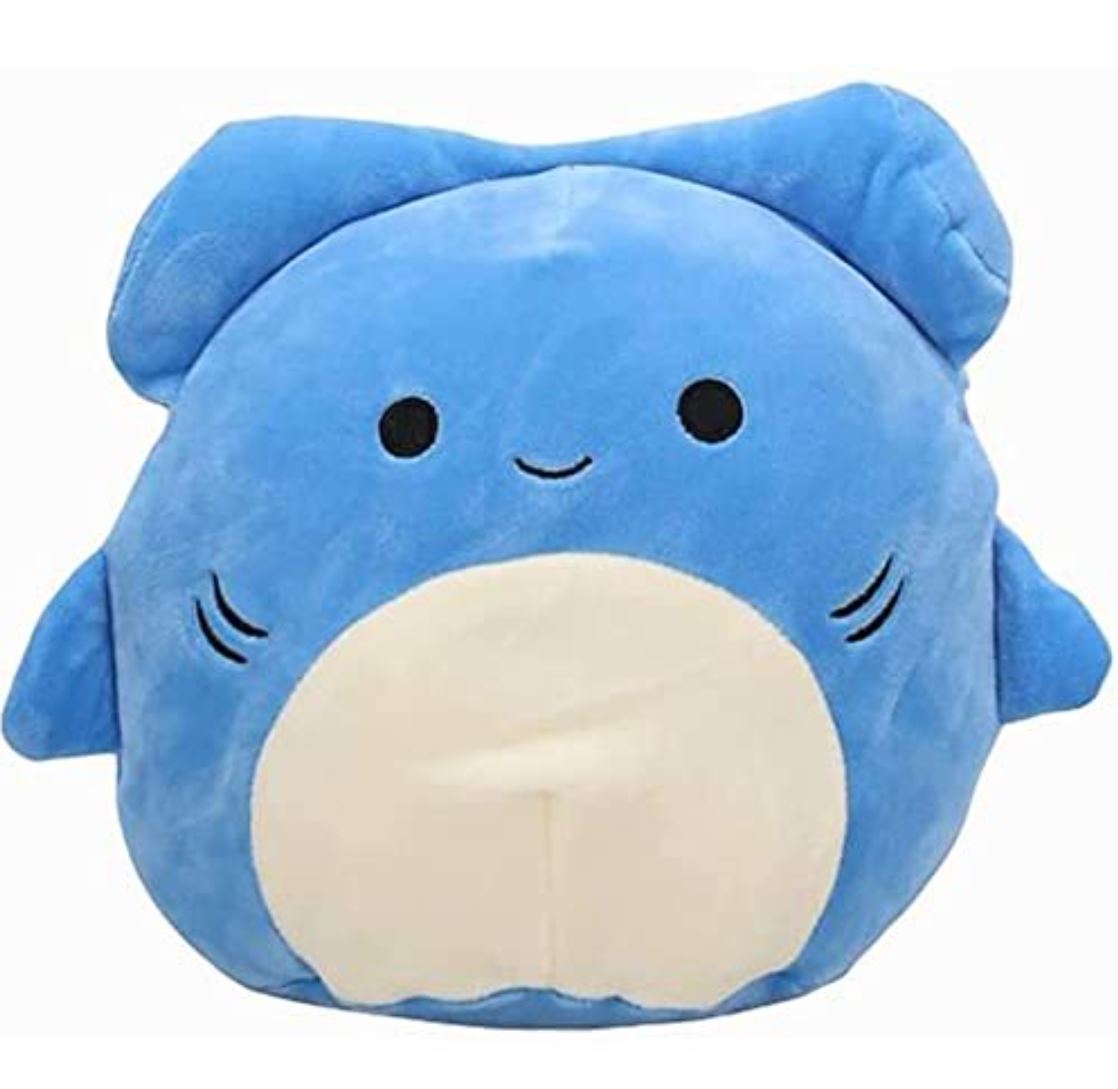 Hammerhead sharks are incredible creatures. I don't know how they move swiftly through the waters with their oddly-shaped heads. However, Rocket got his name from his fast swimming. Rocket, the Hammerhead Shark Squishmallow, is a Walmart exclusive with a gorgeous design. He's also blue to shake the colors up a bit.
Squishy Features
Original: Yes
Size: 8″
Squads: Shark and sealife squads
Version: Exclusive Shark Squishmallow
Pros
Rocket Squishmallow doesn't have messages on his belly or items attached, but he represents an exclusive club that makes him more collectible
Rocket is adorable with his big eyes, fantastic fins, and lines over his cheeks that make him look like a real shark
Cons
You might not always find Rocket Shark Squishmallow because he's an exclusive (hurry)

A Tik Tok craze about reversible plush octopi-inspired Flip-A-Mallows. Nonetheless, Squishmallows make the best reversible plush because they also feel like marshmallows. The Opal Octopus / Rey Shark Flip-A-Mallow brings two sea creatures to life. The sensory experience can bring calmness to a restless mind.
Squishy Features
Original: Yes
Size: 5″
Squads: Sealife, shark, Valentine's, and Flip-A-Mallow squads
Version: Shark Flip-A-Mallow
Pros
You get two fantastic sea creatures in one when you reverse Rey the Shark to find Opal the Octopus, both with a Valentine's stamp
I see this as an ideal gift between friends on Valentine's Day, and the squad members maintain their adorable smiles
Cons
Opal isn't a shark squad member, but she falls into the sealife squad for underwater fans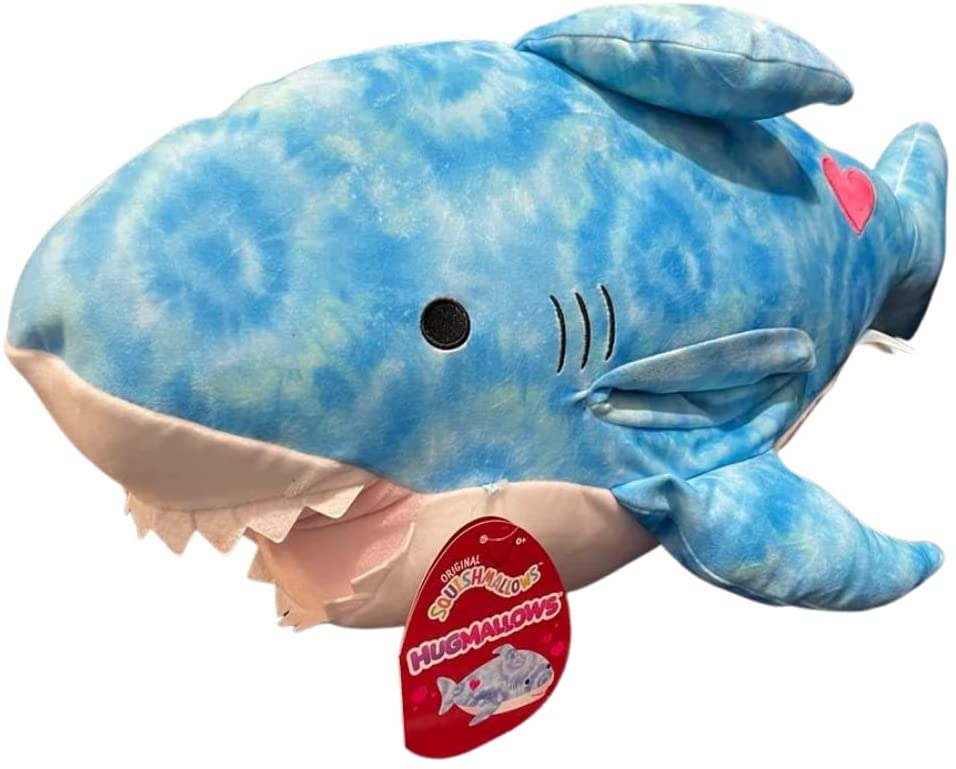 I'm struggling to find the right words to describe how fabulously soft a Hugmallow feels. Additionally, Santos, the Shark Hugmallow, is a treat because he looks like a Great White Shark. He comes in full detail and makes an excellent pillow buddy Squishmallow. He's massive enough to use as a pillow, too.
Squishy Features
Original: Yes
Size: 20″
Squads: Sealife, shark, Valentine's, and Hugmallow squads
Version: Valentine's Edition Shark Hugmallow
Pros
I want one is all I can say, but the Santos Shark Hugmallow is as gorgeous as he looks in the pictures (I felt him at a Walmart store before, but I'm ordering him today)
Santos has fantastic details, outlining his sharp teeth, fins, and tie-dye coloration, and he hides secrets in a side pocket for stashable items
Cons
Some Squishmallow fans prefer the original shapes and designs of the plush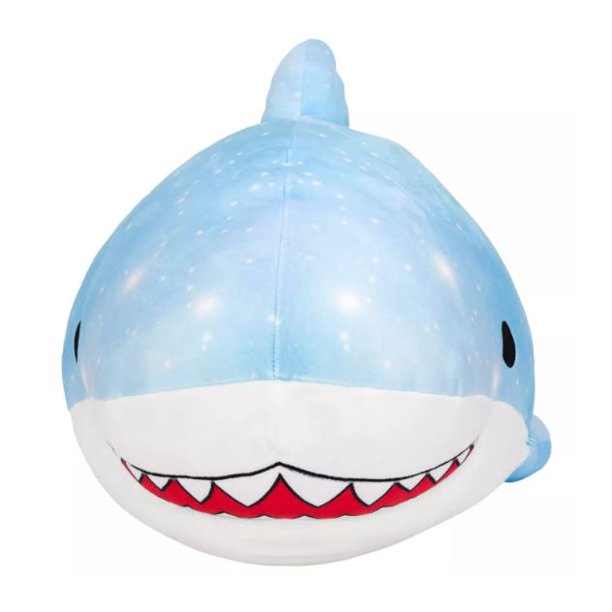 Shark HUG MEES are as cuddly as Hugmallows, and they make the perfect pillow buddies for kids and older fans. SANTOS, the HUG MEES Squishmallow, only comes in the two unique variants. He makes the best type of squishy friend from the shark squad. HUG MEES also come in fabulous sizes to improve cuddliness.
Squishy Features
Original: Yes
Size: 16″
Squads: Sealife, shark, and HUG MEES squads
Version: Santos HUG MEES
Pros
Santos looks like an ideal candidate for little ones who love sleeping with their squishy friends, and he comes with a starry design to promote sleepiness
He doesn't have as much detail as the Hugmallow version, but he still has far more detail than standard Shark Squishmallows
Cons
This version of Santos looks a little plump, but it can be another cuteness factor
Best Inspirational Shark Squishmallow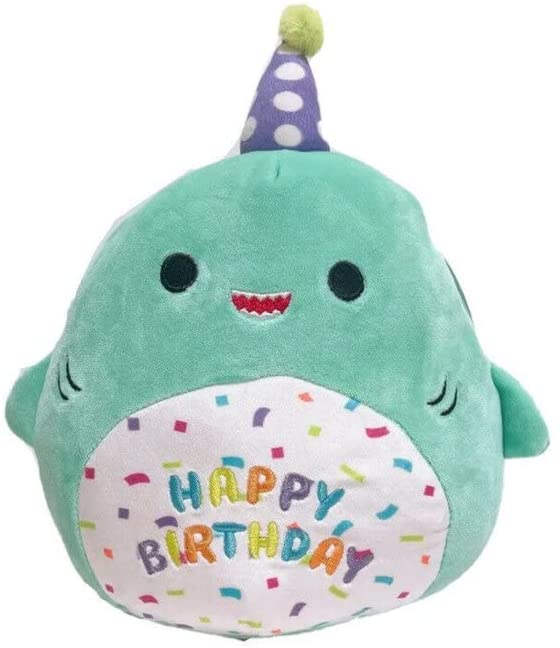 Sharon, the Shark Squishmallow, has a message for her fans. She wants to wish her party friends a happy birthday. Sharon likes being the party's life, and she undoubtedly makes everyone know she has arrived. I can imagine how this Shark Squishmallow will become a favorite for birthday parties.
Squishy Features
Original: Yes
Size: 8″
Squads: Sealife, shark, inspirational, and birthday squads
Version: Birthday Message Squishmallow
Pros
I see magic and outstanding excitement when I look at Sharon Squishmallow because she screams party and fun
The Sharon Squishmallow comes with a party hat and confetti design to enhance her invitational style
Cons
A birthday Squishmallow might seem pointless every other day of the year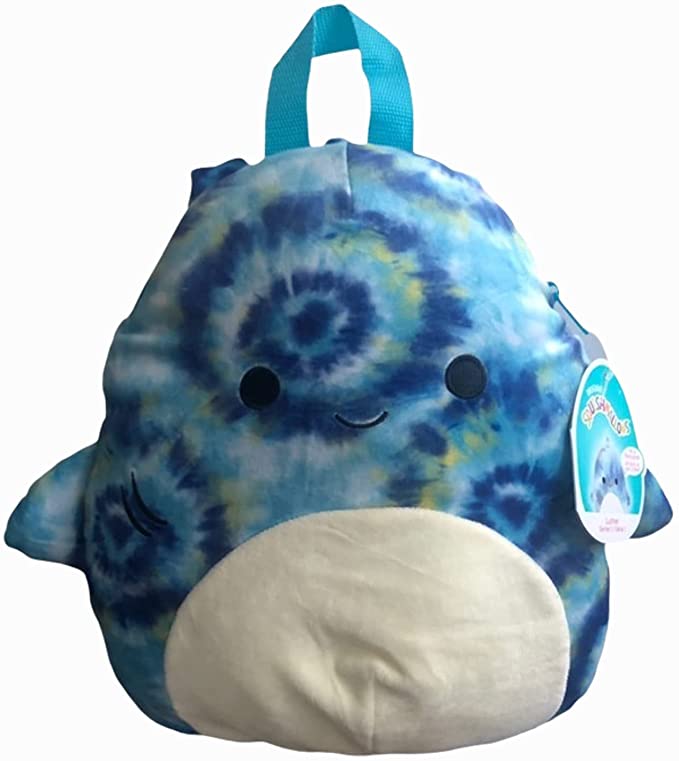 My daughter loves Squishmallow backpacks, even though I only recently learned about them. She saw kids at school with the marshmallow-feel bags and wanted one. Luther, the Shark Squishmallow Backpack, is unusual for two reasons. He's also a tie-dye beauty that brings color to a child's world.
Squishy Features
Original: Yes
Size: 12″
Squads: Sealife, shark, and backpack squads
Version: Shark Backpack Squishmallow
Pros
Luther has a hypnotic style that makes you feel like you're getting lost in his beautiful patterns, and he also has a friendly face
Kids can carry their favorite Shark Squishmallow around like a backpack, keeping their best friend close
Cons
I find that the Squishmallow backpacks don't carry much, and you'll be limited to the ages where children can use them for school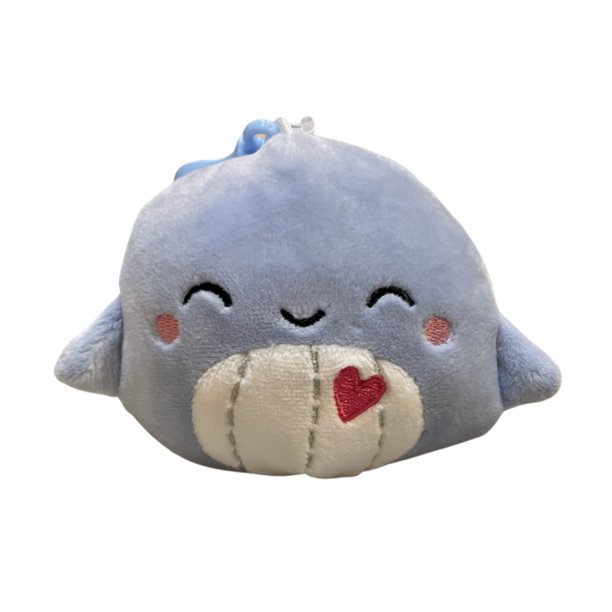 Imagine the conversations about the two sharks among your child's friends. Luther has a companion Squishmallow children can enjoy carrying around. Samir, the Shark Squishmallow Backpack Clip, is an excellent choice for giving your child two best friends they always have by their sides.
Squishy Features
Original: Yes
Size: 3.5″
Squads: Sealife, shark, backpack, and Valentine's squads
Version: Shark Backpack Clip Squishmallow
Pros
Samir Squishmallow is the most adorable thing you'll ever see with the backpack clip variant, and he welcomes you to become his friend
I love how Samir keeps the stripes over his belly, and his closed eyes and heart stamps amplify his adorability to a new level
Cons
You'll have a super sad child if they lose their Samir backpack clip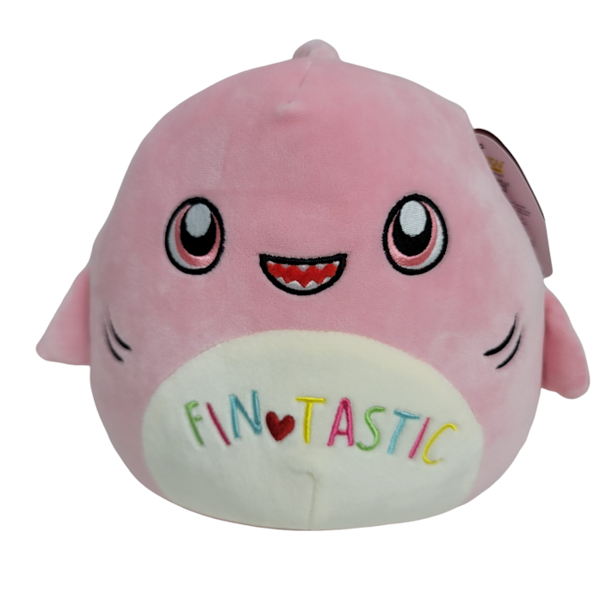 The only pick I didn't find challenging was this one. Selene, the Shark Squishmallow has a positive message for everyone. She says life's fin-tastic. She's also cute as a pie to fit into Valentine's squad, and she has more life in her eyes than any other Shark Squishmallow. Her eyes look like they have depth and stories.
Squishy Features
Original: Yes
Size: 8″
Squads: Valentine's, shark, and sealife squads
Version: Special Edition Valentine's Shark Squishmallow
Pros
I'm balled over by the beauty of Selene the Shark Squishmallow, with her googly eyes and puffed cheeks that make her a Valentine's winner
I love that her message is positive and teaches children that life's more than a challenge
Cons
Selene Squishmallow is another ultimately unique plush that might not always be available
Best Squishmallow Shark Set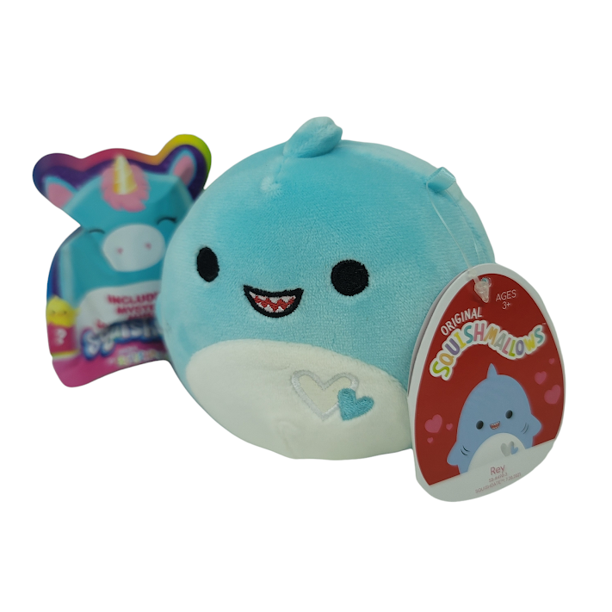 Micromallows are the littlest squishy plush you can buy from the marshmallow brand. I had to pick Ray, the Shark Squishmallow, as the winning set because he comes with a surprise micromallow. Rey also shows his favorite Valentine's design, and he can act as a big brother to whoever comes out of the surprise pack.
Squishy Features
Original: Yes
Size: 4.5″ (Rey) and 2″ (Micromallow)
Squads: Sealife, shark, Valentine's, and micromallow squads
Version: Rey Shark Squishmallow with Micromallow
Pros
I'm dying from the anticipation to see which Squishmallow comes out of the micromallow pack, and I'm sure you're also ready to order to find out
Rey Squishmallow looks adorable in all his variants because he always smiles broadly while proudly showing his Valentine's stamps
Cons
You might or might not get a shark in the micromallow pack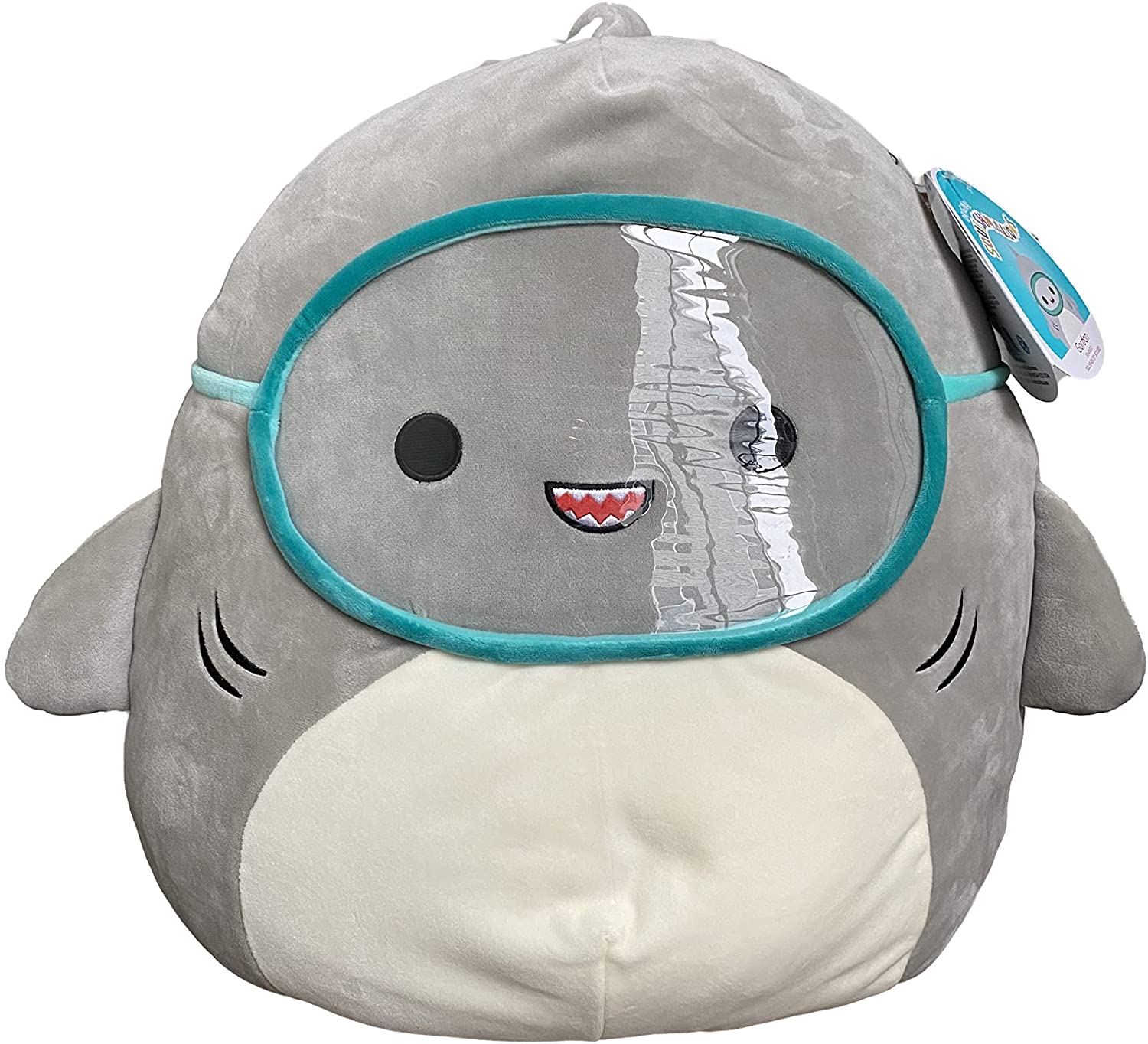 The Shark Squishmallows have a few versions with items, and it was challenging to pick the best one. I chose Gordon, the Shark Squishmallow with Goggles, because I see the irony of the plush. Sharks don't need swimming goggles, making this a funny combo. Gordon is also one of the most famous sharks.
Squishy Features
Original: Yes
Size: 16″
Squads: Sealife, shark, and summer squads
Version: Shark Squishmallow with Goggles
Pros
I'm still giggling about the irony, but Gordon Squishmallow looks cute with swimming goggles that make his head look even bigger
The goggles don't take away from Gordon Squishmallow's facial features, and he still has the friendly smile children love
Cons
Some fans might not find the irony as funny as I do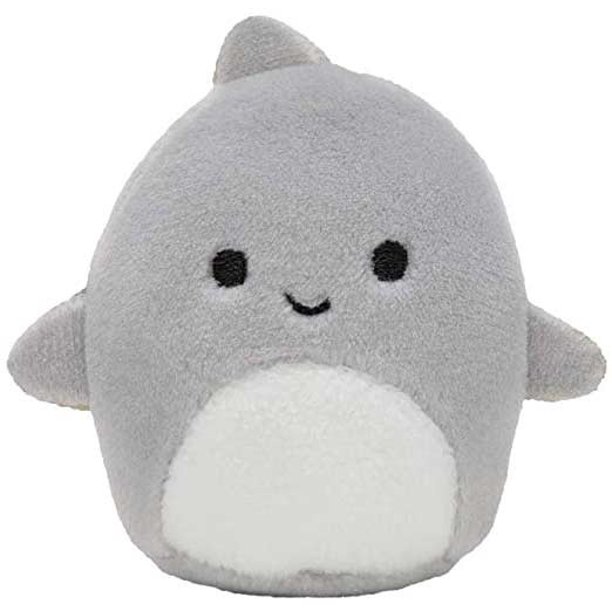 Shark Squishvilles are as adorable as micromallows. The difference is that you undoubtedly get a shark when you order one. Gordon is so famous that he also comes as a Squishville member. The plush is only two inches tall, so you can't deny how cute it looks. Gordon Squishville is a welcomed addition to my best picks.
Squishy Features
Original: Yes
Size: 2″
Squads: Sealife, shark, and Squishville squads
Version: Shark Squishville
Pros
The mini Gordon Shark Squishmallow is something from another planet, one with adorable creatures and squishy babies
The Squishville sharks have a different texture, feeling softer but firmer, and they plop back to shape faster
Cons
It's a lot easier to lose Gordon as a mini plush shark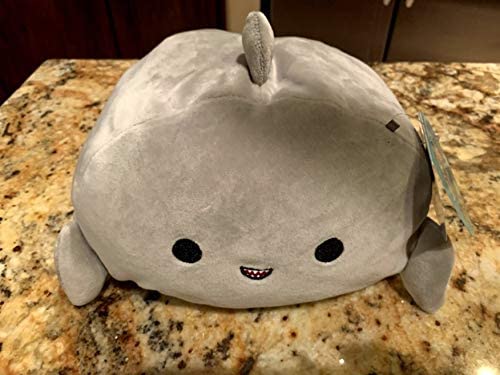 Stackable Shark Squishmallows are tons of fun for kids. The shark squad also has a few of them, whereas other teams only introduce one or two. Once again, Gordon debuts in this variant. You're starting to see how famous the little gray shark is as a Squishmallow. Gordon, the Shark Stackable Squishmallow, wins a child's heart.
Squishy Features
Original: Yes
Size: 8″
Squads: Sealife, shark, and stackable squads
Version: Stackable Shark Squishmallow
Pros
I can see my kids collecting a few stackable sealife Squishmallows because they love playing with their best plush friends
Gordon Squishmallow is one member that maintains his friendly demeanor in all variants, even those where his mouth appears closed
Cons
Your kids will want more stackable Squishmallows once they own one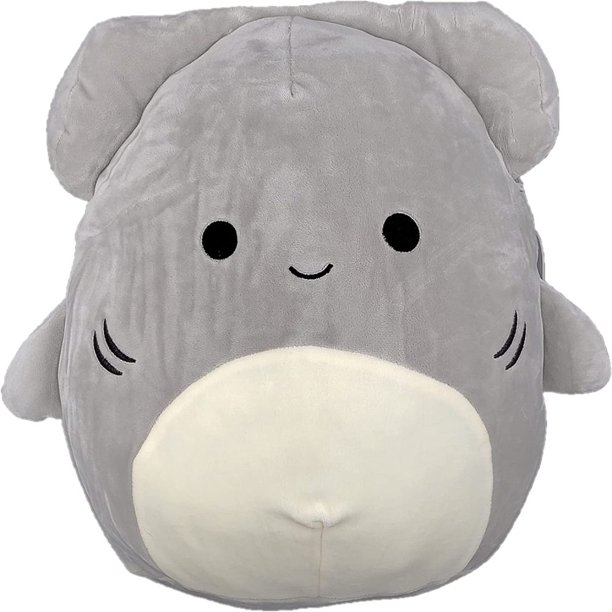 Tank, the Hammerhead Shark Squishmallow, is the only standard member I picked because the poor little guy wouldn't make a list unless his regular version appears. Tank is a beautiful hammerhead shark again. However, he has the natural coloration you see in the ocean. Maybe we'll see more of Tank in the coming months.
Squishy Features
Original: Yes
Size: 12″
Squads: Sealife and shark squads
Version: Standard Shark Squishmallow
Pros
Tank Shark Squishmallow has a beautiful traditional design for the squishy plush toys, and he comes with sizable fins to make squeeze-time for fun
Tank Squishmallow's hammerhead part looks like a crown, making kids think he's the king of the ocean
Cons
It's a standard Shark Squishmallow, but Tank deserves a spot as the final member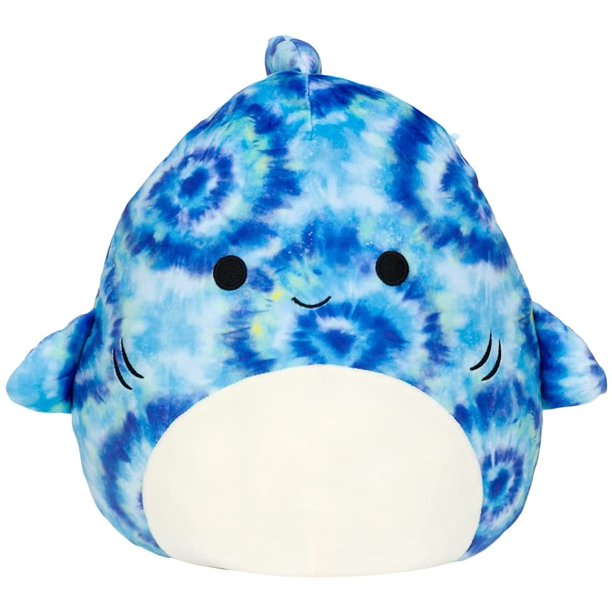 Many Squishmallows come in the tie-dye squad because the colors are hypnotic and beautiful. Luther, the Tie-Dye Shark Squishmallow, undoubtedly gets my attention with his bright circles and centeredness. He also has more prominent fins for a sizable Squishmallow. Be careful of hypnotizing yourself with his gorgeous colors.
Squishy Features
Original: Yes
Size: 16″
Squads: Tie-Dye, shark, and sealife squads
Version: Tie-Dye Shark Squishmallow
Pros
Luther has a smile that says, "Come, let's be best friends," and he makes any child feel at home
Luther Squishmallow also has the lines on his cheeks that give the sharks more character, and he looks adorably plump for extra cuddliness
Cons
Some children might find the patterns overwhelming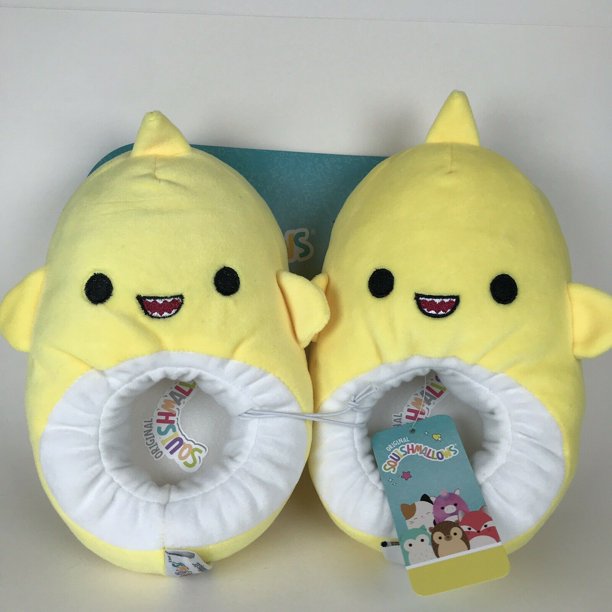 Admittedly, I'd never seen Squishmallow slippers until yesterday. I must own a pair, and I'm sure my kids will be asking for them as soon as they see this picture. Feeling Squishmallows between your fingers is one thing, but wearing them like clouds on your feet is entirely next-level. Chandler, the Shark Squishmallow Slippers, wins.
Squishy Features
Original: Yes
Size: Sizes go according to shoe size
Squads: Sealife, shark, baby, and slipper squads
Version: Shark Squishmallow Slippers
Pros
Ask yourself, can you imagine walking on a cloud because these slippers will make you feel like you're in heaven
You get to see the cute smile on Chandler's face every time you look down to remind yourself you're not walking on clouds
Cons
You'll never want to take these Squishmallow slippers off once you feel them
Top Q&A
Question: Which Shark Squishmallow is the Most Popular?
Answer: It's a matter of supply and demand. I get the most popular Shark Squishmallow from looking at how many variants each one has. The Sharks, Rey, and Luther have a few variants and appear famous. However, Gordon the Gray Shark Squishmallow has 14 different versions and sizes, ranging from two to 16 inches.
Question: What Types of Shark Squishmallows Can I Find?
Answer: Squishmallows have a range of versions, some fitting into multiple squads and others offering unique features like inspirational messages. I found the regular, backpack, clip-on, crossover, HUG MEES, Hugmallows, marshmallow slippers, micromallows, Squishvilles, and Flip-A-Mallow sharks. There's one for every child.
Question: Which Shark Squishmallow is the Most Unusual?
Best Shark Squishmallows Guide: Conclusion
Don't feel overwhelmed by the choices. Instead, look into my unusual Shark Squishmallows to find one for you or your children. Match your child's personality to the best squad member, and pick one of the relative variants. Does your child love Squishmallow backpacks? The Best Shark Squishmallow Backpack is ideal.
Add the Best Shark Squishmallow Backpack Clip to give them a second-best friend from the shark squad. Are you looking for adorable Squishmallows? The Best Baby Shark Squishmallow and the Best Squishville Mini Shark Plush work perfectly. Consider the Best Shark HUG MEES Squishmallow as a pillow and cuddle buddy.
Blow your child's mind with the Best Flip-A-Mallow Shark Squishmallow. Make their day a memorable one with the Best Inspirational Shark Squishmallow. If you don't yet own a pair of Squishmallow slippers, the Best Wearable Squishmallow Slippers are ideal. Mine are already on their way.
It's time to pick your best Shark Squishmallow now and buy it. Shark Squishmallows come in many variants, and you're bound to find the unique one you want. Get the exclusives before they're gone.
For more squishy friends: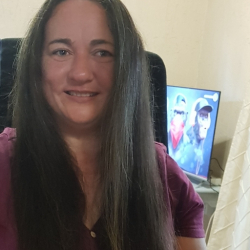 Latest posts by Caroline Lambert
(see all)