Are you or your children avid fans of Bendy plush? If so, I'll show you the lowdown in this Bendy plush guide. Bendy plush represents another fan-favorite horror video game that kids over ten play. I also play the Bendy Nightmare Run on my phone. The plush toys are as popular as Squishmallows but don't be mistaken.
Collecting Bendy plush is about expertise and continuous research because of various ranges and versions. You're probably thinking there are only so many famous characters. There are 14 available Bendy plush on the market in 2022, and that's only at the beginning of the year. You can easily miss the subtle differences.
Allow me to share my research and expertise with you.
Bottom Line Up Front
My son is a Bendy video game fanatic. Bendy fans search stores to find a few of their favorite characters, but there are small details they miss. I've been collecting plush merchandise long enough to see the finer details.  I play the mobile version and look forward to Bendy and the Dark Revival, but my son helps me.
There are five Bendy plush ranges available in 2022. I've noticed the subtle differences in tones, colors, sizes, versions, and ranges. I share the best of each character's plush from each range. I also stick to originals to keep things collectible friendly. I'll show you a few rare Bendy plush you can hunt down as a bonus.
If you're excited to see the minor differences that turn Bendy plush into an extensive collection, hop into my top picks below. If they stir your interest, go into the details to determine why they win the best spots.
My Top Bendy Plush Picks at a Glance
My tops picks include original Bendy plush from the ranges I share soon, and they all have beanie insides. I cover the easy-to-find Bendy plush merchandise and will focus on custom options and rare finds as a bonus. The best Bendy plush to start range collections include:
My top picks give you a collection with every character and a taste of all ranges. You'll have to get the heaven edition pack with the original Boris, Bendy, and Alice plush from Bendy and the Ink Machine.
Bendy Plush Guide: Everything About the Inked Horror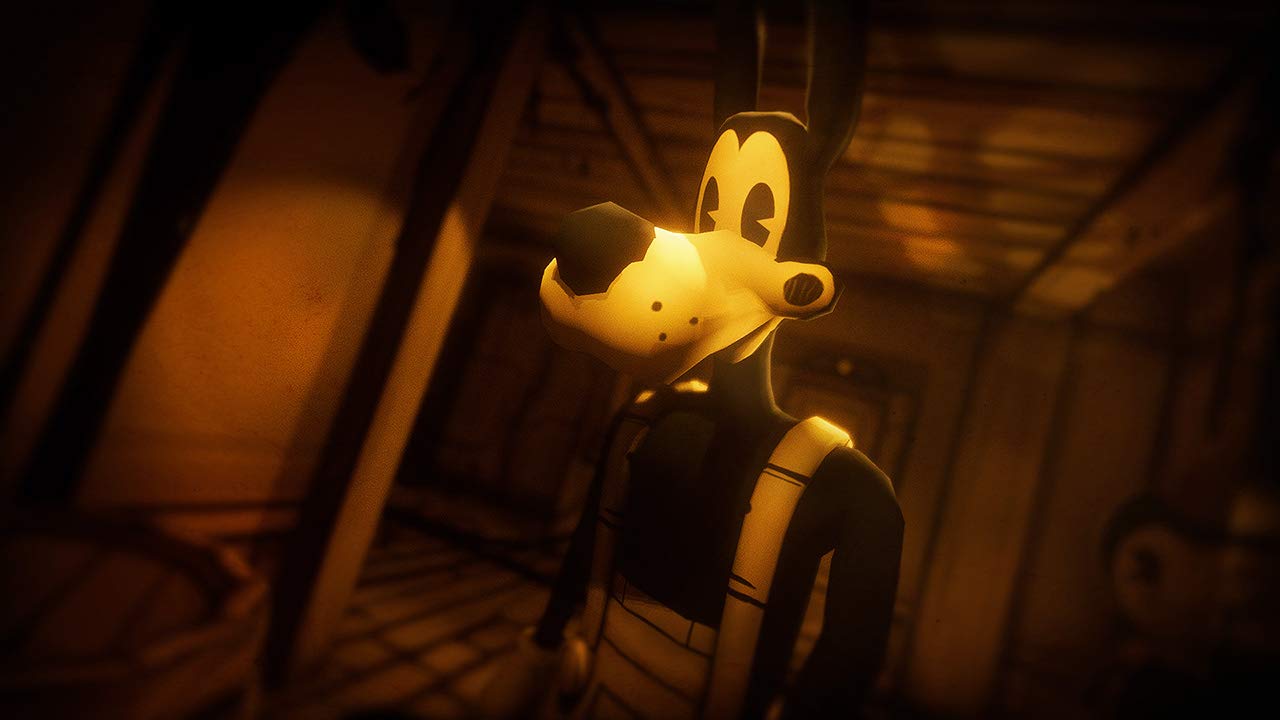 Bendy plush merchandise is taking the internet by storm, especially with the upcoming release of the new game. I'm here to answer your urgent questions about the global craze around Bendy plush. What are they? What advice can you use to select the best Bendy plush, and what should you consider before buying them?
What is Bendy Plush?
If you're unfamiliar with the Bendy and the Ink Machine video game, you're possibly thinking of bendable plush toys. The plush merchandise comes from a horror-survival game, a combo that appears to be making massive waves nowadays. The Bendy games are like FNAF, Phasmophobia, Boogeyman, and Carnevil.
Children also love playing horror games, even though I bite my lips as a mother. My son seems to fear the gruesome and creepy storylines less than I do. It's sad because I also love the genre of games. My son played Bendy and the Ink Machine without batting an eyelid, and he's only a tween.
I believe his lack of fear stems from how the game uses cartoon-like creatures instead of overwhelmingly gruesome monsters. Bendy makes me think of Mickey Mouse in some ways. He has the same cartoon gloves and shoes. His head looks like a cat, but Bendy is supposed to be a demon-like creature.
The popularity of the older games and the soon-to-be-released Bendy and the Dark Revival make Bendy plush a must-have for fans of all ages. Everyone wants a plush representing their favorite games. Bendy plush doesn't look as freaky as the game makes me feel, either.
Only fans who know the game understand the creepiness of Bendy plush. Bendy plush also comes in beanie versions, which are my favorites. Before I dive too deep into the various versions of Bendy plush, hop into my advice to learn about the range.
Advice for Bendy Plush Collectors and Avid Fans
My question is, how much of a fan are you or your child who wants Bendy plush? Suppose you can say that you're jumping up and down with anticipation. In that case, I'll show you the various versions available so that you can collect every one of them.
Kids under ten likely find the game scary, and my advice is better for older kids and adult fans. Okay, you might not find the rare range yet, and the five new editions to the Bendy and the Dark Revival team aren't for sale yet, but knowing they're coming can help you grab them as soon as they hit the shelves.
The best place to keep an eye out for the upcoming Bendy plush is the Joey Drew Studios Store.
Main Bendy Plush Range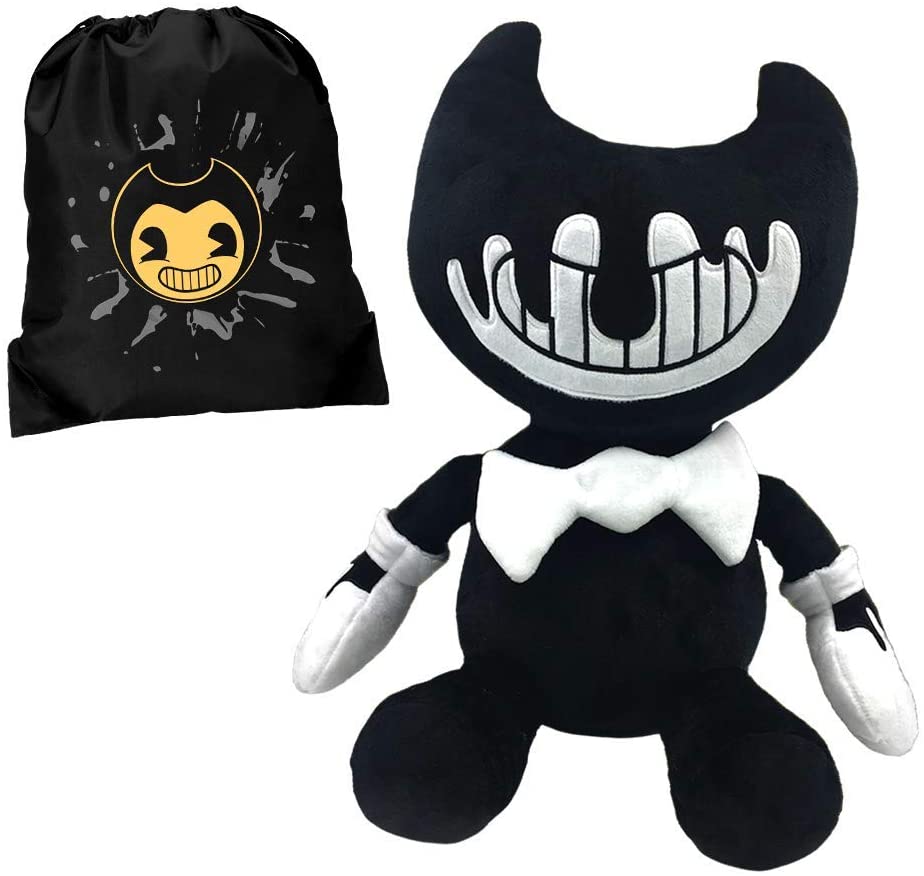 The main Bendy plush includes the characters from the original game. You get Alice Angel, Barley, Bendy, Boris the Wolf, Charley, and Edgar. Inked versions of each character also fall into this range. Do you want to know a secret? Edgar is the rarest find from the main Bendy range.
Bendy and the Ink Machine (BatIM) Range
The main characters and their inked versions double into this range, but it has a unique collection of plush. The heavenly edition includes Alice Angel, Bendy, and Boris as a special 3-pack launch.
Bendy and the Dark Revival (BatDR) Range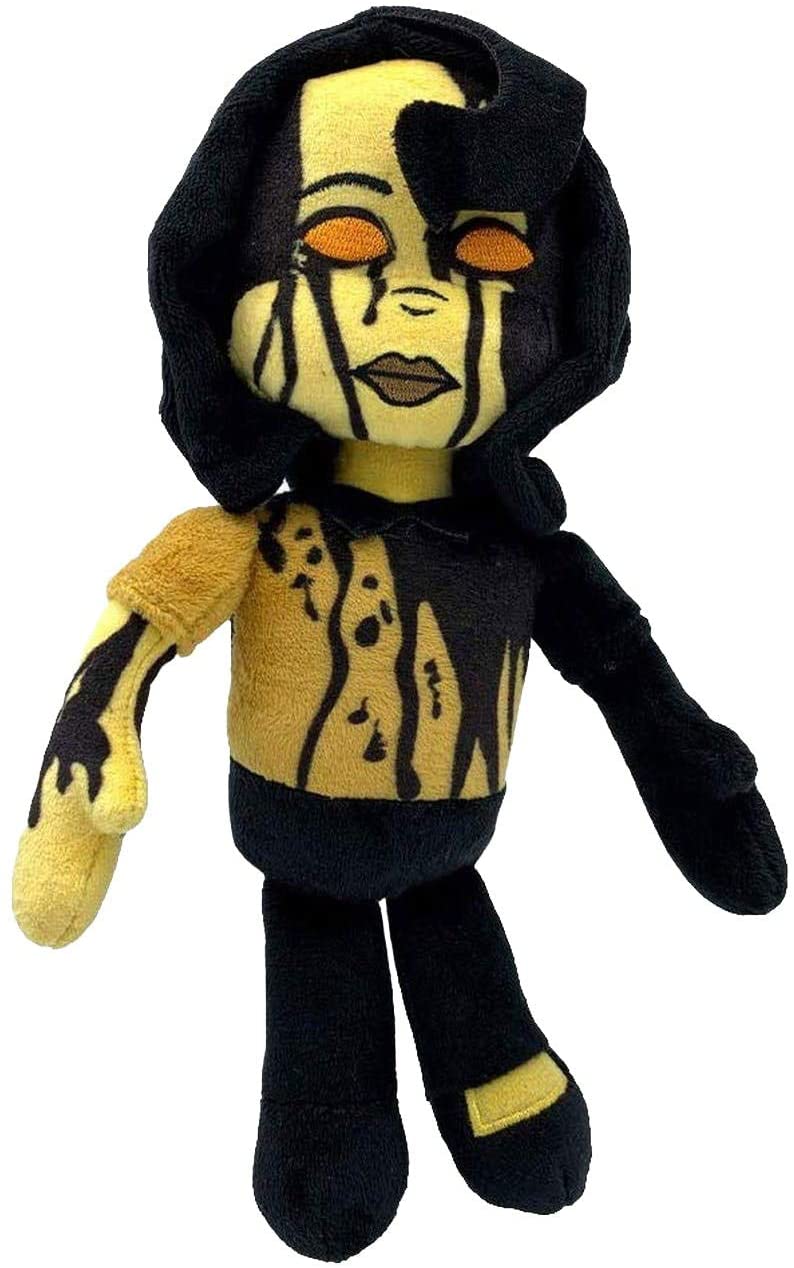 Bendy and the Dark Revival isn't available yet, but the plush toys available include Sammy Lawrence, Audrey, and Perfect Bendy. The inked versions are also available. Five more plush options are coming to this range soon, including Allison Angel, Beast Bendy, Brute Boris, Sammy, and Tom. Keep an eye out for them.
Backlight Bendy Range
Backlight Bendy plush merchandise includes a remake of the main characters in color. You've noticed how black and white the creatures are, but this range offers color. It includes Alice Angel, Bendy, Boris, and Inked Bendy versions.
Sillyvision Bendy Plush Range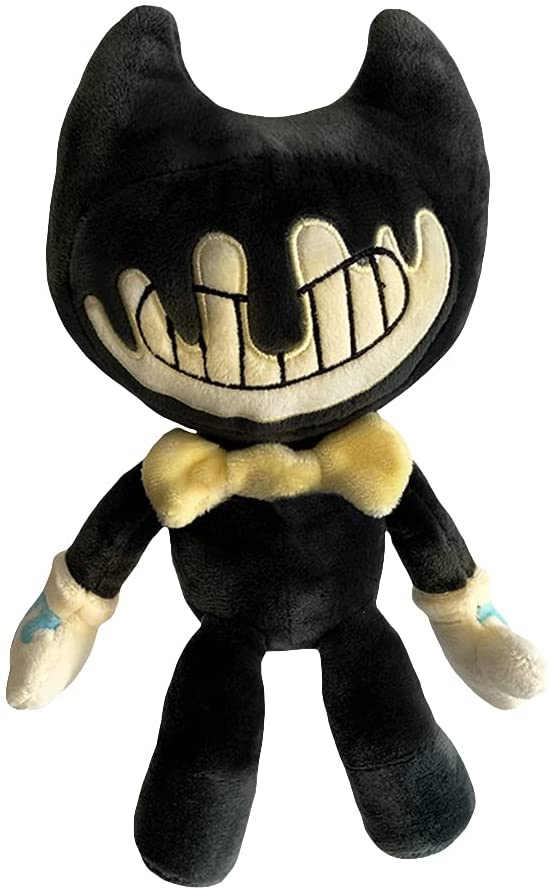 Sillyvision Bendy plush is a new and creative look for the merchandise. They're exclusive to the brand store on Amazon. Some new color tones come to life. The characters available now include Bemused Bendy, Boris, Inked Bendy, and Sammy Lawrence. This range doesn't look as scary as the others.
The worry about collecting as many Bendy plush versions as possible is that you want them all to be original. There are many custom Bendy plush options, which I'll share as a bonus later. However, this video can help you inspect Bendy plush to make sure they're original if you only want the real things.
How to Buy the Best Bendy Plush
You might think there aren't too many Bendy plush available, but the ranges showed you another story. I have two rules for picking my favorite Bendy plush:
I'll add custom options as a bonus, but they don't make my list. The best Bendy plush should fit into one of the mentioned ranges in my advice. At least, you know you're collecting original Bendy merchandise if you stick to the ranges.
I focus on beanie Bendy plush to double on your primary collection's initial recommendation.
Bendy Plush Guide: The Inked Horrors Revealed
I love original brand merchandise, and selecting the best of Bendy plush is as easy as sticking to my two rules. You're probably happy I simplified the ranges that seemed so complicated at first. Over time, you'll collect the plush you want from the ranges you or your kids love.
I love the heaven edition pack because it gives you the three main starters for the Bendy plush collection. Bendy and his creepy friends were initially black and white in the Bendy and the Ink Machine game. The plush merchandise matches the monotone if they're original. It doesn't include Barley or Charley, coming soon.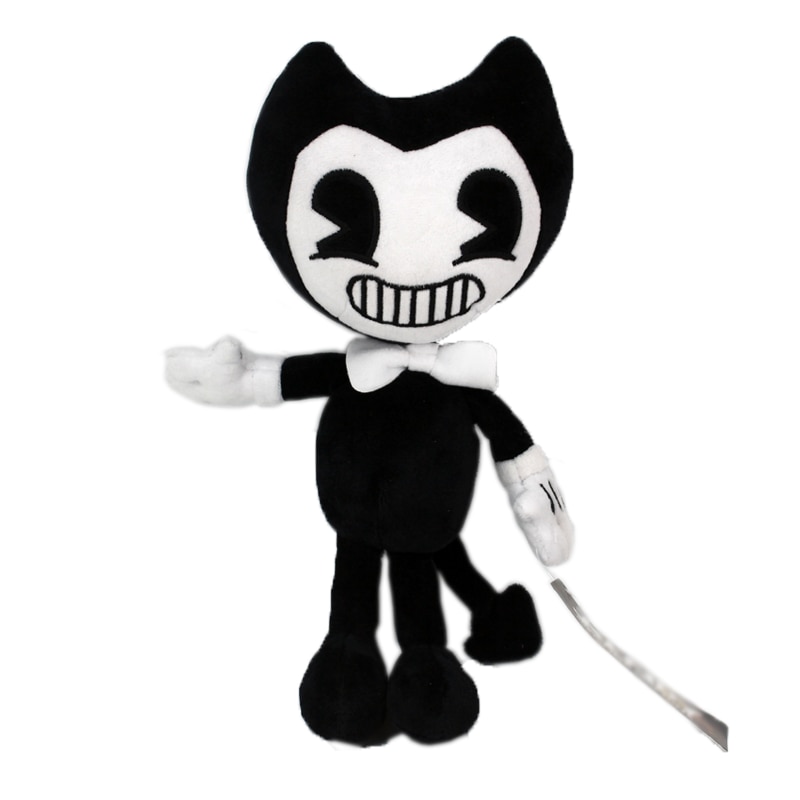 Features
Character: Bendy plush, Alice plush, and Boris plush
Range: Main, heaven edition, and BatIM
Size: 11.8″ each
Interior: Beanie
Pros
You have to own the heaven edition pack if you're collecting the original Bendy plush
You get three Bendy plush for the price of one
The Bendy plush has a strong resemblance to Mickey Mouse, which is what the original character has
Cons
It's the first editions, so they look a little silly compared to newer editions
The butcher gang included Edgar, Charley, and Barley, albeit Edgar is impossible to find nowadays. The Charley plush is the first original gang member from the Bendy and the Ink Machine era. It has a classic black and white design with an interior famous to the franchise. Charley is a maniac in the game, and the plush suits him.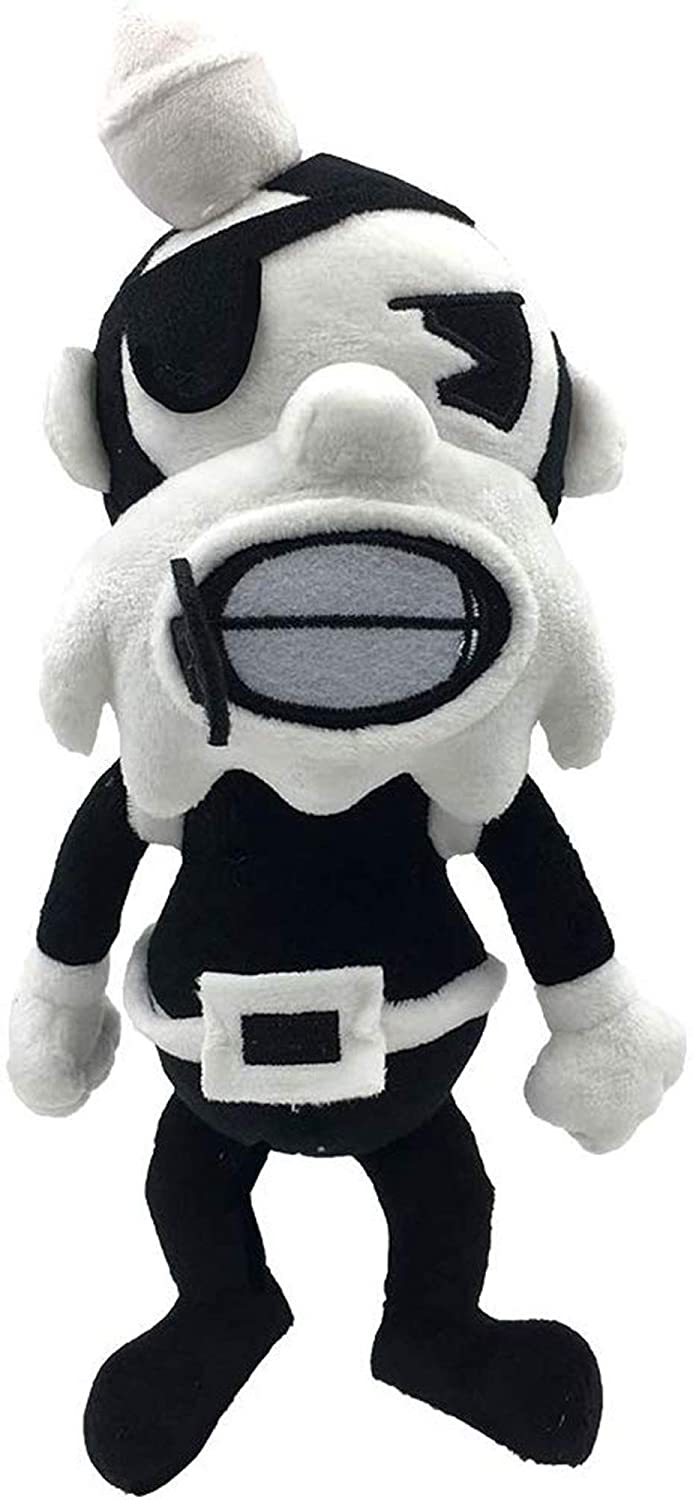 Features
Character: The Butcher Gang Charley plush
Range: Main and BatIM
Size: 5″
Interior: Beanie
Pros
The Charley plush matches the game character perfectly
It has the original tag that collectors want on their plush merchandise
Cons
I wish it were bigger because Charley is the tallest of the gang members
Barley is the second member of the Butcher Gang, and he's as ruthless as his friend. I always think of Popeye when I see Barley. Then again, the creator designed the characters to look like ancient cartoon characters with an evil twist. The Butcher Gang comes from the Drew Studios cartoons, but they also show in the game.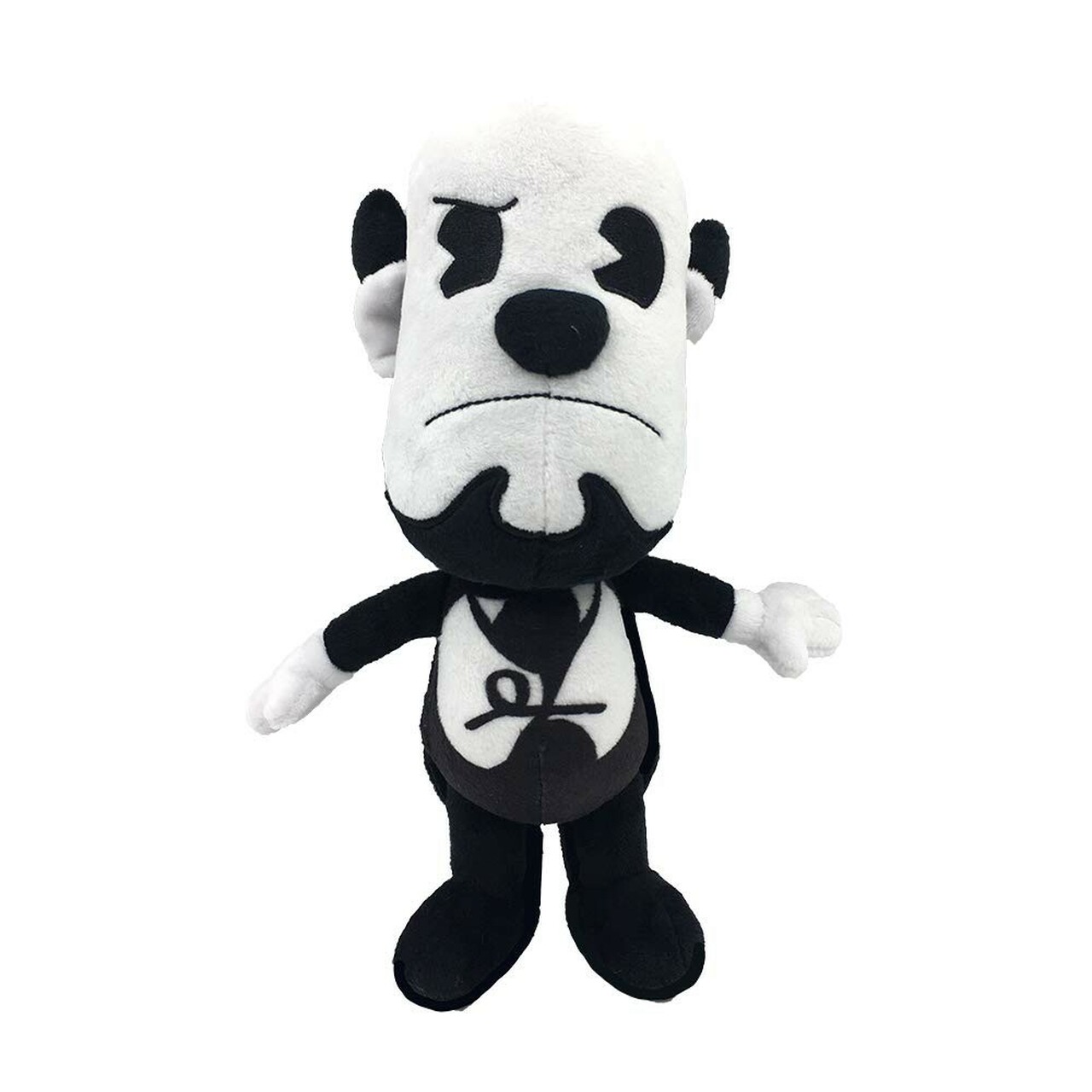 Features
Character: The Butcher Gang Barley plush
Range: Main and BatIM
Size: 7″
Interior: Beanie
Pros
Barley looks as cold and ruthless as you'd expect an evil Popeye to look
It has the classic black and white design, and the facial details are impressive
Cons
The size bothers me again because the Butcher Gang members were tall
Bendy is the main character from every game, and you have to begin with him. Parents don't have to worry about creepy-looking plush toys. The backlight range is fabulous because it lights up light glow-in-the-dark plush merchandise. It's also a colorful alternative for kids who enjoy Bendy games.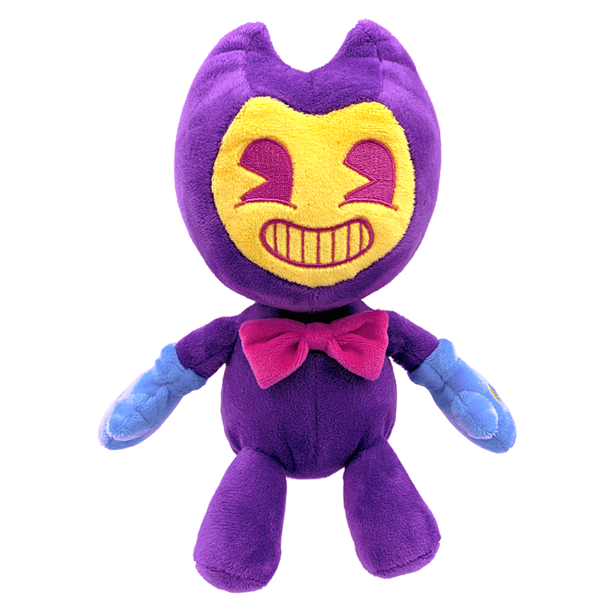 Features
Character: Backlight Bendy plush
Range: Backlight
Size: 7″
Interior: Beanie
Pros
I love the design, colors, and style of backlight Bendy
He still has the creepy smile and Mickey Mouse gloves
Cons
Die-hard fans might want more classic styles with black and white plush
Ink Bendy is the twisted version of the cartoon after Joey Drew attempts to bring the comic to life with the ink machine. It's the official version of Bendy turning evil. After a mishap with the ink device, ink Bendy is truly a deformed character. It's another must-have for all fans who love the entire game franchise.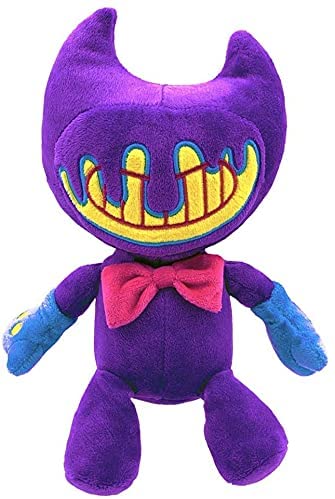 Features
Character: Backlight Ink Bendy plush
Range: Backlight
Size: 10″
Interior: Beanie
Pros
Ink Bendy is another classic character reinvented with the backlight range
The Ink Bendy plush undoubtedly steps up the creep game with his face hidden behind an ink avalanche
Cons
Again, serious fans might prefer the black and white range
Alice Angel is another long-running favorite in the Bendy game franchise. Alice is a villain but always tries to stop Bendy's ridiculous schemes, which makes her remind me of Harley Quinn. Alice was the only female antagonist in the game. She's another frightful creation by Joey Drew, and she plays Bendy's girlfriend.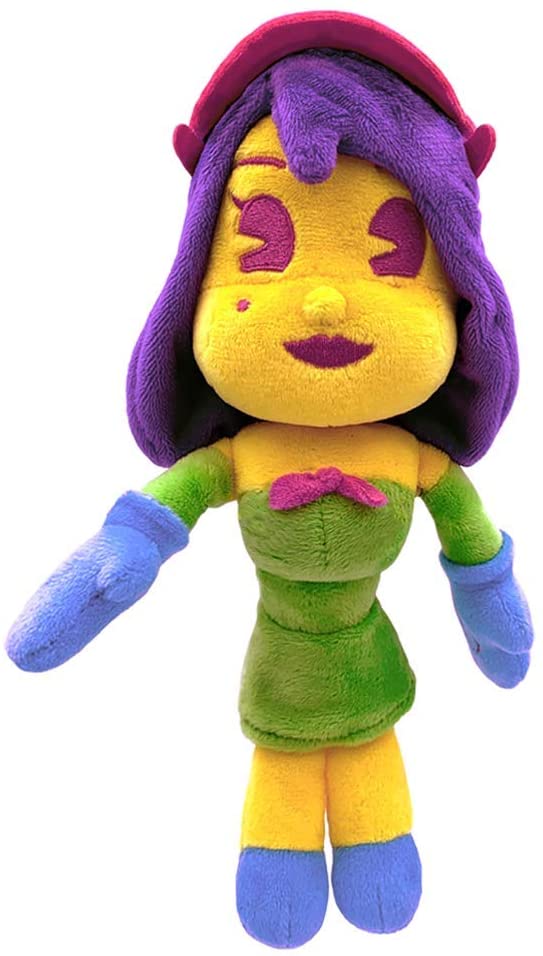 Features
Character: Backlight Alice Angel plush
Range: Backlight
Size: 10″
Interior: Beanie
Pros
The Alice Angel plush is another must-own for classic collectors who want every character
It's a less-scary design that works for fans of all ages
Cons
The plush's waist has a bad design
You didn't think I'd leave Boris out, did you? The backlight version is incredible because it looks fantastic as a plush toy and not just fan merchandise. It seems like Goofy inspired Boris, even though the latter is supposed to be a wolf. His ears, muzzle, and silly clothing choices remind me strongly of Goofy.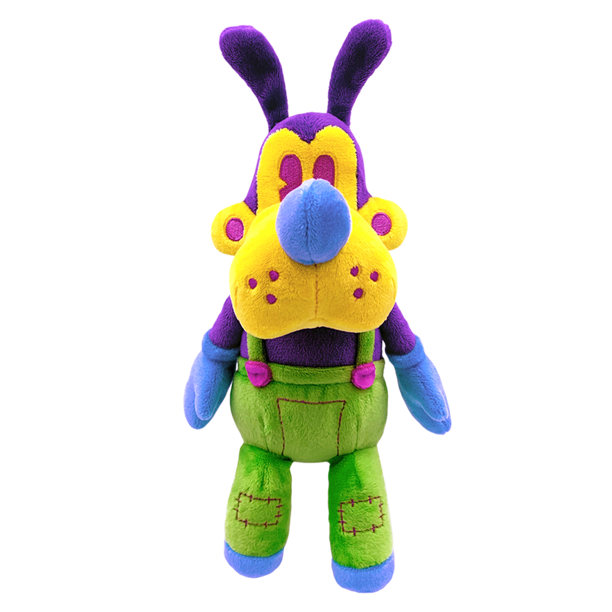 Features
Character: Backlight Boris the Wolf plush
Range: Backlight
Size: 7″
Interior: Beanie
Pros
I love how the backlight Boris plush doubles as a regular toy for kids and a fantastic option for collectors
The design is spot-on with the video game character, except it also has colors
Cons
I only think the head is a little large for the plush
The bemused Bendy version is from the Sillyvision range, a new series available. I'm in two minds when I see this plush. On the one hand, I see an adorable cartoon-like plush for my kids. On the other hand, I see a hidden scary character under the bemused face, which nearly reminds me of my daughter's toddler years—scary.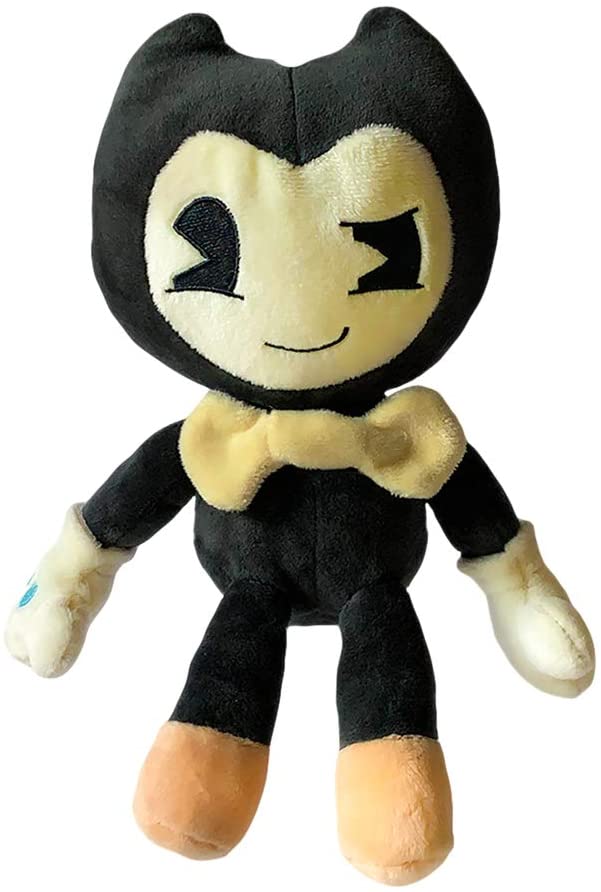 Features
Character: Bemused Bendy plush
Range: Sillyvision
Size: 8″
Interior: Beanie
Pros
I love the new range of Bendy plush, and bemused Bendy can represent so many things
The bemused Bendy still has a monotone design, but with an added splash of yellow
Cons
The bowtie is flimsy and wouldn't last forever
The Sillyvision range also includes jumbo Bendy plush with accessories. I can't believe the brand still uses the beanie interiors with massive plush merchandise, but I'm not complaining. My son likes this Bendy plush, and I think it's an excellent choice for kids and fans. It has a deep black and white tone, highly contrasted.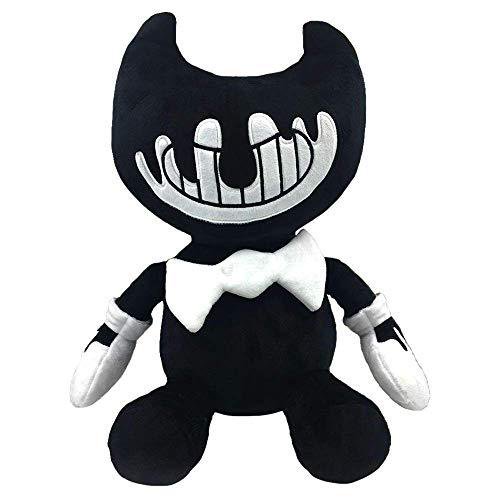 Features
Character: Jumbo Ink Bendy plush
Range: Sillyvision
Size: 16″
Interior: Beanie
Pros
It's a massive Ink Bendy plush for all fans, and it comes with a free drawstring bag
The jumbo Ink Bendy plush looks like he got more ink than any other version
Cons
I'd buy this plush, but some collectors want to stick to smaller sizes
Boris the Wolf has one of the best stories because Joey Drew tries to make Bendy a friend by turning a human into a cartoon character. Boris isn't the most evil of the clan until he becomes brute Boris, thanks to twisted Alice. I still love Boris as my favorite because he resembles the Disney dog.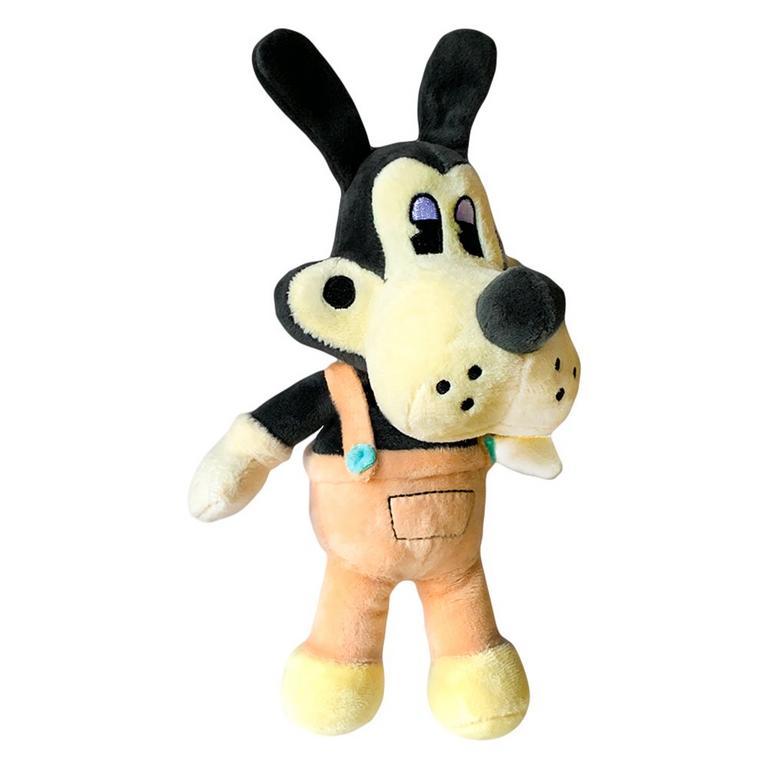 Features
Character: Boris plush
Range: Sillyvision
Size: 8″
Interior: Beanie
Pros
The Boris plush maintains his cute, dog-like demeanor in the Sillyvision range
He also gets an upgrade from the black and white version to the yellow and black alternative
Cons
Again, the character's head is too big compared to the games
Sammy Lawrence is the most insane character in the game after he became addicted to the ink bottles from the machine. He transformed into a monstrous cartoon character. Sammy is a sad story, but it's a game. My son mustn't hear me say it's just a game. I don't want to offend fans. One fan shouldn't offend others.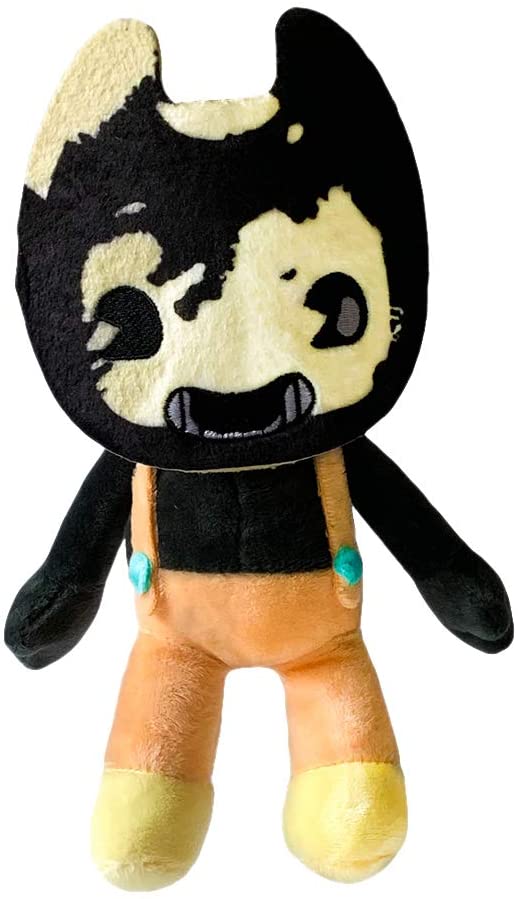 Features
Character: Sammy Lawrence plush
Range: Sillyvision
Size: 8″
Interior: Beanie
Pros
The Sillyvision of Sammy Lawrence is one of the only available ones for the character
I love how insane the Sammy plush looks with all the ink over his face
Cons
Sammy is another tall character, and I wish the plush were larger
The perfect version of Bendy from Dark Revival is where he looks like Mickey Mouse possessed by a demonic creature. I love this yellow and black version because he has the two dots on his gloves that match the upcoming game if you watch the trailers. The design leaves me speechless, and Bendy's perfectly spooky.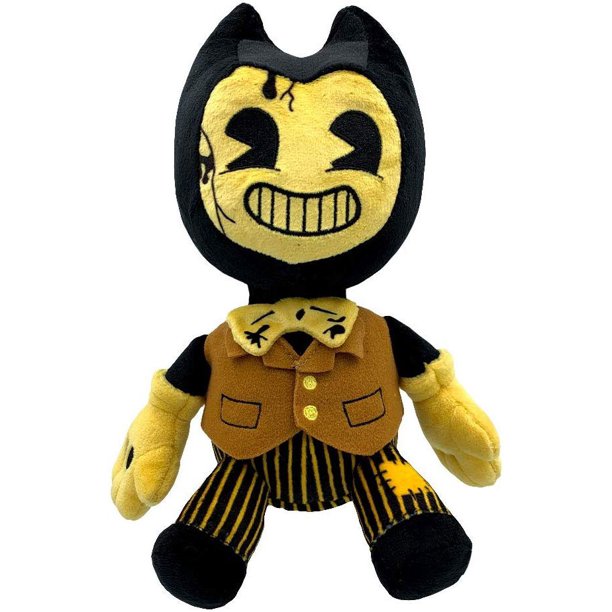 Features
Character: Bendy plush
Range: BatDR
Size: 10″
Interior: Beanie
Pros
It's one of the new versions of the Dark Revival game
It has a yellow and black tone instead of the white and black colors
Perfect Bendy looks like perfection with every gorgeous detail
Cons
The information is confusing, but the plush is undoubtedly from the upcoming game
Bendy and the Dark Revival is the much-anticipated game that should hit the shelves in 2022. Audrey is the female protagonist of the upcoming game. She's a half-human and a half-inked cartoon character. I can't wait to see her in the game. I love seeing female protagonists as a change from the regular guys.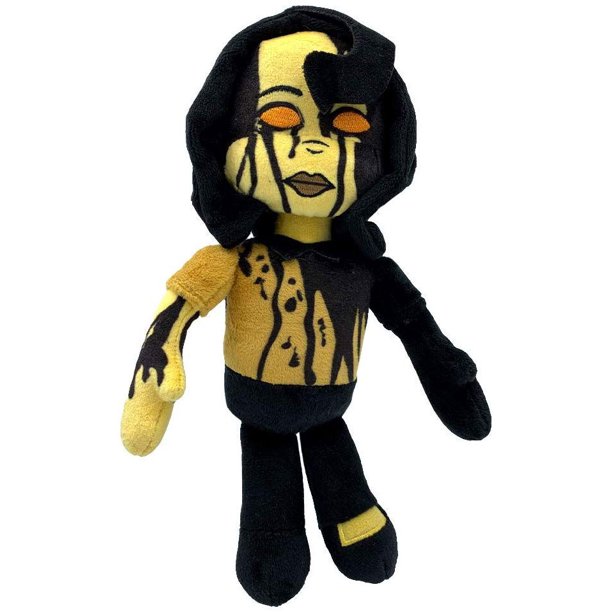 Features
Character: Ink Audrey plush
Range: BatDR
Size: 10″
Interior: Beanie
Pros
I like that the brand is keeping the yellow and black vibes going with the Audrey plush
Audrey looks impressively horrific and makes you wonder whether she belongs among the evil cartoons
Cons
The Audrey plush has too much ink on her compared to the character revealed in the trailers
Sammy Lawrence returns as part of the Dark Revival range, but he looks the same as the Sillyvision version. I think the brand could've changed one because collectors won't like the resemblance of two of their Bendy plush merchandise. Uniqueness in each range is what we want.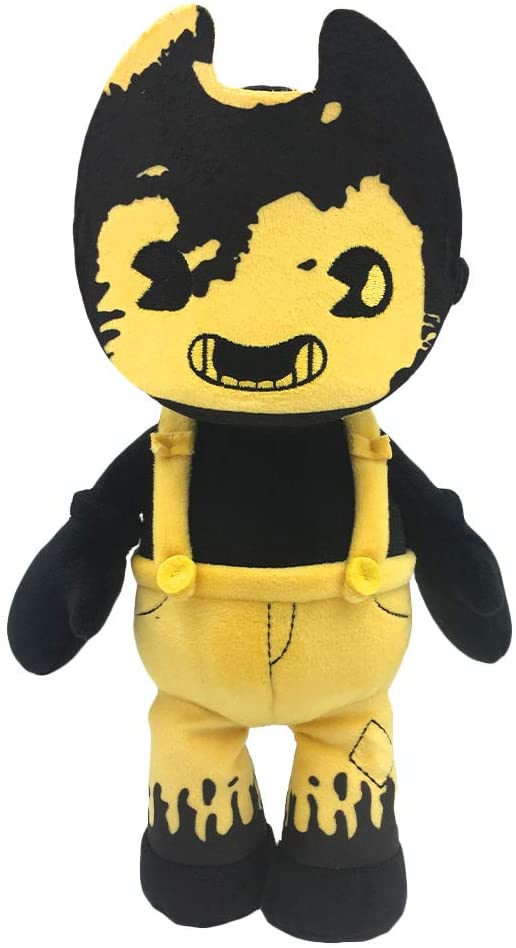 Features
Character: Sammy Lawrence plush
Range: BatDR
Size: 7″
Interior: Beanie
Pros
The details are impressive on the newer Sammy Lawrence plush (as much as the last one)
The Dark Revival version of Sammy has a more prominent yellow tone
Cons
Fans will confuse the Dark Revival and Sillyvision versions (the BatDR plush being an inch smaller)
Bonus Bendy Plush Tips for Rare Finds
Bendy plush is a complicated collection unless you take my advice about the ranges and versions. However, there's some Bendy plush that feels impossible to find. Well, that's because you're not digging deep enough. I tend to search everywhere, even in other countries.
The Butcher Gang is still missing Edgar, but don't worry, I found him if you're willing to wait and import him from the UK. The official Bendy and the Ink Machine brand store sells him on Amazon UK. And they're happy to ship him to the US. Don't say I didn't dig enough to find the Butcher Gang Edgar plush to complete the range.
Beast Bendy is another unfamiliar plush character from the games. You can't find the original Bendy plush for him, but some options are available. The Freaky Little Shop sells custom versions of Beast Bendy. It even comes with a sound box and noise effects. It's a rare addition to Bendy plush collections.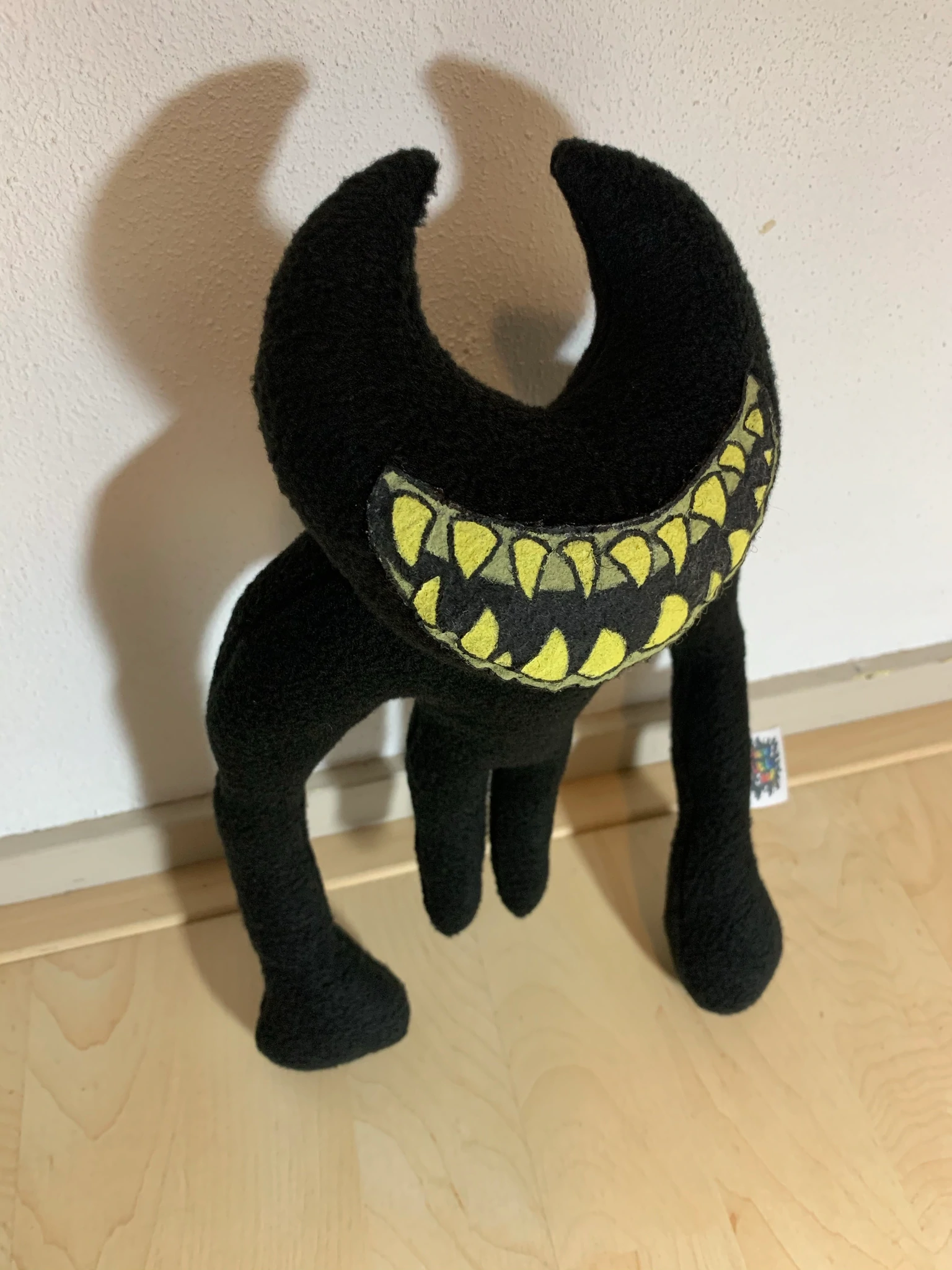 I keep an eye out for rare potential. Another mishap that will become collectible is the Ink Bendy Sillyvision Plush with mismatched tones on the gloves and bowtie. The tones should match perfectly. Imperfections are a fan's dream. Don't underestimate how rare imperfections will become because the brand will fix them.
Another two characters my son wants badly are Striker and Fisher, the other members of the Butcher Gang. You'll find them from custom Etsy stores from time to time. You have to hunt for them often or contact a custom designer to request them. The brand never launched plush for them.
Bonus: Bendy Custom Plush
There are countless characters from Bendy and the Ink Machine and Bendy and the Dark Revival games you can't find in plush merchandise. No one said you couldn't make your own. Sure, they won't be original but put them among your others for a unique collection. These videos help you create unique character plush:
Top Q&A
Question: What is the Beast Bendy, and Does He Have a Plush?
Answer: Beast Bendy is the most gruesome final boss in Bendy and the Ink Machine. He looks like a deformed alien with demonic monstrosity drowned in ink. There will also be a Beast Bendy in the Bendy and the Dark Revival video game in 2022. Sadly, there's no plush available for either version yet.
Question: Where Did the Bendy Plush Get His Name?
Answer: Bendy plush carry their video game cartoon character's name, but the character initially comes from the animated series called Foster's Home for Imaginary Friends. You can say the name came from the show's personality. Bendy was a naughty child in the home, constantly bending the rules to his will.
Question: Which Bendy Plush are Rare in 2022?
Answer: The 14 Bendy plush I shared is merely the tip of what you can find if you hunt hard enough. One famous Bendy plush avid fans chase is the Butcher Gang Edgar Plush. He's rare in North America. Walmart and eBay resellers are out of stock, and the only way to get him is to import him from Amazon UK.
Bendy Plush Guide: Final Thoughts
Even I can't believe the collection I gathered with the limited number of Bendy plush characters available. There are more options, but they fall into custom designs and rare finds. I also found a few Bendy plushes advertised under one range but belonging to another. Be careful of mixing them up.
Use my range and version system to pick the best Bendy plush. Don't forget to check whether the plush has a famous beanie interior. Get the Best Bendy Heaven Edition Plush Pack today if you want the BatIM collection. To complete it, remember to add the Best Butcher Gang Charley Plush and the Best Butcher Gang Barley Plush.
Add color vibrancy with the Best Backlight Bendy Plush and the Best Backlight, Alice Angel Plush, if you prefer neon effects. The SIllyvision range is a fantastic option for all fans. Buy the Best Sillyvision Bemused Bendy Plush for a new facial expression. The Best Sillyvision Boris Plush works for added goofiness, pun intended.
Are you eagerly awaiting the new game? Then, start with the Best Bendy Dark Revival Perfect Bendy Plush for a perfect beginning, pun intended again. I can be hilarious when I try. Add the Best Bendy Dark Revival Ink Audrey Plush for a first-edition protagonist Bendy plush. Consider the custom and rare options for uniqueness.
There's no reason you shouldn't start your collection now, mainly because you know how many are available.
For more plush ideas:
Among Us Plush Guide – Avid Plush
Best Frog Plush Ideas – Avid Plush
Best Godzilla Plush Ideas – Avid Plush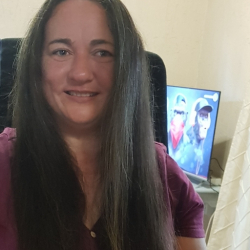 Latest posts by Caroline Lambert
(see all)