You know how each memorable holiday has a mascot? Like Christmas has Santa Claus, and Easter has the Easter Bunny? Well, today, we are looking at Halloween's mascot, and his name is Jack Skellington. 
Jack Skellington stars in the film "The Nightmare Before Christmas." This film was released in 1993. Jip, that was 30 years ago, guys! His character was created by Tim Burton. He is the main protagonist and is a living skeleton in the film. He plays the Pumpkin king, who oversees the Halloween holiday and the celebrations. 
After a while, he starts getting depressed because it is the same thing year after year. Jack Skellington then discovers a forest with different holiday portals. Do things turn out for the better or for, the worse? 
I'm sorry to leave you on a cliffhanger; I don't want to spoil the rest of the movie for you. But what I want to do is share my Jack Skellington Squishmallow guide with you today. 
In this guide, I will share with you the different sizes of Jack Skellington Squishmallows. I will also share why each of them is a great option. 
I'm obsessed with Squishmallows and love the film "The Nightmare Before Christmas." That's why I'm so excited to combine the two today in my Jack Skellington Squishmallow Guide. After the guide, you will not only be clued up on Jack Skellington, but you will have found the Jack Skellington Squishmallow version of your dreams. 
Are you ready, guys? Let's get started!
Bottom Line Up Front
Do you love Squishmallows? Are you obsessed with Jack Skellington? If yes, then you will love my guide for you today. In today's guide, I will tell you all about Jack Skellington and the different size Squishmallow versions of him. 
My favorite Jack Skellington Squishmallow is 12 inch Jack Skellington Squishmallow. He is the biggest size of his range and my new favorite pillow to take my naps on. And when my husband is working away from home, it makes a great cuddle partner. 
Let us have a look at my Jack Skellington top picks.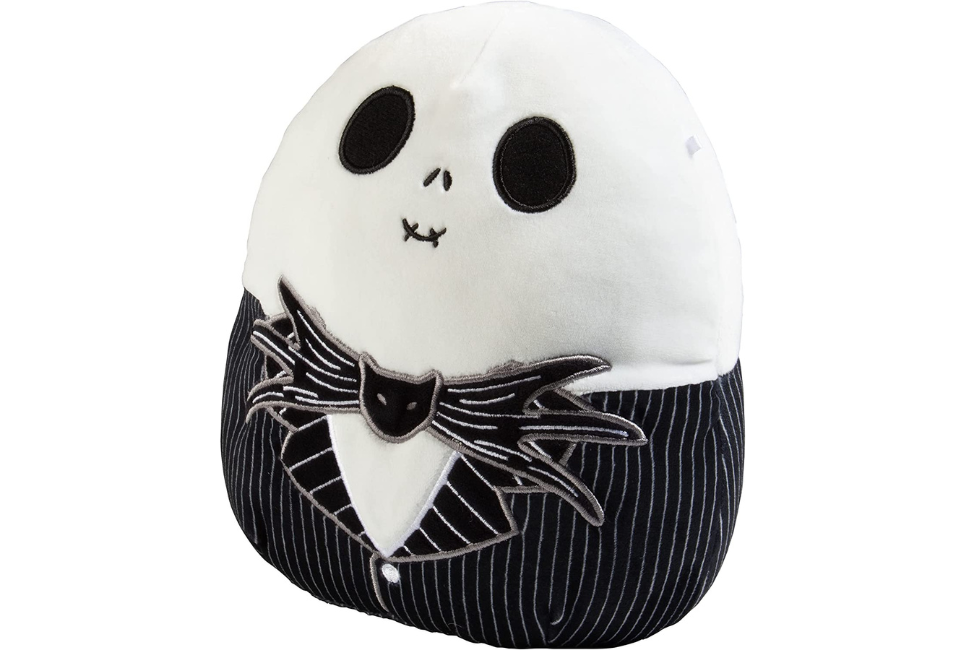 Top Picks
12-inch Jack Skellington Squishmallow

 – Your girl loves comfiness! And this size of Jack is great to cuddle with and nap with too.

8-inch Jack Skellington Squishmallow

 – He is travel friendly. I love throwing him in my backpack or handbag and having him with me on the go. 
More About Jack Skellington
The Appearance of the Jack Skellington Character
Jack is a long and skinny body because he is a skeleton. He has a black pin-striped suit on with black shoes. Jack also wears a bow tie that looks like a bat. He can also remove part of his body without causing any harm to himself. 
Characteristics
Jack Skellington has the following characteristics:
What others think of him:
They respect and love him. Some even idolize him. 

Some find him a little scary and intimidating.
His personality and characteristics: 
He is naïve and does not always see the bigger picture.

He also has an impulsive nature.

He can be enthusiastic about the things he is passionate about. 

He is caring towards Sally. (His significant other)

He is charismatic.

He is not satisfied with himself and has a desire for completeness. 

He can be selfish at times.

His character is strong in the sense that he can rectify his own mistakes. 
My Opinion on Jack Skellington Squishmallow
He is scary because he is portraying a skeleton. But his shape and marshmallow-like texture somehow eliminates the scariness and makes him appear cute. 
I also love the detail of his suit and his bat-bow tie. It looks awesome!
Different Size Jack Skellington Squishmallow Options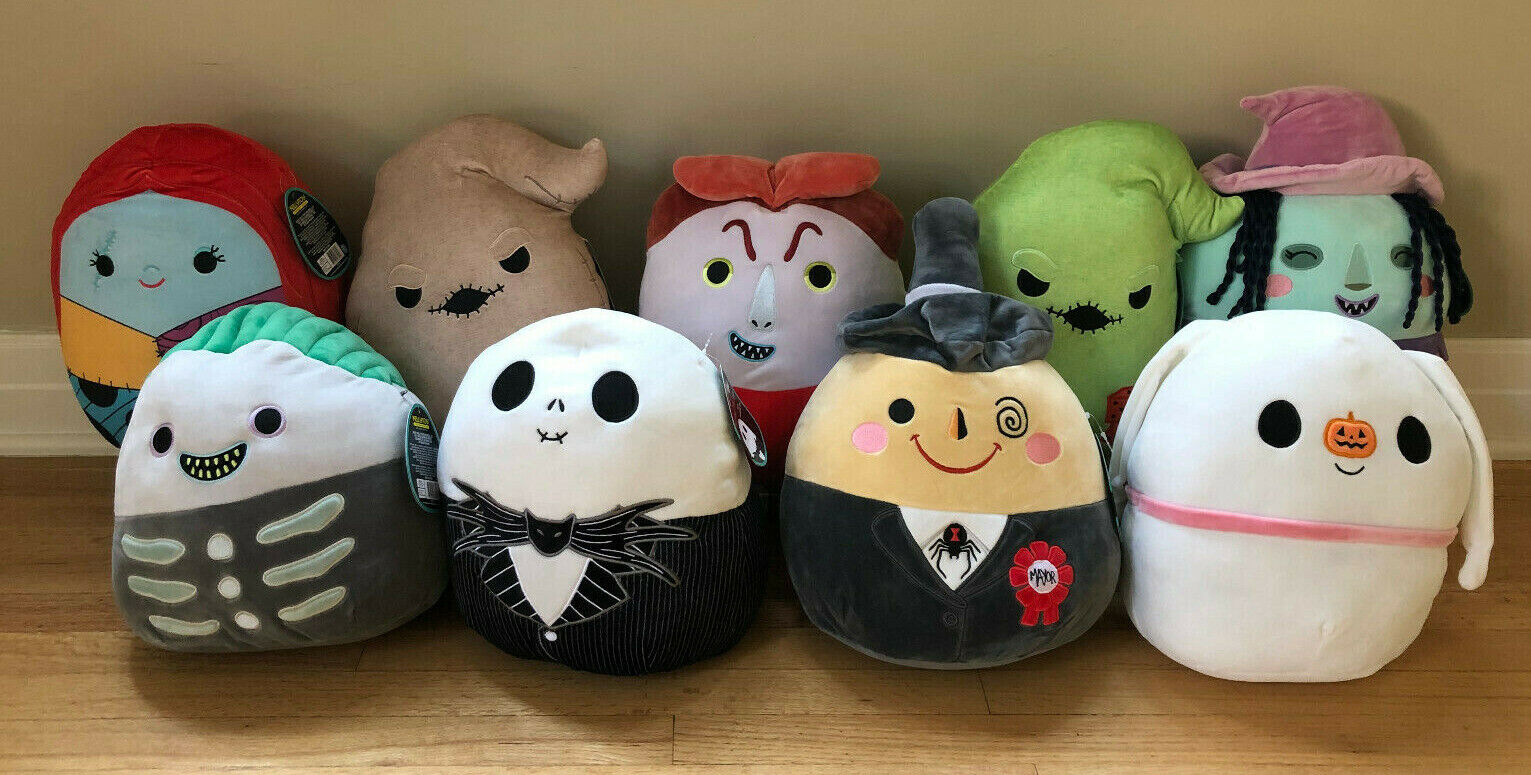 Before we look at the different size Jack Skellington options, let us first look at the appearance of Jack Skellington Squishmallow. 
The Appearance of the Jack Skellington Squishmallow
He has a white face, and we can see a white part of his body showing through his suit. Jack's facial features are embroidered. He has big black eyes, 2 black holes for his nose, and a thin black smile with two vertical lines going through the smile. 
Jack has a gorgeous detailed black and silver embroidered bat with its wings spread as a bow on his neck. He has a black pinstripe suit that is outlined with silver stitching to make it stand out more. I love it!
Now let us get to the part you all have been waiting for. Each Jack Skellington Squishmallow size differs by only 2 to 3 inches from each other. Let us have a look at the different options. 
Different Jack Skellington Squishmallow Sizes
Here are different size Jack Skellington Squishmallows that you can choose from.
Pros and Cons of Jack Skellington Squishmallow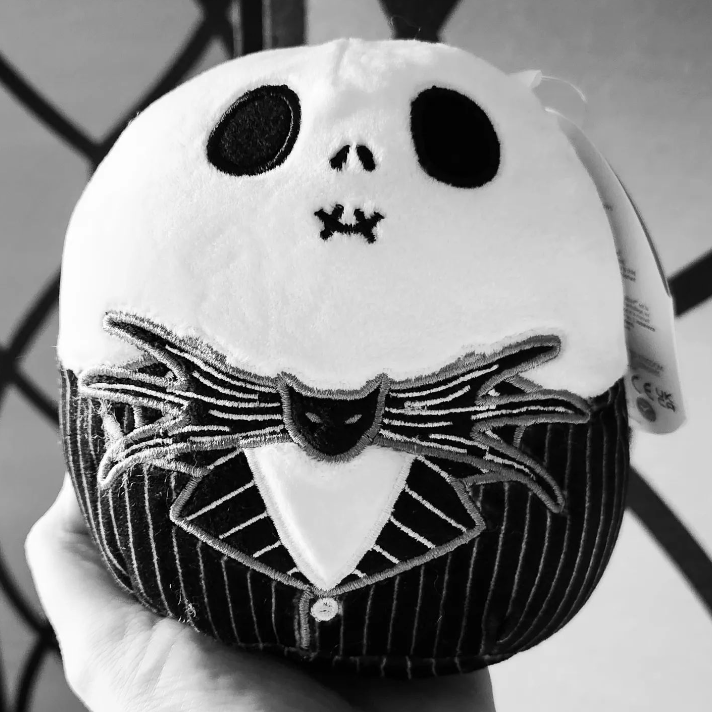 Here are some combined pros and cons of the Jack Skellington Squishmallows:
Pros
All the Jack Skellington Squishmallows mentioned are officially licensed. 

They are all very easy to clean, and you can machine wash them. 

I love their detailed embroidered features. 

No parts can pull loose or tear off because all the features are embroidered.

I love that they have a spooky yet adorable appearance. 

Perfect gift for someone obsessed with the Jack Skellington character or Halloween.

All sizes are suited for all ages. 
Cons
Stains will show up easily on his head and part of his body.

His big black eyes may be scary to some.

Some people's opinion of him might be that he is evil. 
Alternative Jack Skellington Options
Here are some fun alternative Jack Skellington plushies and products that you can add to your collection.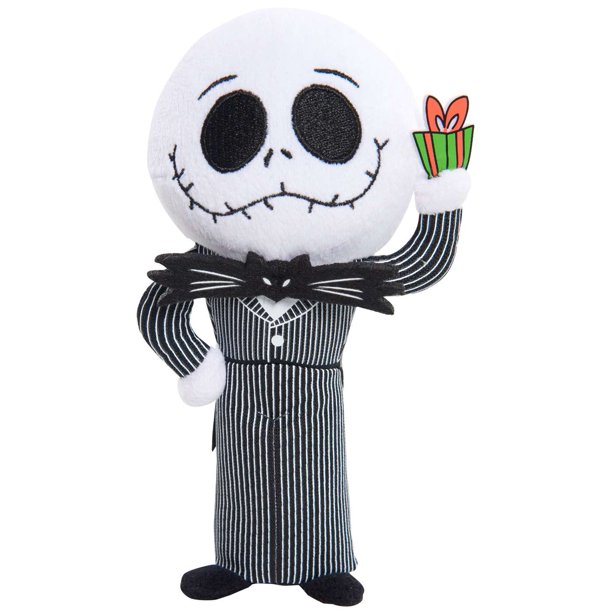 Aww! Look at this handsome fella. He has his signature black pin-striped suit, black shoes, and bat bow tie. He has big black embroidered eyes, and his mouth looks like Christmas lights to me. One hand is on his hip, and the other is holding a green gift with a red ribbon. 
I think he resembles "The Nightmare Before Christmas" theme perfectly. He is only 6 inches big and will make an adorable holiday decoration. What do you guys think?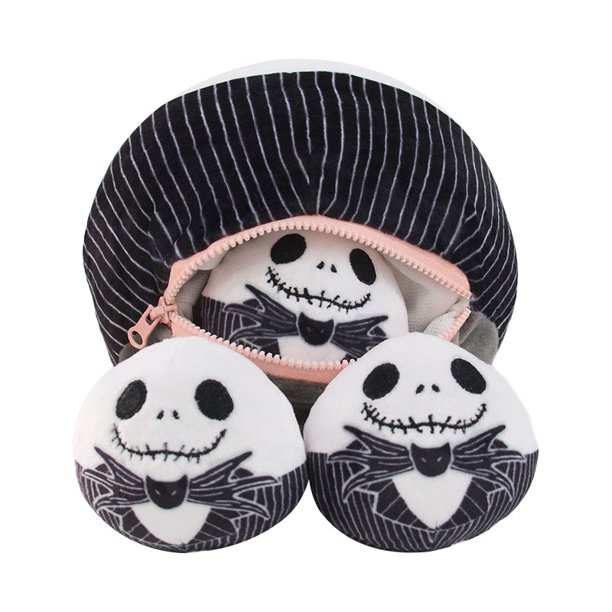 This is a Jack Skellington plush with a pink zip at the bottom. When you open the zip, 3 small Jack Skellington plushies are revealed. It is adorable and so creative. It will be a cute decoration around Halloween time displaying Jack Skellington with the 3 smaller versions of him. 
It is also a cute idea to put it on your couch so that people can play with it while lying on the sofa or watching a movie. It will help relieve your stress for sure!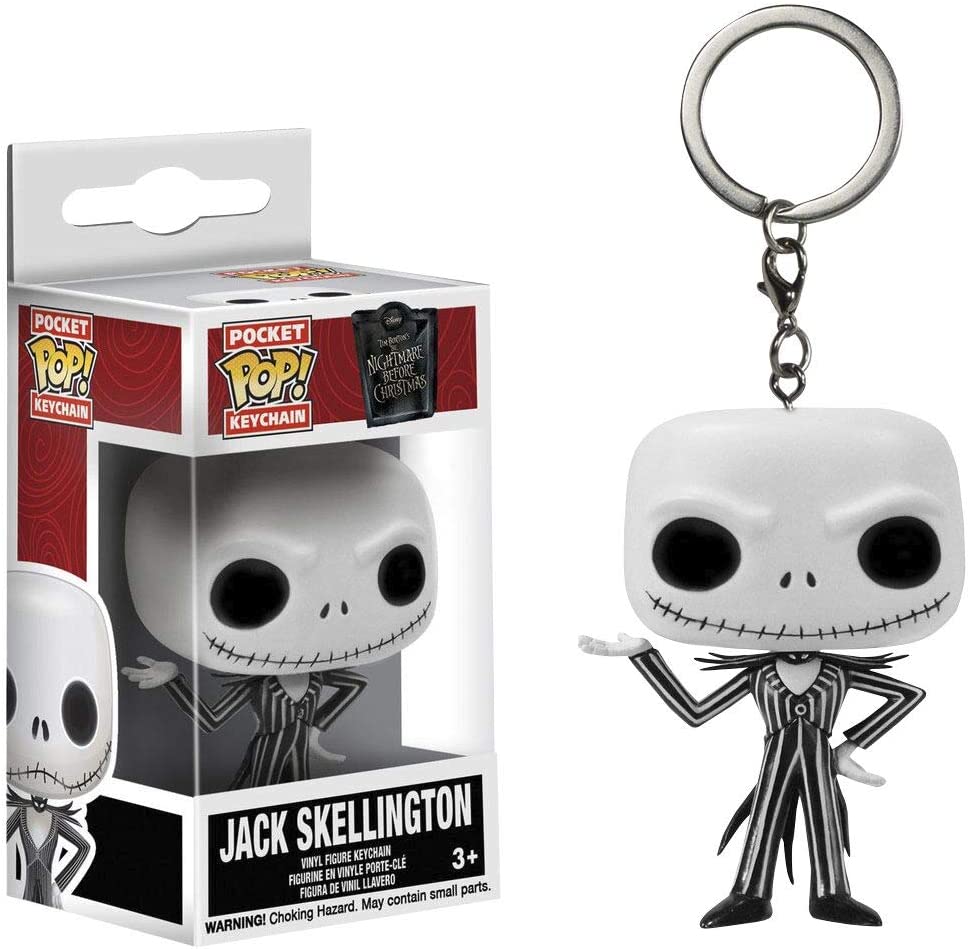 Add this fun Pocket POP Keychain to your keys. Trust me, you will always know where you have left them. It will make a super cute and special gift for someone who loves Jack Skellington. They will always have it with them when they are going somewhere, and it will make them think of you.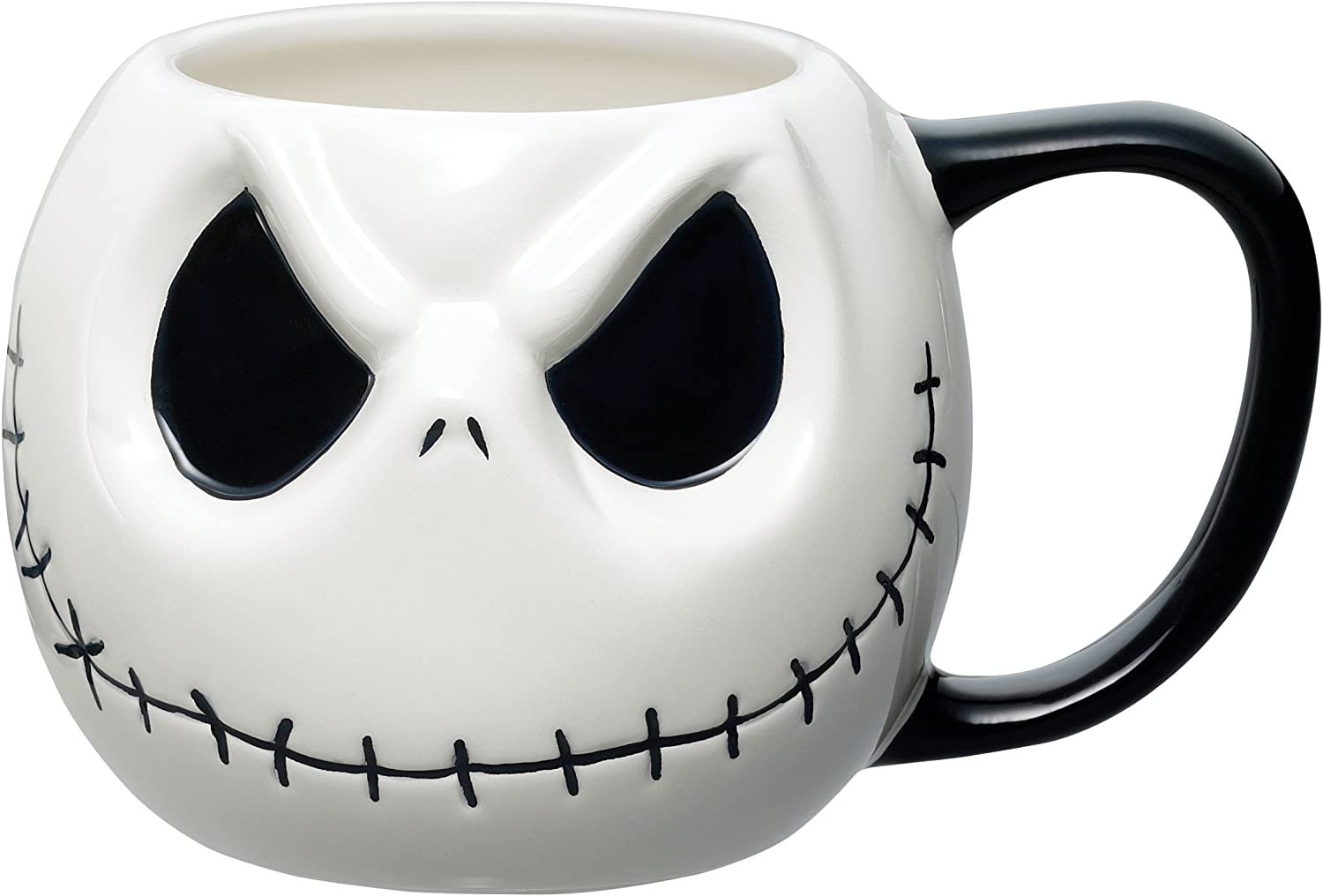 Drink your coffee or tea in style with this Jack Skellington mug. All your friends will want to have one trust me. Your coffee or tea will never taste better than in this mug. And if you are not a coffee or tea drinker, you can always get it for decoration purposes.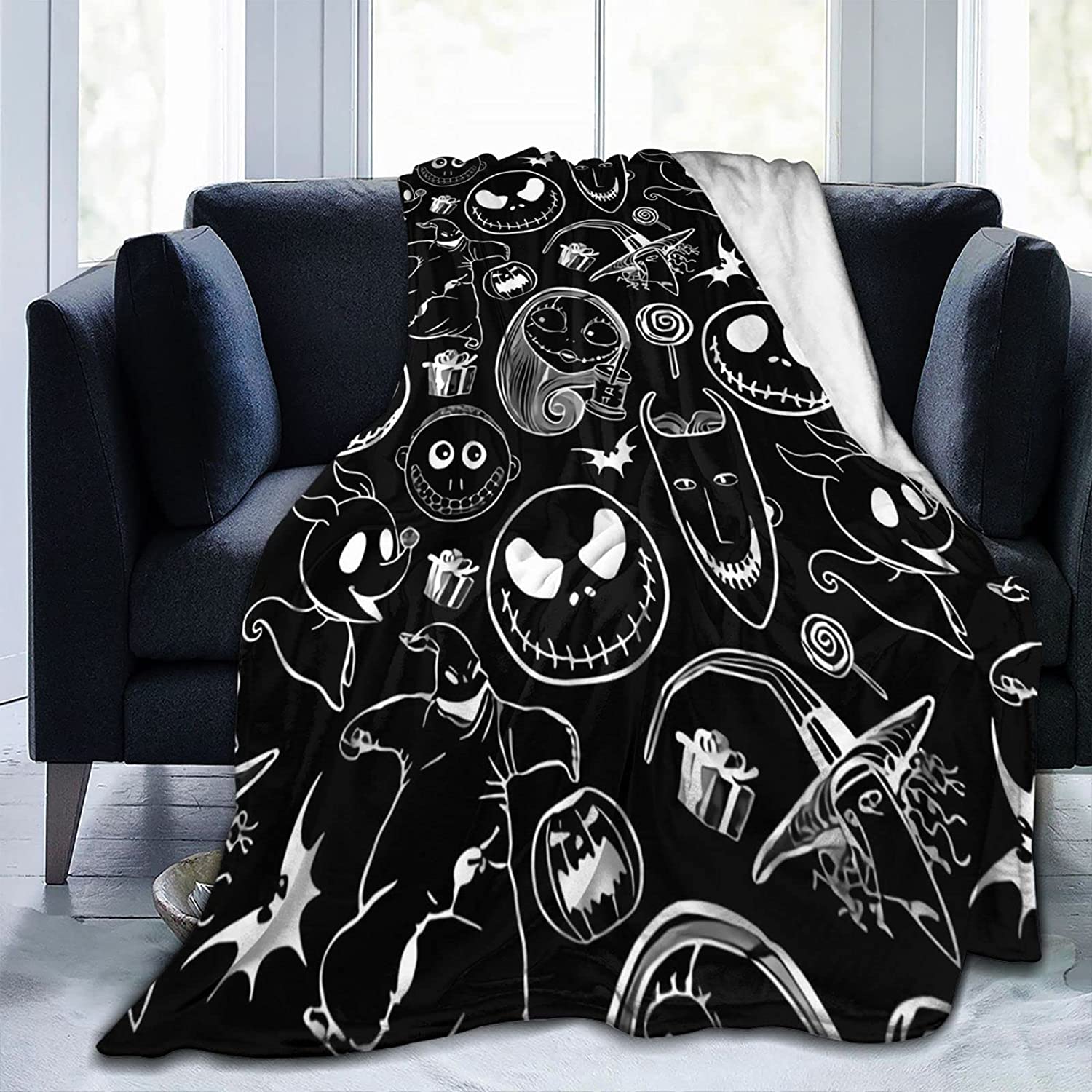 I'm obsessed with this Nightmare Before Christmas Themed throw blanket. It is perfect for the holidays as decoration. Or when you want to cuddle up with something cozy on those chilly nights. It is the perfect mixture of Spooky and comfy. I love it!
Where to Find Jack Skellington Squishmallows
You can find the Jack Skellington Squishmallows at the following places:
Amazon

Walmart

eBay

Target

Myshopify.com

Etsy

Five Below
FAQs
Question: Is the Jack Skellington Squishmallow Rare?
Answer: Yes, Jack the Skellington is part of the Nightmare batch and is rare. So don't be surprised if you have to do a few runs to the stores every week to see if they have him in the store. Or if you have to search online for a while to find him. He is rare, but that makes him even more special to add to your collection. 
Question: What Sizes is the Jack Skellington Squishmallow Available in?
Answer: All the Jack Skellington Squishmallow is relatively close in size to each other. It is available in the following sizes:
• 5 inches
• 8 inches
• 10 inches
• 12 inches
Question: What are the Collection and Squad Jack Skellington Squishmallow is Part of?
Answer: Jack Skellington Squishmallow is part of the "The Nightmare Before Christmas x Squishmallows collection." He is part of the Halloween Squad. 
Conclusion
Boo! We have reached the end of the Jack Skellington Squishmallow guide. I hope you found the perfect size Jack Skellington Squishmallow for you.
He is a fun character and will make an awesome addition to your Squishmallow collection. What I love about this Squishmallow is that your kids can play with it and create their own Nightmare Before Christmas stories with him. It will be even more fun if you have the entire "The Nightmare Before Christmas x Squishmallows collection."
The Jack Skellington Squishmallow is not only fun to play with, but he is ultra soft, squishy, and made out of great quality materials. This makes him an amazing cuddle and nap partner. He also looks amazing as a decoration piece on your bed or sofa around the holidays. Or if you want to give your room a spooky upgrade.
What was your favorite size Jack Skellington Squishmallow mentioned in this guide? Let me know in the comments below. My favorite Jack Skellington Squishmallow has to be the 12-inch Jack Skellington Squishmallow. It is just the ideal size to cuddle with or take a breather, rest your head on, and take a comfortable nap. 
I also recommend getting the 8-inch Jack Skellington Squishmallow. He is perfect if you always need a plush to travel with because he is travel friendly. It is also a good choice if you're working with limited space because he will only take up a little.
That is it, Ladies and Gents! Go get yourself a Spooky Squishmallow friend today!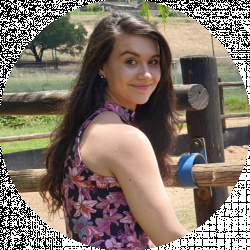 Latest posts by Christine Kent
(see all)