Will you trust a plush collector with unusual obsessions and FNAF passions to pick the top options? If so, you're in the right place to find the freakiest yet attractive opportunities in the best FNAF plush guide. I'm an avid fan with many obsessions, including plush toys, FNAF, Squishmallows, and Fredbear, to touch the iceberg tip.
I can go from adorable plushies my kids will enjoy to freakish animatronics in a second. However, my scope is versatile for this guide. I want the ultimate animatronics plushies to appeal to collectors and children. Therefore, they can't instill nightmares. In contrast, they can represent each animatronic's best or freakiest version.
So, let's see the Fredbears, Chicas, and Bonnies that trump the rest.
My Ultimate FNAF Plush Up Front
I'm sure you figured out my modus operandi by now. I'm here to share freaky FNAF plushies that appeal to kids and adults, which is a challenging task. FNAF has nightmarish connotations, but the plushies won't send kids to Fazbear's infamous pizzeria. Instead, the plushies will spark passions for gamers, whether kids or adults.
Please note that the FNAF games are suitable for kids over 12 and not younger. My son plays the games with me, but my nine-year-old daughter doesn't know them. Nonetheless, I'll introduce you to the iconic animatronics before sharing the variations you'll find. Furthermore, I'll help you collect the most iconic plushies.
But first, check out my ultimate pick, the Funko FNAF Mr. Hippo Plush. Indeed, it's a pricy investment, but it's also one of the most collectible FNAF plushies this year. In addition, it's a unique choice from the games. Only gamers who played the Pizzeria Simulator game would know this character, and I'm all about uniqueness.
Furthermore, I have ultimate picks for various games, animatronics, and types. So, check them out.
More of the Best FNAF Plush at a Glance
FNAF engages our minds in a twisted survival game, but the plushies open a different world. I don't want to spoil everything upfront. Instead, check out four more favorites before diving into the pool of FNAF plush possibilities:
The Funko FNAF Neon Cupcake Plush is another favorite because it's an unusual plush. Chica's cupcake isn't the most common soft toy. Instead, it comes from the collectible Funko Pop brand.
The FNAF High Score Radioactive Foxy Plush is another good choice because this is an odd version of Foxy. Nothing's freakier than a radioactive fox animatronic.
The Funko FNAF Helpy Plush appeals to me because it's harder to find Helpy than Lefty. In addition, the plush has excellent details and looks like quality work.
The FNAF Moondrop & Sundrop Plush is another trending pack this year. Not everyone thinks of collecting this team from FNAF, but gamers know them well.
The Ultimate Guide to the Top FNAF Plush
Five Nights at Freddy's is a survival game played against nightmarish animatronics. Still, the games are top-rated for older kids and teens. So, buying your child an FNAF plush will make them smile as freakishly broad as Fredbear. However, you should know the many options and famous animatronics first.
Meet the Freaky Players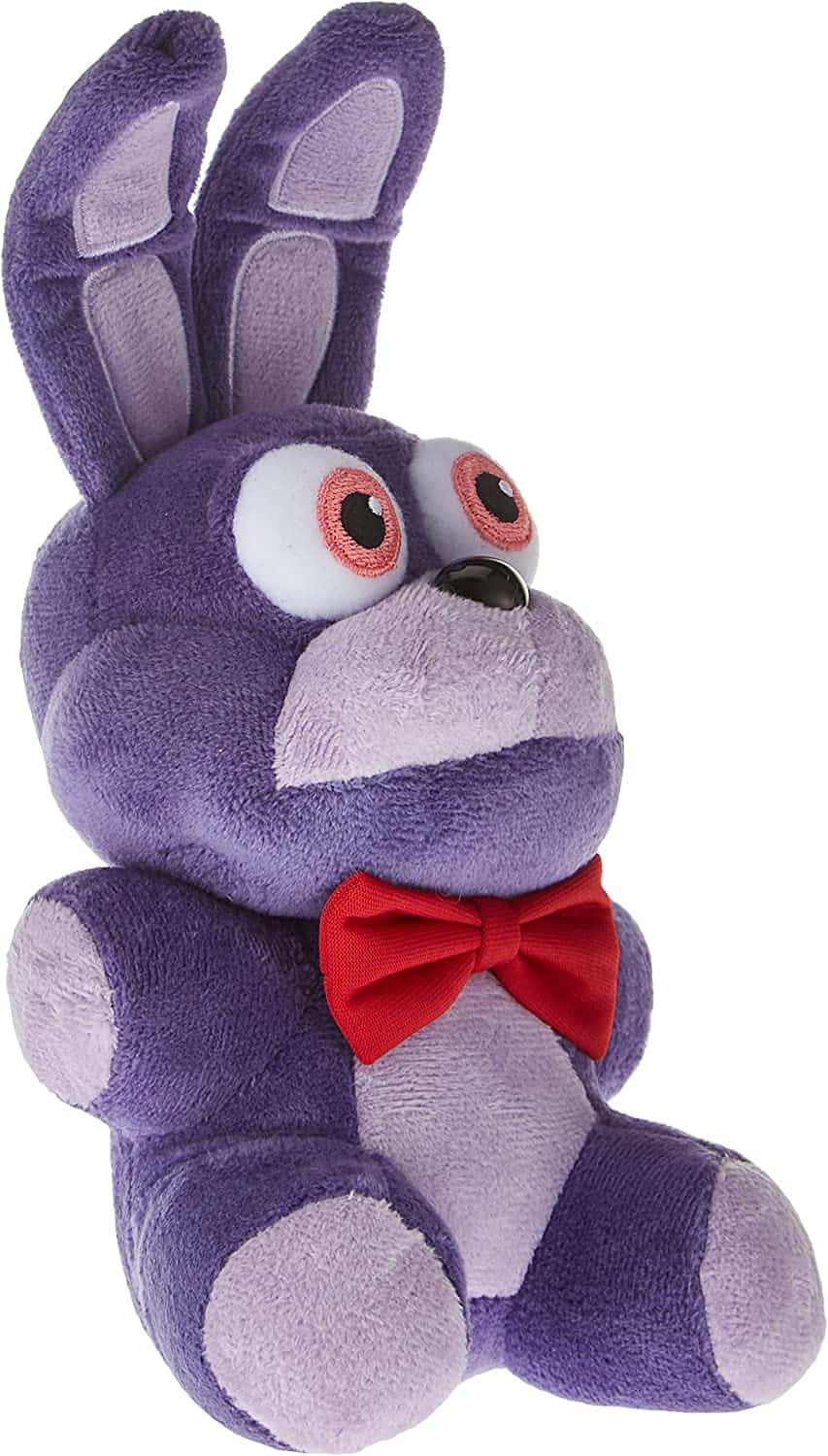 FNAF is a multi-game franchise from which great merch originates, including plushies. However, it helps to know the famous animatronics and versions before diving into the types of plush you'll find. Here's a glance at the leading five animatronics and their roles:
The leading five animatronics also change throughout the games, adopting versions like Toy Bonnie, Withered Chica, Phantom Foxy, Shadow Freddy, and Nightmare Fredbear. Each new version tends to be creepier than the last. The versions change according to the games. For example:
The animatronics become toy, withered, and shadow versions in FNAF 2
The animatronics adopt phantom versions in FNAF 3
The nightmare animatronics come from FNAF 4
The Funtime versions come from FNAF Sister Location
The rockstar animatronics come from Freddy Fazbear's Pizzeria Simulator
The glam rock animatronics come from FNAF Security Breach
These are the games and animatronic versions you'll commonly find in plushies. However, more players come aboard the plush merch train. Therefore, you won't see many variations for the other character plushies. Still, some FNAF games brought a few animatronics and players to life as plush merchandise.
So, check each game's characters you might find.
Unusual FNAF Pizza Simulator Plushies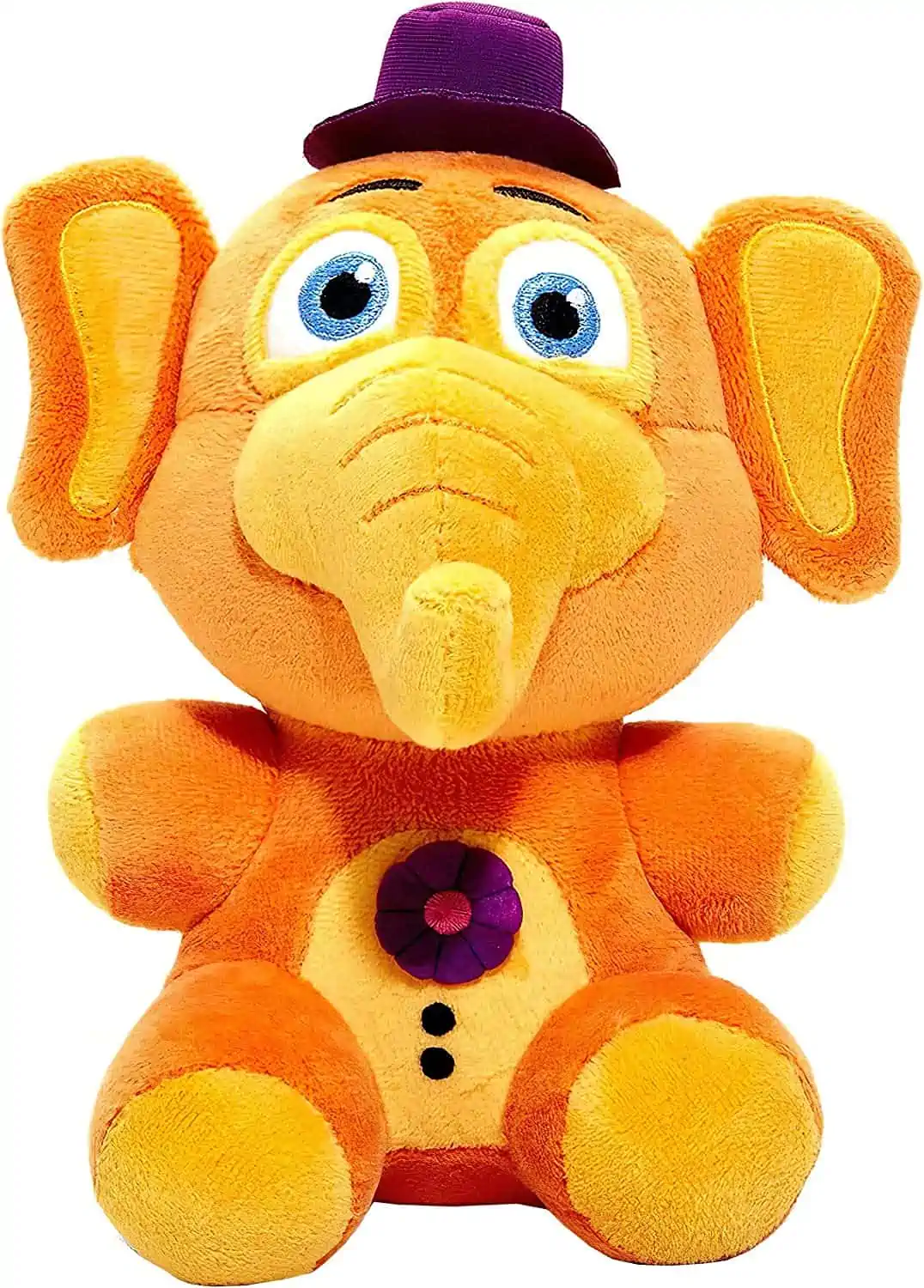 Unique FNAF Security Breach Plushies
Fantastic FNAF Sister Location Plushies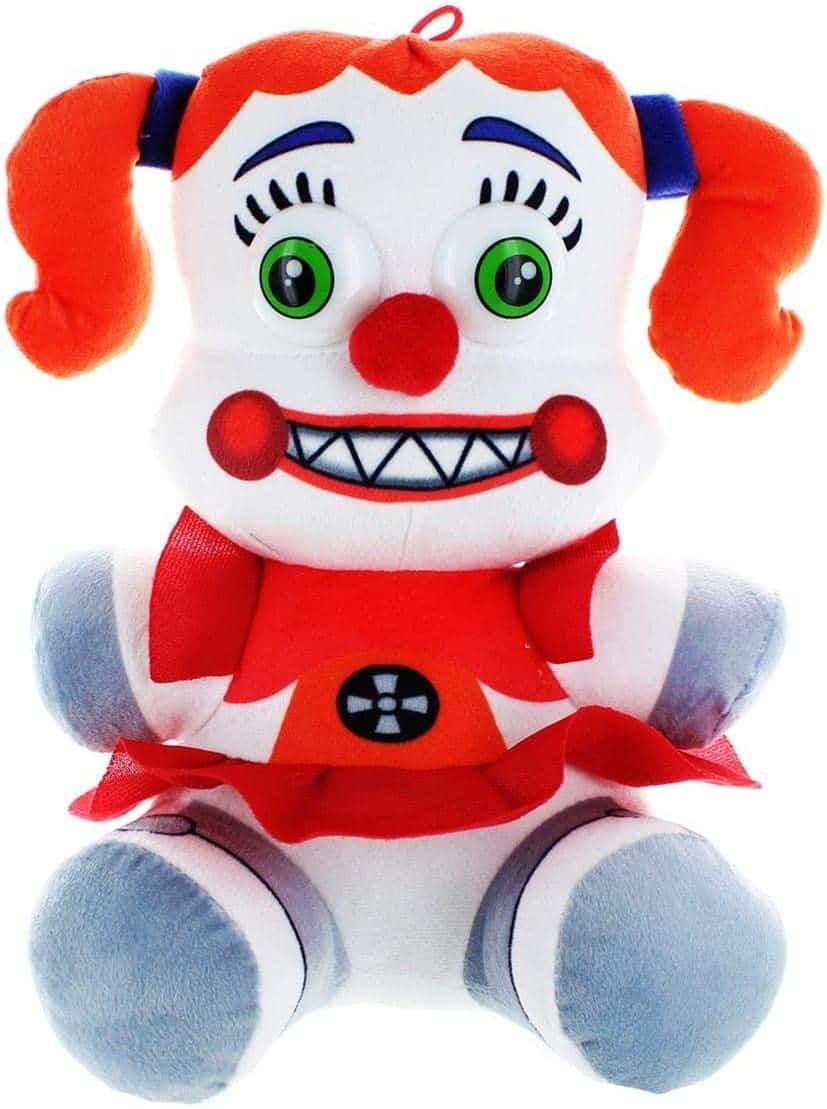 More Unusual FNAF Plushies
FNAF has one of the broadest selections of plush toys for older kids and gamers. So, you have the basic animatronics and players available. However, each animatronic can come in multiple versions as different fans prefer various eras like phantom Chica or nightmare Freddy.
Different Types of FNAF Plush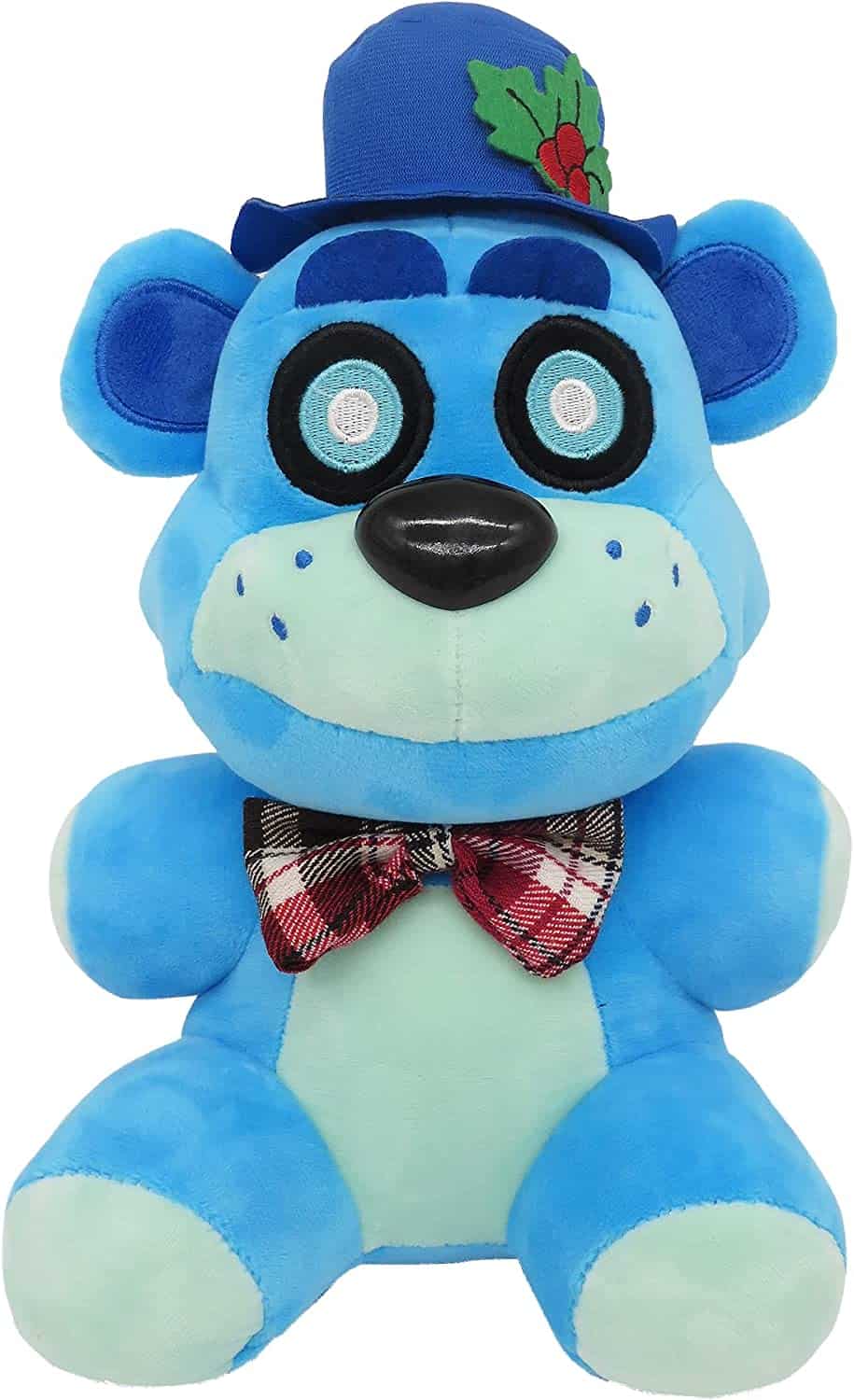 Sharing every variation of each animatronic, player, or character from the FNAF games will complete a book as thick as "The Man's Guide to Understanding Women." So, let's forget about showing you every variation for each animatronic and character. Instead, I'll show you how many different types of Freddy plush exist.
Freddy is the beginning and end of all FNAF games, anyway. So, you can expect to find many variations for this animatronic alone. Breaking down his variations will guide you to do the same with your favorite animatronic. For example, Bonnie will have nearly as many variations as Freddy. But let's do Freddy's versions.
The main animatronic is the FNAF Fazbear Plush before he looks more like a standard Freddy Plush. Then, he becomes the Toy Freddy Plush, still looking half normal. On a side note, Toy Freddy is a rare collectible plush. Nonetheless, you soon see the Withered Freddy Plush and the Funtime Freddy Plush.
Then, the animatronic turns into a Shadow Freddy Plush before becoming a Phantom version and a full-in Nightmare Freddy Plush. Freddy Fazbear takes many forms and comes in many more plushies, ranging in size and color. Some other Freddy Fazbear plushies you'll find include:
Freddy Fazbear has 20 variations without counting the size differences from various sellers. So, imagine how many FNAF plush types, variations, and animatronics exist. So, let's say you want a better look at Fredbear. In that case, check out my Fredbear Plush Guide for better details.
We also have a brilliant Foxy Plush Guide if you prefer the animatronic. But first, it's time to narrow down the best overall FNAF plushies for gamers and older kids.
How I Selected the Freakiest FNAF Plush
Indeed, hundreds of FNAF plush exist, meaning I need a solid strategy to narrow the best picks. So, I'll start by selecting the top 16 animatronics and players I enjoy, including Bonnie, Chica, Cupcake, Dreadbear, El Chip, Foxy, Freddy, Golden Freddy, Helpy, and Lefty. I also love Lolbit, Moodrop, Pigpatch, and Roxanne Wolf.
Finally, I'll add Mr. Hippo and Sundrop. However, I must narrow the variations to a single winner for each of my best animatronics. Therefore, I'll pick the freakiest, best quality, or exact match for the game's player. In addition, I want the collectible sizes for the best plushies. So, in summary, my top FNAF plush must:
Be one of the 16 animatronics and players I enjoy (which happen to be popular picks)
Look freakier than the others, have excellent quality details, or match the game precisely
Be smaller than 12 inches
Best FNAF Plush Guide: My Top Freaks
Choosing top picks from hundreds of plushies was a nightmare, nearly as much as the games. However, careful picking brought me to my top selections for the famous animatronics and players. So, let's see how each one stands out from its counterparts. In addition, I'll give you the features of each to pick your FNAF plush.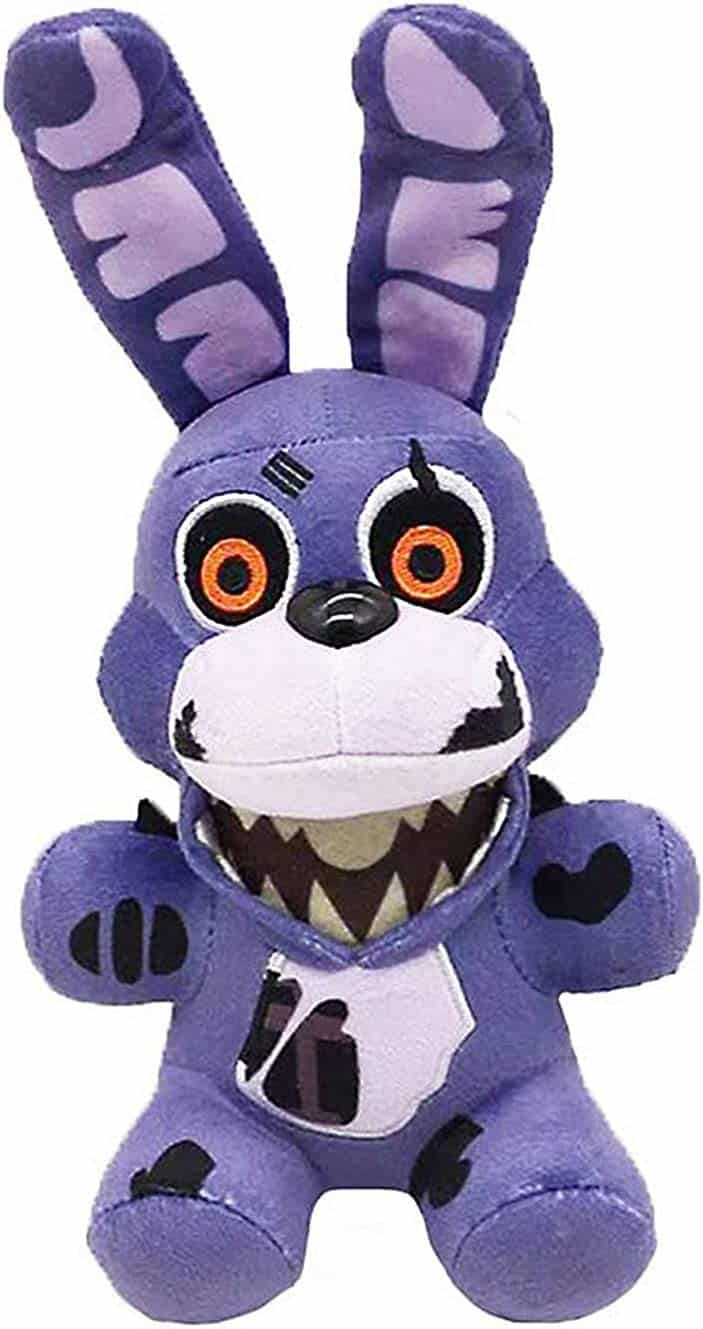 Bonnie has a massive selection of plushies like Freddy because he's an iconic animatronic. Unfortunately, many Bonnie variations are low-quality plushies I wouldn't buy as a dog's toy. However, this version is his best look. In addition, he looks like the nightmare from the Twisted Ones. It's Bonnie's freakiest variation.
FNAF Bonnie Plush Facts
Version: FNAF Twisted Ones – Nightmare Bonnie
Size: 7″
Quality: Good
FNAF Bonnie Plush Pros
It's the best quality Bonnie plush
It has a gory design to match Nightmare Bonnie
It's a collectible size for kids and adult gamers
Bonnie's exposed stomach will cause nightmares
FNAF Bonnie Plush Cons
Somebody could improve the quality
It doesn't come from a trusted seller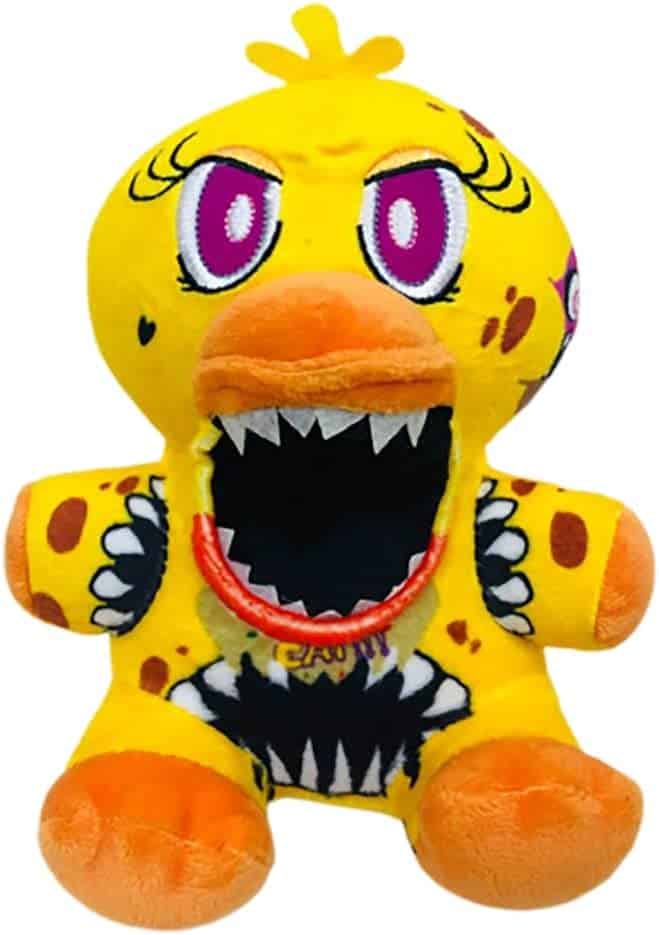 Oddly, the Twisted variation for Chica is much better than the Bonnie plush. Maybe Chica looks better because her nightmare variation is next-level creepy. I'm unsure what part of her would eat me first in the games. Her stomach, arms, and mouth look freakishly devilish, and her eyes don't make things better.
FNAF Chica Plush Facts
Version: FNAF Twisted Ones – Nightmare Chica
Size: 7″
Quality: Excellent
FNAF Chica Plush Pros
The Chica plush is a nightmare on every level
Her bright pink eyes make her look creepier
Chica is a good quality plush
Her size is suitable for kids and gamers
FNAF Chica Plush Cons
Chica might be too nightmarish in this version
The plushes shape doesn't match her precisely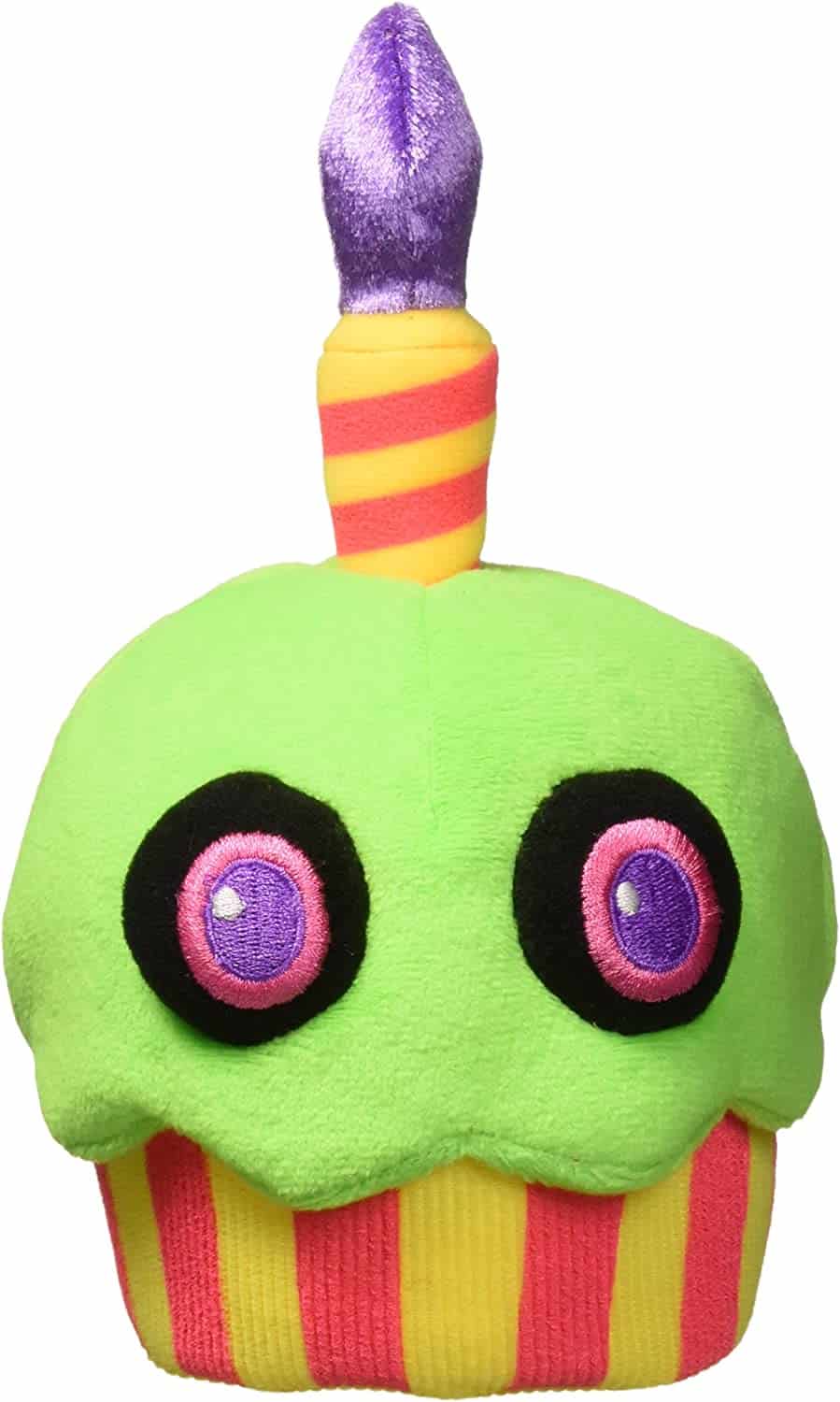 Chica's cupcake is an unusual find on its own. Usually, you get Chica plushies with her cupcake. However, Funko Pop turned the cupcake into an individual character. As a result, I saw impressive plushes for Chica's cupcake. Unfortunately, I only share plushies you'll still find, unlike those with one left in stock.
FNAF Cupcake Plush Facts
Version: FNAF Main – Neon Backlight
Size: 5″
Quality: Collectible
FNAF Cupcake Plush Pros
The Funko Cupcake plush is collectible
The details are cute and would work for younger kids
The neon colors work as backlight plushies
Cupcake's details are impressive
FNAF Cupcake Plush Cons
It's an odd size for plush
Cupcake isn't well-known as an individual plush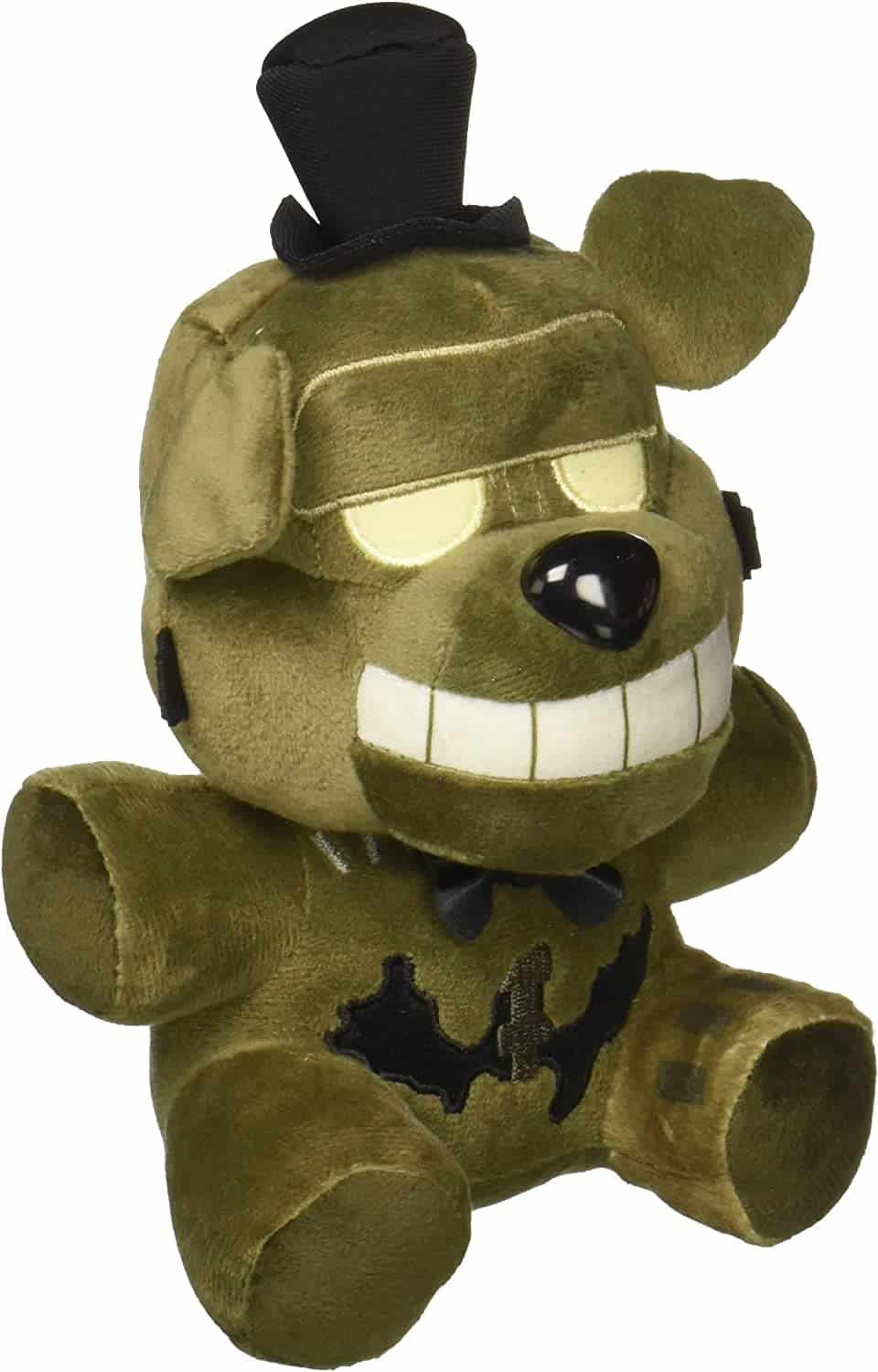 Dreadbear is what his name says, and this plush will install nightmares. In addition, Dreadbear has a Frankenstein design about him. However, he looks like Frankenstein had a baby with a grizzly and turned it into a video game. I know I don't always make sense, but I'm creative and eccentric.
FNAF Dreadbear Plush Facts
Version: FNAF Help Wanted – Dreadbear
Size: 6″
Quality: Collectible
FNAF Dreadbear Plush Pros
The Dreadbear plush is a gorgeously nightmarish choice
I love the connection with Frankenstein
The Funko FNAF plush is collectible
It's an excellent size for all fans
FNAF Dreadbear Plush Cons
Dreadbear's eyes aren't open
The bear's teeth can freak the most avid gamer out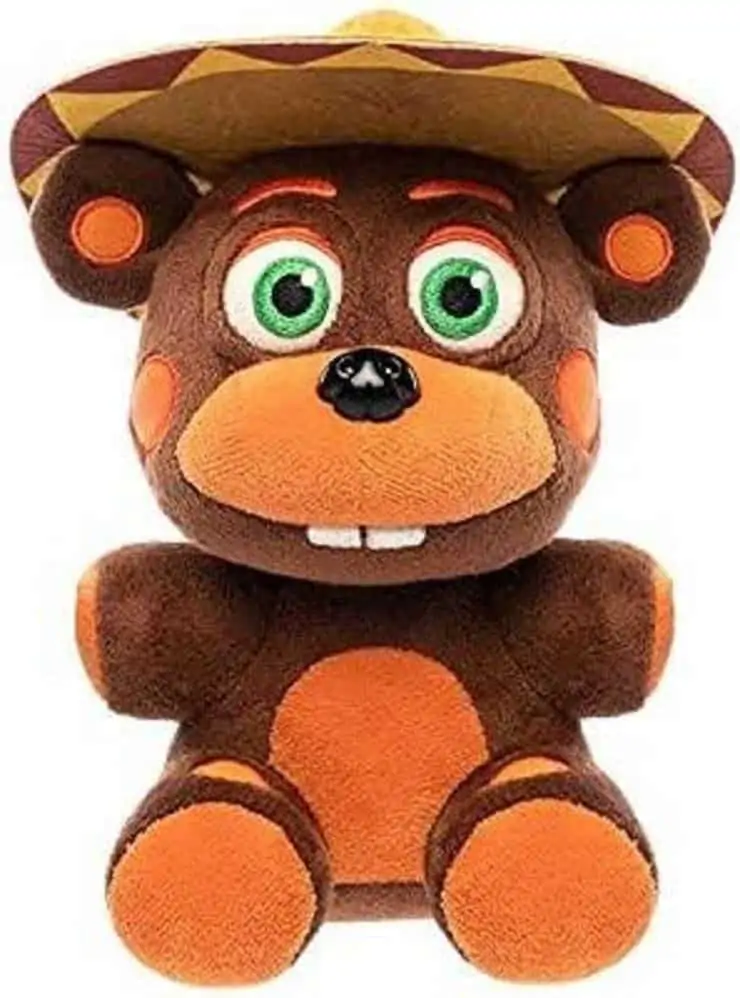 El Chip is a cutie-pie plush that also works nicely for younger kids. Meanwhile, people can confuse El Chip for Freddy or Lefty if they don't know the Latino-styled animatronic. In addition, he comes from an Easter Egg location, making him a hard-to-know animatronic for some gamers and kids.
FNAF El Chip Plush Facts
Version: Pizza Simulator – El Chip
Size: 6″
Quality: Collectible
FNAF EL Chip Plush Pros
The Funko El Chip plush is collectible
He comes from an Easter Egg game location
The details are excellent on this well-sized plush
It appeals to kids of all ages
FNAF El Chip Plush Cons
Not all FNAF fans know El Chip well enough
The lack of nightmare styles put some collectors off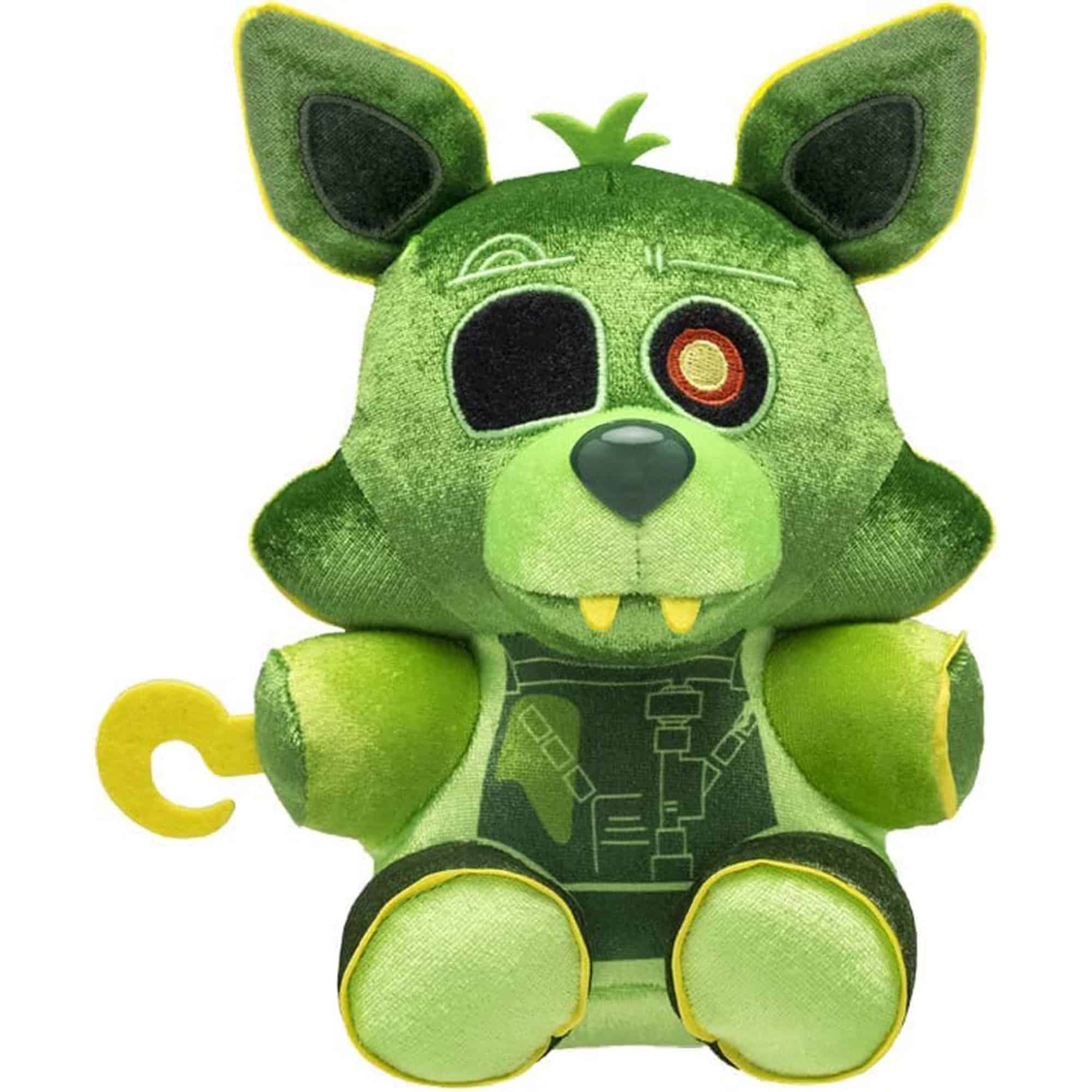 Foxy is another extensive range of plushies from FNAF because he's another iconic animatronic. Indeed, I'm aware of the rhyming. Meanwhile, I didn't go for the nightmare variation of Foxy because the plushies don't look brilliant. Instead, I chose the radioactive version because Foxy looks like a mean cybertronic pirate.
FNAF Foxy Plush Facts
Version: Freddy's AR – Radioactive Foxy
Size: 8″
Quality: Excellent
FNAF Foxy Plush Pros
No plush looks more cybertronic than this one
The Foxy plush is excellent quality for collectors
The size suits children and gamers
The pirate hook and buzzed eyes are stunning
FNAF Foxy Plush Cons
It's not a common variation for Foxy
He looks nightmarishly cyber but not scary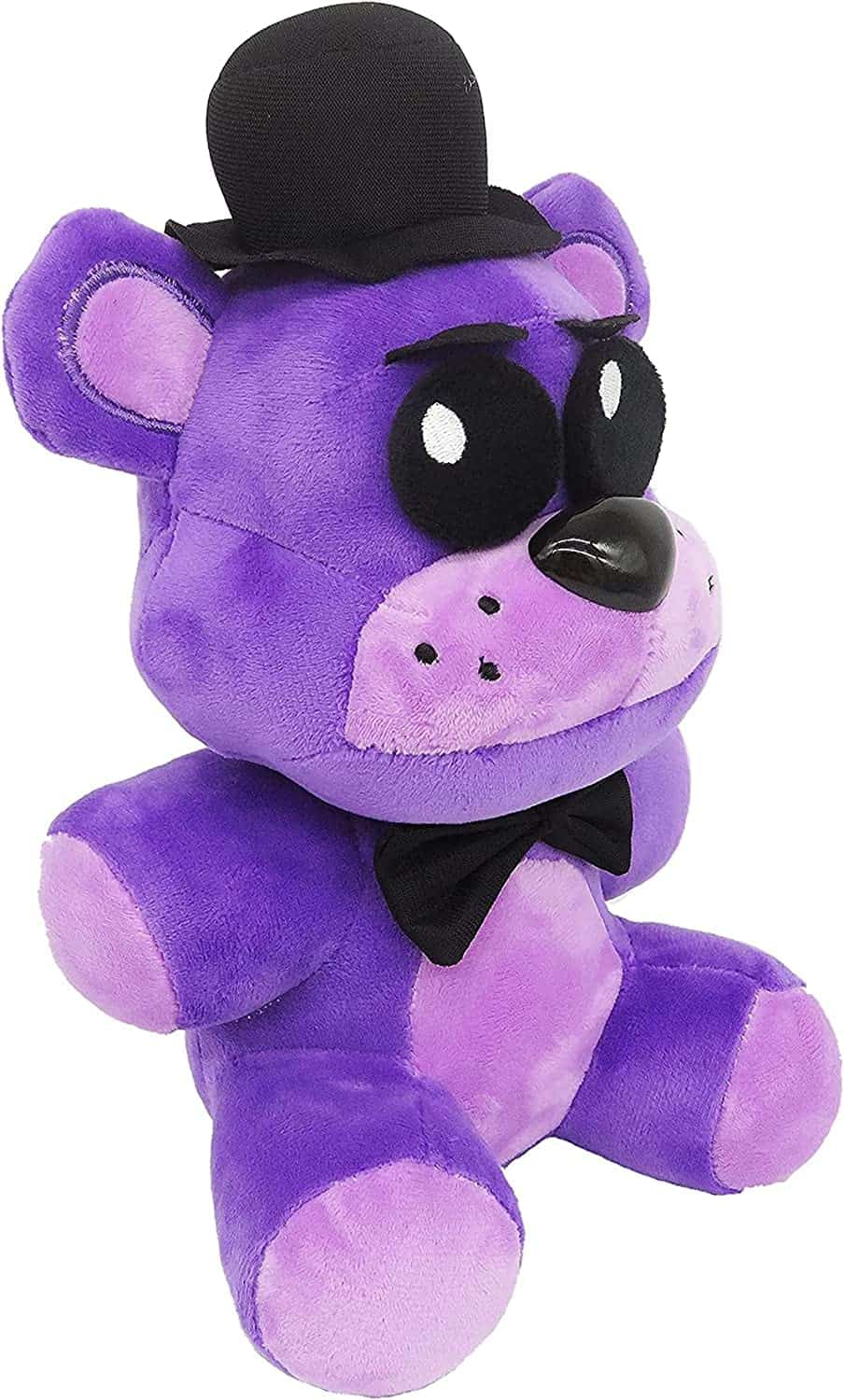 Freddy has the largest selection of plushes, but many are low-quality and unsuitable for game collectors. So instead, I picked a good-quality plush for Freddy, even if he doesn't look gory. Fortunately, I share others versions of the famous bear. Besides, Phantom Freddy is a nightmare to avid fans.
FNAF Freddy Plush Facts
Version: FNAF 3 – Phantom Freddy
Size: 6″
Quality: Excellent
FNAF Freddy Plush Pros
Phantom Freddy reminds gamers of his nightmare
The plush also appeals to younger children
It's the ideal size for any gamer's collection
There's something dreadful in Freddy's eyes
FNAF Freddy Plush Cons
It's not the scariest or freakiest Freddy version
The seller doesn't know which Freddy they're offering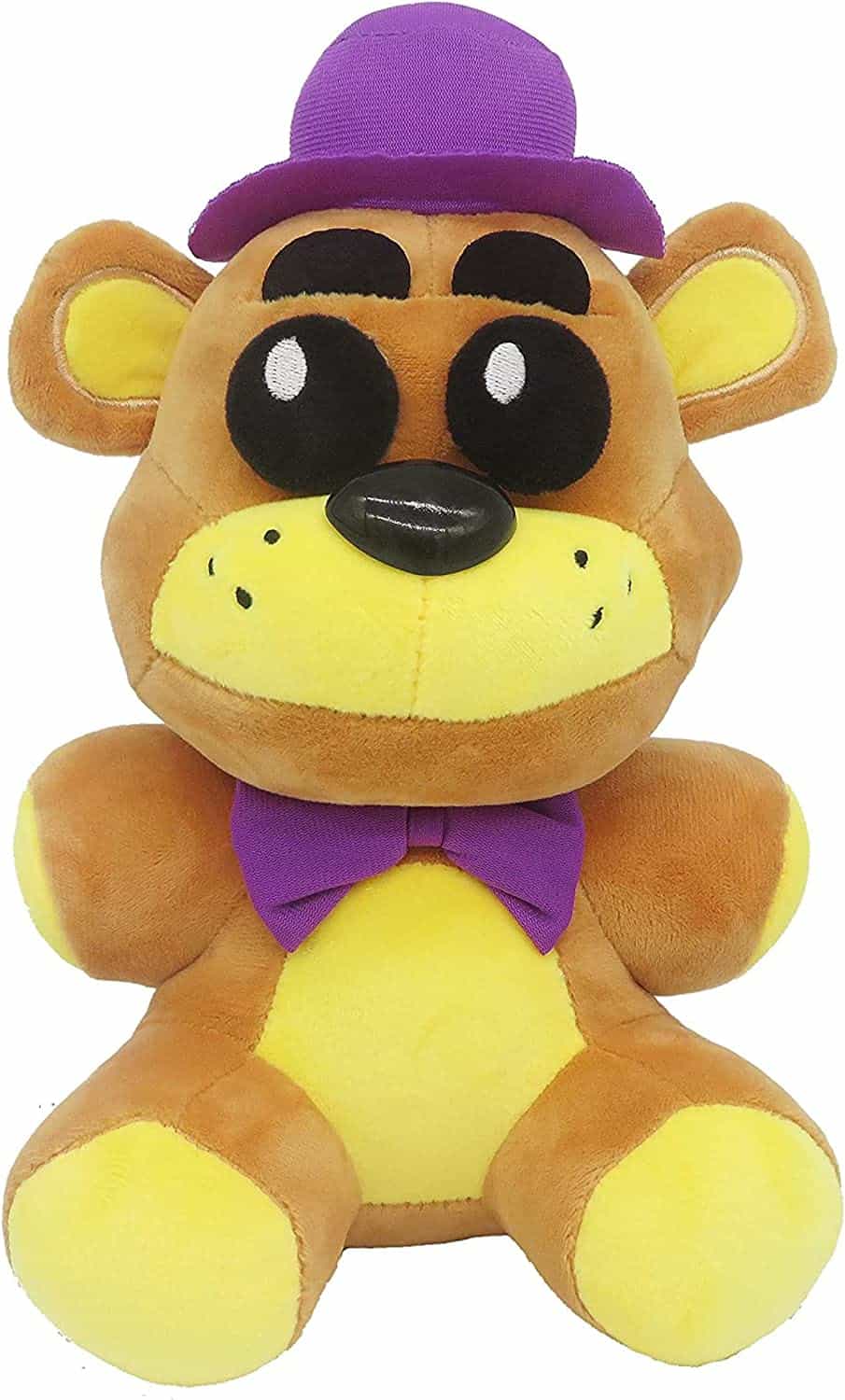 Golden Freddy's story is sad enough to make you feel sorry for him, even when he attacks you in the games. The poor animatronic was deserted initially in the back office, waiting for nothing and nobody. So, it's not surprising that the poor guy turned into the monster he did. However, he's an icon.
FNAF Golden Freddy Plush Facts
Version: FNAF 1 – Golden Freddy
Size: 7″
Quality: Excellent
FNAF Golden Freddy Plush Pros
Golden Freddy is a collector's must-have
The plush appeals to younger kids without nightmare styles
It's the perfect size for every fan
The details are correct because he has a purple hat
FNAF Golden Freddy Plush Cons
Golden Freddy is easily confused with Freddy (with a black hat)
He has no horror-game effects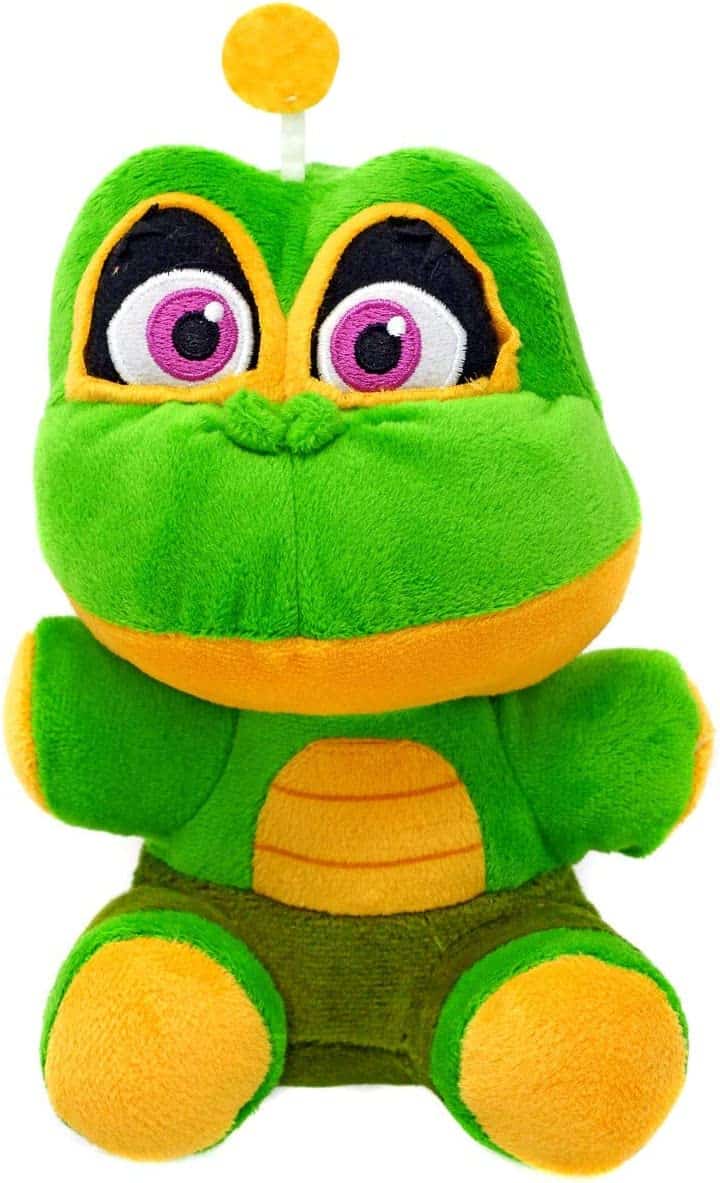 Happy Frog is another lesser-known animatronic from the FNAF games, making her the perfect collectible for die-hard gamers. Unfortunately, her rareness and unusual animatronic inspiration will cost you as a collector. Therefore, the investment won't make this cute FNAF plush the best choice for kids.
FNAF Happy Frog Plush Facts
Version: Pizza Simulator – Happy Frog
Size: 8″
Quality: Collectible
FNAF Happy Frog Plush Pros
Happy Frog is a Funko collectible plush
She's a nicer-looking FNAF plush for all ages (except for the price)
Funko makes brilliant quality plushies
Gamers would love the unique animatronic
FNAF Happy Frog Plush Cons
Happy Frog is an expensive and rare collectible
Not all gamers remember her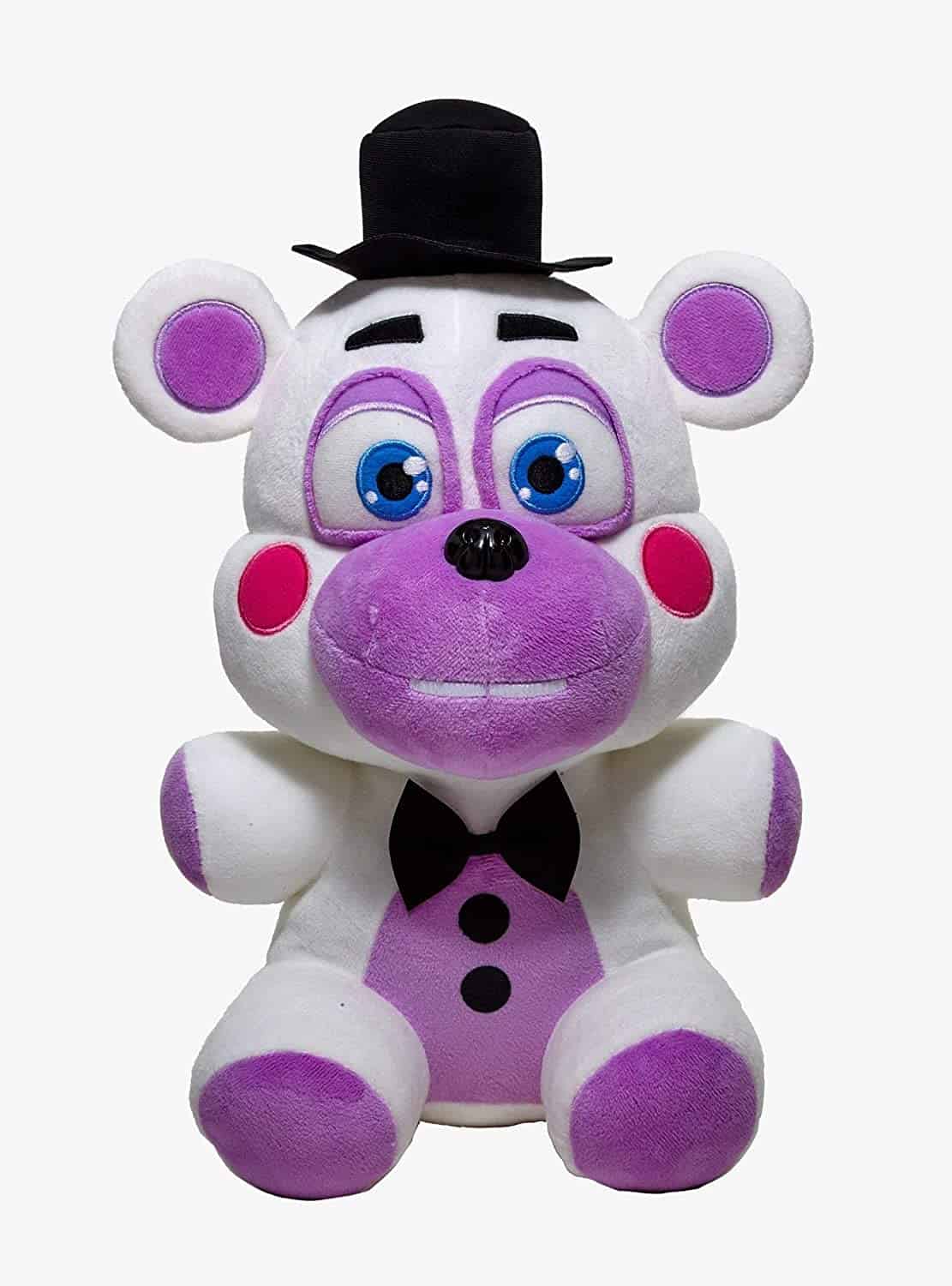 Helpy is another collectible animatronic from the FNAF games because you won't find him as often as Lefty. In addition, he doesn't cost as much as Happy Frog and Mr. Hippo. However, he comes from the same collectible brand that brings you the pricy options, meaning he has excellent quality details.
FNAF Helpy Plush Facts
Version: Pizza Simulator – Helpy
Size: 7.5″
Quality: Collectible
FNAF Helpy Plush Pros
Helpy is a brilliant Funko collectible
His details are impressive; even his eyes
Helpy is an unusual find
He looks friendly and works for all ages
FNAF Helpy Plush Cons
He doesn't look like a nightmare animatronic
White plushies are a nightmare to clean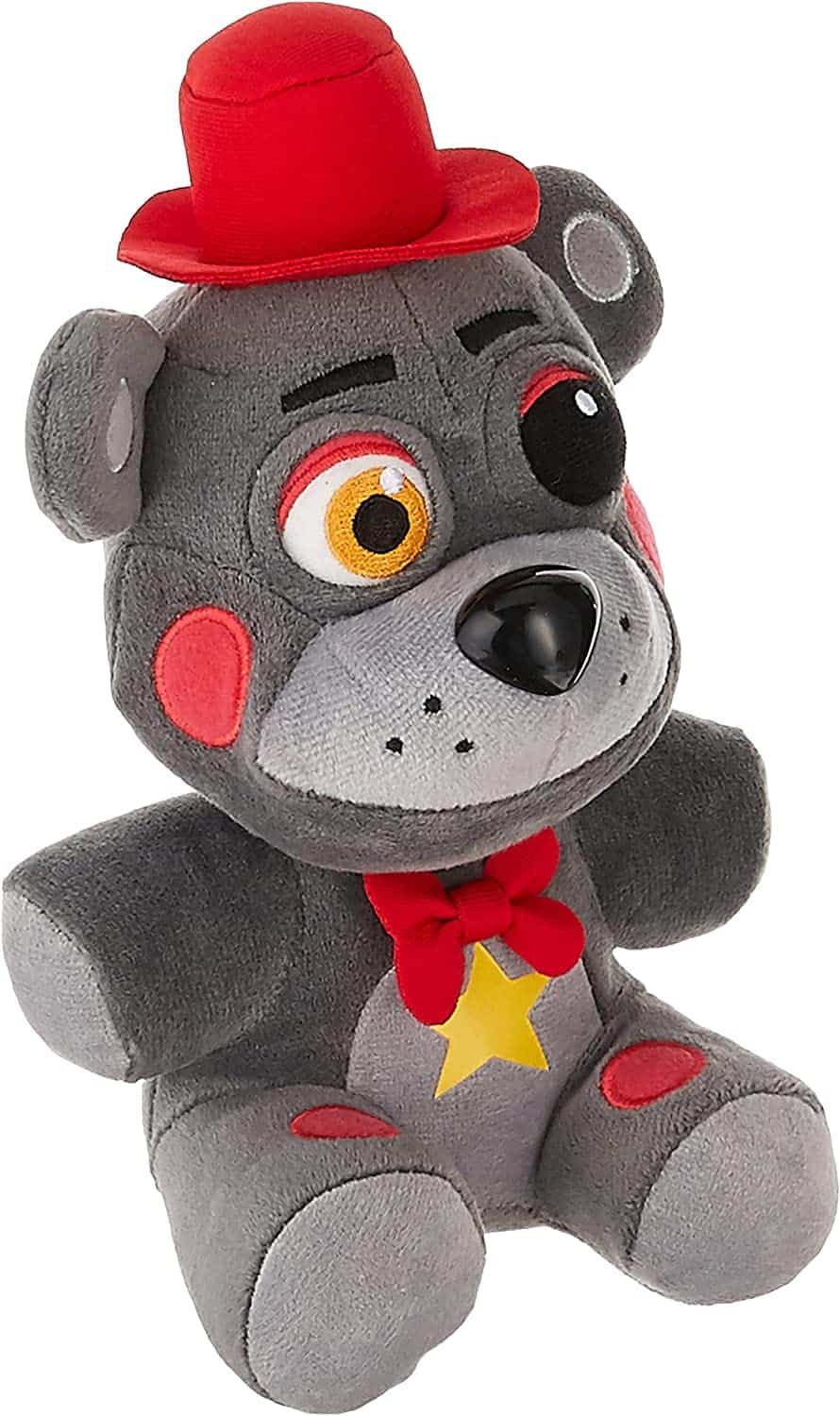 Lefty is the better-known animatronic from Pizza Simulator. However, people still confuse him with Freddy. Fortunately, true fans won't make a mistake because they know their animatronics well. Unfortunately, I can't find an excellent quality plush for this animatronic. So instead, I took the best-quality plush available.
FNAF Lefty Plush Facts
Version: Pizza Simulator – Lefty
Size: 7″
Quality: Good
FNAF Lefty Plush Pros
The Lefty plush has nightmarish details
He looks like he belongs to the Mangled Series
Lefty is a must-own if you have Helpy
The size is ideal for kids and gamers
FNAF Lefty Plush Cons
The plush's mangled look is due to the quality and not series
Lefty looks goofy more than nightmarish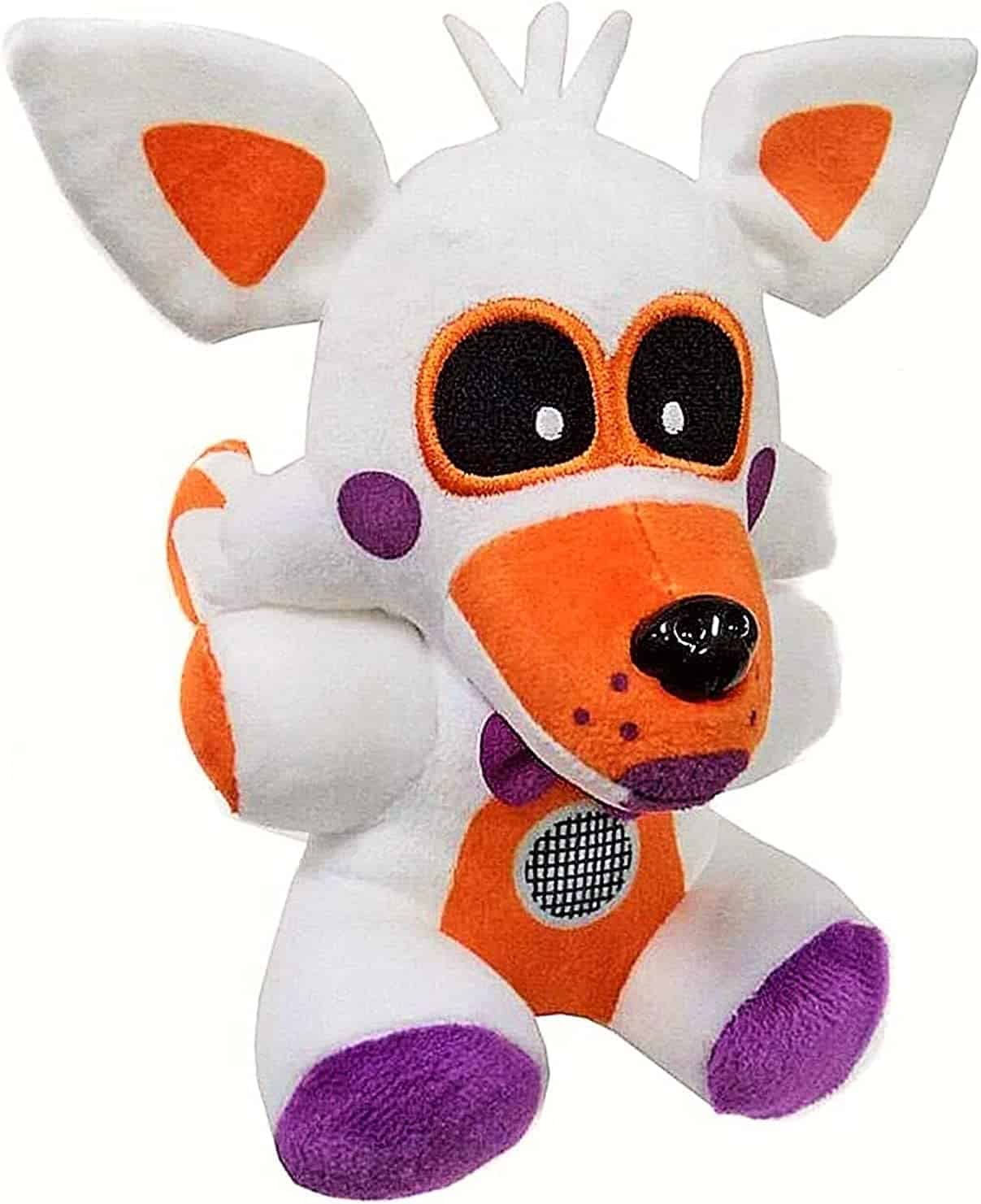 Lolbit isn't a widely-known animatronic because she comes from Sister Location. Meanwhile, the disembodied version of Foxy is another Easter Egg found in plushies. Indeed, she looks like Foxy's Funtime version, but she only takes the animatronic's head. However, the Lolbit plush is another all-age choice.
FNAF Lolbit Plush Facts
Version: Sister Location – Lolbit
Size: 8″
Quality: Excellent
FNAF Lolbit Plush Pros
Lolbit doesn't look scary and fits all ages
She's an excellent size for any gamer
Lolbit is a unique find and rare animatronic
Her eyes look ghastly more than her plush
FNAF Lolbit Plush Cons
White plushies will give you nightmares
Not all gamers know Lolbit well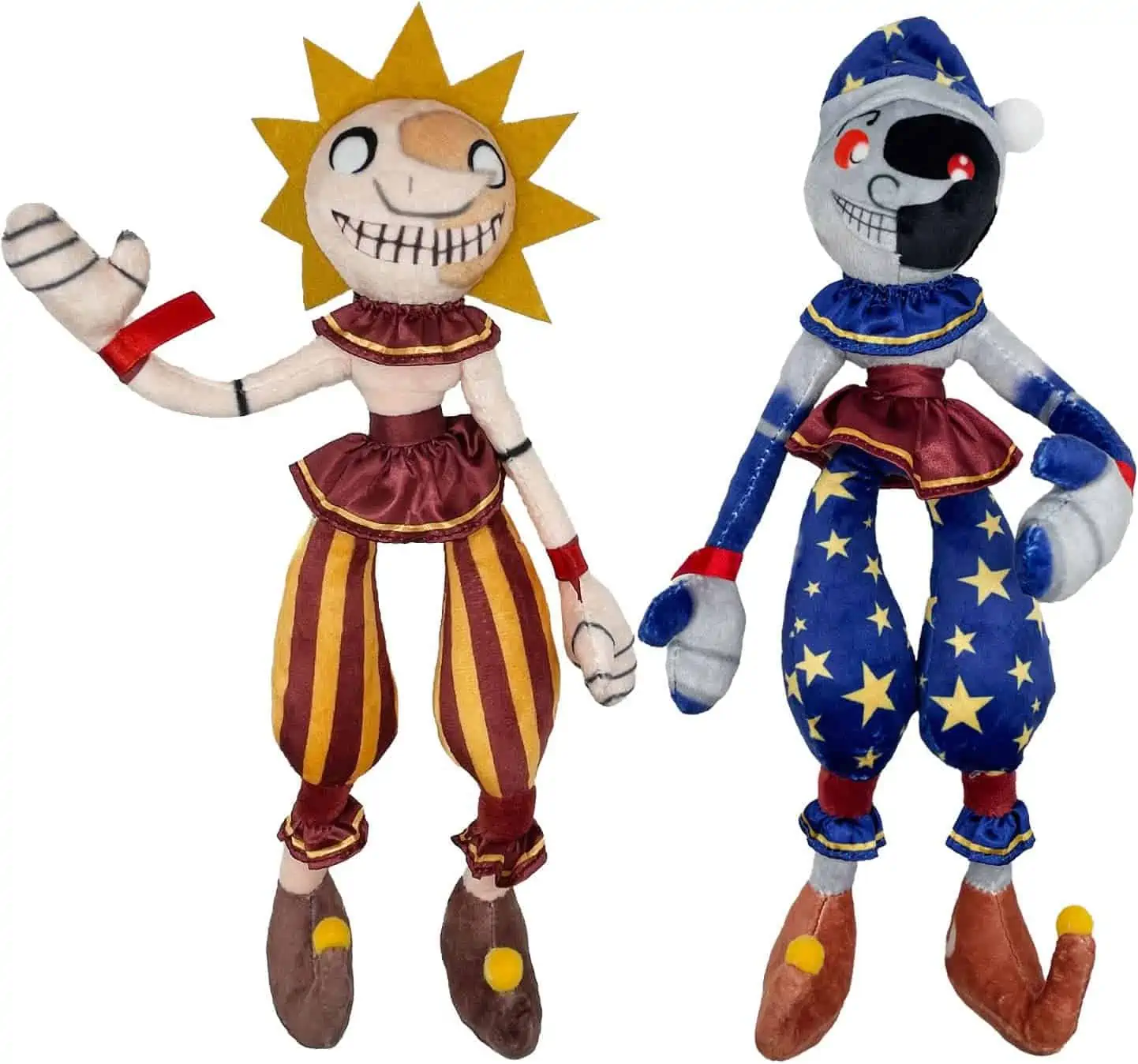 Sundrop and Moondrop are the two wildly inappropriate animatronics from the daycare center. I have nightmares thinking about leaving my children with these two. Meanwhile, the game thinks it's hilarious. So, I'll give the game a thumbs up for creativity, nothing else.
FNAF Moondrop Plush Facts
Version: Security Breach – Sundrop & Moondrop
Size: 11″ each
Quality: Excellent
FNAF Moondrop Plush Pros
Sundrop and Moondrop are unusual and collectible
The animatronics are freakier than most in theory
The plushes look friendly enough for unfamiliar kids
Gamers get two plushes at once
FNAF Moondrop Plush Cons
The plushes shapes are weird
The size is nearly too big for collectors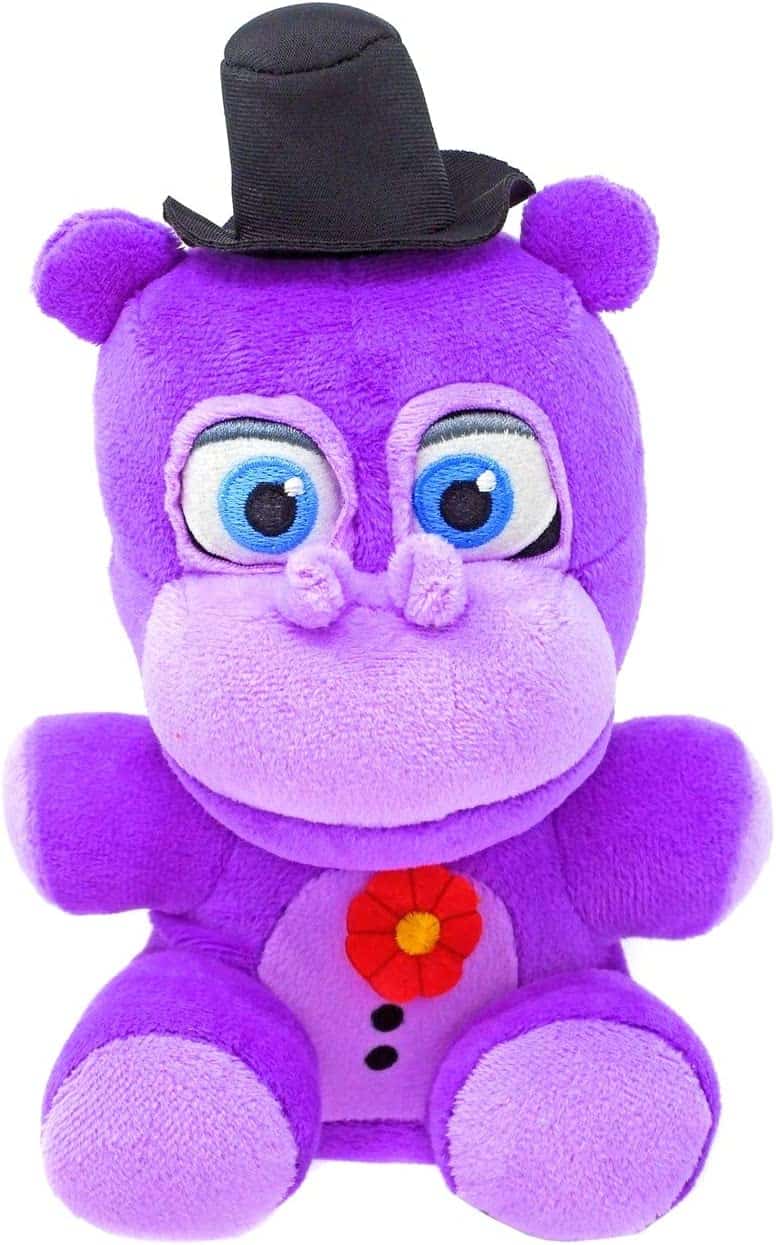 I agree that Mr. Hippo's price tag is insane, but he's one collectible you won't want to miss. Funko turns rare animatronics into highly collectible plushes, and vinyl pops you won't easily find again. In addition, the plush is a joy for younger kids who don't know the games. Of course, it depends on how much you're willing to spend.
FNAF Mr. Hippo Plush Facts
Version: Pizza Simulator – Mr. Hippo
Size: 7.5″
Quality: Collectible
FNAF Mr. Hippo Plush Pros
The Funko FNAF plush is highly collectible
Mr. Hippo is a rare find; no others exist
The plush is excellent quality and a good size
It's friendly enough for younger kids
FNAF Mr. Hippo Plush Cons
It's an insanely pricy plush for gamers
The animatronic isn't well-known to every fan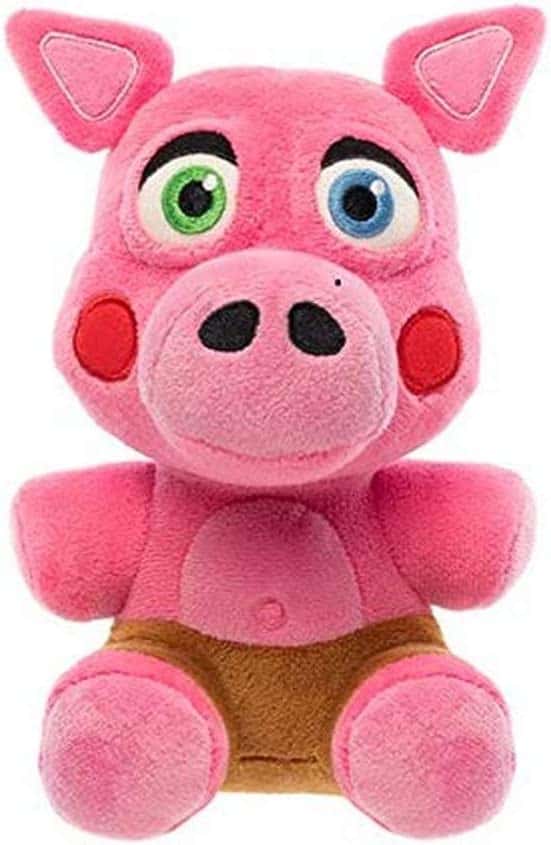 Pigpatch is another unique animatronic from the FNAF games. However, he comes with a standard price tag, even though he comes from Funko. In addition, he also looks friendlier to younger kids who don't play the games and know the weird pig. Instead, he seems like a regular piggy plush with cute eyes.
FNAF Pigpatch Plush Facts
Version: Pizza Simulator – Pigpatch
Size: 6″
Quality: Collectible
FNAF Pigpatch Plush Pros
The Funko FNAF plush is collectible
He has excellent details and comes in a good size
Younger children can enjoy this plush
Gamers love adding unique animatronic plushies
FNAF Pigpatch Plush Cons
Not all gamers know Pigpatch
The eyes also look goofy if you dislike that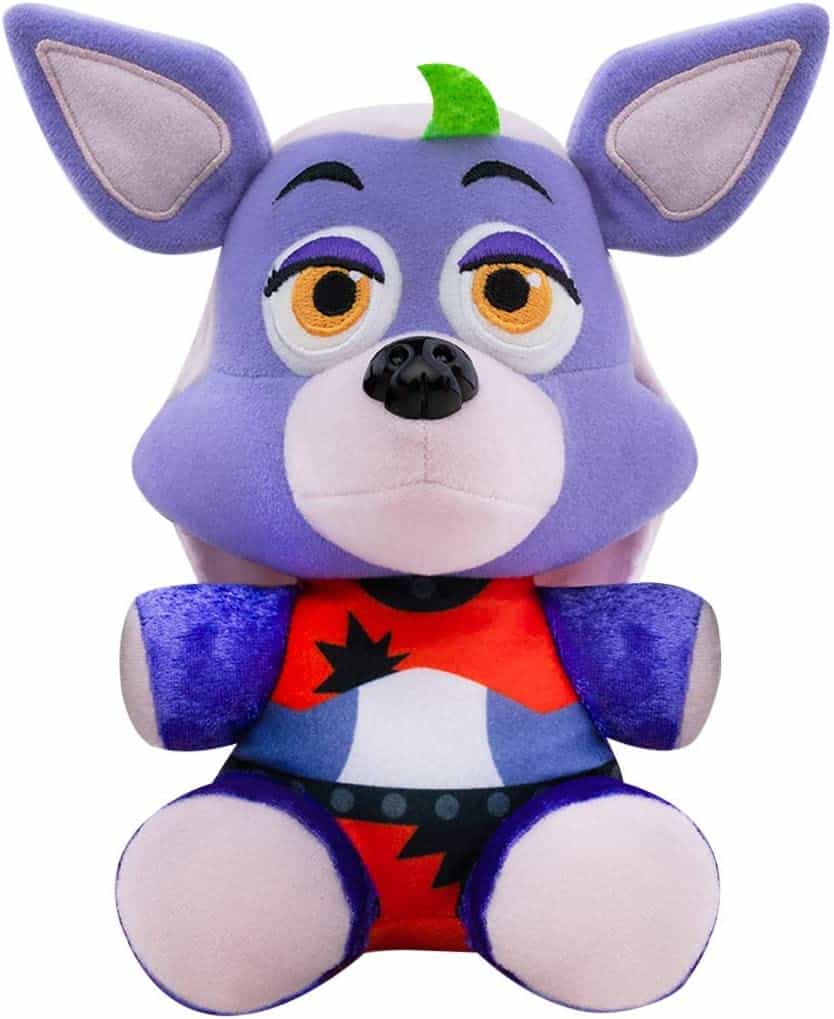 Roxanne is a wolfing joy for FNAF gamers and fans. In addition, she looks friendly enough to suit younger children who don't play the FNAF games. However, many people confuse Roxanne with Foxy, but entirely different animals inspired these animatronics. Roxanne is another unusual find.
FNAF Roxanne Plush Facts
Version: Security Breach – Glamrock Roxanne
Size: 6″
Quality: Collectible
FNAF Roxanne Plush Pros
The Funko Roxanne plush is highly collectible
She's an unusual find in an excellent size
She's friendly enough to appeal to younger children
No FNAF plush's face looks this serious
FNAF Roxanne Plush Cons
People confuse her with Foxy, the Fox
She doesn't look freaky or scary enough for some gamers
FAQs
Question: What Is the Green Version of Foxy From FNAF?
Answer: The green version of Five Nights at Freddy's Foxy is a favorite of mine because she looks unusual. The FNAF High Score Radioactive Foxy Plush is gorgeously detailed, looks like a true pirate, and has a gamer's effect. Radioactive Foxy comes from a wasteland event in the Special Delivery games.
Question: Which FNAF Plush Are the Most Collectible?
Answer: The Five Nights at Freddy's game has an excellent selection of plush merchandise and toys. However, Funko is the epicenter of collectibles. The brand's plushes are excellent quality, the ideal size, and focus on impressive animatronics. For example, the Funko FNAF Mr. Hippo Plush is rare, collectible, and expensive.
Question: What Are the FNAF Spring Colorway Plushies?
Answer: The FNAF Spring Colorway plushes are exclusive to the game's licensed merchandise. For example, you'll find the four primary animatronics in various colors, including Foxy, Freddy, Chica, and Bonnie. I recommend collecting the Spring Colorway Series for authentic FNAF plushies. Some examples include:
Funko FNAF Blacklight Pink Freddy Plush
Funko FNAF Neon Blue Freddy Plush
Funko FNAF Neon Green Cupcake Plush
Funko FNAF Neon Green Foxy Plush
Funko FNAF Spring Colorway Blue Cupcake Plush
Funko FNAF Spring Colorway Blue Foxy Plush
Funko FNAF Spring Colorway Blue Freddy Plush
Funko FNAF Spring Colorway Green Foxy Plush
Funko FNAF Spring Colorway Pink Freddy Plush
Funko FNAF Spring Colorway Purple Foxy Plush
However, be careful because not all colorful plushes are licensed. Instead, look for Funko FNAF plush with neon, blacklight, or pastel color ranges. The brand is authorized to make these plushies and will produce quality, authentic soft toys.
Best FNAF Plush Guide: Conclusion
Five Nights at Freddy's is a brilliant horror-themed game for kids over 12. In addition, teenagers and older gamers can enjoy collecting the best colorful, nightmarish, or quality plushes from FNAF. Indeed, Fredbear and the other main animatronics aren't the only picks. So instead, I shared some rare options for die-hard gamers.
So, I recommend buying the Funko FNAF Mr. Hippo Plush if you're a die-hard gamer or fan. These rare plushes won't be available from Funo forever, and you won't want to miss owning the most collectible merch. Alternatively, the Funko FNAF Happy Frog Plush is another rare, collectible pick.
Suppose you don't want to spend a fortune. In that case, the Funko FNAF Pigpatch Plush and the Funko FNAF El Chip Plush are worthy of a true gamer's collection. In addition, the non-freaky plushes appeal more to kids, especially younger children who just want the plushes but don't know the games.
Meanwhile, nothing says you can't collect a specific series, animatronic, or type. I shared the details of how you can find every variation, even among the unusual animatronics most gamers don't know well. So, take your pick, and start expanding your FNAF fandom collection.
For Other FNAF Related Plushies Check Out: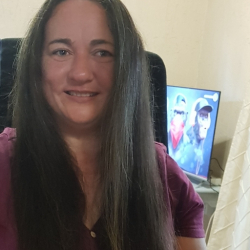 Latest posts by Caroline Lambert
(see all)