Where do you begin with Fredbear plush when so many animatronics exist? Let me present the best Fredbear Plush Guide for fanatic gamers and plush merchandise collectors because I'm both. I've spent way too many hours playing Five Nights at Freddy's games, and I'm an overenthusiastic plush and Squishmallow collector.
Additionally, I share my FNAF passion with my son, and the two of us have some surprises in store for you. We won't only show you the best Fredbear plush. We'll also share a collector's secret for the true fanatics. We had as much fun putting this guide together as playing the games. Let's see what we got for you.
Bottom Line Up Front
Fredbear plush can overwhelm fans of FNAF pretty fast if you don't know what to look for regarding the best ones. Who can better show you the ropes than two fanatic gamers who also collect plush toys? I took the best animatronic versions of Freddy Fazbear. I added a few tips to ensure you can order any version you want.
Gaming fanatics love collecting as much merchandise from their favorite games as possible. My best picks will give you a starting point from which you can build on your collection. All you need is my system of finding every version of the same Fredbear. Would you love to see my starter Fredbear plush?
Dive into the pool of besties before learning how to collect them all.
My Top Fredbear Plush at a Glance
All but one of my favorites comes from the most memorable games my son and I played from the FNAF franchise. Freddy is one of our ultimate animatronics, and here's a glance at which versions won the round:
You'll have to continue reading to know why each Fredbear plush won the round. And remember, I'll share a fan collector's tip to find more versions.
FNAF Fredbear Plush: an Ultimate Guide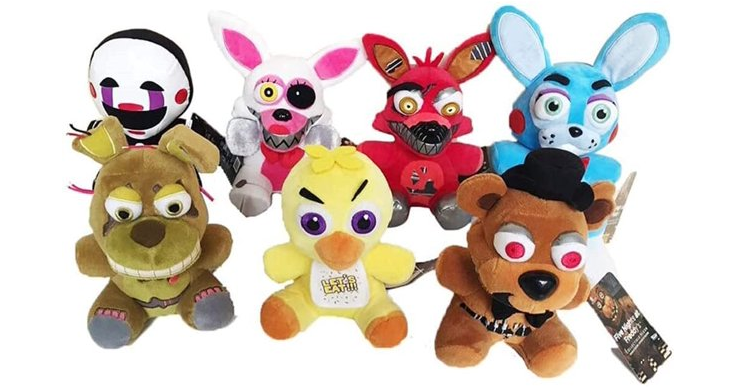 The FNAF games inspired a collection of plush bears, some cute and others look like something from a nightmare. Do you have a few favorites among the more than 20 animatronics? Which Fredbear plush stands out for you? Let me share how you can collect Fredbear plush and how to consider the best ones.
The Various Fredbear Plush Versions
Do you know what makes Fredbear excellent merchandise for gamers of any age? Freddy comes in over 20 versions because different spirits possess the poor bear throughout the varying games. Freddy Fazbear starts as an owner at the local pizzeria in Pasadena. Little does he know what will become of him over the years.
The animatronic first becomes possessed by Gabriel, a once bullied child, and then turns into a vengeance-seeking spirit. Freddy takes new forms as the games evolve, changing from a porcelain Toy Freddy to Funtime Freddy and Yenndo. He also wears exoskeletons belonging to Withered and Nightmare Freddy.
Some versions appear less scary, like Rockstar Freddy and Helpy. Nonetheless, Fredbear plush is a fan's dream because you can collect an array of stuffed animatronics. My son plays FNAF, and I've played a few games. My daughter is a softy who doesn't enjoy horror games, and I'm okay with that.
Fredbear plush is something in which my son and I can share an interest. Many more will come as the game evolves into new animatronics.
FNAF Plush Tips for Fanatic Gamers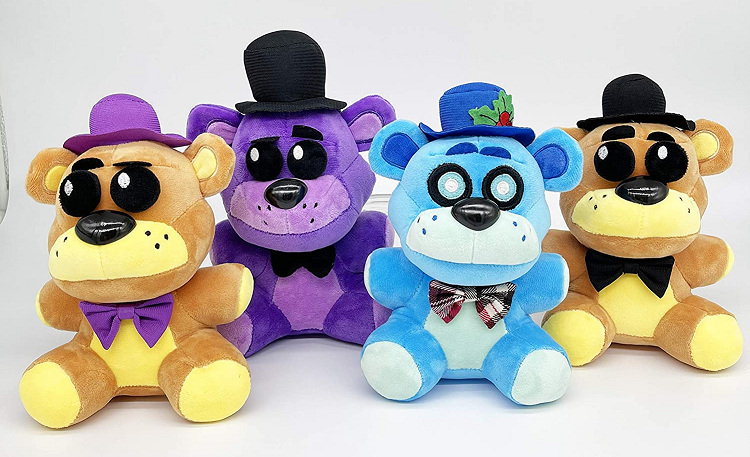 You'll be ready to collect as many of your favorite Freddy plush as possible if you're like my son and me. Sure, Freddy has over 20 variations as he took new forms in the games, but there's more to collecting the golden bear. Take Golden Freddy as an example of how many types exist.
Golden Freddy comes in a few variants. First, you get the plush with animatronic eyes (robotic and non-detailed). The animatronic eye Freddy plush comes with a purple or black hat. Golden Freddy also comes with normal eyes and wears purple or black hats. Freddy Fazbear has a few exclusive variants, too.
Funko Pop turns Freddy into new styles you don't see in the games. For example, you get an Orange Freddy with strange patterns, Neon-Colored Freddys, and a Gray Freddy that looks more like a traditional bear. When I say over 20 animatronic versions of Freddy exist, I don't mean that's how many plushes you can expect.
I broke down the Freddy Fazbear or Golden Freddy varieties. There are at least ten Fredbear plush variants. Fanatic gamers might want to find a few types to collect if they're obsessed with Freddy and his crew, like my son. A bonus is that there will be new variants every few months because Freddy is famous.
Selecting the Best FNAF Freddy Fazbear Plush
Ask yourself, which FNAF games do you love the most? It's how I narrowed the many Fredbear plush options into the top 18 picks. I chose the most memorable versions of my son's games and the ones I enjoyed. Additionally, I want a massive collection, meaning my top picks should be 12 inches or less.
Fazbear Plush Guide: The Freddy Variants
Let's dive into the ideal selection of Freddy plush that allows you to collect as many as you want. From twisted variants to nightmare-installing Fredbear plush, I'll show you more details about why each one became the winning contender for us. I'll also show you which game reminded us of the Fredbear animatronic.
Best Blacklight Freddy Plush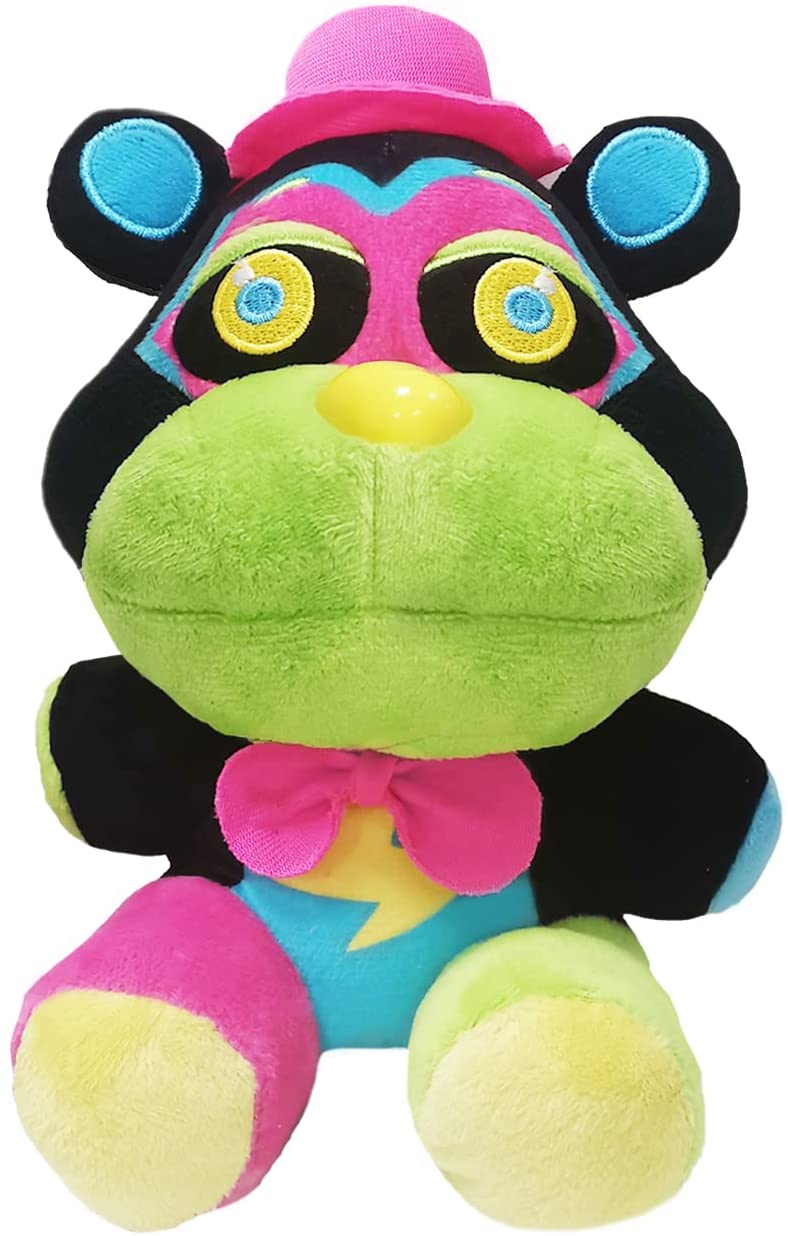 Blacklight Freddy is one of my favorite versions because I love the vinyl figures available for him. Freddy doesn't have a blacklight game animatronic. Still, I'm obsessed with the black and neon colors available with the merchandise. I promised a few surprises, and Blacklight Freddy is the second after my collector's secret.
Game Facts
Game: N/A (Blacklight Freddy is a merchandise exclusive)
Character: Blacklight Freddy plush
Size: 8.2″
Pros
The Blacklight Freddy plush is one of the first versions in a stuffed animatronic because they mainly launch as vinyl figures
The colors are insanely hypnotizing, with black contrasting bright neon blue, pink, and yellow, and the bear looks like Glamrock Freddy as a double bonus
Cons
Blacklight Freddy isn't a game-inspired plush, but the birth of this plush is for the love of true fans
Best Chocolate Fredbear Plush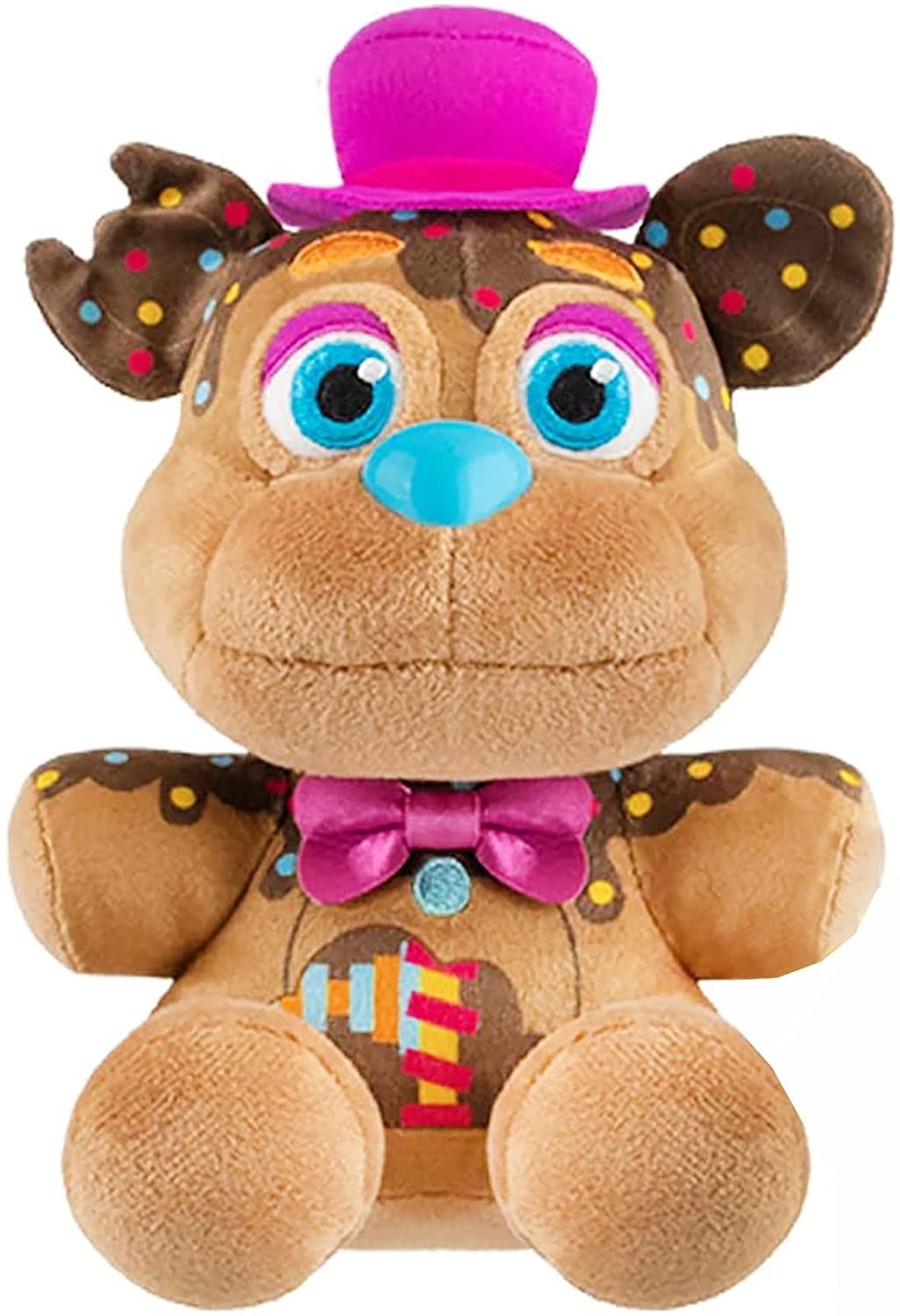 The Chocolate Candy Fredbear plush comes straight from the Special Delivery game, and you can't see him anywhere else. Even if they don't play the games, I can see Chocolate Freddy as a child's best friend. I had to look long and hard to find one, meaning he's also an unusual and potentially rare FNAF plush.
Game Facts
Game: FNAF: AR Special Delivery plush
Character: Chocolate Freddy plush
Size: 8″
Pros
The Chocolate Fredbear plush has excellent details with a bite out of his ear and bright pink colors overlapping his sprinkles effect
I'm obsessed with Candy Fredbear because he's unusual, and the brilliant blue eyes make his pink colors pop like no other color can
Cons
Only gamers who played the Special Delivery game will be familiar with this animatronic version
Best Dreadbear Plush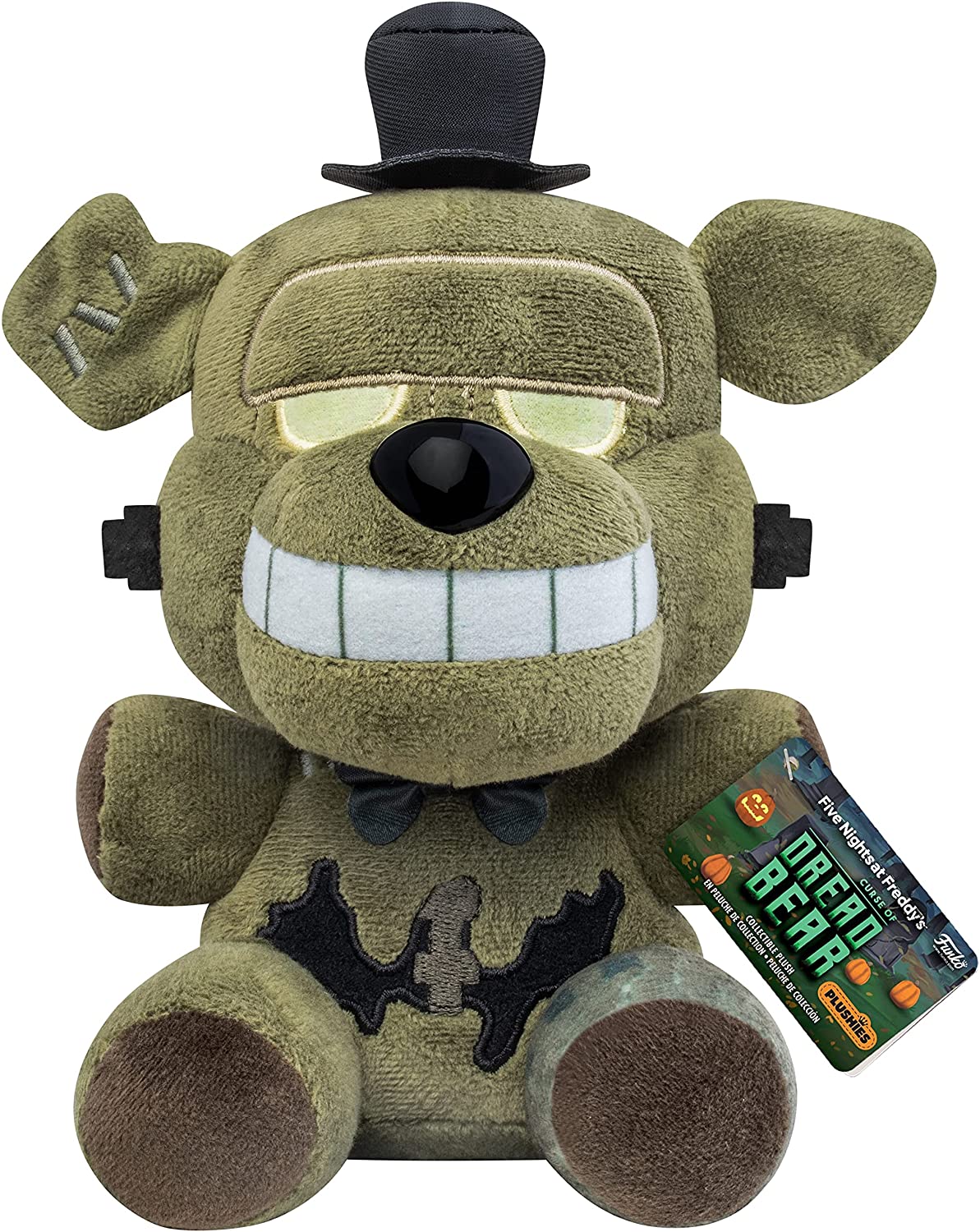 Dreadbear is a popular choice for gaming fanatics. He has Frankenstein vibes that make him feel like a classic, even though he's another unusual find. You won't see Dreabear plush everywhere. Funko Pop brought the animatronic version to life with a plush toy. Pops are super collectible, and the plush will become the same.
Game Facts
Game: FNAF: VR Help Wanted plush
Character: Dreadbear Freddy plush
Size: 6″
Pros
The Dreadbear plush has a look of insanity that makes you think the animatronic is alive, and I can't find fault in the details
Dreadbear comes with a shiny nose against a gray background with stitches and an exposed spinal cord, and the Frankenstein accessories take him to another level
Cons
Dreadbear is also not a regular for all the games, and a limited number of fans will know him well
Best Fredbear Lefty Plush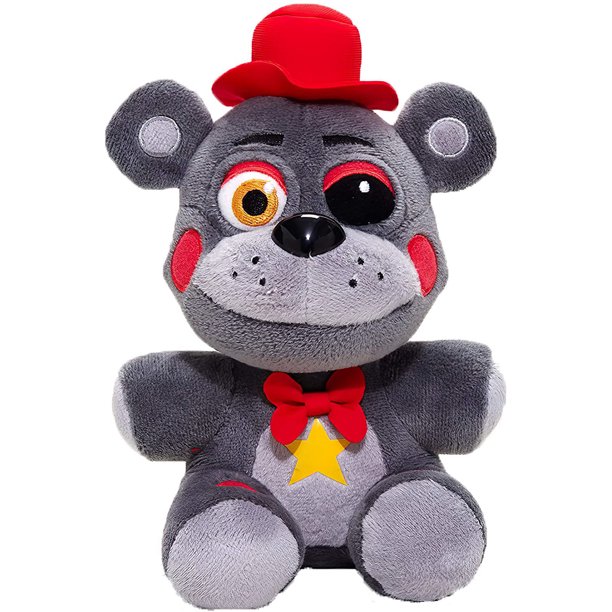 How can we forget about Lefty? Consider him an Easter egg of FNAF Fredbear plush. He's a goofy-looking animatronic with rockstar vibes. Other than his weird eyes, he's another adorable animatronic plush suitable for little kids who don't know the games. However, he's an excellent choice for gamers.
Game Facts
Game: Freddy Fazbear's Pizzeria Simulator plush
Character: Freddy Lefty plush
Size: 7″
Pros
The Fredbear Lefty plush is kind of cute with an inviting design unless you look into his two varying eyes that could remind you from where he comes
The Fredbear plush has a fantastic texture that feels like a bath towel, and the details are pretty impressive for a little stuffed animatronic
Cons
True fans won't consider Lefty as a Fredbear plush, but you can add him as a stuffed Easter egg animatronic
Best Freddy Frostbear Plush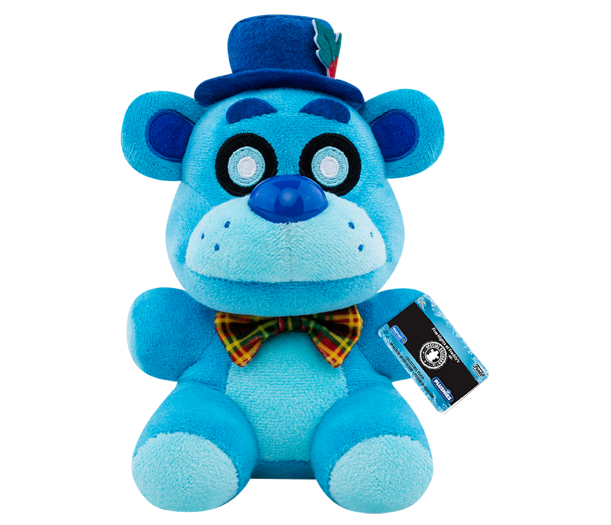 Frostbear is a cold-hearted animatronic with cruel intentions. However, the Frostbear plush is impressively funky. Ironically, Funko Pop brings this stuffed animatronic to life in a bright, almost-neon design. How impressed I would've been if the plush were glow-in-the-dark. Maybe this article will inspire one of them.
Game Facts
Game: FNAF: AR Special Delivery plush
Character: Freddy Frostbear plush
Size: 8″
Pros
The Freddy Frostbear plush has a striking blue appearance that fools you into believing it's glow-in-the-dark, and the exclusive bear comes from a collectible brand
I love how the nose looks almost transparent (it's the shine that makes it look that way), and the bow tie is a cute additive for young and old fans
Cons
The eyes should have fewer details to more accurately portray the Frostbear animatronic
Best Freddy Fazbear Helpy Plush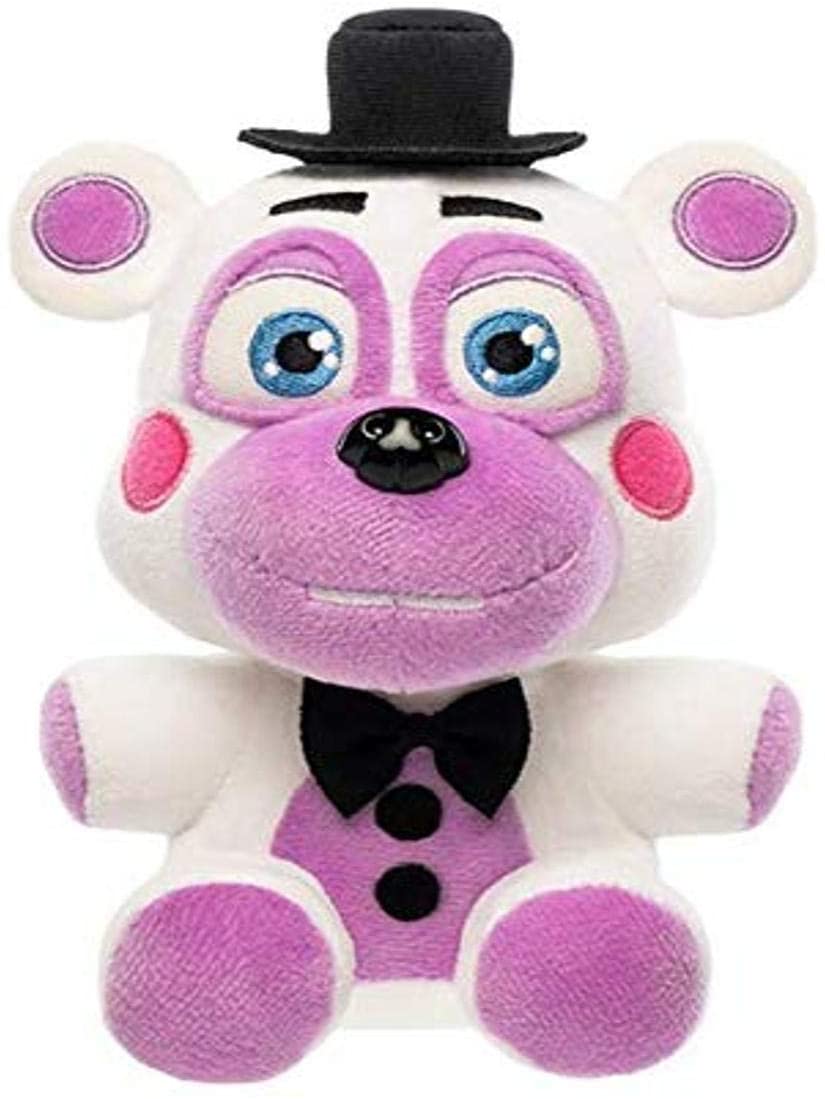 Helpy is another Fredbear Easter egg plush for your collection. Again, it's not Fredbear himself, but the stuffed animatronic looks like he belongs at the side of Funtime Freddy. Helpy seems adorable, but don't underestimate the animatronic in the game. He'd make an incredible addition to your FNAF plush collection.
Game Facts
Game: Freddy Fazbear's Pizzeria Simulator plush
Character: Freddy Helpy plush
Size: 6″
Pros
The Fredbear Helpy plush looks gorgeously similar to the Funtime Freddy plush, and the two would make an incredible pair for your collection
It's another Funko Pop FNAF plush with collectible value, and the details around the nose and eyes impress me, especially the depth of the eyes
Cons
Again, FNAF fans might want Fredbear animatronic plush only and not the little guys who look like him
Best Freddy Fazbear Plush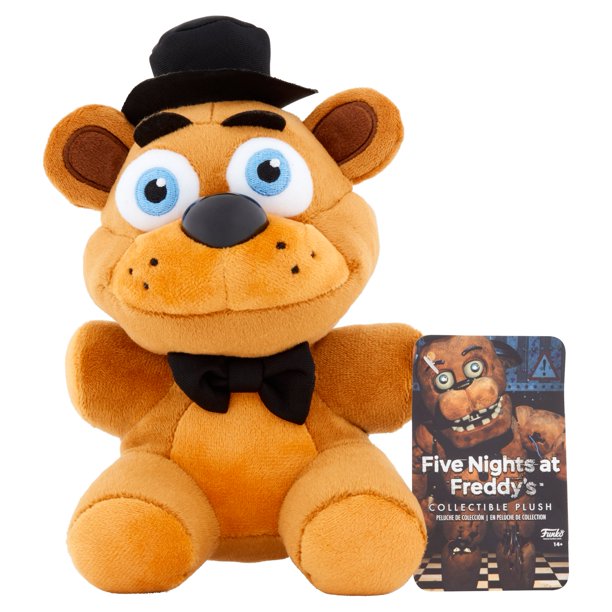 The original Freddy Fazbear plush is a must-own for any FNAF stuffed merchandise collector. All Fazbear plush can be confused with Golden Freddy plush. Honestly, Golden Freddy and Fazbear Freddy plush look the same. It's hard to distinguish between the two, and it comes down to the details of their hats and eyes.
Game Facts
Game: Five Nights at Freddy's plush
Character: Classic Freddy plush
Size: 6″
Pros
The Freddy Fazbear plush is another true collectible from Funko Pop, and it looks fantastic with the realistic/human eyes and deceiving smile
Freddy Fazbear looks like an adorable stuffed animatronic safe for kids of all ages, and he's a no-brainer for FNAF merchandise collectors
Cons
Freddy's arms look mismatched, with one being longer than the other, and his bow tie is also skew
Best Funtime Freddy Plush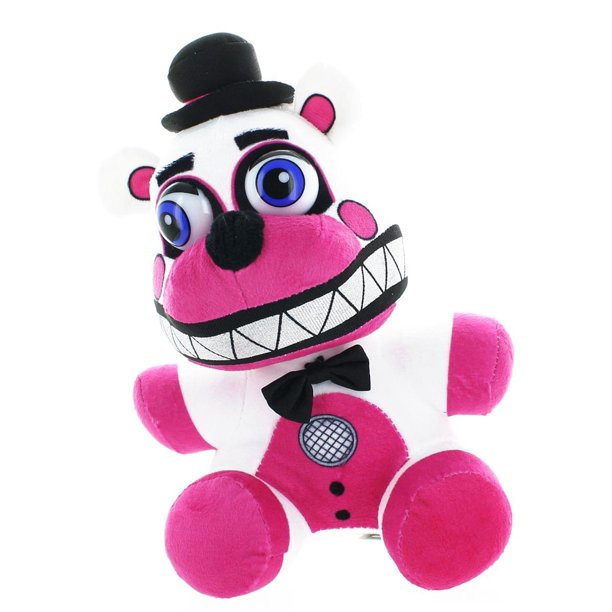 You didn't think I'd share Helpy without giving you one Funtime Freddy plush to match the crazed-looking porcelain bear. Funtime Freddy comes from the Sister Location game, and he's a wild animatronic with dangerous intentions. Funtime Freddy's smile can cause chills up anyone's spine, and his teeth finish the job.
Game Facts
Game: FNAF: Sister Location plush
Character: Funtime Freddy plush
Size: 10″
Pros
It's hard to match the animatronic's porcelain style with a plush figure, but the Funtime Freddy plush looks incredible with excellent details
Funtime Freddy has a plush nose, bulging but realistic eyes, and the speaker on his chest to match his game animatronic perfectly
Cons
This version of plush animatronics won't work well for little kids because it somehow has a super creepy look
Best Glamrock Freddy Plush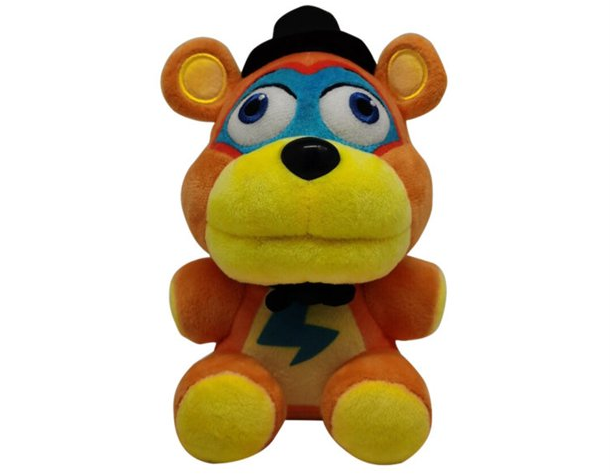 The Glamrock Freddy plush is another favorite for many gamers and young fans. He's not one of my favorites, but my son insisted that I add him. Imagine an animatronic version of Freddy from an insane asylum, and you'll see the Glamrock plush. I know the animatronic doesn't look the same in the game, but damn is all I can say.
Game Facts
Game: FNAF: Security Breach plush
Character: Glamrock Freddy plush
Size: 8″
Pros
I'm struggling to find pros for the Glamrock Freddy plush other than its well-contrasted colors and the lightning rod on his chest that matches the game
Admittedly, the eyes have good details, and the short arms make him an adorable feature for little kids
Cons
I'm not a fan of Glamrock Freddy plushes because they look insane, and I mean it
Best Golden Freddy Plush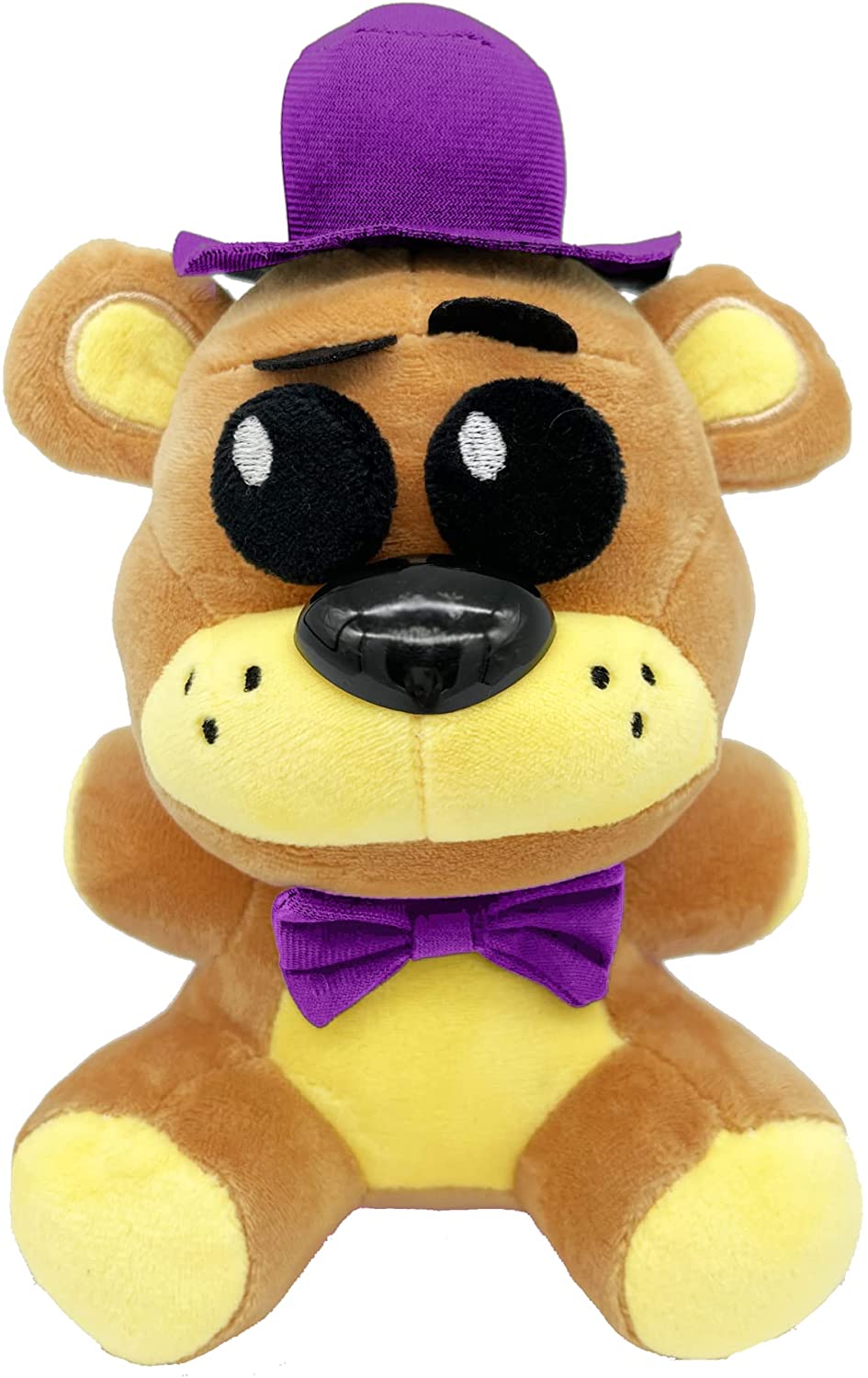 Again, Freddy Fazbear and Golden Freddy plushes are easy to confuse. I'll use a Golden Freddy plush that matches the animatronic better than the human-eyed, black-hatted version for Fazbear. Golden Freddy is a little more twisted than the original bear anyway. He should have a wild and robotic look with a purple hat.
Game Facts
Game: Five Nights at Freddy's Two plush
Character: Golden Freddy plush
Size: 7″
Pros
The Golden Freddy plush comes from a gamer fan's design, making it more unique, and it matches Golden Freddy better than the others
Golden Freddy has those robotic eyes that make him look soulless, and overall plush details are impressive enough to win this round
Cons
The eyelashes are too long and fall over, which can annoy collectors who want perfection
Best Neon Freddy Plush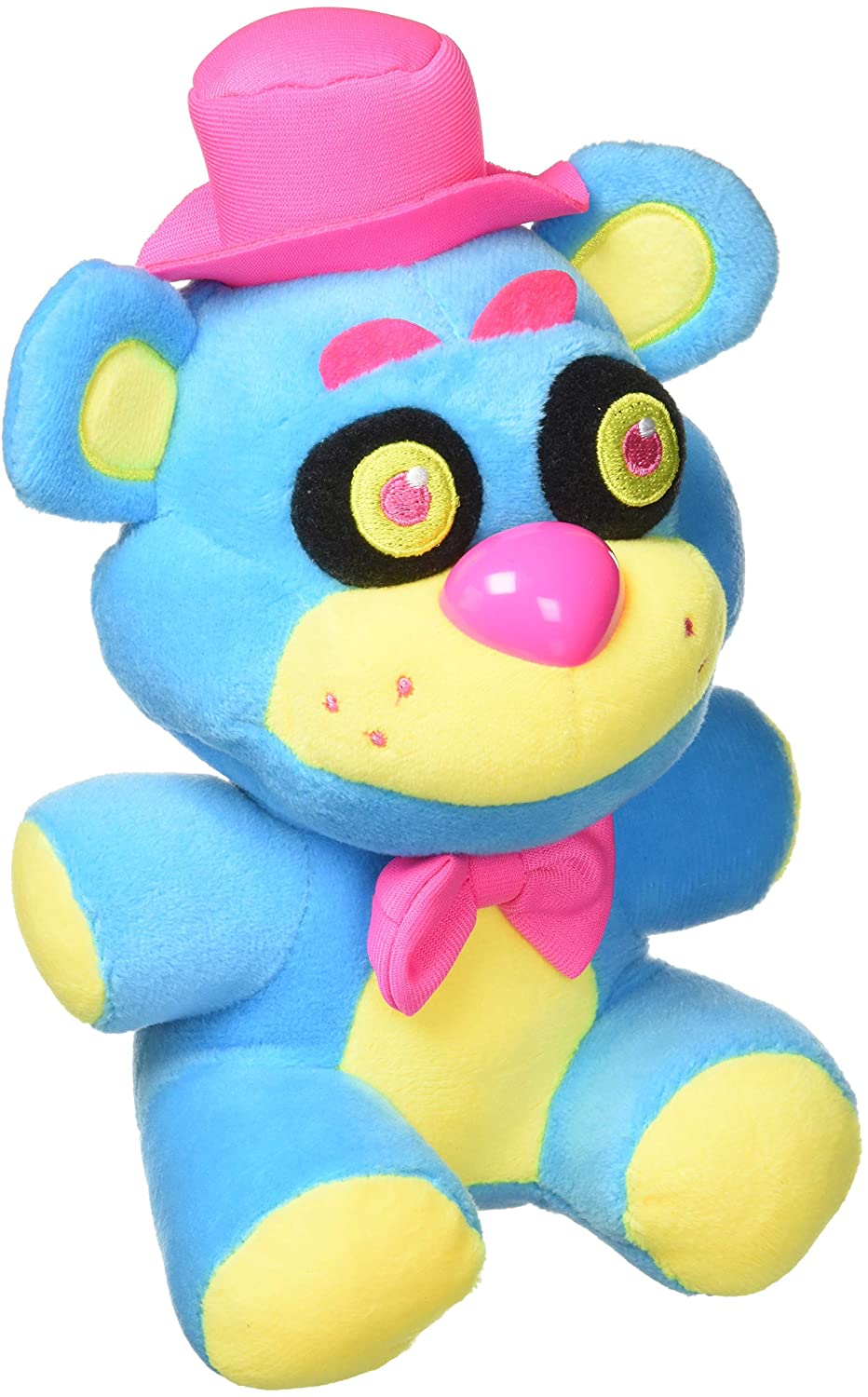 Neon colors make the world a brighter, more beautiful place. Well, that's my take on things. Turning Fredbear plush into neon editions is another surprise from Funko Pop. The neon animatronic plush looks incredible, and it's one my son and I agreed to add. It's also available in different neon colors. I chose blue for Frostbear.
Game Facts
Game: FNAF World plush
Character: Neon Freddy plush
Size: 8″
Pros
The Neon Fredbear plush doesn't represent Frostbear, but it looks fantastic as a collectible animatronic from Funko Pop
It has gorgeous details on the eyes, and the colors blow your mind as the neon blue wraps itself over the pink and yellow contrasts
Cons
The Neon Freddy plush's one eye is bigger than the other, and the eyelashes are too long again
Best Nightmare Freddy Plush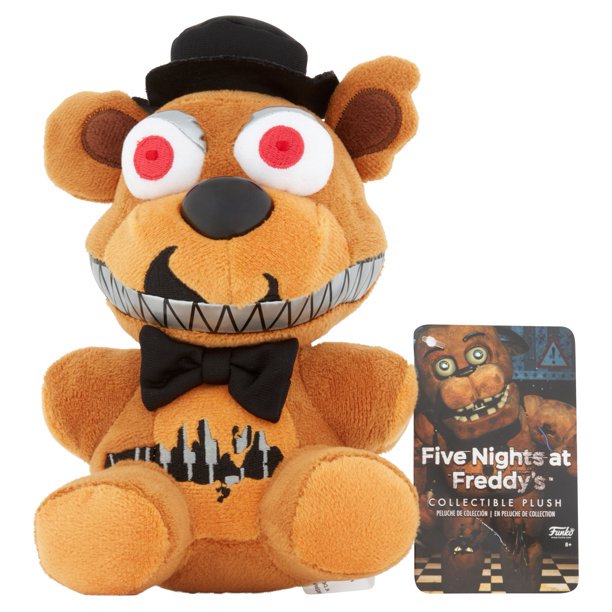 The Nightmare Freddy plush is a horror-game collector's dream. Game fanatics will burst with excitement as I get into the nightmare versions of Freddy. He looks as twisted and morphed as the game's animatronic. His exposed teeth and bones make you shriek with joy if you love the Fredbear with nightmare-installing abilities.
Game Facts
Game: Five Nights at Freddy's Four plush
Character: Nightmare Freddy plush
Size: 9.8″
Pros
The Nightmare Freddy plush has exposed teeth below the infamously skew mustache to make you cringe with horror as you look into his boney interior
The red eyes and insane look on Freddy's face come to life with a freakishly horrific plush that matches the boney interior design on the back
Cons
Nightmare Freddy isn't the best plush friend for little kids unless they love the game (maybe kids over eight)
Best Rockstar Freddy Plush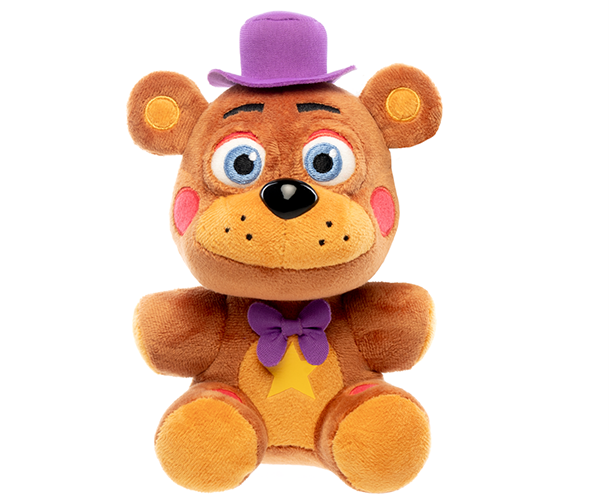 Are you ready to rock hard with the Rockstar Freddy plush? Rockstar Fredbear is one of my favorite animatronics because he blends a bit of horror with a musical fetish at the pizzeria. He's also better suited to little kids who love traditional plush toys. This plush is one of my favorite FNAF choices.
Game Facts
Game: Freddy Fazbear's Pizzeria Simulator plush
Character: Rockstar Freddy plush
Size: 6″
Pros
The Rockstar Freddy plush has adorable features across his face and belly, showing his musical heart, where the star takes its place
Rockstar Freddy is another collectible plush animatronic from Funko Pop, and the eyes have more detail than most
Cons
Rockstar Freddy isn't the best plush collectible for fans who prefer the horror and gore from the games
Best Shadow Fredbear Plush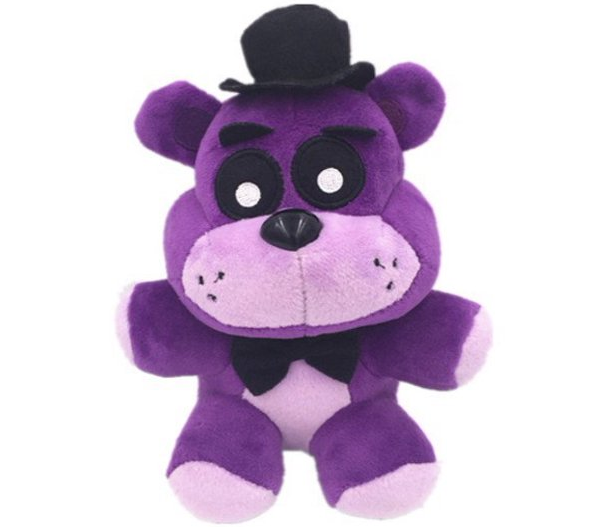 Shadow animatronics are more fan-favorites, and my son loves the purple-colored Fredbear as a stuffed collectible. We chose one that looks a little more cartoon-like to give you more options for little kids. The Shadow Freddy plush doesn't have gory details or broken fur exposing his interior spirits.
Game Facts
Game: Five Nights at Freddy's Two plush
Character: Shadow Freddy plush
Size: 7″
Pros
The Shadow Fredbear plush is a brilliant purple that matches the game's animatronic well without making him like look a gorefest on stuffed animals
I like the cuteness of Shadow Freddy's massive head compared to his body, and the details are impressive
Cons
Shadow Freddy's eyes aren't the same size, and his eyelashes are long enough to fall over again
Best Shamrock Freddy Plush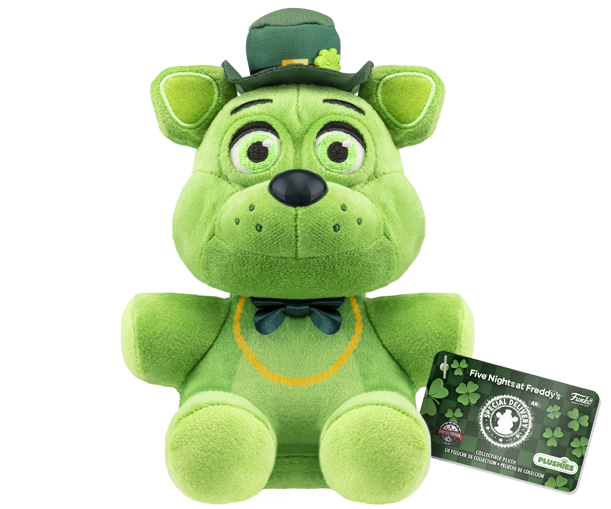 The Shamrock Freddy plush isn't as well-known as the Golden Freddy and Nightmare Freddy versions. However, he's another unusual surprise from the Special Delivery game. You see him around Saint Paddy's day if you're still playing the game. He looks a little goofy, but that makes him an option for little kids again.
Game Facts
Game: FNAF: AR Special Delivery plush
Character: Shamrock Freddy plush
Size: 6″
Pros
The Shamrock Freddy plush has next-level details because his hat isn't massive enough to hide his eyes and ears
Shamrock Fredbear is another collectible joy from Funko Pop, and he carries the luck of the Irish on his hat (maybe he can bring you luck when playing the games)
Cons
Die-hard FNAF fans might not consider Shamrock Freddy a collectible because he's a seasonal animatronic
Best Spring Colorway Freddy Plush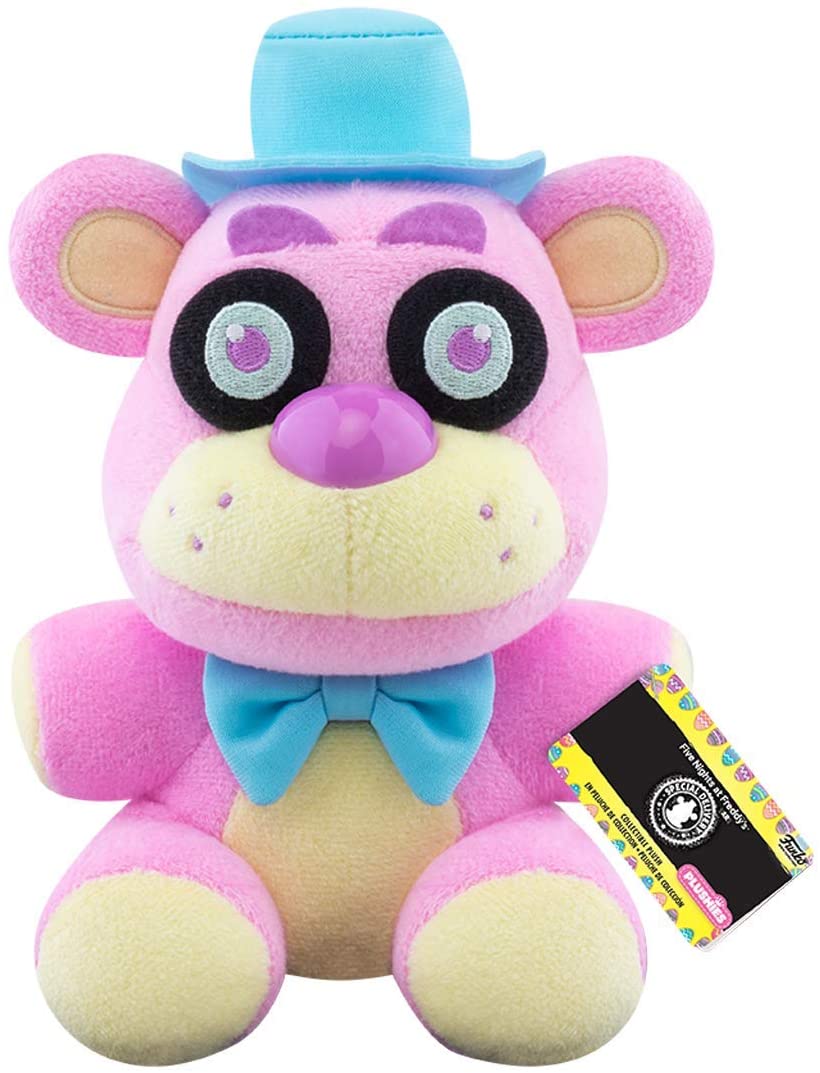 The Spring Colorway Freddy plush toys aren't from a game or animatronic. Funko Pop created a range of pastel colors to make Freddy a friendly face for all-age fans. I looked at the many options. The lilac Freddy plush is the most unusual because the others look like neon versions and Frostbear.
Game Facts
Game: N/A (it's a range from Funko Pop for die-hard fans who want more Freddy plush)
Character: Spring Colorway Freddy plush
Size: 6″
Pros
The Spring Colorway Freddy plush is a collectible from the Funko Pop range, and it looks unique compared to other FNAF plush
The lilac and baby blue color contrasts make this Freddy plush the ideal one for little kids, and the details are excellent across the stuffed animatronic
Cons
Funko Pop might appeal to some collectors with their colorful Freddy plush, but some fans prefer animatronic designs
Best Twisted Fredbear Plush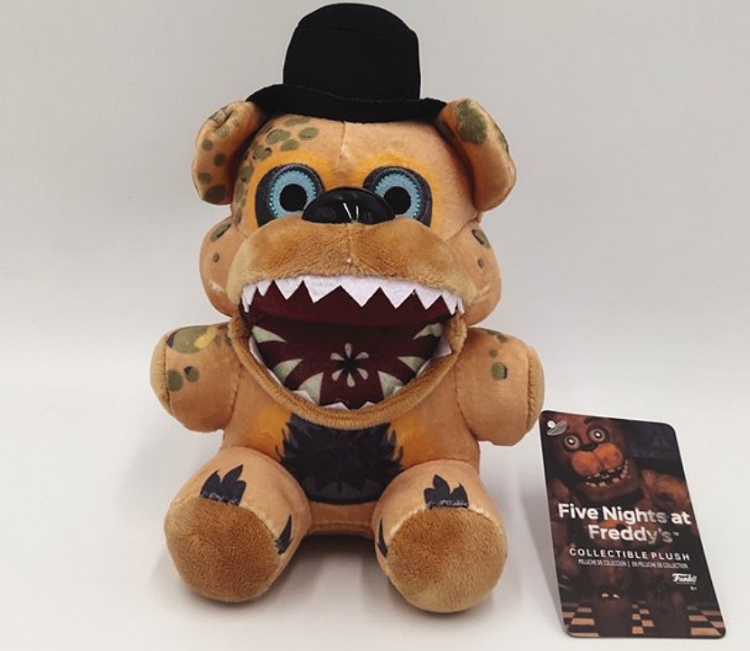 Did you ever think Nightmare Freddy could look more demented, twisted, and evil? Well, that's where the Twisted Freddy plush comes into the arena. The Twisted One's game was one of the most demented versions where you see the worst animatronics. I love how this plush represents the most-mangled Fredbear version.
Game Facts
Game: FNAF: The Twisted One's plush
Character: Twisted Fredbear plush
Size: 7″
Pros
The Twisted Fredbear plush looks like it's about to eat your soul and spit out the remainders of your life essence with razor-sharp teeth running in a circular motion
The details on Twisted Freddy's plush look more natural than other stuffed animatronics, and his eyes look robotic as they should
Cons
You undoubtedly won't give this FNAF plush to a little child who'll suffer from nightmares
Best VR Fredbear Plush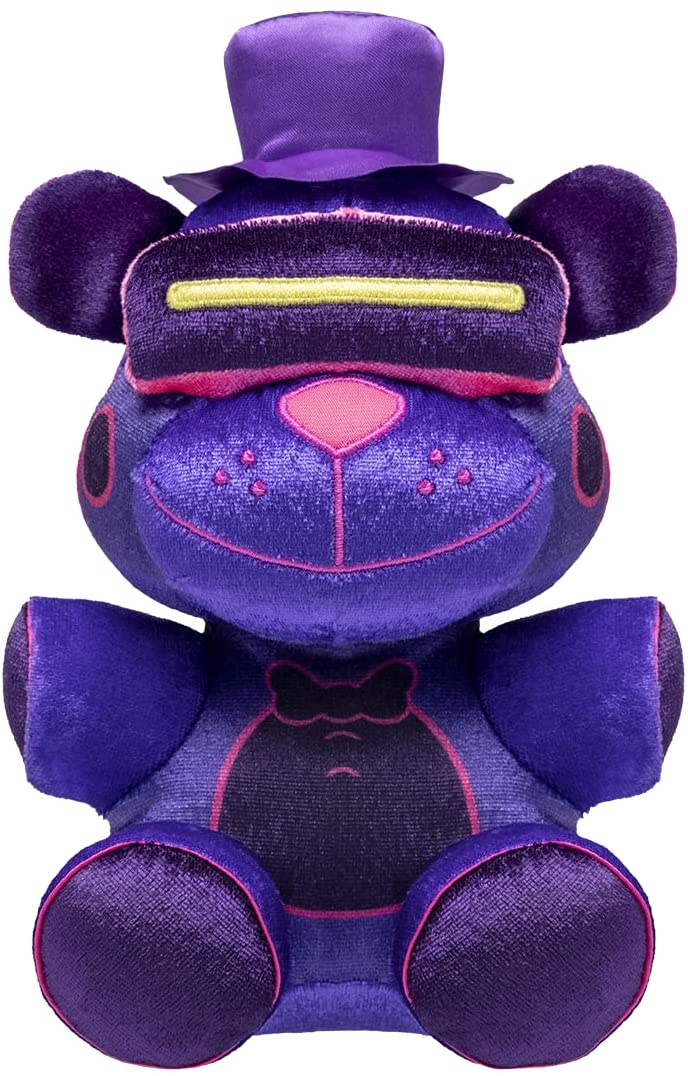 VR Freddy is a limited animatronic that comes from the Help Wanted game. Not many fans will know him well unless they played the game. VR Freddy takes on a futuristic design with deep purple colors. He almost glows in the game, and I'm hoping to inspire Funko Pop to make glow-in-the-dark versions again.
Game Facts
Game: FNAF: VR Help Wanted plush
Character: VR Freddy plush
Size: 6″
Pros
The VR Freddy plush is an impressive collectible from the Funko Pop range with a printed bow tie, unlike the other Freddys
The details across VR Freddy are unique, with dark purples fading into black, and the VR headset completes the look
Cons
It's not a well-known animatronic plush unless you've played the Help Wanted game
Top Q&A
Question: Which Fredbear Plush is the Most Popular?
Answer: Among the many versions of Fredbear plush available, Nightmare Freddy Plush Toys are the number one pick. There are more versions of Nightmare Freddy than any other Fredbear.
Classic Freddy Fazbear Plush Toys are the second most popular version. Fazbear even comes in a variety of hat colors for other fans.
Question: How Many Fredbear Plush Exist?
Answer: There's no straight answer for how much Fredbear plushes exist. There are 25 different versions of the animatronic, some with plush and others without them. Standard options include Golden Freddy, Nightmare Freddy, Rockstar Freddy, and Shadow Freddy. However, some Freddys have multiple color variations.
Question: What Types of Unusual Plush Can I Find for Freddy Fazbear?
Answer: Unusual plush includes backpacks and pillow pals. The FNAF franchise has a few odd plushes for Fredbear. The Fredbear Plush Backpack is an excellent 13-inch carry-on for gaming fanatics. The Golden Freddy Fazbear Plush Pillow is an unusual choice if you or your kids love sleeping with the animatronic.
Fredbear Plush Guide: Final Thoughts
How many Freddy plushes did you count? Remember that I only shared the top picks from my and my son's favorites. You'll find more when you look for variations of Freddy Fazbear, Spring Colorway plush, and Golden Freddy plush. Don't forget about the Easter egg plushes, like the Best Chocolate Fredbear Plush.
You can't only stick to the regulars like the Best Freddy Frostbear Plush and the Best Nightmare Freddy Plush if you want a massive collection. Consider buying the Best Fredbear Lefty Plush and the Best Freddy Fazbear Helpy Plush. My son and I are fanatic enough to enjoy enormous FNAF plush collections.
Add the classics like the Best Funtime Freddy Plush and the Best Rockstar Freddy Plush to expand your FNAF plush animatronics. The Best Shadow Fredbear Plush and the Best Twisted Fredbear Plush are must-owns for die-hard FNAF fans. How much do you love the FNAF games? Your passion will determine the collection size.
Then, it's time to begin collecting Fredbear plush before some disappear, and others become rare.
More fantastic plush: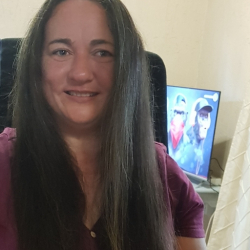 Latest posts by Caroline Lambert
(see all)